One of the best things to do in Hoi An includes strolling past canary-yellow houses and old wooden buildings that line a sleepy riverbank in one of the most beguiling cities in Vietnam.
A delightful blend of Japanese, Chinese and European influences, complimented with a favorable climate and a UNESCO designation have resulted in an extremely touristy yet wonderful ancient town.
Our Hoi An itinerary explains everything you need to enjoy this charming city. In this guide, we will show you:
How to get to Hoi An
20 best things to do with day trip ideas
Hotel options and where to stay
Tips for your Hoi An itinerary
Now, let's discover the best things to do in Hoi An, Vietnam!
*Please note this post may contain affiliate links. If you click on one, we may earn a small commission at no extra cost to you. Thank you for supporting the free content we provide! Read more in our disclosure policy.*
Where Is Hoi An, Vietnam?
Look at a map of Vietnam and point your finger directly to the middle of the country. Chances are Hoi An will be very close to your fingertip.
The town of Hoi An is about 18.5 miles (30km) south of the much larger city Da Nang and Hoi An sits enticingly on the coast of the South China Sea.
Once the most important trading posts in South East Asia, Hoi An suffered a downturn in prosperity when its Thu Bon river silted up.
However, today we can be thankful for what must have felt like a disaster at the time. Because during the Vietnam and American War, Hoi An was left almost completely untouched due to its lack of logistical significance.
Hoi An's Ancient Town is the golden ticket when visiting this region but don't miss the stunning green countryside or the beautiful beaches.
This is where you can find farmers in conical hats tending to their rice paddies as well as beaches where you can watch fishermen casting off from bamboo basket boats.
How To Get To Hoi An In Central Vietnam
There are several ways you can get to beautiful Hoi An. While there are no direct flights from Hanoi to Hoi An, the closest airport is Da Nang International.
We will show you various transportation routes so you can decide which one will work best for your Vietnam trip.
1. Fly Into Da Nang Airport
The closest airport to Hoi An is Da Nang International about 18.5 miles or 30km away. If you only have a short amount of time in Vietnam, flying into Da Nang is the quickest way to travel.
Traveling to Hoi An from further afield internationally would require a change either in Hanoi or Ho Chi Minh City. However, you can also fly directly into Da Nang from many other Southeast Asian countries.
Use Skyscanner to search for the best value flights. Remember that flights around SE Asia are extremely good value.
Want to learn how to find good deals on flights? Don't miss our popular guide on how to book cheap flights.
2. Train To Da Nang
Train travel in Vietnam is affordable and allows you to see more of the countryside rather than flying over at 35,000 ft.
Unfortunately, the downside to the train is that it takes much longer compared to flying. Hoi An doesn't have a train station so a change will also be required in Da Nang.
Traveling from Hanoi or Ho Chi Minh City by train to Hoi An would take around 15-17 hours. If you take the train, consider a 1st class sleeper, rather than 2nd class seats for ultimate comfort.
Check train prices on 12Go Asia.
3. Vietnam Sleeper Bus
The notorious sleeper bus in Vietnam is certainly an option to consider. Why? Because it offers you the only means of direct transport to Hoi An from Hanoi and Ho Chi Minh City.
The journey would take 15-20 hours depending on many variables. But it's even more convenient from places like Phong Nha.
Here's an example…
Let's say you're in Phong Nha with not much time left on your Vietnam visa but you really want to see Hoi An before you leave.
This is what traveling to Hoi An NOT on a sleeper bus would mean:
Private transfer / local bus / Grab Phong Nha to Dong Hoi -> Train Dong Hoi to Da Nang -> private transfer / taxi / bus / motorbike Da Nang to Hoi An.
That just doesn't sound like much fun, does it?!
So this is where the sleeper bus comes into its own. Just one single means of transport takes you from Phong Nha to Hoi An in around 8 hours.
Check prices for sleeper bus travel on 12Go Asia. We recommend you book your sleeper bus online before you travel because this way you can pick the time and see photos of the bus.
From our experience, we have been dropped in the middle of the street at night and stuck with some pretty bad buses when someone else booked our bus for us.
We've written an in depth article about sleeper buses in Vietnam to illustrate just what you can expect.
Need to get from Da Nang to Hoi An? You might like our popular Da Nang to Hoi An transport guide.
4. Driving The Hai Van Pass By Motorbike
For a truly memorable experience in Vietnam, you could consider the adventurous route and drive over the Hai Van Pass on a motorbike.
The pass was made famous by Top Gear in 2008 and has developed into one of the most exciting tourist activities in the country.
Typically, the route is Hue-Da Nang-Hoi An or vice versa. We can say from experience there are some pretty awesome stop off points along the way.
You can either travel on the back of a bike or drive on your own with guide, which is what we did. We recommend MotorVina and you can compare prices below.
>> Book a Hai Van Pass tour with MotorVina: Get Your Guide | Viator
Alternatively, you could hire a motorbike and drive over yourself. Just be sure to pin each of the popular stops to your maps app before setting off.
But you don't even have to go by motorbike if driving in Vietnam is a little daunting.
There are plenty of tours by jeep or private car that are excellent value running the same route over the Hai Van Pass with stop offs at the major attractions.
>> Book a Private Transfer from Hue to Hoi An: Get Your Guide | Viator
Interested in the Hai Van Pass? Don't miss our guide to driving the Hai Van Pass by motorbike for an amazing experience in Vietnam.
Last but not least, you have a few more options between both private and shared transfers.
Private Car
Klook have an awesome US$12 deal on private transfers from Da Nang to the Ba Na Hills (more on this later in our guide) for up to 3 people in a vehicle.
Bit if you want to skip some of the other sightseeing, a private car from Da Nang to Hoi An will cost about US$15 with Klook.
Or if you want a luxurious option, you can book a private transfer with a little bit of sightseeing included for about US$ 65.
Airport Shuttle
If arriving into Da Nang airport, you can pre-book the Hoi An Express airport shuttle with Get Your Guide for US$6 per person.
Every hour between 5am and 11pm an air conditioned mini bus picks up at Da Nang airport and drops off at any hotel in Hoi An. All you have to do is lookout for your name on a board in Arrivals.
Reviews are excellent and the price is awesome. You can expect the journey time to be about 45 minutes.
6. Grab Car
You could book a Grab Car or flag a local taxi down at the airport.
This option can cost anywhere between US$15-20 but be careful of scammers who are prevalent on this route. Also, please note the 45 minute journey time so this it not recommended.
If you choose this option, use Grab over flagging a taxi at the airport. We like grab because its the Uber of SE Asia and you will know the cost up front.
Plus you can also follow the drivers exact route on your app.
Travel Tip: Download the Grab App (iPhone or Android) before you get to SE Asia. You can choose to add your credit card details or pay cash for each ride.
7. Public Bus
For backpackers and those on a tight budget, you can leave the train station and hop on a local yellow bus that runs between Da Nang city and Hoi An every 20 minutes between 5:30am and 6:00pm.
The yellow bus departs Da Nang just one block away from Da Nang railway station at 162 Ong Ich Khiem.
This local yellow bus costs about US$ 1.30 per person (US$ 3 with luggage). While the price is unbeatable, you will need to get a taxi to the bus stop around 1.8 miles (3km) away.
Keep in mind this journey might be uncomfortable depending on crowds. It's also the longest journey of all options at 1h 30m.
Best Time To Visit Hoi An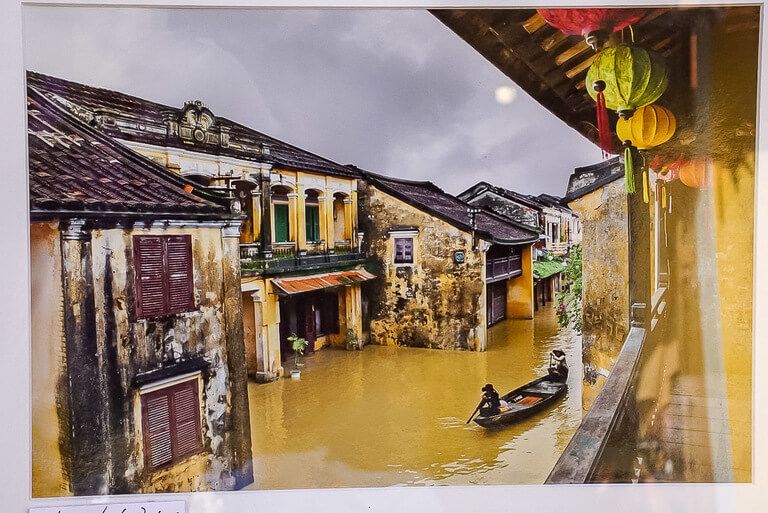 Hoi An's climate can be split into two distinct seasons. Dry season which runs from March to September and wet season which runs from October to February.
Here are a few things to keep in mind when visiting Hoi An:
November to January are typically the coldest months, but relatively speaking, it's not cold. Visiting in these months may just mean packing a couple of extra warmer layers in your backpack.
The coldest month in Hoi An is January with an average low temperature of 67°F (19.5°C) and high of 76°F (24.5°C).
February to April are the best months to visit if you struggle in high humidity. Temperatures will be comfortable and it will be dry.
The hottest months are May to August and it's perfect for the beach. This time of the year is low season which means good value and no crowds. It's also the best time for snorkeling and diving due to better visibility and warmer temperatures.
September to November is when Hoi An experiences it's highest rainfall of the year and flooding often occurs in the center of town. There is also a typhoon risk around this time.
Be sure to check out the old photograph above because it shows a Hoi An Restaurant completely flooded in rainy season.
20 Amazing Things To Do In On Your Hoi An Itinerary
There are an endless amount of things to do in stunning Hoi An and we are going to show you how to spend your time during your Hoi An itinerary.
The first fifteen items on this Hoi An things to do list will give you ideas about what you can do directly in town.
However, there are a few incredible Hoi An day trip options we have also included at the end of this list so you can choose what fits best into your Vietnam itinerary based on your time frame.
1. Design Your own Tailor-Made Suit Or Dress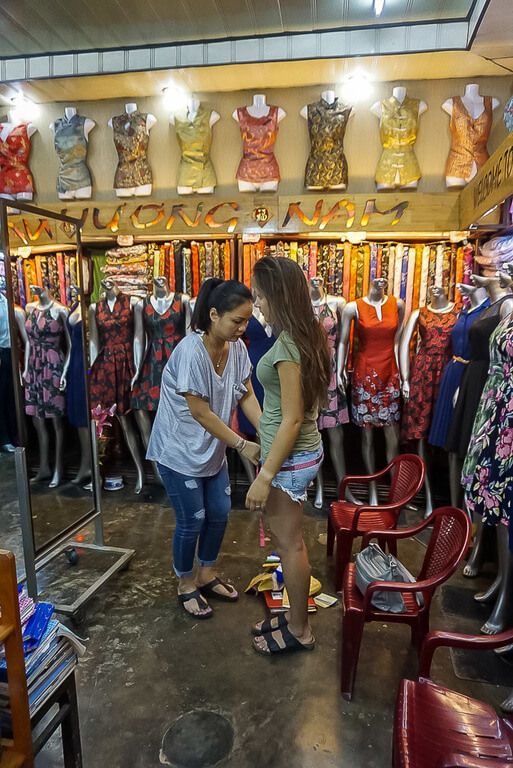 When in Rome, do as the Romans do and when in Hoi An, get a suit or dress tailor made.
This is the place to unleash the creative side of your brain. Have you ever thought about how cool it would be to design your own clothes?
Along with help from an expert tailor in Hoi An, you can design and customize your own suit, dress, shirt, romper or anything else you desire.
You select the material and color based on how much you'd like to spend. There are more tailors than you can shake a stick at in Hoi An so be sure to shop around to find the perfect fit for you taste.
This is something you really should try in Hoi An, it's a rite of passage and the tailors are fantastic.
But be warned, high quality clothing and a personalized fitting might not be as cheap as you imagined depending on the material and style you choose.
Don't be afraid to ask questions and let them know if something doesn't fit right the first time.
Kristen had a short and long romper made for about US$80 and always receives compliments whenever she wears them.
If you need a recommendation for a tailor in Hoi An, we used Tailor Phuongnam.
Travel Tip: If you want to have something custom made, start it during your first few days in Hoi An. This will leave plenty of time if it needs to be adjusted.
2. Marvel At The Gorgeous Japanese Bridge
The Japanese covered bridge is the symbol of Hoi An and is one of our favorite parts on this Hoi An itinerary.
Just look at the stunning colors and design, particularly when the water in front is still and a beautiful reflection bounces back from the surface.
The best time to visit the Japanese Bridge is early in the morning before anyone else in Hoi An is awake. There will be no one around and the water will be perfectly still.
It's interesting to note the bridge was opened in 1719 by Japanese living in Hoi An at the time so they could reach the Chinese quarter on the other side of the water.
If you want to know more about the history of Hoi An, you should book a walking tour below.
>> Book a guided tour of Hoi An Ancient Town: Get Your Guide | Klook | Viator
3. Feast On Banh Mi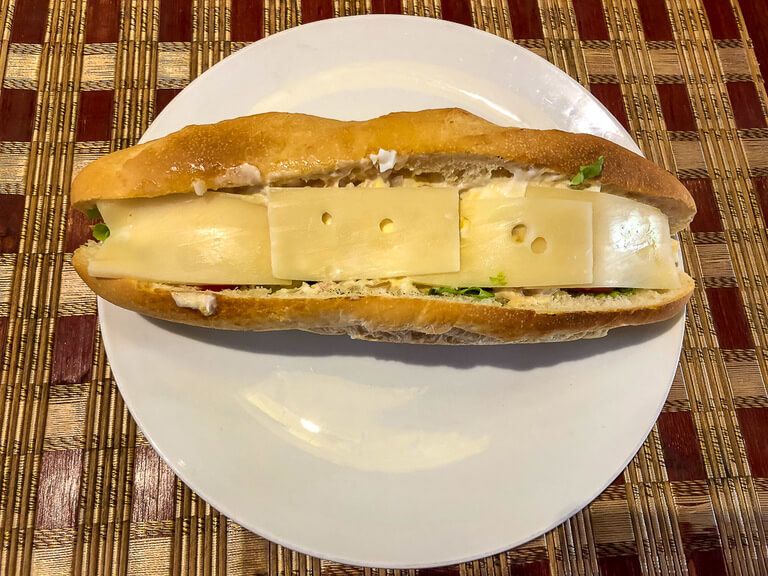 In Vietnam, you simply have to eat as much Banh Mi as you can because it's gold dust.
Banh Mi is a light and fluffy French style baguette paired with delicious fillings. We love how these little sandwiches are perfect for eating anytime and they are great for taking anywhere.
We will dare say Hoi An has the best Banh Mi in all of Vietnam. The reason for this is because when the French began trading in this area, they left recipes that are still used in Hoi An today.
Another reason Hoi An produces the best Banh Mi is because they ensure the bread is adequately toasted with no filler. Just a simple recipe of rice flour, water, salt and yeast can really go a long way.
You will find the bread in Hoi An to be light, thin and crispy with pointed ends on both sides. Think of Banh Mi as the Holy Grail of Vietnamese street food. You can't just have one!
Here are the best Banh Mi restaurants in Hoi An:
Banh Mi Phuong – Anthony Bourdain featured this place in No Reservations
Phi Banh Mi – One of the newest shops, but packs a big punch
Madam Khanh (the Banh Mi Queen) – In business for over 30 years
4. Explore Hoi An Central Market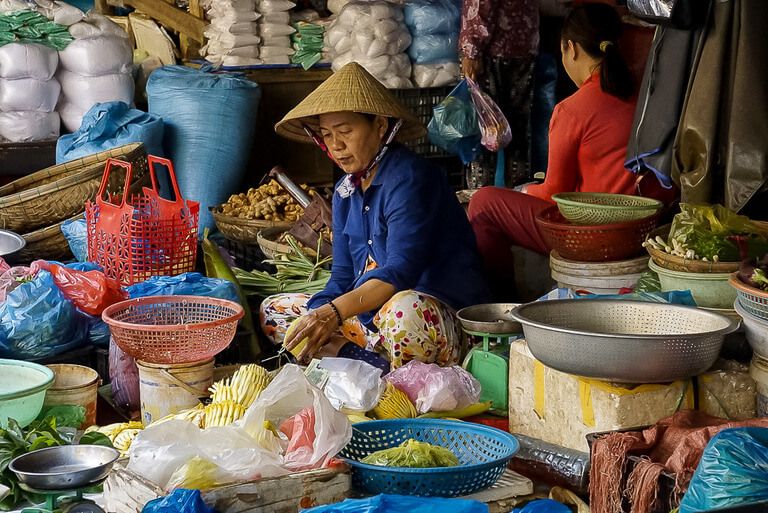 Hoi An's central market is the perfect place to buy local produce, eat fresh food and people watch. It's not a huge market, but there is so much going on.
You might have to take your negotiating skills up a notch. Hoi An receives more affluent tourism than other parts of Vietnam and they know it.
At Hoi An's central market, you will find everything from fresh fruit and vegetables to local spices as well as many varieties of red and green chilies.
Look out for the local women who run many of the stalls with their traditional conical hats on. We loved walking through the central market taking in the buzz of the atmosphere.
If you want a guided tour of the Central Market, you might like this popular Hoi An tour which includes a market tour, basket boat ride and cooking class.
5. Take A Boat Ride On Thu Bon River At Night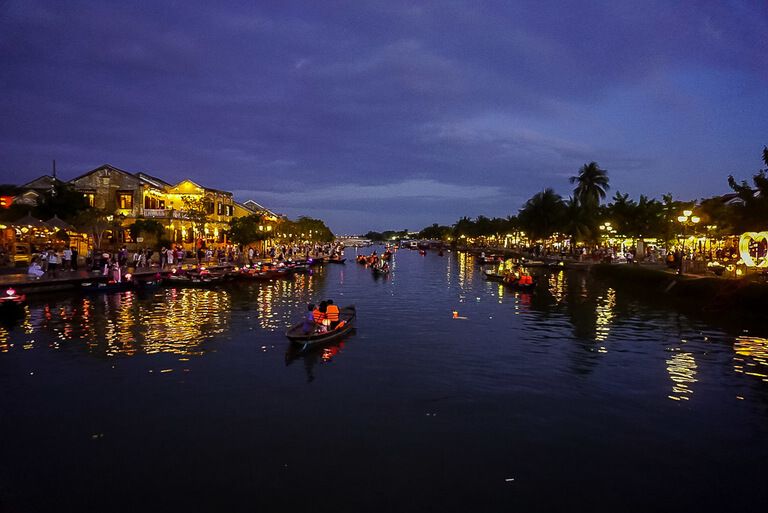 Thu Bon River runs like an artery through the heart of Hoi An. Close to the Bridge of Lights, you will find hundreds of tiny wooden boats with local helmsman taking tourists out onto the river.
This is the perfect romantic gesture for all you romantics.
The best time to hop in a boat is around sunset before it gets too crowded later in the night. The UNESCO ancient town is strikingly alluring from the river as its yellow buildings illuminate under bright lanterns.
>> Book a River Cruise in Hoi An: Get Your Guide | Viator
6. Explore Hoi An Stunning Ancient Town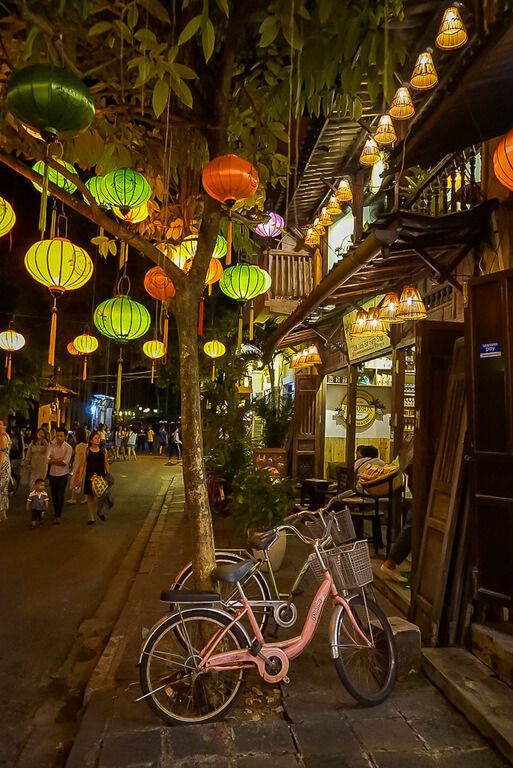 Why is Hoi An so popular? The answer lies with the gorgeous two story architecture in its endlessly alluring and photogenic ancient town.
Almost every building in the antique town is painted yellow, decorated with wood and accessorized with glowing lanterns. We never realized how easy on the eye yellow can be.
One of the best things to do on this Hoi An itinerary is to simply walk around its ancient town, taking in the beauty over and over again. Trust us, it doesn't get old.
During the day, you will find tourists hiding from the intense heat in wonderful coffee shops.
At night, once the temperature cools a little, the old town comes alive with beautiful lit lanterns and amazing smells from the endless amount of restaurants.
Hoi An truly thrives in the evening hours.
Fortunately, Hoi An was relatively untouched by the Vietnam and American war, which is why the ancient town's influences from China, Japan and France remain so strongly today.
7. Take A Vietnamese Cooking Class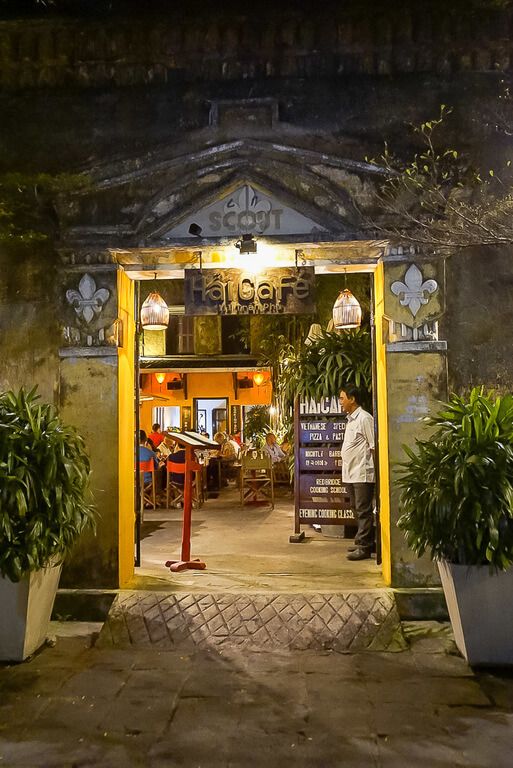 Hoi An is known as Vietnam's culinary capital. There are some truly incredible places to eat in town. Whether you're craving Mexican, pizza or local Vietnamese food, you will not be disappointed.
You can find cooking classes all through Vietnam because they are extremely popular. However, Hoi An has some of the best options for taking a cooking class and you will be surprised at how affordable these classes can be.
In Hoi An, you will have the chance to cook Cao Lau which is essentially yellow noodles and vegetables in pork broth. At many of these cooking classes, you will learn how to make this regional dish.
But the secret to Cao Lau is the lye water. The ash in the lye comes from the wood of the nearby Cham Islands (more about this later in our guide).
The noodles are then hand cut and topped with delicious pork, rice crackers and herbs which are then soaked in a delicious meat broth.
Many restaurants in the ancient town advertise that they run cooking classes. It can be as simple as turning up for dinner and booking a class the next day. Alternatively, you can book a cooking class in advance.
There are special combo tours in Hoi An that include cooking classes with other activities so be sure to check them out and see if you can land a double bonus.
>> Book a Hoi An Cooking Class: Get You Guide | Klook | Viator
8. Shop Hoi An's Handmade Leather Products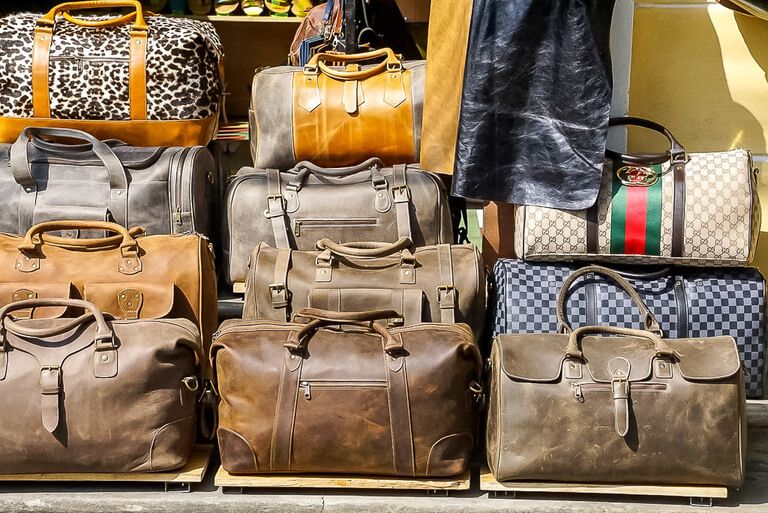 You will soon discover that Hoi An is overflowing with all kinds of tailors. In fact, the ratio is 2:1 meaning tailors to every other type of business in town.
Handcrafted leather handbags for sale are dangerous for the efficiency of your Hoi An itinerary. But there are some excellent leather goods places to be found.
You can tell the quality is better with some than others. It's worth taking the time to inspect stitching and finishing of each item before buying.
When we visited Hoi An, we traveled light with our 40L Osprey backpacks, but Kristen couldn't resist these leather products and we had to pay for extra baggage on the way home!
9. Visit An Bang Beach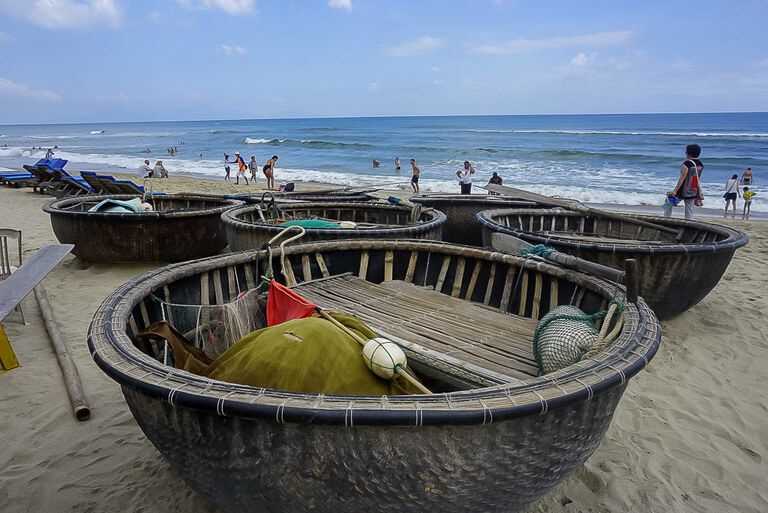 Although the ancient town is where you fall in love with Hoi An, the nearby beaches are an excellent way to take a day off sightseeing and relax with a cocktail. The most popular beach in town is called An Bang Beach.
If you need a day to unwind on a busy Vietnam itinerary, take to the beach in Hoi An!
We recommend you cycle about 3.0 miles (5km) through surrounding countryside to An Bang just like we did. Look for fishermen launching bamboo baskets out to Sea.
Our advice is to walk a fair distance down the beach from its entrance before hiring sun loungers because they will be cheaper.
Just be aware that bicycles and motorbikes will need to be parked and you will have to pay for that privilege. It should cost 10,000 – 20,000 VND.
Unfortunately, we had a local install a boot on our bike because he was trying to extort us out of money for parking. It became a very stressful situation and luckily, a few other very nice locals came to help.
We had our bike parked in an actual parking lot and this gentleman moved our bike from this lot. Hopefully, nothing like this will happen to you, but just be aware there are scams like this and trust your gut.
10. Photograph Hoi An's Famous Lanterns At Night
Chances are high that you have seen the famous brightly colored lanterns of Hoi An and decided they were enough for you to book your travel tickets. We can tell you, these lanterns will not disappoint!
Littered throughout the ancient town's narrow roads, you will see hundreds of lanterns glowing in all colors of the rainbow. Your challenge is to find the best photography spot in town.
The best way to show your appreciation and support for these lanterns is to buy one, flat pack it and take it home.
You will find lanterns criss crossing overhead, in restaurants and coffee shops, pretty much in the whole area designated UNESCO heritage.
The bright lights add energy to the peaceful and relaxing vibe in Hoi An, it definitely wouldn't be the same without lanterns.
11. Sip On Hoi An's Famous Iced Coffee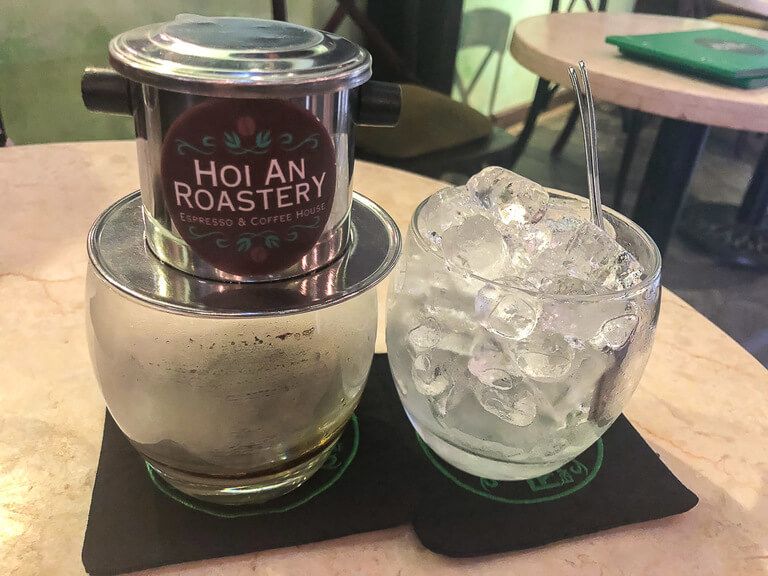 Wake up early, wander aimlessly around Hoi An ancient town, watching as business owners sweep their doorsteps and bicycles 'bring bring' their bells at you to pass.
Keep walking until you find an enchanting coffee shop (there are many!) and order a 'Ca Phe Sua Da', which translates as milk coffee with ice.
This is a Vietnamese specialty coffee containing a layer of sweetened condensed milk at the bottom with a large shot of black coffee and ice. And it's blooming lovely!
Or you could try egg coffee, Ca Phe Trung which is kind of like custard that tastes like egg and coffee.
If you only try one, make sure it's Phin Coffee, near the Japanese bridge. We were hooked and we are sure you will be too.
13. Discover The Hoi An Countryside On Bicycle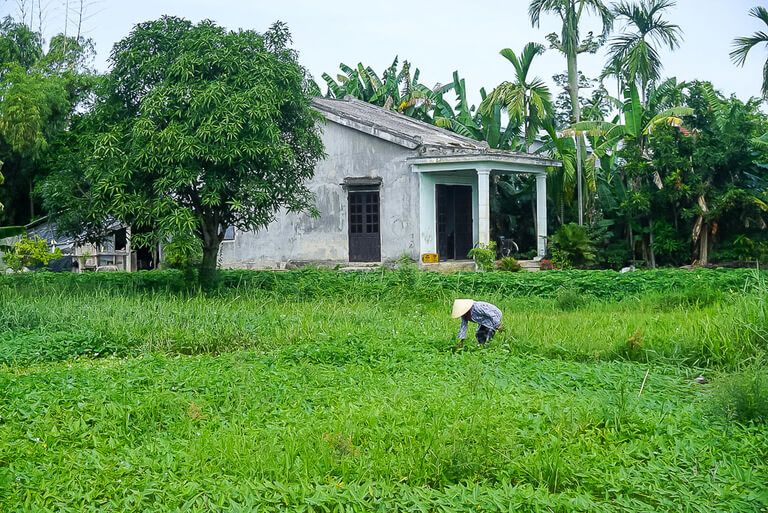 Seriously, grab a bicycle and ride for hours around the tranquil deep green countryside of Hoi An. This is not to be underestimated.
You will cycle along narrow roads cutting through dense rice fields and fishing lakes, past houses with farmers out working their land. Push yourself to explore all the small islands in the river if you have time.
The surrounding area of Hoi An is very quiet and safe so it's a great place to enjoy a long ride. It's difficult to get lost and you will be grateful for the escape from the crowds back in town.
There are dozens of tour options if you would prefer to see the countryside with a guide who can explain everything from a local's perspective.
>> Book a Hoi An Bike Tour: Get Your Guide | Viator
13. Wander The Night Market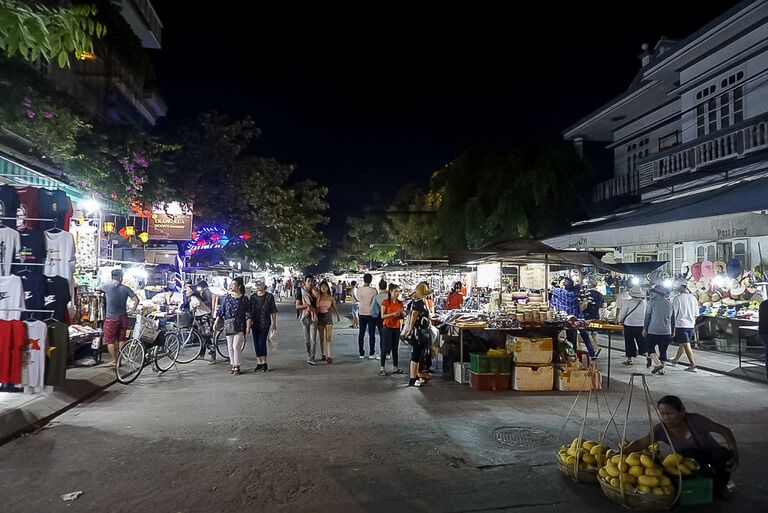 If you cross the bridge of lights and continue straight, you will find Hoi An night market plus tons of great places to eat, drink and dance.
The night market is always bustling, full of vendors selling an array of clothes, souvenirs and local charms for tourists to take home as mementos.
This is the place to pick up a bargain, but be vigilant and check the quality of any goods you buy.
If you've been to a night market you will know what to expect, but in Hoi An the atmosphere is just that little bit more chilled.
You could consider this popular Night Market Tour which includes trying some of Hoi An's best street food.
14. Learn About The History Of Hoi An
We would highly recommend you take some time to learn about the history of this beautiful town as you wander its famous streets.
Here are important historical sites you should visit in Hoi An, Vietnam:
15. Take A Private Tour With A Local Vietnam War Veteran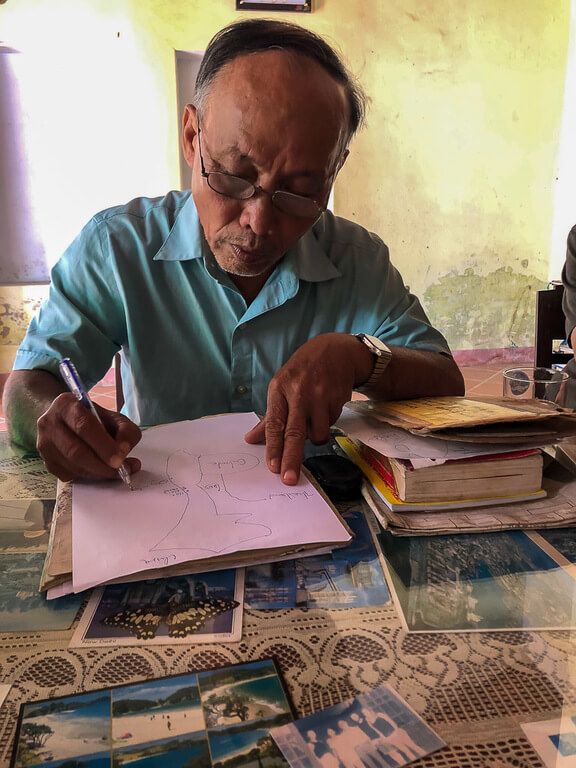 And finally, onto our secret bonus and amazing thing to do that was once an option in your Hoi An itinerary.
We had no idea about this private tour, it's not documented anywhere that we know of and is certainly not listed with any tour companies. It was by pure happenstance that we found it.
One evening we had the pleasure of meeting Mr. Phong during our dinner at one of the restaurants in the town. He asked us if we would like a private tour with him at his home in a village nearby.
He then showed us some diaries of tourists who had previously taken his private tour. It seemed to look legit. So, we took a chance. And we will forever be glad we did.
Mr. Phong is an incredibly interesting man, a Vietnam war veteran who was imprisoned near Hue for over a year. On his private tour we learned more about Vietnam, culture, history and tourism than a year of traveling the country would have taught us.
In order to keep his privacy, we ask you to please message us for more information on how you can find Mr. Phong. The time we spent with him is something we will never forget!
Dec 2022 Update: One of readers has confirmed Mr. Phong is no longer accepting tours and is now officially retired. We are extremely happy to hear he is doing well so here's to a long enjoyable retirement for Mr. Phong, you deserve it!
Want to see what we did during our tour with Mr. Phong? Check out this private Hoi An tour with a Vietnam War Veteran. What an amazing experience!
Best Hoi An Day Trips And Tours
With such great popularity comes great tour demand for holiday makers to Hoi An.
In addition to the many things you can do in Hoi An, there are a few very popular day trips you should consider if you have time in Hoi An.
We have already included some of the tours available in our list of the best things to do on your Hoi An itinerary, but depending on what you want to do in Hoi An, there may be a better option for you.
Compare the top rated Hoi An tours below for both price and reviews.
16. My Son Ruins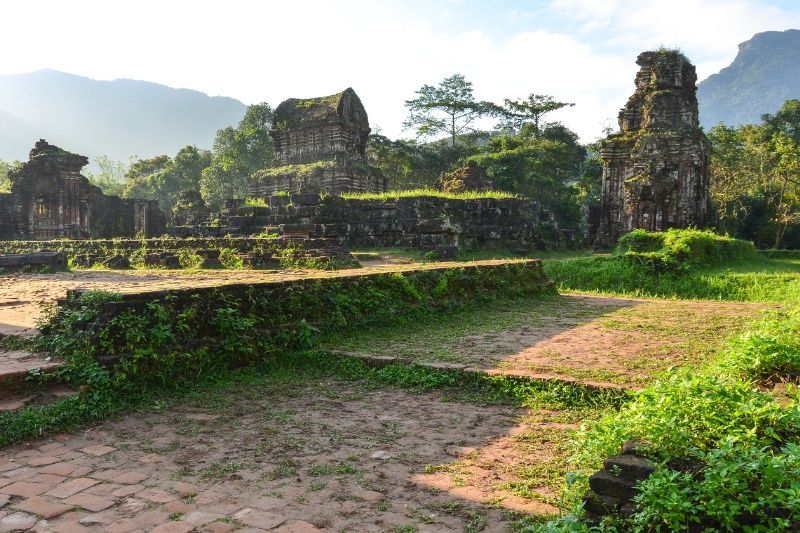 My Son ruins is a complex containing partially ruined Hindu temples similar (but on a smaller scale) to that of Angkor Wat in Cambodia.
Since 1999, My Son has been recognized by UNESCO as a world heritage site. The complex includes over 70 abandoned temples, made of deep red colored bricks.
Many of the temples have degraded over time but there are still a small number remaining almost in complete form.
This is a historically and culturally important place, once filled with worshipping kings of ancient times.
My Son is located about 24 miles (38km) Southwest of Hoi An. If you feel up to it, hire a motorbike because it should take roughly 1 hour each way or book an organized tour below and let someone else do the work for you.
>> Book a My Son Ruins Tour: Get Your Guide | Klook | Viator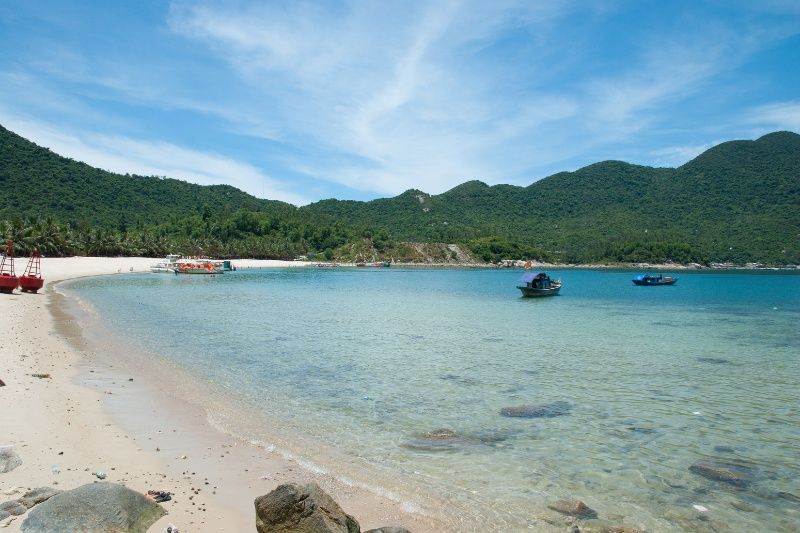 17. Cham Islands
Take a break from coffee and Banh Mi by taking a half day trip snorkeling and swimming on the Cham Islands, just off the coast from Hoi An.
A trip to Cham Islands is the perfect escape from unbearable summer temperatures. This is when visibility will also be at its best.
You don't need any experience diving or snorkeling to enjoy this day trip. We recommend you pack some of your own food and drinks.
>> Book a Day Trip to the Cham Islands: Get Your Guide | Klook | Viator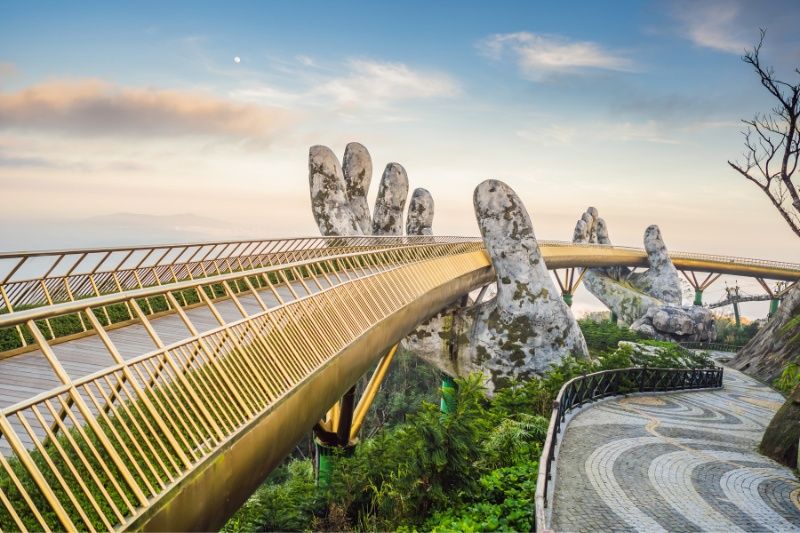 18. Golden Hand Bridge Sun World Ba Na Hills
If you're interested in prime time instagram spots, you will have to leave Hoi An ancient town behind and head for the hills. The Ba Na Hills to be precise.
A 150m long golden colored bridge is seemingly held aloft by two giant intricately sculpted hands. These golden hands are what gives this place the wow factor to entice photographers or content creators of all kinds.
Not to mention the incredible views over the valleys of Da Nang and the South China Sea!
To reach the bridge, you will need to take a cable car from Ba Na Hills Sun World dream springs station. However, this is no ordinary cable car. It's the world's longest non stop single track cable car.
Unless you feel confident to navigate 28 miles (45km) along the wild roads in Vietnam, a tour is likely to be your best option for visiting the golden bridge.
>> Book a Golden Hills Bridge tour: Get Your Guide | Klook | Viator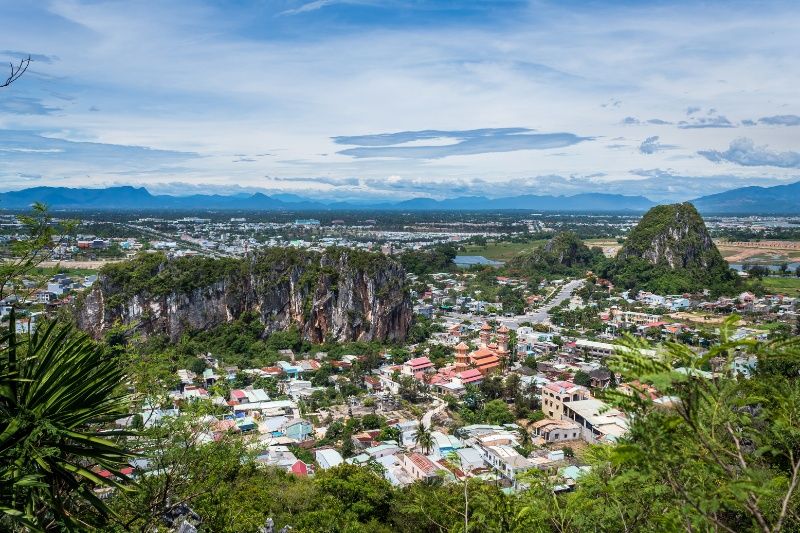 19. Marble Mountains
The Marble Mountains are a striking cluster of five limestone and marble mountains located south of nearby Da Nang. These mountains include beautiful caves and historic Buddhist Pagodas.
These mountains are very significant to the people of Vietnam. Each of the peaks are named after the five elements of metal, water, wood, fire and earth.
The numerous caves, tunnels, peaks and temples of the Marble Mountains are regarded as a pilgrimage site and this area is known for stone cutting as well as sculpture created in harmony with nature.
>> Book a tour to the Marble Mountains: Get Your Guide | Viator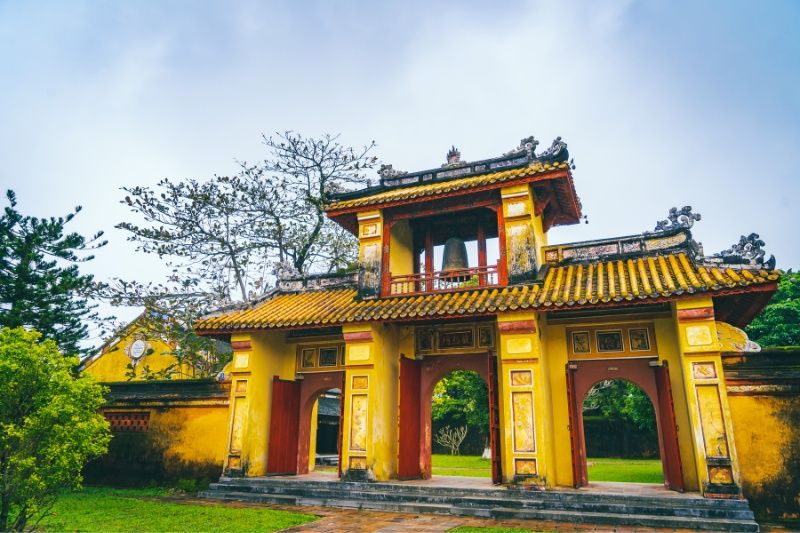 20. Hue
The gorgeous Imperial city of Hue is centered around the Song Huong (Perfume River). It's century old fortress and Imperial Tombs are combined with sleek and very modern buildings.
We like the Imperial city because it is a great place for both foodies and history buffs. If you are short on time in Vietnam, you should consider this day trip because it leaves from Hoi An.
On these Hue Tours, you will see the Imperial Citadel, Thien Mu Pagoda, the Mausoleum of Emperor Khai Dinh and the Perfume River.
>> Book a Hoi An to Hue Tour: Get Your Guide | Private Hue Tour
Interactive Map For The Best Things To Do In Hoi An
Click, zoom and move around the interactive map of Hoi An above to orientate yourself with the city.
We've included pins for the best things to do in Hoi An and each day trip location, transport hubs in Da Nang and all of our hotel recommendations in Hoi An.
Hoi An Hotels And Where To Stay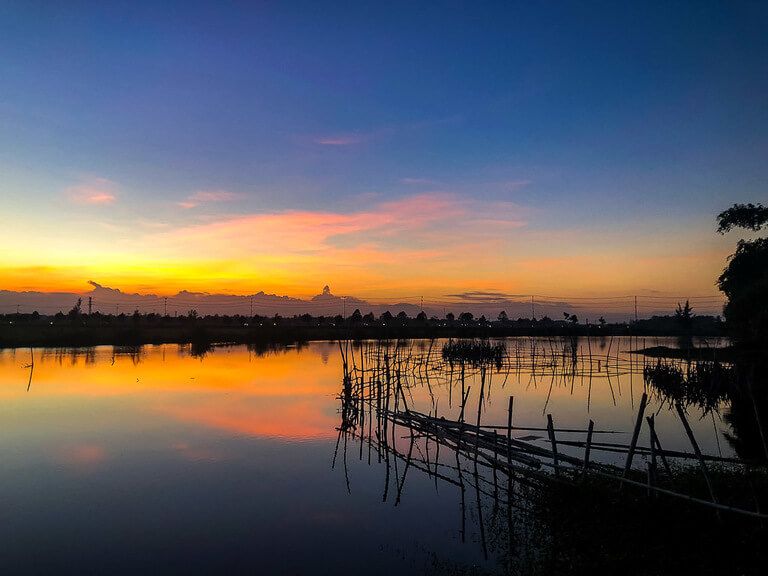 Hoi An is one of Vietnam's premier tourist destinations. Its beautiful UNESCO ancient town particularly attracts wealthy travelers.
Therefore, with a healthy budget at your disposal you can stay at some incredible hotels.
However, it is the low to mid budget backpackers and travelers who will find that due to high competition in Hoi An, you can pick up a lovely hotel for a surprisingly light on the wallet price.
Your three choices for staying in Hoi An are to stay close to the ancient town, in the countryside, or at the beach. Here are the top hotels we recommend for budget, mid range and luxury in Hoi An.
All the hotels we recommend are close to the ancient town.
Calla Hotel Hoi An (Budget)
Located just 10 minutes walk along the Thu Bon River to the West of Hoi An ancient town is Calla Hotel. This new hotel is modern, has a swimming pool and includes a fabulous breakfast.
It has a 9.2 on booking.com and costs about US$20 / night.
>> Book the Calla Hotel Hoi An here <<
Hoian Central Hotel (Mid-Range)
If location is your top priority, look no further. Hoian Central is within the ancient town perimeter.
Featuring a large outdoor pool, garden and lovely rooms, this hotel has a 9.3 on booking.com after 1000 reviews.
>> Book the Hoian Central Hotel <<
Little Riverside Hoi An (Luxury)
Luxurious rooms complete with stand alone bathtubs, location on the river bank 2 minutes walk from Hoi An ancient town, fitness center, gorgeous outdoor swimming pool overlooking the river, continental breakfast … and even its own private beach.
Rated 9.2 on booking.com and costing just over US$100 / night, this is affordable luxury in a beautiful part of the world.
>> Book Little Riverside <<
Tips For Your Hoi An Itinerary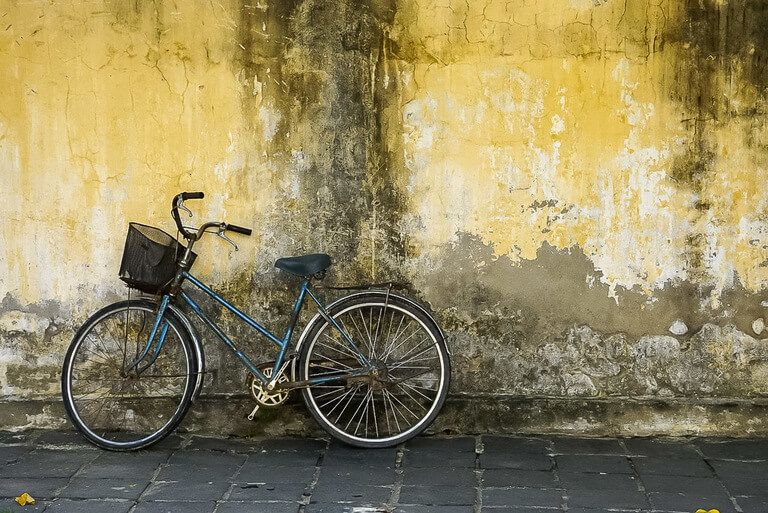 If this is your first time to Hoi An, here are a few important tips to remember for your visit:
Currency in Vietnam is VND (Vietnamese Dong). US$ 1 = about 23,500 VND or GBP 1 = about 28,000 VND. Always try to carry a small amount of US dollars in case of emergency. There are plenty of ATM's in town.
Tourism in Hoi An is generally more advanced than other parts of Vietnam, meaning enormous options for excellent restaurants, lovely coffee shops and clothes shops.
Remember at the beach you will pay to park your motorbike or bicycle. This standard practice in Vietnam, you're not being scammed, but watch where you park.
There are hundreds of tour options that combine various things to do in Hoi An, be sure to do your research and find the perfect option for your trip.
Hoi An will be one of the more upscale destinations on your Vietnam Itinerary, enjoy the laid back atmosphere before moving on to more chaos.
In the countryside, you may come across some locals with huge water buffalo and be offered the opportunity to sit on one. We'd encourage people not to pay for that photo.
The Hai Van Pass by motorbike journey from Hue to Hoi An is genuinely awesome and we highly recommend everyone to take that opportunity!
Vietnam Hoi An Ancient Town FAQ's
Let's take a look at some of the most frequently asked questions regarding what to do in Hoi An.
What Is So Special About Hoi An?
The Ancient Town of Hoi An is an extremely well preserved Southeast Asian trading port which dates back to 15th century. Hoi An is special because the bright yellow buildings reflect both indigenous and foreign influences which make the town very unique.
What Is The Meaning Of Hoi An?
Hoi An translates to 'peaceful meeting place' which is very accurate when comparing this meaning to the town itself.
Can You Fly From Hanoi To Hoi An?
No, you can not fly directly from Hanoi to Hoi An, but you can take a direct flight to Da Nang which is about 1 hour north of Hoi An. A flight from Hanoi to Da Nang is about 1 hour and 15 minutes. You will then need to find transport from Da Nang to Hoi An.
How Many Days To Spend In Hoi An?
We recommend you spend 3 days in Hoi An. This will give you enough time to enjoy the beautiful ancient town and take a Hoi An day trip to the surrounding areas.
Our Popular Vietnam Guides
More Vietnam Guides
Want more Vietnam content? Head over to our Vietnam Travel Guides to see example itineraries, tips about Vietnam and popular city guides.
---
We hope this guide listing the best things to do in Hoi An helps with planning your visit to Southeast Asia!
Please let us know if you have any questions about planning a trip Hoi An Vietnam in the comments below.
Happy Travels,
Mark and Kristen
Enjoy This Things To Do In Hoi An Guide? Pin It For Later!