Phong Nha Ke Bang National Park is home to the biggest adventure caves in the world, but they come at a premium. For travelers lacking time or budget, your perfect substitute is the stunning Paradise Cave.
Unlike the extraordinary adventure cave tours, you don't get to sleep inside the cave. Nor will you trek through a dense emerald green jungle to access it.
However, what you do get is to keep your travel budget in tact and you get the pleasure of witnessing magnificent stalactites and stalagmites in Paradise Cave.
Imagine pouring molten gold from the ceiling of a cave, then at any moment you decide, clicking your fingers and it all freezing in that instant. That is what some of the astonishing 400 million year old formations look like in Paradise Cave.
We have to warn you, it is touristy. And it's not adrenaline pumping like Dark Cave.
But for anyone who appreciates alien-appearing rock formations, Paradise Cave is for you. This complete guide to Paradise Cave explains all you need to know before visiting.
*Please note this post may contain affiliate links. If you click on one, we may earn a small commission at no extra cost to you!*
Getting to Phong Nha
Access to Phong Nha has seen dramatic improvements over the last decade.
The rural town and its caves have boomed in popularity, so transport options have increased in turn, making it much easier for travelers to access the National Park.
You can travel by sleeper bus directly to Phong Nha, take a train / sleeper train from anywhere in Vietnam to Dong Hoi train station, or alternatively fly into Dong Hoi airport.
Use 12go Asia to see your best options depending on your origin. You will find cheapest and quickest options for bus, train and plane!
Alternatively, you can travel to Dong Hoi and take a day tour into Phong Nha to explore the famous caves with transport included. Perfect if you're short on time and only have one spare day!
Click here to see the tour option from Dong Hoi with Get Your Guide.
Paradise Cave Discovery in Phong Nha Ke Bang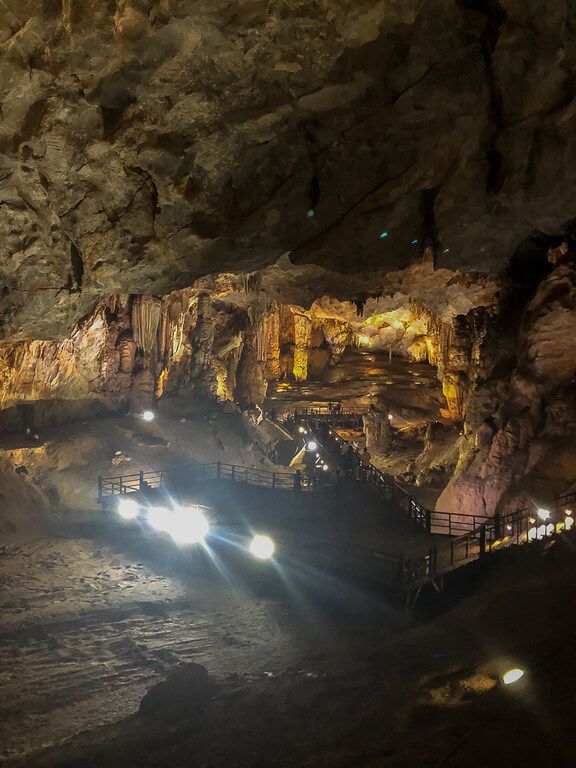 Paradise Cave was discovered in 2005 by a local and it's known as 'Thien Durong Cave'. The British Cave Research Association followed up the discovery by exploring and surveying its entirety. Sounds familiar, right?!
The Brits were busy in Phong Nha Ke Bang National Park!
Initially, the team only explored the first 5km. But further and more thorough exploration revealed the cave's length to be an enormous 31km.
Prior to the discovery of Paradise Cave, Phong Nha Cave was believed to be the longest cave system in the region. Paradise cave has a maximum height of 72 meters and stretches across to 150m at its widest point.
It is widely acknowledged as being more spectacular than Phong Nha Cave, so save Paradise cave for last.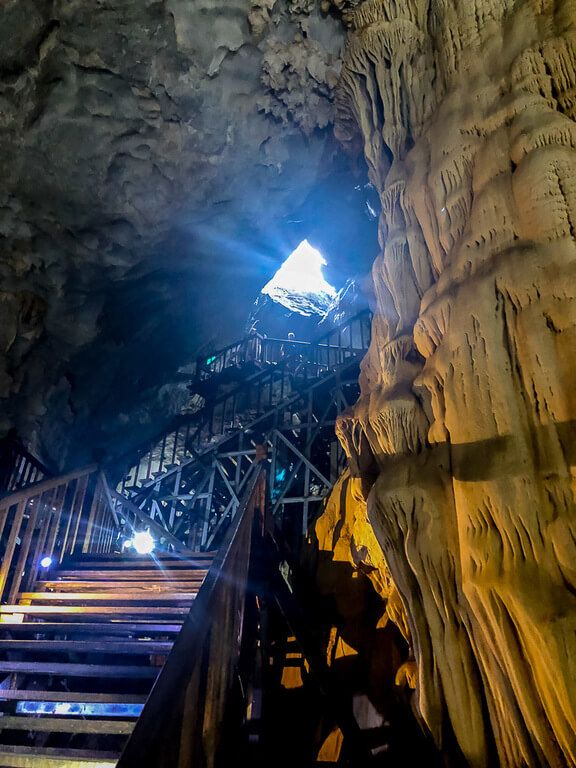 One of the most interesting aspects of Paradise cave is that the opening to enter and leave is much narrower than you would imagine.
It is wide enough for a wooden staircase to be built through the entrance without much to spare! However, once you penetrate the entrance, the cavern opens up to reveal staggeringly beautiful stalactites and stalagmites. Hence the name 'Paradise'.
The scientists were right to award it the label of Paradise. It is truly breathtaking inside.
There are cleverly positioned spot lights, illuminating some of the most jaw dropping formations. They allow you to see the intricacies of the formations without blinding you or sacrificing the dramatic feeling of being inside a cave.
Paradise cave is a great place to start, but be sure to check out the 10 Best Things To Do In Phong Nha to plan your entire visit to cave town.
Paradise Cave Tour or Independent Visit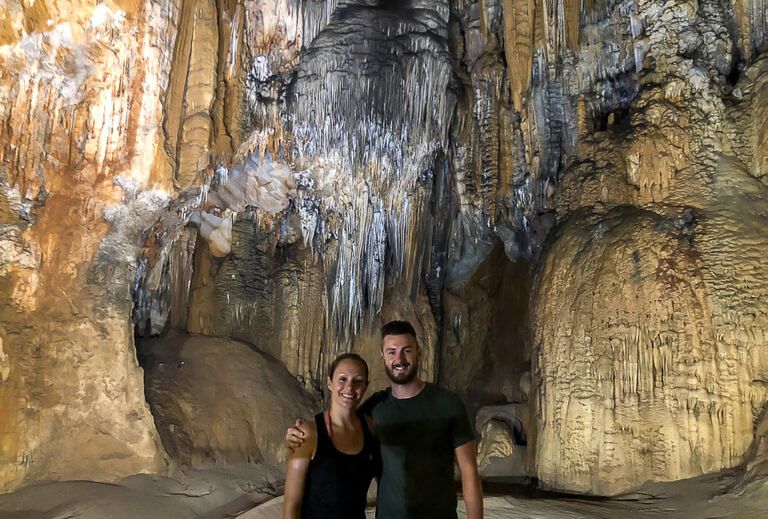 An advantage to visiting Paradise Cave (as well as Dark Cave and Phong Nha Cave) is that you can choose how to visit. Do you prefer to go on your own terms? Or would you rather go as part of a tour to meet other travelers?
If you decide to go as part of a day tour like we did, you can combine Paradise Cave with other caves in the area. We booked the National Park tour with Phong Nha Discovery for US$55 per person which included Paradise Cave, Dark Cave and 8 Ladies Cave. Plus lunch, transport to and from hotel in Phong Nha.
It's more expensive to do it that way but it's also way more convenient. Plus you can skip all the irritating scams the locals try to pull when turning up to places without being part of a tour.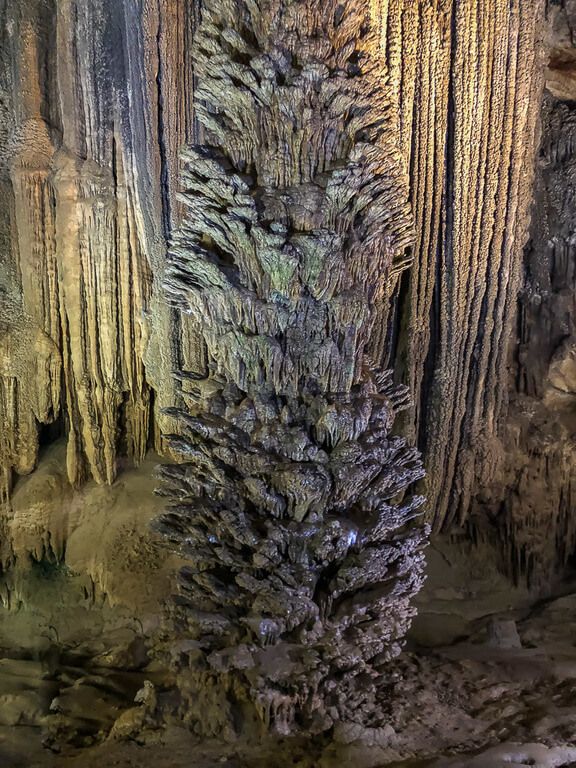 If you decide to go independently, we would recommend arriving as early as you can to avoid the crowds of tour groups. Tour guides talking through echoing megaphones will ruin your experience.
Paradise Cave opens at 7am, the earlier you arrive the better! Imagine how amazing it would be in there alone? Tours will begin to arrive around 9am and be busy until 1pm. That's when the tour groups will move onto the Dark Cave. Alternatively, wait until later in the afternoon to arrive once the tours are over.
You can hire a scooter in town or at your accommodation. To reach Paradise Cave from town, take the DT-20 past the Botanic Gardens and join Ho Chi Minh Highway (QL-15) until you see signs to turn left to Paradise Cave. There will be a nominal parking fee of around US$ 0.2.
When you return to town, continue around the loop in the opposite direction. Views over the deep green dense blanket are mesmerizing. Worth it even if you don't go in the cave! Check the interactive map below for directions.
Phong Nha to Paradise Cave Directions
The Beauty of Paradise Cave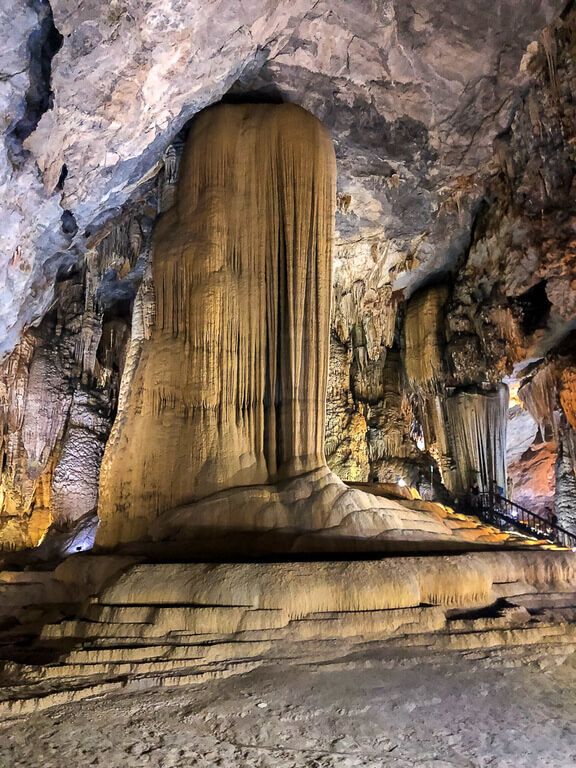 So, what's all the fuss about anyway? Well, just look at the photos! Shimmering limestone rock formations gently illuminate under dim light.
The intricate details of other worldly stalactites and stalagmites appear unreal as you gawp up at them. How the hell did that happen?!! Millions of years of flooding and receding water carved out what we can see today.
A board walk plunges down into the cave, turning left and right. The same boardwalk acts as your viewing platform the entire 1km walk to the end and back the same way.
Have you been to Wieliczka Salt Mine in Krakow, Poland? It's a similar design. For now, that is all the public are able to view.
Unless … you book onto the 14km round trip (7km there and back) private Paradise Cave walk. You can book at Easy Tiger and Phong Nha Homestay in town for 2.65m Dong (US$ 115) per person (minimum 2 booking).
It looks like a decent walk but for that price, we would recommend you book with Oxalis onto one of the much more impressive cave tours.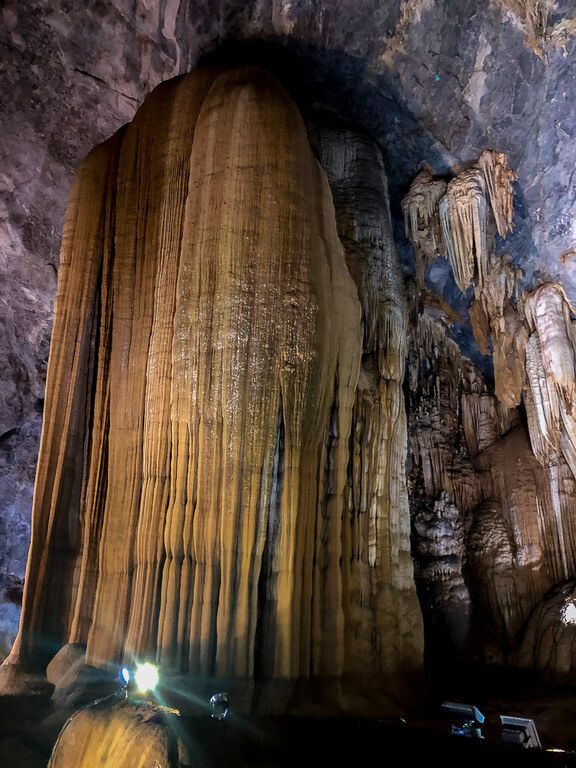 Our advice would be to prepare yourself for looking at rock formations before you arrive. What we mean is that if your head isn't in it, you could easily walk around the short footpath and be out within 20 minutes. And that would be a shame.
You're going to look at rock formations, nothing more, prepare for that.
If Paradise Cave is busy, try to block out the excitable tour groups on the conveyor belt and focus your mind intently on your surroundings.
It will transport you to a made up world. Not in the same way Valle de la Luna does in the Atacama Desert where you imagine you could be on the moon.
But more like you've stepped into Guillermo Del Toro's imagination. Escapism at its finest.
Is Paradise Cave Worth The Money?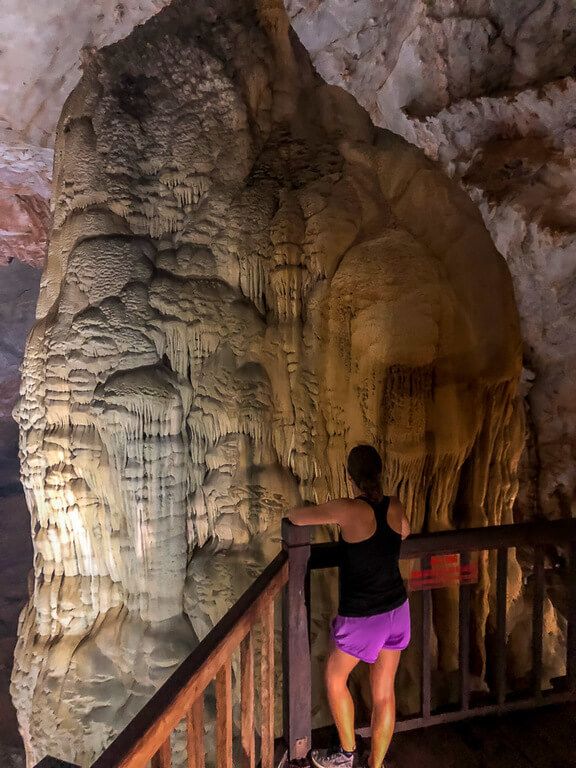 At 250,000 Dong (US$ 10), Paradise Cave is absolutely worth a visit. Manage your expectations, this is not an adventure cave. This is a cave for admiring nature, physics and the results of millions of years of flooding. It won't take you long to complete the 1km circuit but it is worth every cent of your money.
If the big caves are off limits due to budget/time constraints, make sure you visit Paradise Cave. Add in either Phong Nha Cave or Dark Cave if you're looking for a little more fun. Here's how we worked out whether to tour or visit independently.
Tour including hotel pick up and drop off, transport to 8 Ladies Cave, Dark Cave and Paradise Cave, lunch / alcohol, and tour guide (who was excellent) to give us all the information we wanted about the local area and caves = US$ 110 for us both ($55 each).
Going it alone as a couple, you would spend US$ 5 for scooter + US$ 3 for fuel + US$ 20 (x2 = US$ 40) for Dark Cave + US$ 10 (x2 = US$20) for Paradise Cave + US$ 1 for both parking spots + US$ 6 for lunch = US$ 75 for 2 people.
If you're a solo traveler and decide to do this route alone you're going to spend US$ 45 using the same numbers above. As a result, you're only saving US$ 10.
Therefore, by booking with Phong Nha Discovery at Easy Tiger Hostel we paid US$ 35 as a couple for the convenience of making zero effort and having a guide. We lost out on flexibility and of course some money.
However, we were able to meet other travelers on the tour and ended up going out for dinner, drinks at Easy Tiger and to Andy's nightclub until 3am. So that's the trade off!
Tips for Visiting Paradise Cave in Phong Nha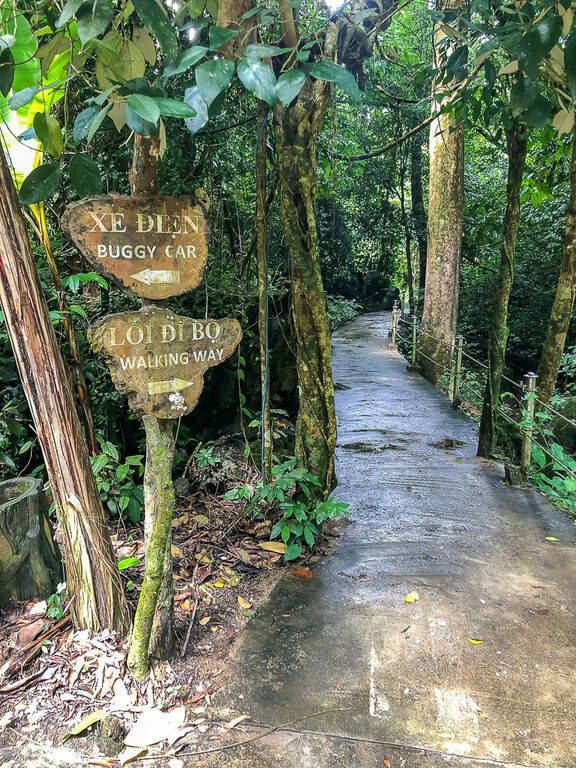 It's easy to combine Paradise Cave with Dark Cave and/or Phong Nha Cave if you're short on time.

You can either go as part of an organized tour or rent a moped and do it yourself. We met loads of people doing both.

No matter how you arrive you will park 1.6km away from the entrance in a car park and there's a bit of a climb up before you find the tiny opening in the rock. If it's humid (which it will be!) be prepared to be dripping with sweat by the time you reach the entrance!

If you paid for a tour, there's an option to be taken most of the way up in a golf buggy! We all opted to walk (and sweat!).

Paradise Cave is located just off the Ho Chi Minh Highway around 24km from Phong Nha village where the majority of people will be based. It will take 45 minutes to 1 hour if you drive yourself from town by scooter.

The drive there and back (you should go round in a loop to see it all) is packed full of gorgeous scenery and worth doing even if you don't go inside any of the caves.

Paradise cave is perfect if you have younger children but still want them to experience a cave in Phong Nha.

Arrive super early and you will beat the crowds, easily the best way to experience this cave is to be in there any yourself!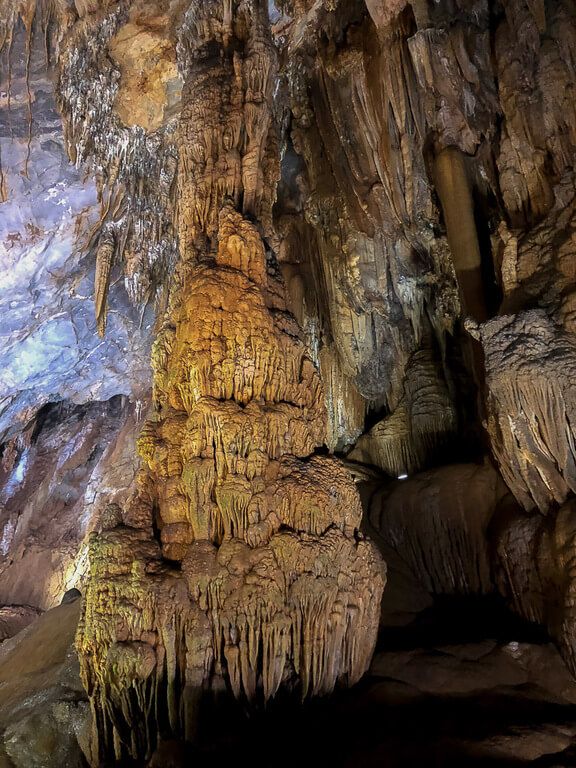 Opening Hours: 7am – 4.30pm Daily
Cost without tour: US$ 10 (250,000 Dong) for entrance, plus a nominal parking fee
Cost with full day tour including Dark Cave: $US 55 per person
Read More About Vietnam …
Didn't find what you are looking for? Read more of our popular Vietnam travel guides!
---
We hoped this helped you plan your visit to Paradise Cave in Phong Nha!
Did you visit Paradise Cave? What did you think?
If you need any help planning your trip to Phong Nha or Vietnam, please just let us know in the comments below!
Happy Travels,
Mark and Kristen
Like This Post? Pin It For Later!