Phong Nha-Ke Bang National Park is home to the biggest adventure caves in the world, but they come at a premium. For travelers lacking time or budget, the perfect substitute is the stunning Paradise Cave.
Imagine pouring molten gold from the ceiling, then at any moment you decide to click your finger and it all freezes in an instant. That is what the astonishing 400 million year old formations look like in Paradise Cave.
Let's begin.
Our Phong Nha Experience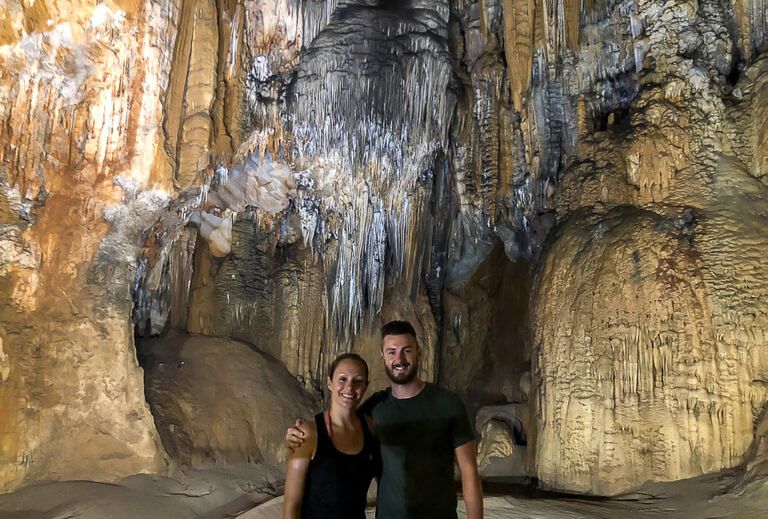 We visited Paradise Cave in October 2018 as part of our 18 month trip around the world. For this visit, we decided to book a combo tour to Dark Cave and Paradise Cave in Phong Nha.
In this guide, we will tell you everything you need to know including what we liked and didn't like. If you have never explored a cave, we highly recommend you add Phong Na to your Vietnam itinerary.
What Is Paradise Cave?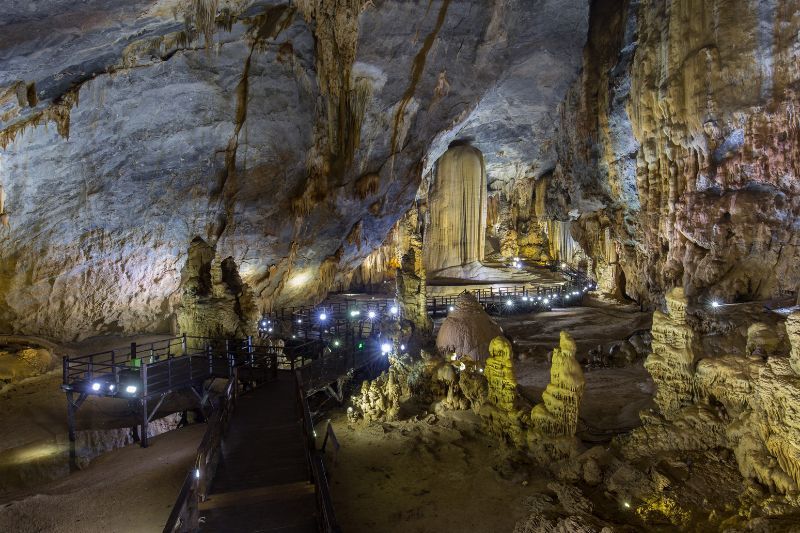 Known as Thien Durong Cave in Vietnamese, Paradise Cave was discovered in 2005 by a local. The British Cave Research Association followed up the discovery by exploring and surveying its entirety.
Initially, the team only explored the first 5km (3.1mi). But further exploration revealed the cave's length to be an enormous 31km (19.3mi)
Prior to the discovery of Paradise Cave, Phong Nha Cave was believed to be the longest cave system in the region. Paradise cave has a maximum height of 72 meters and stretches across to 150 meters at its widest point.
And Paradise is now widely acknowledged as being more spectacular than Phong Nha Cave. If you want to visit both Phong Nha and Paradise Cave, book this tour here.
We think one of the the most interesting things about Paradise cave is the entrance. When you visit, you will walk through the small opening which is much narrower than you would imagine.
The main entrance is just wide enough for a wooden staircase without much room to spare. However, once you penetrate the entrance, the cavern opens up to reveal staggeringly beautiful stalactites and stalagmites.
Hence the name Paradise.
The scientists were right to award it the label of Paradise. It's truly breathtaking inside. There are cleverly positioned spot lights, illuminating jaw dropping formations.
These lights will allow you to see the intricacies of the formations without blinding you or sacrificing the dramatic feeling of being inside a cave.
Further Reading: Best Things To Do In Phong Nha
How To Get To Phong Nha
Access to Phong Nha has seen dramatic improvements over the last decade.
The rural town and its caves have boomed in popularity. Transport options have increased in turn, making it much easier for travelers to access the National Park.
You have three main options for Phong Nha:
Sleeper bus directly to Phong Nha
Train from anywhere in Vietnam to Dong Hoi train station
Fly into Dong Hoi airport
For our trip, we took a sleeper bus to Phong Nha. Use 12go Asia to see your best options depending on your origin. Here you will find the both the cheapest and quickest options for bus, train or plane.
Alternatively, you can travel to Dong Hoi and take a day tour into Phong Nha to explore the famous caves with transport included. Perfect if you're short on time and only have one spare day.
To reach Paradise Cave from town, take the DT-20 past the Botanic Gardens and join Ho Chi Minh Highway (QL-15) until you see signs to turn left to Paradise Cave. There will be a nominal parking fee of around US$ 0.2.
You can hire a scooter in town or at your accommodation. When you return to town, we recommend you continue around the loop in the opposite direction.
The views over the deep green dense blanket are mesmerizing and worth it even if you do not enter the cave. Use our interactive map above for directions.
Best Way To Visit Paradise Cave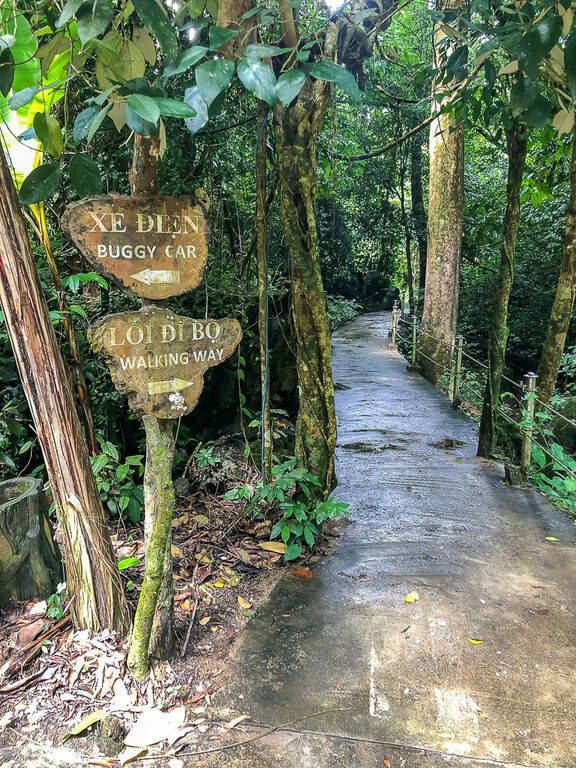 You can visit Paradise Cave independently or with a tour. Hours of operation are typically from 7:00am-4:30pm. Personally, we decided to visit with a tour because we also wanted to visit Dark Cave.
Check out the recent reviews on TripAdvisor to see if Paradise Cave is a place you want to see in Vietnam.
If you plan to visit Paradise Cave on your own, we recommend you plan to arrive early in the day to avoid the crowds and tour groups. The entrance fee will be 250,000 VND (about $10.30) per person.
Tour groups will begin to arrive around 9:00am and continue until 1:00pm. That's when the tour groups will move onto the Dark Cave. Alternatively, you can wait until later in the afternoon to arrive once the tours finish.
Booking a tour is more expensive, but it's more convenient. Our tour cost us $55 per person which included Paradise Cave, Dark Cave, 8 Ladies Cave as well as transport to and from our hotel in Phong Nha.
You can book tours with your Hotel or directly online here.
This is a popular tour with Kook which combines Paradise Cave and Phong Nha Cave. If you want to read reviews and see a few more options, here are popular Paradise Cave Tours:
What Can You See Inside Paradise Cave?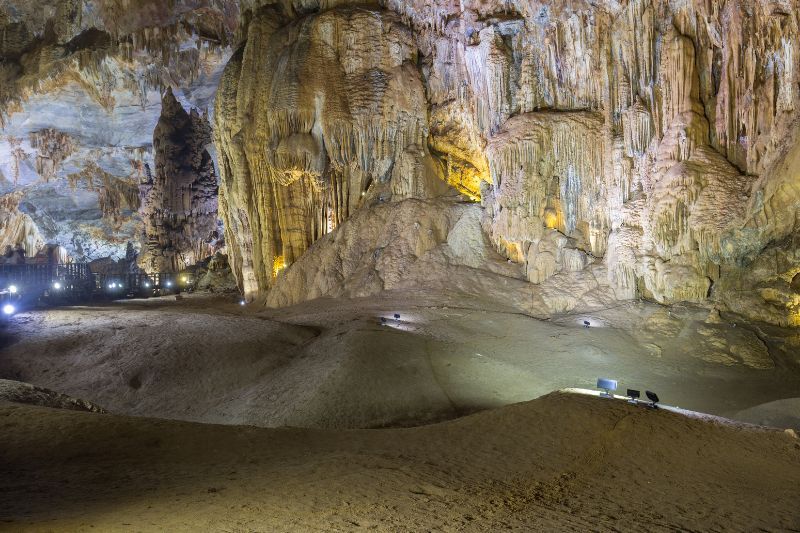 A board walk plunges down into Paradise Cave with numerous left and right turns. The same boardwalk acts as your viewing platform the entire 1km (0.6mi) walk to the end and back the same way.
Shimmering limestone rock formations gently illuminate under dim light. The intricate details of other worldly stalactites and stalagmites appear unreal as you stare up at them.
Millions of years from flooding and receding water carved out what we can see today. You can easily walk the short footpath and be out within 20 minutes.
But that would be a shame so take your time when exploring Paradise Cave and admire all of the beautiful rock formations.
You might be wondering what the difference is between a stalactite and stalagmite?
We had the same question! Stalactites grow down from the ceiling of the cave and stalagmites grow up from floor of the cave.
You will find small detours leading to various points of interest throughout the boardwalk. It will transport you to a made up world.
Conclusion For Visiting Paradise Cave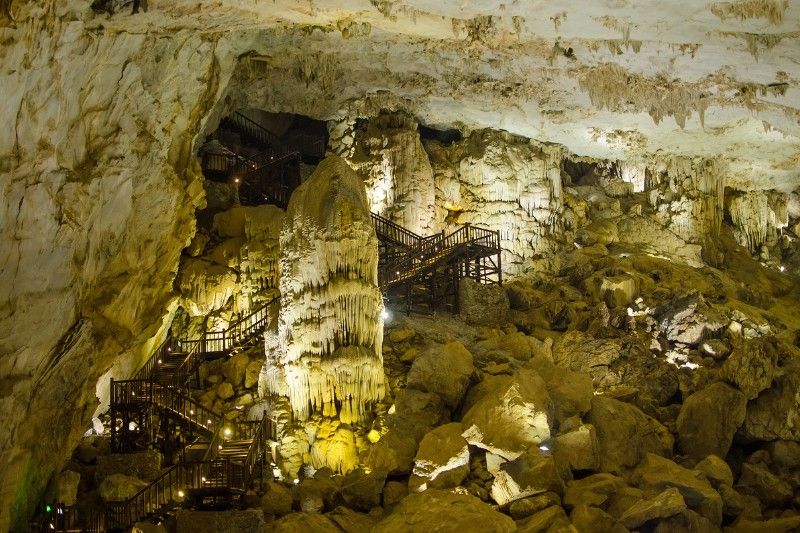 We think Paradise Cave is worth visiting. This is one of most easily visited caves inside Phong Nha-Ke Bang National Park and highly recommend it.
Paradise is perfect for just about anyone including children and older travelers. Visitors will have to walk up and down several stairs, but the boardwalk through the cave is quite short.
This cave in Vietnam offers a big bang for your buck because once you walk through the entrance, you are immediately welcomed into the massive cavern.
However, if you are looking for an adventure cave where you have to trek for multi-days, Paradise Cave is not for you.
Tips For Your Visit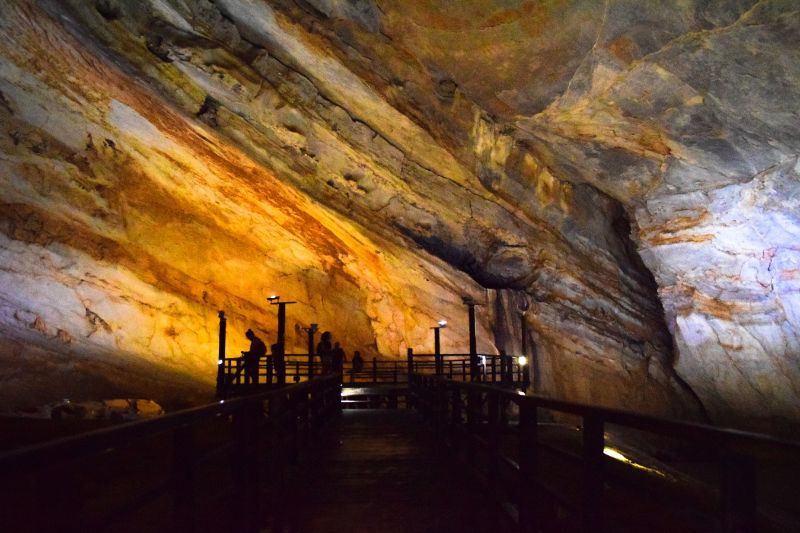 To make the most of your time, here are a few things to consider for your visit to Paradise Cave:
It's easy to combine Paradise Cave with Dark Cave or Phong Nha Cave. If you're short on time, you can book a tour or rent a moped and do it yourself. We met many people doing both.
Whether you visit independently or though a tour, you will have to park about 1.6km (1.0mi) away from the entrance. There is also a bit of a climb up before you find the tiny opening in the rock.
Vietnam can be extremely hot humid which means you should always have extra water.
If you paid for a tour, there is an additional option to be driven from the parking lot to the entrance in a golf cart. We all opted to walk.
Paradise cave is perfect if you have younger children but still want them to experience a cave in Phong Nha.
Paradise Cave is located just off the Ho Chi Minh Highway around 24km (15mi) from Phong Nha village where the majority of people will be based. It will take 45 minutes to 1 hour if you drive yourself from town by scooter safely.
Travel Tip: If you drive yourself, go around in the loop we mentioned above because this region is packed full of gorgeous scenery and the drive will be incredible.
Pros And Cons To Paradise Cave
Still on the fence about visiting Paradise Cave? Here are a few pros and cons to help sway your decision:
Pros
Short boardwalk
Great for those travelers short on time
Perfect for all age groups
Cons
Numerous stairs which may be difficult for some travelers
Visitors have to stick to the boardwalk
Tours are extremely touristy
Before booking our tour, we priced out how much it would cost us. This might help you decide if you want to visit independently or with a tour:
Tour including hotel pick up and drop off, transport to 8 Ladies Cave, Dark Cave and Paradise Cave, lunch and alcohol plus an excellent tour guide cost $110 for us both ($55 each).
Going alone as a couple, you would spend about $5 for scooter + $3 for fuel + $12 (x2 = $24) for Dark Cave + $10 (x2 = $20) for Paradise Cave + $1 for both parking spots + $6 for lunch = $59 for 2 people.
You could save about half the price by doing this route alone if you are on a tight budget. But it would also require you to find the caves yourself and potentially lose out on learning about the caves from a guide.
Paradise Cave Photos
We enjoyed our time at Paradise Cave at took many photos. Here are a few of our favorites: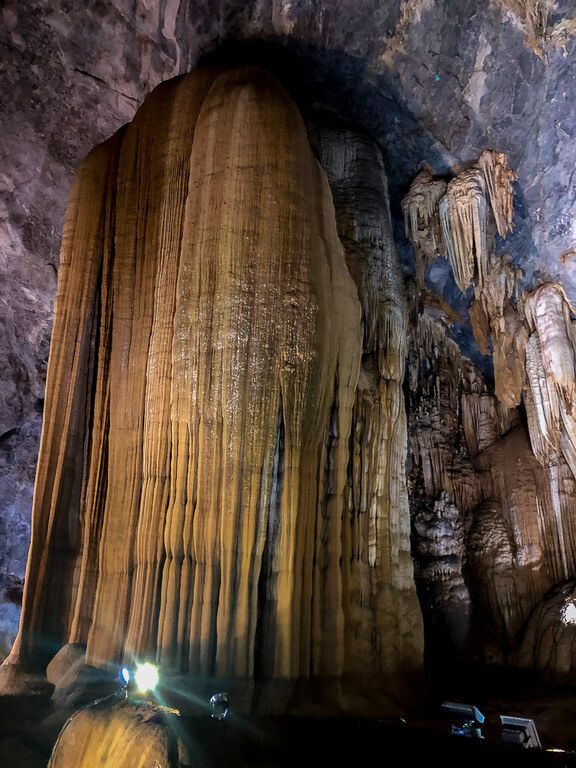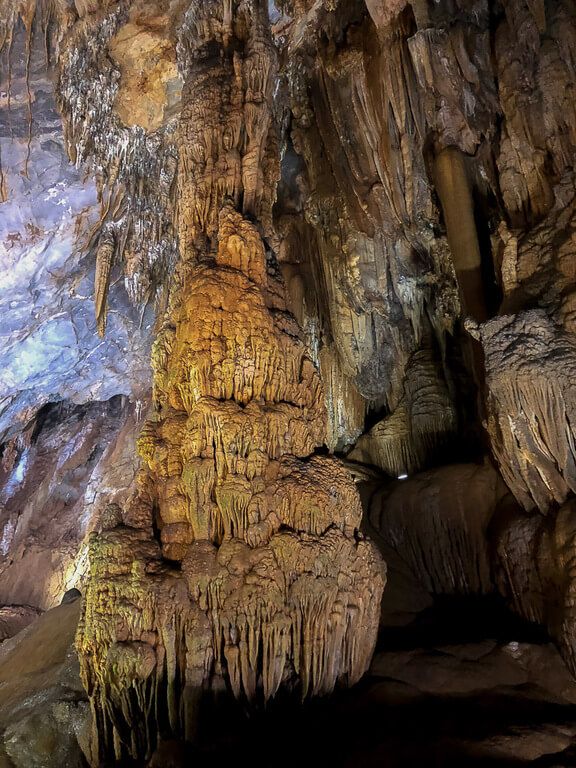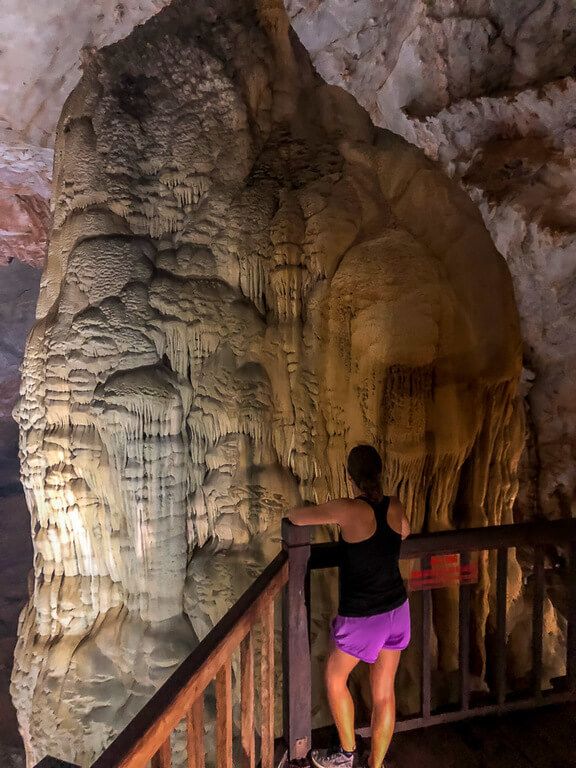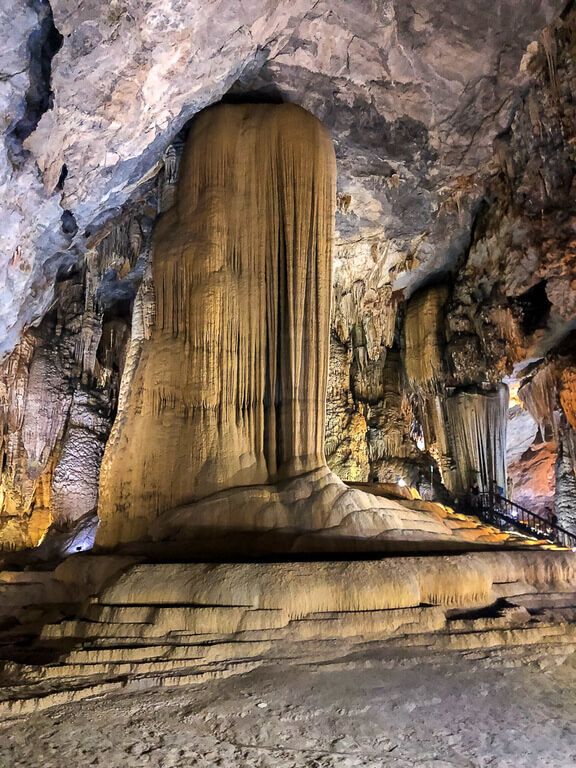 Popular Vietnam Guides
More Vietnam Guides
Want more Vietnam content? Head over to our Vietnam Travel Guides to see example itineraries, tips about Vietnam and popular city guides.
---
We hope our guide to visiting Paradise Cave in Phong Nha helps you decide if this activity is worth your time in Vietnam!
Please let us know if you have any questions about visiting Paradise Cave or planning a trip to Vietnam in the comments below.
Happy Travels,
Mark and Kristen
Enjoy This Paradise Cave Guide? Pin It For Later!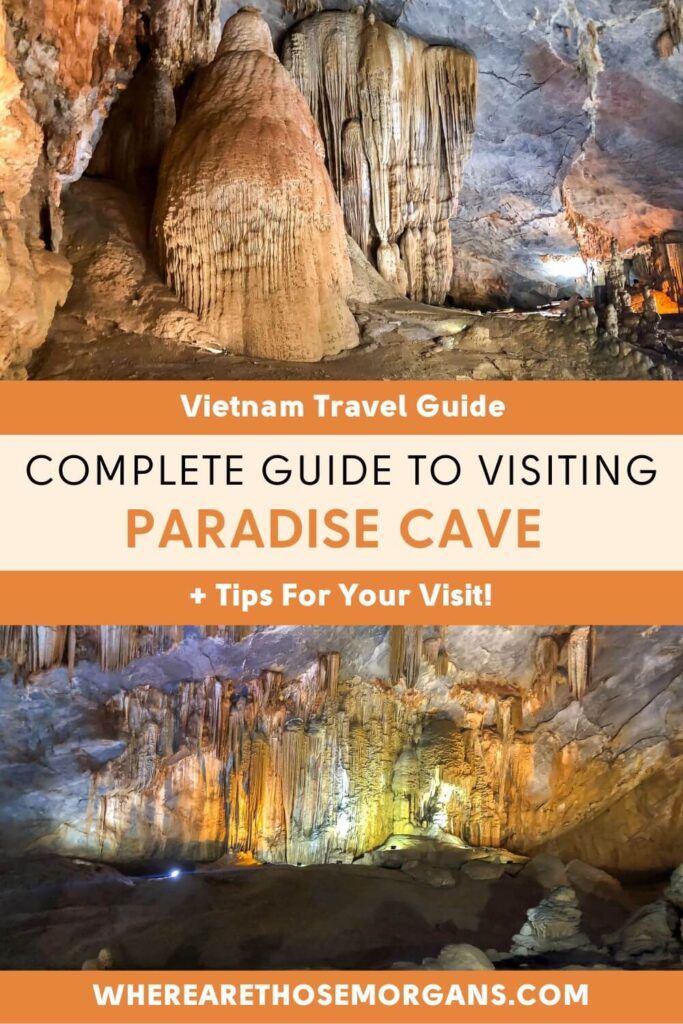 Note: This article contains affiliate links. When you make a purchase using one of these affiliate links, we may earn a small commission at no extra cost to you.
All Rights Reserved © Where Are Those Morgans, LLC. Republishing this article and/or any of its contents (text, photography, maps, graphics, etc.) in whole or in part is strictly prohibited.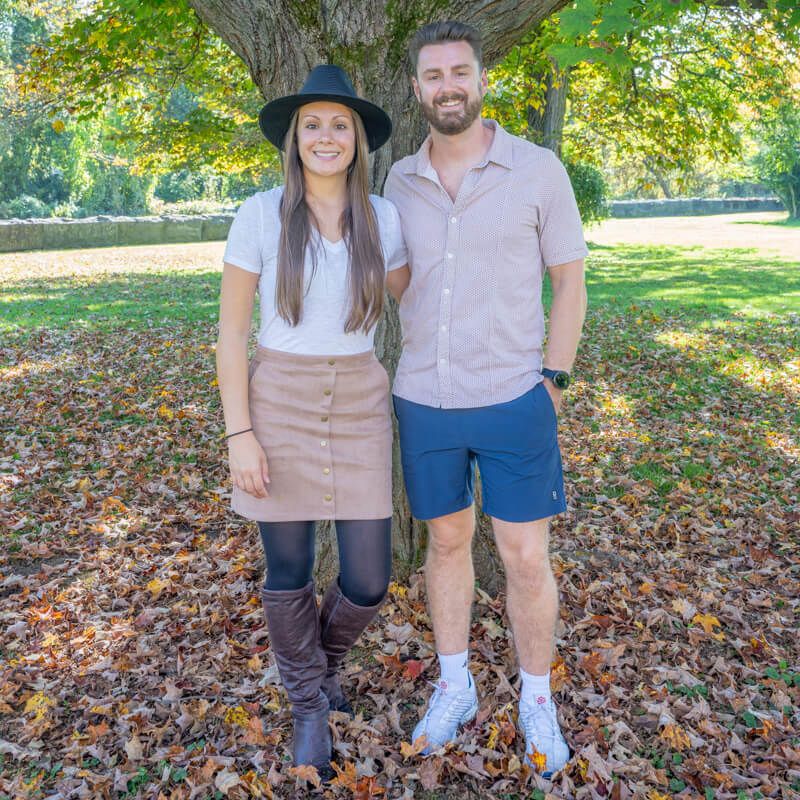 Mark and Kristen Morgan are travel, hiking and photography experts. Over the last 6 years traveling full time, they have explored more than 40 countries and 30 US states.
Their work has been featured in USA Today, Gestalten, Get Your Guide, CityPASS and Condé Nast Traveler along with various other publications.