Ninh Binh Province is one of the most memorable stops on the South East Asia travelers trail and this is the perfect 2 day itinerary for your visit.
Did you know that Ninh Binh is dubbed 'The Halong Bay Inland'? Towering limestone karsts enveloped in emerald green vegetation erupt out of waterlogged rice paddies and rivers carve through valleys of karsts as local farmers grow crops at their banks. Personally, we thought Ninh Binh was substantially more beautiful and far less 'tourist conveyor belt' than Halong Bay. Not to mention, you can visit at a fraction of the price.
Ninh Binh was once widely regarded as Vietnam's 'hidden gem.' However, the secret got out and word spread of authentic slice of Vietnam with stunning landscapes and a quaint town at its heart. Pandoras box had been opened. Tam Coc in Ninh Binh Province began welcome wildly increased numbers of tourists, yet almost everyone traveling Vietnam will say Ninh Binh was one of their favorite places.
We think an action packed 2 day itinerary is the perfect way to explore Ninh Binh. No doubt you have a lot more of Vietnam to see and an approaching expiration date on your visa!
*Please note this post may contain affiliate links. If you click on one, we may earn a small commission at no extra cost to you!*
Where is Ninh Binh?
Ninh Binh is located in Northern Vietnam, around 93km (58 miles) directly South of Hanoi. Walk roughly 40km (25 miles) to the East and you'll find the Gulf of Tonkin – the Northern part of the South China Sea. Heading West for approximately 150km (93 miles) would result in you crossing into Laos.
How To Get To Ninh Binh Province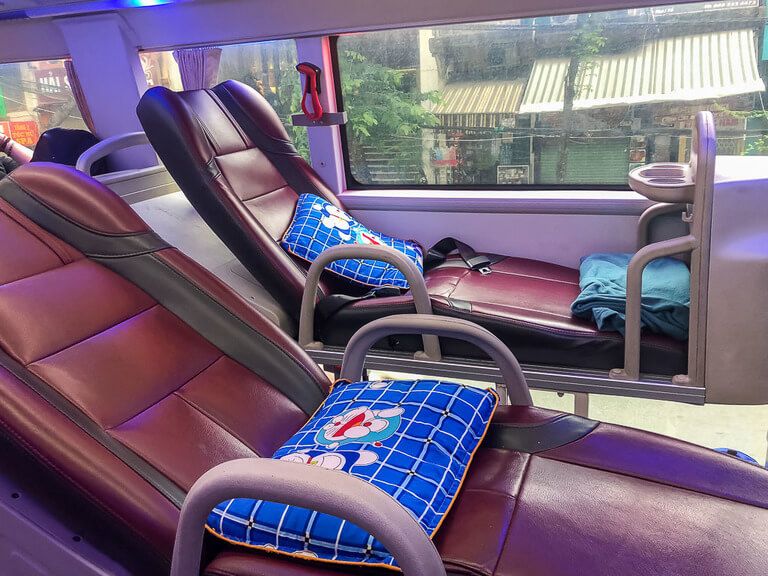 Flights
Unfortunately, Ninh Binh does not yet have its own regional airport. However, Hanoi international airport is only 127km (79 miles) away. Most travelers will spend a few days in Hanoi before jumping on a train or bus to Ninh Binh. Alternatively, you could grab a taxi and head straight down to Ninh Binh, for a premium of course.
Fly into Hanoi if you are traveling to Vietnam internationally. Moreover, even if you are in Southern Vietnam, there are no closer regional airports than Hanoi so its still your best bet. We always use the Skyscanner search engine to book our flights.
What would be worse – Ninh Binh getting an airport but as a result being completely overrun by tourists? Or Ninh Binh continuing without an airport with fewer tourists relying on trains and buses to get there? Let us know what you think in the comments!
Trains
Trains are a cost effective and efficient (and less emotional!) way to travel Vietnam. Why? Because there is one train at a time, running on one track and in one direction. If you have ever traveled by bus, moped or car in Vietnam, you will completely understand wanting to avoid the carnage we are talking about. Although, there aren't always direct trains running to tourist hotspots such as adventure cave town Phong Nha and trekking haven Sapa.
However, Ninh Binh is incredibly easy to access by train, either from Hanoi in the North or from any of the big cities in the Center/South.
Sleeper Bus
Ahh the joys of the Vietnam sleeper bus. It's a rite of passage. If you don't take one, you haven't truly 'done' Vietnam!
Traveling down from Hanoi or even Halong Bay as we did? You won't need a sleeper bus, just a normal day time bus that will take a few hours. Our bus Halong Bay to Ninh Binh was 2 hours late setting off and took around 4 (hair raising) hours to arrive in Tam Coc directly.
Heading up from Hue, Hoi An or Phong Nha? Check the 12Go Asia booking engine to see availability/times/prices for sleeper buses and sleeper trains. If you plump for the bus, we would strongly advise booking a sleeper bus online before you travel. They are MUCH better than locally organized buses on the day, trust us!
Must Read! If you're planning on traveling by sleeper bus – which you should just for the experience – be sure to read our extremely in depth guide to traveling by sleeper bus in Vietnam! Including what to expect and our own personal experiences from each of the 5 sleeper buses we took … and yes, we survived!
Best Tours Available to Ninh Binh
Are you staying in Hanoi and want to see the highlights of Ninh Binh, but don't want to have to deal with logistics and staying over? Many visitors prefer to take a day tour from Hanoi to Ninh Binh and hundreds do each day. It's the perfect solution for those short on time or who are on holiday in Hanoi.
Day tours will include transport and entrance fees to the likes of Bich Dong Pagoda (free), Mua Cave viewpoint, Hoa Lu ancient capital, Bai Dinh Pagoda and Trang An Boat Tour.
Search Get Your Guide for the Best Ninh Binh Tours From Hanoi
Best Things to Do on Your Ninh Binh Itinerary
Ninh Binh Province is jam packed full of beautiful scenery. You can visit 300 year old pagodas built into caves, summit a viewpoint with a breathtaking 360 degree panoramic view and glide by boat among limestone mountains. But there's more to see than just the tourist 'attractions'.
Simply cycling on a narrow lane cutting through a rice paddy field with a river to your left and a limestone mountain randomly sprouting up to your right is enough to fall in love with nature in Ninh Binh Province. Let's take a look at the best things to do on your Ninh Binh itinerary:
Trang An Boat Tour
We begin with the most popular and top rated 'thing to do' on this Ninh Binh itinerary. On the Trang An Boat Tour, you will float through a series of dark caves with low hanging ceilings and intriguing geological features. At the end of each cave, you slowly glide out into a new scene filled with impressive limestone rocks dominating the terrain.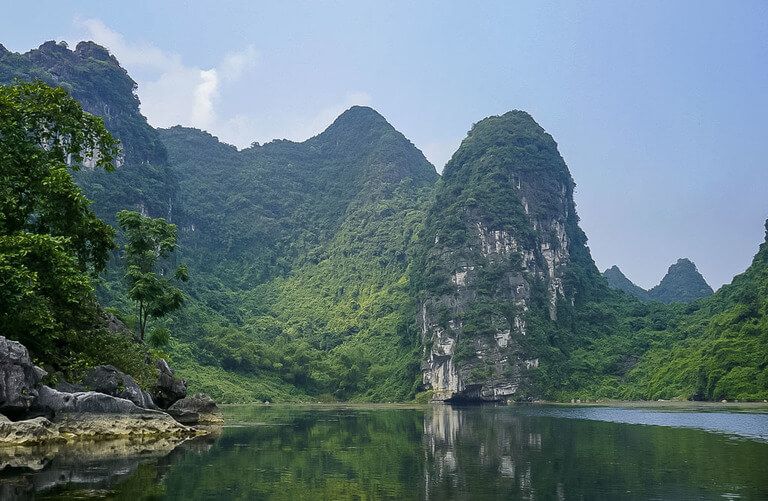 Remember we mentioned pandoras box being opened in Ninh Binh? Imagine 2 hands opening the box. In the left hand we have UNESCO declaring the Trang An Complex a world heritage site in 2014. And in the right hand is Hollywood filming blockbuster Kong: Skull Island among the limestone karsts and water ways of the complex.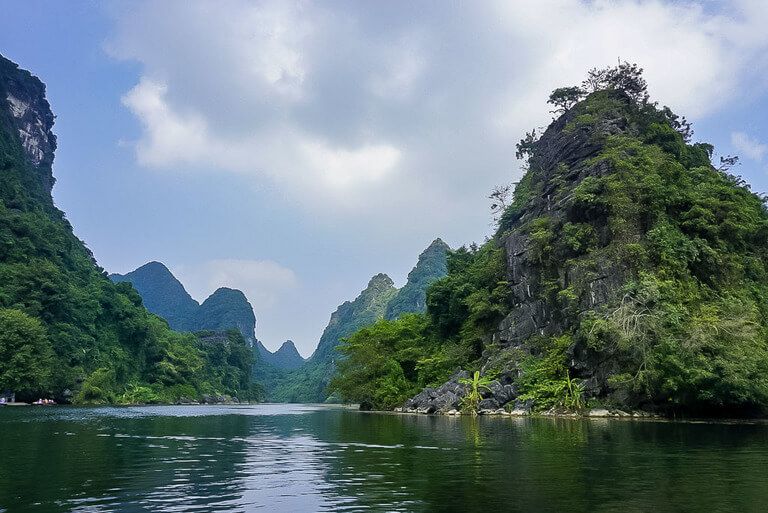 Your helmsman will steer you expertly around beautiful landscapes that are the reason Ninh Binh has been dubbed as 'Halong Bay Inland'. You will be amazed by unrivaled serenity and tranquility as you sit back and simply enjoy Mother Nature at her finest.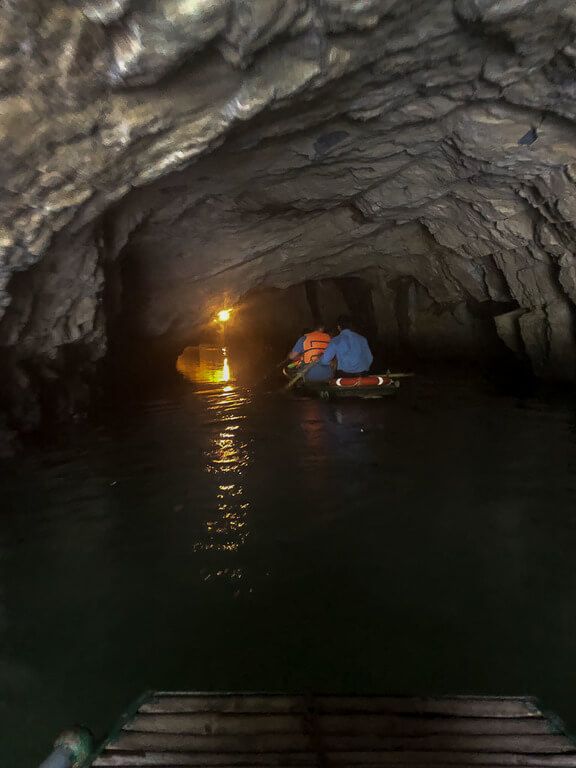 There are a number of stop off points where you can leave the boat to explore small islands with Buddhist temples and shrines to discover. Trang An's UNESCO status means the complex is regulated, therefore you will find no scams – even when it comes to parking!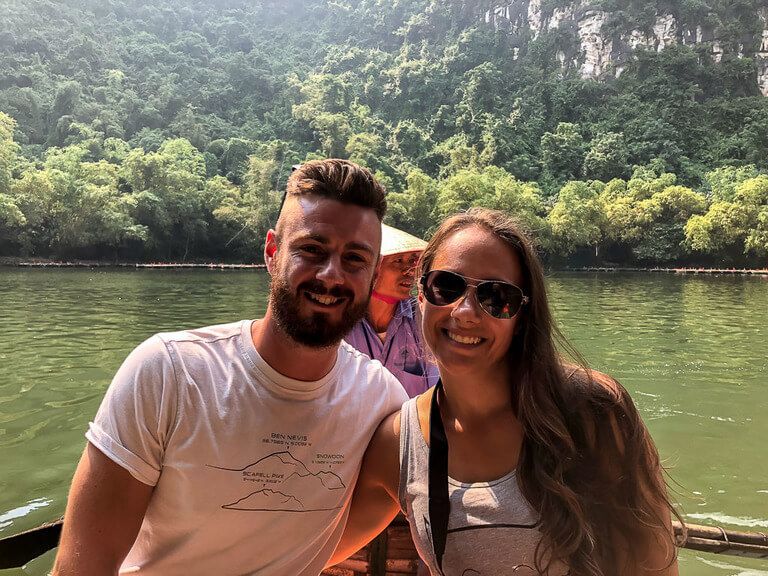 Opening Hours: 7am – 4pm every day
Price: 200,000 VND (US$ 8.50) per person
Time Required: Around 3 hours
Complete Guide: If you are interested in reading more about the Trang An complex, don't forget to check out our Ultimate Guide To The Serene Trang An Boat Tour before you visit.
Mua Cave Viewpoint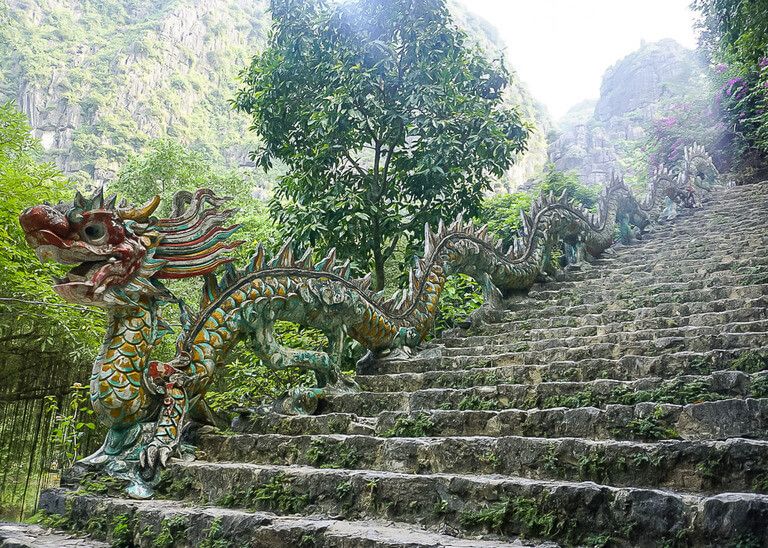 Although the Trang An boat tour is the most popular attraction, that doesn't mean it's the best one. For us, the incredible 360 degree panoramic vista from the Mua Cave Viewpoint was the peak of our Ninh Binh adventure.
You will have to walk 500 steps up an ancient looking stone staircase to reach the summit, but the majestic views are worth your effort. You will forget about the unbearable humidity and your own exhaustion once you feast your eyes on the valleys around you.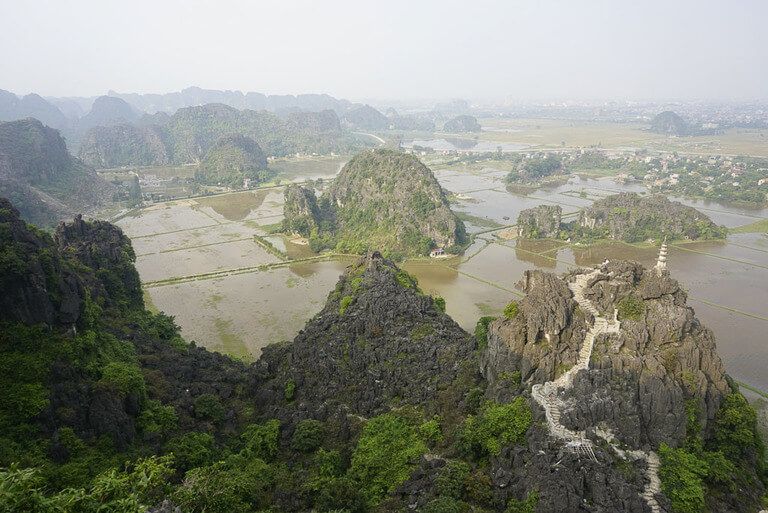 Look West and you will see the Ngo Dong River flowing through a range of limestone mountains wrapped in deep green vegetation. The river will be dotted with wooden boats and farmers tending to their rice crops on the river banks. To the East, you have views over a lower viewpoint at Mua Cave, plus in the distance you can see industrial Ninh Binh city.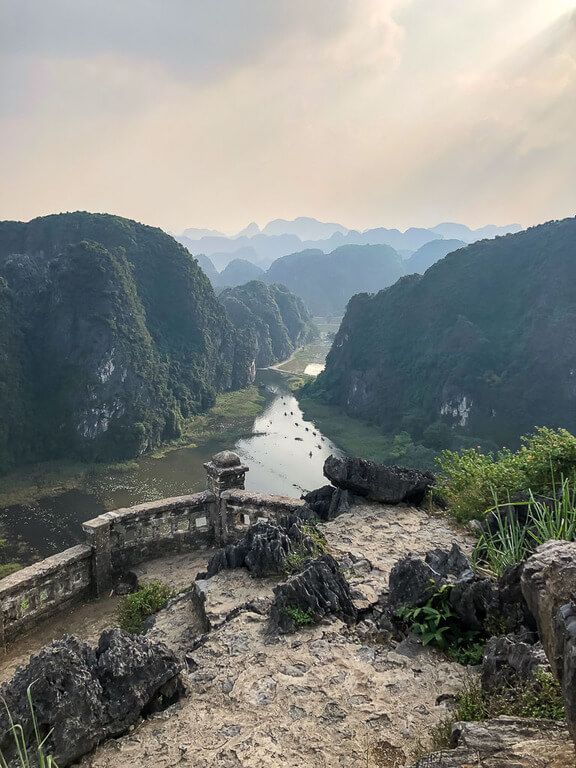 Don't forget to snap a photo with the stone dragon statue at the summit, with its long meandering tail. Be careful on the sharp rocks and you should know there will probably be a line to get a photo with this guy!
Scammers are at work as you arrive at the Mua Cave trail head. They will try to make you park your bicycle or motorbike in their 'parking lots'. Some might even be dressed in police uniforms blowing whistles at you. Do Not Stop! Continue on to the end of the road and park for free at the Mua Cave Ecolodge, right at the entrance.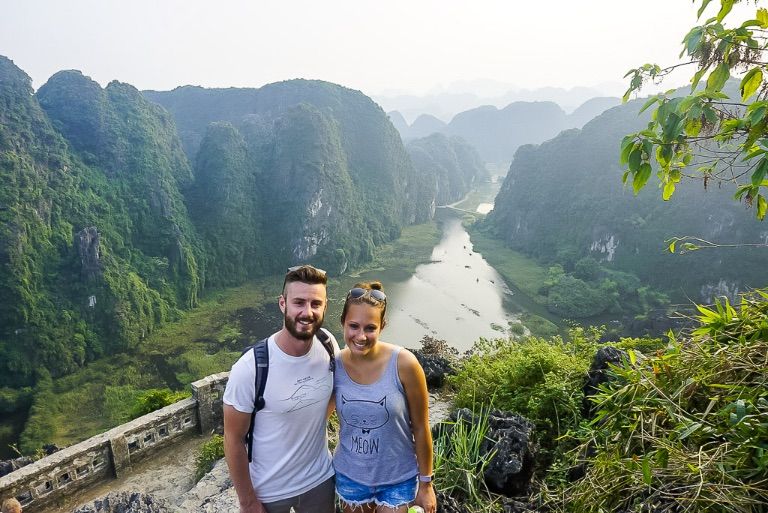 Opening Hours: 6am – 7pm every day
Price: 100,000 VND (US$ 4.50)
Time Required: Between 2-3 hours
Complete Guide: Check out our in depth know-before-you-go guide to the Unrivaled Panoramic Vista At Mua Cave Viewpoint so you know what to expect when you visit!
Bich Dong Pagoda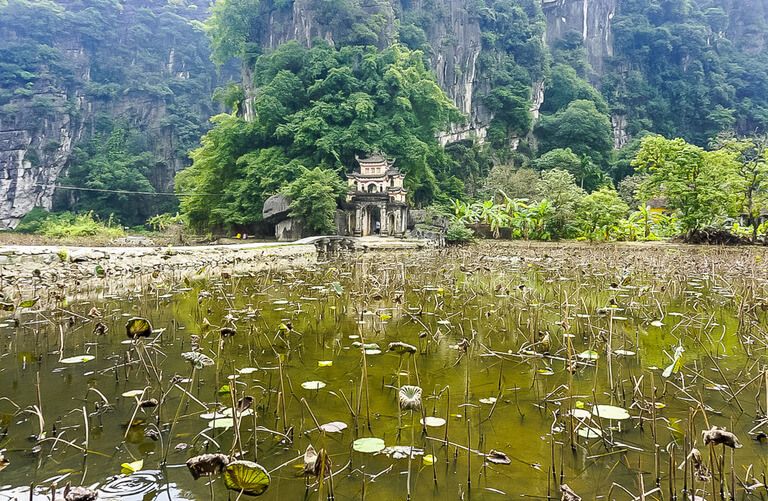 The Bich Dong Pagoda is a three-tiered temple half built inside a cave. But the name doesn't do the whole complex justice. As you arrive you will be welcomed by a lake filled with lotus flowers and if you time it right for Summer, the flowers will be in bloom. Splitting the lake into two is a narrow stone path with a gorgeous arch, leading to a beautiful triple arched stone entrance gate.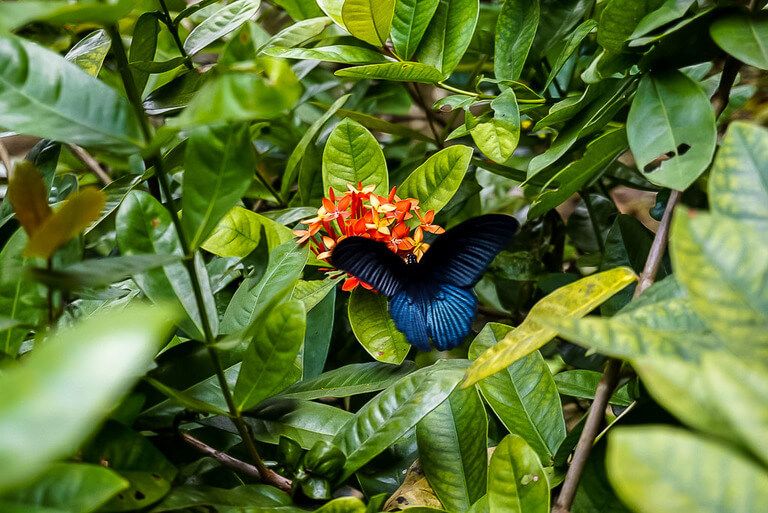 Don't forget to check out the grounds to discover plants, statues and even butterflies before you begin climbing the stairs. The pagoda is built into a cave that is recessed into a huge looming limestone rock. On the second level, there is a also temple built into the rock. You will need to take a narrow passage to the left and enter the cave. Follow the cave to a staircase and on the third tier you will leave the cave to overlook views of entrance lake.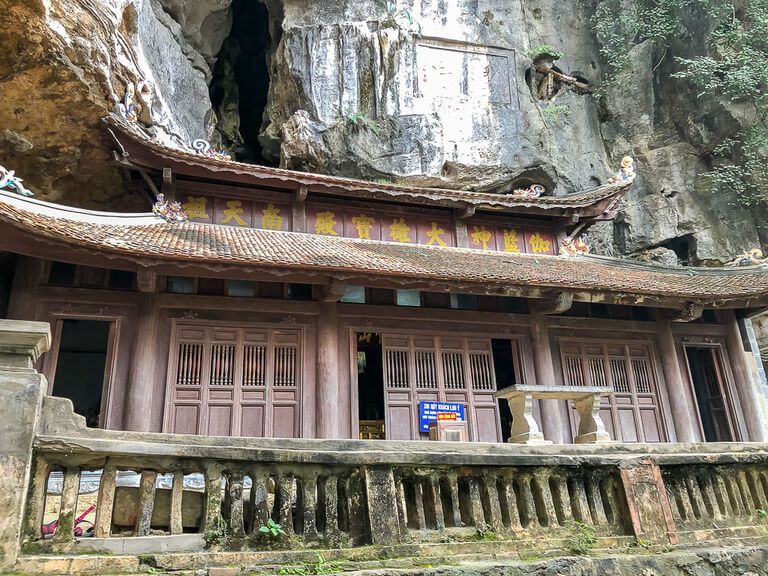 Do you think you have seen this whole area? You haven't! There is a BONUS area that not many people know about. Let's say there were around 100 tourists exploring Bich Dong Pagoda and only 4 others (6 including us) found the secret area.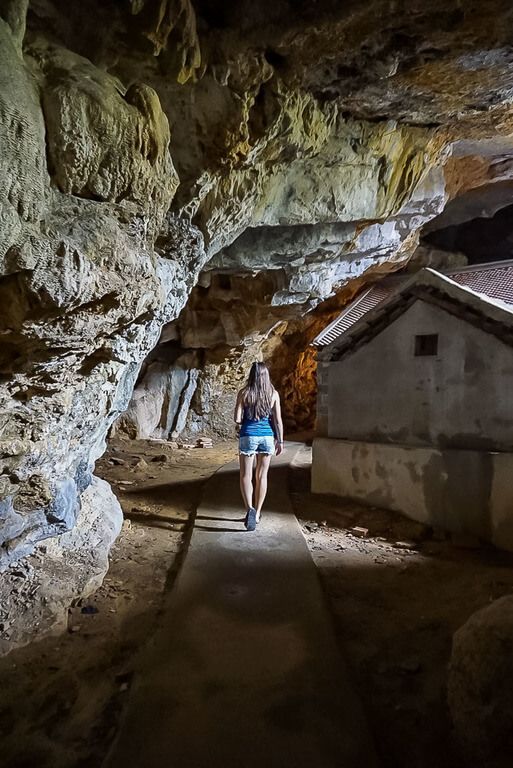 Please note you will have to pay to park your bicycle or motorbike. Don't pay any more than 10,000 VND. The locals might try to be cheeky and get 20,000 from you.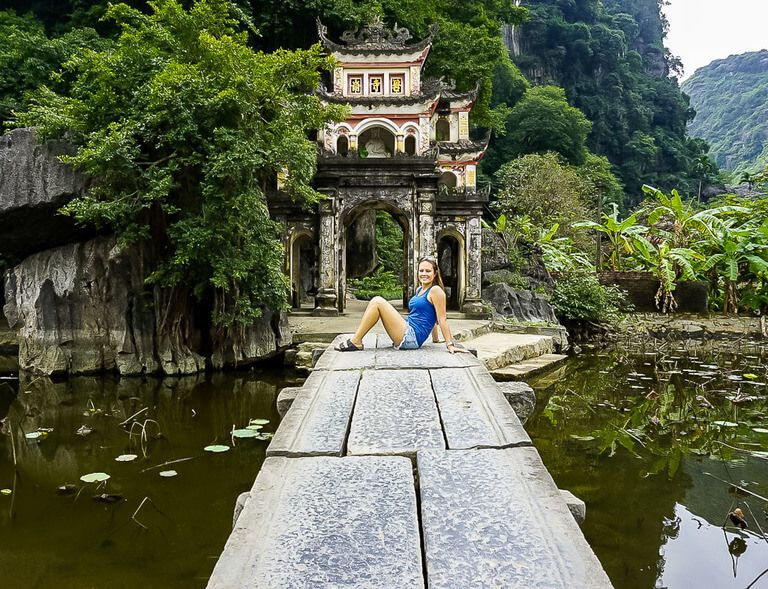 Opening Hours: No set opening hours
Price: FREE (Love a freebie!)
Time Required: 2-3 hours
Complete Guide: We reveal the bonus area and explain more about the parking situation plus provide a full walkthrough of visiting the temple in our Stunning Bich Dong Pagoda Walkthrough Guide!
Hoa Lu Ancient Capital
Three miles to the North of Trang An is where you will find the remnants of 1000 year old Vietnamese history. Hoa Lu was the ancient capital of Vietnam in the 10th and 11th centuries, before the capitol was moved to Hanoi. You will need to cross a modern looking bridge and enter through a triple arched entrance gate to access the grounds. Not much remains from the ancient dynasties, but there are some temples and pagodas. It won't take long to walk around and grab a few photos.
We didn't get any photos at Hoa Lu. We drove up from Trang An boat tour and planned to spend a quick half hour at Hoa Lu, before heading back down to climb the steps to Mua Cave Viewpoint. However, when we arrived at Hoa Lu, there was a lot of confusion with the locals yelling at us to pull in and park. We had one guy nearly run us off the road.
The problem was we weren't sure where to actually park. Everything seemed very scattered. However, we did know we weren't staying long. So, we quickly drove over the bridge and into the gate. We had a quick blast around and decided to leave soon after. In all honesty, we forgot to get any photos because we zoomed around so quickly on our moped!
Sometimes you just have to say screw it! We're sure everyone who travels Vietnam has had a similar situation?!
Opening Hours: 7am-4pm
Price: 20,000 VND (US$ >1)
Time Required: 1 Hour Max
Tam Coc Boat Tour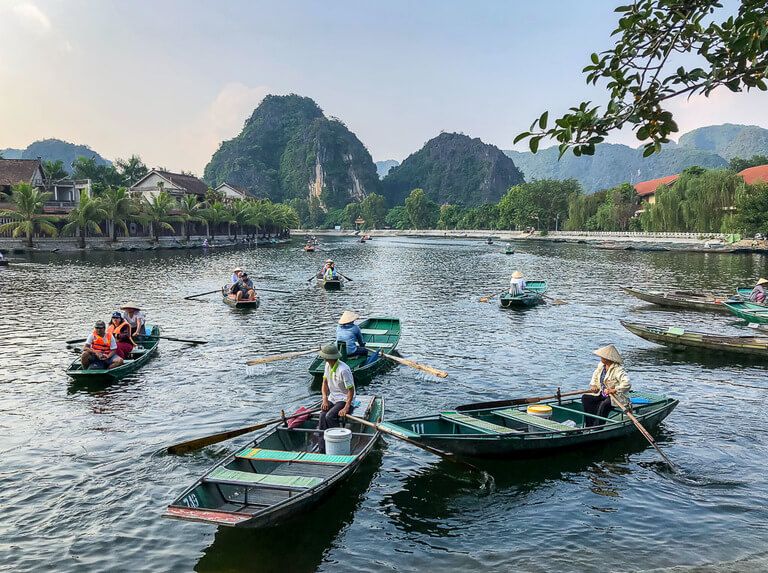 We must start by mentioning that we didn't go on the Tam Coc boat tour ourselves. But we would have added it to our own Ninh Binh itinerary if we had time (and the spare money!).
Although, reading about certain incidents on the Tam Coc boat tour added a little hesitation. Some of the guides have been known to stop the tour in the middle of the river and demand a tip before they continue. In addition, the lack of a UNESCO designation means the guides don't have to abide by any regulations. We're sure it's not as bad as it sounds, but it's something we really considered.
There is one particular section of the Tam Coc boat trip that looks stunning. It is the same segment you can see from the summit of Mua Cave Viewpoint, where the boats pass through the limestone valley.
The major benefit is this tour begins and ends bang smack in the center of Tam Coc, making it oh so convenient. No effort is required to get on this boat ride! Perfect for those running low on time, waiting for a bus or don't fancy cycling/driving out to Trang An. It will still have amazing views, you are in Ninh Binh after all!
Opening Hours: 8am-6pm
Price: 150,000 VND for the boat and 120,000 VND per person (US$ 17 per couple total)
Time Required: 2 Hours
2 Day Ninh Binh Itinerary
Having visited ourselves, we are going to recommend the itinerary for Ninh Binh the way we would have done it had we been given this information first. Geographically, this itinerary will seem illogical. However, for the best experience possible, this is the most efficient and effective way to see the best sights in Ninh Binh. We will assume that Tam Coc will be your base for the 2 days.
Day 1
AM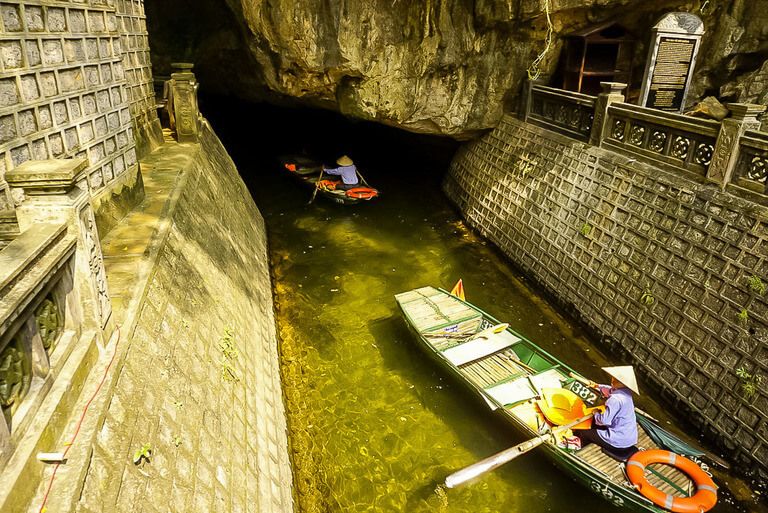 Do you mind early starts? We hope not! The best way to see Trang An boat tour is to arrive as early as possible. Be the first person there at 7am! Why on earth would we ask you to do that? Because you will feel like you have been transported to a another world, completely alone.
Imagine floating around giant limestone rocks as the deep violet sky begins to glow with orange hues in the early hours of dawn. A misty morning would enhance the eeriness. There would be not a single other boat out with you, giving a feeling of solitary isolation in a fascinating environment.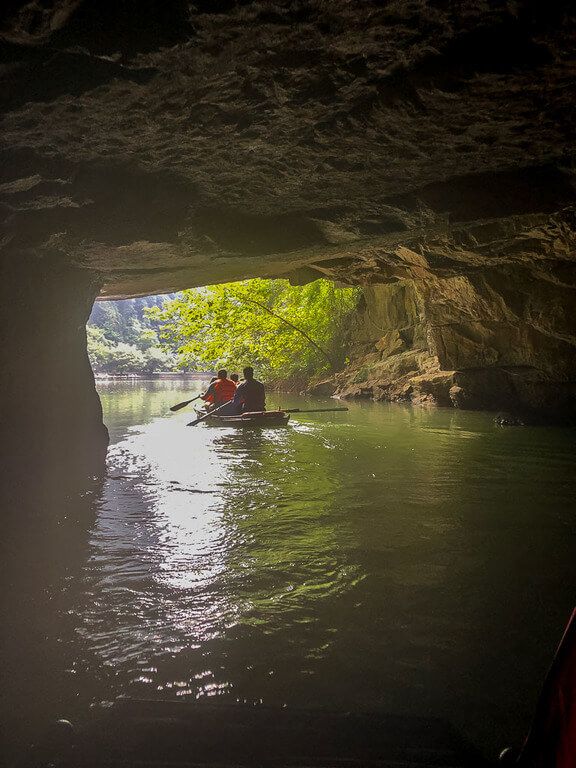 Prefer to sleep?! Well, that's fine too! We arrived at 9am and it was less busy than we expected as we began, but it soon fills up. We were among a group of around 10 boats traveling at a similar pace. In hindsight we would have arrived at 7am. On the dot!
Once you leave the boat tour, head further North to Hoa Lu and pay to park just where the bridge begins. You'll know when people run out in the road cackling at you! This is a good time to spend an hour walking around the temples and Outer Citadel area.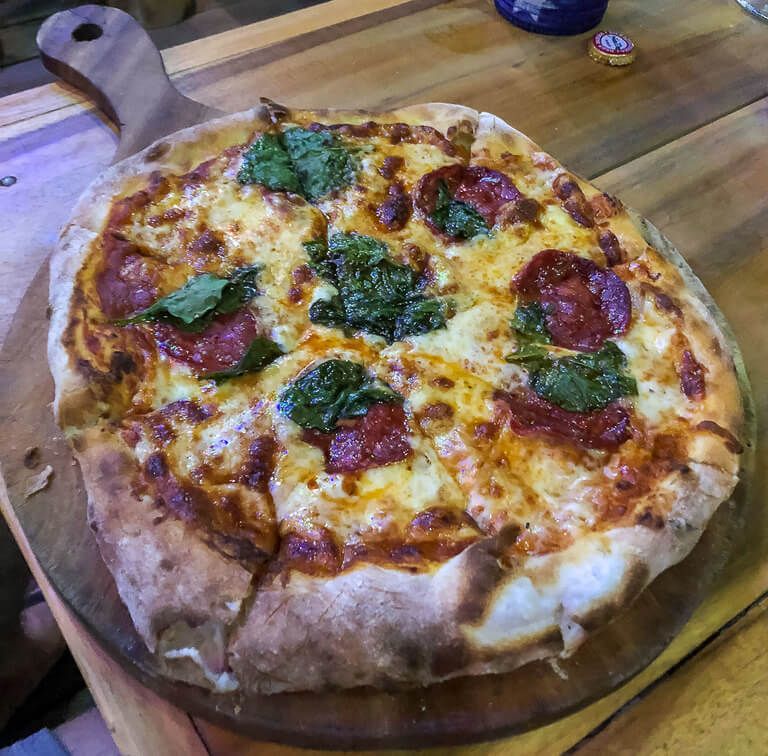 Head back to Tam Coc passing by the entrance to Mua Cave viewpoint, save that for the next morning. Trust us!
We know this is a 2 day itinerary and you might want to try a few restaurants out in the area. BUT…you should go to Chookies beer garden both days! It's awesome. We found it to be one of the best restaurants/hang out areas in all of Vietnam. And they make a sublime pizza, in a bona fide pizza oven. Try the pepperoni or bolognese pizza for lunch! The only downside? It's not exactly budget friendly.
PM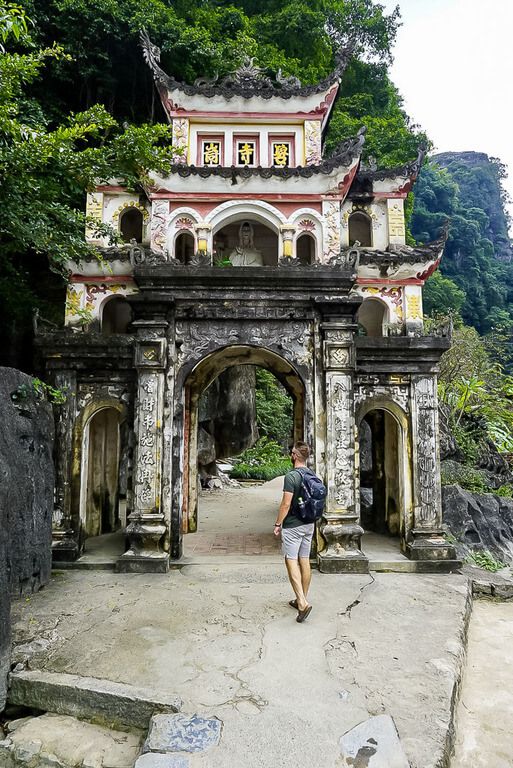 You could continue on the motorbike, but we would suggest you ditch the engine and use your legs instead. Grab a bicycle from your hotel and cycle the 3km (2 miles) from Tam Coc to Bich Dong Pagoda. It's a lovely scenic ride and you're doing your tiny bit for the environment.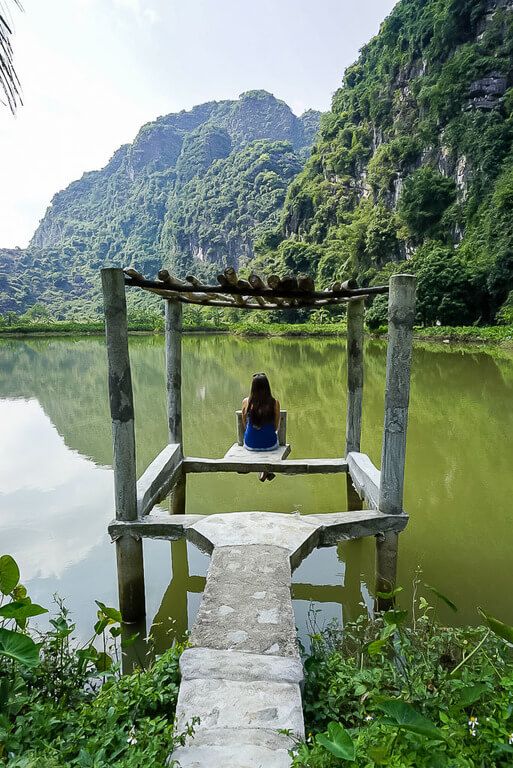 Hopefully, the tour buses will have thinned out by the afternoon. You'll need around 2-3 hours to explore the three tiers, grounds and include that fantastic BONUS area that you can find out about in our Bich Dong Pagoda article! This is a lovely place so take your time.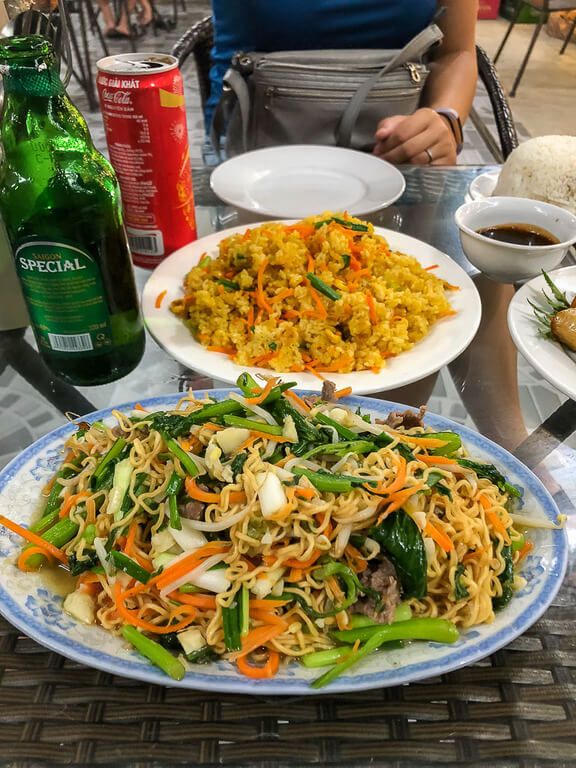 Once back in town, pick a restaurant that looks busy and order some local food and relax with a beer!
---
Day 2
AM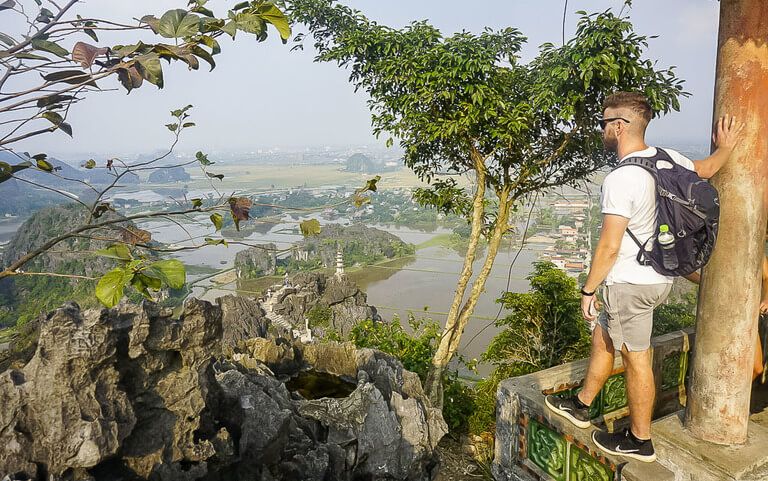 Sorry to do this to you, but it's another early start! This one is definitely worth making that extra effort to get out of bed for. Jump back on your motorbike and try to arrive at Mua Cave trailhead for 6am (or as close as possible).
1 – There won't be many scammers on the entrance road this early.
2 – You will have the whole mountain to yourself … at sunrise!
3 – Heat and humidity will be SOOO much less of an issue for the climb.
They are some pretty serious pros to getting up early, particularly 2 and 3. When we go back to Vietnam, we will without question be arriving to Mua Cave at 6am.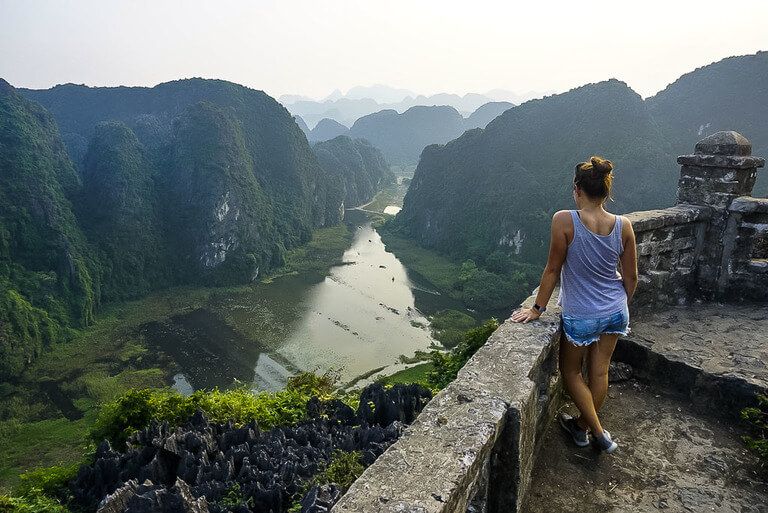 We arrived at 2.30pm thinking we'd take our time and summit just before sunset. A good idea in principle, right? Well it didn't exactly turn out how we had planned!
Firstly, the climb was horrendous because of Vietnam's inescapably high relative humidity and our poor decision to climb at the hottest part of the day. Secondly, it was extremely crowded at the top for sunset.
That's why we suggest giving it a miss the evening before and making the effort to come back up on the second morning of the 2 day itinerary for Ninh Binh.
PM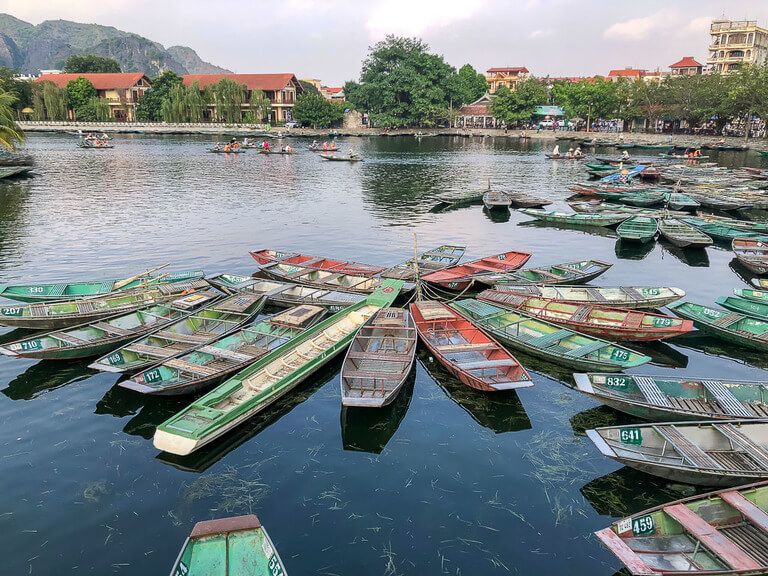 Following another Chookies beer garden lunch, take an easy stroll over to the Tam Coc boat dock. A late afternoon of gliding through golden or green ride paddies will be the prefect way to end your second day. You've already done an early morning boat ride just after sunrise, this time head out for a sunset!
Heading to Vietnam? Be sure to read our top 30 key things to know about Vietnam before you visit.
Where To Stay On Your 2 Day Ninh Binh Itinerary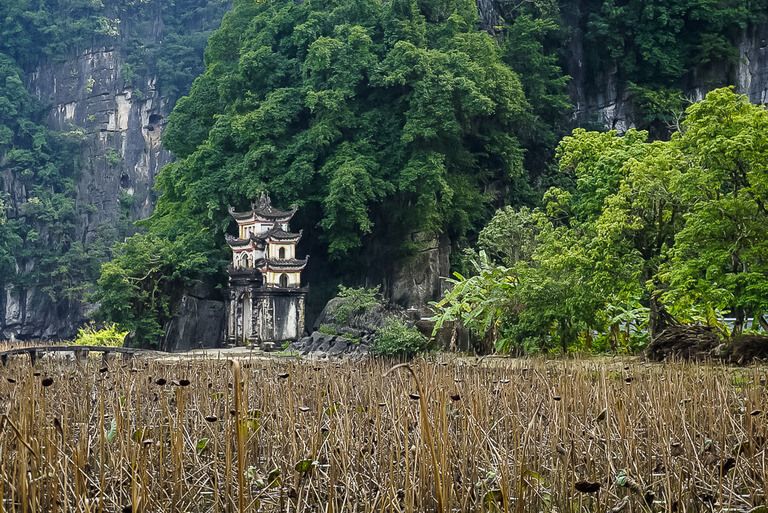 So, do you think you want to spend a few days around Ninh Binh? If you do, be sure to stay in Tam Coc and forget the underwhelming big industrial city Ninh Binh. Tam Coc is a gorgeous rural town perfectly located among all the best things to do in Ninh Binh Province.
We use booking.com to book our accommodation when we travel for the easy to use interface and lowest prices. Insert your travel dates into the booking.com search engine box below to see all options available for your visit. Or take a look at some of our favorites below that!
The best thing about staying in Tam Coc is the abundance of properties with exceptional ratings above 9.5 / 10! We've scoured the area for amazing properties across budget, mid-range and luxury options and listed the best of each for you to check out.
Tam Coc Sunrise Homestay
Located downtown close to restaurants and Tam Coc boat tour pier, this budget hotel has a swimming pool, breakfast included and an exceptional 9.6 on booking.com. There are a ton of amazing cheap budget hotels in Tam Coc. Be sure to check this one out as you search for your perfect hotel.
Tam Coc Wonderland Bungalow
Views over rice paddies to the front and limestone karsts directly behind from the swimming pool at Tam Coc Wonderland Bungalow make it worth staying alone! It is located perfectly just a few minutes walk out of Tam Coc town. Meaning you get a rural setting with amenities close by. Each bungalow faces in towards a brick courtyard and the pool as its center piece.
Tam Coc Garden Resort
Perfectly located for a luxurious and peaceful stay in Ninh Binh, close to Bich Dong Pagoda and Tam Coc. Tam Coc Garden Resort was voted 2019 travelers choice on TripAdvisor and has a 9.4 on booking.com. The hotel is surrounded by paddy fields and looks wonderfully serene.
Where Did We Stay in Ninh Binh?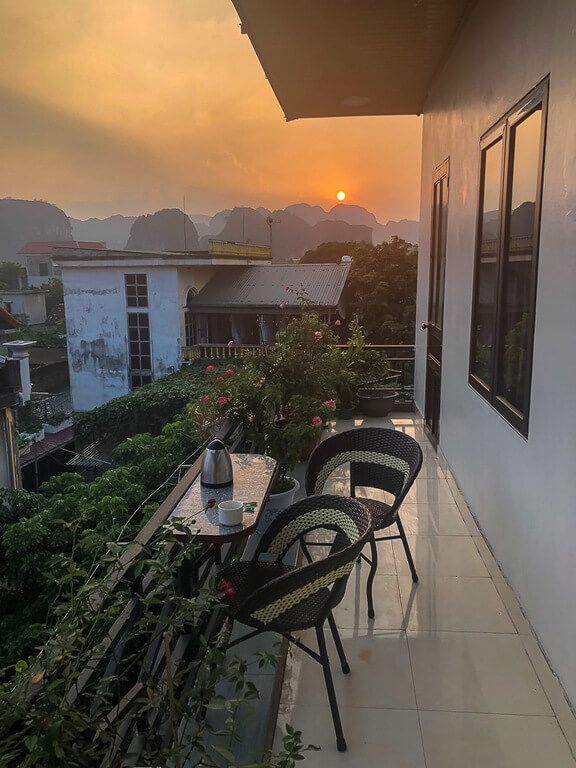 We stayed at a small budget place called Dream Hotel. It's centrally located in Tam Coc just a few minutes walk from the strip of restaurants and Tam Coc boat dock. The owners were lovely and the hotel price included a buffet breakfast each morning.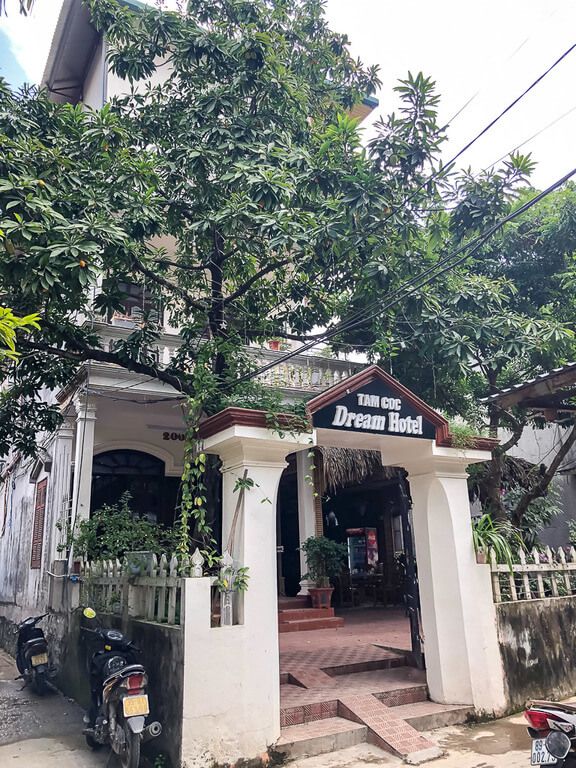 We were able to hire bicycles and a motorbike directly at the hotel for a better price than it cost in town, which was a nice touch. Plus, there are fantastic views from the upper balcony over nearby limestone karsts. We paid $US 10 per night when we stayed which was perfect for our budget at the time!
Book your stay at Tam Coc Dream Hotel now on booking.com
Interactive Map Ninh Binh 2 Day Itinerary
Read More About Vietnam …
Didn't find what you were looking for? Be sure to check out all of our popular Vietnam travel guides!
---
We hope this guide helps you plan the perfect Ninh Binh itinerary!
Did you follow our itinerary? What was your favorite part about Ninh Binh?
If there's anything else you need help with regarding your visit to Ninh Binh Province (or anywhere else in Northern/Central Vietnam), please just ask us in the comments below!
Happy Travels,
Mark and Kristen
Like This Post? Pin It For Later!