North and Central Vietnam is filled with stunningly beautiful diverse places and landscapes. With just 10 days to formulate your Vietnam itinerary, you will need to be organized and get creative with your plans.
Based on our own personal experiences in Vietnam, we have created 3 very different travel routes for you to consider. The famous cities of Hanoi, Sapa, Halong Bay, Ninh Binh, Phong Nha, Hue and Hoi An all feature in our example itineraries.
Planning this trip will not be as straightforward as you might think because it's challenging to decide which places you will cut from your visit. Ten days is not a lot of time and it will certainly go fast.
Our example itineraries will help you appreciate what is achievable in 10 days. Remember, travel time between places can wipe out huge chunks of your day so it's best to limit how often you move.
Be sure to save this guide for later because we will be covering a lot of information. Now, let's start planning your 10 day Vietnam itinerary!
Planning Your 10 Day Vietnam Itinerary
Our only goal with this guide to to help you plan a route for your 10 days in Vietnam. There will be no fluff and we are going to get straight to the point.
We would suggest 3-4 weeks as the perfect amount of time to spend in Northern and Central Vietnam. But we know that kind of travel time can be difficult to obtain.
A North and Central Vietnam itinerary lasting 10 days will allow you to see most of the spectacular views as well as experience a few of the best highlights. Remember, you can always return to Vietnam another time.
Ten days is the perfect amount of time to get your feet wet and see the best things to do in Vietnam. During this 10 days, you can certainly experience enough to learn if this is a country you would like to further explore.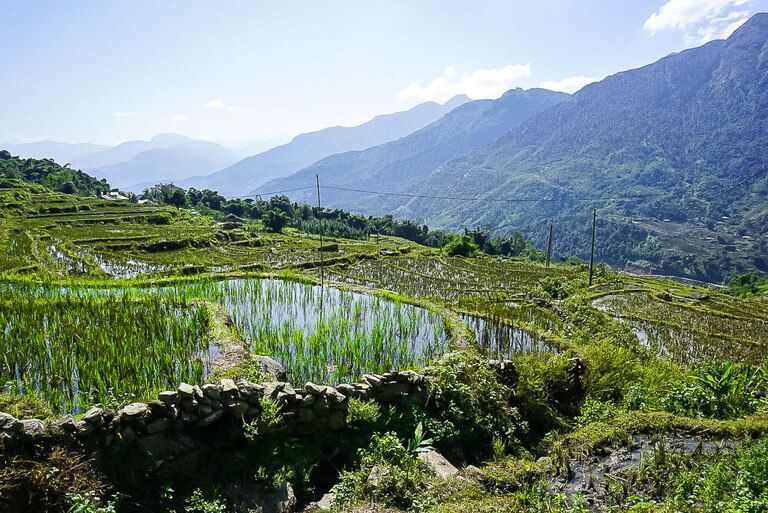 How To Use This Travel Guide
Here are a few important questions to consider in order to narrow down the most efficient way to spend your 10 days in Vietnam:
Do you know which places in northern and central Vietnam you want to visit?
How much time would you like to spend in each place?
What type of budget are you working with?
If you don't exactly know which cities you want to visit yet, that is okay. We will discuss each itinerary in depth as well as include our travel guides to those specific locations in Vietnam.
Before you make a decision, we recommend you read more about the experiences or cities listed on these itineraries to make sure you are visiting the best parts of Vietnam for you.
We will also include the top rated tours as well as hotel options in these locations to make this your one stop shop for travel in Vietnam.
Each of these 10 day Vietnam itineraries will cover the North and Central portions of the country, but you can easily add on an extra day or customize your trip to add cities in the south as well.
Three 10 Day Vietnam Strategies
Each of our 3 example itineraries have a different approach so one itinerary might be more appealing to you right from the start:
Option 1 – A chilled 10 days in Vietnam. This itinerary will concentrate on one particular region with a plan to return in the future.
Option 2 – 10 days split between Northern and Central Vietnam. With this itinerary, you will cover a bit more ground with this being the most forgiving option to customize how you want.
Last, but not least for those who want to see it all:
Option 3 – The smash and grab strategy. This is where you will cram in everything you can and sleep on the flight home.
Everyone travels a little bit different, but we all end up at the exact same places so there is no right or wrong way to explore Vietnam.
Considering more time in Vietnam? Read our detailed 3 week Vietnam itinerary to plan the perfect travel route.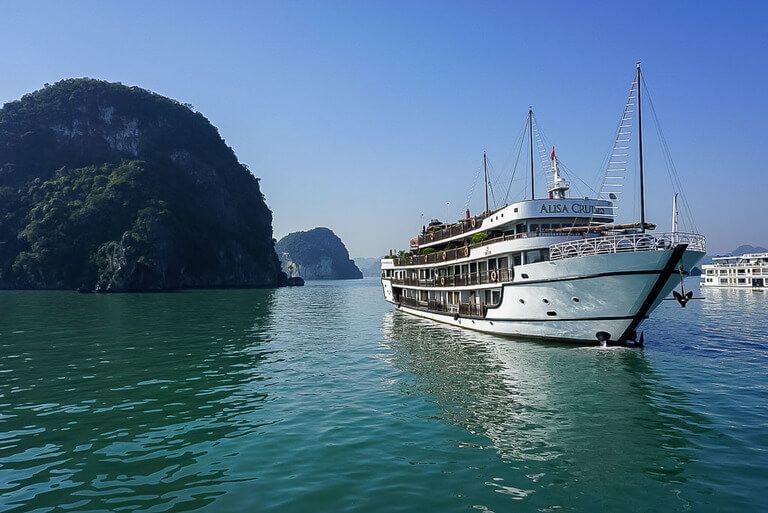 How Much Of Your Vietnam Itinerary Should You Book In Advance?
This 10 day Vietnam itinerary focuses on the Northern and Central areas of Vietnam. High season in these regions typically runs from November through April.
If you are traveling during the high season, we would recommend you book your tours and hotels to guarantee a spot. But if you are traveling in the low season, you can book as you go.
However, if there is a tour, experience or a hotel you don't think you can miss out on, we suggest you book as soon as possible.
Here are a few of our favorite travel resources for Vietnam:
Booking.com – A great way to find deals on hotels throughout the entire country.
Skyscanner – The best way to compare flight prices to Vietnam from multiple sources.
Get Your Guide – This company will help you book the top rated tours in Vietnam.
Prior to arriving in Vietnam, we would also recommend you download the Grab App (iPhone or Android) because this is essentially the Uber of SE Asia.
Once Grab is downloaded to your phone, you can choose to add your credit card details or pay cash for each ride. We prefer to use Grab over a taxi because Grab is generally safer and you already know the price for the ride (you won't get scammed).
Want to save money on travel? Read our popular guides on how to book cheap hotels and find cheap flights.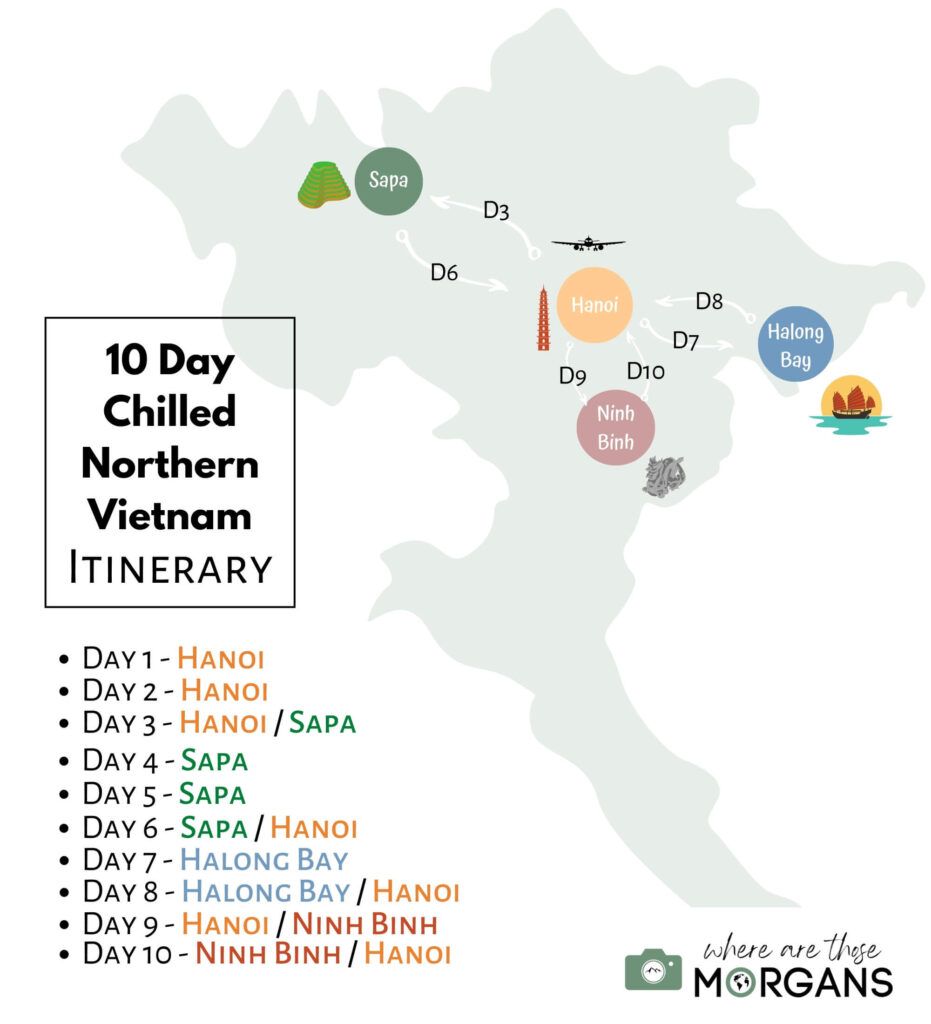 Option 1: A Chilled 10 Days In Northern Vietnam
The first 10 day itinerary concentrates solely on northern Vietnam. This itinerary is good for the following types of traveler:
Anyone who does not like the idea of running around and prefers to have at least 1 relaxing day
Those who want a taste of Vietnam, but will return in the future to explore Central and Southern areas
Anyone interested about trekking in Sapa or experiencing a homestay
First time visitors to Vietnam because the north arguably has the most diverse tourist sites
Hanoi is the major hub for the North and it's the ideal place to set up your base. There are no shortages of cheap flights into Hanoi so be sure to grab yourself a bargain by being flexible on dates and times.
You will return to Hanoi on several occasions throughout this itinerary.
Although that might seem counterintuitive, we can tell you from experience that it's the easiest (and more importantly quickest) means of getting from one place to the next.
Quick Notes About This Slow Paced Itinerary
In Hanoi, base yourself centrally for ease of access to tour departure locations. We recommend you find a hotel in either Hanoi's Old Quarter (budget) or French Quarter (luxury).
Before you book, confirm that your hotel will allow you to store your backpack or suitcase when you travel to Sapa, Halong Bay and Ninh Binh.
You can simply take the necessities in a day pack to each place by using the same hotel as a base in Hanoi and returning after each leg of the trip.
There are direct bus connections from Sapa to Halong Bay and Halong Bay to Ninh Binh for those who prefer to travel independently (not part of a tour).
You will have to carry your backpacks and organize your own transport but it saves going back into Hanoi after each leg if you chose to go this route.
Example Itinerary For 10 Chilled Days In Northern Vietnam
This is an example of how we would personally structure our time if we had another 10 days in Northern Vietnam. Use this example itinerary as a guideline and adjust as you see fit for your needs.
Chilled 10 Day Northern Vietnam Itinerary:
Day 1 – Relaxing full day in Hanoi. Explore the Old and French quarters.
Day 2 – Break out the comfortable shoes. Leave the old quarter to discover greater Hanoi.
Day 3 – 6 hour bus ride to Sapa (7am-1pm). Check into hotel and explore Cat Cat Village.
Day 4 – Cable car to Fansipan mountain. Relax around Sapa town.
Day 5 – Trekking tour part 1. Homestay with members of the Hmong tribe.
Day 6 – Trekking tour part 2. Take a 4pm-10pm / 5pm-11pm bus back to Hanoi.
Day 7– 9am departure to Halong Bay. Full day in the bay, overnight on cruise.
Day 8 – Halong Bay, half day. Return to Hanoi in the evening.
Day 9 – Bus / train / tour to Ninh Binh / Tam Coc early. Full day in Tam Coc (Trang An, Mua Cave).
Day 10 – Tam Coc Bich Dong Pagoda. Bus / train / tour back to Hanoi and airport.
The Vietnamese Cities Of Itinerary 1
The first itinerary focuses on four cities in Northern Vietnam:
Hanoi
Halong Bay
Sapa
Ninh Binh
These four cities are drastically different and you will begin wonder if you are still in the same country. But this itinerary will give you a good taste of what Vietnam has to offer.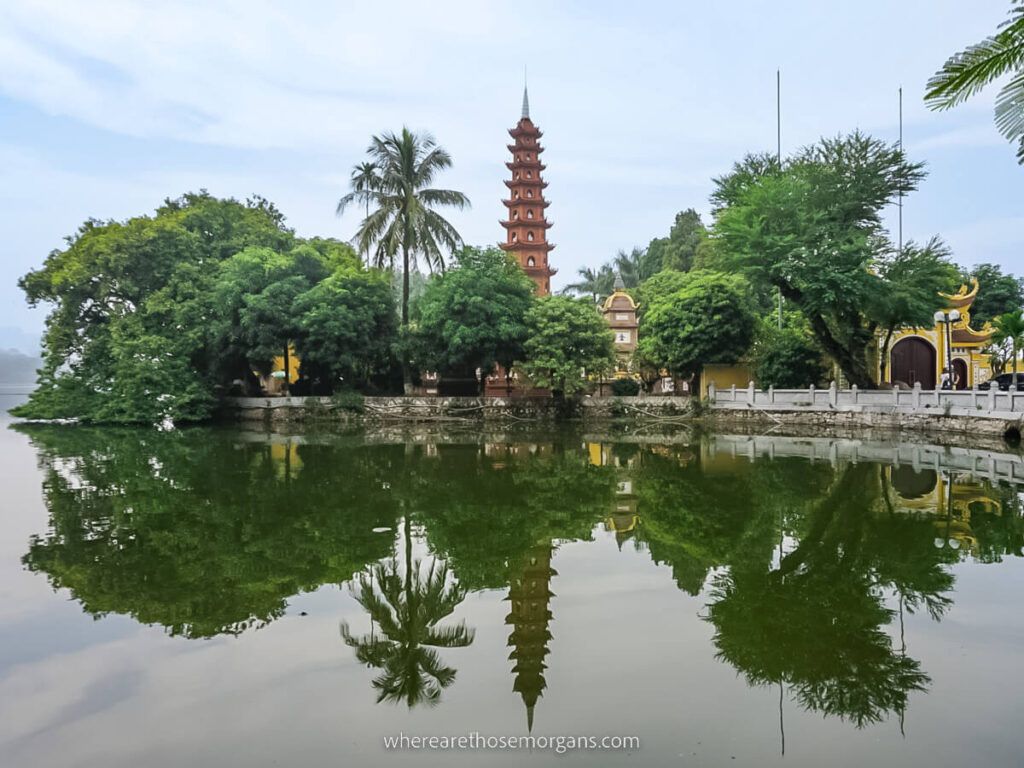 Hanoi Resources
This is Vietnam's hectic capital city. The traffic is crazy, but it is a city you have to experience at least once in your life.
Travel Tip: Hanoi is known for its water puppet theater shows so be sure to book a show during one of your nights in Vietnam's capital city.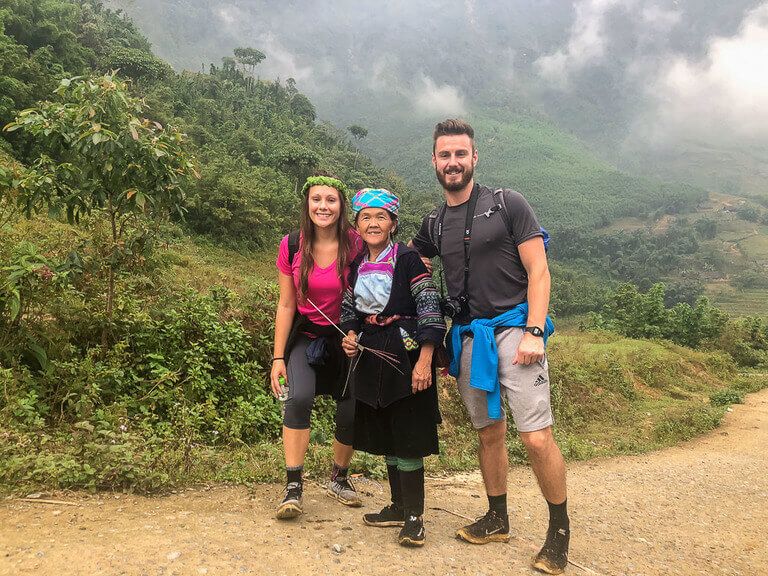 Sapa Resources
Sapa is a town you have probably seen on social media with its lush rice terraces and popular homestay opportunities.
But there are many other hidden gems in Sapa such as Cat Cat Village and Fansipan Peak which is known as the roof of Indochina.
Interested in a homestay in Sapa, Vietnam? Don't miss our guide to trekking in Sapa.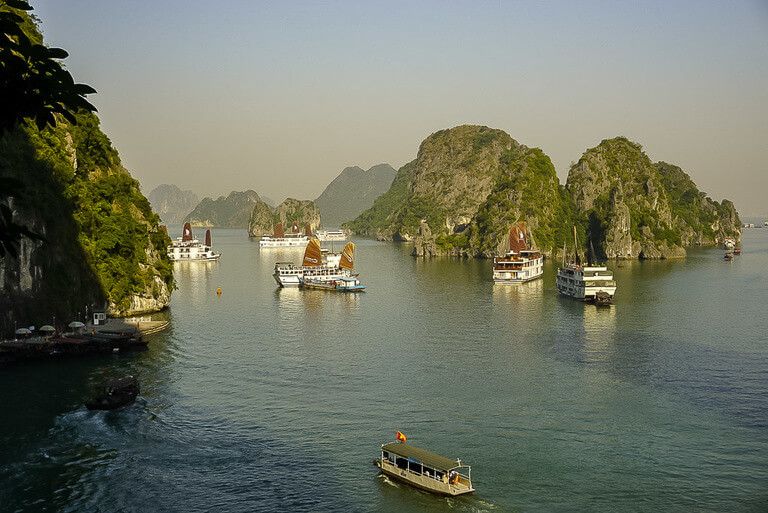 Halong Bay Resources
Halong Bay has towering limestone islands jutting from picturesque emerald waters. Junk boat tours as well as sea kayaking are extremely popular activities. You can also check out nearby Cát Bà National Park.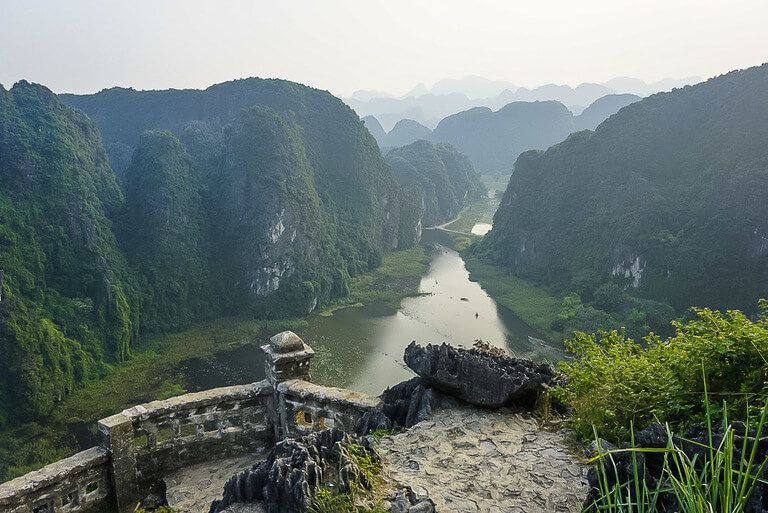 Ninh Binh Resources
Ninh Binh is considered to be the Halong Bay of land. This area is protected as a UNESCO World Heritage Site due to its stunning pagodas, limestone karsts and breathtaking landscapes.
Our personal favorite location in Ninh Binh is the Mua Cave Viewpoint.
---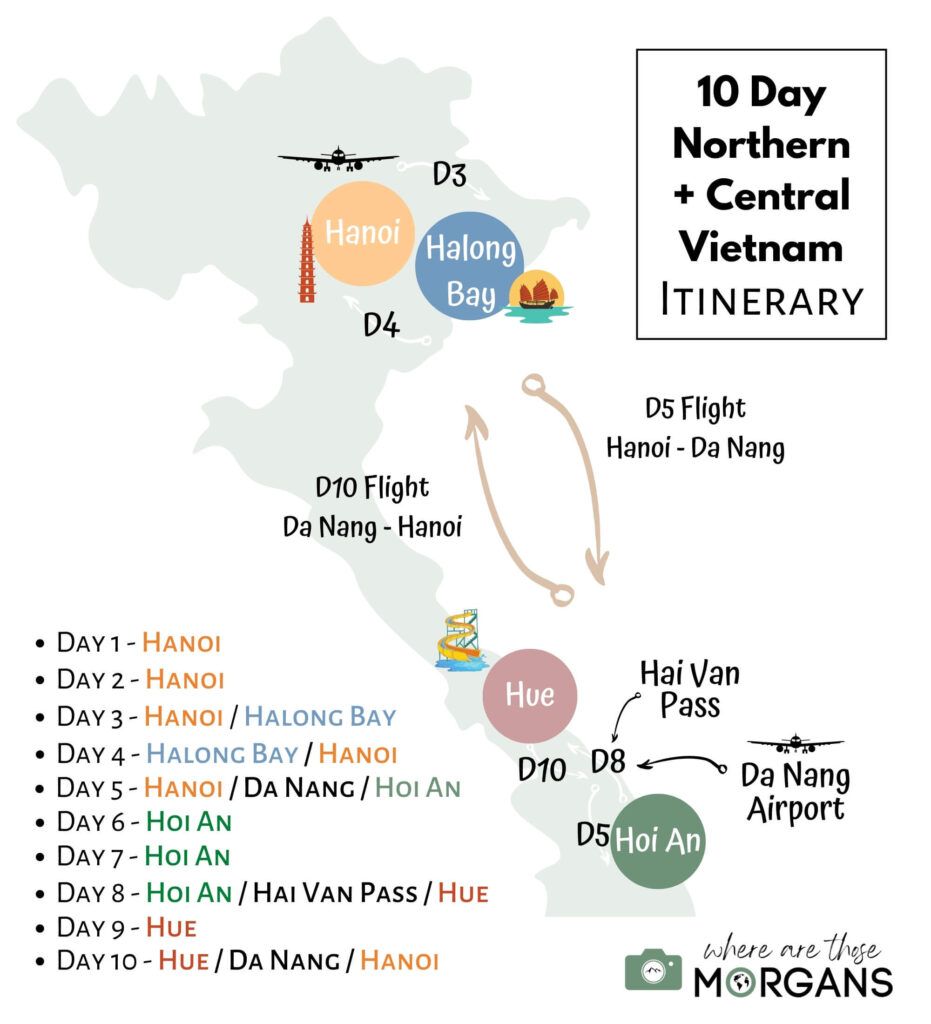 Option 2: 10 Days Split Between Northern & Central Vietnam
The second itinerary splits your 10 days between both Northern and Central Vietnam. This itinerary is good for the following types of traveler:
Those who want to visit popular places such as Hanoi, Halong Bay and Hoi An
Anyone not interested in trekking in Sapa which saves a few days to be used elsewhere
Travelers on a tight budget who want to miss out the Halong Bay cruise at US $200-600 per night
This itinerary is the most open to your own interpretation depending on your plans.
Hanoi will be your most likely point of arrival into Vietnam. The majority of people following this itinerary will arrive and leave from Hanoi, making this a round trip route with a flight to Da Nang and back to Hanoi.
However, for backpackers who are already in Southeast Asia, you might be able to find a cheaper flight into Da Nang.
Therefore you could travel in reverse order (Central to Northern Vietnam) as another option. Consider where you are headed after Vietnam and check flights out of Hanoi or Da Nang to that place, ie Bangkok.
Internal flights between Hanoi and Da Nang are extremely affordable but remember to check baggage allowances. Sometimes the cost of checking a bag can be more than the plane ticket.
We have included Halong Bay as the only place besides Hanoi to visit in the North but you can replace Halong Bay with either Sapa or Ninh Binh depending on your budget and intentions.
Need a new carry on backpack? Read our guide about the Osprey Farpoint 40 which has traveled with us for years.
Example Itinerary For 10 Days Split Between Northern And Central Vietnam
With this option, you will pick up the pace just a little bit to cross a few more items off your bucket list.
10 Day Itinerary Northern and Central Vietnam:
Day 1 – Relaxing full day in Hanoi. Explore the Old and French Quarters.
Day 2 – Break out the comfortable shoes. Leave the Old Quarter to discover greater Hanoi.
Day 3 – 9am departure to Halong Bay. Full day in the bay, overnight on cruise.
Day 4 – Halong Bay half day. Return to Hanoi evening.
Day 5 – Fly Hanoi – Da Nang. Arrange onward travel to Hoi An.
Day 6 – Explore the countryside and beaches around Hoi An.
Day 7– Spend the whole day in Hoi An ancient town, lovely atmosphere.
Day 8 – Drive 100 miles to Hue by motorbike over the scenic Hai Van Pass.
Day 9 – Cycle/motorbike to Hue's abandoned water park. Pedestrian night walking streets.
Day 10 – Early start, check out Imperial City grounds. Transport to Da Nang and fly to Hanoi.
The Vietnamese Cities Of Itinerary 2
The second itinerary focuses on four cities in Northern and Central Vietnam:
Hanoi
Halong Bay
Hoi An
Hue
We like this itinerary option because it is a good mix of modern and ancient culture.
Use our resources in the previous itinerary for Hanoi and Halong Bay because we will further discuss Hoi An and Hue below.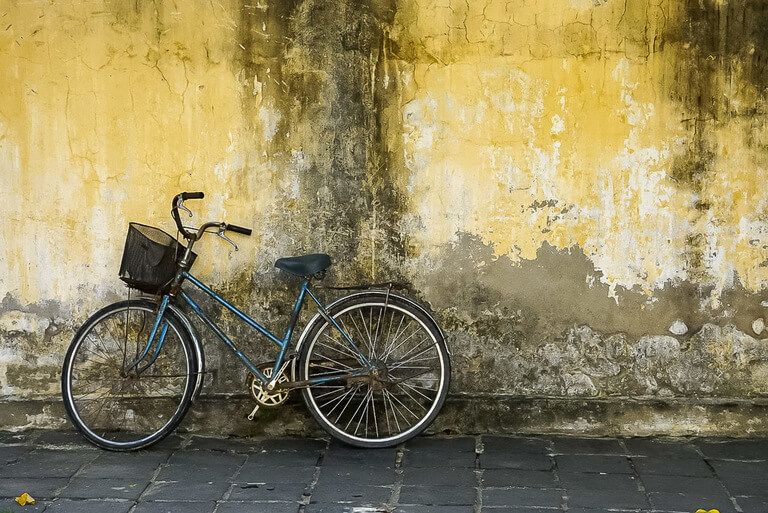 Hoi An Resources
In Vietnamese, Hoi An means 'peaceful meeting place' and as soon as you visit, you will notice the name fits the city. Hoi An is a old trading port town dating back to the 15th century.
The old town is now protected as a UNESCO World Heritage Site and you are instantly transported back in time as you wander between the gorgeous yellow buildings.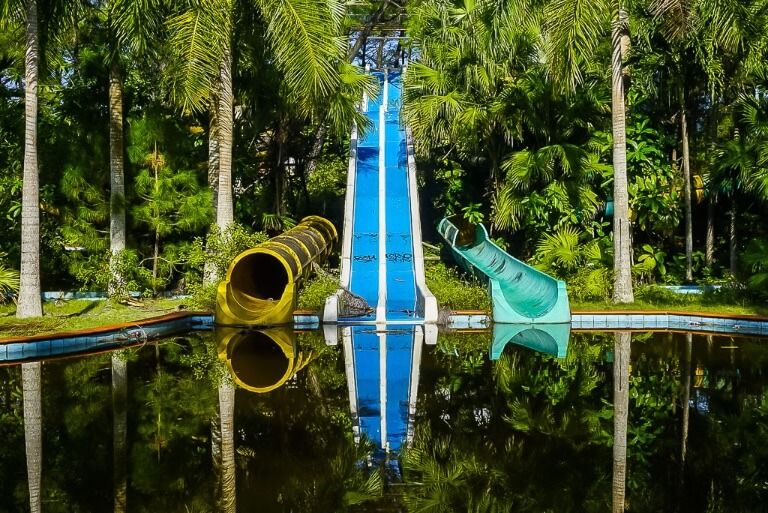 Hue Resources
History buffs will love Hue because this is where you can visit Vietnam's Imperial Citadel of Thăng Long. This city is also home to royal mausoleums and iconic pagodas as well as many delicious restaurants.
But one of the draws in recent years has been the abandoned water park of Ho Thuy Tien.
---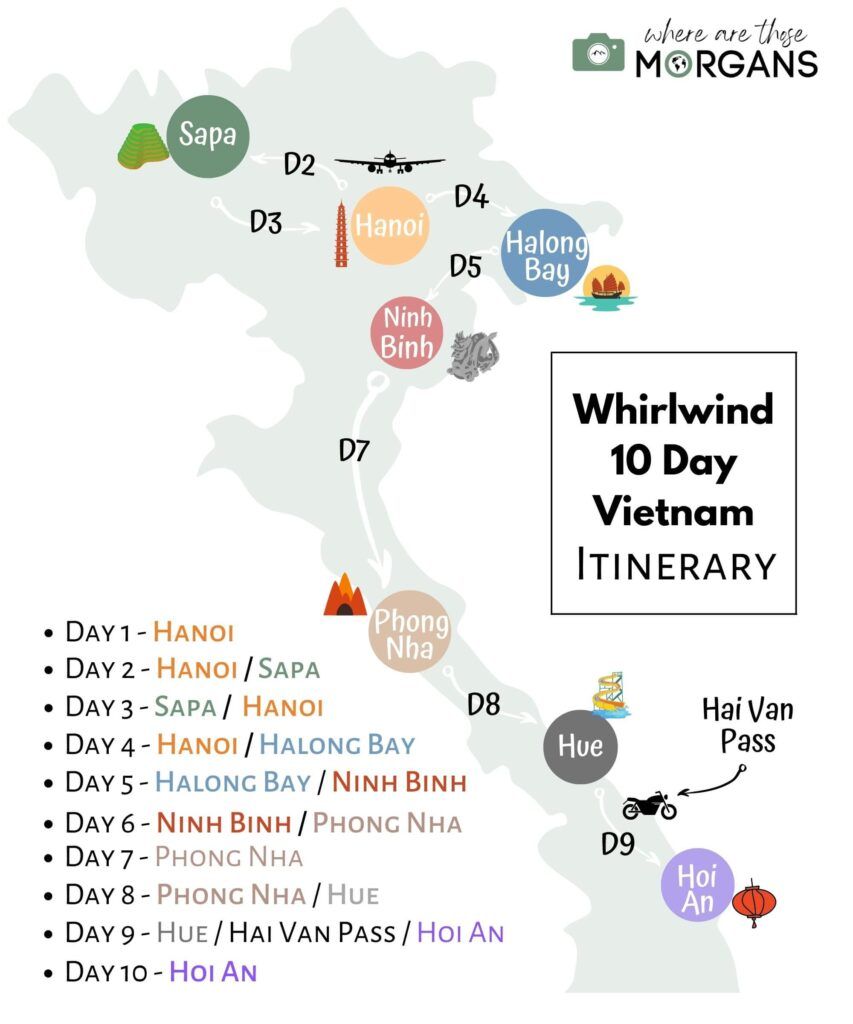 Option 3: Whirlwind 10 Day Northern And Central Vietnam Itinerary
We won't sugar coat it, this is a rush job itinerary. This route is 10 days of constant transport as well as sightseeing and is only advisable for the following types of travelers:
Those who love to race through a country ticking off every box on the list
The efficient traveler who is ready to adapt to a sudden change in the itinerary
Travelers with limited time but want to see as much as possible
This whirlwind itinerary encompasses each of the 7 major tourist hotspots in northern and central Vietnam but it is not for the fainthearted. You will be wrecked by the end of these 10 days.
The route we have designed is the quickest possible way you can travel (with no delays or interruptions) and still experience the major sites at each stop.
This is the only way to see all of the best places in one swooping hit across 10 long days.
However, this option includes some pretty awful transport routes, such as an overnight 7 hour sleeper bus leaving Tam Coc at 8pm and arriving into Phong Nha at 3am.
Yes we know how unappealing that sounds, we've got the t-shirt to prove it.
Quick Notes About This Fast Paced Itinerary
You have a decision to make.
Do you think you can cope with the pace? If not, you can easily skip one or two places on this fast paced itinerary to give yourself some breathing room.
Personally, we would tentatively suggest that you cut Phong Nha from this particular itinerary, even though it was one of our favorite parts of Vietnam.
Phong Nha will cause you to lose too much time to justify a 1 day visit, unless you have booked one of the awesome adventure cave tours.
A sleeper train from Ninh Binh to Hue through the 6th night would arrive the 7th morning (as opposed to arriving the 8th lunchtime and cramming).
Example Itinerary For 10 Whirlwind Days In Northern And Central Vietnam
Are you ready to speed through Vietnam?
Whirlwind 10 Day Vietnam Itinerary:
Day 1 – One day to blast around the best bits of Hanoi.
Day 2 – 6 hour bus to Sapa. Begin trekking tour part 1 immediately and homestay.
Day 3 – Trekking tour part 2, followed by 6 hour bus back to Hanoi.
Day 4 – 9am departure to Halong Bay. Full day in the bay, overnight on cruise.
Day 5 – Halong Bay half day and bus directly from Halong Bay to Tam Coc (Ninh Binh).
Day 6 – One full day in Tam Coc. 8pm overnight sleeper bus to Phong Nha takes 7 hours.
Day 7 – One full day in Phong Nha exploring caves and botanic gardens.
Day 8 – Early bus to Hue. Explore Imperial City and Abandoned Water Park.
Day 9 – Drive 100 miles Hue to Hoi An over scenic Hai Van Pass & through Da Nang.
Day 10 – Spend one full day in Hoi An ancient town. Da Nang airport to Hanoi or onwards.
The Vietnamese Cities Of Itinerary 3
This last and final itinerary is a big one. The whirlwind itinerary includes 7 Vietnamese cities over a 10 day period. You will visit:
Hanoi
Sapa
Halong Bay
Ninh Binh
Phong Nha
Hue
Hoi An
But with this 10 day itinerary, you will cover some of the best parts of Vietnam.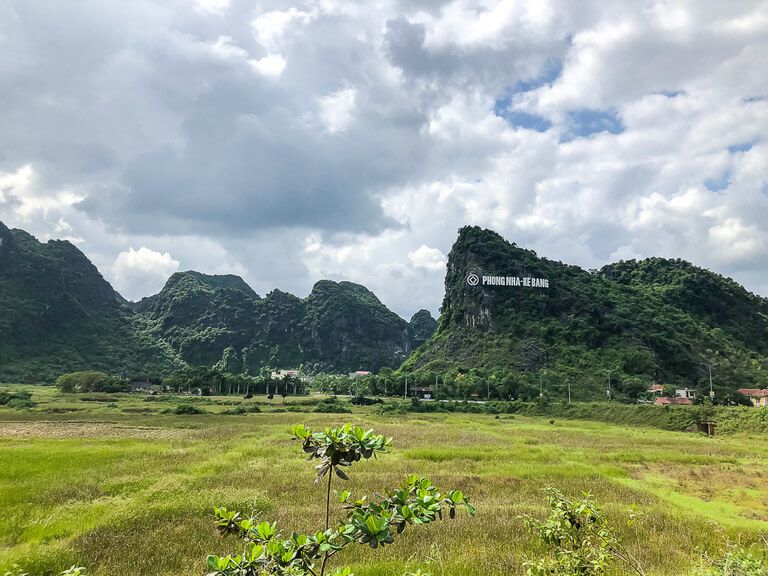 Phong Nha Resources
Phong Nha is an adventure lovers paradise with endless cave adventure. However, there is so much more to do in this town that just caves.
We spent a few days exploring the nooks and crannies of this small village and can help you decide what you should do when you visit.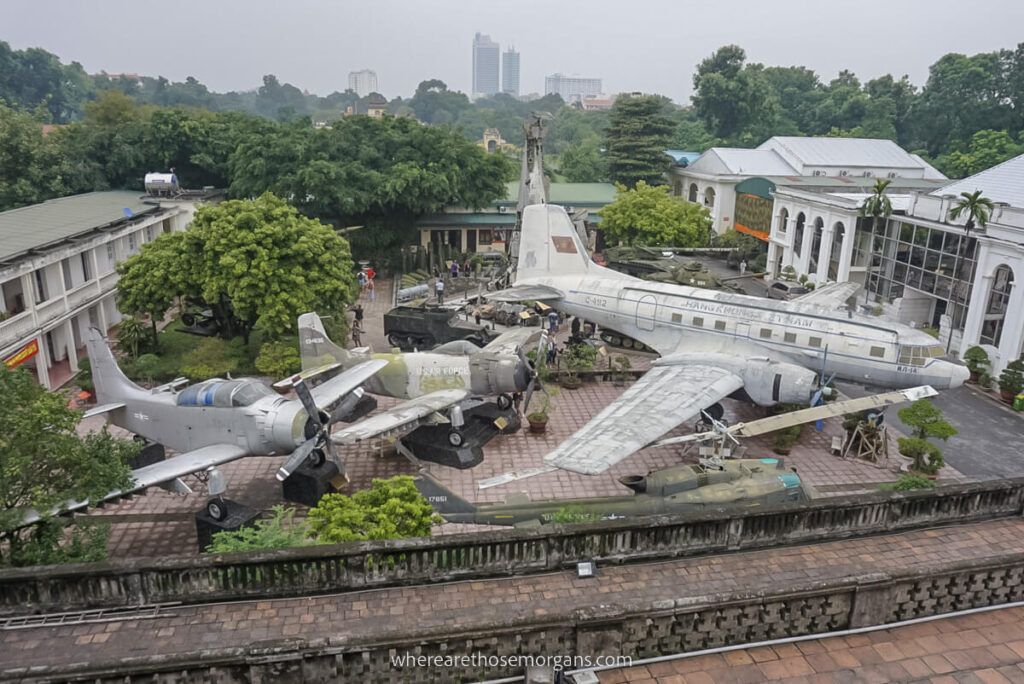 FAQ's For A 10 Day Vietnam Itinerary
Let's take a look at some of the most frequently asked questions about a 10 day Vietnam Itinerary.
Is 10 Days Enough For Vietnam?
While you won't be able to experience everything Vietnam has to offer in 10 days, this amount of time is still enough to see some of the hectic cities and beautiful landscapes.
How Do I Plan A 10 Day Trip To Vietnam?
You can plan a 10 day trip to Vietnam using one of our three example itineraries. Each itinerary can be easily adapted to fit your needs based on the cities and places you wish to visit in Vietnam.
Where Should I Go First In Vietnam?
Most people head to Hanoi, Sapa, Halong Bay or Hoi An during their first visit to Vietnam.
Is Vietnam A Cheap Vacation?
Vietnam is an extremely affordable travel destination when you compare it to places such as Europe and the United States. Your money will go a lot farther in Vietnam.
Our Popular Guides For Vietnam
More Vietnam Guides
Want more Vietnam content? Head over to our Vietnam Travel Guides to see example itineraries, tips about Vietnam and popular city guides.
---
We hope these 3 options for your 10 day northern and central Vietnam itinerary helps you plan your visit!
Please let us know if you have any questions about one of these 10 day Vietnam itineraries in the comments below.
Happy Planning,
Mark and Kristen
Enjoy This 10 Day Vietnam Guide? Pin It For Later!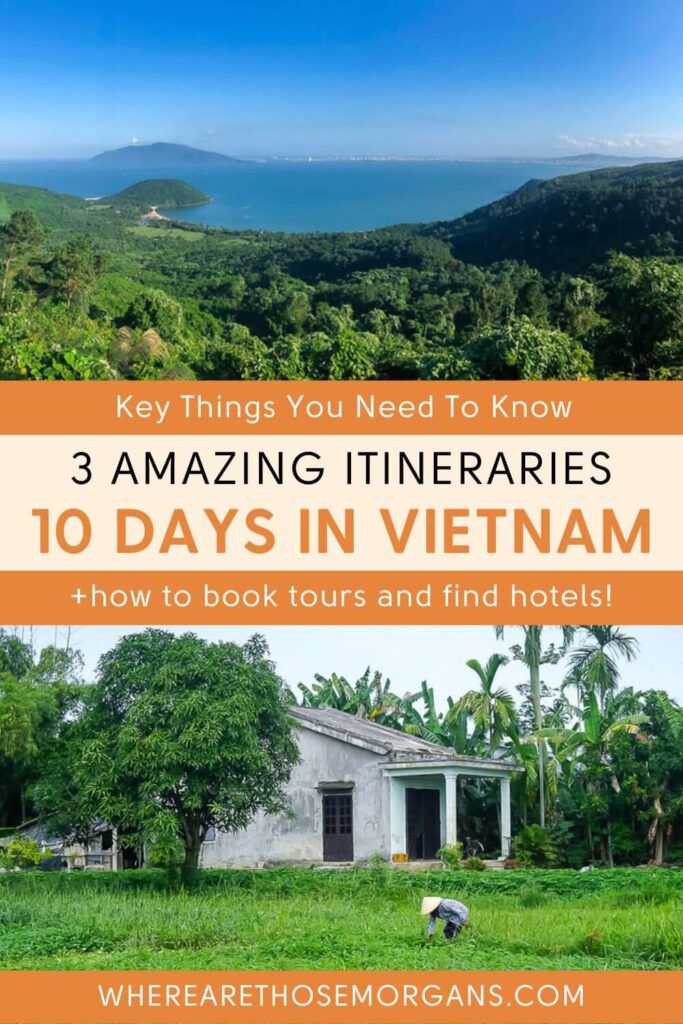 Note: This article contains affiliate links. When you make a purchase using one of these affiliate links, we may earn a small commission at no extra cost to you.
All Rights Reserved © Where Are Those Morgans, LLC. Republishing this article and/or any of its contents (text, photography, maps, graphics, etc.) in whole or in part is strictly prohibited.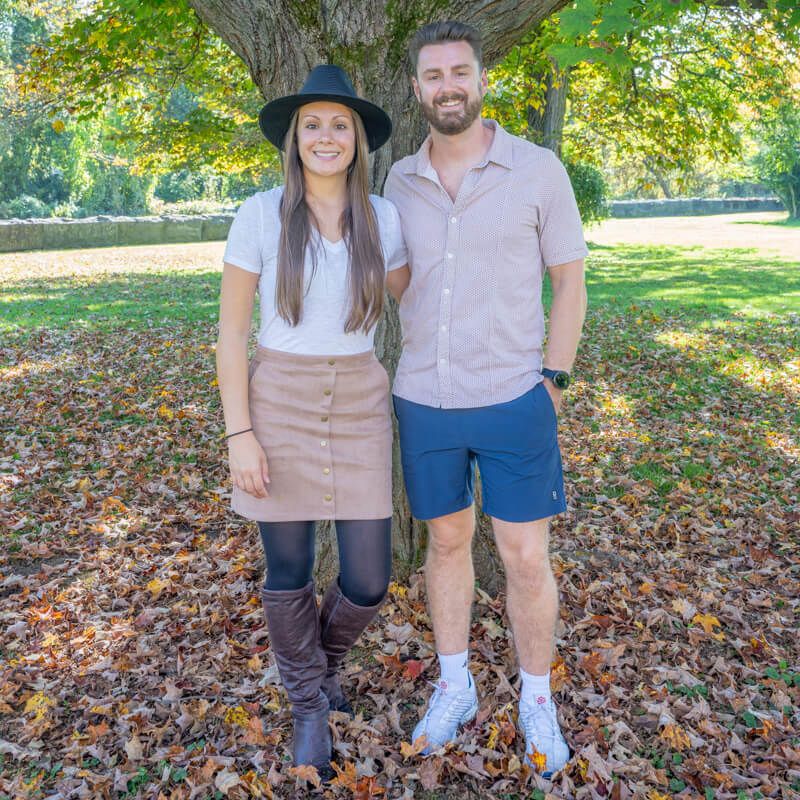 Mark and Kristen Morgan are travel, hiking and photography experts. Over the last 6 years traveling full time, they have explored more than 40 countries and 30 US states.
Their work has been featured in USA Today, Gestalten, Get Your Guide, CityPASS and Condé Nast Traveler along with various other publications.