Hanoi is a loud, chaotic and energetic capital city you need to visit at least once in your lifetime. In this detailed guide, we will tell you the best things to do in Hanoi as well as give you a 2 day example itinerary.
Our goal is to help you make the most of your time once you arrive in Hanoi as well as decide how many days you want to spend in Vietnam's Capital city.
In this guide, we will show you:
Where is Hanoi in Vietnam
How to get to Hanoi with many transport options
25 best things to do in Hanoi
An example 2 day itinerary
Where to stay in Hanoi
After all that, we will also provide you with an interactive map so you can try to establish your bearings before you visit this crazy city.
Let's discover the best things to do in Hanoi, Vietnam!
*Please note this post may contain affiliate links. If you click on one, we may earn a small commission at no extra cost to you. Thank you for supporting the free content we provide! Read more in our disclosure policy.*
Where Is Hanoi, Vietnam?
Hanoi is Vietnam's capital city located in the northern portion of the S shaped country.
This is the second largest city in Vietnam and Hanoi has the second largest population after Ho Chi Minh City which is located in the southern region.
Fortunately, Hanoi Noi Bai International Airport (HAN) is one of Vietnam's two major international airports. This results in an enormous amount of flight options both internationally and domestically for flying to Hanoi.
Heading to Vietnam? Don't miss our popular guide about the best places to visit in Vietnam including fun things to do in each region.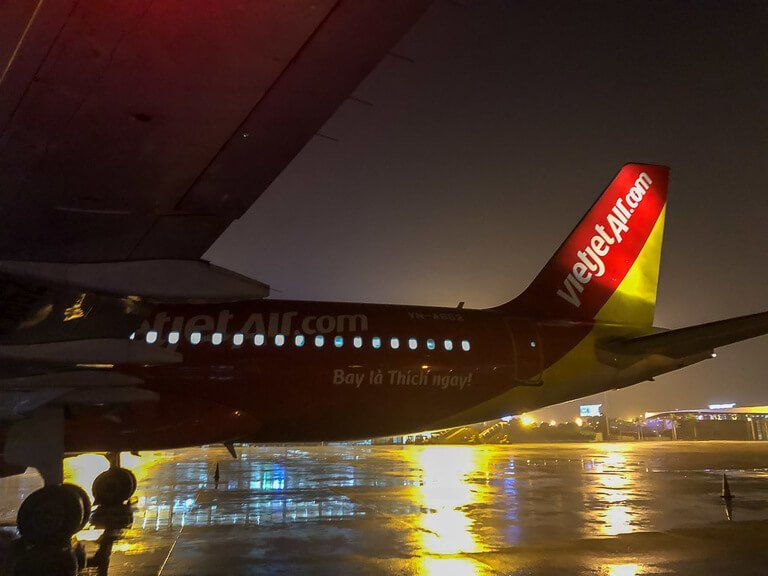 Flights To Hanoi Noi Bai INternational Airport (HAN)
Flying internally in Vietnam and regionally in South East Asia is incredibly good value even for backpackers on a tight budget.
Look out for VietJet Air, Vietnam Airlines, Jetstar and Bamboo for unbeatable value. However, keep an eye out for tricky carry on baggage allowances if you are backpacking.
To score good deals on flights, be sure to research prices thoroughly and be as flexible as possible with your dates.
We recommend you book your flight using Skyscanner for the best user interface and value.
Noi Bai Airport has two passenger terminals.
Passenger Terminal T1 serves all the domestic airlines (Vietnam Airlines, VietJet and Bamboo) while Passenger Terminal T2 serves all of the international flights (Thai Airway, Japan Airlines, Cathay Pacific, etc.)
There is also a free shuttle bus provided at Noi Bai Airport because the distance between each passenger terminals is quite a distance.
Our Favorite Travel Backpack: Is the Osprey Farpoint 40 the perfect Carry On Backpack?
How To Get From Noi Bai Airport To Downtown Hanoi
From Noi Bai International Airport, you will need to organize onward travel about 15 miles (25km) to downtown Hanoi via one of these methods:
Grab Car: Grab is the Uber of SE Asia and you will need it to get around anywhere in Vietnam. A Grab ride to downtown Hanoi is usually around US $10-$15 depending on peak times.
Grab Motorbike: Similar to a car, but you just book a motorbike instead which tend to work out much cheaper for about US $5-7. These drivers wear green jackets and will have a helmet for you to use.
Airport Taxi: You will have to be vigilant because there are scams at work. Look for Man Linh (green cars) and Taxi Group (white cars). Ask for the meter to be turned on or agree on a price before you leave. Expect to pay about US $15-18.
Vietnam Airlines Airport Shuttle: If you fly into Hanoi with Vietnam Airlines, you can make use of their respective dedicated shuttle into downtown Hanoi for just about US $2 per person.
Airport Express Shuttle: You can pre-book a private comfortable air conditioned car with hotel drop off ahead of time to avoid the hassle at the airport.
Public Bus: For the super budget conscious, you can take either the #17 bus for US $0.50 or the #86 for US $1.50. Cheap but uncomfortable and slow with probably a difficult language barrier, this might not be the best option.
Private Transfer: Book ahead to secure a professional driver to be waiting for you on arrival with a personal welcome sign.
Travel Tip: Download the Grab App (iPhone or Android) before you get to SE Asia. You can choose to add your credit card details or pay cash for each ride.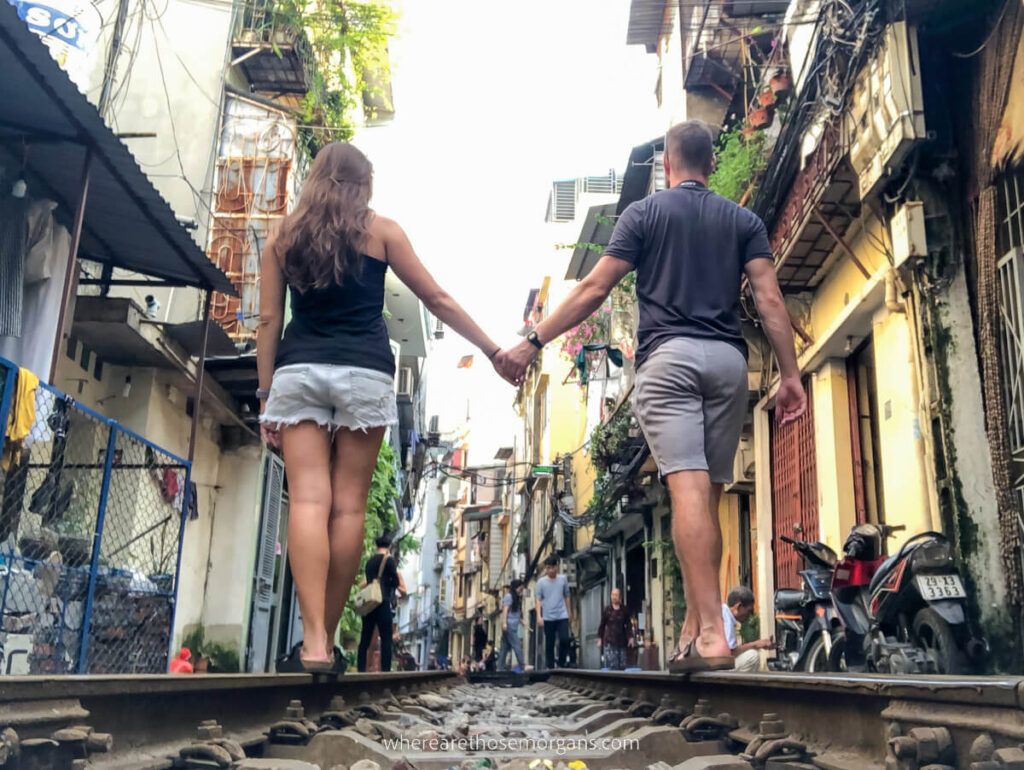 Trains To Hanoi, Vietnam
Traveling by train in Vietnam is the perfect way to see beautiful countryside regions that you otherwise would never see.
Train travel can also be quite comfortable if you pay a little extra and book a whole first class sleeper cabin. Your other option is to keep it cheap and cheerful by booking a second class seat.
But long journey times up and down the long narrow country can understandably put some people off.
For example, if you were to take a train directly from Ho Chi Minh City to Hanoi, it would take around 35 hours. More likely you will be traveling up from Da Nang, Hue, Dong Hoi or Ninh Binh.
In Hanoi, Trains arrive into Ga Ha Noi station. From there expect a 20 minute walk to the heart of Hanoi's old quarter where most people will base themselves.
Be sure to look at more than one resource and compare costs for your upcoming trip to ensure you get the best prices for train travel in Vietnam. We recommend comparing prices on 12Go Asia and Baolau.
Travel Tip: Book your Vietnam train tickets online to avoid scams and ticket resale. You will also avoid the long line at the train station and receive your e-ticket by email.
Sleeper Bus To Downtown Hanoi
Are you really a tourist in Vietnam if you haven't taken at least one sleeper bus?! This option tends to be a favorite among backpackers due to low costs and convenience as it saves paying for accommodation.
You will not struggle to find options for jumping on a bus from most cities in Vietnam. It's as easy as falling asleep and waking up in Hanoi.
Cities such as Hoi An, Hue and Ninh Binh will run daily buses North to Hanoi.
Compare sleeper bus prices on 12Go Asia and Baolau.
Want to know what to expect on a sleeper bus? Don't miss our popular 5 hair raising Vietnam sleeper bus experiences.
25 Best Things To Do In Hanoi, Vietnam
Now, let's take a look into all of the things you can do in Hanoi.
Please do not be alarmed by the large number of things we list because these attractions can easily be seen in an action two packed days.
Plus we have an interactive map at the end of this guide which shows each point of interest for both Day 1 and Day 2 respectively.
To help you understand the costs of these attractions, the US $1 was equivalent to about 25,000 VND at the time of writing.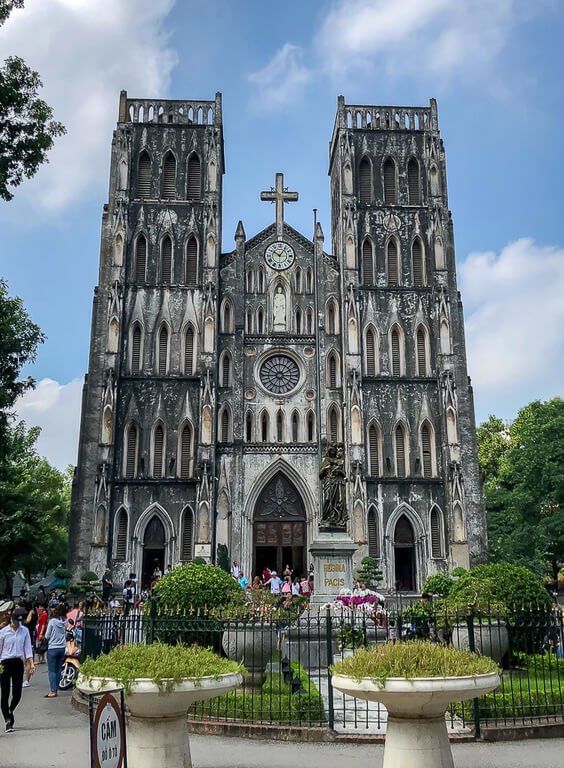 1. Explore The Old Quarter And St. Joseph's Cathedral
Hanoi's Old Quarter is the commercial heartbeat of the city, containing 36 alley-like streets overflowing with shops, restaurants, travel agencies and hotels.
These services are typically provided at ground floor level with the majority of old buildings in this district rising another further 3 or 4 levels.
An eclectic blend of Chinese, French, Vietnamese and even Russian influences throughout Hanoi's colorful history have resulted in intriguing architecture.
Construction of St. Joseph's Cathedral began in 1886. The French government in Indochina based its architectural design on Notre Dame in Paris.
The Cathedral is the shining light in Hanoi's rat-run Old Quarter, especially at night when the Cathedral illuminates yellowy-black.
Interestingly, property tax in Hanoi is based on width of a building and that's why the Old Quarter consists of high rise but narrow buildings.
Consider staying in the French Quarter if you have a healthy budget but the Old Quarter is our top recommendation for setting up base.
The Old Quarter is perfect because accommodation is cheap, you're right in the action, it's entertaining and close to a high proportion of the best things to do in Hanoi.
Just be sure to keep an eye on your blood pressure when crossing the street.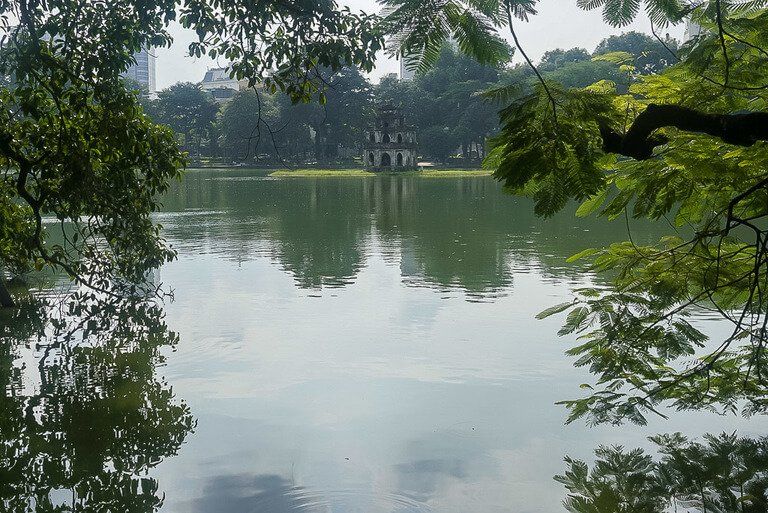 2. Walk Around Hoan Kiem Lake
Hoan Kiem Lake is a relatively large body of water separating the old quarter from the French Quarter in Hanoi's busiest tourist region.
The lake acts as a focal point as it attracts early morning runners and families strolling slowly around a pedestrian footway at the waters edge.
We found ourselves drawn towards the lake a few times each day as though we were magnetic opposites. Walking around the lake will take longer than you think and it makes for a great walk anytime of the day.
As you walk around the lake, you will see a lone grey empty building sits on a small circular mound of soil and grass, right in the center of the lake. It raises many questions.
How did it get there? Why is there no access? What is its purpose?
It is called Turtle Tower and was built by the French in 1886 in memoriam of a centuries old Vietnamese leader known as Le Loi. Today, this tower is seen as a symbol of unity for the Vietnamese as they endured French occupation.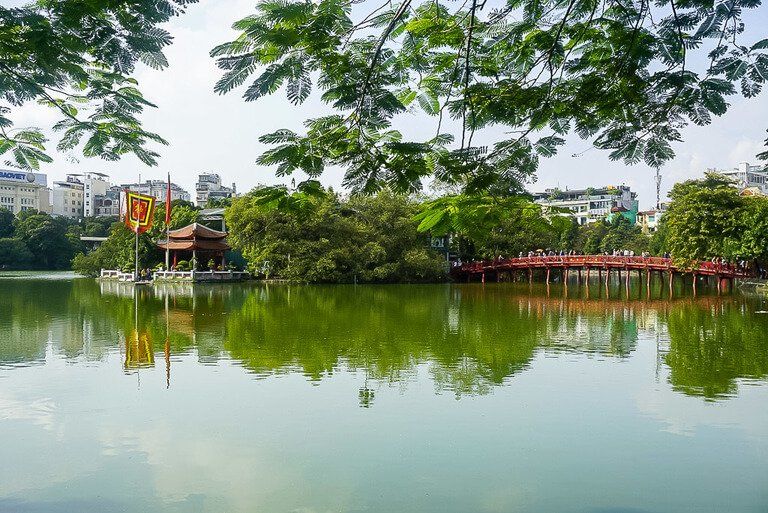 3. Visit Ngoc Son Pagoda
Ngoc Son Pagoda is a temple situated on a small island at the Northern end of Hoan Kiem lake and the general public can access this island.
To enter the temple, you must cross the Rising Sun Bridge to Jade Island. The bridge itself is ruby red colored and very photogenic with the lake as a backdrop. You will not miss it.
The Ncog Son Pagoda was built in commemoration of Tran Hung Dao, a famous military leader from the 13th century. You won't need much time for a visit, but it's always extremely busy.
Address: P. Đinh Tiên Hoàng, Hàng Trống, Hoàn Kiếm, Hà Nội 100000, Vietnam
Ncog Son Pagoda Google Maps location.
Price: About 30,000 VND (about US$ 1.30)
Opening Hours: 8:00am – 6:00pm daily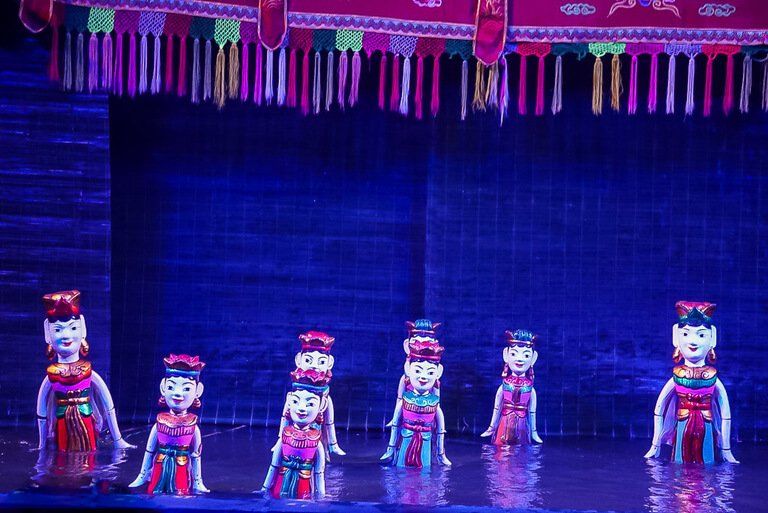 4. Watch A Traditional Vietnamese Water Puppet Show
This is one of the top rated things to do on tour Hanoi itinerary because where else can you watch a water puppet show?
If you choose to attend a show, you will sit in a lovely theater watching a number of stories told about Vietnam's history and culture through the art of puppeteering.
We were thoroughly entertained throughout the show as dragons, dancers and drama both underwater as well as above surprised the audience.
There are 2 venues to choose between, Thang Long or Lotus. Both locations are right on the lake edge with Thang Long to the North East and Lotus to the West.
Thang Long is the more popular and highly rated, you can book tickets in advance below or you can book tickets on site.
Book tickets for the water puppet show here.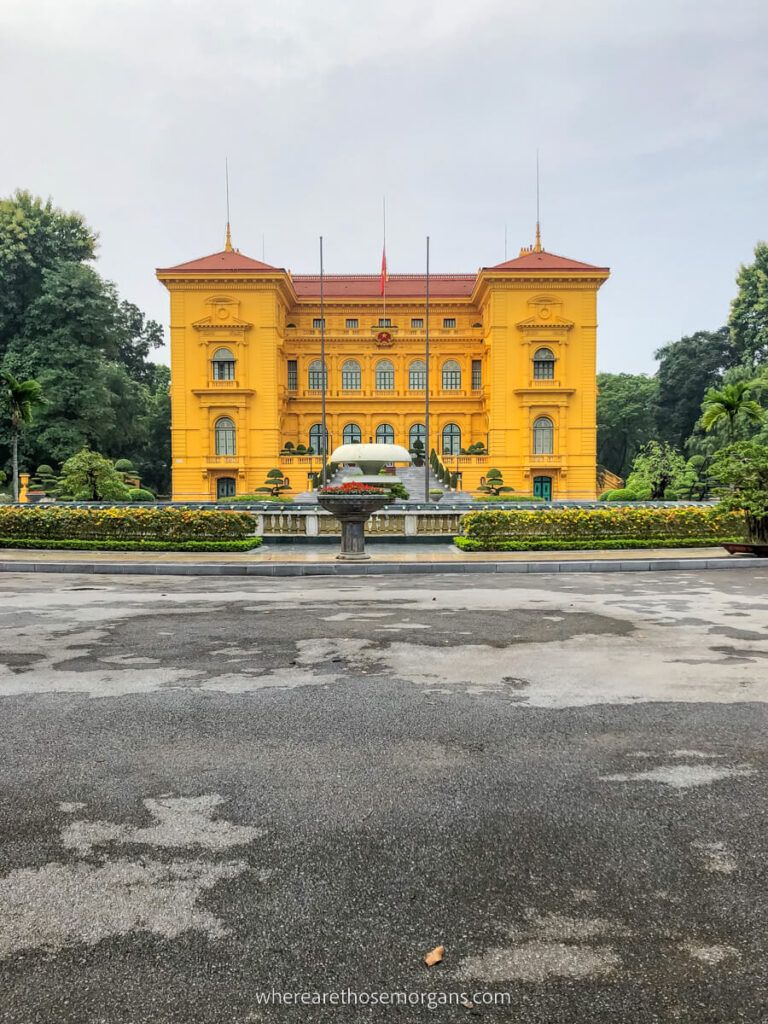 5. Discover Upper Class Hanoi In The French Quarter
Hanoi's French quarter is a classier and more upmarket district than its Old Quarter. Hotels, restaurants and bars are fancier as they cater to a more international clientele.
The French Quarter is the place to be seen in Hanoi and offers a more relaxing evening in comparison to its much wilder sister district, the Old Quarter.
Architecture in the French Quarter is early 20th century European. You will find that pavements are wider and much less chaotic here, which will likely come as a welcome relief.
Both the Hanoi Opera House and the Museum of Vietnamese Women can be found in the French Quarter.
Book a walking tour in Hanoi's French Quarter here.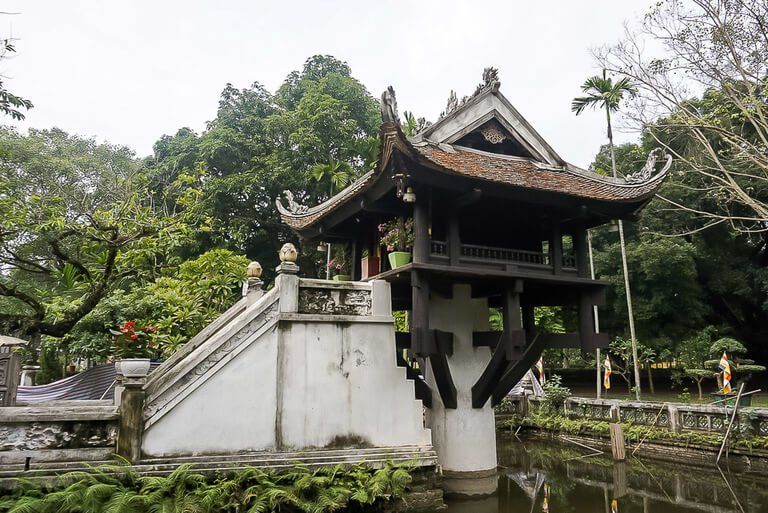 6. See The Ancient One Pillar Pagoda
The One Pillar Pagoda is a historic Buddhist temple dating back almost a thousand years to 1049. The name is derived from its unique structure.
A small wooden temple sits atop a single stone pillar measuring 4m in height and just over 1 meter in diameter. The whole structure is located directly in the middle of a small lotus pond.
Look for a small staircase on one side which allows the public to enter the temple. You will discover One Pillar Pagoda is filled with ornaments, food and candles meants as an offering.
The emperor at the time had a dream about a son being passed to him as he sat on a lotus flower. Because of this fantasy, the emperor commanded the temple to be built from a lotus pond in the shape of a lotus flower.
Imagine if we all could build whatever we saw in our dreams?!
The temple had to be rebuilt after French forces destroyed the One Pillar Pagoda as they withdrew in 1954 following the end of the Indochinese war.
Heading to Vietnam? Be sure to read our Top 30 Key Things To Know About Vietnam before you visit.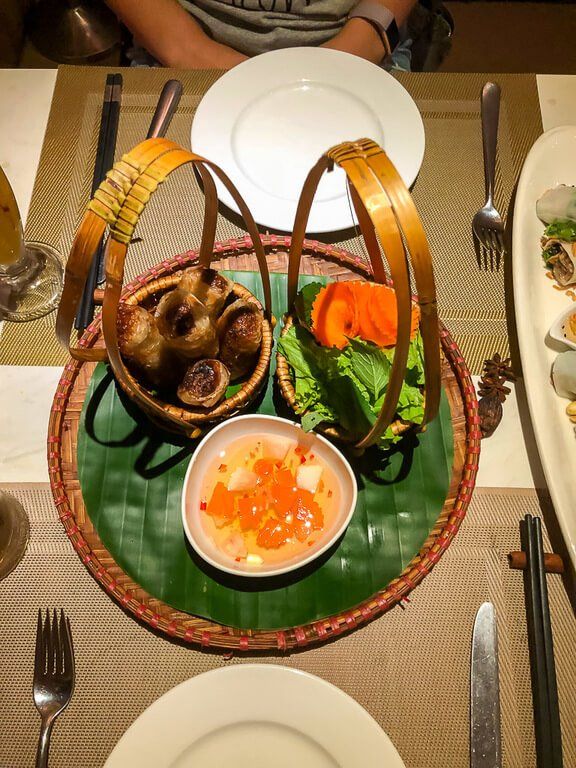 7. Eat At A Top Chef Restaurant
Duong's Restaurant in Hanoi's Old Quarter is simply amazing. The owner and head chef has appeared on both Vietnam Top Chef and Ironchef Vietnam which means you can expect the food to be top drawer.
Additionally, the waiting service was on another level at Duong's. Each food item is exactly as described and you are given detailed explanations as you receive each dish.
The restaurant is elegant, the delicious flavors evoke emotion and the service is impeccable. What are we missing here? Oh yes. Price.
You will be delighted to know that you can drink wine as well as enjoy a tasty feast at a decent and fair cost.
Duong's will surely be one of the best restaurants on your entire Vietnam Itinerary. If we only succeed in giving one piece of advice from this whole article, please let it be this one.
But don't just take our word for it, read Duong's Tripadvisor reviews here.
8. Visit The Vietnamese Women's Museum
The Vietnamese Women's Museum in Hanoi's French Quarter showcases women's roles both in Vietnamese history and family life. An original museum was opened in 1995 but closed in 2006 for complete renovations.
The museum re-opened in 2010 with a transformation both in terms of exhibits and focus. There are 3 primary themes to learn about in the museum:
Women in History
How women have shaped fashion
Women and family
Recent modernizations have brought the museum to life by wonderfully presenting exhibits across 4 levels. There are over 28,000 objects here relating to women in Vietnam that have been collected since the 1970's.
Lookout for heroic and poignant stories of women throughout war torn Vietnam in recent and modern history. This museum is definitely a worthwhile stop on your Hanoi itinerary.
Address: 36 P. Lý Thường Kiệt, Hàng Bài, Hoàn Kiếm, Hà Nội, Vietnam
Women's History Museum Google Maps location.
Price: 40,000 VND for adults / 10,000 VND for children (under 16)
Opening Hours: 8am to 5pm daily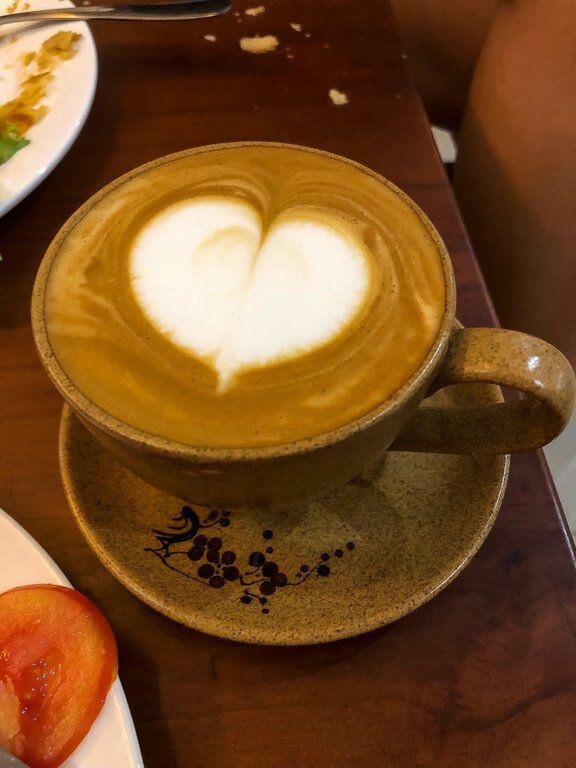 9. Drink Delicious Robusta Vietnamese Egg Coffee
Egg coffee is a Vietnamese delicacy originating in Hanoi. Egg yolks were used in place of milk, which was scarce due to short supply as a result of the post Vietnam war trade embargo.
Ca phe trung or egg coffee is made from the yolk of eggs, condensed milk, sugar and coffee. Sometimes you will be served a small coffee mug placed above a candle with a hollow bottom to allow air to pass through.
Did you know that Vietnam produces the second highest amount of coffee in the world? We didn't either!
Vietnam was once primarily a tea drinking country but the French had other ideas. Coffee was introduced to the country back in the 1800's.
But which type of coffee bean will you find in a Vietnamese egg coffee?
Vietnam produces so many Robusta beans that they account for around 40% of the entire world's production of this particular variety of bean. Robusta beans are used in almost all coffee you will drink in Vietnam.
Our top recommendation for coffee in Hanoi is Dream Beans Coffee which you can find nestled in the Old Quarter. This coffee is outrageously well rated and for good reason.
The care and effort they put in to create the perfect cup of coffee each time is completely worth their number one rating.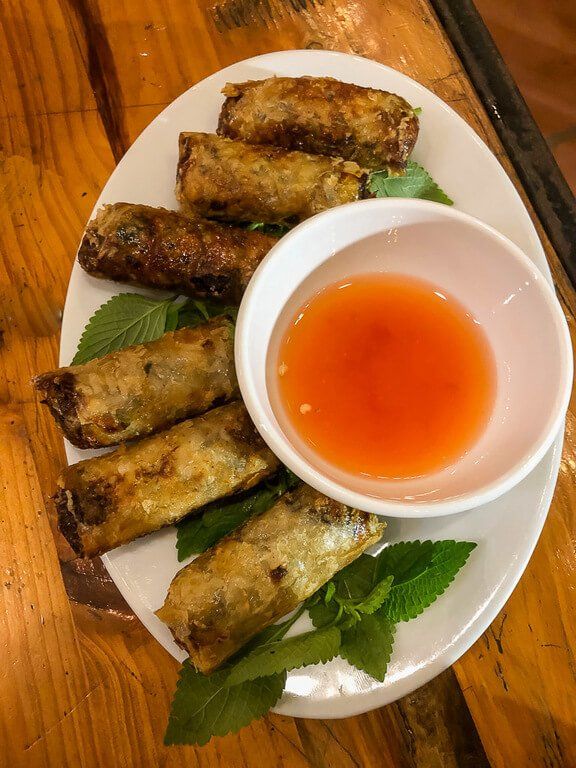 10. Take A Cooking Class
You simply have to take a cooking class when you visit Vietnam. If you choose to experience a Halong Bay cruise, you will learn how to make a few spring rolls, but that doesn't really count.
Book a top rated tour for a true authentic cooking class. We would recommend both Hanoi or Hoi An for a cooking class as they both offer excellent options.
Many restaurants in Hanoi display 'cooking class' on their menus or post advertising boards outside entrances. You can either walk in to ask about availability or book in advance if you are sure of your dates.
Below are a few top rated cooking classes in Hanoi if would like to book in advance: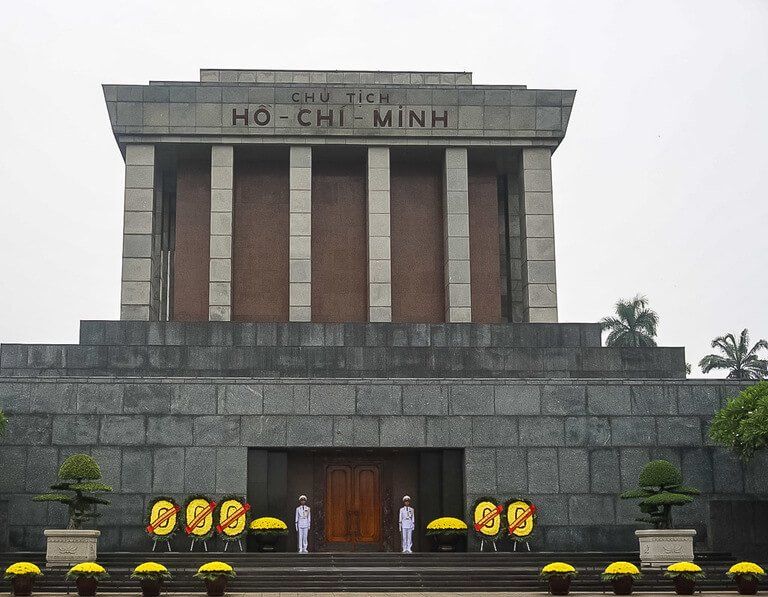 11. Visit The Ho Chi Minh Mausoleum
This Mausoleum is the resting place of Revolutionary leader Ho Chi Minh. This memorial is another must visit in Hanoi because of his significance in Vietnam.
It's no secret Vietnam has endured a rough ride over the last few hundred years. But Ho Chi Minh was a key figure in shaping the country as it is today.
Ho Chi Minh's body was embalmed in 1975 before being placed into a glass casket and put on display inside the mausoleum.
It is claimed that Ho Chi Minh's body is still perfectly preserved even today.
There is also a fascinating story you can learn about if you choose to visit the Ho Chi Minh Museum just a few minutes walk away from the Mausoleum.
Alternatively, if you plan to visit Hoi An, check out our amazing article about the private tour we had with a Vietnam War veteran who gave us an incredible insight into Ho Chi Minh and Vietnam's turbulent modern history.
The 22 meter high building can be found in Ba Dinh Square which is a huge open area filled with plants and flowers.
Pathways in a hash system cut through these gardens for pedestrians to look at various species as they approach the mausoleum.
Address: 8 Hùng Vương, Điện Biên, Ba Đình, Hà Nội 100000, Vietnam
Ho Chi Minh Mausoleum Google Maps location.
Price: Free
Opening Hours: 7:30am – 10:30am (Tues-Thurs) and 7:30am – 11:00am (Sat + Sun)
Travel Tip: The Ho Chi Minh Mausoleum is about a two minute walk from the One Pillar Pagoda.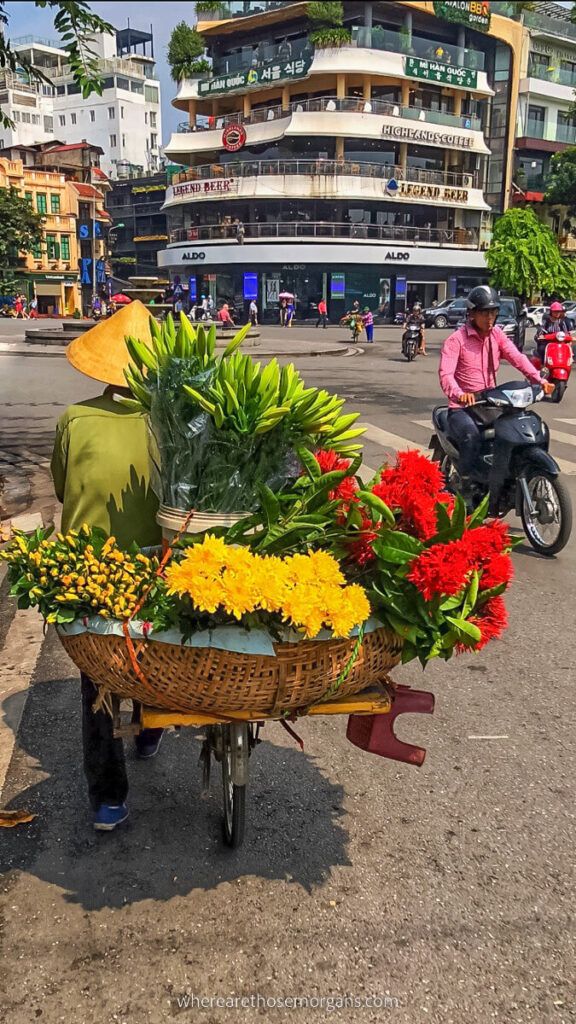 12. Avoid Dong Xuan Market But Visit The Hanoi Night Market
Dong Xuan is a gritty and crowded local market that really doesn't do justice to the amount this market is talked about.
We were hugely underwhelmed by Dong Xuan. It is difficult to find anything unique or interesting at Dong Xuan having visited several markets around the world.
You can visit the market every day during the week as well as Friday, Saturday and Sunday nights.
Personally, we thought this market was more for locals and ran into several tourists who were upset because they had been cheated by the weighing scales.
We wouldn't recommend this market as a tourist and we think there are better ways to spend your time in Hanoi.
If you are interested in visiting a market during your time in Hanoi, check our the Hanoi Weekend Night Market. This market is open from 6:00am – 12:00am Friday, Saturday and Sunday.
We like the weekend night market because there is a good mix of both tourists and locals. Vendors are also much more friendly.
Address: 8 P. Hàng Đào, Hàng Đào, Hoàn Kiếm, Hà Nội, Vietnam
Hanoi Weekend Market Good Maps location.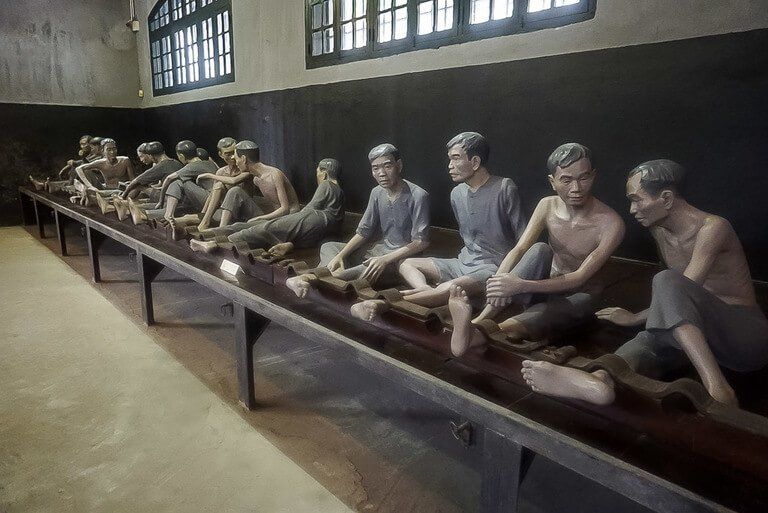 13. Walk The Museum At Hoa Lo Prison (Hanoi Hilton)
Hoa Lo Prison was also built by Hanoi's French colonists around the 1890's as a 'Maison centrale' or central house, which means a place for dangerous prisoners.
This is where the French would torture and execute Vietnamese political prisoners who were seeking independence having grown tired of occupation.
Unfortunately after the French era, came the Vietnam / American war. Hoa Lo then became the place where American prisoners of war were incarcerated.
It became sarcastically known among Americans as the Hanoi Hilton and unconfirmed reports of maltreatment are common from ex residents of Hoa Lo.
Today only a small part of the former prison area remains as a museum, which is mostly geared towards the French era complete with guillotine room.
We felt the mock up exhibits of American POW's living conditions were slightly misleading at reflecting how it would have been 50 years ago. We are pretty sure it wasn't that cozy.
Address: 1 P. Hoả Lò, Trần Hưng Đạo, Hoàn Kiếm, Hà Nội, Vietnam
Hoa Lo Prison Google Maps location.
Price: 30,000 VND for adults / 100,000 VND for the audio guide
Opening Hours: 8:00am – 5:00pm daily
14. Drink Beer On Hanoi Beer Street
A visit to Hanoi would not be complete without drinking at least one beer at one of the many vendors bars along Ta Hien Street, colloquially known as Beer Street.
In essence, this is the place to party in Hanoi! However, there are also restaurants offering cheap food and cheap beer during the day. Beer street is always teeming with fun loving backpackers.
Local craft breweries often sell their own beer to thirsty tourists from all over the world. It is such a sight to see everyone revel together on tiny plastic chairs congregated around tiny plastic tables.
This is the perfect place to have a few social beers before moving onto classier joint as the evening progresses.
Address: Tạ Hiện, P. Lương Ngọc Quyến, Hàng Buồm, Hoàn Kiếm, Hà Nội 100000, Vietnam
Hanoi Beer Street Google Maps location.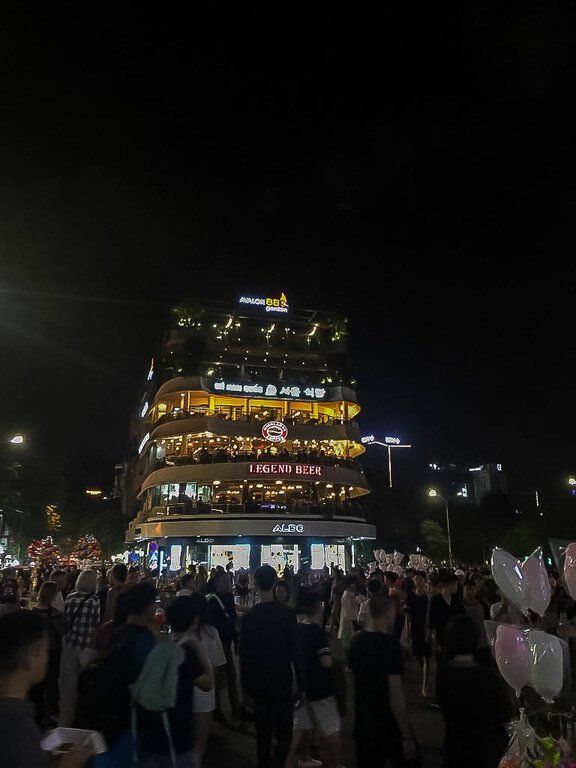 15. Have A Cocktail At A Rooftop Bar
The best way to end the night in Hanoi is at one of its many sky bars. To the North East of Hoan Kiem lake you can find 3 in close proximity, including:
Prices here are a little higher than the street level bars but that is to be expected with a rooftop bar, often inside the swankiest hotels in the Old Quarter.
The suggestions above are more for those travelers with a healthy budget.
For backpackers and low budget visitors an alternative is Legend Beer which is a bit cheaper and cheerful.
It's not a rooftop bar but it still offers elevated views over the pedestrian area on the Northern edge of Hoan Kiem lake.
Travel Tip: If you visit Legend Beer, grab a seat at the window overlooking the streets belows. This is a great spot to watch the traffic unfold from above.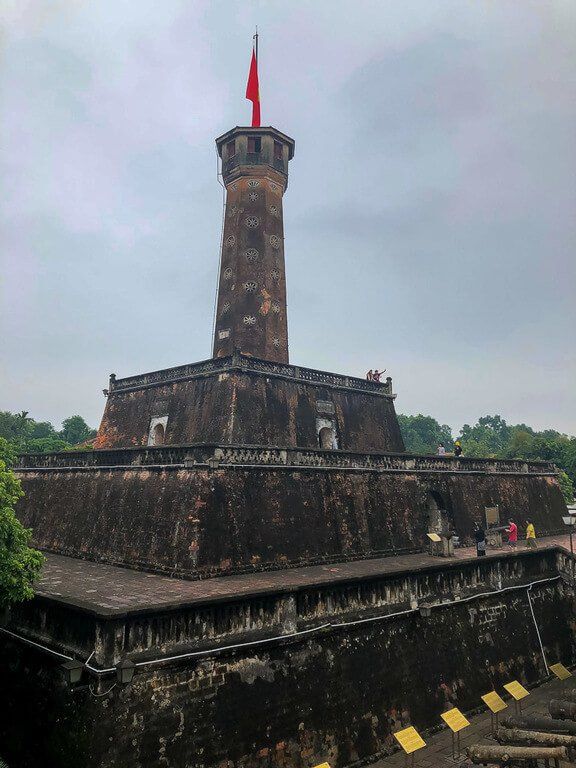 16. Experience Hanoi's Imperial Citadel Of Thang Long
Hanoi's Imperial Citadel, known as the Imperial Citadel of Thang Long, is a complex of buildings that were first constructed in 1010.
Over the following next 800 years, several more buildings were added until 1810 when the Nguyen dynasty moved Vietnam's capital city to Hue.
Around 4000 French colonial soldiers were briefly imprisoned inside the Citadel under Imperial Japanese control in 1945.
The Imperial Citadel of Thang Long was officially designated a UNESCO world heritage site in 2010. Today, the main room exhibits how the Citadel would have once looked.
A part of the Citadel complex features a huge cube shaped stone structure with a towering flagpole showcasing Vietnam's flag rippling in the wind.
The flag tower reaches a height of 33m (excluding the flag itself) and offers views over Hanoi city. The Citadel is in the same complex as the Vietnam History Military Museum.
Address: 19C Hoàng Diệu, Điện Biên, Ba Đình, Hà Nội 100000, Vietnam
Imperial Citadel of Thang Long Google Maps location.
Price: 30,000 VND for adults
Opening Hours: 8:00am – 5:00pm daily
Planning to head to Hue? Don't miss our guide to the Hai Van Pass Motorbike Tour: Hue to Hoi An, Vietnam.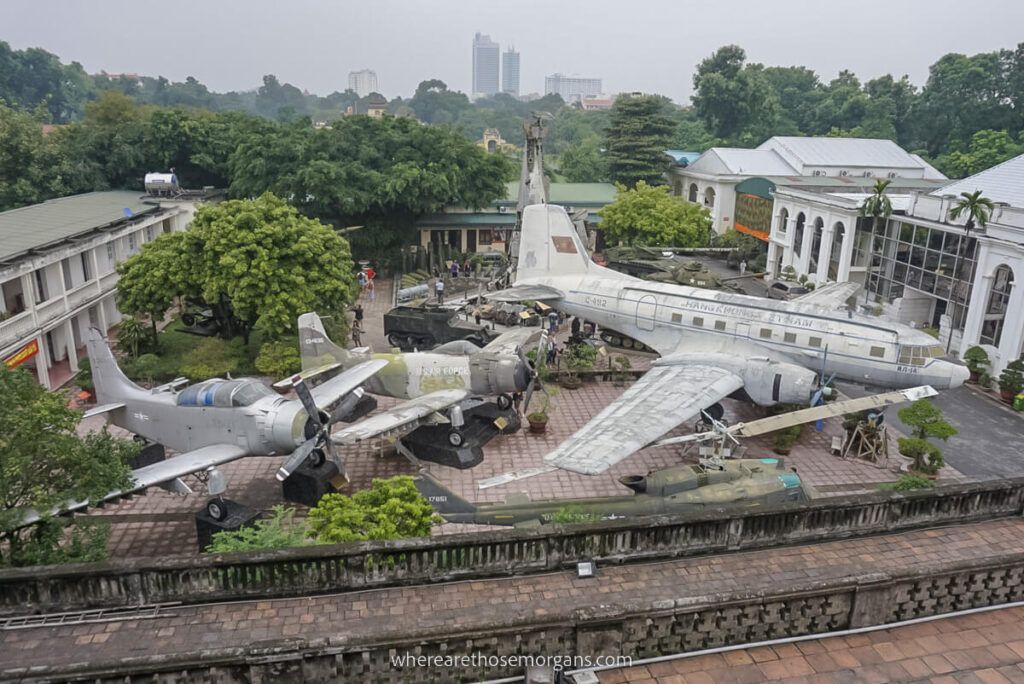 17. Check Out The Vietnam Military History Museum
Created on the 17th of July in 1956, the Vietnam Military History Museum is one of seven National Museums in Vietnam. This museum is opposite the Lenin Park and near the Ho Chi Minh Mausoleum.
One of our favorite part about this museum was the interesting model depicting the defeat of the French at Dien Bien in Northwest Vietnam.
As you wander through the museum grounds, don't miss the Flag Tower of Hanoi as well as the array of full sized wartime fighter jets, thanks and helicopters on display in a courtyard.
Unfortunately, at the time of our visit, the exhibit about the Vietnam / American war was closed. We can't speak to this part of the museum, but be sure to ask during your visit if this section is open.
Address: 28A Điện Biên Phủ, Điện Biên, Ba Đình, Hà Nội, Vietnam
Vietnam Military History Google Maps location.
Price: 40,000 VND for adults and an additional 30,000 VND for camera use
Opening Hours: 8:00am – 11:30am and 1:00am – 4:00am (Sat, Sun, Tues, Wed, Thurs)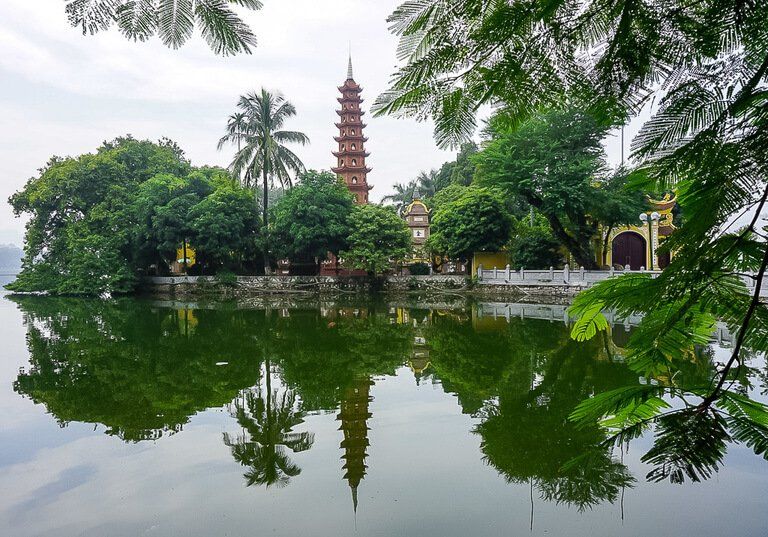 18. See The Reflection Of The Tran Quoc Pagoda
The oldest Buddhist temple in Hanoi is about as far away from the Old Quarter as we will take you on this itinerary. Don't miss this Pagoda as it is extremely photogenic.
The Tran Quoc Pagoda was originally built in 548 (over 1,450 years ago) on the banks of the Red River to the East.
Interestingly, this Buddhist Pagoda was relocated to its current spot on a small island within Hanoi's West lake once the river began to get a little too close for comfort.
Tran Quoc stands at 15m tall and consists of 11 levels gradually getting smaller in circumference the higher they go. A red bricked path must be followed through a canary-yellow gated entrance to reach the pagoda.
You can expect the area surrounding the temple to be busy, especially on the 1st and 15th of the lunar calendar when incense is offered.
Address: 46 Đ. Thanh Niên, Trúc Bạch, Tây Hồ, Hà Nội, Vietnam
Tran Quoc Pagoda Google Maps location.
Price: Free
Opening Hours: 7:30am – 11:30am and 1:30am – 5:30am daily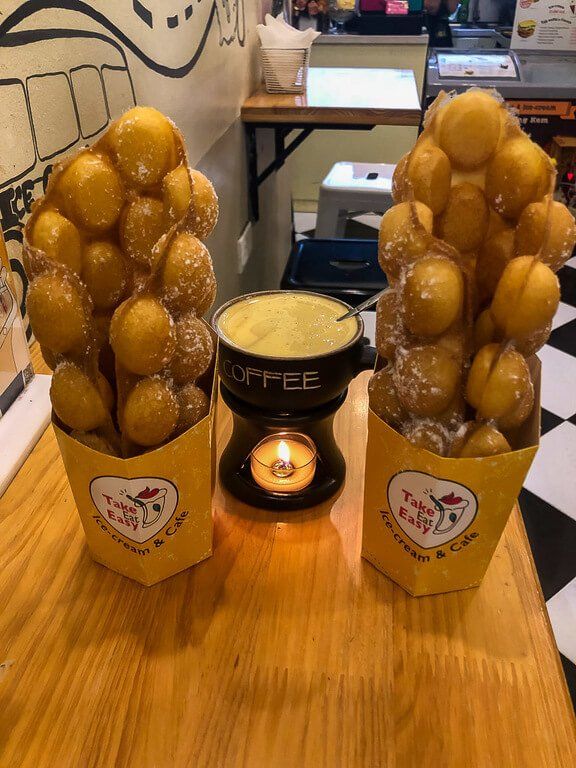 19. Binge On Delicious Eggettes
Egg waffles or eggettes are a delicious street snack that originate out of Hong Kong but you can find in many South East Asian countries. They are ridiculously moreish.
The danger is once once you start, you won't be able to stop.
There's a brilliant little place close to St. Joseph's Cathedral in the Old Quarter called Take Eat Easy where you can double up on trying egg coffee with an eggette together.
Take Eat Easy is technically an ice cream shop, but these were the best eggettes we had during our time in Hanoi. Be sure to order an egg coffee to go along with your egg waffles.
20. Relax With A Massage
Hanoi has a plethora of spas and massage parlors strewn all throughout the city. We paid about US $10 for a one hour full body massage each.
A Vietnamese massage combines a clapping and punching technique so the massage may be slightly different than you are used to at home.
But don't let this deter you because these direct movements help to relieve pain. Your masseuse will focus on energy points which helps to increase circulation and remove toxins.
Expect the price range for a full body massage in Hanoi to range from 250,000 VND to as high as 2,000,000 VND depending on the services and add ons provided.
We booked our massage with Wonderfoot Massage, but there are many other options in Hanoi's Old Quarter if they are fully booked. Just be sure to read reviews prior to booking.
21. Hanoi Opera House
You may notice the Hanoi Opera House is quite similar to the Opéra Palais Garnier in Paris. This is no coincidence as the Opera House in Hanoi was built by two French architects.
This beautiful building hosts entertaining performances, bamboo cirque, contemporary dance, orchestra concerts and government events.
If you are interested in attending a show, be sure to stop by the front gate to check availability and purchase a ticket to a performance.
Address: 1 Tràng Tiền, Phan Chu Trinh, Hoàn Kiếm, Hà Nội, Vietnam
Hanoi Opera House Google Maps location.
Price: Varies depending on show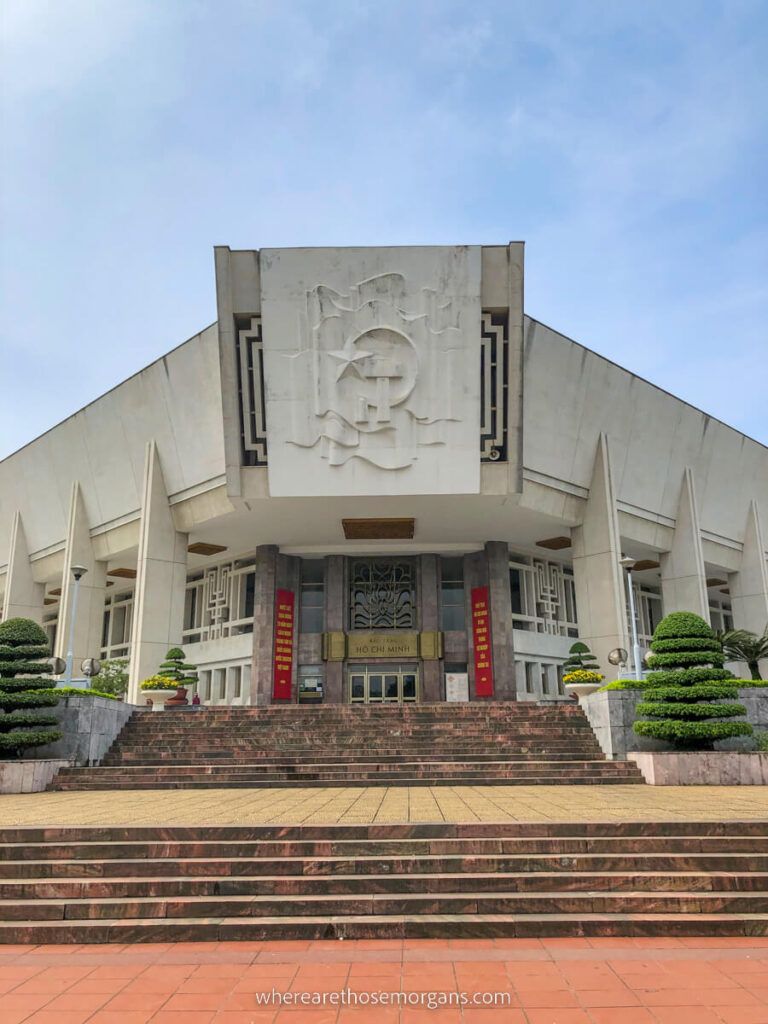 22. Visit Hanoi's Museums
We have already mentioned a few museums in our guide up until this point:
Museum of Vietnamese Women
Hoa Lo Prison (Hanoi Hilton)
Vietnam Military History Museum
But Hanoi has several museums if you wanted to learn more about the history, art and culture in Vietnam's capital city.
Personally, we enjoyed the museums already listed because they were quite unique to Hanoi as well as Vietnam.
However, if you find yourself with spare time in your itinerary or want to learn even more, here are a few of your options:
23. Lotte Tower Observation Deck
The Lotte Tower Observation Deck is on the 65th floor on the Lotte Center in Hanoi, Vietnam. Two high speed elevators will shoot visitors from level B1 to the 65th floor in just 50 seconds.
This observation deck features a large Sky Walk with glass floors, which is the first one of its kind to be built in Southeast Asia. Visitors will also experience a welcome zone, an experience zone and a love story zone.
On a clear day, you can see most of Hanoi from Lotte Tower Observation Deck. But if you visit on a smoggy day, you won't be able to see much from the observation deck.
Address: 54 P. Liễu Giai, Ngọc Khánh, Ba Đình, Hà Nội 100000, Vietnam
Lotte Tower Observation Deck Google Maps location.
Price: 200,00 VND
Opening Hours: 9:00am – 11:00pm daily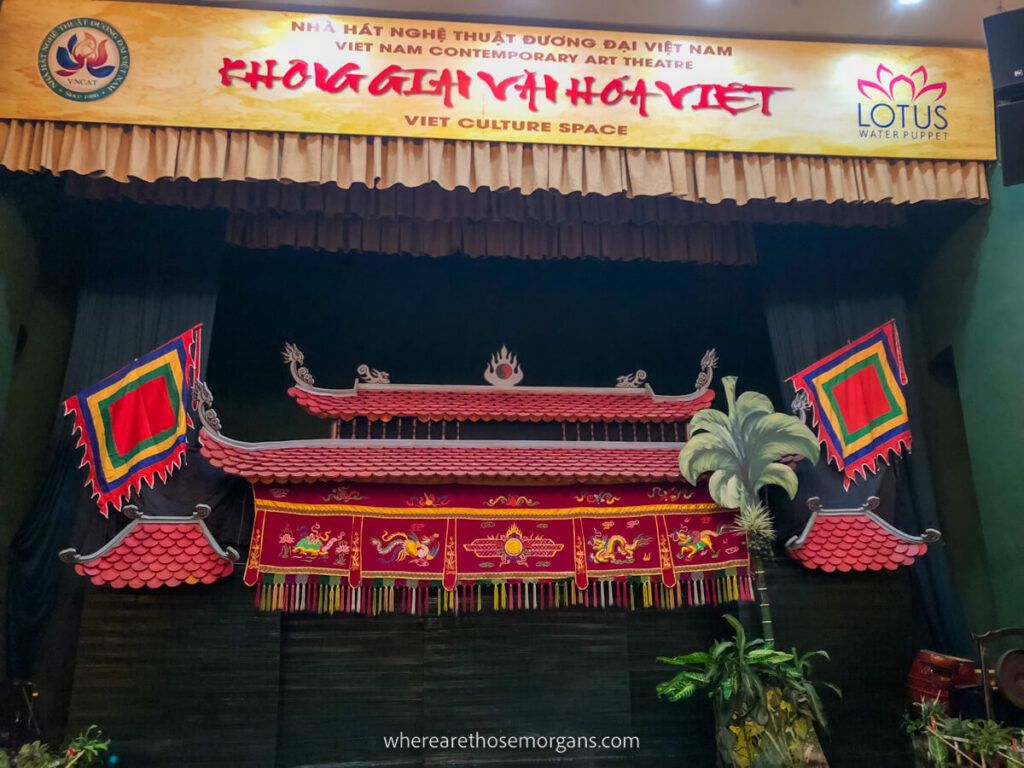 24. Temple Of Literature
The Temple of Literature in Hanoi is one of many temples dedicated to Confucius. This temple also hosts the Imperial Academy which is Vietnam's first national university.
Built in 1070 during the time of Emperor Lý Thánh Tông, this temple can be seen on the back of the 100,000 VND banknote. The Temple of Literature sits just south of the Imperial Citadel.
As you wander through the temple, be sure to make note of the various alters which are popular with students praying for good grades. You can also visit the halls, ponds and gardens of the five picturesque courtyards.
Address: 58 P. Quốc Tử Giám, Văn Miếu, Đống Đa, Hà Nội 100000, Vietnam
Temple of Literature Google Maps location.
Price: 30,00 VND
Opening Hours: 8:00am – 5:00pm daily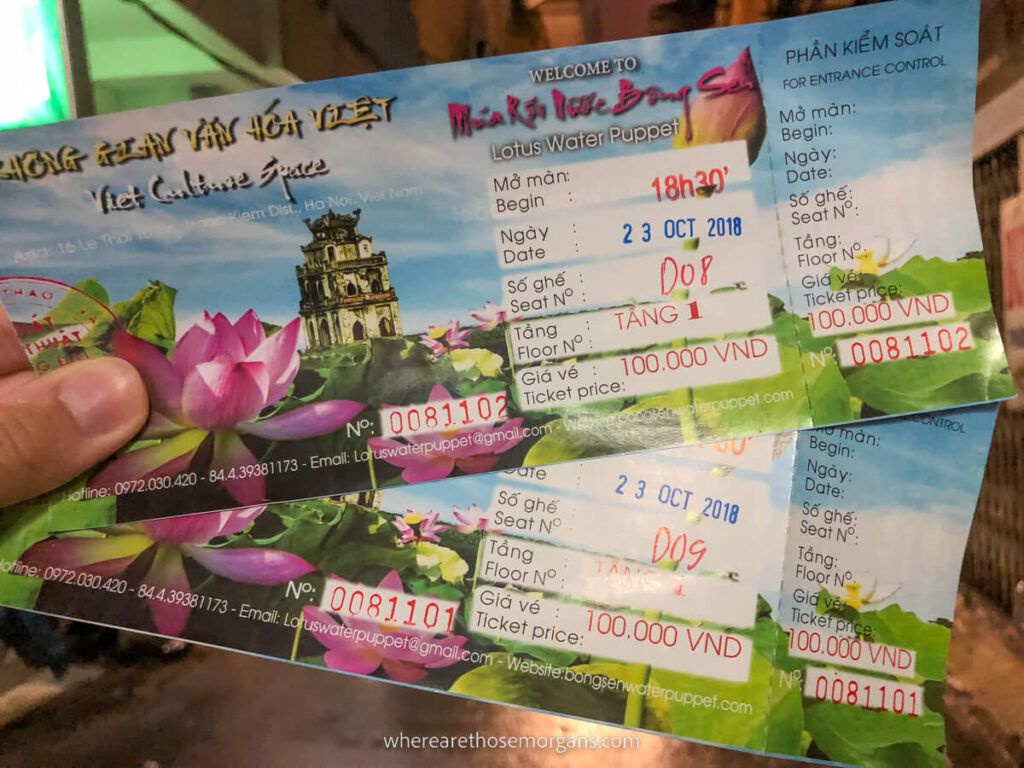 25. Book A Tour
A tour is a great way to meet like minded people and see attractions in the city you might have missed.
Depending on what you want to experience, use our Hanoi Itinerary later in this guide to customize your time in Vietnam's capital city.
Below you can find some of the top rated tours in Hanoi, Vietnam:
Hanoi Guided Street Food Tour – On this 3 hour tour, you will sample 10 traditional Vietnamese dishes including sweet soup, papaya salad, sticky steamed rice with ice cream and more.
Tour Hanoi in an Army Jeep – Experience the sights, sounds, and smells of Hanoi in this four hour tour as you discover a mix of city highlights and hidden gems.
Heading to Halong Bay? Don't miss our popular guide to booking a cheap Halong Bay Cruise.
2023 Update: The Famous Hanoi Train Street
It comes with great sadness we had to take Train Street off our things to do in Hanoi list. While we loved our heart wrenching experience on Train Street, we understand why this area had to be closed down.
Train Street in Hanoi quickly grew to fame thanks to the age of Instagram. There were two locations you could visit to enjoy a cup of coffee in a cafe as a train whizzed past you with only centimeters to spare.
Before you continue reading, please understand Train Street in Hanoi is now closed by the Vietnamese Government.
We are only including this section in our guide for nostalgia purposes so please do not visit Train Street as cafes are no longer open.
5 Tran Phu – This was Train Street north of the train station which sits on the edge of the Old Quarter. It was easily accessible so it was extremely crowded.
Ngo 224 Le Duan – This was the option south of the train station. It was the section we chose to visit because it was much less touristy at the time.
You could expect trains at the following times:
Weekdays: 7:00pm, 7:45pm, 8:30pm, 10:00pm
Weekends: 9:15am, 11:20am, 3:20pm, 5:30pm, 6:00pm, 7:00pm, 7:45pm, 8:30pm, 9:00pm, 11:00pm.
It was quite common to see hoards of tourists heading to the tracks around these times in the afternoon.
There were a small handful of cafes and bars at Ngo 224 Le Duan with many more options at train street in the Old Quarter.
Just for nostalgic purposes, here are the pros and cons to each section on Train Street.
Pros And Cons For Old Quarter Train Street
This is what we liked about the Old Quarter Train Street:
Great location on edge of the Old Quarter
Easy to fit into your Hanoi itinerary due to location
Closer to better restaurants with quality cafe and bars
And this is what we didn't like about the Old Quarter Train Street:
Extremely busy with tourists
Train doesn't get as close as other section
Not the iconic photograph of Train Street
Pros And Cons For Train Street South
This is what we liked about Train Street South:
Less crowded compared to Old Quarter location
Ability to take iconic Train Street photo
More authentic experience but train gets VERY close
And this is what we didn't like about Train Street South:
Much more difficult to get to due to location
Can add lots of extra time onto your Hanoi itinerary
Not as many cafe and bars if you have to wait awhile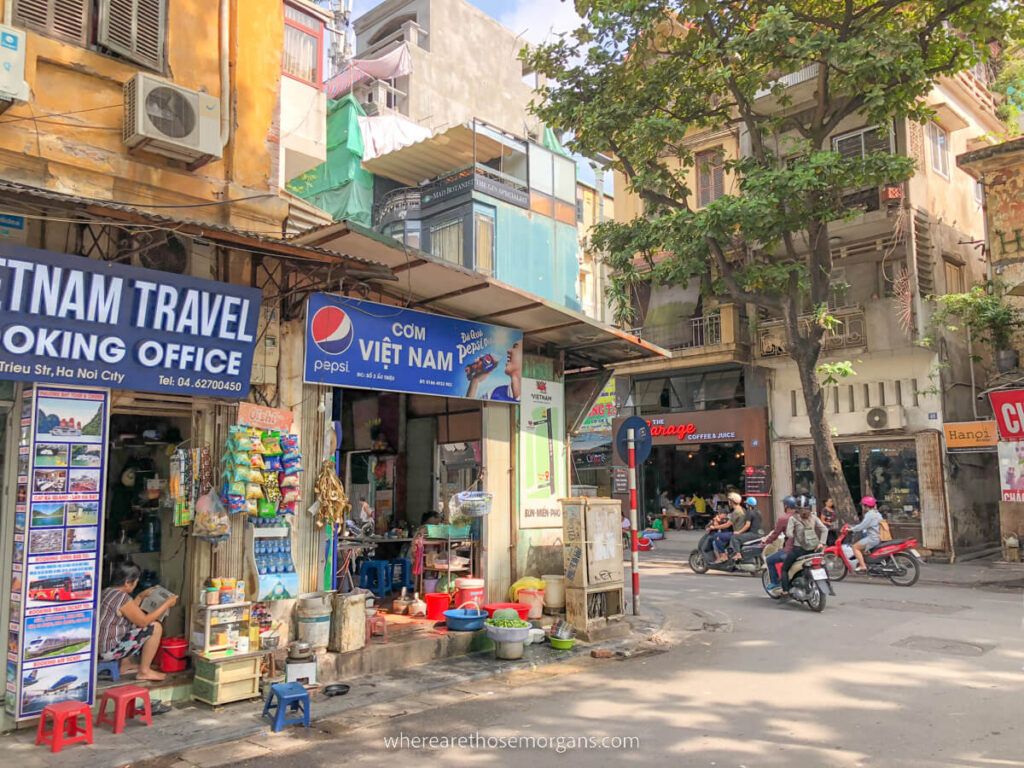 2 Day Hanoi Itinerary
Hopefully you don't feel too overwhelmed by all of the things to do in Hanoi we mentioned above. We are sure you won't once we have put all of this into a 2 day Hanoi itinerary.
The following 2 day itinerary is action packed and will require 2 full days in Hanoi. It's likely you will land the day before so take a few hours to relax and recover close to your hotel before getting started.
Get up early and begin this Hanoi itinerary before moving on other amazing location in Vietnam such as Sapa, Halong Bay or Ninh Binh.
Day 1 is a lighter on the step count, but is still jammed packed with things to do in Hanoi. Keep in mind day 2 will require a little more exertion and keep your busy all day.
Depending how you structure this itinerary with tours, museums and massages, be sure to add in time for lunch when required.
Hanoi Itinerary: Day 1
8:00am – After a hearty breakfast take a leisurely stroll around the old quarter and stop at Dream Beans Cafe for an amazing Robusta or egg coffee. Check out St. Joseph's Cathedral on the way to Hoan Kiem lake.
10:00am – Once you arrive at the lake book your ticket for the 5.20pm puppet show (or skip if you have booked online). Walk clockwise around to Ngoc Son Pagoda and continue to half way around Hoan Kiem lake, taking stops at regular intervals to see Turtle Tower in the center.
11:00am – Walk into the heart of the French Quarter stopping first to quickly look at the Opera House before heading West to enter the Vietnamese Women's Museum.
1:00pm – A short walk to the West in the French Quarter is Hoa Lo Prison. A tour of the museum won't take long.
2:00pm – This is where we would have recommend Train Street, but instead use this time to visit another museum in Hanoi, book a tour or visit Sky Lotte Observation Deck.
4:00pm – Back to hotel to freshen up.
5:00pm – Catch the 5.20pm Water Puppet Show you booked earlier.
7:00pm – Duong's Restaurant for an amazing dinner.
9:00pm – Beer Street for a wilder night or a Rooftop Bar for a much more relaxing evening.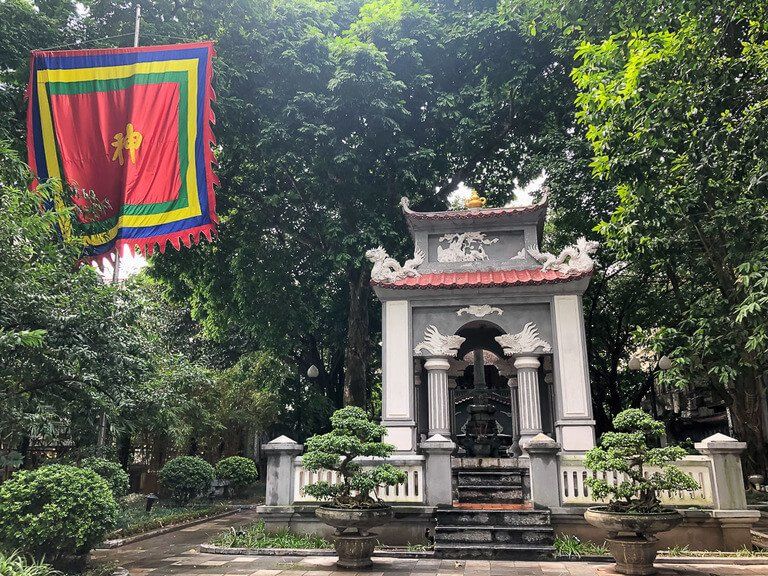 Hanoi Itinerary Day 2
8:00am – Start the second day early. Take either a motorbike or car Grab to Tran Quoc Pagoda. It's a fair way up and would mean walking back on yourself otherwise.
8:30am – Have a quick look around the pagoda. Head South along the road splitting the lake. There are great photo opportunities of boats and high rise buildings reflecting on the still surface. Before you reach Bai Dinh square you will pass a huge 1900's yellow French colonial mansion.
9:30am – Arrive at Ho Chi Minh Mausoleum and hopefully the line isn't too bad.
11:00am – You will find One Pillar Pagoda a short walk from the mausoleum. Ho Chi Minh Museum is a few minutes walk from here for those who are interested.
11:30am – Head South East towards old quarter. Make your next stop at Thang Long Imperial Citadel.
1:00pm – Right next door is Hanoi's Military History Museum and iconic Hanoi Flag Tower.
2:00pm – Make your way over to the Tower of Literature and head back to the Old Quarter when you are finished.
3:00pm – Use this afternoon to take a tour, cooking class, visit an additional museum or book a massage.
7:30pm – Try some eggettes for dessert after your cooking class and visit the Hanoi Weekend Market if you are visiting during the weekend.
And there you have your action packed 2 day Hanoi itinerary! As long as you follow the itinerary and interactive map you will easily be able to see everything.
Interactive Map Featuring 2 Day Hanoi Itinerary Locations
Use this interactive map to help orientate yourself when you visit Hanoi. Follow the itinerary as outlined above and plot your route using the map.
Maroon = Day 1 Points of Interest
Green = Day 2 Points of Interest
Black = Transport Hubs
Blue = Hotel Recommendations
Best Places To Stay In Hanoi
Now let's take a look at our top rated places to stay in Hanoi.
Hanoi is a backpackers paradise and there is an enormous amount of affordable accommodation all over the Old Quarter.
This short list covers a hotel for every kind of budget so if you are looking to splash out or want something a little bit more comfortable, we also have you covered.
We've picked out the best hotels in each different price bracket. But location is key here and from experience, we know the best places to set up base.
Click on the links to simply add your dates to check prices and availability.
Rising Dragon Legend Hotel (Budget)
Incredible value for money! Just a 2 minute walk from Hoan Kiem Lake on its North side, includes buffet breakfast and rooms look excellent.
Perfect for those on a lower budget.
>> Book Rising Dragon Legend hotel here <<
Sunline Hotel (Budget)
Conveniently located in Hoan Kiem, guests always rave about the customer service from Sunline Hotel. This is a great option for those on a budget because a fabulous breakfast is included in the room rate.
>> Book the Sunline Hotel here <<
Solaria Hanoi Hotel (Mid-Range)
Stunning hotel less than 1 minute walk to Hoan Kiem lake on its North West side. This hotel with gorgeous and affordable rooms also has a rooftop terrace overlooking the lake.
>> Book the Solaria Hanoi hotel here <<
The Oriental Jade Hotel (Mid-Range)
Excellent location if you want to be in the middle of the hustle and bustle of Hanoi. The Oriental Jade features a restaurant, outdoor swimming pool, a fitness centre and bar.
>> Book the Oriental Jade Hotel here <<
Peridot Grand Hotel And Spa (Luxury)
The incredible Peridot Grand offers utmost luxury, 2 restaurants, 3 bars, amazing rooftop pool, fitness center and spa. A little further from the lake but more peaceful and relaxing.
>> Book the Peridot Grand Hotel here <<
Want to see more hotel options? Search for Hanoi Hotels here.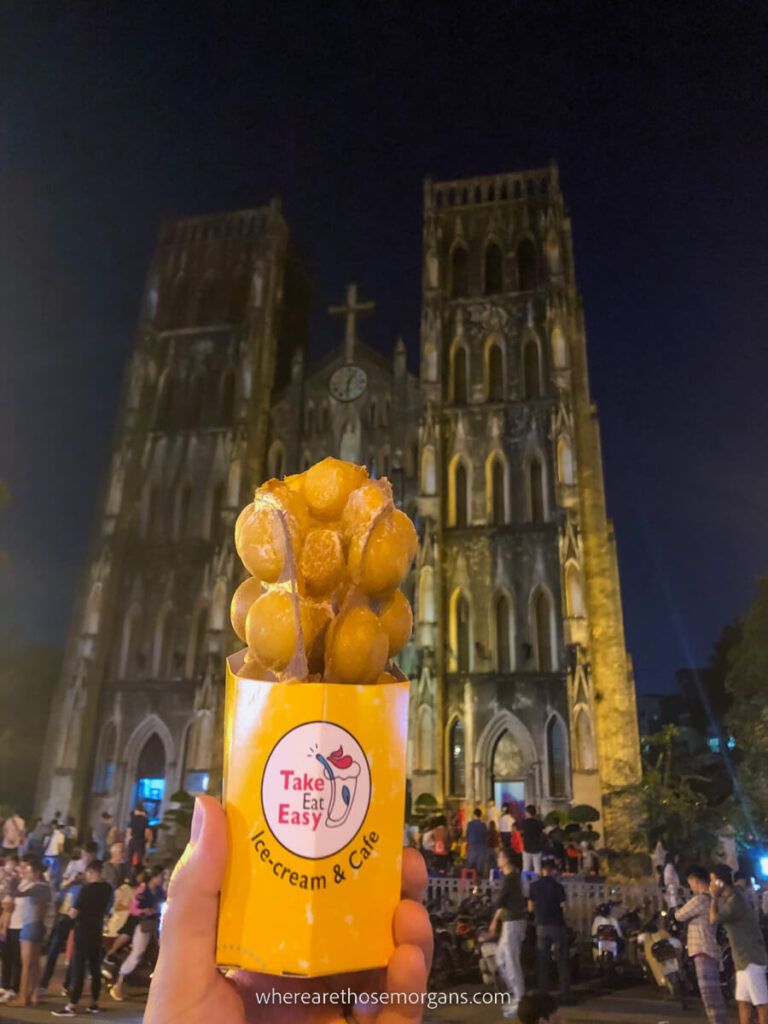 FAQ's About Hanoi, Vietnam
Let's take a quick look at some of the most frequently asked questions about Hanoi, Vietnam.
What Is Hanoi In Vietnam Known For?
Hanoi is the capital city of Vietnam and this ancient capital is known for its unique architecture which combines Southeast Asian, Chinese and French influences.
Is Hanoi, Vietnam Worth Visiting?
Yes, Hanoi is one of the oldest capitals in the world and it is worth visiting at least once in your lifetime.
Do They Speak English In Hanoi?
While the official language is Vietnamese, many of the locals in Hanoi speak English. However, do not expect everyone to speak english and try to learn a few words in Vietnamese if possible.
What Is The Best Time To Visit To Hanoi?
The best time to visit Hanoi is during the cool dry season between October and December. This drier climate creates comfortable weather with minimal rain.
Is Tap Water Safe In Hanoi?
No, it is not safe to drink tap water in Hanoi, Vietnam. You should always drink bottled water and check the seals before every new bottle of water.
Our Popular Guides For Vietnam
More From Vietnam
Want more Vietnam content? Head over to our Vietnam Travel Guides to see example itineraries, tips about Vietnam and popular city guides.
---
We hope this detailed list of things to do in Hanoi along with a perfect 2 day Hanoi Itinerary helps with planning your visit to Vietnam's capital city!
Please let us know if you have any questions about Hanoi or Vietnam in the comments below.
Happy Travels,
Mark and Kristen
Enjoy This Things To Do In Hanoi Guide? Pin It For Later!