Halong Bay is one of Vietnam's most popular destinations on the heavily beaten tourist path. Who doesn't want to see a unique UNESCO world heritage site on an overnight cruise?! Typically, visitors to Halong Bay will originate in Hanoi.
This detailed transport guide explains how to get to downtown Hanoi and all the best travel options between Hanoi and Halong Bay. But we will also throw in how to get to Halong Bay from other parts of Vietnam which includes braving the notorious sleeper bus!
*Please note this post may contain affiliate links. If you click on one, we may earn a small commission at no extra cost to you!*
Where is Halong Bay?
Halong Bay is all the way up in the North East corner of Vietnam, around 150km (95 miles) from the border with China. It is easily reachable from Hanoi, but there are options from Ninh Binh and even Sapa that we will discuss later.
Before we get into Hanoi to Halong Bay options, let's take a look at getting to Downtown Hanoi.
How to get to Downtown Hanoi
Fly to Hanoi (Noi Bai International Airport)
Research prices thoroughly and be as flexible as possible. Book your flight using Skyscanner for the best user interface and value.
Fortunately, Hanoi Noi Bai International Airport (HAN) is one of Vietnam's 2 major international airports, easily accessible from many parts of the world. This means an enormous amount of options both internationally and domestically.
Flying internally in Vietnam and regionally in South East Asia typically is incredibly cheap, even for backpackers on a tight budget. Look out for VietJet Air, Vietnam Airlines, Jetstar and Bamboo for unbeatable value. Be sure to check luggage allowances if you are backpacking.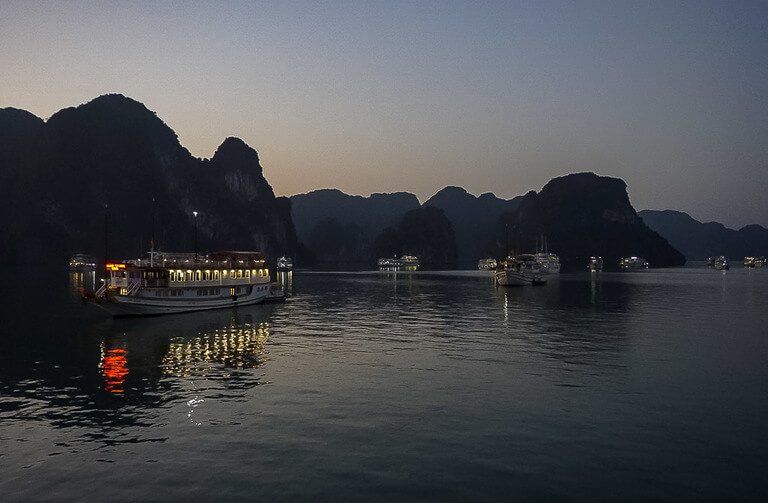 Hanoi Airport to Hanoi Downtown
Once you land, you will need to organize onward travel 25km (15 miles) to downtown Hanoi via one of these methods:
Grab Car – Grab is like Uber, you just need the app and internet inside Hanoi Airport to book a ride. If you land at peak times, expect to pay more. US$ 12-15.
Grab Motorbike – Same thing applies as Car, just book a motorbike instead for around US $5-7. This only works if you have 1 backpack and is definitely the 'adrenaline rush' option!
Airport Taxi – Be vigilant, there are attempted scams at work. Look for Man Linh (green cars) and Taxi Group (white cars), ask for the meter to be turned on or agree a good price before you leave. Otherwise, get out and try again – US$ 15-18.
Airline Airport Shuttle – If you fly into Hanoi with Vietnam Airlines or Jetstar you can make use of their respective dedicated shuttle into town for just US$ 2 per person. Great deal if fly with them!
Airport Express Shuttle Klook – You can pre-book a private comfortable air conditioned car with hotel drop off ahead of time with Klook for US$ 14.50. Best option – Click here to book.
Public Bus – If you are super budget conscious, you can take either bus number 17 for US$ 0.50 or number 86 for US$ 1.50. Cheap but uncomfortable, slow and language barrier to contend with. Plus will need to take a taxi from bus stop in Hanoi to hotel.
Private Car – Either in airport plenty of options for private car, or book ahead with hotel to arrange pick up. Both will cost around US$ 23-25.
Are you heading to Hanoi before Halong Bay? Follow this action packed 2 Day Itinerary so you don't miss a thing!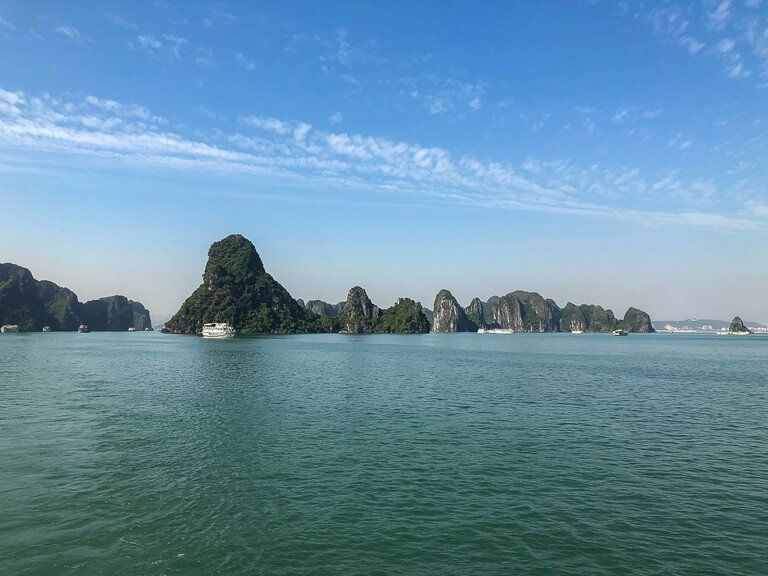 Train to Hanoi (Ga Ha Noi)
Traveling by train in Vietnam is the perfect way to see beautiful countryside regions that you otherwise would never see. Train travel can also be quite comfortable if you pay a little extra and book a whole first class sleeper cabin. Or simply keep it cheap and cheerful by booking a second class seat.
Journey times up and down the long narrow country can understandably put some people off. For example, if you were to take a train directly from Ho Chi Minh City to Hanoi, it would take around 35 hours. More likely you will be traveling up from Da Nang, Hue, Dong Hoi or Ninh Binh.
Arrival into Hanoi is at Ga Ha Not – around a 20 minute walk from the heart of the old quarter.
To ensure you get the best prices for train travel in Vietnam, be sure to look at more than one resource and compare costs for your upcoming trip. We recommend comparing prices on 12Go Asia and Baolau.
Halong Bay: Booking a cruise for Halong Bay can be a little overwhelming with so many options and prices! Be sure to check out our in-depth guide to booking the best 'cheap' Halong Bay Cruise before you travel!
Downtown Hanoi to Halong Bay Transport Options
Halong Bay is roughly 170km (105 miles) from downtown Hanoi. It's an awkward distance in terms of working out whether traveling independently by motorbike is a viable option.
For us, we would say that number is just outside of a comfortable distance for making the journey on the back of a moped, especially in Vietnam. But each to their own! We will of course cover all possibilities for travel:
1. Minibus to Halong Bay Included with Cruise Booking in Hanoi
The majority of tourists traveling between Hanoi and Halong Bay will book a day return cruise, a 2 day / 1 night cruise or a 3 day / 2 night cruise. Almost all travel agents in Hanoi will offer a shared minibus transfer directly from your hotel to the cruise port and back to Hanoi for around US$ 10-15 per person.
In truth, it is hard to look past this being the best option for convenience to price ratio. There are certainly reasons not to take this option, but for the vast majority of visitors, this is the way to go. Of course this option limits time you can spend in Halong, unless you only book one way travel.
Pros
Incredibly convenient

Fairly cost effective

Can negotiate a price

Hotel pick up/drop off
Cons
Not the cheapest option

Shared transport

Not independent

Have to negotiate with travel agents

Limited time in Halong Bay
2. Private Car Transfer Hanoi to Halong Bay
Booking a private car transfer is by far the most comfortable way to travel between Hanoi and Halong Bay. But of course that comfort comes at a premium.
Do you absolutely know for a fact you prefer to travel privately and safely in a comfortable car? Make enquiries with your cruise operator and compare that price against local travel agencies and your hotel in Hanoi.
Alternatively pre-book your private car transfer with Klook. They offer a 1 day round trip private car for US$ 100 and a 2 Day / 1 Night round trip for US$ 140 per car (up to 3 people). Plus, there are options for more passengers.
Pros
Most convenient

Premium comfort

Choose your times

Hotel pick up/drop off

Safe, cool, clean

Private travel
Cons
Expensive

Limited time in Halong Bay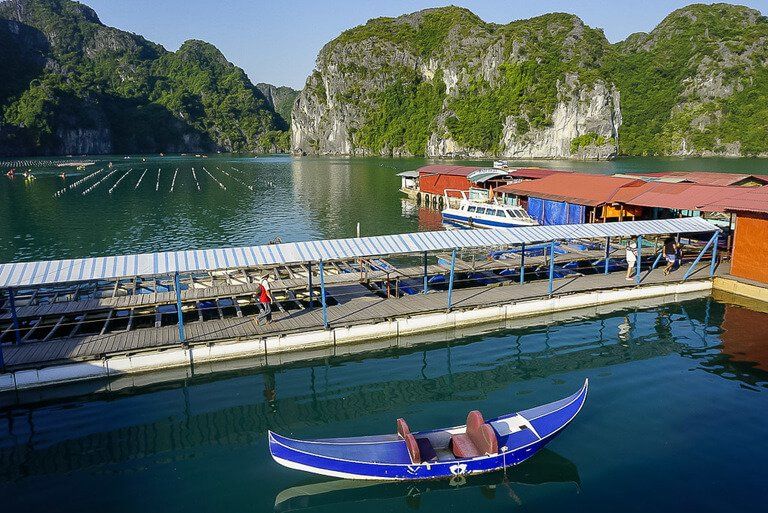 3. Taxi Hanoi to Halong Bay
Taking a local taxi is an option, but not a good one. It's a long taxi ride and scamming is already a problem just around the cities. If you do take a taxi, be sure to agree on a price, or turn the meter on so the driver can't just make a number up on arrival. Plus track the journey on your maps app.
You should expect to pay around US$ 30-50 each way, but only as a last resort.
Pros
No prior planning required
Cons
Not cost effective in comparison

Not as safe

Potential to be ripped off

Hassle/worry factor
4. Public Bus Hanoi to Halong Bay
For backpackers and those on a tight budget looking for the cheapest way to travel between Hanoi and Halong Bay, look no further than the local bus. The local bus can cost as little as US$ 5 per person and it gives you ultimate freedom to stay in Halong Bay, with no return as part of the deal.
Here are the US$ 5 buses with Baolau, just put your dates in!
Buses leave from My Dinh station in Hanoi, which is 9km West of the old quarter, so you'll need to get a taxi there. The bus then arrives into Halong City at the Bai Chay station, so if you plan to head straight over to a cruise, you'll need to taxi over to the cruise port.
Pros
Extremely affordable

Set pre-paid cost

One way only, can stay in Halong
Cons
Not the most comfortable

Shared and busy transportation

Taxi required both ends

Not convenient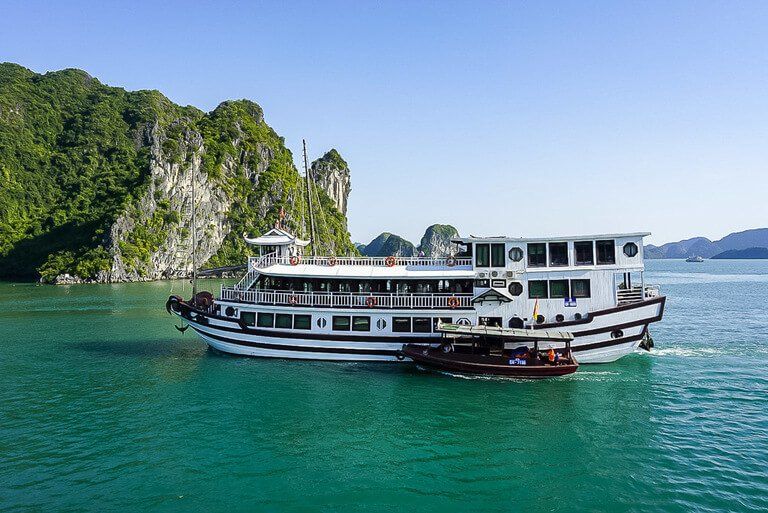 5. Motorbike Hanoi to Halong Bay
Reserved only for the most adventurous of travelers! As long as you're a confident driver, why not hire a motorbike and make the journey yourself? If this sounds great and your next questions is how can I do that? Well, you just need to hire a motorbike in Hanoi, hand over a copy of your passport and hit the road!
Motorbike hire will cost you around US$5-6 per day, so if you plan a quick turnaround it can be extremely cost effective. The major benefit to traveling by motorbike is being able to stop off at any place you like between Hanoi and Halong Bay. The flexibility and independence means you can even check out Cat Ba or Hai Phong before returning to Hanoi.
Be extremely diligent when hiring motorbikes. Do a thorough check of everything to make sure it all works firstly for your safety and secondly for avoiding being ripped off at the end. Our pro tip is to take photos of the bike as you pick it up.
Check out 'Gia Hung Motorbike Rental' and 'Rental Motorbike Vietnam' in the old quarter, or 'Cho Thue Xe 13535 Motorbike Rental' right outside Hanoi train station. All have excellent reviews.
Pros
Best flexibility / independence

Cheap option

Stop anywhere between

See the countryside
Cons
Only for very confident drivers

Can't carry much luggage

Not the safest option

Not comfortable

Exposed to weather conditions
6. Pre-book a Halong Bay Tour Including Transport
If you are looking for an alternative to avoid having to book a cruise once you arrive into Hanoi at a travel agency, book a cruise package in advance. You can look online at booking.com, Get Your Guide and Klook. Be aware that booking.com does not offer transport with the cruise.
Options with Get Your Guide and Klook include day cruises, 2 day / 1 night and 3 day / 2 night cruises, with return transport included. Prices are similar, sometimes even better than in Hanoi depending on season. Check out the options below to see if the prices work for you.
Cruise package prices with Klook
Cruise packages with Get Your Guide
Pros
Ultimate convenience

No stress or hassle in Hanoi

Set price and excellent value

Hotel pick up and drop off
Cons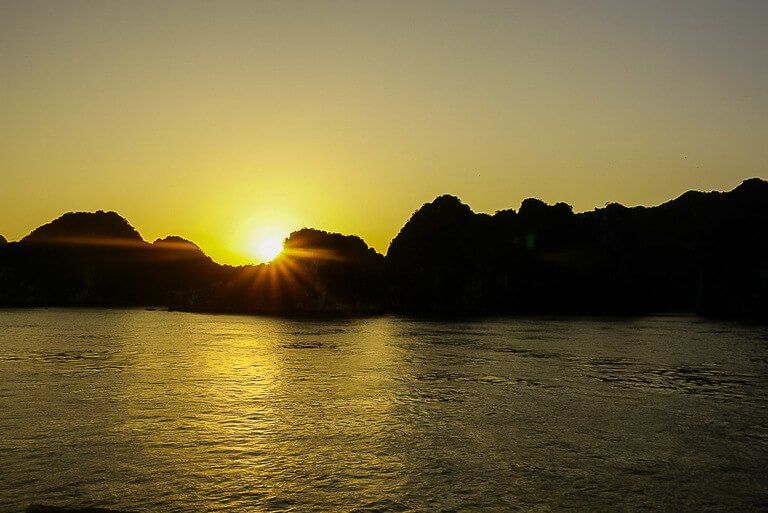 7. Slow Train Hanoi to Halong Bay
There is a single train that travels once daily between Hanoi and Halong City. It leaves at 4.55am from Yen Vien station in the North East of Hanoi, which sounds awful, right?! But a ticket only costs US$ 3.50 and many people are averse to making any trips by road in Vietnam!
This train does take a lengthy 7 hours to reach Halong Bay and on the return leg you can only catch it at 1.50pm each day.
Pros
Cons
Only 1 train per day

Inconvenient 4.55am departure

Takes 7 hours

Taxi both ends required
Hanoi Airport Direct to Halong Bay
If you have no desire to head into the carnage of Hanoi, there are a few limited options for taking direct transport to Halong Bay from Hanoi Airport. Recently, a new expressway has been opened between Hanoi and Halong Bay. This road cuts off a big chunk of time but it also has a US$ 12 toll fee that passengers must pay if they want to go the quicker route.
Private Car with Klook US$ 71 for up to 2 people / US$ 77 for up to 5 people. This option is best value / comfort for a small group.
If US$ 400 per person isn't a problem for you, why not fly from Hanoi Airport to Halong Bay on Hai Au seaplane?!!

Normal taxi of course is an option, try to take Mai Linh (green taxi) if possible and expect to pay around US$ 60. Ensure the meter is on before departing.
Sleeper Bus to Halong Bay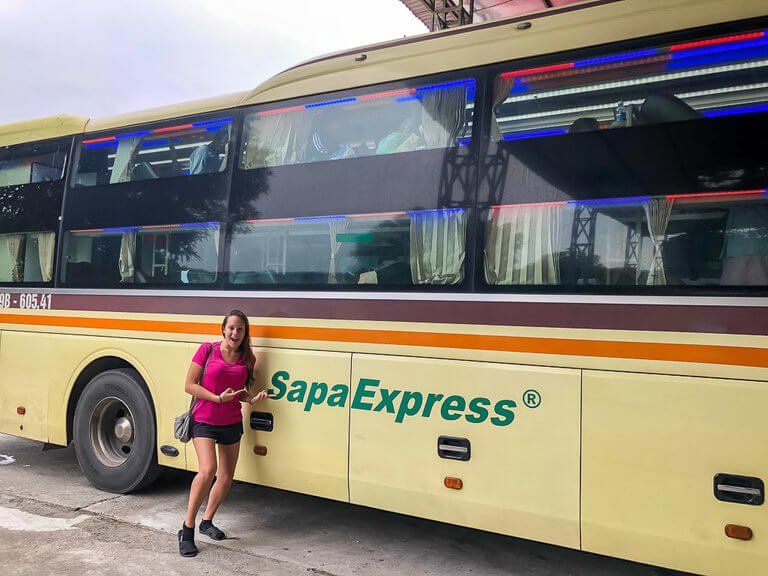 Hey, not everyone is traveling from Hanoi to Halong Bay. We didn't! Our route was Hanoi – Sapa – Halong Bay. It didn't make sense to go through Hanoi again so we took a direct sleeper bus Sapa – Halong Bay. If you're heading up from the South, you will be able to take buses direct to Halong Bay from Ninh Binh / Tam Coc.
This will be of particular interest to backpackers! Personally, we traveled by sleeper bus on 5 occasions in Vietnam. We recommend you read about our hair raising experiences before booking your own sleeper bus! Check out our Vietnam Sleeper Bus: Adventure or Peril post!
No matter your opinion of sleeper buses, you can't argue with value and convenience. They are by far the cheapest way to travel. Plus, you don't have to transfer to another bus, taxi or train. You get on, fall asleep and wake up in Halong.
Always check multiple sources for best value when traveling Vietnam. For sleeper buses, we recommend you check 12Go Asia and Baolau to compare costs. Alternatively, you can book sleeper buses as and when you want to travel in Vietnam, but we would recommend you book online as the quality of bus and service is much higher.
And finally, be sure to read our top 30 key things to know about Vietnam before you visit.
Read More About Vietnam …
---
We hope this helps you plan your trip to Halong Bay!
How did you travel from Hanoi to Halong Bay? We hope your journey was smooth sailing.
If you have any questions about getting from Hanoi to Halong Bay or Vietnam in general, please just let us know in the comments below!
Happy Travels,
Mark and Kristen
Like This Post? Pin It For Later!