Vietnam's adventure capital Phong Nha has a secret weapon tucked away up its sleeve and it isn't a cave – it is a hugely underrated Botanic Gardens.
Why do we consider this a 'secret'? Because it is so easy to overlook botanic gardens when you are in the company of some of the worlds biggest and best adventure caves. Why do we consider this a 'weapon'? Because the botanic gardens delivers fire power in the form of … the 5 fantastic reasons we are about to share with you!
It took a little convincing by Kristen before Mark was on board with a 'botanic gardens' visit. Why should we visit a garden when there's caves to explore?! Kristen was right. The one thing we don't agree with is the name. This shouldn't be called a botanic garden. We'll come up with a new name at the end of this article!
*Please note this post may contain affiliate links. If you click on one, we may earn a small commission at no extra cost to you!*
Where are the Botanic Gardens in Phong Nha?
How do I get to Phong Nha Botanic Gardens?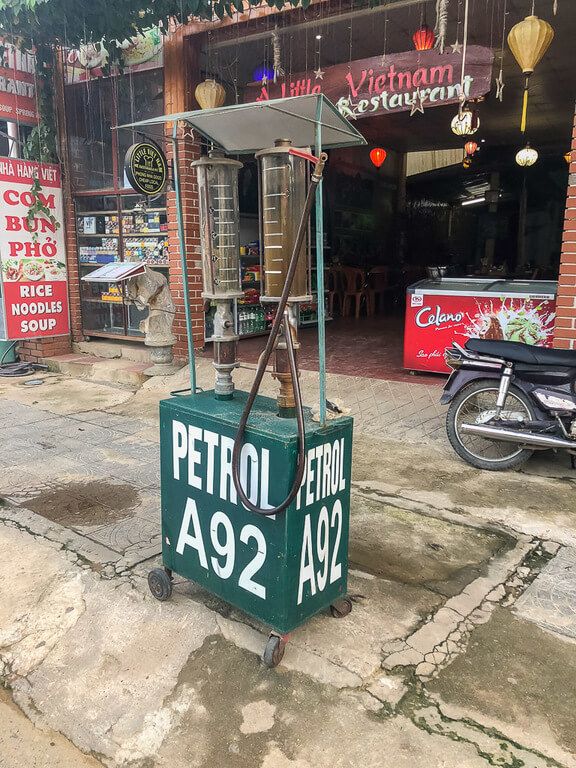 One way of reaching the botanic gardens is to hire a scooter in Phong Nha, fill it up with US$ 3 gas that will last all day, and belt it around the deathly quiet rural roads until you see a crude car park filled with other scooters.
This would be the quickest, easiest and by far most popular means of getting to the gardens.
However, we would like to run another idea by you. And that leads us perfectly onto the number 1 reason why you should visit the botanic gardens…
Phong Nha Caves: The perfect way to discover Phong Nha on a budget is to visit the Botanic Gardens and the more popular but much cheaper caves Paradise and Dark. Be sure to read our complete guides to Paradise Cave and Dark Cave.
Reason 1 – Get A Workout!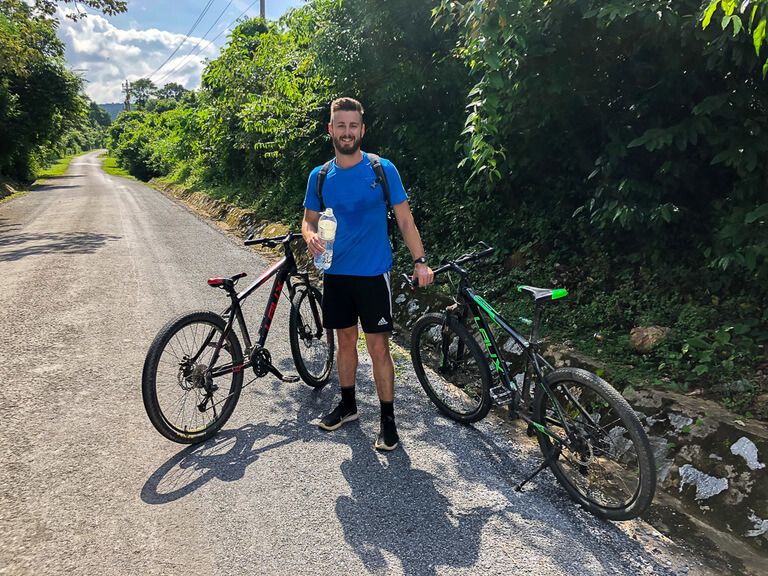 Instead of renting a scooter, we propose that you hire a mountain bike instead! Almost every hostel, hotel and homestay in Phong Nha will provide free use of mountain bikes.
When was the last time you had a real workout on your travels through Vietnam? None existent?! It's definitely a tough place to travel and stay healthy.
We spent a month trying to find any excuse to work out in Vietnam. They seemed to be few and far between!
The botanic gardens are close enough (just!) to access by mountain bike from downtown Phong Nha. Using the interactive map above for directions, it's a total of 8.6km (5.34 miles) cycling one way.
That's just over 10 miles return journey. Easy!
Just the beautiful ride is worth writing about. The sleepy roads will be yours alone. Consider this a welcome break from the chaotic Vietnam you have now traveled through.
You'll pass gorgeous scenery as you enter Phong Nha Ke Bang National Park, riding along empty narrow lanes passing water buffalo bathing in mud and cattle grazing on long grass.
A thick green blanket spreads out covering trees and smothering limestone rocks as far as the horizon.
Sure, you get these views on a scooter too, but you'll have much more time to embrace and enjoy the tranquility without it being crushed by the sound of a hairdryer … erm, scooter.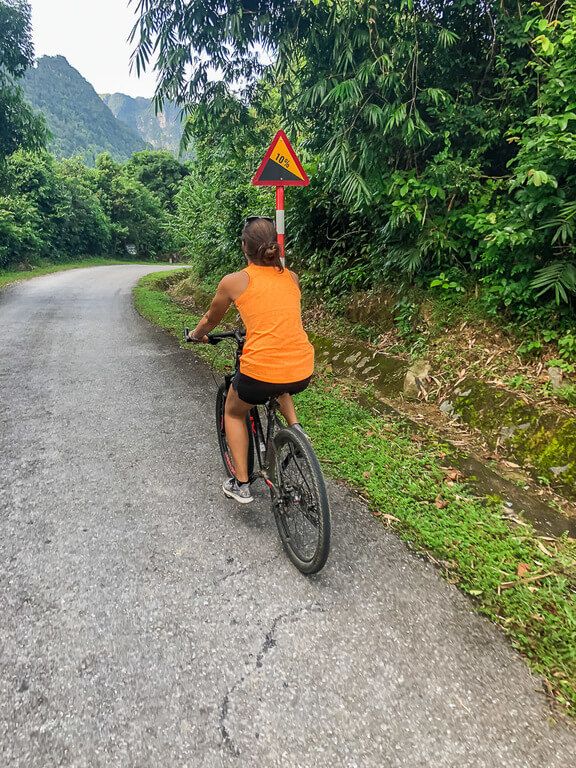 Do I need to be in good shape to cycle to Phong Nha Botanic Gardens?
Honestly, you just need to be in reasonable physical condition. You certainly don't need to be a heptathlete training for the Olympics. For the most part, you'll be cycling along flat roads but we must tell you that it get's a little tougher as you get closer to the gardens.
There's one particular stretch that is quite steep going! Once you get to the top of the hill, you're almost at the entrance. As you can see, we had to push the bikes up that part! Our defense? Intense sun, unbearable humidity and a 10% road incline. That's fair enough, isn't it?!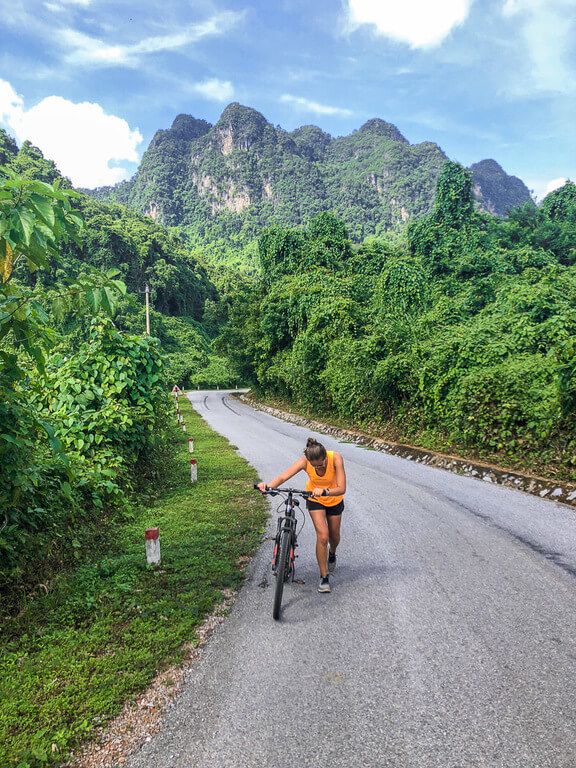 So, all that uphill must mean…? Yep, that means on the way back, you get to coast down the same hill baby! But be careful going down and make sure you intermittently pump the brakes.
Back brake full, front brake half – we don't want you going over the handlebars! This also means you need to check the bike before you set off, especially the brakes and chain.
Mark got a little over excited and was trying to set some sort of bicycle land speed record down the hill. It was a hugely unsuccessful attempt!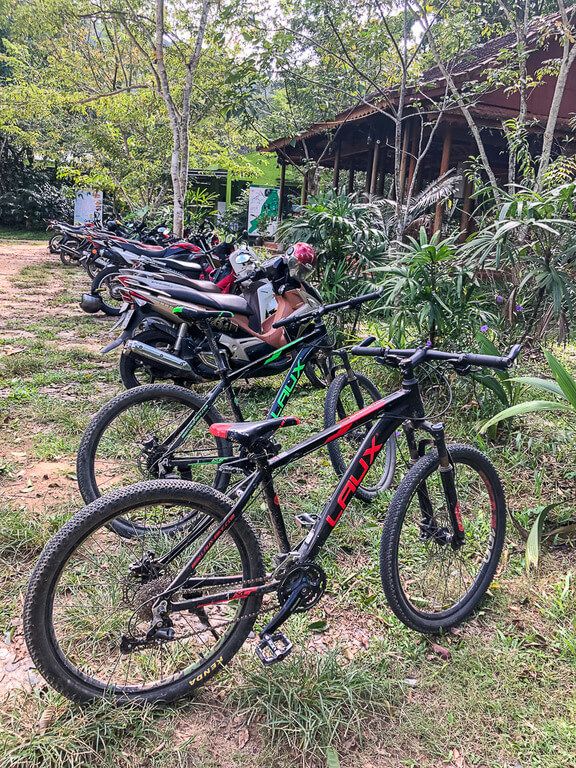 Yes, we were the only people who did not arrive on a scooter … but we still recommend it because cycling is the perfect way to add some meaningful exercise into your life when on the road long term!
During our ride, a few scooters drove past and stopped to offer their support (and their incredulousness!) which helped us up the tough incline.
Reason 2 – Relaxed Hiking In The National Park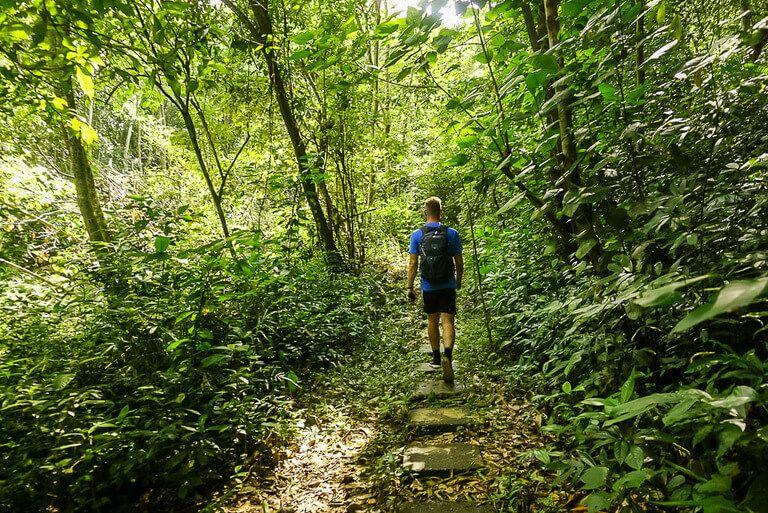 We guarantee you will be surprised by how pleasant the hiking trails are at the botanic gardens. To give you an idea, imagine walking through primary forest thick with lush green trees with the sounds and smells of nature all encompassing.
Paths have been forged through vegetation, wading across streams and cutting through wiry tree trunks for visitors to explore the gardens.
You have options. If you're pushed for time, you can keep the trail short on a 1.5km loop. However, we would suggest you walk the longer trail at 2.5km.
Rumor has it the 2.5km route takes 3 hours but you can easily walk it half that time if you don't take long breaks to enjoy the scenery (though we think you will!).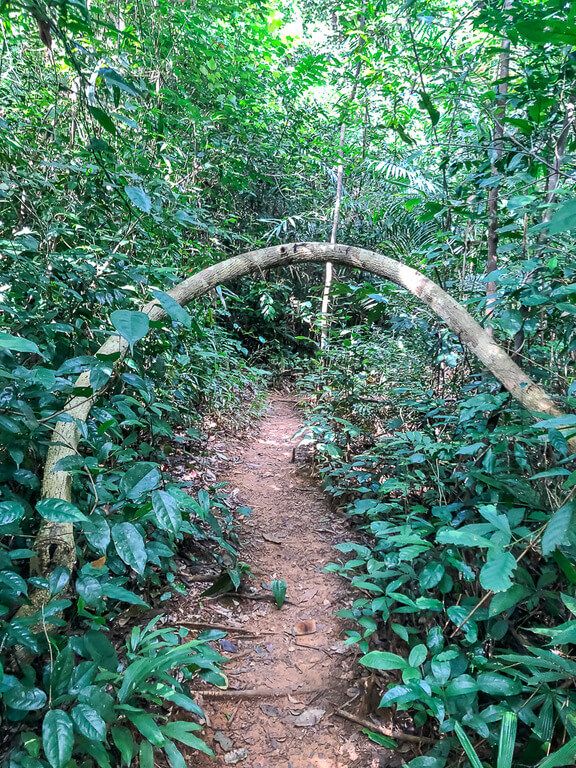 You will walk along paving slabbed paths, mud patches, typical forest ground, through streams and over rocks. At various points along the routes, there are rounded shelters with coned roofs in case of a sudden downpour.
You'll also stumble across swings randomly placed throughout the gardens, don't be afraid to have a go!
There are signs with brief explanations of different plant species in the gardens but not as many as you'd think, being a botanic garden!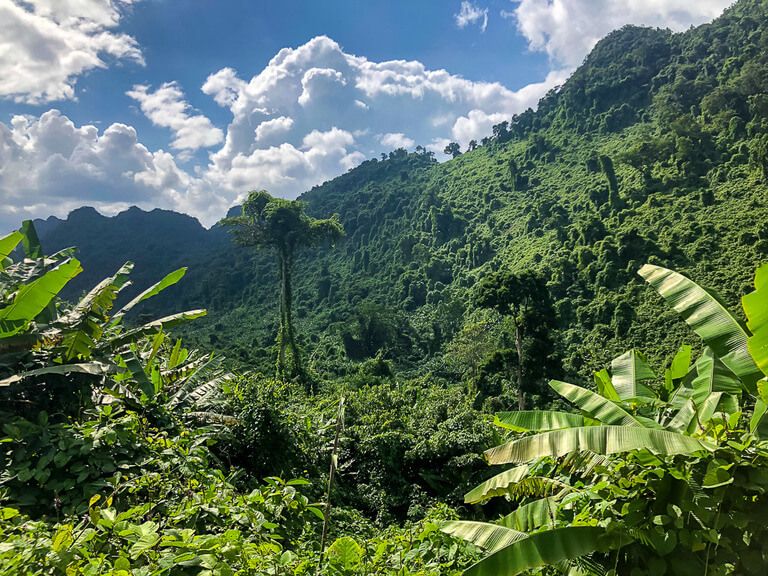 Certain sections of the trails can become quite steep at times, so be careful with your footing, especially on the descents. But what you see at the end of the descent makes it totally worth the effort.
A completely unobstructed view of uninterrupted rolling hills of green. It's like someone grabbed the surface of a golf putting green and plonked it down over the hills as far as you can see, then dyed it an unbelievably deep emerald green.
Reason 3 – Waterfall Surprise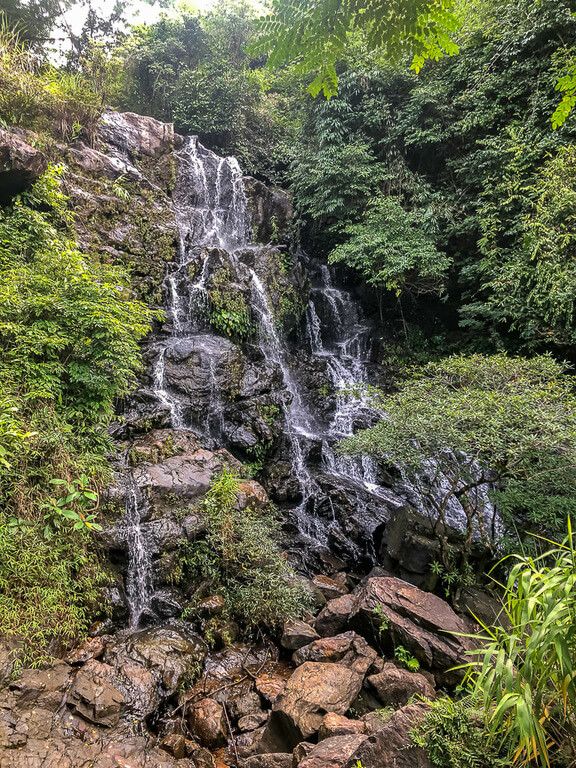 Phong Nha Botanic Gardens is home to picture perfect 30m high Gio Waterfall. Ok, it's not a soaring waterfall like Angel Falls and it's not a powerhouse waterfall like Niagara. But it is surprisingly elegant.
Spread out across the width of the dark rugged rock are various pockets of water which cascade over individual parts of the rock. So what you see is more like a series of very small waterfalls merging together, resulting in a very picturesque waterfall!
Gio Waterfall was the major factor behind Kristen being able to convince Mark and everything else was a huge bonus! But hold on, why did we say waterfall surprise if we knew about Gio?
Well, that's because there's another waterfall a little further down the descending path. And you can swim over to the boulders underneath to feel the water beat down on you from above. That is the surprise!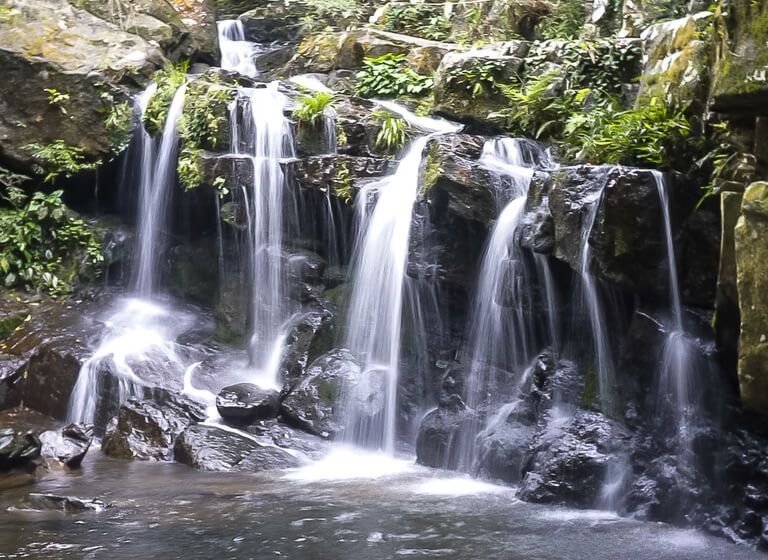 Here's what actually happened: We spotted boulders at the far side of an empty but deep blue pool of water being pummeled by a waterfall. The pool looked safe enough and the water didn't look too cold (or filled with snakes, hopefully!!). Let's have it! Mark was in. It was incredibly refreshing against the relentless humidity in the air. After a few short strokes, the length of Vang Anh Lake had been covered. Mark pulled himself up onto the rocks and took position directly underneath the surging water. Perfect!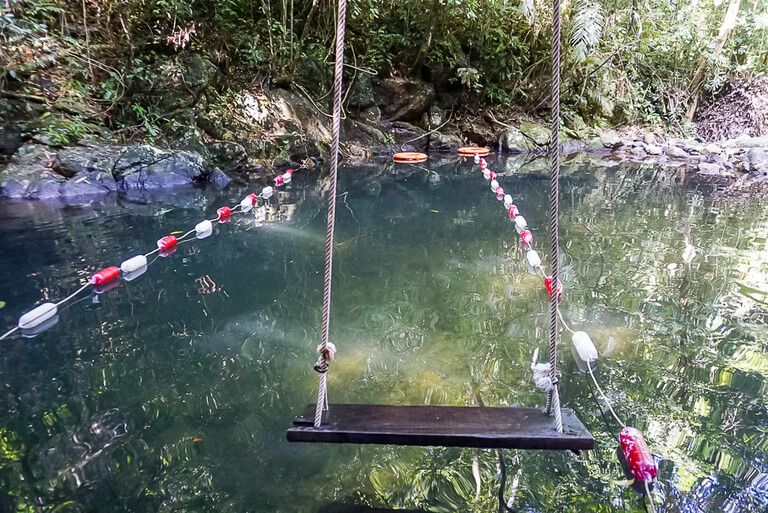 The water fun does not end here! If you decide to take the longer loop (to the left as you enter), you will be rewarded very quickly with a swimming hole. It even has a swing that you can project yourself from like a missile! In addition, there are guide ropes so you know where to land!
Reason 4 – Nature & Animals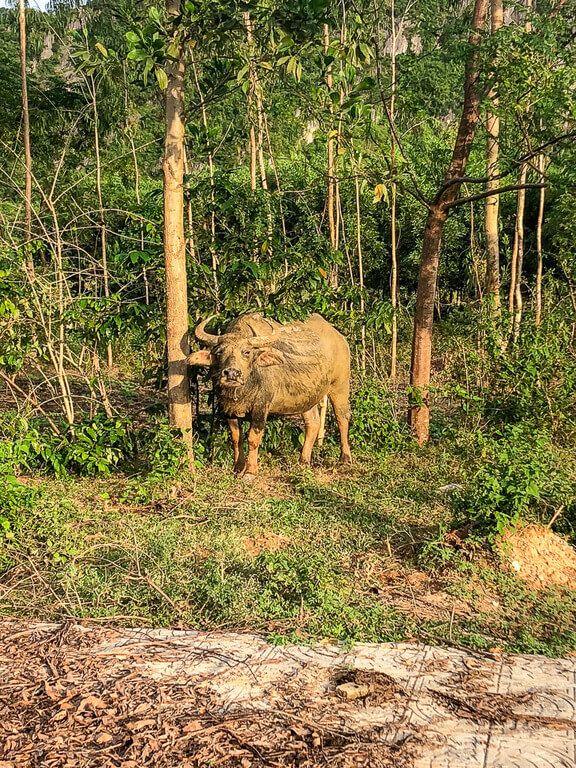 On your mountain bike ride (not scooter ride!!) up to the botanic garden, you will encounter cattle feeding in the long grass. You might even see a curious water buffalo covered head to toe in mud along the way!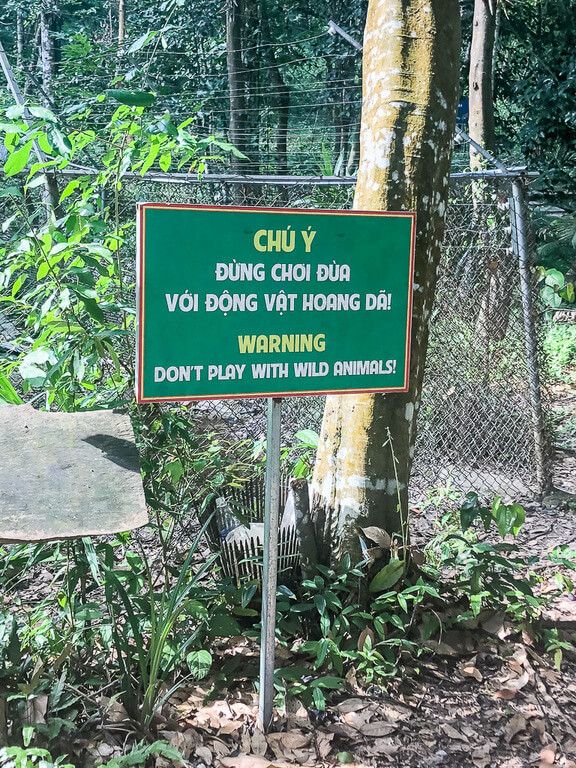 The Botanic gardens is primary forest full of flora and fauna which provide pristine habitats for a variety of species of mammals and birds. We heard some wild primates but never saw any.
However, there are a total of 10 species in the National Park. Half of the total primate number is made up of Macacques, Gibbons and Langurs – so it's likely we heard a family of one of these!
You will definitely see colorful butterflies … and hear loud crickets.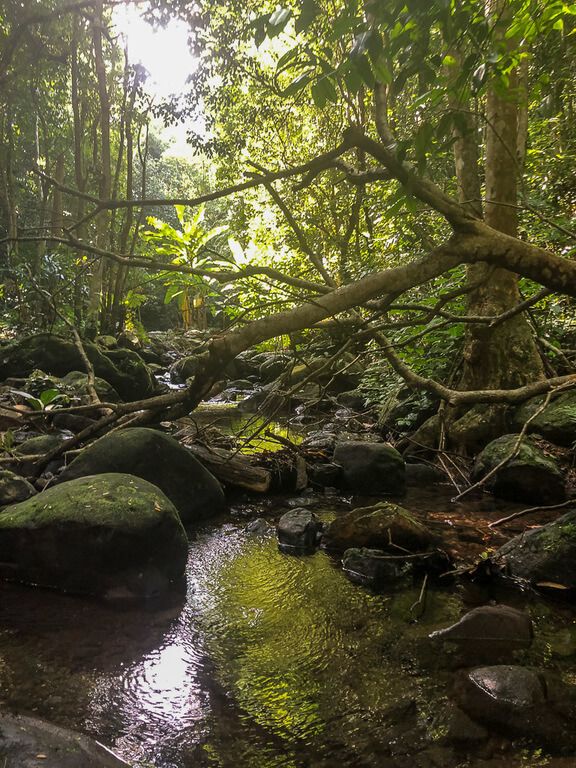 National Park Rangers run the botanic gardens and they have some animal conservation efforts on site. There were a few monkeys and peacocks caged near the entrance when we visited.
But it's important to remember that Phong Nha Ke Bang National Park is home to some very rare species of primates. These are acts of conservation, which have been supported by foreign government grants.
Reason 5 – Budget Re-Builder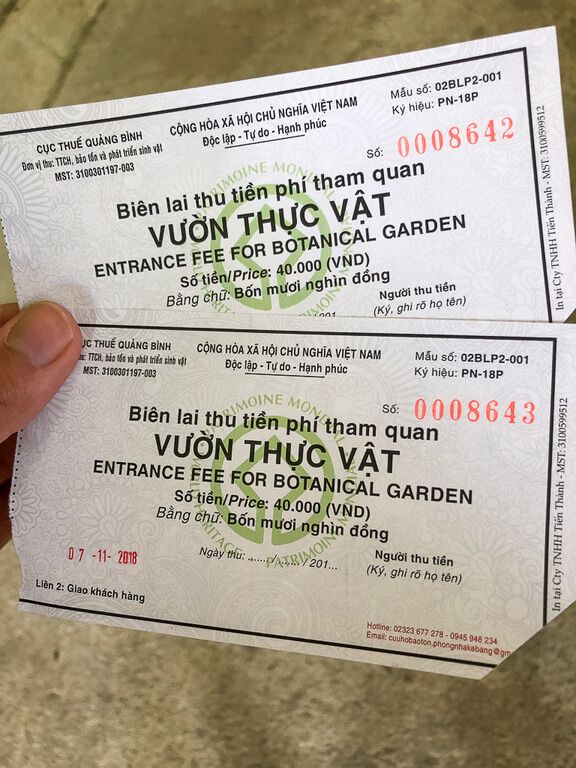 Here's the kicker. What everything always boils down to – money! How much of my floundering travel budget do I need to part with in order to visit the botanic gardens?
The caves are pretty expensive in Phong Nha when you consider how cheap other parts of Vietnam are to travel through. Well, we saved the best part until last.
How much do you think it is for entrance?
Entrance to Phong Nha botanic gardens costs a paltry 40,000 Dong (US$1.70). How close were you with your guess? Were you observant enough to notice the price on the entrance tickets above?!
If you drive a scooter up, add on a further 4,000 Dong (US$ 0.2) to cover parking. If you were motivated by our reason 1, it's free to park your mountain bike! So you're working out, saving money and helping the environment, it's a triple swoop of victory!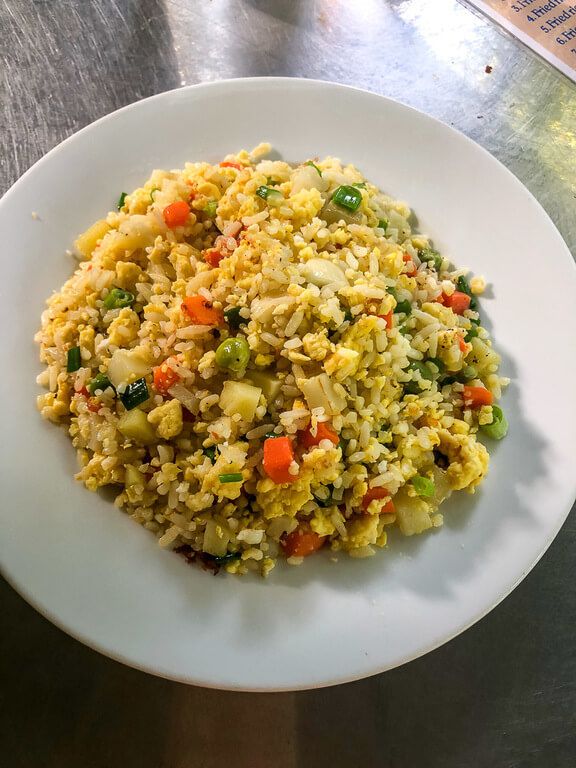 If you're hungry before or after you hike, have a seat at the onsite restaurant. You'll be given a 'tourist' menu, which may or may not be a good thing for you! The meals are impossibly cheap. We had a rice and vegetable combo each.
Best Time to Visit Botanic Gardens Phong Nha
In short? Any time that isn't rainy season! If you are in Phong Nha, which is North Central Vietnam, between June and August (Summer in the Northern Hemisphere) – it's likely you will get wet.
All of the trails at the botanic garden will be waterlogged, muddy and honestly quite dangerous. There are a few sections of climbing rocks and ladders that would definitely become treacherous in heavy rain.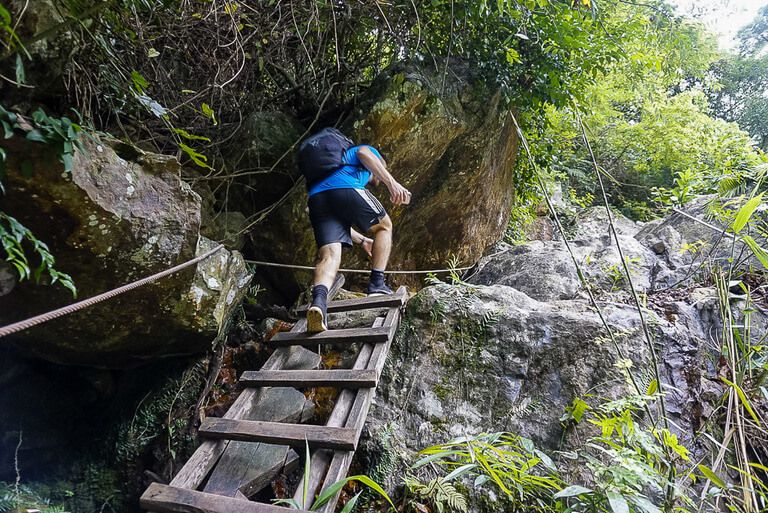 Any other time of year you should be fine, just be aware of heat and humidity. It might be worth taking some insect repellant along just in case. The most important thing to remember is to carry a few liters of water at all times. Especially if you do head up on mountain bikes!
Daily opening hours at the botanical gardens are from 7am – 4.30pm. It never really gets too crowded so the usual 'go early to beat the crowds' spiel isn't required here!
Botanic Gardens Routes
Pick up a map at the entrance so you can see the layout of the gardens. As we mentioned earlier, the times they suggest for each route are extremely generous, you will not need as much time as they instruct. Please don't take a shorter route if you feel like you don't have 3 hours spare!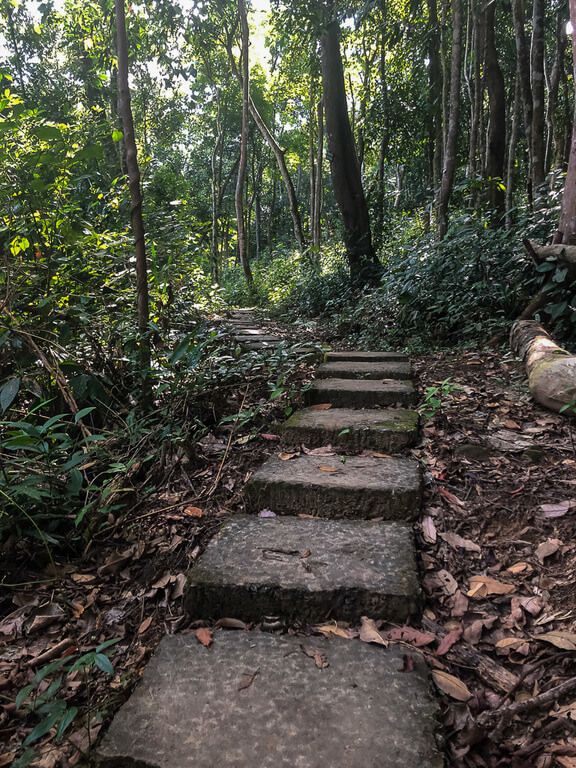 Route 1: This is a 40 minute round trip to Gio Waterfall and straight back again up the same path. Only do this if you really don't have time for a longer walk.
Route 2: This one will take you further down to Vang Anh Lake with the smaller waterfall where you can swim, then stop at Gio Waterfall on the way back up. It's a 1.5km walk that will take you an hour if you don't stop for a swim … much longer if you do!
Route 3: This is the best option. It's a 3km walk that allows you to see all the best parts of the forest, including the swimming hole, some decent hiking through moderately exciting terrain, Vang Anh Lake and of course, Gio Waterfall. It's a big loop and will take you no longer than 2 hours total if you don't stop for long.
So, What Should We Call The Botanic Gardens?
Botany = the scientific study of plants
Garden = a small piece of ground used to grow vegetables or in this case flowers
Doesn't that sound like you'll be visiting some sort of curated and manicured lawn full of brightly colored flowers? Each with a Latin name and description of origin.
As you can see, that is not what we have here. This is not a botanic garden.
Let's think about what you can do here. Hiking, swimming, adventure, waterfalls, explore forest, spot wild primates, spectacular views … it all sounds a bit familiar. Hmmm, what else can you do in Phong Nha that would include all of those things. That's right … Caves!
So, let's call this: "Phong Nha Botanic Garden Cave (without the limestone rock cave surrounding it)" shall we?!
We hope you are as pleasantly surprised by Phong Nha botanic gardens as we were.
Read More About Vietnam …
Didn't find what you are looking for? Read more of our popular Vietnam travel guides!
---
We hope this list of awesome things to do helped you plan your visit to the Botanic Gardens in Phong Nha!
Did you end up visiting the Botanic Gardens? What did you think?
If you need any help planning your trip to Phong Nha or Vietnam, please just let us know in the comments below!
Happy Travels,
Mark and Kristen
Like This Post? Pin It For Later!