Is it safe and efficient to travel by sleeper bus in Vietnam? What are your alternatives? In this post, we are going to break it all down for you because traveling Vietnam by sleeper bus is one hell of an experience!
Blessed with dynamic cities, over 2,000 miles of coastline, misty mountains, rice terraces and a diverse history, Vietnam's tourism industry is among the fastest growing in the world. Did you know that Vietnam welcomed 15.5 million international visitors in 2018? And all these tourists need a way of getting from one from place to the next.
Despite a three fold increase in tourism over the last decade, infrastructure is recognized as a serious problem in Vietnam. Necessary improvements have not been made to airports or roads which means getting around in Vietnam is not easy. Enter… the sleeper bus.
The tips and advice we will share with you are derived straight from our own personal experiences. You will learn how unpredictable travel in Vietnam can be, as well as how important it is to be adaptable. Improvisation is often the order of the day!
We solemnly swear not to be biased so we can give you the most accurate way to make your own mind up about the sleeper bus in Vietnam. We've broken down each sleeper bus we took, so you can see some examples of what to expect when traveling Vietnam! Each bus has been given an 'Adventure' or 'Peril' rating.
Why Travel by Sleeper Bus in Vietnam?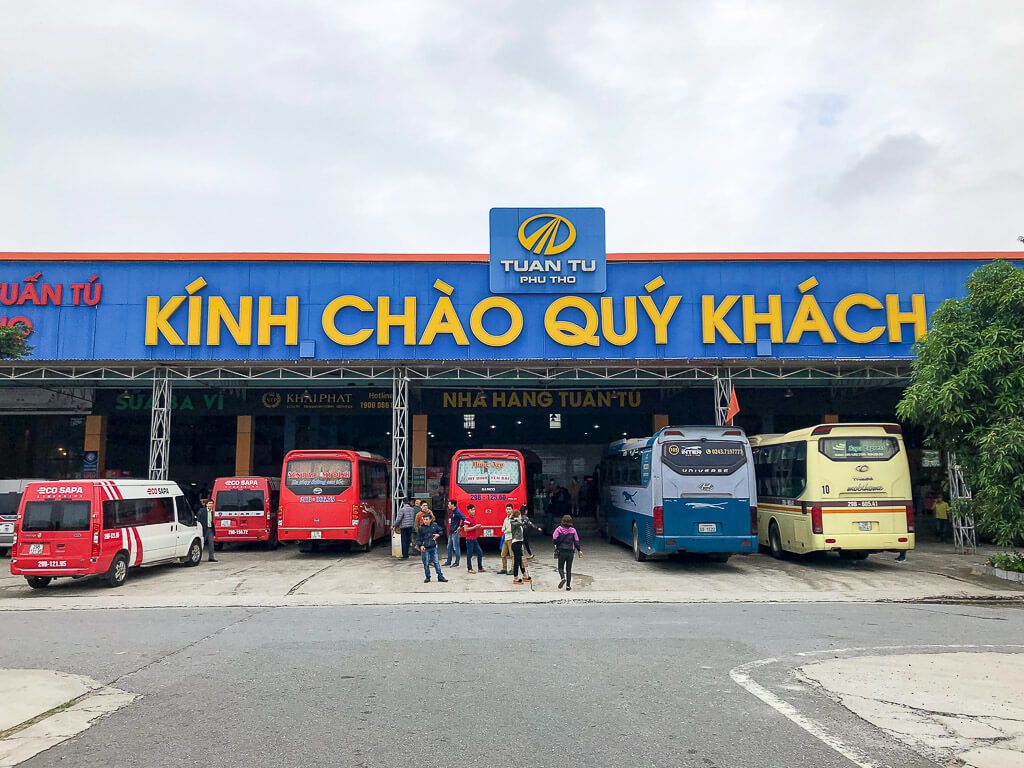 Traveling from one city to another in Vietnam can be achieved by plane, train, private transfer or by the most popular mode of transport for backpackers: the sleeper bus.
For those on a budget, a sleeper bus or sleeper train is the only feasible option for moving between the majority of cities throughout their Vietnam itinerary. Not just because of the transport fare, but because the bus also saves a night of accommodation.
Some cities in Vietnam do not have airports or train stations. This makes travel by bus easier and more convenient. Look at Phong Nha for example. With the bus you will at least be dropped somewhere near your destination, without having to worry about several other modes of transport.
Flights also often tend to leave mid-day. When this is coupled with chaotic airport transfers (we're talking 20 miles on the back of a moped with your backpack on while weaving though traffic in Hanoi!) and airport waiting times, too much time is lost from the travelers itinerary.
The sleeper bus provides a cheap and easy alternative because it travels throughout the night. Taking the bus means no precious day light hours are lost!
Wow, the sleeper bus sounds amazing! It must be the perfect solution! Well… not exactly. There are a whole host of cons to traveling this way. Let's delve into some of those, shall we?
Booking a Sleeper Bus in Vietnam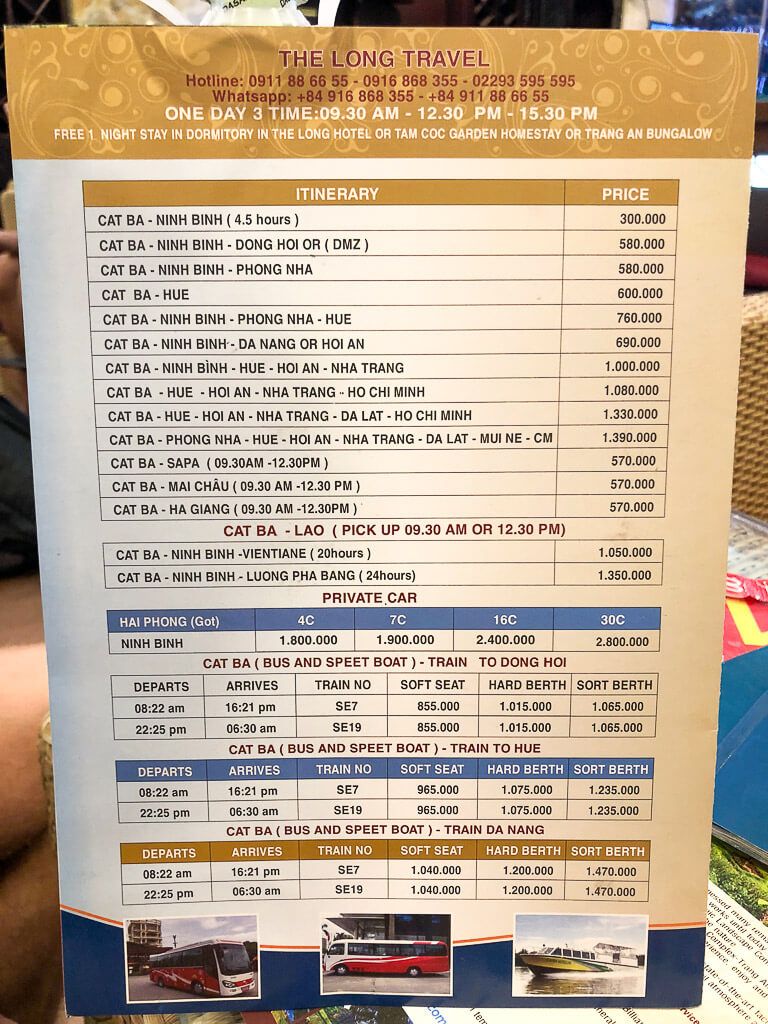 Ah, the joys of booking anything when traveling long term. The never ending and somehow always losing question: do I pre-book my whole trip in advance so I don't have to worry once there? Or do I wing it and play it by ear, because who knows where I might or might not like? The answer is do both.
You're thinking how can I book in advance and wing it in case something happens, right? Well what we mean is, wing it to the point where you know the exact day you want to travel and then book it online.
When you read our experiences below you will understand why we stress to book online! However, sometimes even when you book online, there's no guarantee it will be a comfortable ride. Unpredictability strikes yet again.
Booking sleeper buses in Vietnam can be a massive pain in the ass. One of Vietnam's major flaws as a tourist destination is the scamming/crime/exploiting tourist problem. Booking bus tickets is like buying toothpaste – it will be a different price every day.
We found it to be unusual, infuriating and amusing all at the same time. You have a few choices as to how you pay to catch a bus:
Book Online (Recommended)
Booking online allows you to select the quality of bus you would like to travel on. Find a reputable company to book with and make sure you research them a little before booking. You can often find a luxury sleeper with AC, power sockets and a decent on-board toilet for under US$15.
Booking online gives you the chance to select a seat and gives you a physical ticket or receipt so there's no doubting you'll be on that bus! Use the 12Go Asia search engine above to find your travel options and prices in Vietnam.
Pro: Peace of Mind
Con: More expensive
Advice: Do it!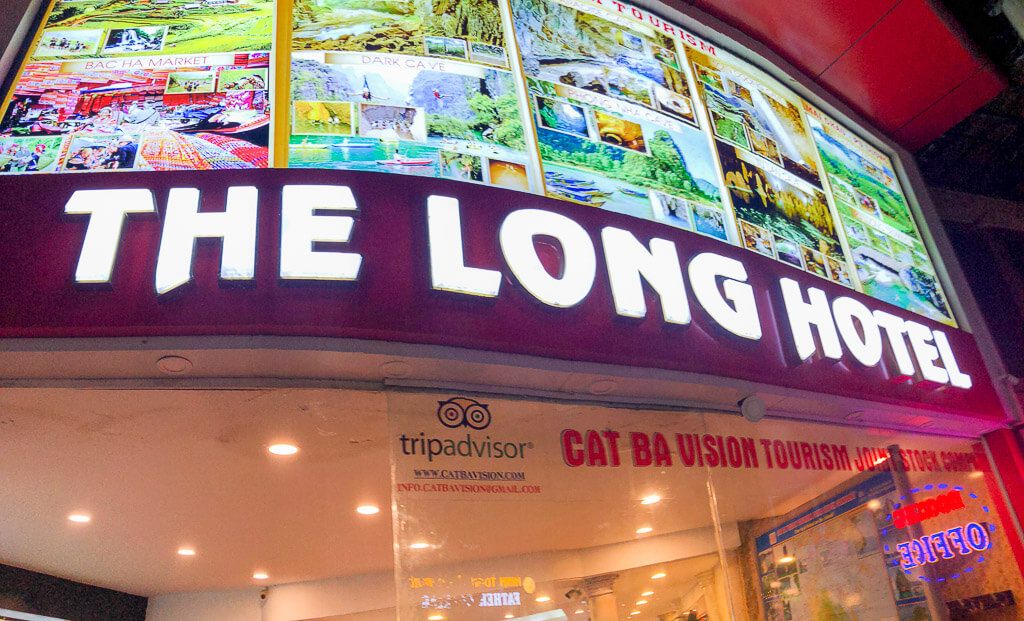 Book with Your Hotel/Hostel Manager
This one came as a surprise to us. If you build up a good rapport with your hotel or hostel manger, they will often ask you if you'd like them to book your onward travel. Now, of course that's because they take a cut for themselves but it does take away the onus on you.
We found this to work brilliantly once and horrendously the other time (see Sapa to Ha Long Bay below). It's pot luck and once more boils down to unpredictability. The price will be only slightly higher than if you booked at a travel agency and it's way more convenient. Just expect anything!
Pro: Convenient
Con: Unpredictable
Advice: Flip a coin
Book with a Travel Agency in Town
Booking at a travel agency in town can be cheaper or more expensive. It really depends on who you get and on what day. The reality is that the difference in price may not seem like much to you, even though it could be to the tout.
All you have to remember is to negotiate or barter a price. Don't take the first thing they say to you as it will be inflated. Also, don't be intimated by negotiating, they want your money just as much as you want the bus.
It's a great option if you have a fluid itinerary and prefer to travel just when you feel like leaving. The only other risk is in high season when there may not be any seats available. Ideally, book a few days in advance to guarantee a seat and ask for a legitimate receipt of purchase.
Pro: More flexibility
Con: Could overpay
Advice: Barter
Toilets & Service Stations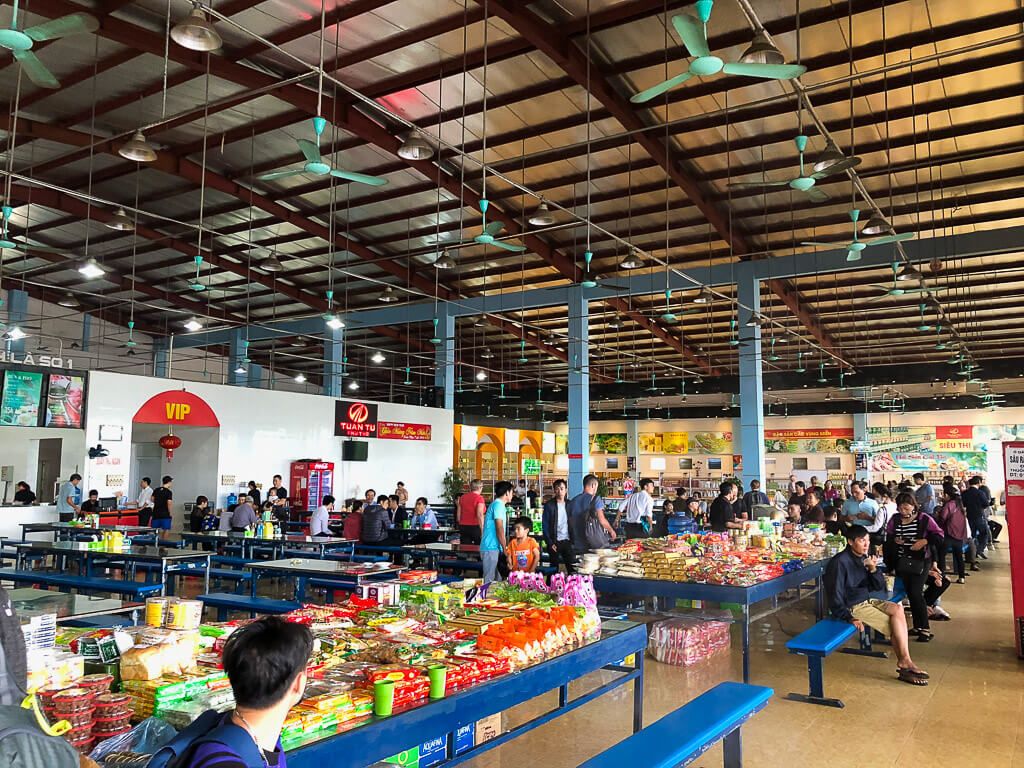 Next, it is time to discuss to the worst part of the Vietnam sleeper bus saga: The toilet situation. On some buses you may be lucky enough to have a working toilet on-board. If not, your only choice is the service station.
Please, clear your mind of all preconceptions about service stations. Remember, this is Vietnam. A country that isn't yet classed as fully developed. Let us describe what some of these service station toilets will be like.
You might (and hopefully will) be lucky to get an actual toilet block with flushing toilets and a sink. Where there are flushing toilets, the services will usually be held inside a huge canteen area. Here you can often buy hot food and snacks. On occasions like this, the journey is more than tolerable.
However, bank on some journey's not being so pleasant. Often, the best you're going to get is a hole in the ground with a pile of stinking turd that somehow missed the hole for company. In addition, there will most likely be loads of discarded toilet roll scattered around your planted feet and sometimes the holes will be in a line with no separators … you get the picture.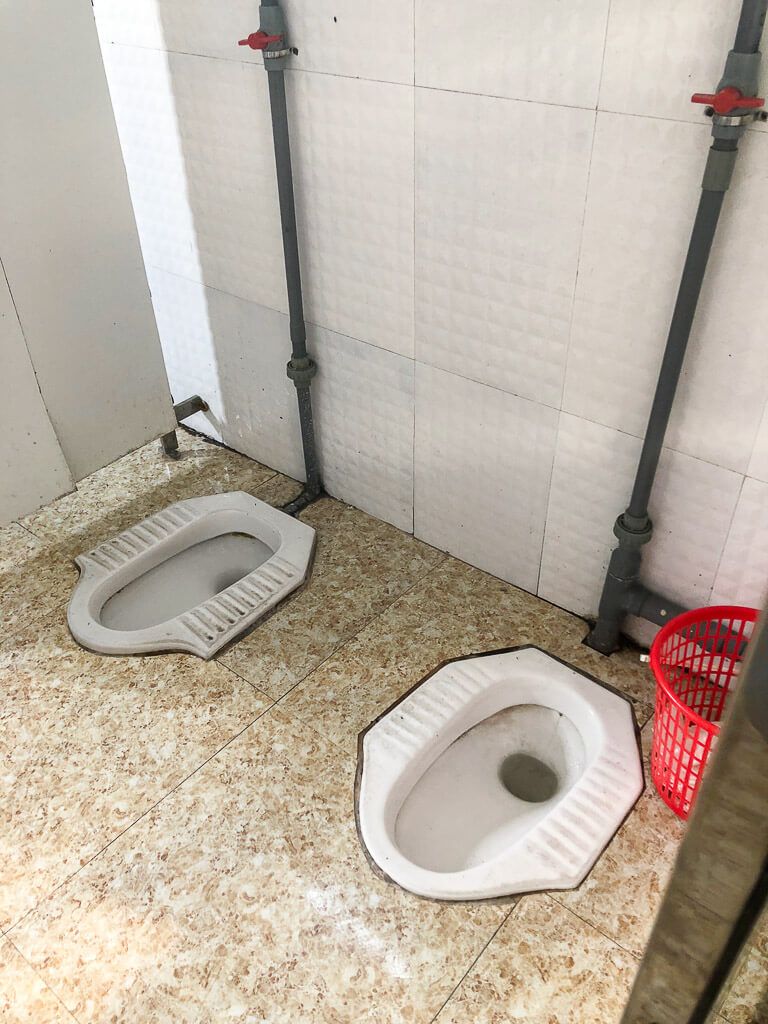 It's an extraordinary place where men and women alike bond over the simplest of things like borrowing toilet roll or sharing hand sanitizer.
On-board toilet's can vary across the spectrum from surprisingly acceptable to downright grotesque. We experienced both. One toilet was even cleaner than most of the toilets on UK trains … but that's not saying much! However, the bad toilets could suffer from constant smell syndrome, broken hinge-floppy door-slam syndrome or anyone know of any plumbers around here syndrome?
The bus should stop a few times so make the most of the toilet when you can because you don't know when or if the bus will stop again. We experienced one bus that never stopped at all!
Sleeper Bus Safety in Vietnam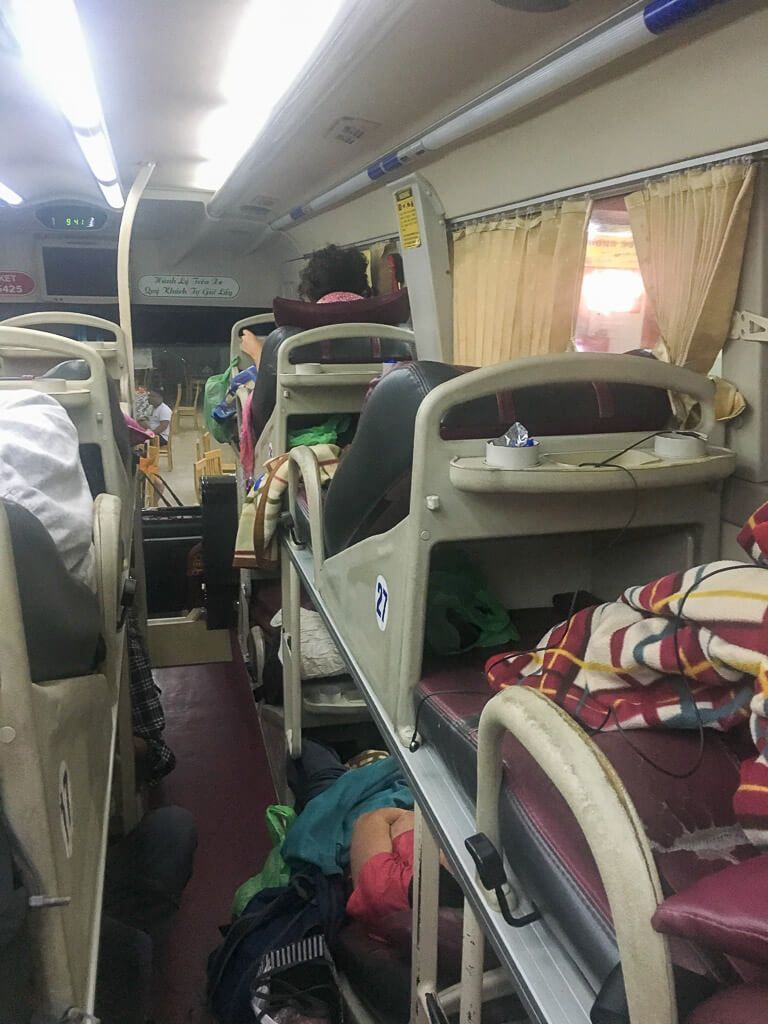 Look, we can all put up with some honking toilets when we need to. On the other hand, safety is a genuine concern for many when considering sleeper buses as a way to travel through Vietnam. Safety is out of our control and being unsafe is just not something we can 'put up with'.
On many of the routes, the distances can be relatively short but the road infrastructure can be in such poor repair and the traffic can be so wild that it will take a long ass time. The roads tend to be one lane for each direction with no barriers on the sides or through the middle. Pot holes and bits of road missing are more common than colds. Your driver may be steady Eddy or you could end up with a Lewis Hamilton wannabe behind the wheel.
Traffic in cities like Hanoi is well documented. Pedestrians often play frogger to get over the road. But out on the highways, it's a whole different ball game. In Vietnam, the rules of the road are this: the bigger, the better, the bruiser. Mopeds are forced to move over for cars to overtake them. Cars are in turn forced to move over to let buses and trucks past them.
What Happens for Safety to Be a Concern?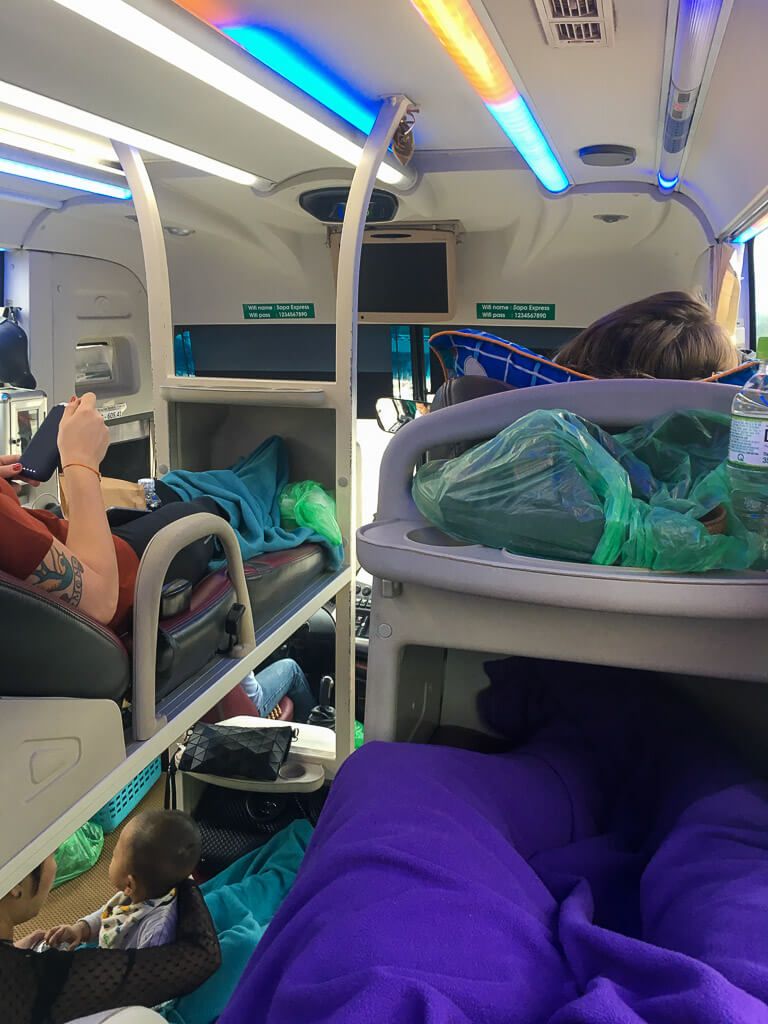 The fun begins when the single lane roads on each side both have a bus hurtling along towards each other. Or maybe it's a bus and a huge arctic truck. Both large vehicles are overtaking the cars that are overtaking the mopeds. What happens is this: all the mopeds, cars and buses are honking their horns – like if they hit the horn enough times they will win the lottery – and the buses play a little game called chicken.
One of these loose cannons will swerve in at the last minute and we honestly had a few pretty close calls. You know when people look at each other and puff their cheeks with a slightly terrified look on their face? The bigger problem is the turd they just curled out in their pants.
Here's an example. The only major route to Sapa, Vietnam is along vomit inducing windy roads on a cliff edge, usually suffering under poor weather conditions. Wet, misty and windy weather cause rubble and gravel to blow on to the slick roads. Now add in cars over taking mopeds and the bus overtaking the cars, on bends, sheer drops to the side, in the mist, possibly at night, with a driver who thinks he's racing the 24th hour at Le Mans. It's a gamble.
This all sounds a bit dramatic and we are happy to say we made it one piece. This is a way of life for them, they're used to it.
Comfort on the Sleeper Bus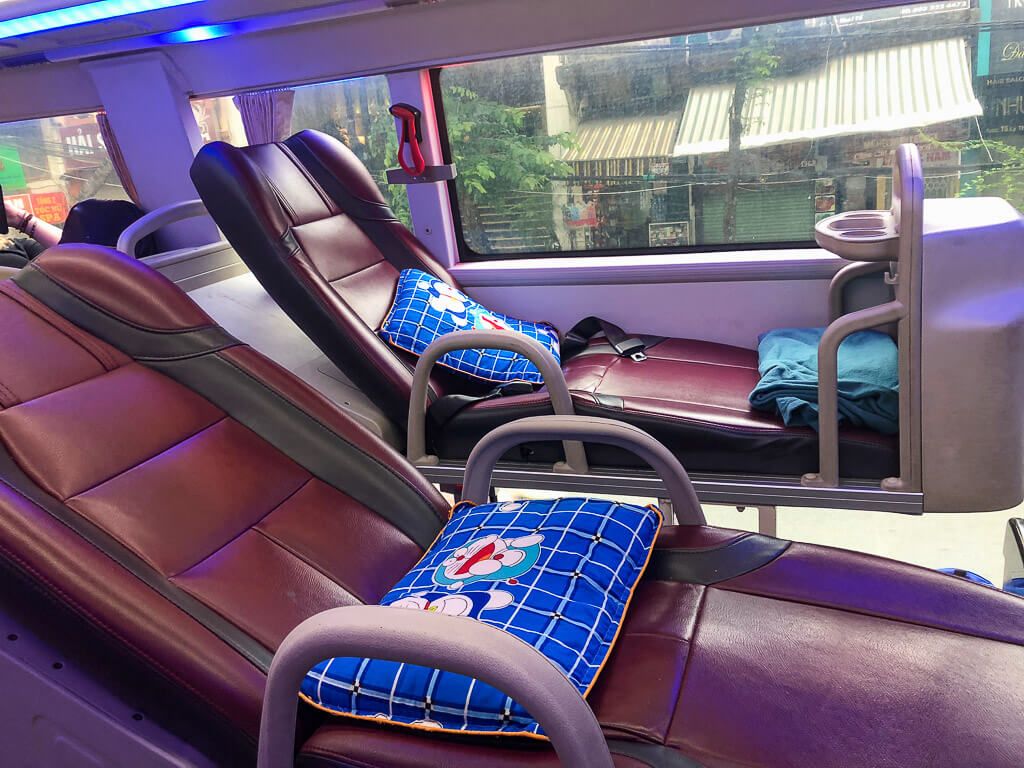 When you climb aboard a sleeper bus, emphasis on 50% of the title being sleeper, you may think that you have a chance of getting a good nights sleep, but you don't. Especially if you're a light sleeper, forget about it. The fortunate among you who can pass out at the click of your fingers, you might be ok – you'll be the envy of everyone else on board! Alternatively, formulate a concoction of sleeping tablets and red wine.
The problems you face are these:
Leg Room – Anyone over 5 feet won't have enough room to stretch out fully, so for those of you who are taller, you are in trouble.
The driving – Sudden sharp movements as the bus swerves at speed with constant horn blowing.
Other people – Passenger etiquette was at times non existent on these sleeper buses. Expect loud and sometimes even rude people.
Random stops – The bus can and will stop at any point for a toilet break. Sometimes even in the middle of the night where the lights come on and everyone files off for a pit stop.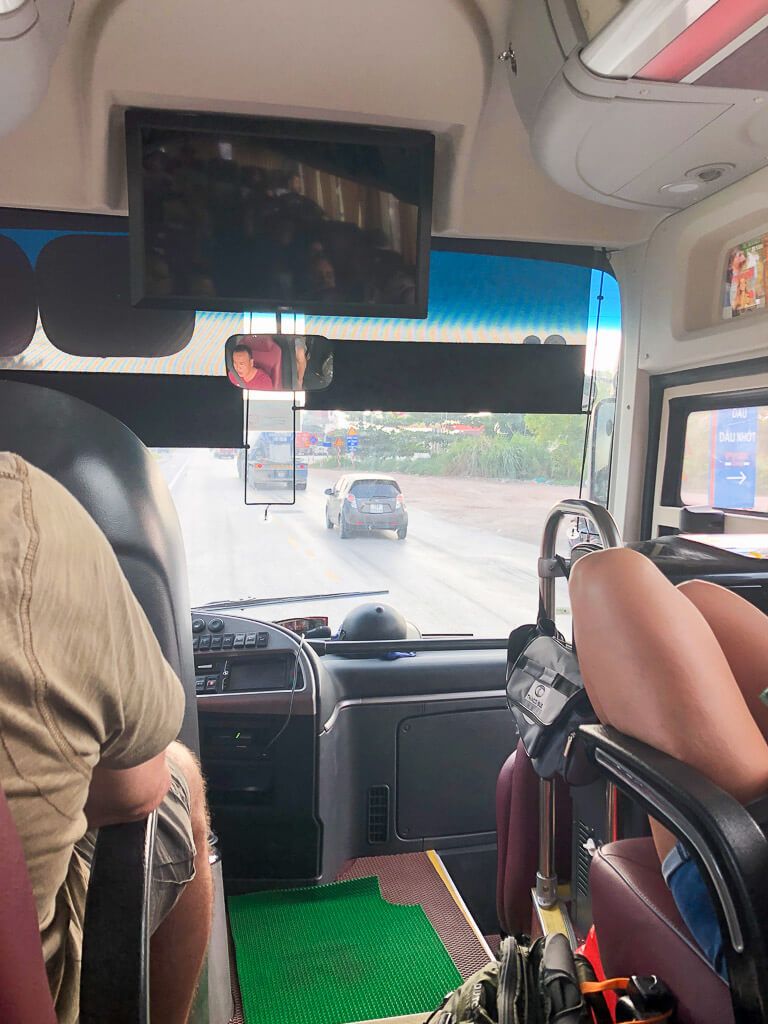 What About the Sleeper Bus Seats?
The seat-cum-half reclining bed pods are set up in 3 columns of bunk beds. Each column has roughly 6 sets of bunk beds, so let's say there can be around 36 passengers on board at one time. The bunk beds are located floor level and shoulder height. Each bed has a compact storage area nestled where the feet lie and a small hand rail to help you get in and out. The hand rail also serves to help keep you in place as you sleep.
The best seat on the bus is down to individual taste. Each has a case.
The central column benefits from center of gravity so there will be less movement with momentum around corners. However, you lose out on the views. There are also bunks on either side of you so it can be very disrupting as people move around.

The bottom bunk has a bit more privacy because it's so low down that it's hard for people walking down the aisles to see or bother you. In addition, it would be harder for people to steal anything from the bottom sleepers as it's harder to get down to.

The top bunks have the best views of the carnage unfolding and the engrossing Vietnamese countryside. But you will feel the corners more up top. Also, the columns against the windows feel a little less exposed than the central column. The views sold it for us and we tried to grab top bunks against the windows when possible.
9 Vietnam Sleeper Bus Do's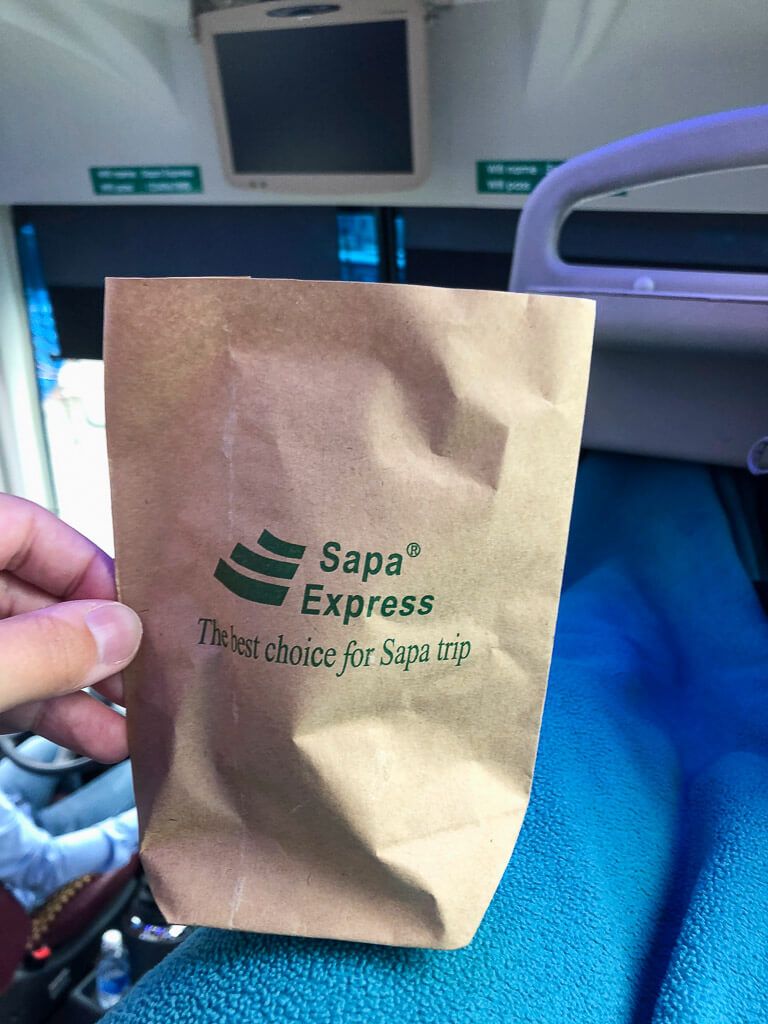 Make sure when you travel you wear the comfiest clothes you have in your backpack. No prizes for fashion and looking good on here!

Take a warm hoodie in case the AC is working full force. If the AC is not running, you should be comfortable enough with just the blanket and pillow you are provided.

Wear a thick pair of socks – you have to take your shoes off before you get on the bus and put them in a plastic bag. Nobody wants to smell your feet and if you need to use the on board toilet, you don't want to move around in bare feet!

Pack a small bag as lightly as possible to take on board with you. Include all of your valuable items – passport, phone, wallet, laptop – anything you couldn't live without. The rest of your gear will go in the hold underneath the sleeper bus.

Keep your belongings as safe as possible. Unfortunately, robbery is quite prevalent in Vietnam so use common sense and do what you can to prevent it. Wrap your bag around your arm under your blanket or stuff it where your feet are to block it in.

You absolutely must take earplugs and an eye mask for obvious reasons! It goes without saying but there were plenty of tourists without them. Devastated!

Remember your essential items: extra water, snacks, toilet roll, wet wipes and hand sanitizer. Vitally important! You will easily make some friends if you are the hero on board with these goodies!

Plan your entertainment before you leave your hotel and WIFI access. If you need to download some Netflix episodes, be pro active! Charge all your devices fully and don't forget a book. You might not have charging points so expect to run out of juice.

Expect to share the bus with locals if you haven't booked online in advance, they are usually very friendly and may even get into bed with you… (keep reading for that adventure)!
9 Vietnam Sleeper Bus Dont's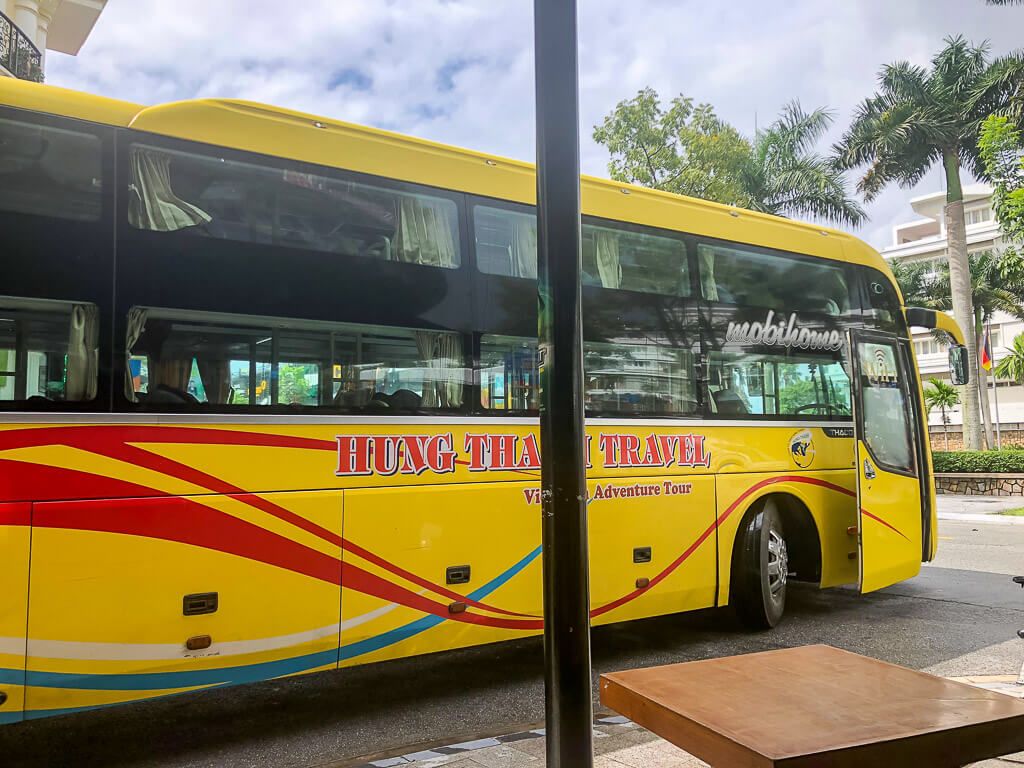 Please don't leave your valuables laying around on your bunk. Sounds ridiculous but we saw it too often and you are setting yourself up for an incident.
Don't forget to look at your journey length and bring enough snacks to sustain the trip. You might not always have access to food at stops.
Don't hang around upon arrival. There will be people trying to sell you overpriced souvenirs, plus taxi's will exploit tired travelers. Have an idea about where you need to go and how to get there before you arrive to your final destination.
If it's low season, don't book a hotel in advance. You can score incredibly cheap deals on the day. Clear away from the bus drop off and scout out some good deals in the area.
Don't forget that just because it's called a sleeper bus it doesn't mean they only run through the night. We took a few early morning to mid afternoon sleeper buses because they were cheaper and more convenient, plus we didn't lose any sleep.
Don't forget to check trains and flights to see how they compare in price and convenience factors. The sleeper bus may not be your best option – although it's likely it will be!
Don't worry about booking buses, there's always someone who wants to help. If the bus station agency say there aren't tickets left, that might just be the tourist bus. Check with your hotel as they could get you onto a locals bus going the same way.
Don't forget to ask travel agencies or hotel managers to write your next destination down on a piece of paper, in case you need to grab a taxi when you arrive.
And most importantly, don't for one second plan on leaving or arriving when the ticket says you will. Be flexible and be ready for anything.
Our Sleeper Bus Experiences in Vietnam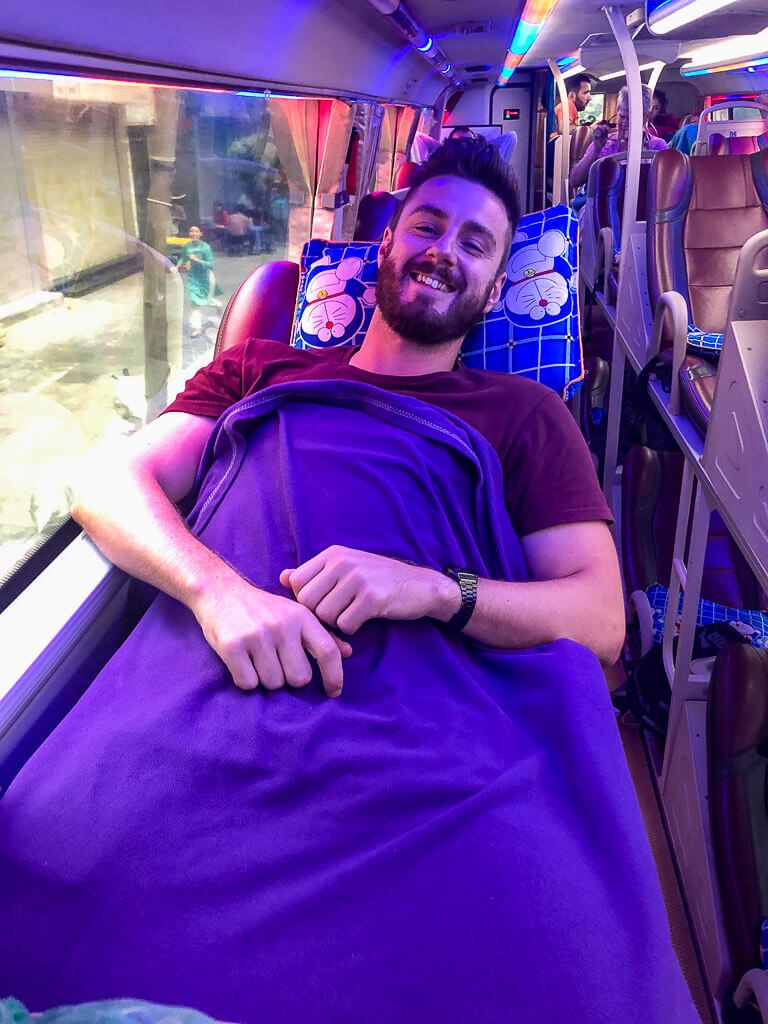 Are you interested in hearing about each of our sleeper bus experiences? We chose to travel by bus through our whole month stay in Vietnam. The sleeper bus fit our budget strategy and we were looking for authentic adventure!
Here's something important to remember: If you have a backpack or suitcase larger than carry on size, that dirt cheap flight becomes not so cheap anymore!
First up, let's check out our route through Northern and Central Vietnam. We would love to have carried on to Nha Trang, Da Lat, Ho Chi Minh and Phu Quoc. However, we had already used our month's visa up and had to leave! Next time.
Hanoi –> Sapa –> Ha Long Bay –> Tam Coc –> Phong Nha –> Hue –> Hoi An*.
*We hired mopeds and drove over the Hai Van Pass between Hue and Hoi An (which we highly recommend!) but all other travel was by sleeper bus.
Before traveling to Vietnam, we thoroughly researched sleeper buses and concluded that it seemed a mixed bag of reviews. We couldn't help but instantly notice the sleeper buses were incredibly cheap. Our decision was based purely on financial and convenience factors.
Hanoi to Sapa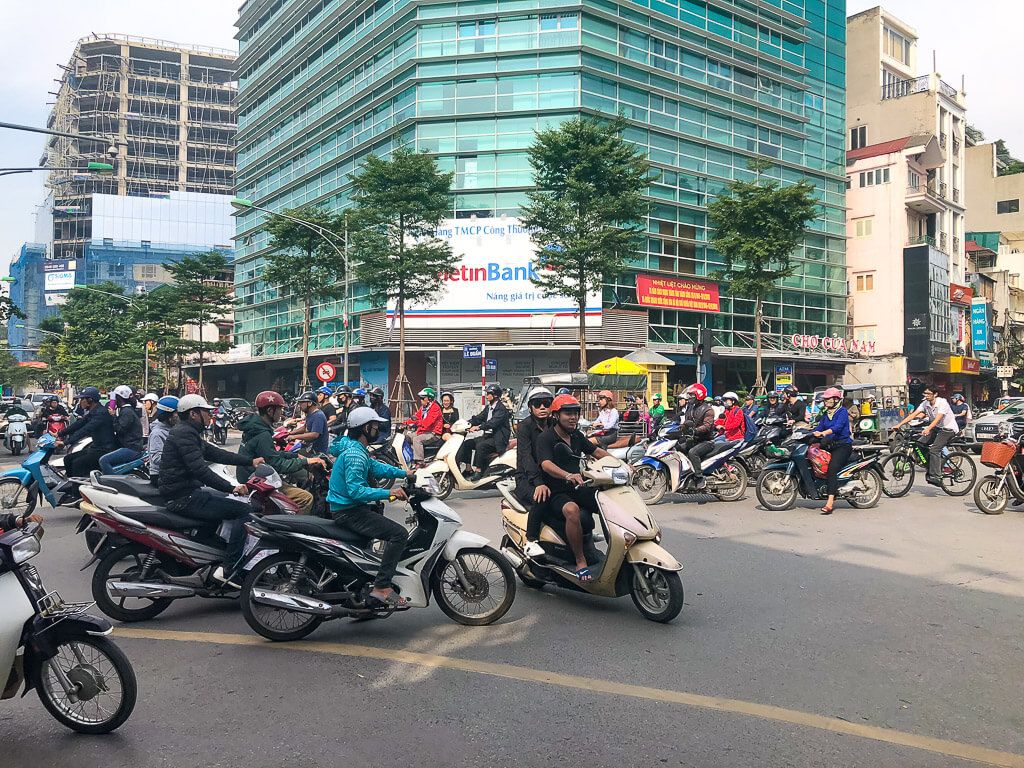 We were excited about embarking upon our first experience on a sleeper bus in Vietnam. Mainly, just because we were looking forward to seeing what all the fuss was about. We pre-booked tickets for the 7am – 1pm journey online before arriving in Vietnam from Taiwan.
We knew that we'd pay more by doing it this way but we didn't know what to expect. It felt like the safe option. Turns out there's 100,000,000 places to book a bus from in Hanoi.
Wow, this is great! Why the bad reviews? What the hell is everyone moaning about?! Our first sleeper bus was huge and immaculately clean!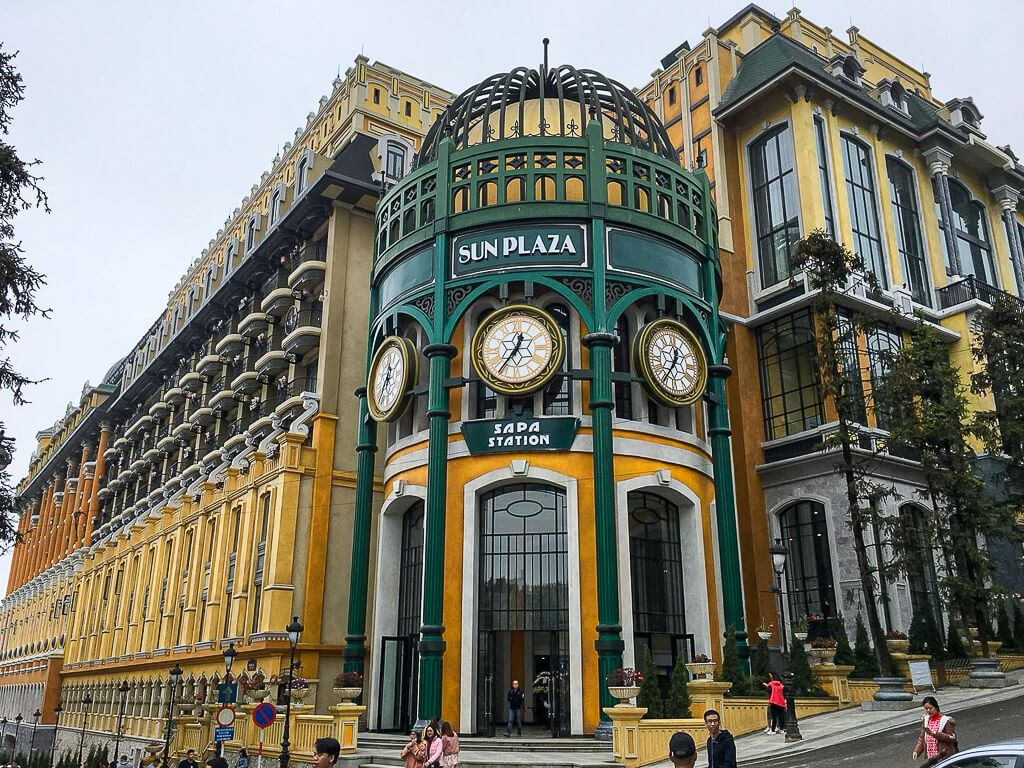 The sleeping pods were pretty spacious and spread out, there was a clean toilet on board, we received a pillow and blanket upon entry, the driver looked smart and a friendly English speaking guide kept us updated throughout the 6 hour drive.
The only bad part was the winding roads as we drew closer to Sapa. Man those roads are vomit central. Similar to the journey from Chiang Mai to Pai in Thailand. Fortunately, the weather held off for us.
This doesn't seem so bad after all! Oh, how we lulled ourselves into a false sense of luxury.
Take Home?
Being organized and booking the nice luxury tourist bus in advance is worth it, although it will cost more. In our opinion it's more than worth the extra few dollars for added comfort and peace of mind.
Result = Part of the Adventure
Sapa to Ha Long Bay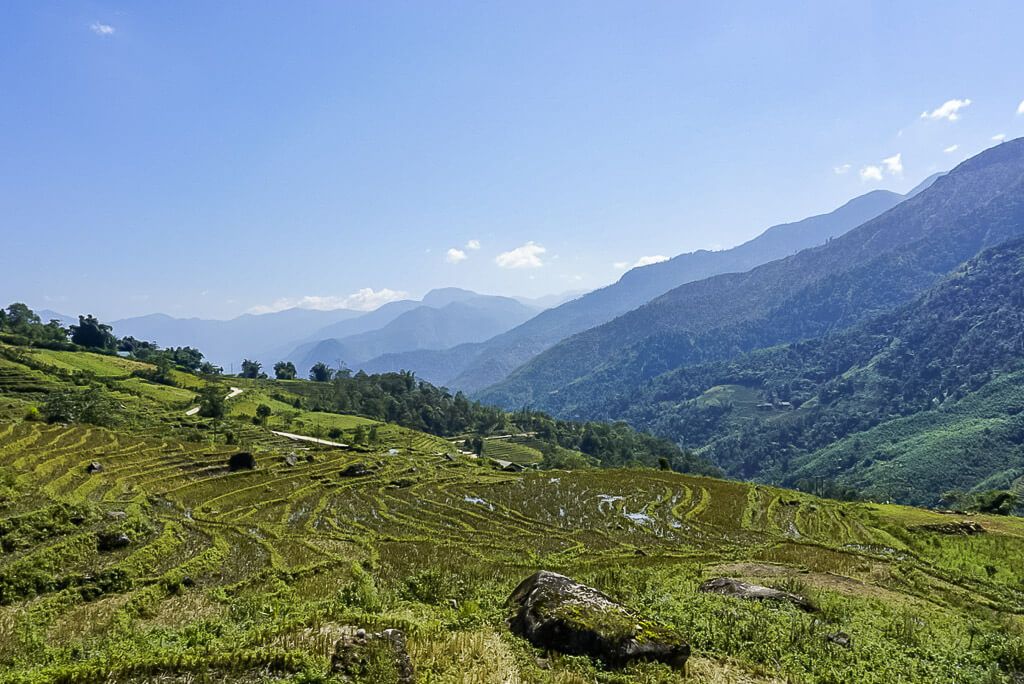 We arrived into Sapa and sat in a cloud of mist for 2 days. We added in a few extra days so we could do a home stay with the Black Ha Mong tribe when the weather got better. This is the part of not booking everything in advance that works!
The most common route is to head back to Hanoi and then switch bus to Ha Long Bay. However, the owner of the hotel we stayed at in Sapa told us she would sort out a sleeper bus to Ha Long Bay for us.
Awesome, thanks! We were booked onto an 8pm – 6am bus and told that we had to change in Lao Cao. Although we knew she would pocket some money herself, she still gave us a fair price and it was cheaper than the tourist bus.
Expect Change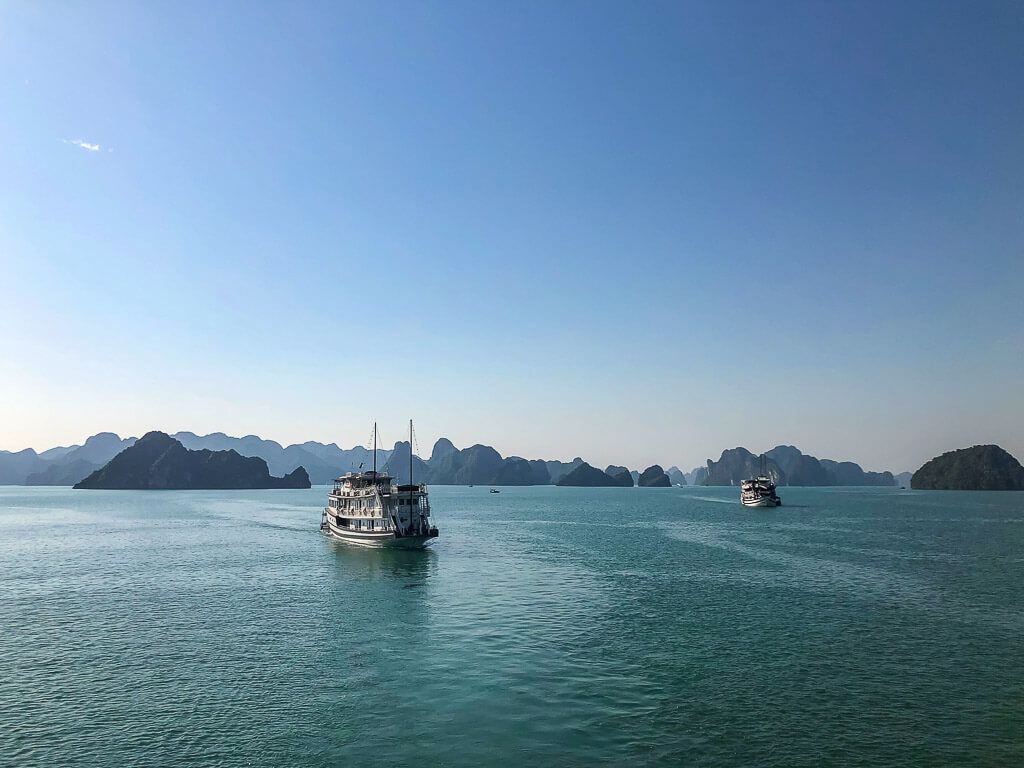 We got picked up by some random Vietnamese guy in a bright orange 4×4 pickup truck who spoke no English. He drove us to the bus station in Sapa in absolute silence. We arrived and he just pointed at a bus that said Ha Long. Already a bit questionable, right?!
We got on. There was literally not one other person on the bus. The guy that dropped us off was talking to the bus driver outside and we went to double check this was the right bus. We also gestured about the change in Lao Cao. The driver definitely was as sketch as they come, he just kept saying "Ha Long, Ha Long". Looks like we're not changing in Lao Cao then!
Back on the bus we were like 'okay, where should we sit' and as soon as we spotted it, our eyes lit up. At the back of the bus, there was a solid shelf the full width of the bus with tons of blankets and pillows set up all over it. Result! We both ran to the back and vaulted up to the king size bed just for us. Or so we thought…
Don't Have Eyes Bigger Than Your Belly!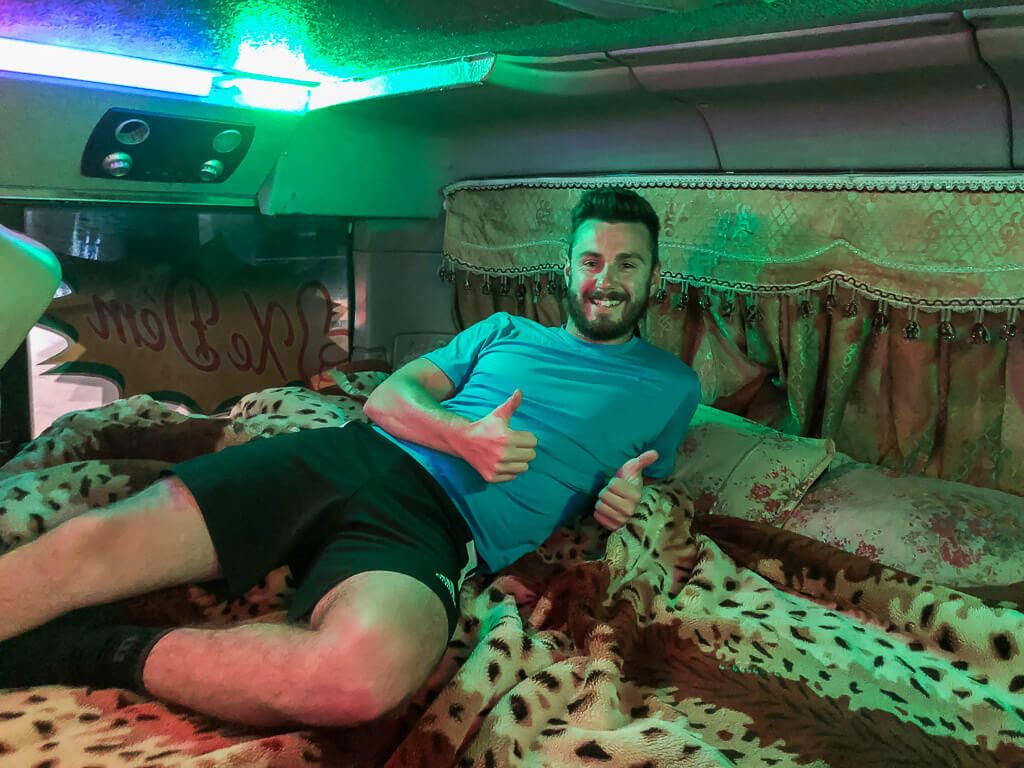 We got set up with Netflix and just before the bus departed, a few locals got on. At least we weren't by ourselves but we realized we must be on a locals bus, not a tourist bus. No wonder it was so cheap! As soon as the bus hit the windy roads, we knew we'd made an error. The driver, who thought he was in the Monaco Grand Prix, was not hanging around.
Every corner (and there are a lot) we would literally slide 2 meters all the way to the left and then back to the right. It was fun at first but the novelty soon wore off as the nausea kicked in. The weather was wet and misty, plus it was pitch black. It's strange leaving your well being up to someone you don't trust!
The driver had a soft spot for the horn. He spent more time leaning on the wretched thing than not. After midnight we tried to get some sleep. The bus had filled up a bit and we were still the only tourists on board.
After maybe an hour of dozing on and off between aggressive horn pumps, the bus stopped on the side of the highway. A local guy got on, decided he doesn't want to go in one of the empty sleeping pods. Oh no, he wants to join us up in the back.
We tried to tell him there were beds free but he was having none of it. Looks like it's a cosy, personal-space-invading-stranger bed share for the rest of the ride.
Common Sense Required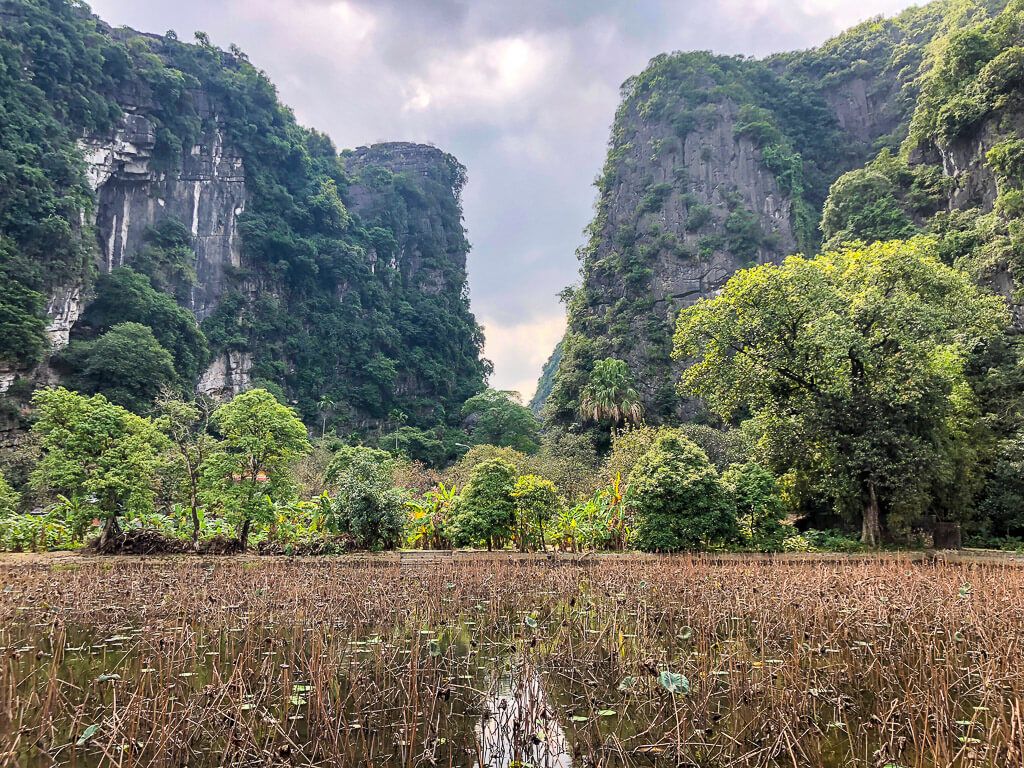 The whole point of an overnight sleeper bus is that it replaces your accommodation for the night. You typically arrive early into the next city and either chill in a café and wait for your hotel room to open up for that night, or go ahead and check right in.
We were told we would arrive at 6am. We had obviously set alarms for 5.30am to give us chance to get sorted before arrival. However, at 3am, we were aggressively woken up and told we had arrived. Aggressively? We mean the driver hitting our legs and shaking us. No joke.
The bus at this point was at double its optimum capacity. There were bodies strewn all over the aisles and we were standing on random arms and legs as we got off.
Outside is pitch black and … hang on, where are we? Well, we're not in a bus station. Oh no, why would we be at a bus station? Instead we're just parked up on a residential street somewhere in Ha Long city. Our bags are thrown off and the bus leaves. Cool.
We checked the maps app and saw we were about 5 miles away from Ha Long Bay, where the cruise boats leave. Ha Long is a pretty big place. Just then, a local guy comes out of the building we were dropped at.
Surprise surprise, it's a hotel and he just happens to have a room free for US$10 (which we bartered down to $7 since we only needed a place for a few hours sleep). Hmm, I wonder if this guy and the bus driver are mates? We assessed the situation and confirmed that it was actually a hotel. This is where common sense really prevails. If it looks dodgy, walk away. Everything seemed fine so we took him up on the offer. It was 2.30am after all, what choice did we have!
Take Home?
There is a considerable difference between tourist and local buses. Local buses will stop anywhere to pick people up and they will stop anywhere in a city to drop you off. At any time. And no one speaks English. Clarify details with whoever books your bus, but be prepared for anything and use your common sense.
Result = Peril
Ha Long Bay to Tam Coc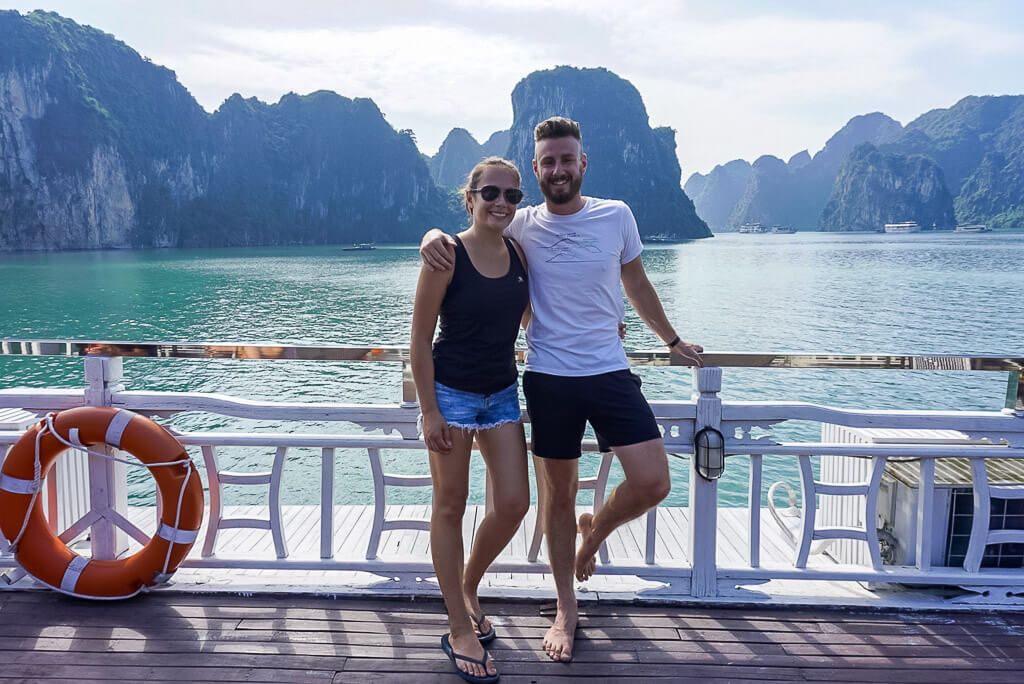 After our Ha Long Bay cruise we were destined for Tam Coc, Ninh Binh Province. We planned to go into Ha Long city to the bus station to get a bus to Hanoi and then on to Tam Coc. However, the operators of the cruise told us there was a bus from the pier that goes direct to Tam Coc and they kindly booked us onto that option. We were glad to avoid going back to Hanoi and then down to Tam Coc.
The bus was 2 hours late setting off. When it did, we knew we were in for a ride because the driver thought he was in a bumper car at the fairground.
How to Strike Fear into Tourists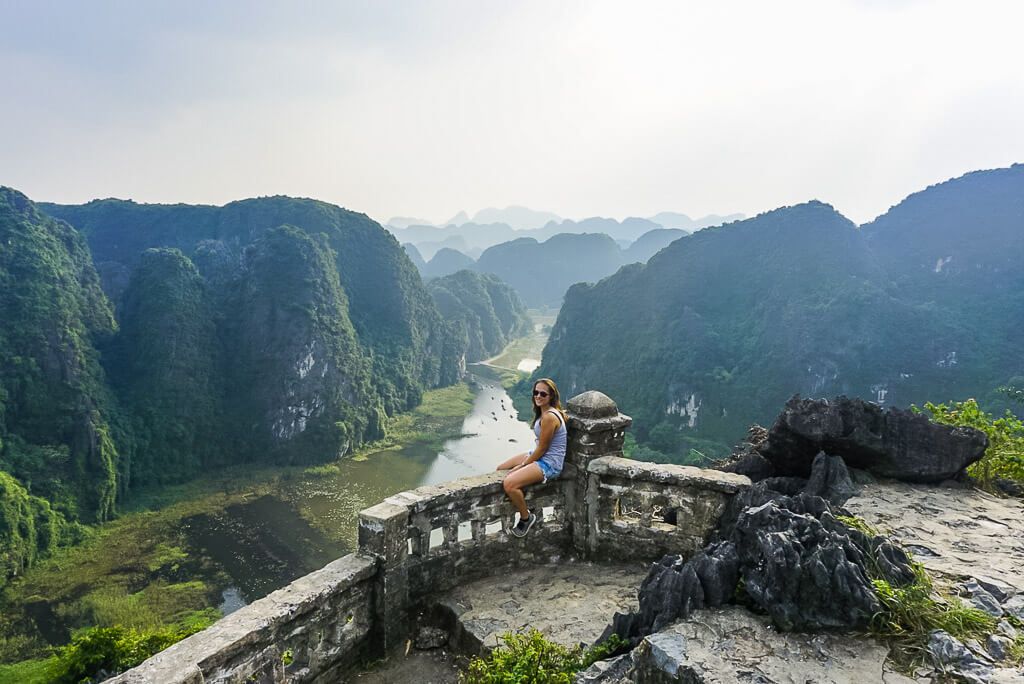 Picture a rusty old moped on the far right of a single lane (each way) road. Now picture a nice modern nippy moped overtaking the shitty one. And overtaking the nippy moped is a small van about the size of a jeep.
What we have to remember here is that the bigger the vehicle, the more right of way you have in Vietnam. So, the bus we were on had it's gas maxed out and was honking its horn at every car, moped and blade of grass it passed. It was on the overtake of the jeep, in the lane for oncoming traffic.
What was hard to believe, but was true, was that at the same time a 2 ton 8 wheel industrial lorry was flying up the other side towards us.
There were people on the bus grabbing the handles on the beds and closing their eyes. Some were muttering under their breath. Others were laughing nervously and raising eyebrows at each other. Maybe the best thing to do was just not look. The locals are used to driving like this so we'll be fine, right?
The lorry, bus, van and 2 mopeds somehow managed to maneuver within inches of each other, close enough to feel the shudder as the air between the huge entities created a vacuum. The mopeds had been run off the road and it sounded like every single vehicle involved had duct taped their horns down.
Similar incidents occurred on this 4 hour journey, but none as dramatic. Our resting heart rates had surged at times, but we made it unscathed.
Take Home?
The roads in Vietnam are mental. Drivers of buses know they're the king of those roads. There will be more than a few near misses. However, this is their domain, they grew up there and they know how to drive in their own country.
Result = Peril
Tam Coc to Phong Nha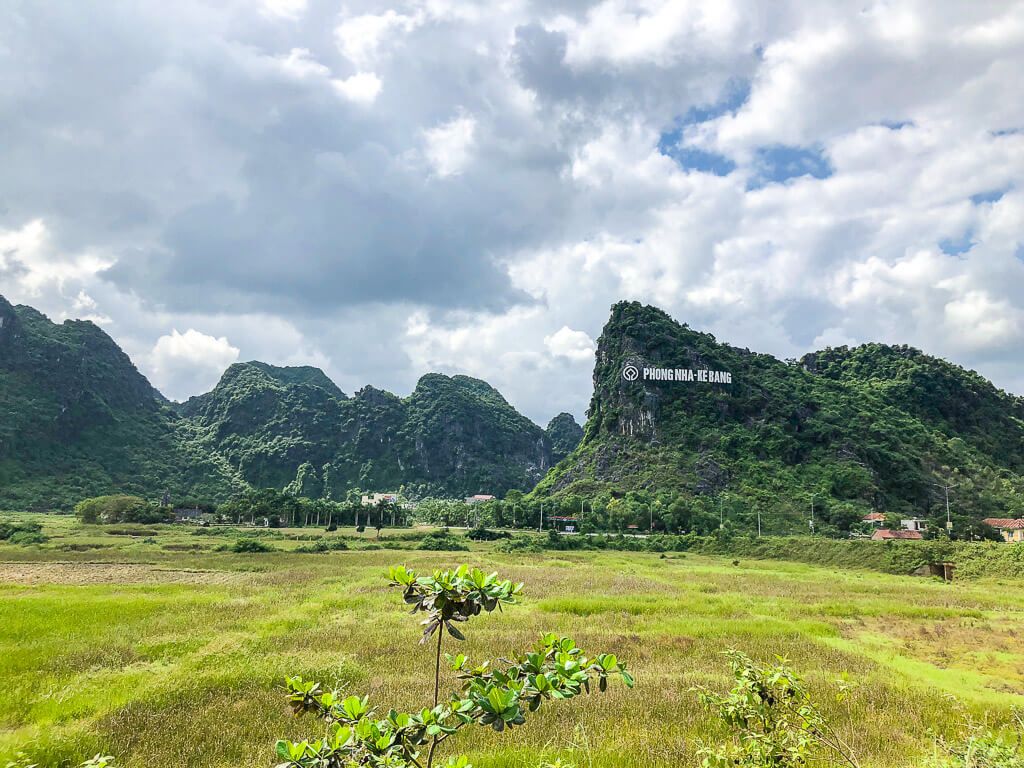 To get from Tam Coc to Phong Nha by train you'd have to get off at Dong Hoi and then take a 1 hour taxi or mini bus to Phong Nha. This route goes back on yourself geographically, which we just can't deal with! We also wanted the convenience of one mode of transportation. Looks like sleeper bus is the only direct way into cave town.
This was an overnight sleeper bus scheduled to arrive into town at 4am. The difference with this service was that the bus company provided a hostel free of charge for you to crash in on arrival.
We booked directly at the bus station in Tam Coc. We asked for the price one day, then went in the next day and were told a much cheaper price. Remember: It depends who you get and on what day.
Overbooking
The problem with the bus this time was that the tour office had overbooked the available seats. The sleeper bus didn't originate in Tam Coc and it arrived with a lot of beds already taken.
There was a group nearby saying that they'd had enough and kept being told different information. We weren't sure if we would be able to get on and this was the last bus of the night. We're pretty laid back and adaptable people, but we started getting frustrated as the atmosphere became bad tempered.
Cleverly (we don't mind giving ourselves a pat on the back when we deserve it!), we channeled our frustration and observed what was going on. We made sure we positioned ourselves next to the ticket guy so as soon as he called that the bus had arrived, we were first to get on board.
There were around 10 beds free and at least 15 people trying to get on. Some people kicked off a bit and rightly so. The group we were near before never made it on. They had no choice but to stay in Tam Coc for another night. Once on board we asked a group who were already on what was happening. They told us that more people got on than were supposed to at Ninh Binh. Apparently, this chaos was a continuing occurrence.
A Journey Without Incident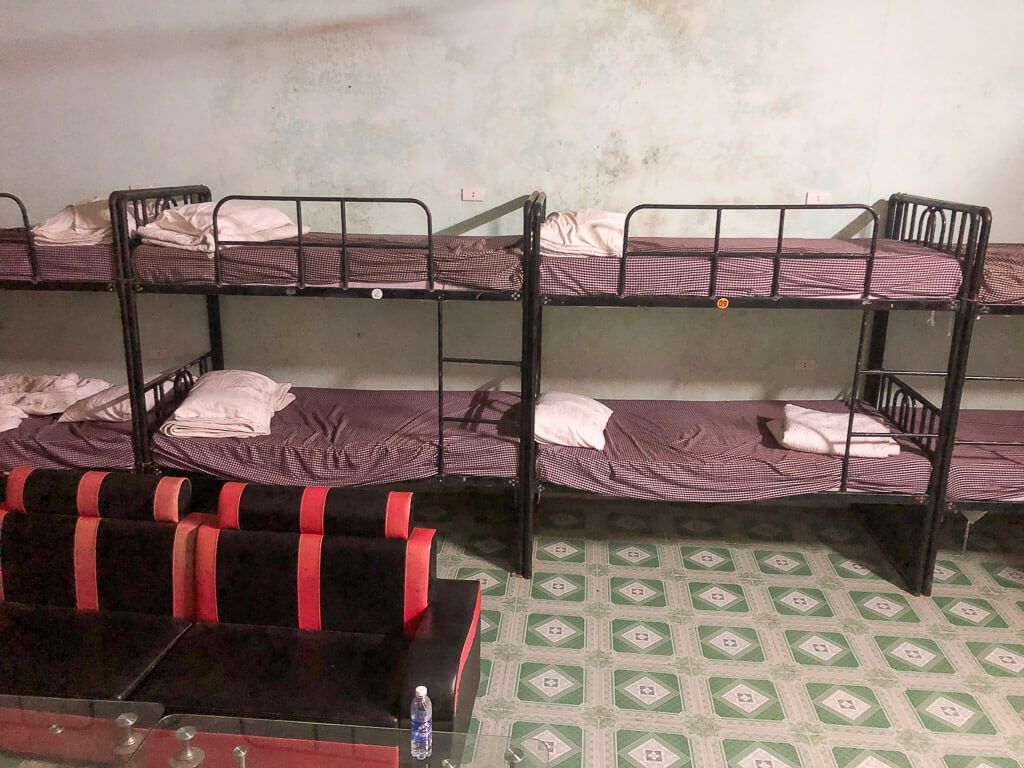 In fairness, to keep this a non biased recollection, the bus journey itself was absolutely brilliant. The driver didn't think he was trying out for NASCAR and had much less of an affinity with the horn. After a long drive without incident, much to everyone's relief, we had arrived having had a few hours of decent sleep!
But all good things come to an end, don't they? Everyone on the bus sleepily started to file into the hostel that we parked up outside and it looked nice. Solid result! We assumed everyone else had the bus and free hostel combo. Why wouldn't we? We walked in, queued for check in and couldn't wait to get into a bed.
When we got to the desk, the guy asked if we'd made a reservation and we explained that we were told there was a free hostel. Our response? The guy laughed at us and said 'yeah, it's a 5 minute walk away, down the road on the other side of the street'. Sweet.
Some information at any point from the people we booked it from would have been lovely. "Oh by the way, the bus will arrive at a hostel you will not be staying in." Nope, why would they tell us that?
We found the other "free" hostel after a short walk in the rain. It is safe to say it wasn't the nicest place we stayed in Vietnam.
Take Home?
Just because you have a ticket, doesn't mean you're guaranteed to get on board. Be organized and punctual. Observe and act accordingly. You need a crystal ball to know what the crack is at times.
Result = Part of the Adventure / Peril
Phong Nha to Hue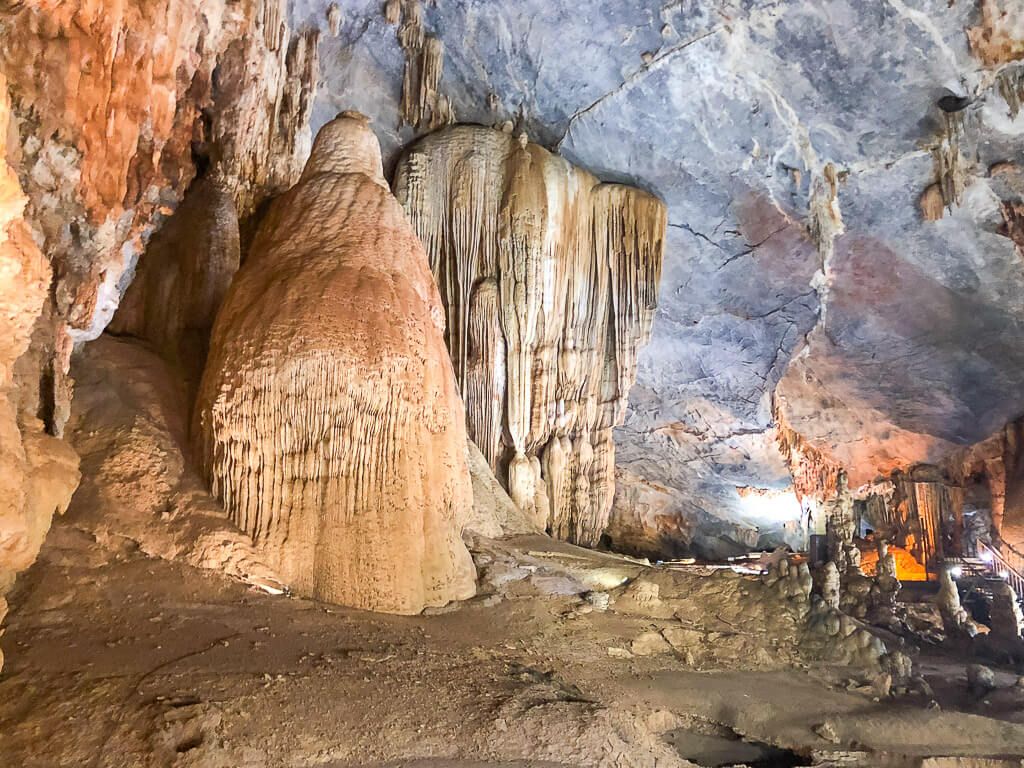 Our final sleeper bus in Vietnam was a rather horrendous journey. However, this time it was self inflicted as we'd been out partying in Phong Nha until 3am and our bus left at 6am. We were hanging! It was a case of get on board, pass out and wake up in Hue.
There was a blanket on an unused pod, so Kristen grabbed it as there was no blanket on her seat she chose for the hangover journey. Half way through the trip, the drivers mate seriously aggressively ripped the blanket out from underneath Kristen while she was asleep. No 'excuse me, I need this blanket' or 'sorry to wake you but someone just got on and needs this blanket'.
When Kristen obviously shot up awake, Mark did too (holding back a vom) and the guy just grunted at us both and walked off. This is absolutely typical behavior of the people working on these buses. If we weren't in the state we were in, we maybe would have said something because it was bang out of order. The rest of the journey was without incident and we arrived in Hue on time. Just one small action from an idiot that didn't need to happen made it another sleeper bus in Vietnam with a story to tell.
Take Home?
Don't take any blankets on other beds. Be warned that the guys working can be assholes. We would not recommend taking too many journeys on a hangover, it was not fun. Don't make the journey any worse than it needs to be!
Result = Part of the Adventure / Peril
Read More About Phong Nha: Check out our 10 Best Things To Do In Phong Nha Travel Guide for an overview of the best things to do in Vietnams adventure capital. Plus, we have complete guides to visiting Paradise Cave, Dark Cave and the Botanic Gardens in Phong Nha!
Conclusions? Should I Travel Vietnam by Sleeper Bus?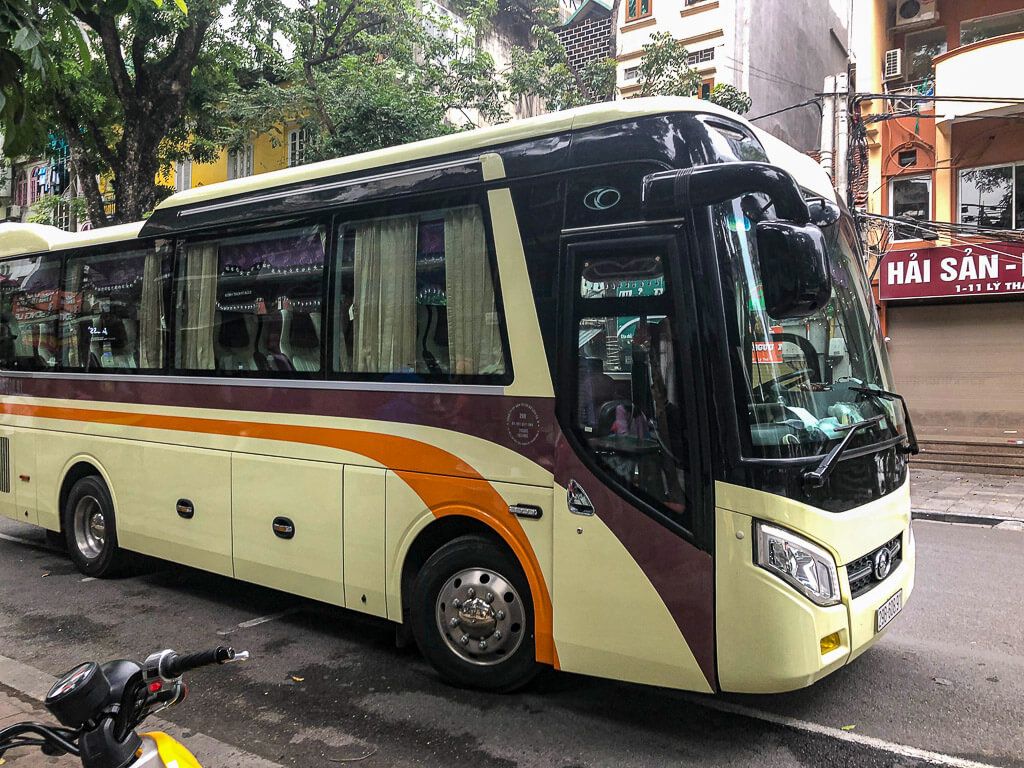 Our final score was Peril 4 vs Part of the Adventure 3.
Our stories don't necessarily mean that you will have any of the same issues. We hope you can take our experiences and make sure they don't happen to you! We imagine that some tourists will have had none of the problems we did. But we know for sure that some will had much worse. It's pot luck.
The sleeper bus is an integral aspect of tourism in Vietnam, both for the backpacker and local alike. The problem is that it is constantly growing as the numbers of tourists continues to explode and the infrastructure isn't improving.
There needs to be a change in attitude from local bus workers towards tourists as some of the things that happen just shouldn't. They wouldn't be allowed in many places.
Should you use the sleeper bus in Vietnam? We think you should, even if you just try it once or twice. It's all part of traveling. You have to take the rough with the smooth. The sleeper bus is a very convenient and cheap way to get around, but it's not the most comfortable. A lot of your experience will depend on the type of person you are.
Do you think you could cope with some of these things happening to you?
Interactive Map Showing Routes We Took Sleeper Buses
And there you have our guide to traveling Vietnam by Sleeper Bus. We hope this helps you envisage what you can expect when you climb aboard for your own adventures!
Read More About Vietnam …
Didn't find what you were looking for? Be sure to check out our popular Vietnam travel guides!
---
We hope our post helps you prepare for your Vietnam sleeper bus experience!
Do you have a story to tell? We bet you do!
Please let us know if you need any help planning your route or have any questions about Vietnam sleeper buses in the comments below.
Happy Travels,
Mark and Kristen
Like This Post? Pin It For Later!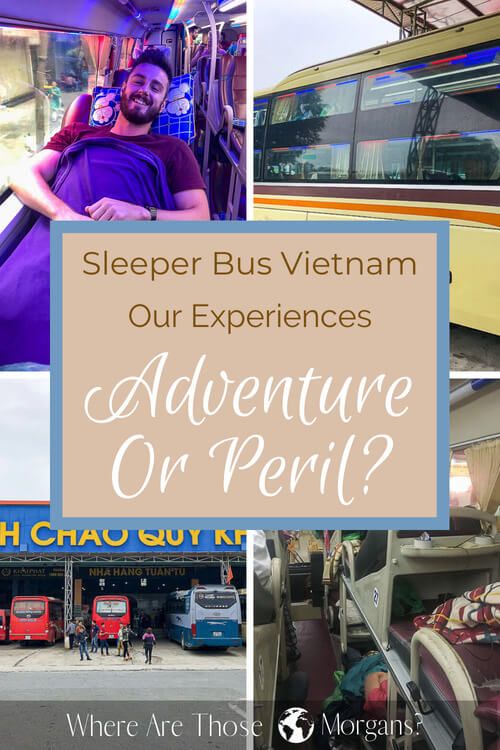 Note: This article contains affiliate links. When you make a purchase using one of these affiliate links, we may earn a small commission at no extra cost to you.
All Rights Reserved © Where Are Those Morgans, LLC. Republishing this article and/or any of its contents (text, photography, maps, graphics, etc.) in whole or in part is strictly prohibited.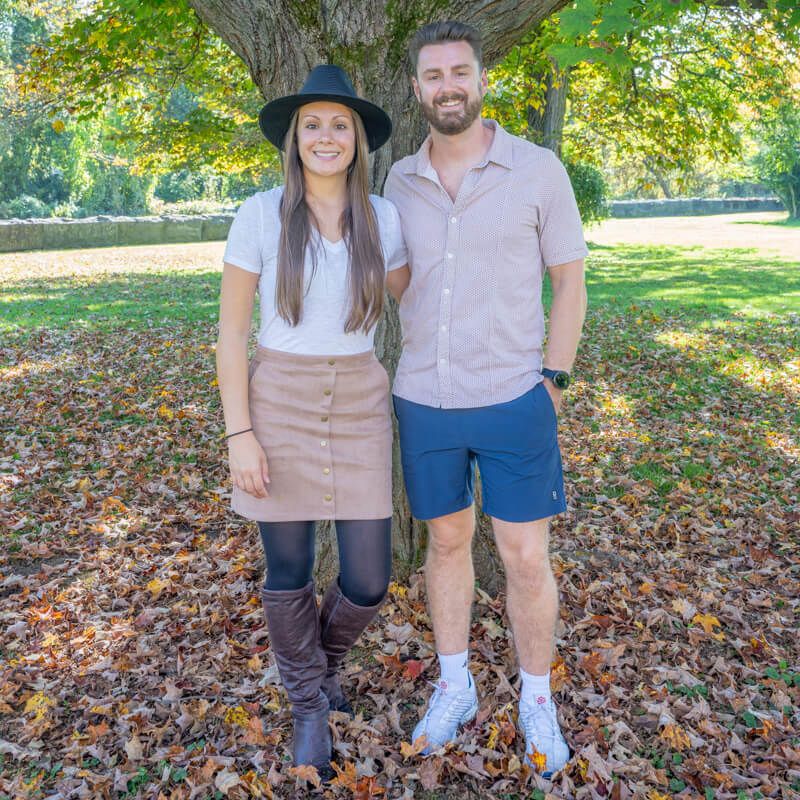 Mark and Kristen Morgan are travel, hiking and photography experts. Over the last 6 years traveling full time, they have explored more than 40 countries and 30 US states.
Their work has been featured in USA Today, Gestalten, Get Your Guide, CityPASS and Condé Nast Traveler along with various other publications.