With dozens of junk boat operators in Halong Bay, how do you choose the best one for your Halong Bay Cruise? For many visitors, budget is the key ingredient to this recipe.
Halong Bay is Vietnam's world renowned dreamy bucket list UNESCO destination. Sipping on a cocktail on the top deck of your junk boat while gliding through turquoise water surrounded by limestone rocks is every traveler's dream.
But it can be overwhelming trying to find the best Halong Bay Cruise depending on your budget and time frame. After our experience with Rosa Boutique Cruise, we can show you:
How to get to Halong Bay
How to choose the best overnight cruise option
8 things to do in Halong Bay
Best cheap and luxurious Halong Bay cruises
Best time to visit Halong Bay
A cheap cruise alternative
Important tips for your visit
This stunning area in northern Vietnam remains a must on every traveler's itinerary so let's find you the best Halong Bay Cruise!
*Please note this post may contain affiliate links. If you click on one, we may earn a small commission at no extra cost to you. Thank you for supporting the free content we provide! Read more in our disclosure policy.*
How To Get To Halong Bay, Vietnam
There are many different ways you can get to Halong Bay. We will go over every travel option so you can figure out what will work best for your Vietnam itinerary.
Most people get to Halong Bay from Hanoi and depending on how you book your cruise, transport might already be included.
Halong Bay Cruise Booked Online
When you book your Halong Bay Cruise online, it may or may not include transport from nearby Hanoi, Sapa or Ninh Binh. You will know at the time of booking if your transport is included.
If your transport is not included to Halong Bay, you can easily take a bus. Check times and prices using 12Go Asia if you book your cruise online with no transfers included.
Another option is to ask your hotel owner to book transport for you. In Sapa, our hotel owner booked our direct overnight sleeper bus to Halong Bay for us, which turned out to be an interesting night.
In hindsight, we wished we had booked the bus ourselves because we were dropped off in the middle of the street at 3am once we got to Halong Bay.
Halong Bay Cruise Booked At A Tour Agency In Hanoi
If you book with a tour agent, transport to and from Halong Bay will most likely be included but be sure to confirm this detail with the agent before booking.
Typically your bus will leave Hanoi Old Quarter around 8am. This is convenient option but might not be the best value, so you will need to do your research.
Flying To Cat Bi (HPH) In Hai Phong
The closest airport and nearest airport to Halong Bay is Cat Bi (HPH) located in the southeast city of Hai Phong.
For anyone traveling up from Ho Chi Minh or anywhere else in Southern Vietnam, it could be easier to fly into Hai Phong and jump on a bus or take a Grab to Halong Bay.
If you are arriving from further afield internationally, fly into Hanoi and taxi into town. You can then book a bus transfer from Hanoi Qld Quarter directly to Halong Bay via 12Go Asia.
Travel Tip: Download the Grab App (iPhone or Android) before you get to SE Asia. You can choose to add your credit card details or pay cash for each ride.
DIY By Motorbike
For the more adventurous backpackers, why not hire a motorbike and drive over yourselves? Check out the route on the interactive map showing directions between Hanoi and Halong Bay above.
Please only choose this route if you have experience driving a motorbike and are comfortable driving in the crazy traffic of Vietnam.
Traveling from Hanoi to Halong Bay? You might like our popular guide featuring how to travel from Hanoi to Halong Bay.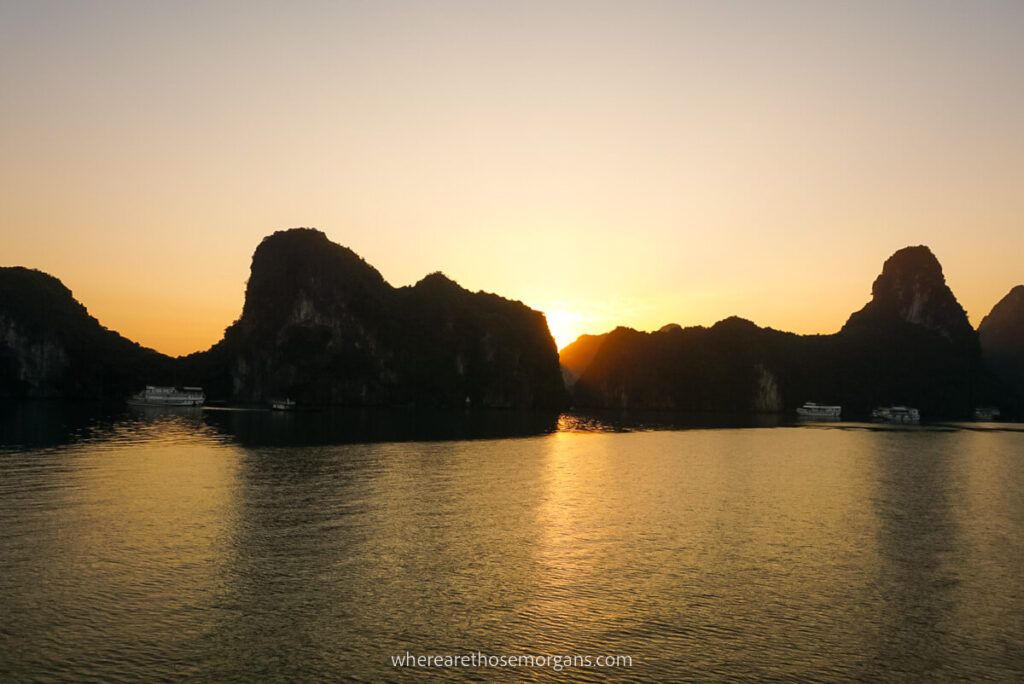 Halong Bay Cruise Itinerary: How Many Days And Nights?
The first major decision you have to make is based on how many days and nights you would like to spend at sea. You have two main options when it comes to the length of your cruise:
2 Days / 1 Night
3 Days / 2 Night
We spent 2 days and 1 night aboard a junk boat during our Halong Bay Cruise. Personally, we found this to be the perfect amount of time.
We would make an educated guess that most people opt for the 2 day and 1 night cruise due to both price and time constraints.
However, if we traveled to Vietnam again and had more time, we would go for the 3 day and 2 night cruise option for a luxurious and relaxing experience sailing around Halong Bay.
You also have to remember even cheaper Halong Bay cruises can be priced around US$180-250 per person while more luxurious cruise options can be as much as US$600 per night.
But don't forgo the 3 day and 2 night option without some consideration because this luxurious cruise will be a great option for couples or those who want to enjoy the best of Halong Bay.
3 or 2 Day Halong Bay Cruise Pros And Cons
If you are still on the fence about how many days you should spend on your Halong Bay cruise, take a look at our pros and cons to see how many days suit your travel style or group.
We cover more on value for money at the end of this article so you can be rest assured you made the correct choice.
A 2 day and 1 night Halong Bay cruise will be best for:
Solo travelers
Couples looking to mingle
A group of friends
Travelers on a budget
Those who are short on time
A 3 day and 2 night Halong Bay cruise will be best for:
Couples looking for a romantic retreat
Visitors who want to see more of Halong Bay
Families with kids
Travelers with a healthy budget
Those who have have more time in Vietnam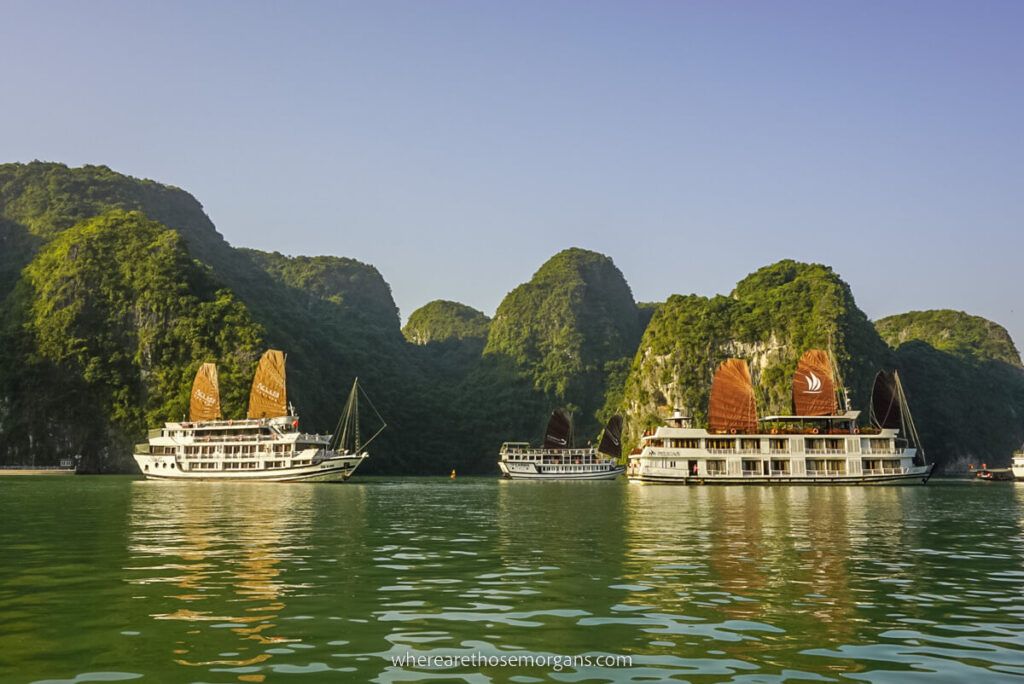 How To Choose The Best Overnight Halong Bay Cruise
Choosing which cruise operator to sail with can be a little overwhelming with so many choices available. But don't despair! You will find the perfect operator with just a little effort researching within your price bracket.
We found our Halong Bay cruise operator by using our favorite hotel search engine booking.com and filtered by cruise and then anything over US$ 250 per night.
Similarly, if you know you can stretch the budget then filter out anything below US$ 400 per night if you are looking for a luxury cruise.
Here are a few things you should consider when it comes to choosing which cruise operator to sail with:
Do your research. The most important thing to do before booking is to read other people's reviews. Check multiple booking platforms as well to ensure you are reading a good mix of information.
Check the route and activities for each cruise. Each operator will offer similar activities, but if there is one activity you can't miss, you need to check if that specific activity is included. There are a few cruises that go to less crowded parts of the Bay so you can also check the route if that's important to you.
How many cabins are on board? Do you want a chilled and more private experience? Or are you more into the idea of partying on your cruise? There are many different types of experiences so plan accordingly.
Manage your expectations. Remember, if you are looking for a budget Halong Bay cruise, it will not look like that dreamy junk boat you might have imagined.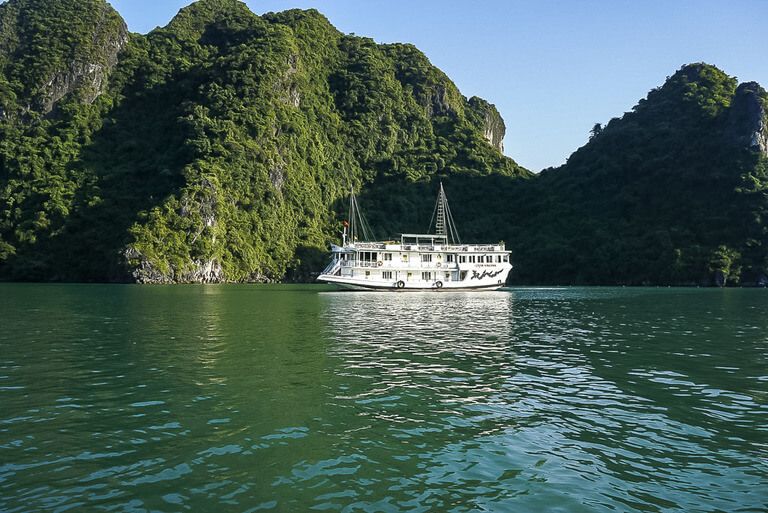 How To Book Your Cheap Halong Bay Cruise
You have 2 main options when booking your cheap Halong Bay cruise and both work best if you do your research beforehand.
Use the booking platforms below to check previous reviews and prices so you can build an idea for your Halong Bay Cruise shortlist.
Book In Hanoi With A Tour Agency
This option only works if you don't mind a serious amount of haggling and you're extremely flexible. The best way to get a good price is to start in one agency and negotiate against what you have already seen online.
Once you have a lower price than the best you can find online, move onto the next agency to see if they will go lower for any of the cruise options you're interested in.
Remember, most tour agencies will start with a high price and you will have to negotiate to get the price you want. Be prepared in high season for cruises to be filled in advanced.
Pros to booking a Halong Bay cruise with a tour agency:
Prices can be negotiated
Can add in transfer from Hanoi if required
Ability to ask questions while booking
Cons to booking a Halong Bay cruise with a tour agency:
Cruises may be sold out in high season
Will have to negotiate a good price
Limited to cruises working with tour agency
Booking your cruise will take up time in Vietnam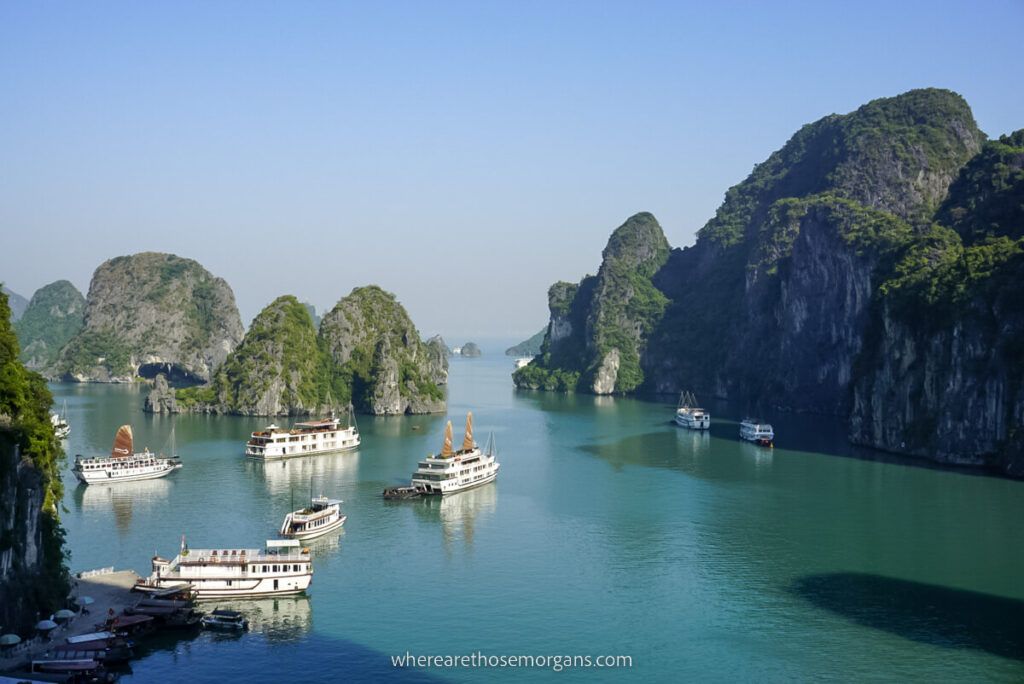 Book A Halong Bay Cruise Online
We booked our Halong Bay cruise online after extensive research and this is how we would recommend you book your cruise.
This option is perfect for those who don't want the hassle of negotiating in Hanoi or who want to guarantee a spot on a Halong Bay cruise during their time in Vietnam.
After you book your cruise online, you can focus on planning your trip and the rest of the places you need to visit in Vietnam.
You should start by making a list of potential cruises (we will get into this later in our guide) and begin to compare reviews as well as prices.
Pros to booking a Halong Bay cruise online:
No negotiating involved in price
Ability to pick any cruise operator you want
You can book as early and as soon as you want
Can use previous guest reviews to help make a decision
Cons to booking a Halong Bay cruise online:
Prices are already set
Have to rely on pictures and descriptions for the cruise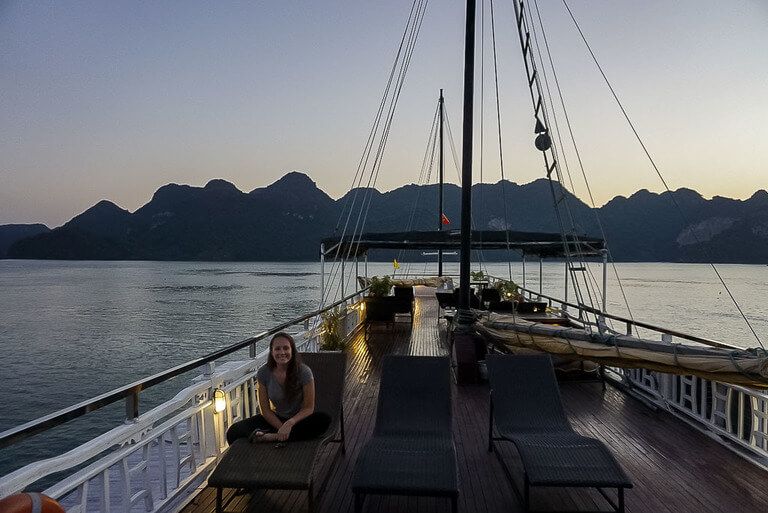 Our Halong Bay Cruise Experience
After researching cruises for what seemed like eternity, we eventually both agreed on Rosa Boutique Cruise offering the best value for money in the cheap Halong Bay cruise range.
The reviews from the Rosa were great and all of the activities we wanted to do were included.
So we then got to work analyzing prices across online platforms. You will be amazed by how much prices fluctuate so be thorough in your own research to save money.
Our situation was slightly different as we were traveling directly from Sapa to Halong Bay, therefore we didn't require the Hanoi to Halong Bay bus transfer. Also, we planned to head on to Ninh Binh directly from Halong Bay.
After comparing prices, we ended up booking our Rosa Cruise with Booking.com and it was awesome!
We had a fantastic group on board the same night as us. And ultimately that's what it comes down to when you book a cheap Halong Bay cruise. There will be little difference between operators in this price bracket.
Most cruises will do similar activities and you will eat similar food. What makes or breaks your Halong Bay cruise overnight is who you share it with.
An Amazing Halong Bay Cruise Group
We were so fortunate to spend our junk boat experience with a fun loving group. We have to take this chance to say hello to the Belgian trio Pauline, Manoelle and Aurelie as well as fellow Brits Jay and Holly, and Pooja.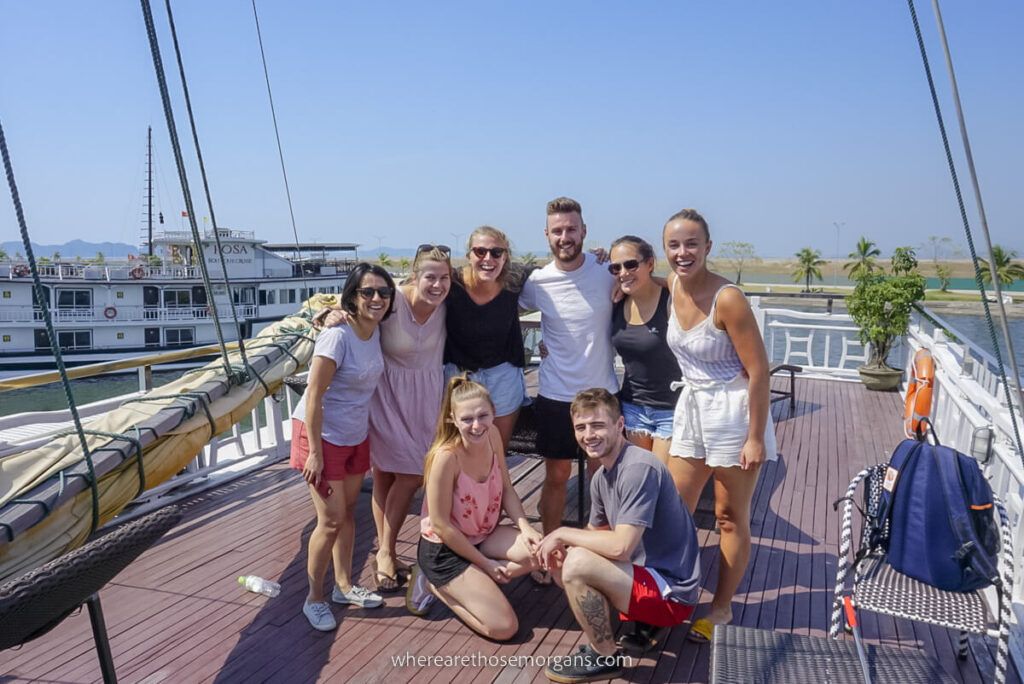 As a group, we sang our hearts out until the early hours butchering the best karaoke songs in the playbook and consumed enough booze to re-sink the Titanic.
Rosa was exactly what we expected for the price we paid and the Tripadvisor comments were pretty accurate.
The team looking after us was great and while the activities were a 'tourist conveyor belt' as we knew they would be but it was still good fun. The rooms were clean and the food was excellent.
In conclusion, we had a great time, saw the same places and did the same things, but for a fraction of the price compared to a luxury cruise.
But we didn't spend much time in our room because we were socialising on the sun deck. So if you want a more private experience, you may want to consider a luxury option.
Travel Tip: The 'Rosa Cruise' is a 3 star cruise and the 'Rosa Boutique Cruise' is a 4 star cruise. The cost is similar and availability depends on season. We choose the Boutique cruise.
8 Best Things To Do In Halong Bay
Activities on a Halong Bay cruise are not going to blow you away. But you're not there for the activities, you're there for the beautiful and unique scenery.
A super expensive cruise might go to another part of the Bay where fewer boats will be sharing the same waters.
But on any cheaper and mid budget boat, you'll pretty much all be doing the same things. These are the activities you can expect on a Halong Bay cruise: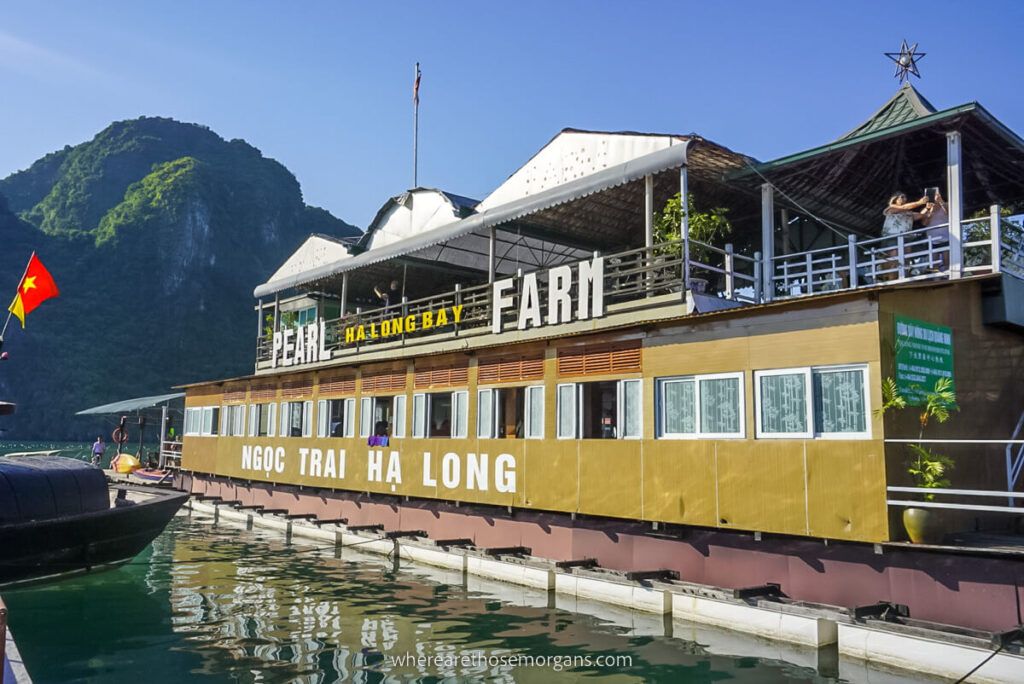 1. Pearl Farm Visit
Our stop at the Halong Bay Pearl Farm was interesting but rushed and many tourists are pushed through here daily. However, the guides explaining how pearls are made were extremely enthusiastic.
We enjoyed learning about how pearls are initially formed as well as how pearls are cultured, harvested and manipulated at this facility.
2. Sea Kayaking
There are numerous areas set up in Halong Bay for kayaking and you will have about 45 minutes to an hour before you need to be back on the boat.
We loved gliding against the calm emerald green waters of Halong Bay. However, there may be areas you need to avoid and your guide will brief you before you head out on your kayak.
Depending on your location, you will paddle through islets, see hidden caves, visit lagoons or unspoiled beaches and pass by friendly local fishermen.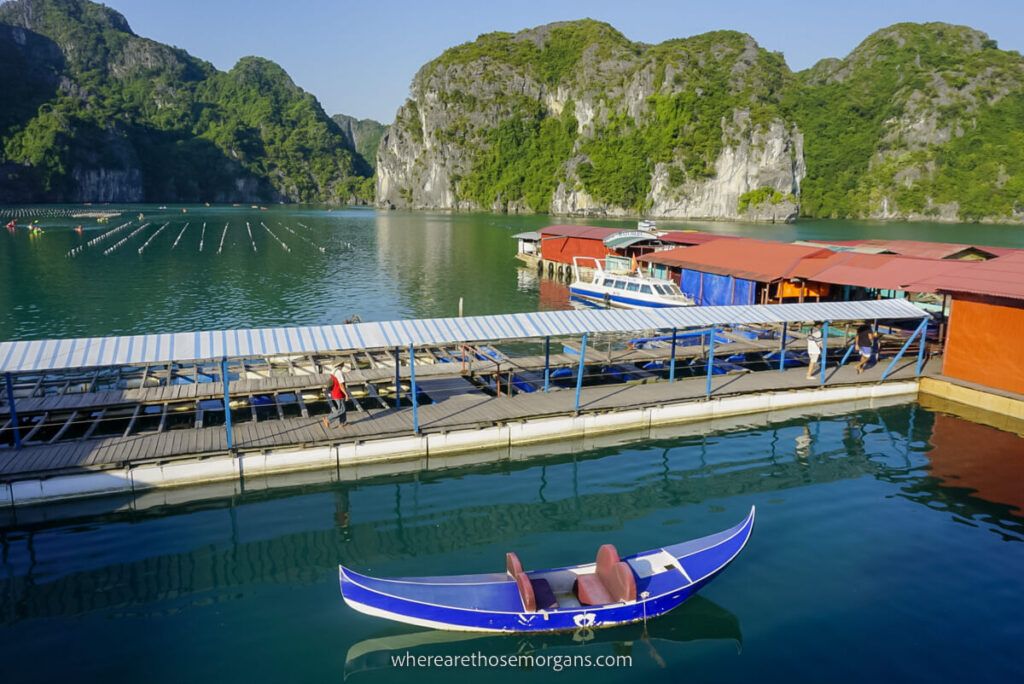 3. Fishing Village Visit
If you are interested in the pearl farm visit, you will also like the visit to one of the numerous floating fishing villages in Halong Bay.
At these villages, you will have the chance to look at long narrow floating wooden structures with fishing lines dropping down into the bay.
This activity can also be quite crowded and we thought it felt very touristy, but it is also a great place to learn about how local fisherman and families making a living in the local area.
4. Swimming
At some point during your cruise, you will be allowed to swim in the beautiful waters of Halong Bay. During our cruise, we were able to swim about an hour before sunset and the water was a bit chilly.
There were many crew members stationed around our boat on 'jellyfish watch.' At first we thought they were joking, but we realized they weren't when a very large jellyfish swam right by Mark as he climbed out of the water.
Let's just say after the jellyfish sighting, we stayed on board the ship.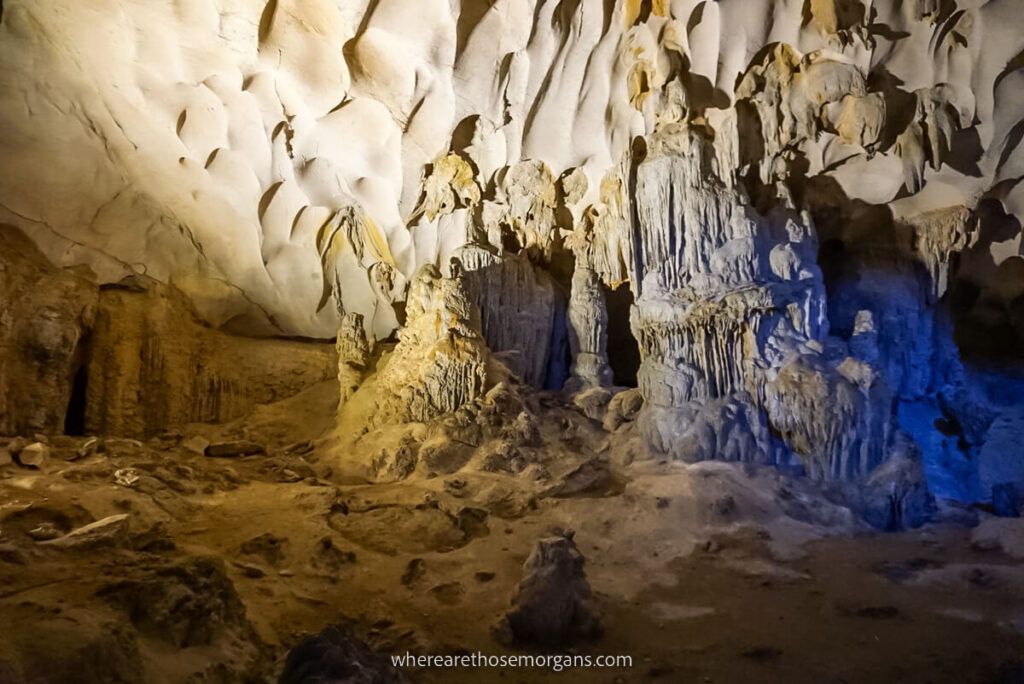 5. Sung Sot Cave
Sung Sot Cave is one of the most popular tour activities you will experience on your cruise. The French found Sung Sot Cave in 1901 and called it "Grotte des Surprises" or (Surprise Grotto).
This cave is one of the biggest and most beautiful caves in all of Halong Bay. It is divided into two chambers, the first chamber known as the 'waiting room' and the second chamber known as the 'serene castle.'
We won't get into much detail here so we don't spoil your Halong Bay visit but the views from inside Sung Sot Cave as well as the surrounding views from outside the caves are breathtaking.
7. Night Squid Fishing
Squid fishing was the most interesting activity we experienced on our Halong Bay cruise. All of us were provided with a fishing rod and racket with a piece of fishing line tied to a huge lure and no bait.
While we didn't catch any squid during our cruise, the crew told us some nights it is very common for everyone on board to catch an average of 30 squid a night.
The best technique for squid fishing includes a water depth of 4-12m (around 7m is ideal) and a location where a strong light shines into the water.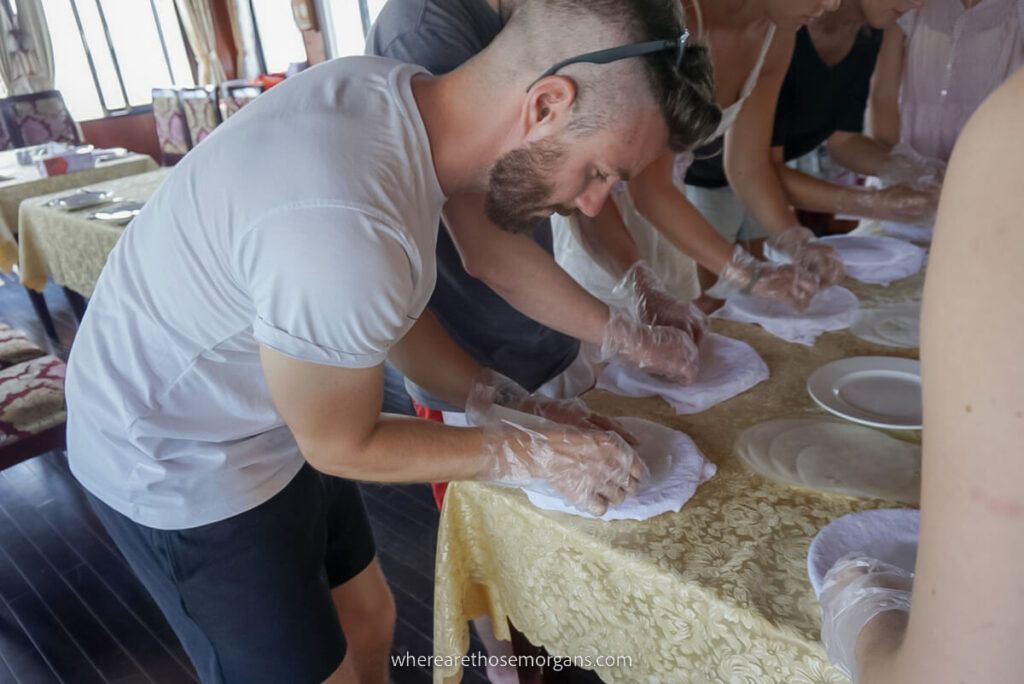 7. Onboard Cooking Class
Our favorite activity was the onboard cooking class led by the chef on Rosa Cruise. We learned how to cook traditional Vietnamese spring rolls.
The best part was we got to eat our spring rolls with dinner that evening. Let's just say some spring rolls turned out better than others, but we had a blast with our crew on board.
8. Early Morning Tai Chi
Most cruises will have an early morning Tai Chi class which takes place during sunrise on the sundeck. We loved that our class was taught by the captain of the ship!
Tai Chi is a traditional Chinese form of martial arts meant to improve health and self-defense skills as well as concentration and longevity.
This ancient art uses a series of slow movements accompanied with deep breathing techniques to help reduce stress, ease the pain of aging and promote overall health.
It is known that practicing Tai Chi in the fresh open air helps the body achieve a balanced and meditative state. The views alone from the surrounding limestone karsts in Halong Bay will be worth it.
Best Halong Bay Cruises
In order to help you find the best Halong Bay cruise for your time in Vietnam, we have included some of the most popular and top rated cruise options below.
We have broken down the best Halong Bay cruises by the following categories:
Halong Bay Day Cruises
Cheap Halong Bay Cruises
Halong Bay Luxury Cruises
Broken down by budget, you can find both day and overnight Halong Bay cruise options.
Halong Bay Day Cruises
These day cruises are great Hanoi Halong bay cruise options for those short on time.
Dragonfly Boat Cruise – This 10 hour day cruise includes pick up from the Old Quarter in Hanoi. During this tour, you will enjoy a fresh seafood lunch, head to Thien Cung (Heavenly Palace Grotto) and then go kayaking or enjoy a bamboo boat ride.
Ti Top Island and Kayaking in Luon Cave – Another day trip option which offers transfer from Hanoi's Old Quarter, this tour includes a set-menu seafood lunch, a hike to Ti Top island and kayaking in Luon Cave as well as 5 hours of sailing around Halong Bay.
Cheap Halong Bay Cruises
This next section will cover the top rated cheap Halong Bay cruises. Now just because we say 'cheap' it does not mean bad. In this case, cheap means affordable.
Compare prices via the links provided before booking to find the best price.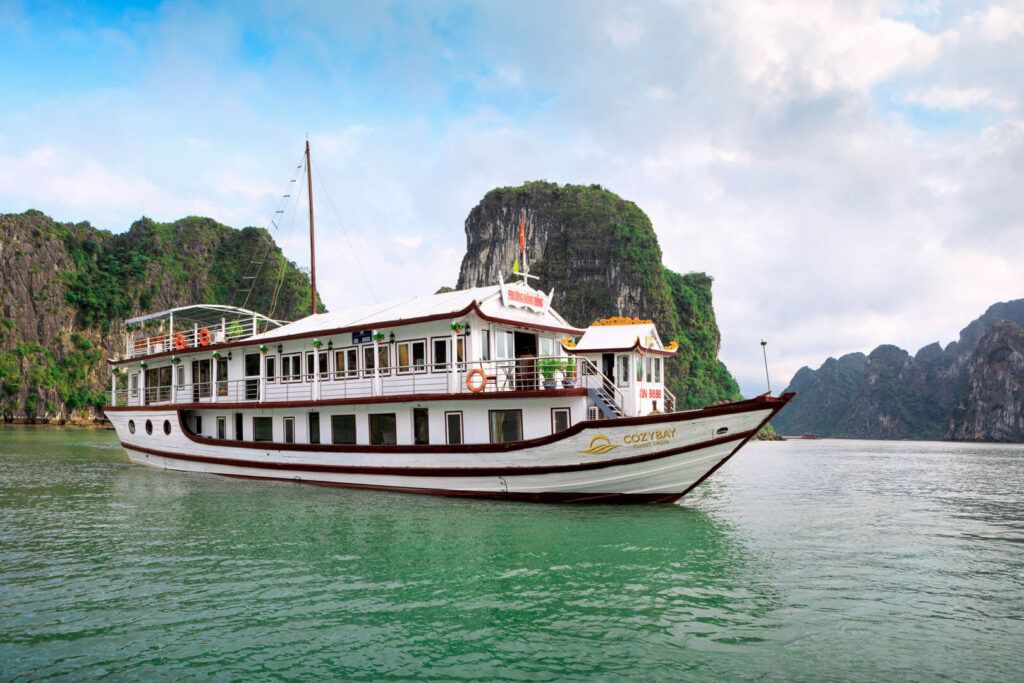 Cozy Bay Cruise
This 3-star cruise offers contemporary accomodation on board with a large sun deck and 24 hour bar. All units on board have air conditioning and windows with a sea view.
>> Book Cozy Bay Cruise: Booking | Klook | Viator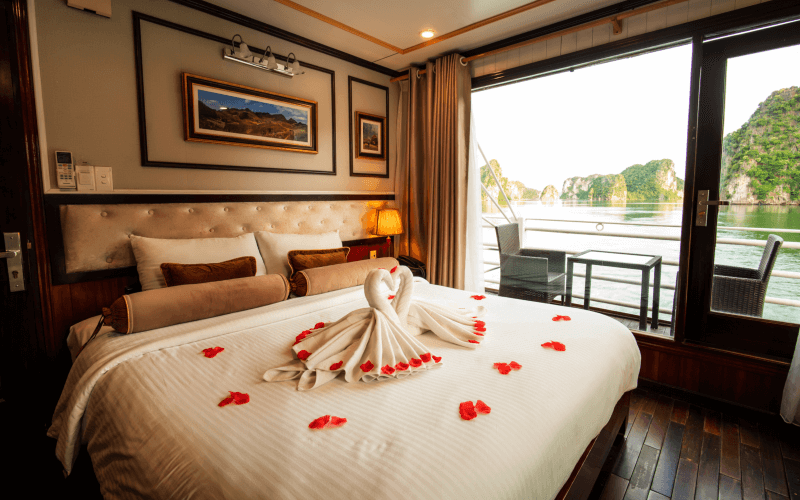 Swan Cruises
Swan Cruises offers a 4-star experience in a traditional wooden vessel through the more pristine Bai Tu Long Bay, which is less touristy. All rooms are air conditioned with private bathroom.
>> Book Swan Cruises: Booking | Klook | Viator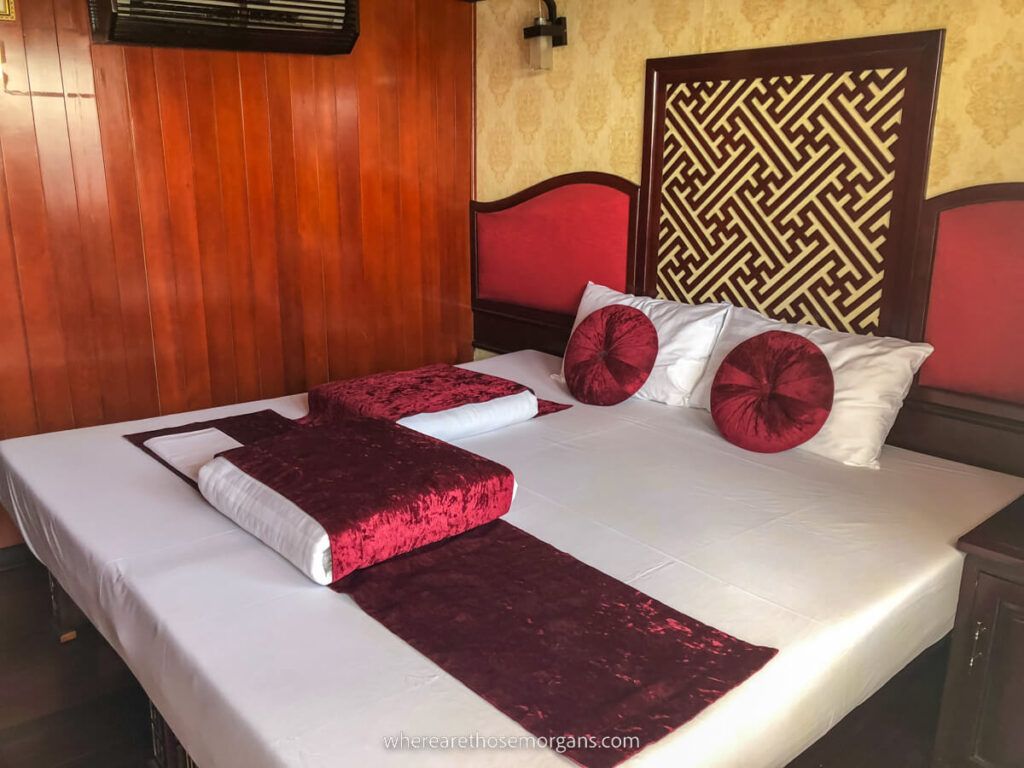 Rosa Boutique Cruise
We may be a bit biased because this was Halong Bay cruise operator, but we enjoyed Rosa Boutique because this cruise offered many activities, good food and comfortable rooms.
>> Book Rosa Boutique Cruise: Booking | Get Your Guide
Halong Bay Luxury Cruises
If you are looking to celebrate a special occasion or just want to treat yourself, a luxury cruise in Halong Bay will make your trip all the more magical.
When we return to Vietnam in the future, we will certainly splash out and enjoy one of these luxurious options. A private balcony would have been a game changer on our cruise.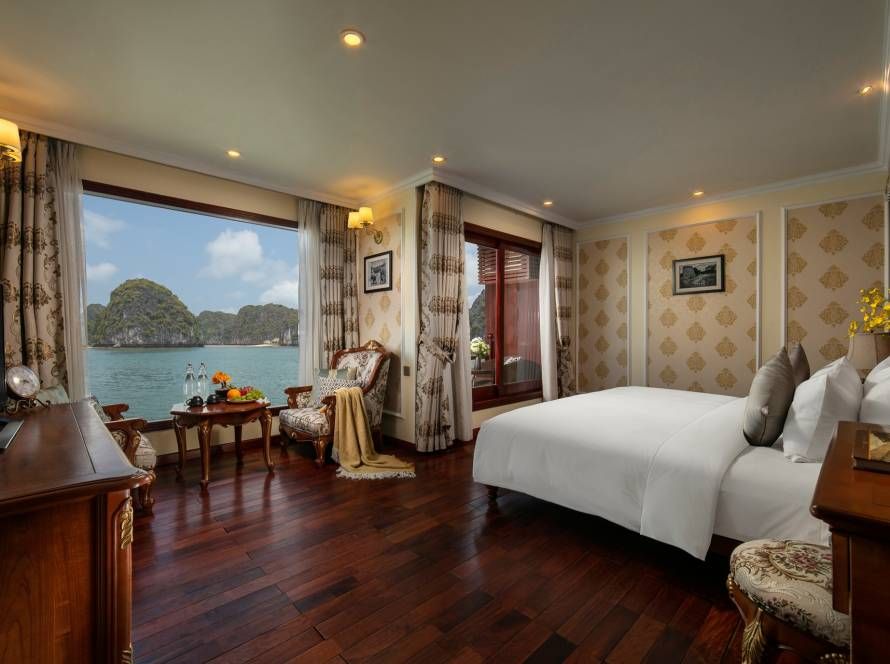 Emperor Cruises
This 5-star option features a fitness center, garden, shared lounge, sauna and hot tub. Each air conditioned room has a terrace as well as private bathroom. A buffet, à la carte or continental breakfast is available every morning.
>> Book Emperor Cruises: Booking | Klook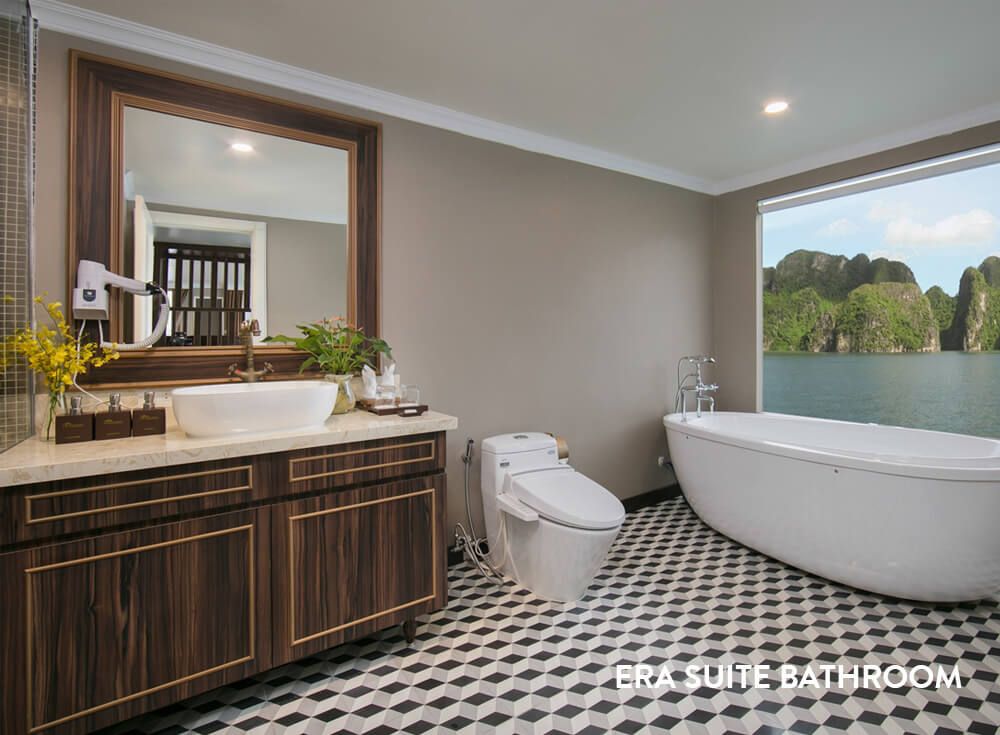 Era Cruises
Offering both 4 and 5-star options, Era Cruises has a fitness center, shared lounge, restaurant and bar. Each room on board has air conditioning and sea views. A buffet, continental or vegetarian breakfast is available every morning.
>> Book Era Cruises: Booking | Klook | Viator
Alisa Premier Cruise
Expect nothing but world class service on the Alisa Premier Cruise. Over the course of your cruise, you will experience caves, islands, beaches and a floating village. All soundproofed cabins are air-conditioned and come with a seating area with sofa.
>> Book Alisa Premier Cruise: Booking | Klook
If this option has peaked your interest, you might also like the Alisa Luxury Cruise.
Best Time To Visit Halong Bay, Vietnam
Halong Bay is a spectacle no matter which time of year you visit. That being said, the best time to visit depends on your budget, how much you like crowds and if rain bothers you.
Let's break it down by month:
March to May and September to November are the months you will experience the best climate and weather in Halong Bay. But that means it's peak season with inflated prices and crowded tourist sites.
December to February is winter in Halong Bay when it gets a little chillier and can be misty. You might need a light coat but your wallet will be heavier.
June to August is summer, which brings sunshine, humidity and a lot of rain. Unfavorable conditions mean these months are low season in Halong Bay, which make them the best time to grab yourself a bargain.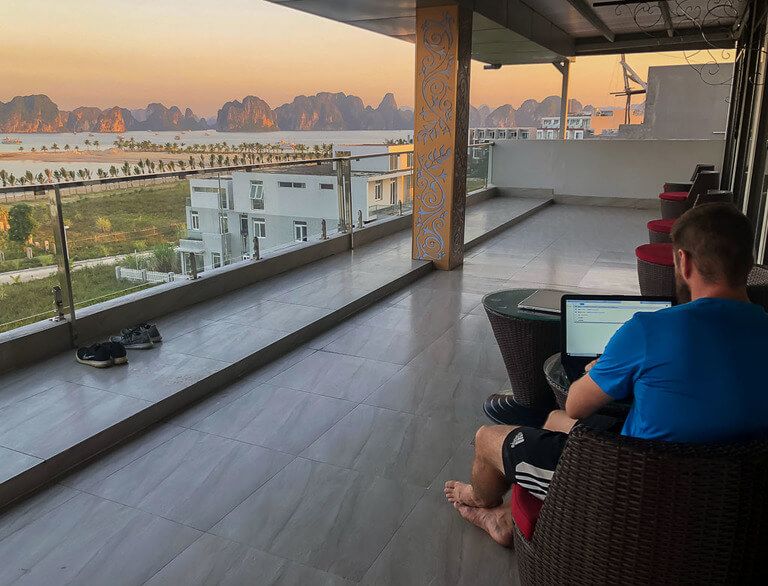 Hotels In Halong Bay
If you plan to travel independently as we did, you might want to stay a night in Halong Bay before setting out for your cruise. We were wrecked after trekking in Sapa with our local guide for 2 days followed by a horrendous sleeper bus journey.
Luckily we gave ourselves a night in Halong Bay before our cruise departure the day after. We stayed in a lovely hotel called 'HaloMoon Ha Long Hotel' not far from the Rosa Cruise pier.
It had a huge balcony overlooking the limestone karsts out across the Bay and a gorgeous room. The area was completely dead because most people go to Cat Ba Island or straight onto the cruise.
We found a great restaurant close by and chilled on the beach for a few hours which was exactly what the doctor ordered.
>> Check prices for Halong Bay hotels here <<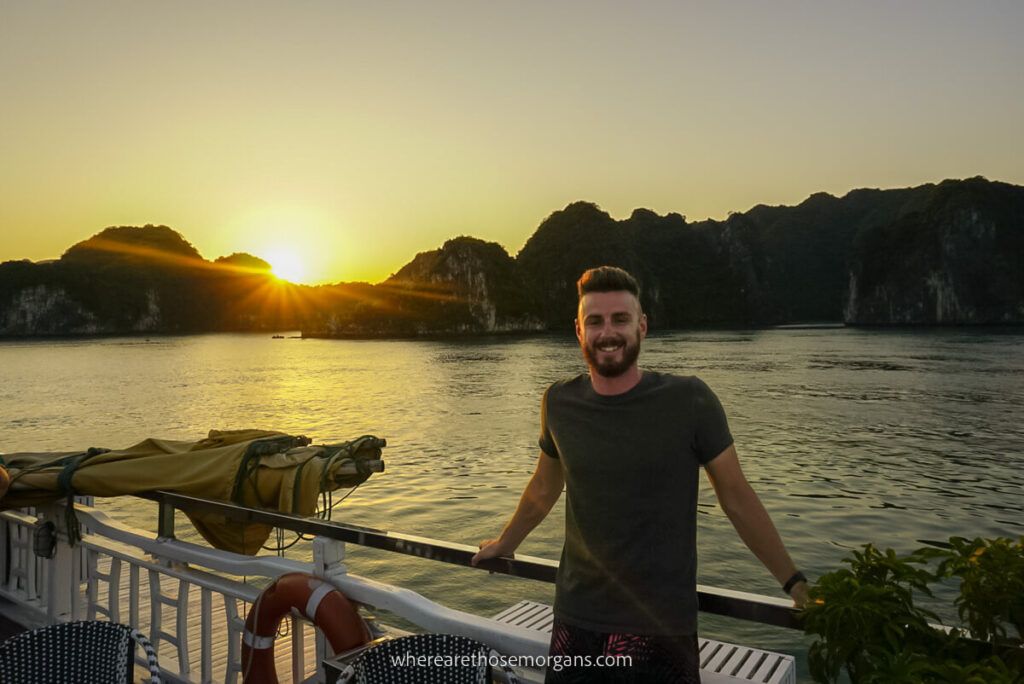 Cat Ba Island: A Cheap Halong Bay Cruise Alternative
As we mentioned earlier, there are plenty of other cheap cruise options to compare Rosa against. But you can also upgrade to mid range or even luxury cruises.
Halong Bay is a bucket list destination after all and it would be best spent in luxury. We might have been tempted if we were on holiday as opposed to traveling around the world long term.
But if you struggling to stretch your budget even to US$200? There is hope for you!
Have a look into staying on Cat Ba Island for a few nights in a cheap hostel or budget hotel. There will definitely be options for you. Some of the cruises even offer a second night staying on Cat Ba in a hotel.
Here are a few popular tour options for Cat Ba Island:
Cat Ba Island Full Day Tour – With 25 people max on a boat, visit a less touristy area to swim at deserted beaches, explore caves, find hidden lagoons and end the day with a beautiful sunset.
Lan Ha Bay Day Cruise – This day tour from Cat Ba includes a unique itinerary with Serenity Premium Cruise for kayaking, swimming, snorkeling and more.
>> Check prices for Cat Ba hotels here <<
If you plan to move onto Ninh Binh after Halong Bay for example, ask about including a bus ticket to Ninh Binh for a reduced price. You can also book a bus from Cat Ba back to Hanoi here.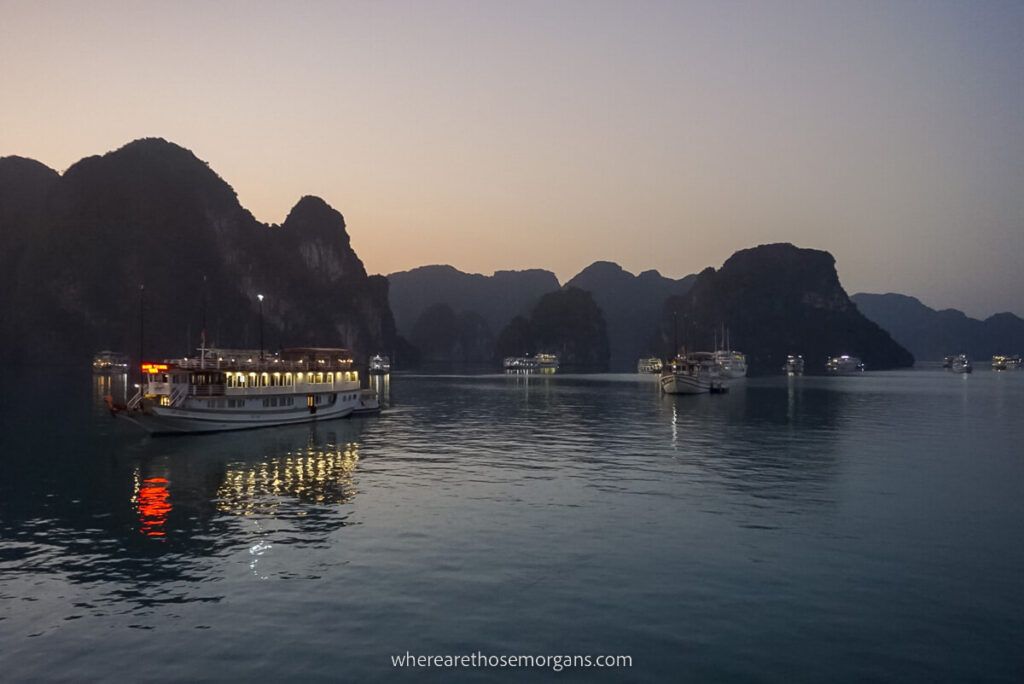 Is A Halong Bay Cruise Worth It?
Yes, a Halong Bay cruise is worth the time and money. We admit the bay is packed with tourists and while you appear to be just another statistic in the increasing number if visitors, a Halong Bay cruise is still worth it.
But before you book a cruise, take a moment to ask yourself why you want to visit?
The answer is probably because the idea of sailing through stunning limestone karst islands sounds too good to miss.
This was the case for us too and to be honest, that is the best part of the entire experience.
The couple of hours you get to sit on the top deck absorbing the unique surroundings as you sail through a picture perfect scene makes a Halong Bay cruise worth the money.
However, the conveyor belt atmosphere is in overdrive at Halong Bay and if you don't luck out with awesome people on your boat, it could even be quite a boring experience at times.
Other than the physical forms of limestone rocks sporadically bursting out of the sea, there's not much else to get excited about in our opinion.
Personally, we think Ninh Binh province and Phong Nha both offer much better value for money than Halong Bay, but we are very happy we got to check a Halong Bay cruise off from our bucket list.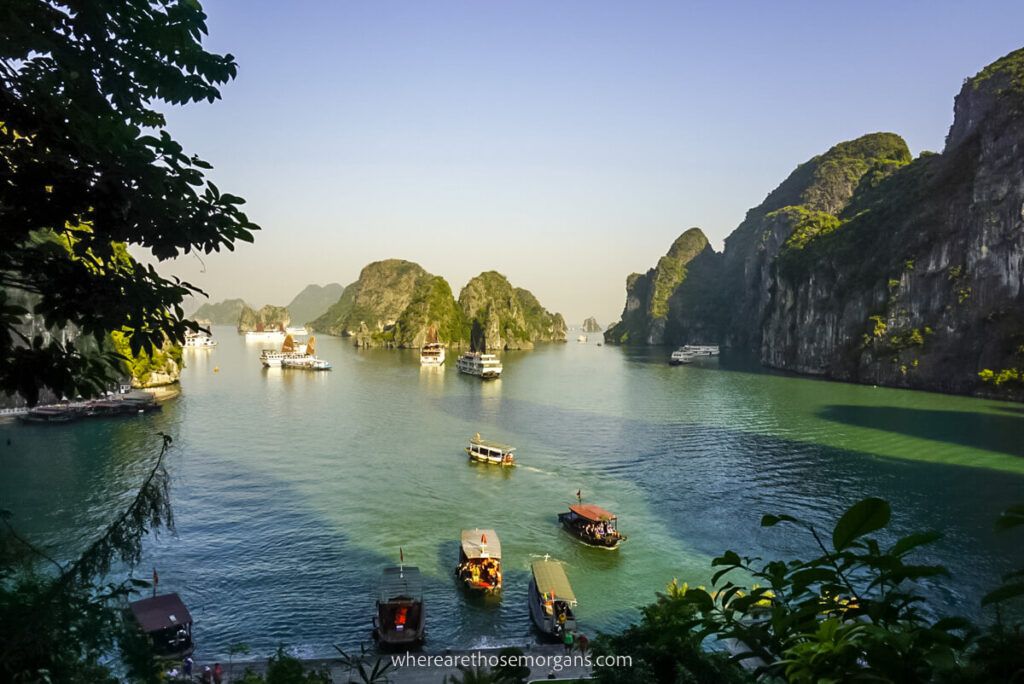 Tips For Your Visit To Halong Bay, Vietnam
Here are a few tips you should consider before booking your Halong Bay cruise:
Be sure to do your research. We don't mean to sound like a broken record, but you can find a great deal if you spend a little time researching prices and reviews.
Book your Halong Bay cruise thoughtfully. You don't have to book in Hanoi or even return to Hanoi afterwards. Make Halong Bay fit into your itinerary so you don't lose precious time.
Don't forget swimwear and bring robust footwear. You will need both for swimming and exploring caves.
Do not forget reef safe sunscreen. You will be exposed to the sun for most of your time in Halong Bay, don't be that bright red tourist who can't make the second day activities.
Alcohol is not included in the price. If you want to buy any alcohol on your cruise, you will have to purchase it separately as this is not included in your original package.
Stay on Cat Ba Island if you are on a budget, but still want to see the limestone karsts on a day cruise.
Halong Bay Cruise Photos
We took many photos from our Rose Boutique Cruise in Halong Bay and here are some of our favotires.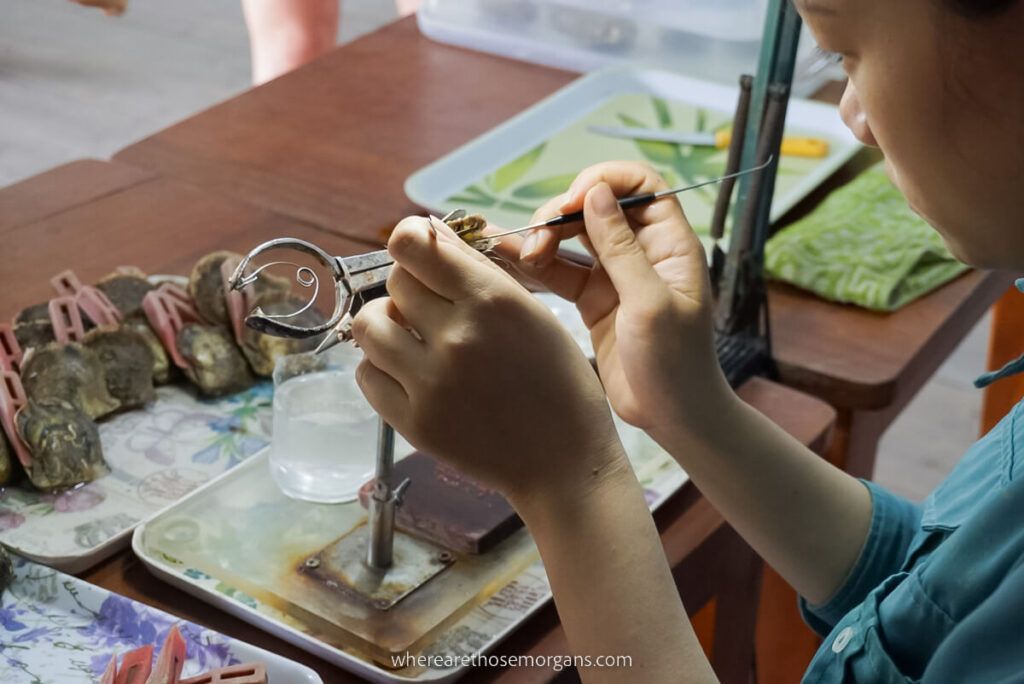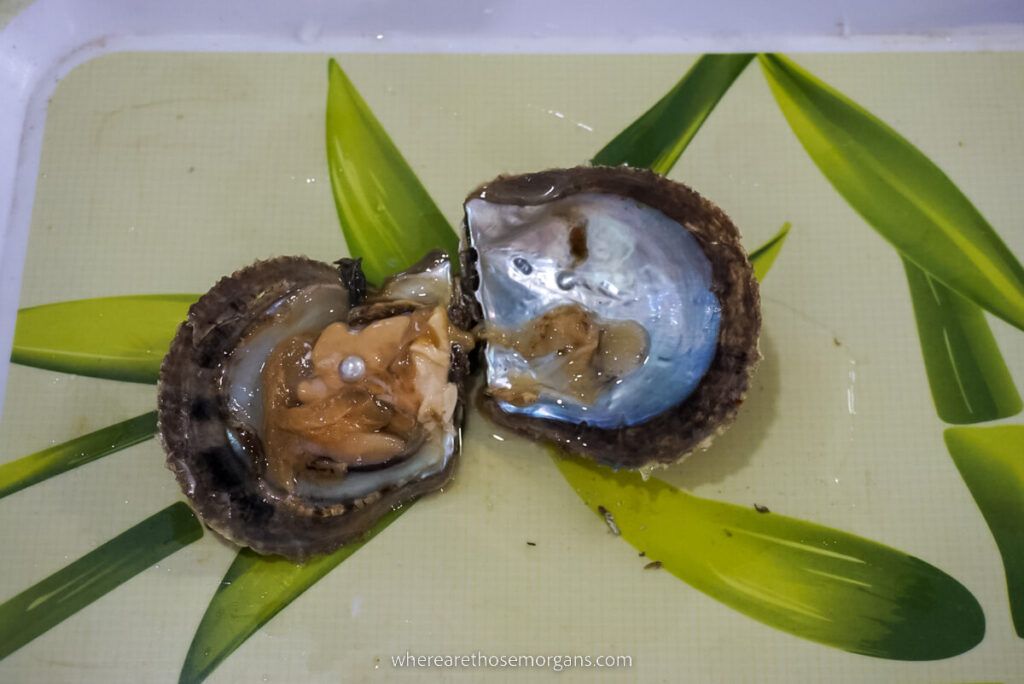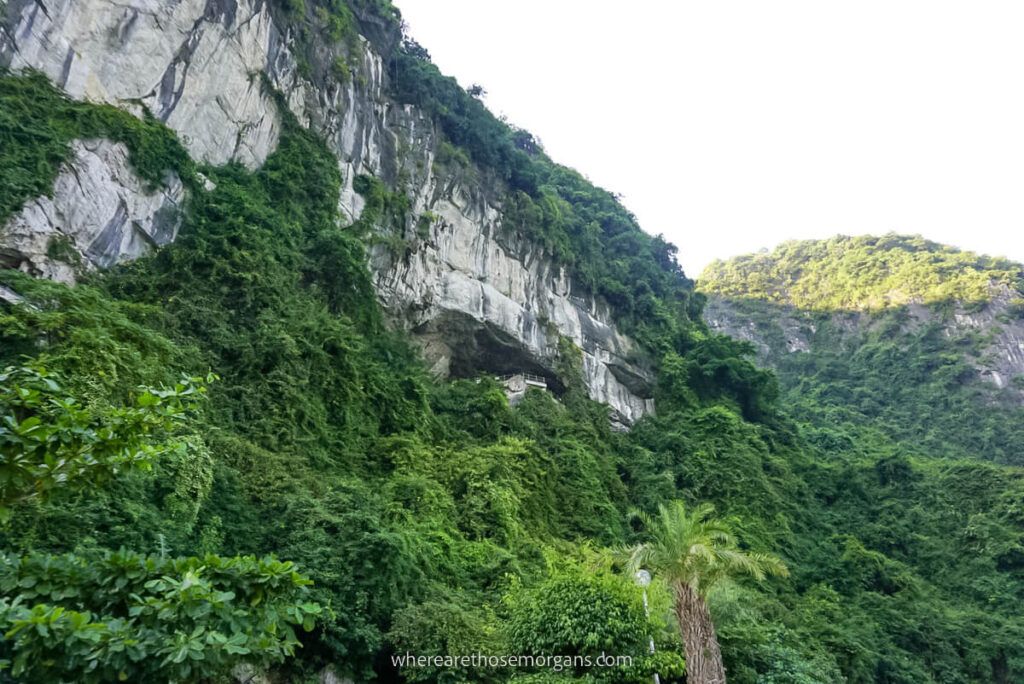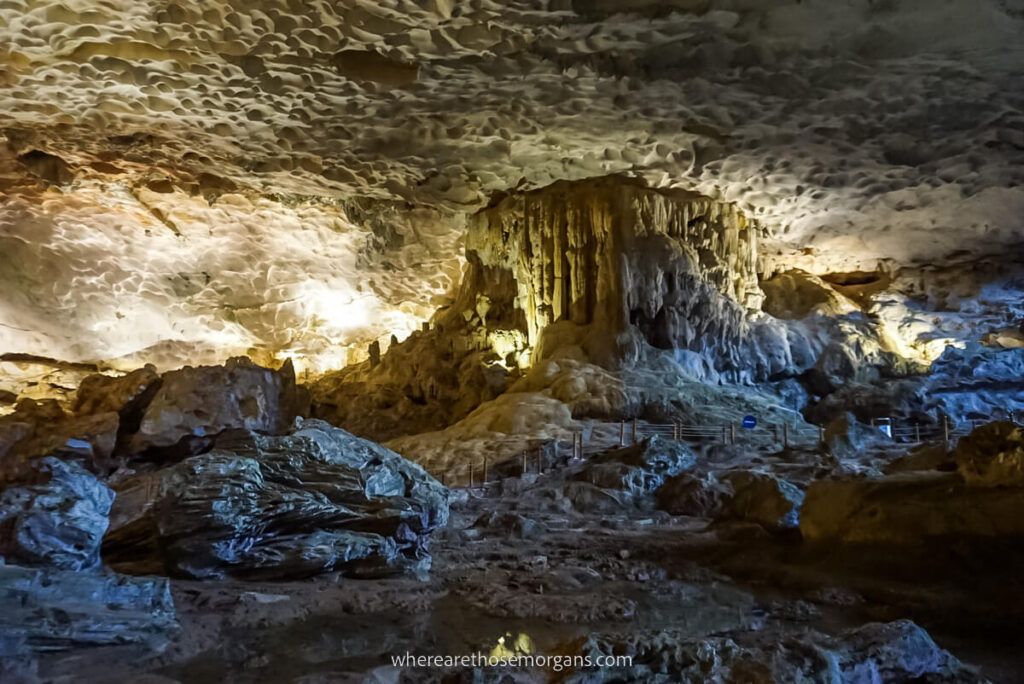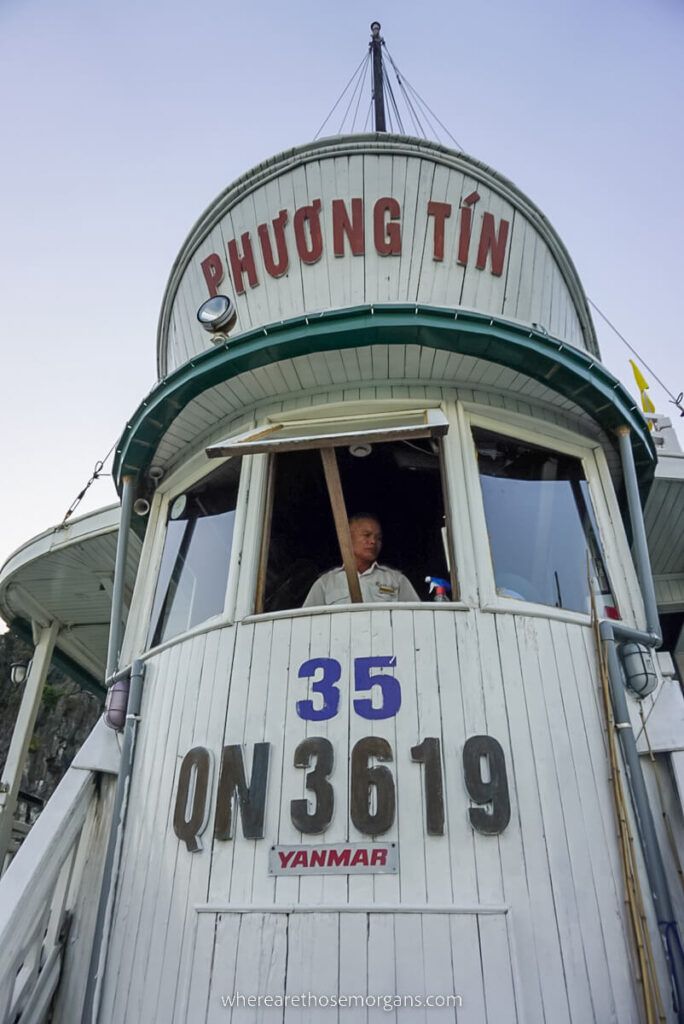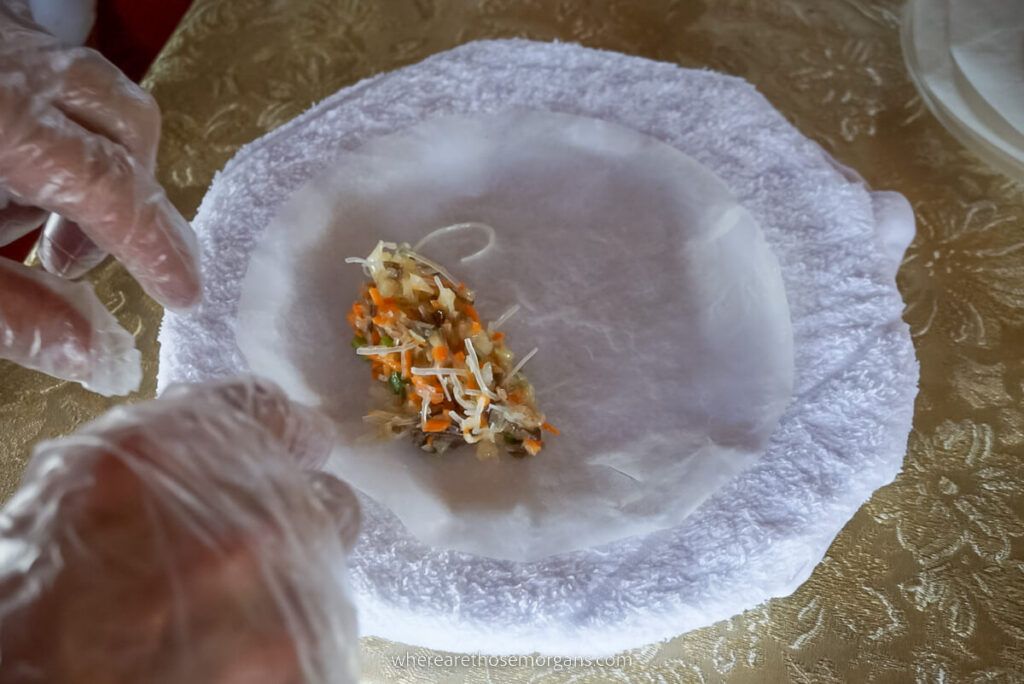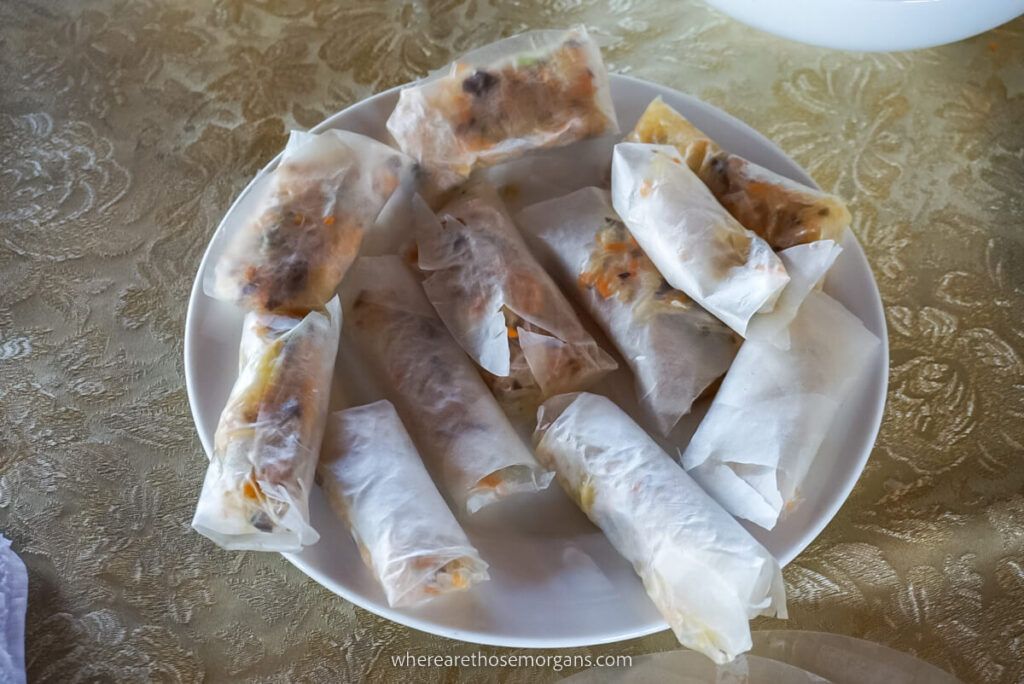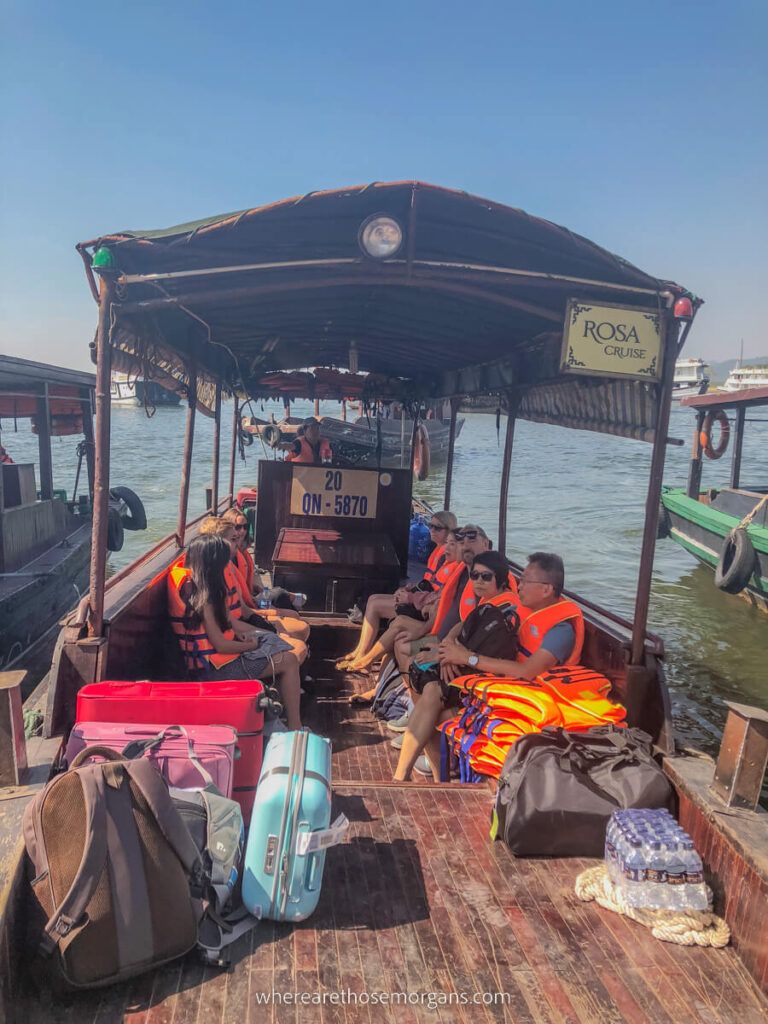 Halong Bay Cruise FAQ's
Let's take a look at some of the most frequently asked questions regarding Halong Bay cruises.
What Is The Best Month To Visit Halong Bay?
The best time to visit Halong Bay is in the peak season from the months of October to December due to comfortable weather and low chance of rain. However, peak season also means many tourists.
How Long Is The Halong Bay Cruise?
A Halong Bay cruise can last anywhere from one to four days. A one day cruise will typically last around 4 to 8 hours and a longer cruise will give you accommodation onboard the cruise ship.
How To Book A Halong Bay Cruise?
The best way to book a Halong Bay cruise is to book online after comparing prices and previous guest reviews.
Which Cruise To Take In Halong Bay?
Depending on your budget, you can take a cheap or luxurious Halong Bay cruise. Cheaper cruises will visit the same places while more luxurious options will sail to less touristy parts of Halong Bay.
Our Popular Guides For Vietnam
More Vietnam Guides
Want more Vietnam content? Head over to our Vietnam Travel Guides to see example itineraries, tips about Vietnam and popular city guides.
---
We hope our guide featuring best Halong Bay cruises helps you plan your itinerary for Northern Vietnam.
Please let us know if you have any questions about booking a Halong Bay cruise or Vietnam in the comments below.
Happy Travels,
Mark and Kristen
Enjoy This Halong Bay Cruise Guide? Pin It For Your Visit!