Bich Dong Pagoda in Tam Coc, Vietnam is a gorgeous 300 year old three-tiered cave Pagoda complex. You must pass through a Dark Cave (and bats!) to reach the highest-tier. Bich Dong Pagoda is a piece of cake to get to, free to enter (really!) and most importantly; the complex is simply stunning. Plus, there's a bonus area that not many people know about…
If you're planning a visit to North or Central Vietnam, be sure to spend some time in Tam Coc. This is a wonderful rural town with plenty of fantastic things to do, such as visiting Bich Dong but also Trang An boat tour and our personal favorite Mua Cave Viewpoint.
This complete guide will walk you through all you need to know for visiting Bich Dong Pagoda in Tam Coc; including getting there, what to expect, where to stay and our top tips.
*Please note this post may contain affiliate links. If you click on one, we may earn a small commission at no extra cost to you! *
Where Is Bich Dong Pagoda in Tam Coc?
Bich Dong Pagoda is in Ninh Binh Province, Vietnam and is located just a few miles away from the quaint rural town of Tam Coc.
Zoom in on the interactive map above to look around the area. You can also click the blue arrows for directions from your exact location!
How To Get To Bich Dong Pagoda in Tam Coc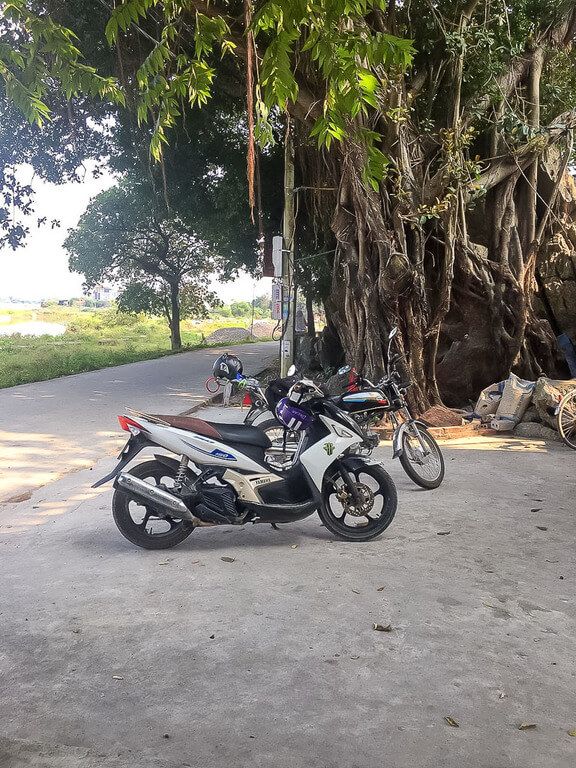 Best Options:
Scooter / Bicycle – The cheapest and easiest way to visit Bich Dong Pagoda is to hire a motorbike or bicycle and make your own way over. You can pick up a scooter for 100,000 – 150,000 VND (US$ 4-6) per day. Fuel for a full day will set you back no more than US$ 3. Alternatively, you can rent a bicycle for 50,000 VND (US$ 2) for a day. Many hotels even offer free use of bicycles in Tam Coc.
If you enjoy cycling or haven't yet mastered the art of driving a motorbike in Vietnam, definitely go with the bicycle. Bich Dong is just a few kilometers away and the journey is extremely scenic. Moreover, we always encourage maintaining a healthy lifestyle on the road.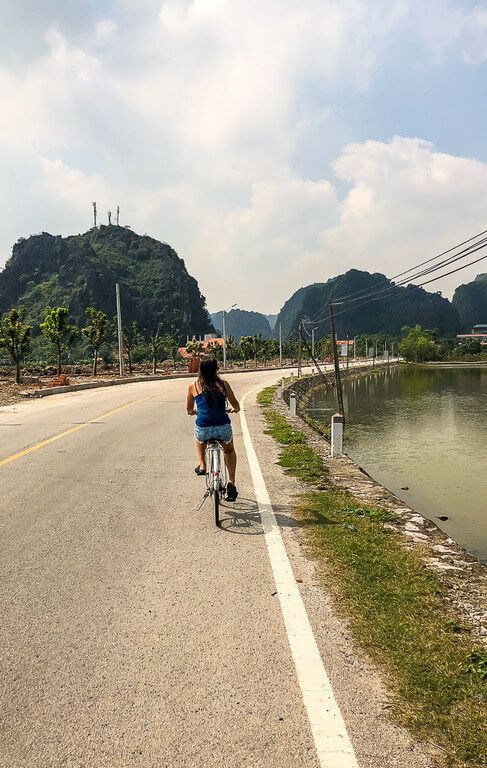 Alternative options:
1 – Grab a local taxi in Tam Coc town and be sure to negotiate a price.
2 – Ask your hotel owner if they can offer a guided tour or know of someone who can.
3 – Day trip down from Hanoi independently or on a tour.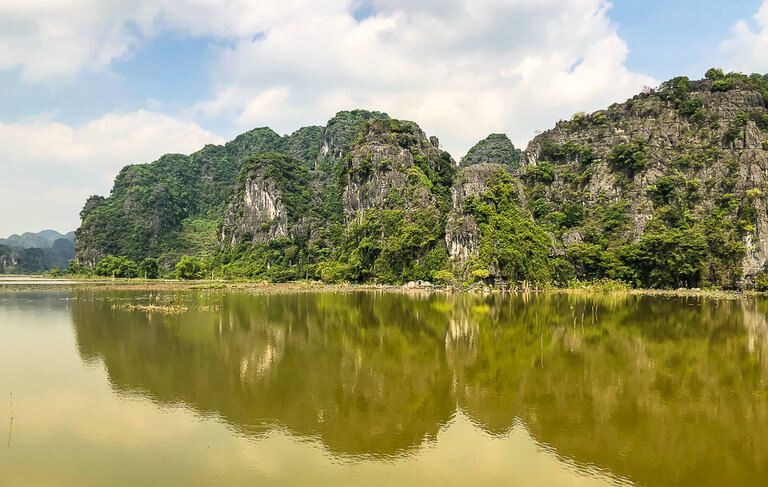 Bich Dong Pagoda is convenient to access by bicycle or motorbike from Tam Coc downtown, or from Ninh Binh train station if you plan to take a day trip from Hanoi. On the interactive map below we have included directions from Tam Coc as our recommended place to set up base.
In addition, we included Ninh Binh train station. As you can see, it's just a case of driving into Tam Coc before continuing on to the Pagoda. The roads have fairly good surfaces and you might even spot some animals along the way.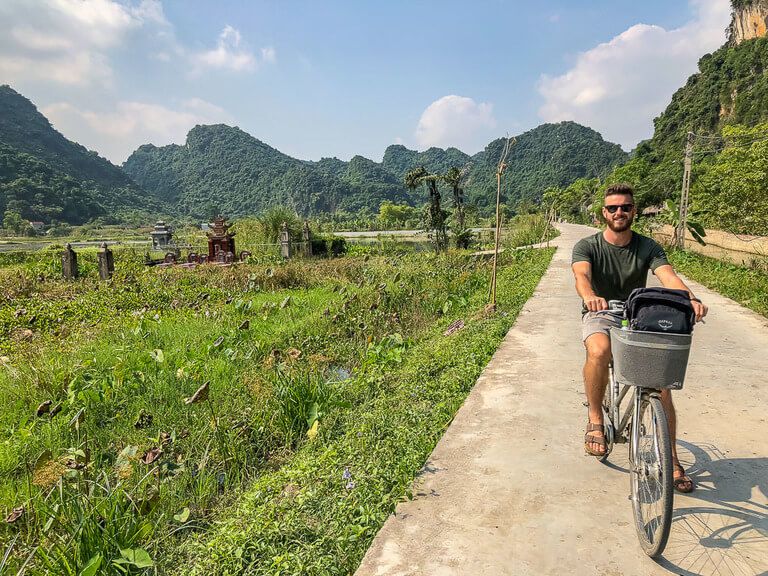 Click on the map below to zoom/move around and get to grips with the route. Save 'Bich Dong Pagoda' into google maps when you have WiFi before setting off, just in case!
Distances: 3.0km (1.9 miles) from Tam Coc and 9.0km (5.6 miles) from Ninh Binh Station.
How To Get To Tam Coc
Independent Visit
Day Trip – If you plan to travel independently for just the day, once you arrive at Ninh Binh train station, hire a motorbike right outside for roughly 150,000 VND (US$ 6) and follow our map to Bich Dong Pagoda.
Staying a few days – If Tam Coc is the next stop on your Vietnam adventure, you can either bus/train to Ninh Binh and then grab a taxi to Tam Coc – or alternatively, book a direct bus to Tam Coc. We hopped on a bus direct from Halong Bay to Tam Coc. There are no close by airports so travel by plane is not an option.
Use the 12Go Asia search box above to check the best available options for travel. You will find the cheapest and quickest options by bus and train (and plane, but not in this instance).
Don't Miss: How are you traveling through Vietnam? If you are considering taking the legendary Sleeper Bus be sure to check out our Vietnam Sleeper Bus: Adventure or Peril post! You can read about all of our hair raising experiences before you travel!
Best Tours Available to Tam Coc
Would you would prefer to travel from Hanoi to Tam Coc as part of a full day organized tour with transport covering hotel pick up and drop off? Tours also often include entrance fees to Mua Cave viewpoint, Hoa Lu ancient capital, Bai Dinh Pagoda and Trang An Boat Tour. Keep in mind, Bich Dong Pagoda is free.
Search Get Your Guide for the Best Tam Coc Tours (including from Hanoi)
Bartering Skills To The Fore
Also known as don't take any SH*T! When you travel Vietnam, you are going to be on the receiving end of some attempted scams. Everyone who has traveled Vietnam will have a story to tell about scammers. Unfortunately, as tourism grows in this country, so do the hustlers.
In Tam Coc / Ninh Binh, one of the common scams is to coerce you into paying over the odds for parking your bicycle or motorbike. As you approach the parking area in front of the bridge, locals will demand that you pay to park your vehicle. They might even be dressed in what looks like police uniforms and blowing loud whistles at you. They have even been known to walk in the middle of the road so you can not drive past.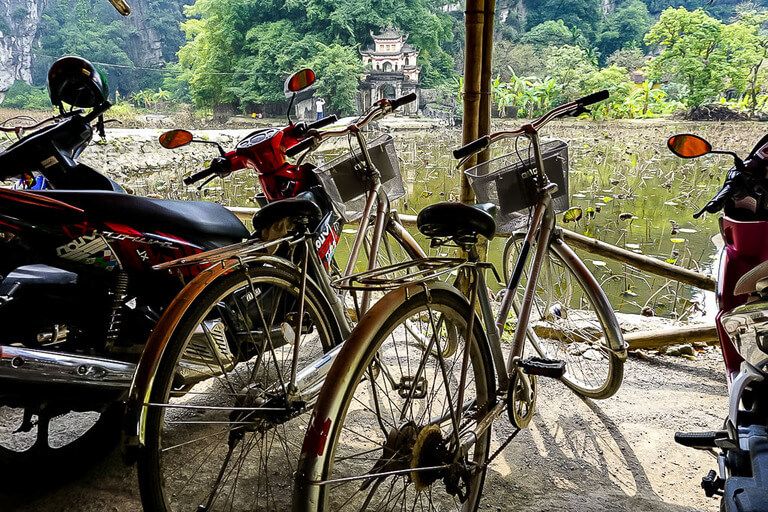 Pay the Money – But Barter
This can be a little overwhelming at first. It will seem like such an unnecessary dramatic production. The good news is you will get used to it the longer you stay in Vietnam. But at Bich Dong, don't let them swindle you. Don't pay over 10,000 VND to park your bike/moped, although they will try to charge more to begin with.
A lot of people make a fuss and say "it's not much money", so why do we all get our knickers in a twist over it? They are right, it's not a lot of money. The problem here isn't the amount of money they demand you to pay, it's the hostile environment created. If the locals don't agree with how much money you paid, there might be consequences.
Although it didn't happen to us, we ran into others who had their bikes/mopeds tampered with. For example, one couple had their moped tires punctured, and another had their bikes scratched really badly. Our advice here is trust your gut. If you don't feel comfortable with the leaving your bike/moped parked, please do not!
Have a look at the latest comments on Tripadvisor to gauge the current situation.
Bich Dong Pagoda Entrance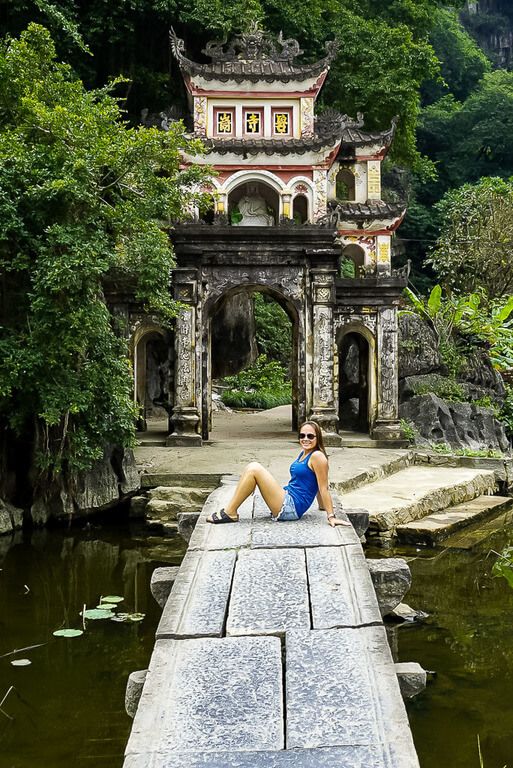 Now that the drama is out of the way, let's move on to the reason you are here. Bich Dong Pagoda has to be one of the most beautiful entrances for a tourist site, anywhere! A narrow stone path with an arched bridge dissects a lake filled with thousands of floating lotus flowers.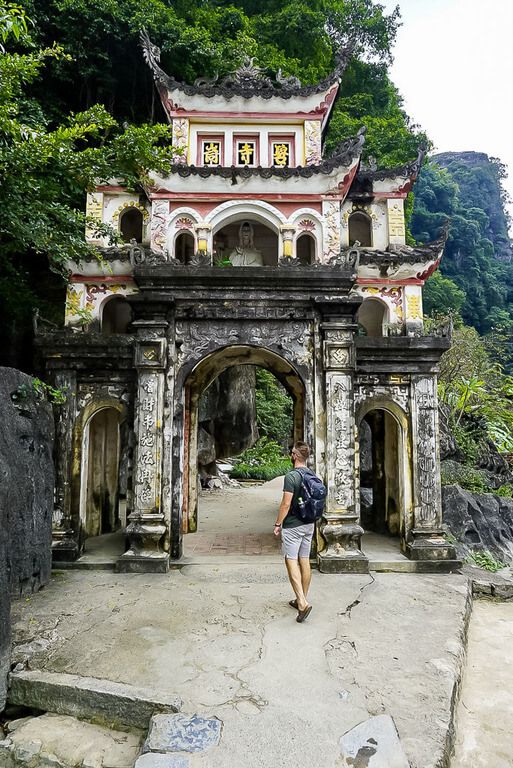 The bridge leads you to a stunning triple arched ancient looking entrance gate, adorned with typical Asian patterns and architecture. If you visit in Summer, you will be lucky enough to see the lotus in bloom, making the entrance spectacle even more beautiful. This is one of the most photogenic parts of the whole complex so be sure to grab some shots here. If it's busy, wait a few moments for people to leave.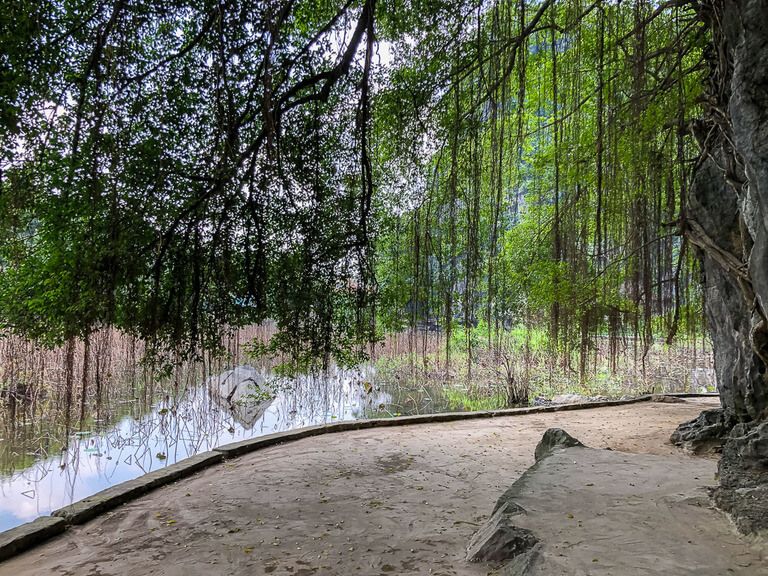 To the left of the entrance gate, you will see a small area enveloped by needle thin branches hanging down from a huge tree. This is another excellent spot for photography. You might be tempted to walk along the lake but don't do that just yet, we will come back to that later.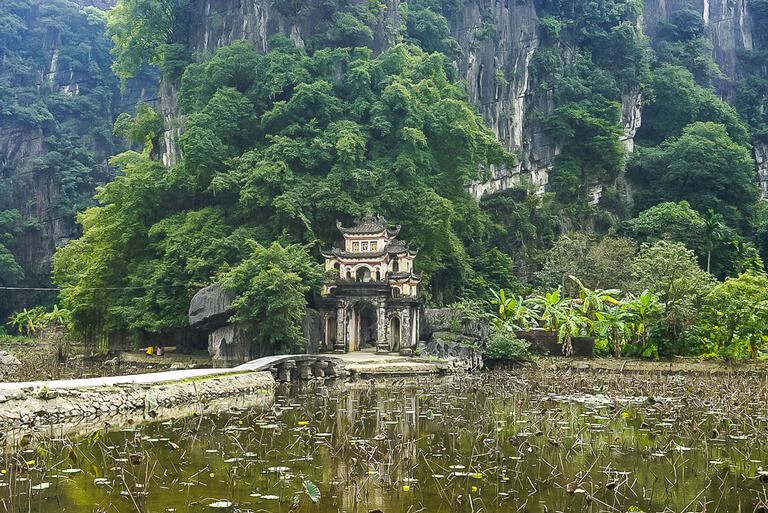 For now, head over the bridge and through the mysterious ancient looking gate. Remember the best part, entrance is free!
Ground Level and Tier 1 Pagoda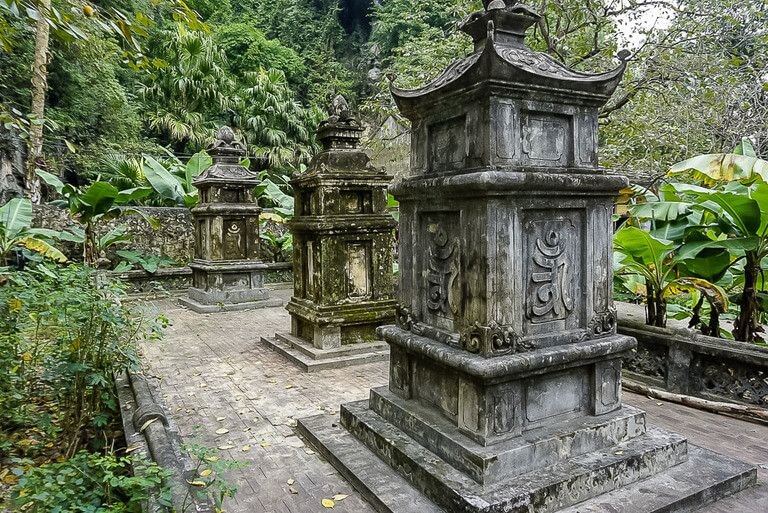 It would be easy to make a beeline straight for the stairs up to the second tier Pagoda, but if you have time, relax and explore the terrace on the ground level.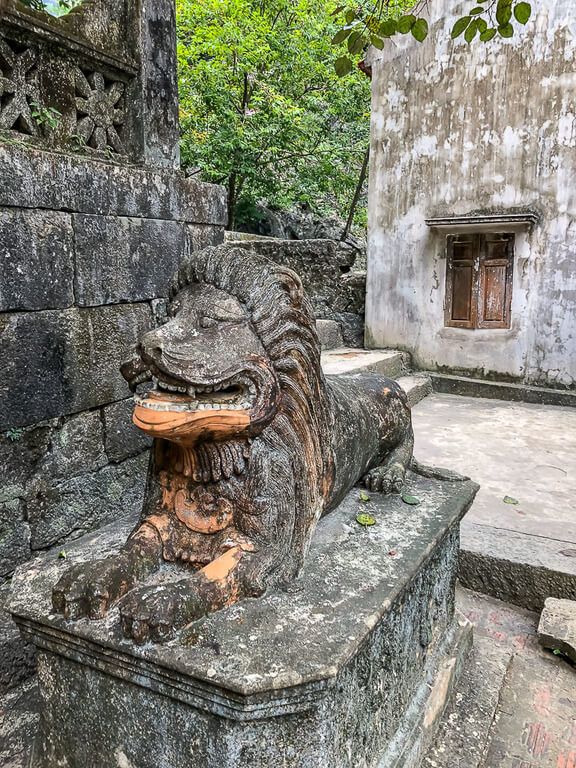 The Pagoda at ground level is known as Tier 1. The Buddhist shrine is called 'Ha Pagoda'. Inside you will see and smell incense. These candles help to create a sacred atmosphere around various statues of Buddha. Notice the wooden architecture with tiled roofs that have four upturned corners.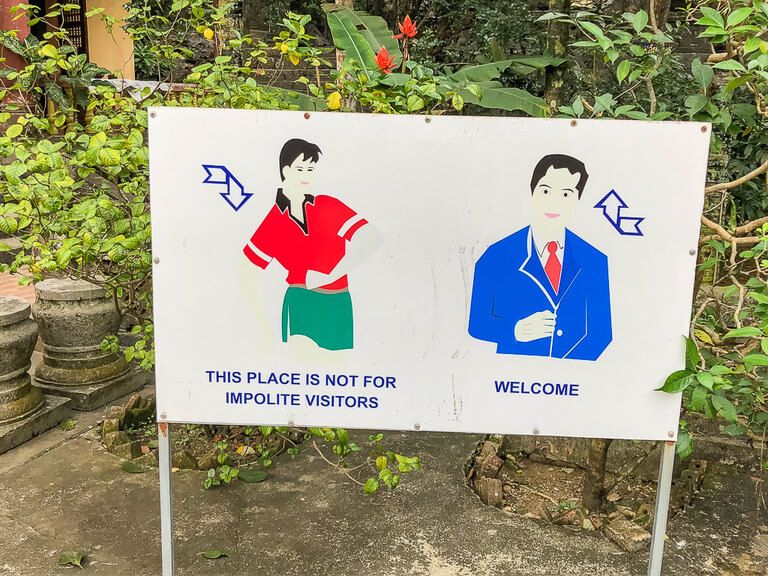 The Pagoda was built in 1705 by two Buddhist monks who were spreading the word about their religion. They were known as Tri Kien and Tri The. They picked the perfect place to build their Pagoda, right!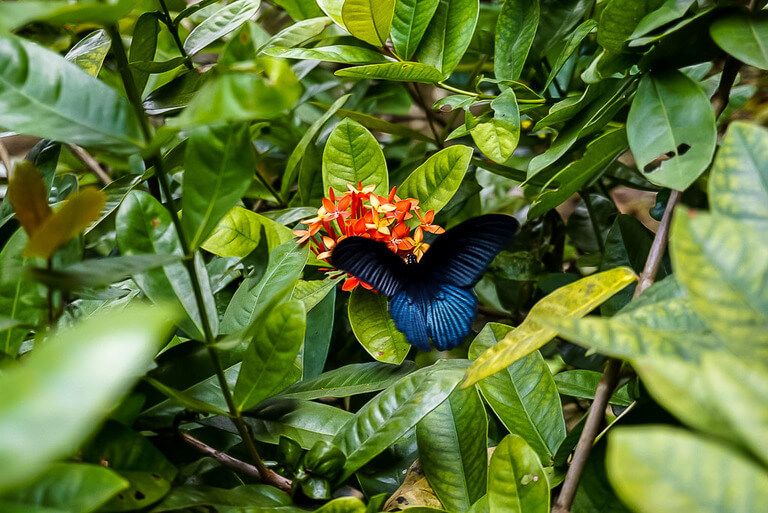 On the ground level, take the time to escape the big groups of tourists. Wander around the garden area and take in all the beautiful plants. Don't forget to admire some of the stone statues. Hopefully you will even grab a few photos of butterflies!
Take the Stone Staircase to Tier 2
Look for a stone staircase to your immediate left. This leads up the side of the limestone karst called Ngu Nhac Mountain. After 120 stairs you will arrive Trung Pagoda, the second of three tiers making up the Bich Dong Pagoda.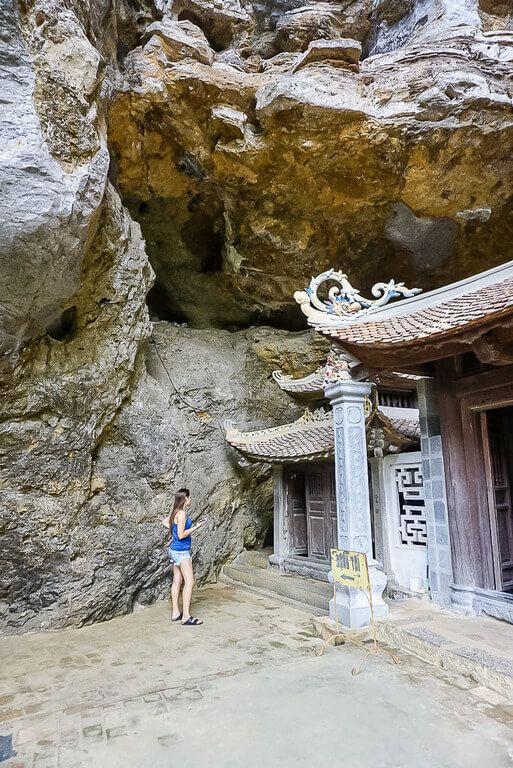 Trung Pagoda appears to be a small maroon/brown wooden temple adorned with Chinese symbols painted yellow. Behind the structure, there are more symbols carved in to the rock face. Once you have looked inside, move around to the left side of the building as you face it. There is a narrow gap for you to squeeze through and enter the first part of the cave.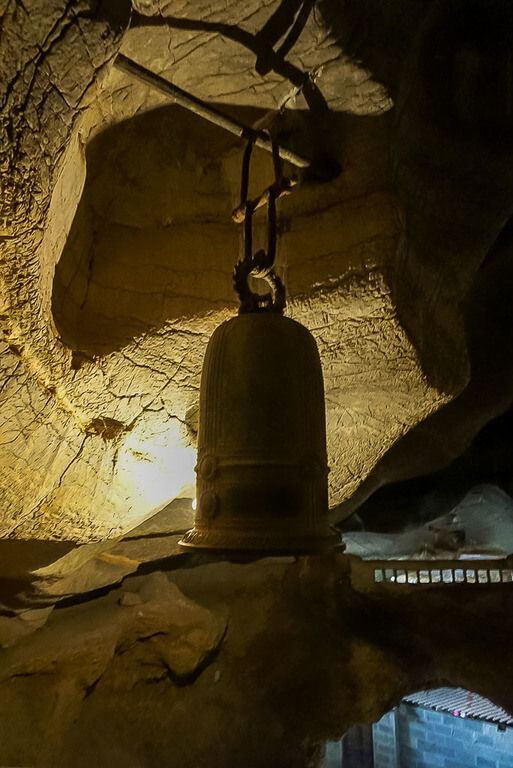 Inside the cave is quite dark but opens up to be bigger than you would imagine. The back of the Pagoda you were just looking at juts out into the cave; it's built half inside and half outside. You will also notice a bronze bell in a position of prominence. The bell has intricate engravings if you look closely enough.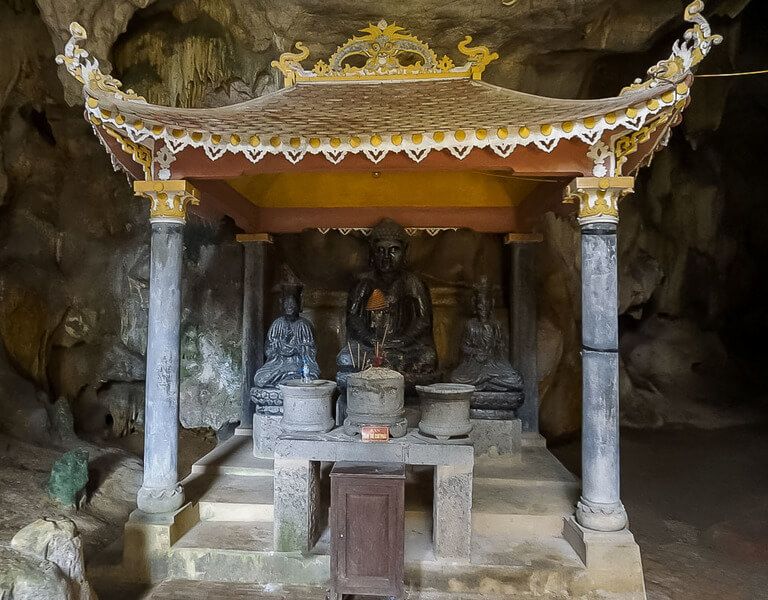 There are more stairs to climb in the cave which take you to the second part of the second tier Pagoda (we know that is very confusing!). These are a little less 'authentic'. Look out for the three stone statues of Buddha: Amitabha Buddha, Thi Kinh Buddha and Van Thu Bodhisattva.
Just a Few More Steps to Tier 3!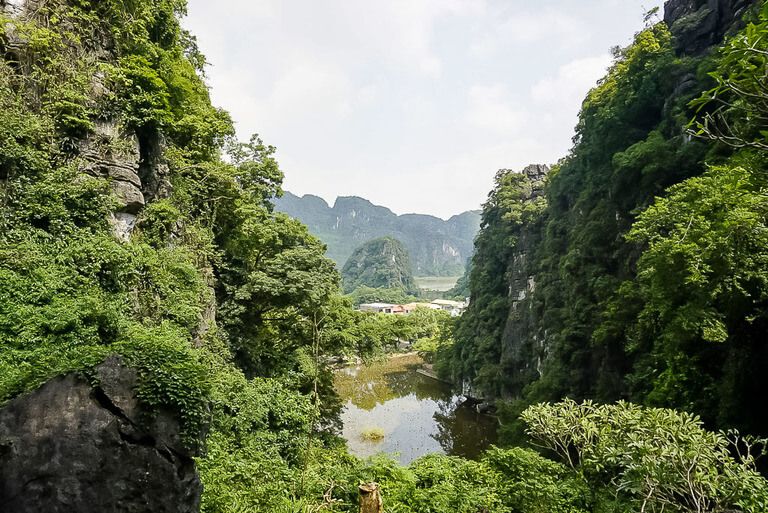 When you come out of the cave, you will be welcomed with a lovely view over part of the entrance and more limestone karsts. This is the perfect place to shoot a few more photos and take a breather.
Just a few more steps will take you to the summit and third tier called Thuong Pagoda. There are two shrines on either side of the Pagoda, but the views are no better than they were just as you left the cave. Unfortunately, there are a lot of trees in the way! Something to consider if you're debating on giving the last 40-50 steps a miss. We know how humid it is after all!
Amazing Bonus Area At Tam Coc Bich Dong Pagoda
Make your way slowly back to the entrance. Visit anywhere you haven't been yet and take loads of memorable photos! Once you arrive back to the narrow path through the lake, turn left at the end but hug the lake as though you are going to look at the lotus from a side profile.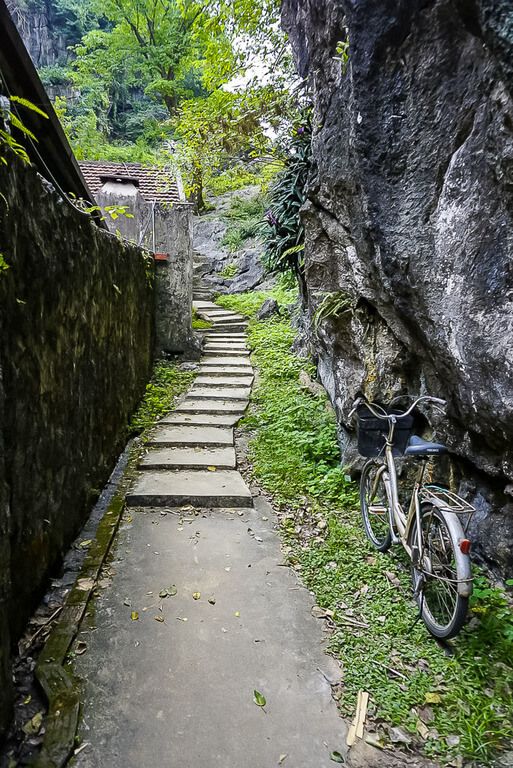 When you turn left at the end of the lake, keep hugging the lake to your left hand side. You will see a narrow path with concrete steps and the outer perimeter walls of the Pagoda grounds will still be on your left side. Follow this path for a short time up some more stairs – we're sorry – but trust us, it's worth the extra effort!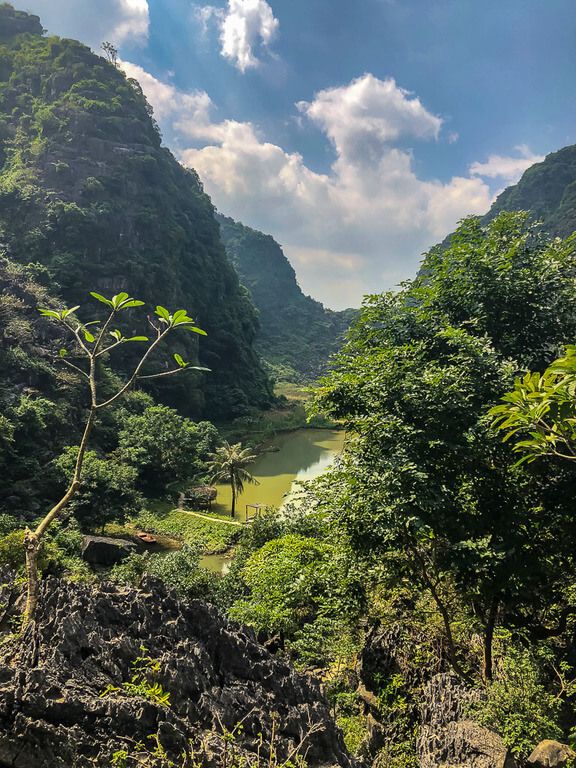 You will eventually reach a mini summit at the top of the steps. Look at the view it opens out onto! Count how many tourists you can spot down in the valley – our guess is you can count on one hand. This place was much quieter than the Pagoda!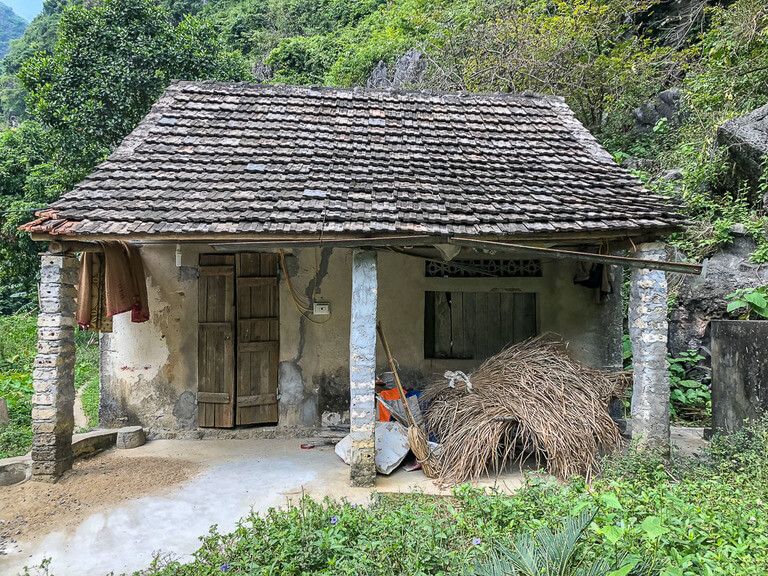 As you descend into the beautifully tranquil and deep green valley, you will notice a solitary house. Once you make a little noise around the general area, the owner of the house will appear and begin to talk to you in Vietnamese. Do not panic! He is the "unofficial" cave tour guide. For 10,000 VND (US$ 0.4) he will give you a 20 minute guided tour of a tiny cave just a few minutes walk from this house.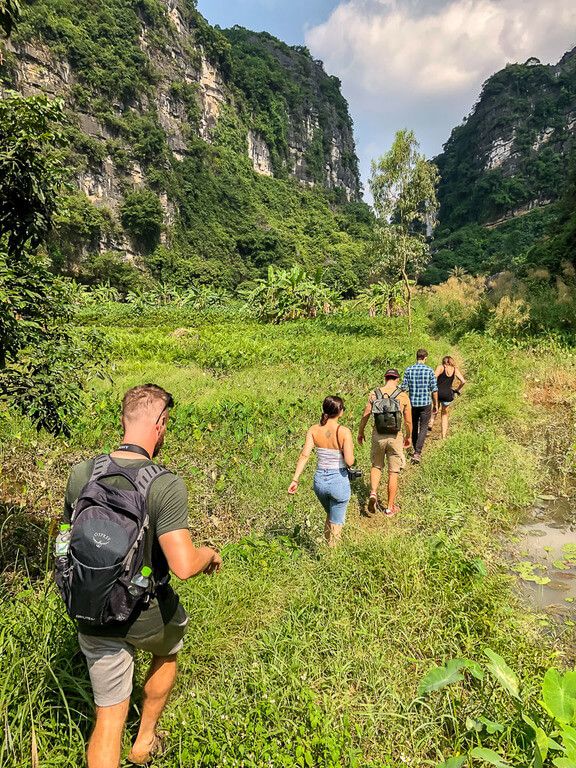 If you're thinking 'whoa, that sounds a bit sketch' – this is what we thought too! We probably wouldn't have gone in, but another couple came over the ridge about 10 minutes after we did and they asked us if we knew what the guy was saying. We said no but between the 4 of us soon worked out what he meant. A few minutes later a third couple emerged over the mini summit and so the 6 of us followed the guy to his cave…
Unexpected Cave Tour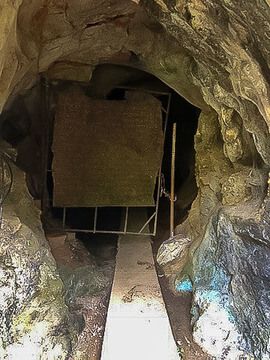 The entrance makes it look like we were all walking ourselves to a certain death, right?! On the contrary, the tour was brilliant! And so very strange! Inside, the cave was pitch black. There are no artificial lights at all, just the tour guides torch. He began to explain various parts of the cave while throwing his torch light around, illuminating various stalactites and stalagmites.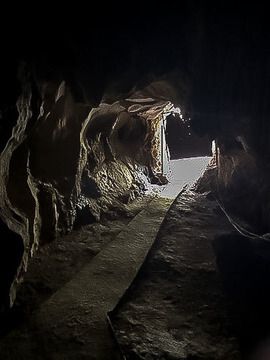 Sounds great, why was it strange? Well, he didn't speak a single word of English. He was talking quicker than a machine gun fires, in Vietnamese! It was such a surreal, funny and entertaining experience. But the guy was SO enthusiastic and it sounded like he was very knowledgeable about the cave. When our personal tour was over, we all breathed a sigh of relief as we stepped into daylight!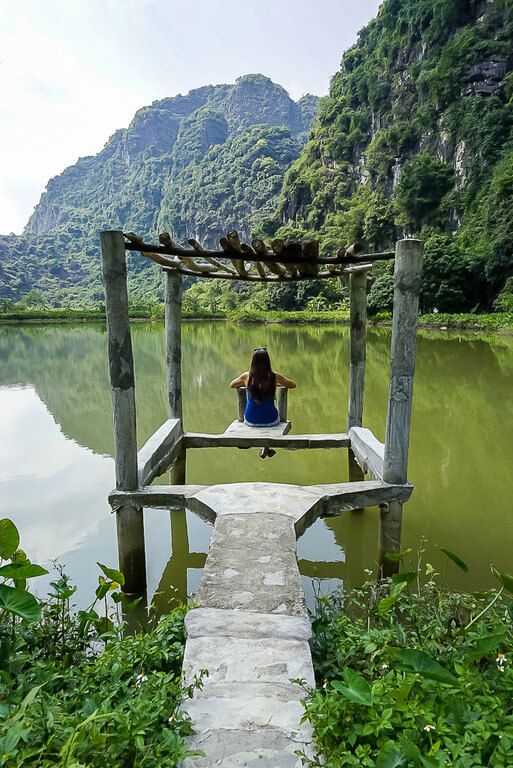 There are a few lovely spots to take photos in this peaceful valley. It's a true hidden gem. And hidden in plain sight! Make the most of the solitude out here, sit on the wooden dock and check out the wooden red boat.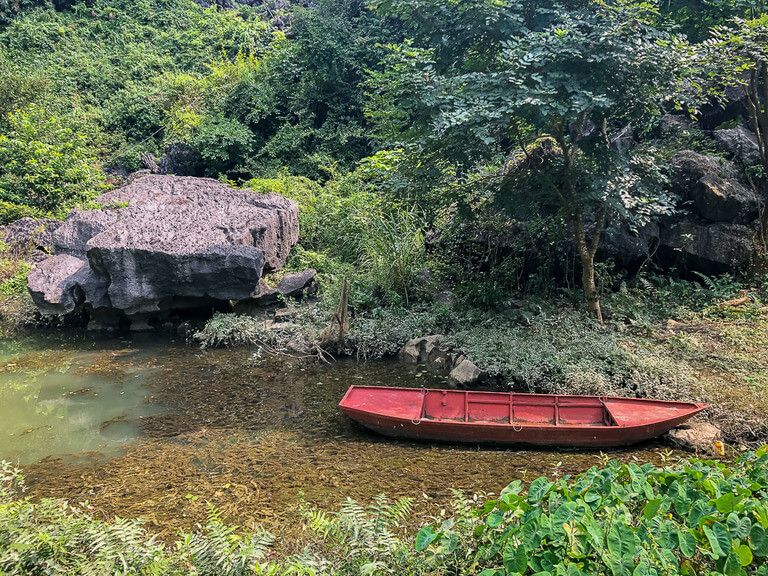 We walked a little further through long grass avoiding the water logged, boggy ground. But we both had sandals on, which wasn't the best choice of footwear for the environment we found ourselves in.
Heading to Vietnam? Be sure to read our top 30 key things to know about Vietnam before you visit.
Where To Stay in Tam Coc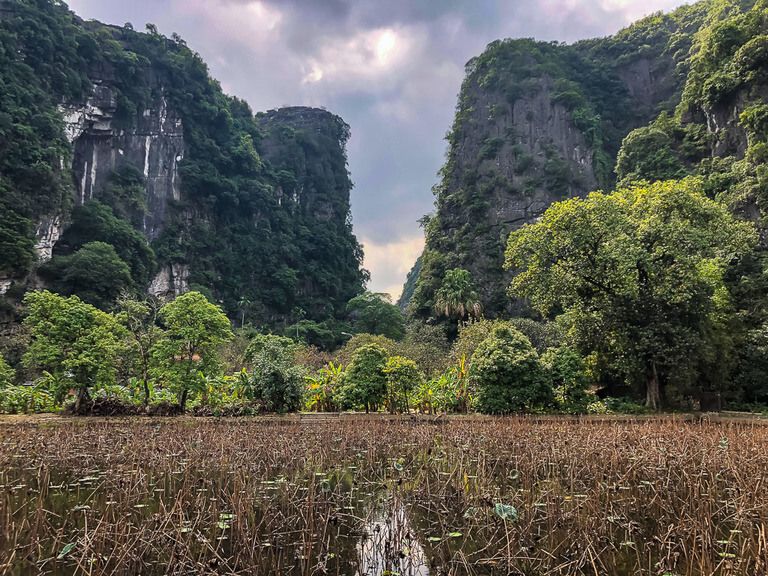 If you have a few days to spend in Ninh Binh, stay in Tam Coc. Forget the big industrial city Ninh Binh, you will be massively underwhelmed. Tam Coc is a gorgeous rural town perfectly located among all the best things to do in Ninh Binh.
We always use booking.com to book our accommodation when we travel. Plug your travel dates into the booking.com search engine box below to see all options available for your visit, or take a look at some of our favorites below!
The best thing about staying in Tam Coc is that there are plenty of places with exceptional ratings above 9.5 / 10! We've scoured the area for amazing properties across budget, mid-range and luxury options plus listed them for you to check out.
Tam Coc Sunrise Homestay
Located downtown close to restaurants and Tam Coc boat tour pier, this budget hotel has a swimming pool, breakfast included and an exceptional 9.6 on booking.com. There are a ton of amazing cheap budget hotels in Tam Coc. Be sure to check this one out as you search for your perfect hotel.
Tam Coc Wonderland Bungalow
Views over rice paddies to the front and limestone karsts directly behind from the swimming pool at Tam Coc Wonderland Bungalow make it worth staying alone! It is located perfectly just a few minutes walk out of Tam Coc town. Meaning you get a rural setting with amenities close by. Each bungalow faces in towards a brick courtyard and the pool as its center piece.
Tam Coc Garden Resort
Perfectly located for a luxurious and peaceful stay in Ninh Binh, close to Bich Dong Pagoda and Tam Coc. Tam Coc Garden Resort was voted 2019 travelers choice on TripAdvisor and has a 9.4 on booking.com. The hotel is surrounded by paddy fields and looks wonderfully serene.
Where Did We Stay in Tam Coc?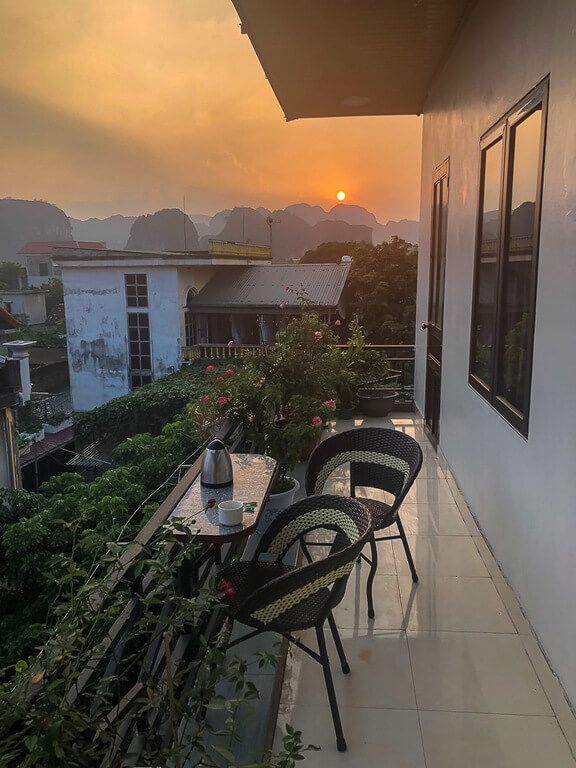 Dream Hotel is centrally located in Tam Coc just a few minutes walk from the best restaurants in town. The owners were lovely and the hotel came with a buffet breakfast each morning. We hired bicycles and a motorbike directly at the hotel for a better price than it cost in town, which was a nice touch.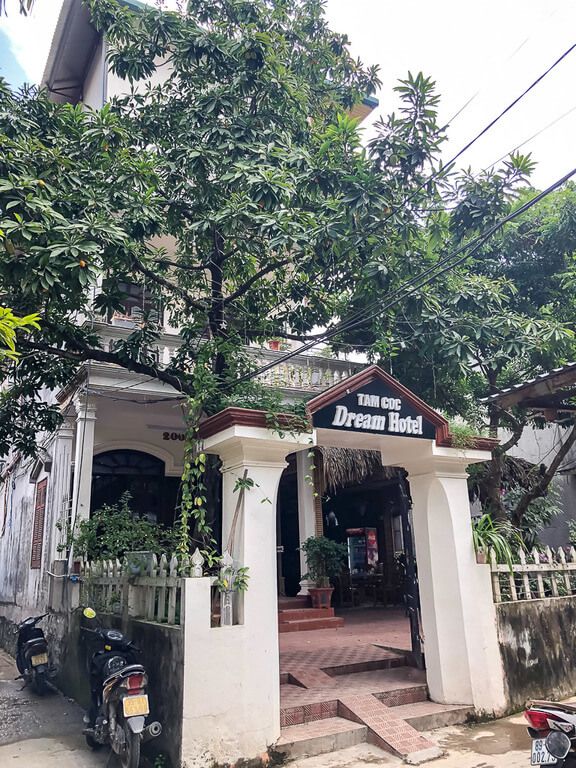 There are excellent views from the upper balcony over some of the nearby limestone karsts. We paid $US 10 per night when we stayed which was perfect for our budget at the time!
Check Prices at Tam Coc Dream Hotel now on booking.com
Best Restaurant Recommendation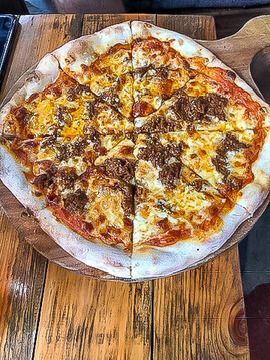 On the bike journey back to Tam Coc after Bich Dong Pagoda, you have to stop at Chookies Beer Garden. It's one of the best places in all of Vietnam! Chookies has the most relaxed, chilled vibes. They serve incredible pizzas, done properly in a wood burning oven. We ate there every day, you're welcome!
Tips For Your Visit to Bich Dong Pagoda
There are no set opening hours for Bich Dong, you can arrive any time. Try arriving at sunrise, it will be much less crowded. Remember Entrance is Free!
As we mentioned earlier, don't let the locals take advantage of you. Yes, pay to park, but don't pay any more than 10,000 VND.
Be aware that the tour buses will begin to arrive at around 9-10am. Either arrive earlier or later in the afternoon to avoid competing for photo space! (see photo)
Wear sturdy footwear. We didn't because we didn't know about the bonus area but you'll need something robust on your feet to explore the valley thoroughly. Sandals are not sensible!
Take as much water as you can comfortably fit into your day pack. You will need it! And be careful with exhaustion in the humidity. Even if you're fit, you will still feel it on the climbs.
If you have a drone, get up there early to get the best photos before the tourist bus loads arrive around 9-10am.
Read More About Vietnam …
Didn't find what you were looking for? Be sure to check out all of our popular Vietnam travel guides!
---
We hope our post helps you plan your trip to Bich Dong Pagoda in Tam Coc, Vietnam!
Did you find the secret bonus area?
If there's anything else you need help with regarding your visit to Bich Dong or Vietnam in general, please just ask us in the comments below!
Happy Travels,
Mark and Kristen
Like This Post? Pin It For Later!