The Trang An Boat Tour in Ninh Binh Province transports you to a water world where you will pass through dark caves and discover spectacular karst formations accessible only by boat. The 'Inland Halong Bay' has been altered very little by human influence so you truly feel as though you are a centuries old explorer discovering new territory, before the world was fully mapped.
Ninh Binh was once the 'hidden gem' of Vietnam, but it can no longer hold that title. The secret is well and truly out. UNESCO declared Trang An a world heritage site in 2014. Hollywood then swooped in and built a movie set on the Trang An complex to film Kong: Skull Island in 2017. As you can imagine, this had a huge impact on tourism in the area.
Did you know that the Trang An boat tour is the number 1 rated thing to do in Ninh Binh on Tripadvisor? We think it's a very close call between the boat tour, the genuinely breathtaking 360 degree panorama from Mua Cave Viewpoint and the 300 year old Bich Dong Pagoda with fantastic bonus area not many know about.
This complete guide to discovering the Trang An Boat Tour will explain how to get to there, what you can expect, and where you can stay in Ninh Binh. Our photos will give you an idea of the landscape, enjoy!
*Please note this post may contain affiliate links. If you click on one, we may earn a small commission at no extra cost to you!*
Where Is The Trang An Boat Tour in Ninh Binh?
Trang An Boat Tour is in Ninh Binh Province, Vietnam. It is located just a few miles away from the quaint rural town of Tam Coc.
Zoom in on the interactive map above to look around the area. You can also click the blue arrows for directions from your exact location!
How To Get To The Trang An Boat Tour
Best Options
Scooter / Bicycle – The cheapest and easiest way to visit Trang An Boat Tour is to hire a motorbike or bicycle and make your own way over. You can pick up a scooter for 100,000 – 150,000 VND (US$ 4-6) per day. Fuel for a full day will set you back no more than US$ 3. Alternatively, you can rent a bicycle for 50,000 VND (US$ 2) for a day. Many hotels even offer free use of bicycles in Tam Coc.
If you enjoy cycling or haven't yet mastered the art of driving a motorbike in Vietnam, definitely go with the bicycle. Trang An Boat Tour is just 6.7km (4 miles) away from Tam Coc. If you're planning to visit Hang Mua and Bich Dong the same day, it would be much quicker and more efficient to go by motorbike.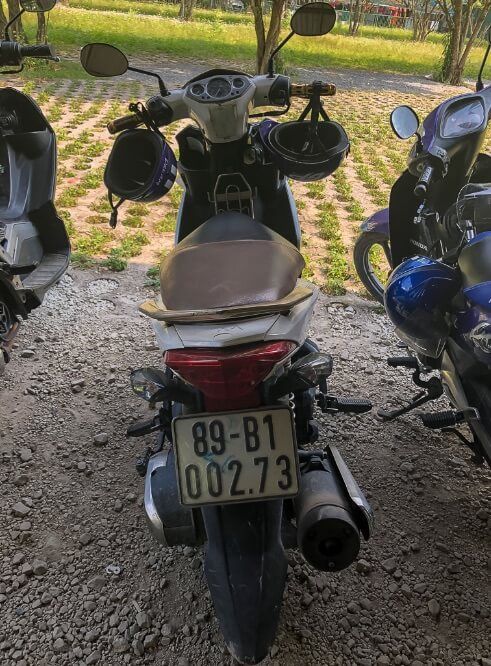 Alternative Options
1 – Grab a local taxi in Tam Coc town and be sure to negotiate a price.
2 – Ask your hotel owner if they can offer a guided tour or know of someone who can.
3 – Day trip down from Hanoi independently or on a tour.
Trang An Boat Tour is easy to access by bicycle or motorbike from Tam Coc downtown, or from Ninh Binh train station if you plan to take a day trip from Hanoi. On the interactive map below, we have included directions from Tam Coc as our recommended place to set up base.
In addition, we also added Ninh Binh train station directions to the boat tour. The roads are in fairly good shape and you'll often find yourself cutting through gorgeous green fields with limestone towers sprouting up around you.
Click on the map below to zoom/move around and get to grips with the route. Save 'Trang An Departure Boat Ticket' – or better yet if you can find it 'parking lot for motorcycles' on the other side of the road – into google maps when you have WiFi before setting off.
Distances: 6.7km (4.1 miles) from Tam Coc and 8.2km (5.0 miles) from Ninh Binh Station.
How To Get To Ninh Binh
Independent Visit
Day Trip – If you plan to travel independently from Hanoi for just the day, once you arrive at Ninh Binh train station, hire a motorbike right outside for roughly 150,000 VND (US$ 6) and follow our map to Trang An Boat Tour.
Staying a few days – If Ninh Binh/Tam Coc is the next stop on your Vietnam adventure, you can either bus/train to Ninh Binh and then grab a taxi to Tam Coc – or alternatively, book a direct bus to Tam Coc. We hopped on a bus direct from Halong Bay to Tam Coc. There are no close by airports so travel by plane isn't an option.
Use the 12Go Asia search box above to check the best available options for travel. You will find the cheapest and quickest options by bus and train (and plane, but not in this instance).
Don't Miss: Are you traveling through Vietnam? If you are considering taking the legendary Sleeper Bus be sure to check out our Vietnam Sleeper Bus: Adventure or Peril article! You can read about all of our hair raising experiences before you travel!
Best Tours Available to Ninh Binh
Would you would prefer to travel from Hanoi to Ninh Binh as part of a full day organized tour? Transport covering hotel pick up and drop off in Hanoi is of course part of a tour. There are many excellently valued options that include entrance fees to Bich Dong Pagoda (free), Mua Cave viewpoint, Hoa Lu ancient capital, Bai Dinh Pagoda and Trang An Boat Tour.
Search Get Your Guide for the Best Ninh Binh Tours from Hanoi
Motorbike / Bicycle Parking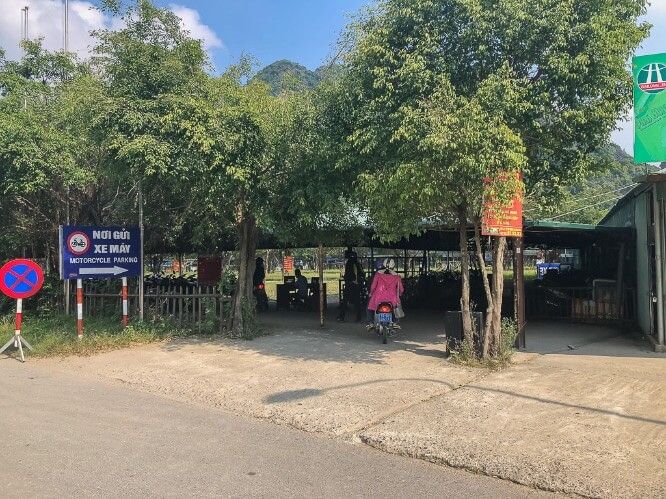 Trang An is a UNESCO site which means there are no scams here to worry about. In Vietnam, that can be refreshing! You will park your bicycle or motorbike in a legit parking lot and pay a set fee that will be the same for everyone. No anxiety worrying about bartering or if you paid the same as everyone else.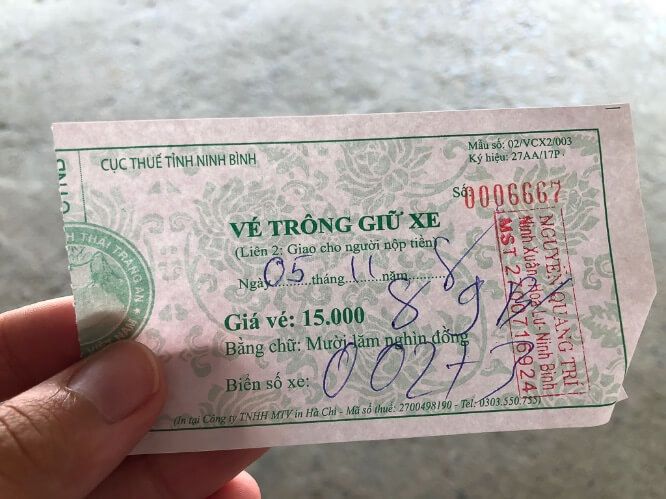 Parking tickets are 15,000 VND (US$ 0.65) as you can see from our tickets on the photo.
Choose Your Trang An Boat Tour Route
Once you've parked up, cross the road to the entrance. You will walk over a bridge and see boats to your right as they set off up the river towards … beautiful scenery! However, before you run for the boats, remember to pick your route and buy your ticket first! There's a map on a wooden board displaying what Routes 1, 2 and 3 entail. They are as follows:
First Route: 9 caves and 3 temples/pagodas
Second Route: 4 caves and 3 temples/pagodas
Third Route: 3 caves and 3 temples/pagodas
Each route takes around 3 hours and costs the same. Go for the 9 caves!
Buy Your Tickets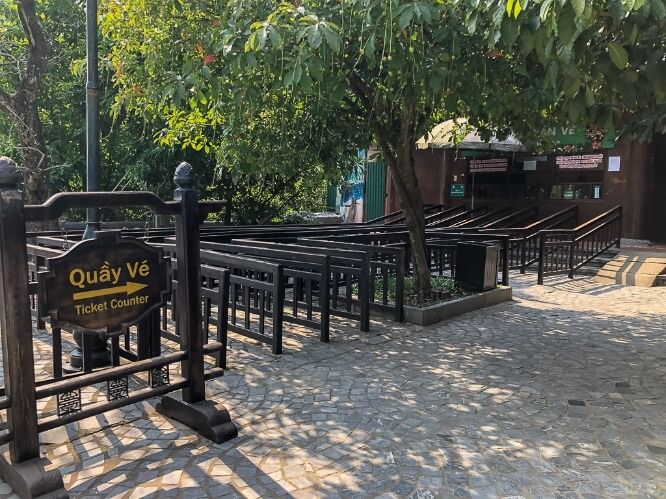 Carry on walking straight towards the wooden rails and hope that there aren't many people in front of you. We arrived at 9am and there were no people in line at all. By the time we left at 1.30pm it was seriously jam packed. We don't need to tell you to arrive early!
Buying tickets is easy, the whole process is organized and hassle free. Prices are clearly stated and there are no vendors trying to sell things to you.
Tickets cost 200,00 VND (US$ 8.50) per person.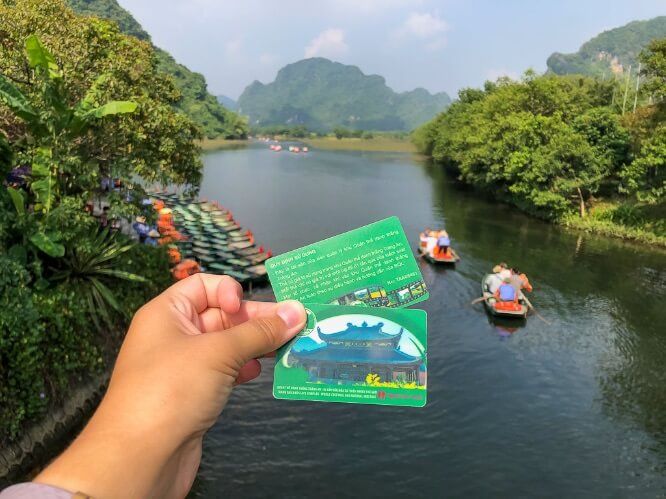 Tickets in hand? Excellent. Walk over to the 'dock' and you'll be escorted to the next available boat. Each boat seats up to 4 people. If you are a solo traveler or couple and want the boat to yourself, you will have to purchase all 4 tickets for that particular boat.
Therefore your total cost would be 800,000 VND (US$ 35). We wouldn't recommend doing this if you are traveling on a budget!
If you don't mind sharing with others for the next 3 hours, you will be held in line until the boat can be filled to either 3 or 4 people. In our case, we shared with just one other solo traveler, a lovely woman from the Netherlands. There were no other people in line so instead of making us wait, they let us disembark with 3/4 seats filled.
Trang An Grottoes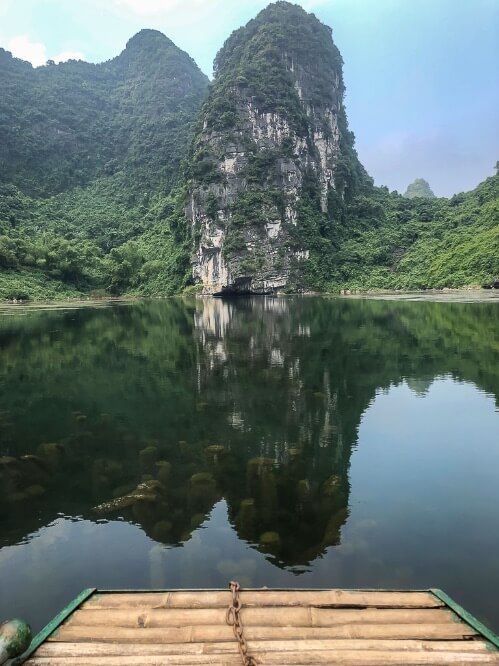 The moment your boat driver pushes away from the dock until the moment you arrive back 3 hours later, let yourself relax and be consumed by unrivaled tranquility. You are in rural Vietnam, venturing into areas only accessible by boat. Limestone rocks jutting out of the ground surround the water. Imagine King Kong appearing from out behind one of them…!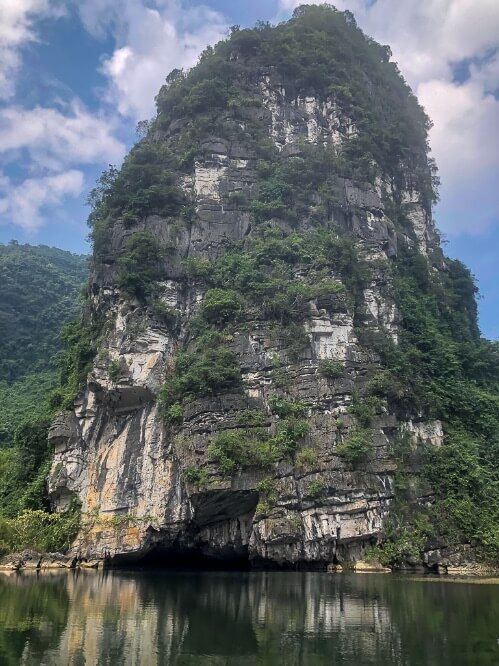 Expert boat drivers will guide your boat towards low hanging entrances to caves as the spectacular limestone karsts meet the waters surface. More than once you will be sure that either the boat will crash and capsize or you will hit your head. But you won't. The drivers know exactly which angles and paths to follow through the caves. There are spot lights positioned to allow vision but not too much that it ruins the atmosphere.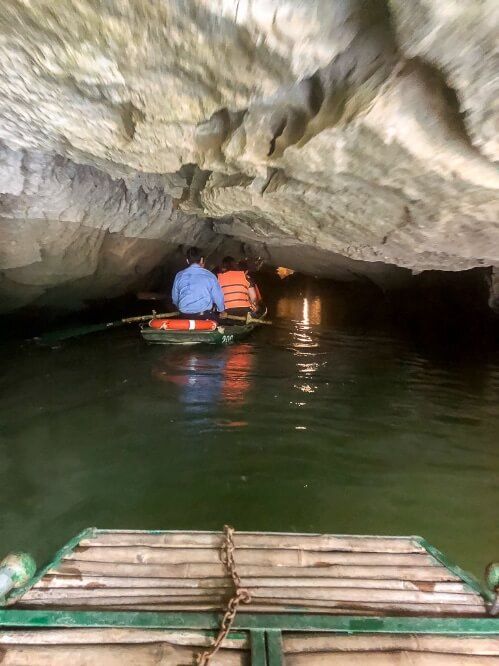 There are 30 valleys and 50 caves in the Trang An complex, although your boat will only pass through 9 at the most. A tour time of 3 hours may sound like a long time, but that time floats away rapidly before your eyes. You will see species of birds, flora and fauna along the way. Lotus flowers in bloom during Summer would be beautiful.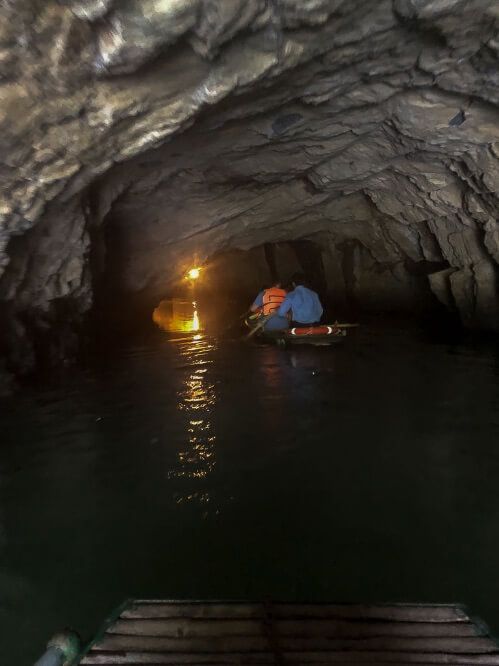 Each time you leave a grotto, you are met by stunning views of open waterways, vegetation and limestone hills sprinkled emerald green by trees. This is a wonderful serene environment where it is easy to forget the outside world for a few hours and remember how important nature is to us all.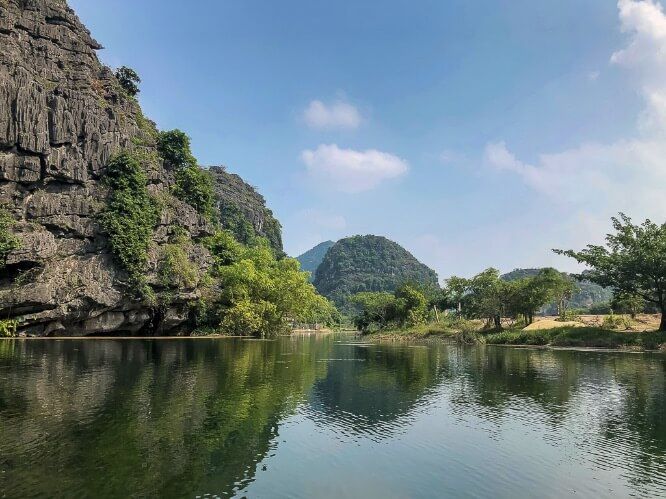 Unless you're able to navigate by the sun, you will inevitably find yourself utterly disorientated throughout the journey. You will lose perspective of direction as the river meanders left and right. Along the way you will stop at 3 temples/pagodas. Here you will be able to leave the boat to explore each area of land.
Trang An Boat Tour Temples/Pagodas
Every time you leave the boat, be sure to see as much as possible. You will find small temples and pagodas but also a fairly difficult peak to summit if you enjoy a challenge! At this summit stop off, there is a large stone staircase to walk up, which in the humidity we guarantee you will find hard work.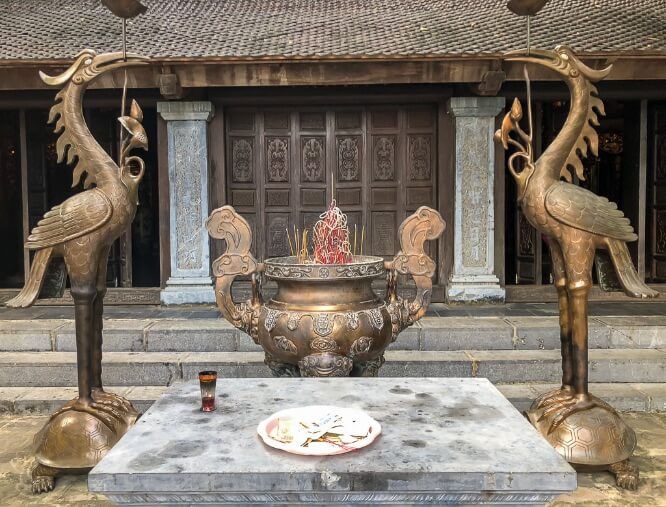 Granted, the view from the top is nothing to shout home about. However, once you descend and follow the path all the way around to the end, there is a small shrine where tourists leave food as an offering. But this should only be done before noon.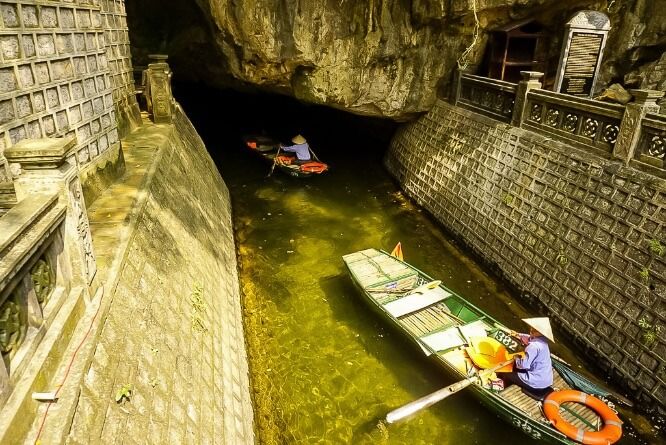 Each time you leave your boat, the driver will row on alone and pick you up at another location a short walk away. One such occasion the boat passes through a man made tunnel that leads under a towering rock.
Trang An Versus Tam Coc Boat Tour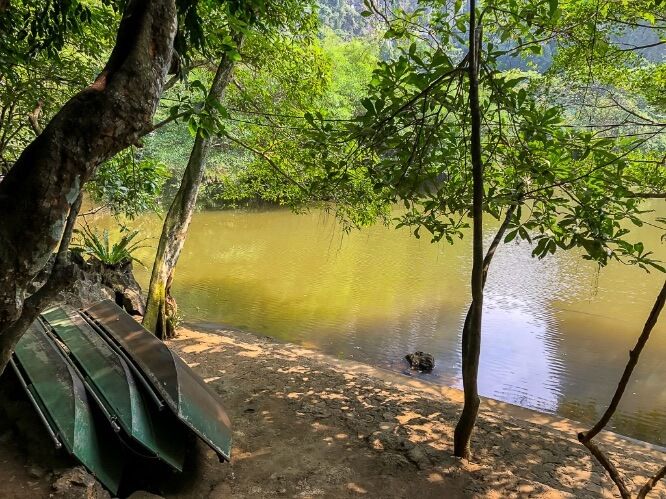 There are often comparisons drawn between the Tam Coc and Trang An Boat Tours. The question that always gets asked is which tour is the better one to go on.
Personally, we had heard the Tam Coc boat tour is a prime scamming spot. We liked how the Trang An tour was legitimately controlled due to its UNESCO status. We heard rumors that the boat drivers on the Tam Coc tour stop mid journey and demand a big tip or they won't continue. The advantage of the Trang An boat tour is that it's regulated and the drivers are also treated fairly.
In addition, Trang An supposedly is a more scenic boat tour. We can't confirm the claim as we didn't take the Tam Coc boat tour but we can confirm Trang An is a beautiful complex to glide slowly around. The final aspect to consider is Tam Coc being more convenient as the start/end is right in town.
Heading to Vietnam? Be sure to read our top 30 key things to know about Vietnam before you visit.
Where To Stay in Ninh Binh
If you have a few days to spend in Ninh Binh, stay in Tam Coc. Forget the big industrial city Ninh Binh, you will be massively underwhelmed. Tam Coc is a gorgeous rural town perfectly located among all the best things to do in Ninh Binh.
We always use booking.com to book our accommodation when we travel. Plug your travel dates into the booking.com search engine box below to see all options available for your visit, or take a look at some of our favorites below that!
The best thing about staying in Tam Coc is the abundance of places with exceptional ratings above 9.5 / 10! We've scoured the area for amazing properties across budget, mid-range and luxury options and listed them for you to check out.
Tam Coc Sunrise Homestay
Located downtown close to restaurants and Tam Coc boat tour pier, this budget hotel has a swimming pool, breakfast included and an exceptional 9.6 on booking.com. There are a ton of amazing cheap budget hotels in Tam Coc. Be sure to check this one out as you search for your perfect hotel.
Tam Coc Wonderland Bungalow
Views over rice paddies to the front and limestone karsts directly behind from the swimming pool at Tam Coc Wonderland Bungalow make it worth staying alone! It is located perfectly just a few minutes walk out of Tam Coc town. Meaning you get a rural setting with amenities close by. Each bungalow faces in towards a brick courtyard and the pool as its center piece.
Tam Coc Garden Resort
Perfectly located for a luxurious and peaceful stay in Ninh Binh, close to Bich Dong Pagoda and Tam Coc. Tam Coc Garden Resort was voted 2019 travelers choice on TripAdvisor and has a 9.4 on booking.com. The hotel is surrounded by paddy fields and looks wonderfully serene.
Where Did We Stay in Ninh Binh?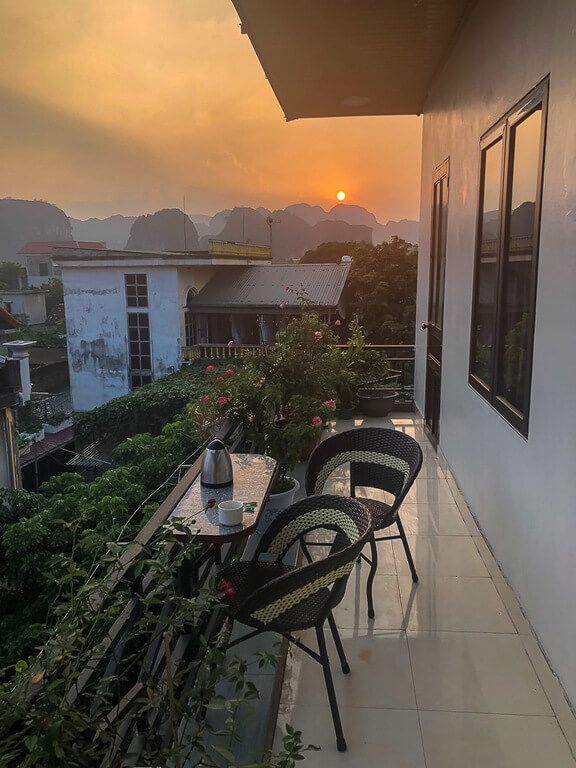 Dream Hotel is centrally located in Tam Coc just a few minutes walk from the best restaurants in town. The owners were lovely and the hotel came with a buffet breakfast each morning. We hired bicycles and a motorbike directly at the hotel for a better price than it cost in town, which was a nice touch.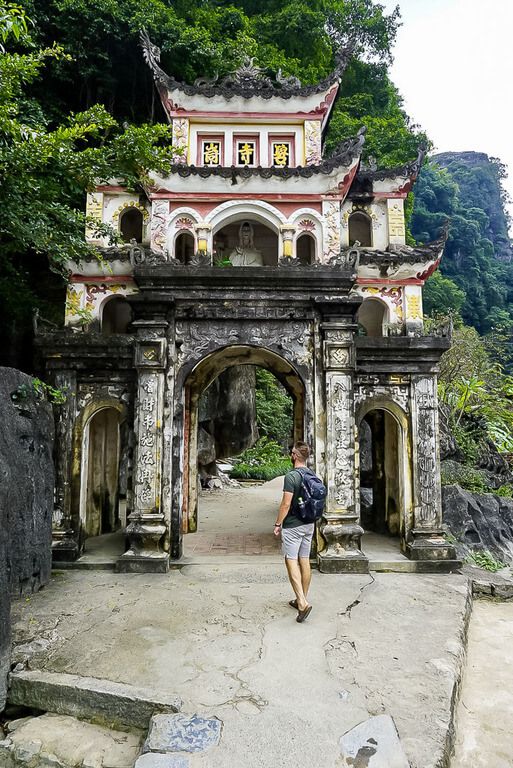 There are excellent views from the upper balcony over some of the nearby limestone karsts. We paid $US 10 per night when we stayed which was perfect for our budget at the time!
Check Prices at Tam Coc Dream Hotel now on booking.com
Tips For Your Visit to Trang An Boat Tour
Trang An is open 7am – 4pm. The earlier you arrive the better chance you have of experiencing a 'lost world' feeling.

Tickets are set price of 200,000 VND. You will be put in a boat of 4 unless you buy all 4 tickets for one boat.

Wear sturdy footwear. Sounds unnecessary for a boat trip, but it will help with the one ascent!

Take as much water as you can comfortably fit into your day pack. You will need it! You will be completely exposed for 90% of the boat journey. Remember the one climb will be tough in humidity!

If you arrived early there shouldn't be too many other boats out yet. There are many complaints about Trang An being over saturated with tourists. All you can do is give yourself the best chance of being as quiet as possible.

You will find extra oars inside the boat and you will be encouraged to use them as much as you feel like it. There's no harm in dishing out some support is there?!

These men and women row for money. Once their tour has ended, they have to wait until each other boat driver has been out before they can go again. Although you are not required to tip, it's a nice gesture and just a small amount will go a long way for the locals.
Read More About Vietnam …
Didn't find what you were looking for? Be sure to check out all of our popular Vietnam travel guides!
---
We hope our post helps you plan your Trang An Boat Tour in Ninh Binh, Vietnam!
Did you book a boat tour? How was it?
If there's anything else you need help with regarding your visit to Trang An or Vietnam in general, please just ask us in the comments below!
Happy Travels,
Mark and Kristen
Like This Post? Pin It For Later!