Vermont is filled with beautiful natural scenery, picture perfect towns and over 100 Covered Bridges dating back as far as the early 1800's. Covered Bridges in Vermont are a major tourist attraction and we're going to show you 7 of our personal favorites.
With over 100 to choose between, why only cover 7 bridges? Well, unless you have a full week spare to criss-cross the entire narrow state of Vermont, it's likely you will have to whittle the list down to a handful.
The good news?
You can choose to plot exactly which unique covered bridges to visit or simply drive around the gorgeous Vermont countryside and enjoy the surprise.
The bad news?
These historic bridges are randomly scattered throughout all of Vermont, which can make planning a challenge.
During our New England fall road trip we saw dozens of covered bridges, some by design and some purely by luck.
Incredibly popular and charming Woodstock is one of the best places to set up base for a covered bridge finding expedition and it is where we focus our attention in this guide.
You will also find one bridge near four season resort Stowe in the North and one near Manchester in the South. Check the map at the end to see what we mean about challenging logistics.
Let's take a look at a handful of the finest covered bridges in Vermont!
*Please note this post may contain affiliate links. If you click on one, we may earn a small commission at no extra cost to you!*
What Are Covered Bridges?
Traditional Covered bridges are timber truss bridges crossing rivers in rural areas of the US northeast. However, many are also made from steel and some are railroad bridges with similarly patterned timber elements.
Covered bridges are complete with decking, siding and a roof for the sole purpose of protecting vulnerable structural timber from weathering and the elements.
There are covered bridges in Europe, mainly Switzerland and Germany. However, we're only interested in Vermont, USA in this guide.
The majority of covered bridges in Vermont were built between 1820 and the late 1800's, to allow pedestrians, livestock and eventually vehicles cross rivers in isolated parts of the countryside.
High restoration costs, vandalism and the industrial revolution put a swift end to the usefulness of wooden bridges. Metal trusses quickly replaced timber, with no need for repair and weather resistant materials proving more sustainable.
At one time there were between 12,000 to 14,000 covered bridges in the United States. Today, there are fewer than 1,000 remaining and more than 100 of those are in Vermont.
Some bridges are long, others are short. Many have picturesque foregrounds and backgrounds, whereas others have been victim to urbanization. This variety and diversity is what keeps things interesting!
Significance In VT
Vermont has more covered bridge per square mile than any other US state and it is also home to one half of the longest two-span covered bridge in the world, Cornish-Windsor.
These historic and unique covered bridges are incredibly photogenic and anyone looking for the best things to do in Vermont or New England will enjoy 'hunting' bridges.
But simply crossing a river isn't the only benefit to a covered bridge. Having a roof and side panels helped local farmers in Vermont to encourage wary cattle and other livestock across the bridge despite the rushing water running below.
Covered bridges are typically clumped together, so along a river near a town you might find 3 or 4 bridges. That means you can quickly tick off a bunch of bridges in short order.
7 Beautiful Covered Bridges To Visit In Vermont
Here are 7 of our favorite covered bridges in Vermont.
They are mostly centered around the charming town of Woodstock in the South of Vermont with one further South in the Green Mountains and one way up near Stowe in the North.
Some you may recognize but we're sure at least one or two will be new to you.
1. Woodstock Middle Covered Bridge, Woodstock VT
Year Built: 1969
Materials: Timber
Bridge Length: 124 ft
Pedestrian Access: Yes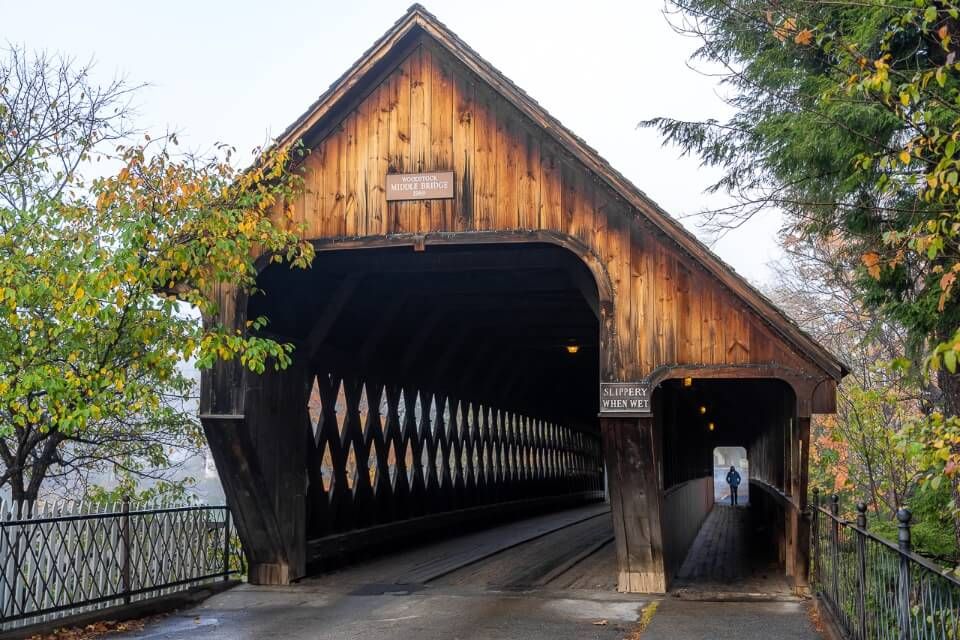 Woodstock, VT is charming, pretty, quaint and surrounded by gorgeous scenery – the quintessential New England village. It also happens to have a handful of beautiful covered bridges within striking distance.
This list of stunning Vermont covered bridges couldn't get off to a better start. Woodstock is so exceptionally picturesque that we had to include it in our popular guide to the 50 best places to visit in the United States.
Bang smack in the center of Woodstock – just a stones throw from the village green – you will find 124 ft long Woodstock Middle Covered Bridge, also known as Union Street Bridge.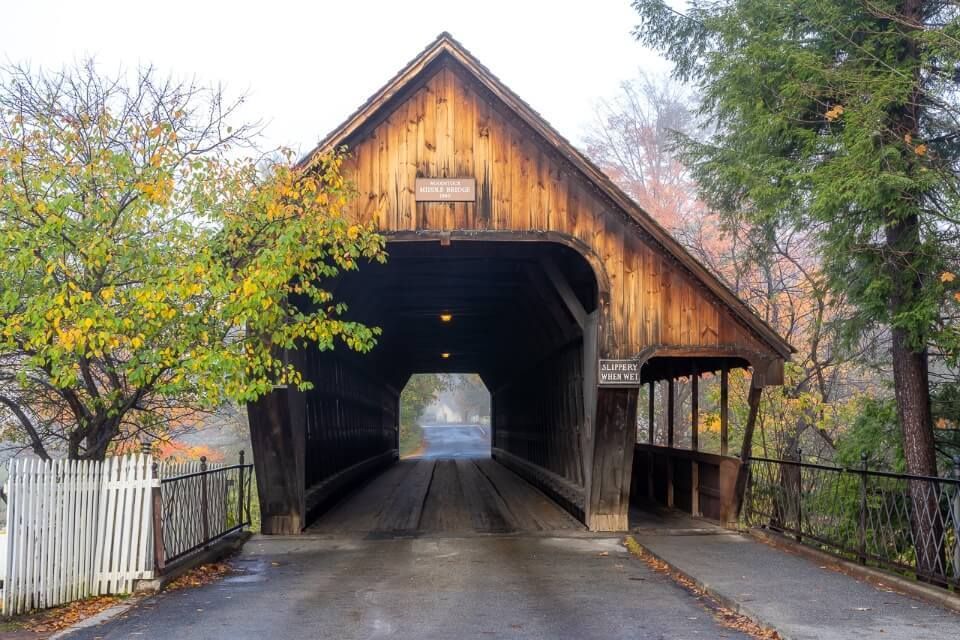 Built in 1969 using long established methods and materials, Woodstock Middle is one of the 'newest' covered bridges in Vermont. However, you would never be able to tell thanks to excellent craftsmanship.
The rustic wooden bridge looks most stunning in Winter when surrounded by snow but peak Fall foliage season is a close second. Play with the angles to get your favorite type of photograph.
Woodstock is an expensive place to stay but it is a wonderful base for exploring nearby covered bridges. You can drive and walk through Middle Bridge to closely inspect and appreciate the skill.
Want to visit Woodstock? Here's our popular guide listing the 15 best things to do in Woodstock Vermont.
2. Quechee Covered Bridge, Quechee VT
Year Built: 1970 but reconstructed in 2012
Materials: Steel
Bridge Length: 70 ft
Pedestrian Access: Yes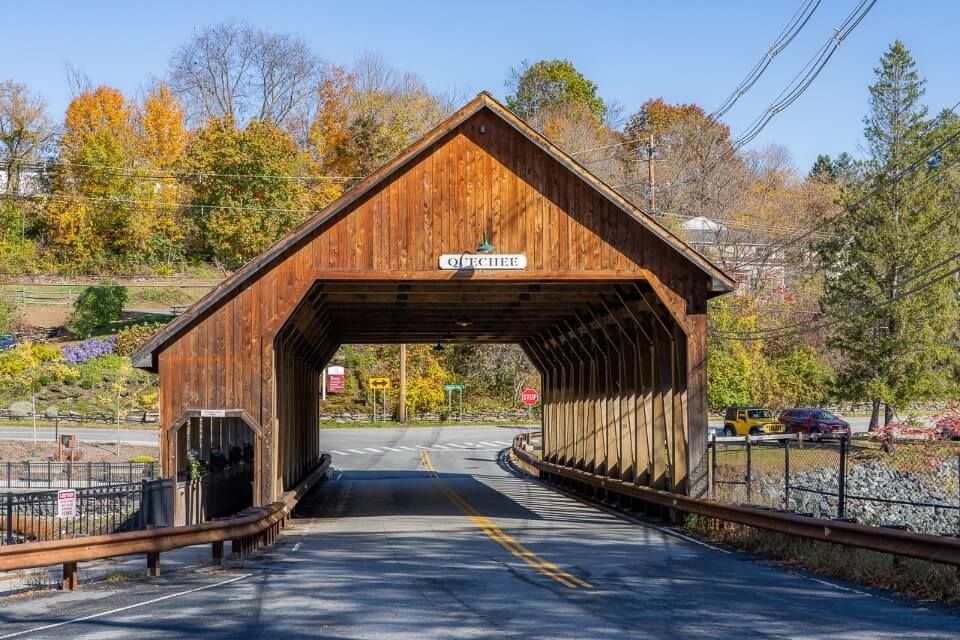 Quechee is just 7 miles from Woodstock. The famous Quechee Gorge and state park are popular stop offs on a New England road trip but don't forget to drive into the village of Quechee itself.
The steel bridge was constructed in 1970 and stands at just 70 ft in length. Hurricane Irene destroyed Quechee Covered Bridge in 2011 but the rebuild was expertly crafted to an almost identical finish.
From the front, Quechee Covered Bridge doesn't look quite as visually stunning as Woodstock's Middle, right? But take a look at the surroundings below to see why you can't miss this one.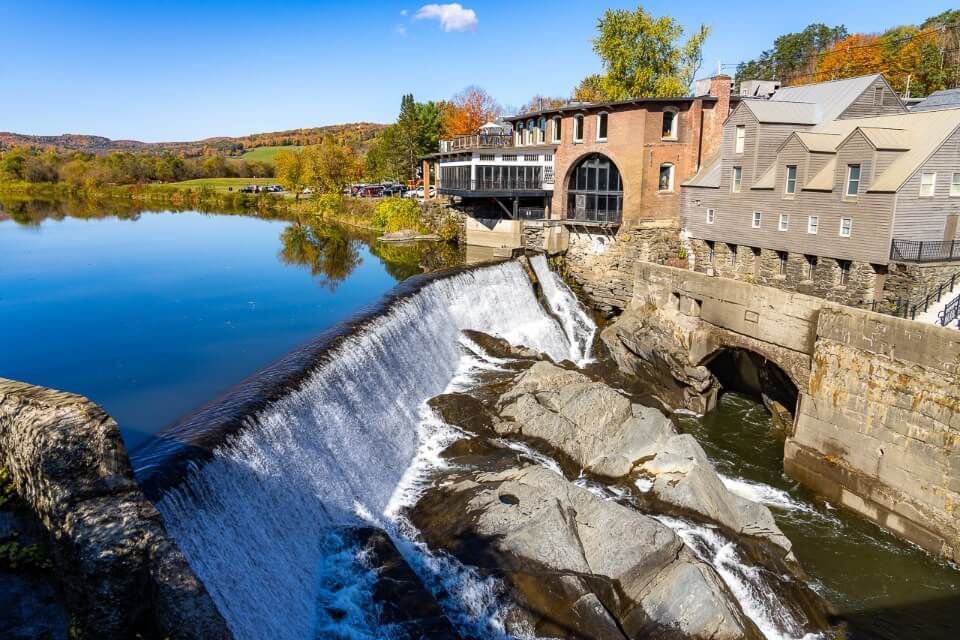 Standing on the bridge and looking to the West provides this wonderful view over an old mill dam and waterfall with brick buildings and fall colors reflecting in the Ottauquechee River.
See the orange brick building? Inside you will find a turbine powered glass blowing studio, which is open to the public. Next to it on the left is a riverside restaurant with overhanging views of the waterfall and bridge.
In Winter, the waterfall freezes into huge icicles but Summer is also a fantastic time to visit so you can sit out and enjoy a drink with a view in the sun.
3. Tafstville Covered Bridge, Tafstville VT
Year Built: 1836
Materials: Timber
Bridge Length: 189 ft
Pedestrian Access: No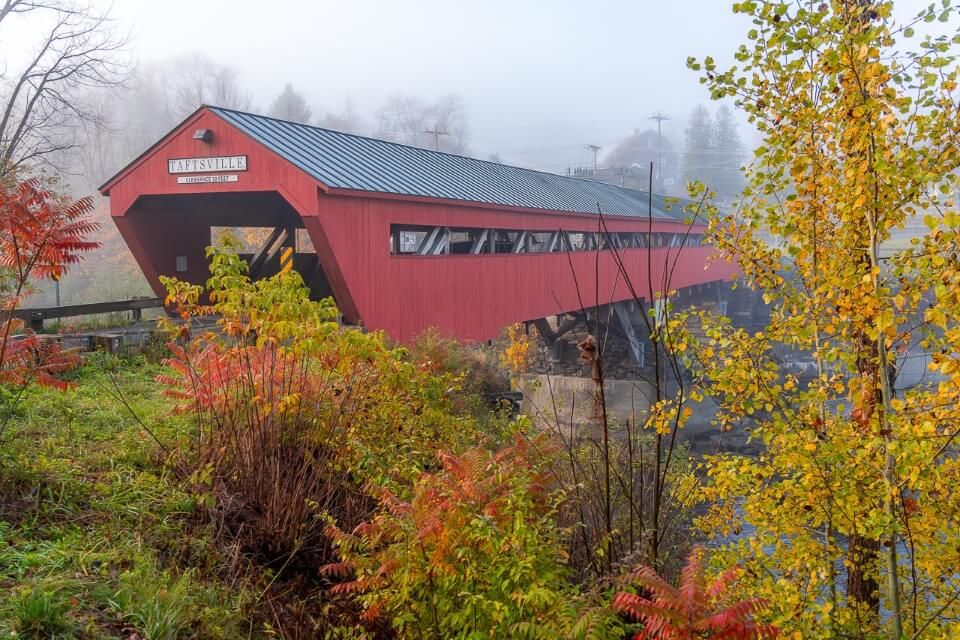 Built way back in 1836, Taftsville is the oldest covered bridge in Vermont. The 189 ft long crimson red bridge is an unmissable addition to your Vermont Covered Bridges itinerary.
Tafstville is conveniently located half way between Woodstock and Quechee, making the 3 bridges incredibly easy to visit in short order.
Similarly to Quechee, Tafstville also has a small waterfall-dam on its Western side. We encourage you to spend time on the Northeast side of the bridge when looking at a map.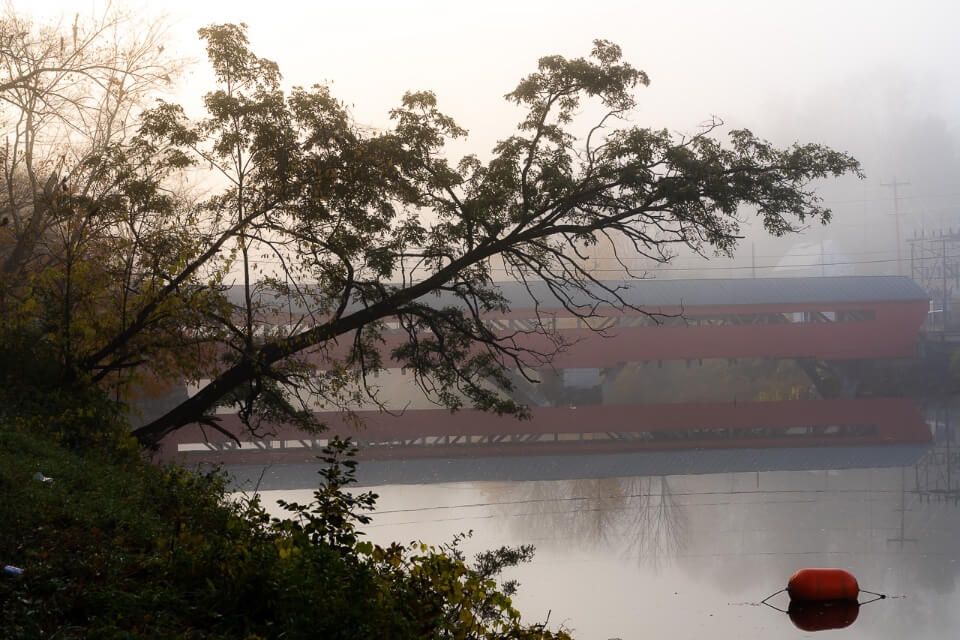 We were fortunate enough to visit Tafstville Covered Bridge on an incredibly misty morning just after sunrise. The perfect reflection and dense clouds absorbing sunlight created a stunning scene.
Fall colors help bring the bridge to life but we do have to warn you – the Southwest side of Taftsville Covered Bridge is not a pretty sight. Transformers and electrical pylons go a long way to ruining a photograph!
Taftsville Covered Bridge does not have a pedestrian walkway and cars appear quickly around corners, so please take care when taking photographs.
4. Mill Brook Covered Bridge, Hammondsville VT
Year Built: Unknown
Materials: Timber
Bridge Length: Unknown
Pedestrian Access: No (Private)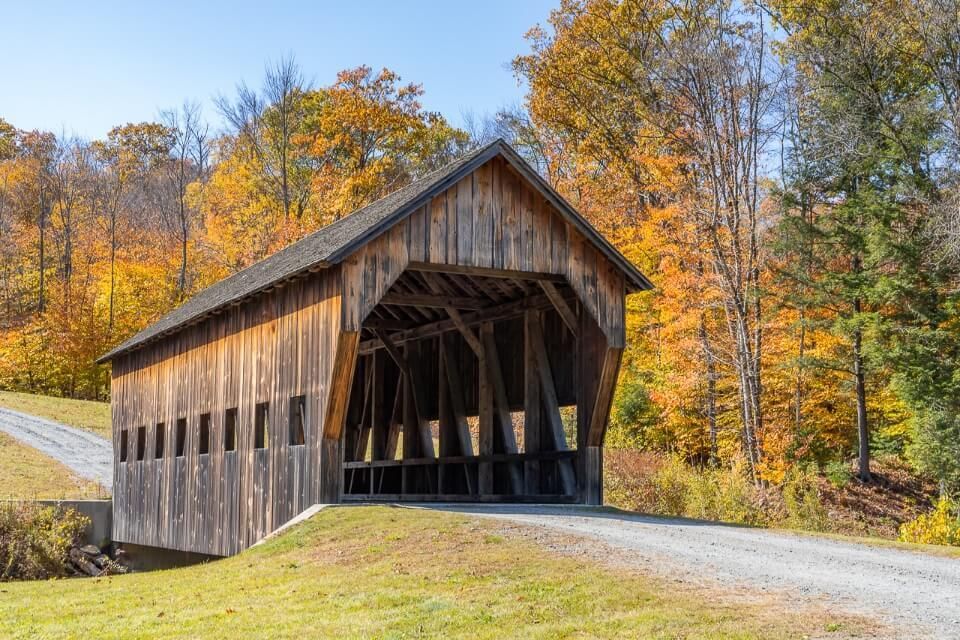 Moving on to our 'hidden gem' wildcard entry to this list of beautiful Vermont Covered Bridges. We don't know the name, length or year built for this stunning bridge because we think it is a private bridge belonging to the local land owner.
Mill Brook Covered Bridge was the best we could conjure up because it spans the trickling Mill Brook, close to Hammondsville, South of Woodstock.
We stumbled across this staggeringly well made wooden wonder on the way to visiting the popular Jenne Road Farm. Both the farm and this bridge are fit for print and prime time wall space in your home.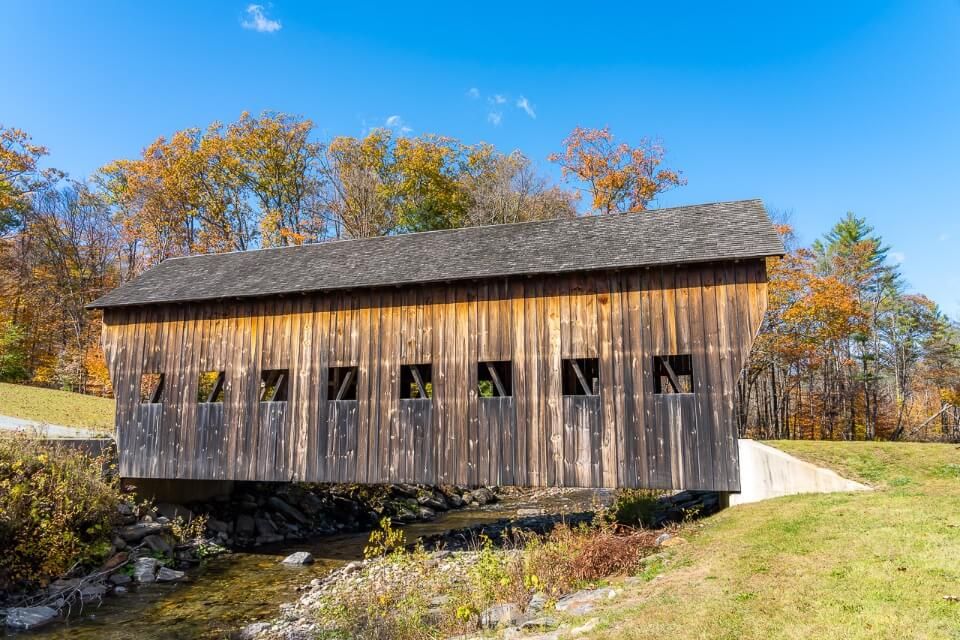 This side profile shot shows the lightly running Mill Brook in Fall just after peak foliage.
South of Woodstock, follow VT-106 passing by Reading and Hammondsville. You will find this bridge alongside the main road less than 1 mile South of Hammondsville.
Please, if you do find this bridge, don't try to cross it. The land appears to be privately owned and we can't find this bridge on any records so we're not quite sure if it even classes as a bona fide 'covered bridge'.
However, it certainly looks like one. An exquisitely presented faux covered bridge, perhaps?
5. Cornish-Windsor Covered Bridge, Cornish NH and Windsor VT
Year Built: 1866
Materials: Timber
Bridge Length: 449 ft
Pedestrian Access: No
Back to 'official' covered bridges in Vermont and arguably the most notable in all of Vermont, the Cornish-Windsor Covered Bridge.
The spectacular 449 ft long timber interstate bridge has connected Cornish NH with Windsor VT since its construction in 1866.
It is considered the longest wooden covered bridge in the United States and longest two span covered bridge on the planet. So, yes, it is one you can't miss from your list of bridges to visit in Vermont or New Hampshire!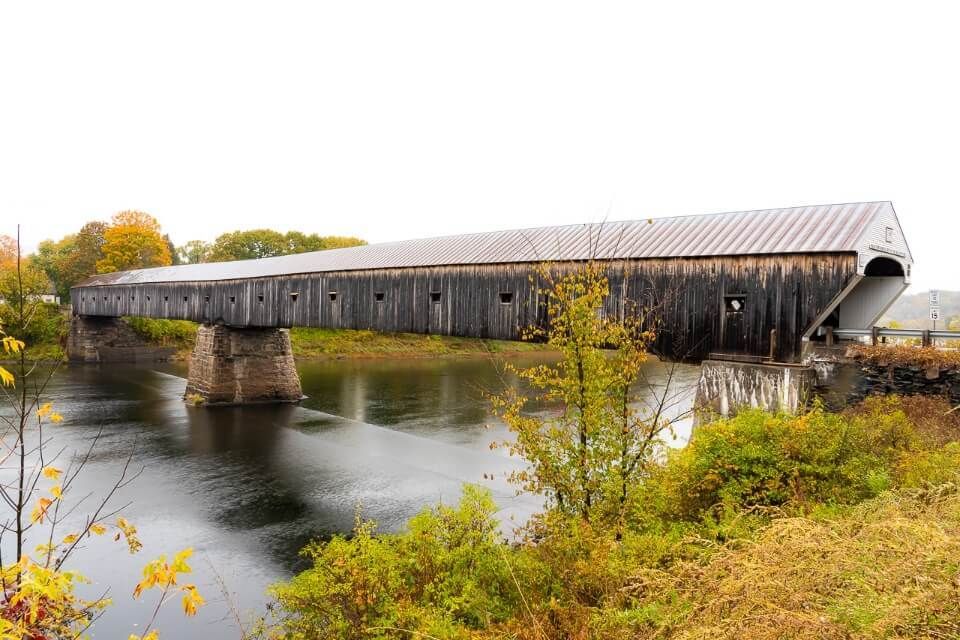 We haven't done any editing to the sky at all – it really was this white. An overcast day with a sheet of low hanging and dense white cloud wasn't perfect but it does accentuate the bridge and compliments the late Fall foliage colors nicely.
These photographs were taken on the New Hampshire side of Cornish-Windsor Covered Bridge. There is a place you can park up and read information boards on this side.
This is a very long bridge, which means photos looking directly through the bridge are very dark inside, like a never ending vortex. External photographs are better for this particular bridge.
Woodstock is just 30 minutes drive from the longest covered bridge in the US, making it a great one to visit either on the way to or out from Woodstock on your New England road trip.
6. Silk Covered Bridge, Bennington VT
Year Built: 1840
Materials: Timber
Bridge Length: 88 ft
Pedestrian Access: No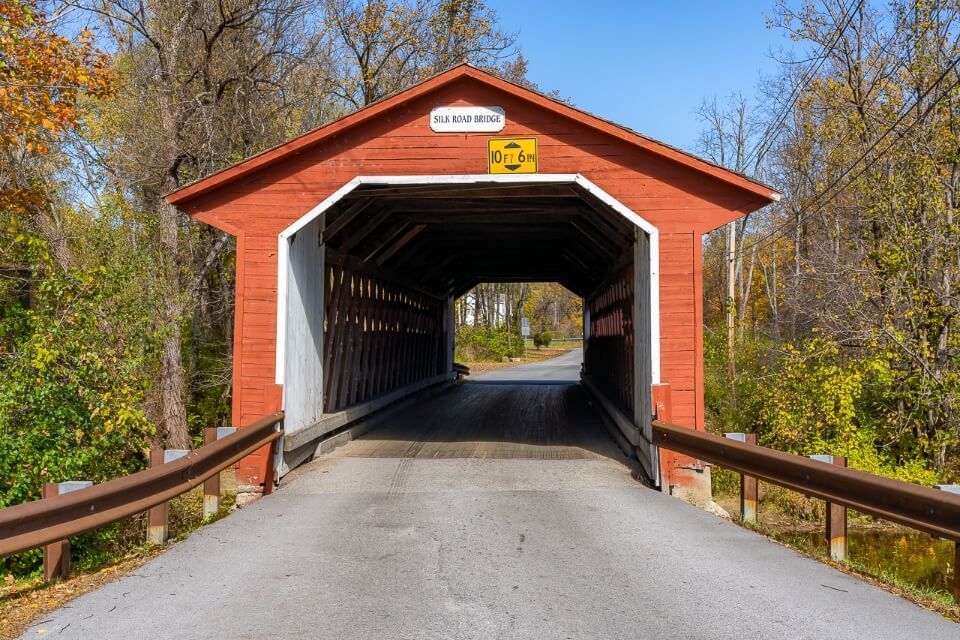 Silk or Silk Road Covered Bridge spans the Walloomsac River near Bennington and the popular Green Mountain town of Manchester in the far Southwest of Vermont. The single lane timber bridge is 88 ft long and is surrounded by peaceful countryside.
Bennington is around 77 miles or 1h 40m drive from Woodstock, on the other side of the picturesque Green Mountains. We've included this bridge and the next in the list to demonstrate how far you can travel to 'collect' covered bridges in Vermont.
If you do make it Silk Covered Bridge, you can also visit nearby Paper Mill Village Covered Bridge and Henry Covered Bridge. The three are within close proximity to one another.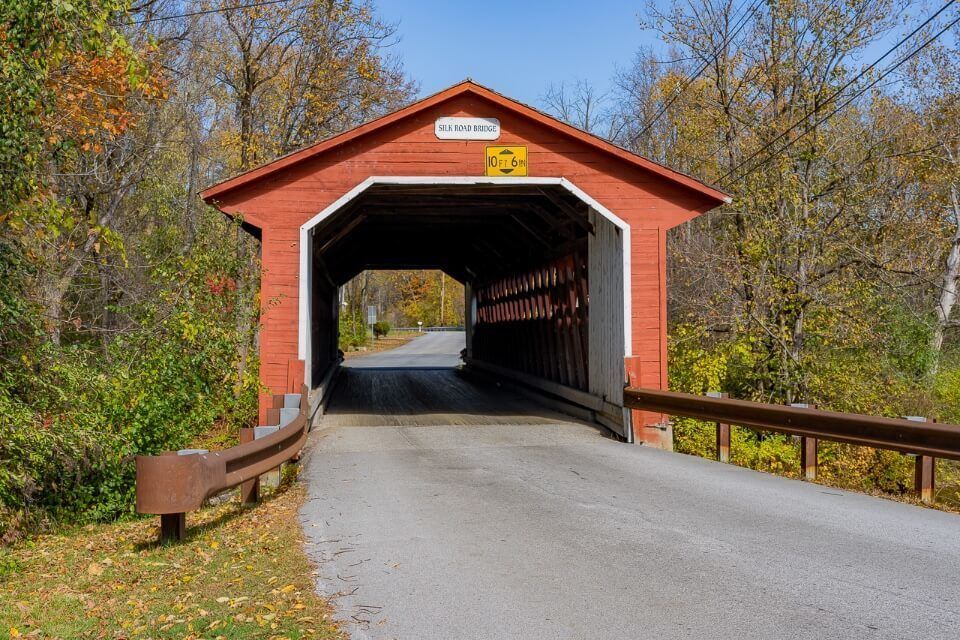 The better photograph here would have been to walk down the bank slightly to get an angle on the bridge as it crosses the river below. However, we were already running late on our New England road trip because we kept searching for more bridges!
Silk Covered Bridge was built in 1840 by the same family who also built Paper Mill Village Covered Bridge not far downriver. It is located near the main attractions in Bennington, including Robert Frost museum and Bennington Battle Monument.
Hurricane Irene's force was felt here in Bennington as well as near Woodstock. Silk Bridge was damaged as a result of flooding but it has since been expertly repaired.
7. Fisher Covered Railroad Bridge, Wolcott VT
Year Built: 1908
Materials: Timber
Bridge Length: 98 ft
Pedestrian Access: Yes (disused)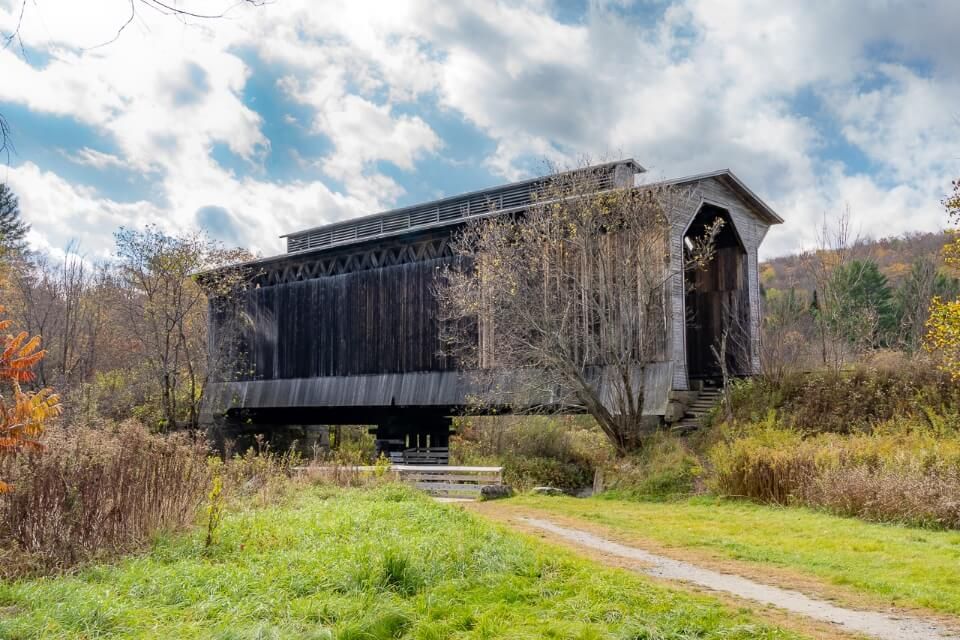 From South to North Vermont, let's finish on our personal favorite, the Fisher Covered Bridge in Wolcott near ultra-popular year round resort Stowe.
Fisher is an old disused railroad bridge and the tracks still remain today. You can park up in a lot and walk around the bridge without danger of cars passing through.
This beautifully crafted tall timber bridge spans the Lamoille River and makes for truly special photographs. We spent the best part of an hour soaking up views from all angles, walking through the bridge and setting the camera on 10 second timers.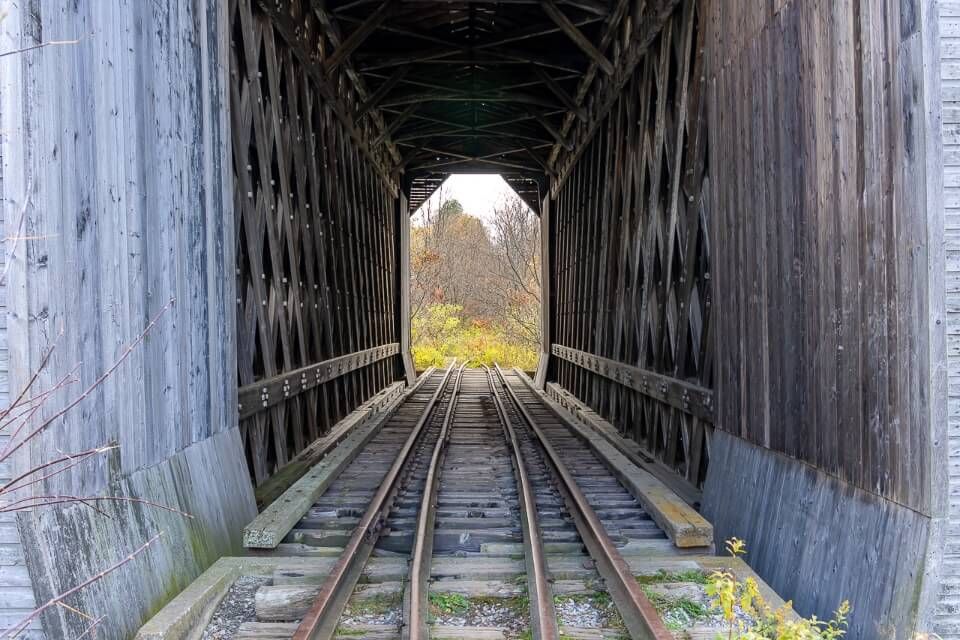 Fisher was the last covered bridge to transport trains across river in Vermont and is now listed on the National Register of Historic Places.
Woodstock is 80 miles or 1h 40m drive away but Stowe is less than 30 minutes drive. We visited Fisher Covered Bridge when driving between Stowe and Franconia Notch State Park in New Hampshire.
We were maybe one week too late for peak Fall foliage colors but the remaining leaves were still radiant. Summer would be a great time to visit with emerald green leaves in full bloom surrounding the wooden bridge.
Want to visit Stowe? Here's our popular guide showcasing the 15 best things to do in Stowe Vermont.
Map Of All Bridge Locations
Touch or click to activate the map.
Move around Vermont, zoom in and out to learn the geography.
Notice how we clumped 5 out of the 7 in a similar area?
Those 5 are all achievable in one outing but the others in the far North or South will need to be more carefully planned.
Top tip: Once you know where you want to visit within Vermont, try to visit as many covered bridges in that area as possible before moving on.
Need a hand planning your New England fall road trip?

Our popular 40+ page New England Fall Road Trip Guidebook includes the 10 best places to visit and 8 example itineraries ranging from 5-14 days to help you plan a successful leaf-peeping vacation.
More Famous Covered Bridges To Visit In Vermont
Out of 104 covered bridges in Vermont, we have only covered 7 – and one of those might not count!
You will probably want to see as many as possible on your trip to VT, so let's take a brief look at some of the more popular covered bridges we didn't visit ourselves due to geography and time constraints.
Stowe, VT
Brown's River Covered Bridge
Cambridge Junction Covered Bridge
Montgomery Covered Bridge
Grist Mill Covered Bridge
Red Covered Bridge
Montpelier, VT
Coburn Covered Bridge
Northfield Falls Covered Bridge
Slaughterhouse Covered Bridge
Upper and Lower Cox Brook Covered Bridges
Warren Covered Bridge
Royalton, VT
Howe Covered Bridge
Cilley Covered Bridge
Mill Covered Bridge
Kingsbury Covered Bridge
Braley Covered Bridge
Northern VT
Hopkins Covered Bridge
Longley Covered Bridge
Comstock Covered Bridge
Fuller Covered Bridge
West Hill Covered Bridge
Southern VT
Arlington Covered Bridge
Chiselville Covered Bridge
Scott Covered Bridge
Dummerston Covered Bridge
Creamery Covered Bridge
Our Popular Vermont Guides
More From New England
---
We hope this guide to 7 of our favorite Vermont covered bridges helps with planning your visit!
Please let us know if you have any questions in the comments below.
Happy Travels,
Mark and Kristen
Was This Post Helpful? Pin It For Your Visit!