Moqui Caverns are a small network of photogenic man made sand caves located on the side of highway 89 about 5 miles North of Kanab in Southern Utah. We're going to show you why the sand caves of Moqui Caverns are a perfect addition to your list of best things to do near Kanab.
In order to reach Moqui Caverns, you will need to climb a steep rock face and hike along a ridge. The hike is very short but the incline is severe and the rocks are sandy, so you should wear shoes with good grips.
Let's explore the Kanab sand caves at Moqui Caverns!
*Please note this post may contain affiliate links. If you click on one, we may earn a small commission at no extra cost to you. Thank you for supporting the free content we provide! Read more in our disclosure policy.*
What Are The Moqui Caverns and Sand Caves Near Kanab UT?
Moqui Caverns are a small series of sand caves that were carved by man into a hillside around 100 ft above the main road running into Kanab, UT. The caves are always open and are free to visit.
Inside, the caves are around 10-15 ft in height, with multiple 'windows' and 'doors' carved back in the 1970's for mining sand.
The further back you go, the deeper and darker the shadows become as less natural light can penetrate the caves. Deep sand dunes are soft and cool underfoot inside Moqui Caverns.
This is a wonderfully picturesque spot that can be shared by the entire family, just be careful with younger kids as the climb is steep and there are drops offs throughout.
Why Are Moqui Caverns So Popular?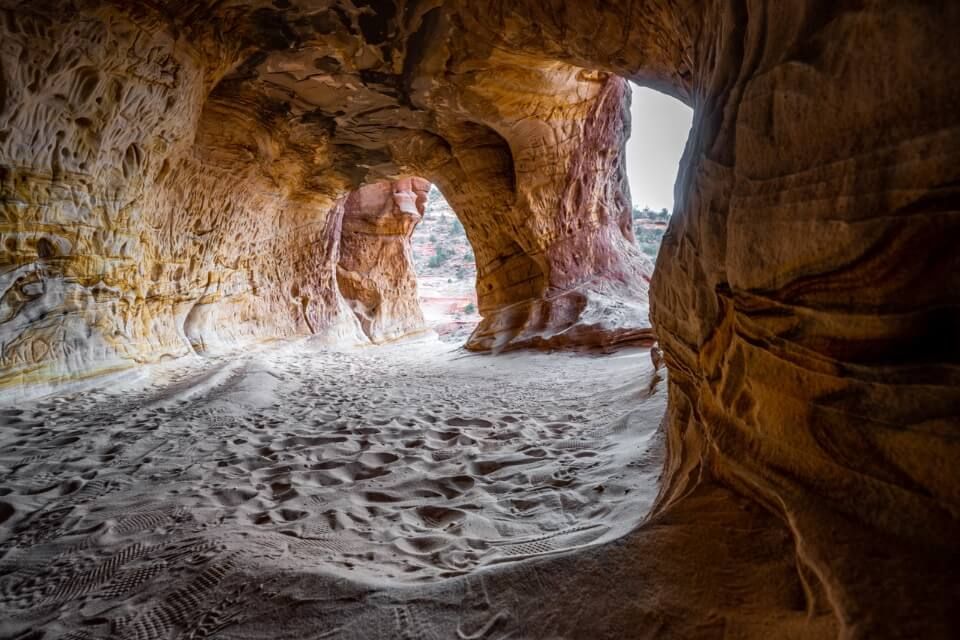 Moqui Caverns were relatively unknown until the age of social media. Once photos began appearing on Instagram of the sand caves near Kanab, especially around sunset, Moqui Caverns became a 'must visit' spot on most southern Utah road trip itineraries.
For a very short hike, you are rewarded with postcard perfect sand caves. This is a stop any photographers traveling through Southern Utah should not miss.
Kanab is located in a great spot geographically. Many visitors to nearby Zion National Park and Bryce Canyon National Park use the city of Kanab as a hub to hike The Wave.
Another reason it is perfectly located is because it the ideal pitstop between the Southwest Utah parks and Grand Canyon South Rim.
Moqui Caverns vs Moqui Cave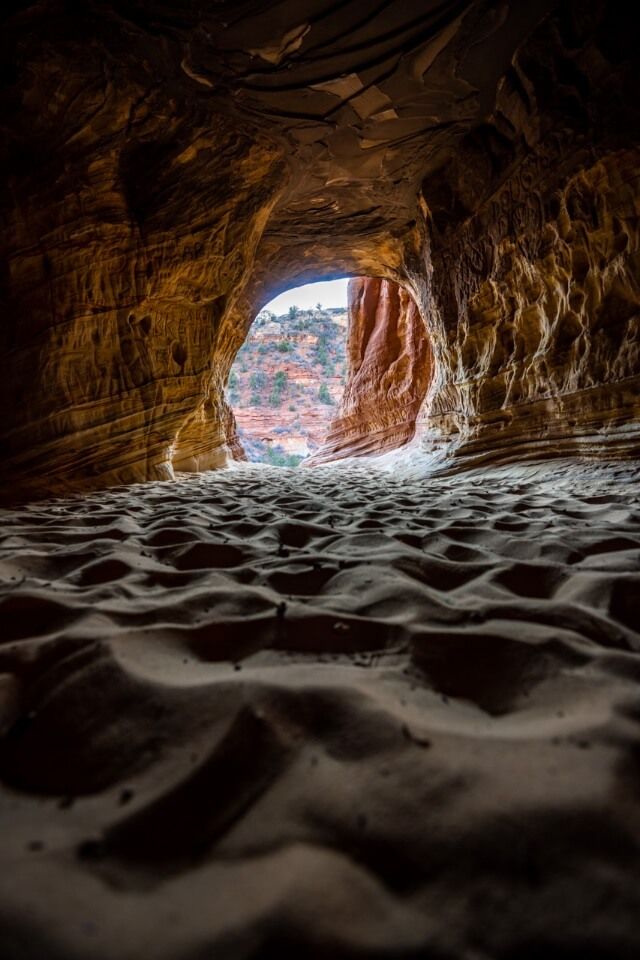 Moqui Caverns and Moqui Cave are two entirely different spots to visit near Kanab. The Caverns are also referred to as the Kanab sand caves or the Moqui sand caves. However, Moqui Cave is a history museum around 0.3 of a mile down the road.
There is a big difference between the Moqui Caverns and the Moqui Cave:
Moqui Caverns are the free to enter sand caves that are fun to explore any time of day.
Moqui Cave is a small history museum featuring ancient artifacts, dinosaur tracks, very interesting history and one of the world's largest fluorescent mineral collections.
The Cave is definitely also worth a visit if you have enough time on your visit to Kanab.
Read our guide to visiting Moqui Cave so you can go right before or after the sand caverns.
How Do You Get From Kanab To Moqui Caverns?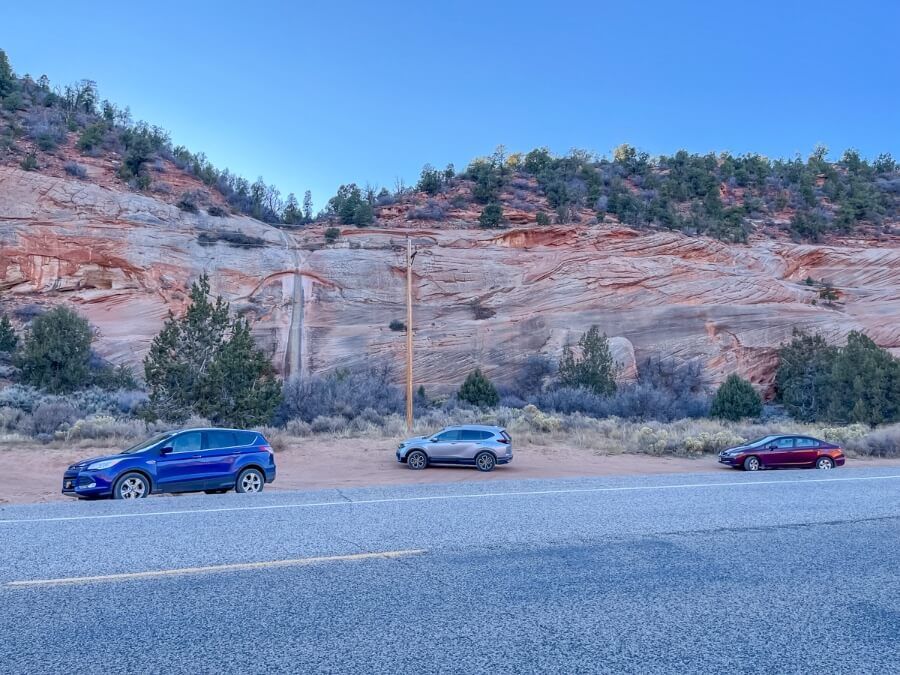 The sand caves in Moqui Caverns are located just 6 miles from Kanab city center in Utah. Heading North out of Kanab, the sand caves are located a little bit past mile marker #69 on US-89 to your right.
Distance: 6 miles
Drive Time: 10 minutes
On your way out of Kanab, you will pass a bright orange sign for Best Friends Animal Society on your right a few miles out of town. Take the right turn and immediately take a left turn into a very obvious parking lot.
If you can see the caves or you make it as far as Moqui Cave on the right side of the road, you have gone too far. Turn around and park at the parking lot at the turn to Best Friends.
Do not park at Moqui Cave to visit the Moqui Caverns sand caves. This parking lot is for paying customers of Moqui Cave only.
Important: Do not park in the sandy roadside area you can see in the photo above. When we visited Moqui Caverns sand caves the roadside parking lot was the place everyone was parking. However, since our visit, strict no parking signs have been implemented in this sandy area.
Below we will explain how to get to the Moqui Caverns from other popular places in Utah and Arizona (distances and times are approximate):
How To Get To Moqui Caverns From Zion National Park
Leaving from Zion's East Entrance, it will take about 30 minutes to get to the sand caves. Head northeast on route UT-9 E for 13 miles then turn right in Mount Carmel Junction on US-89 S and follow for about 11 miles.
Distance: 25 miles
Drive Time: 30 minutes
You will pass Moqui Cave on your left and the sand caves are about 0.3 miles down the road. Moqui Caverns will be up on your left side but you will park slightly further down the road on the left side.
How To Get To Moqui Caverns From Bryce Canyon National Park
As you leave Bryce Canyon, head north on UT-63 towards FR 090 for 2.6 miles. At the traffic circle, take the third exit to UT-12 W. and continue on this for 13.5 miles. Then finally turn left onto US-89 S for about 55 miles. This route should take you a little over an hour.
Distance: 70 miles
Drive Time: 1 hour 15 minutes
Similarly to the Zion route, you will pass Moqui Cave on your left and the sand caves are about 0.3 miles down the road.
The sand caves will be on your left and the trailhead parking lot will be further down the road on the left.
How To Get To Kanab Sand Caves From Horseshoe Bend In Page, Arizona
Turn left out of the Horseshoe Bend parking lot onto US-89 N for about 2 miles and take the second exit at the traffic circle, following US-89 for 74 miles.
When you get to Kanab, pass by the Holiday Inn Express and turn right onto S 100 E, continuing to E Center Street and then continue onto US-89 N for around 5 miles.
Distance: 83 miles
Drive Time: 1 hour 20 minutes
The sand caves will be on your right side but you will park on the right side just before reaching the caves.
How To Get To Kanab Sand Caves From Grand Canyon South Rim
Leave Grand Canyon South Rim Visitor Center, follow AZ-64 E (also known as Desert View Drive) to US-89 N in Cameron for about 50 miles. From here, take US-89 N for 161 miles.
This is a longer route compared to the others listed above.
Distance: 214 miles
Drive Time

:

3 hours 35 minutes
The sand caves will be on your right along US-89 but you will park before you reach the caves (keep in mind you will drive through the small city of Kanab).
How Long Are The Sand Caves Of Moqui Caverns?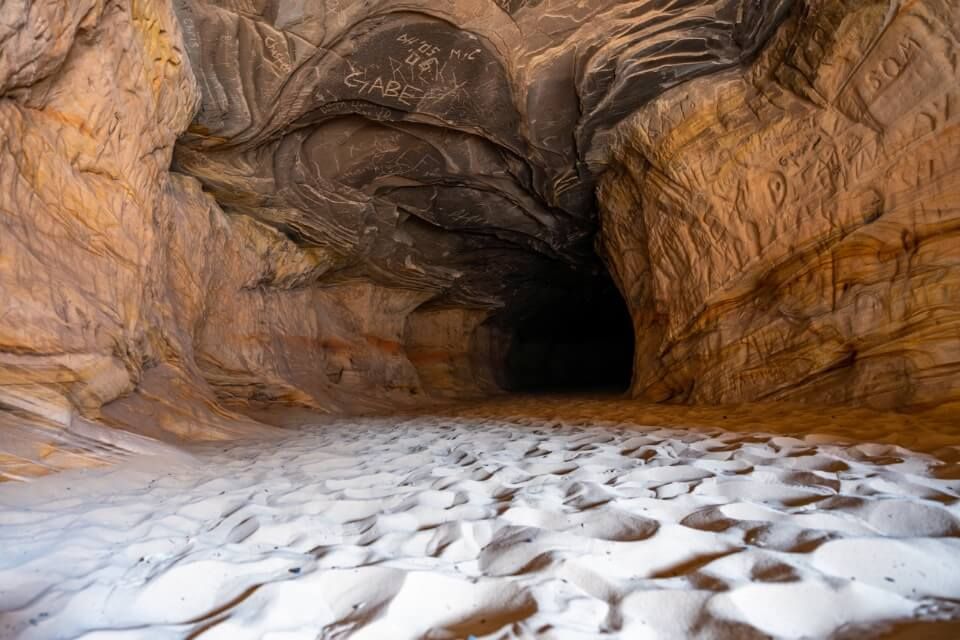 Moqui Caverns are under 100 meters in length and walking from one side to the other inside the sand caves won't take long.
The caverns are around 5-10 meters wide throughout, which means it can get crowded if there are several groups visiting at the same time.
The hiking trail to reach Moqui Caverns is relatively short at around 0.5 miles round trip.
Hiking To Moqui Caverns
Trail Distance: 1.2 miles
Elevation Gain: 80 feet
Difficulty: Moderate
Time Required: 45 minutes to 1 hour
Dogs: Allowed, but trail is steep in sections
Best Season: Year round
Recent Comments: AllTrails
After you've parked your vehicle in the parking lot at the Best Friends Animal Sanctuary turn, walk along the flat trail at the bottom of the cliff.
Pass the caves to your right side and continue until you reach a section of the cliff with a less steep climb.
At the cliff wall, the hike turns into a bit of a scramble. We recommend hiking shoes with extremely good tread. The slick rock face will be covered in sand and it can get very slippery, especially after rain.
Once you make it up the cliff wall, you will walk along a flat ridge directly to the sand caves themselves. As you level out at the top, make sure you stay as close to the canyon wall as possible.
Once you have had enough of sand in the caves and filled your camera sim with photos, you just need to walk back along the ridge and slowly descend the same steep cliff wall.
Moqui Caverns History
The sand caves of Moqui Caverns near Kanab are not naturally formed. These caves were man-made back in the 1970's when sand in the area was mined for glass production.
The mining process was short, but they left behind some fun caves for us to explore!
Leave No Trace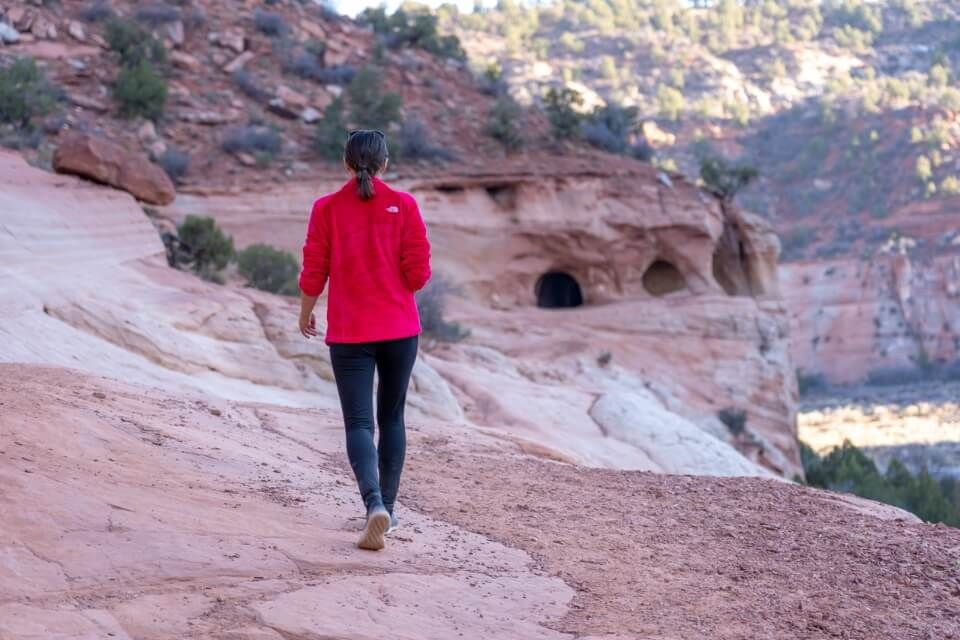 During your visit to Moqui Caverns, you may notice a lot of scratches and graffiti. Please do not add the destruction of the sand caves.
Marking the caves in any way is considered vandalism.
It is important to leave no trace so others can enjoy this beautiful spot on future visits to Kanab. Camping and campfires are not allowed in the sand caves.
Best Time To Visit Moqui Caverns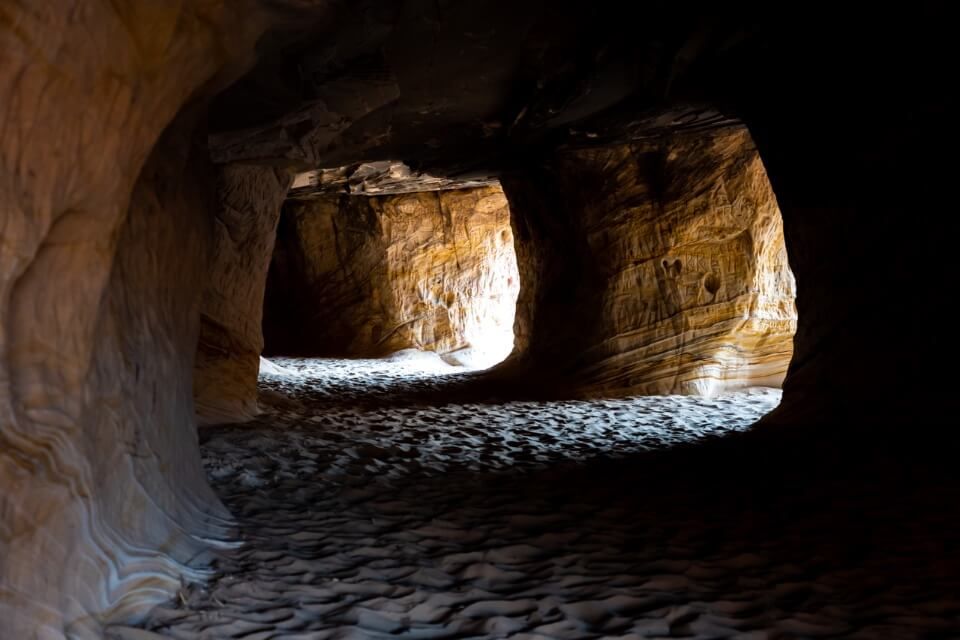 Moqui Caverns are open all day and year round. The best time to visit the sand caves is about an hour before sunset for the best lighting inside the tunnel like maze of caves.
We had planned to visit Moqui Caverns at sunset, but we spent a little too much time at the Best Friends Animal Sanctuary and arrived at the sand caves right as the sun was setting.
By this time, the sun had dropped down below the cliffs on the opposite side of highway 89 and we had missed the window of opportunity.
It was totally worth it for our time with the animals, but if you are going for that Instagram photo, make sure you are in the caves at least an hour before sunset.
Check sunset times for Kanab here.
Where To Stay In Nearby Kanab, Utah
The small city of Kanab Utah has a surprising amount of high quality accommodation options at extremely reasonable price points.
We have rounded up the top rated hotels as per previous guests to the area taken directly from booking.com, which we typically use to book our own hotels when traveling.
Top rated hotels in Kanab, Utah
Budget
Mid Range
Luxury
Click on each hotel to see prices for the nights you will be visiting Kanab.
Want to see the top Kanab hotels?

Read our complete guide to the 12 best hotels in Kanab Utah to see a detailed roundup of your top rated cheap, mid range and luxury hotel options.
Is Moqui Caverns Worth Visiting?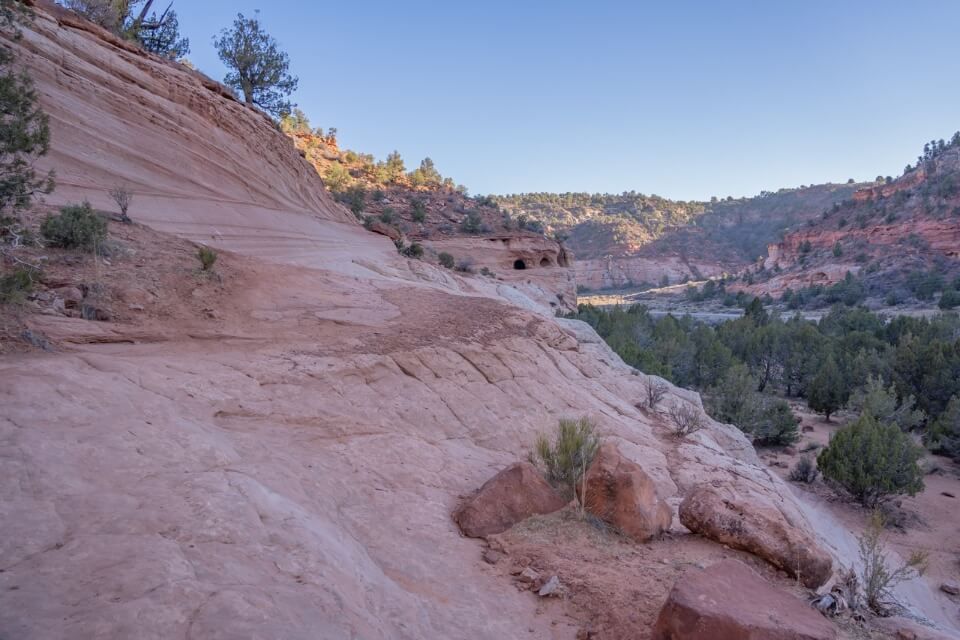 Moqui Caverns are definitely worth visiting on a visit to Kanab. The hike is short and the sand caves are a fun photo location, plus it will only take 30-40 minutes total.
Several photogenic natural and man made attractions such as Moqui Caverns are what make Kanab one of the best places to visit in Utah.
Even if you are short on time, a hike to the Moqui Caverns is still possible. With the trailhead directly on the roadside of US-89, there isn't a more accessible hike around.
More Around Kanab
Utah Planning Guides
Want more Utah content? Head over to our Utah Travel Guides to explore the Mighty Five National Parks and beyond.
---
We hope this guide to Moqui Caverns helps with planning your visit to Kanab, Utah!
Please let us know if you have any questions about the Moqui Caverns or surrounding area of Kanab in the comments below.
Happy Hiking,
Mark and Kristen
Was This Post Helpful? Pin It For Your Hike!