Toadstool hoodoos is a fun, short and family friendly hike located half way between desert adventure favorites of Kanab in Utah and Page in Arizona. The easy trail follows a dry wash and leads to a wide, shallow canyon filled with exceptionally photogenic mushroom shaped rock formations.
Despite already hiking The Wave earlier in the day, we simply couldn't miss out on a landscape with such a unique sounding name.
We're going to explain exactly how you can visit the picturesque toadstool hoodoos during your vacation to the American Southwest.
Let's hike to the toadstool hoodoos of southern Utah!
What Are Toadstool Hoodoos?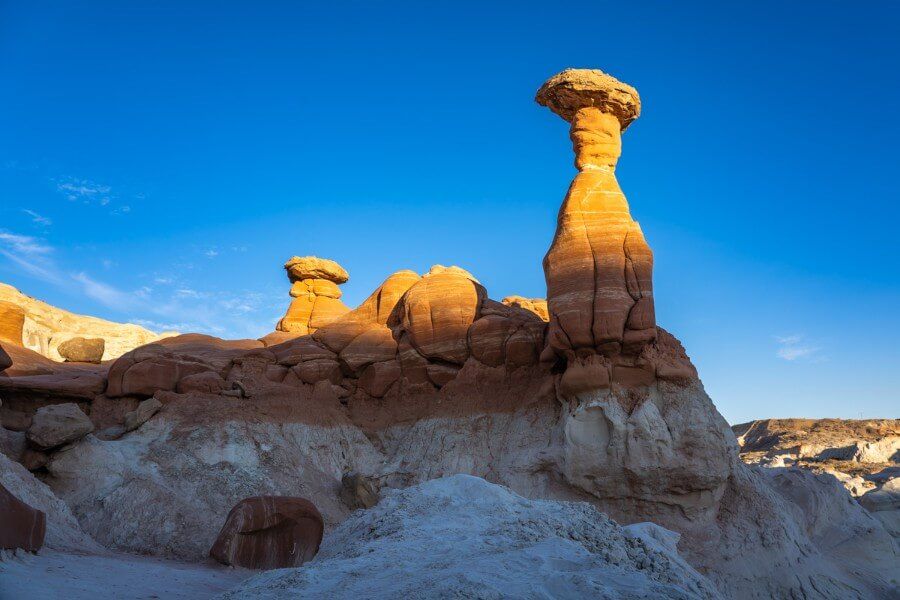 A toadstool hoodoo is a natural rock formation consisting of a larger boulder perched on top of a rock with a smaller diameter. From a distance, toadstool hoodoos appear to look like mushrooms, which is where the name 'toadstool' originates.
Sounds better than mushroom hoodoos, right?!
If you have been to nearby Bryce Canyon National Park, you will have seen the most amazing hoodoos in the US with spire like rock projections scattered throughout a bowl shaped amphitheater.
Hoodoos often look like tall chimneys getting thinner and thinner from bottom to top.
The toadstool hoodoos along this particular hike are unique because they are narrowing chimneys balancing very large rocks on top.
The rocks on top of each toadstool hoodoo here appear as though it would fall under the slightest breath of wind.
How Are Toadstool Hoodoos Formed?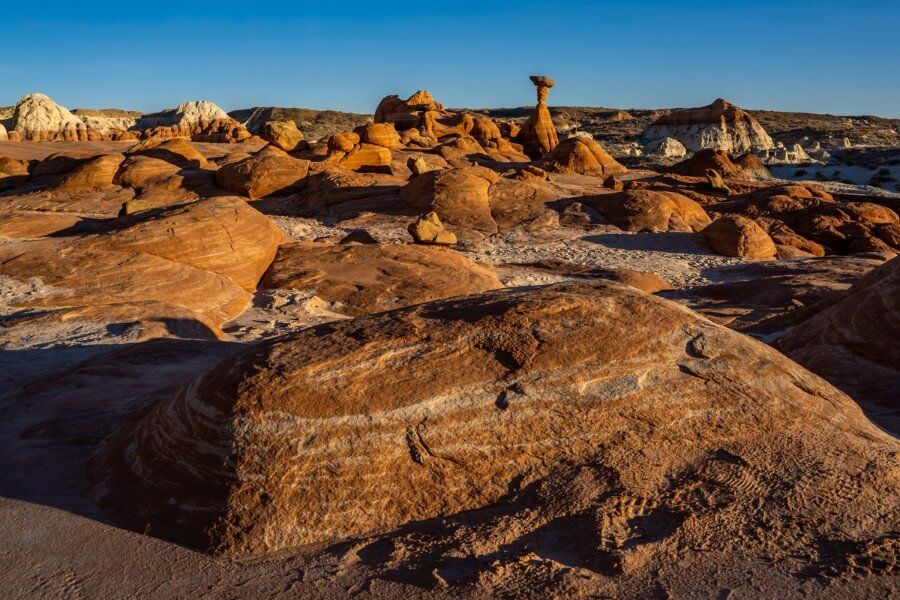 Toadstool hoodoos are formed by weathering and erosion over many years. Ice, rain, wind and snow play a big part in creating these intriguing rock formations, including the hike in Southern Utah leading to a great example of an otherworldly landscape.
The elevation of Toadstool Hoodoos in Southern Utah is around 4500 ft. In Winter, this area frequently experiences both above freezing and below freezing temperatures.
In above freezing temperatures, water from rain and snow will seep into cracks of formations. But when the water freezes at night due to the plummeting temperatures, the water then expands inside the rock as ice.
The expansion of ice causes the rock to break apart, a process known as 'ice wedging'.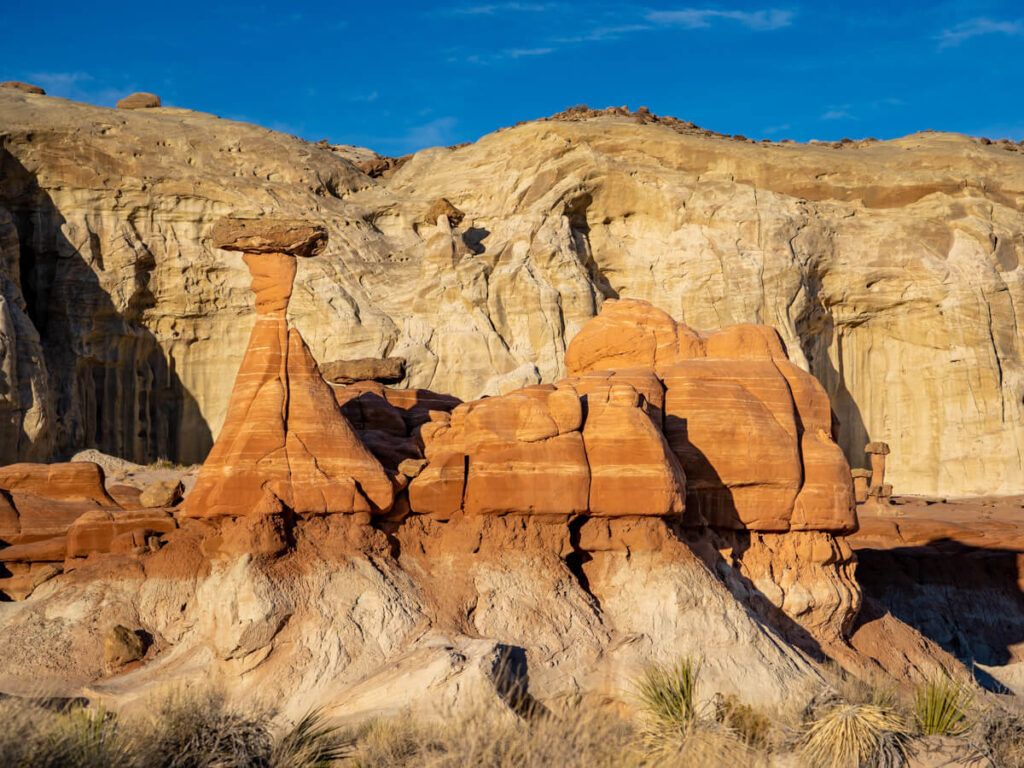 Hoodoos typically form when the upper rock layer is more durable than the softer layer underneath. In the case of the toadstool hoodoos in Southern Utah, sandstone in the lower layers are eroded much faster, leaving a mushroom like top.
And eventually over time, as more of the rock begins to break away, we are left with interesting formations like the toadstool hoodoos.
Toadstool Hoodoos Trailhead Parking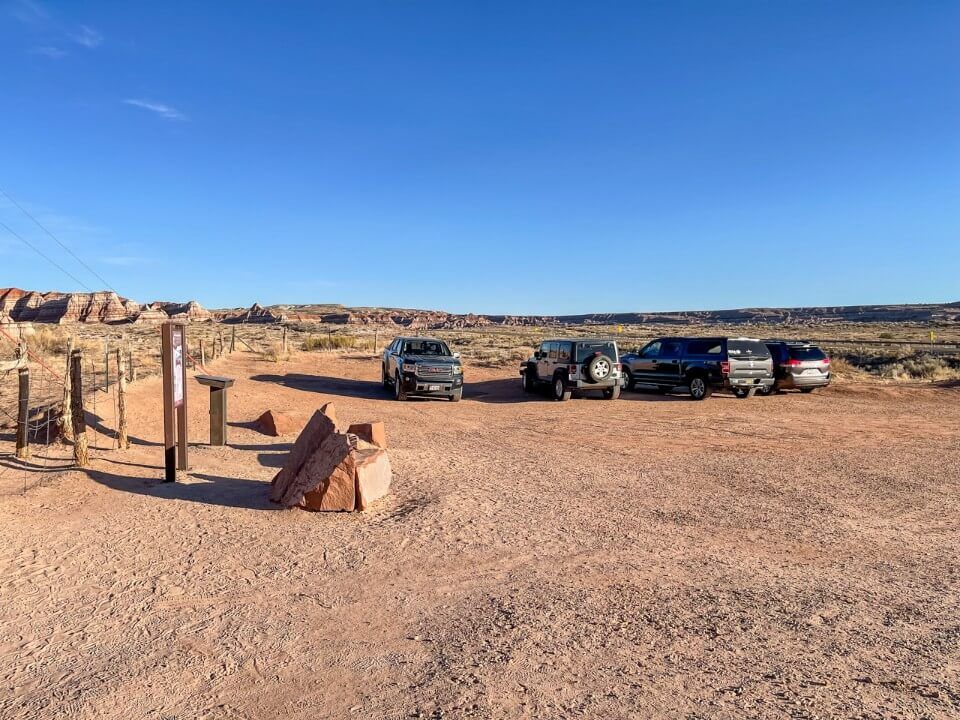 Toadstool hoodoos hike trailhead is located within Grand Staircase-Escalante National Monument in Southern Utah. It is 45 miles East of Kanab, Utah and 29 miles West of Page, Arizona.
The parking lot for the Toadstool Hoodoos trailhead right off highway-89 (US-89). The parking area isn't signposted until late and the parking lot isn't obvious, so it will come up on you quickly.
If you are visiting some of the popular regions near Kanab or Page, toadstool hoodoos is a fantastic stop for a quick hike.
Let's take a look at driving distances from nearby attractions:
Toadstool Hoodoos Hiking Statistics
Trail Distance: 1.6 miles
Elevation Gain: 141 feet (4450 ft to 4590 ft)
Difficulty: Easy
Time Required: 1 hour to 1 hour 30 minutes
Dogs: Allowed but must be on a leash
Best Season: Spring, Fall
Recent Comments: AllTrails
Toadstool Hoodoos Hike Walkthrough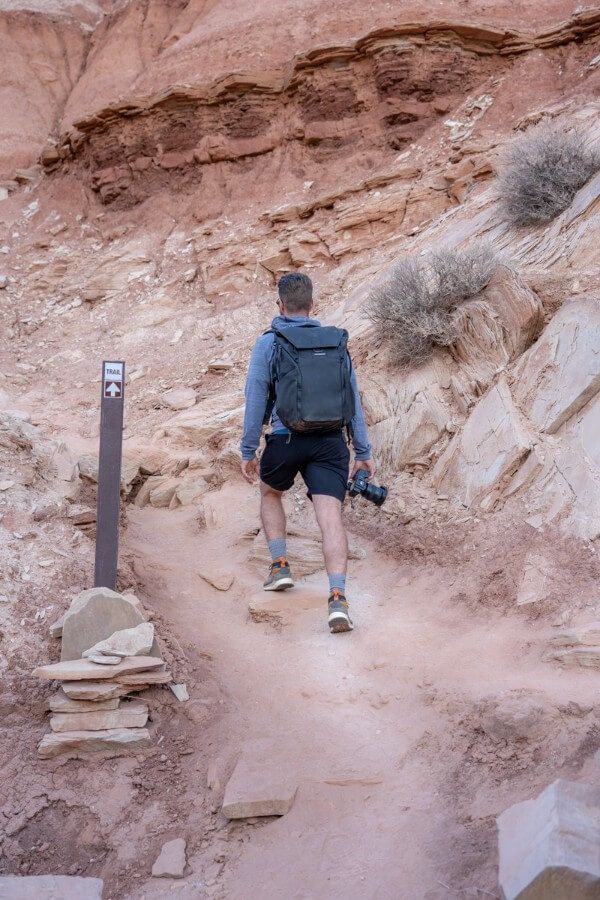 The toadstool hoodoos hike is around 1.6 miles roundtrip and it is classified as an easy trail with just 140 feet elevation gain from the trailhead to the hoodoos.
It is family friendly and perfect for younger kids.
You begin by signing the trail register and walking through a cattle gate. The trail then starts out with a short walk through formations similar to those at Badlands National Park.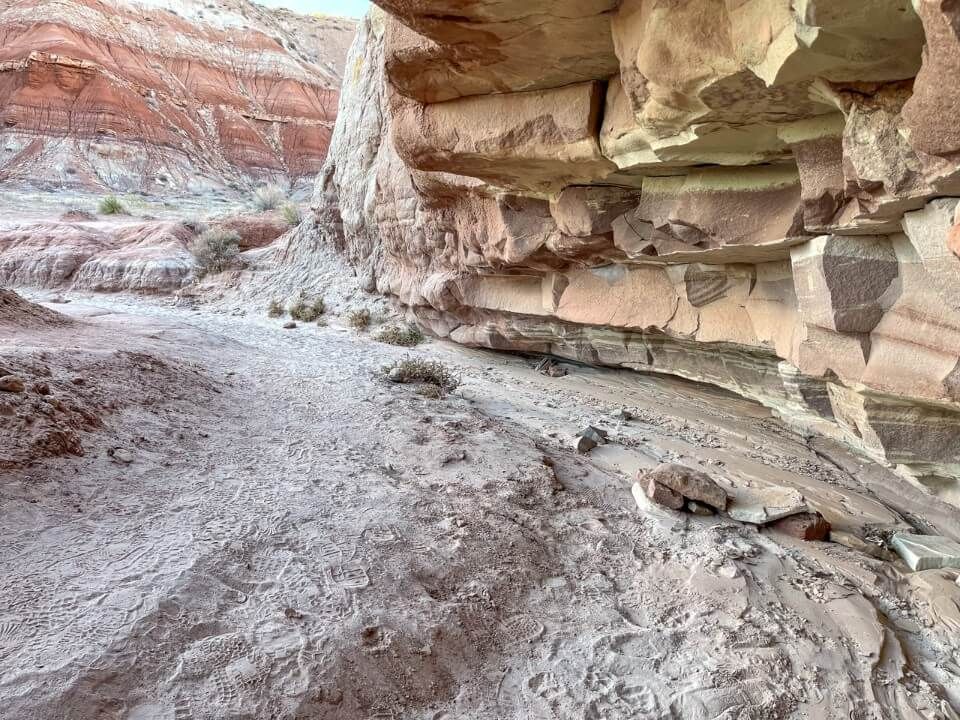 This section is very flat, well marked and easy to follow. The path twists and turns through a dry river bed with water eroded banks to each side.
About a half a mile into the hike, you will see the first toadstool hoodoo on your left. It stands alone on top of a cliff but it is very vibrant in color.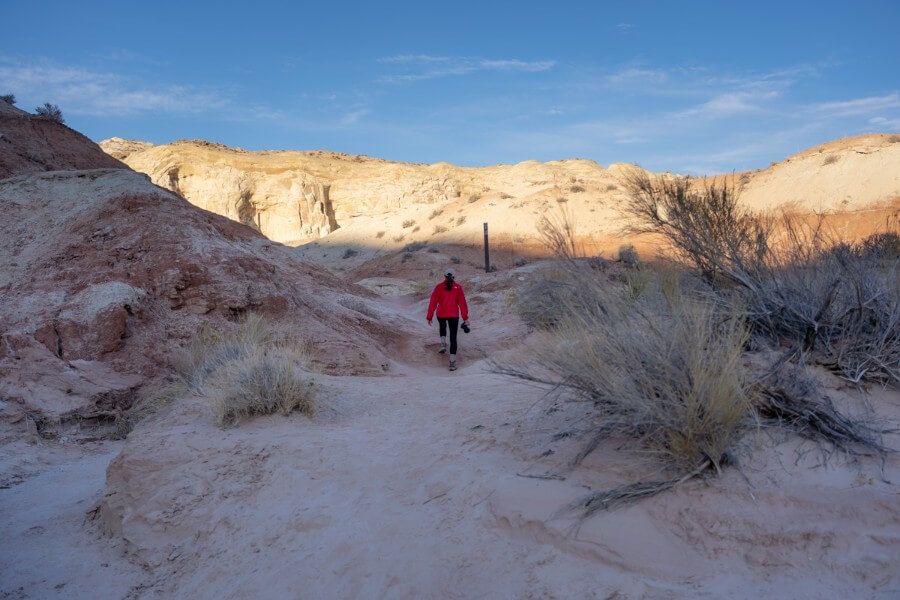 The trail will then narrow and turn into a dry wash which you will follow to an arena filled with more Toadstool Hoodoos.
A handful of sections along the trail can be steep and may be slippery if it has rained due to the terrain consisting mostly of clay.
This is an out and back walk so you will follow the same trail you just walked back to the parking lot.
What Else Is There To See?
At the end of the hike, there will be several different sections of toadstool hoodoos clusters to explore. You will walk around from cluster to cluster which will add distance to your overall hike.
Along with clusters of small toadstool hoodoos and the occasional huge individual hoodoo, you will also see a fascinating basin-like topography filled with white colored domes of sandstone and clay.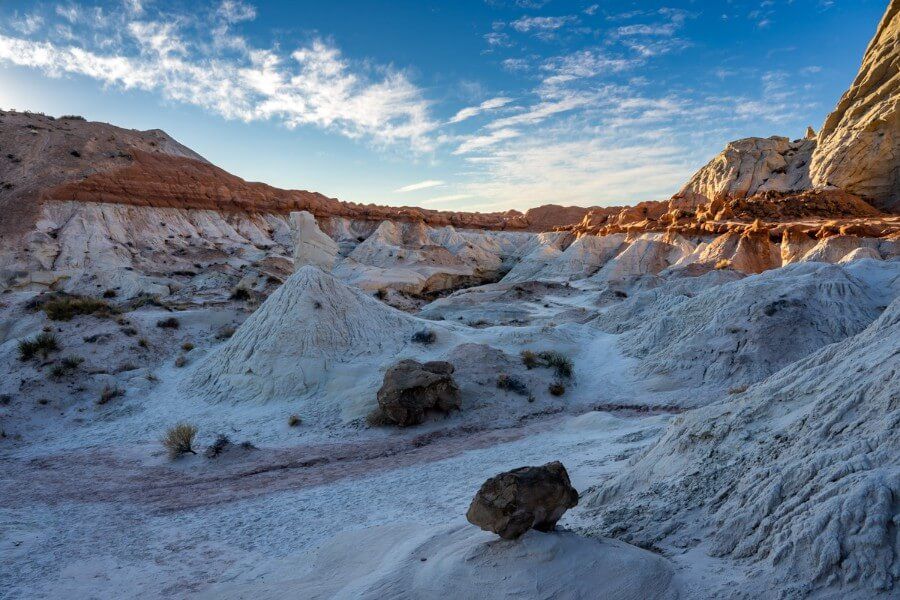 We were too late to see this basin with sunlight. It was entirely covered in shadow as you can see in the photo above.
Colors are sometimes easier to distinguish when the sun isn't lighting formations up.
We could really see the dull gray mixed with white and the occasional pinky purple color streaking through the basin.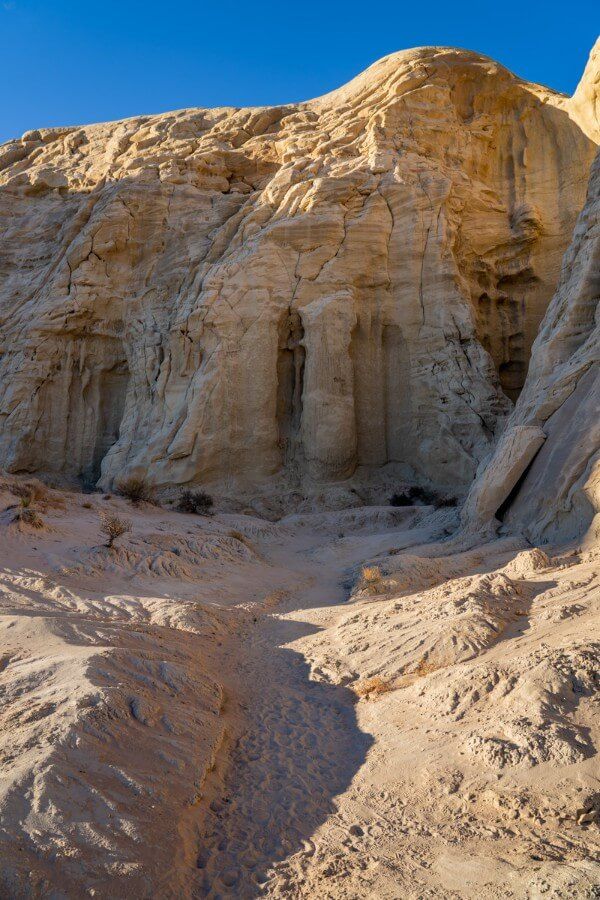 Take time to walk right over to the towering cliffs absorbing all of the sunlight around dusk.
If you look closely, you can see erosion has formed irregular concave shaped within the cliffs, a little like melted candle wax falling under gravity and then solidifying.
So, yes there's more to see at toadstool hoodoos other than the mushroom shaped rocks!
Are The Toadstool Hoodoos In Utah Worth Visiting?
Toadstool hoodoos are definitely worth visiting when driving between Page and Kanab on the Utah / Arizona border. This is a short family friendly hike with interesting and photogenic rock formations at the end.
If you're already in the area, allow an hour or two for hiking to toadstool hoodoos. Timing it for sunset would be even better.
We personally think the many natural attractions like Toadstool Hoodoos make Kanab one of the most unmissable places to visit in Utah.
Our Experience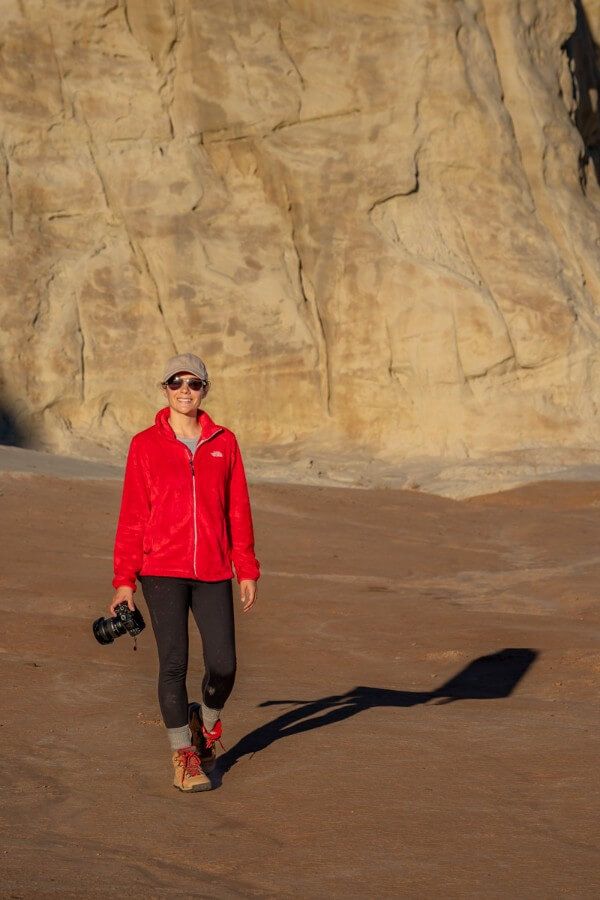 We have to admit we almost skipped toadstool hoodoos hike after spending most of the day photographing The Wave.
But we have FOMO (fear of missing out!) and despite being tired, persistence got us into the trailhead parking lot along US-89. After a quick snack and drink, we started our hike to the toadstool hoodoos.
Once we saw that very first toadstool hoodoo on the cliff, we both looked at each other and said we are very happy we chose this hike.
All things considered, we would go as far as saying that Toadstool Hoodoos is one of the top hikes in Utah.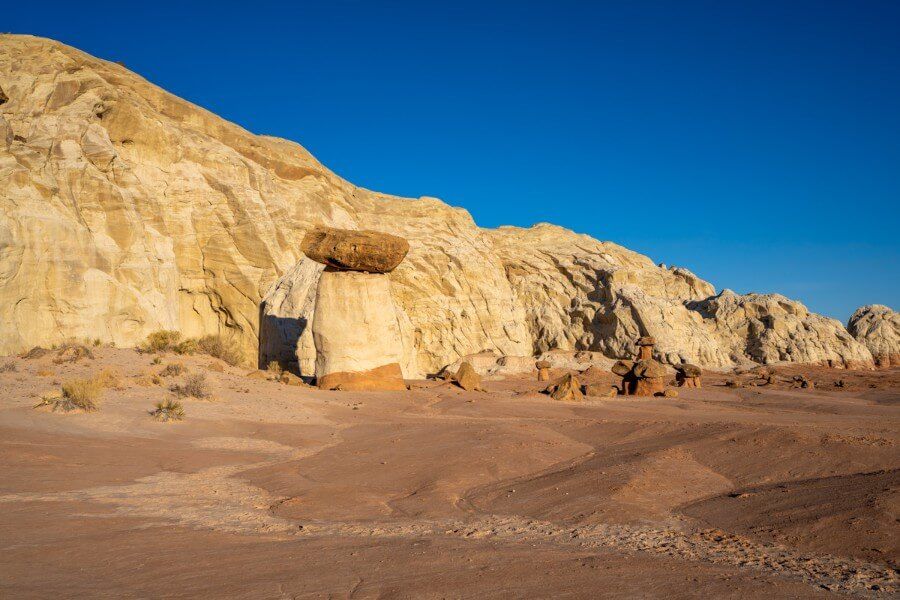 The toadstool hoodoos were fun to explore and the whole landscape at the end of the trail is extremely picturesque. If we visited again we would aim to arrive a little earlier so we could capture the formations in better light.
The only thing we didn't like were electricity pylons running through portions of the hike, but people need power!
Hiking Tips
Even though this is a relatively short trail, here are a few important tips for your visit:
The trailhead parking for this hike is directly off US-89 and it is completely free. The dirt parking lot can probably hold about 25 cars, but be sure to lock your valuables.
There are two porta-potties located at the trailhead.
This area can be very muddy if you visit after a rainfall. Make sure you will be wearing shoes you don't mind getting muddy.
This hike is completely exposed so you may want to consider sunscreen and bring plenty of water.
Looking for hiking inspiration? Read our popular guide to the 50 best USA hikes next!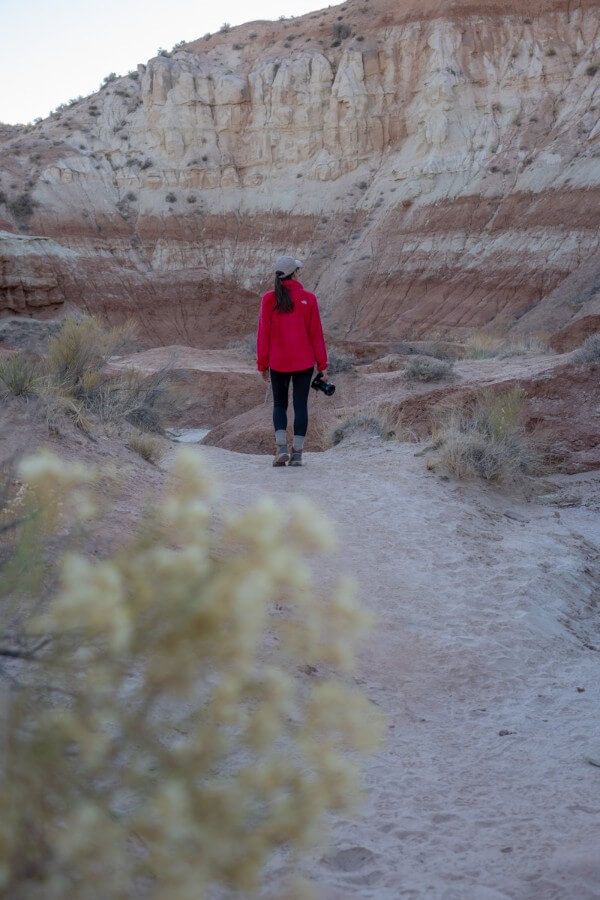 The Principle Of Leave No Trace
Leaving no trace is an important part of any hike. The ethical guidelines promote hikers to leave an outdoor space even better than they found it.
It is important for us as hikers to minimize the negative impact humans have on the environment. By leaving no trace, this will ensure toadstool hoodoos will be enjoyed by future generations.
Here is what you can do minimize impact:
Do not carve your initials into the rocks
Do not alter the rock formations in any way
Dispose of all waste properly
Stay on the trails
Leave what you find
And last but not least, avoid touching and climbing at all costs.
We saw a group climbing very close to the toadstool hoodoos for pictures. While that might be tempting, these rock formations are very fragile.
Best Time To Hike To The Toadstool Hoodoos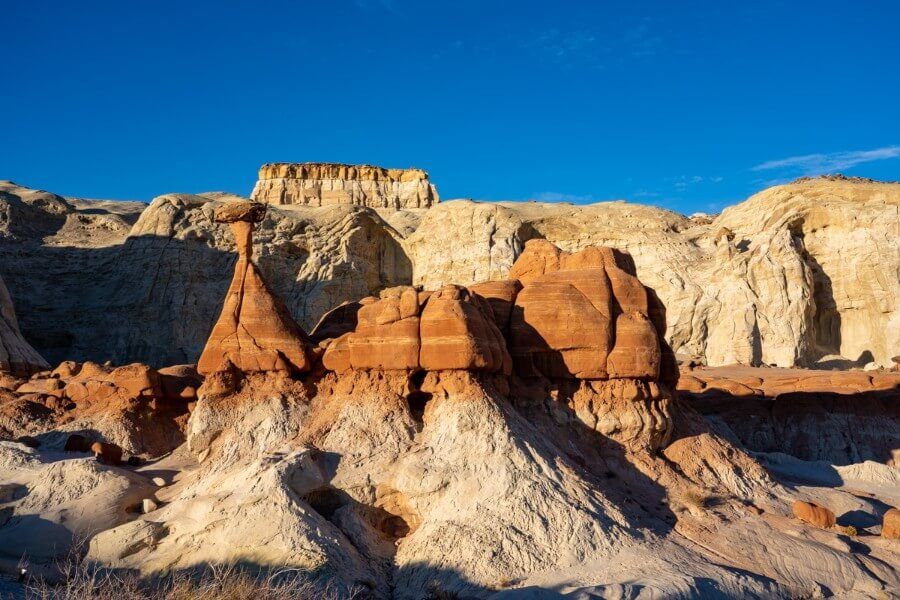 The Toadstool Hoodoos trail is open year round. Spring and Fall offer the most comfortable hiking conditions. In Summer, this trail will be very hot. There is minimal shade and you will be exposed for the entire hike. Conversely, in Winter you will be faced with cold mornings and evenings.
The best time of day to hike toadstool hoodoos is around an hour to two before sunset. We arrived to the area containing the fun formations maybe 30 minutes before sunset because we couldn't tear ourselves away from The Wave.
However, there were several other photographers on site shooting sunset exposures of the surprisingly photogenic landscape.
So a heads up to pro photographers and social media fans – arrive at least an hour before sunset for the best light.
Where To Stay
The best accommodation options near toadstool hoodoos are in Kanab, Utah or Page, Arizona.
Having stayed in both cities, here are our recommendations with ratings by previous guests on booking.com:
Top rated hotels in Kanab, Utah
Budget
Mid Range
Luxury
Click on each hotel to see prices for the nights you will be visiting Kanab.
The small desert town provides plenty of highly regarded hotel options. We really enjoyed the vibe in Kanab, particularly in the evenings.
Want to see the top Kanab hotels?

Read our complete guide to the 12 best hotels in Kanab Utah to see a detailed roundup of your top rated cheap, mid range and luxury hotel options.
Top rated hotels in Page, Arizona
Budget
Mid Range
Luxury
Check prices of every hotel in each category because hotel prices in Page fluctuate significantly and there are often deals on certain hotels at different times.
More Around Kanab
Utah Planning Guides
Want more Utah content? Head over to our Utah Travel Guides to explore the Mighty Five National Parks and beyond.
---
We hope this guide to Toadstool Hoodoos helps with planning your visit to Kanab, Utah!
Please let us know if you have any questions about Toadstool Hoodoos or surrounding area of Kanab in the comments below.
Happy Hiking,
Mark and Kristen
Was This Post Helpful? Pin It For Your Hike!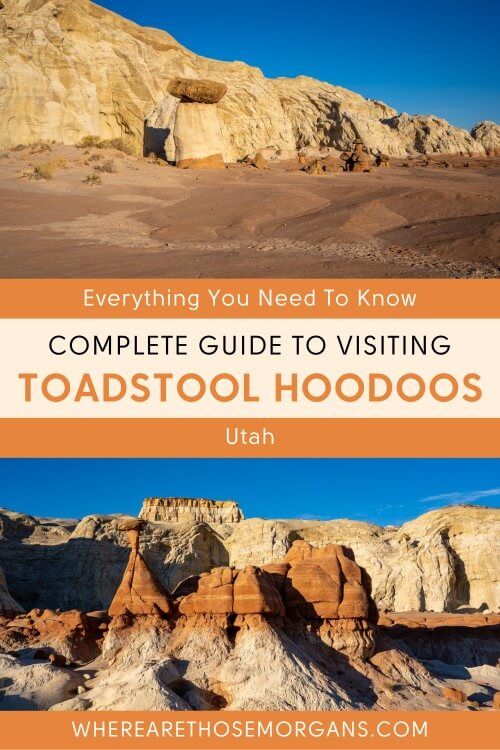 Note: This article contains affiliate links. When you make a purchase using one of these affiliate links, we may earn a small commission at no extra cost to you.
All Rights Reserved © Where Are Those Morgans, LLC. Republishing this article and/or any of its contents (text, photography, maps, graphics, etc.) in whole or in part is strictly prohibited.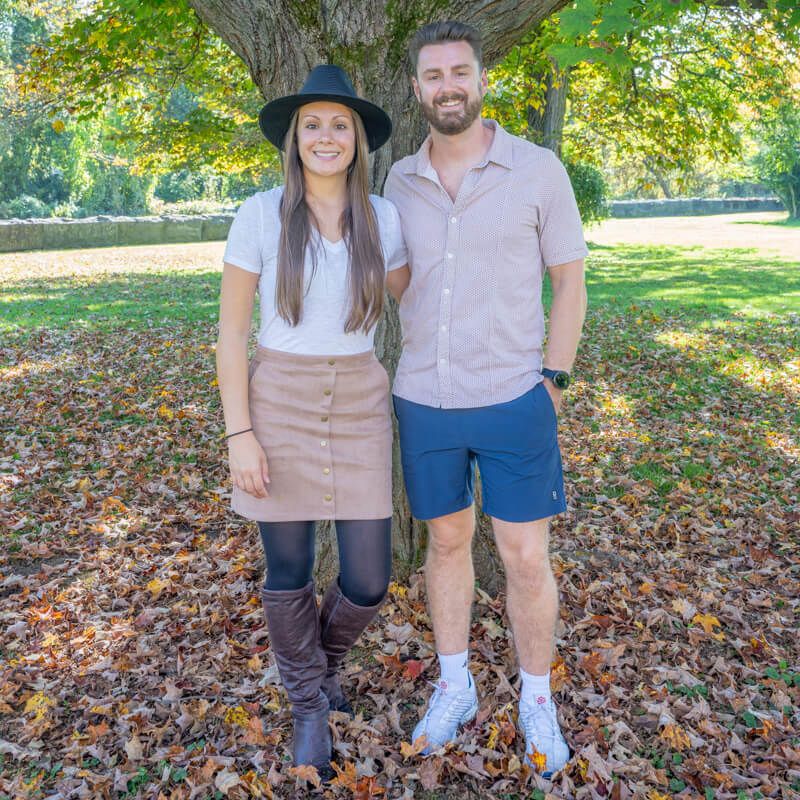 Mark and Kristen Morgan are travel, hiking and photography experts. Over the last 6 years traveling full time, they have explored more than 40 countries and 30 US states.
Their work has been featured in USA Today, Gestalten, Get Your Guide, CityPASS and Condé Nast Traveler along with various other publications.