Poo Poo Point is an incredibly popular family friendly hike less than 30 minutes drive from Seattle, Washington. We're going to walk you through 2 very different approaches to reach the Poo Poo Point summit, firstly via the more heavily trafficked Chirico Trail and secondly via the longer but quieter Poo Poo Point Trail.
Located on the Western fringes of Tiger Mountain State Forest near Issaquah, Washington, the Poo Poo Point summit is famous for 2 things; para gliders soaring into the sky from a steep launchpad and spectacular views over a distant Mt Rainier.
Parking is limited for both trailheads but there a number of options for you to consider, including parking at the lesser known High School Trailhead, which later transitions into the Poo Poo Point Trail.
Poo Poo Point is one of those classic Washington hikes with amazing summit views for relatively little effort. It is easily reached from Seattle and makes for a perfect day hike with loved ones.
Let's hike!
*Please note this post may contain affiliate links. If you click on one, we may earn a small commission at no extra cost to you. Thank you for supporting the free content we provide! Read more in our disclosure policy.*
What Is Poo Poo Point?
We'll be the first to admit we couldn't help but laugh when we saw a local hike near us called Poo Poo Point.
However, contrary to myth and legend (or was that just our own conversation?!), Poo Poo Point is not a place where hikers take a collective number two at the top of a hill!
The name is in fact derived from whistles being blown in the Tiger Mountains by workers in the logging industry around the early 1900's. The noise of the whistle sounded like "Poo Poo" and thus a shoulder summit of the hilly region was named after the sound.
Today, Poo Poo Point is a very heavily trafficked hike from which you can soak up wonderful views over Mount Rainier to the South. Looking Northwest you will see para gliders and hang gliders taking off, Lake Sammamish, downtown Bellevue and maybe even Seattle's cityscape on a clear day.
How To Get To Both Poo Poo Point Trailheads From Seattle
Click or touch the google map to activate. Move around, zoom in and out, and look at just how simple the drive is from Seattle on I-90.
You have two options for hiking to Poo Poo Point:
Chirico Trail – Shorter, steeper, more popular, two parking lots (one free and one paid).
Poo Poo Point Trail – Longer, more gradual, far less popular, limited parking (free).
Note: Poo Poo Point Trail is also called High School Trail if you look on google maps. The trails combine and there is a signpost along High School Trail marking the beginning of Poo Poo Point Trail. We will refer to this route as Poo Poo Point Trail in this hiking guide.
Both trailheads are located slightly South of Issaquah, Washington. They are exceptionally easy to access after leaving I-90 at exit 17 onto Front Street, which means a very short total drive time from Seattle, Bellevue and North Bend areas.
For Poo Poo Point Trail turn left onto 2nd Ave after 1.5 miles along Front Street, or for Chirico Trail drive 2.8 miles along Front Street until reaching the roadside parking lot.
Here are distances and average times from nearby cities to the Poo Poo Point Chirico Trail:
Seattle – 19 miles / 25 minutes
North Bend – 15 miles / 20 minutes
Bellevue – 13 miles / 20 minutes
Renton – 10 miles / 20 minutes
Everett – 40 miles / 50 minutes
Tacoma – 36 miles / 45 minutes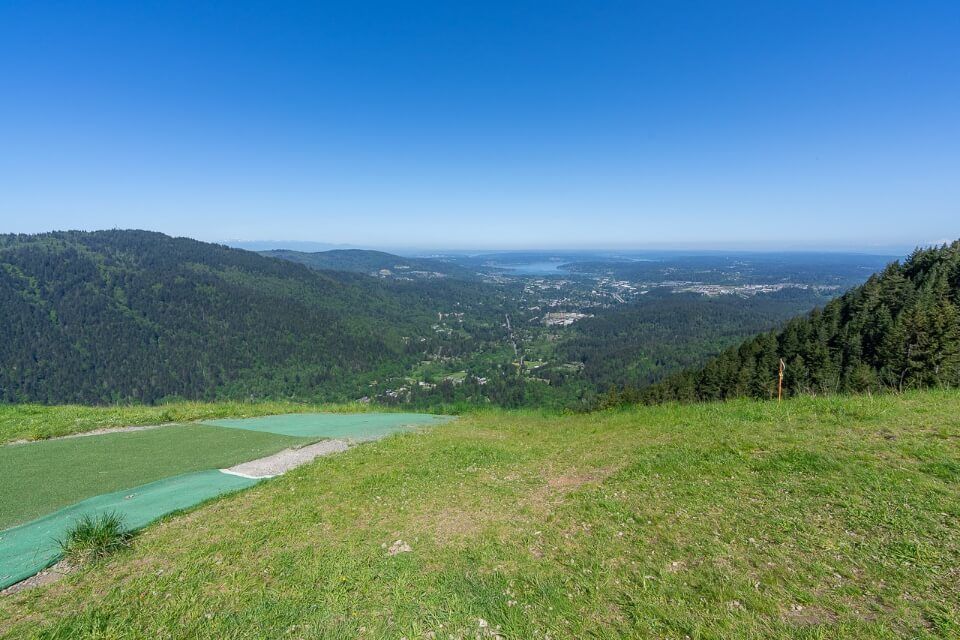 Parking For Both Trailheads
Getting parked for popular hikes in Washington can be a real challenge. If you plan to hike this trail in Summer, on weekends and especially during a holiday weekend, you will likely run into congestion.
To avoid problems with parking, arrive very early in the morning or much later in the afternoon. Sure, you will get a spot if you arrive between 9am – 3pm but you will likely have to play parking spot roulette with other cars circling.
We arrived to the Chirico Trail parking lot at 7am on a Saturday morning in June and it was full. We weren't aware of the additional parking lot nearby (which has a $5 fee), so instead we drove 1.4 miles to the High School Trailhead for a Poo Poo Point Trail ascent.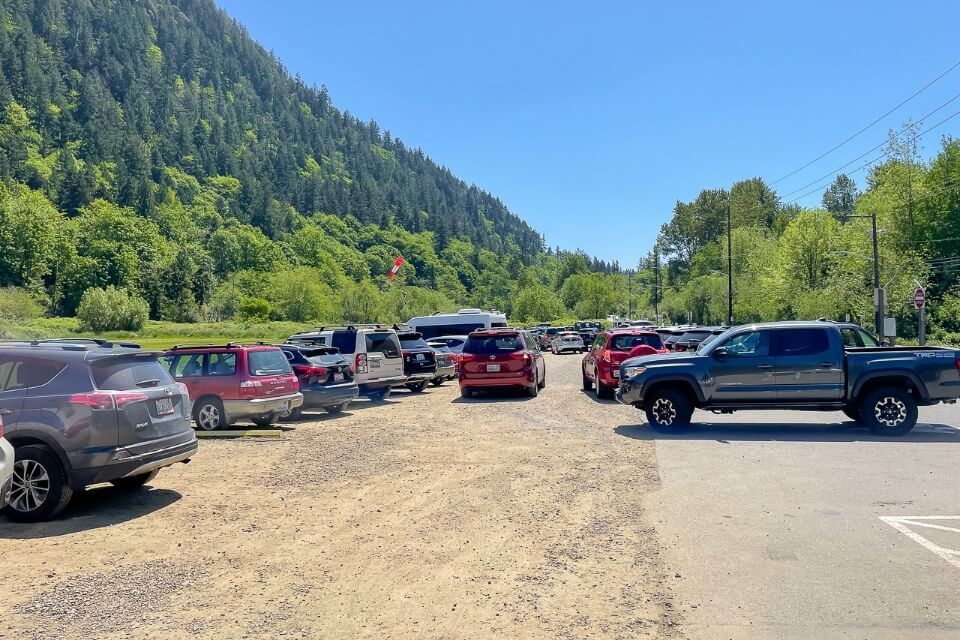 Chirico Trail Main Parking Lot (Free)
The main parking lot for Chirico Trail is a very obvious open lot. Put "Poo Poo Point Trailhead" into your google maps to set GPS directions.
There are maybe 40 spaces in this lot and they will fill quickly in peak times. Visit on a weekday and you should be able to park here.
Note: When parking for the Chirico Trail you will see a blue sign saying Poo Poo Point Trail in white letters. This is the Chirico Trailhead and NOT the Poo Poo Point Trailhead which can be confusing.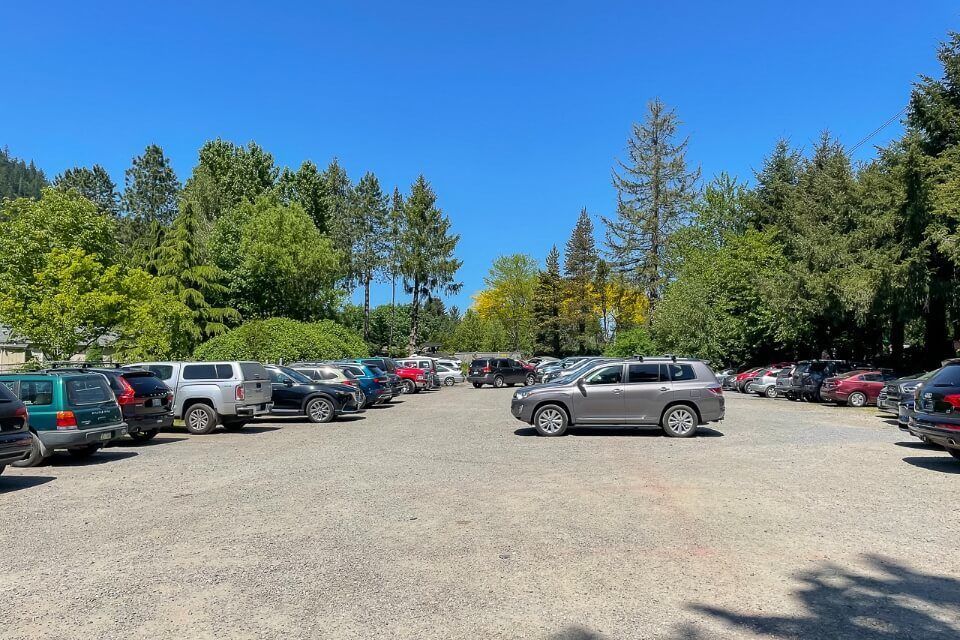 Chirico Trail Overflow Parking Lot (Paid)
If the main roadside lot is full but you definitely want to take on the shorter Chirico Trail as opposed to the longer High School Trail / Poo Poo Point Trail, there is an overflow lot around 100 meters North of the main lot on the left side of the road as you look at a map.
This overflow lot charges $5 per vehicle but has plenty more space. Between the two lots, only on the busiest days of the year will you struggle to find a spot.
Poo Poo Point Trail Parking
Park at the Poo Poo Point Trailhead if both lots are full for the Chirico Trail or you would prefer to hike the longer but much quieter route up to Poo Poo Point.
A small lot fitting around 10 cars can be found right after turning off Front Street onto 2nd Ave. If using google maps for directions, find Issaquah High School and search for "The Rainier Trail".
The Rainier Trail is effectively the trailhead for High School Trail. After 0.2 miles you will begin the High School Trail which in turn leads to Poo Poo Point Trail.
If this tiny lot is full, there is more roadside parking on SE Evans Street, behind the school. You would just follow the Rainier Trail to High School Trail from the other side.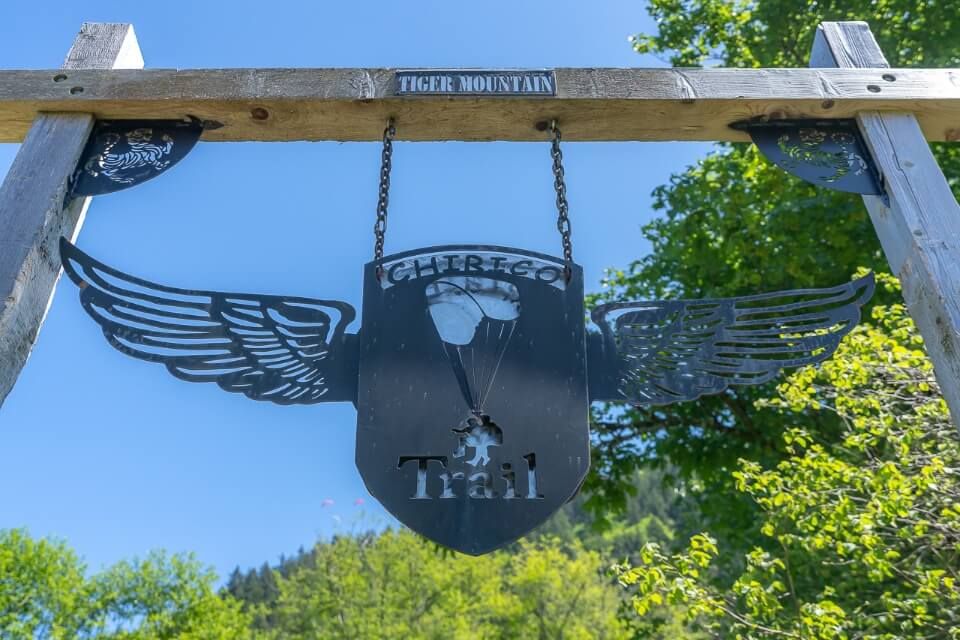 Trail Information
Chirico Trail Out And Back
Trail Distance: ~4 miles roundtrip
Type of Trail: Out and Back
Trail Difficulty: Moderate
Time Required: 1.5 – 3 hours
Elevation Gain: Approximately 1750 ft
Trailhead: Issaquah-Hobart Road Southeast
Poo Poo Point Trail Out And Back
Trail Distance: ~7 miles
Type of Trail: Out and Back
Trail Difficulty: Moderate
Time Required: 2 – 4 hours
Elevation Gain: Approximately 2000 ft
Trailhead: 2nd Ave (Off Front Street)
Poo Poo Point Trail and Chirico Trail Loop
Trail Distance: ~6.5 miles roundtrip
Type of Trail: Loop
Trail Difficulty: Moderate
Time Required: 2 – 4 hours
Elevation Gain: 1750 ft or 2000 ft depending on which trail you ascend
Trailhead: Either parking lot
Note: If you loop, be aware that part of your hike will be along a fast road without sidewalks. This might not be suitable for younger kids.
Poo Poo Point Trail Hiking Walkthrough
Chirico Trail is the more popular hike out of the two, so we will lay out the hiking walkthrough as though you are taking this trail to the summit.
However, we will include notes on the Poo Poo Point Trail as well as photos so you can see which you would prefer to take on.
Let's get right into what you can expect on this fun and family friendly hike!
Looking for hiking inspiration? Check out our popular guide to the 50 best hikes in the US next!
1. Chirico Trail Ascent
After getting parked up at either the main lot or the overflow lot, pass by the sign stating Poo Poo Point Trail and notice another sign warning to look up and around.
Why? Well, because the trailhead also acts as the landing zone for para gliders and hang gliders who take off from the summit of Poo Poo Point.
Once the air space is clear, follow a short path leading to an ornate hanging shield and wings with a parachute. This tells you that you are on the Chirico Trail, before arriving at a hiking information board.
Begin the ascent in a picturesque forested area with hard packed dirt tracks, tree roots and small stones. Along the way you will climb decorative stone steps and pass by trees blanketed by thick green moss.
If you set off early, you can expect to have relative solitude on the hike. However, mid morning until mid afternoon you can expect to share the trail with plenty of humans and dogs!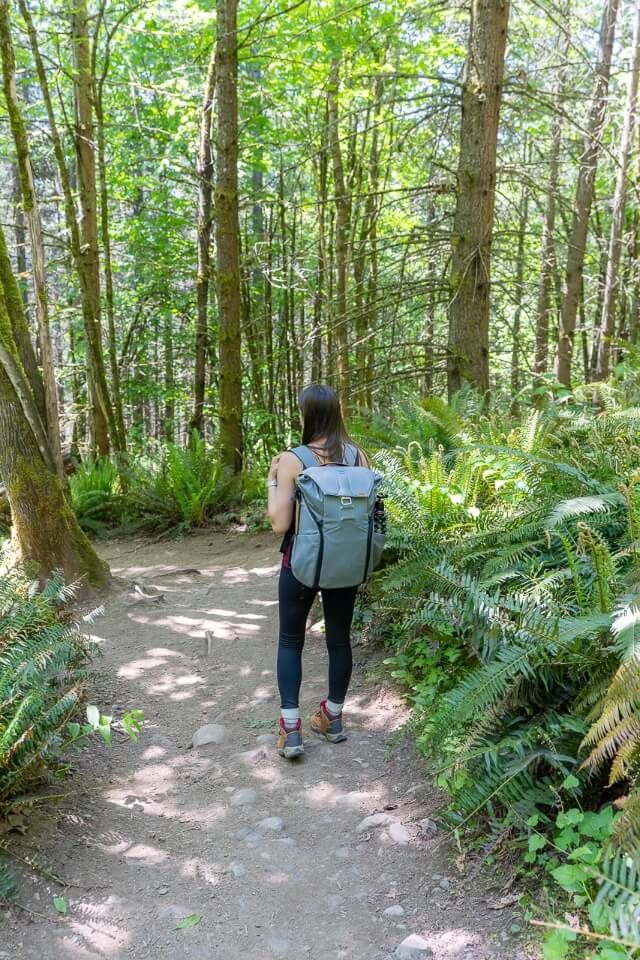 2. Poo Poo Point Summit
The best part of summiting Poo Poo Point is that there are two completely different and segregated viewpoints. When ascending via Chirico Trail, you will first come to the South facing 'summit'.
This South facing summit opens up a 180 degree panorama, with the magnificent stratovolcano Mount Rainier dominating the distant skyline. Spend time on the open grassy area here and soak up those views.
Next, finish off the hike to Poo Poo Point. Just a short 150 ft elevation gain remains and maybe 0.2 miles. The path turns into a service road and eventually you will see what looks like an artificial golf putting green surface.
This is the summit and the runway for para gliders or hang gliders to soar off into the open sky. If you time it right, you will be able to watch people actually taking off.
The day we hiked to Poo Poo Point, we never saw any take off but they were coming in to land as we finished around 10.30am.
Look beyond those flying to the base and you will see Lake Sammamish, Bellevue and on a clear day even downtown Seattle with binoculars or a super-telephoto lens.
Personally, we much preferred the South facing viewpoint overlooking Mount Rainier so that's where we had our mid morning snack.
Note: There are restrooms at the Poo Poo Point summit, but not at the South facing viewpoint.
3. Chirico Trail Descent
The descent should only take between 30 minutes and 1 hour, depending on how quickly your party hikes and how many times you get caught in a hiker traffic jam.
As always when hiking, we find it easier to appreciate the trail and its surroundings on a descent. Make sure to keep an eye out for ferns illuminated under sunlight, dense moss covered branches and even wildlife.
Remember this is bear country. It's unlikely you'll run into a bear on a hot and busy Summer's day but in Spring and Fall during the week there's every chance you could spot a bear on the Poo Poo Point Trail.
If you usually hike with poles, we would recommend you do take them on both the Chirico Trail and Poo Poo Point Trail. There are steep sections in which you may need to leverage some weight, on the descent in particular.
Hikers who get an early start will notice a vast difference on the way back down as more people arrive to hike the trail. Remember to keep dogs on leashes as you will pass many more dogs on the descent.
One final thing, if you hiked to Poo Poo Point for sunset, don't forget your head torches. They do a much better job of lighting the path than your smartphone.
Poo Poo Point Trail Alternative Route
What can you expect by taking the Poo Poo Point Trail instead of Chirico Trail?
Well, for a start you will have a much more peaceful hike. Only those who read about the trail on guides like ours will know about this alternative route. Plus, the very limited parking means fewer people can hike at once from this side.
The other major aspects to consider are length and elevation of the hike. You will walk an additional 3 miles and climb a further 250 ft via Poo Poo Point Trail.
Follow Rainier Trail for 0.2 miles and turn onto High School Trail. You will eventually take a right turn onto Poo Poo Point Trail, which is clearly signposted at the junction.
Not only is the ascent more gradual, but you will also see a grove of giant fir trees and cross attractive wooden bridges passing over running water. The perfect place for your dog to cool down on a hot day!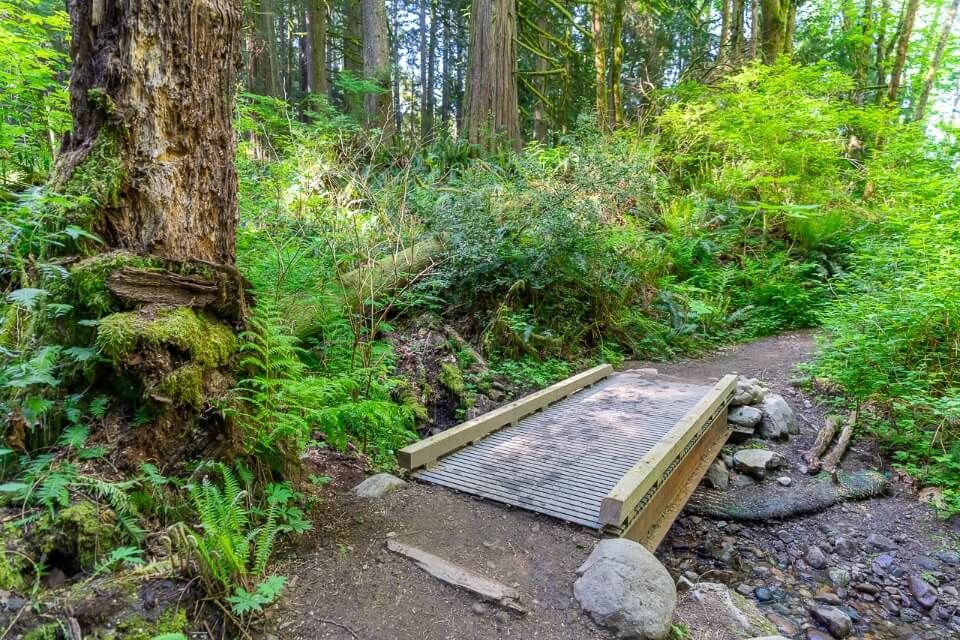 Tips For Hiking To Poo Poo Point Near Seattle, Washington
Hike very early or later in the afternoon to avoid crowds and heat.
Robust shoes are more suitable for steeper inclines and gripping on dirt trails.
No expert hiking equipment or specialist gear required.
Bugs can be a real problem at times so please don't forget repellant.
Poo Poo Point Trail and Chirico Trail are dog friendly hiking paths.
The trails are very dusty so expect a covering of dirt by the end.
Check recent comments on All Trails to see current conditions or specific advice from fellow hikers.
Pros and Cons
Let's take a look at our top pros and cons to hiking Poo Poo Point Trail in Washington.
Pros
Classic Washington hike with excellent reward for relatively little work
Stunning Mt Rainier views from the summit
Very easy access from major urban areas near Seattle
Can choose between short and steep or long and gradual ascent / descent
Cons
Can become extremely crowded in Summer and on weekends
Loop Trail means walking on busy road for a section
Parking can be a problem during peak times
Trail congestion might put some hikers off
Where To Eat And Stay Near Poo Poo Point Trail
Are you staying over in the Issaquah region to take on more hikes and enjoy the stunning scenery?
Well, you're going to need the best hotel and restaurant recommendations.
Top rated eateries in Issaquah include:
Issaquah Cafe – Breakfast
Jak's Grill – Steakhouse
Xochi – Food Truck Tacos
Tantalus – Greek
AJI Sushi – Sushi & Grill
Umi Cafe – Asian Fusion
Here are the top rated places to stay near Poo Poo Point in Issaquah (as per previous guests on Booking.com):
More Washington Day Hikes
Want more Washington content? Head to our Washington Travel Guides to explore National Parks, popular day hikes and best things to do around Seattle.
---
We hope this hiking guide to the Poo Poo Point Trail helps you plan your day hike near Seattle, Washington!
Please let us know if you have any questions about this hike or your visit to Washington in the comments below.
Happy Hiking,
Mark and Kristen
Was This Post Helpful? Pin It For Your Hike!