Mount Fremont Lookout Trail is a wildly popular day hike in the Sunrise region of Mt Rainier National Park. We're going to explain everything you need to know about hiking to Mount Fremont Fire Watch Tower, so you plan one of Mt Rainier's best hikes the right way.
Postcard perfect day hikes come thick and fast at Mt Rainier National Park. Many of the park's best hikes are overflowing with beautiful meadows and vibrant wildflowers, but others are all about the summit view.
The exceptionally busy Mount Fremont Lookout Trail is a perfect example of hiking primarily for a picturesque crescendo. This trail isn't particularly attractive, but spectacular views over Mt Rainier from one of only 4 remaining fire watch towers in the park are worth all the fuss.
Let's hike the famous Mount Fremont Lookout Trail!
*Please note this post may contain affiliate links. If you click on one, we may earn a small commission at no extra cost to you!*
Mount Fremont Lookout Trail In Mt Rainier National Park FAQ's
Is Mount Fremont Lookout Trail Hard?
If you're a regular hiker you won't find the trail to Mount Fremont fire lookout very challenging. There are some relatively steep phases of the climb but nothing that will punish you too much.
The major issue with hiking to Mount Fremont lookout is how open and exposed the entire trail is from start to finish. Wearing the right sun protection gear is important on baking hot Summer days.
Have you hiked to the fire lookout at the summit of Tolmie Peak trail in Mt Rainier's northwest section? The hike to Mount Fremont lookout is easier.
Are There Any Other Hikes In Sunrise?
Sunrise is a stunning region of Mt Rainier, but it only has a very narrow window so it becomes almost unbearably busy when it is actually open.
On weekends and holidays you have to arrive early otherwise you will wait in a long line at the Sunrise entrance station.
Here are some of the other hiking options to tag on to Mount Fremont when you visit Sunrise:
Burroughs Mountain Trail – Very popular hike and often combined with Mount Fremont.
Sourdough Ridge Trail – Links Frozen Lake to Sunrise parking and on to Sunrise Point parking.
Palisades Lakes Trail – Begins at Sunrise Point parking lot.
Wonderland Trail – The 93 mile loop hike runs right through Sunrise.
Summerland Trail – Another popular hike, begins just 3 miles after entrance station.
If you are considering hiking Mount Fremont and the Skyline Loop Trail (most popular at Rainier) in one day, you certainly can, but you'll need to drive 1 hour 30 minutes to Paradise after hiking Mt Fremont in Sunrise or vice versa.
Can You Stay In The Mount Fremont Fire Lookout Tower?
In short, no you can't stay in or near the Mount Fremont lookout tower. Overnight camping is not permitted on the trail or summit.
If you decide to go up for sunset or astrophotography, don't forget to take quality head torches so you can easily navigate back down in the darkness.
Looking for hiking inspiration? Check out our popular guide to the 50 top rated hiking trails in the US next!
How To Get To Mount Fremont Lookout Trail In Sunrise, Mt Rainier
Click or touch the map above to activate. Zoom in and out, move around the area and orientate yourself with the geography of Mt Rainier.
Mount Fremont lookout trail is located at the very end of Sunrise Park Road in the Sunrise section of Mount Rainier National Park.
Look for 'White River Entrance' on google maps. This is the only way in and out of the Sunrise section. The entrance is located in the northeast of Mt Rainier along 410 near Crystal Peak trailhead.
Important: The road to Mount Fremont lookout trail and Sunrise closes in Winter. Check Mt Rainier live road conditions before setting off.
Here are distances and average times from major nearby cities to Mount Fremont lookout trail (with no traffic):
Seattle – 96 miles / 2 hours 5 minutes
Bellevue – 90 miles / 2 hours 10 minutes
Renton – 80 miles / 2 hours 00 minutes
Everett – 116 miles / 2 hours 30 minutes
Tacoma – 80 miles / 2 hours 00 minutes
Portland – 184 miles / 3 hours 30 minutes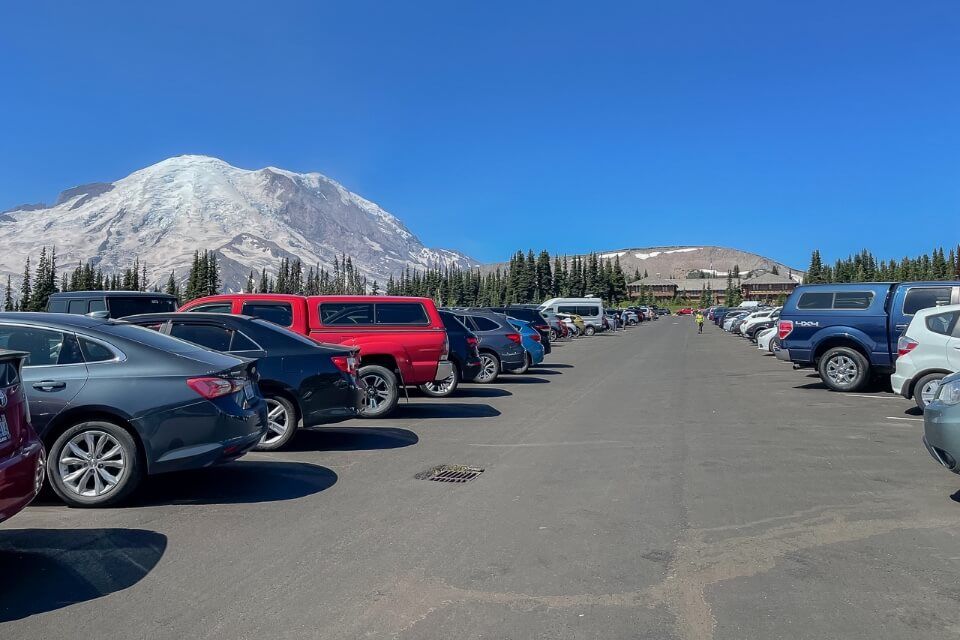 Parking At Mount Fremont Lookout Trail In Sunrise Mt Rainier
Mt Rainier is a hugely popular national park and as we have mentioned the window is very narrow. That means a lot of cars in the park all at once.
We were anxious about getting a parking spot in the Sunrise parking area so we made sure to arrive early. On Saturday July 24th – one of the busiest days of the year – we parked up at 7.15am and the lot was maybe a third full.
Of course by the time we finished at 11.00am, the lot was completely full and cars were circling.
Once the lot is full, you can park on the roadside leading to the visitor center parking area. Alternatively, you can also park at Sunrise Point and walk along Sourdough Ridge trail to the beginning of Mount Fremont lookout trail.
Important: When we left Sunrise at at 11.50am via White River entrance, there were around 100 cars in line to get through the ranger station. That is no joke and you don't want to lose your entire day waiting to get in.
Here are ways you can avoid parking issues:
Go very early in the morning.
Hike for sunset and arrive much later in the afternoon.
Plan your visit for a weekday instead of a Saturday or Sunday.
Visit right around the time Mt Rainier and its roads are opening or closing for the season.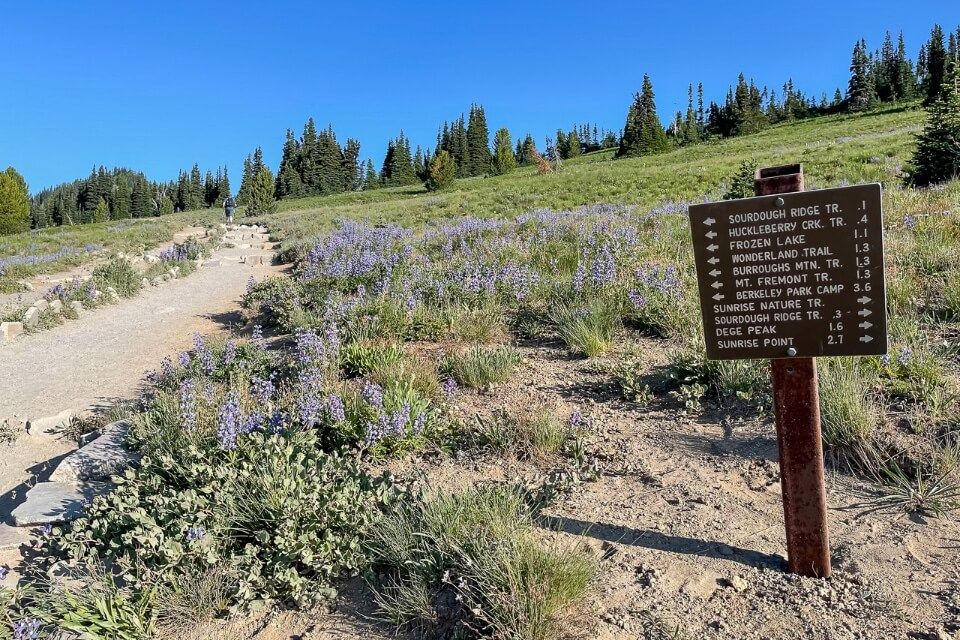 Mount Fremont Lookout Trail Hiking Details
Trail Distance: 5.7 miles roundtrip
Type of Trail: Out and Back
Trail Difficulty: Moderate
Time Required: 3 – 4 hours
Elevation Gain: 1100 ft
Trailhead: Mt Fremont Lookout / Sourdough Ridge, Sunrise
Top Tips For The Hike To Mount Fremont Fire Tower
Track your hike on offline maps using one of the best hiking apps available
Plan to arrive early to get a parking spot
The trail is going to be packed on weekends and holidays
No technical hiking gear needed for the hike
Robust shoes are suggested for rocky and uneven trail sections
Mount Fremont Lookout Trail is NOT a dog friendly hike
Bring plenty of water on hot days
Sunscreen, sunglasses and hats required for exposed trail
Include Burroughs Mountain trail for longer loop route
Check recent comments about conditions from fellow hikers on All Trails
Mount Fremont Lookout Trail Walkthrough
This hiking walkthrough is only for the direct out and back trail to Mount Fremont lookout, not including Burroughs Mountain or any other trail. But feel free to add on any other sections of trail around Sunrise.
Mount Rainier is one of the top national parks in the US and this is one of its most iconic trails.
Let's begin the hike to Mount Fremont fire tower!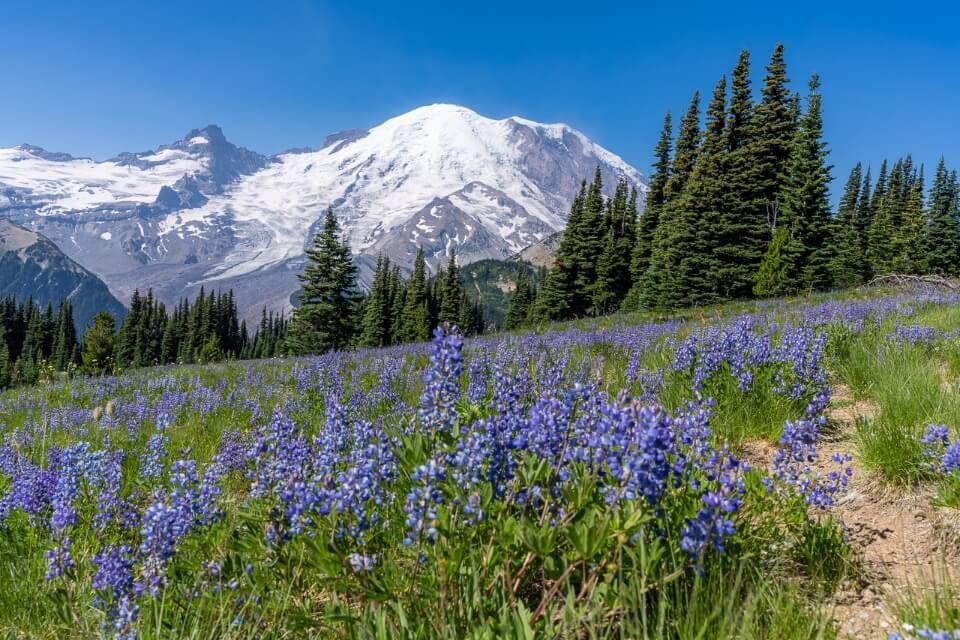 Head North From The Visitor Center Toward Sourdough Ridge Trail
If you look at a map of the trailhead for Mount Fremont Lookout, it looks like a maze. So which trail should you take?
Well, the most direct and most popular route is to take Sourdough Ridge trailhead north out of Sunrise visitor center. You will cut through a gorgeous meadow on a flat and dusty gravel trail until you reach a fork in the path.
Right will take you to Dege Peak and Sunrise Point via Sourdough Ridge. But you want to take the left turn, which also joins Sourdough Ridge but heading west toward Frozen Lake.
This short trail is steep but look to the left for views like in the photo above and you will easily find motivation. We were maybe one or two weeks from peak wildflower season at Sunrise, but they were in bloom enough to grab some stunning photos.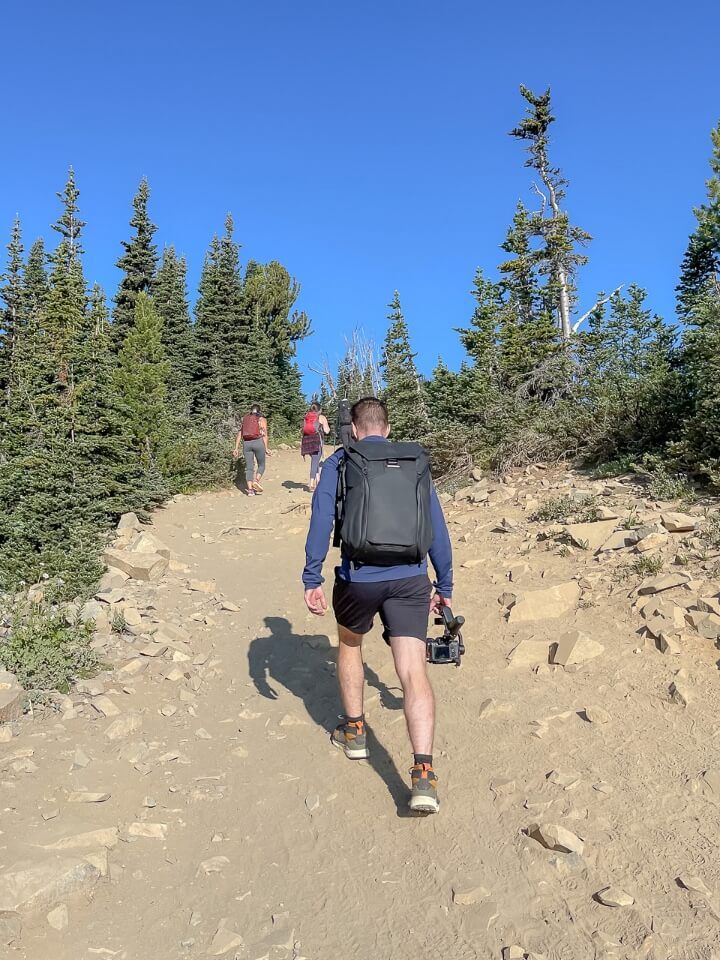 Join Sourdough Trail Heading West
As you join Sourdough Ridge, you will be walking along a very narrow ridge and far reaching views open up to the north.
This lower portion of the trail to Mount Fremont Lookout is very attractive and picturesque, with grassy meadows, emerald green trees and views of Mt Rainier to keep you company.
There are a handful of steeper sections here on very dusty paths, almost sand like. Keep looking over to the left for sweeping views, but also carefully scan the closest wildflowers to see how many varieties you can spot.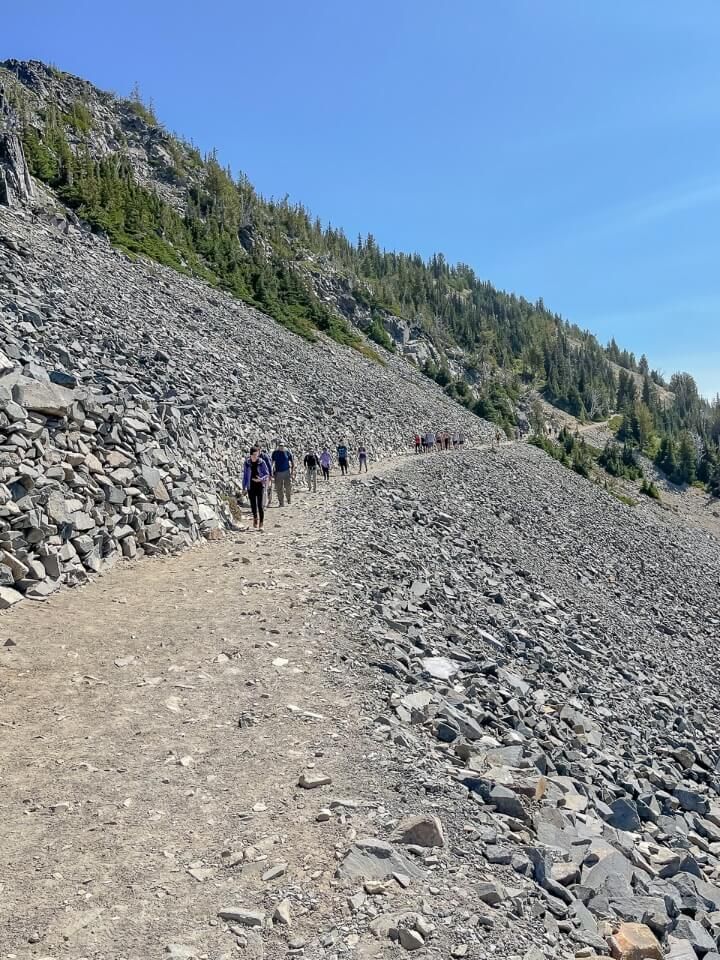 Long Gradual Ascent To Frozen Lake
Around 1 mile after leaving the visitor center, the trail transitions from dusty dirt into hard grey stones cutting through a talus slope. This section of the hike far less beautiful but it is easy to pick up the pace and cover ground quickly.
You will very gradually ascend on this trail type for the next half mile until you reach Frozen Lake, which serves as junction of trails.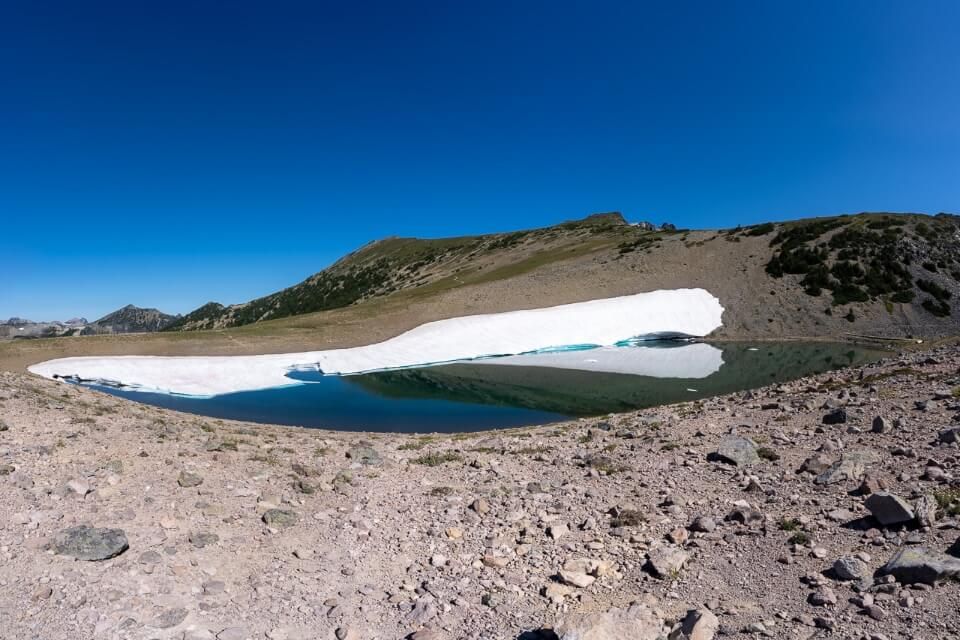 Frozen Lake Junction
Sourdough Ridge trail ends here at Frozen Lake as one arm of a starfish shaped meeting point of trails. Wonderland Trail, North Burroughs Mountain Trail and Mount Fremont Trail all pass through this intersection.
Frozen Lake provides all running water for the visitor center at the Sunrise parking lot, and there is a fence surrounding the lake to prevent hikers polluting the water source.
See the ridge behind the lake in the photo above? Mt Fremont Fire Tower is at the end of the U shaped section center left.
Distance hiked: 1.5 miles from Sunrise visitor center to Frozen Lake.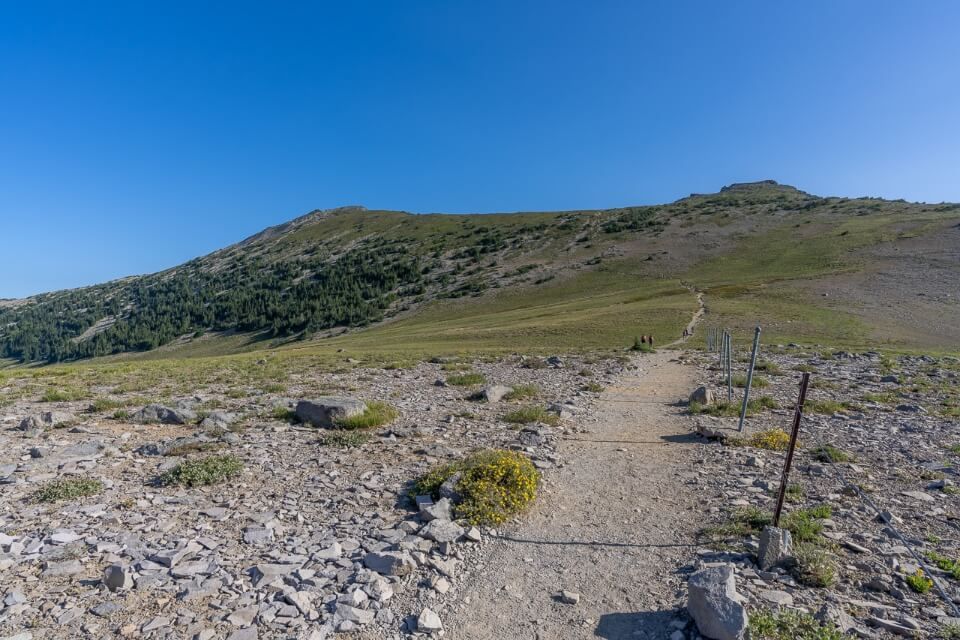 Final Climb To The Ridge
This is the very beginning of the climb up to the ridge you will walk across to reach the fire tower. Frozen Lake is a few meters off to the right of the fence.
This ascent is fairly straight forward, just follow the path as it gains 450 ft elevation and curves to the left. The first part is the steepest but it gradually begins to ease up.
Views very quickly turn from great to amazing as you gain elevation. At this point you have a 180 degree view but the elevation is now allowing you to see further to the east and west.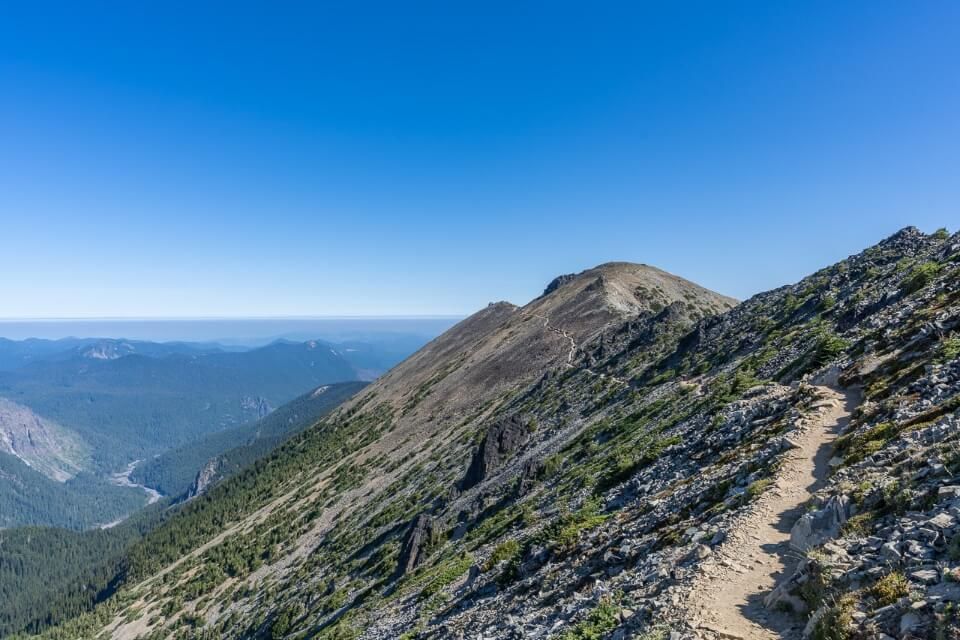 Dramatic Trail Leading To Mount Fremont Lookout Tower
Arguably the best and most staggering view on the entire trail to Mt Fremont Lookout is the one pictured above. After the ascent turns gradual and then flat, you bend to the right around and this awesome scene stops you in your tracks.
You can just about see the tiny wooden structure of the fire tower from this bend in the trail. It might appear close enough, but it is still around 0.6 miles away.
There are a handful of very rocky sections, in which you have to carefully forge a path through without twisting an ankle. It was congested on this narrow part of the trail the morning we hiked to Mount Fremont Lookout.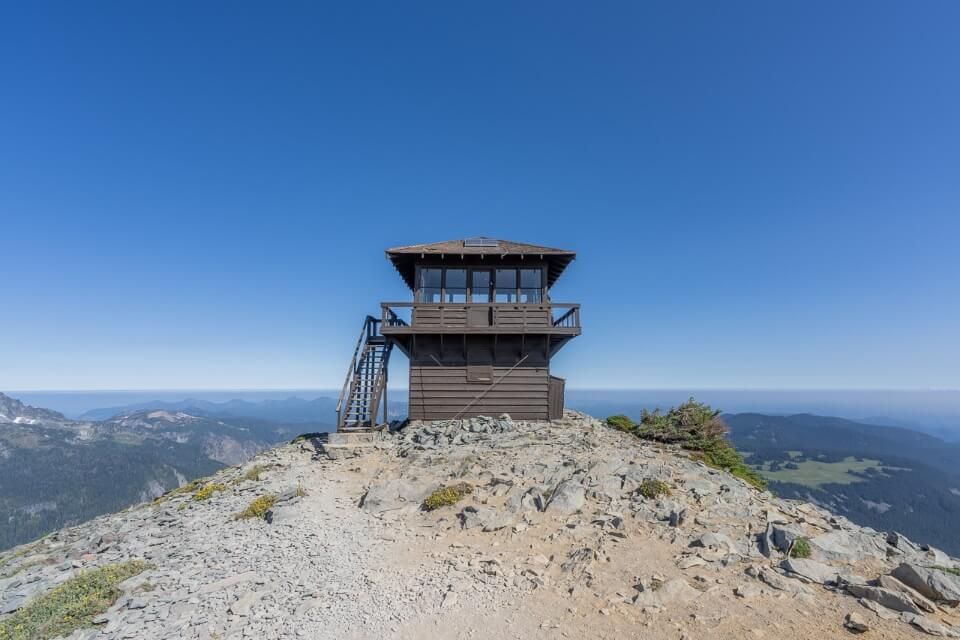 Summit At Mt Fremont Fire Tower
Around 100 ft before arriving at the fire tower, the slope to your right side disappears and is replaced by truly special views as far as the eye can see.
Mount Fremont fire tower was built in 1934 and remains as one of only four left in Mt Rainier national park. It once served as the northeast watchtower for protecting the forests of Mt Rainier from wildfires.
You will find a rocky cliff-like overlook before the fire tower, which will be busy with hikers enjoying views of the fire tower and Mt Rainier.
Distance hiked: 2.8 miles total from Sunrise visitor center to Mount Fremont Lookout fire tower.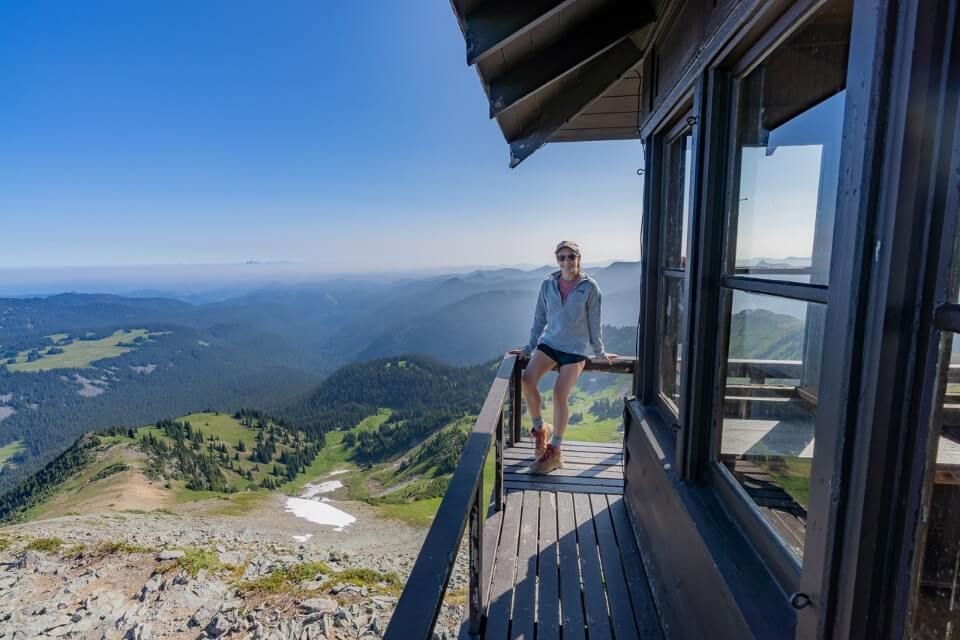 Explore The Tower And Enjoy The Views
The day we hiked the Mount Fremont Lookout trail there was a thin wispy blanket of cloud almost like a fog or mist hugging the tops of surrounding hills. Far away to the north, we could see the top of Mt Baker poking through the razor thin layer of cloud.
Mt Rainier to the southwest looks incredible from this close up vantage point and views of Grand Park to the immediate north are stunning. If you have binoculars, look for bears roaming in the distant meadows eating berries.
Don't miss the chance to climb those wooden steps and take a quick look around the fire tower. Grab a few photos and head back down to let others have a walk around the watchtower.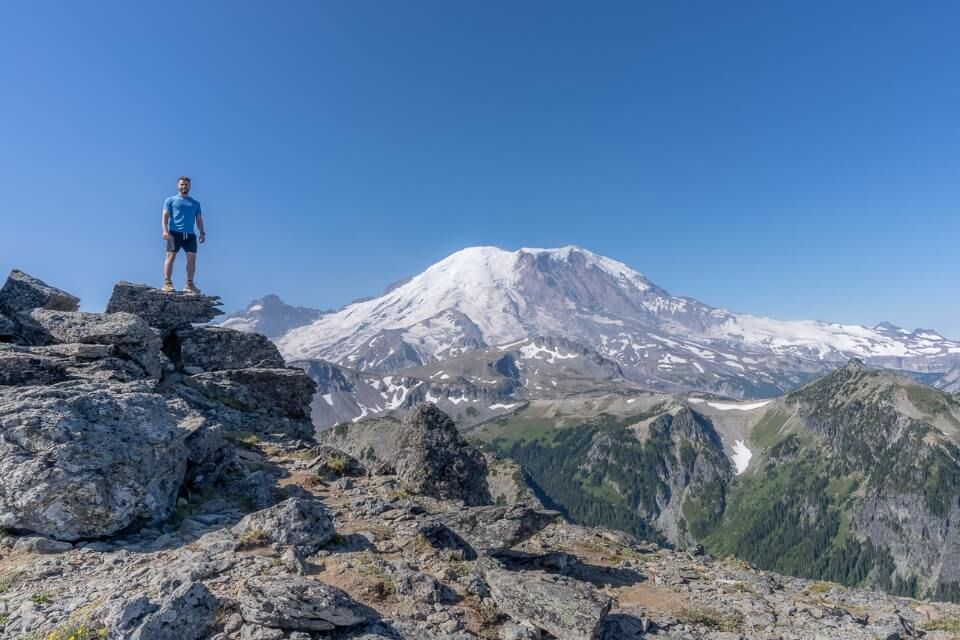 Appreciate The Grandeur Of Mt Rainier
Seeing the Mount Fremont Lookout tower is awesome, but the best part of this hike is the close up and unobstructed view you get over Mt Rainier.
When hiking Skyline Trail, you are much closer but in some ways it is too close to appreciate the scale and size of the stratovolcano.
But from Mount Fremont summit, you are the perfect distance away and the right elevation to really get a feel for just how enormous the tallest peak in Washington really is.
This overlook offers one of the single best viewpoints over Mt Rainier in the national park, and that is what makes it so popular. We stopped right where Mark is standing in the photo above for a spot of lunch.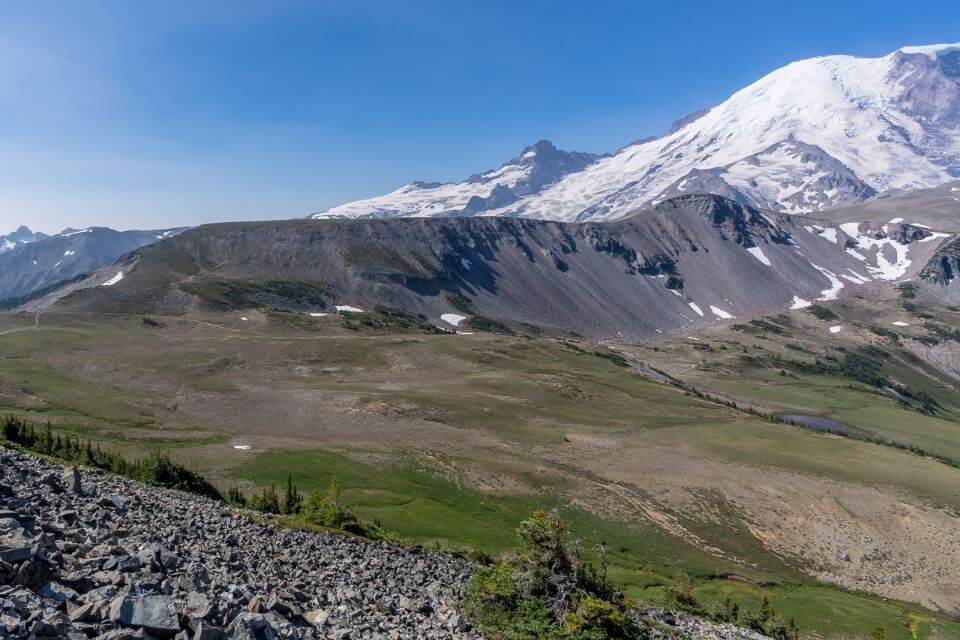 Include Burroughs Mountain Trail On The Way Down?
Burroughs Mountain trail is a very wide open and exposed trail summiting at 7,800 ft and adding on extra miles to your hike. Should you take on the Burroughs? If you have anything left in the tank, absolutely!
There are three Burroughs, aptly named first, second and third Burrough. You will notice hikers turning around at each 'summit' depending on how far they want to push it.
The photo above shows the ridge line you will climb if you want to take it on. Look how much closer to Mt Rainier the Burroughs Mountain trail is heading. It is perfect if you want to be close enough to see details on Mt Rainier's icy glaciers.
If you do include Burroughs Mountain trail, why not take Wonderland Trail back to Sunrise to complete the best loop hike you can do in the northeast of Mt Rainier?!
Pros and Cons
Spectacular summit view and fire tower
Wildflowers are beautiful if timed well
Easier day hike than many others at Mt Rainier
Can easily include Burroughs Mountain trail
Sunrise is only open for a short period in Summer
The hike can become extremely crowded
The trail itself is not very attractive or interesting
Very open and exposed hike
More Day Hikes In Mt Rainier National Park
Our comprehensive guide to the 23 best hikes in Mt Rainier national park includes 3 day hiking itinerary example and a ton of useful information to help you plan your visit.
More Day Hikes In Washington
---
We hope this day hiking guide to the Mount Fremont Lookout Trail helps with planning your visit to Mt Rainier National Park!
Please let us know if you have any questions about the Mount Fremont Lookout Trail hike, Mt Rainier National Park or your visit to Washington in the comments below.
Happy Hiking,
Mark and Kristen
Was This Post Helpful? Pin It For Your Hike!