Despite a terrible drive to an isolated dead-end trailhead, the stunning Tolmie Peak Trail leading to an old fire lookout tower with spectacular mountain views is one of our favorite day hikes in Mt Rainier National Park, Washington. If you're looking for quintessential Mount Rainier views, a relatively quiet hike AND an attractive trail, Tolmie Peak is for you.
You will pass by picturesque Mowich Lake and Eunice Lake, climb through sub-Alpine forest and lush meadows, hit a steep ridge and summit with gorgeous south facing views over Alpine lake and snow capped stratovolcano. Sounds pretty cool, and it is!
Plus, if you're feeling energetic, you can also hike the nearby Spray Park Trail to a huge waterfall and vast open meadows either before or after summiting Tolmie Peak.
We're going to explain everything you need to know about Tolmie Peak Trail in the least visited section of Mt Rainier, including tips, the drive, parking and a full hike walkthrough with photos.
Let's hike to Tolmie Peak fire lookout tower!
*Please note this post may contain affiliate links. If you click on one, we may earn a small commission at no extra cost to you!*
Tolmie Peak Trail VS Other Popular Mt Rainier Day Hikes
Why should you choose Tolmie Peak when there are so many other day hikes at Mt Rainier?
Skyline Loop Trail is the most popular hike in the park and it is staggeringly beautiful but it is also exceptionally crowded. Plus, you don't get distant views of Mt Rainier because, well you're practically standing on the side of the volcano.
Mt Fremont Trail is another heavily trafficked day hike to a fire lookout tower in the Sunrise area of Mt Rainier. Mt Fremont has awesome summit views but the trail itself is far from a feast for the eyes.
Tolmie Peak delivers on trail, views and crowds.
Yes, it is surprisingly busy considering the awful approaching drive and the fact it's known as the 'quietest' section of the park. But compared to Paradise and Sunrise, Tolmie Peak trailhead at Mowich Lake is like a ghost town.
Tolmie Peak Trail Mt Rainier National Park FAQ's
Is Tolmie Peak Trail Hard?
The hike to Tolmie Peak fire lookout is medium length and moderately difficult. Personally, we found Skyline Trail and Mt Fremont Trail to be more challenging.
Much of the Tolmie Peak Trail is under cover so you have protection from the sun on a hot day. The path is diverse terrain with flat, downhill and uphill sections going both ways.
There are a handful of steeper sections, particularly for the final push up to the fire tower, but nothing too punishing.
Looking for hiking inspiration? Check out our popular guide to the 50 best hikes in the US next!
Can You Stay At The Tolmie Peak Fire Lookout Tower?
No, you as a hiker can't stay at the fire lookout tower. Only park rangers sleep inside the tower from time to time. In fact, there is no wilderness camping permitted around any part of the Tolmie Peak Trail.
If you don't camp at Mowich Lake campground (which only has a few walk-in sites), you will either have to spend the night in a nearby small town, set off early from home or sleep in your car (outside of NP boundaries, of course).
Are Dogs Allowed On Tolmie Peak Trail?
No, dogs are not permitted on any trail inside Mt Rainier National Park or any other US National Parks. Dogs could attack wildlife or disrupt typical animal behavior with odors and waste.
To be honest, your dog would not enjoy the bumpy drive up Mowich Lake Road to the trailhead anyway!
Which Pass Do You Need For Tolmie Peak Trail?
Tolmie Peak Trail is located within the Carbon River / Mowich Lake section of Mt Rainier National Park. Therefore you need to purchase one of three pass types:
Mt Rainier Single Pass – Unlimited entry for 1 vehicle into Mt Rainier for 7 consecutive days, costs $30
Mt Rainier Annual Pass – Unlimited entry for 1 vehicle into Mt rainier for 1 year, costs $55
US National Parks Annual Pass (aka America the Beautiful or Interagency Pass) – Unlimited entry to all US National Park and National Monuments for 1 year, costs $80
Note: We buy a new America the Beautiful annual pass each year and consider it one of the best deals around for outdoor enthusiasts. Read our guide on why it is worth buying an America the Beautiful National Parks Annual Pass.
You can pick up a single entry pass for $30 at Nisqually entrance or Stevens Canyon entrance.
If you only plan to visit the Carbon Road / Mowich Lake section to hike Tolmie Peak Trail, you might be better off pre-purchasing a digital pass on Recreation official site.
How To Get To The Tolmie Peak Trail In Mt Rainier National Park
Click or touch the map above to activate. Zoom in and out, move around the area and orientate yourself with the geography of Mt Rainier.
OK, here's where the fun starts!
Tolmie Peak Trail is located at the very end of Mowich Lake Road in the Carbon River / Mowich Lake section of Mount Rainier National Park. Look for the road entering the park to the northwest, WA-165 on Google Maps.
Three miles after you leave Carbonado and not long after crossing Fairfax Bridge, you will reach a fork in the road. Left takes you down Carbon River Rd and right / straight continues on Mowich Lake Rd. Take the right / straight and begin climbing.
After a minute or so, tarmac ends and the road turns to gravel, stones, dust and potholes galore. This rough surface lasts for 16-17 miles of gradual ascent, sharp bends with drop offs and teeth clenching moments as you hit an unavoidable pothole a little too aggressively.
At the risk of sounding over-dramatic, the road isn't impassable but it is no fun either. We have to admit we were shocked at how many cars were at the top once we reached the top.
It took us around 55 minutes to drive the 16-17 mile section on the way up in darkness and around 45 minutes on the way down.
Take things as slowly as you feel comfortable and move over for anyone blowing past.
Important: The road to Tolmie Peak closes in Winter. Check Mt Rainier live road conditions before setting off.
Here are distances and average times from major nearby cities to Tolmie Peak Trail (with no traffic):
Seattle – 70 miles / 2 hours 5 minutes
Bellevue – 69 miles / 2 hours 5 minutes
Renton – 58 miles / 1 hour 50 minutes
Everett – 96 miles / 2 hours 35 minutes
Tacoma – 48 miles / 1 hour 45 minutes
Portland – 186 miles / 3 hours 45 minutes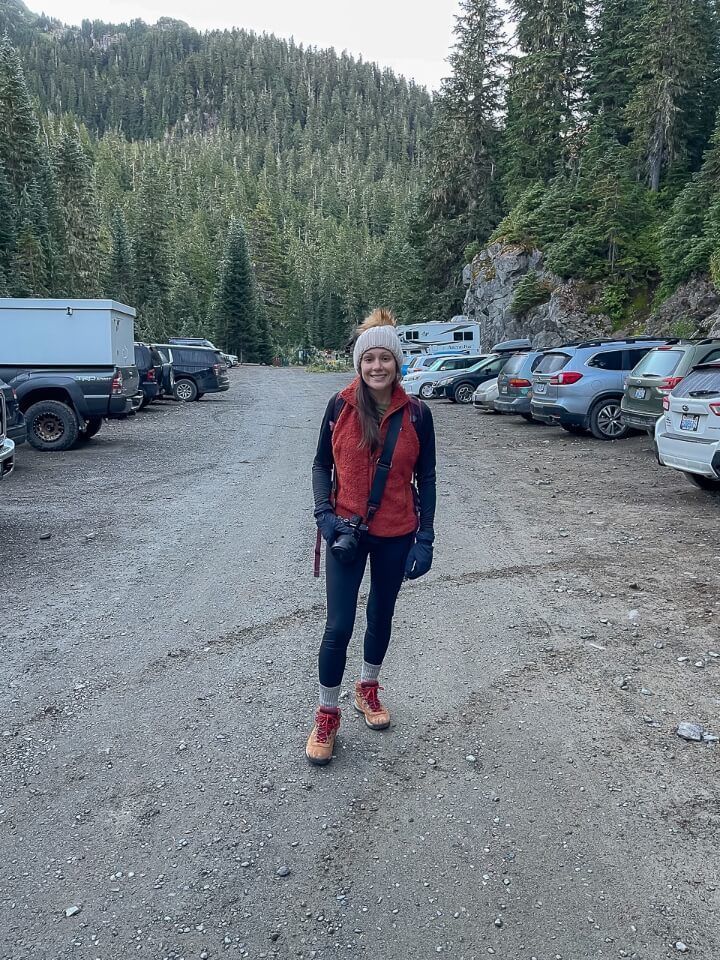 Parking At Tolmie Peak Trail In Northwest Mt Rainier National Park
Once you've slowly but surely cracked out the drive, you will arrive at a dead end with a very tight loop around a roundabout style rock.
There's enough room here for maybe 50 cars to park either front first or backing in. This is where you will park if you want to hike Spray Park or Tolmie Peak and if you plan to camp at Mowich Lake campground.
If you arrive later in the morning on a Saturday or Sunday, chances are this unofficial 'lot' will be full. Therefore, you will have to park along the roadside. Parallel parking only is permitted on the roadside in single file.
The Tolmie Peak Trailhead does not start at the campground, but Spray Park does begin in the campground.
If you park in the unofficial lot, you can begin your hike by walking directly toward Mowich Lake and following the waters edge until the official Tolmie Peak trail joins it 0.3 miles down the road.
When we finished our hike to Tolmie Peak at around 10.45am, cars were parked for the best part of half a mile going back down the hill.
Important: There is a vault toilet open for public use inside the Mowich Lake campground near Spray Park trailhead.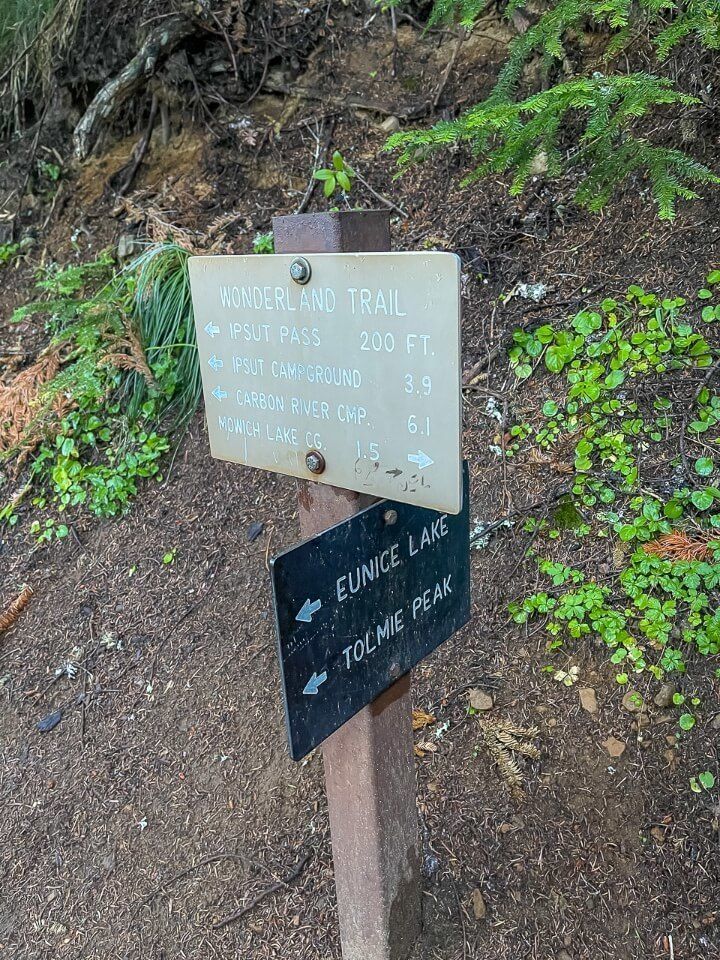 Hiking Details
Trail Distance: 7 miles roundtrip
Type of Trail: Out and Back
Trail Difficulty: Moderate
Time Required: 3 – 5 hours
Elevation Gain: 1300 ft
Trailhead: Tolmie Peak Trailhead / Mowich Lake
Top Tips For The Hike
Track your hike statistics and location with a hiking app in offline maps mode
Arrive early morning or late afternoon to get a parking spot close to trailhead
Try to avoid holidays and weekends as they will be extremely busy
Trail does not require specialist hiking equipment
Strong trail shoes or boots are better for uneven surfaces on trail
Tolmie Peak Trail is NOT a dog friendly hike
Bring plenty of water and snacks to enjoy at the lookout tower
Use restrooms at the campground before setting off
Begin 2 – 2.5 hours before sunrise if you want to summit in time for the sun rising
Don't forget your swimsuit if visiting on a scorching hot day
Check recent comments about conditions from fellow hikers on All Trails
Tolmie Peak Trail Walkthrough
Like with most hikes in Washington, you need to be up early and arriving to trailheads before 7am to get a parking spot and enjoy the hike without it being overrun.
Arriving early also means you can hike Tolmie Peak and Spray Park (6 miles roundtrip) in whichever order you prefer.
If you can't make it early, why not wait until later in the day after the daytime rush thins out, the weather is a little cooler and you can maybe even stay up at Tolmie Peak for sunset.
We arrived to the parking lot at 6.30am, got a spot near the campground, had a bite to eat and used the bathrooms before setting off for Tolmie Peak just before 7am.
After a light lunch we hiked Spray Park to an enormous waterfall and gorgeous meadows in which we even saw a bear eating berries. Both are amazing hikes in what is one of the top US national parks.
Let's begin the hike to Tolmie Peak fire lookout tower!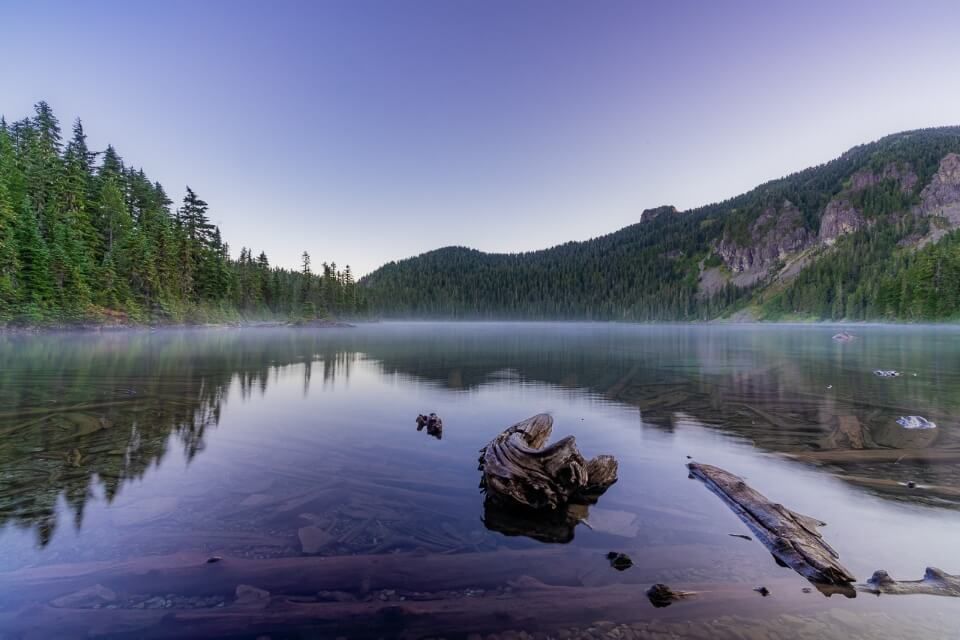 Mowich Lake At Dawn
Take a shortcut through the 'parking lot' to Mowich Lake and prepare for an early surprise.
Mowich Lake is the deepest lake in Mt Rainier National Park. If you get lucky with the right conditions, you might see an eerie mist creeping slowly across the lake as a purple dawn sky reflects on the perfectly still surface.
Follow the lake path as it hugs the waters edge, passing through trees and vegetation still wet with morning dew.
If your weather looks like it's going to turn out nicely, this is where you can take a refreshing dip once you're finished with the trail in a few hours.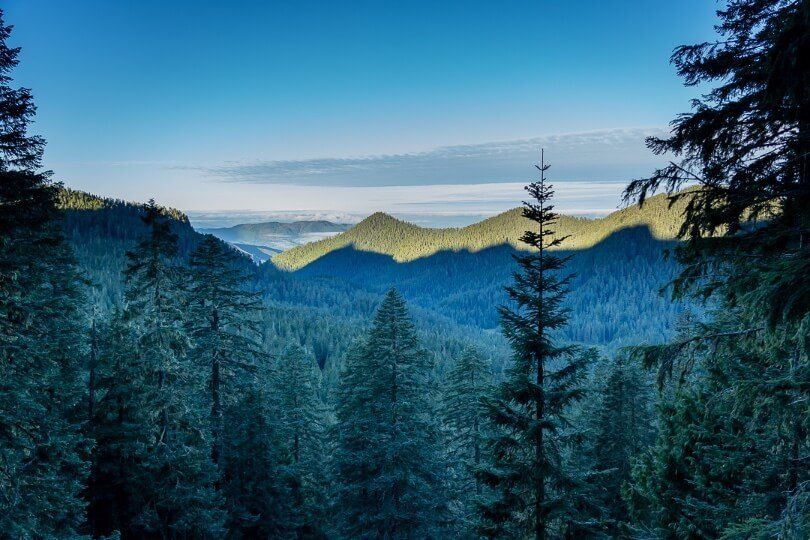 Follow Mt Rainier's Wonderland Trail
The first 1.5 miles of the trail to Tolmie Peak actually follows The Wonderland Trail, which circumnavigates the entirety Mt Rainier National Park for 93 miles. So you've conquered around 1.3% of the epic Wonderland Trail!
Looking off to the left you will see rolling hills covered in an ocean of trees and the valley through which you drove to reach the trailhead. The sun will be illuminating the top of a nearby ridge, creating extreme contrasts between highlights and shadows.
By setting off this early, you will have the trail almost to yourself. The odd trail runner may pass by at pace but otherwise, you can really immerse yourself into the tranquility of this hike.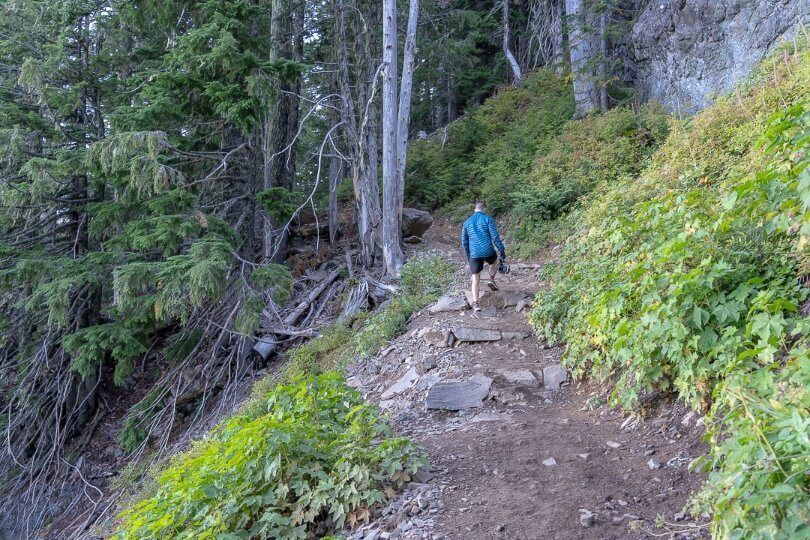 Turn Onto Tolmie Peak Trail
After climbing gradually through lowland forest and a handful of short but steep bursts, you will reach the point in which Tolmie Peak Trail breaks off from Wonderland Trail.
Either continue up Wonderland for 200ft to see Ipsut Pass and look down at the sheer grade of the next descent if you were following Wonderland, or simply take the turn for Eunice Lake and Tolmie Peak.
There are sections of downhill, flat and uphill through sub-alpine forest for around a further 0.5 miles.
Temperature: Notice Mark is wearing down jacket and even gloves in the photo above? It soon warmed up but it was cold starting out at 7am in September. Be sure to bring the right gear!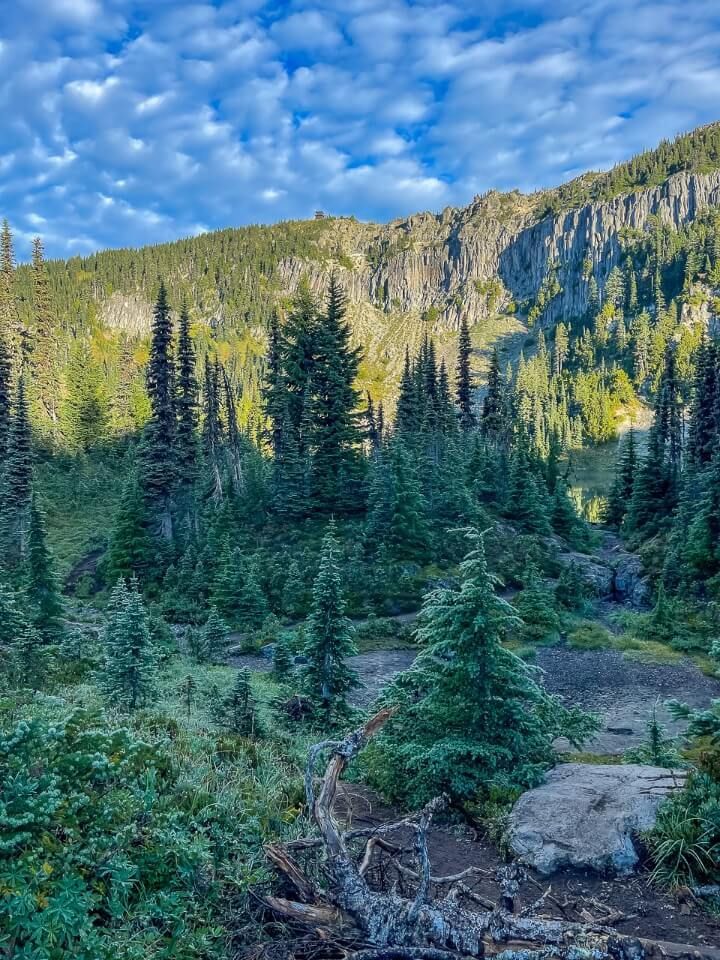 First Sight Of Tolmie Peak Fire Lookout Tower
Eventually, you will reach a gorgeous flat shelf-like area filled with emerald green trees and vegetation.
If you look up to the cliff in the background, you get your first glimpse of Tolmie Peak fire lookout tower looking tiny and distant. Try not to worry, the climb up isn't so bad!
You will see a sign showing 0.9 miles to the summit, but the first 0.2 of that is walking along this flatter area, so really it's just a 0.7 mile ascent.
Lush Green Meadows
This flat section before reaching Eunice Lake was our favorite part of the actual trail.
You can't quite tell from the photo above because it was still quite dark and you can see how low the sun is in the sky, but it was beautiful and incredibly peaceful here.
Take time to enjoy your surroundings as you also take a few deep breaths before taking on the steep climb to Tolmie Peak fire lookout tower.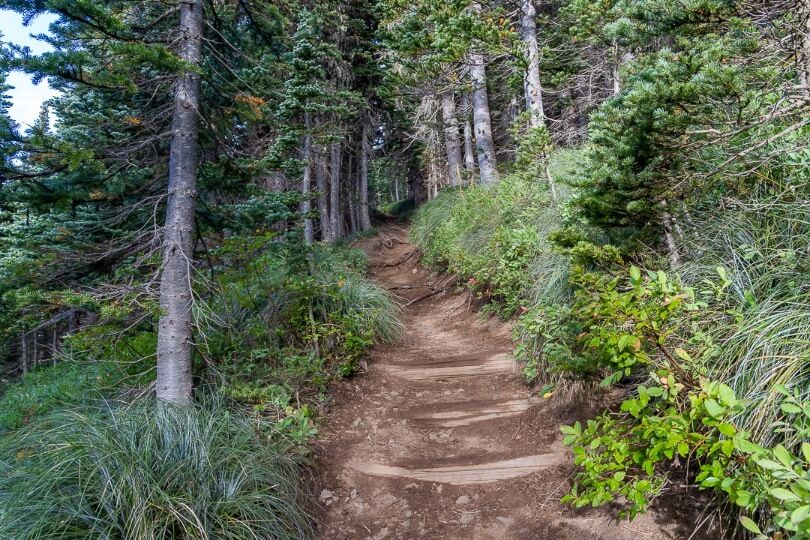 Crush The Final Steep Ascent
It is perfectly fine to stop at Eunice Lake and call that your summit for the Tolmie Peak Trail. Those lush green meadows are worth the effort to this point alone.
However, for those of you who are here to stand on one of only 4 remaining fire towers in Mt Rainier, let's get the final 0.7 mile push out of the way.
Yes, the climb is steep, but every step you take and every foot you gain in elevation begins to open up more and more of an amazing view behind you.
Take as many breaks as you need and appreciate the scene unfolding before your eyes. It is one of the most sought after panoramas in all of Mt Rainier after all!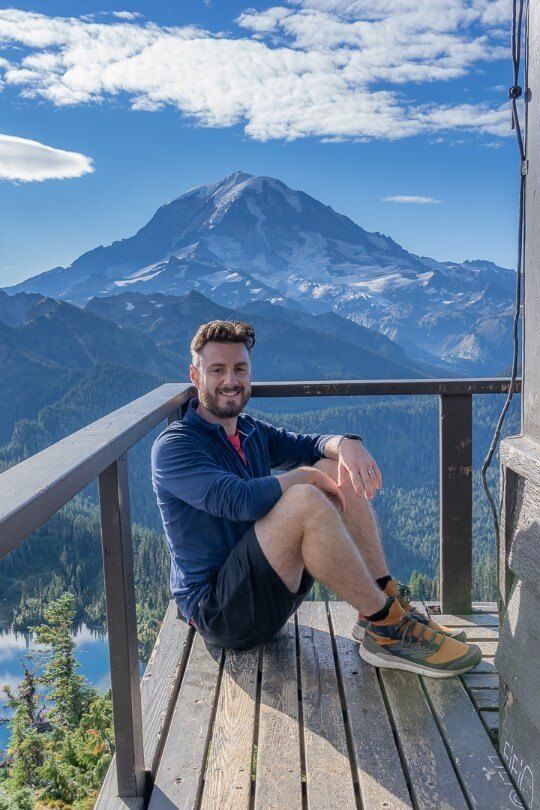 Soak Up Those Exceptional Mt Rainier Views
As you approach the summit, you will find yourself on a narrow ridge with Mt Rainier to your right but also views off to the left as far as the eye can see.
By setting off this early, you should have no problem with being able to grab a minute or two on Tolmie Peak fire lookout tower to yourself.
Other hikers are typically very respectful and will only spend a few minutes up there to allow others a chance to take clear photos.
As you can see, Mark got a quick snap from on top of the fire tower and Kristen on a rock overlooking Eunice Lake and Mt Rainier with a wide angle perspective.
Photographers: You might want to start the hike even earlier or leave it until way later in the day if you have clear weather. This view is south facing and the sun is an image destroyer most of the day.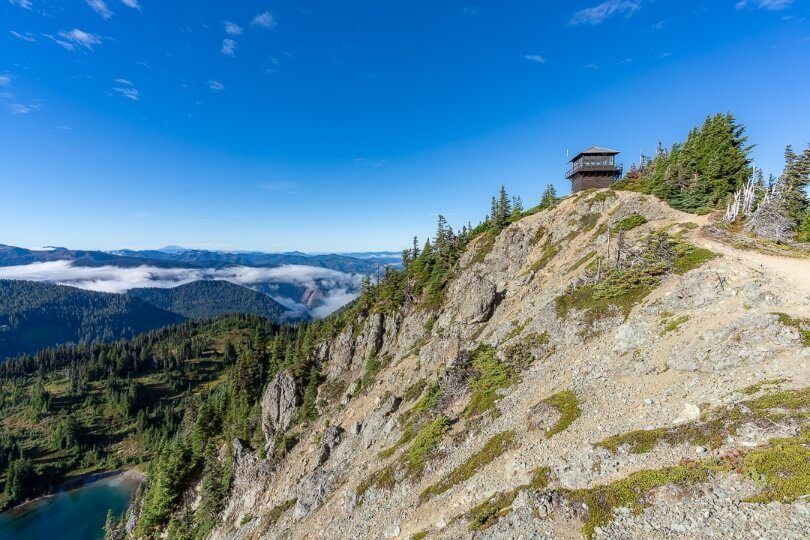 Tolmie Peak Fire Lookout Tower
Looking west now toward the fire lookout tower with clouds swirling in the valleys below and Eunice Lake just visible in the bottom left corner.
Two story Tolmie Peak lookout tower was built in 1933 and placed on the national register of historic places in 1991. There were two people inside the tower when we visited but we made a concerted effort not to make them feel awkward by looking inside too much!
Take time to walk around the ridge, admire the view and look back at this classic view of the fire lookout tower.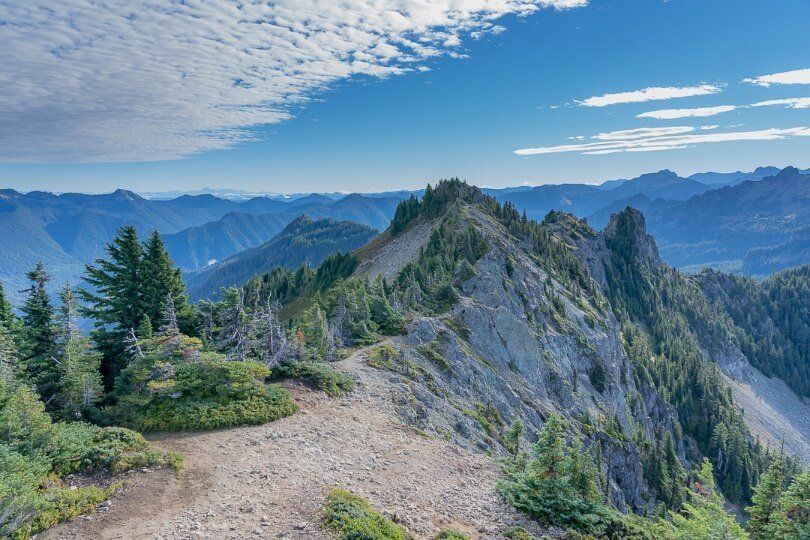 Complete The Climb – Optional
The photograph in the section above taken of Tolmie Peak fire tower was snapped from half way down the ridge you see here.
It doesn't look like it but the top of the razor thin ledge is at a higher altitude than the fire tower, which means if you want to truly summit the Tolmie Peak Trail, you still have a little more distance to tack on.
If it's getting busy at the tower by the time you summit, hiking this extra section will allow you to escape almost all crowds as very few actually do continue up this part.
We would not recommend hiking this additional section for families with younger kids or anyone who is afraid of heights. It's not too scary but it's also not worth having an accident just for a quieter vantage point.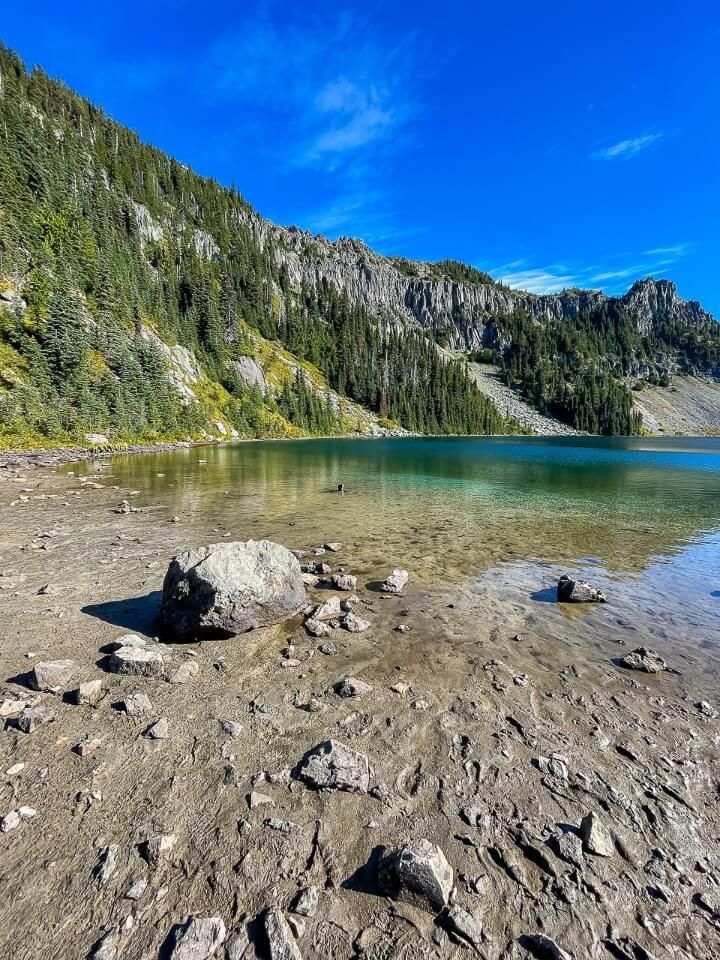 Take A Break At Eunice Lake
On the way back down you will notice the sun is higher in the sky and the temperature is getting warmer by now.
Take a quick break at colorful Eunice Lake to break up the descent. Save your swim for when you get back to Mowich Lake and you can relax after the hike is over.
We heard someone flying a drone from the fire tower when we stopped at the lake on our desert. Not cool. We would love to fly our own drone in beautiful places like this, but there are rules for a reason.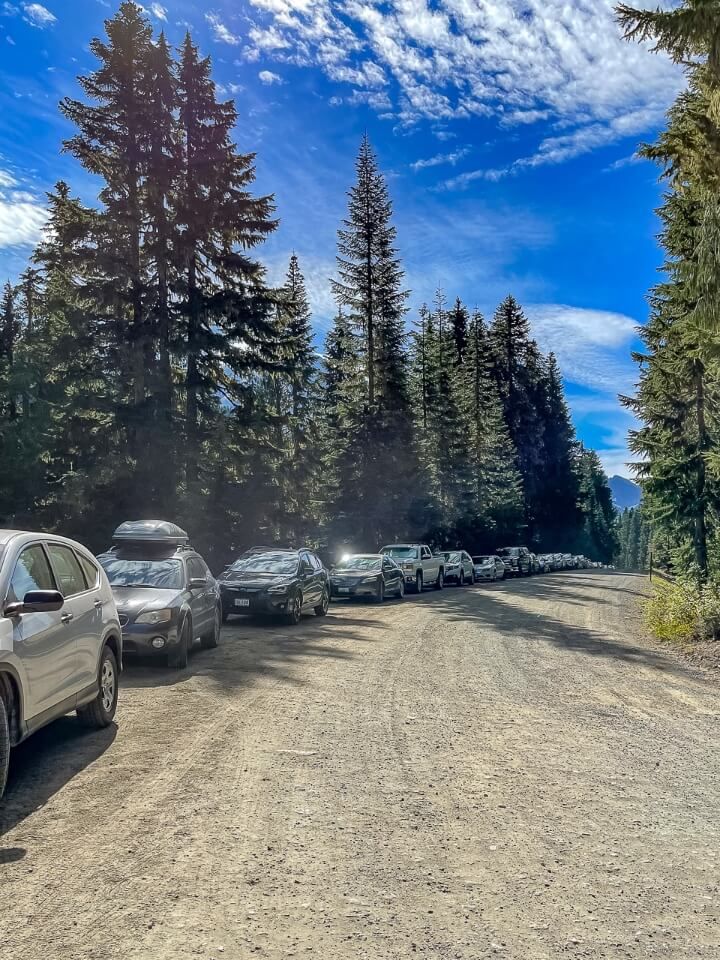 The Descent And Morning Rush
Remember we said there were some downhill sections earlier when you were on the way up to Tolmie Peak?
Well, now you're on the descent back to Mowich Lake and you have a little more elevation to gain. So the way down isn't all downhill, bear that in mind.
You will notice the trail is getting much busier as you arrive back to the trailhead. When you walk back out onto the road, look to see how far cars are now parked around the corner.
Take a dip in Mowich Lake, eat some lunch and prepare to hike Spray Park next!
Pros and Cons
Stunning trail with awesome Mt Rainier views
Diverse terrain keeps things interesting
Swim in Mowich Lake afterwards
Hike Spray Park for a double win
The road up is frustrating and slow going
Not much else to do in area other than Spray Park trail
Parking can be a problem on weekends and holidays
No amenities or facilities outside of restroom
More Day Hikes In Mt Rainier …
Plan your entire Mount Rainier hiking itinerary with our comprehensive guide to the best day hikes in Mt Rainier National Park
More Day Hikes In Washington …
---
We hope this day hiking guide to the picturesque Tolmie Peak Trail helps with planning your visit to Mt Rainier National Park!
Please let us know if you have any questions about the Tolmie Peak Trail hike, Mt Rainier National Park or your visit to Washington in the comments below.
Happy Hiking,
Mark and Kristen
Was This Post Helpful? Pin It For You Hike?