Picturesque Lake 22 Trail – or Lake Twenty Two Trail – is an extremely popular moderately difficult day hike near Granite Falls in northwest Washington. This complete trail walkthrough will explain everything you need to know about the awesome Lake 22 hike.
The trail cuts through serene old growth rainforest, crosses streams and creeks, opens up hillside views over rolling mountain peaks and valleys, and climaxes at stunning amphitheater-like Lake 22. Steep walls surround the lake and on a clear day nearby Mount Pilchuck Lookout (another popular day hike) can be seen.
A recent landslide has caused a section of the Lake 22 trail to alter slightly. But as long as you don't mind navigating through a boulder field with uneven footing below, you will have no problems. We expected it to be a lot worse.
Let's get right into parking, day hiking information and everything else you need to know about the stunning Lake 22 trail!
What Is The Lake 22 Trail In Washington?
Lake 22 is a small bowl-shaped glacial lake almost entirely surrounded by dramatic cliffs, a geological feature also known as an Alpine cirque.
As the glacier grew, its ice flowed out of the bowl shaped depression (cirque) and into Twenty Two Creek below. The Lake 22 trail follows the path in which the ice would have flowed out thousands of years ago.
You may see the hike listed as Lake Twenty-two, Lake Twenty Two, Lake Twentytwo or Lake 22. Numbers make things a bit more simple but it doesn't matter which version you use.
The only thing that does matter is how incredibly photogenic this trail is when you're hiking it.
Origins of the name are unclear, but best guesses suggest old railroad maps would show creeks in the area listed by number. Lake 22 was the 22nd creek along a particular stretch of the land in which trains were potentially using.
The Lake 22 trail is one of the most in-demand day hikes in northwest Washington, and at just over 1 hour from downtown Seattle, it is always busy.
Directions To Lake 22 Trailhead
Click or touch the map above to activate. Zoom in and out, move around the area and click "Directions" to input your home address to see the best route to Lake 22 trailhead.
Lake 22 is located along the incredibly popular Mountain Loop Highway, just 13 miles from the small town of Granite Falls. Mountain Loop Highway continues through Mt Baker – Snoqualmie National Forest as far as Darrington, which has a connecting road up to North Cascades National Park.
You will find dozens of fantastic hiking trails along Mountain Loop Highway, including arguably the most sought after in Mt Pilchuck Trail with its famous fire watch tower. This area is best seen on a multi-day trip, either as part of a long weekend or during a vacation from work.
Back to the Lake 22 hike, on your GPS or smartphone map app, set your destination as "Lake Twenty-Two Trailhead". This will navigate you to the trail parking lot.
The obvious route from nearby urban areas is to take I-5 either North or South, before joining the Mountain Loop Highway in Granite Falls.
Here are distances and average times from major nearby cities to Lake 22 Trail (with no traffic, which is rare around here!):
Seattle – 64 miles / 1 hour 10 minutes
Bellevue – 56 miles / 1 hour 5 minutes
Renton – 66 miles / 1 hour 15 minutes
Everett – 29 miles / 40 minutes
Tacoma – 95 miles / 1 hour 50 minutes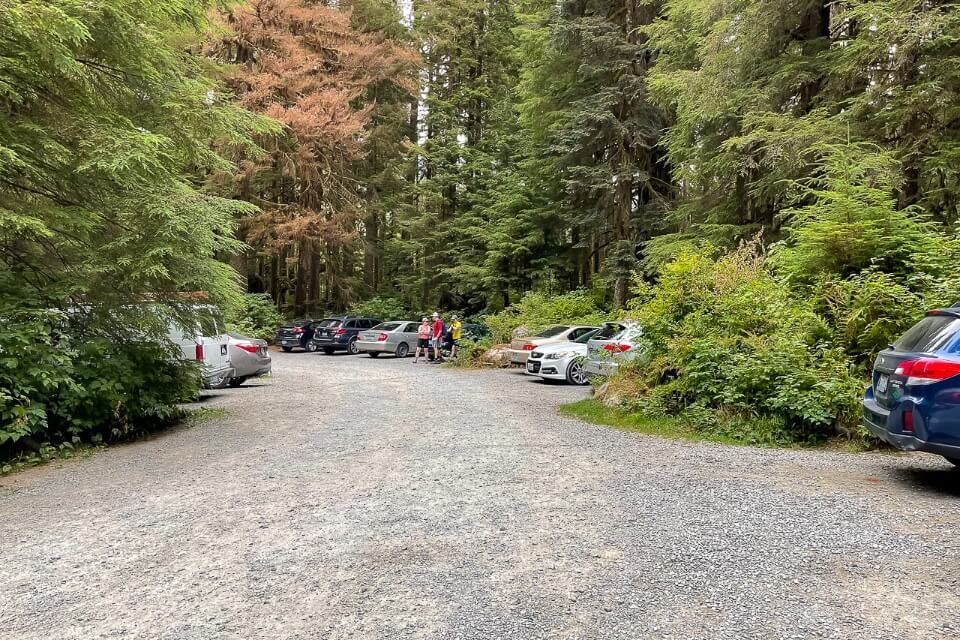 Parking And Trailhead For Lake Twenty Two Trail
If you've read our guides to other fantastic day hikes near Seattle, such as Rattlesnake Ledge in North Bend and Poo Poo Point in Issaquah, you will know how we always say that parking is the hardest part about hiking in Washington.
The difference with Lake 22 is that there's just one parking area, with no overflow lots or alternative trailheads. Parking here is very limited, with a circular shaped lot and natural dividers made of trees and bushes.
We didn't count the number of spaces when we hiked this trail but it can't be any more than 50 total. That may sound a lot (and it will be during the week and out of season) but they quickly fill at peak times.
Here's why we recommend arriving to the Lake 22 trailhead early:
The lot was almost full when we arrived 7am on a Saturday morning in July.
You have a better chance of parking without having to wait.
Roads will be much quieter on the way to Granite Falls from Seattle or any other urban area.
The trail itself will be much more peaceful.
If you can't arrive early, plan to hike later in the afternoon once the trail has emptied. Arriving anytime between 8am and 2pm in peak season will likely mean waiting for a space to open up from other hikers leaving.
Lake 22 parking is free and open from dawn until dusk daily.
Lake 22 Trail Details
Trail Distance: 5.4 miles roundtrip to the lake / 6.8 miles roundtrip with lake loop included
Type of Trail: Out and Back
Trail Difficulty: Moderate
Time Required: 2 – 4 hours
Elevation Gain: ~ 1400 ft to Lake 22
Trailhead: Lake Twenty-Two Trailhead, right off Mountain Loop Highway
Tips For Hiking The Lake Twenty Two Trail In Washington
Hike very early or much later in the afternoon to avoid crowds
Robust shoes are more suitable for a long rocky section following a landslide
No hiking equipment or specialist gear required for this trail
Can be bad for bugs in Summer months so please don't forget repellant
Lake 22 is a dog friendly trail but the rocky segment might not be suitable for some dogs
Don't forget your poles if you typically use them to hike
Bring plenty of water and snacks or a light lunch for the lake summit
Check recent comments from Lake 22 hikers on All Trails
Looking for hiking inspiration? Check out our popular guide to the 50 best hikes in the US next!
Hike Walkthrough
We knew this was a popular hike but it turned out to be even better than we expected. The Lake 22 trail has a bit of everything and it keeps you interested from start to finish.
Mountain views, wetland, rainforest and of course the alpine lake itself provide a varied day hiking route.
Many turn around right at the entrance to the lake, but we highly recommend walking the loop boardwalk around Lake 22 before descending. You won't regret it.
Let's get right into what you can expect on the awesome hike to Lake 22!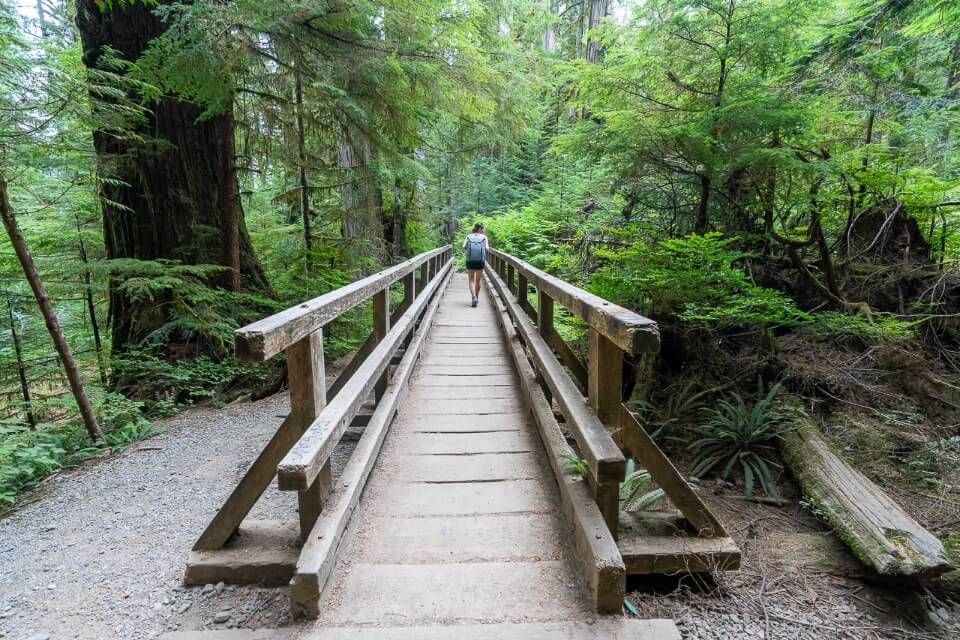 Start The Hike To Lake 22
The trail to Lake 22 is well maintained throughout, despite the effects of a recent landslide. Once you're parked up, head for the trailhead sign and follow a gravel track into the forest.
You will pass by a blend of hemlock, cedar and alder trees as you begin to gain elevation on dirt staircases and packed dirt paths.
After 0.6 miles you will cross the bridge pictured above spanning Twenty Two Creek. Look for multiple small but picturesque waterfalls along the lower segments of the hike.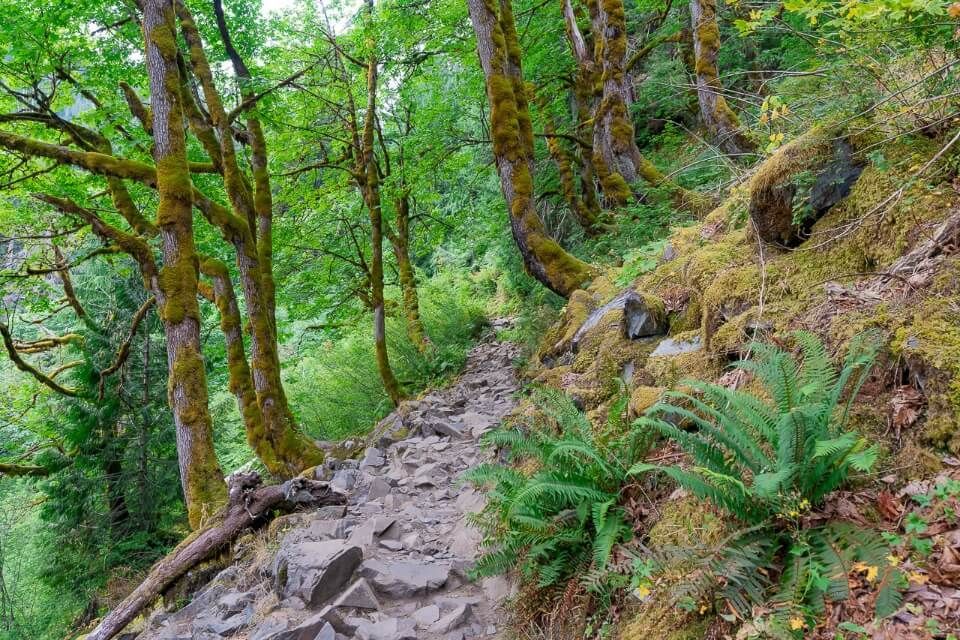 Ascend Through Rainforest
The trail begins to gain elevation on steeper gradients and you will have rocky sections of path to maneuver. Certain parts of this steeper and rockier section can be more challenging to navigate. Just be sure to take care with footing placements.
In Spring and early Summer, you may also have to ford various shallow creeks, but in Autumn the water levels will be low enough not to notice. Nothing too serious but better to be aware.
Robust footwear is strongly recommended for this trail. We wore our stronger hiking shoes, rather than running-style shoes for Lake 22.
Gorgeous trees growing at intriguing angles out of steep banks to the side will help take your mind off the climbing and sharp rocks.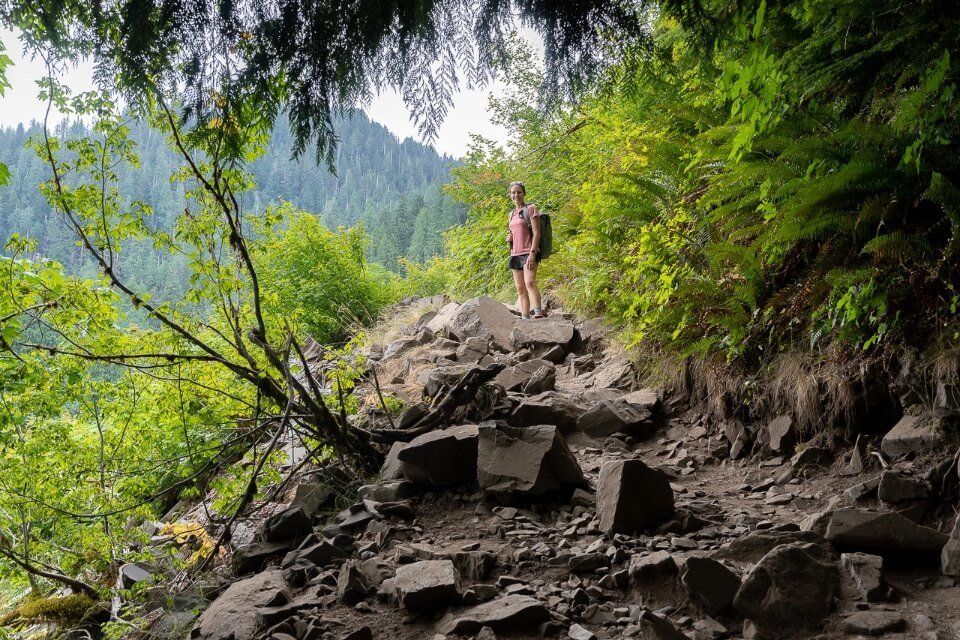 Landslide
At around 1.7 miles in, you will approach a section of the trail that appears to be blocked off. This is part of a landslide which has changed the route slightly.
It is easy to navigate around. You just need to climb up the steep bank on the right side, which essentially cuts out a gentle switchback.
Moments later the trail opens up out of the forest into an area completely covered in boulders and larger rocks. Again, there's nothing to worry about. Just take things slowly and be prepared for taking atypical steps.
In truth, we expected this to be much worse than it was. Especially after a hiker on the way down said 'things are about to get interesting'. As we climbed, we were asking each other if we'd actually reached the 'landslide' or 'interesting' area yet.
Turns out it was just this rocky section.
Note: We saw plenty of dogs and kids on this trail but smaller dogs and younger children may struggle at this point. Something to bear in mind.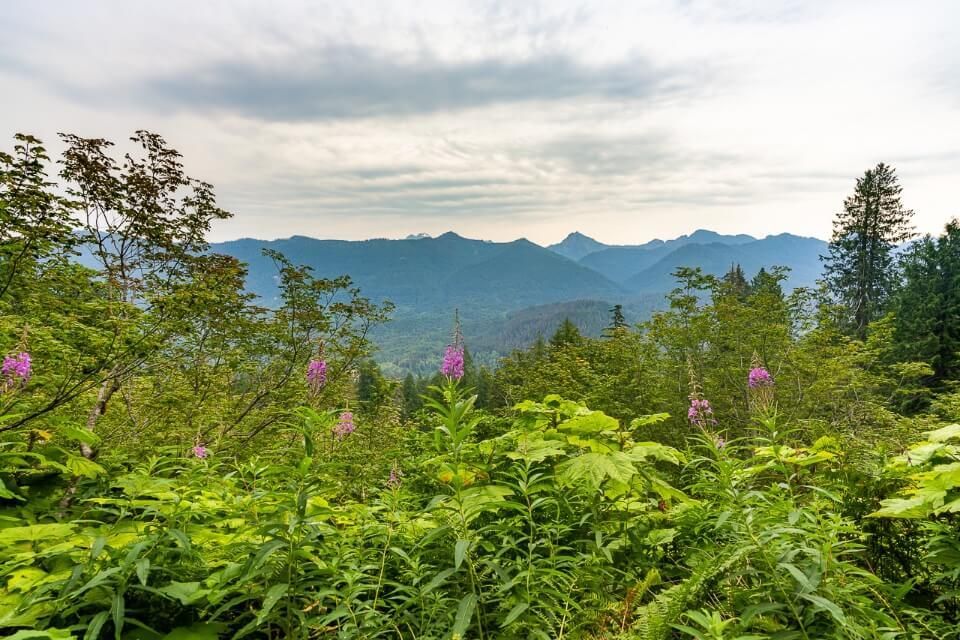 Mountain Views
The landslide rocky section is completely open and exposed to the elements. Being out of the tree line means gorgeous views opening up over distant rolling hills.
This entire area on the fringes of Mt Baker – Snoqualmie National Forest is stunning, particularly from elevated vantage points. Once you're through the worst of the rocks, be sure to keep enjoying the scenery.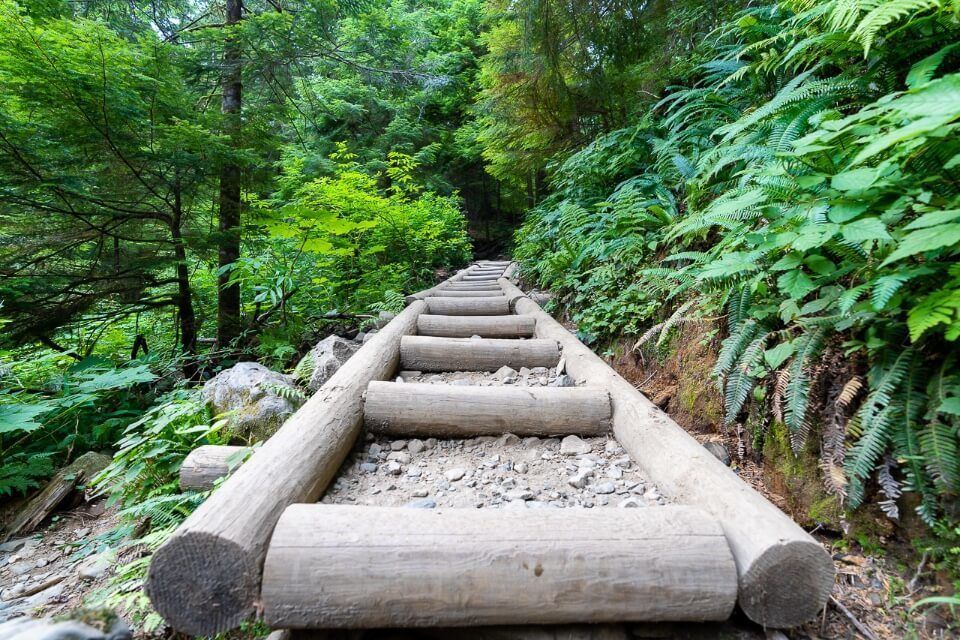 Puncheon Bridges
You will walk up and down surprisingly photogenic puncheon bridges throughout the entirety of the Lake 22 trail. These are typically wooden boardwalks designed to carry hikers over wetlands or boggy areas.
Much of the Lake 22 trail is wet, from creeks, waterfalls, runoff and rain. Therefore, you can expect to see many of these ornate looking ladder-style steps on the hike.
There's a high concentration of these bridges as you enter back into forest after the landslide area. This final approach to the lake is wet and can become slippery, so use the bridges where possible.
Note: Some of the wooden poles spin if you put your weight on the front or back of the pole. Tread carefully to avoid a fall.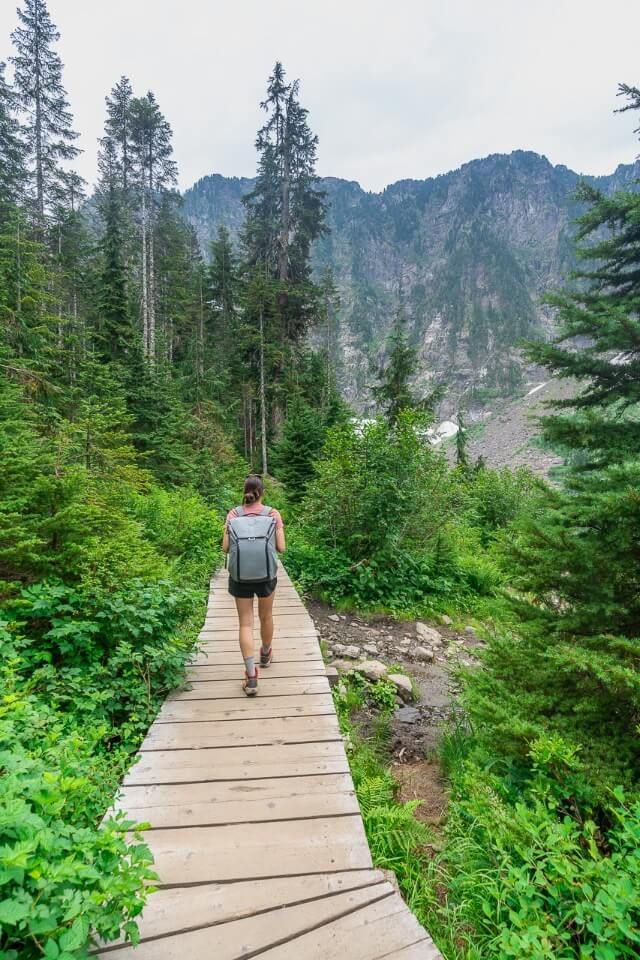 Boardwalk Loop Around Lake 22
As you reach the summit and the trail flattens, you will notice steep cliffs ahead. These cliffs encircle Lake 22 and to the northeast you can see Mount Pilchuck bursting up into the sky.
A bridge crosses the point of the bowl shaped lake in which water and ice escapes down into Twenty Two Creek. The bridge is likely to be bustling as it is the unofficial 'summit' of the Lake 22 hike.
Soak up stellar views over the perfectly still alpine lake with sheer amphitheater-like walls surrounding you almost 360 degrees. Once the initial wow-moment is over, begin walking in either direction in a loop around Lake 22.
It is important to stick to the boardwalk as you walk around the lake. Mini avalanches can occur in Winter and Spring, but during Summer and Autumn rocks are easily displaced from the cliffs when attempting to climb for elevated views.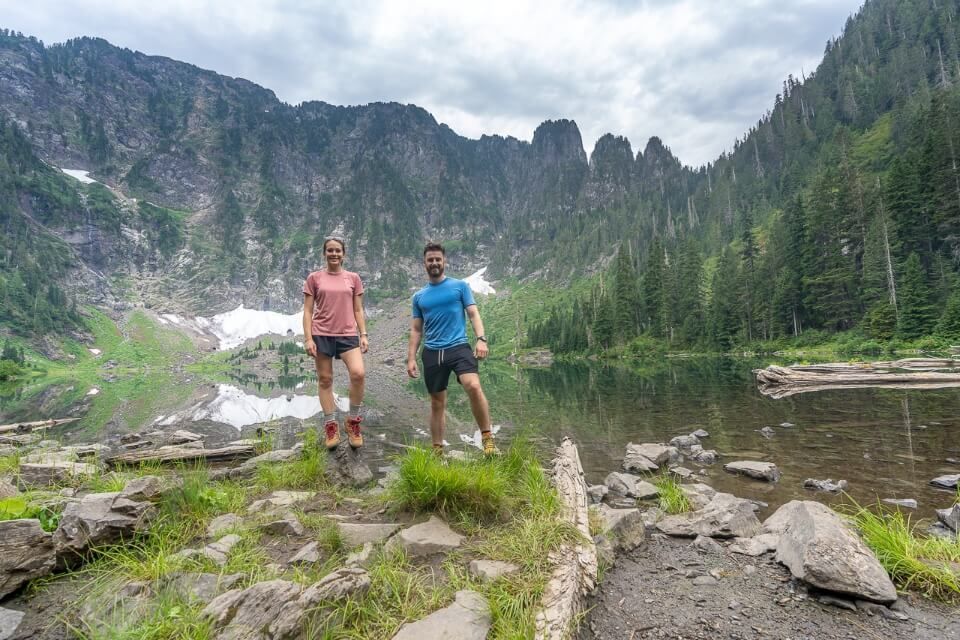 Lake 22 Summit
Enjoy pristine reflections on alpine Lake 22, including sky, clouds, mountain faces and trees. Snow still remains even in the height of Summer and provides an extra element for your reflection photograph.
There were 2 kayakers (inflatable) on the lake and even a few swimming when we hiked this trail. Don't forget your swimsuits if you hike on a blazing hot day!
Bugs weren't much of an issue on the trail but they did get quite persistent around the lake, where the water was perfectly still.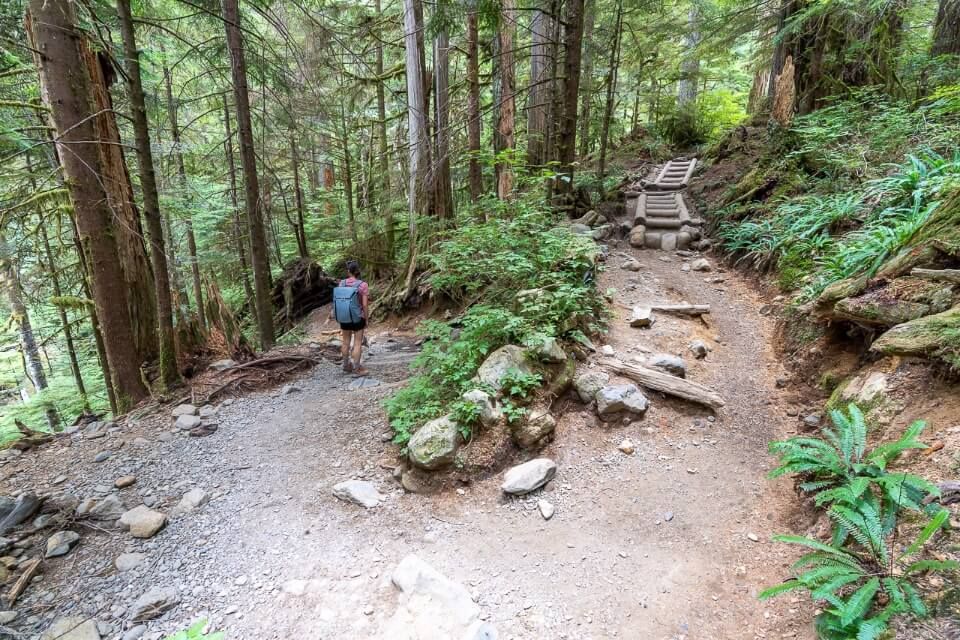 Descend From Lake 22 To The Parking Lot
You know exactly what to expect on the way down this out-and-back trail. Take your time to appreciate the natural environment, and enjoy those fun switchbacks and puncheon bridges.
If you set off to hike early morning, you will notice how much busier the trail has become as you approach mid morning. Certain sections of the trail are narrow and the bridges at times only accommodate one way traffic.
Take extra care as you descend through the rocky landslide boulder area. If it is or has been raining, this slippery part can be quite dangerous. Even if it is busy, don't rush through, just go at your own pace.
Are you up for another hike?
Well, you could see Mt Pilchuck from Lake 22, so why not return the favor and see Lake 22 from the top of nearby Mount Pilchuck Trail?!
Pros and Cons
Let's take a summarized look at the best and worst aspects of hiking Lake 22 Trail.
Pros
Gorgeous lake surrounded by steep cliffs and Mt Pilchuck
Mixed terrain trail keeps things interesting
Plenty of other great trails in immediate area for multi-hike days out
Little exposure on the trail inside forest
Cons
Can become extremely crowded in Summer and on weekends
Not as close to Seattle as other day hikes
Parking can be a problem during peak times with limited spaces
Trail can become slippery after rainfall
Where To Eat And Stay Near Lake 22 Trail
Are you planning a long weekend or midweek break around the Mountain Loop Highway region to take on more hikes?
Well, you're going to need the best lodging and restaurant recommendations. The nearest town to Lake 22 and Mt Pilchuck is Granite Falls. The small town acts as a gateway to Mt Baker – Snoqualmie National Forest.
Top rated eateries in Granite Falls include:
Eat Thai – Thai
Omega Pizza & Pasta – Italian
Playa Bonita – Mexican
Teriyaki Wok 8 – Chinese
Buzz Inn – Steakhouse
You'll be fine for eating out but hotels are another story. Options near and along Mountain Loop Highway are sparse. You can camp, sleep in your car or drive to a nearby town.
Here are the top rated places to stay near Lake 22 Trail (as per previous guests on Booking.com):
More Day Hikes In Washington
Want more Washington content? Head to our Washington Travel Guides to explore National Parks, popular day hikes and best things to do around Seattle.
---
We hope this hiking guide to the Lake 22 Trail helps you plan your day hike near Granite Falls in Washington!
Please let us know if you have any questions about this hike or your visit to Washington in the comments below.
Happy Hiking,
Mark and Kristen
Was This Post Helpful? Pin It For Your Hike!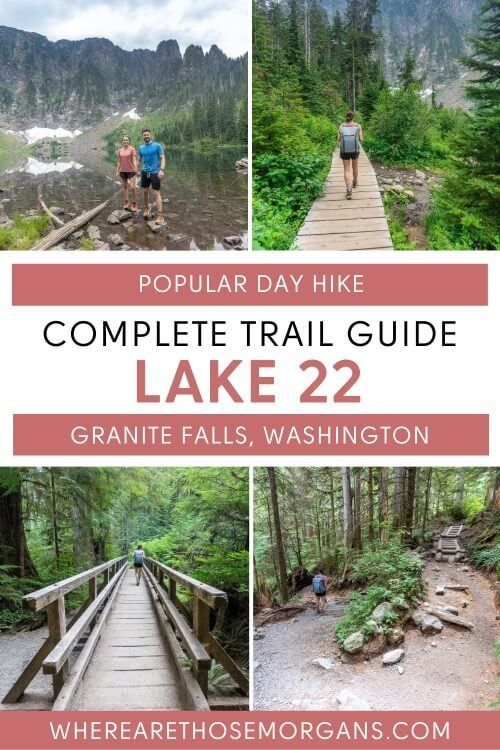 Note: This article contains affiliate links. When you make a purchase using one of these affiliate links, we may earn a small commission at no extra cost to you.
All Rights Reserved © Where Are Those Morgans, LLC. Republishing this article and/or any of its contents (text, photography, maps, graphics, etc.) in whole or in part is strictly prohibited.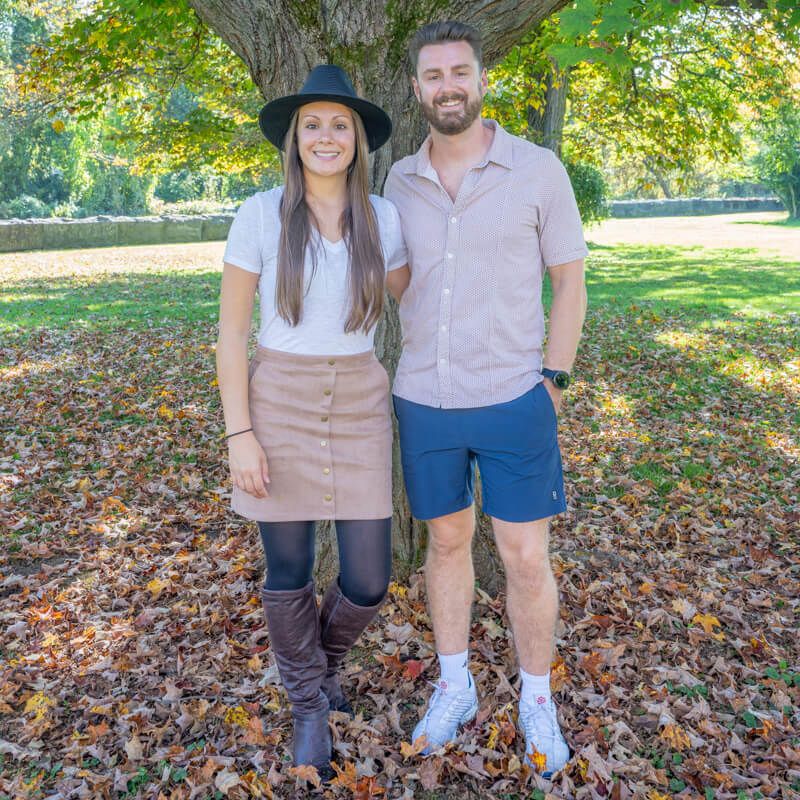 Mark and Kristen Morgan are travel, hiking and photography experts. Over the last 6 years traveling full time, they have explored more than 40 countries and 30 US states.
Their work has been featured in USA Today, Gestalten, Get Your Guide, CityPASS and Condé Nast Traveler along with various other publications.