Easy access, a picturesque forested trail and a spectacular summit panorama over rolling hills make the Rattlesnake Ledge Trail one of the very best day hikes near Seattle, Washington.
The awesome Cascade Mountains in Washington extend below North Cascades National Park all the way through the state to Oregon and beyond.
North Bend and Snoqualmie Pass on the western edge of the mountain range play host to a number of fantastic hiking trails, including Rattlesnake Ledge, which is up there among the most popular hikes near Seattle.
We're going to walk you through everything you need to know about hiking Rattlesnake Ledge Trail near North Bend, Washington, including tips for parking and a stack of photos for inspiration!
*Please note this post may contain affiliate links. If you click on one, we may earn a small commission at no extra cost to you. Thank you for supporting the free content we provide! Read more in our disclosure policy.*
What Is Rattlesnake Ledge Trail In Washington?
Rattlesnake Ledge is a short 4 mile round trip hike in North Bend, taking hikers 1,500 ft above Rattlesnake Lake to open up truly special views of dramatic mountains, valleys and of course the lake itself.
The ledge refers to a rocky outcrop serving as the 'summit' of the Rattlesnake Ledge trail. It has a severe drop off and the surface is very uneven, so great care should be taken when walking across the summit.
You will be surrounded by forest and moss-clad trees as you ascend a dirt path trail to the ledge. Hikers can continue ganging elevation to reach middle and upper ledges if desired, but the majority of hikers settle for the lower ledge.
This is one of the most heavily trafficked hiking trails near Seattle, Washington. Expect to share the trail with hundreds of other hikers and dogs.
Looking for hiking inspiration? Check out our popular guide to the 50 best hikes in the US next!
How To Get To Rattlesnake Ledge Trailhead
North Bend is a wonderful place to stay for a few nights to take on multiple day hike trails in the area. It is the closest town to Rattlesnake Ledge Trail and recreational area.
Anyone traveling up from Portland or other parts of Oregon will find North Bend an ideal hiking base. The same applies to driving down from Bellingham and even Vancouver for a long weekend.
If you are day hiking the trail, put "Rattlesnake Ledge Trailhead" into google maps. The parking lot is just 3 miles off I-90 near North Bend.
From Seattle, you can be at the parking lot in 35 miles, which should take around 35 minutes. Simply follow I-90 and turn off onto Cedar Falls Road.
Here are distances and average times from other nearby cities to Rattlesnake Ledge Trail:
Bellevue – 29 miles / 33 minutes
Renton – 33 miles / 40 minutes
Everett – 56 miles / 1 hour
Tacoma – 60 miles / 1 hour 5 minutes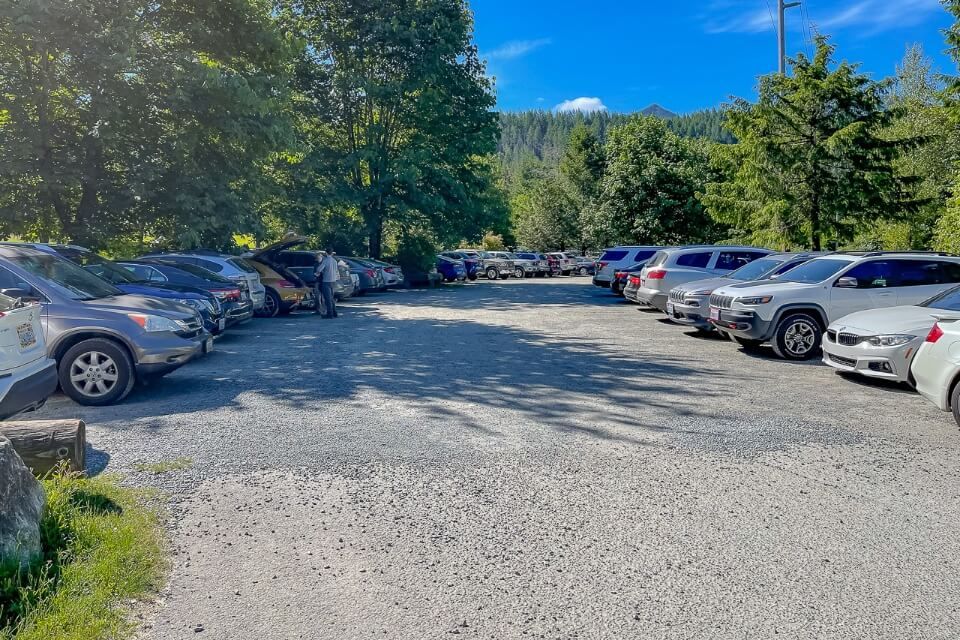 Parking And Trailhead For Rattlesnake Ledge Trail
Washingtonians love to hike and despite the enormous amount of options, we always find parking to be the major issue we encounter when planning our next trail.
Due to its ease of access from Seattle and surrounding heavily populated urban areas, parking at Rattlesnake Ledge Trail is notoriously challenging.
Our best advice is to wake up early and plan to arrive at the parking lot by 7am. That way you give yourself the best shot at getting a space, plus you can hike before the trail becomes crowded and before the heat gets up around midday.
Read recent comments from fellow hikers about the trail on All Trails – you will notice almost all mention how busy and crowded the trail is by mid-morning.
You will get parked up if you arrive later in the day, but you will more than likely have to circle around awkwardly waiting for people to leave.
Parking at Rattlesnake Ledge Trailhead is open from dawn until dusk each day and is always free.
Main Parking Lot
The main parking lot is a loop with a figure 8 shaped area for vehicles to park up.
By the time we were back at the parking lot at 10am, the main lot was full, SUV's were abandoned on grass verges and the roadside was bumper to bumper.
Overflow Lot
Right as you turn off Cedar Falls Road you will notice what looks like a small parking lot. This is the overflow lot and only has about 15 spaces total with no parking allowed on the roadside.
As we entered at 7am, there were 3 spaces left so instead of continuing to the main lot, we grabbed a spot here.
Trailhead
Rattlesnake Ledge Trailhead is located in between the main and overflow parking lots, just a minute or two from either lot.
There are easy to follow signs to the trail, or simply follow the crowds of hikers.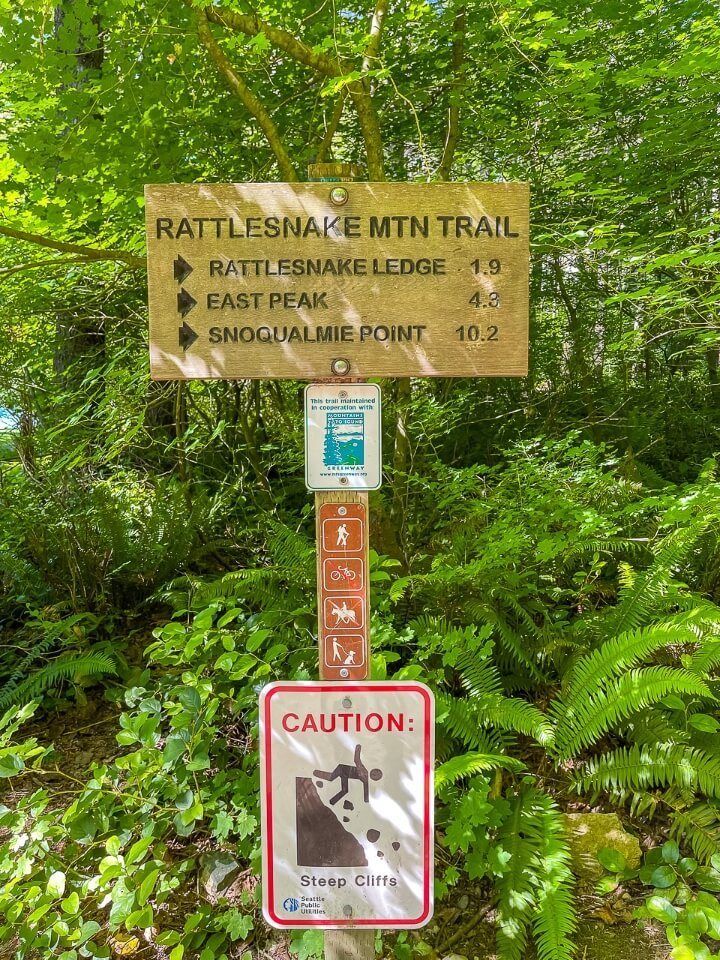 Rattlesnake Ledge Trail Details
Trail Distance: 4 miles roundtrip (to Lower Rattlesnake Ledge only)
Type of Trail: Out and Back
Trail Difficulty: Moderate
Time Required: 1.5 – 3 hours
Elevation Gain: Approximately 1150 ft to Lower Rattlesnake Ledge
Trailhead: North side of Rattlesnake Ledge off Cedar Falls Road
Tips For Hiking Rattlesnake Ledge Trail In WA
Hike very early or later in the afternoon to avoid crowds.
Robust shoes are more suitable for considerable incline.
No hiking equipment or specialist gear required.
Can be bad for bugs so please don't forget repellant.
Rattlesnake Ledge is a dog friendly trail.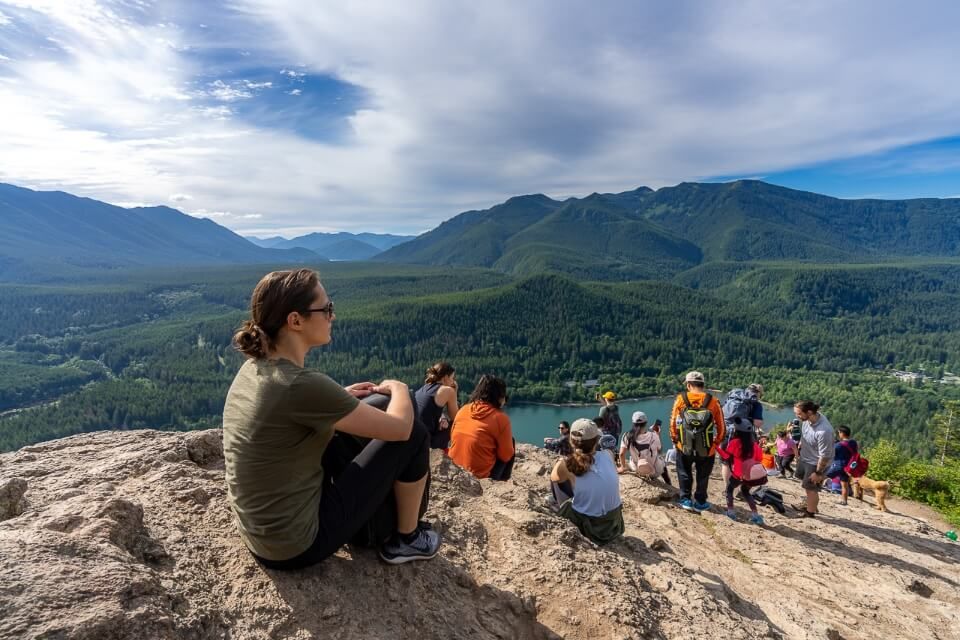 Rattlesnake Ledge Trail Walkthrough
Rattlesnake Ledge Trail is a hugely popular hike with spectacular views over the Cascade Mountains. It has to be one of the best effort vs reward hikes in Washington.
Most hikers will climb as far as Lower Ledge only, but you can continue to Middle Ledge and Upper Ledge for higher views and far fewer people.
Let's get right into what you can expect on this awesome hike!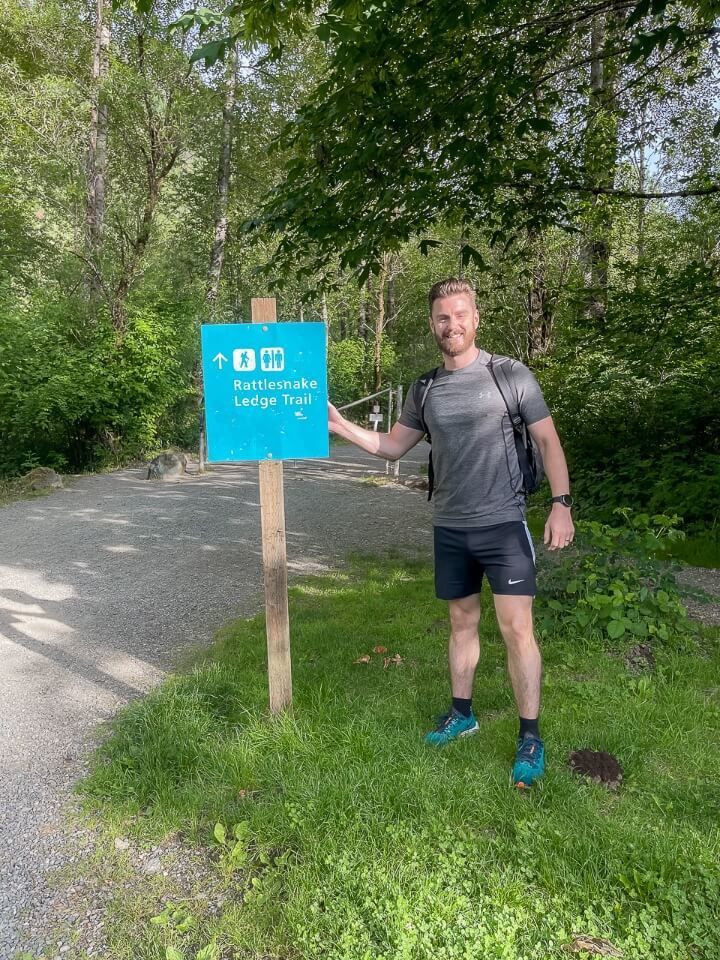 1. Short Flat Walk To Begin
After getting parked up in one of the lots or along the roadside, follow signs to the trail. If you look up from the parking areas, you can actually see the sheer face of a rocky ledge hanging over with drops down to Rattlesnake Lake below.
You will walk along a flat track around part of the lake until you reach an area with bathrooms and an information board.
Once you've read the hiking details, clued up on local geology and taken advantage of those restrooms, it's time to start climbing.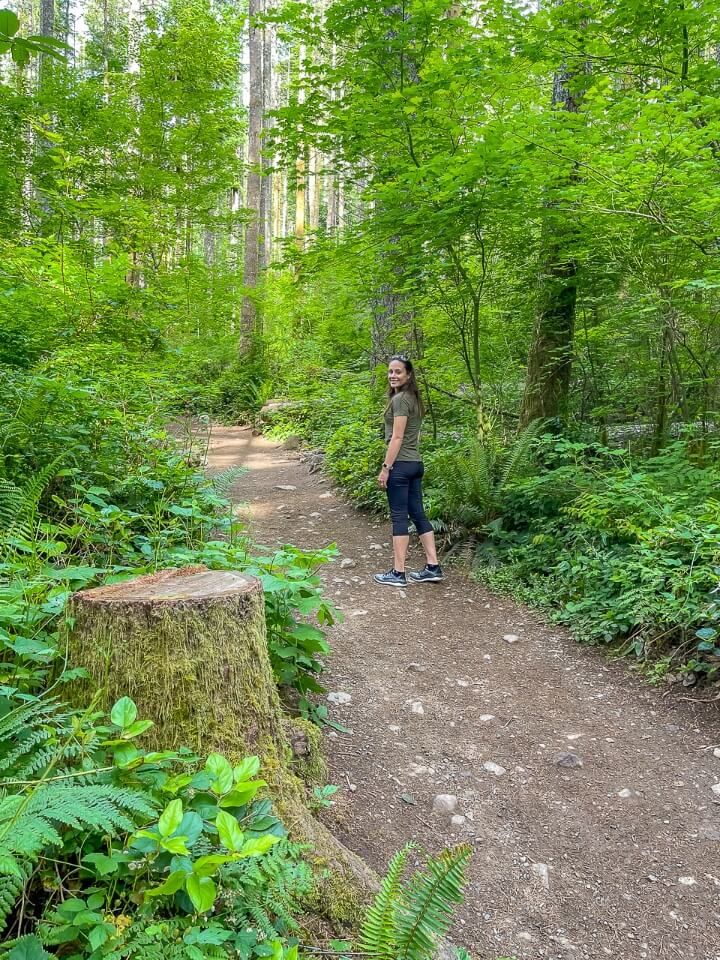 2. The Ascent
Rattlesnake Ledge gains around 1,150 ft in 1.9 miles. It is a mostly gradual incline, with a few spots having steeper sections but there's nothing too serious.
You will pass by enormous moss covered boulders and trees with huge spiraling branches reaching out in all directions. The trail is mostly packed dirt underfoot but there are some rocky parts and watch out for those pesky trip hazards – exposed tree roots.
Almost the entire hike to lower ledge is covered by trees and thick vegetation, which is perfect for sun protection on a hot day and a degree of protection from heavier rainfall.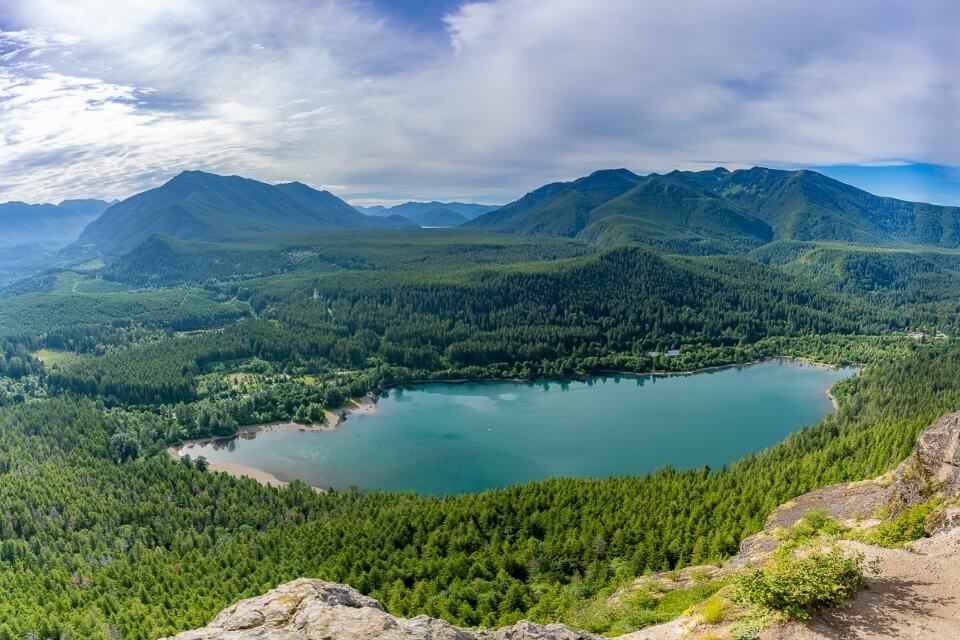 3. Rattlesnake Ledge Lower Summit
For such a short trail, you are rewarded with seriously stunning views. Rugged mountains blanketed by emerald green trees and the small turquoise colored Rattlesnake Lake create a postcard perfect scene.
Mount Si, Little Si and Mount Washington can all be seen from the ledge on the side of Rattlesnake Mountain. The lake is just one part of the viewpoint. Look to the left of the lake from the summit to open up expansive views directly through a stunning valley.
It is highly likely you will be sharing the Rattlesnake Ledge Trail summit with other hikers and dogs. We spent around 20 minutes on the uneven rocky outcrop and saw around 60 – 70 people, with maybe 10 or 12 dogs.
Don't go anywhere near the edge if you have a fear of heights. The drop is significant and it's not worth falling off just for an instagram photo, is it?!
You can either stay at the higher point of the summit or descend carefully across a steep and very uneven surface to find a quieter place to sit and each lunch.
4. The Descent
Before beginning back down to the parking lot, consider whether you want to open up more views but from a higher vantage and with a fraction of the people around.
You can continue to climb for 0.2 miles to Middle Ledge and a further 0.2 miles to Upper Ledge. Remember, you can also continue a further 2.4 miles up Rattlesnake Mountain to reach East Peak, or hike 8.3 miles over the mountain ridge to Snoqualmie Point Park.
However, most hikers will leave directly from the lower ledge. If you arrived early, you will notice how much busier the trail has become and you'll likely have to wait at narrower parts of the path to allow hikers through.
We always find it is easier to enjoy trail details and intricacies on a descent, so be sure to appreciate the natural environment, plants, trees and vegetation. The sun will be higher in the sky now and there will be times you can see beams bursting through trees or illuminating ferns.
If you need to cool down after the trail, don't forget your swimsuit and take a quick dip in the lake. Back at the parking lot you will be doing someone a huge favor by leaving a space!
Pros and Cons
Let's take a look at our top pros and cons to hiking Rattlesnake Ledge Trail in Washington.
Pros
Excellent reward for little work
Beautiful views from the summit
Very easy access from major urban areas near Seattle
Little exposure on the trail inside forest
Cons
Can become extremely crowded in Summer and on weekends
Summit is very uneven and has considerable drop offs
Parking can be a problem during peak times
Trail congestion might put some hikers off
Where To Eat And Stay Near Rattlesnake Ledge Trail
Are you staying over in the North Bend / Snoqualmie Pass region to take on more hikes and enjoy the stunning scenery?
Well, you're going to need the best hotel and restaurant recommendations.
Top rated eateries in nearby North Bend include:
Rio Bravo – Mexican
North Bend Bar & Grill – American
Il Paesano – Italian
Wildflower Bistro – Upmarket
North Bend Bakery – Sandwiches
Volition Brewing Co – Craft Brewery
Here are the top rated places to stay near Rattlesnake Ledge Trail (as per previous guests on Booking.com):
Popular Washington Day Hikes
Want more Washington content? Head to our Washington Travel Guides to explore National Parks, popular day hikes and best things to do around Seattle.
---
We hope this hiking guide to Rattlesnake Ledge Trail helps you plan your day hike near Seattle, Washington!
Please let us know if you have any questions about this hike or your visit to Washington in the comments below.
Happy Hiking,
Mark and Kristen
Was This Post Helpful? Pin It For Your Hike!