Ithaca Falls is a popular and extremely photogenic waterfall located in the heart of Ithaca NY. We are going to show you exactly how to visit Ithaca Falls, including where to park, what you can expect from the short hike and the best photo spots around the waterfall.
Is Ithaca Falls worth it?
Yes! Ithaca Falls is among the easiest to access and most impressive of the many waterfalls in Ithaca NY. You can stand close to the bottom of a tall, wide and powerful waterfall for almost no effort at all.
In this guide we will cover:
What is Ithaca Falls?
Where do you park?
Walkthrough of the short trail
Where to take the best photos
What else is nearby
Let's get right into this quick and easy guide to visiting the picturesque Ithaca Falls Natural Area in Ithaca NY!
What Is Ithaca Falls?
Ithaca Falls is a 150-foot tall and 175-wide cataract waterfall located close to Cornell University and downtown Ithaca NY.
It is the last and most powerful of the six waterfalls crashing down through Fall Creek gorge before flowing directly into Cayuga Lake.
The waterfalls along Fall Creek were once used by settlers in the early 1810's who built mills to harness the waterpower. By the late 1800's, factories including the Ithaca Gun Company used the waterfalls to power machinery.
Today, the picture-perfect waterfall is one of the most visited Finger Lakes waterfalls and interestingly the deep pool formed at its base is also a popular fishing spot.
Heading to Ithaca? Use our popular guide featuring best places to visit in Ithaca so you don't miss a thing.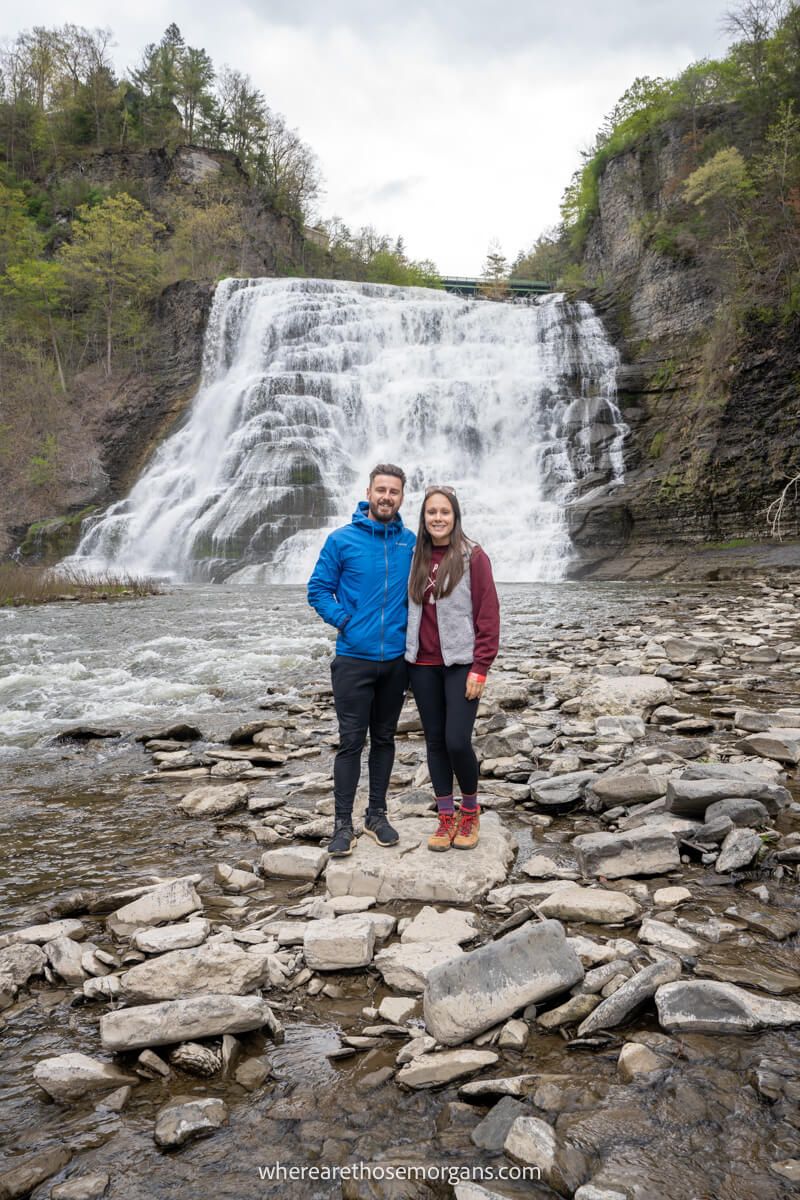 Our Ithaca Falls Experience
We have personally walked to Ithaca Falls on two separate occasions at very different times of year.
Our first visit was early in September when the leaves are still a deep emerald green color in upstate NY. The waterfall was wispy and the weather was warm.
Our second visit to Ithaca Falls was at the end of April 2023. We wanted to see the waterfall flowing powerfully with snowmelt and rainfall. Trees in Fall Creek gorge were mostly bare and it was lightly raining.
So we have had two polar opposite experiences at this popular tourist spot.
Next time, we will visit at sunrise or sunset on a weekday in the first week of October to see fall colors on the leaves and hopefully bright colors in the sky.
Where Is The Waterfall?
Ithaca Falls Natural Area trail access is located on the corner of Lake Street and E Falls Street. You will walk east into Fall Creek for a short time until you reach the waterfall.
It is incredibly easy to access Ithaca Falls from Cornell University or anywhere in the downtown area by car and by foot.
Here are expected walking times:
McGraw Tower on the Cornell campus to Ithaca Falls trailhead will take around 15-20 minutes.
Ithaca Commons to Ithaca Falls trailhead will take between 20-25 minutes.
Here is the Google Maps location for the trailhead.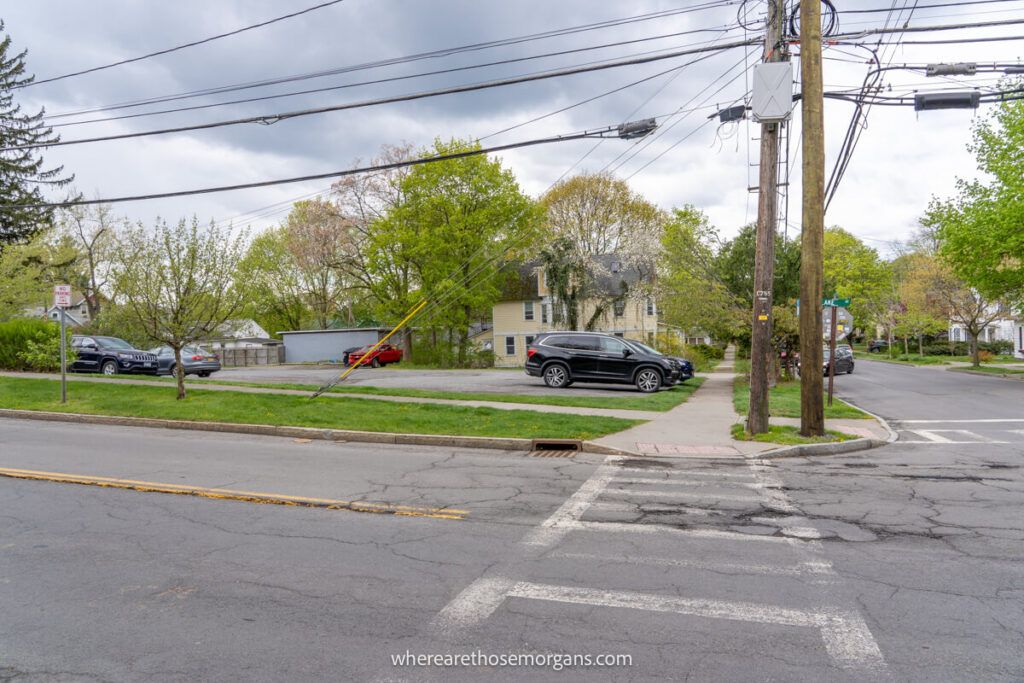 Ithaca Falls Parking
Visitors to Ithaca Falls can park in a rough parking lot on the corner of Lake Street and E Falls Street, directly opposite the trailhead.
If there are no spaces available, you can park on the side streets nearby.
You do not have to pay for parking when visiting Ithaca Falls. It is free to park in the lot and on side streets.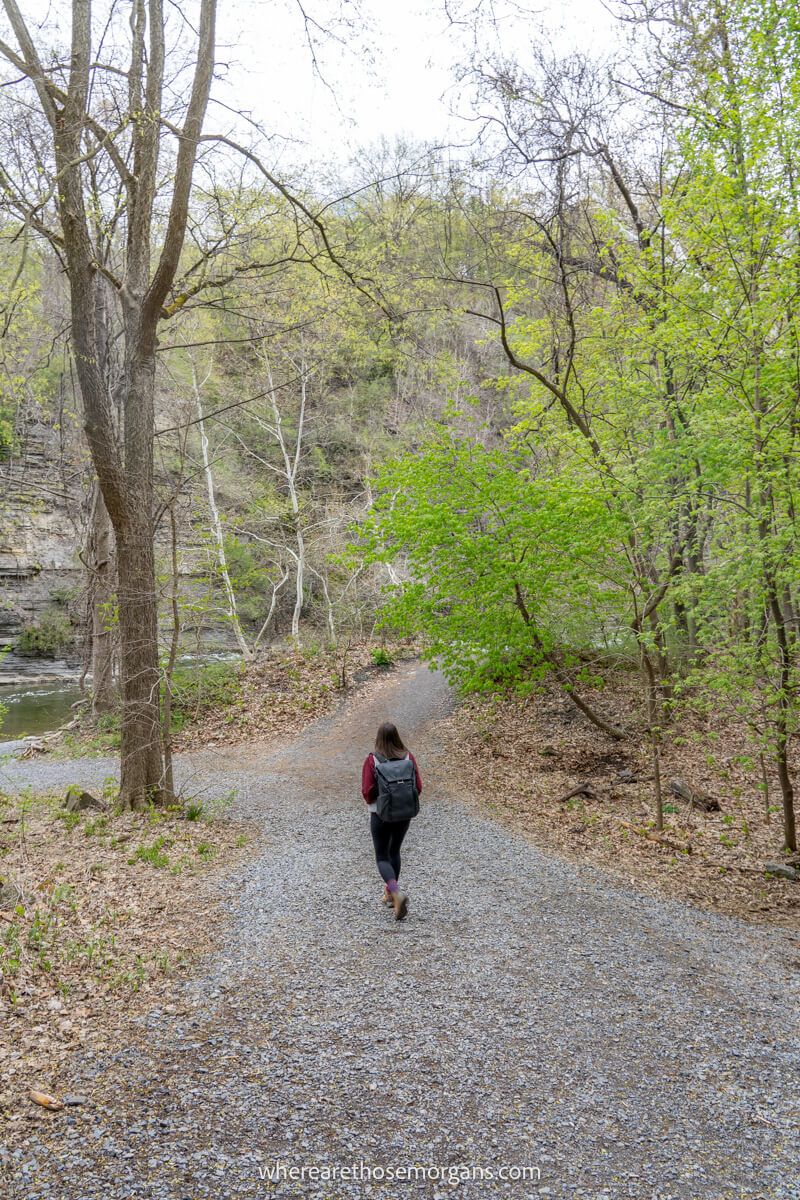 Ithaca Falls Trail
The hike to Ithaca Falls is easy, short and achievable for almost any visitor to the college town.
Starting on the south side of Lake Street bridge and heading east, the gravel trail descends gradually into the creek and enters a grouping of trees.
You will quickly reach the shores of Fall Creek and views over the waterfall will open up to your right side. At this point the ground transitions to small stones and rocks so take care with your footing.
Walk out into Fall Creek if the water level is low to open a better angle on the waterfall. Then walk straight at the mighty falls directly ahead of you.
Once you are closer, a small trail hugging the underside of the cliff to your right will lead you as close to the waterfall and you feel comfortable.
Trail Details
Distance: 0.2 miles total out and back
Difficulty: Very easy
Time: 5 minutes return
Elevation: 10-20 feet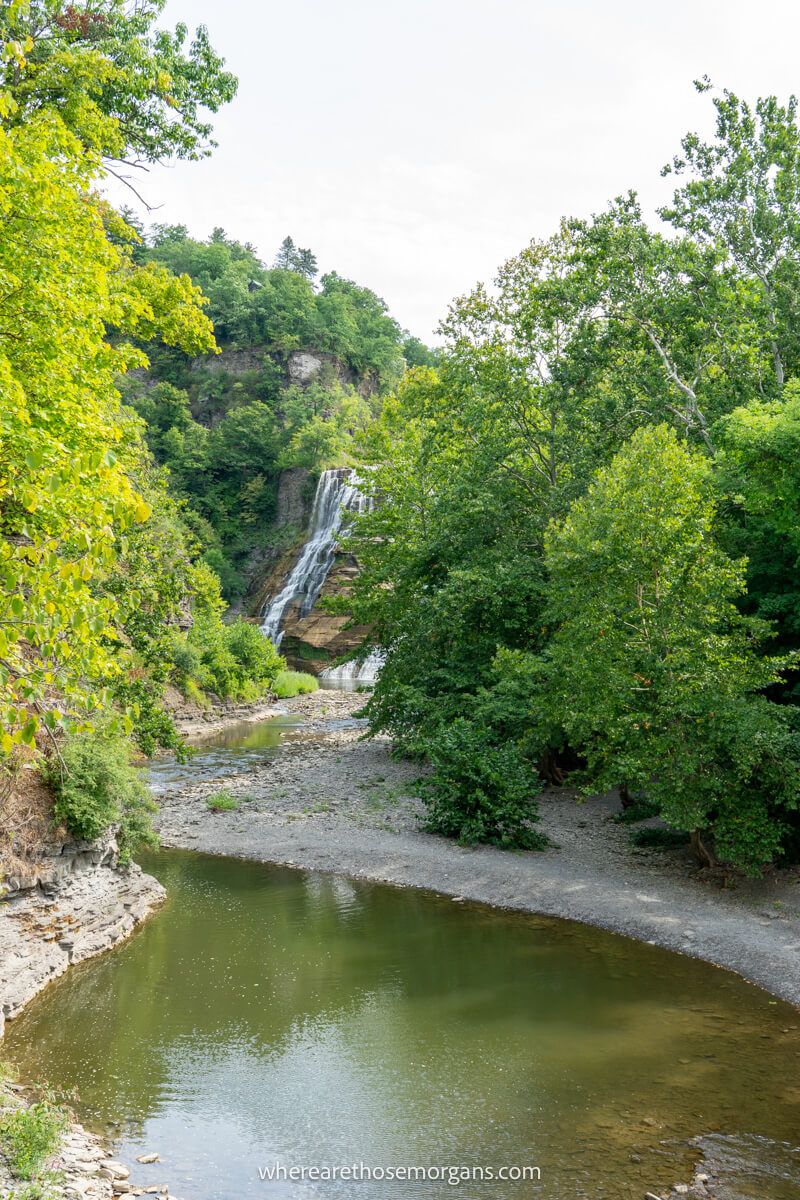 Accessibility
Visitors with mobility issues can see Ithaca Falls directly from the middle of Lake Street bridge during late fall, winter and early spring when the trees are bare.
When the leaves are full, you will only see around one third of the waterfall.
Due to the rocky nature of the creekside trail, those with mobility issues will unfortunately not be able to reach the bottom of the waterfall by scooter or wheelchair.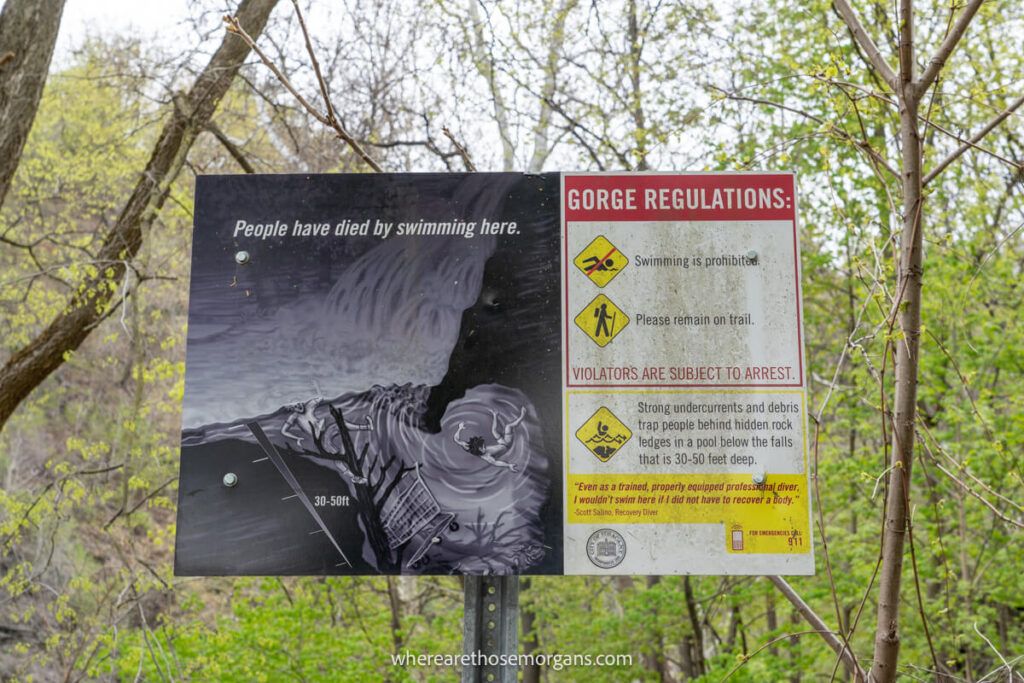 Swimming
One hard to ignore question is "can I swim in Ithaca Falls on a hot day?"
Unfortunately, the answer is no swimming is not permitted. In fact, it is outright prohibited and you will find a sign stating the dangers of swimming here.
If you really must cool off, don't go in the water anywhere near the waterfall. There is plenty of room further down creek well away from the dangerous plunge pool.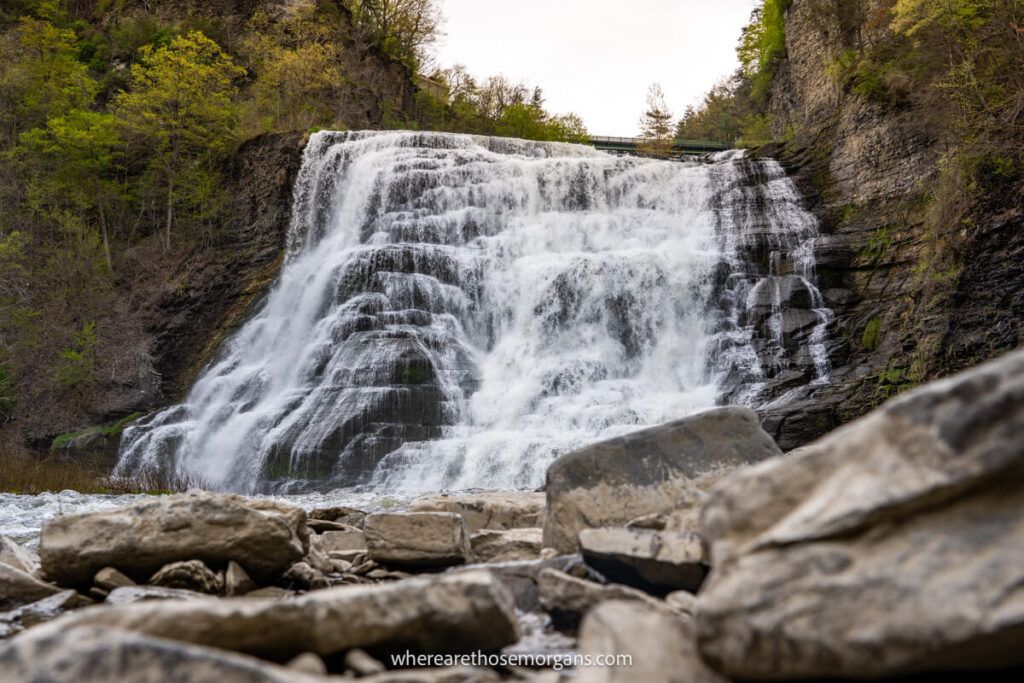 Photography
Ithaca Falls is picturesque from close up, middle distance and long distance.
Remember, the waterfall is tall and wide, so if you want to get close you might need a wide angle lens or to switch your phone camera to wide angle.
The main issues you face are having a clear line of sight at the waterfall from afar, as well as the weather conditions when you visit.
A perfect scenario would be a stunning sunrise or sunset (or at least cotton wool clouds in the midday sky!), along with vibrant fall foliage colors and a clear line of sight at the waterfall.
However, that is rare and you would probably need a few goes at it.
It is more likely you will visit on a grey and overcast day which won't give you much contrast between sky and waterfall. So your foreground elements become more important.
Use rocks, trees and people in the foreground if you have miserable weather conditions.
Seasons
In spring when the snow begins to melt and rain is frequent, you can see the most powerful water flowing over Ithaca Falls. However, the trees are bare and overcast days are common.
Gradually throughout summer the water volume decreases and the leaves turn a brilliant green.
In fall when the leaves transition into gorgeous earthy colors and the water is at its lowest flow of the year, not only is the scene more visually stunning but you can also get much closer to the waterfall because the water levels in Fall Creek are very low.
Best Photo Spots
There are three distinct photo spots you can use to capture Ithaca Falls in all its glory:
1. As far back down Fall Creek as you can get with a clear line of sight at the waterfall.
2. As close to the waterfall as you can get while remaining central on the rocks.
3. Very close up to the side of the waterfall (wide angle lenses work best here).
We like all three, but our preference is to frame the waterfall from further back down Fall Creek.
This way we can easily frame the waterfall, use objects in the foreground and capture the clouds above in a single frame.
Our Ithaca Falls Photos
Here are more of our favorite photos taken during two visits to Ithaca Falls NY.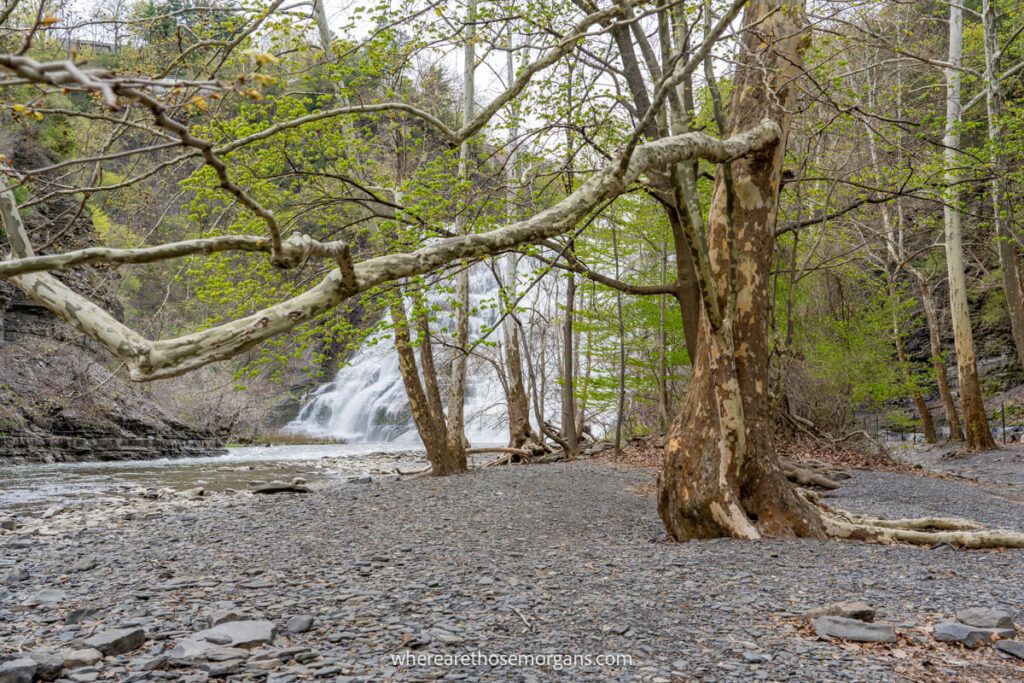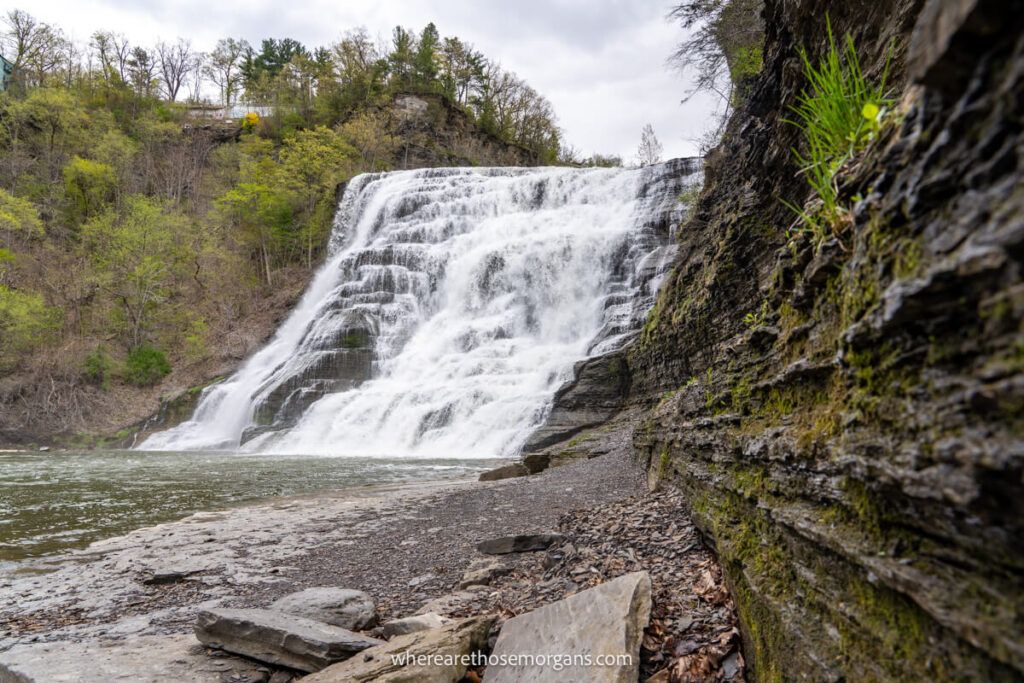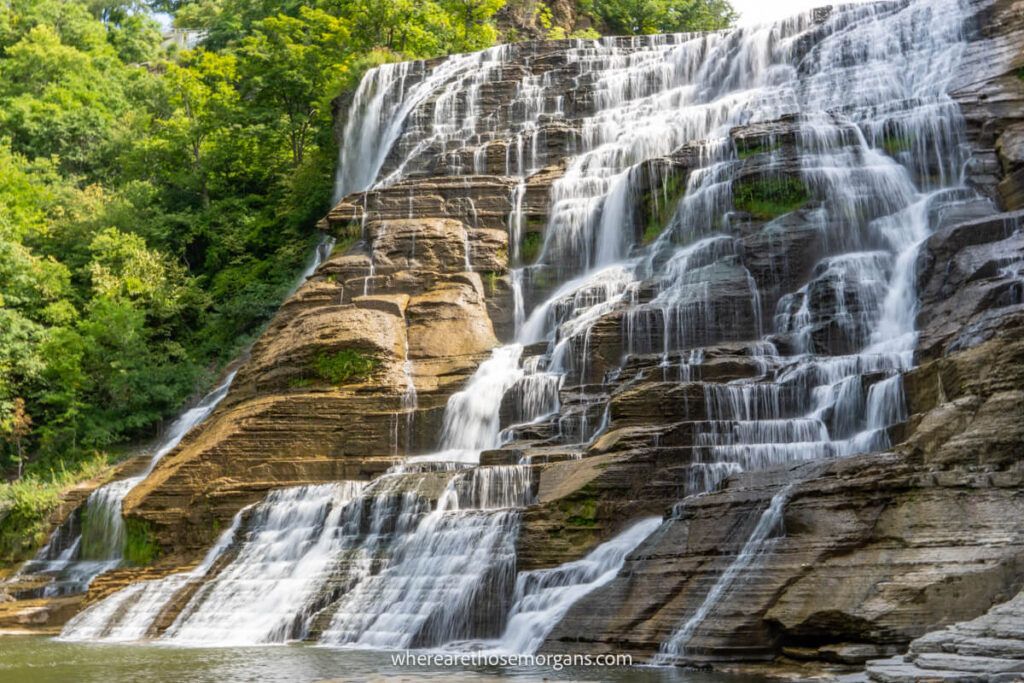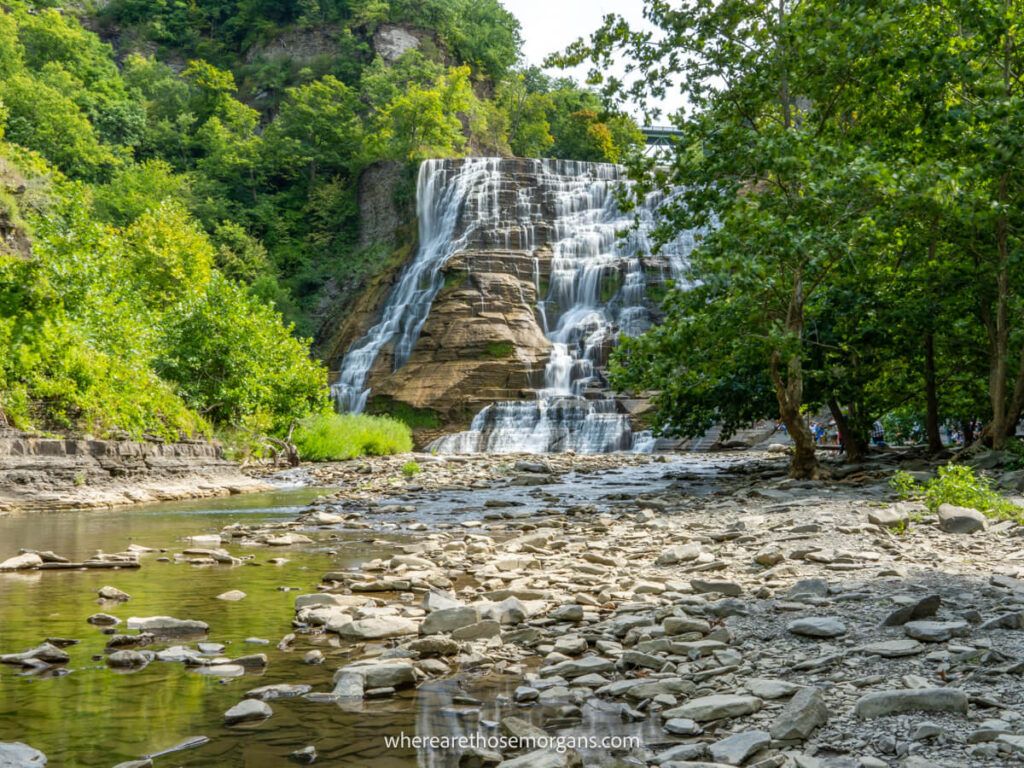 More Waterfalls In The Area
Are you planning to visit several waterfalls on your trip to Ithaca?
We spent a full day hunting waterfalls around Ithaca in April 2023 and had a fantastic time. Not including the nearby state parks, there are plenty of awesome falls to find right in town.
Here are more falls for you to visit in town:
Triphammer Falls
Businessman's Lunch Falls (Wells Falls)
Want a complete list of Ithaca Waterfalls? Don't miss our popular guide to the best waterfalls in Ithaca.
Here are the best waterfalls near Ithaca:
Traveling through the Finger Lakes area? Don't miss the our guide on how to find stunning Finger Lakes waterfalls to make the most of your trip.
Ithaca Falls FAQ's
Let's take a quick look at some of the most frequently asked questions about visiting Ithaca Falls Natural Area in Ithaca, New York.
How long is the Ithaca Falls trail?
The hike to Ithaca Falls is very short and easy. A total of 0.2 miles roundtrip will lead you from a parking lot to the base of the waterfall in Fall Creek, which should take no more than 5 minutes each way.
When is Ithaca Falls open?
The trail to Ithaca Falls is open year round without closing at any time. You can access the waterfall 24 hours a day, 365 days a year.
Our Popular Upstate NY Guides
Want more New York content? Head over to our New York Travel Guides to explore the Finger Lakes, Adirondacks and the best of NYC.
---
We hope this guide to visiting Ithaca Falls helps with planning your trip to Ithaca, NY!
Please let us know if you have any questions about visiting Ithaca Falls NY below in the comments.
Happy Travels,
Mark and Kristen
Enjoy This Guide To Ithaca Falls? Pin It For Your Visit!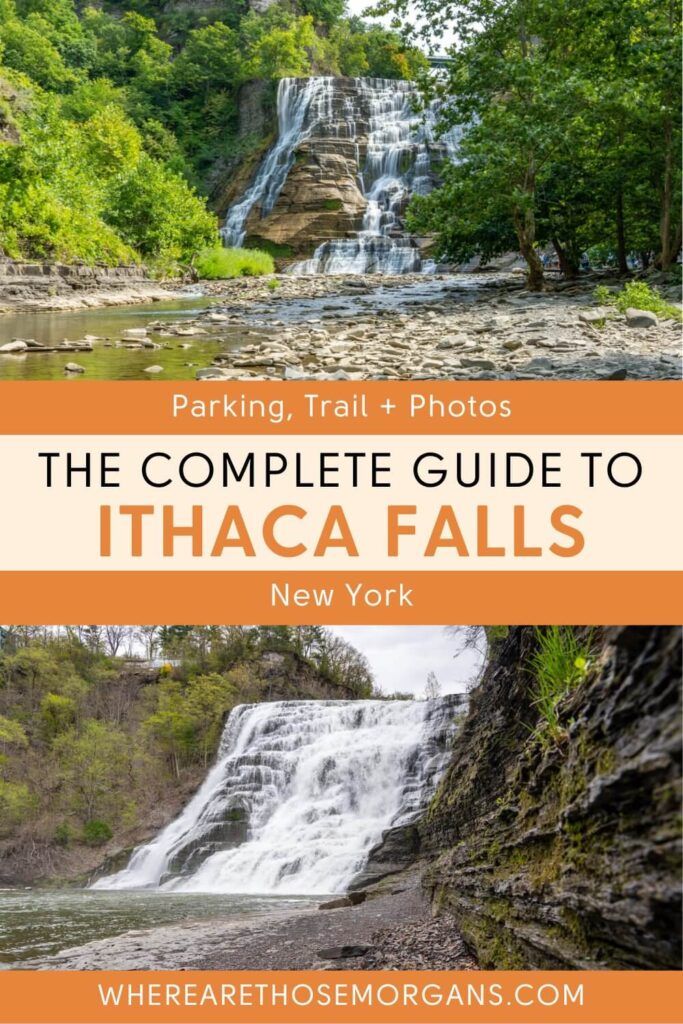 Note: This article contains affiliate links. When you make a purchase using one of these affiliate links, we may earn a small commission at no extra cost to you.
All Rights Reserved © Where Are Those Morgans, LLC. Republishing this article and/or any of its contents (text, photography, maps, graphics, etc.) in whole or in part is strictly prohibited.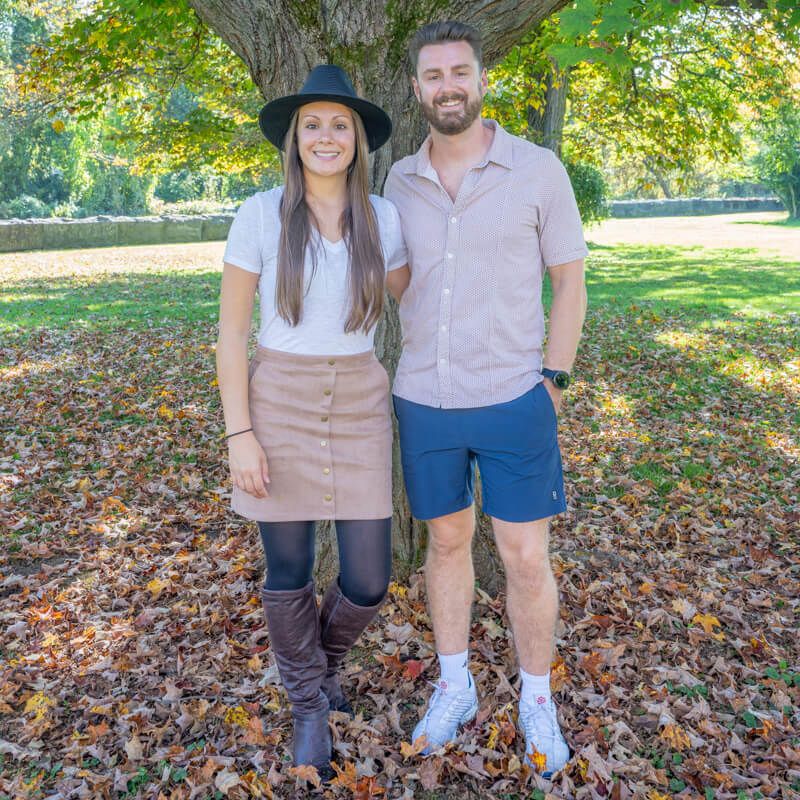 Mark and Kristen Morgan are travel, hiking and photography experts. Over the last 6 years traveling full time, they have explored more than 40 countries and 30 US states.
Their work has been featured in USA Today, Gestalten, Get Your Guide, CityPASS and Condé Nast Traveler along with various other publications.