Alcatraz Island has a story so intriguing that it draws in over 1.5 million visitors each year. But are the Alcatraz day and night tours worth your valuable time and money?
In short, the answer is yes. But you are not here for the short answer.
San Francisco is not a cheap place to visit and with limited time to explore, you need to know exactly how to spend your time and money wisely.
Not only have we been to San Francisco multiple times, but we have personally visited Alcatraz for both a day and night tour on separate occasions.
You can consider us experts when it comes to helping determine which of the Alcatraz tours is for you.
Let's dive deeper into what you can expect and why the tours of Alcatraz are worth putting a dent in your San Francisco travel itinerary.
*Please note this post may contain affiliate links. If you click on one, we may earn a small commission at no extra cost to you! Read more in our disclosure policy.*
Alcatraz Island Fact File
City: San Francisco
State: California
Nickname: The Rock
Prison Opened: August 11th, 1934
Prison Closed: March 21st, 1963
Annual Visitors: 1.5 million tourists
Prisoner Capacity: 336 (never reached max capacity
Famous Prisoners: Al Capone, Machine Gun Kelly, Robert Stroud, Whitey Bulger, The Anglin Brothers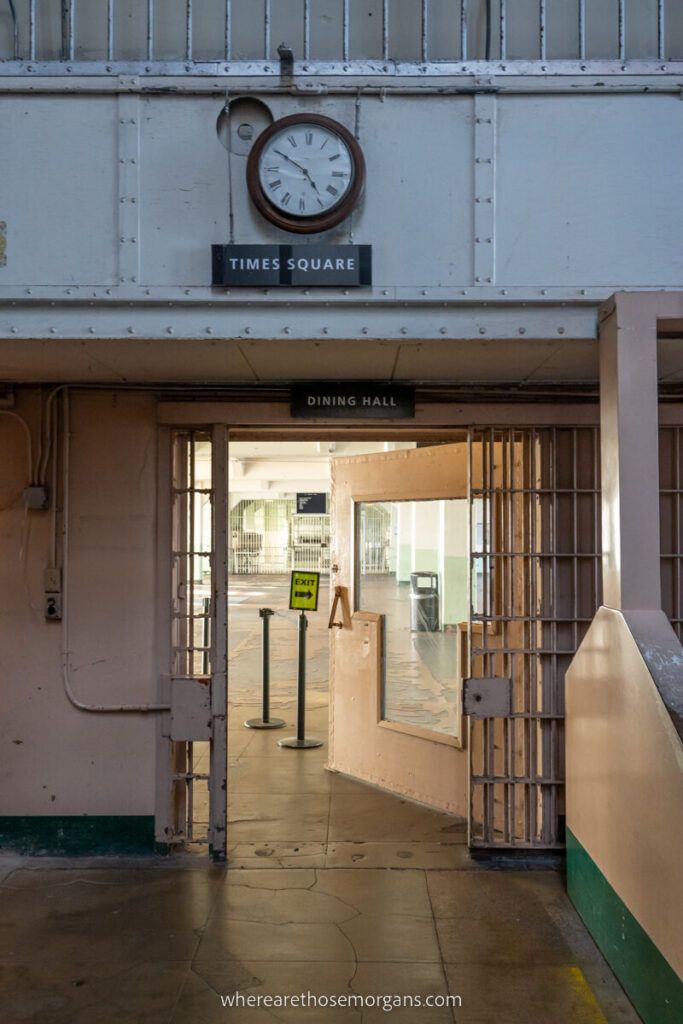 History Of Alcatraz
Much like the air of mystery that surrounds the entire Island of Alcatraz, the history of the San Francisco Bay and the buildings of Alcatraz make for a dramatic story.
Fort, military prison, maximum security federal penitentiary and freedom all play a role in the colorful narrative of the eerie, forbidding and isolated island a mile offshore in the center of the San Francisco Bay.
Grab a comfy seat and a bit of popcorn because this one is going to a doozy. But our guide is loaded with photos and we hope to inspire you to visit this interesting part of US history someday.
The Founding Of Alcatraz Island
Juan Manuel de Ayala was the first man to sail into San Francisco Bay and lay eyes upon what is now Alcatraz Island.
When the Spanish explorer mapped the bay in 1775, he named the tiny island Alcatraces. At this time, this word meant 'Gannet' in relation to the North Atlantic seabird.
But over time, the original name Alcatraces was anglicized to Alcatraz. There has been debate about the exact meaning of Alcatraz, but this term typically refers to a 'pelican' or 'strange bird.'
This term seemed to fit as Brown Pelicans are extremely common in the San Francisco Bay area.
The name Alcatraz feels slightly less sinister now you know it means Pelican, right?! You can ignore this fact if you want the name to retain its mystique.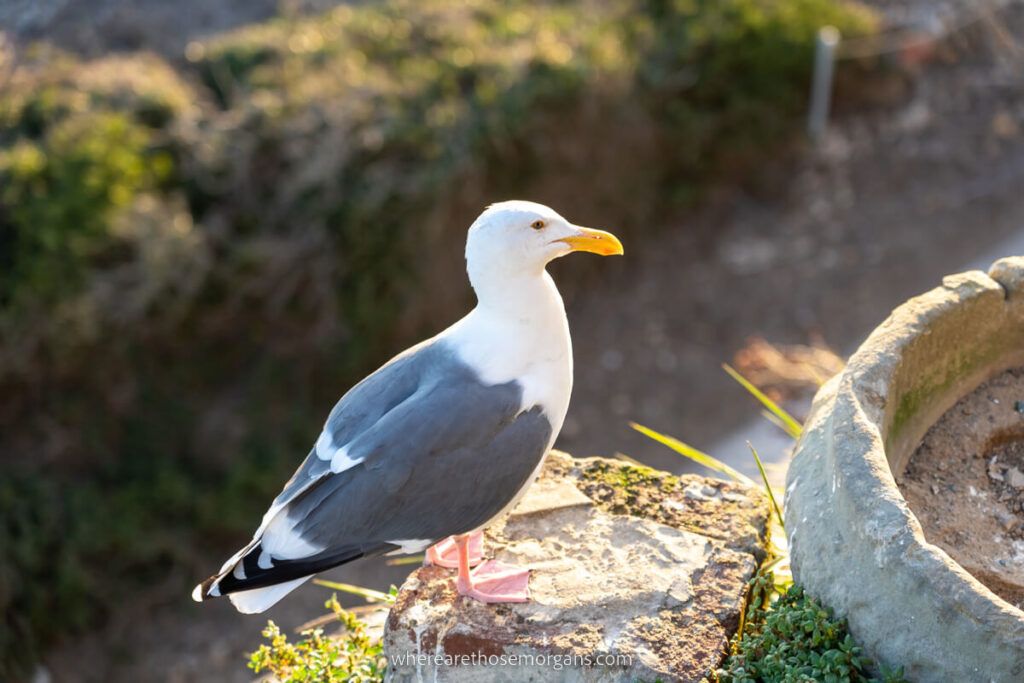 Use As A Military Fort
Following the Gold Rush and booming of San Francisco in the 1850's, the US military built a fortress at the top of Alcatraz to protect the bay from naval invasion.
On June 1st, 1854, the Alcatraz Light became the first lighthouse built on the West Coast of America. By the late 1850's, Alcatraz had received its first military prisoners.
No shots were ever fired from the enormous cannon at Alcatraz fortress and its requirements as a defensive installation become obsolete.
The US army demolished Alcatraz fortress in 1909 and military prisoners at the time built what would become 'the Rock.'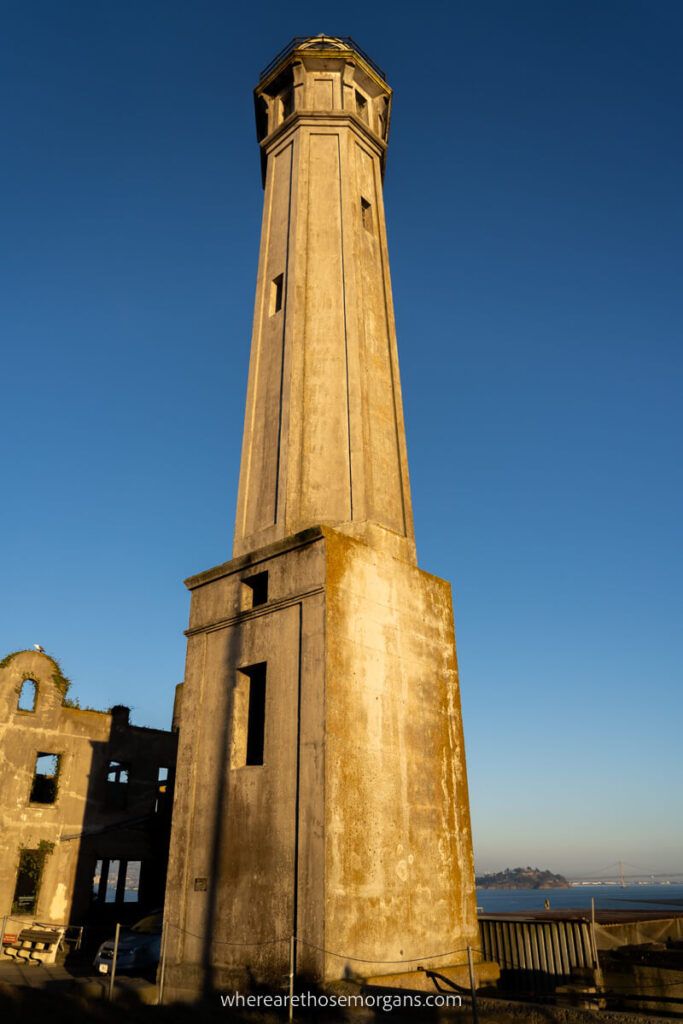 Punishment To Fit The Crime
Following rampant crime in the 1920's and 1930's, Alcatraz was the perfect symbol for the Department of Justice to show its citizens they were taking crime seriously.
The prison was categorized as maximum security as well as minimum privilege and opened in 1933.
Alcatraz would be the new home for those who were incapable of reform or who had gained culture repute.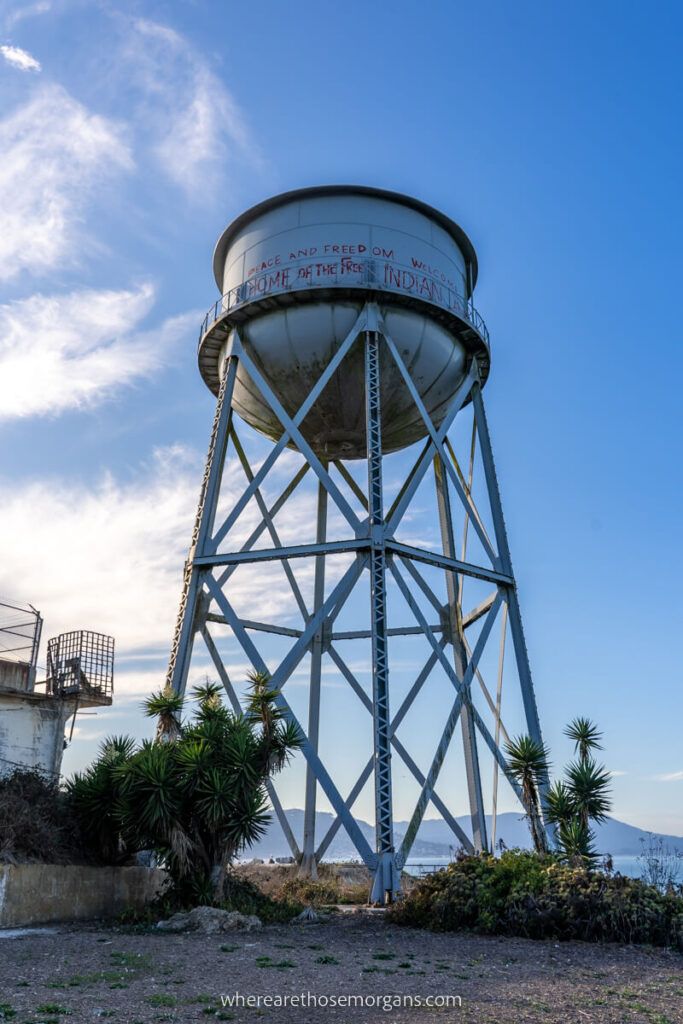 Native American Occupation
Alcatraz prison was finally closed on March 21st, 1963 after almost 30 years of operation. Its closure had nothing to do with escape attempts (which we will get into later) and everything to do with finances.
It simply just wasn't cost effective to maintain the prison any longer. Following the closure of Alcatraz prison, the island was left deserted and abandoned for 6 years.
In 1969, a group of Indigenous activists known as 'the Indians of All Tribes' occupied Alcatraz and raised awareness of the troubles they faced.
Support for Natives grew throughout their 19 month stronghold on Alcatraz until they lost control and buildings were burned down. Federal Marshalls intervened and removed all people from Alcatraz in 1971.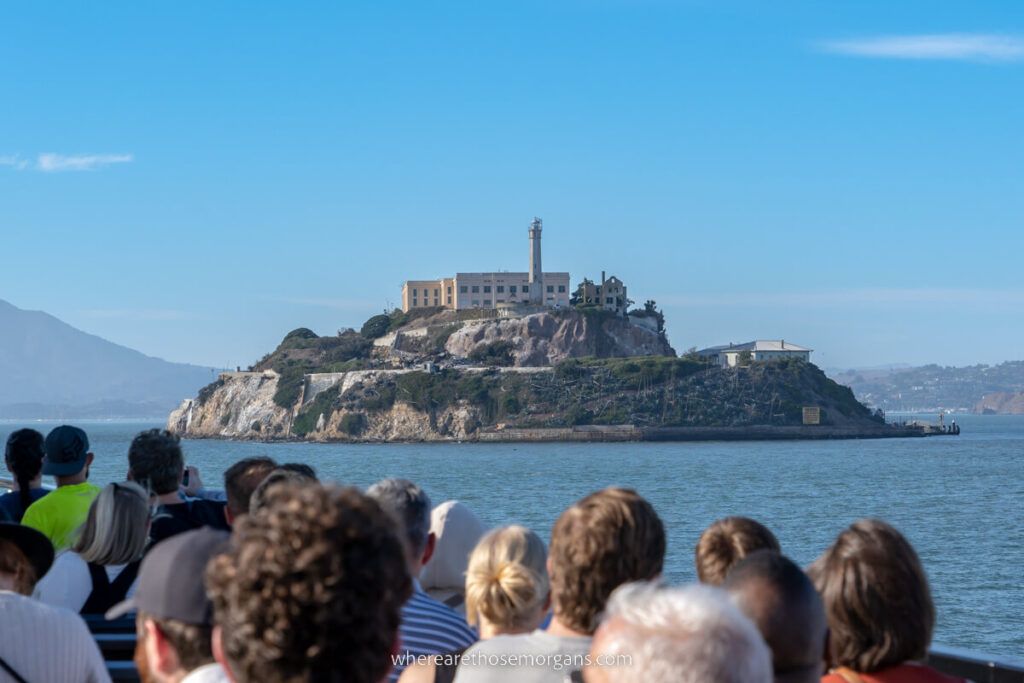 Alcatraz Museum And Tours
In 1973, Alcatraz was opened to the general public as a museum under the National Park Service and part of the Golden Gate National Recreation Area.
You can visit the official Alcatraz NPS website for more information.
Alcatraz remains one of the most popular park service sites and receives over 1 million visitors each year.
Travel Tip: If you collect the National Park Passport Stamps, be sure to pick up your stamp on Alcatraz island. There are two stamps to collect, one for the Alcatraz Island Lighthouse and one for the Golden Gate Recreation Area.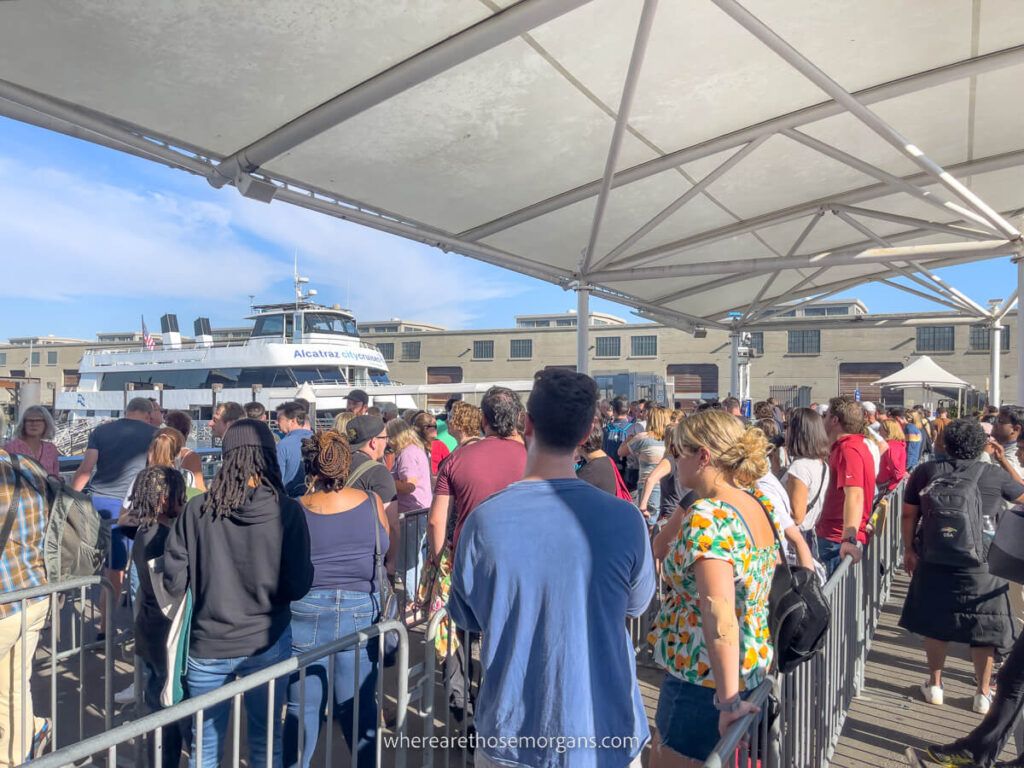 How To Get To Alcatraz From Pier 33
There is only one way you can reach Alcatraz Island as a tourist and that is from Pier 33, Alcatraz Landing.
Google Maps Location for Pier 33.
Pier 33 is located halfway around San Francisco's Embarcadero, between Fisherman's Wharf and the Ferry Building.
Alcatraz Cruises owns sole rights to ferry crossings from Pier 33 to Alcatraz Island under contract with the National Park Service.
It's not worth looking into chartering a private boat to access the island because you won't be able to enter the museum.
Pier 33 is also equipped with an accessibility drop off zone for those with special needs.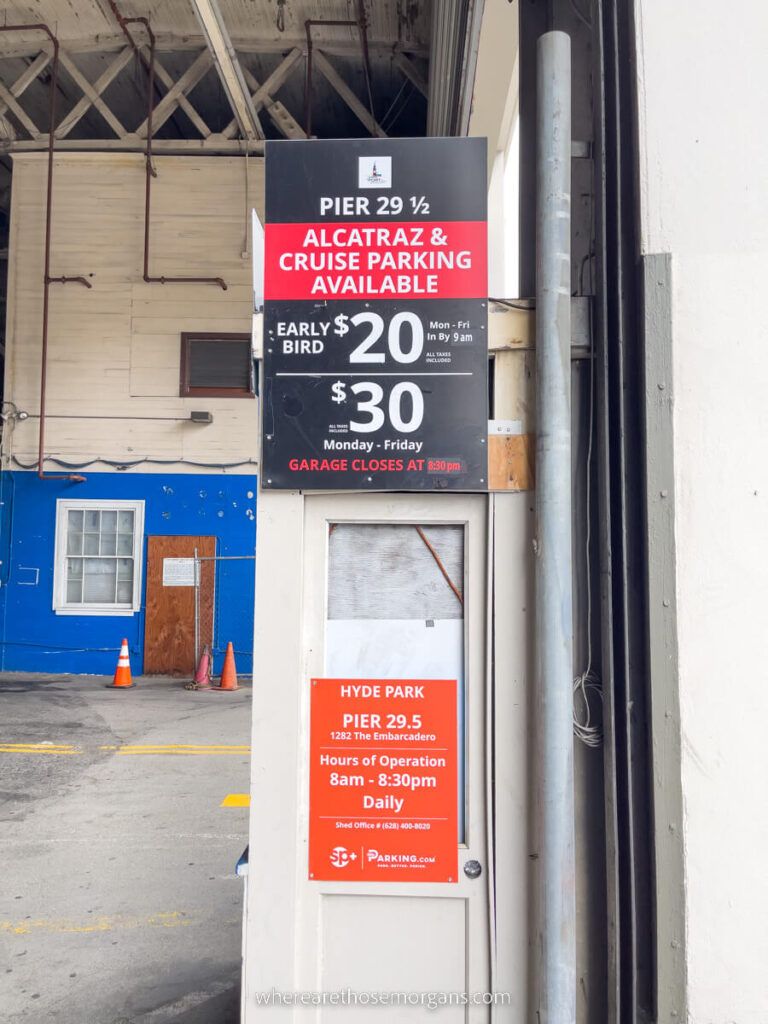 Alcatraz Tour Parking
If you are planning on driving your own vehicle with the aim of parking nearby, be warned there is no parking available directly at Alcatraz Landing.
You may be lucky to find on-street parking in the Fisherman's Wharf area, but it can be extremely difficult to find. Every parking space also has a parking meter which won't give you enough time for your Alcatraz tour.
Another option is a commercial parking lot. There are 15 commercial lots with 3,000 parking spaces within a 5 block radius of Pier 33.
The closest commercial parking lot is 80 Francisco at Kearny about one block away across the Embarcadero from Alcatraz Landing.
However, the best way to get to Pier 33 Alcatraz Landing is by foot or using public transport. The historic San Francisco streetcars of the MUNI F Line run right past Alcatraz Landing.
Planning to visit more of California? Don't miss our popular guide featuring 23 stops along the legendary Pacific Coast Highway from San Francisco to San Diego.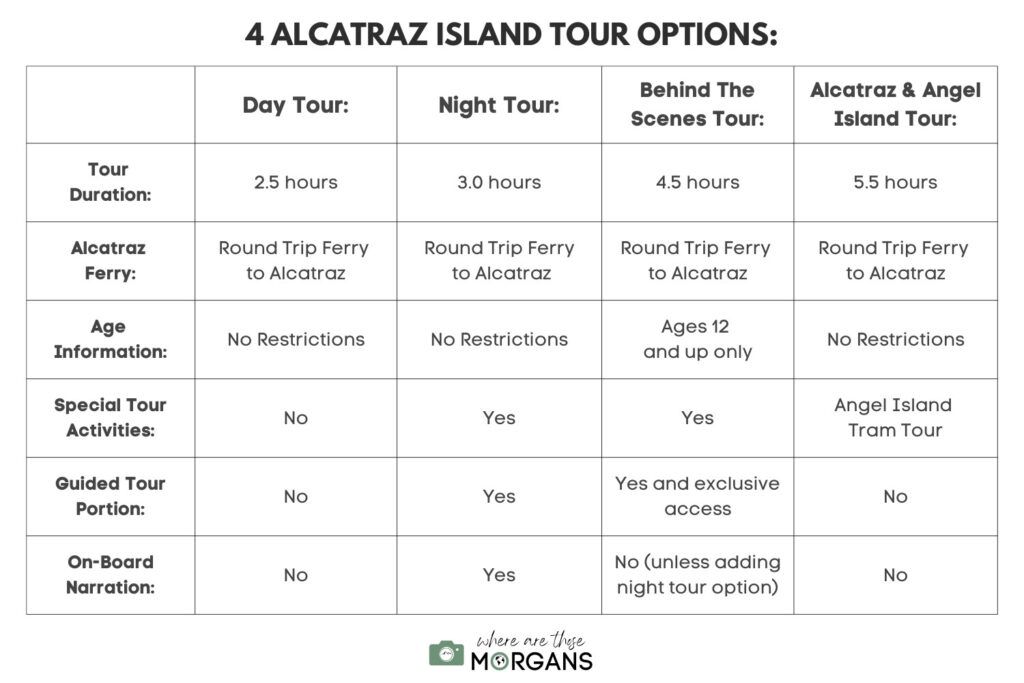 4 Types Of Alcatraz Tours
Alcatraz is open for tours every day except Christmas, Thanksgiving and New Year's day.
When you purchase an Alcatraz tour ticket, the time on the ticket will correspond to your Alcatraz Ferry.
Each Alcatraz Ferry departs for the day from Pier 33 daily about every 30 to 60 minutes beginning at 8:45am for the Early Bird Tour. Keep in mind times will vary depending on the time of year.
There are 4 different types of tours available at Alcatraz Island. Each tour will have a varying cost, access and privileges.
You can choose between the following 4 Alcatraz tours:
Alcatraz Day Tour (Early Bird included)
Behind The Scenes Tour
Alcatraz Night Tour
Alcatraz & Angel Island Tour (currently unavailable)
Next, we will briefly discuss the Alcatraz Ferry schedule followed by a description of each Alcatraz tour.
The last sections of this guide will then walk you through exactly what to expect on both a day and night tour to Alcatraz. We hope to point out the major differences between these Alcatraz tours.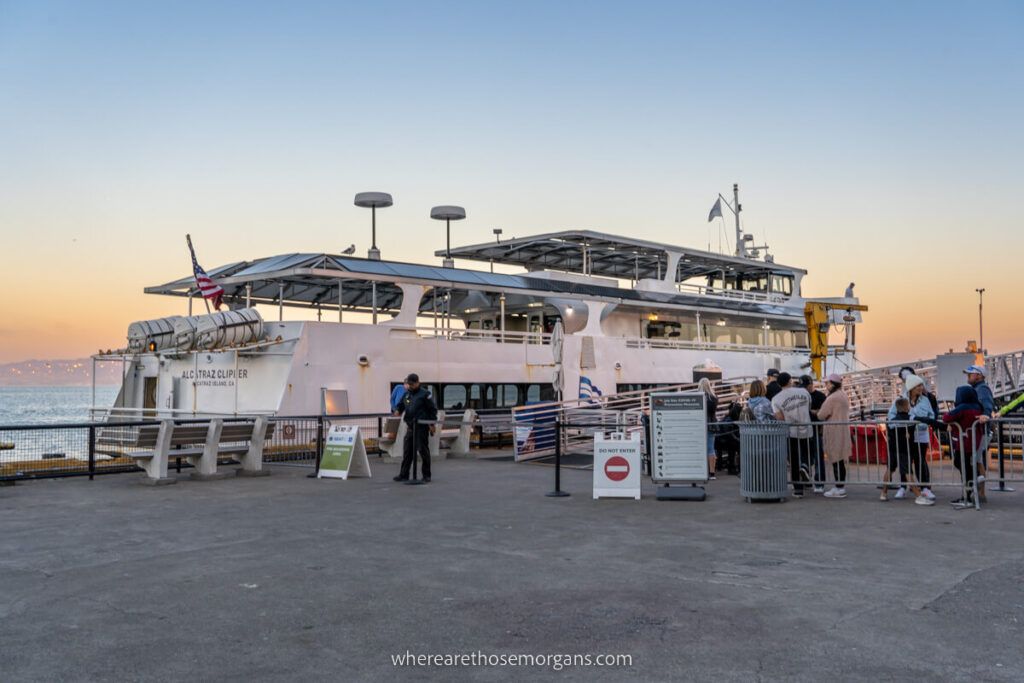 Ferry Schedule For Alcatraz Tours
The Alcatraz ferry is run on a winter and summer schedule. The early bird tour always begins at 8:45am no matter the season, but the summer season will have more ferry crossings later in the day when the daylight is longer.
Alcatraz Summer Ferry schedule
This summer ferry runs from mid-March to mid-October.
Early Bird Tour: 8:45am (considered a day tour)
Day Tour: 9:10am, 9:30am, 10:00am, 10:30am, 11:00am, 11:30am, 12:00pm, 12:30pm, 1:00pm, 1:30pm, 2:10pm, 2:40pm, 3:20pm and 3:50pm
Behind The Scenes Tour: 4:20pm and 4:50pm
Night Tour: 5:55pm and 6:30pm (Tues to Sat)
Alcatraz Winter Ferry Schedule
The winter schedule for the Alcatraz Ferry is very similar just with modified service. The winter ferry runs from mid-October to Mid-March.
Early Bird Tour: 8:45am (considered a day tour)
Day Tour: 9:10am, 9:30am, 10:00am, 10:30am, 11:00am, 11:30am, 12:00pm, 12:30pm, 1:05pm, 1:35pm
Behind The Scenes Tour: 2:10pm and 2:40pm
Night Tour: 3:50pm (Tues to Sat)
You can also check the Alcatraz Ferry Departure schedule on the City Cruises official website.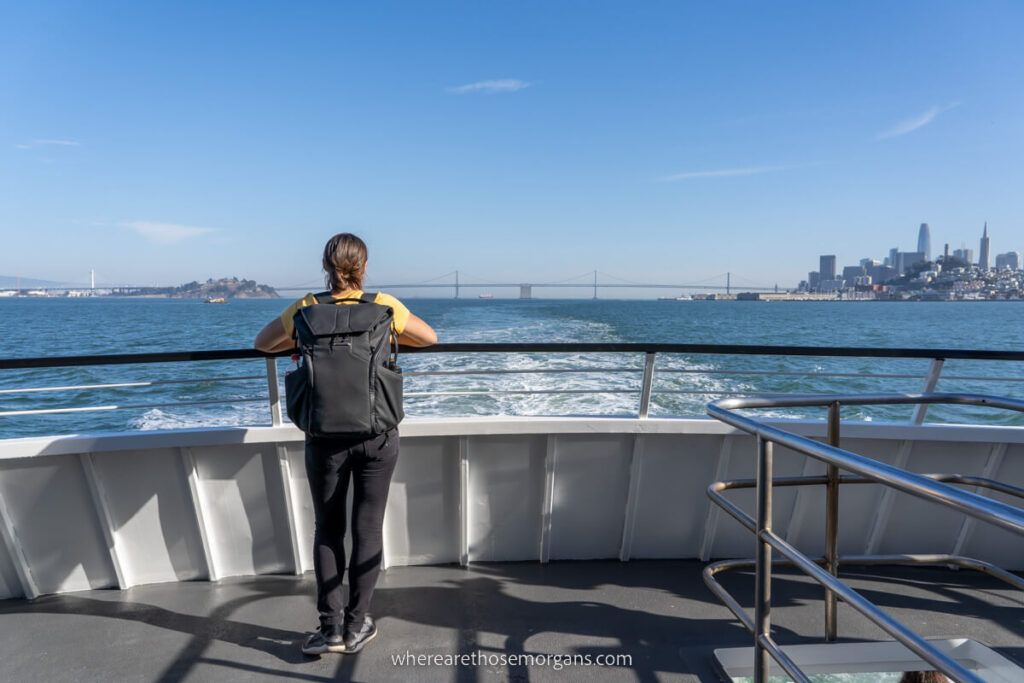 Alcatraz Day Tour
The Alcatraz day tour is a 2.5 hour long tour option which gives you the chance to freely explore Alcatraz Island on your own. A round trip ferry service to Alcatraz Island is included in the ticket.
As you investigate Alcatraz, rangers are stationed throughout the island to help assist visitors and answer questions.
There are many interpretive signs and exhibits scattered around the island to keep your interest. You can also attend the cellhouse audio tour or a themed special program to learn more about Alcatraz.
The Alcatraz day tour includes:
Doing Time: The Alcatraz cellhouse audio tour
Admission to the Alcatraz cellhouse and permanent exhibit 'The Big Lockup: Mass Incarceration in the United States'
Entrance to outdoor spaces such as Eagle Plaza, the Recreation Yard, the Sallyport, and the Rose Garden
Entrance to the New Industries Building highlighting influential Occupation of Alcatraz by Indians of All Tribes
Close up views of the exteriors of the Cellhouse, Building 64, Warden's House, Water Tower, Officer's Club and Model Industries Building
Day tour tickets for Alcatraz begin at $42 for adults and $25 for children (5-11).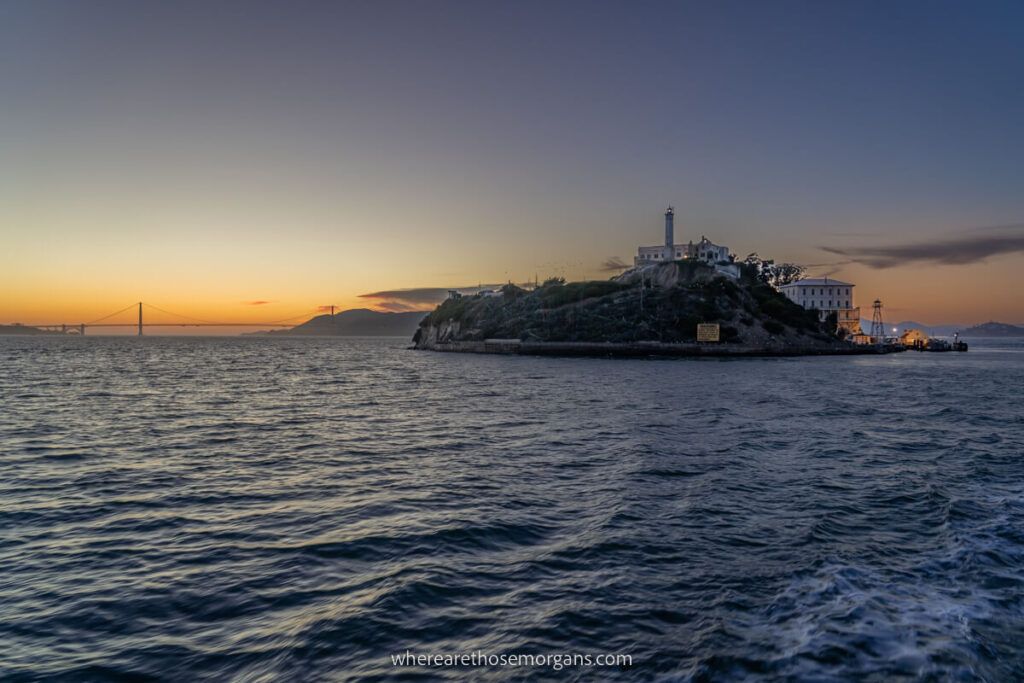 Alcatraz Night Tour
During the Alcatraz Night Tour, you get a little more bang for your buck. But the night tour is only available Tuesday to Saturdays.
Similar to the day tour, a round trip ferry service to Alcatraz Island is included in the ticket. However, you will enjoy a narration on the ferry as the boat takes a special route around Alcatraz Island.
At the dock, you are greeted by a park ranger or docent for a personalized guided tour straight from the dock to the cellhouse. During this guided tour, you will learn about the history of Alcatraz and the people who have lived there.
After the guided tour, you can choose to attend the cellhouse audio tour, explore the additional special exhibits or explore the island on your own.
The Alcatraz night tour includes:
Doing Time: The Alcatraz cellhouse audio tour
Optional full length programs and exhibits
Docent guided tours and talks
Ability to watch the sunset from Alcatraz Island
Night tour tickets for Alcatraz begin at $53 for adults and $31 for children (5-11).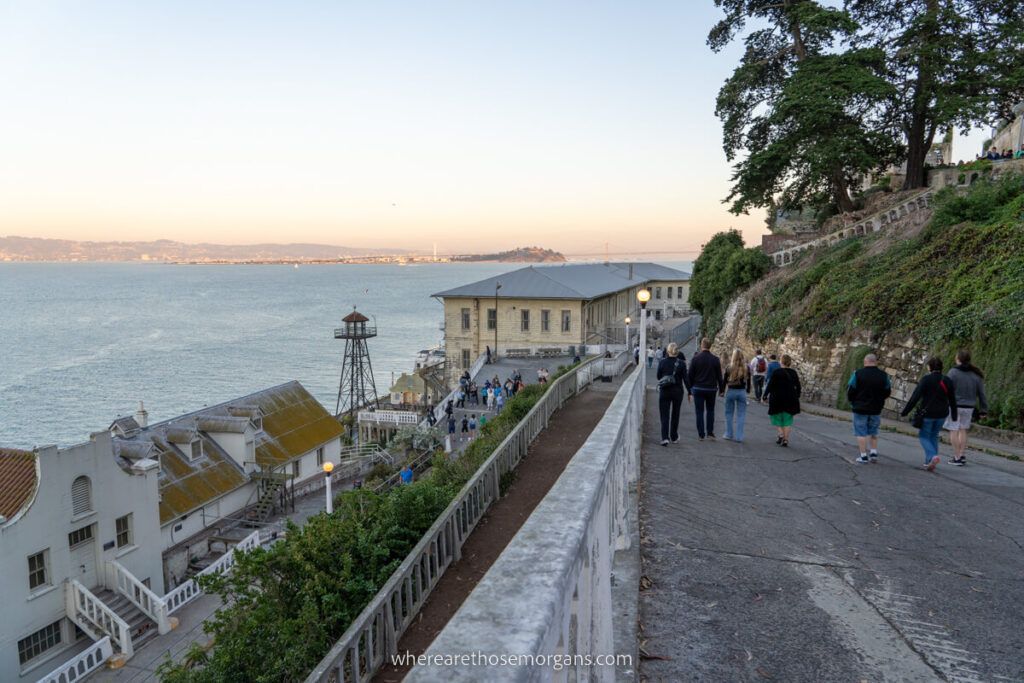 Alcatraz Behind The Scenes Tour
The behind the Scenes Tour of Alcatraz is a unique opportunity and limited to a maximum of only 30 people.
This 1.5 to 2.0 hour small group tour is led by a National Park Service Ranger or expert historical educator.
The behind The Scenes tour is a great way to capture unusual photos and explore many areas that are off limits to the general public as you hear stories about Alcatraz.
After the tour you will also have the chance to explore the island further.
The Alcatraz Behind The Scenes Tours includes:
Doing Time: The Alcatraz cellhouse audio tour
Optional programs and exhibits throughout the island
West side views from Alcatraz Island facing San Francisco and the Golden Gate Bridge
As a Behind the Scenes Tour guest, you have the two options after your tour. You can extend your time on Alcatraz Island by joining the night tour or you can return to San Francisco on any departing vessel from Alcatraz.
Please note if you choose to stay for the night tour, you will be on Alcatraz Island for about 5 hours. There is food available on the Alcatraz ferry, but not on the island. You will need to plan accordingly.
Behind The Scenes tour tickets for Alcatraz begin at $98 for adults and $94 for children (5-11).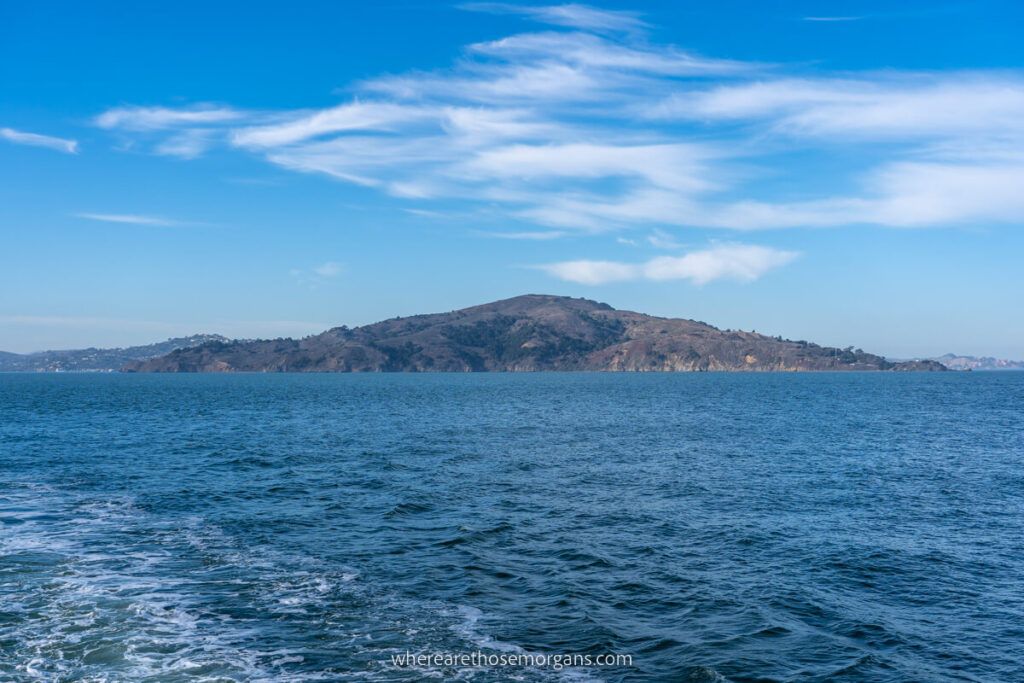 Alcatraz And Angel Island Tour
This 5.5 hour tour offers a round trip ferry to Alcatraz and Angel Island as well as an audio guided tour and an Angel Island Tram tour.
Unfortunately, this the Alcatraz and Angel island Tour is currently unavailable due to health and safety reasons.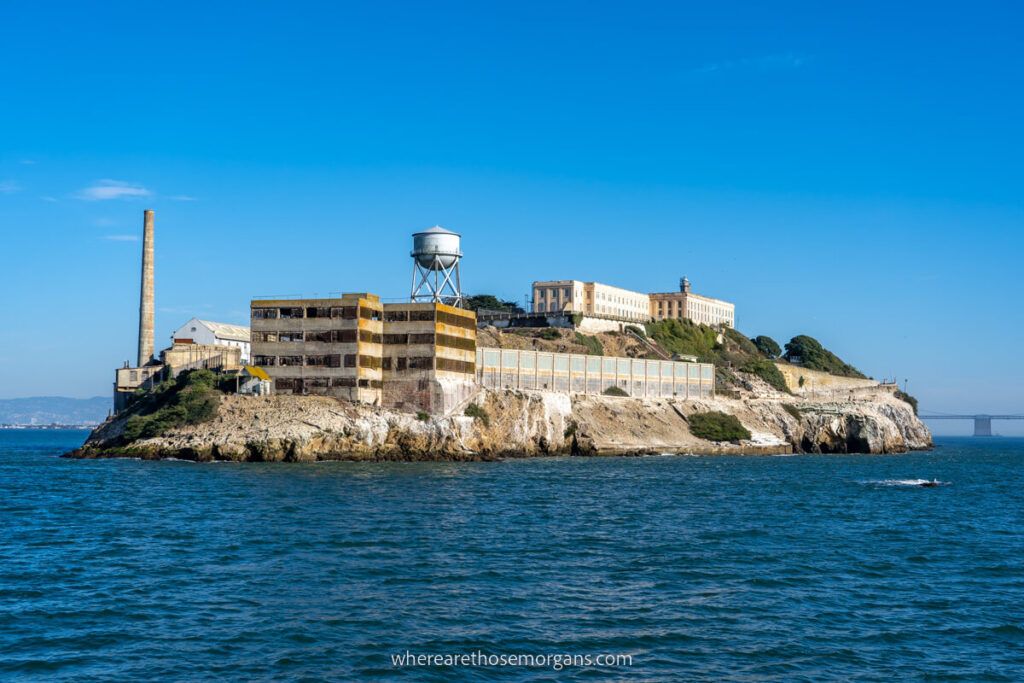 Alcatraz Island Tickets
City Experiences are the official provider of Alcatraz Island Tour tickets. The best way to book Alcatraz tickets is directly with City Experiences on the official website.
However, a combination tour is an extremely popular option if you want to see everything San Francisco has to offer. Each tour we mention is an authorized seller of Alcatraz Cruises through City Experiences.
Here are several top rated San Francisco tour options which include an Alcatraz Tour:
Alcatraz Island and SF Madame Tussauds – This two in one pass includes ferry transport to Alcatraz Island and access to the island itself as well as admission to the world-famous Madame Tussauds wax museum.
Walkthrough Of Alcatraz Island Day Tour
We don't want to give too much of the Alcatraz day tour away so instead of going into great detail, we will simply give you an idea about what you can expect. You can then determine if this is the tour for you.
We took the Alcatraz day tour in the fall of 2019 and while the tour has slightly changed with one way systems after the pandemic, the day tour experience has remained the same.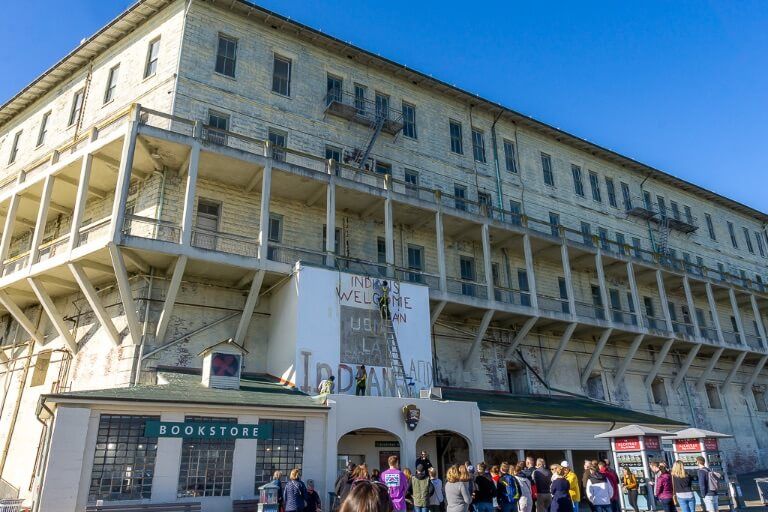 Welcome to the Rock!
Upon arrival to Alcatraz Island, you will disembark and find a crowd amassed outside of Building 64.
Also known as Residential Apartments, this 3 story ex-military barracks and prison officer accommodation was the first building to be built on Alcatraz.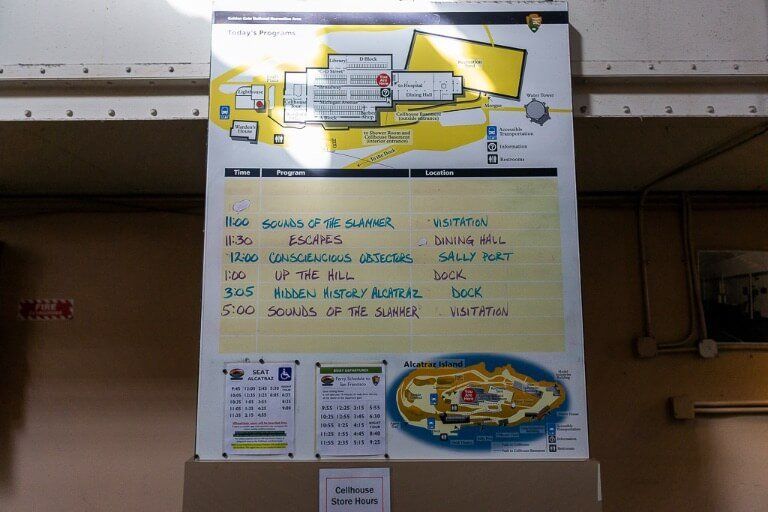 Next, a guide or park ranger will explain important information for your visit before you can explore freely. Be sure to listen so you can find out which special programs are available for the day.
You also want to take note of the boat schedules at the dock or in the cellhouse. You need to know when to be back at the dock to catch the return ferry.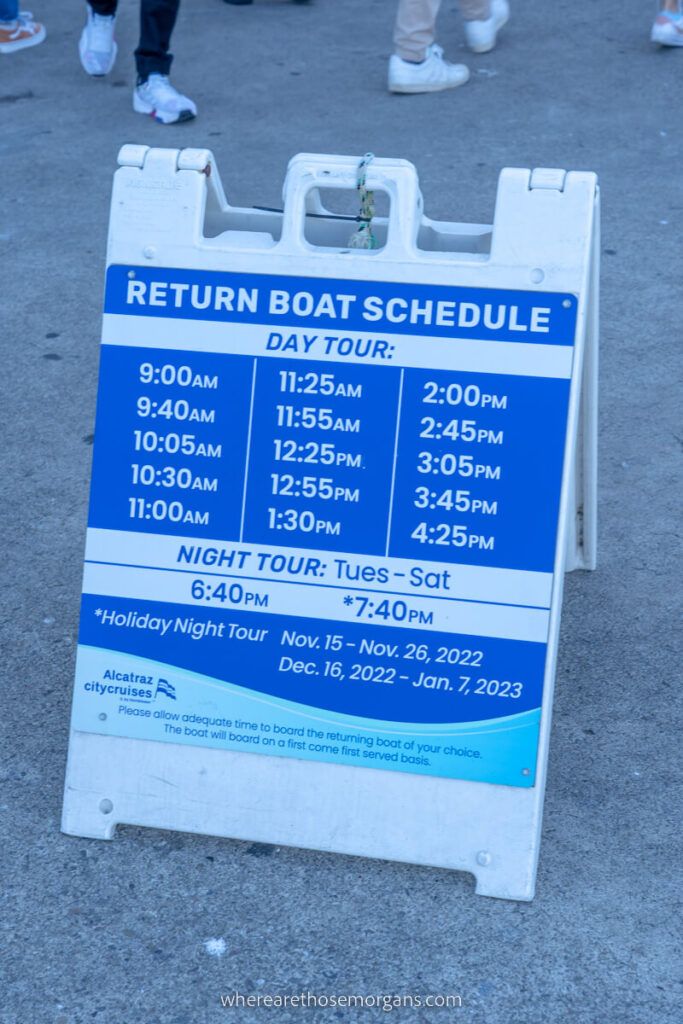 Pick a reasonable time to break away from this group otherwise you will be in a very long line for an audio tour headset once you reach the old shower room.
Travel Tip: After you hear about the special programs for the day, beeline it for the cellhouse audio tour so you can spend the rest of your time exploring the island (you will see plenty of signs directing you where to go).
The Alcatraz Prison Tour Begins
Walk up and around the slaloming walkway as you head straight to the main prison entrance. There should be a sign outside stating the start of the cellhouse audio tour.
This will be your first real taste for the prison of Alcatraz. As you cast your eyes on the rusting grey-blue metal doors, you will immediately feel your insides crawl and shudder.
Once inside, make your way to the long narrow and very open shower room. Imagine taking a shower with some of the most hardened and creepy criminals in the history of the United States.
"Hey Mr. Scarface, could you please pass me the soap?"
Line up here until you reach the front to pick up your audio headset which is available in English, Spanish, French, German, Italian, Dutch, Japanese, Korean, Portuguese, and Mandarin.
This is where your Alcatraz tour will officially begin. But if you are interested in any of the special programs taking place, you will need to consider your timing.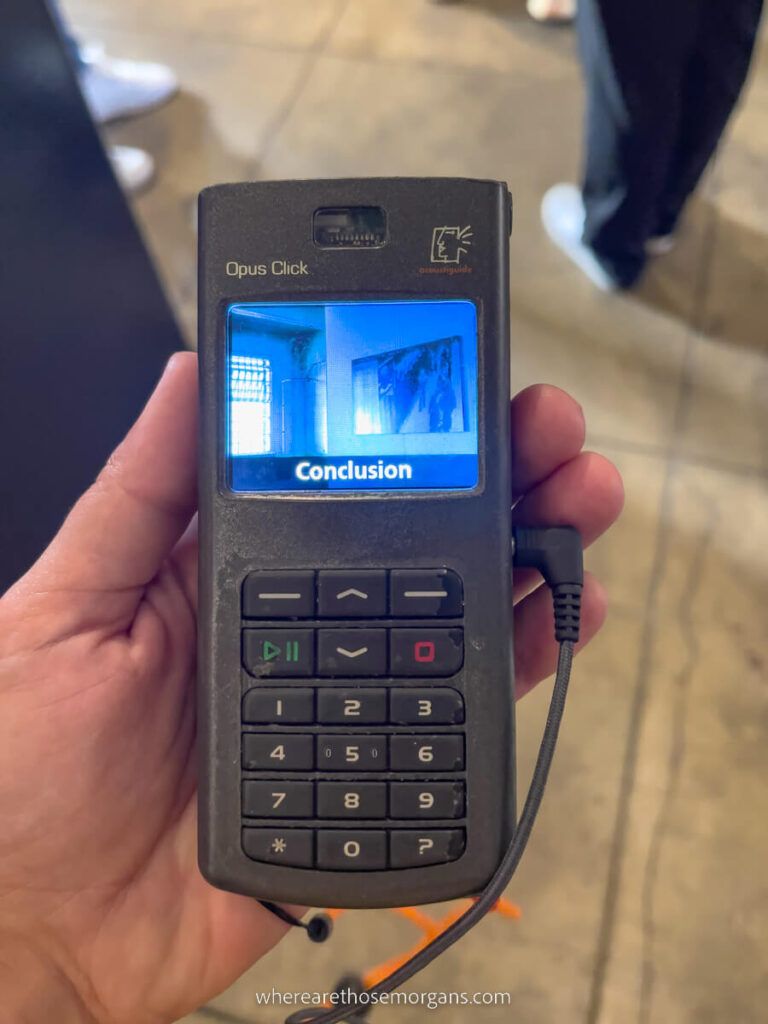 The cellhouse audio tour runs on a one way system and you should have time to finish this audio tour before any of the special programs take place.
But if you have any questions about timing, feel free to ask the rangers how you should schedule your time. The rangers and guides are incredibly helpful.
We attended two special programs during our Alcatraz day tour:
Sounds of the slammer
Escape attempts
Personally, we enjoyed the special programs more than the audio tour because the guides telling the stories were extremely animated. There was also a small Q&A section at the end for any questions you many have.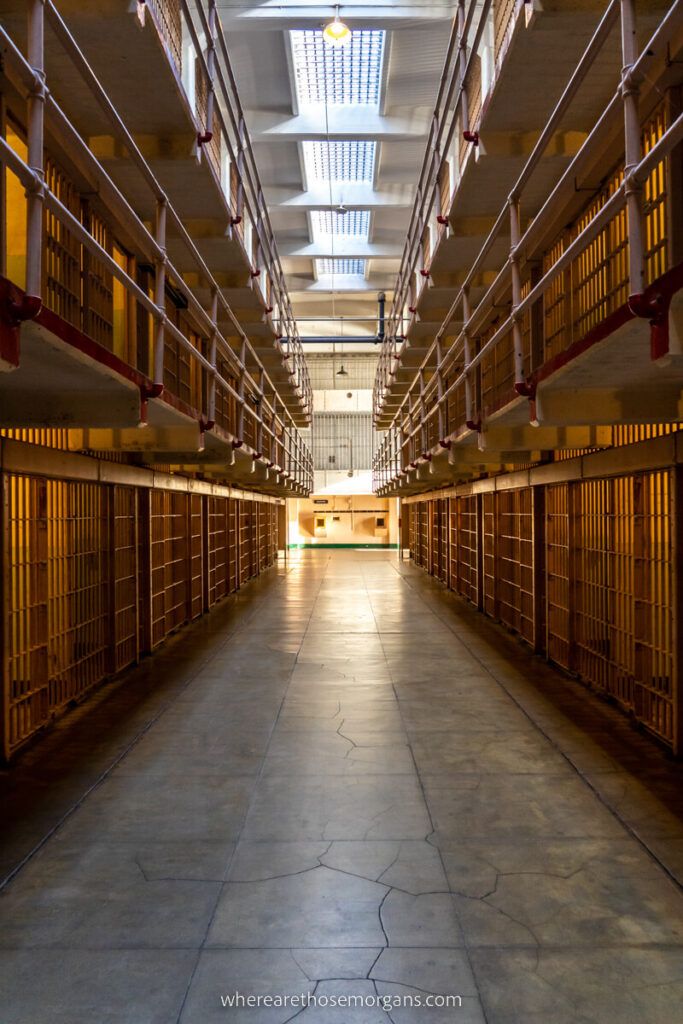 Sounds Of The Slammer Special Program
The Sound of the Slammer special program discussed a typical cell in Alcatraz along with the different prion blocks.
Alcatraz housed four main cell blocks (A,B, C and D) each with three tiers of cells. Some cells in Alcatraz measured no more than 9ft by 5ft wide.
Imagine a bed, toilet and sink inside those tiny dimensions. This certainly doesn't leave a lot of room for maneuvering.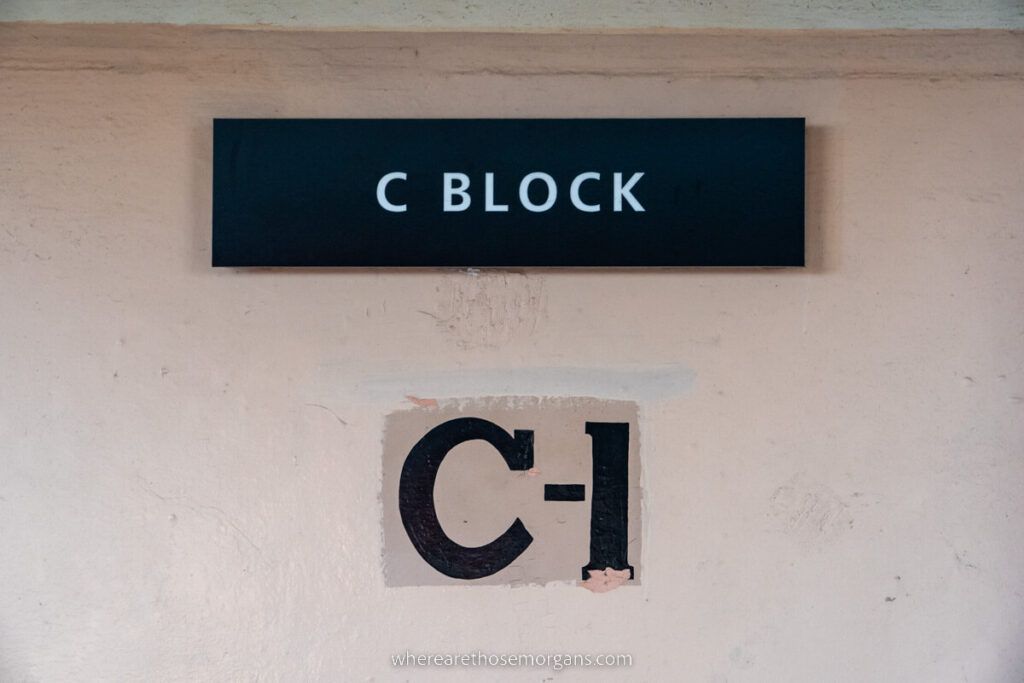 Cell blocks B and C were the longest rows and contained the most cells. In between cell blocks, each corridor was a given a famous street name such as Broadway, Michigan and Park Avenue.
Cell block D is where misbehaving prisoners were sent. If they had a particularly serious offence, they would find themselves in one of the six segregation cell units, also known as 'the Hole.'
Each hardened steel cell door was operated by a series of levers and mechanisms located at the end of that particular row of cells.
Individual or multiple cells (not necessarily next to each other) could be opened at the same time using this mechanism at the end of each row.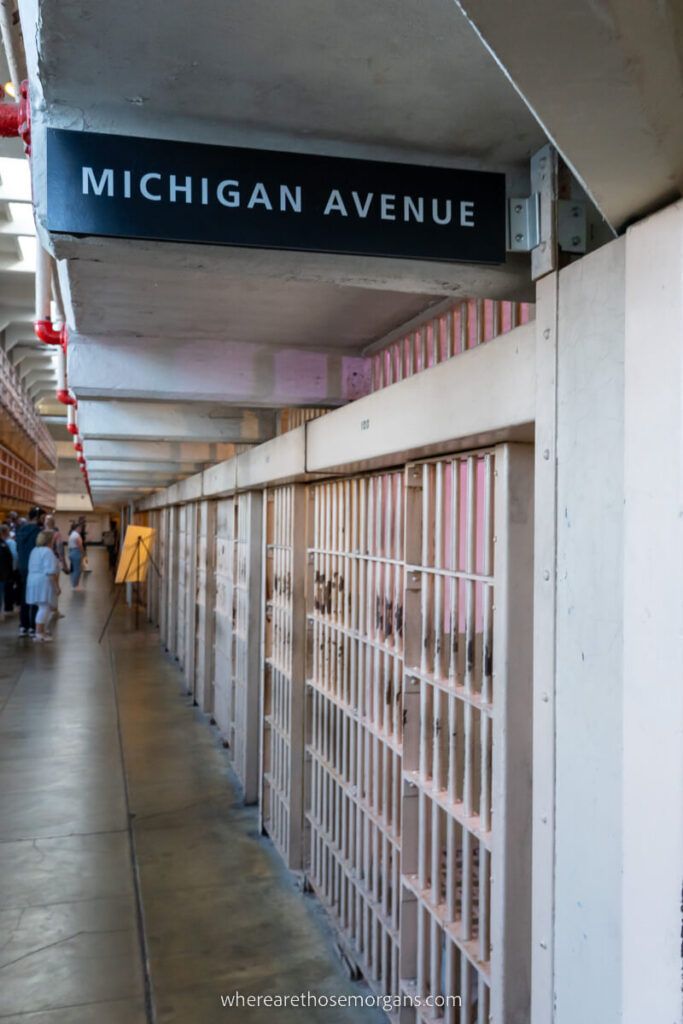 This was innovative technology at the time, replacing the traditional lock and key method.
We enjoyed the Sounds of the Slammer because this program discussed the opening and closing of cell doors. But it also included a practical demonstration plus stories from during and after the operation of Alcatraz prison.
Unfortunately, we weren't allowed to open the cell door using bed sheets and a wheel to lasso the level like Sean Connery in the Rock!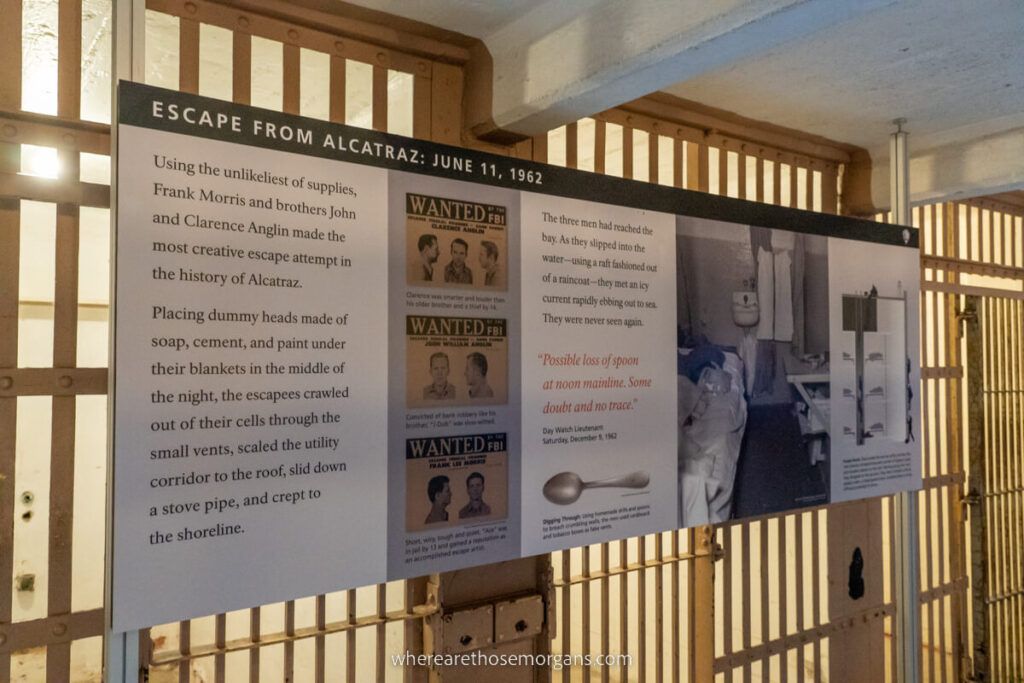 Escape Attempts Special Program
Alcatraz was officially dubbed the 'inescapable island' but there were a series of attempts.
Did anyone make it our successfully? Well, that still reamins a mystery.
Are you a romantic who wants to believe that someone managed to escape, despite the fact they were in prison for committing a serious and heinous crime?
Or are you a firm believer of facts, logic and physics that suggest no one made it out alive?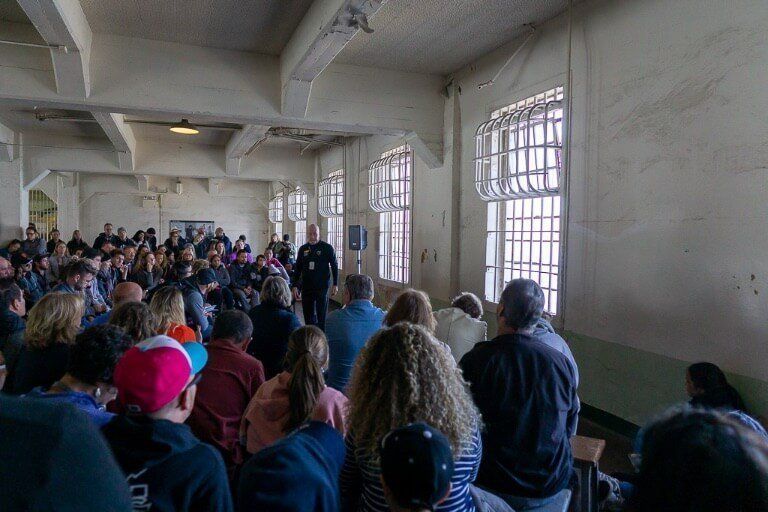 The escape attempts special program takes place in the dining hall next to the cell house. If this talk is on during your visit, do not miss it.
This special program was the highlight of our Alcatraz day tour thanks to some fantastic storytelling by the park ranger who led the program.
As you can see, the room was packed full of tourists utterly engrossed in a wide semicircle.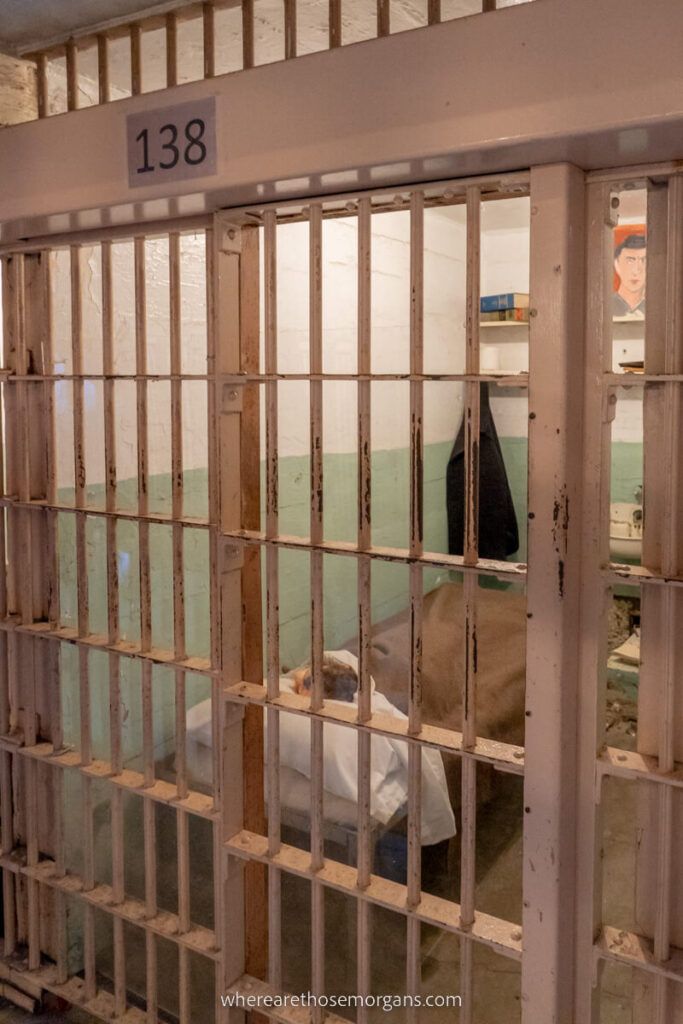 In a nutshell, there were 14 escape attempts made by a total of 36 inmates throughout Alcatraz prison history. Some of the stories are sad while other stories are downright hilarious and full of ingenuity.
We will not divulge any more information here so you can hear all about these crazy stories for yourself when you visit.
Or if you can't wait, you can read more about each escape attempt here in detail.
Views From Alcatraz Island
For the rest of our Alcatraz day tour, we spent our time exploring the island on our own.
Sections of this tour include walking around external areas, such as Alcatraz Lighthouse. You can also explore the recreation yard and parade ground after the audio tour has finished.
But remember you are in the center of San Francisco Bay, which means you have 360 degree views around the entire Bay Area.
Depending on the time of day and positioning of the sun, you can snap photographs of Oakland Bridge, San Francisco city and of course, the magnificent Golden Gate Bridge.
But don't expect Alcatraz to be one of the better views of the Golden Gate Bridge, instead you will need to head one of these 5 best photography locations.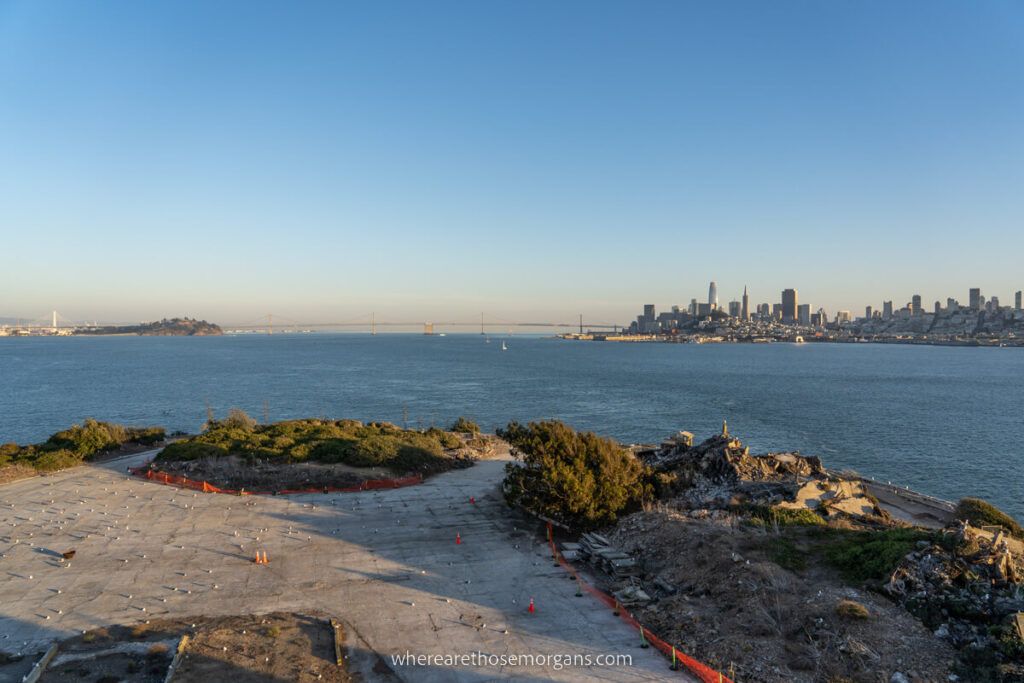 Further Reading: Is the Warner Bros Studio Tour in Los Angeles worth it?
Walkthrough Of Alcatraz Island Night Tour
We returned to San Francisco in October 2022 to take the Alcatraz night tour. We loved the day tour so much we just had to experience Alcatraz at night as well.
After experiencing the Alcatraz night tour ourselves, we can confirm the night tour is a slightly different experience compared to the day tour. But just like everything, each tour had its perks.
We took the Alcatraz night tour on October 11th which falls during the seasonal change schedule (Oct 11th to Nov 5th).
This time of year is the best of both worlds because we had the chance to explore areas usually closed at night due to increased lighting from daylight savings time.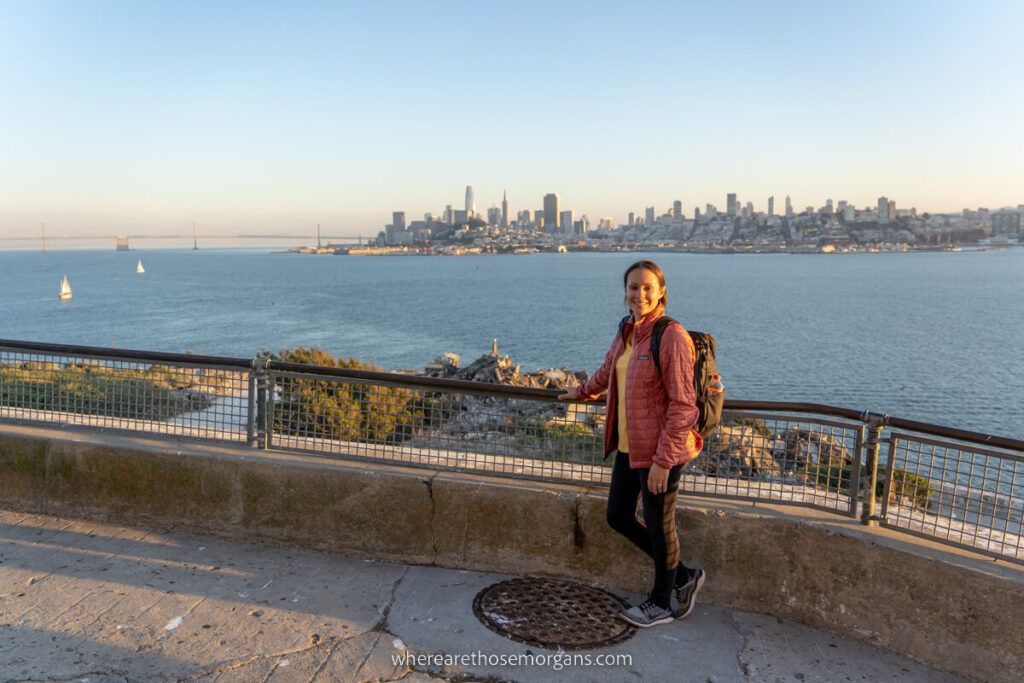 A Better Ferry Experience
The first thing we instantly noticed about the Alcatraz night tour was the impressive narration on the ferry as we sailed to Alcatraz Island.
During the entire trip, we learned about the history of San Francisco and Alcatraz. Without giving much away, this narrative is certainly worth a listen.
On a side note, we were starving when we arrived to Pier 33 for our night tour because we had been relentlessly exploring San Francisco. So we tried the snack bar on the Alcatraz ferry.
To be honest, our hot dogs were pretty good and fairly priced considering we were on a tour.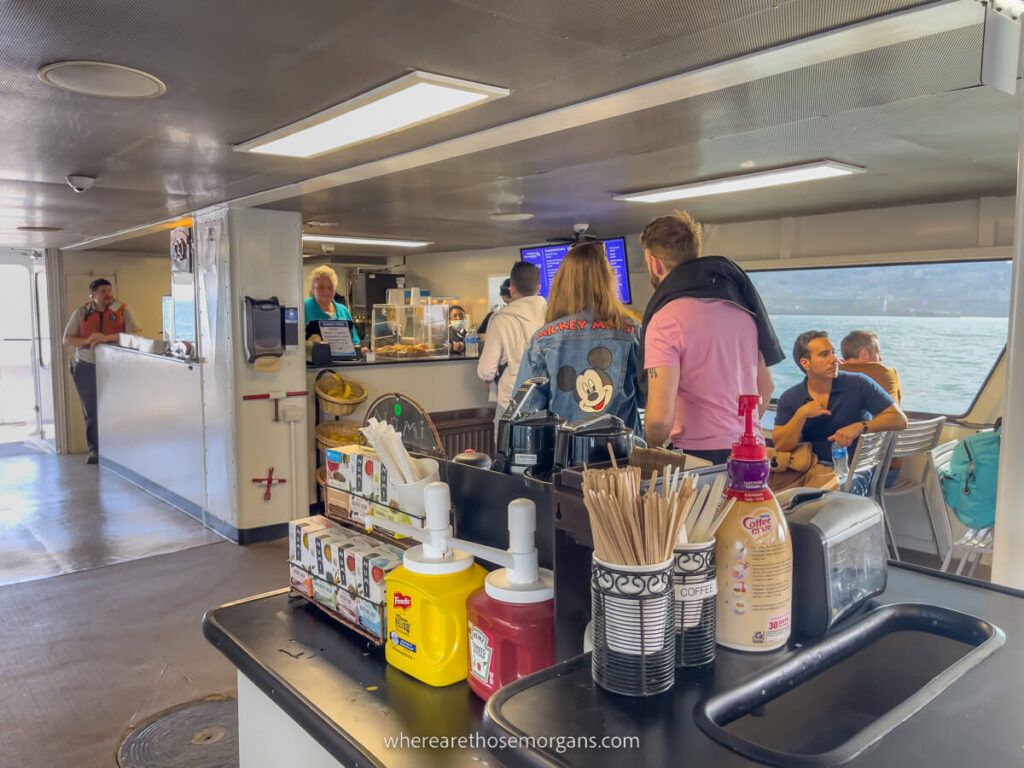 We were also able to fill up our reusable water bottle on the ferry so be sure to bring one and fill up if needed. Water on the ferry is not cheap, yikes.
The ferry had many snacks available and while the line was quite long, it moved quickly.
Already a great start to our Alcatraz night tour!
Circling Alcatraz Island
Another highlight of the night tour, before we even docked on the island, was the route the ferry took after leaving Pier 33.
We completed a full circle around Alcatraz Island which is not done on the day tour. The narration on the ferry also explained additional parts of the island we had not previously learned about.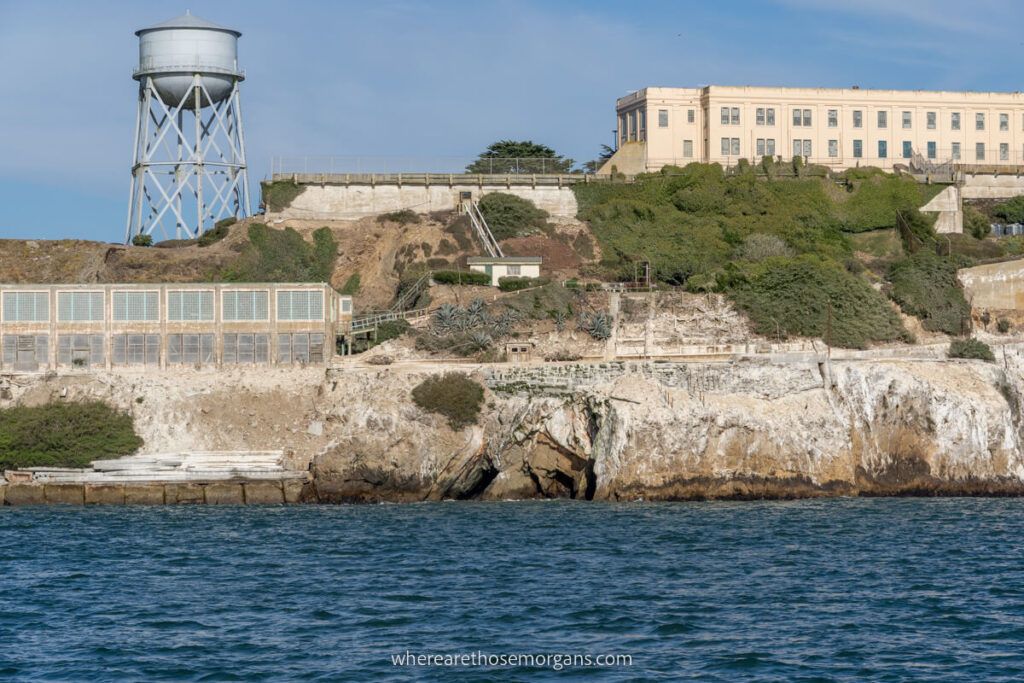 This is where you will look for sea caves near Alcatraz Island which may be have been important in one prisoners escape.
Look closely at the buoys in the water because you may get a glimpse of a sea lion sunning himself.
Audio Tour And Special Programs
There was only one boat on the island during our entire night tour which was a welcome relief from the large crowds you can experience during the day tour.
The boat was divided into two groups with the first group heading one way on the island and the other group heading another way on the island. Each group had about 100 people.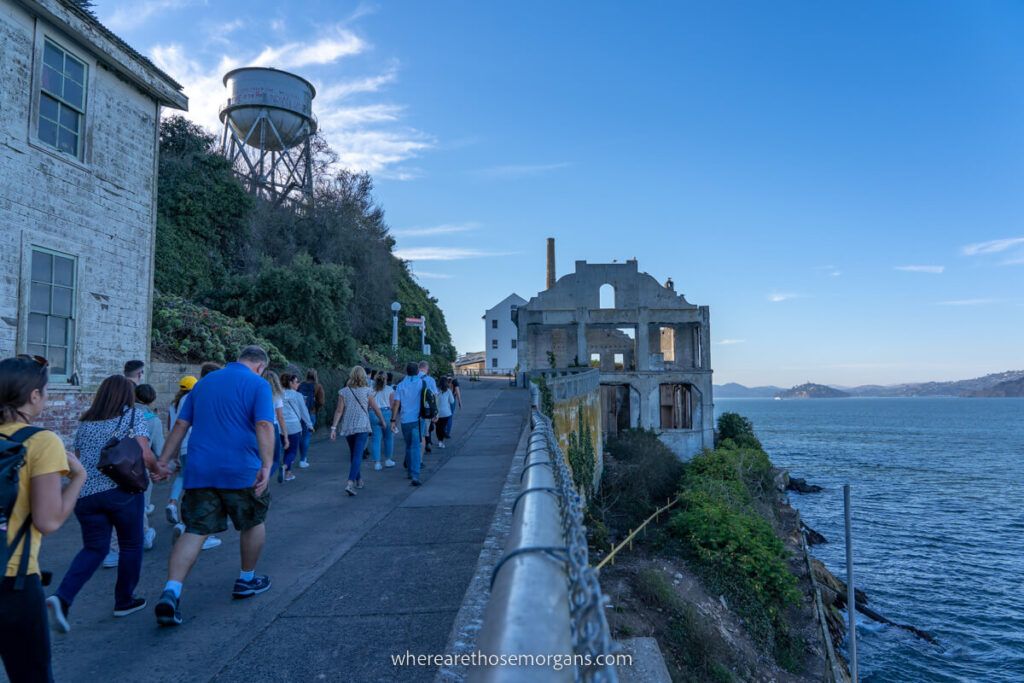 Our tour guide met us right by the dock and we had a short intro to the island with stops in multiple locations. This small guided tour took about 20 minutes and we ended at the entrance of the cell house audio tour.
Similar to the day tour, we picked up our audio guide headsets in the shower room and listened to the familiar voices once again.
When we ended our audio tour and handed in our headsets, we were met by a docent who was was about to give a special program in just a few minutes.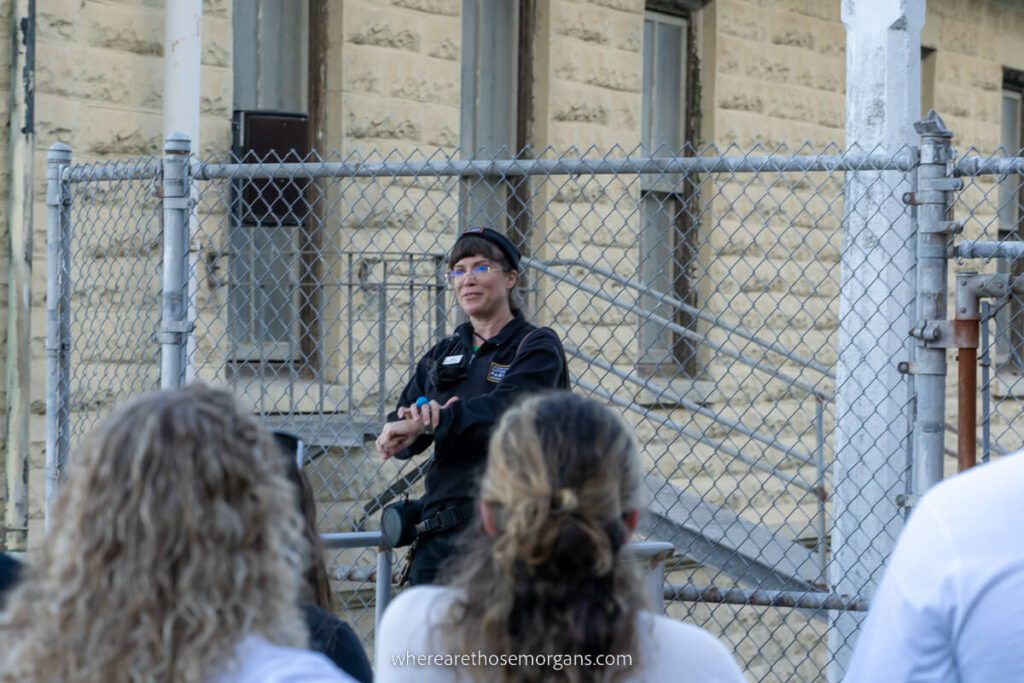 Perfect timing, we stayed for the special program and chatted with the park ranger. We won't be disclosing the special programs on the Alcatraz night tour so you can be completely surprised.
The best advice we can give you is to speak with the rangers and tour guides because they always know the ins and outs of the island.
Following our own advice, the ranger we spoke to gave us some great advice about how to maximize our time on Alcatraz island. However, this won't pertain to every night because programs and experiences are constantly changing.
As long as you attend the cellhouse audio tour, one or two special programs and spend a little time exploring in your own, you have done extremely well. Anything else will be a bonus!
Bonus Hospital Entrance
In between the two special programs we chose to attend, we learned the old Alcatraz hospital was to be opened at 5:30pm which is an area we had never seen.
So we hot footed it to the hospital just in time to see the the rememntats of the Alcatraz operating room, exam rooms, pharmacy and sick wards.
As former scientists, we enjoyed seeing how the hospital operated. This experience alone was certainly worth our visit.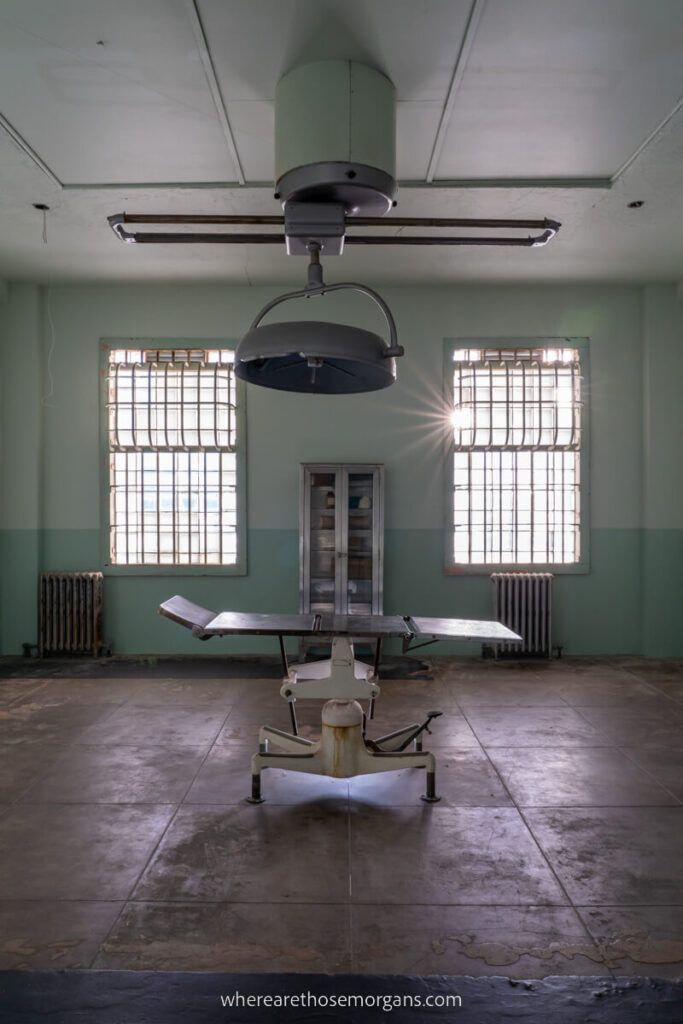 More Time To Explore
Another great part about the night tour is you have a little more time to explore the island compared to the day tour. So even after our audio tour, two special programs and the hospital visit, we still had time to visit a few other areas.
Many of the same outdoor sections were open, but it was interesting to see the buildings on Alcatraz light up as the sun started to set on the horizon. The colors in the sky were just starting to become bright pink and orange.
At this point, we started to watch our time a bit more closely because we certainly didn't want to be spending the night on the island if we missed the ferry.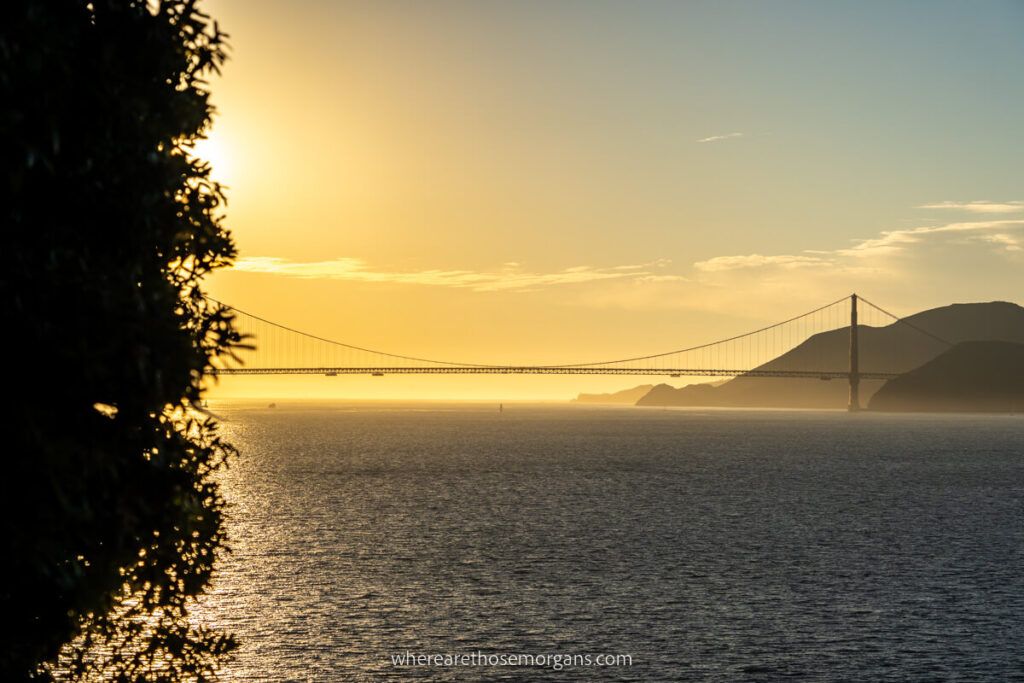 Sunset On Alcatraz
Our ferry was scheduled to leave the dock as the sun was setting behind the Golden Gate Bridge. This night tour was the perfect ending to a day in San Francisco.
After we both had boarded the ferry back to Pier 33, we asked one another if the Alcatraz night tour has been worth it.
What do you think we said?!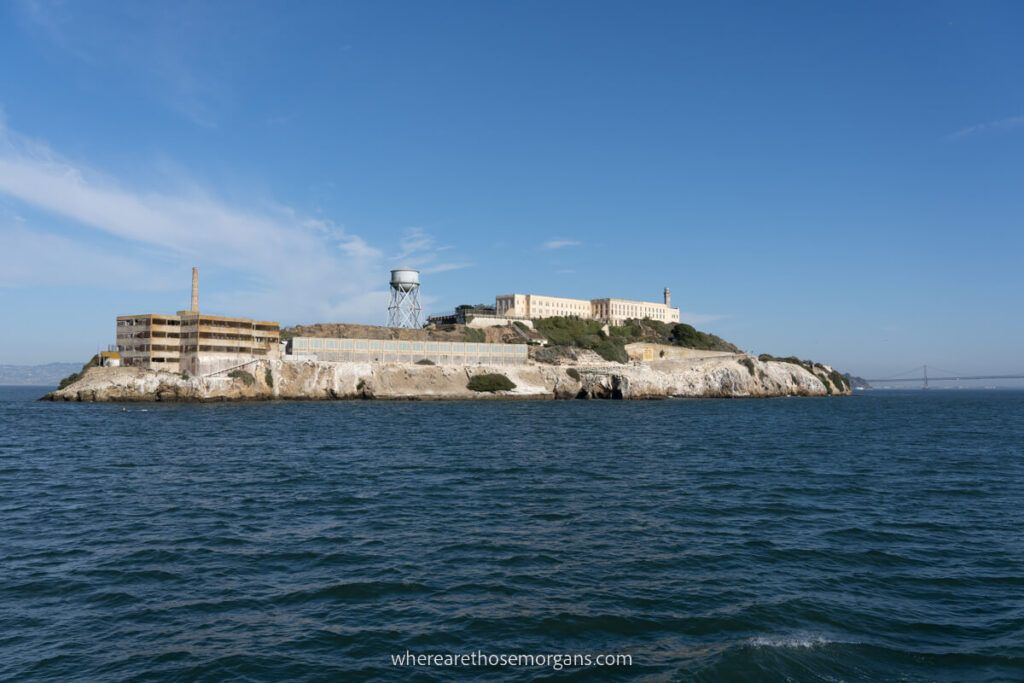 Are The Alcatraz Day And Night Tours Worth Your Time And Money?
Yes, both the Alcatraz day and night tours are worth your time and money.
Personally, we have to say we were genuinely surprised by how good the Alcatraz day and night tours are put together. We had high expectations but they were easily surpassed.
We would recommend the Alcatraz night tour over the Alcatraz day tour for 5 reasons:
Onboard ferry narration
Ferry circles around entire Alcatraz island
Smaller tour sizes make for an intimate experience
Ability to see San Francisco bay as the sun sets from Alcatraz Island
Chance to explore bonus areas often closed to general public
But if you can only fit one Alcatraz tour into your schedule, the day tour is still a great option.
While the prices of the Alcatraz tours appear to be a little on the steep side, we think the price point is fair considering everything you get.
Be sure to attend at least one of the special programs on the day you visit to make the most of your Alcatraz experience.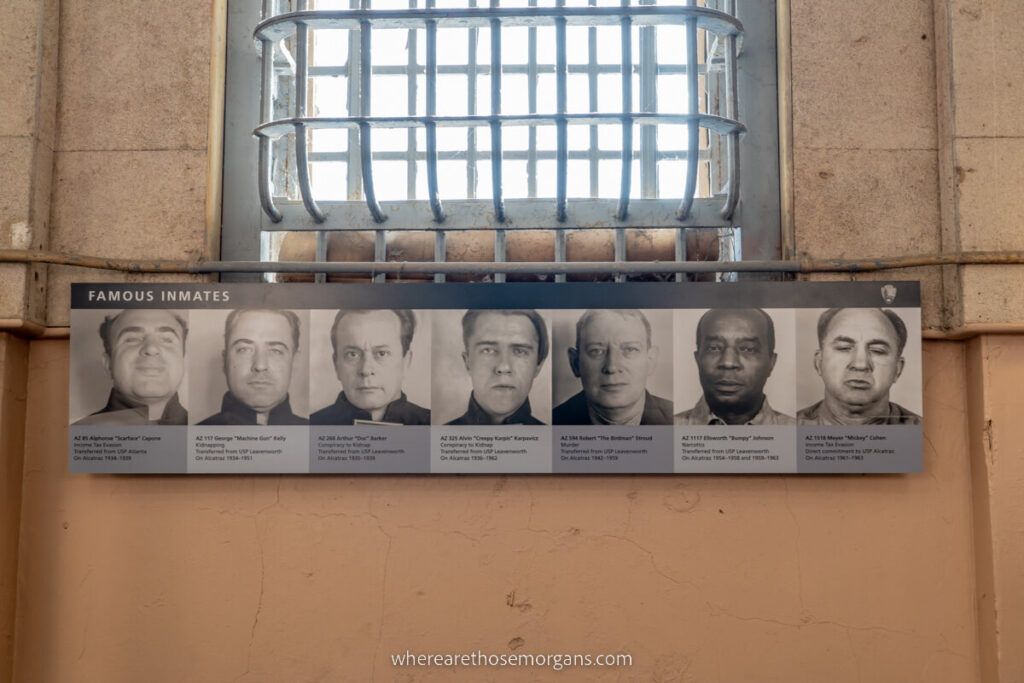 Famous Inmates At Alcatraz
Last but not least, we have to mention the famous inmates once held in this prison.
Many inmates at Alcatraz were relative unknown as were sent to the 'supermax prison of the 30s' because they were escape threats or committed serious offences at other prisons.
However, some inmates were of higher renown and gained a reputation through popular culture in years to follow their time on the Rock.
Here are some of the most famous Alcatraz inmates:
Al Capone – Gained notoriety as the modern day Robin Hood while making millions in bootlegging illegal alcohol. Nicknamed 'Scarface', Capone let the Chicago mob outfit during prohibition but was jailed on tax evasion offenses after being named public enemy #1.
Robert Stroud – Nicknamed 'the Birdman', Stroud only became famous when a movie called Birdman of Alcatraz was made. But he never actually kept any birds at Alcatraz, he kept 300 birds in his cell at Leavenworth, Kansas. A dangerous murderer, Stroud was in jail from 19 years of age until his death in 1963.
George Kelly – A model inmate at Alcatraz, 'Machine Gun' Kelly was only transferred to the Rock after half joking with guards at Leavenworth that he would escape in time for Christmas. His joke was taken all too seriously. Kelly was imprisoned for kidnap and is believed to have only turned to crime because his wife pushed him into it.
Alvin Karpis – In prison for conspiracy to kidnap, 'Creepy' Karpis was a near genius IQ member of the Barker-Karpis Gang along with fellow inmate 'Doc' Barker. They would rob banks, gunning down anyone who stood in their way. Karpis spent 26 years on Alcatraz, more than any other prisoner.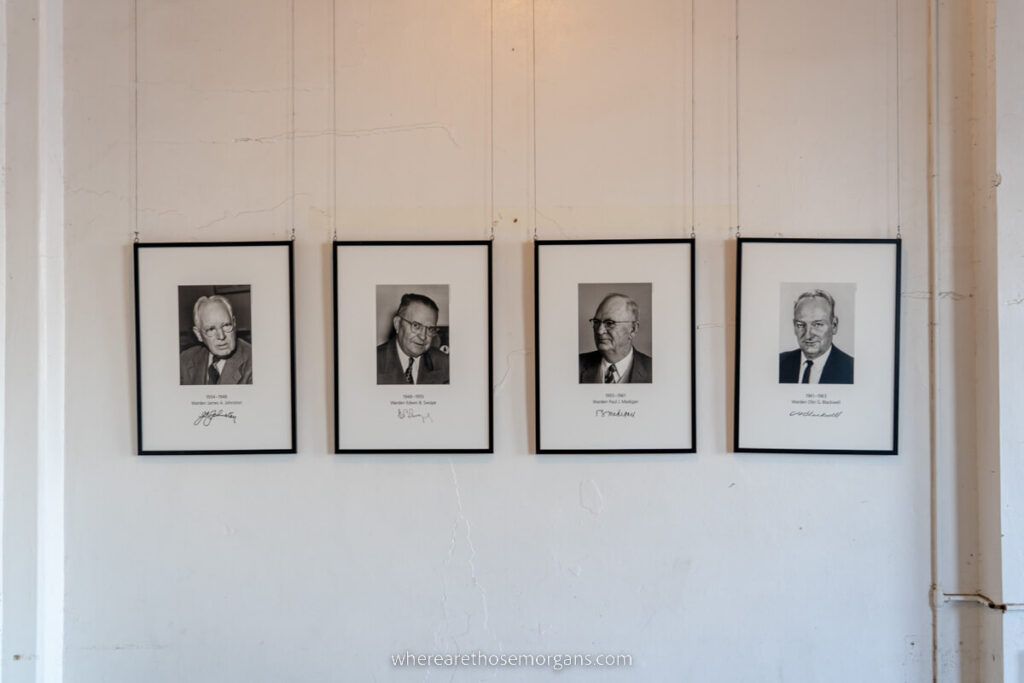 Alcatraz In Popular Culture
Before visiting Alcatraz, you might want to watch some of these old movies to get in the mood:
Even the Harry Potter Franchise created by JK Rowling features Azkaban prison which can only be based on one place…
Alcatraz Island Photos
We took hundreds of photos on Alcatraz Island during our day and night tour.
This next section is nothing but photos from Alcatraz Island to further peak your interesting about this fascinating area.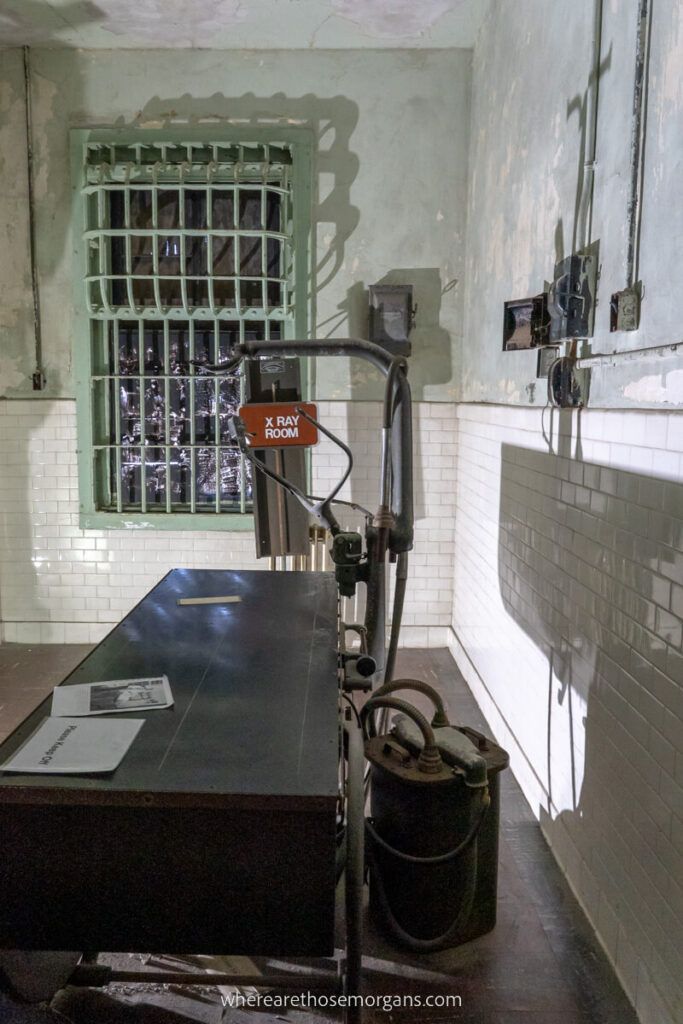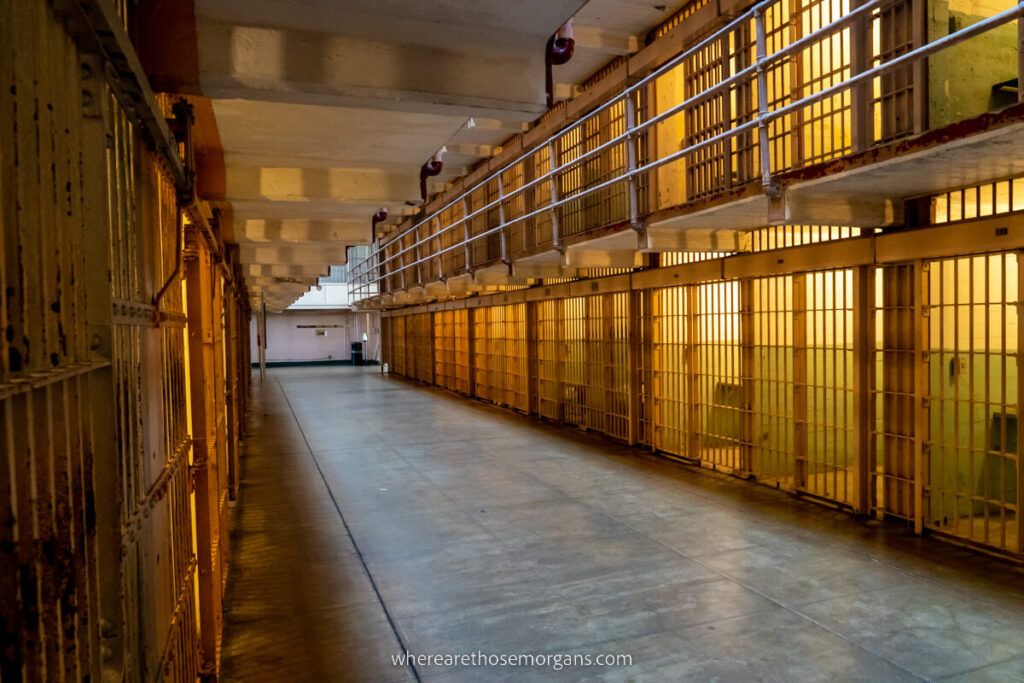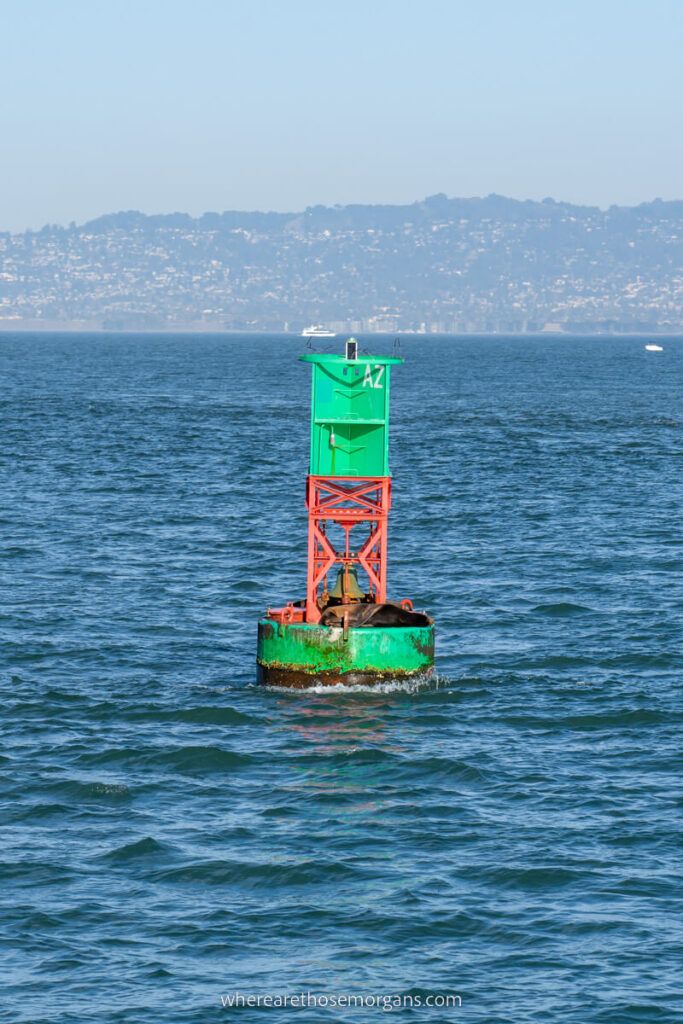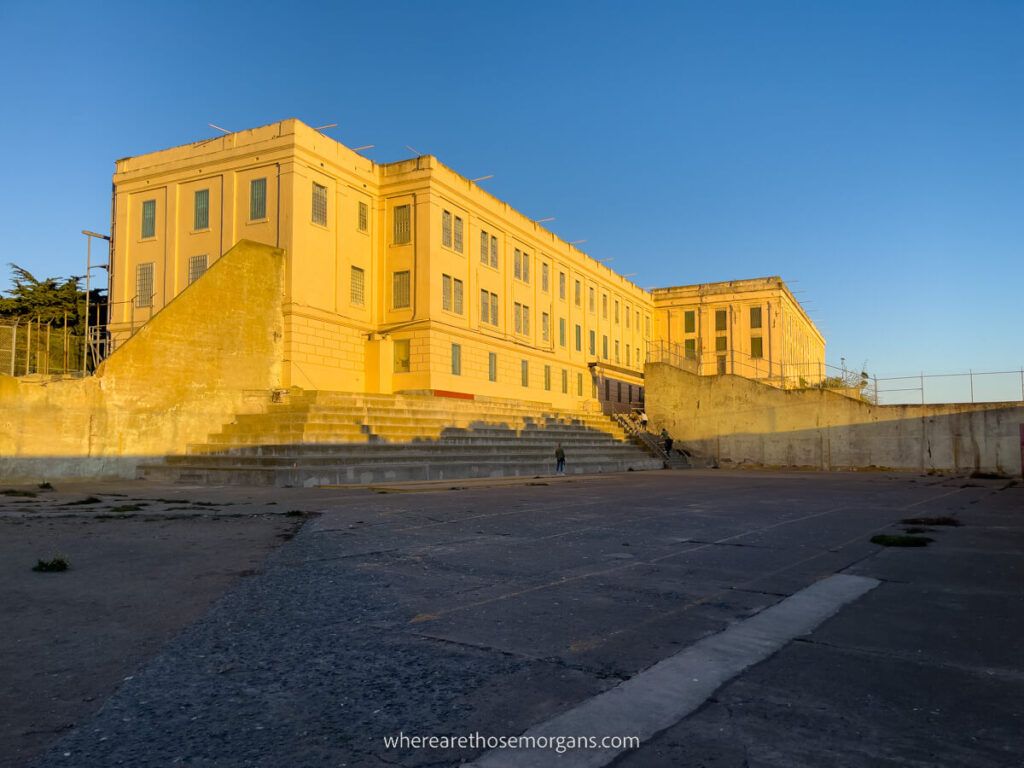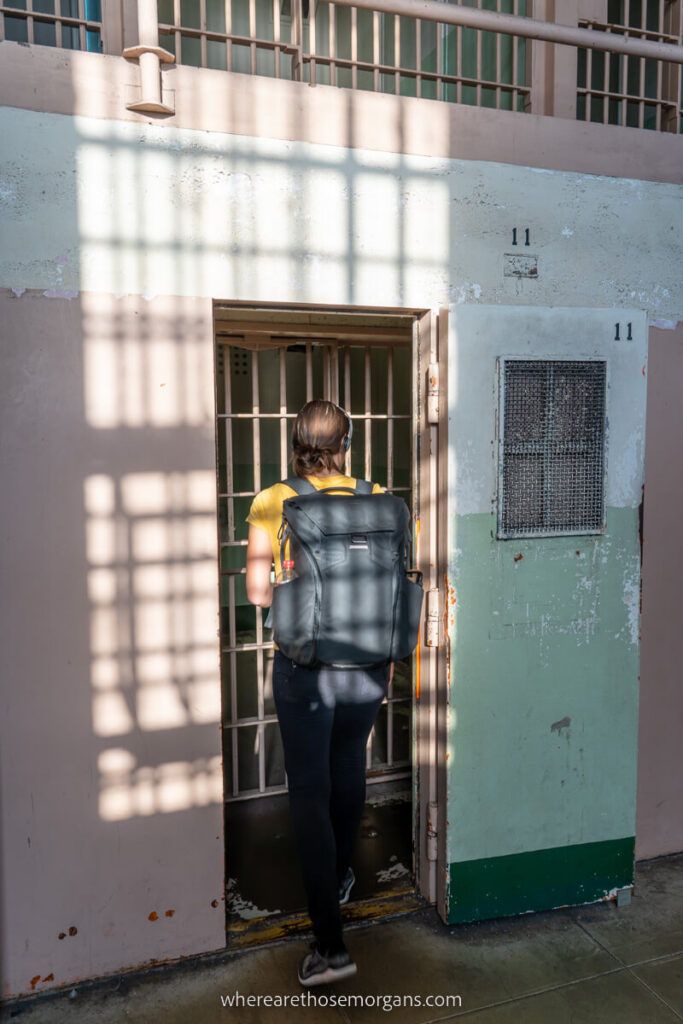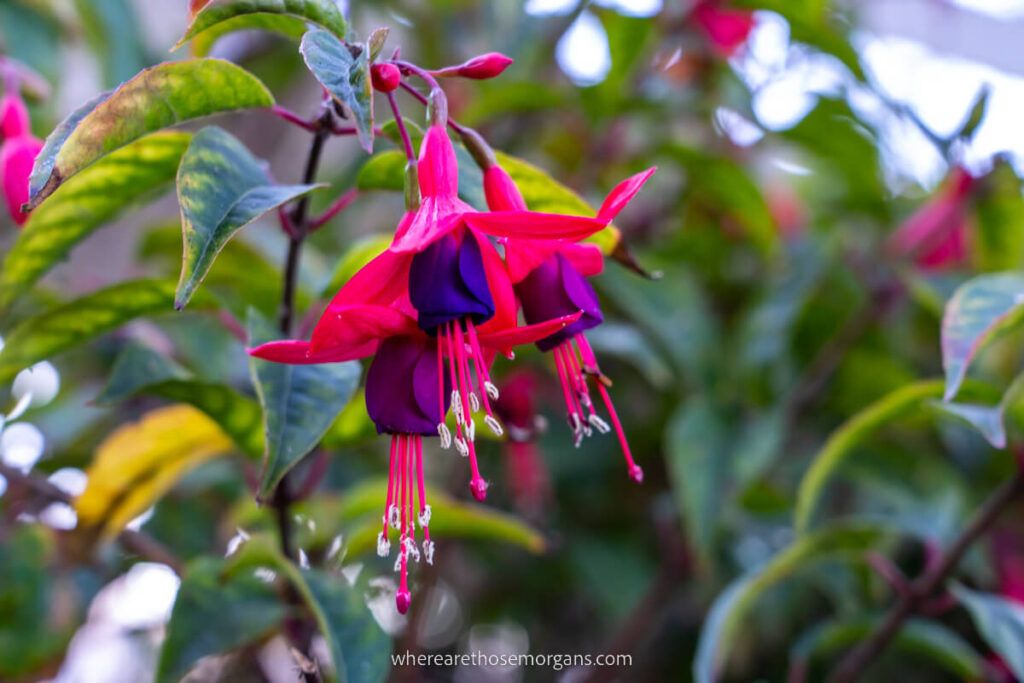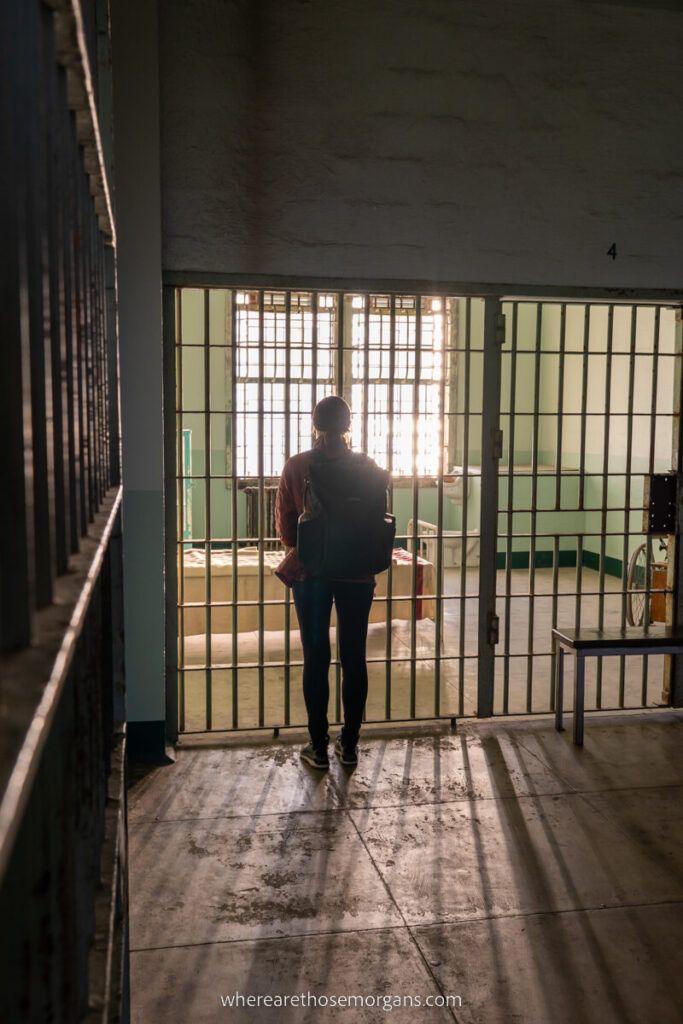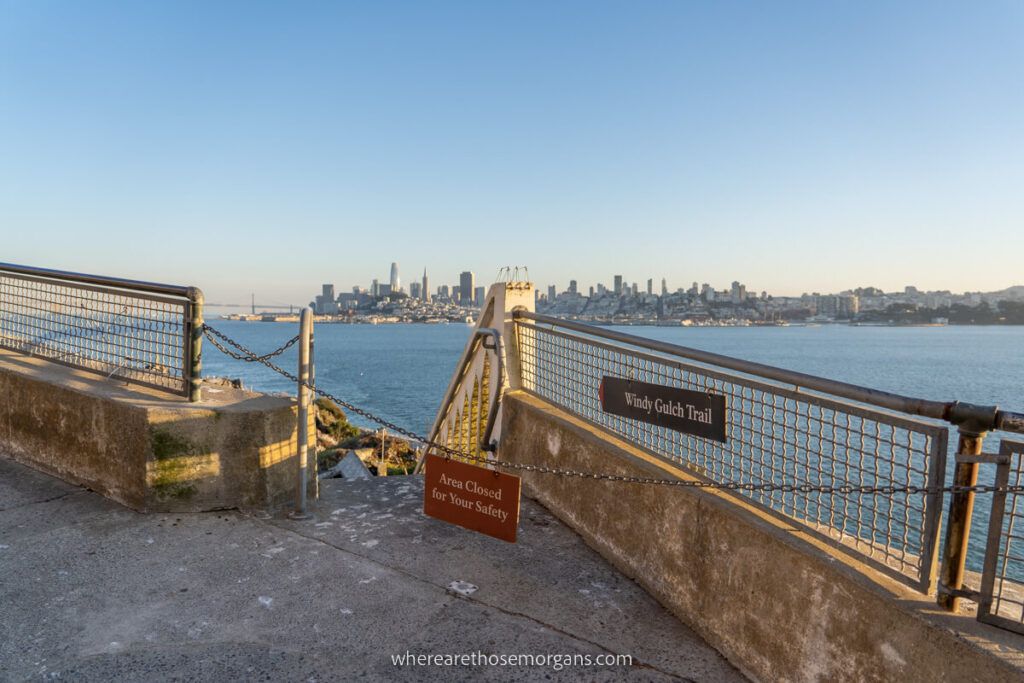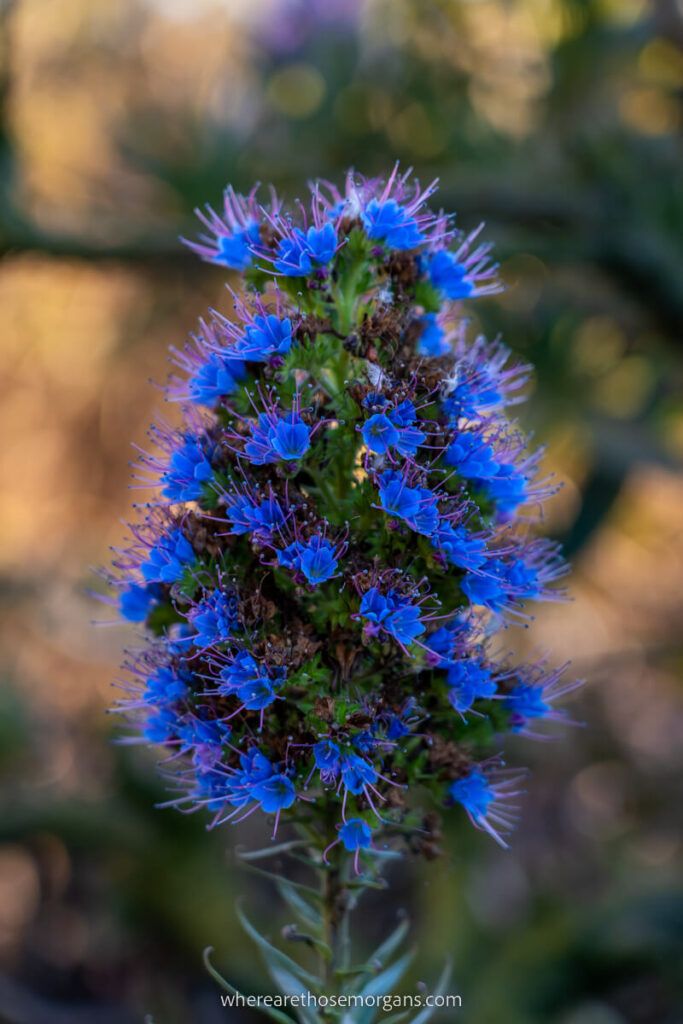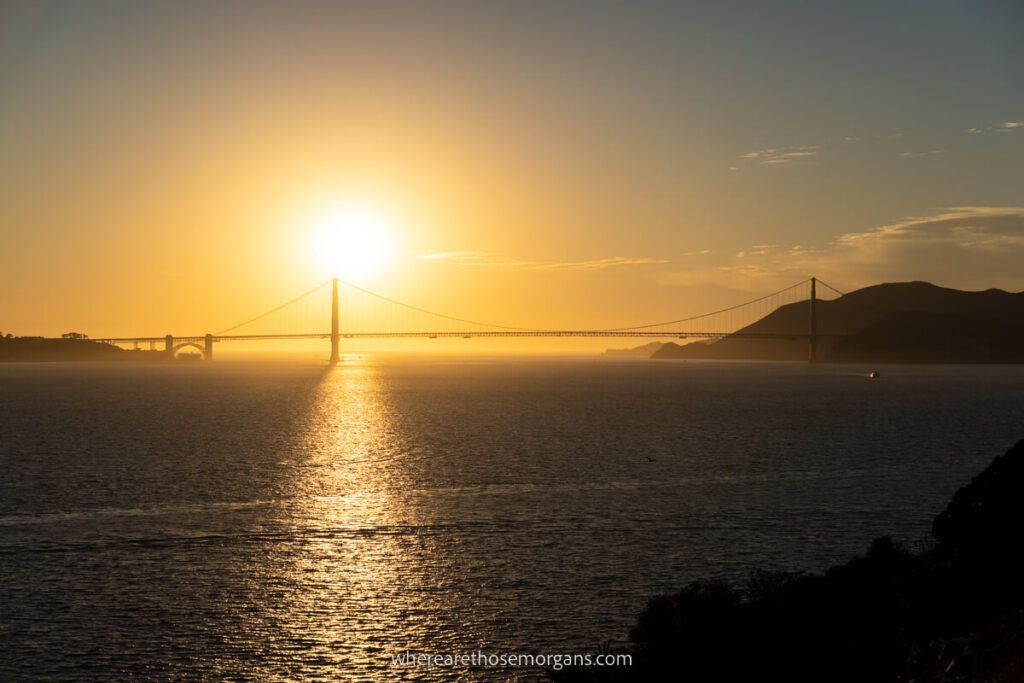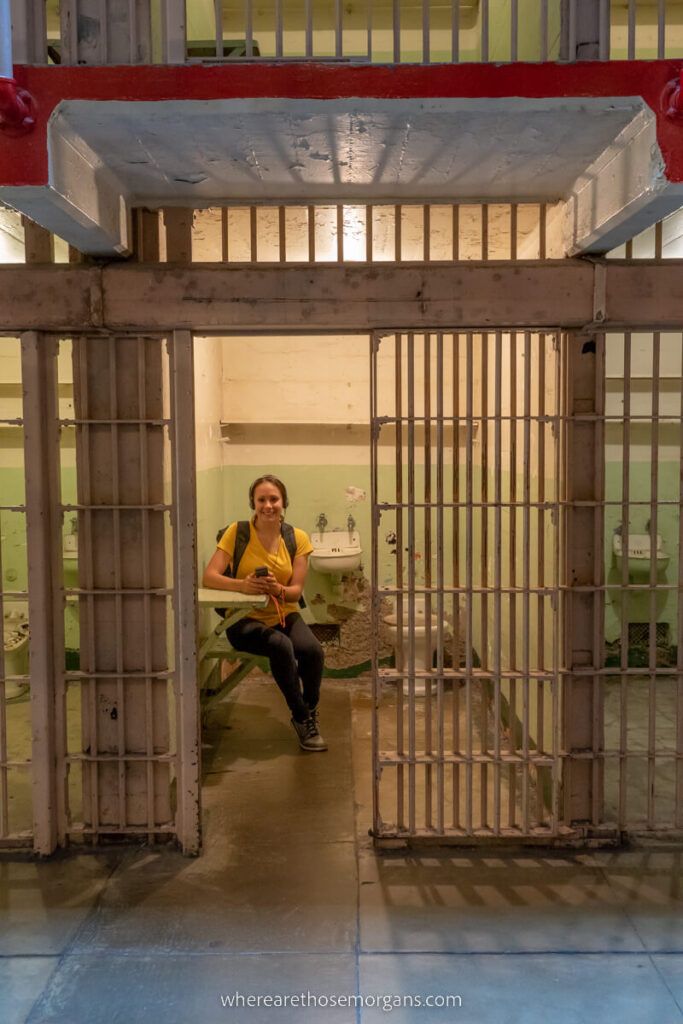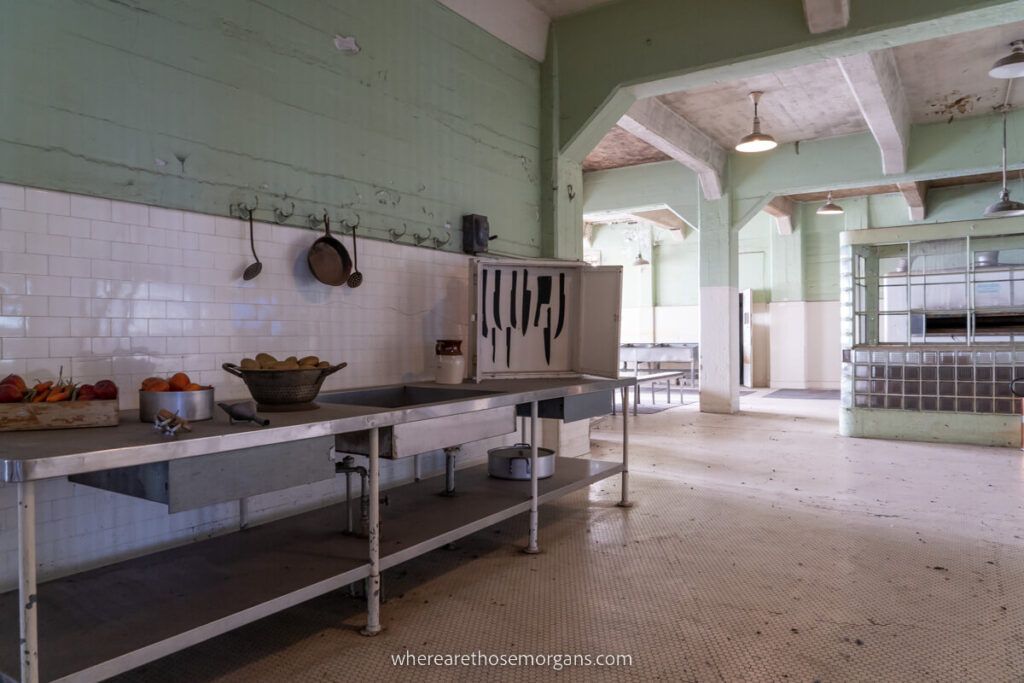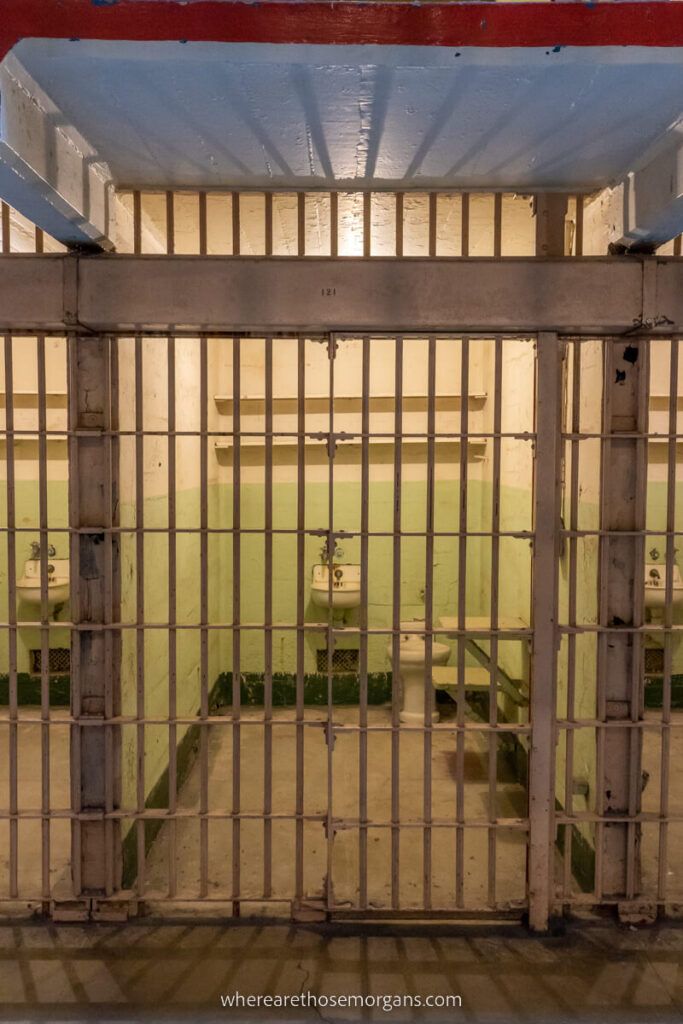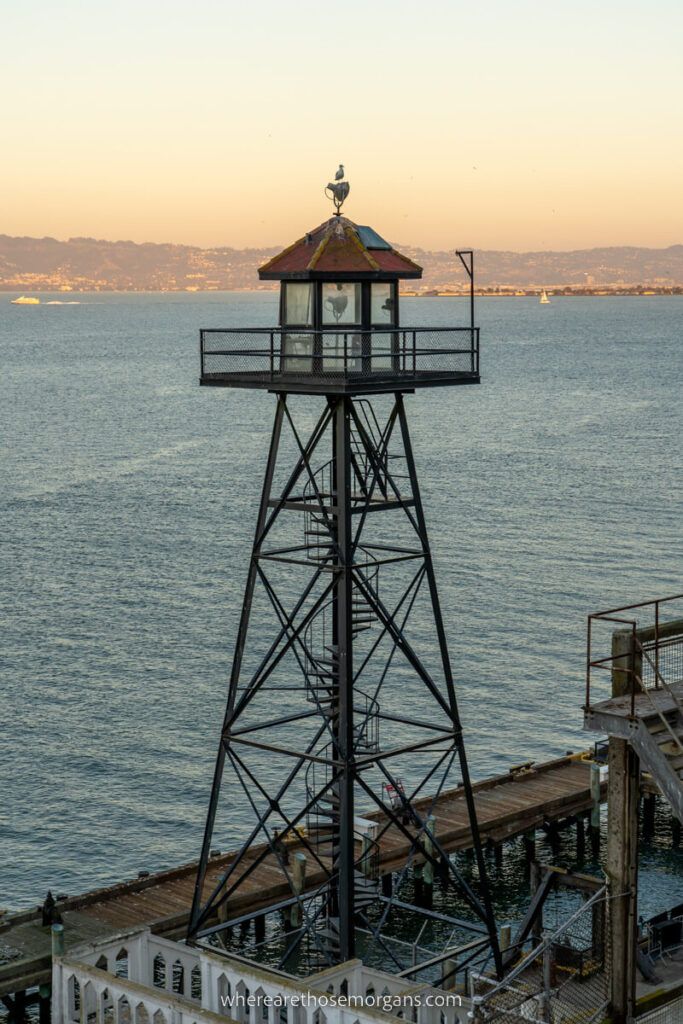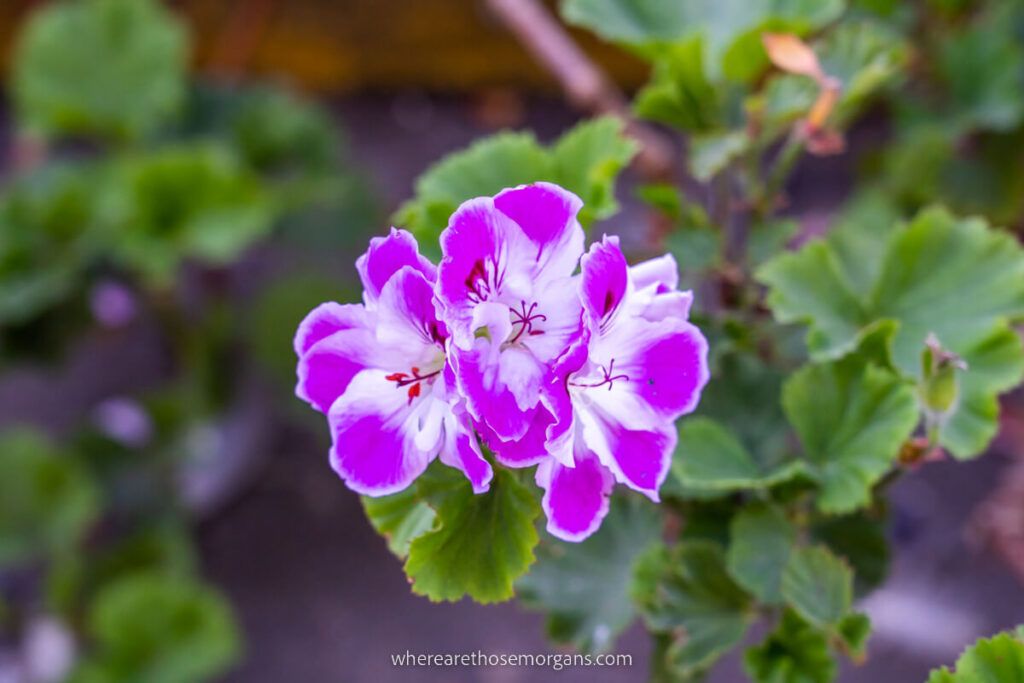 What Is It Like To Visit Alcatraz Today?
Alcatraz has changed several times over the years, from fort to military prison and from maximum security federal penitentiary to tourist attraction.
Now, Alcatraz is run by the National Park Service and the Island hosts hundreds of visitors every day who are curious about its colorful history.
If you're wondering what it is like to visit Alcatraz now, there's only one way to find out!
Can I Go To Alcatraz Without A Tour?
It is extremely difficult to go to Alcatraz without a tour. While Alcatraz id open to public tours, the docks at Alcatraz are only available to one ferry line, Alcatraz Cruises run by City Experiences.
The only way the public can visit Alcatraz is by purchasing a tour ticket and taking on of the official ferries to the island.
Alcatraz FAQ's
Let's take a look at some of the most frequently asked questions about Alcatraz Island and tours.
Why Did Alcatraz Get Shut Down?
Contrary to popular belief, Alcatraz prison was shut down due to financial reasons. Millions of gallons of fresh water had to be shipped to Alcatraz weekly and eventually the government decided it would be cheaper to just build a new prison!
How Cold Is The Water Around Alcatraz Island?
The water around Alcatraz Island has an average temperature of around 54°F (12°C) with little variation that would prove challenging for escapes. However, avid open water swimmers do swim across the bag regularly.
Has Anyone Escaped From Alcatraz?
Yes, there have been several escape attempts from Alcatraz. You should book an Alcatraz tour to hear the details of these very escapes.
Are There Sharks Around Alcatraz?
Yes, there are sharks around Alcatraz but usually only Leopard sharks. Man eating Great Whites are frequently found nearby in the Pacific Ocean and rarely venture into the SF bay. That being said, there is footage of Great Whites close to Alcatraz. Would you swim the channel?
How Long Does It Take To Walk Through Alcatraz?
If you booked a day or night tour, you should plan on 3 hours for your total visit to Alcatraz.
Our Popular San Francisco Guides
More California Guides
Want more California content? Head to our California Travel Guides to explore National Parks, popular road trips and things to do in major cities of the sunshine state.
---
We hope this review for both the Alcatraz Day and Alcatraz Night Tour helps you plan your time in San Francisco!
Please let us know if you have any question about the Alcatraz Tours or San Francisco in the comments below.
Happy Planning,
Mark and Kristen
Was This Guide Helpful? Pin It For Your Visit!