Are you thinking about visiting Las Vegas in November? We spent a chaotic but incredibly fun week exploring Las Vegas in November 2021 and we're going to answer 10 important questions you might have before your late Autumn visit to southern Nevada, including key things to know about weather, costs and crowds.
Is November a good month to visit Las Vegas, NV?
November is one of the cheapest and quietest months of the year to visit Las Vegas, but you will have to compromise with certain seasonal closures.
All things considered, we think November is an excellent month of the year to plan a trip to Las Vegas and we're going to show you exactly why.
In this guide we will cover:
10 key things to know about visiting Las Vegas in November
In depth information about temperatures, prices and tourist numbers
Out of season closures
Best things to do on a visit to Las Vegas in November
Let's get right into the 10 most important things you should know about visiting Las Vegas, Nevada in November!
*Please note this post may contain affiliate links. If you click on one, we may earn a small commission at no extra cost to you. Thank you for supporting the free content we provide! Read more in our disclosure policy.*
1. Is Las Vegas Crowded In November?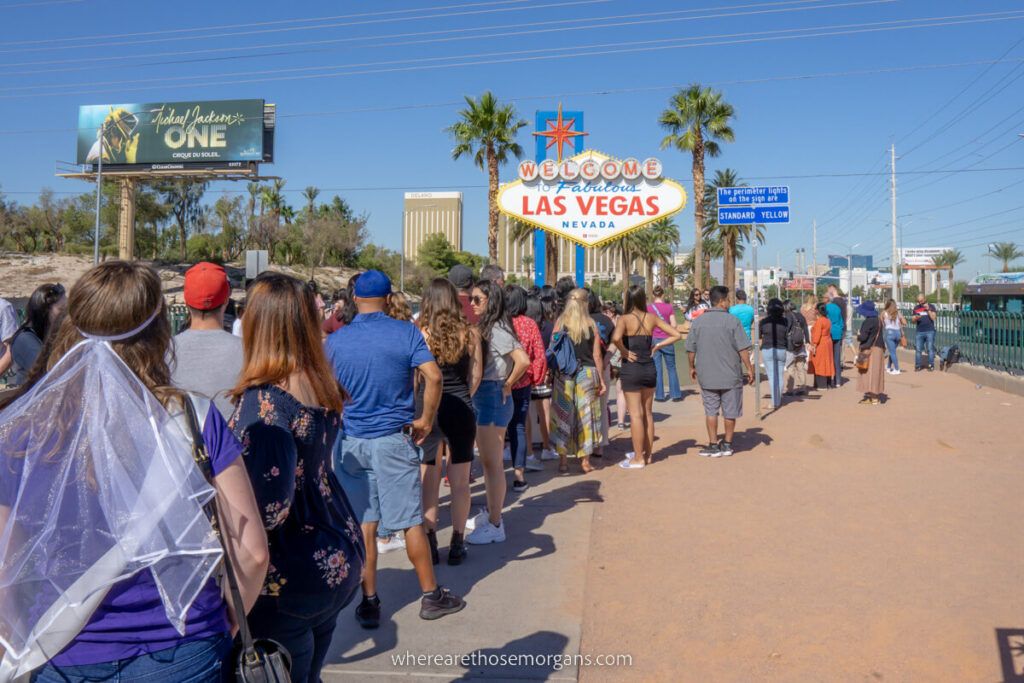 Las Vegas is one of the best places to visit in the USA and it is easily among the most popular tourist hotspots in the country for both domestic and international travelers.
However, unlike New York City or Los Angeles which are both enormous and spread out, most visitors to Las Vegas barely leave the strip and that means overcrowding is a natural byproduct in peak season.
The good news for your vacation is Las Vegas transitions into low season in November and it is one of the quietest months of the year to visit.
Peak season in Vegas typically runs from March through the end of October, despite the intense heat in summer months.
There are some negatives to visiting in low season which we will cover later, but the (slightly!) thinner crowds in November make a noticeable difference versus visiting in peak season.
How Many People Visit Las Vegas Annually?
Data from the Las Vegas convention and visitors authority shows that in each of the years 2015, 2016, 2017, 2018 and 2019, Las Vegas received over 42 million annual visitors.
Those tourist numbers are the highest since records began in 1970.
For obvious reasons the visitor numbers take a nose dive to just 19 million in 2020 during peak covid lockdowns and uncertainty with travel. However, in 2021 visitor numbers rebounded in a big way getting back up to 32 million tourists.
We will have to wait for the 2022 data but we're expecting that number to grow exponentially. We are all taking that dream bucket list trip after lockdowns and Las Vegas is at the top of that list for many people.
When Are The Busiest Times On The Strip?
The busiest times to visit the Las Vegas strip are March through October, plus almost every weekend of the year with a particular emphasis on holiday weekends.
Memorial Day, July 4th, Labor Day, Halloween, Christmas and New Year draw big crowds to Las Vegas.
November through the end of February are the quietest months of the year in terms of visitor numbers and hotel room occupancy.
Note: It is important to remember that certain events in Las Vegas can spike visitor numbers, such as music festivals or national sporting events.
What Does That Mean For You?
Well, it means that November is arguably the very best month of the entire year to visit Las Vegas if you are looking to avoid crowds.
The Las Vegas strip is an immensely fun place to visit but it can become frustrating when everywhere is busy, all the time.
Long lines just to grab a coffee in the morning aren't fun. Trust us, we've stood in them.
During our November visit to Las Vegas the crowds were still there, but they were nowhere near the level of our previous visit at the start of October.
Here's how visiting at this time of year benefits you:
More availability and better prices on hotels

(lower occupancy and average daily rate)
Restaurants won't always be full or require advanced reservations
Lines to get coffee or order from a food truck won't be enormous
The Las Vegas Strip won't be overrun so you won't have to weave in and out of people constantly
You will be able to get a parking spot at your hotel and maybe even near the entrance!
Attractions, tours and things to do will be more available and easier to "walk-in"
2. What Is Las Vegas Weather Like In November?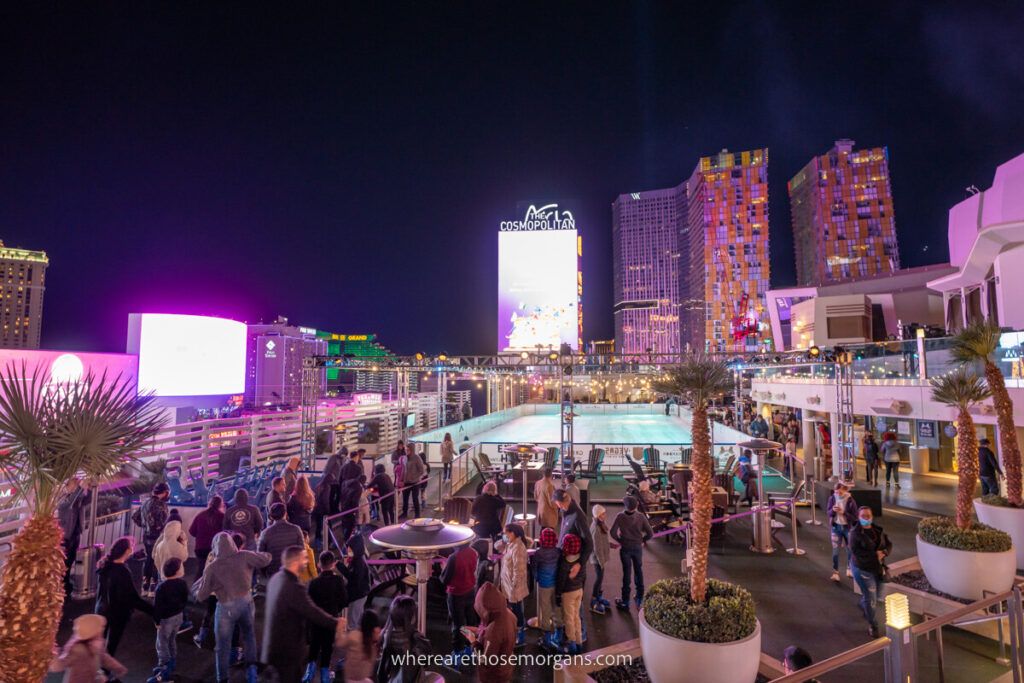 November brings much cooler and sometimes windier weather to Las Vegas when compared to the summer months. If you're looking for a hot weather getaway to Las Vegas where you drink cocktails around the pool by day, November is not the month for you to visit.
However, if you prefer to travel in comfortable temperatures and avoid oppressively sweltering climates, the weather during November in Las Vegas could be perfect for you.
We noticed a big difference in temperature between our October and November visits to Las Vegas. October still has hot days and mild evenings, whereas November descends into mild days and cool evenings.
What Is The Temperature In Las Vegas In November?
Here are the high, low and average temperature statistics for Las Vegas in November:
High Temperature – 67 F (19 C)
Low Temperature – 46 F (8 C)
Average Temperature – 56 F (13 C)
The temperatures during November in Las Vegas might not be as high as you expected considering it is in a desert and from what you may have seen in movies. Mornings and evening are cold this time of year.
One thing to consider is which dates in November you plan to visit. Early in the month is much warmer on average compared to the end of the month after Thanksgiving.
More Las Vegas November Weather Statistics
Let's take a quick look at other weather features you might be interested in:
Days are warmest between 12.00pm and 6.00pm
Coldest part of the day is between 6.00am and 8.00am
Average cloud coverage increases throughout the month from around 25% to 32%
Precipitation and chance of rain are much lower vs December, January and February
Source for weather data: Weather Spark
3. Did You Remember The Clocks Go Back In November?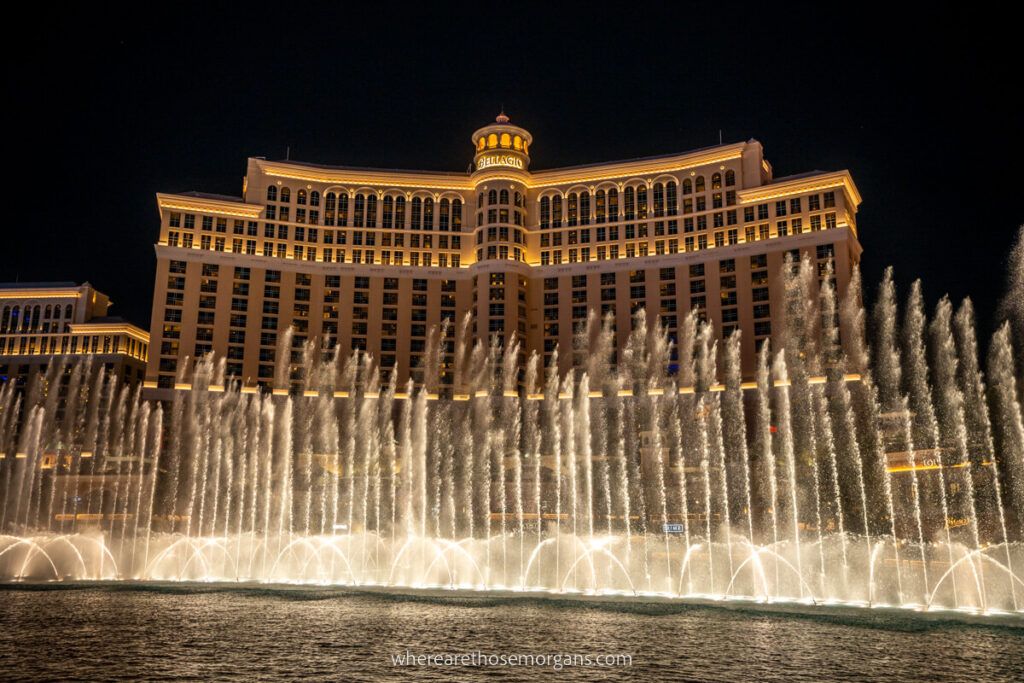 Sticking loosely to the Las Vegas weather theme, don't forget the clocks go back an hour around the beginning of November.
The daylight savings change is going to mean two things for your visit:
Sunrise will jump back an hour to a little after 6.00am instead of 7.00am.
Sunset will jump back an hour to 4.40pm instead of 5.40pm.
See sunrise and sunset times for your travel dates to Vegas.
How Will That Impact Your Trip To Las Vegas?
Well, the sunrise time is unlikely to have any impact unless you are a professional photographer who wants to take home some twilight photos of Las Vegas at dawn.
However, the sunset time may have a substantial impact on your plans for each day.
Let's say by the time you have woken up, grabbed a coffee and breakfast, showered and readied yourself for the day ahead it is around 10.00am.
In October and the first few days of November, you would have 7 hours of daylight to do any activities requiring it to be light. Think things like playing a round of golf, hiking in Red Rock Canyon, riding the High Roller or visiting the Hoover Dam.
But once those clocks change you are down around 15% daylight to just 6 hours.
Of course there is no cause for concern, there are plenty of things you can do in Las Vegas at night, it just means you need to be more aware of your daylight hours.
4. Are Las Vegas Hotels Available And Affordable In November?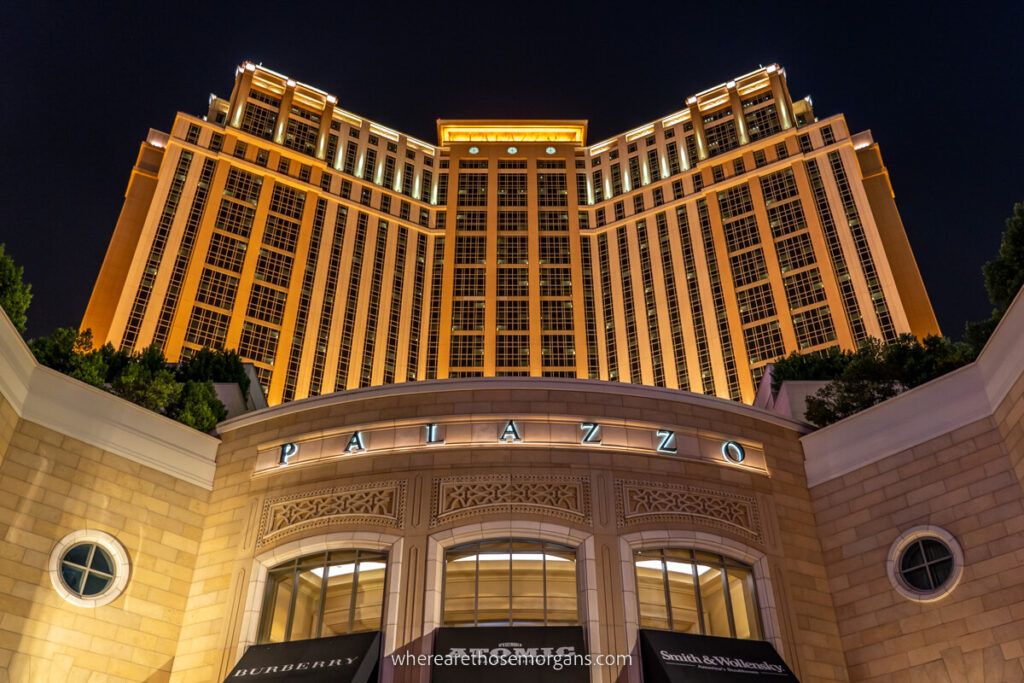 One of the major pros to a November Las Vegas vacation is the combination of low occupancy rates and low average daily hotel room cost. You get more availability and more affordability in one hit.
October is usually the last month of the peak season and hotels become much quieter in November. As a result hotel prices are often lowered to attract more people to fill those empty rooms, and that means you can pick up better deals.
Las Vegas is bit of a unicorn when it comes to booking hotels.
It is such a popular place to visit and each hotel can make money from us, the consumer, in so many different ways that you are spoiled for choice no matter your travel budget.
In November, you can get the already cheap Las Vegas hotel rooms at an even cheaper rate and you can potentially stay at one of the more luxurious hotels on the strip at a much more affordable rate.
Where To Stay In Las Vegas
Picking a hotel in Las Vegas will depend on 2 factors.
Cost – How much do you want to spend?
Location – Where on the strip do you want to be located?
Do you know which hotel you want to stay in? If you're not sure yet, read our complete guide to the 25 best hotels on the Las Vegas strip to see which will be the perfect fit for your visit.
Cheaper Hotels
Here are the best cheap hotels on the strip:
Bally's is a popular budget hotel option in Las Vegas because it is affordable and located around the middle of the strip. We stayed at Bally's for a few nights and the location is very handy.
Next to Bally's is Paris, Las Vegas which has the same great location but it is slightly more upscale and expensive.
Luxor and Excalibur are two of the traditionally cheaper hotels at the bottom of the strip. We have stayed at both and enjoyed the immersive facades, but they are a long walk from the action.
You will be able to pick a room up at the hotels above at staggeringly low prices during November. Think along the lines of $30-70 per night.
Luxurious Hotels
Here are the best luxurious hotels on the Las Vegas strip:
We have personally stayed at Venetian and Bellagio. Our suite in the Venetian was exceptionally luxurious and it remains our favorite to date. Next time we're in town we plan to stay at more of the ritzy hotels for comparison.
In November, you have a chance to snag a room in one of the more popular and luxurious Las Vegas hotels. Shop around and don't discount any of the posh hotels until you've seen the prices.
You could be looking at somewhere between $100-200 per night, even in Bellagio. We're sure you've probably spent that or more on a much worse hotel in a much less desirable place, we certainly have!
5. Is It Expensive To Visit Las Vegas In November?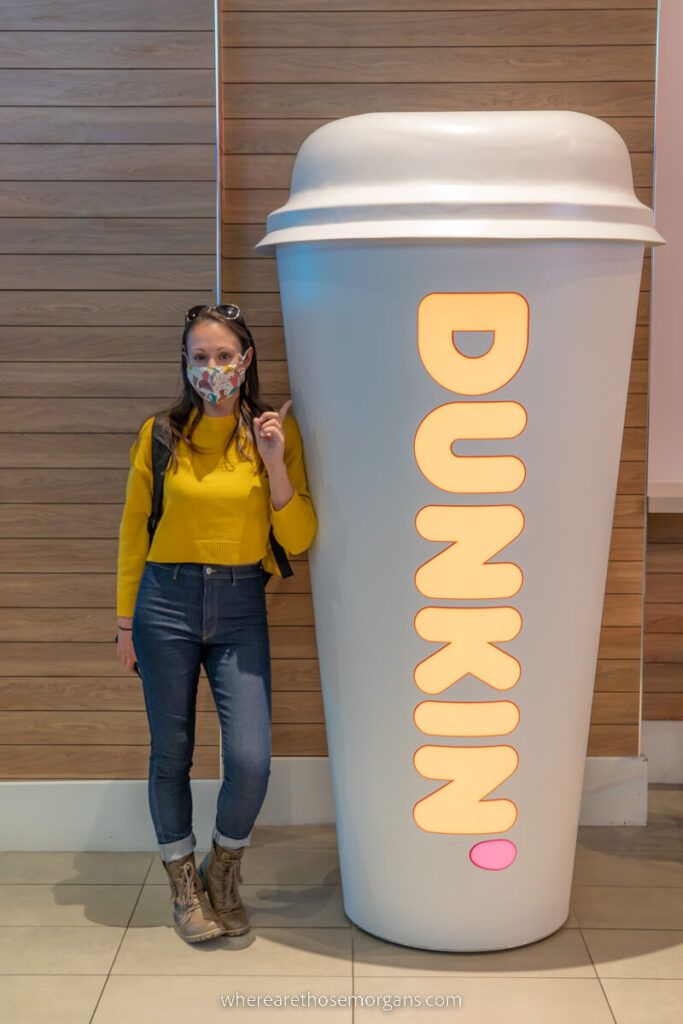 Visiting Las Vegas is always expensive. The whole place is ludicrously overpriced from the minute you wake up until the minute you go to bed.
However, you already know that is the case before you arrive. The only way to enjoy Las Vegas is to accept that fact before you step foot off the plane at Harry Reid airport (it's not McCarran anymore).
Here's where you will save in November:
Flights to and from Las Vegas are typically cheaper for both domestic and international travel versus summer months.
Hotels are cheaper and more available as we discussed above.
Here's where you won't save in November:
Day to day expenses you will accrue in Las Vegas during November are no different to choosing February or June instead.
How Much Money Do You Need For Spends?
Everyone visiting Las Vegas arrives with a different budget and vacation goals. But let's say you are an average visitor like us, we would suggest budgeting for around $200 per person, per day.
That will allow you to relax, enjoy the chaos, eat and drink at good places, maybe even see a show or go to a club. Those numbers do not include gambling at casinos, something we avoid entirely in Las Vegas.
Wondering why we used the term ludicrously expensive?
Well, it's because the whole place is set up like Sim City, a money making machine.
For instance, hotels don't provide coffee making facilities and buying a coffee at a Dunkin or Lavazzo inside the hotel will cost 2-3 times more than what you are used to in Las Vegas.
Endless shows, music events, tourist attractions, food and booze are all wonderful but they're pricey and it soon adds up. You have to be ready for the bank balance to depreciate!
6. Are Pools Open To Swim In Las Vegas In November?
Most Las Vegas swimming pools are closed in November, which is one of the major downsides to planning a vacation at this time of year.
In truth, it is too cold to be dipping and diving into a swimming pool during November in southern Nevada. But it does detract from the overall Las Vegas experience.
Most holiday makers will want to relax around a pool during the day, listen to music or read a book, drink a cold beer or cocktail and unwind.
That is not possible in November as almost all pools close in October.
You will have to find other ways to spend your days in November, like museums, shopping, eating and drinking your way through Las Vegas.
But guess what, they all cost money and add to your spends!
What About Pool Parties?
Nope, we're afraid not. All Las Vegas pool parties have ended for the season by the time colder weather in November arrives.
This one is only suitable for those who are coming to party in Vegas but if you're dreaming of dancing to blaring beats with hundreds of others around swimming pools in the Nevada sunshine, do not book a trip in November.
7. Are Las Vegas Shows Still Running In November?
All of the shows you have heard about in Las Vegas are in full swing during the month of November. That includes musicians, comedians, circus acts, magicians and more.
Cirque Du Soleil is the quintessential Las Vegas show to experience. There are 6 completely different performances you can see all run by Cirque.
We have personally seen 2 of the 6 so far. "Mystere" at Treasure Island and "O" at Bellagio were both outstanding.
David Copperfield, Mat Franco and Shin Lim lead the magic lineup and artists such as Adele, Aerosmith, Luke Bryan, Miranda Lambert, Train and the Jonas Brothers are top of the concert list in November 2022.
Oh, and don't forget November is the month of Thanksgiving. You can fully expect things to be bigger and wilder than ever on turkey day in Las Vegas!
Events
There are always a ton of events taking place in Las Vegas from conventions to auctions and from tech displays to music award ceremonies.
Take a look to see what is going on during the dates you visit. Sometimes events can cause short term spikes in visitor numbers and hotel prices may inflate as a result. Worth keeping an eye on.
8. How Is The Las Vegas Food Scene In November?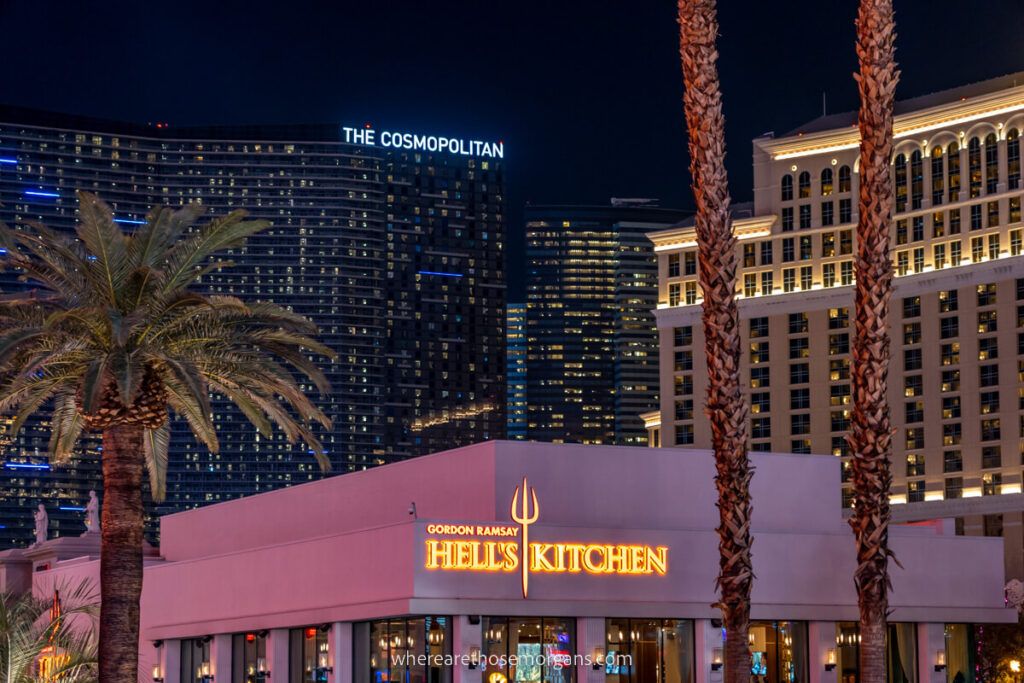 Did you know that Las Vegas is currently the most in demand place in the world for celebrity chefs to own restaurants? Anyone who is anyone in the celebrity world of food wants to front and center in Sin City.
As a result, the Las Vegas food scene is as varied and quite frankly incredible as always in November. You can eat pretty much anything you desire on the Vegas strip, ranging from typical fast food joints to some of the best food on the planet.
There are plenty of restaurants that would be 1, 2 or 3 Michelin Star level but apparently Michelin don't rate restaurants in Las Vegas anymore.
However, there are a ton of restaurants owned by 1, 2 or 3 Michelin Star chefs, most notably Gordon Ramsay (who has 5 restaurants and another to come soon!).
Usually we would dish out (pardon the pun) our top foodie recommendations, but we haven't even scratched the surface in Vegas. There are simply too many places to hand pick a few without trying more.
One tip we have is to take a Las Vegas Secret Food Tour. We spent an evening devouring samples from celebrity chef eateries and learning a ton about food in the city.
9. What Should You Pack For Las Vegas In November?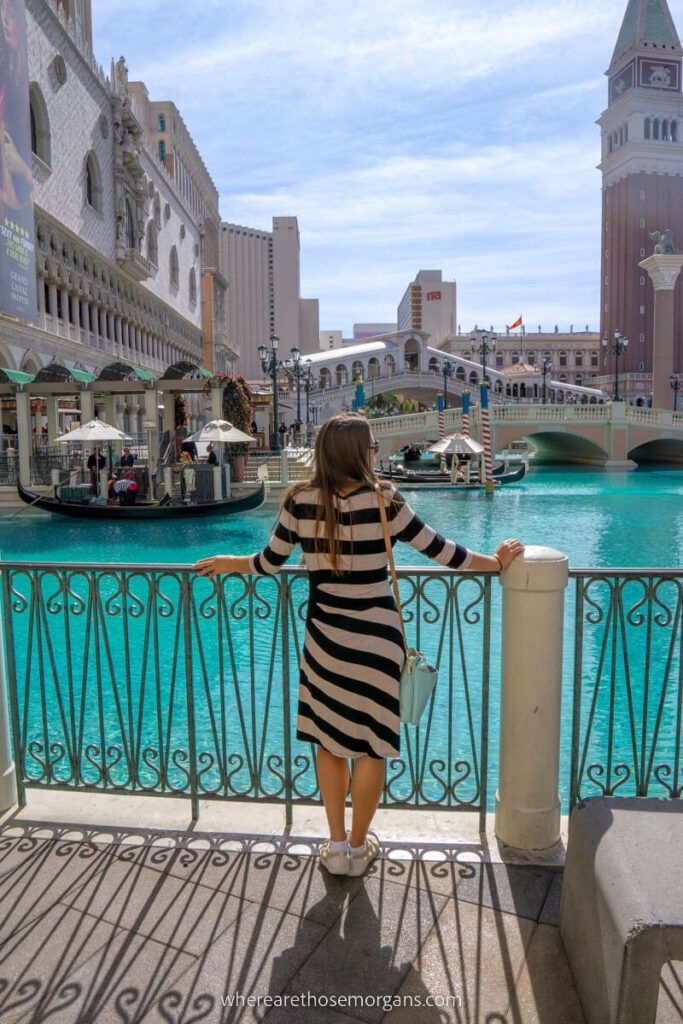 Packing for a November visit to Las Vegas is more tricky than a Summer trip thanks to colder and more changeable weather.
The cooler mornings and evenings will suit visitors who are used to the cold (Kristen is from upstate NY and Mark is from England so we have it covered!). Like us, you will already have a wardrobe prepared for all four seasons.
But it might mean those who are used to year round warm climates need to buy a light sweater and jacket for this trip. We're thinking of you, Florida.
Layering is the key in these kinds of situations. Light layers on top, with a jacket for mornings and evenings is ideal. It can get really warm during the day so don't forget dresses and short sleeves.
Prefer to skip the pants?
Well, shorts and t-shirts will be fine during the day but you will need jeans or smart pants for later in the evenings, especially if you plan to eat or drink anywhere fancy.
Smart Casual
The term "smart casual" can be interpreted in many ways, more so than ever these days, but be sure to bring some dressy gear in case you want a splurge.
Anyone planning on sipping cocktails or dining at a plush restaurant in Cosmopolitan should pack an outfit to match the surroundings. We felt horribly underdressed when we were slinging back $25 cocktails in Cosmo during happy hour!
Last thing, don't forget sunglasses. Despite temperatures being cooler in November, the sun will more than likely be out most of time you are in Las Vegas.
10. What Are The Best Things To Do In Las Vegas In November?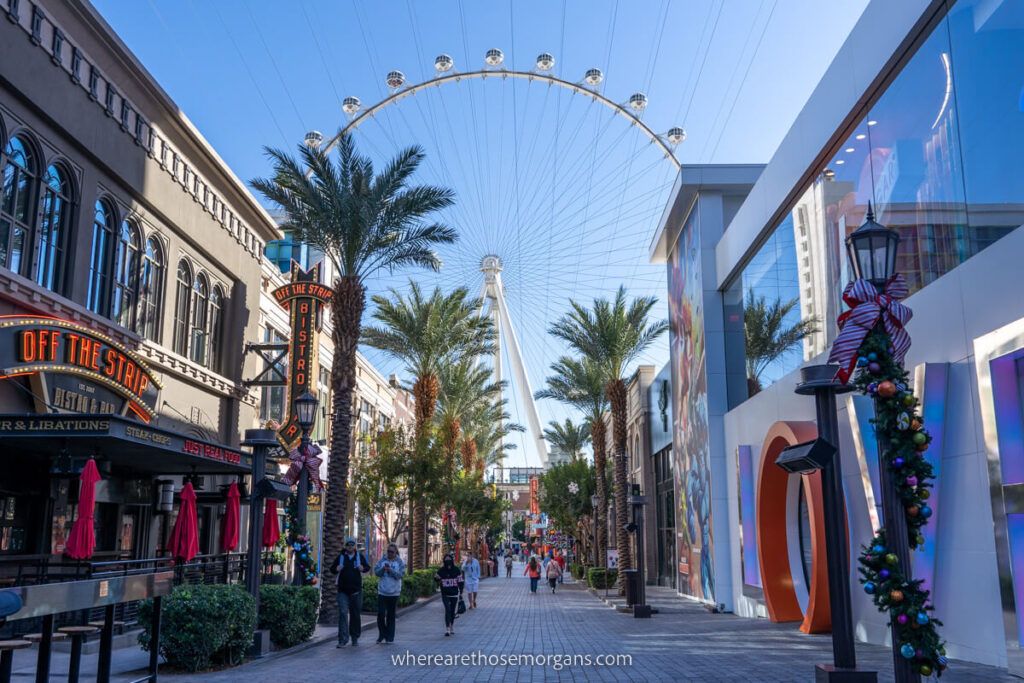 Las Vegas is overflowing with endless fun things to do, ranging from free and cheap up to outright ridiculous in price. It is one of the reasons people of all walks visit.
We can confirm that all of those things can still be done in November, save perhaps sunbathing or partying around the swimming pool of course.
Here are just some of the things you can do on a November visit to Las Vegas:
Walk the strip top to bottom on repeat
Explore the best shops, restaurants, bars and attractions in each hotel on the strip
Take one of the best Las Vegas day trips to a variety of amazing places
Take a photo with the Las Vegas sign
Ride the High Roller
Watch the Bellagio Fountains at night
Visit the Mob Museum
Walk the Fremont Street Experience
Watch a Cirque Du Soleil Show
Take a gondola in The Venetian
One thing you can do in November that you can't any time of year before is enjoy the newly thrown up Christmas decorations lighting up the hotels, malls and strip.
Do you know exactly what you will do in Vegas? If you're not sure yet, read our complete guide to the 40 best things to do on a visit to Las Vegas, including 20 on the strip and 20 off the strip.
Las Vegas Pass
Are you the type of traveler who loves to do and see as much as possible in a new place?
Well, in Las Vegas you are spoiled for choice. You could easily spend a full week ticking off a whole host of fun places to visit and still not get through it all.
We very highly recommend you look into buying a Go City Las Vegas Pass or a Las Vegas Sightseeing Pass so you can do more for less money.
We always recommend (and use ourselves!) passes like these when visiting cities with so many things to do. Las Vegas is certainly one of those cities!
Attractions you can bundle and save include Cirque Du Soleil shows, big bus, loads on the strip and even day trips to national parks.
National Public Lands Day
Something you can take advantage of every November 11th (Veterans Day) is National Public Lands Day.
On Veterans Day, you can get free entrance to public lands such as Death Valley National Park, Red Rock Canyon, Lake Mead and Zion National Park.
This does not include Valley of Fire State Park because it is managed by the state of Nevada.
So if you're visiting Las Vegas around the 11th November, you can take advantage of free entrance into any of the amazing natural landscapes listed above.
Our Popular Las Vegas Guides
Things To Do – Do you know exactly what you will do in Vegas? If not sure yet, read our ultimate guide to the 40 best things to do in Las Vegas both on and off the famous strip.

Best Hotels – Which of the iconic hotels will you stay at on the strip? Read our comprehensive guide to the 25 most popular Las Vegas hotels on the strip to see which looks best for you.

Shows – Not sure which show to see in Vegas? Here are the 30 most popular Las Vegas shows to help you choose the perfect experiences for your visit.

Food Tour – Want to try something unique in Vegas? Read our Las Vegas Secret Food Tour Review to see if tasting celebrity chef dishes is a good fit for your travel plans.
Our Las Vegas Day Trip Guides
Day Trips – Planning a day trip on your visit to Vegas? Here are the 10 most popular Las Vegas day trips with details on how to DIY or take a tour.
Death Valley – Want to see the hottest place on Earth? Here's our guide on exactly how to plan the perfect Las Vegas to Death Valley day trip.
Valley of Fire – The 15 best things to do in Valley of Fire State Park including everything you need to know about visiting from Las Vegas.
Fire Wave – Exactly what you can expect from hiking the amazing Fire Wave Trail at sunrise in Valley of Fire State Park (the most popular thing to do).
Red Rock Canyon – Looking for another awesome place to hike near Las Vegas? Here's our guide to the 10 best hikes at Red Rock Canyon less than half an hour from the Vegas strip.
Hoover Dam – Are you planning to visit the Hoover Dam on your trip to the US southwest? Read our complete guide to driving from Las Vegas to Hoover Dam and exactly what you can expect.
Seven Magic Mountains – Do you enjoy photography and interesting art exhibits? Read our guide complete guide to visiting the Seven Magic Mountains near Las Vegas.
Want more Nevada content? Head over to our Nevada Travel Guides to explore State Parks, beautiful landscapes and the best things to do in Las Vegas.
---
We hope this guide to visiting Las Vegas in November helps with planning your Fall visit to southern Nevada!
Please let us know if you have any questions about visiting Las Vegas in November below in the comments.
Happy Travels,
Mark and Kristen
Enjoy This Guide? Pin It For Your Visit!