Lower Manhattan was the surprise package for us when living in New York City for 3 months. Like most visitors to NYC, we had highest hopes for Central Park, Midtown and Brooklyn. But it turns out the Financial District area of Lower Manhattan has one of the highest concentrations of fun things to do in New York City.
Deciding exactly what to do during your visit to one of the most diverse cities on Earth can very quickly become overwhelming. We find it best to break NYC down into regions and in this guide we're going to show you the best things you can do in the Financial District of Lower Manhattan.
Don't worry, you will find far more than trade and business on the southernmost tip of Manhattan. Its colorful history includes rejuvenated shipping piers, world famous landmarks and a moving tribute to one of the most tragic events in recent times.
Let's dive into the 18 best things to do in Lower Manhattan!
Which Areas Encompass 'Lower Manhattan'
Lower Manhattan – also known as Downtown New York or Downtown Manhattan – is defined as the area between New York harbor, the East River, the Hudson River and as far North as 14th street.
Technically, that is a huge area covering Tribeca, SoHo and even Greenwich Village. Those areas will be covered in an article of their own!
In this guide we are focusing on the attraction heavy area below Chambers Street, which is commonly known as the Financial District.
Map of Best Things to do in Lower Manhattan
Click on the map to activate.

Zoom in / out and move around the map to see locations of the best things to do in Lower Manhattan.

Learn the local geography to save time during your visit to NYC.

All of the 18 things to do listed below can be found on this map.
18 Awesome Things To Do In Lower Manhattan
Visiting all 18 places on this list is going to be time consuming! To hit all of the Lower Manhattan highlights, we recommend planning for 2 full days of exploring.
The best part of discovering Lower Manhattan? Many of the best things to do are free!
The Statue of Liberty, 9/11 memorial and Brooklyn Bridge are our three 'unmissable' highlights if you have less time on your New York City itinerary.
Here we go…
1. Take The Ferry To Iconic Statue Of Liberty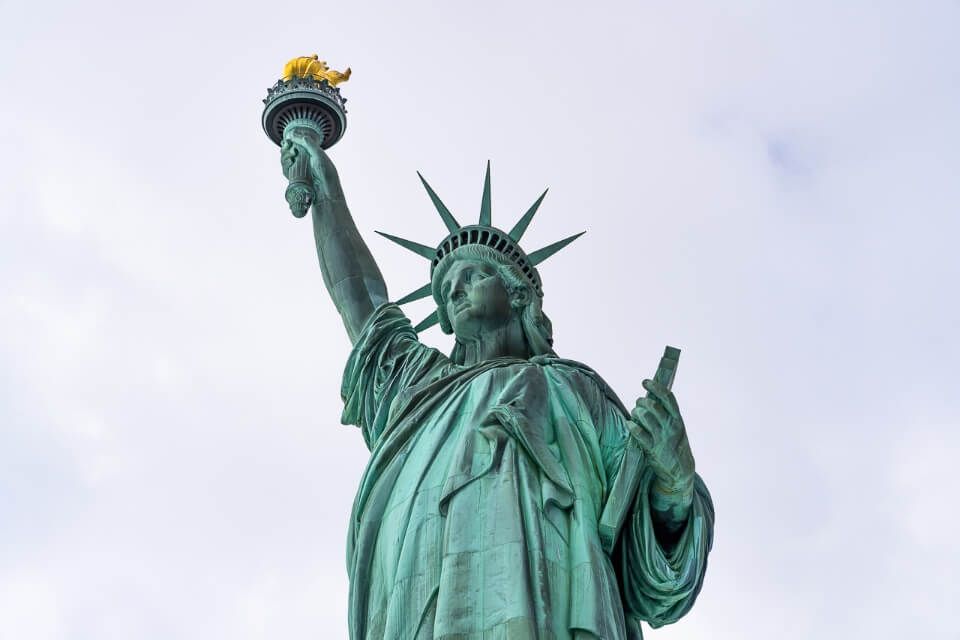 This list of best things to do in Lower Manhattan couldn't begin in any other way! The most famous statue in the world is right off the shores of the financial district. Lady Liberty is a national icon and instantly recognizable as a symbol of freedom.
Visiting the Statue of Liberty should be on every NYC tourist itinerary and we highly recommend taking the ferry to Liberty Island to see her up close and personal.
Designed by Frederic Batholdi, built in part by Gustave Eiffel (yes, the same guy as that famous tower in Paris) and gifted to the United States by the people of France, the Statue of Liberty was dedicated on October 28 1886 by President Cleveland.
Liberty Island hosts well over 4 million tourists each year, which is more than popular national parks Yellowstone and Zion.
Statue of Liberty (and Ellis Island) Ticket Information
Book ferry tickets in advance with Statue Cruises or reserve with a New York CityPASS.

Alternatively, buy tickets in person inside Castle Clinton, Battery Park.

Ferry departures are from immediately behind Castle Clinton. Check schedule here.

Tickets to the Pedestal and Crown incur additional fees and sell out quickly, so book in advance.
Further Reading: Complete guide to visiting the Statue of Liberty and how to get there.
2. Don't Miss Ellis Island Immigration Museum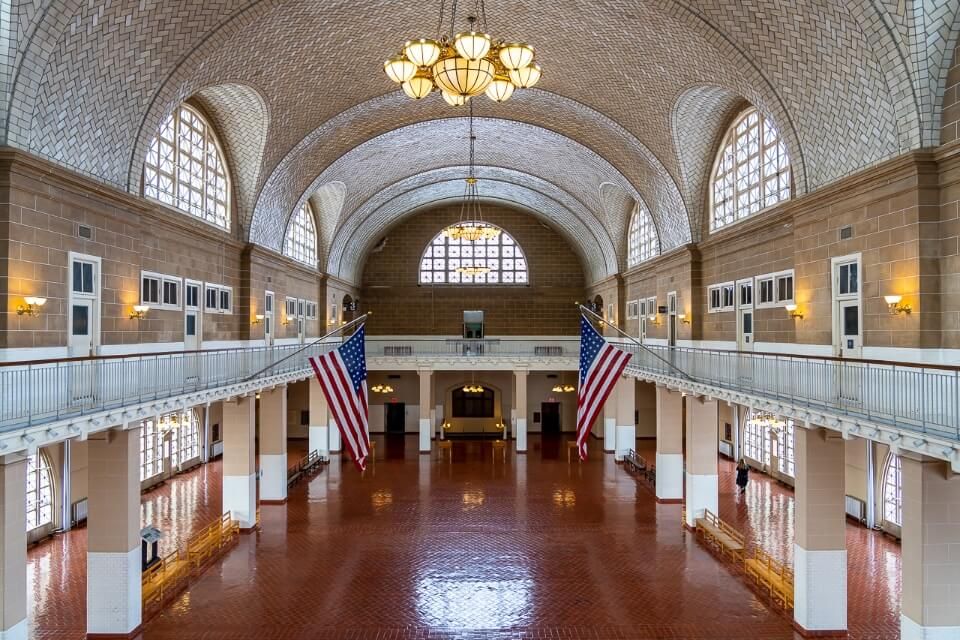 Ellis Island is a tiny island with a mammoth sized imprint on American history. Around 12 million immigrants entered the United States through Ellis Island between 1892 and 1924.
For many Americans, there's a high likelihood your ancestors were processed through a building that is now the Ellis Island National Museum of Immigration.
The museum is incredibly interesting and offers a real insight into the conditions and experiences of immigrants arriving in the port of New York over a hundred years ago.
Ellis Island is included in the Statue of Liberty ferry ticket with no additional fee. There is no obligation to visit Ellis Island after Liberty Island but it would be a shame to miss out on such an important piece of American history.
All details about ferry prices and times apply the same as above in Statue of Liberty.
3. Walk Through Lower Manhattans 'The Battery' Gardens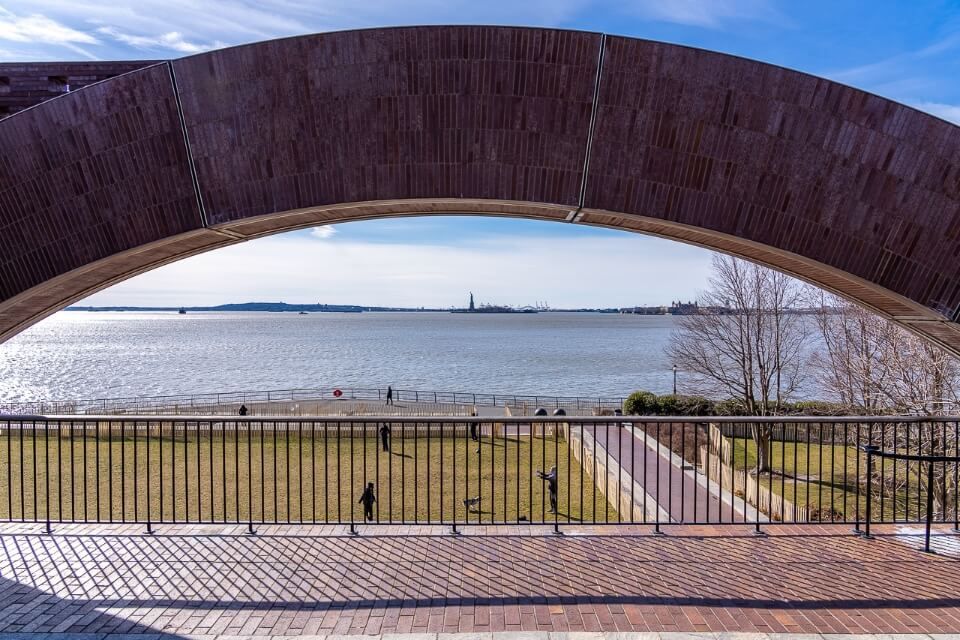 Battery Park is a waterfront park with harbor views stretching across a half mile along the southwestern edge of Lower Manhattan.
Gardens of the Battery is the largest perennial garden in North America. The park offers the perfect place in Lower Manhattan to take a slow walk, go for a morning run, take the dog for a walk and relax.
Castle Clinton is at the heart of Battery Park, an old historic fort and now home to Statue Cruises. Climb a set of stairs to a roof deck viewing platform looking directly over the Hudson to the Statue of Liberty and New Jersey.
The Museum of Jewish Heritage and the National Museum of the American Indian are both within or on the border with Battery Park. Perfect for a rainy day.
Open all year and always free, this public green parkland is a welcome break from towering concrete skyscrapers.
4. Rub The Charging Bull For Good Luck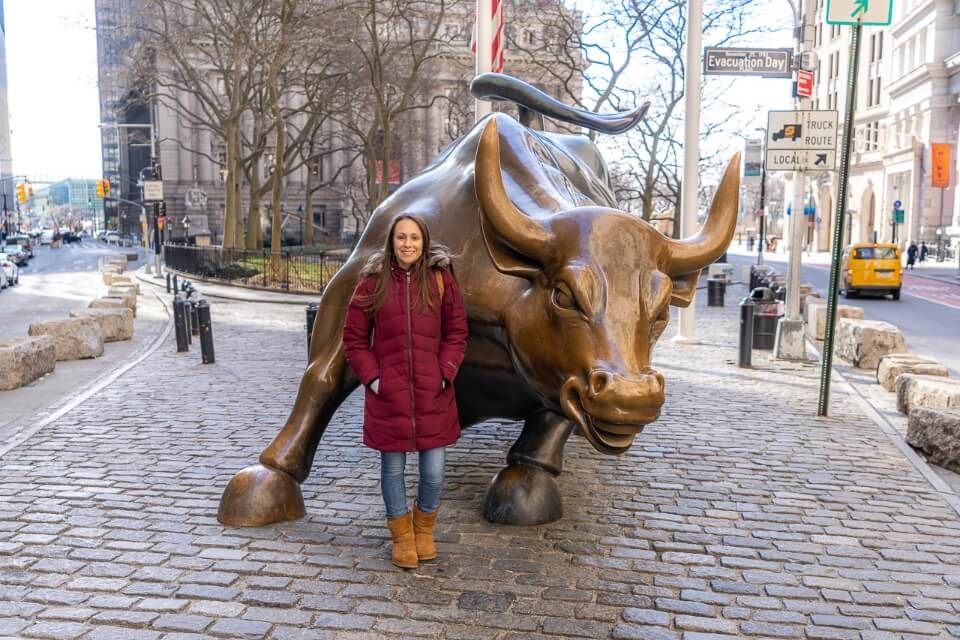 Originally conceived in the immediate aftermath of the 1987 New York stock market crash, Italian artist Arturo Di Modica spent 2 years sculpting a 7,100 pound (3,200 kg), 11 ft tall and 16 ft long bronze bull as a symbol of can do attitudes of New Yorkers.
The statue was illegally dropped off right outside the New York Stock Exchange Building by Di Modica in between police patrols. He had conducted a reconnaissance the previous night so he knew exactly when to drop the bull!
Charging Bull was removed by the end of that same day but a week later it was given a new home at Bowling Green. The bull was an instant hit with tourists and quickly became a 'must see' attraction in the city.
The Wall Street and Financial District emblem still stands proudly and aggressively on its haunches as though ready to charge at Bowling Green.
Thousands of tourists each day take photographs at the front of the bull with its horns. However, folklore tells us that it is good luck and prosperous not only to touch its head and horns … but also its testicles, which are enormous!
These oversized bronze testicles represent pronounced virility and strength. So be sure to crouch down and rub away.
Charging Bull is always open and always free to visit, but we recommend you go early in the morning to avoid the crowds.
5. Soak Up Unique Architecture Inside and Outside Oculus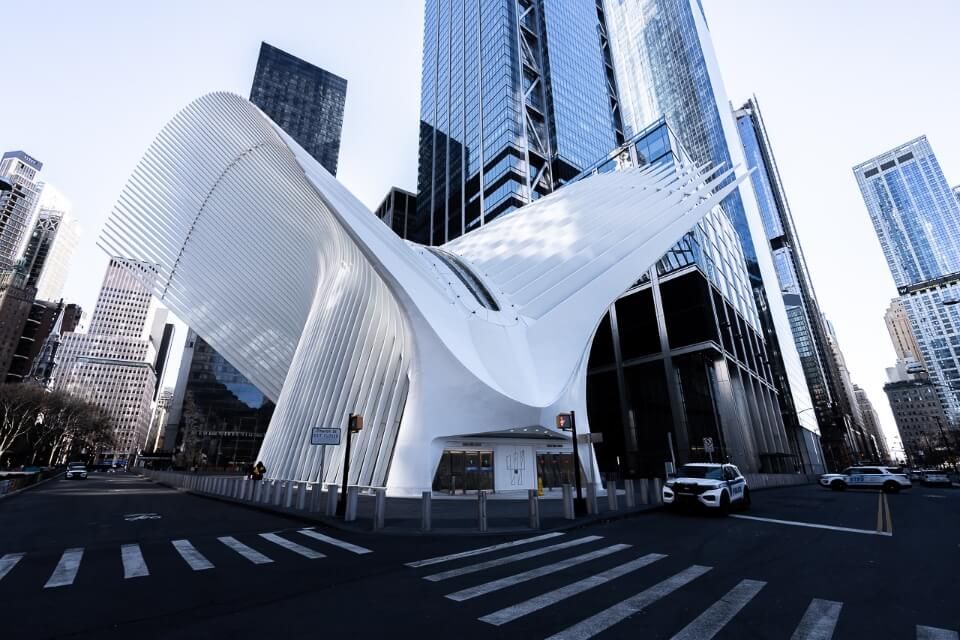 Oculus is a unique, fascinating and beautiful structure 12 years and US$ 4 billion in the making. Manhattan is filled with impressive buildings and towering skyscrapers, but nothing in the city looks like Oculus.
On the outside, it the structure resembles a brilliant white dove soaring through the sky. Inside, a surprisingly cavernous oval shaped hall opens up to reveal a bright and very white symmetrical interior.
Oculus is on our list of favorite NYC photography locations.
The building was designed by Spanish architect Santiago Calatrava to allow as much natural light as possible inside in order to highlight the purity of white color.
Architecture aside, Oculus is in fact a major transport hub and sprawling underground shopping center.
It joins with Westfield World Trade Center, which is home to the downtown location of Eataly – a famous restaurant and market.
Photographers visiting New York City should not miss Oculus both inside and outside.
Oculus is free to enter and shops are open 11am-7pm.
6. Don't Miss The Amazing 9/11 Memorial and Museum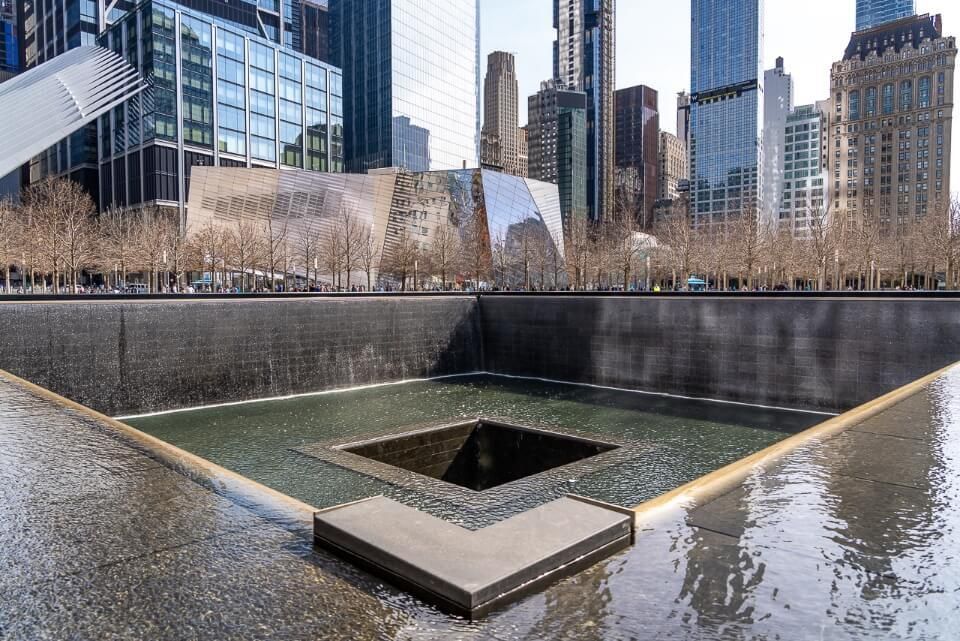 9/11 was an appalling and devastating day for America that will never be forgotten.
Construction began on building a memorial and museum five years after the twin towers fell in Lower Manhattan.
Together, they would commemorate the 2,977 people killed on 9/11 and 6 people who died as a result of the 1993 World Trade Center bombing.
A further five years passed before a dedication ceremony was held on September 11, 2011 – 10 years to the day after the attacks. The memorial was built on the original sites of the twin towers and was opened to the public the following day.
9/11 memorial consists of North and South Pools. Two huge square shaped pools with shallow waterfalls dropping into holes.
The museum was opened in May 2014 and includes remnants of the original twin towers, thousands of images, recordings and timelines of events.
It is a harrowing experience but it is equally an important experience.
As distressing as it is, the museum has been put together incredibly well for visitors to get a real understanding of the entire event.
We spent almost 4 hours in the 9/11 museum alone, with another 30 minutes walking around the memorial grounds with North and South Pools.
Tickets are US$ 26 per Adult and you must select a date / time of entry.

The museum is also included with New York CityPASS.
Find more information here.
7. Feel Money Being Made On Wall Street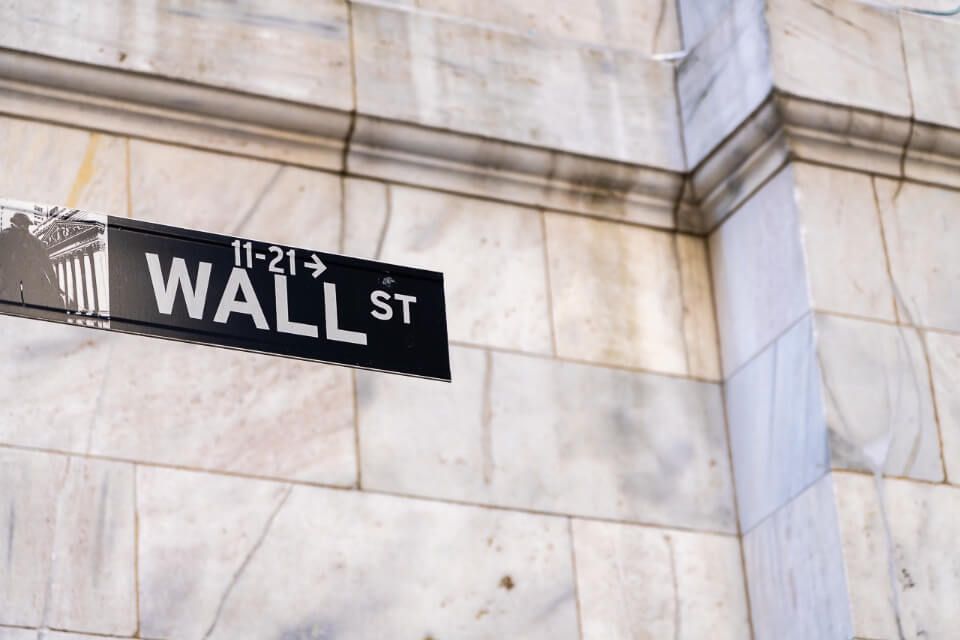 The main artery running through the world famous New York City Financial District is called Wall Street.
Wall Street is the home of two of the world's largest stock exchanges, NASDAQ and the New York Stock Exchange.
It was once a marketplace for slave trading and residences, but business boomed and NYC's entire financial industry landed on this very street.
There are two buildings you should visit along the attractive cobble stoned street:
40 Wall Street – Also known as the Trump Building. It was once the tallest building in the world and is the impressive neo gothic building with green pyramid shaped roof you can see from all over Lower Manhattan.
Federal Hall National Memorial – The building in which George Washington was famously sworn in as the first president of the United States in 1789.
8. Look Up At NYSE With The Fearless Girl Statue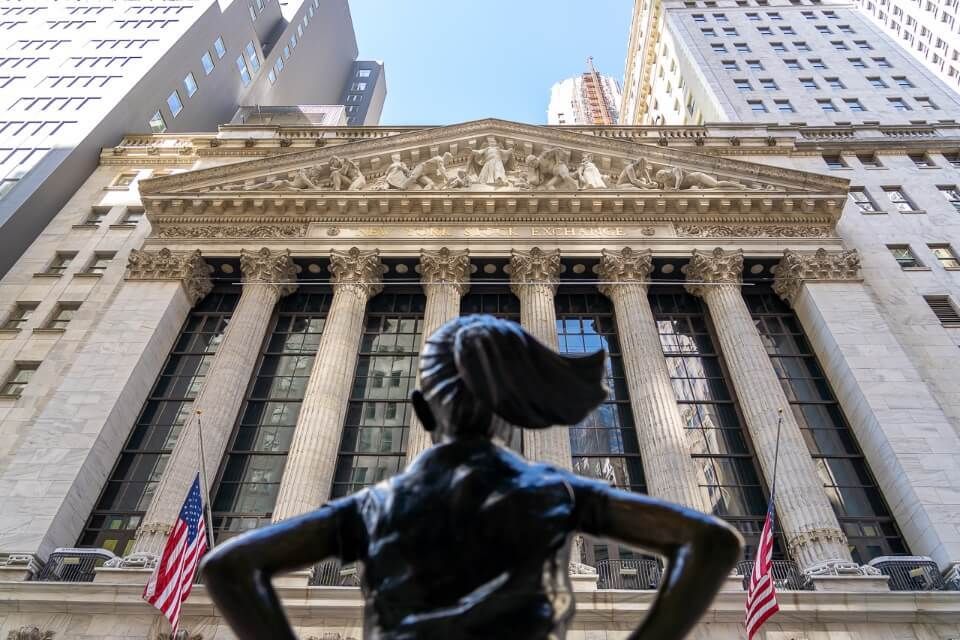 NYSE is a national historic landmark and home of the world's largest stock exchange. Money moves at an alarming rate inside this building!
Right outside is a small bronze statue of a girl looking upwards, aptly named 'fearless girl'. Don't forget to take home a photograph of yourself in the same fearless stance but expect a long line of others doing the same.
In an ironic turn of events, this statue was originally placed opposite charging bull on Bowling Green, before being moved right in front of NYSE.
9. Learn The History Of Trinity Church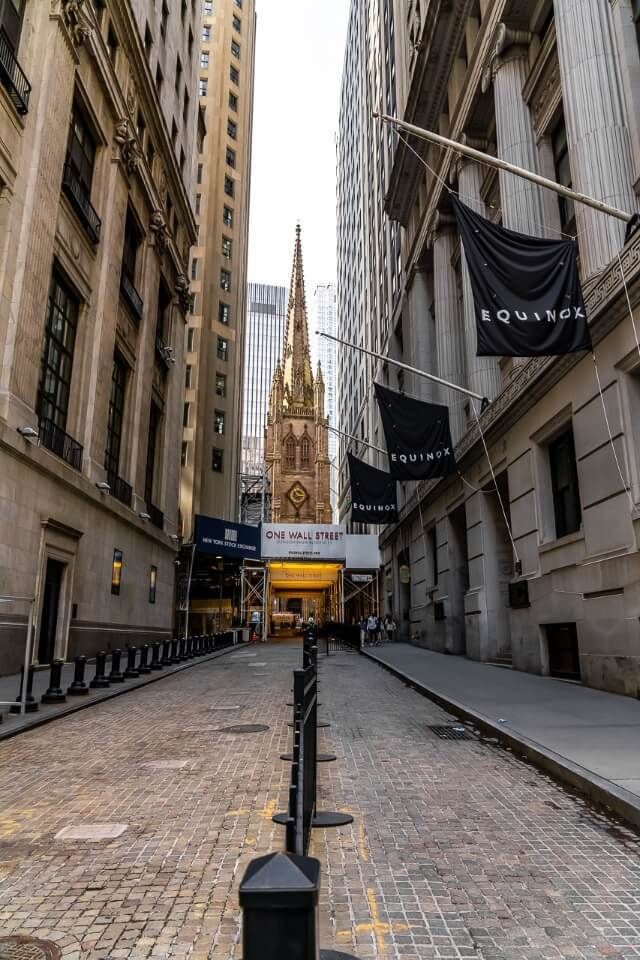 Trinity Church is the historic and stunning parish church building at the heart of Lower Manhattan's financial district.
There have been three Trinity Church buildings since 1698:
The first was rectangular and burned down in the Great Fire of New York City of 17776.

The second was taller, longer and wider but was torn down as a result of a harsh Winter in 1839.

Today you will find the third and final Trinity Church, completed in 1846.
Trinity Church can be seen from Wall Street and belongs to the same national register of historic places.
If you've seen the movie National Treasure, the treasure is located below Trinity Church – but we wouldn't recommend going on a hunt anytime soon!
Find more information about Trinity Church here.
10. Stand Atop One World Observatory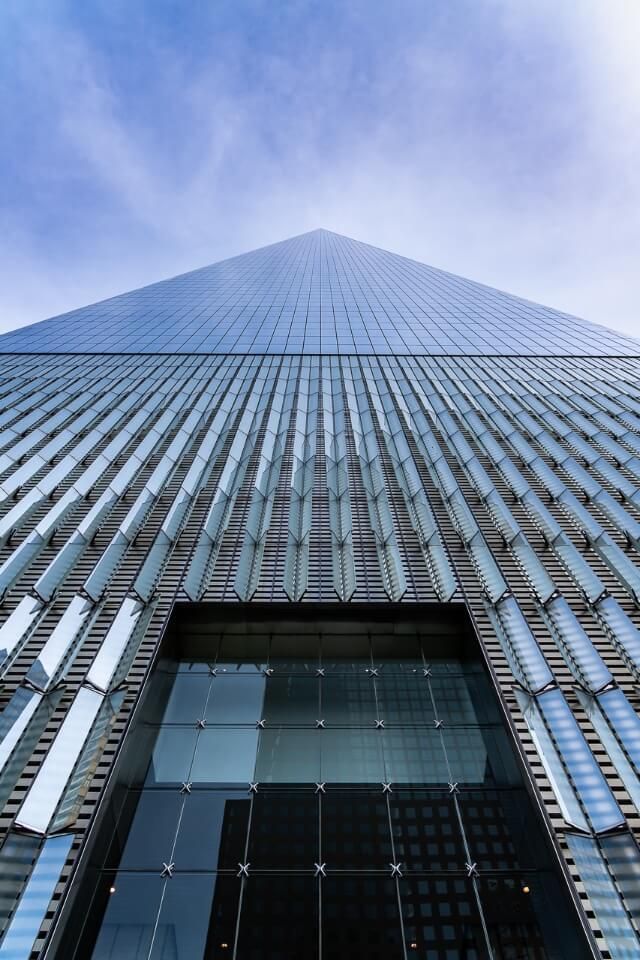 One World Trade Center is the undoubted focal point of the Lower Manhattan skyline. You will see it at every turn and attraction, unmissable as it soars high into the sky.
Also known as Freedom Tower, One World Trade Center is the main building among the rebuilt complex where the twin towers once stood. It is the sixth tallest building in the world (as of Feb 2021) and the tallest in the Western Hemisphere.
The observatory was opened in May 2015 and stands taller than all other observation decks in New York City. Yes, that includes the Empire State Building!
Remember, One World Observatory will naturally be busier in the summer months of June, July and August. Consider planning a trip to New York in April or another shoulder month to avoid crowds.
One World Observatory also offers far greater views over the Statue of Liberty and Brooklyn Bridge than its competitors in Midtown and Uptown.
Tickets begin at US$ 43 per adult.

More information can be found here.
Do you need help planning your visit to New York City?

Our popular 40 + page NYC Guidebook & Itinerary covers every aspect of planning a trip to New York including hotels, restaurants, getting around, things to do, example itineraries and so much more!
11. Explore South Street Seaport District & Museum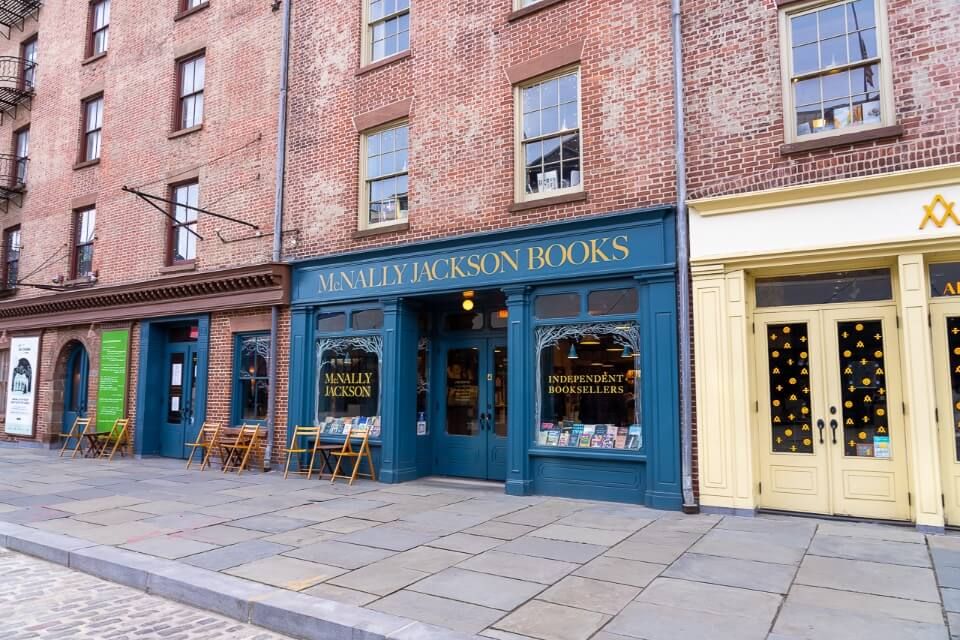 South Street Seaport played a huge role in the early development of Manhattan. The Dutch West India Company settled and developed streets known as Pearl Street, Front Street, Water Street and South Street.
Trade routes from China and Britain opened up with what became the Port of New York at South Street. Advancements in ship building methods left the port in ruins as the water was too shallow for newer ships to dock.
Today you can visit the South Street Seaport Museum. The museum consists of five ships and maritime exhibits detailing the role of the area as a major world port.
You will also find Browne & Co stationers, a letterpress printing shop and New York City's oldest continually running business.
The attractive cobblestone streets and brick buildings include shopping malls, independent stores, restaurants and bars.
However, our top recommendation for the area is to walk beyond the ships and onto Pier 17. You will find some of the best views over Brooklyn Bridge in Lower Manhattan.
12. Admire, Walk and Photograph Brooklyn Bridge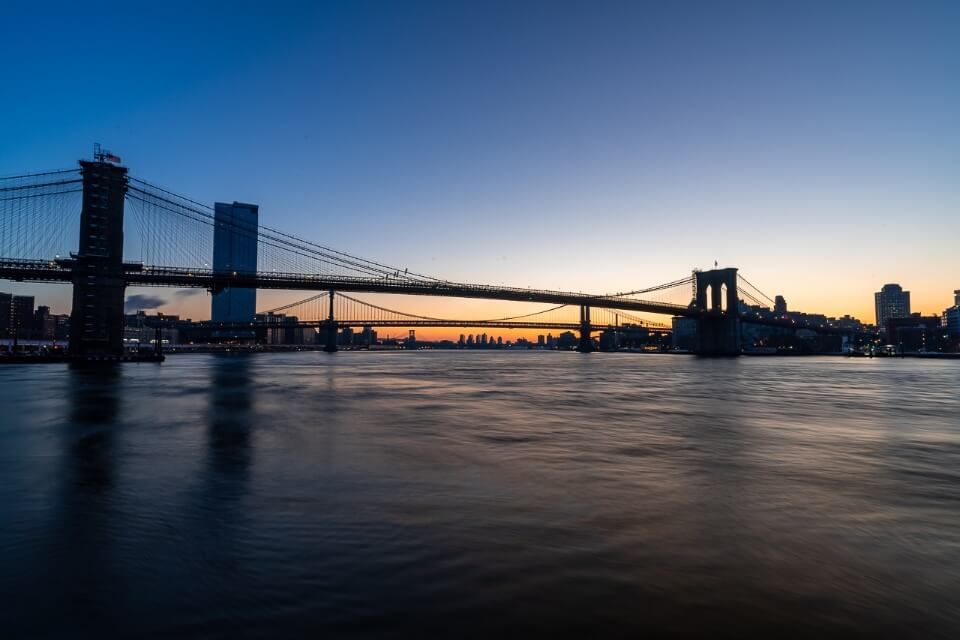 New York City's most famous bridge needs no introduction. Did you know that the Manhattan side pedestrian walkway begins in Lower Manhattan?
Right up on the northeastern edge of Lower Manhattan's financial district next to City Hall, you will find the entrance (or exit) to one of the best things to do in NYC – a walk over the Brooklyn Bridge.
However, as we mentioned above, Pier 17 is a fantastic place to view the bridge and particularly at sunrise.
Our advice is to wake up early, head to Pier 17, watch as the sky and buildings illuminate with beautiful oranges and reds under intense sunlight, and then walk over the bridge to Brooklyn.
Photography opportunities are fantastic and we found ourselves gravitating towards the bridge on far too many occasions!
The bridge is always open and always free.
Read more about Brooklyn Bridge in our two in depth articles:
13. Relax In The Elevated Acre 'Gardens'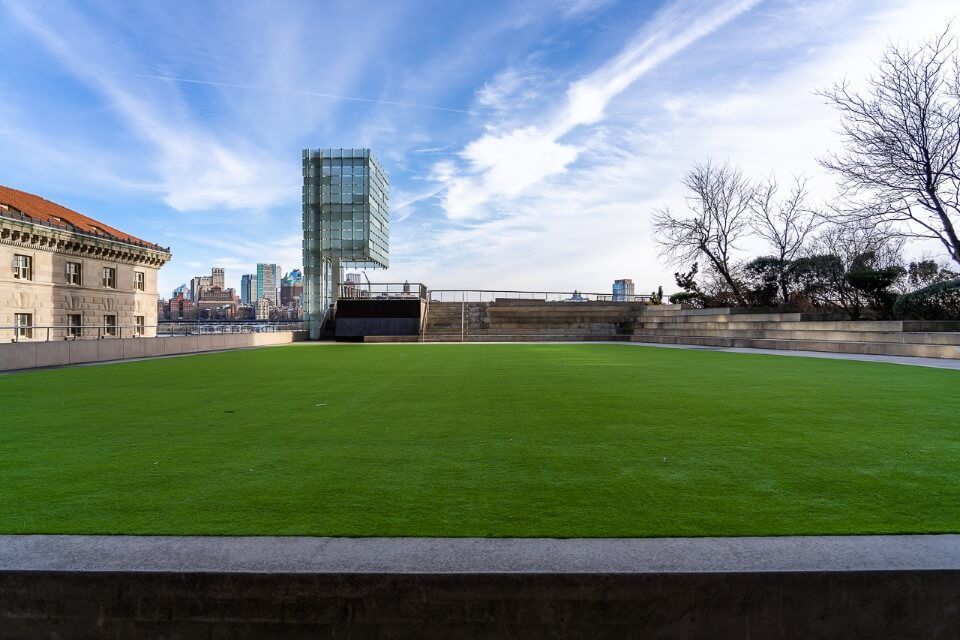 Manhattan has a host of 'off the beaten path' gems that most first time visitors to the city won't find. Elevated Acre is one of those hidden gems.
Elevated acre is an urban garden oasis located above street level nestled among the hustle and bustle of the Financial District.
Seasonal beer garden with tables and chairs, plus gardens with flowers in bloom make this the perfect stop if visiting NYC in Spring and Summer.
You can access the garden for free anytime by climbing a set of stairs near the intersection of Water Street and Old Slip.
14. Take A Free Ferry To Staten Island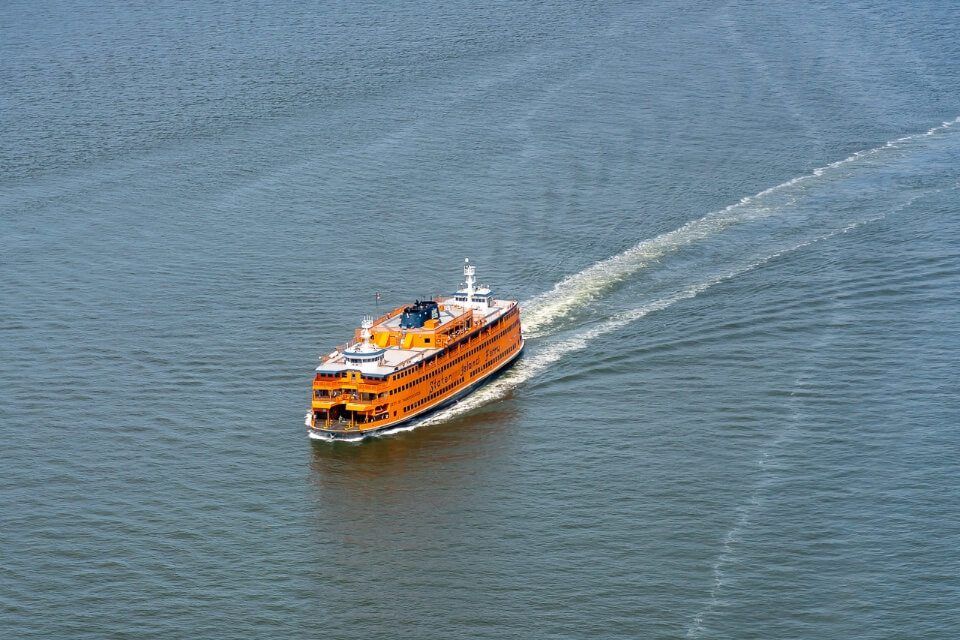 As you walk around Battery Park and along the waterfront you will notice enormous orange ferries out in the bay. That is the Staten Island ferry – and it's free to hop on any time of day.
Many first time visitors to New York take the free Staten Island ferry to get close up views over the Statue of Liberty without having to pay. It's a great idea if you're traveling on a frugal budget but it's nothing like taking the tour of Liberty Island.
What do you do once you arrive in the southernmost of NYC's 5 boroughs?
Well, you can explore the Staten Island zoo, Snug Harbor cultural center and botanical garden, Fort Wadsworth, Staten Island children's museum and the Franklin D Roosevelt boardwalk and beach.
With just a few days in NYC we wouldn't recommend visiting Staten Island, there's just too much else to see and do. But if you have a week in the city, you can afford to spare a half day here.
Staten Island Ferry leaves from South Ferry red subway line terminal. You can't miss the building with enormous letters out front.
15. Or Take A Cheap Ferry To Governors Island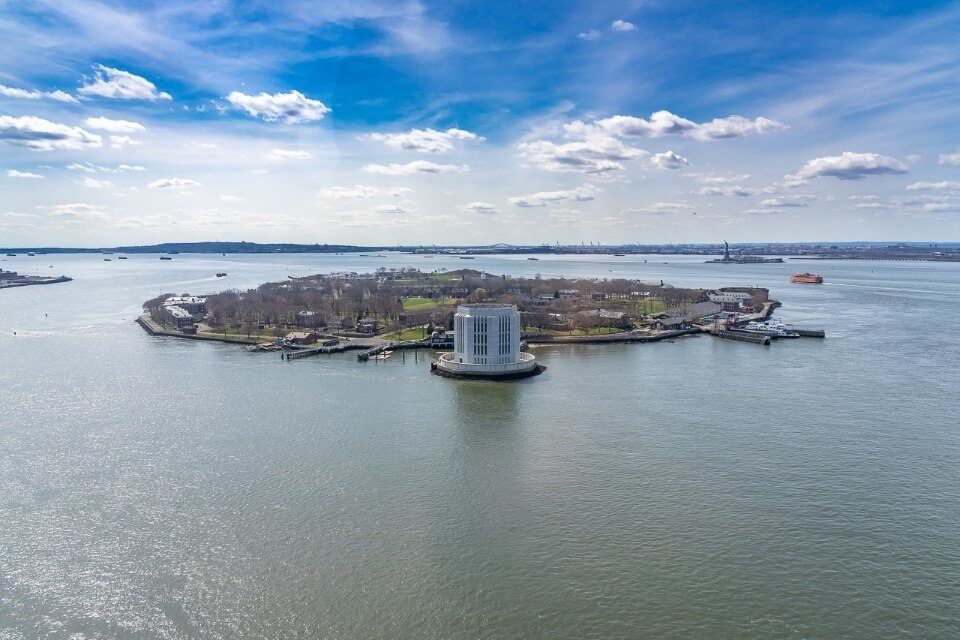 A much simpler and less time consuming option if you want to take a short ferry ride is to visit Governors Island.
Governors Island is basically a huge floating green park space perfect for use in warmer months. Free public arts and cultural events take place on the island.
It was once a military installation, dating back to 1776 during the revolutionary war. The US army and coastguard have both used Governors Island for training and it was ultimately opened to the public in 2005.
You can walk around historic buildings such as Castle Williams and Fort Jay, or just enjoy the relaxing gardens.
Governors Island ferry leaves Lower Manhattan from Battery Maritime Building Slip 5 (next to Staten Island Ferry).
Tickets are US$ 3 return.

Find more information here.
16. See NYC From Above On A Luxury Helicopter Tour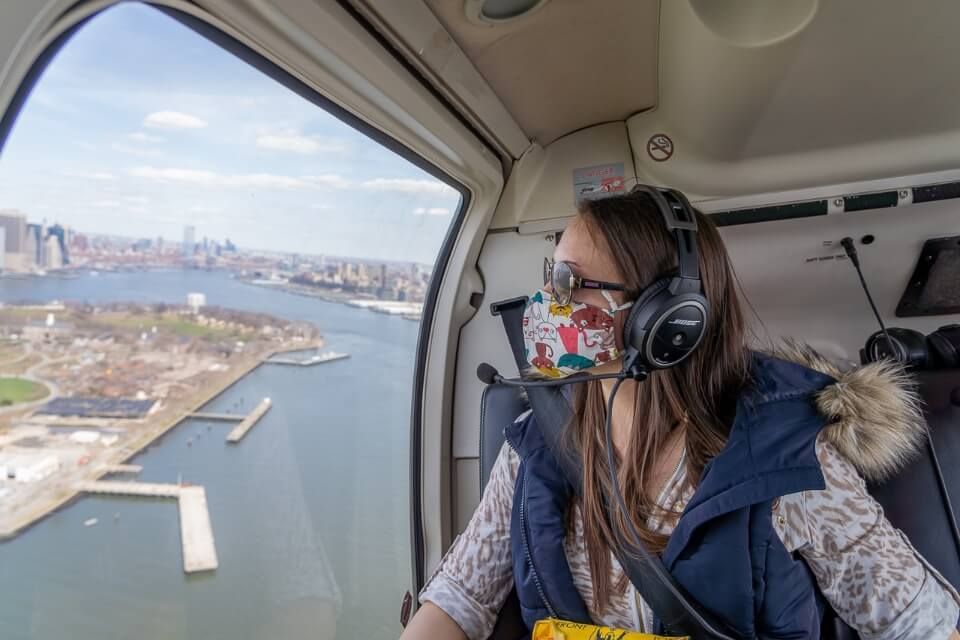 Are you visiting New York City with a healthy budget and looking to treat yourself to a luxury experience? Why not jump in a chopper and take to the skies!
The iconic Manhattan skyline is extraordinary from above. A sunset helicopter ride could be the perfect romantic splurge for a couple to soak up the best of NYC.
Plenty of options are available but we can highly recommend HeliNY as a fantastic NYC helicopter tour experience. You can choose between three flight paths with various price brackets and flight times.
HeliNY flies out of Pier 6 at Manhattan Helicopters / Helicopter Flight Services.

More information about routes and prices here.
17. Chill On Pier 15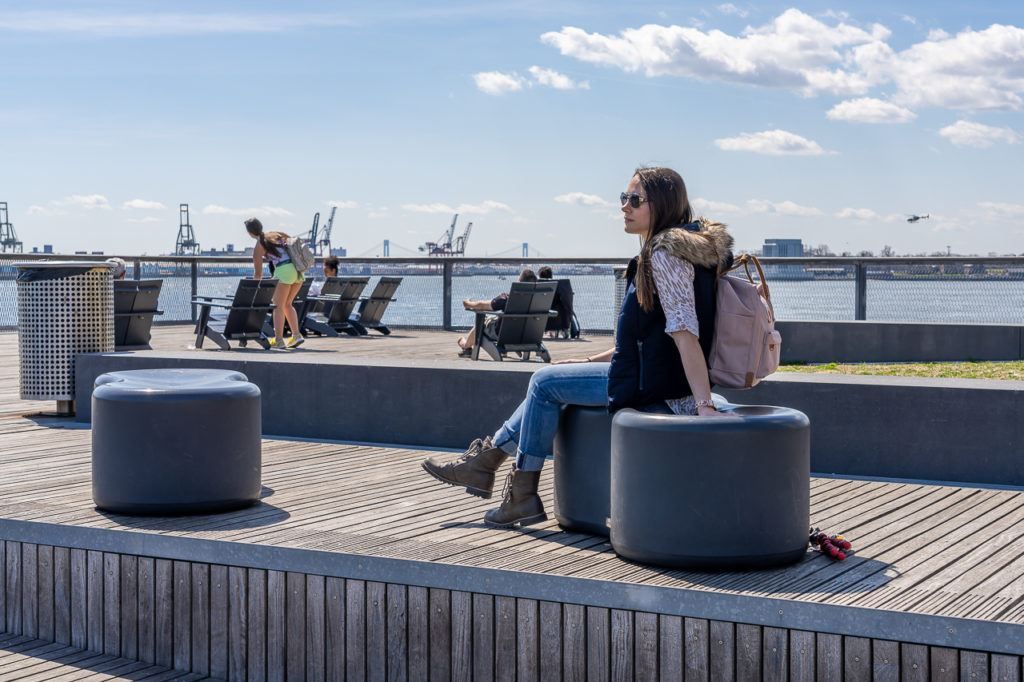 Had enough of endless walking and sightseeing? Whenever you need to stop and drop into a seat with a view, head to the upper deck of Pier 15.
Pier 15 is a two-tiered public terrace overlooking the East River, Brooklyn and Brooklyn Bridge.
It has plenty of seats available for those in need of a breather and even has music blasting up from below to create a chilled, relaxing pool-side vibe.
18. Go On A Hornblower Sightseeing Cruise Or Booze Cruise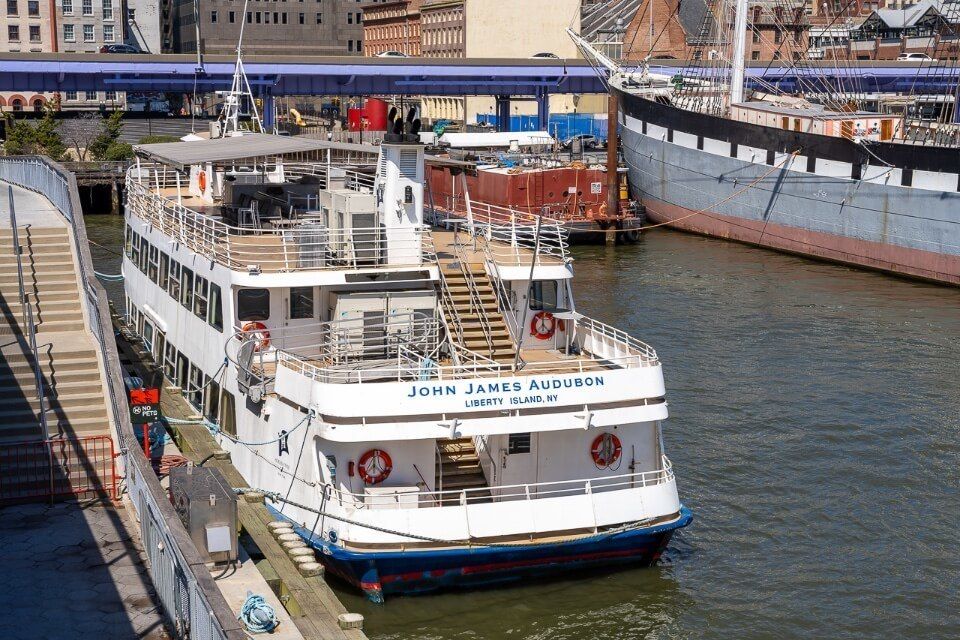 Take a one hour See NYC sightseeing cruise to see the Statue of Liberty, Brooklyn Bridge and many of New York's famous landmarks from the water.
The cruise offers a different perspective over Lower Manhattan's skyline and includes live onboard narration.
If you're looking for a party, you can choose the New York Alive After Five cruise or even New York Rock the Yacht cruise. Watch Manhattan light up from a boozy boat out in the bay!
Hornblower Cruises (now known as City Cruises) operate out of Pier 15.

Find more information about tickets here.
Top-tip: Hornblower 'See NYC' and 'Alive After Five' cruises are included with the awesome New York CityPASS. Take a look at the CityPASS website to see if you can save on NYC's best attractions.
Where To Eat In Lower Manhattan
The financial district might not be the first place you think of in NYC for top places to eat. But it is full of hidden gems spanning the travel budget range.
We have three awesome recommendations for you to check out when venturing down into Lower Manhattan:
Breakfast and Lunch in Lower Manhattan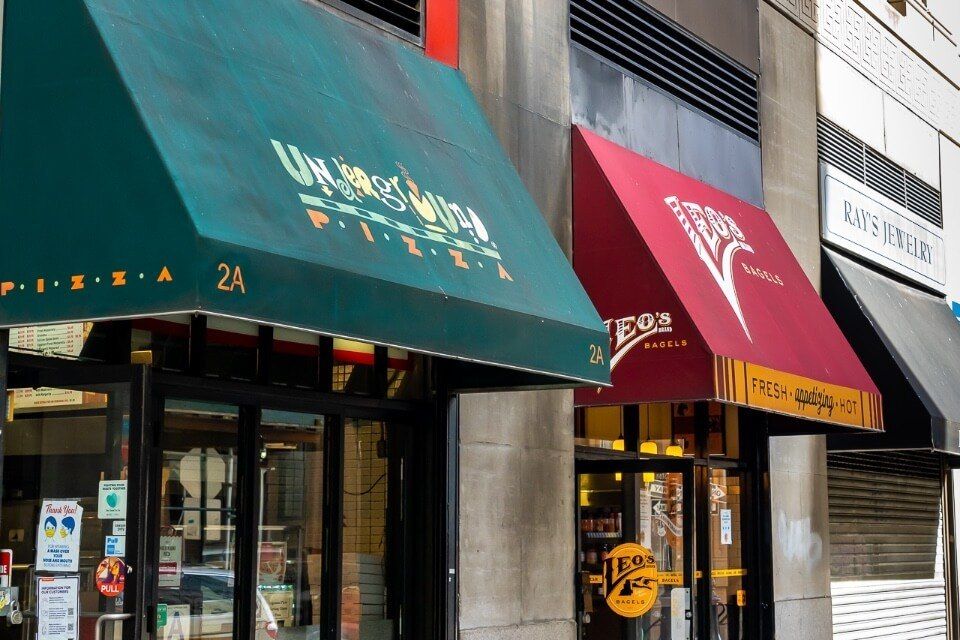 Conveniently located next to one another on the corner of William Street and Beaver Street (not far from Wall Street), you will find the perfect breakfast and lunch options for a traditional New York visit.
Breakfast – Leo's Bagels
Bagels are something of a New York specialty and in Leo's you have the perfect Lower Manhattan bagel breakfast. The line is always long here so arrive early to beat the hungry finance workers!
Lunch – Underground Pizza
Exactly the experience you want from a traditional New York City pizza place. Super friendly owners and staff, great pizza in a hidden gem hole-in-the-wall type joint, no frills and by the slice.
Read our roundup of the 22 best pizza places in NYC for more info on a classic New York staple.
Underground Pizza is the perfect refueling spot on your Lower Manhattan itinerary.
Restaurant for Dinner in Lower Manhattan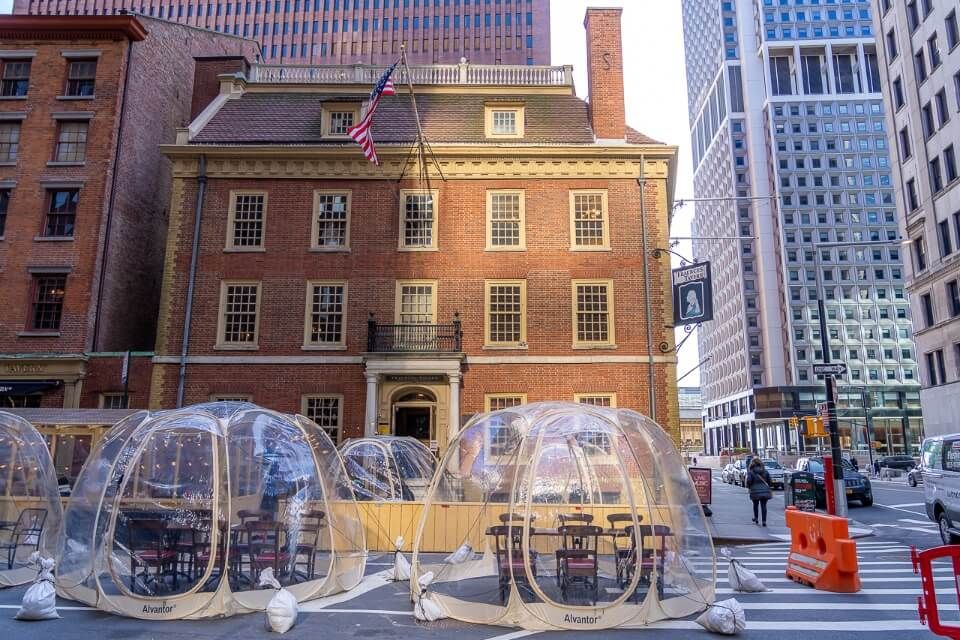 Dinner is a tough one to call with so many options. There are loads of waterfront outdoor seating restaurants near Pier 15 perfect for Summer.
With that said, we have one recommendation if you're looking for great pub food in a historic building.
Dinner – Fraunces Tavern
Fraunces Tavern is one of the oldest buildings still standing in NYC today. Most of the structure was reconstructed in 1907 but some elements remain from the 1719 original.
It is known as the site where George Washington rounded up his officers in 1783 to thank them for their service fighting in the American Revolutionary War.
Classic 'pub grub' and a huge selection of craft beers are the perfect way to end an action packed day of sightseeing in Lower Manhattan.
Check out their website to see current menus and craft beers – Fraunces Tavern.
Where To Stay In New York City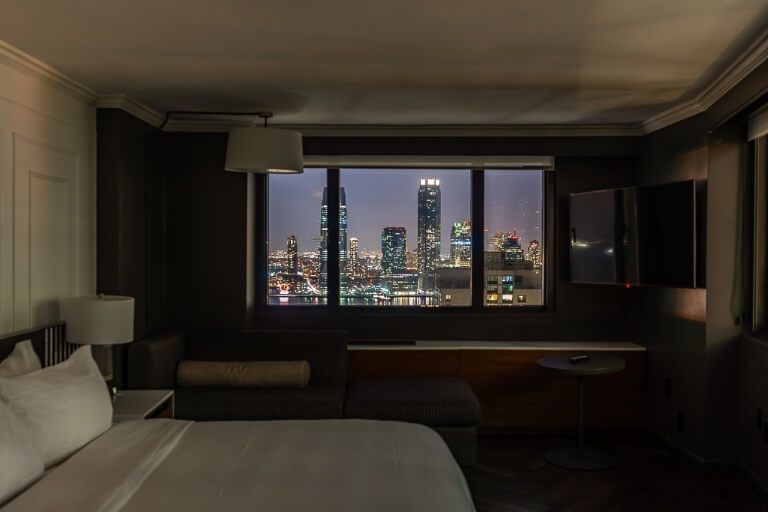 With so many hotels and neighborhoods to choose between, picking the best place to stay in NYC can be a real challenge.
Most visitors to New York tend to stay around Times Square and Midtown Manhattan for central location and better value rooms.
Our extremely popular where to stay in New York City guide covers the six major neighborhoods visitors should consider. We also list the top rated hotels within each area.
Alternatively, you can take a closer look at the top rated cheap, mid range and luxury Downtown NYC hotels in our guide to the 12 best hotels in Lower Manhattan on our sister site.
But in the meantime, here are the hotels we see most visitors to our site booking in NYC:
New York City is one of the all time best places to visit in the US. We think Lower Manhattan is hugely underrated. Spend half a day wandering around the downtown areas and escape the Midtown crowds.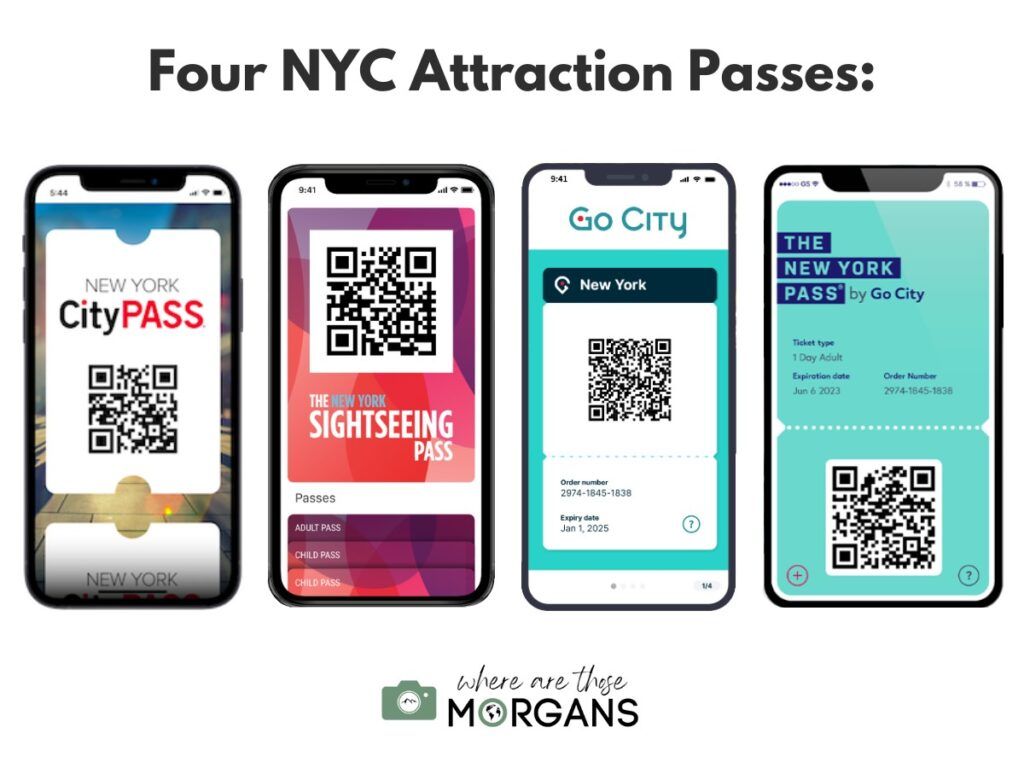 New York City Attraction Passes
If you are planning to visit the top attractions in New York, we recommend you purchase a New York City attraction pass.
The idea is simple with these attractions passes; the more attractions you visit, the more money you will save.
Having used the NYC attraction passes ourselves when we lived in New York, we recommend the New York Sightseeing Pass because its extremely easy to use while offering both flexibility and big savings.
Many of the attractions in Lower manhattan are included on the NY Sightseeing Pass and we have an exclusive 10% discount just for our readers.
Want To Save Money In NYC?
Use the button below to claim 10% off any NY Sightseeing Pass.
You can also read our guides below to help decide which is the perfect pass for your visit to New York:
Travel Tip: If you have a New York attractions pass, you will not have to pay the extra fee for a sunset time slot at the any of the NYC observation decks when you reserve your timed entry ticket online.
Need Help Planning Your Visit To New York City?
NYC is a vacation planning beast. It can be extremely overwhelming trying to get every aspect right. Trust us, we know!
After living in New York City, we created a comprehensive NYC travel guidebook that will answer every question you have about where to stay, what to do, where to eat and how to get around the city.
Click see details below to read more about how we can help you plan your dream trip to New York City!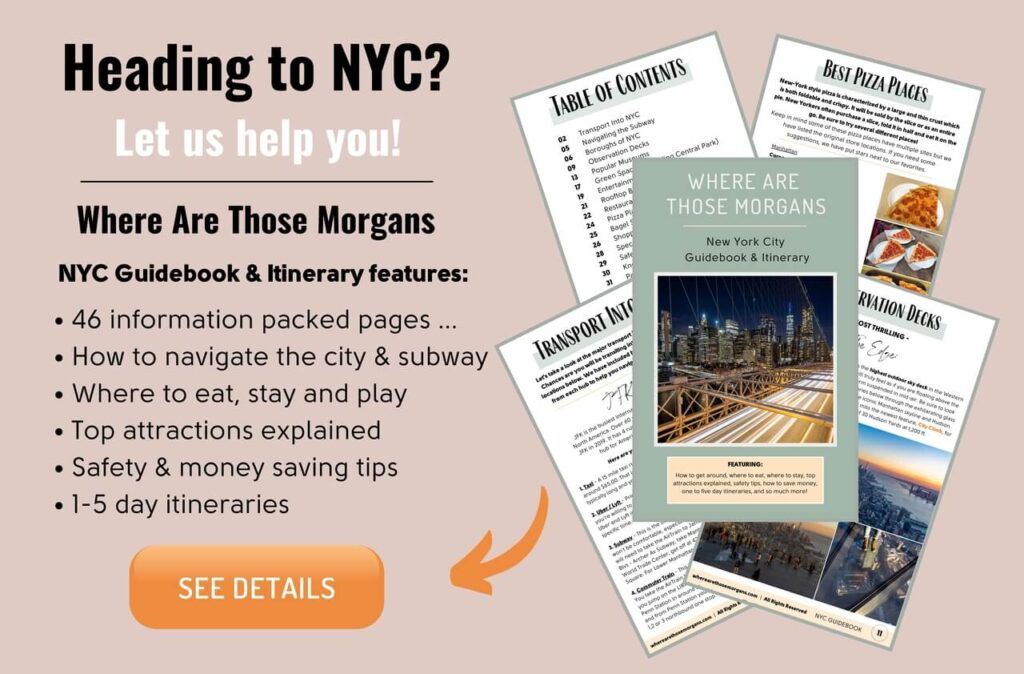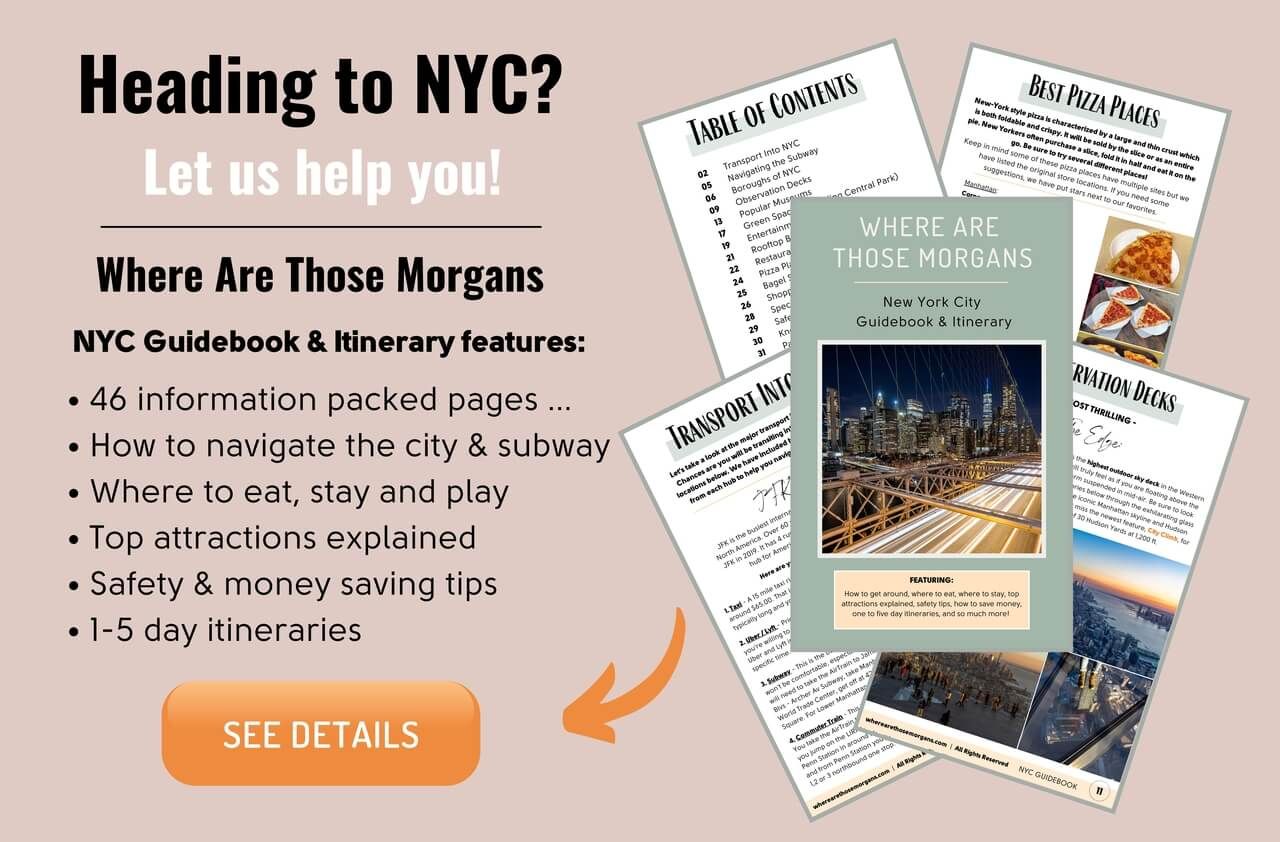 Our Popular NYC Guides
Best Of New York City
Want more New York City content? Head to our New York Travel Guides to explore more from the Big Apple as well as beautiful upstate NY.
---
We hope this guide to the best things to do in Lower Manhattan helps with planning your visit to NYC!
Please let us know if you have any questions about Lower Manhattan or New York City in the comments below.
Happy Travels,
Mark and Kristen
Enjoy This Guide? Pin It For Later!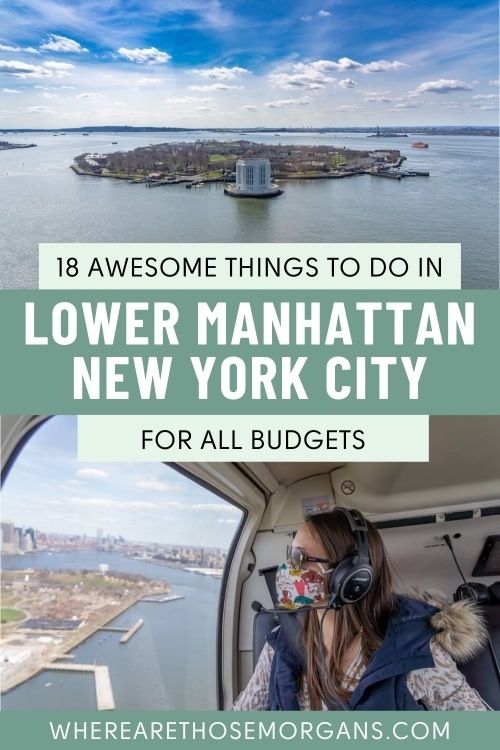 Note: This article contains affiliate links. When you make a purchase using one of these affiliate links, we may earn a small commission at no extra cost to you.
All Rights Reserved © Where Are Those Morgans, LLC. Republishing this article and/or any of its contents (text, photography, maps, graphics, etc.) in whole or in part is strictly prohibited.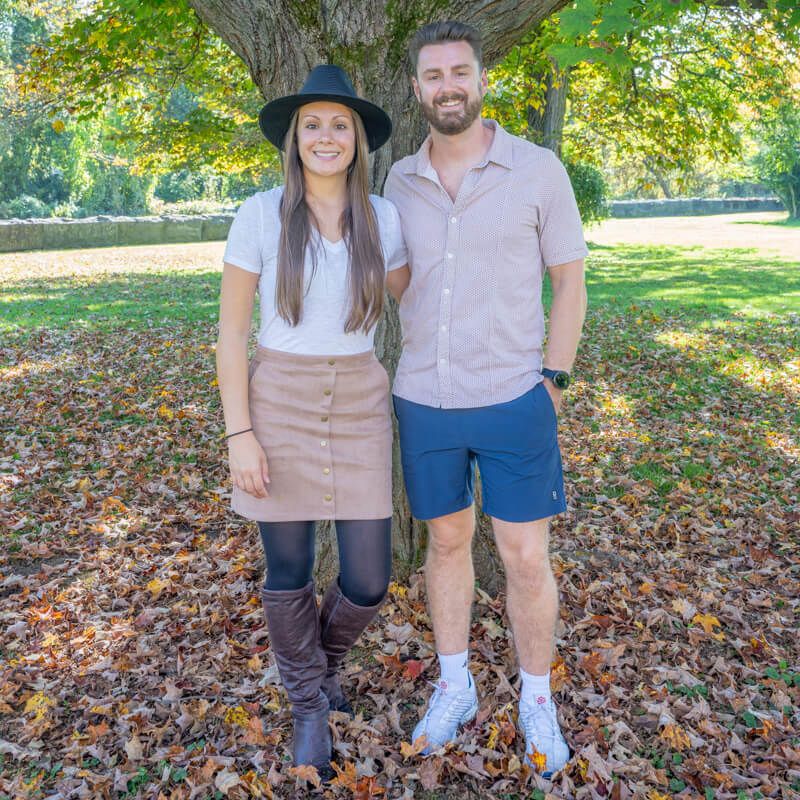 Mark and Kristen Morgan are travel, hiking and photography experts. Over the last 6 years traveling full time, they have explored more than 40 countries and 30 US states.
Their work has been featured in USA Today, Gestalten, Get Your Guide, CityPASS and Condé Nast Traveler along with various other publications.