We believe the Misshattan X Backloader camera backpack is a great addition to the HEX backpack line. And if you love New York City, this backpack would make the perfect camera bag for you.
As professional travel bloggers and photographers, our gear is everything to us. We understand the need to have dependable gear in order to capture the best photos and videos when on location.
But what makes the Misshattan HEX Backpack a good contender for your photography needs?
This is exactly what we will cover in this guide, including:
Who is the HEX brand?
Our Misshattan Backpack review
Backpack features with detailed descriptions
Information about the HEX warranty
Pros and cons to why you should consider a HEX Backpack
Now, let's shop for a new HEX Backpack!
*Please note this post may contain affiliate links. If you click on one, we may earn a small commission at no extra cost to you. Thank you for supporting the free content we provide! Read more in our disclosure policy.*
Disclaimer: We received the Misshattan X Backloader DSLR Backpack in order to share our opinion about this product but this is not a sponsored post.
HEX, The Brand
The two creators of HEX have strong roots in art, music and fashion which is woven into every single HEX product. Their goal is to equip the next generation of creators with everything they need.
Personally, we like HEX products because of this reason. We found their photography products to be exactly what we need when on a trip or photo shoot.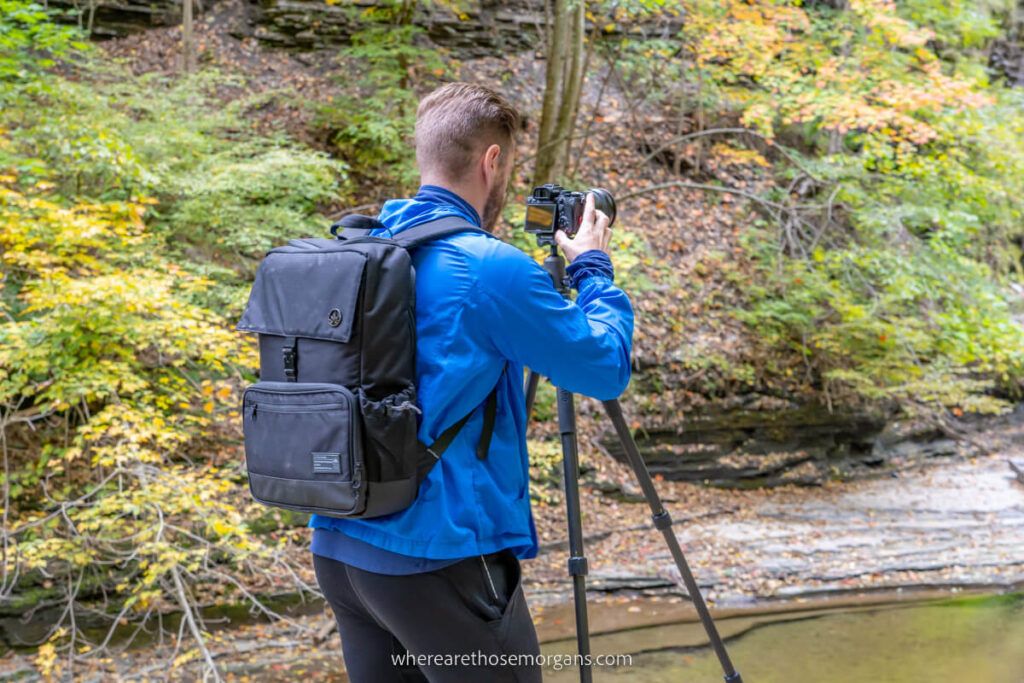 Further Reading: Complete review for the eco-friendly Monarc Settra Duffel Backpack.
HEX Product Overview
Depending on your needs, HEX offers many different products in the form of backpacks, slings, crossbody bags, waist packs, duffels and much more.
But HEX also takes it a step further with their various styles and fabrics featuring anti-microbial technology to actively repel bacteria, mold and fungus.
Here is a quick overview of the products you can expect:
Backpacks – HEX backpacks are available in several different colors and styles with special designs featuring various creators.
Crossbody Bag – This is a good bag for everyday use because it packs a lot into such a small area. In addition to the main compartment, there is also a front and back pocket.
Duffels – Each duffel has a specious storage compartment with two zippered pockets featuring water resistant fabric.
Slings – These are a popular option for a mirrorless camera or smaller DSLR essentials. Use this sling when you only need a few items instead of carrying around an entire backpack.
Waist Packs – Great for a weekend away or a short trip to carry all of your essentials in one place.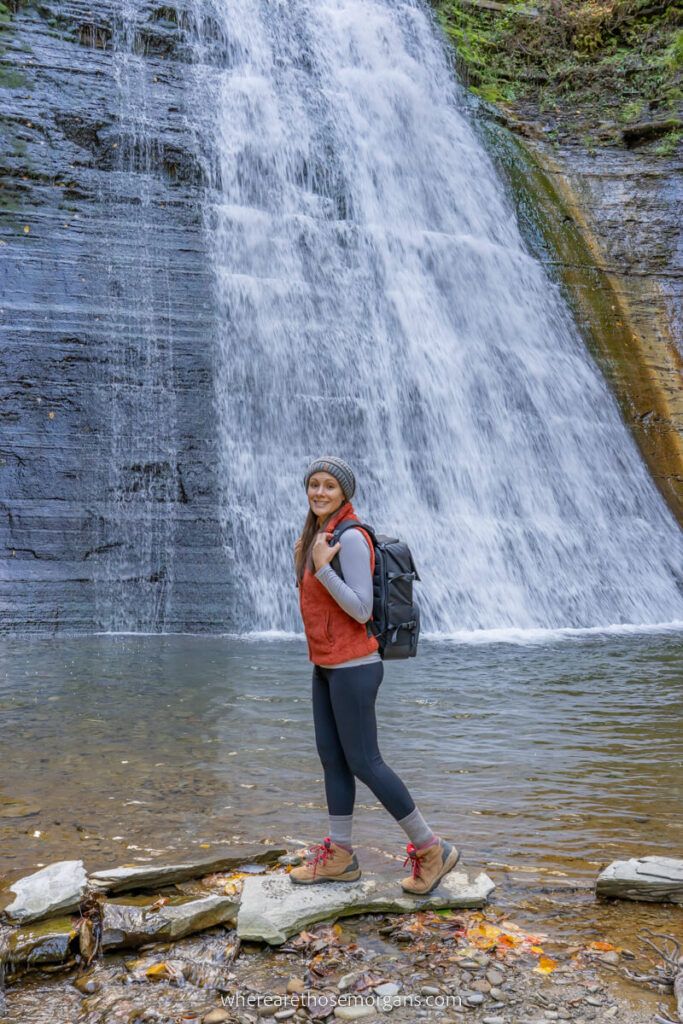 Misshattan HEX Backpack Review
This review will discuss the Misshattan X Backloader DSLR Backpack, but we encourage you to have a look around on the HEX website after reading this review to see other great products.
Our first thought when we received the Misshattan backpack was that we loved the design straight out of the box. We appreciated the cool sleep look this backpack offered.
Since we travel all the time, our gear takes a beating. We think darker colors hide the wear and tear much better compared to the lighter colored products. This black backpack is just what we needed.
But what really stood out to us was the large amount of photography gear this bag could hold.
We are avid users of the Peak Design Everyday Backpack, but sometimes this backpack does not hold all of our cameras, lenses, drones and batteries needed for a trip.
Sometimes we just need more space.
So instantly, we noticed how the Misshattan backpack could hold much more of what we needed on those special occasions.
HEX Misshattan Backpack Technical Specifications
Volume: 20L
Weight: 3.25 lbs.
Material: Water resistant Cordura®
Laptop Pocket: Fits up to 15″ or smaller laptops
Overall Dimensions:
18.5″ H x 12.0″ W x 5.5″ D
Further Reading: Osprey Farpoint 40, the perfect travel backpack.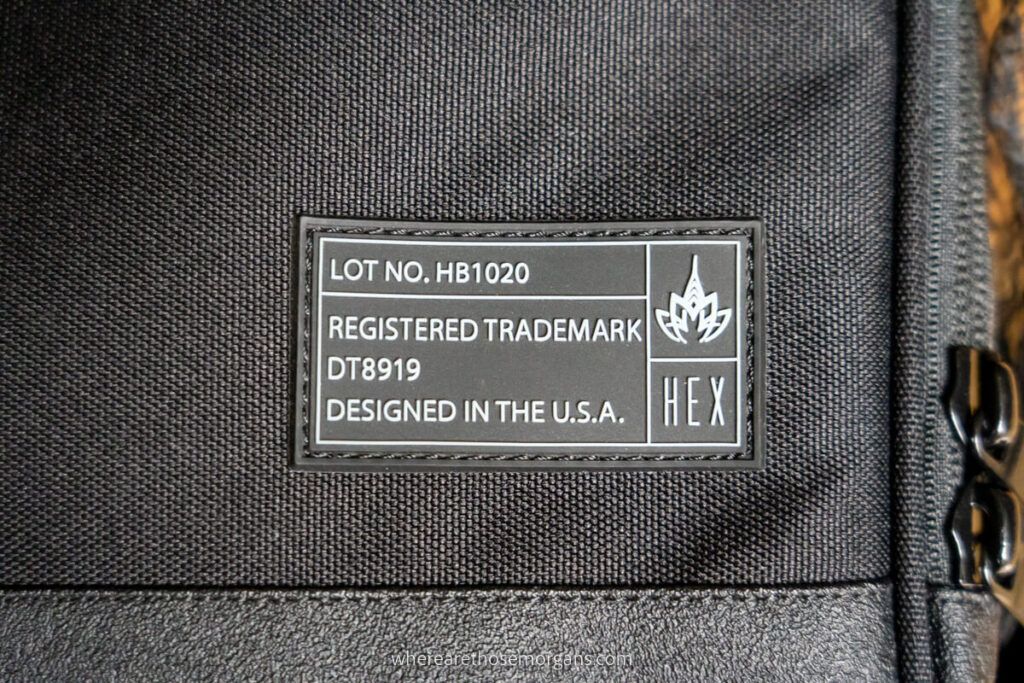 Misshattan Backpack Features
There are a few features which makes this backpack standout among other photography backpacks. In the next few paragraphs, we will specifically discuss each one in detail.
1). Backloading Capabilities
This backpack is unique because it is a backloading bag. Unlike many other camera backpacks, the main compartment is at the very back of the bag. Once closed, this compartment rests against your back as you carry the bag.
This backloading style may take some getting used to at first, but it is a comfortable fit overall.
Another positive quality about this particular style is that it helps to make you feel like your cameras are secure from falling and / or theft. There is no question your gear is safe and sound.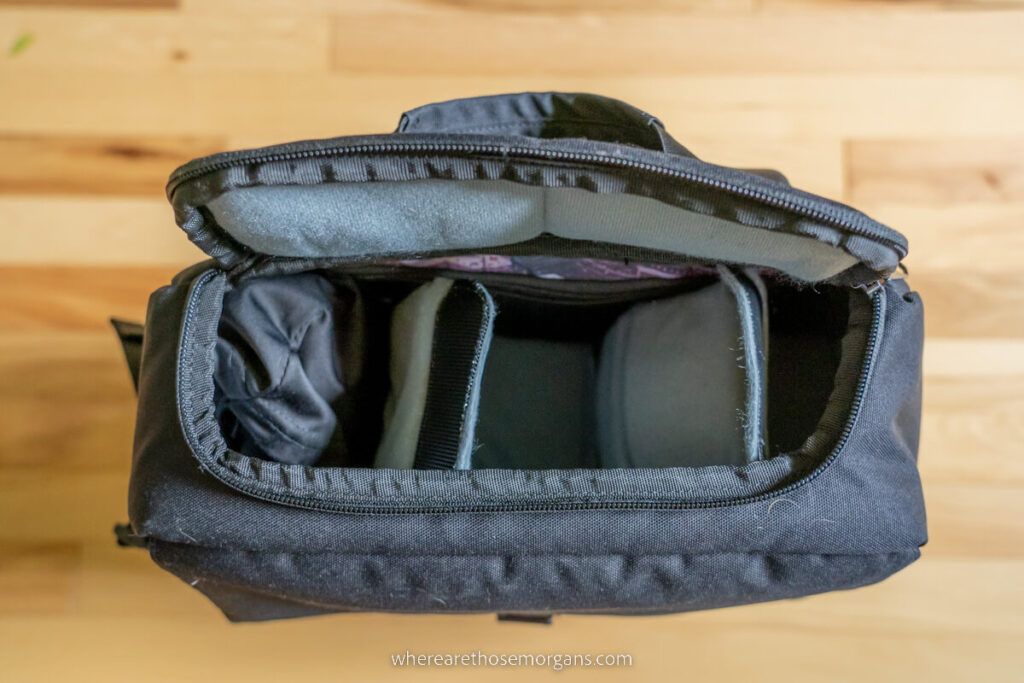 2). Easy Access Compartment
While the backloading style secures the bag nicely on your back, HEX have thought of everything because what about those times when you need to access your gear quickly?
The solution here is the small easy access zipper at the top of the bag where you can grab the top camera and lens if needed in just seconds.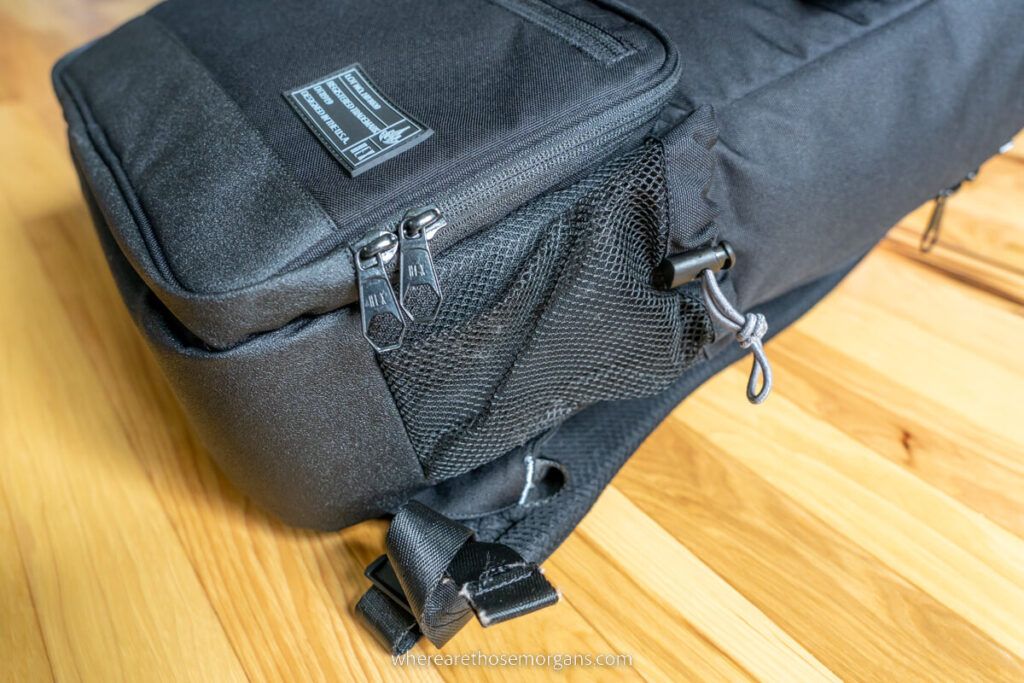 3). Durable Fabrics
This HEX backpack is made with water resistant genuine Cordura® and you can easily tell the materials are high-quality throughout the entire bag. We used the bag in a light rain and it certainly held up well.
Another highlight is the back of the bag featuring the "air mesh back" creating an a comfortable seal as the backpack sits along your entire back side.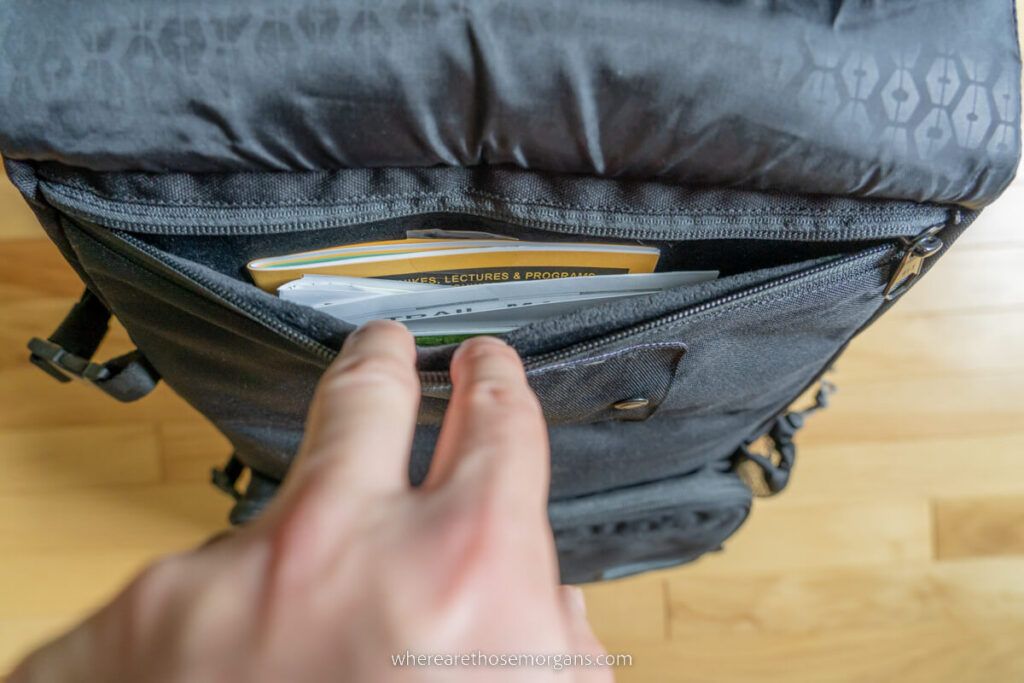 4). 15″ Laptop Pocket
The laptop pocket is lined with a faux fur and is extremely soft to the touch. There is a premium metal buckle on front flap to secure your laptop in place.
But we also like to use this laptop sleeve for document storage during a trip or shoot.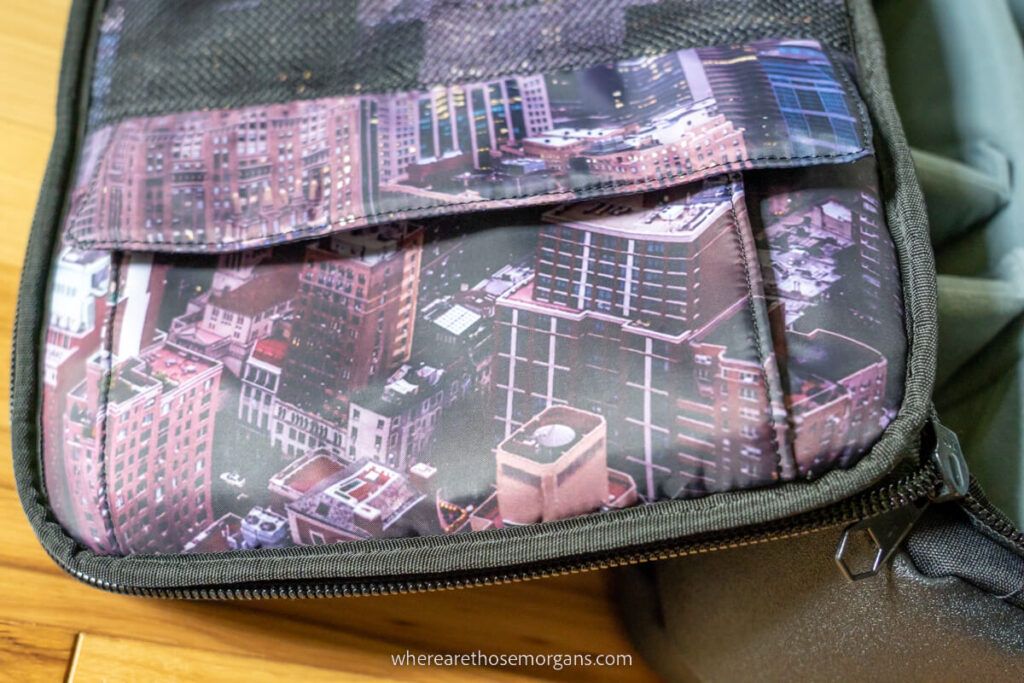 5). NYC Interior Lining
For those who love NYC, the interior lining is a custom Misshattan photograph print. This is a stand out feature and the same photo can also found on the hidden away rain fly.
The New York City photo featured on this backpack is a continuing partnership with influencer and photographer Natalie Amrossi, aka Misshattan. However, this DSLR backpack is also available in many additional colors.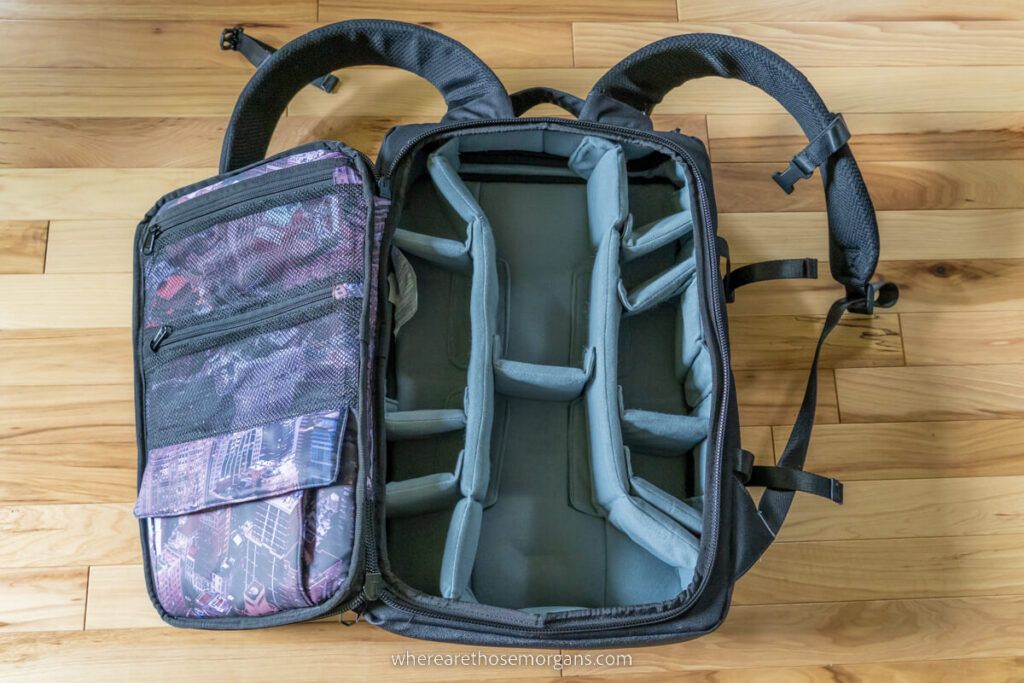 6). Adjustable Interior Dividers
This feature is one of our all time favorites because we can change the entire set up of the main compartment depending on our needs for different trips.
We can easily fit our two full frame mirrorless cameras with several lenses along with our DJI Drone.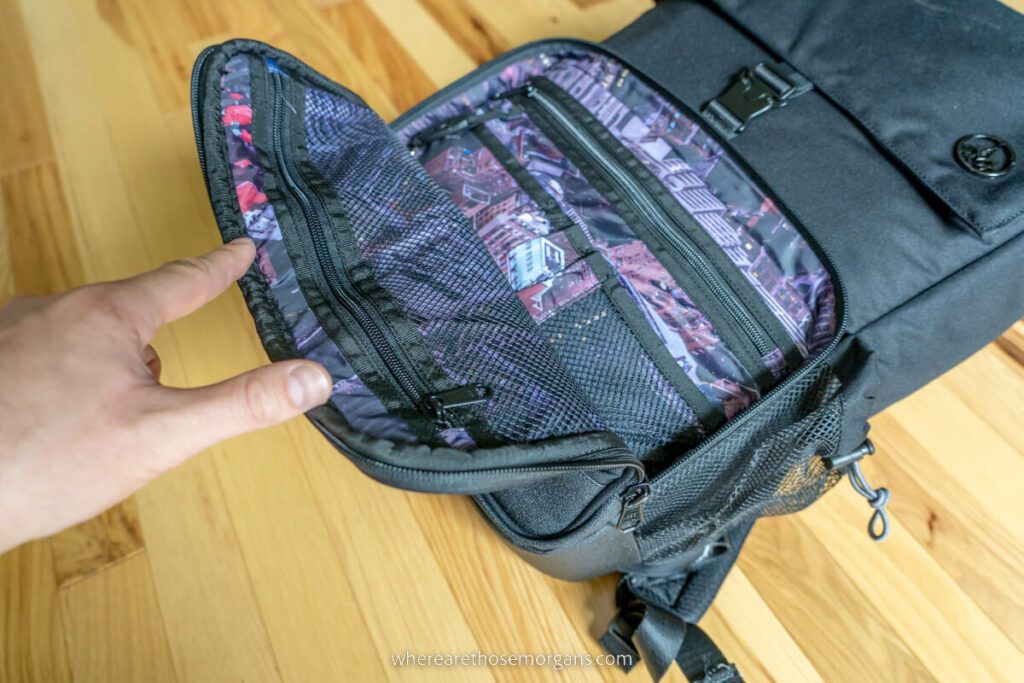 7). Extra Features
The Misshattan also includes extra room for important photography accessories such as a rain cover, a water bottle holder, side tripod straps and an exterior tablet or phone pocket.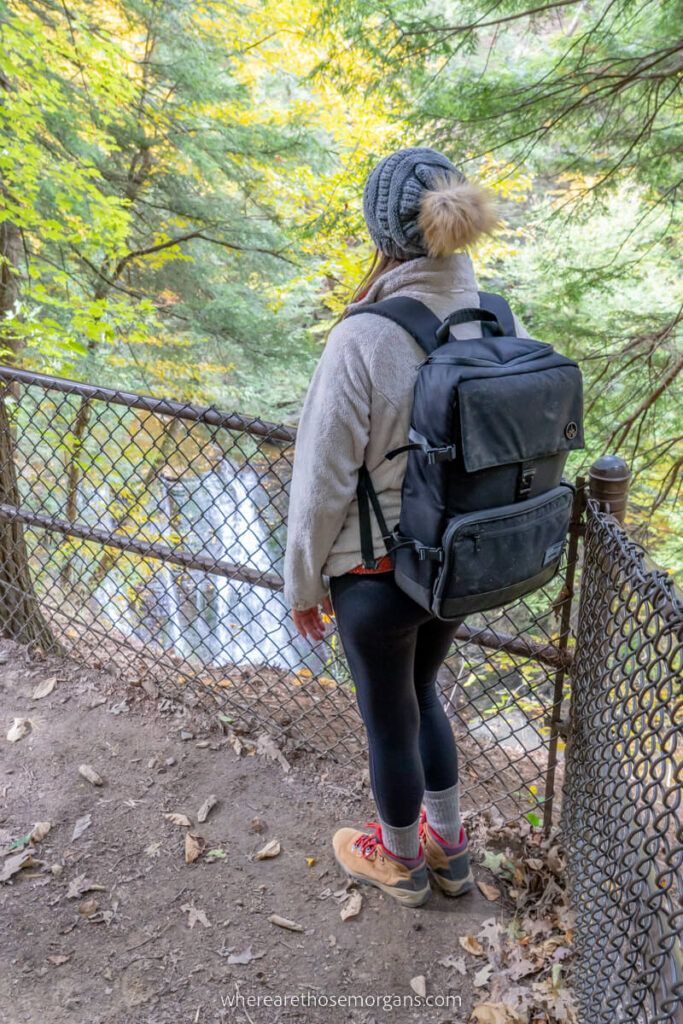 Further Reading: Everything you need to know about Level8 suitcases.
HEX Brand Warranty
The good news is HEX backs their brand against manufacturing defects and workmanship for a one year after date of original purchase. Products will be replaced with a valid proof of purchase.
You can read more about the HEX warranty here.
Final Thoughts With Pros And Cons
Overall, we love our Misshattan Camera Backpack and plan to bring this bag on shoots when we need to bring every piece of our gear.
We found the backpack to be super comfortable and have even used it during some shorter hikes.
Here are a few reasons why you should consider the Misshattan Backpack:
Pros For The Misshattan HEX Backpack
High quality and durable materials
Backloading capabilities make gear feel secure when on back
Fully adjustable interior dividers
Easy access compartment at the top of the bag
Sleek looking exterior with fun NYC print on the interior
And here are a few reasons why the Misshattan Backpack may not be the best option for you:
Cons For The Misshattan HEX Backpack
Backloading style can take some time to get used too
HEX products can be expensive
Laptop pocket is limited at 15″ computer
>> Buy Misshattan HEX Backpack: Official HEX Website | Amazon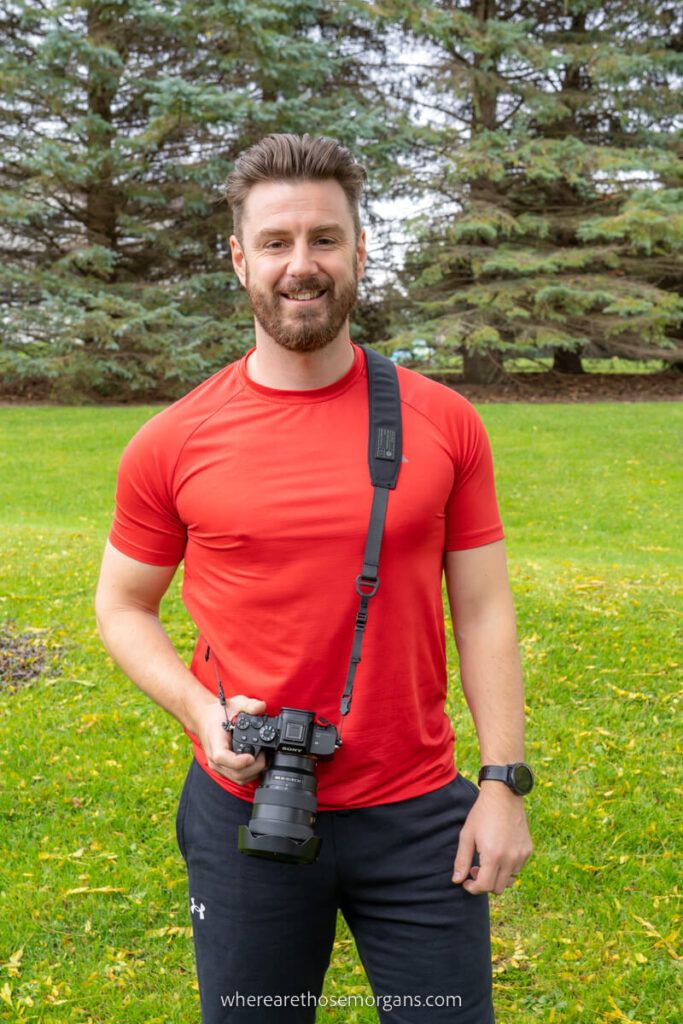 Additional Hex Products
Maybe you don't need a new camera backpack, but you want a new duffel?
Great, because HEX will have you covered there too.
Head on over to the HEX website and shop around for yourself.
>> Shop HEX: Official HEX website | Amazon
Our Popular Reviews
Our Popular Travel Planning Guides
---
We hope this review for the Misshattan HEX Backpack helps you find your next travel backpack!
Please let us know if you have any questions about HEX or travel planning in the comments below.
Happy Packing,
Mark and Kristen
Was This Post Helpful? Pin It For Your Trip!