Monkey Rock trail is a lesser known moderately difficult hike leading to spectacular views over Lake Tahoe. We are going to show you exactly how to hike the Monkey Rock trail, including where to park, what to expect and how to find the monkey shaped rock formation at the summit.
Is Monkey Rock worth it?
Yes! Monkey Rock is so much more than just a fun rock formation shaped like the head of a monkey. The summit provides some of the most majestic southwest facing views over Lake Tahoe and the hike is a good workout.
In this guide we will cover:
What is Monkey Rock?
Where do you park for the hike?
Walkthrough of the short trail
Monkey Rock summit photos
Other hikes in the area
Let's hike to Monkey Rock in Lake Tahoe, NV!
*Please note this post may contain affiliate links. If you click on one, we may earn a small commission at no extra cost to you. Thank you for supporting the free content we provide! Read more in our disclosure policy.*
What Is Monkey Rock In Lake Tahoe?
Monkey Rock is a large granite rock bearing a striking resemblance to the face and head of a monkey due to weathering, erosion and perhaps a hint of human intervention.
This rock is located at the summit of a hiking and mountain biking trail, which also happens to have some of the most incredible far reaching views over Lake Tahoe to the west and south.
Sure, the rock is cool and well worth a photo for Instagram or a video for TikTok, but the views are so much better and they make this hike a must for all visitors to Lake Tahoe.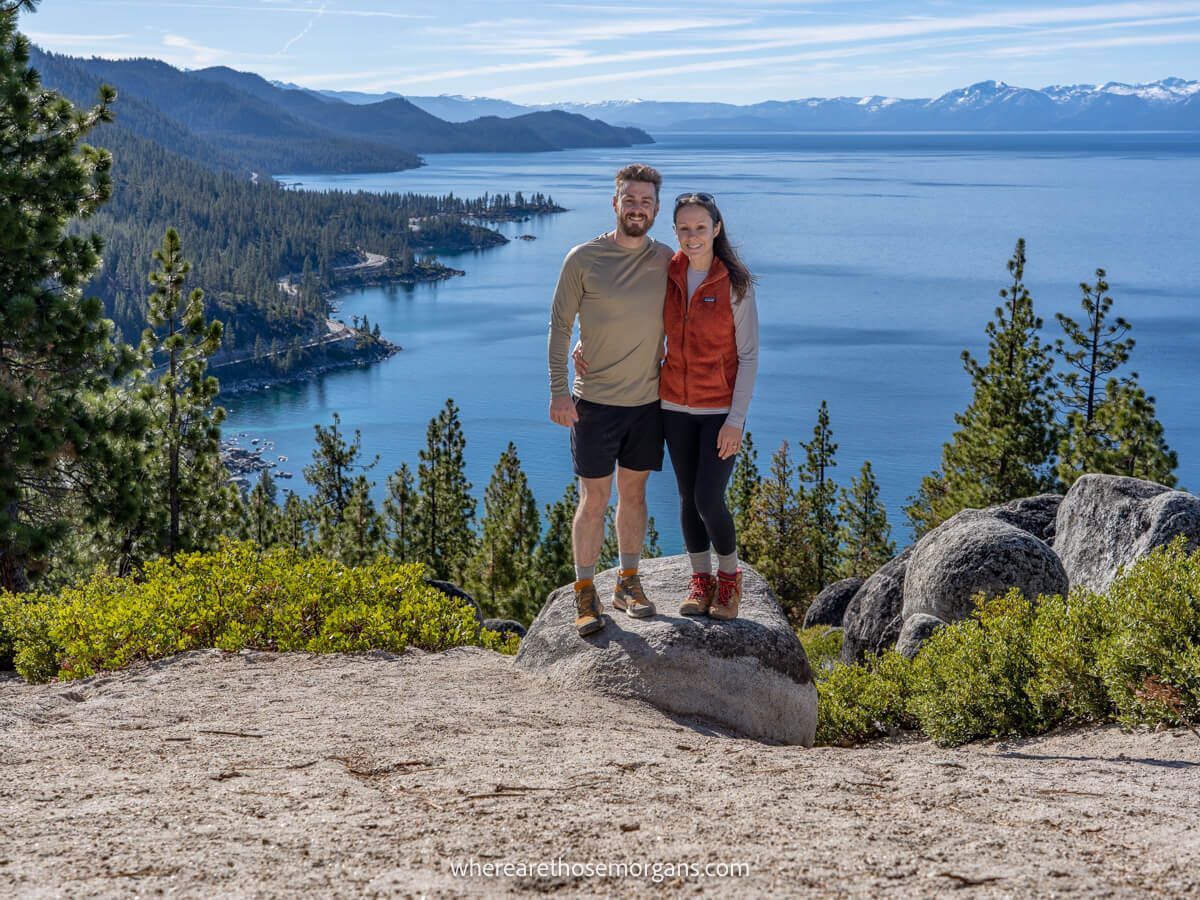 Our Experience
Hiking Monkey Rock trail was a last minute decision near the end of our week long trip to Lake Tahoe in November 2021.
We had already completed several amazing Lake Tahoe hikes but we wanted to make time for one last view over the lake from a new perspective.
We found the hike to be straightforward and we located the monkey shaped rock easily at the summit. But we quickly forgot about the rock and our eyed were instead glued to the remarkable views over Lake Tahoe.
Another great reason to hike Monkey Rock trail is because you will arrive at one of the best photo spots in Lake Tahoe and we don't say that lightly!
Where Is The Hike?
Monkey Rock trail is a hike on the northeast side of Lake Tahoe which starts and ends at Bullwheel parking lot on the side of Highway 28, around 2 miles south of Incline Village, Nevada.
If you are driving up from South Lake Tahoe, Monkey Rock trailhead is 25 miles north along the eastern shoreline which should take around 40 minutes drive time.
Carson City is just 23 miles from Monkey Rock trailhead, which should take approximately 35 minutes to drive.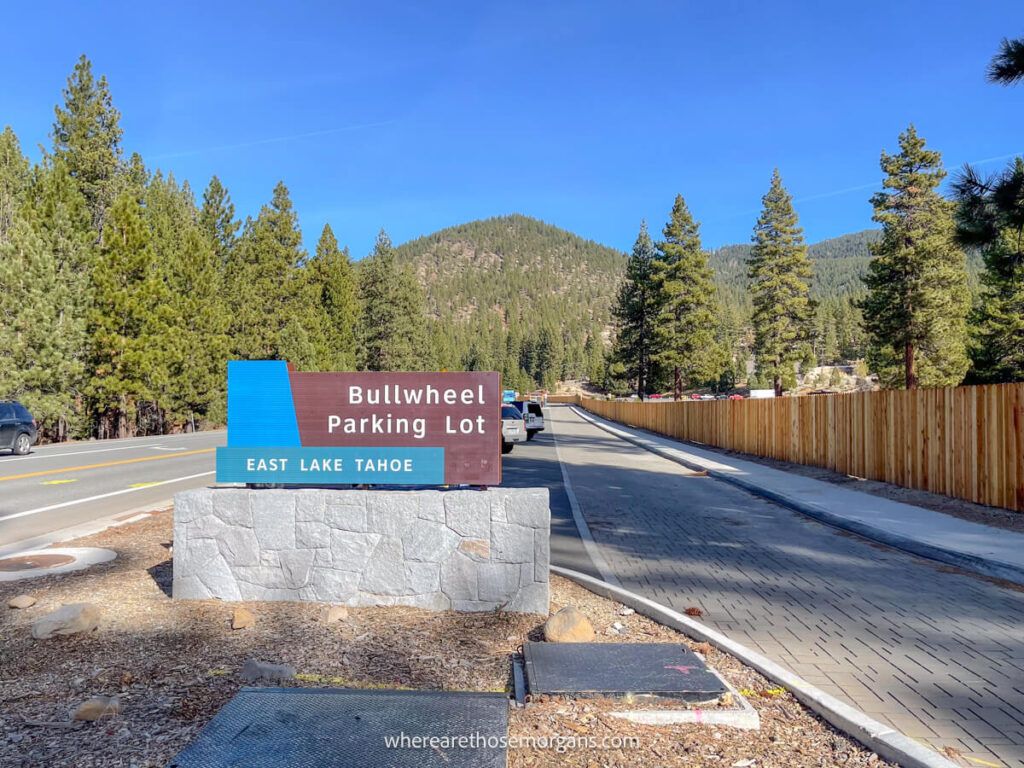 Monkey Rock Lake Tahoe Parking
Visitors to Lake Tahoe can park at Bullwheel parking lot to hike Monkey Rock Trail. There are around 35 spaces at the pay-to-park Bullwheel parking lot, which is located close to Tunnel Creek Cafe.
Google Maps displays the parking area as Tunnel Creek Trailhead. Here is the Google Maps location for Monkey Rock parking.
Note: Bullwheel parking lot is new which means it doesn't display on maps, but it is on the opposite side of Ponderosa Ranch Road right on the side of Highway 28.
Monkey Rock trail is a relatively unknown Lake Tahoe hike so we can't imagine the lot will fill often, but if it does you can park in the adjoining area to the north, which is called Bonanza parking lot.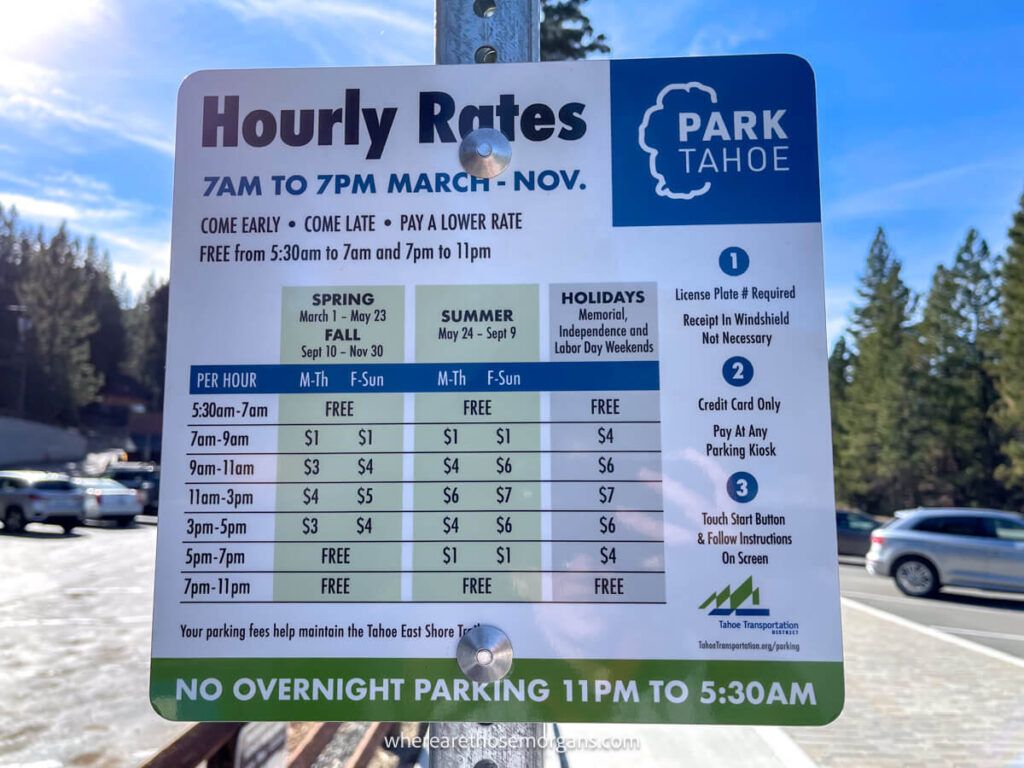 How Much Is Entry To Monkey Rock?
Visitors to Lake Tahoe must pay to park and subsequently pay a separate fee to hike Monkey Rock.
Parking at Bullwheel lot to hike Monkey Rock has several different costs depending on time of day, week and year.
There are financial incentives in place to encourage visitors to hike earlier and later in the day in order to prevent congestion both on the roads and trails.
See the photo above we took of the price list at Bullwheel parking lot.
As you can see, you will pay the most to park between 11am-3pm. However, it is completely free to park between the hours of 5.30am-7am year round and 5pm-11pm in spring and fall.
Bear in mind that sunset in Lake Tahoe isn't until 8.13pm on May 23rd (the day of writing this guide). That means you can park for free, hike in solitude and enjoy a special sunset over Lake Tahoe.
After around half a mile, hikers must pay $2 per person to hike Tunnel Creek trail which leads to Monkey Rock.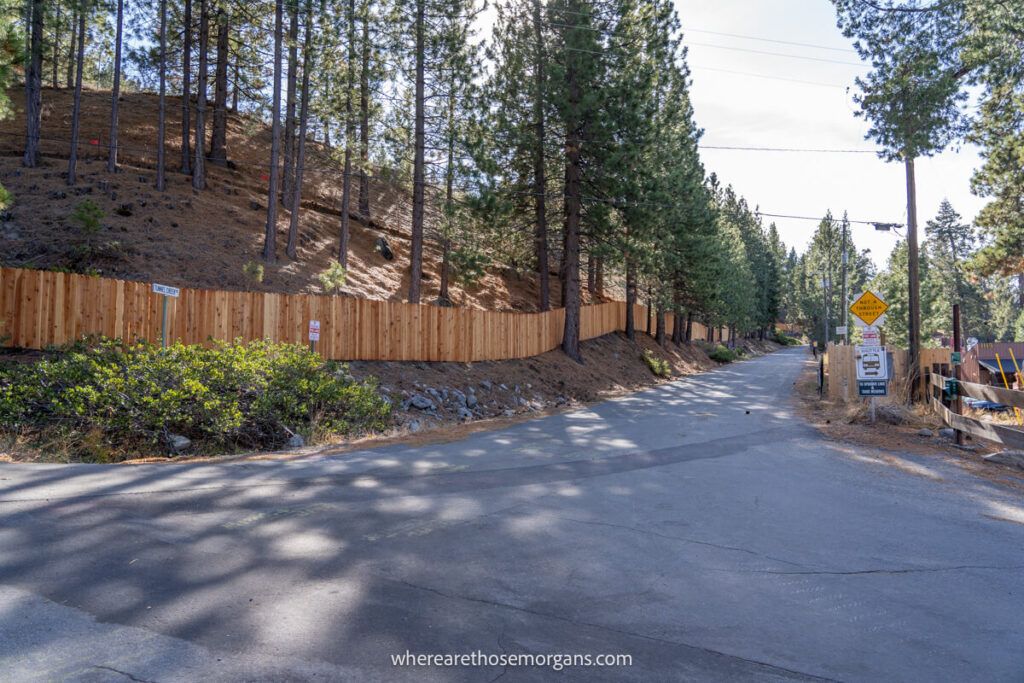 Monkey Rock Lake Tahoe Trailhead
The trail to Monkey Rock summit begins on the south side of Bullwheel parking lot at Tunnel Creek trailhead.
Hikers should walk south on Tunnel Creek Road, keeping Tunnel Creek Cafe to the right (west) and passing into Spooner Backcountry, which ultimately leads into Lake Tahoe Nevada State Park.
Remember, you will have to pay to hike. It is an honor system, but rangers patrol the areas and will give out fines to anyone who doesn't pay. It is not a risk worth taking.
There are several connecting hiking trails in Lake Tahoe Nevada State Park which can all be accessed from Tunnel Creek trail.
However, the spur hike to Monkey Rock leaves the main Tunnel Creek trail after around 1.25 miles.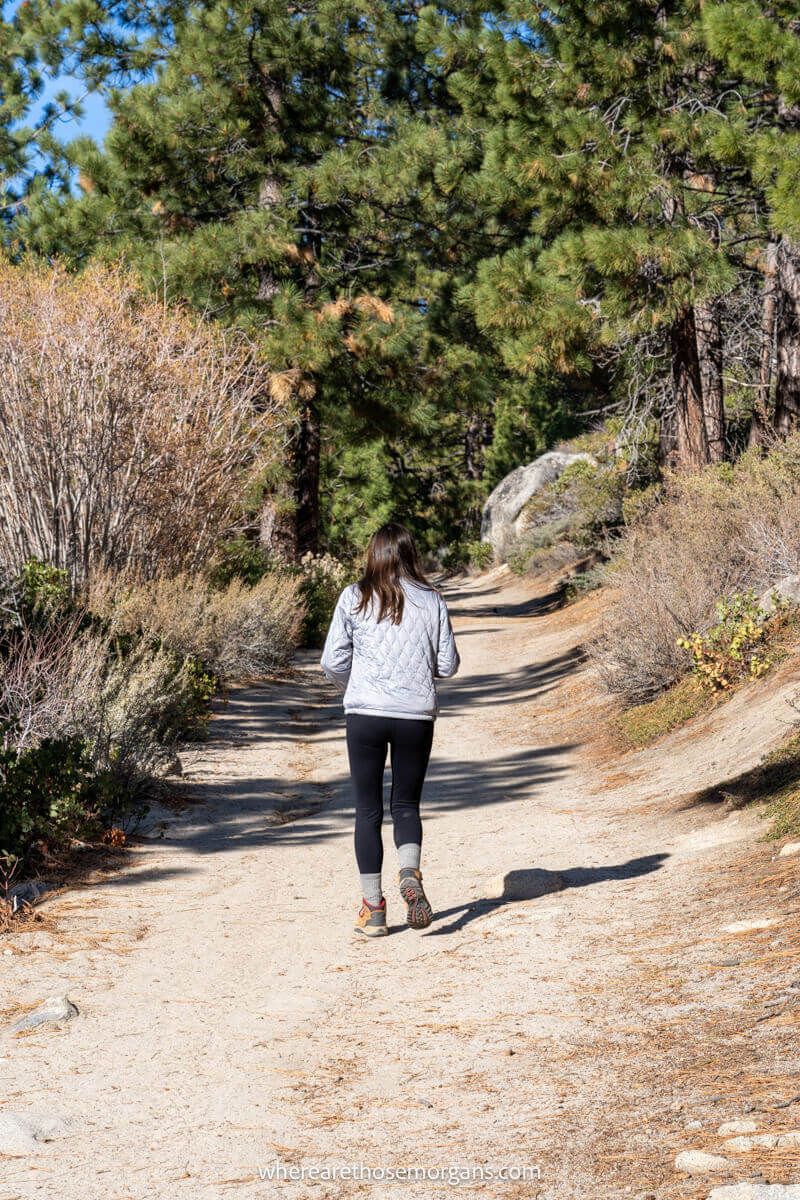 How Long Is Monkey Rock Trail?
Monkey Rock Trail is a moderately difficult 2.5 mile roundtrip hike from parking lot to viewpoint and back. Hikers will navigate around 500 feet of elevation gain on the ascent and 500 feet elevation loss on the descent.
The hike should take around 2 hours to complete, but allow more time if the weather is hot or you want to stop for lunch at the summit.
The incline is steeper than you might be expecting, so make sure you take breaks if necessary.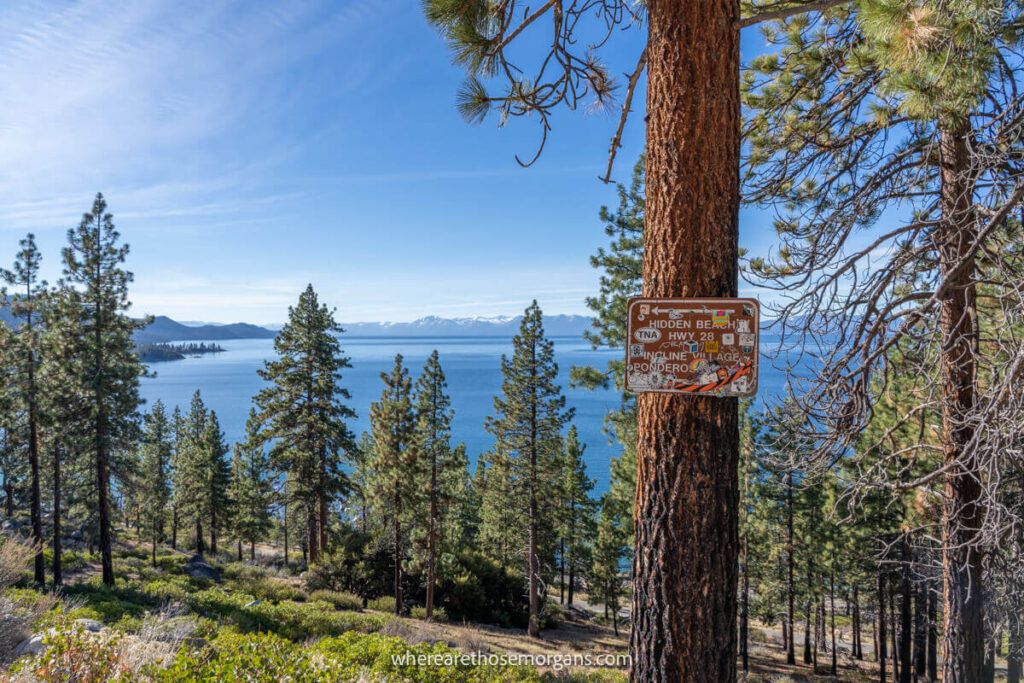 Hiking To Monkey Rock Viewpoint In Lake Tahoe
Let's walk through a basic trail guide to reach Monkey Rock in Lake Tahoe:
1. Find a space to put your car at Bullwheel parking lot and pay the fee associated with your time and date.
2. Head south on Tunnel Creek Road, climb the steep tarmac road until your reach a dirt trail leading straight ahead.
3. Pay the hiking fee to continue and enjoy the flat walk along the picturesque shoreline.
4. Follow the trail to the east as it gains elevation before switching back to a northwest direction.
5. Look for a thin and tall brown metal trail sign with Monkey Rock written in sharpie.
6. Turn west off the trail and head for the boulders which will lead you to Monkey Rock.
Once you arrive at the boulders you will instantly be struck by impressive views stretching far and wide over Lake Tahoe.
Monkey Rock is located slightly to the right side (north) of the viewpoint and a few steps down the slope.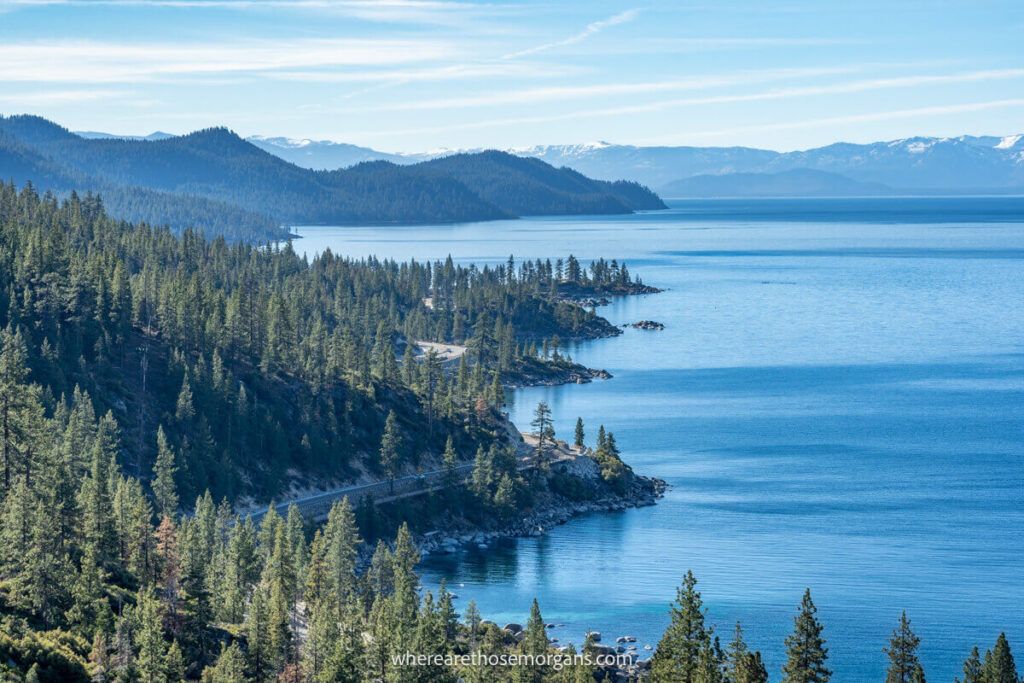 Best Time To Hike Monkey Rock Lake Tahoe
Monkey Rock is a fun hike with amazing views no matter the time of the day you choose to visit.
We hiked to Monkey Rock around lunch time on a bright and sunny day with clear skies during our November trip to Lake Tahoe, which meant we benefitted from lots of light, comfortable hiking conditions and beautiful views.
However, if we hike this trail again, we will definitely try to do it for sunrise or sunset when the lake lights up with colorful clouds reflecting and there are no crowds on the trails.
Summer visitors should try to avoid hiking in the middle of the day when temperatures are high.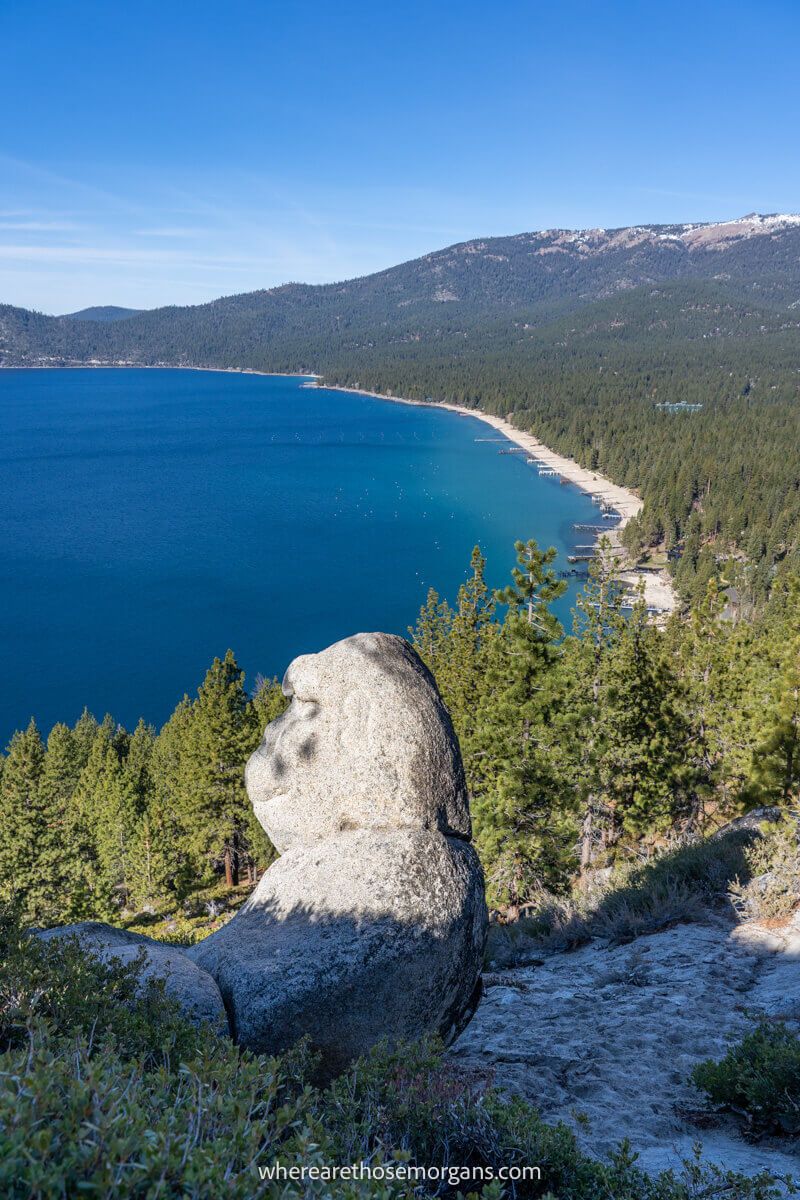 Photography
Monkey Rock summit views are some of the best in Lake Tahoe, especially considering how little effort is required to reach the vista.
Photos of Monkey Rock are easy to take because it is located to the north of the boulder area at the summit. This means the sun will never be in your photo.
Spend some time walking around the boulders at the summit, look for the best place to take selfies or photos on your tripod with Lake Tahoe in the background.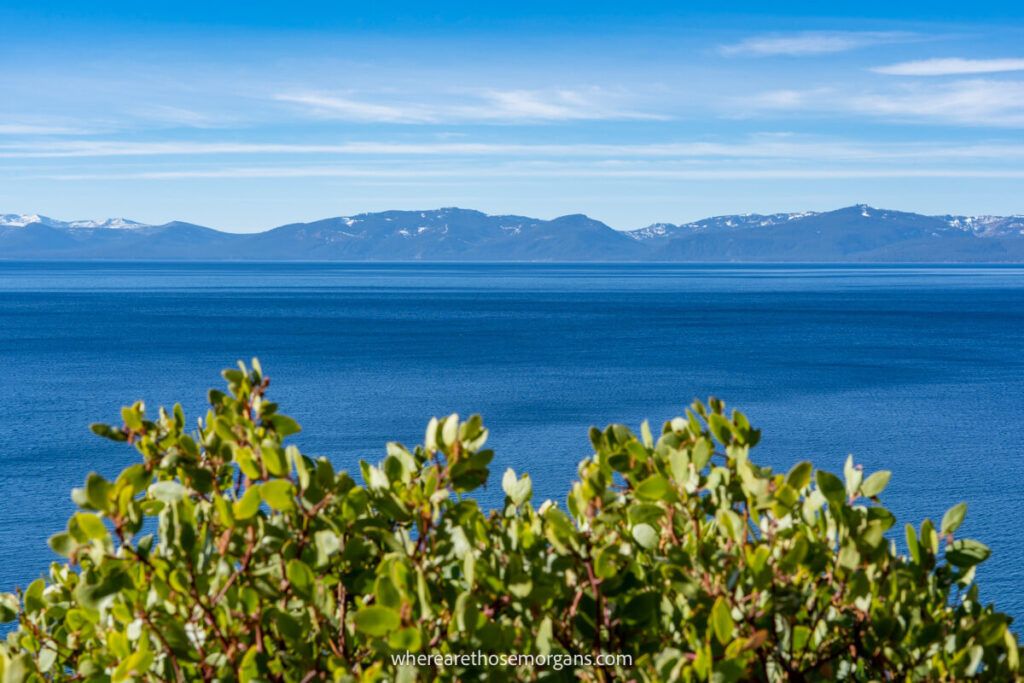 What To Pack
Monkey Rock via Tunnel Creek trail is mostly soft and hard packed dirt. Your shoes and socks will be dusty and gritty by the end of your hike.
You won't need any specialized hiking gear, but we do recommend wearing a robust pair of shoes with good tread for the ascent and boulders.
Don't forget to take flashlights and headlamps if you hike early or late in the day.
The most important thing to pack is plenty of water. Even if it is a cool day, you are still hiking at around 6700 feet above sea level so you need to stay hydrated.
Pack snacks and sandwiches for lunch at the viewpoint, but remember to carry out anything you take in.
More Hikes In The Area
Are you planning to hike as many trails as possible during your visit to Lake Tahoe?
Here are just some of our favorite hikes in the area:
Mt Tallac Trail
Castle Rock Trail
Tahoe Rim Trail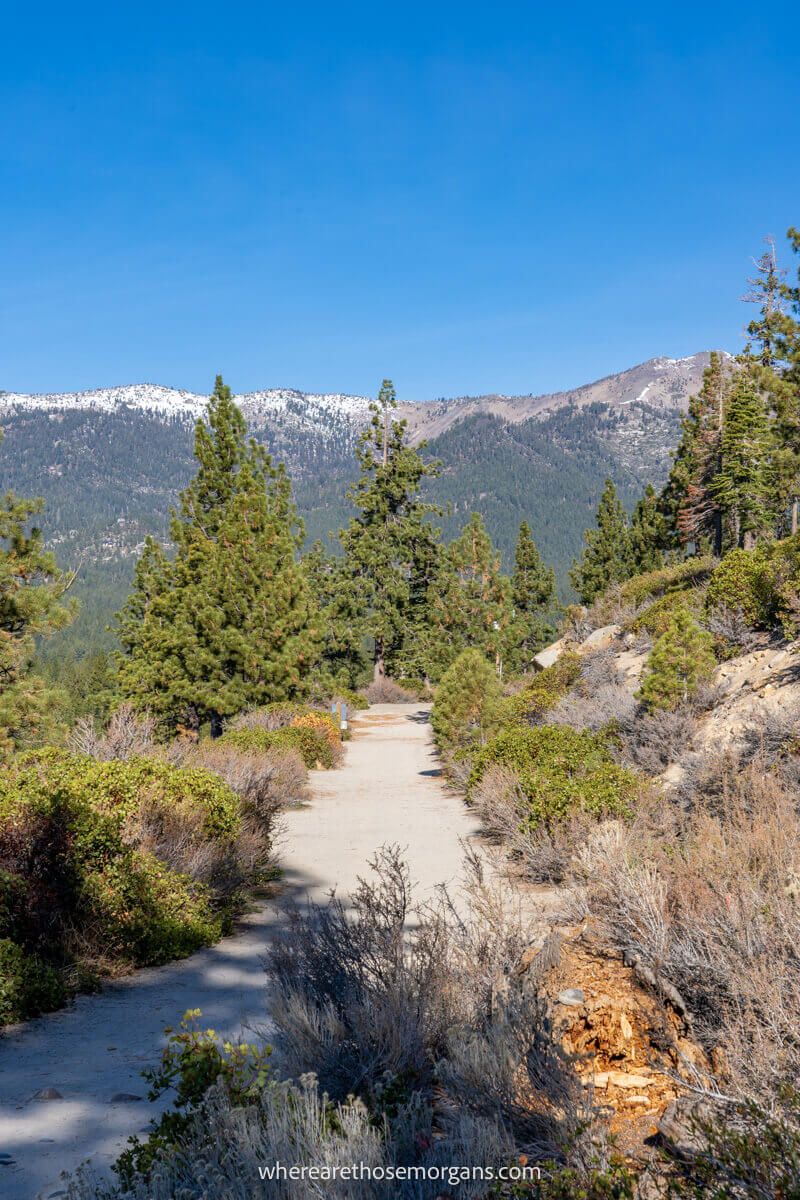 Monkey Rock Trail Lake Tahoe FAQ's
Let's take a quick look at some of the most frequently asked questions about the Monkey Rock hike in Lake Tahoe, Nevada.
Is Monkey Rock a hard hike?
The hike to Monkey Rock is a short but steep moderately difficult trail on the northeast side of Lake Tahoe. Experienced hikers will find the hike straightforward and we think beginner hikers can easily make the summit with plenty of stops along the way.
Is Monkey Rock worth hiking?
Monkey Rock is definitely worth hiking on a visit to Lake Tahoe. The hike is short and leads to spectacular summit views over Lake Tahoe which are more than worth the effort.
Our Top Lake Tahoe Guides
Our Popular California Guides
Want more California content? Head to our California Travel Guides to explore National Parks, popular road trips and things to do in major cities of the sunshine state.
---
We hope this guide to visiting Monkey Rock helps with planning your trip to Lake Tahoe, NV!
Please let us know if you have any questions about hiking Monkey Rock below in the comments.
Happy Travels,
Mark and Kristen
Enjoy This Guide To Monkey Rock? Pin It For Your Visit!