Eagle Rock trail is a short and easy hike leading to magnificent views over Lake Tahoe. We are going to show you exactly how to hike the relatively unknown Eagle Rock trail, including where to park, what to expect and what you will find at the summit.
Is Eagle Rock worth it?
Yes! Eagle Rock is one of our favorite hidden gem Lake Tahoe vistas. Very few venture over the to western shores of the lake and even fewer know about this superb viewpoint. If you have plenty of time on your Lake Tahoe itinerary, this is one hike not to miss.
In this guide we will cover:
What is Eagle Rock?
Where do you park for the hike?
Walkthrough of the short trail
Eagle Rock summit photos
Other hikes in the area
Let's hike to Eagle Rock in Lake Tahoe, CA!
*Please note this post may contain affiliate links. If you click on one, we may earn a small commission at no extra cost to you. Thank you for supporting the free content we provide! Read more in our disclosure policy.*
What Is Eagle Rock In Lake Tahoe?
Eagle Rock is an east facing rocky viewpoint overlooking much of Lake Tahoe, which can easily be accessed by a quick and simple hiking trail.
Bald eagles and peregrine falcons may be spotted from the summit of Eagle Rock if you are lucky and time it right. But even if you don't see an eagle, the view itself is without question worth the quick stop.
If you are looking for a quieter and lesser known place to hike around Lake Tahoe, this trail should be near the top of your list.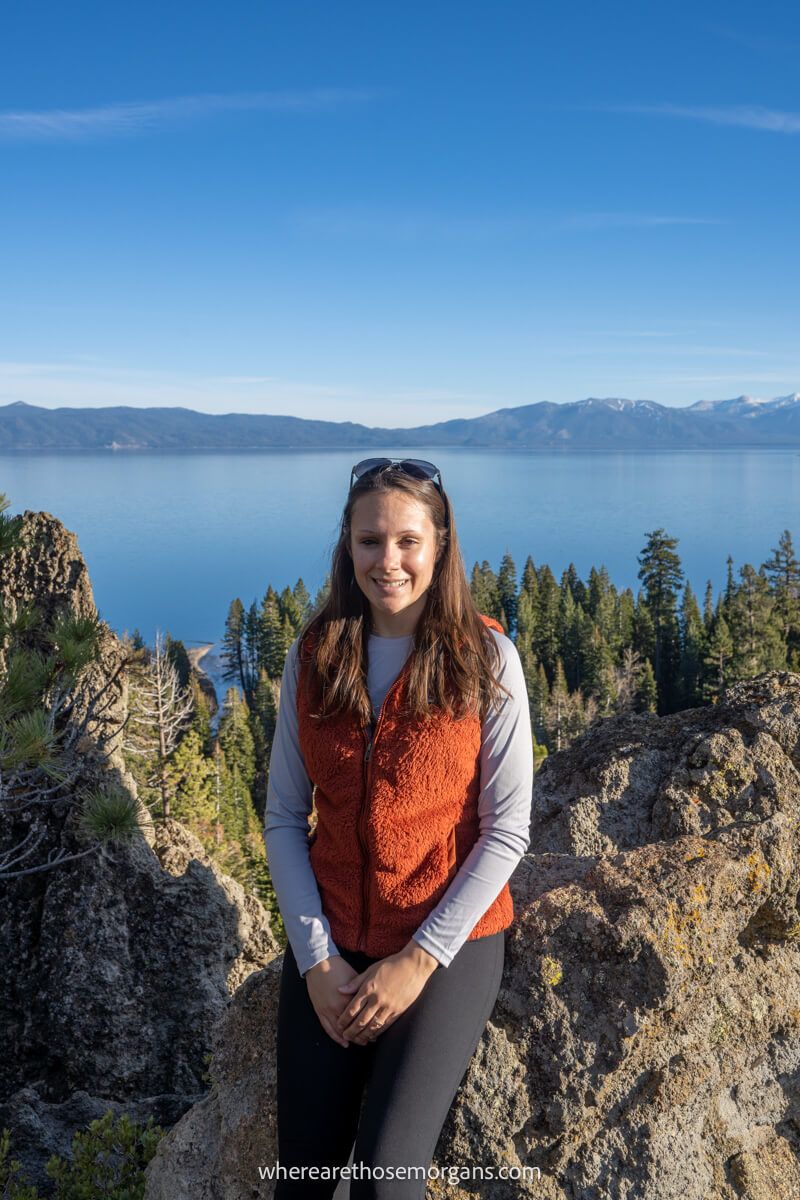 Our Eagle Rock Experience
During our week long visit to Lake Tahoe we tried to hike as many trails as possible, which included popular trails and more hidden trails.
Eagle Rock turned out to be one of the best bang for your buck hikes we completed around Lake Tahoe.
After spending the night at a hotel in North Lake Tahoe, we drove counter-clockwise around the lake stopping at beaches around Tahoe City, before hiking Eagle Rock in the afternoon.
Parking and hiking the trail were incredibly straightforward and we genuinely didn't expect the view to be so striking. Seeing loads of peregrine falcons flying around was also a real highlight.
We spent a good 30 minutes soaking up the summit views on a lovely calm morning with little haze and blue skies. There wasn't another soul in sight and it was one of our favorite parts of the entire trip.
https://www.google.com/maps/place/Eagle+Rock/@39.113666,-120.1626823,14.61z/data=!4m6!3m5!1s0x809bd5f5aefb6493:0x836b5a7767c4400e!8m2!3d39.1090868!4d-120.1620839!16s%2Fg%2F11f_29nt4b?entry=ttu
Where Is Eagle Rock In Lake Tahoe?
Eagle Rock is viewpoint on the western shores of Lake Tahoe. It is located 4.6 miles south of Tahoe City, California and can only be accessed by hiking a short trail.
If you are driving up from a hotel in South Lake Tahoe, Eagle Rock is 25 miles north along the western shoreline which should take around 40 minutes drive time.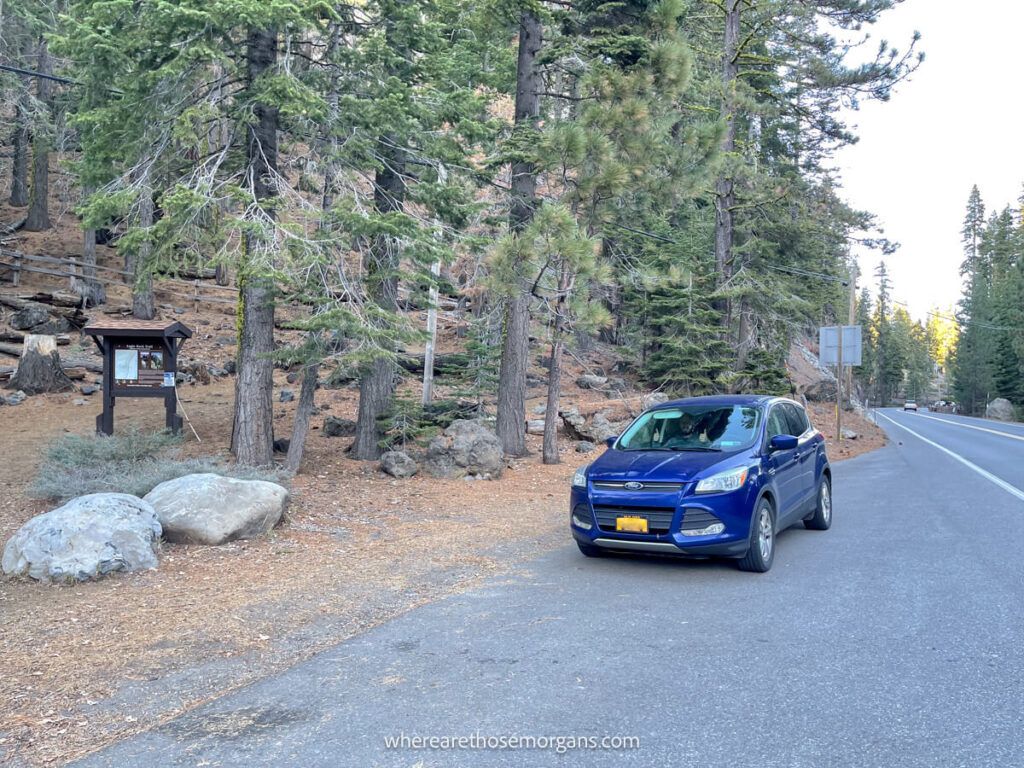 Eagle Rock Lake Tahoe Parking
Parking to hike Eagle Rock trail is easy, you simply pull into a hard-shoulder style parking lot on the west side of CA-89.
If you are driving south the parking lot is on your right side and if you are driving north the parking lot is on your left side.
Be sure to park diagonally so more vehicles can fit into the parking area, especially if you are visiting Lake Tahoe during a busy period.
There is room for around 15-20 vehicles to park at Eagle Rock trail in Lake Tahoe. You should have no problems getting parked up outside the busiest times of year.
Here is the exact Google Maps location.
How Much Is Entry To Eagle Rock?
Good news! You do not have to pay for parking at Eagle Rock trailhead in Lake Tahoe. There is no fee to enter any state park or to hike the trail.
So, you can hike Eagle Rock trail to magnificent views over Lake Tahoe for free any time of year.
This is just another reason we think Eagle Rock is one of the best hikes in Lake Tahoe!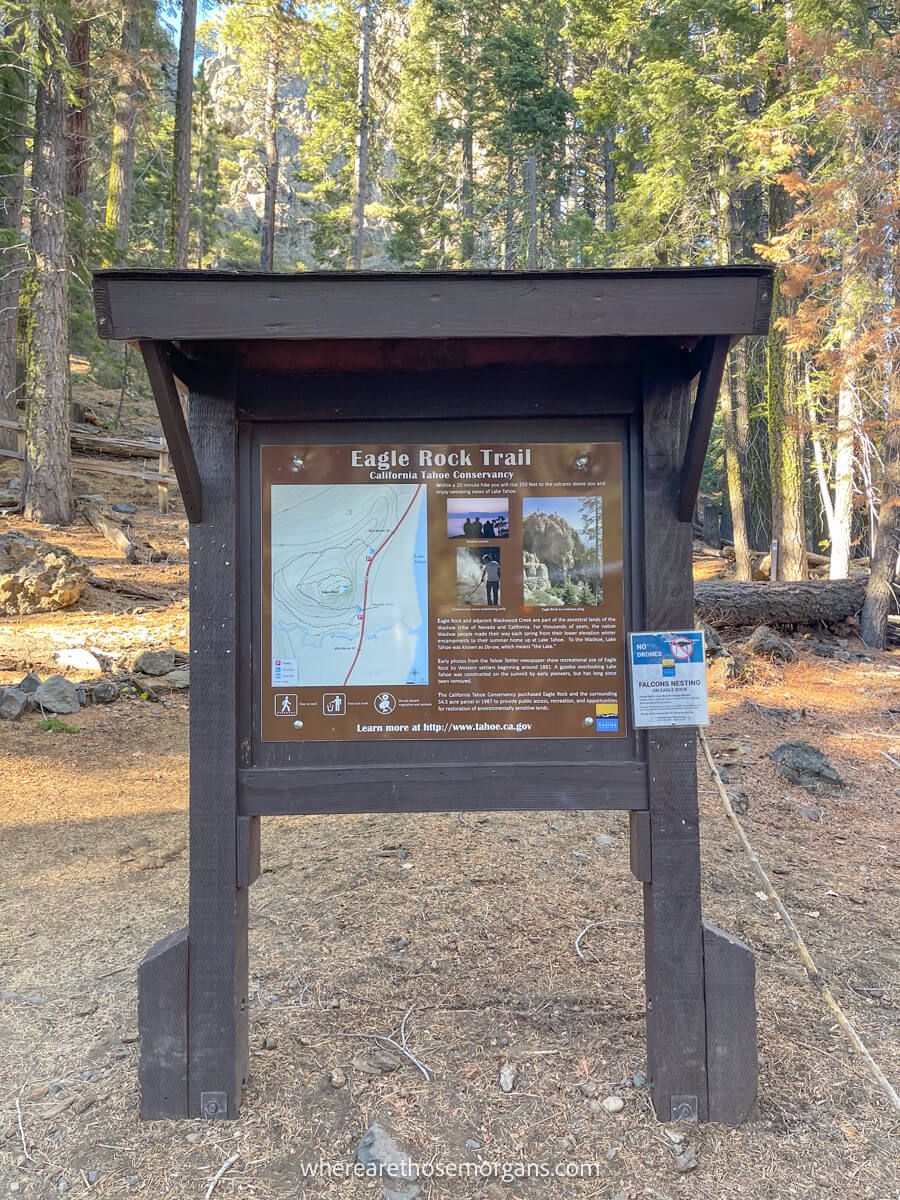 Eagle Rock Lake Tahoe Trailhead
You can't miss Eagle Rock trailhead, which is located at the far north side of the roadside parking lot.
Find the very obvious opening in the forest leading to a wooden notice board with information. Read the details because they contain important instructions on protecting the trail and wildlife.
The trail is dirt packed inside forest as you begin the hike but it eventually leads to uneven, jagged and sharp volcanic rocks which need to be navigated carefully to avoid tripping.
How Long Is Eagle Rock Trail?
Eagle Rock Trail in Lake Tahoe is a 0.8-mile roundtrip hike rated as easy in difficulty.
Hikers will gain just 250 feet of elevation gain on the ascent and total hiking time should clock in at around 35 minutes.
Plan for 20 minutes on the ascent and 15 minutes on descent. However, you should allow more time if the weather is hot or you want to stop for lunch at the summit.
The incline is gradual but the final climb up rugged rocks is a little steeper and definitely requires considered foot placements.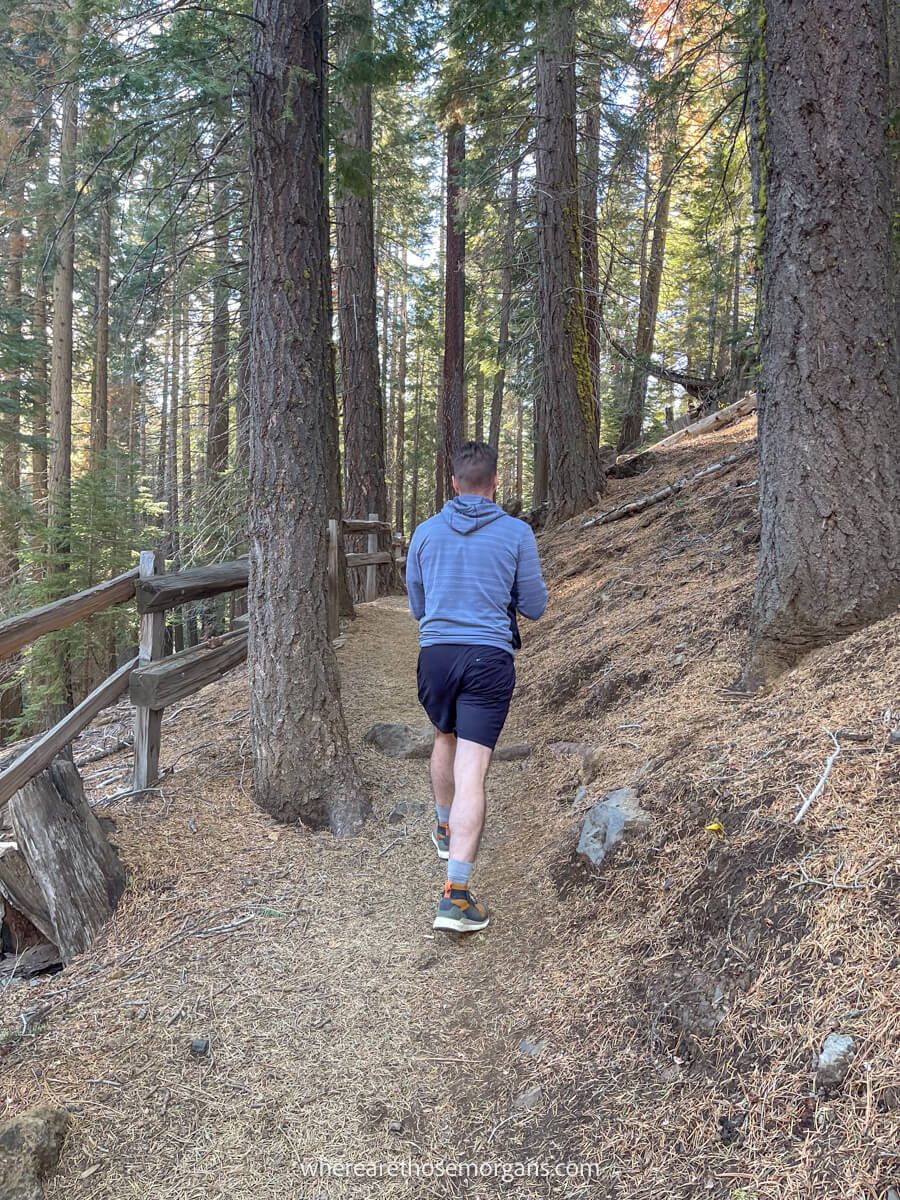 Hiking Walkthrough
Let's walk through a basic trail guide to reach Eagle Rock in Lake Tahoe:
1. Find a space to put your car in the roadside parking lot.
2. Head to the north side of the lot and find the Eagle Rock trailhead.
3. Gradually gain elevation as you walk through the forest.
4. Leave the forest and turn right at a fork in the trail, which leads uphill.
5. Summit on a flat and rocky expanse, but continue walking east towards the lake.
6. Find a spot you can relax and soak up spectacular views over Lake Tahoe.
There are several areas you can walk around at the Eagle Rock summit.
We stayed mostly to the right side as you look at Lake Tahoe, but you can walk around to the left side which is more open and flat.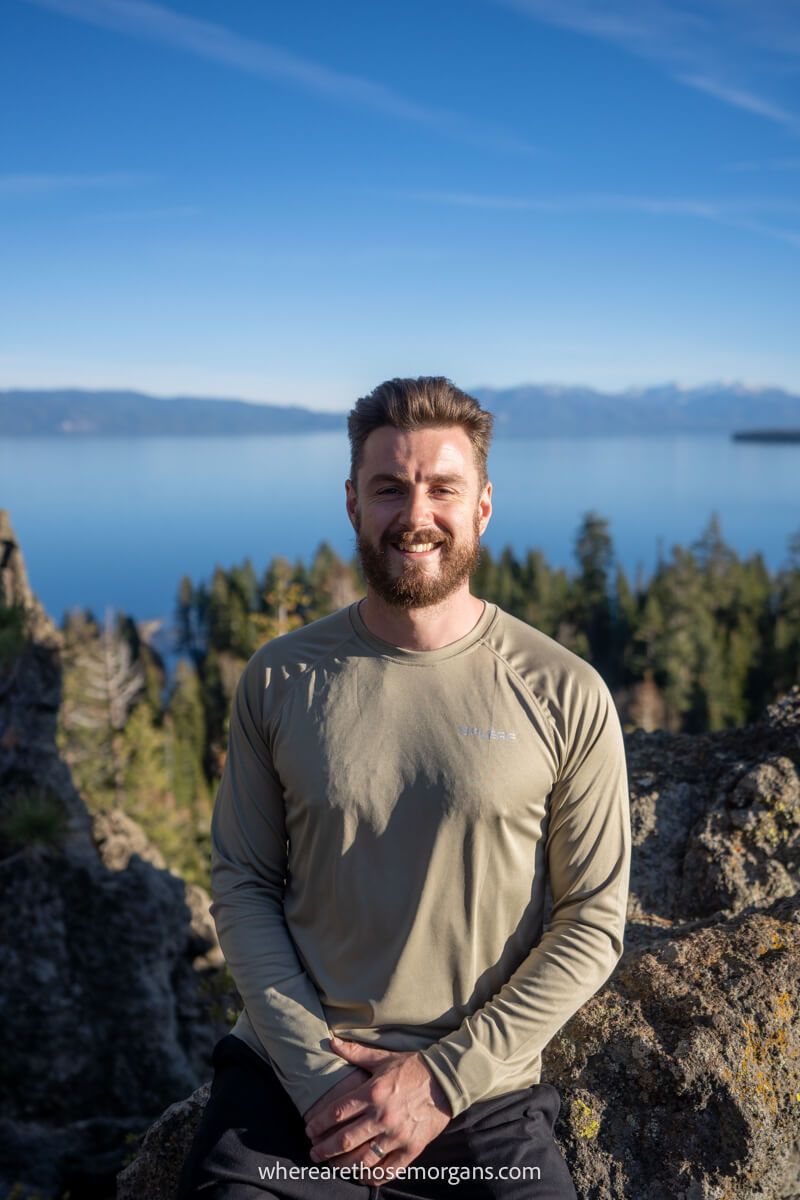 Best Time To Hike Eagle Rock Lake Tahoe
Eagle Rock is a fantastic Lake Tahoe hike with amazing views no matter the time of the day you choose to visit.
With that said, you could hike for sunrise which would be incredible as you are east facing and the sun will rise over distant mountains on the Nevada side of Lake Tahoe.
Sunset could be another special time to sit at Eagle Rock summit, as long as there are thick clouds in the sky which would light up pinks and purples at dusk.
We hiked to Eagle Rock around mid afternoon on a bright and sunny day with clear skies, plenty of light and comfortable hiking conditions during our visit to Lake Tahoe in November.
However, if we hike this trail again we will do it at sunrise or sunset.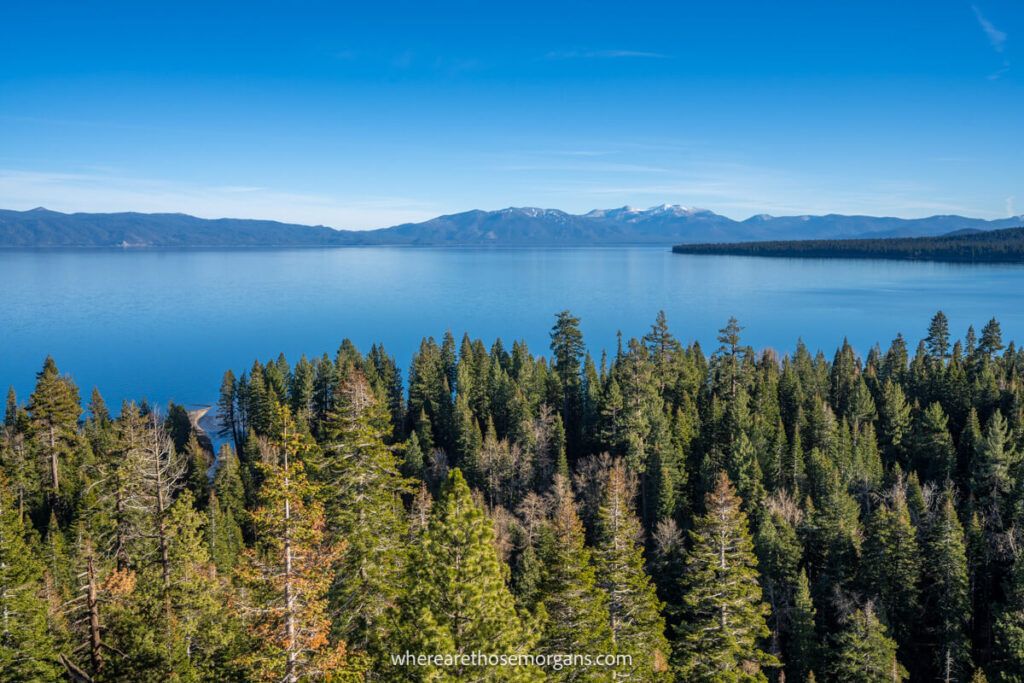 Photography
Eagle Rock summit views are some of the best in Lake Tahoe. We think Eagle Rock is easily one of the best sunrise photo spots in Lake Tahoe if you can make it up in time for dawn.
When you realize just how easy this hike is for the views you get in return, you will know why we consider Eagle Rock a hidden gem!
Find fun rock formations to use as foreground or create perspective photos with your group by standing on distant rocks and shooting at 70-200mm.
Spend some time walking around the boulders at the summit, look for the best place to take selfies or photos on your tripod with Lake Tahoe in the background.
Important: Do not put your drone up at Eagle Rock if you see a sign stating it is falcon nesting season. See the photo below so you know what to look out for when flying your drone around Lake Tahoe.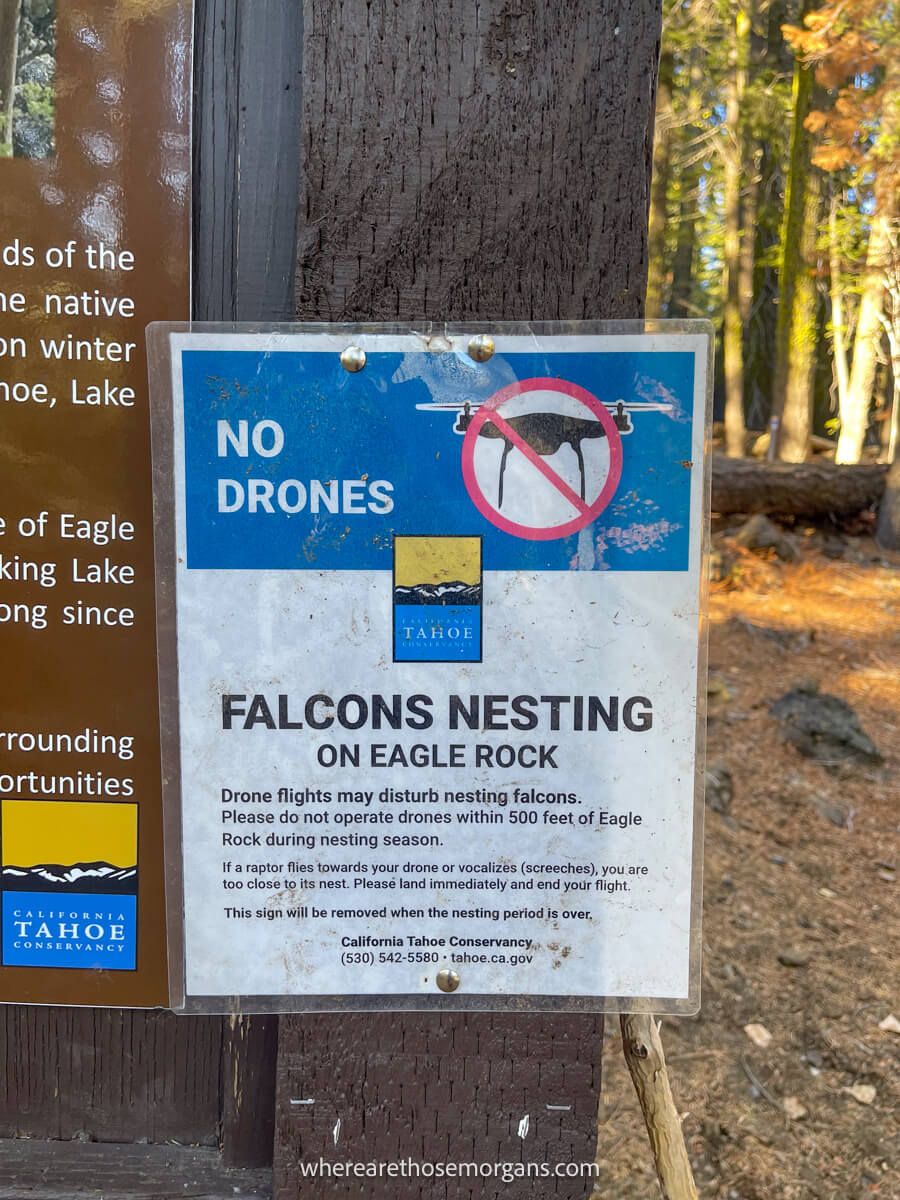 What To Pack
The trail is half on hard packed dirt and half on sharp rocks.
You won't need any specialized hiking gear for this trail, but we do strongly recommend wearing a robust pair of shoes with thick soles and good tread for the rocks.
Don't forget to take flashlights and headlamps if you hike for sunrise or sunset.
The most important thing to pack is plenty of water. Even if it is a cool day, you are still hiking at around 6500 feet above sea level so you need to stay hydrated.
Pack snacks and sandwiches for lunch at the viewpoint, but remember to carry out anything you take in.
Dogs are allowed on Eagle Rock trail in Lake Tahoe, but they must be kept on a leash and cleaned up after.
Who Should Hike Eagle Rock Trail In Lake Tahoe?
Eagle Rock is the perfect Lake Tahoe for anyone seeking a tranquil hike leading to staggering views over Lake Tahoe without the typical crowds.
It is a fantastic trail for families, couples, solo travelers and especially hobbyist or professional photographers.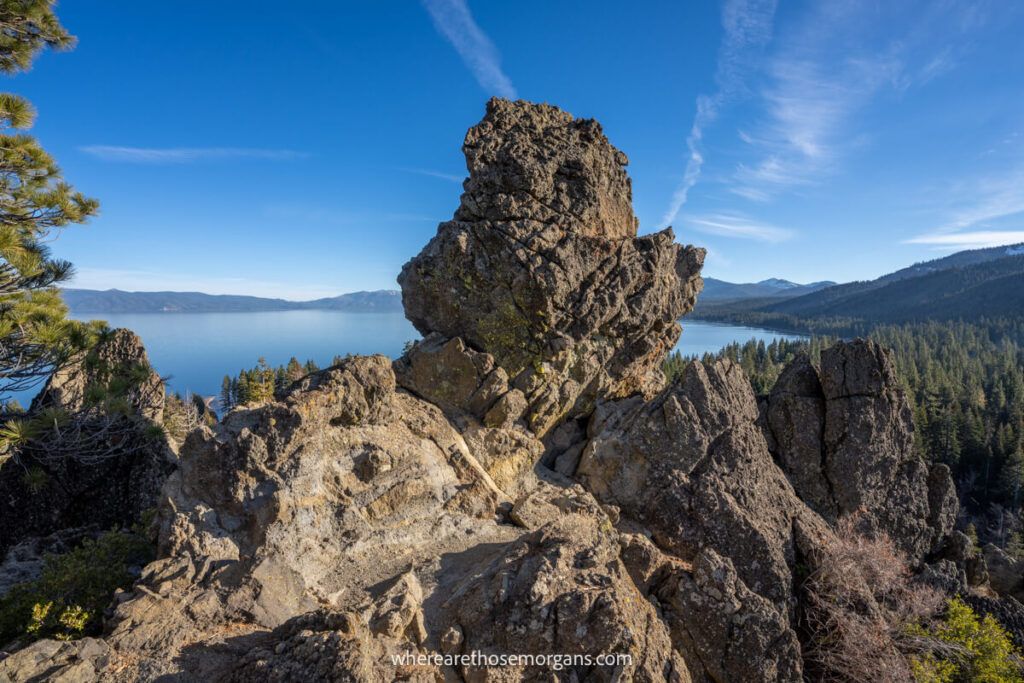 More Hikes In The Area
Are you planning to hike as many trails as possible during your visit to Lake Tahoe?
Here are just some of our favorite hikes in the area:
Mt Tallac Trail
Castle Rock Trail
Tahoe Rim Trail
Eagle Rock Trail Lake Tahoe FAQ's
Let's take a quick look at some of the most frequently asked questions about the Eagle Rock hike in Lake Tahoe, Nevada.
Is Eagle Rock a hard hike?
No, Eagle Rock is an easy hiking trail leading to spectacular Lake Tahoe views. The first half of the trail is gradual on hard dirt packed and the second half is a little steeper with jagged rocks to navigate, but overall it is still a simple hike.
Is Eagle Rock worth hiking?
Yes, Eagle Rock is without question worth hiking on a visit to Lake Tahoe. It is quiet, lesser known, short, easy and leads to amazing views. We think this hike should be considered one of the best hidden gem hikes around Lake Tahoe and it is suitable for most visitors.
Our Top Lake Tahoe Guides
Our Popular California Guides
Want more California content? Head to our California Travel Guides to explore National Parks, popular road trips and things to do in major cities of the sunshine state.
---
We hope this guide to visiting Eagle Rock helps with planning your trip to Lake Tahoe, NV!
Please let us know if you have any questions about hiking Eagle Rock below in the comments.
Happy Travels,
Mark and Kristen
Enjoy This Guide To Eagle Rock? Pin It For Your Visit!