Chimney Beach is one of the best public beaches to visit on a trip to Lake Tahoe. We are going to show you exactly how to hike the easy and quick Chimney Beach Trail, including where to park, what to expect and how to find the brick chimney stack on the sand.
Is Chimney Beach worth it?
Yes! Chimney Beach Trail is a fun semi-hidden hike down to a stunning beach area and it is completely free to visit. You can sunbathe, swim, stand up paddle board or simply read a book under the sun right on the golden sand with turquoise colored water kissing your feet.
In this guide we will cover:
What is Chimney Beach?
Where do you park?
Walkthrough of the short trail
Photos from the beach
Popular places to visit in the area
Let's hike to Chimney Beach in Lake Tahoe, NV!
*Please note this post may contain affiliate links. If you click on one, we may earn a small commission at no extra cost to you. Thank you for supporting the free content we provide! Read more in our disclosure policy.*
What Is Chimney Beach In Lake Tahoe?
Chimney Beach is a secluded and beautiful white sandy beach on the eastern shores of Lake Tahoe.
A short and relatively steep trail through pine forest must be hiked in order to access the hidden away beach, which is flanked on both sides by those huge granite boulders synonymous with Lake Tahoe's shoreline.
When we think about our favorite hidden gem spots around Lake Tahoe, we have to say Chimney Beach is right up there with the best of them.
You can read more about photography at Chimney Beach in our popular guide to the best Lake Tahoe sunset photo spots.
Why Is There A Chimney On Chimney Beach?
The chimney on Chimney Beach is all that remains from an old caretaker's cabin, which was once right there on the white sand. We can certainly think of worse places to spend the day!
Today, the chimney is one of the most popular Lake Tahoe photo spots and the focal point of every visit to the beach.
Our Experience
We hiked down to Chimney Beach during our week long trip to Lake Tahoe in November.
It was a beautiful sunny, cool and clear day near the end of fall. In fact, just days later the first snowfall of the year landed in South Lake Tahoe.
There were a handful of other cars in the small parking lot as we began the hike to Chimney Beach around 2 hours before sunset.
Fortunately, we passed both groups on the way down, which meant we had the entire beach to ourselves for the 45 minutes we spent enjoying the tranquility and beauty of this semi-secret area of Lake Tahoe.
Where Is The Beach?
The golden sands of Chimney Beach can be found on the east side of Lake Tahoe, around 2.6 miles south of the entrance to Sand Harbor State Park, Nevada.
If you are driving up from South Lake Tahoe, Chimney Beach is exactly 20 miles north which should take around 30 minutes drive time.
Carson City is just 18 miles from Chimney Beach trailhead, which should take approximately 25 minutes to drive.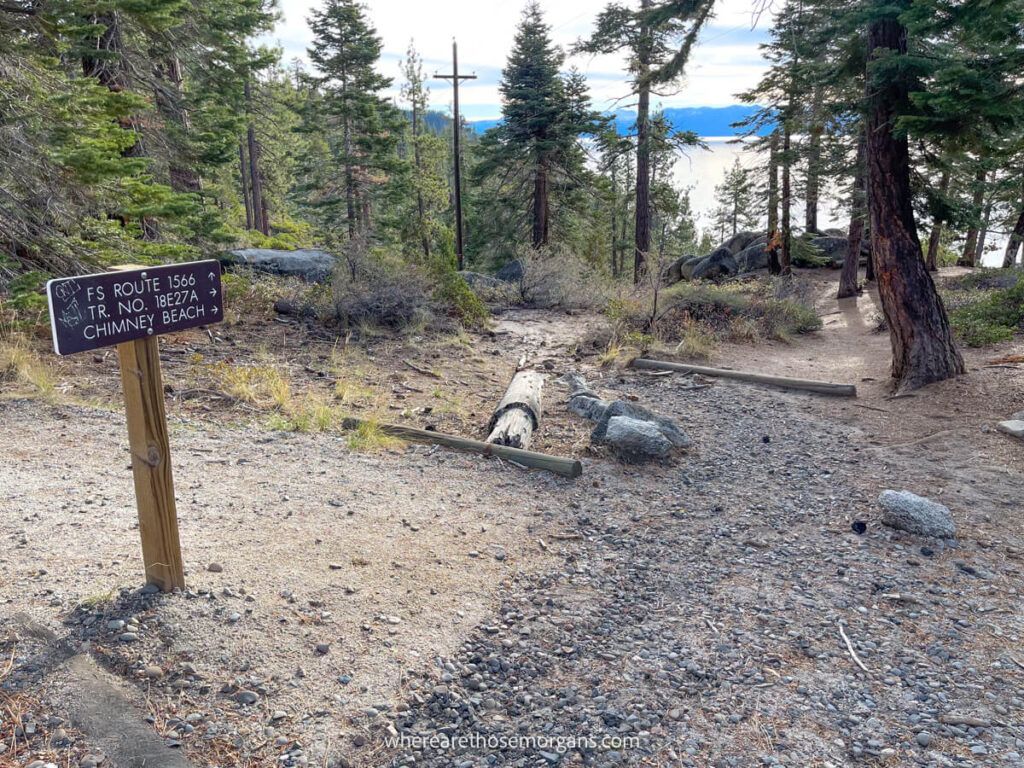 Chimney Beach Trailhead
Chimney Beach is only accessible by hiking a short but steep in places trail through forest from a designated parking lot just off Highway 28.
The turn is quite sudden with no slip road and the parking lot is almost immediately after you turn in. Therefore, you need to approach the turn slowly and stay slow after turning.
Once parked, walk to the south side of the parking lot, pass beyond the no parking words painted on the ground and the green metal barrier.
Just a few steps later you will notice a fork in the road:
Straight would lead you to Secret Cove, which is a clothing optional beach.
Right will lead you through forest to Chimney Beach.
Take the right turn onto Chimney Beach trail and you will soon be on the sand!
Here is the exact Google Maps location for accessing Chimney Beach trailhead.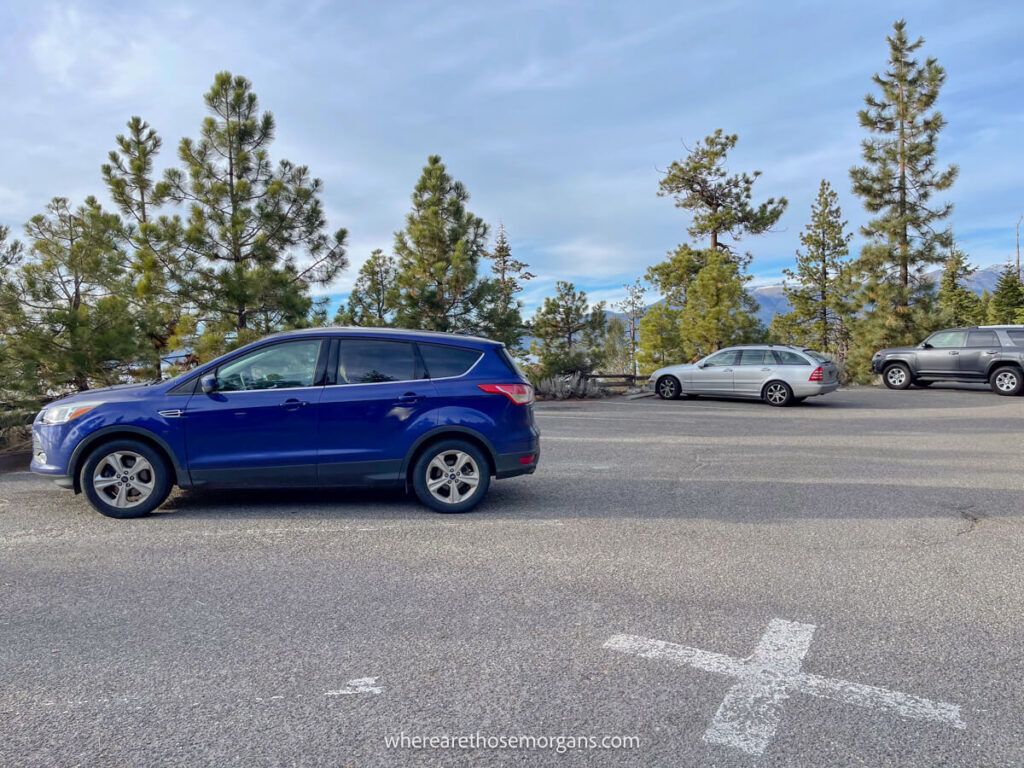 Chimney Beach Lake Tahoe Parking
Parking at popular hiking trailheads and attractions around Lake Tahoe can be hit or miss. In peak seasons, getting a parking space at hikes or beach access lots will often come down to luck.
Chimney Beach has a small circular parking lot with around 25 spaces.
That may sound ample, but during busy periods in summer or on weekends, you will be shocked at how easily a 25 space parking lot can fill on the shores of Lake Tahoe.
Even during November when the area was quiet, we had some issues with parking at the smaller lots. Luckily we had no such drama at Chimney Beach trailhead.
How Much Is Entry To Chimney Beach?
There is no fee to park at Chimney Beach trailhead lot and there is no state park entrance fee to pay for accessing Chimney Beach.
It is always free to hike the short trail down to Chimney Beach in Lake Tahoe.
If you have already visited Lake Tahoe you will know that certain popular beach or picnic areas require state park fees to be paid.
Chimney Beach is a public beach which means there are no facilities or services and no fees to pay.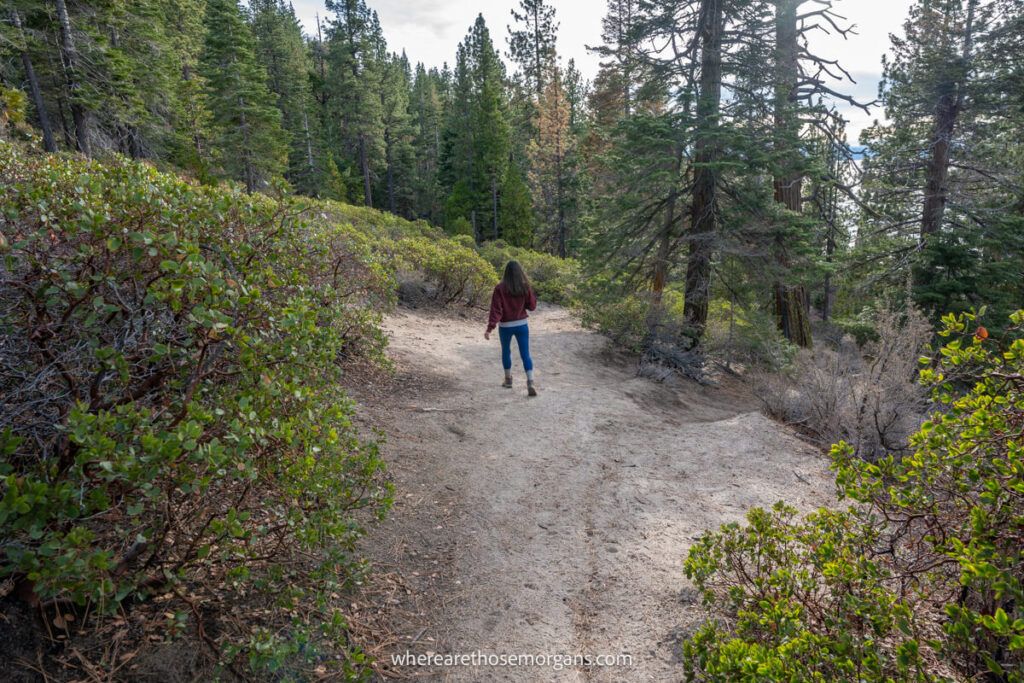 How Long Is Chimney Beach Trail?
Chimney Beach Trail in Lake Tahoe is a moderately easy 1.2 miles roundtrip hike from trailhead to beach and back.
Total elevation loss from the trailhead to Chimney Beach is around 200 ft, which switches to the same elevation gain on the way back to the trailhead parking lot.
Trust us, the ascent will definitely get your heart rate up!
Hiking should take around 15 minutes on the way down and 25 minutes on the way back up for a total hiking time of 40 minutes.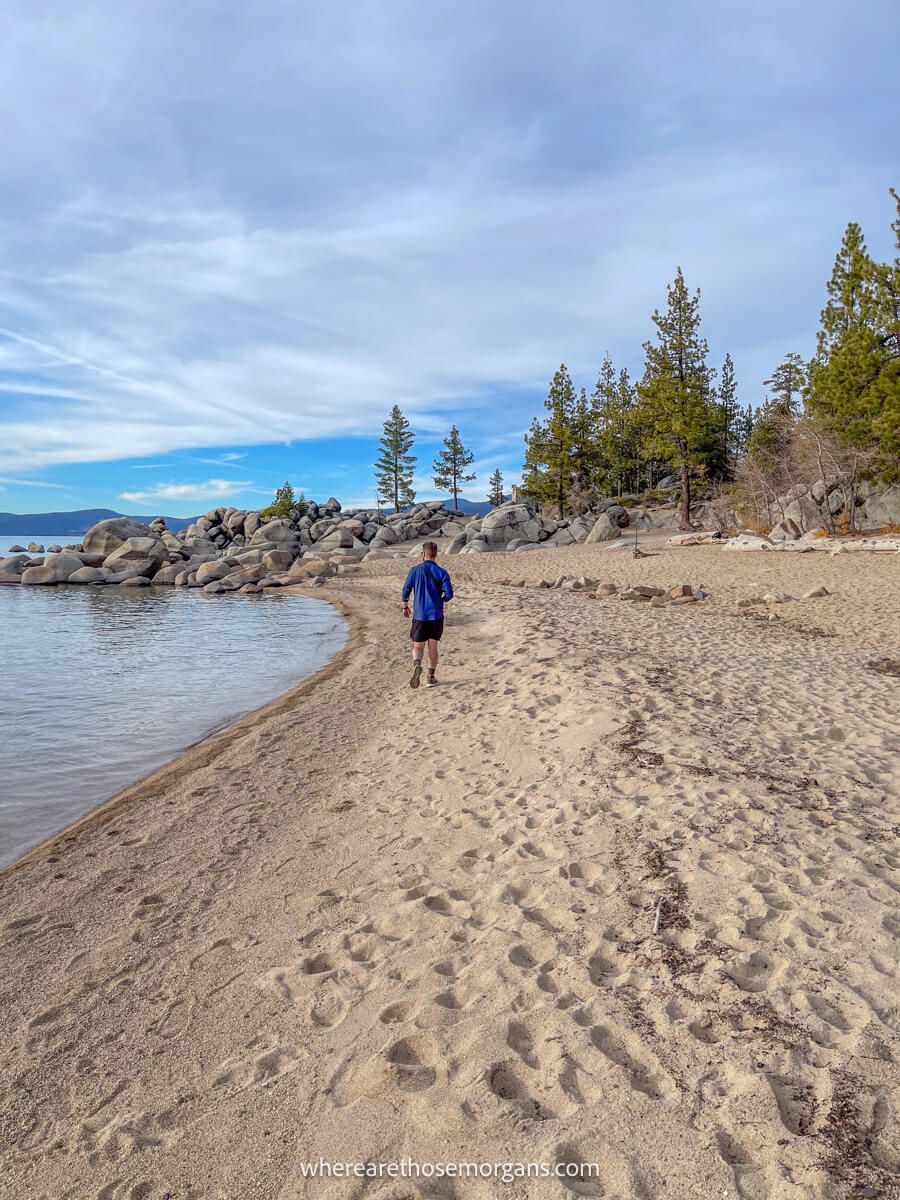 How Do You Get Down To Chimney Beach In Lake Tahoe?
Let's cover a very brief step by step walkthrough of the hike to Chimney Beach in Lake Tahoe:
1. Park up in one of the few spaces at Chimney Beach trailhead.
2. Walk down to the split and take the right turn into forest.
3. Carefully descend through the forest on one of the lightly beaten paths.
4. Arrive at the shores of Lake Tahoe but turn north and continue walking.
5. Eventually you will reach Chimney Beach and the stone chimney.
Chimney Beach trail is straightforward enough, but there are one or two places with several trail options. You won't get lost, but try to take the paths most beaten and do not trample on vegetation.
Does Chimney Beach Get Crowded?
We think Chimney Beach can definitely be classed as a hidden gem spot in Lake Tahoe, but it does still get busy in summer.
Locals with boats know all the best spots and Chimney Beach is a popular place to relax under the summer sun. Tourists in the know will then join in and it can become crowded.
However, you can avoid the crowds on Chimney Beach by visiting in shoulder season months like March, April, October and November.
If you must visit Lake Tahoe in summer, try to avoid weekends and especially holiday weekends.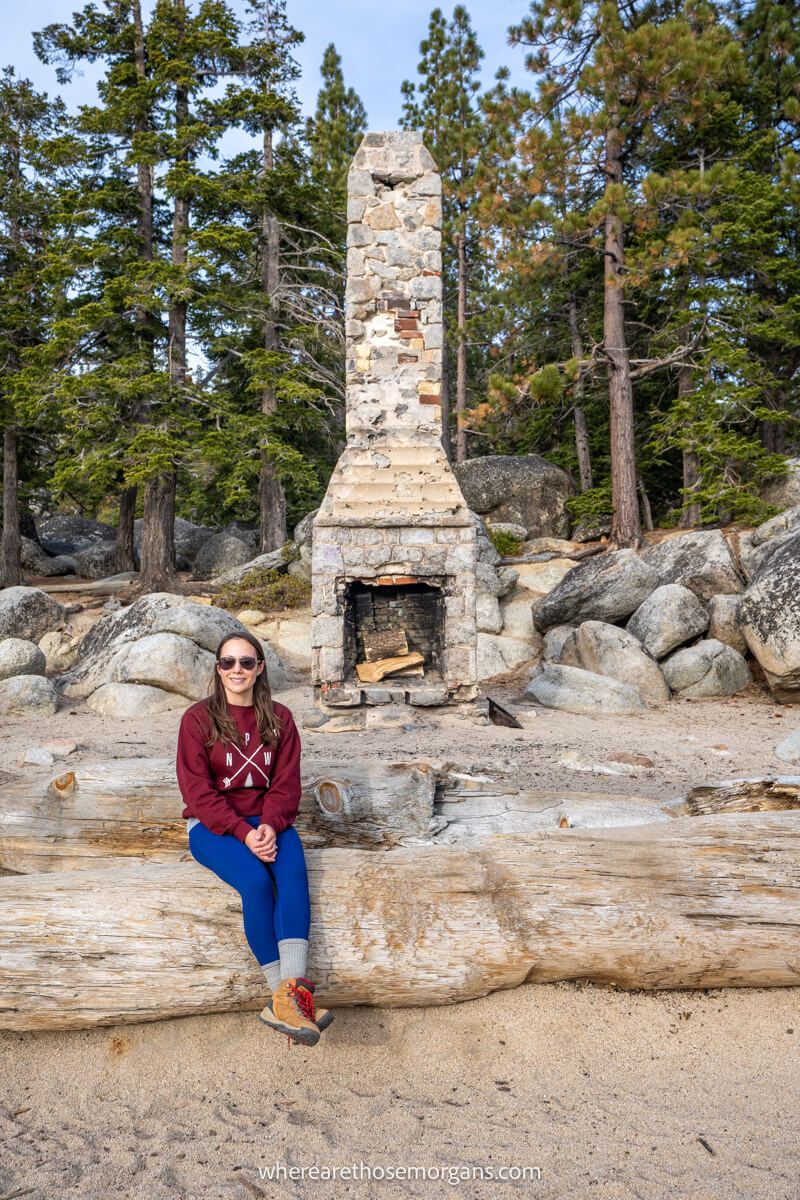 What To Pack
Packing to hike Cave Rock trail brings up two questions:
1. What do you need to wear for the hike?
2. What do you want to take to the beach?
The trail is quite steep in places and it is through forest, which means tree roots, stones and prickly vegetation.
We recommend wearing shoes with good tread to and from the beach. After that you can choose to wear hiking type gear or your beach-going gear to hike.
If you are visiting Chimney Beach in summer, here are some things you might want to pack:
Beach towel
Sunscreen, sunhat and sunglasses
Bat and ball, SUP or frisbee
A good book to read
Portable grill for cooking food*
Beer, wine or cocktail ingredients
Cooler filled with assorted goodies!
*Important: Wood and charcoal fires are not permitted on Chimney Beach, but you can take a portable grill to cook food. There are no picnic tables or benches on the beach so you will need a fold up table or several blankets.
Dogs are allowed on Chimney Beach but they must be leashed, controlled and picked up after. There are no doggie bags on the beach so you must carry your own.
More Hikes In The Area
Are you planning to hike as many trails as possible during your visit to Lake Tahoe?
Here are some of our favorite hikes in the area that you should take a closer look at:
Mt Tallac Trail
Castle Rock Trail
Tahoe Rim Trail
Chimney Beach Lake Tahoe FAQ's
Let's take a quick look at some of the most frequently asked questions about Chimney Beach in Lake Tahoe, Nevada.
What is the best time of day to hike down to Chimney Beach in Lake Tahoe?
If you are planning to spend the day sunbathing on Chimney Beach in peak season, we recommend you arrive early to stand a better chance of securing a parking spot. The best time of day to hike to Chimney Beach is around two hours before sunset when the beach will be quieter and most attractive.
Is Chimney Beach a public beach or a paid beach?
Chimney Beach is a public beach on the Nevada side of Lake Tahoe. That means you do not have to pay to park, hike or access the beach area. Certain nearby beaches and picnic areas require state park fees, but Chimney Beach is not on state park land.
Our Top Lake Tahoe Guides
Our Popular California Guides
Want more California content? Head to our California Travel Guides to explore National Parks, popular road trips and things to do in major cities of the sunshine state.
---
We hope this guide to visiting Chimney Beach helps with planning your trip to Lake Tahoe, NV!
Please let us know if you have any questions about the Chimney Beach hike below in the comments.
Happy Hiking,
Mark and Kristen
Enjoy This Guide To Chimney Beach? Pin It For Your Visit!