Eagle Falls trail is a popular hike in the stunning Emerald Bay area of Lake Tahoe. We are going to show you exactly how to hike Eagle Falls trail to both the namesake waterfall and Eagle Lake, including where to park, fees to pay and what you can expect.
Is Eagle Falls trail worth it?
Yes! Eagle Falls trail is a fantastic moderately difficult short hike close to South Lake Tahoe. It was one of our favorite trails in the area and we would definitely hike it again the next time we are in Emerald Bay.
In this guide we will cover:
What is Eagle Falls trail?
Where do you park for the hike?
Hiking walkthrough
Eagle Lake photos
Other hikes in the area
Let's hike Eagle Falls trail in Lake Tahoe, CA!
*Please note this post may contain affiliate links. If you click on one, we may earn a small commission at no extra cost to you. Thank you for supporting the free content we provide! Read more in our disclosure policy.*
What Is Eagle Falls Trail In Lake Tahoe?
Eagle Falls trail is a superb family friendly hike near South Lake Tahoe leading to a picture perfect waterfall and eventually a glacial lake.
Both natural features are popular turnaround points. Go as far as Eagle Falls if you are short on time or all the way to Eagle Lake if you have time and energy on your side.
Spectacular views over the gorgeous Emerald Bay open up as you climb Eagle Falls trail. It really is one of the most picturesque places you can hike in Lake Tahoe.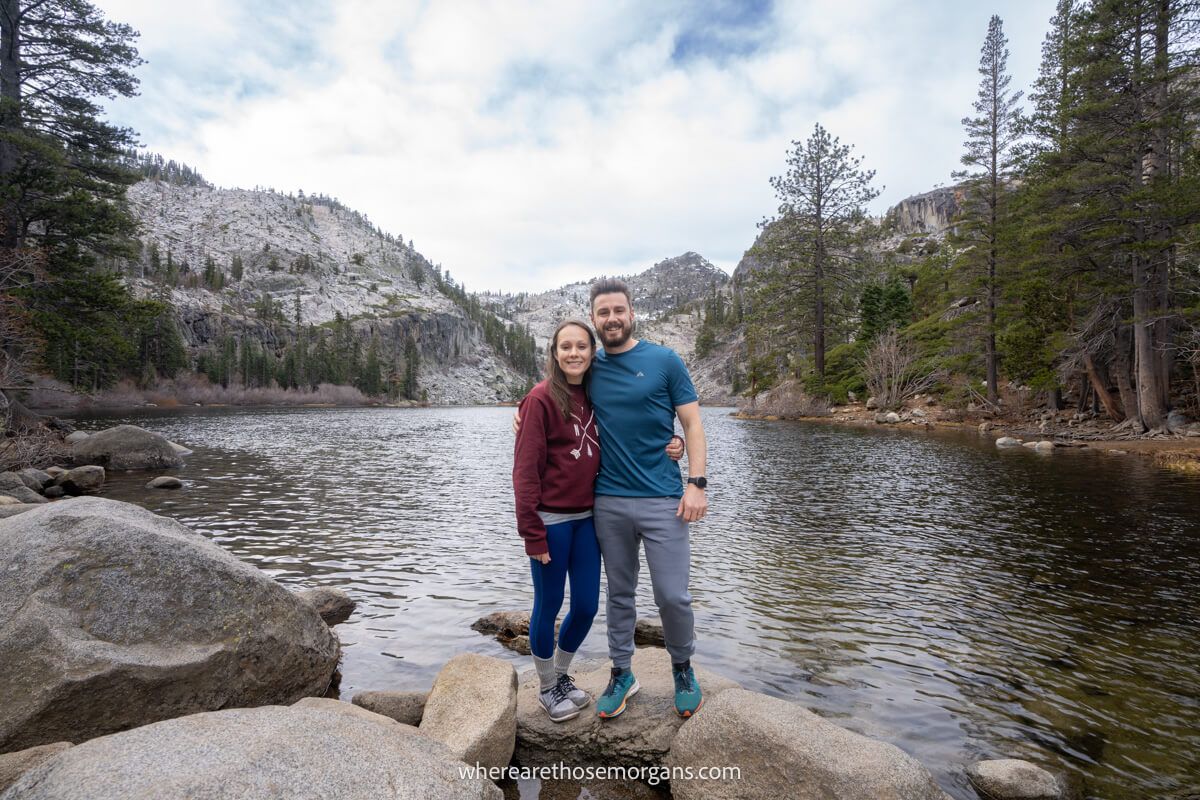 Our Eagle Falls Experience
We had plenty of Lake Tahoe hikes on our wishlist during our week long visit to the area in November 2021, and Eagle Falls was near the top of that list.
We had just watched a staggering sunrise over Emerald Bay (after waking up agonizingly early!) and we set off on the Eagle Falls trail for Eagle Lake around 7.30am.
It was cold and cloudy so we hiked in our winter coats! Eventually the morning warmed up and we had to carry our coats back down, but Eagle Falls is a short trail so it wasn't a hardship.
We soaked up stunning views over Emerald Bay State Park from Eagle Falls and enjoyed the tranquility at Eagle Lake as the only two people on the trail that early on a weekday in November.
Unfortunately, there was a bit of a breeze so Eagle lake was not even close to being still for reflections, but we still enjoyed the hike.
https://www.google.com/maps/place/Eagle+Falls/@38.9466751,-120.12436,15.19z/data=!4m6!3m5!1s0x809986fe320a53a3:0x555929b967def057!8m2!3d38.9505207!4d-120.1151632!16zL20vMGZ4bmtj?entry=ttu
Where In Lake Tahoe Is Eagle Falls Trail?
Eagle Falls trail is located in Emerald Bay State Park on the southwestern shores of Lake Tahoe, around 13 miles drive from the popular resort city of South Lake Tahoe.
It should take between 20-25 minutes to drive from South Lake Tahoe to Eagle Falls trailhead.
Technically speaking, Eagle Falls and Eagle Lake are located in the federally protected Desolation Wilderness area of Eldorado National Forest, within the Sierra Nevada mountains.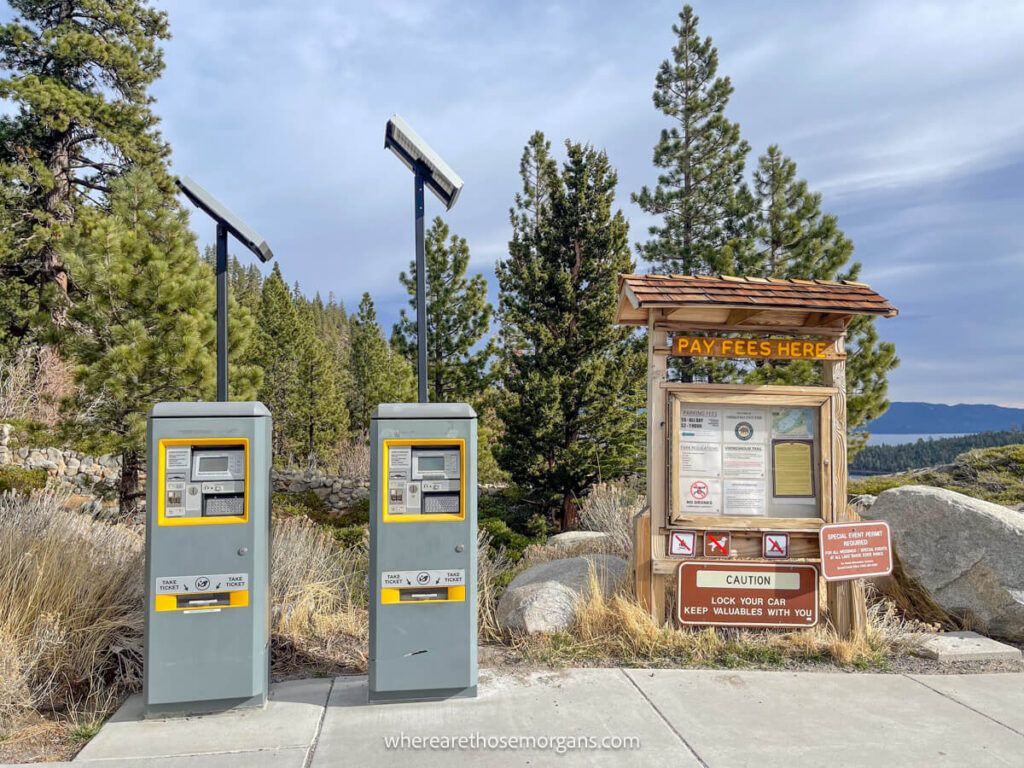 Where To Park For Eagle Falls Lake Tahoe
Eagle Falls and Eagle Lake trailheads have a designated parking lot on CA-89 in Emerald Bay State Park.
However, due to the popularity of this hike, there are also roadside parking spots and a smaller second parking lot slightly off the main road.
If you are driving from South Lake Tahoe, you will turn left into the designated trailhead parking lot or find a space on either side of the road near the trailhead parking lot.
Parking can be problematic at popular hikes around Lake Tahoe such as Eagle Falls in the busy summer months. We had no issues in November, but we know the lots fill regularly in peak season.
If you are visiting Lake Tahoe during a busy period, we strongly suggest you arrive early or much later in the day to hike Eagle Falls. Think no later than 8.00am and no earlier than 4.00pm.
Here is the Google Maps location for Eagle Falls trailhead parking.
How Much Is Parking At Eagle Falls Trailhead?
Hikers must buy a $10 self service ticket if parking at the designated Eagle Falls trailhead lot. However, there is no fee to pay pay if parking on CA-89.
Travel tip: The best place to park for Eagle Falls trail is in the roadside lot and not in the designated trailhead lot. Your car will be far enough off the main two lane highway and it is free to park.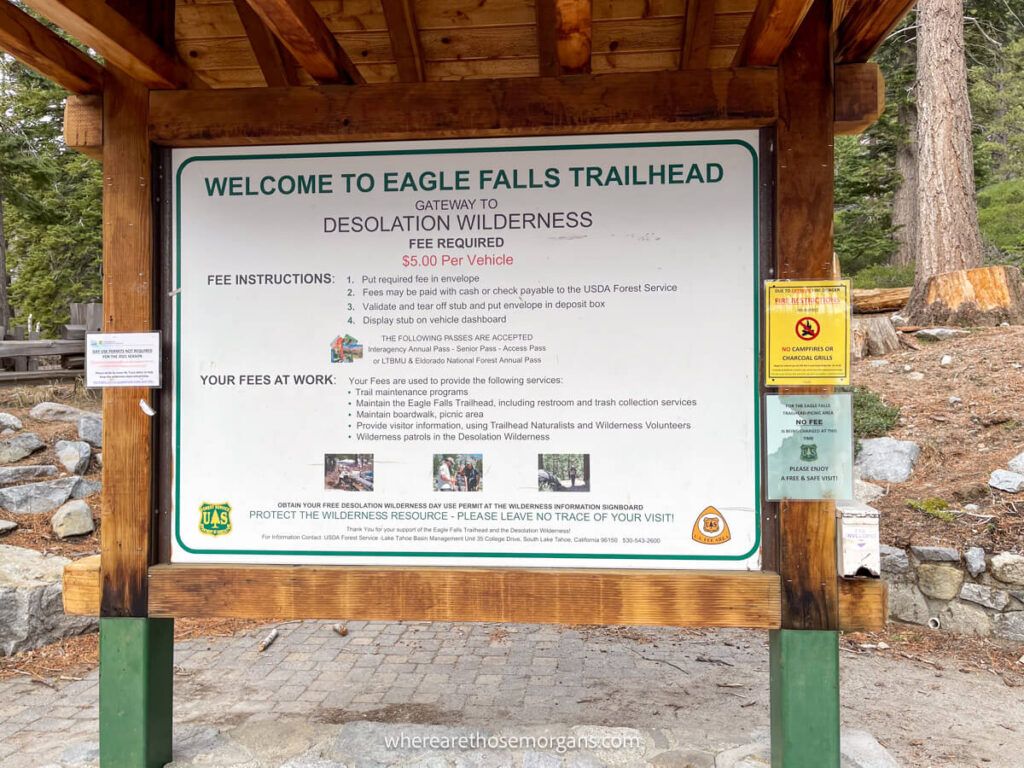 Eagle Falls Trailhead Wilderness Permit
All hikers are required to fill out a Desolation Wilderness permit before starting the hike up Eagle Falls trail.
The wilderness permit is free but it is compulsory to complete prior to hiking. It must be filled in at the trailhead information board.
There are restrooms in the designated Eagle Falls trailhead parking lot.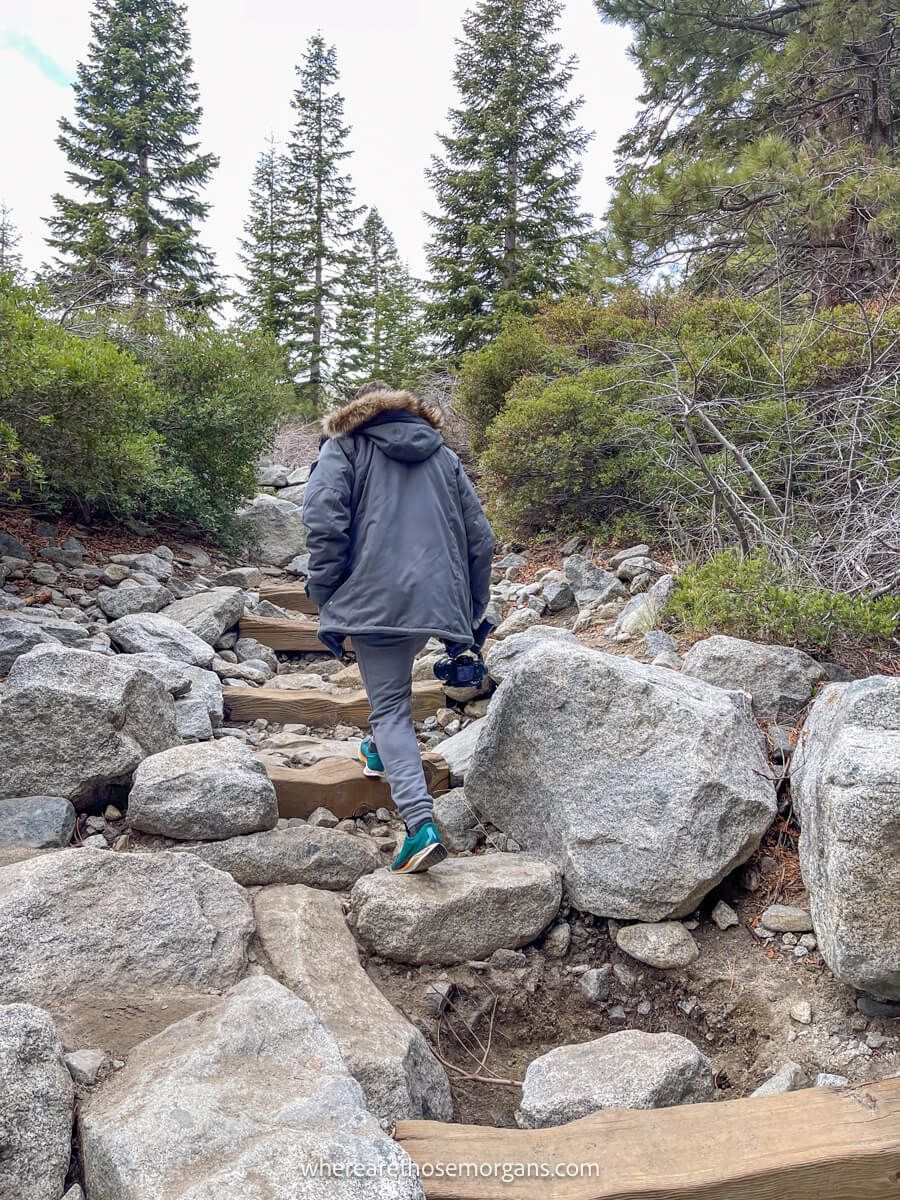 How Long Is Eagle Falls Tahoe Trail?
There are two popular ways you can hike Eagle Falls trail in Emerald Bay State Park, Lake Tahoe.
1. Trailhead to Eagle Falls only
2. Trailhead to Eagle Falls and Eagle Lake
Eagle Falls only is a 0.5-mile round trip hike but the total trail distance is closer to 2 miles round trip if you include Eagle Lake into your hike.
Both are out and back hikes going up and coming back down the exact same way.
Hiking just to Eagle Falls should take no longer than 30 minutes in total. However, you should plan for closer to 1 hour hiking time if you want to see both Eagle Falls and Eagle Lake.
Total elevation gain when hiking to both Eagle Falls and Eagle Lake in Lake Tahoe is around 450 feet.
Allow time to stop for photos at the waterfall and lake. Add even more time if you plan to swim or eat lunch around the lake.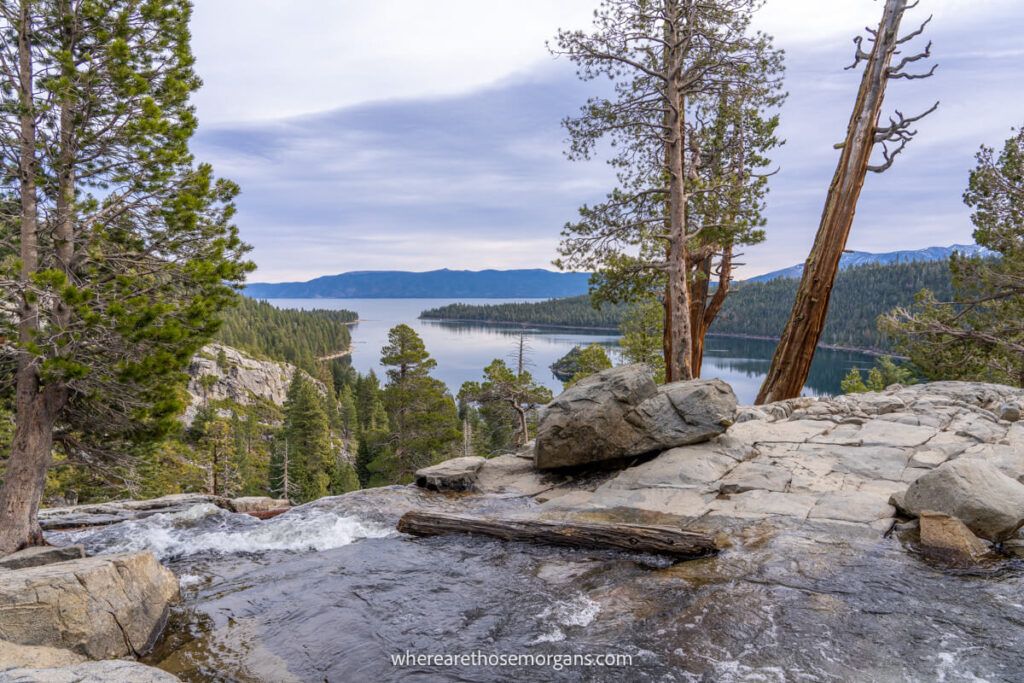 What To Expect On The Hike
Eagle Falls is popular because the trail is incredibly attractive, fun and surrounded by beauty from start to finish.
You can expect off-grey granite rocks contrasting with lush green vegetation and evergreen trees, sub-alpine and alpine forest, glacial lakes, granite peaks and of course Emerald Bay views.
The trail starts out as a narrow dusty path which leads to some light climbing up stones and rocks. Look out for notice boards explaining about the local environment.
Many hikers choose to turn around at Eagle Falls because the view over Emerald Bay is majestic. However, we encourage you to continue as far as Eagle Lake, especially on a hot day!
Are you into photography? The view over Emerald Bay from Eagle Falls is one of our favorite sunrise and sunset photo spots in Lake Tahoe.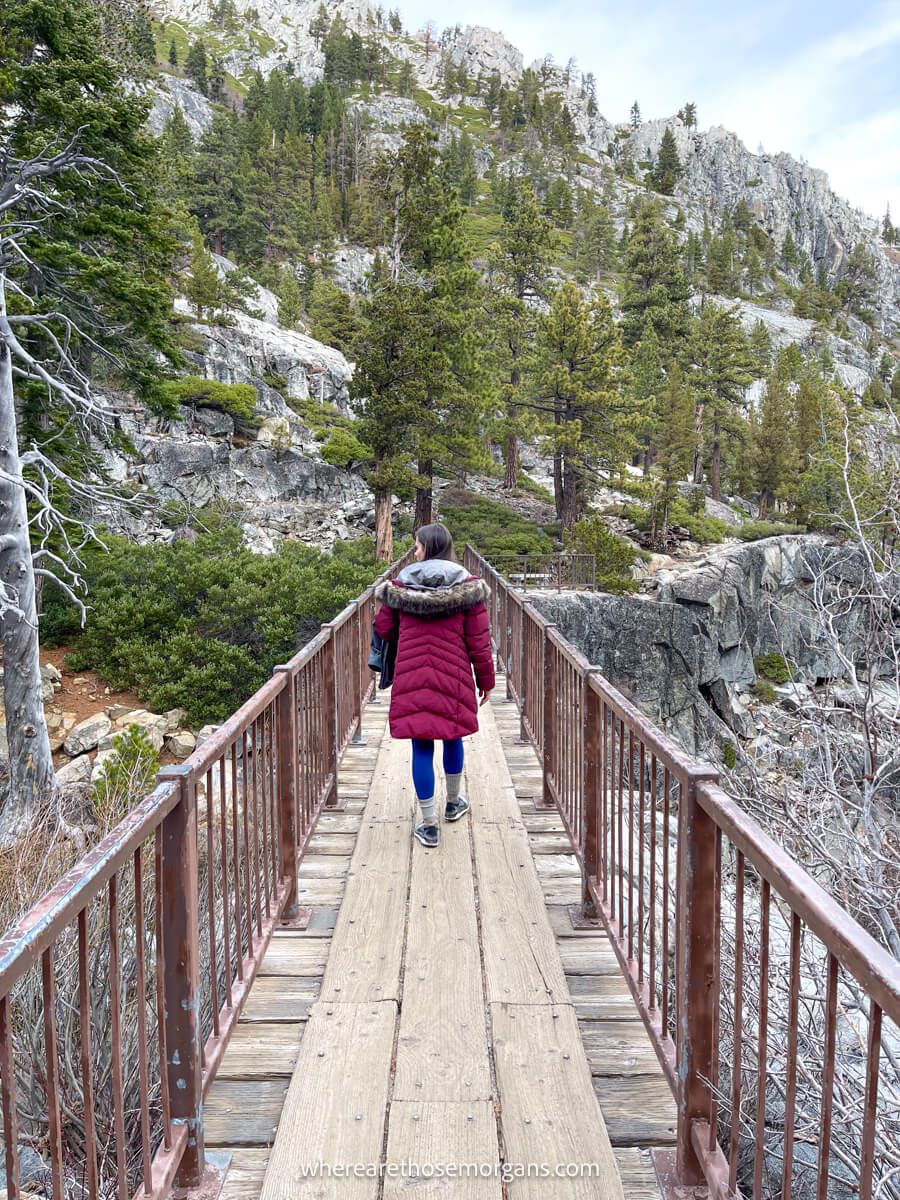 Hiking To Eagle Lake In Lake Tahoe
Let's walk through a basic Eagle Falls and Eagle Lake loop trail guide:
1. Find a space to park in the roadside lot near the trailhead.
2. Fill out your wilderness permit at the information board.
3. Follow the narrow trail as it steadily climbs to Eagle Falls.
4. Continue beyond the waterfall and cross the metal bridge.
5. Follow Eagle Lake trail until you reach a fork in the path.
6. Take the right turn and you will reach Eagle Lake.
7. Stop at Eagle Falls Overlook on the way back down.
Once you arrive at the lake, you can find a nice looking spot to settle down.
Take a swim in the cold water, relax and eat lunch. Just remember to pack out whatever you pack in.
Dogs are allowed on Eagle Falls trail in Lake Tahoe, but they must be kept on a leash and owners must clean up after them.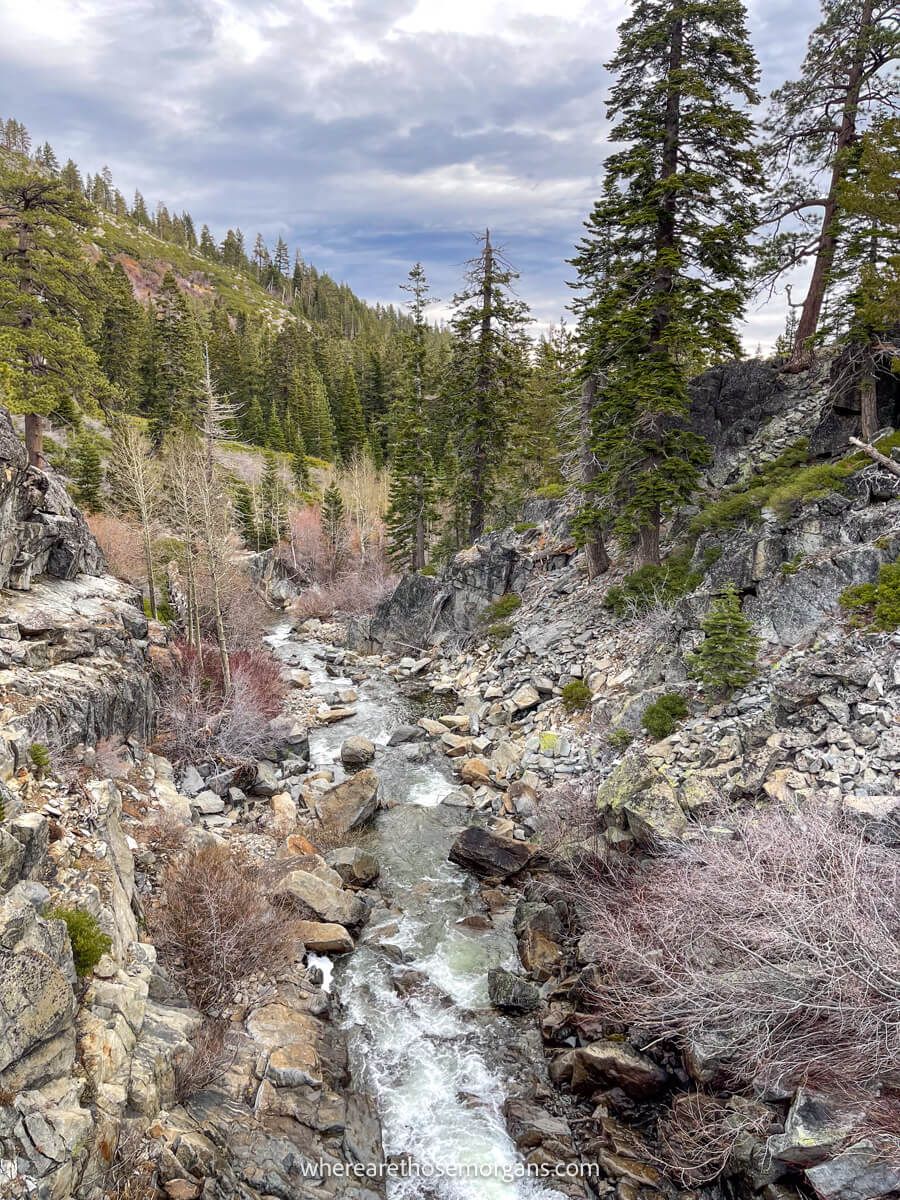 Best Time To Hike Eagle Falls Trail In Lake Tahoe
The best time to hike Eagle Falls trail in Lake Tahoe is early in the morning or much later in the afternoon so you avoid the crowds, parking issues and hottest parts of the day.
Sunrise and sunset are fantastic times of day to enjoy views over Emerald Bay from Eagle Falls.
If we hike this trail again, we will do it at either dawn or dusk and preferably in a warmer season. It was cold the morning we hiked Eagle Falls during our trip to Lake Tahoe in November.
However, the best time hike Eagle Falls in Lake Tahoe may also depend on your purpose for visiting.
For instance, are you planning to swim in Eagle Lake?
Well, you should probably visit in the afternoon once the temperature and water has warmed up a little.
One thing we know for sure is that you should try to hike Eagle Falls trail on a weekday, preferably in shoulder season and definitely not on a holiday weekend!
Note: Snow can remain on Eagle Falls trail well into May so you need to take precautions and plan for tricky conditions if you hike in spring.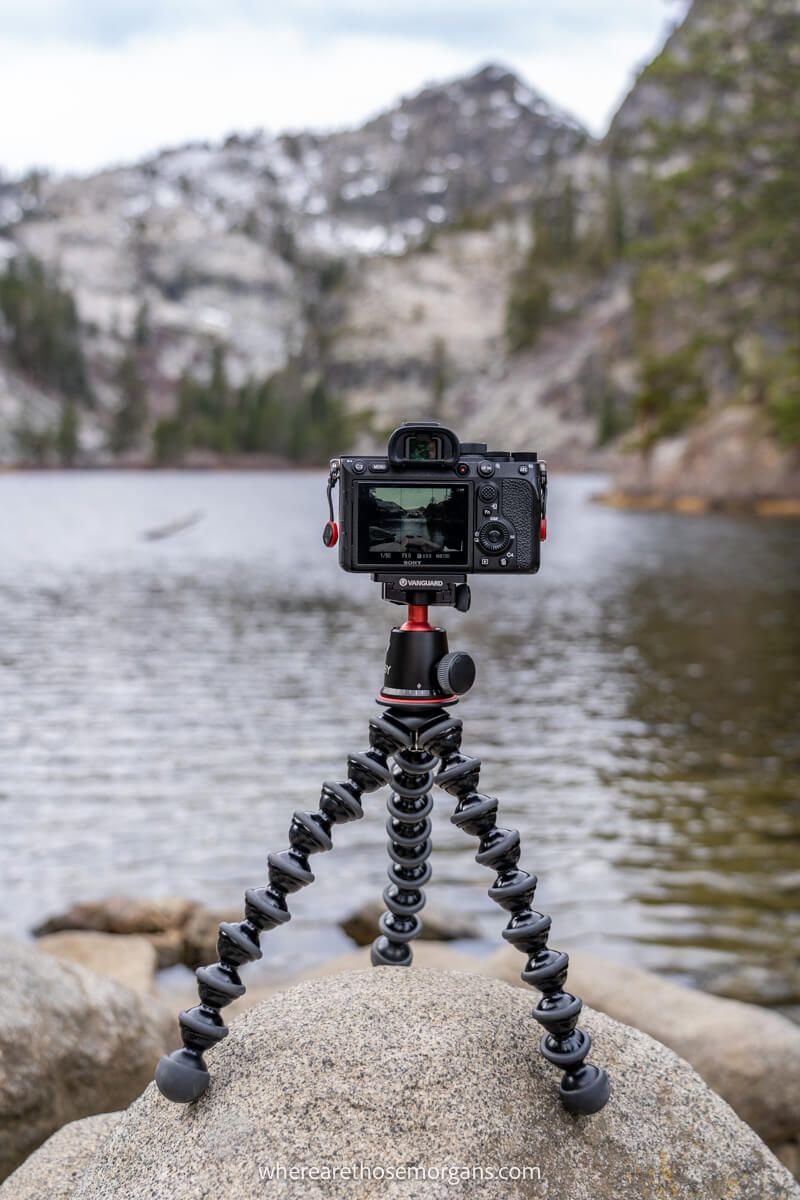 Photography
There are three major photography spots on the Eagle Falls trail:
1. Emerald Bay
2. Eagle Falls
3. Eagle Lake
Eagle Falls is a wonderful photo if the weather is playing nicely. You can even time it right in mid morning at certain times of year so the sun creeps over the distant tree line directly ahead of the waterfall.
Eagle Lake is at its best when the lake is completely still but you need perfect conditions for a reflection shot and they are rare. Early mornings give you the best chance.
You can photograph Emerald Bay from Eagle Falls but the bay disappears as you continue on to Eagle Lake.
Photography tip: Our favorite place to take photos of Emerald Bay is from a tiny roadside pull-off around 0.2-mile before the parking area for Eagle Falls trail.
What To Pack
Eagle Falls trail is mostly rocks, stone stairs and dirt packed path.
In good conditions it isn't essential to wear serious hiking gear but we still recommend wearing a sturdy pair of shoes or boots with good tread.
Don't forget to take flashlights and headlamps if you hike early or late in the day.
The most important thing to pack is plenty of water. Even if it is a cool day, you are still hiking at around 7000 feet above sea level at Eagle Lake so you need to stay hydrated.
Pack snacks and sandwiches for lunch at the lake, but remember to carry out anything you take in.
In winter and early spring you may need microspikes, poles and warmer layers depending on snow or ice conditions.
Last but not least, do not forget swimwear if you want to swim in Eagle Lake!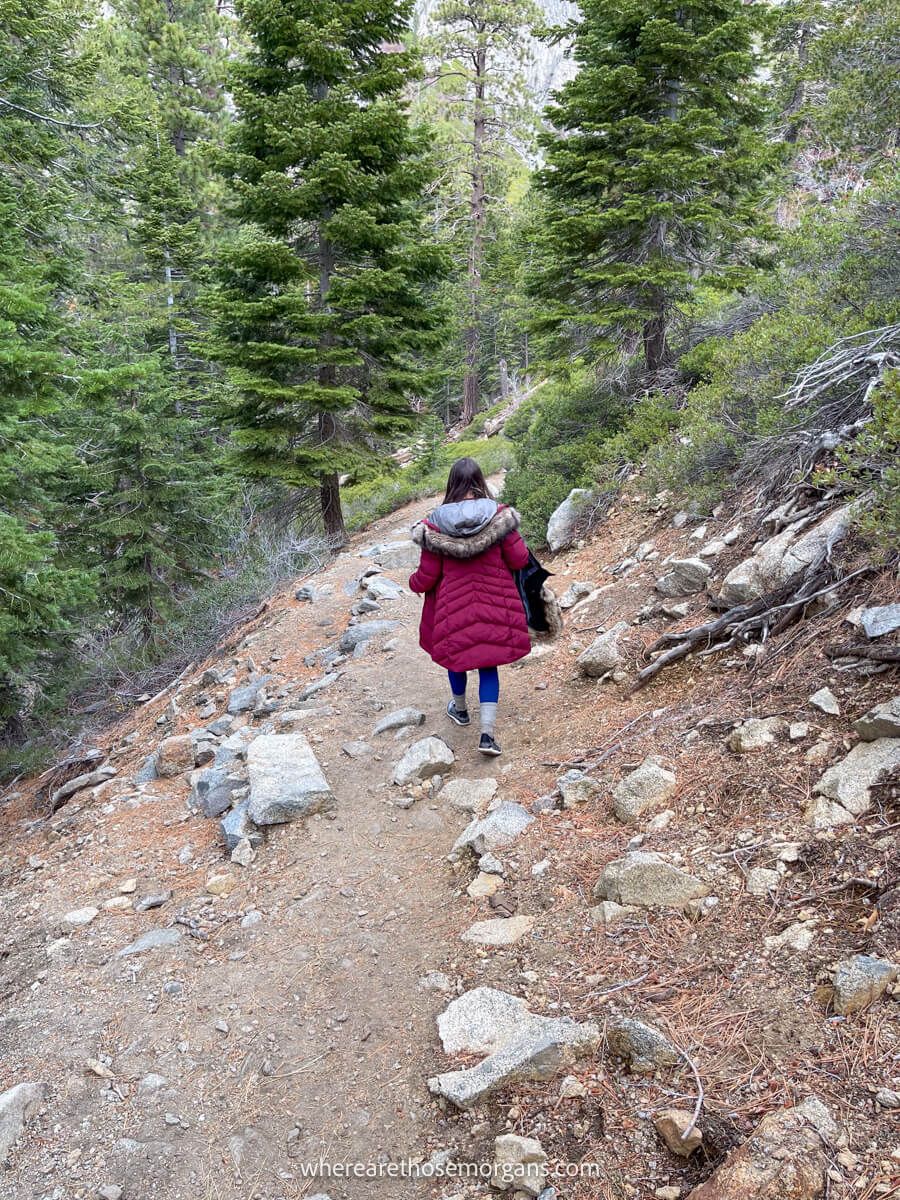 More Hikes In The Area
Are you planning to hike as many trails as possible during your visit to Lake Tahoe?
Here are just some of our favorite hikes in the area:
Mt Tallac Trail
Castle Rock Trail
Tahoe Rim Trail
Eagle Falls Trail Lake Tahoe FAQ's
Let's take a quick look at some of the most frequently asked questions about hiking Eagle Falls trail in Lake Tahoe, California.
Is Eagle Falls Trail a hard hike?
Hiking to Eagle Falls is quick and easy, but the difficulty transitions to moderate if hiking beyond the waterfall as far as Eagle Lake. Most beginner hikers and all experienced hikers will have no issues with this trail if conditions are fine.
Is Eagle Falls Trail worth hiking on a visit to Lake Tahoe?
Yes, there are plenty of excellent hikes around Lake Tahoe but Eagle Falls is one of the best and most popular. It is suitable for the whole family, it leads to a waterfall and a glacial lake, and it opens up some of the best views over Emerald Bay.
Our Top Lake Tahoe Guides
Our Popular California Guides
Want more California content? Head to our California Travel Guides to explore National Parks, popular road trips and things to do in major cities of the sunshine state.
---
We hope this guide to hiking Eagle Falls Trail helps with planning your trip to Lake Tahoe, CA!
Please let us know if you have any questions about hiking Eagle Falls trail below in the comments.
Happy Travels,
Mark and Kristen
Enjoy This Guide To Eagle Falls Trail? Pin It For Your Visit!