Joshua Tree National Park is the perfect Californian day trip destination. J-Tree or JT as known locally, is a popular vacation and weekend getaway spot, but first time visitors can tick off all the best bits of Joshua Tree in one (very) action packed day.
The park is ideally located just a few hours drive from Los Angeles, San Diego and every coastal city in between. Joshua Tree offers a nearby escape from chaotic urban life, a place to decompress in the desert surrounded by nature.
At this easy-going California National Park you will find colossal boulders stacked atop one another, rock climbers half hidden in narrow cracks, mesmerizing sunsets and crooked Joshua Trees dancing in dwindling sunlight.
For those who enjoy hiking, you will find plenty of short to medium trails to suit all levels.
This first time visitor guide will help you plan your Joshua Tree day trip like a pro, including the best things to do and an efficient one day itinerary.
*Please note this post may contain affiliate links. If you click on one, we may earn a small commission at no extra cost to you!*
Why Choose Joshua Tree National Park?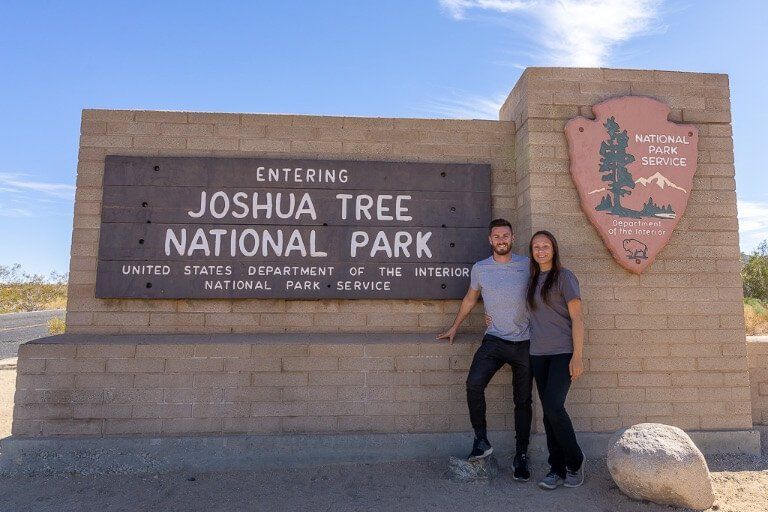 Located at a crossroads between the high Mojave Desert and the low Colorado Desert, two ecosystems collide to create unique flora in the form of Yucca Plants, or Joshua Trees.
Southern California has an abundance of options for a family vacation, day trips and some of the best US road trips. So, why is Joshua Tree worth visiting over its competition?
Ease of access from major cities Los Angeles and San Diego (& in between!)

Short and easy family friendly hiking trails through sandy desert terrain

Spectacular views over Coachella Valley and as far as Mexico on a clear day

World-class rock climbing opportunities for beginners and experienced climbers

Fantastic family campgrounds with some of California's finest stargazing

Peaceful desert escape from busy cities and a change of scenery from the Pacific Ocean

Interesting rock formations and of course unique Joshua Trees (best in silhouette)
Although Joshua Tree National Park is an excellent day trip option, we do always recommend staying a night at the best US National parks.
Why?
Typically, you will enjoy gorgeous sunset spots, awesome stargazing underneath clear skies and superior hiking early the next morning. Joshua Tree owns bragging rights for them all.
Joshua Tree National Park Day Trip Factfile
Address: 74485 National Park Drive, Twentynine Palms, CA 92277
Website: nps.gov/jotr
Phone: (760) 367-5500
Park Hours: All day, every day
Entrance Fee: US$ 30 Vehicle 7 Day Pass (free with America the Beautiful Pass)
Joshua Tree Village Visitor Center (Northwest entrance): Open 7.30am – 5.00pm daily
Campgrounds: Yes, 8. From May to Sept First Come First Served / Sept to May Reservation Required
Backcountry camping: Permitted
Accommodation: Hotels and glamping on edges of National Park.
Top Activities: Hiking, Camping, Stargazing, Rock Climbing
Annual Visitors: ~ 3 Million
Best Time to Visit: Spring or Fall (comfortable temperatures)
How To Get To Joshua Tree National Park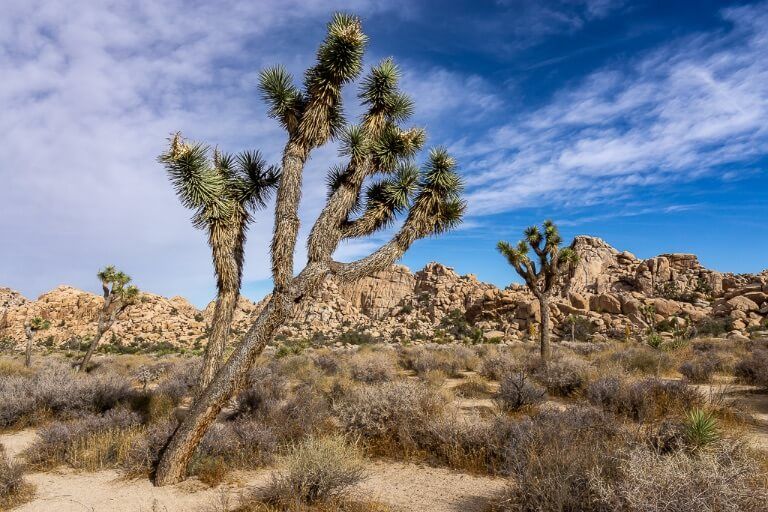 One of Joshua Tree's greatest assets is ease of access from the heavily populated Southern California coastal area, as well as vacation hotspots like Palm Springs.
If venturing down from San Francisco, you're looking at an 8 hour drive so you will need to spend a few days at Joshua Tree to make it a worthwhile trip.
However, if you're driving between Las Vegas and Los Angeles, you only need to take a slight detour to reach Joshua Tree and it would be a fantastic stop along the way.
Here are a few of the more common routes with directions:
Downtown Los Angeles to Joshua Tree:
Route: Take either I-10 East or CA-60 East, turn onto CA-62 and arrive at Joshua Tree's Northwest entrance.

Journey Time: 2 hours

Journey Distance: 130 miles
Downtown San Diego to Joshua Tree:
Route: Take I-15 North, exit onto I-215, turn onto I-10 and CA-62. Arrive into Joshua Tree's Northwest entrance.

Journey Time: 2 hours 30 minutes

Journey Distance: 160 miles
Palm Springs to Joshua Tree:
Route: Take N Indian Canyon Dr and CA-62. Arrive at Joshua Tree's Northwest entrance.

Journey Time: 45 minutes

Journey Distance: 33 miles
What Are The Best Things To Do On Your Joshua Tree Day Trip?
Let's take a look at the 'must do' attractions inside Joshua Tree National Park. Use this list to build up a picture of what interests you the most.
Afterwards, we will walk you through the most efficient way to visit the park in one day, including an interactive map showing all sites of interest.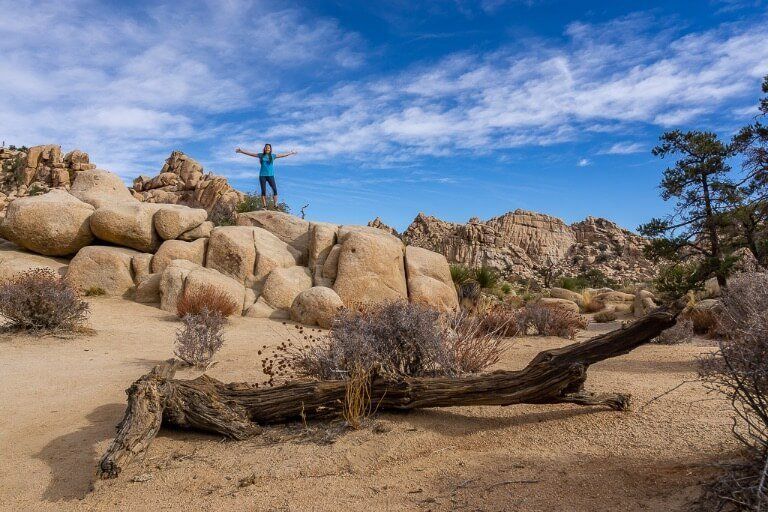 Hidden Valley is a very easy 1 mile roundtrip loop trail suitable for all ages and abilities. Sand colored boulder rocks enclose the valley and fully grown Joshua Trees are sporadically located around the trail.
Highly recommended for those who prefer relaxing walks around interesting rock formations and families with young children.
Length: 1 mile roundtrip
Difficulty: Easy
Time: 30 minutes
Recent Comments: All Trails
Hike to Barker Dam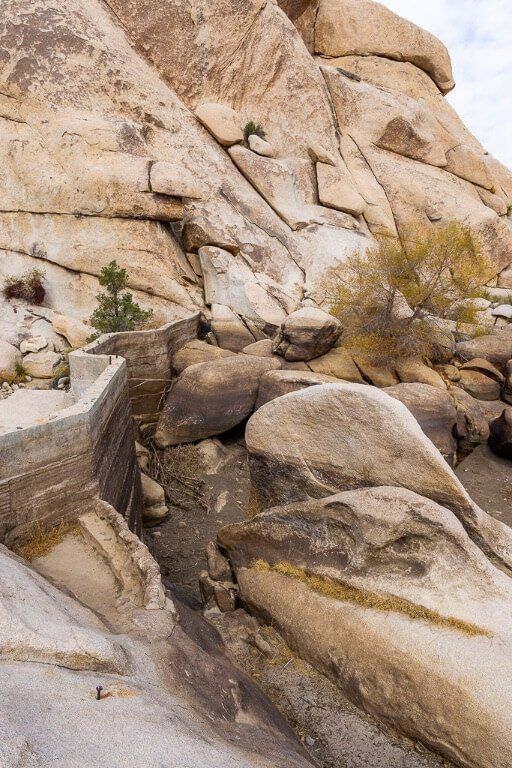 Barker Dam was built over 100 years ago by cattle ranchers who needed to conserve a deserts most precious commodity – water.
If you visit in Winter or Spring, a deep blue reservoir will appear among dry and dusty rocks like an Oasis. However, visit in Summer or Fall (like we did) and you will see nothing more than a dry sandy bed.
Barker Dam trail is a 1.3 mile roundtrip loop but also has a stop off along the way. Brightly colored Native American petroglyphs carved among weathered rock formations are located just a few meters off the nature trail.
Length: 1.3 mile roundtrip
Difficulty: Easy
Time: 45 minutes – 1 hour
Recent Comments: All Trails
Keys View Panoramic Overlook
Keys View offers the best panorama on your Joshua Tree day trip and there's no hiking involved! You can simply drive the entire road to a parking lot at the overlook.
Sweeping views across the Colorado Desert and Coachella Valley await you above ground. But unseen below the surface is the famous San Andreas Fault. If you visit on a clear day you will be able to see the Salton Sea and even Signal Mountain across the Mexican border.
We were blown away by the scale of what we could see up here!
Hike to Lost Horse Mine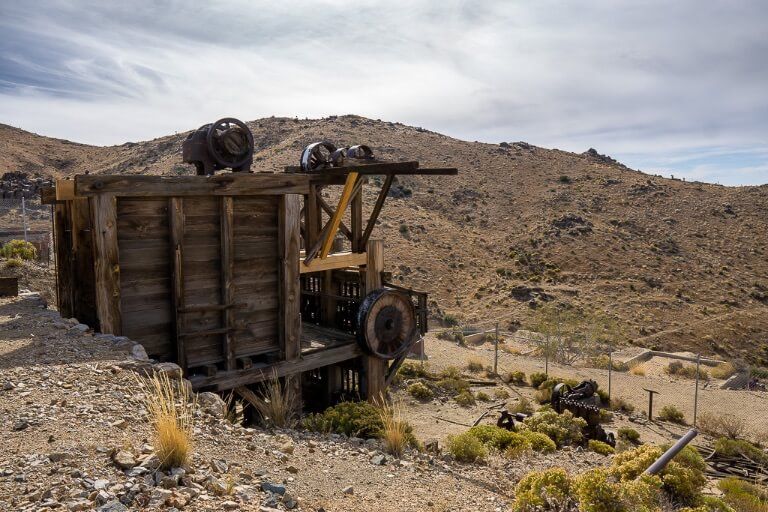 Lost Horse Mine was an exception to the rule of prospective gold mines within Joshua Tree National Park boundaries. Where many others failed, Lost Horse produced more than 10,000 ounces of gold and 16,000 ounces of silver between 1894 and 1931.
Do you know how much that equates to in today's money?
Somewhere around the US$5 million marker, not a bad take, right?!
Lost Horse Mine is a moderate difficulty 4 mile roundtrip hike following the exact trail developed by gold mine owners to extract ore and supplies back to Keys View Road.
Length: 4 miles roundtrip
Difficulty: Moderate
Time: 2 – 2.5 hours
Recent Comments: All Trails
Unfortunately, the mill – which is one of the best preserved mills in the entire National Park system – is very unstable.
Numerous collapses over the last few decades due to sink holes appearing underneath the surface (thanks to those unpredictable fault lines) resulted in the NPS gating off access to the mill.
Better to be safe than sorry!
Hike to Ryan Mountain Summit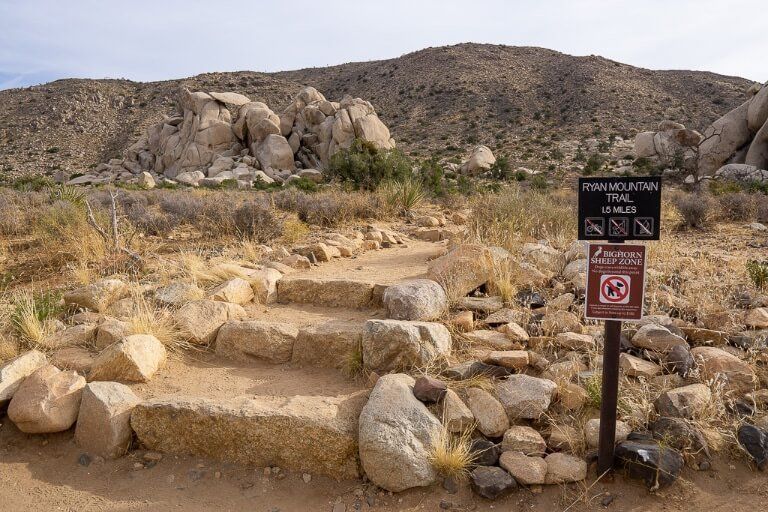 Ryan Mountain is the best hike at Joshua Tree National Park if you're looking for a challenge. If you're camping for the weekend in Summer, this is the place to visit early one morning and crack it before the sun get too strong.
A strenuous ascent gaining over 1,000 ft elevation on just a 3 mile roundtrip trail rewards you with 360 degree views over the surrounding desert land, mountains and the Salton Sea.
We recommend hiking to Ryan Mountain Summit if you prefer to hike than drive to viewpoints, but be aware that summit views are similar to those at Keys View.
Length: 3 miles roundtrip
Difficulty: Strenuous
Time: 2 – 2.5 hours
Recent Comments: All Trails
4 Wheel Drive Geology Tour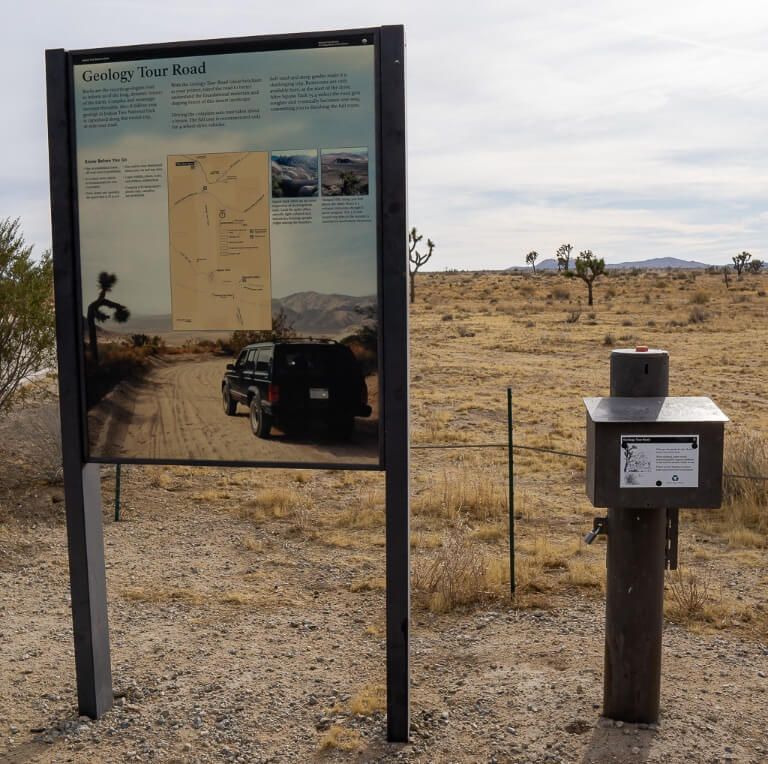 For those with 4WD vehicles, you have an advantage over everyone else at Joshua Tree. You can take an 18 mile off road trail among some of the most interesting landscapes inside the National Park.
The self guided tour takes around 2 hours and includes 16 stops.
Pick up an information leaflet at a visitor center or right at the beginning of the trail. Typical 2 wheel sedans and trucks can go as far as stop number 9 but no further as soft sand and steep grades could leave you in trouble!
Jumbo Rocks and Skull Rock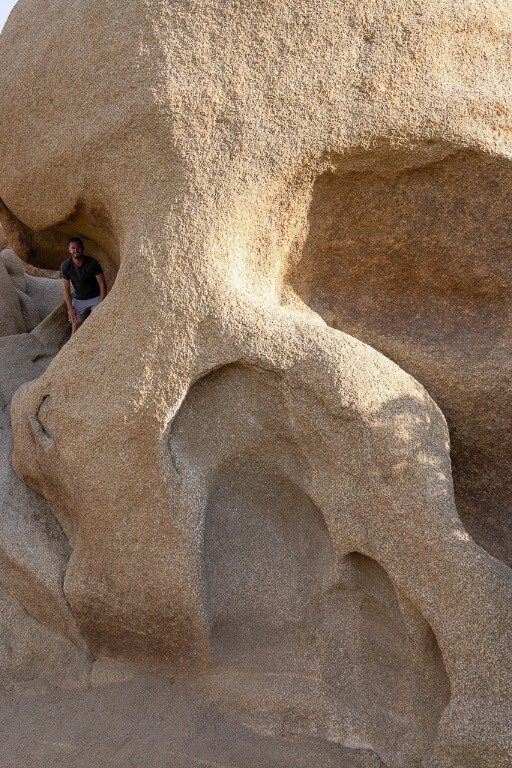 You will find enormous smooth and curvaceous boulders piled on top of each other at Jumbo Rocks.
There are a number of easy flat hikes around Joshua Tree, the 1.5 mile roundtrip trail to Skull Rock is one of the better ones.
But what is skull rock?
Exactly what you would think! A huge boulder weathered over time to perfectly resemble … a human skull! Getting into the eye socket wasn't as easy as it might look, only try it if you feel confident.
Cholla Cactus Garden Photography
Quite possibly our favorite part of Joshua Tree National Park was this unexpectedly beautiful cactus garden with incredible views over Coachella Valley to the Southwest.
Although a little further out, Cholla cactus garden is a must visit detour, particularly for those who enjoy photography.
We highly recommend saving the cactus garden until last on your day trip itinerary at Joshua Tree. Facing the setting sun, position yourself behind groups of cacti (blocking the sun) and marvel as their edges illuminate in stunning fashion.
Capturing some amazing photographs is an awesome way to end your day. Just don't get too close to the cacti, they hurt!
Check Joshua Tree sunset times here.
Joshua Tree Stargazing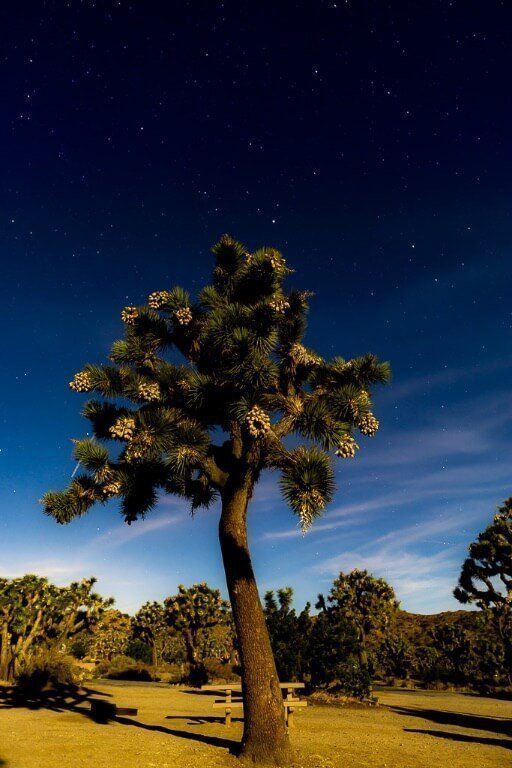 If you live in a large densely populated and industrial urban area like Los Angeles, having the opportunity to gaze upon brightly shining stars are far and few between. Joshua Tree is renowned for being one of the prime locations in California for clear night sky stargazing.
You can join a ranger program or do it yourself with camera (don't forget your tripod!) and/or binoculars. The timing couldn't have been worse when we visited as part of our 3 month US Road Trip. The moon was full and brighter than we'd ever seen.
Check Moon phases at Joshua Tree if you plan to visit for astrophotography.
Joshua Trees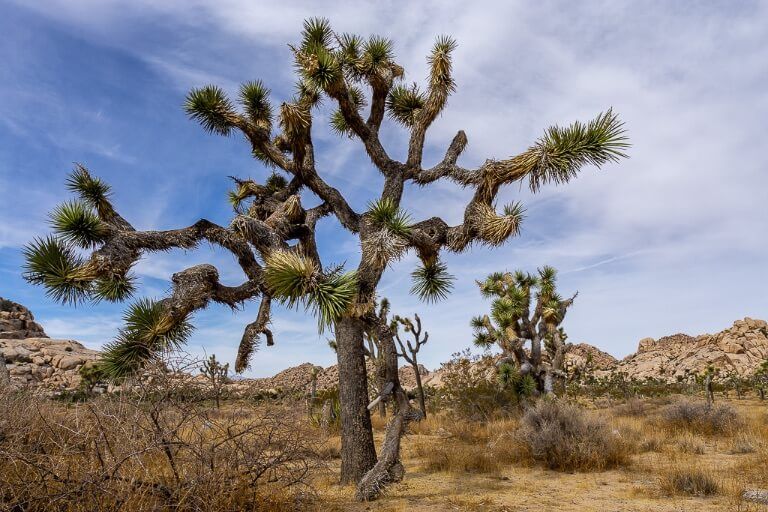 How could we leave out the stars of the show at this popular National Park?!
Joshua trees are native to the dry deserts of Southwestern United States, particularly densely populated in the Mojave Desert region.
Joshua trees grow vertically at a quicker rate than a typical desert plant but only for its first 10 years.
Once it reaches 10 years of age, the Joshua Tree grows slower on a vertical trajectory but begins to grow outwards. These outward growing branches can appear like human limbs dancing creatively when silhouetted.
One of our favorite things to do at the National Park was simply find different vantage points for photographing Joshua Trees, especially at sunset.
Rock Climbing at Joshua Tree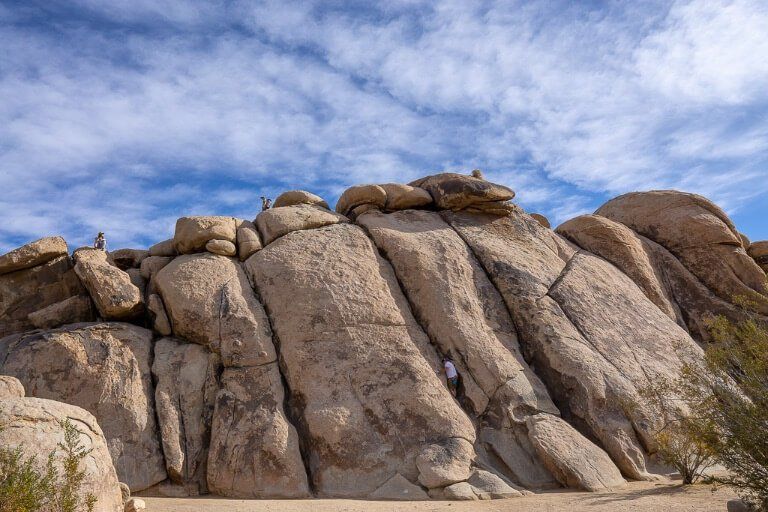 Yosemite National Park is California's Mecca for rock climbers and since Netflix, the Dawn Wall and Free Solo, many non-climbers are now familiar with El Capitan.
However, during Winter months, Joshua Tree's drier and warmer climate means the National Park becomes a primetime playground for experienced climbers in the area.
We saw many climbers inside cracks and negotiating house shaped boulders, spanning difficulties from easy to expert. In truth, until we visited, we never realized Joshua Tree was one of the foremost areas for rock climbing in the US.
Beginners can join a rock climbing school to learn from experienced guides.
Joshua Tree Day Trip Interactive Map
Click into this handy and comprehensive interactive map to orientate yourself with Joshua Tree National Park.
You can move around and zoom in/out to explore all of the best things to do, hotel locations and campgrounds.
Example Joshua Tree Day Trip Itinerary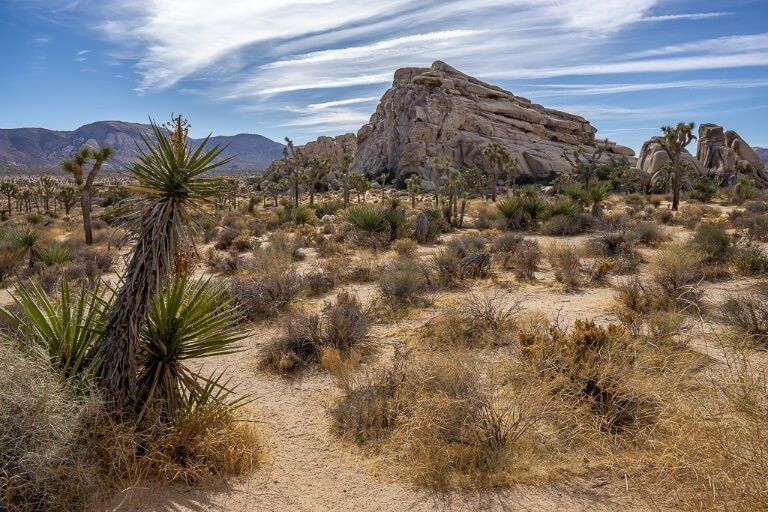 With just one day at Joshua Tree, you will need to leave home early. Let's assume you set off at 7am from downtown Los Angeles for the purpose of this example Joshua Tree day trip:
7.00am – Set off from Los Angeles.
9.30am – Arrive into Joshua Tree Northwest entrance. Take a quick look inside the Visitor Center and sign up to any ranger programs you are interested in.
10.00am – Park up at Hidden Valley and walk the easy 1 mile roundtrip trail.
11.00am – Drive a few minutes to Barker Dam parking lot and hike this 1.3 mile trail (particularly if you're visiting in Winter or Spring). Don't forget to check out the Petroglyphs along the route.
12.00am – Drive to Keys View for a stunning panorama over the San Andreas fault line and Coachella valley.
1.00pm – You have a decision to make here between either hiking Lost Horse Mine trail or Ryan Mountain. Lost Horse is medium difficulty whereas Ryan Mountain is strenuous difficulty but more rewarding (It's unlikely you will have time for both on just a day trip and one of the main reasons staying one night is worthwhile). Be aware you will be exposed throughout these hikes, so if a hot day is forecast, move your main hike to the first thing you do upon arrival. Alternatively, don't hike and instead take on the 4WD Geology Tour.
3.30pm – Drive to Skull Rock and park up. If you're a little earlier, hike one of the flat trails here and don't forget to get your Skull photo!
4.30pm – Drive to Cholla Cactus Garden, around 20 minutes away.
5.00pm – Explore the cactus garden as you watch the sun setting behind a hill and all cacti are illuminated beautifully.
5.30pm – Drive back to Los Angeles, it should take around 3 hours.
Where To Stay In and Around Joshua Tree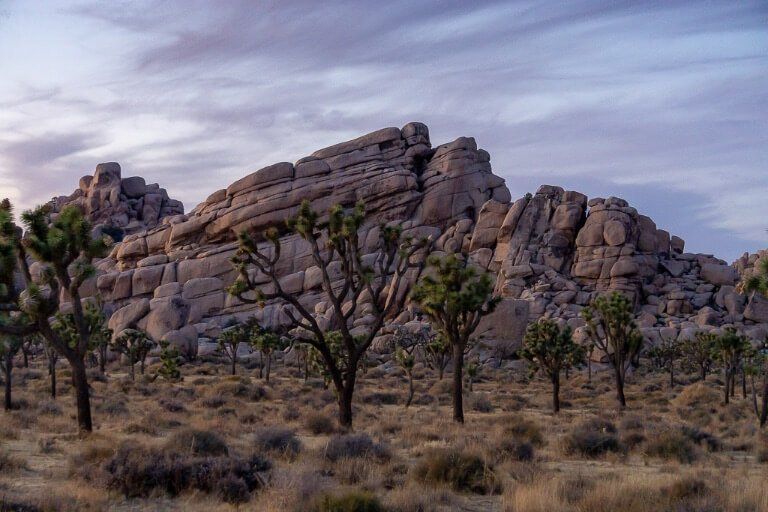 Joshua Tree Campgrounds
We had a quick look around Jumbo Rocks campgrounds and it looked pretty awesome. Each site had its own secluded area almost like an alcove among big boulders. It has one of the best locations of all campgrounds in the National Park.
There are 8 campsites listed on the NPS website, they are as follows (in size order from largest to smallest):
Jumbo Rocks – 124 sites (US$ 15)

Indian Cove – 101 sites (US$ 20)

Black Rock – 99 sites (US$ 20)

Cottonwood – 62 sites (US$ 20)

Hidden Valley – 44 sites (US$ 15)

Ryan – 31 sites (US$ 15)

Belle – 18 sites (US$ 15)

White Tank – 15 sites (US$ 15)
Camping at Joshua Tree is split into 2 very distinct seasons. May to September is off season and September to May is high season.
Summer (off season) – Campgrounds are subject to close due to unsafe temperatures. Family / Individual campsites are first come first served but group campsites are reservation only. Reserve here.
Fall / Winter / Spring (high season) – Reservations are required at the 4 largest campgrounds listed above. The 4 smaller campgrounds are first come first served. We highly recommend extending your day trip at Joshua Tree into 2 days, but be sure to book in advance if you want to visit at the weekend. Spring is peak season and will be busy even during the week. Reserve here.
Top-tip: If you desperately want to obtain a weekend campground spot in high season, consider arriving on Thursday morning before the rush.
Hotels Near Joshua Tree
Consider staying in a nearby hotel if you'd prefer to stay in a hotel or all campgrounds are full within the park. There are dozens of hotel options in Joshua Tree town, Yucca Valley, Twentynine Palms, Desert Springs and Palm Springs.
We have written a detailed guide to the very best Joshua Tree hotels, which features cheap, mid range, luxury and unique lodging options perfect for families, couples and groups located in all of the towns around the national park.
Stay in Joshua Tree, Yucca Valley or Twentynine Palms for quick and easy access to the park entrances.
Our popular guide on booking the cheapest hotels could help you save on your next trip.
Read About More US National Parks

…

Visiting Joshua Tree on a day trip from LA? Don't miss our top 10 things to do in Los Angeles for first tome visitors.
Bucket List US Road Trip Ideas

…

Don't forget you can look at all our USA specific travel guides to help plan your next trip!
---
We hope this helped you plan your day trip to Joshua Tree National Park!
Please let us know if you have any questions or need help planning your visit.
Happy Travels,
Mark and Kristen
Was This Post Helpful? Pin It For Your Visit to Joshua Tree!