Bonsai Rock is one of the best hidden gem photo spots in Lake Tahoe. We are going to show you exactly how to enjoy a stunning Bonsai Rock sunset on the shores of eastern Lake Tahoe, including where to park, how to access the rock and how to capture beautiful photos with Bonsai Rock as your subject.
Is Bonsai Rock worth it?
Yes! Bonsai Rock is a favorite Lake Tahoe sunset spot among professional and hobbyist photographers visiting the Nevada side. A very short scramble leads down from the roadside to a rocky vantage point directly to the east of Bonsai Rock, which makes for a spectacular sunset scene.
In this guide we will cover:
What is Bonsai Rock?
Where do you park?
Walkthrough of the short trail
Bonsai Rock sunset photos
Other hikes in the area
Let's hike to Bonsai Rock for sunset in Lake Tahoe, NV!
*Please note this post may contain affiliate links. If you click on one, we may earn a small commission at no extra cost to you. Thank you for supporting the free content we provide! Read more in our disclosure policy.*
What Is Bonsai Rock In Lake Tahoe?
Bonsai Rock is a large sloping boulder with four small trees growing out of cracks on the top.
The boulder sits a stones throw out from a cove-like rocky beach on the east shoreline of Lake Tahoe in between Chimney Beach and Sand Harbor State Park.
Bonsai Rock is one of the most famous Lake Tahoe sunset photo spots but it can only be accessed by hiking or by water.
How Do The Trees Grow?
You might be wondering how four small trees can grow on the top of a gigantic granite boulder?
Well, you're not alone! We had the same thoughts and even now we don't have any conclusive evidence to suggest how they can grow.
What is apparent is that the tiny fir and pine trees are thriving in their environment. There must be some soil in between cracks within Bonsai Rock, so with water and sun they can grow.
Bonsai means planted in a container and in a sense these trees have been naturally planted in the cracks of a huge boulder, which serve as their container.
Sun, wind and rain are allowing the trees to flourish.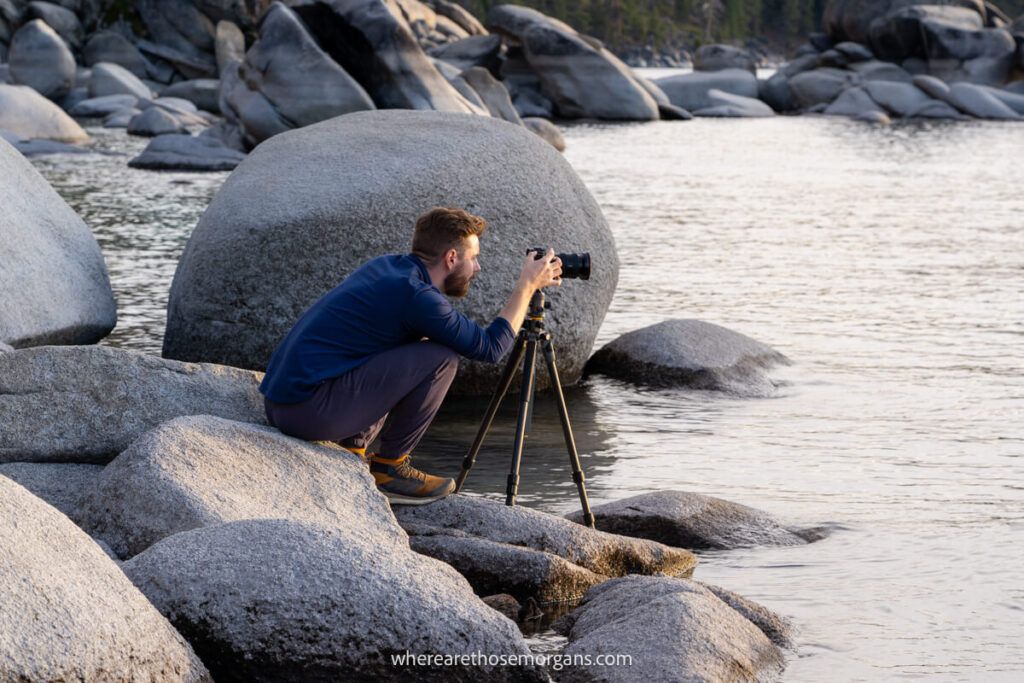 Our Bonsai Rock Experience
Bonsai Rock was one of the most highly anticipated photography locations on our week long trip to Lake Tahoe.
We are always looking for the best sunrise, sunset, astro or water shots to give us chance to pull out our pro camera and lens. Bonsai Rock provided us with a stunning sunset and water frame.
We hiked down the unmaintained rocky scramble from the side of Highway 28 to access a hidden cove-like rocky area around one hour before sunset.
After setting up our tripod, we simply waited for the sun to set and enjoyed the view.
We stayed a little after sunset and played around with light painting Bonsai Rock in twilight and highly recommend it if you are a serious photographer.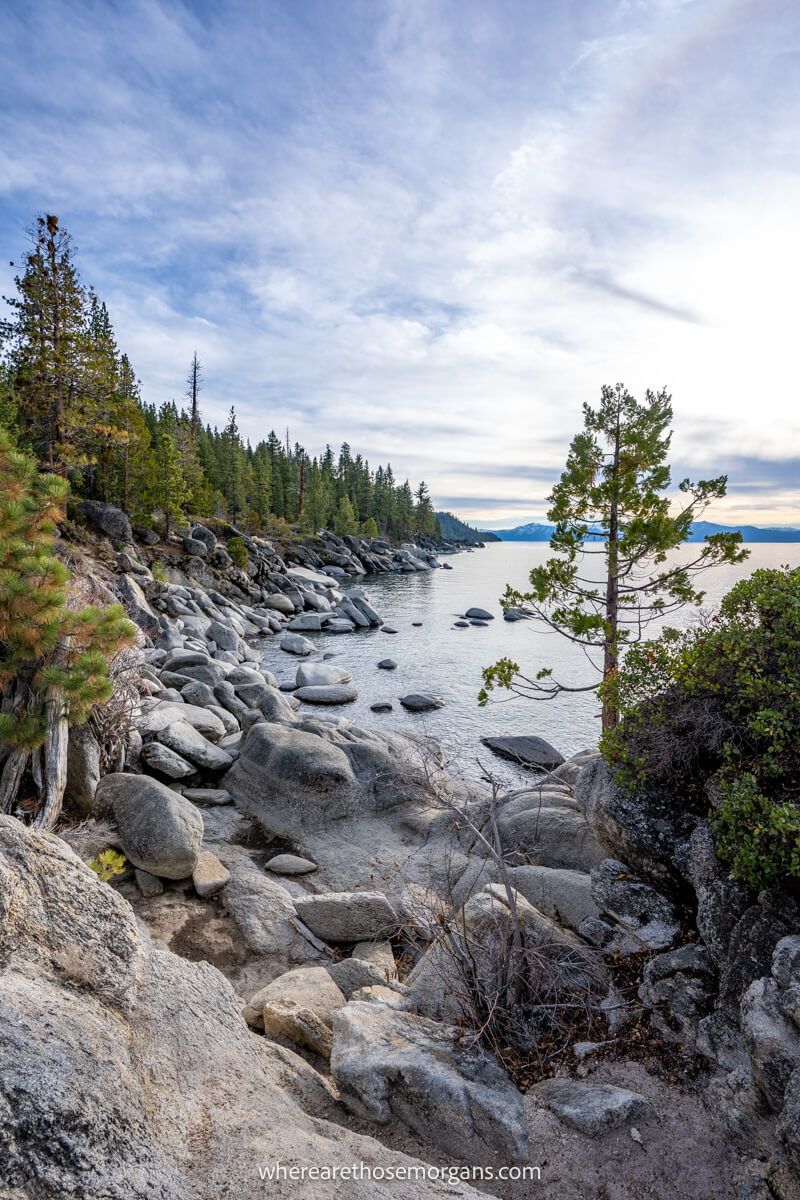 Where Is Bonsai Rock?
Bonsai Rock is located 50 feet into Lake Tahoe from a hidden rocky shoreline just 1 mile to the south of the Sand Harbor State Park entrance in Nevada.
In order to access the rocky shoreline, visitors must park on the highway and hike an unmaintained trail down to the waters edge.
If you are driving up from South Lake Tahoe, Bonsai Rock is 21.5 miles north which should take around 35 minutes drive time.
Carson City is 19 miles from Bonsai Rock trailhead, which should take approximately 30 minutes to drive.
Where Do You Park For Bonsai Rock Lake Tahoe?
There is no designated parking lot or off road parking available for visiting Bonsai Rock in Lake Tahoe. What you will find instead is a very narrow roadside pull-off with space for a handful of cars.
It is a wafer-thin hard shoulder on the side of the narrow two lane highway which is flanked by cliffs and drops to the lake. You need to get your car right over in the parking area to avoid causing issues on the main road.
Here is the exact Google Maps location for Bonsai Rock roadside parking.
The alternative is to park at Sand Harbor or Chimney Beach parking lots and access Bonsai Rock by water.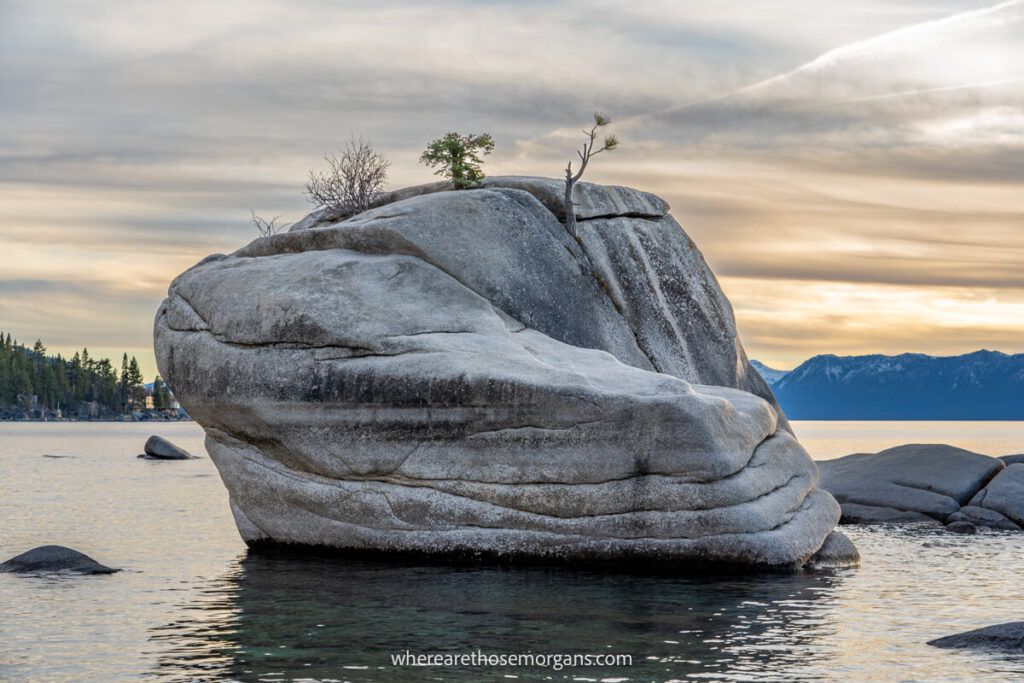 How Much Is Entry?
There is no fee to park at Bonsai Rock roadside lot and there is no state park entrance fee to pay for accessing the rocky beach area below.
It is always free to hike the short scramble trail down from Highway 28 to Bonsai Rock in Lake Tahoe.
Chimney Beach is also free to park, but Sand Harbor State Park costs $10 for NV plates or $15 for non-NV plates to enter.
How Long Is Bonsai Rock Trail?
Bonsai Rock Trail in Lake Tahoe is a moderately challenging 0.3 miles roundtrip scramble hike from trailhead to beach and back.
Total elevation loss from the trailhead to Bonsai Rock is around 120 ft, which switches to the same elevation gain on the way back to the trailhead parking lot.
The hiking trail to reach Bonsai Rock is unmaintained, steep and can be dangerous.
Hiking should take around 15 minutes on the way down and 20 minutes on the way back up for a total hiking time of 35 minutes.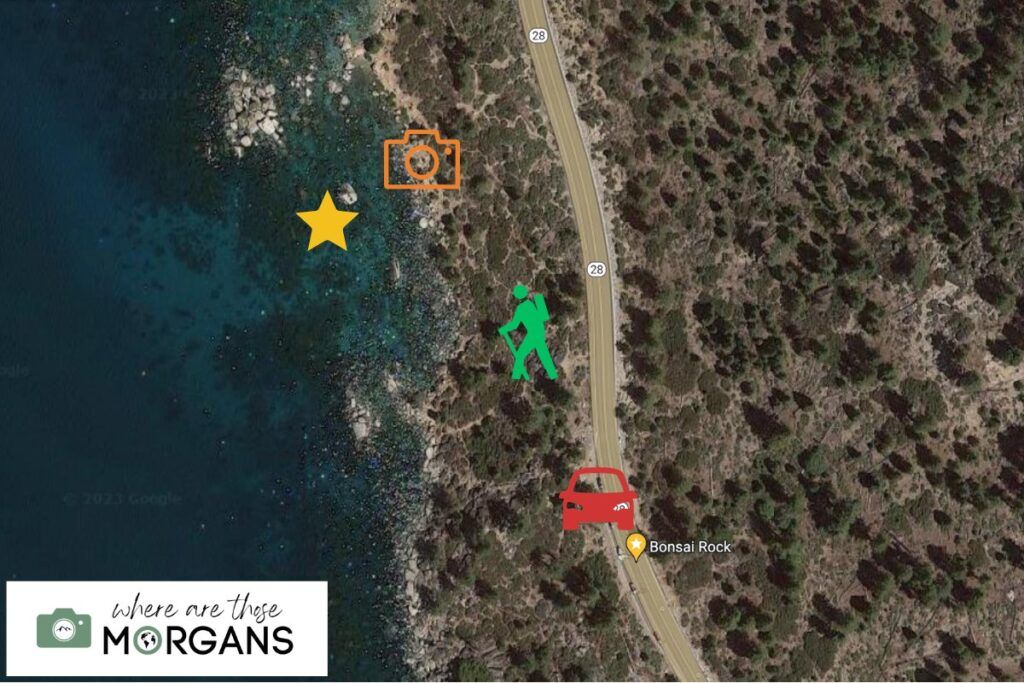 Hiking To The Bonsai Rock Photo Spot
Let's cover a very brief step by step walkthrough of the hike to Bonsai Rock in Lake Tahoe:
1. Park up in one of the narrow roadside spaces near Bonsai Rock.
2. Walk north on the main road staying off the tarmac when possible.
3. Look for a rough trail leading down to the lake.
4. Very carefully navigate your way down the steep bank.
5. Eventually you will reach a rocky beach and the Bonsai Rock viewpoint.
Experienced hikers will enjoy the adventurous element to accessing Bonsai Rock, but this trail shouldn't be attempted by beginner hikers or younger children.
Can You Kayak To Bonsai Rock?
Yes, you can kayak, canoe, stand up paddle board or even swim to visit Bonsai Rock in Lake Tahoe.
If you would prefer to avoid the sketchy parking and hiking aspects of visiting Bonsai Rock by car, we recommend kayaking from either Sand Harbor Beach or Chimney Beach instead.
Kayaking to Bonsai Rock is better suited to warmer weather in summer and it does mean you will need a waterproof pack to protect your camera gear.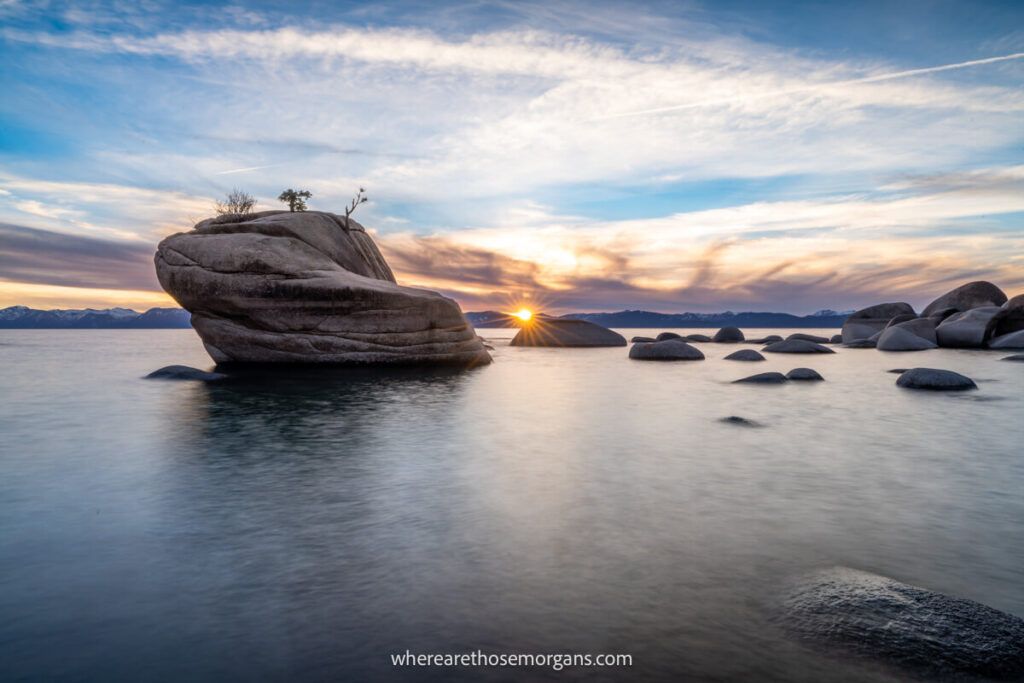 Bonsai Rock Sunset Photography Tips
Sunset is without question the most popular and most attractive time of day to photograph Bonsai Rock.
Even on the cool midweek evening we arrived at Bonsai Rock when we were visiting Lake Tahoe in November, there were two other groups around with cameras and tripods.
If possible, you should try to arrive a good 45 minutes to 1 hour before sunset so you can quickly scout the location and set up your preferred frame.
Find a boulder on the shoreline if you want water entirely in your foreground or set up a little further back if you want boulders in the immediate foreground.
Look for the trajectory of the sun as it begins to slowly descend behind Bonsai Rock and consider where you want it to be on the horizon.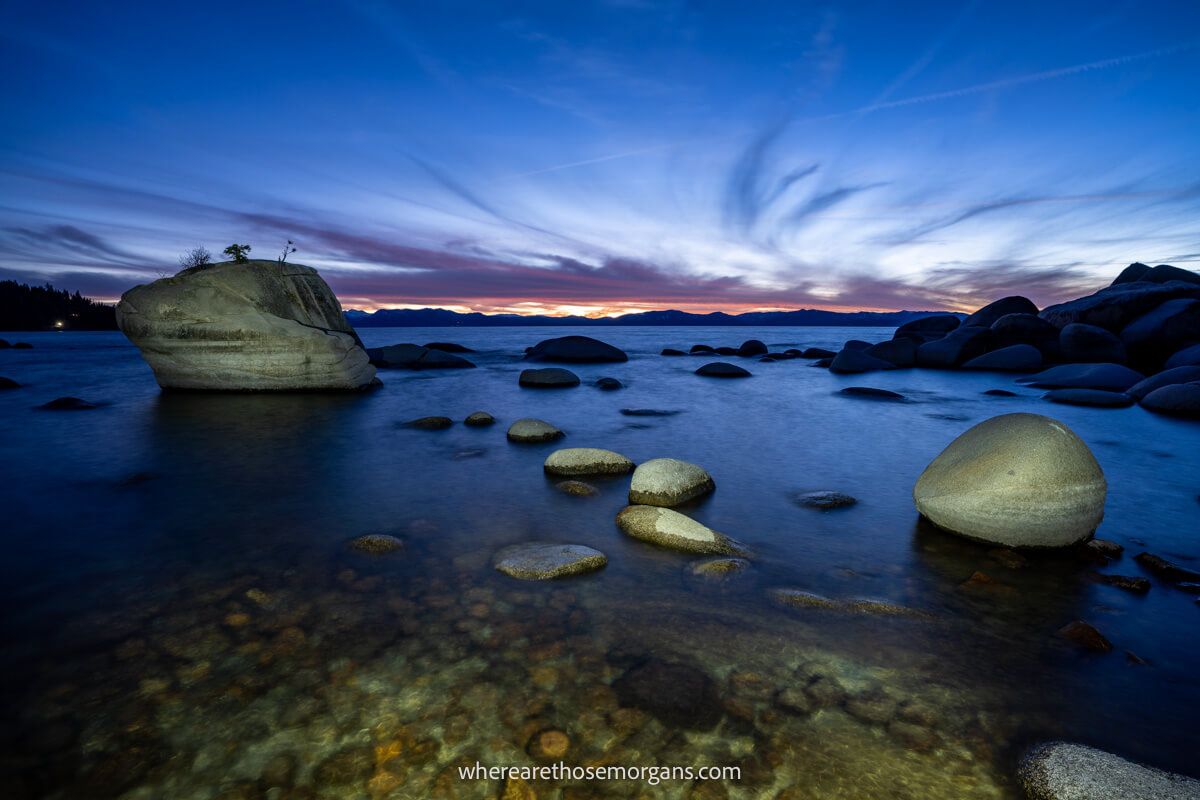 What To Pack
Even if you are just hiking down to see the rock without any photography gear, we strongly suggesting wearing a robust pair of shoes with excellent tread.
Remember, you are staying for sunset so even if it feels warm when the sun is out, you might need an additional layer or two for later.
In terms of camera gear, you will need a tripod and you might want to attach either a polarizing filter or a ND filter depending on your style of photography.
Don't forget to carry a headlamp and keep your smartphone charged so you can use the flashlight on the way back up to your car.
More Hikes In The Area
Are you planning to hike as many trails as possible during your visit to Lake Tahoe?
Here are just some of our favorite hikes in the area:
Mt Tallac Trail
Castle Rock Trail
Tahoe Rim Trail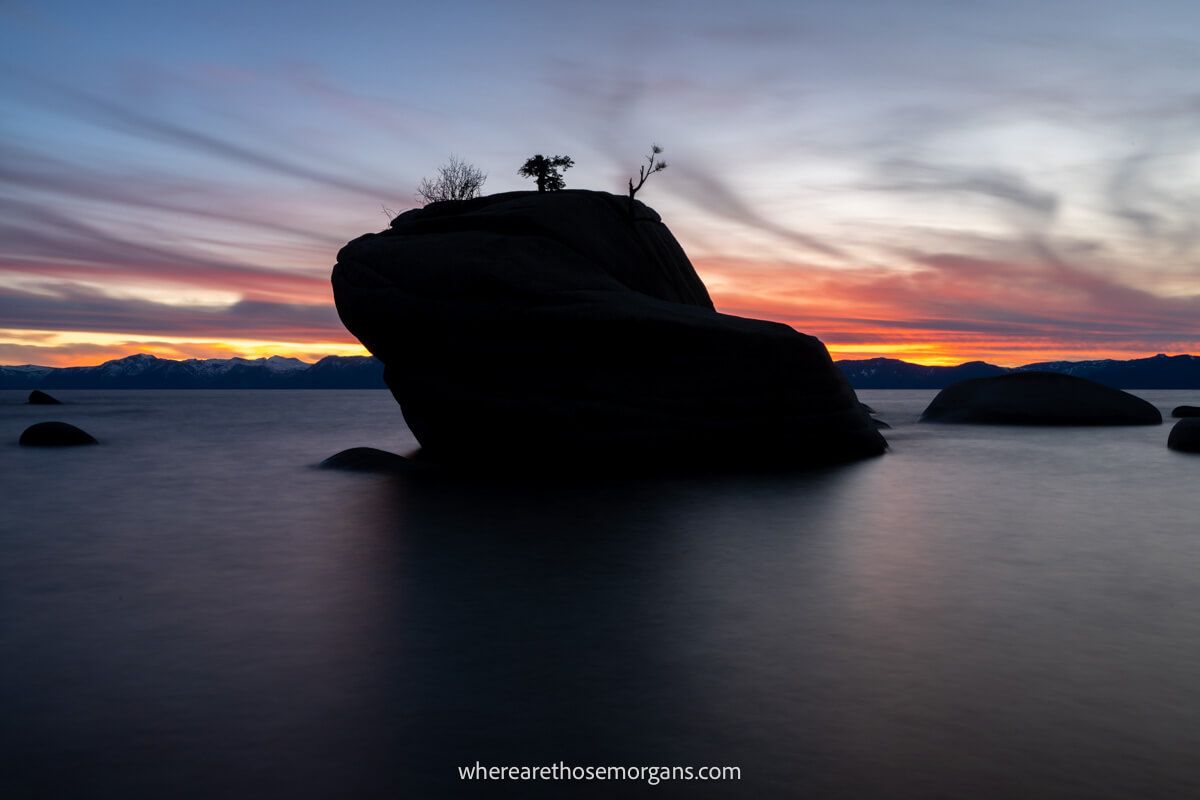 Bonsai Rock Trail Lake Tahoe FAQ's
Let's take a quick look at some of the most frequently asked questions about the Bonsai Rock hike in Lake Tahoe, Nevada.
Is it safe to hike down to Bonsai Rock in Lake Tahoe?
The hike to Bonsai Rock is a short but steep and unmaintained trail, which is safe enough for experienced and confident hikers but it might not be suitable for younger children or beginner hikers. Take care on the rocky beach and remember a flashlight if you visit for sunset.
Is Bonsai Rock a popular Lake Tahoe photography spot?
Yes, Bonsai Rock is a hugely popular photography location in Lake Tahoe. Some visitors may consider Bonsai Rock as a little overhyped by serious photographers but we think it is well worth the effort. Sunset is by far the best time of day to photograph the rock.
Our Top Lake Tahoe Guides
Our Popular California Guides
Want more California content? Head to our California Travel Guides to explore National Parks, popular road trips and things to do in major cities of the sunshine state.
---
We hope this guide to visiting Bonsai Rock helps with planning your trip to Lake Tahoe, NV!
Please let us know if you have any questions about sunset photography at Bonsai Rock below in the comments.
Happy Travels,
Mark and Kristen
Enjoy This Guide To Bonsai Rock? Pin It For Your Visit!