Snoqualmie Falls is one of the most powerful and impressive waterfalls in Washington State. This complete trail walkthrough will explain everything you need to know about the picturesque hike to upper and lower observation deck viewpoints at Snoqualmie Falls, WA.
Is it worth visiting Snoqualmie Falls?
Yes! Snoqualmie Falls is a spectacular waterfall plunging over granite cliffs into a deep and dramatic horseshoe shaped canyon below. Visitors can view the immense waterfall easily at an upper observation deck or take a moderately difficult hike to view the waterfall from a lower observation deck.
Here's what we will show you:
Where to find Snoqualmie Falls
Entrance fee and parking information
Things to do near Snoqualmie Falls
How to hike the Snoqualmie Falls trail
Best time of year and day to visit
Where to eat and stay nearby
Stunning photos of Snoqualmie Falls
Let's hike the beautiful Snoqualmie Falls Trail in Washington!
*Please note this post may contain affiliate links. If you click on one, we may earn a small commission at no extra cost to you. Thank you for supporting the free content we provide! Read more in our disclosure policy.*
Our Snoqualmie Falls Experience
When we lived near Seattle we had a goal to see the three popular Washington national parks, but also to explore the lesser known areas around the state.
Snoqualmie Falls was one of the very first places we visited after moving to Washington and it was one of the last places we visited before leaving to travel the world again.
So we were lucky enough to enjoy the mighty Snoqualmie Falls in both spring and fall, the two best times of year to visit for photography.
Stay tuned until the end for our favorite photos from Snoqualmie Falls!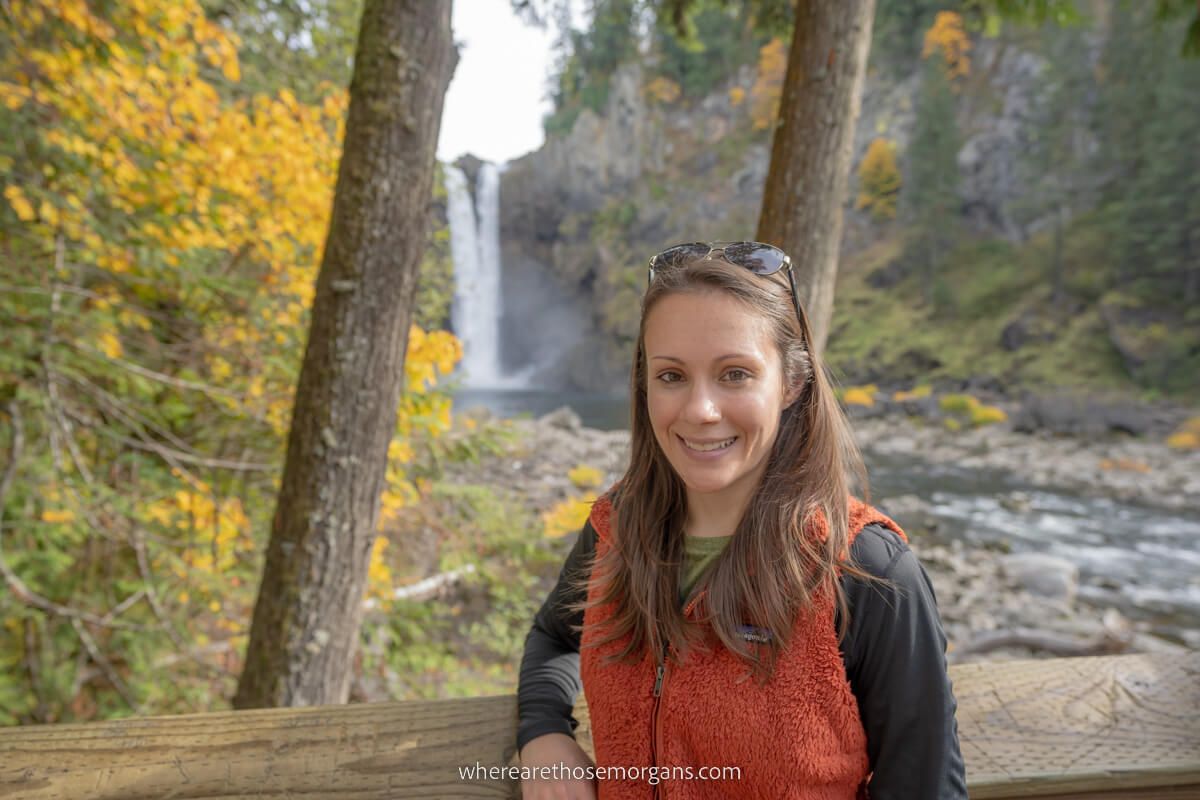 Where Is Snoqualmie Falls?
Snoqualmie Falls is located along Railroad Ave just 1 mile north of the small town of Snoqualmie, Washington in the US northwest.
It is easy to reach from built up areas along the Washington coastline because it is only 4 miles from I-90 near Seattle.
Click here to open the Google Maps location of Snoqualmie Falls.
How Far Is Snoqualmie Falls From Seattle?
Snoqualmie Falls is 29 miles from downtown Seattle, which should take around 35 minutes to drive with no traffic.
If you are flying into Sea-Tac airport, hiring a car and driving over to Snoqualmie Falls, you can expect a journey of 32 miles, which should take approximately 40 minutes.
What if you want to visit Snoqualmie Falls from another area of Washington?
Here are distances and average times from other major nearby cities to Snoqualmie Falls parking lot:
Bellevue – 23 miles / 30 minutes
Renton – 28 miles / 35 minutes
Everett – 50 miles / 55 minutes
Tacoma – 42 miles / 50 minutes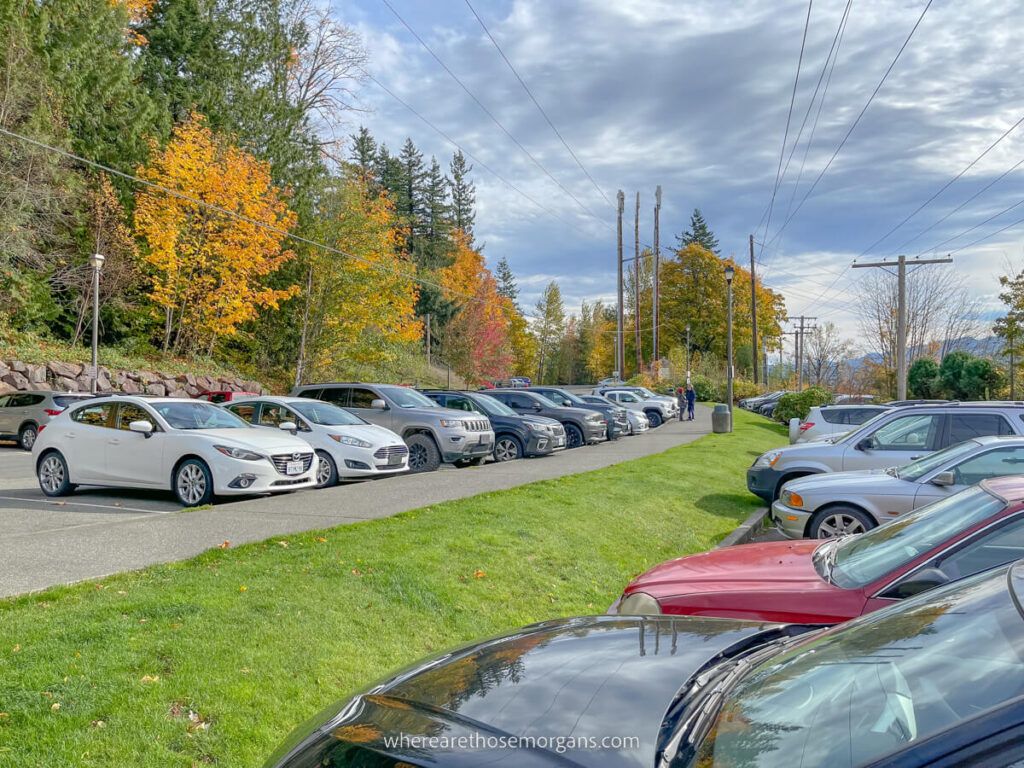 Snoqualmie Falls Parking
Parking can be confusing as you arrive at Snoqualmie Falls Park.
There are technically three parking areas, two small lots on the waterfall side of the road and one huge lot on the opposite side of the road.
The two lots on the waterfall side are for Snoqualmie Falls Lodge which is called Salish Lodge and a paid parking lot at the Snoqualmie Falls gift shop.
The lot on the opposite side of the road, which is east of Railroad Ave as you look at the map, is a free parking area with no time limit.
We strongly recommend you park in the free lot because you will save money and you should have no issues finding a space.
If you use Google Maps, click the upcoming link to set your destination for "Free Parking Lot" at Snoqualmie Falls.
Once you park in the free lot, simply walk across an attractive pedestrian footbridge for instant access to Snoqualmie Falls upper observation deck.
Lower Falls Parking
One of our top tips for visiting Snoqualmie Falls is to let you know that you can actually park at both the upper and lower observation deck areas if you don't want to hike the trail.
Hiking is the most fun way to experience both viewpoints but if you aren't able to hike you can hop back in your car and drive down to Snoqualmie Lower Falls.
Click the upcoming link for the Google Maps location the Lower Falls parking lot.
Snoqualmie Falls Entrance Fees
Snoqualmie Falls has no admission fee and it open to the public from sun up to sun down every day of the year.
You do not to display a Discover Pass, America the Beautiful Pass or any type of pass to visit Snoqualmie Falls, it is completely free for everyone year round.
This might just be one of the reasons it is so popular among local Washingtonians!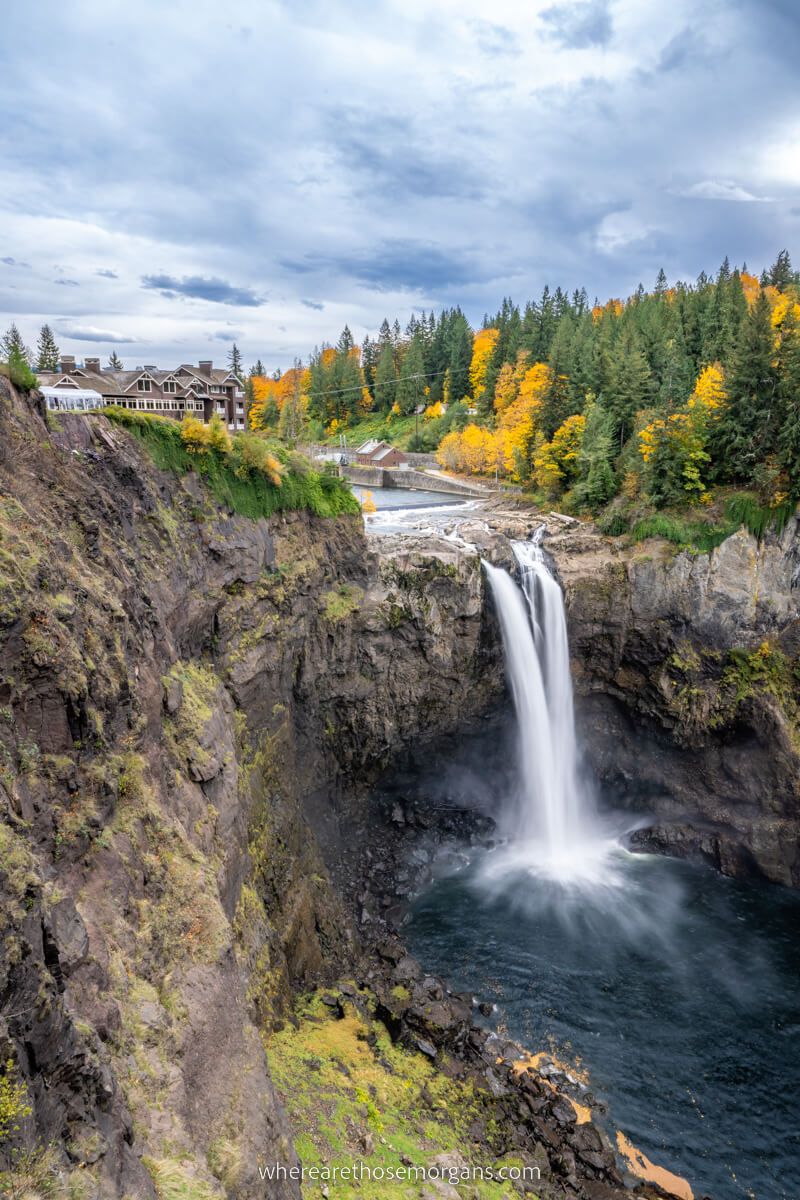 How Tall Is Snoqualmie Falls?
Snoqualmie Falls is a 268-foot tall curtain waterfall with an average width of around 100 feet.
The height of Snoqualmie Falls is constant but the width can be longer or shorter depending on the volume of rainfall or snowmelt at various times of year.
What we like the most about Snoqualmie Falls is that there are no tiers or breaks in the waterfall. It is a straight shot 268 feet plunge from top to bottom, which is an awesome sight to behold.
Things To Do At Snoqualmie Falls
So what is there to do once you arrive at Snoqualmie Falls?
Here are the most popular ways you can spend your time:
Take photos of the waterfall
Hike from the top to Lower Falls for a different perspective
Learn about Snoqualmie Falls and how it supplies the region with power through various information boards
Eat lunch at The Attic or dinner at The Dining Room inside Salish Lodge
Shop in Salish Lodge gift shop
Let's take a closer look at where you can view the waterfall.
Upper + Lower Snoqualmie Falls Observation Decks
There are two observation decks at Snoqualmie Falls from which you can see and photograph the waterfall:
1. Upper observation deck
2. Lower observation deck
Upper observation deck is easy to access with very little effort. It has the quintessential Snoqualmie Falls view from slightly above and to one side of the waterfall. However, because it is so easy to access, it is also far busier than lower observation deck.
Lower observation deck is harder to access because it requires a hike with a fairly steep gradient. It has a stunning bottom up view of the waterfall and it is much quieter. We highly recommend taking the time and making the effort to see the Lower Falls area.
Hiking Snoqualmie Falls Trail
Does seeing the waterfall from below in a much quieter setting sound good to you?
Great, let's walk through the entire hike from Snoqualmie Falls Upper Observation Deck to Lower Observation Deck around the Lower Falls area.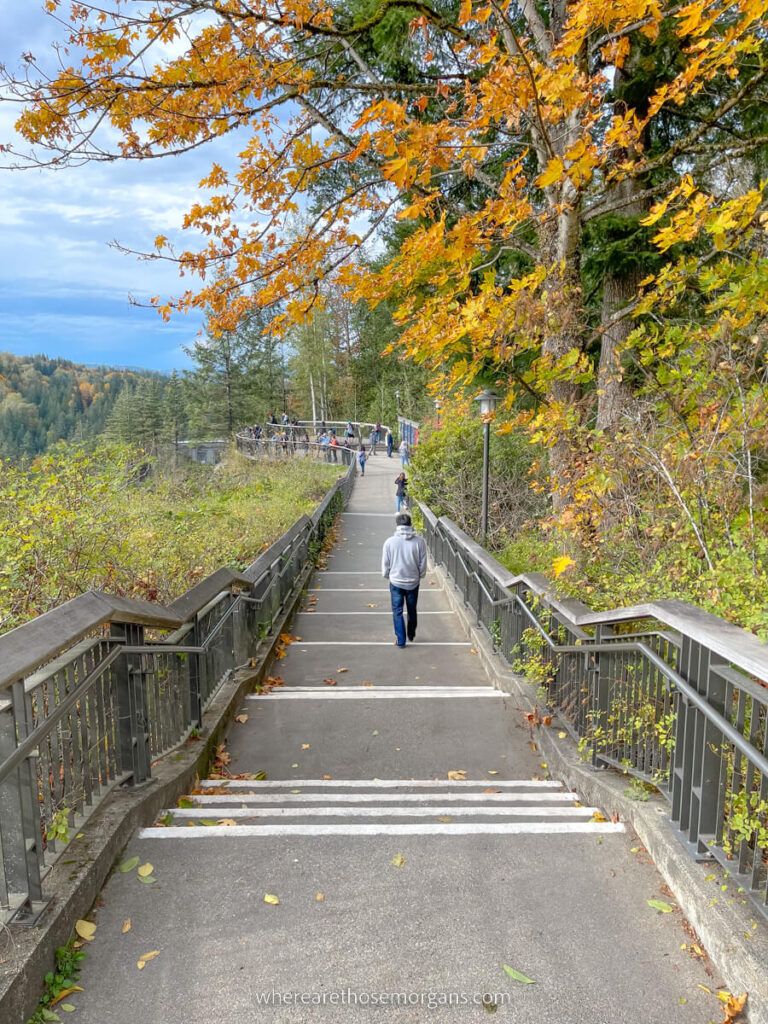 1. Begin At Upper Observation Deck
After parking and crossing the pedestrian footbridge you will immediately see Snoqualmie Falls roaring below and slightly to the left of the path. Enjoy the vista and continue walking as the path leads away.
Within a few short minutes you will reach upper observation deck, which has two standing tiers for visitors and photographers. The view from here is fantastic, so make sure you take plenty of photos!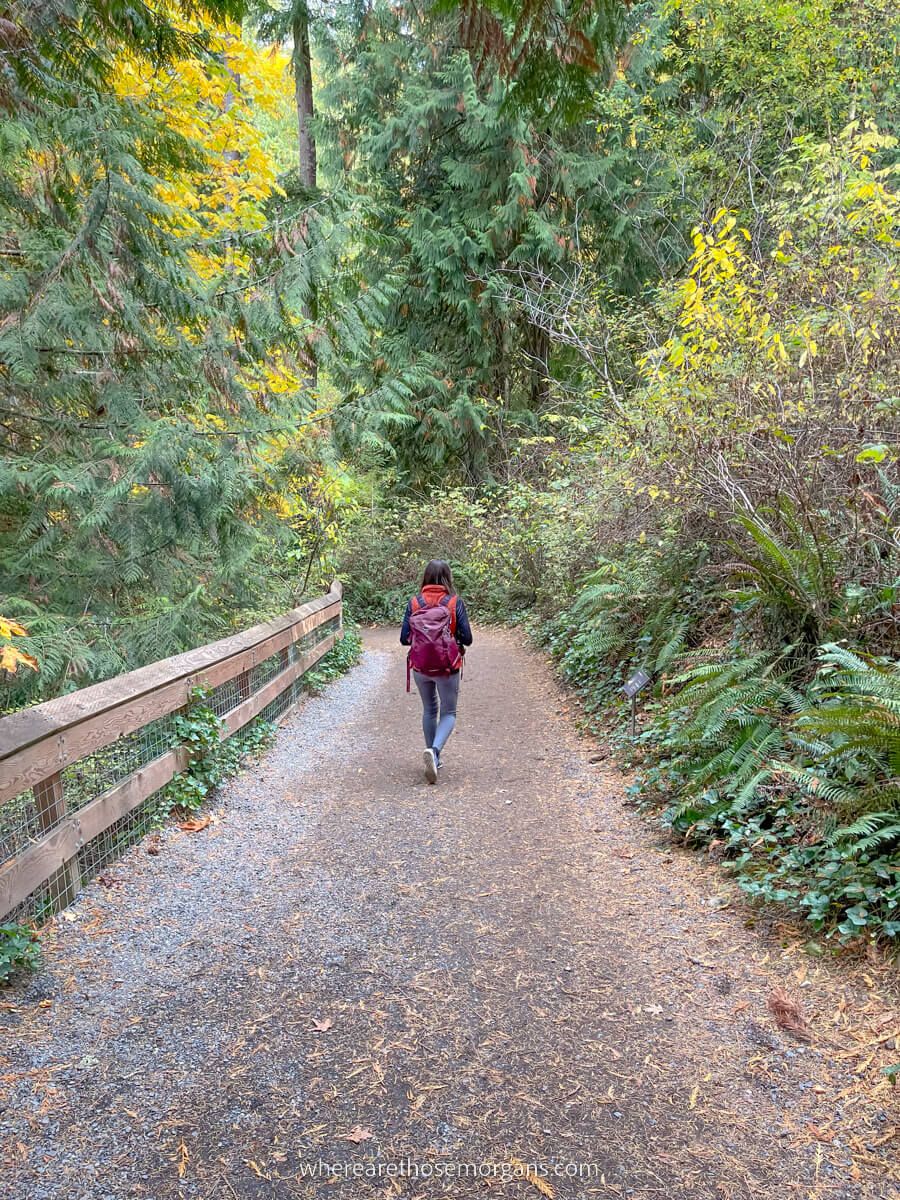 2. Start The Descent
Visitors can either drive or hike a well maintained trail for 0.7 miles one way to reach the lower observation deck. The popular trail is steep in places but it is suitable for the whole family.
You will descend on a gravel path and pass through attractive forest, which is the most beautiful in fall when the colors change. Look out for information signs showing flora and fauna along the trail.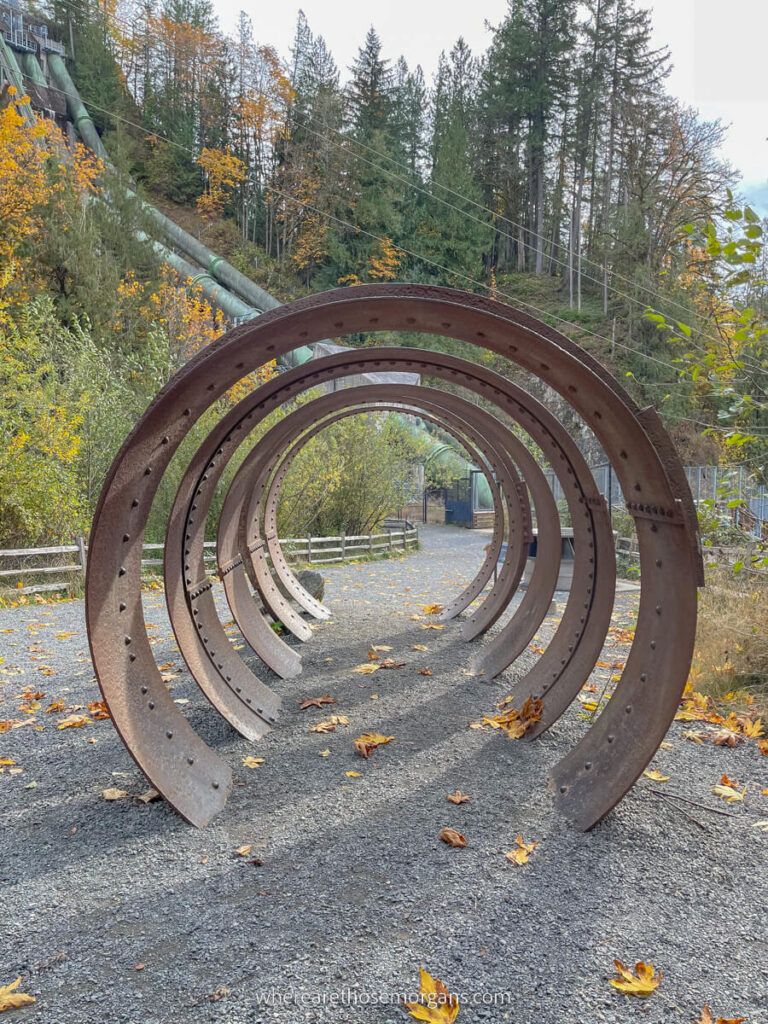 3. Arrive At Lower Park Plaza
Going down is easy and before you know it you will arrive at Lower Falls parking area, which has a restroom and information board explaining how the waterfall creates electricity.
Hug the left side of the plaza area and look out for a gravel trail leading to a circular tunnel made of metal components used on the hydro-electric water pipes.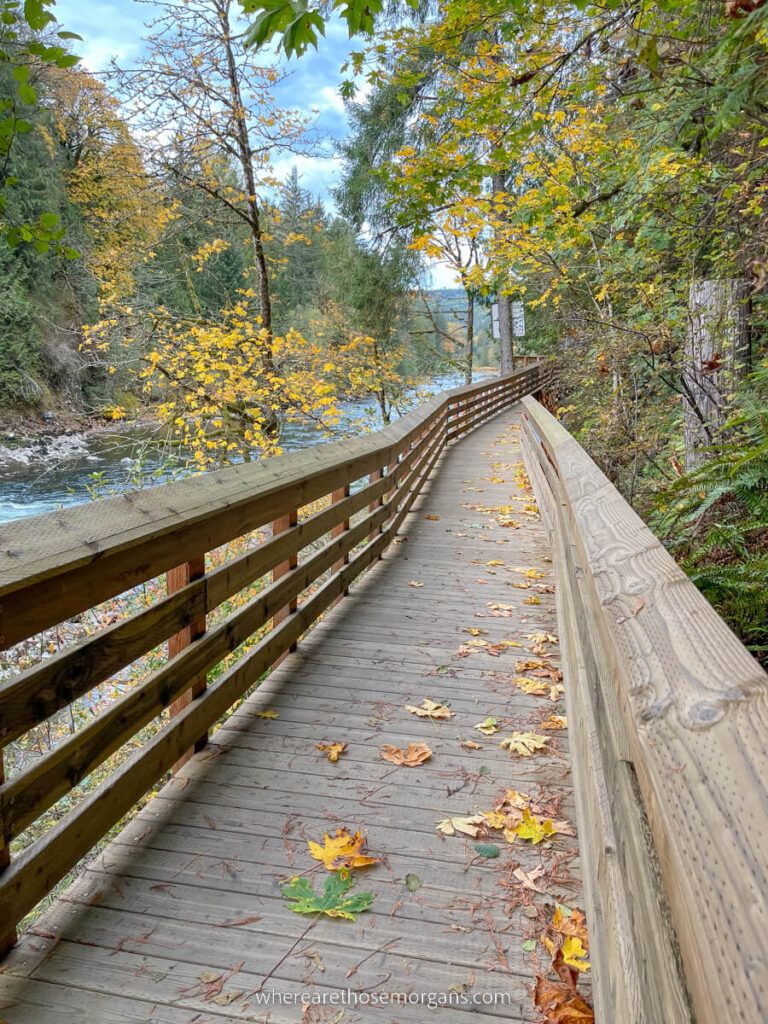 4. Take The Wooden Boardwalk
Straight after the metal tunnel that looks like an art installation, you will enter a wooden footbridge that crosses over the top of two enormous water pipes and power house.
Continue walking along the wooden bridge as it sticks close to the cliffside and follows the Snoqualmie River. This short section of path is narrow and can become busy so you may need to be patient.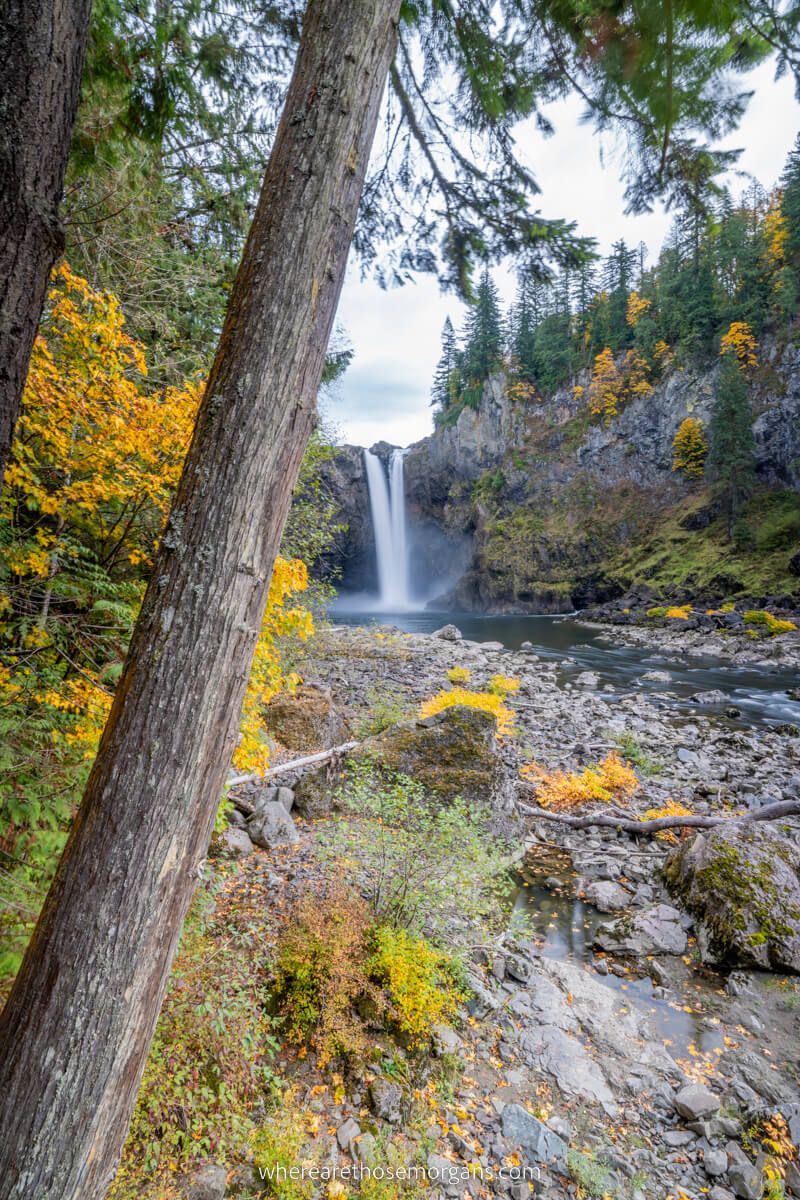 5. Arrive At Lower Observation Deck
Within a minute you will be able to see the waterfall. You will also see how small the lower observation deck area is compared to the amount of people who want a clear view or photos of themselves.
Snoqualmie Falls is clearly visible through two thin tree trunks which frame the waterfall nicely. People walk closer to the fall in winter when the waterfall is frozen, but it is not accessible any other time of year.
Want more waterfall inspiration? Don't miss our guide to the best waterfall quotes.
Are Dogs Allowed At Snoqualmie Falls?
Yes, dogs are allowed at Snoqualmie Falls in Washington but they must be kept on leashes at all times.
It is also important to clean up after your dog because this is a very popular area for families and space at the observation decks is limited.
Can I Swim At Snoqualmie Falls?
We can't find any official statement on whether or not swimming is permitted at Snoqualmie Falls but people definitely do swim in a specific spot, which is beyond the lower observation deck area.
With that said, we do not recommend swimming for safety reasons.
However, if you are determined to swim on a hot day, make sure you walk out across the boulders and get much closer to the waterfall, far away from any of the hydro electricity plants.
Swimming is also only a sensible idea when the waterfall is running low in summer and fall. Do not try to swim in spring when the water volume is high and powerful.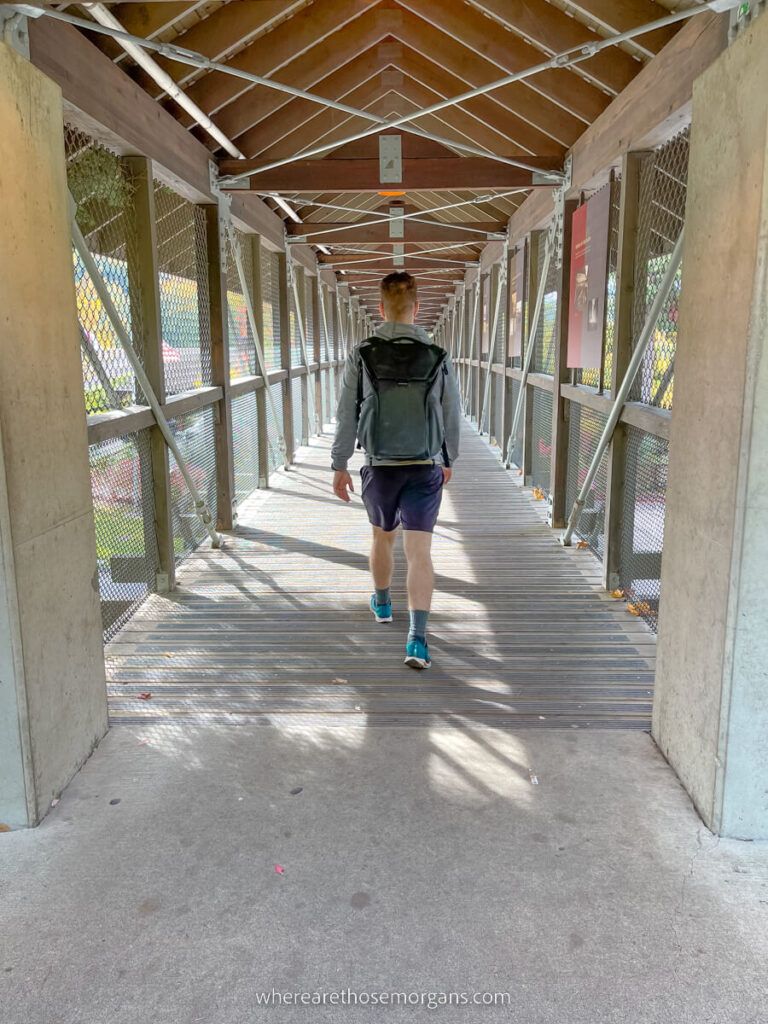 Best Time To Visit Snoqualmie Falls
Let's take a quick look at the best times to visit and hike at this popular natural attraction in Washington.
Best Time Of Year
Spring and fall are the two best seasons to visit Snoqualmie Falls. In spring you will benefit from seeing the waterfall at its most intense and powerful, whereas in fall you will be able to enjoy stunning autumnal foliage surrounding the waterfall.
Here's what you can expect in each season:
Spring – Powerful waterfall, reasonable crowds and comfortable temperature for hiking.
Summer – Less water falling, overcrowded and hot temperatures.
Fall – Even less water falling but vibrant colors, reasonable crowds and comfortable temperature.
Winter – Frozen waterfall, unique photo opportunities, no crowds but cold and uncomfortable.
If you want to see Snoqualmie Falls in all its majesty, you should visit after heavy and consistent rainfall.
Best Time Of Day
Early morning or late afternoon are the two best times of day to visit Snoqualmie Falls in Washington. You will mostly avoid the worst of the overcrowding and heat on warmer days.
The worst time of day is between 10:00am and 3:00pm when it will be busiest.
When To Avoid
We would personally avoid visiting the waterfall on weekends and especially holidays between April and October when the area will be severely overcrowded.
As mentioned above, try to avoid arriving around midday when the waterfall observation decks will be packed full.
Snoqualmie Falls Lodge
The lodge at Snoqualmie Falls is called Salish Lodge and Spa.
It is a luxury lodging option available for locals seeking escapism from the city or travelers from afar to spend a night next to the popular Snoqualmie Falls waterfall during a visit to Washington.
Salish Lodge is rated very highly by thousands of previous guests, with rave reviews about the staff, views, rooms and service. It is pet friendly, has free parking and of course has the two on site restaurants we discussed earlier.
>> Book Salish Lodge: Direct | Booking.com
Where To Stay Nearby
If the Salish Lodge isn't your scene or you would prefer to stay closer to more amenities, you can stay at Snoqualmie Inn by Hotel America instead.
The inn is located in a newer part of town just 2.5 miles from the waterfall, close to several eateries and Snoqualmie Falls golf course.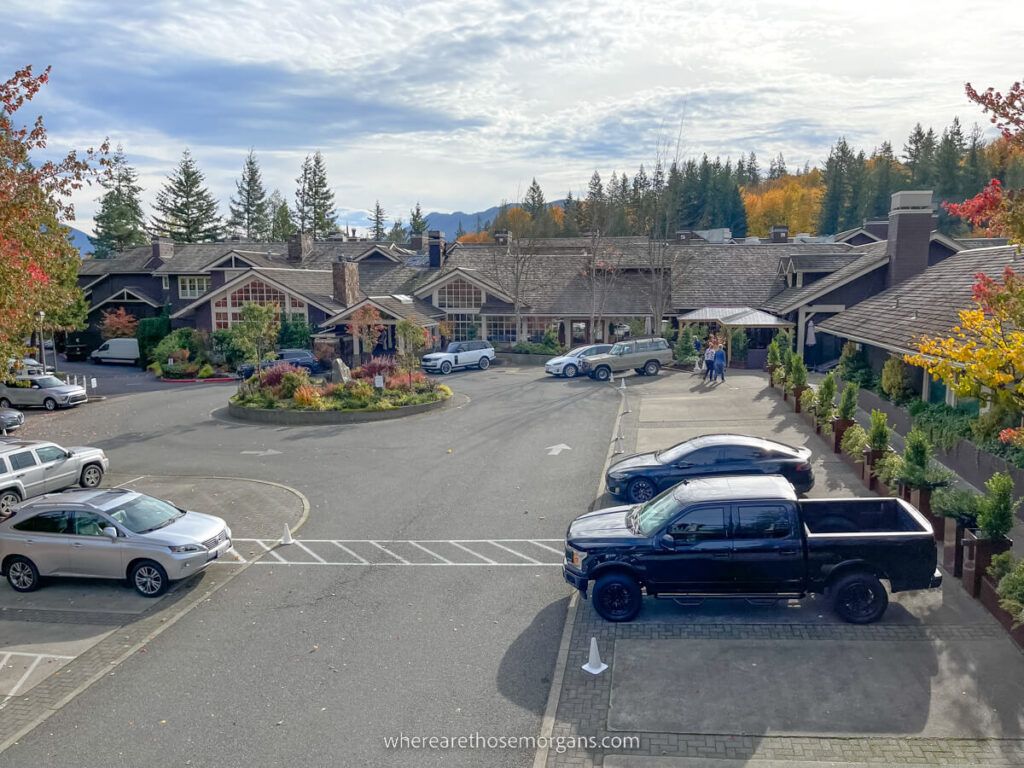 Snoqualmie Falls Restaurant
There are two restaurants at Snoqualmie Falls and both are located inside Salish Lodge, which is immediately next to the upper observation deck.
1. The Attic – Casual restaurant serving up small plates and pizzas, as well as beer, wine and specialty cocktails from Wednesday through Sunday.
2. The Dining Room – Upscale restaurant serving breakfast, lunch and dinner using locally sourced ingredients in a stunning setting with views over the waterfall every day of the week.
Both restaurants are very highly rated and regarded.
If you are planning to stay for lunch or dinner, we highly recommend you book in advance because Salish Lodge is a hugely popular place to eat.
Where To Eat Nearby
Don't want to eat at Salish Lodge or you would prefer something a little more laid back?
No problem, you can drive 1 mile south to the small town of Snoqualmie where you will plenty more dining options.
Top rated eateries in the area include:
We stopped in at Snoqualmie Falls Brewery after our second visit to the area in Autumn and it was fantastic.
Mark had fish and chips (it's hard to resist as a British guy living in the US!) with a tasty hazy IPA and Kristen had a burger with a cold crisp cider.
Snoqualmie Falls Photos
It goes without saying that the waterfall is incredibly photogenic. Over the course of two separate visits we ended up with far too many photos!
Here are more of our favorite photos highlighting the beauty of Snoqualmie Falls: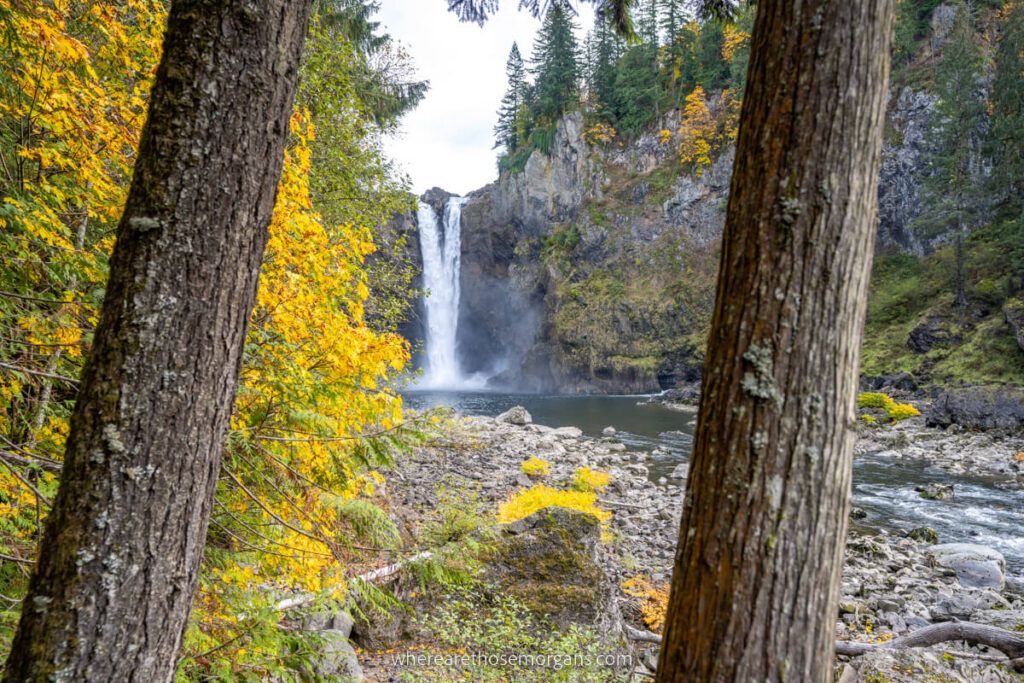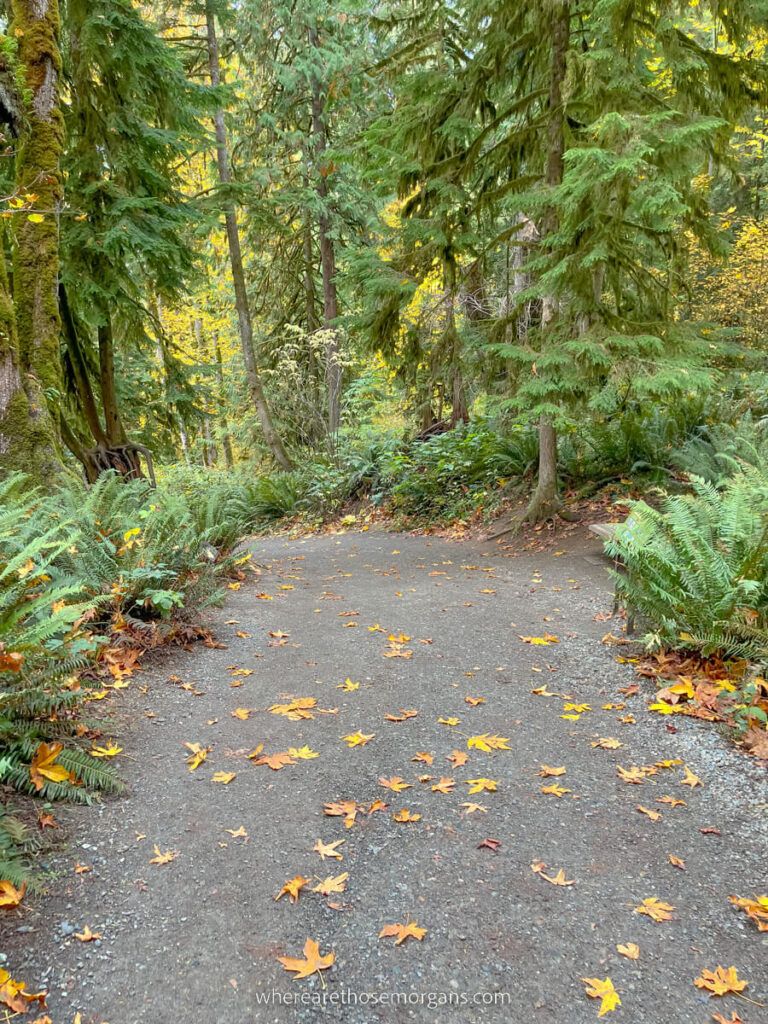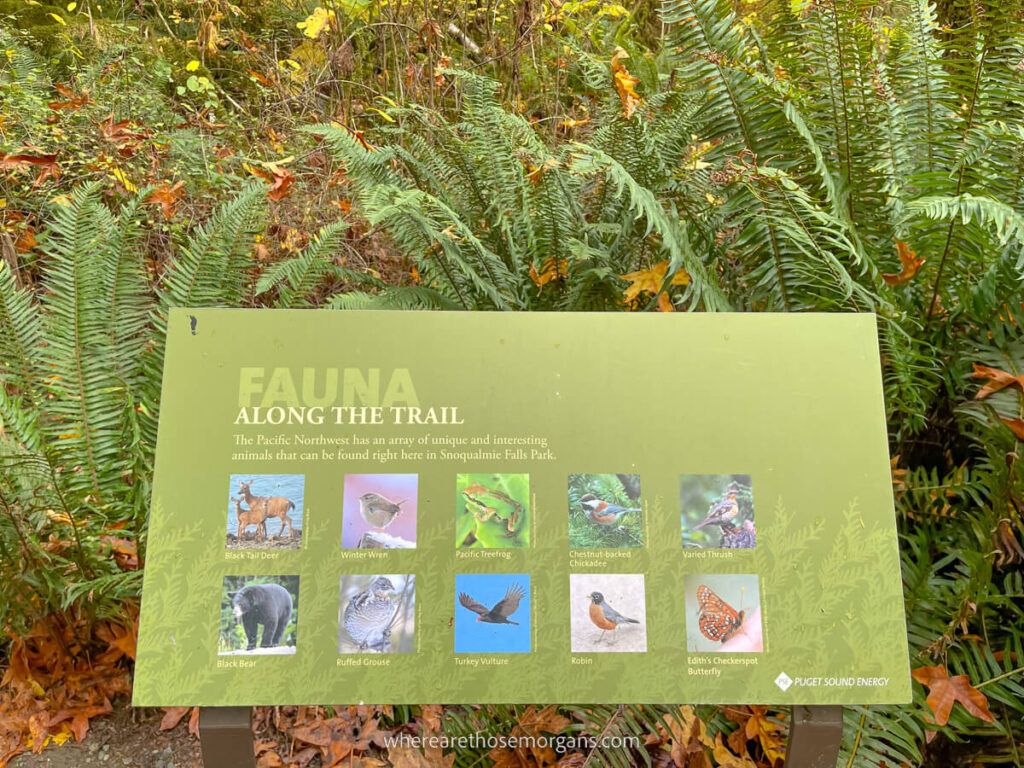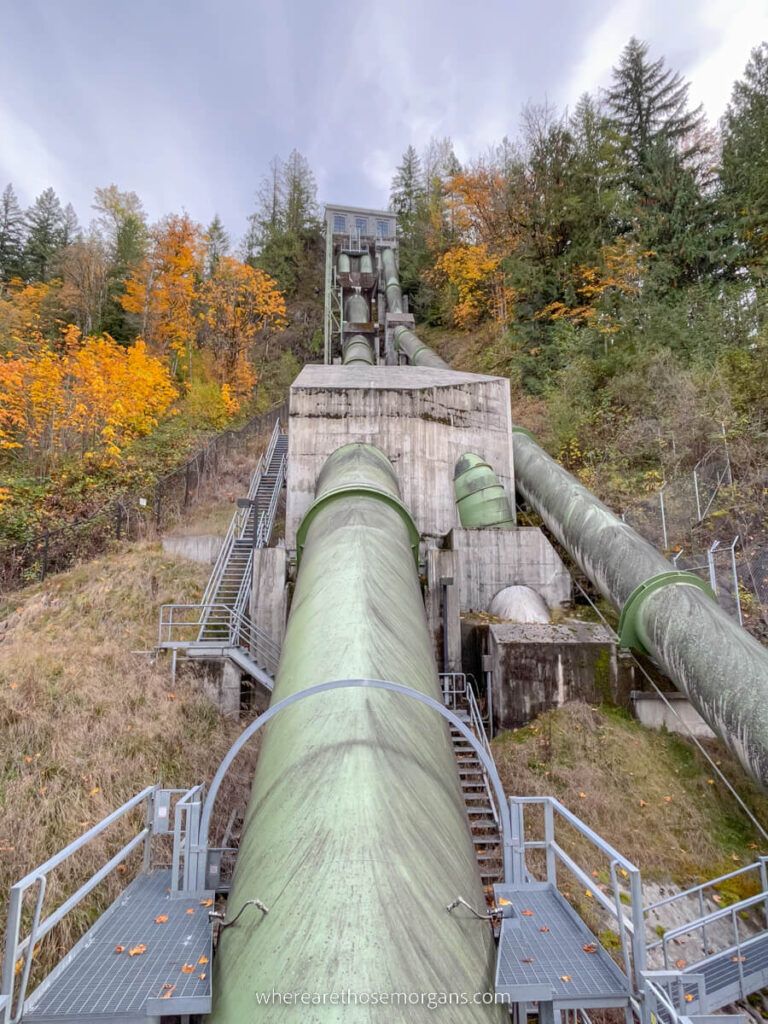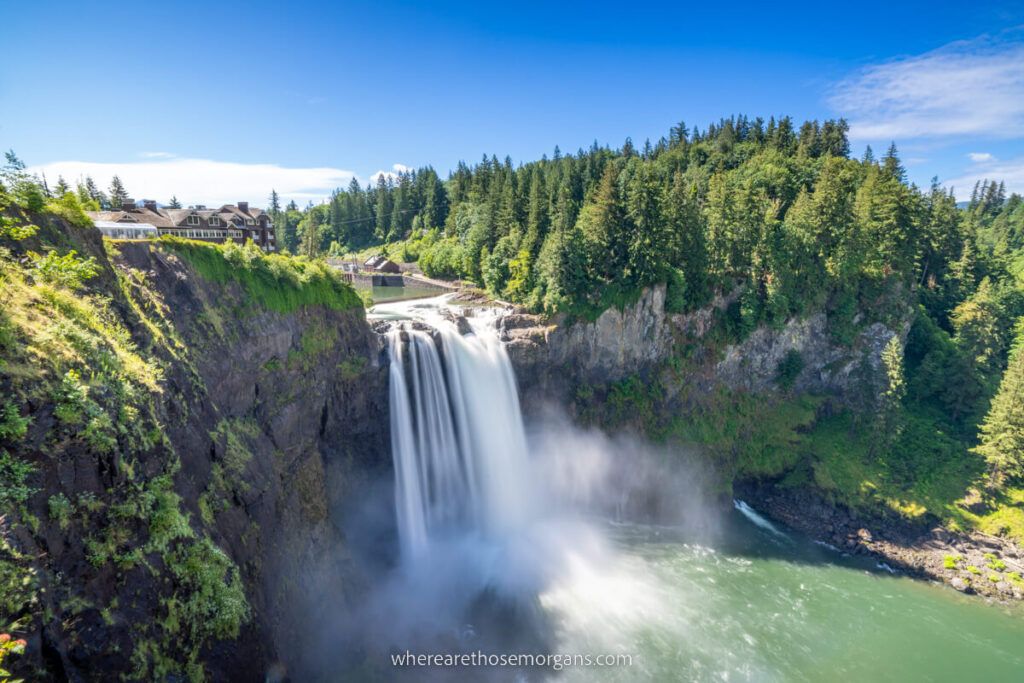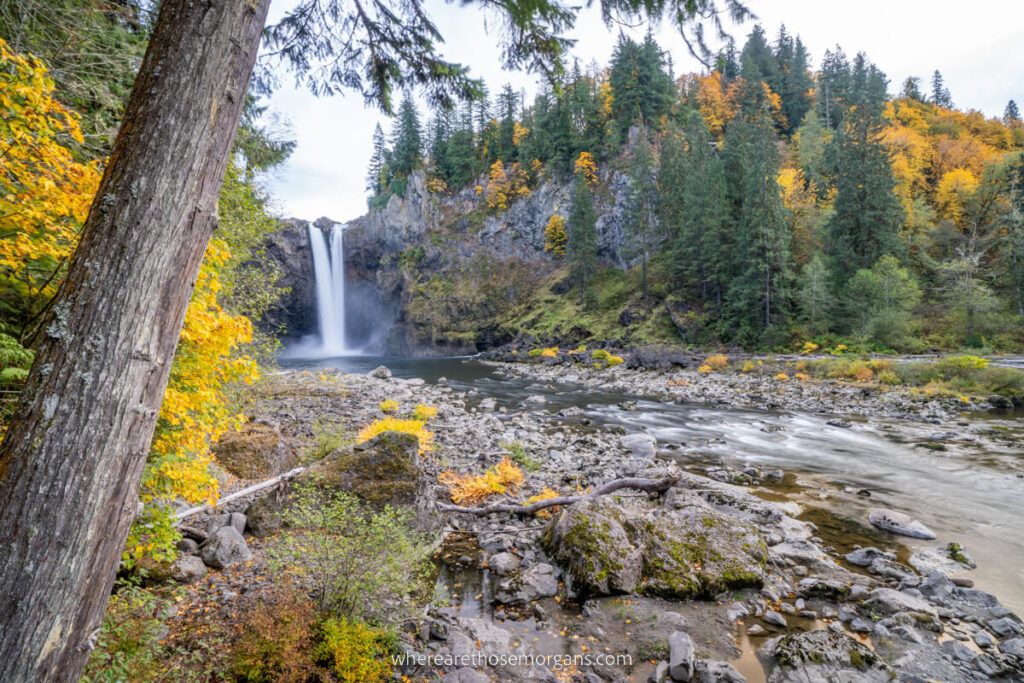 Snoqualmie Falls FAQ's
Let's take a look at some of the most frequently asked questions about Snoqualmie Falls in Washington State.
Is Snoqualmie Falls worth visiting?
Yes, Snoqualmie Falls is definitely worth visiting. The popular waterfall is easy to access from Seattle and other cities on the coast, it is extremely photogenic and it is a relaxing place for the whole family to enjoy.
Is it worth hiking to the lower observation deck at Snoqualmie Falls?
We think the short hike from upper observation deck to the lower falls viewpoint is well worth it. But if you don't want to hike or you are short on time, you can instead drive down to the parking lot near lower observation deck.
Our Popular Washington Guides
Want more Washington content? Head to our Washington Travel Guides to explore National Parks, popular day hikes and best things to do around Seattle.
---
We hope this guide to visiting Snoqualmie Falls helps with planning your visit to Washington!
Please let us know if you have any questions planning your visit to Snoqualmie Falls in the comments below.
Happy Travels,
Mark and Kristen
Enjoy This Guide? Pin It For Later!