If you're looking for a staggeringly beautiful but easy going and shorter Mt Rainier hike suitable for almost all ages and abilities, Naches Peak Loop Trail is the perfect option for you. We're going to explain everything you need to know about hiking the popular Naches Peak Loop Trail to serene Tipsoo Lake so you know what to expect when you arrive.
Family friendly hike Naches Peak Loop Trail crosses into Wenatchee National Forest and ends at famous photographers jaunt Tipsoo Lake back inside the Mt Rainier National Park boundary.
It is incredibly picturesque and the ideal warm up act for taking on Mt Rainier's more challenging trails. Plus, you are going to be walking along the world famous Pacific Crest Trail for half of this loop hike.
Let's get right into the relaxing Naches Peak Loop Trail climaxing at postcard perfect Tipsoo Lake!
Naches Peak Loop Trail Mt Rainier National Park FAQ's
Is Naches Peak Loop Trail Long Or Hard?
No, Naches Peak Loop is one of of the best hikes in Mt Rainier national park if you're seeking a short and easy trail to fill a few hours. In terms of reward for you effort, it has to be considered a fantastic return!
At just over 3 miles total and with only gradual 600 ft elevation gain walking in a clockwise direction, Naches Peak Loop is a wonderful trail for the family to take on.
Important: Clockwise is the best way to hike Naches Peak Loop. It means you will be looking directly at Mt Rainier when it is in sight, rather than away from it if hiking anti-clockwise.
When Is The Best Time Of Day To Hike Naches Peak Loop Trail?
We hiked Naches Peak Loop Trail around 2 hours before sunset when we visited on July 23rd. Our goal was to time it for peak wildflowers season and in the end we were maybe one or two weeks too early.
Sunset was a wonderful time of day to hike this trail. It was cool after a long hot day and it was far less busy than it would have been around midday. But it did mean a lot of the trail was blanketed in deep shadows.
And more importantly, it was frustrating for photography. The entire way down with spectacular Mt Rainier views ahead we couldn't snap the photos we wanted because the sun was right there big and bright next to the volcano.
If we were to hike Naches Peak Loop again, we would hit the trail right before sunrise so we could be walking through wildflower meadows as dawn sunlight illuminated the eastern face of Mt Rainier directly ahead.
Looking for hiking inspiration? Check out our popular guide to the 50 best hikes in the US next!
What Pass Is Needed For Naches Peak Loop Trail?
Technically, Naches Peak Loop Trail is half inside Mt Rainier and half in Wenatchee National Forest. Parking at Chinook Pass is $5 per day.
However, you can use a Northwest Forest Pass or America the Beautiful Annual National Parks Pass (also known as Interagency Pass).
Our advice would be:
Note: You do not need to enter a national park ranger station entrance to gain access to Tipsoo Lake in Chinook Pass on WA-410.
We would always recommend displaying a pass if you have one when inside a national park. However, unless you plan to enter Sunrise or Paradise in Mt Rainier before or after hiking Naches Peak, you don't necessarily need to purchase a national park pass for this trail.
If you do need a pass because you plan to enter Sunrise or Paradise, here are your options for Mt Rainier:
Mt Rainier Single Pass – Unlimited entry for 1 vehicle into Mt Rainier for 7 consecutive days, costs $30
Mt Rainier Annual Pass – Unlimited entry for 1 vehicle into Mt rainier for 1 year, costs $55
US National Parks Annual Pass (aka America the Beautiful or Interagency Pass) – Unlimited entry to all US National Park and National Monuments for 1 year, costs $80
You can pick up a single entry pass for $30 at Nisqually entrance (SW), Stevens Canyon entrance (SE) or White River entrance (NE), which is the closest station to Naches Peak.
How To Get To Naches Peak Loop Trail In Mt Rainier National Park
Click or touch the map above to activate. Zoom in and out, move around the area and orientate yourself with the geography of Mt Rainier.
Naches Peak Loop Trail is located at the summit of Chinook Pass on WA-410 to the east of Mt Rainier National Park.
There are a handful of places you can park to hike the trail but the most popular place to set your Google Maps for is "Tipsoo Lake Comfort Station".
Alternatively set your GPS for "Naches Peak Loop Trailhead" which begins in Wenatchee National Forest and is where we parked ourselves.
Important: The road to Chinook Pass and Tipsoo Lake closes in Winter. Check Mt Rainier live road conditions before setting off.
Here are distances and average times from major nearby cities to Naches Peak Loop Trail (with no traffic):
Seattle – 88 miles / 1 hour 50 minutes
Bellevue – 80 miles / 1 hour 50 minutes
Renton – 70 miles / 1 hour 40 minutes
Everett – 108 miles / 2 hours 15 minutes
Tacoma – 73 miles / 1 hour 40 minutes
Portland – 168 miles / 3 hours 05 minutes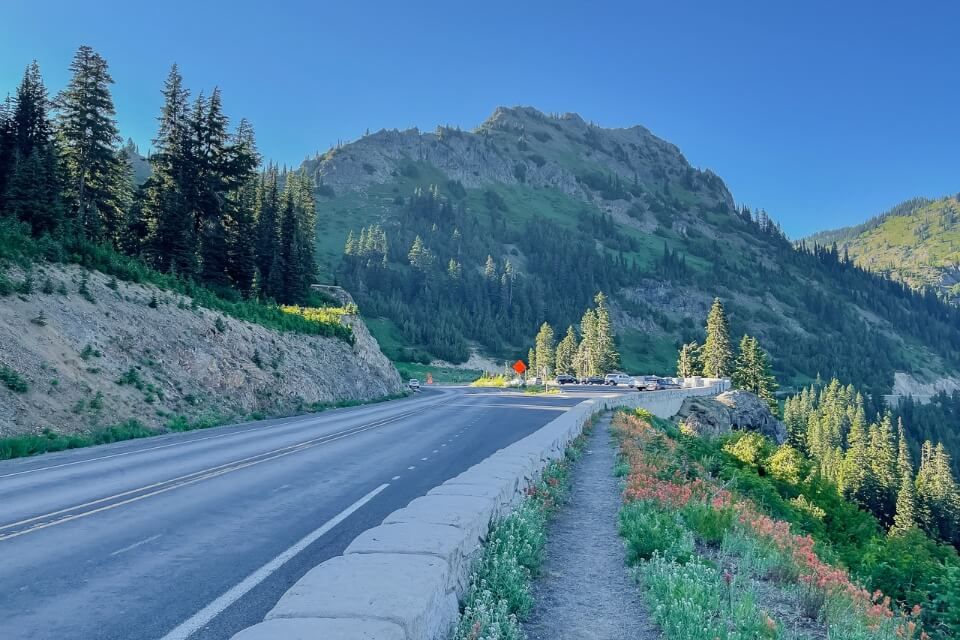 Parking At Naches Peak Loop Trailhead In Wenatchee National Forest
Tipsoo Lake is very popular among photographers and Naches Peak Loop is a very highly regarded 'easy' hike at Mt Rainier. Throw in a short open season window and you have a competitive parking landscape on your hands.
Fortunately, you do have plenty of options for parking around the summit of Chinook Pass.
If you can't park at Tipsoo Lake comfort station parking lot, try the nearby small roadside lot. There are also a handful of parallel parking spaces running around the bend.
If all of those spaces are full (it happens in Summer!), continue up the hill, pass under the bridge with wooden sign stating that you are passing into Wenatchee National Forest and take the very first right turn off road into a parking lot.
On occasions in which even this lot is full, you can try parking at Chinook Pass Overlook trailhead, just a few meters further down the road.
Of course you will be starting your hike from a different place if you park at either of the two lots here, rather than down at Tipsoo Lake. The day we visited in July, we parked in the lot closest to the bridge because Tipsoo Lake was jam packed.
Hiking Details
Trail Distance: 3.3 miles roundtrip
Type of Trail: Loop
Trail Difficulty: Easy / Moderate
Time Required: 2 hours
Elevation Gain: 600 ft
Trailhead: Tipsoo Lake Comfort Station or Naches Peak Loop Trailhead
Top Tips For The Naches Peak Loop Hike
Track your hike using a top hiking app with offline maps
Plan to arrive early to get a parking spot at Tipsoo Lake
Weekends and holidays are going to be busy around the Lake
No technical hiking gear needed for Naches Peak Loop
We hiked in lightweight running shoes and they were fine in July
Snow lingers until July and is back by October
Short hike so you can pack light
There is a (very smelly!) vault toilet at Tipsoo Lake
Dogs are allowed on the Pacific Crest section but NOT the Mt Rainier section
Check recent comments about conditions from fellow hikers on All Trails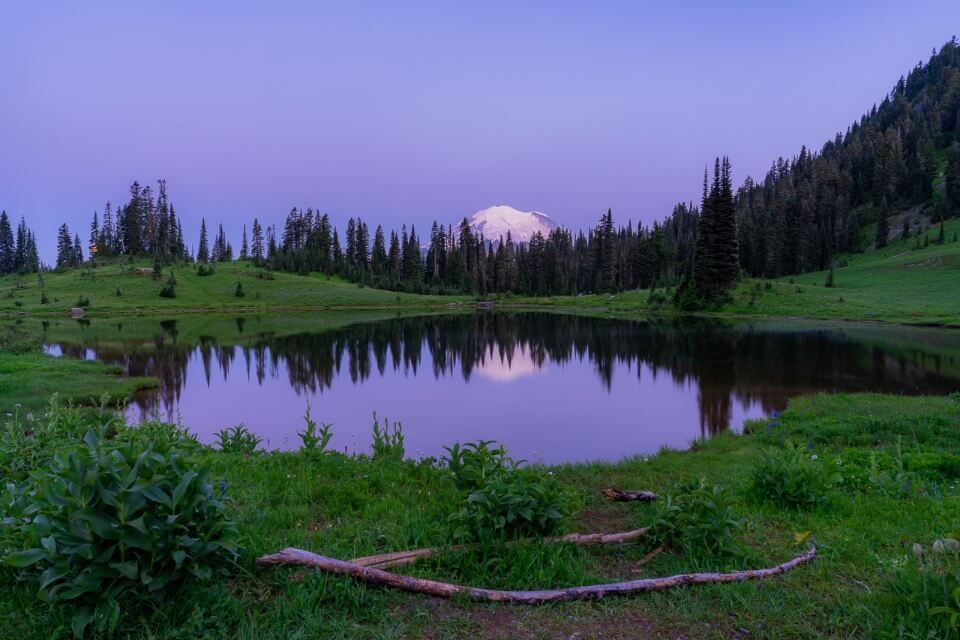 Tipsoo Lake
Tipsoo Lake is wildly popular among hobbyist and pro photographers looking for the quintessential reflection shot of Mt Rainier. We took the photo above at 5.15am right after civil twilight and before sunrise in July.
There were at least 10 other photographers out with us at dawn. By the time sunlight began to glow on Mt Rainier's eastern face, there were maybe 30 of us out on the slope.
This is a beautiful part of Washington and a joy to behold at both sunrise and sunset. Hiking the easy (but gorgeous) Naches Peak Loop Trail and ending with sunrise or sunset at Tipsoo Lake is about as good as it gets.
Naches Peak Loop Trail Walkthrough
We parked at Naches Peak Loop trailhead (as opposed to the comfort station at Tipsoo Lake) and began our hike two hours before sunset.
Therefore, we will walk you through exactly what you can expect if you do the same. Switch the walkthrough sections around if you begin and end at Tipsoo Lake.
Mt Rainier is one of the best national parks in the US and this is a fantastic hike for the whole family.
Let's loop around Naches Peak!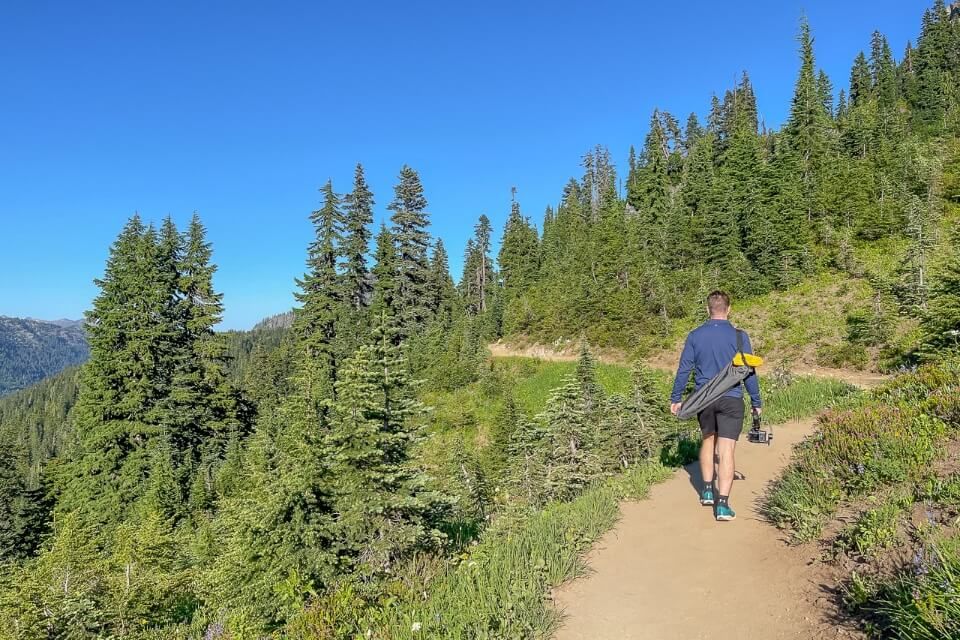 Begin At Naches Peak Loop Trailhead
After parking up in the roadside lot, hop over the wall and walk 100 meters to the trailhead. You will see the stone bridge you just drove underneath and that is where you will end the loop hike later.
Take the left turn up a hill and you are officially walking on the Pacific Crest Trail (PCT).
The goal here is to walk southeast on PCT and loop around Naches Peak to the west turning off the PCT onto Naches Peak Loop Trail, which is inside Mt Rainier boundaries. A short section heading north then leads you directly to Tipsoo Lake.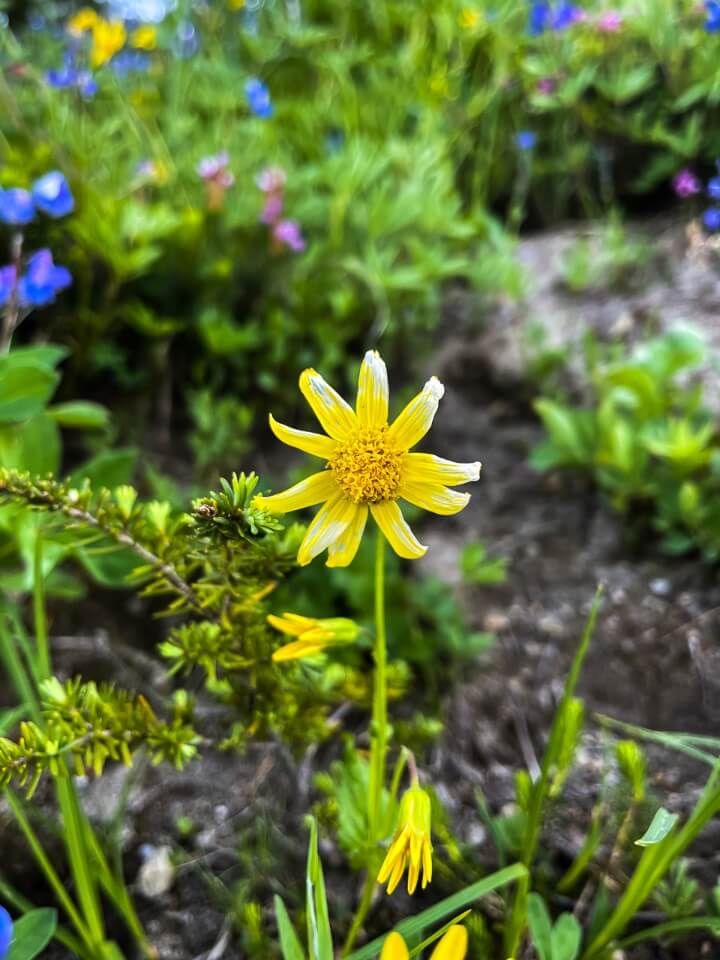 Radiant Wildflowers
The trail begins with a very gradual ascent via a dusty dirt path and slowly but surely gains elevation. Views over to the left are of an immense valley depression around which the main WA-410 road runs.
If you time it right somewhere between mid July through mid August for peak wildflower season you are instantly going to be blown away by a variety of vibrant colors bursting out from meadows all around you.
The flowers are small and often hidden among an ocean of green vegetation so take the time to stop and get close up to the wildflower meadows.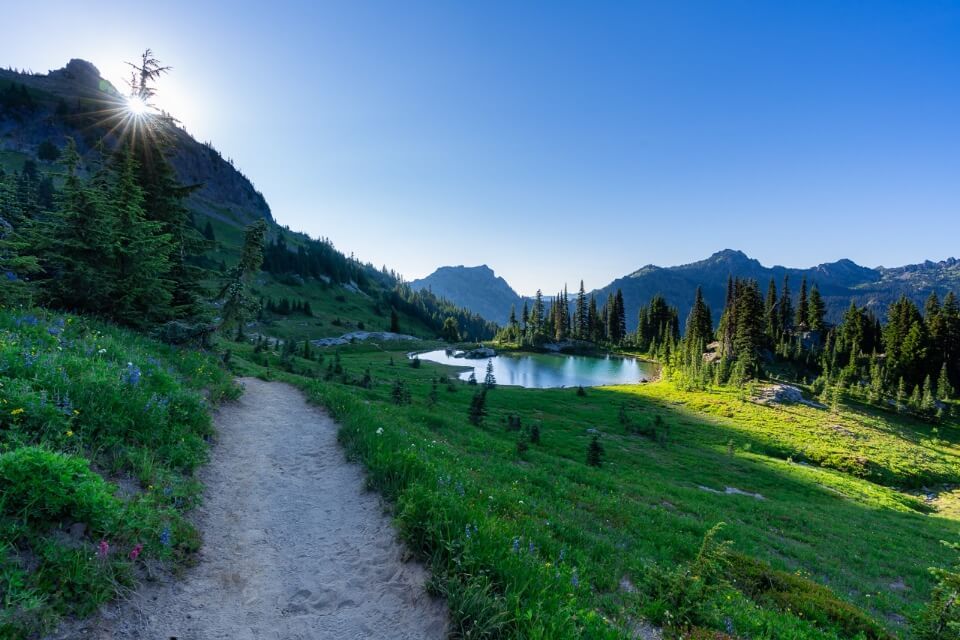 Unnamed Lake
After 1 mile of easy but very dusty hiking, you will reach a picturesque scene in which a lake sits in a very shallow bowl among the meadows.
The lake doesn't have a name but we saw a half dozen hikers wading through the water and relaxing on a collection of rocks nearby. You could do much worse for a first break of the hike!
Maybe earlier in the day this lake would be much busier, but a word of warning – wildflower season also means bug season and they are particularly persistent around still water.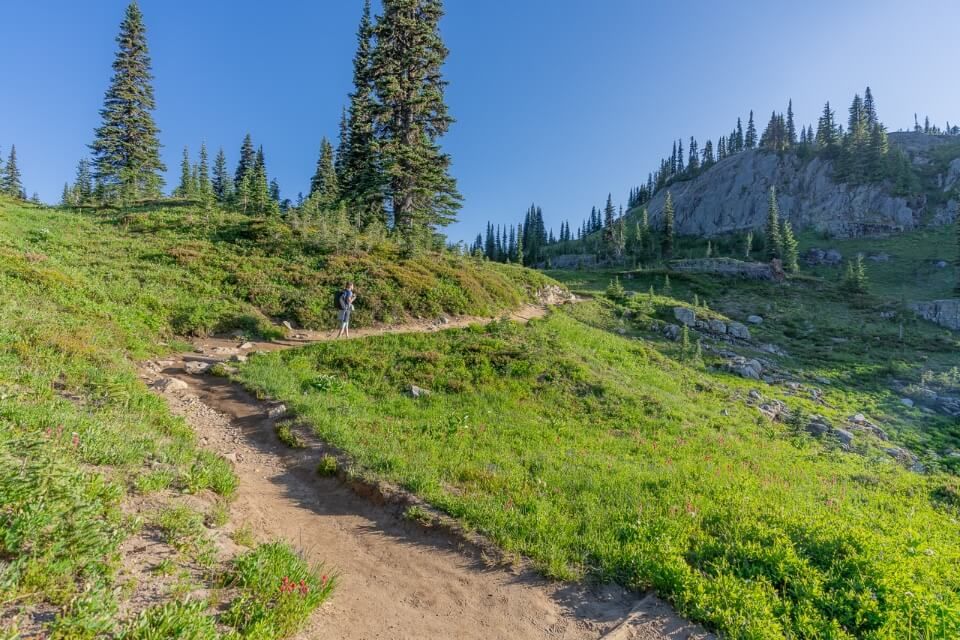 Just A Short Climb To The Top
After the unnamed lake it is a very gradual and winding route gaining a few more feet as you head south. Keep a lookout for wildflowers dotted around the trailside.
We found this to be an incredibly relaxing and peaceful ascent which came as a welcome break from some of the more taxing hikes in Mt Rainier National Park.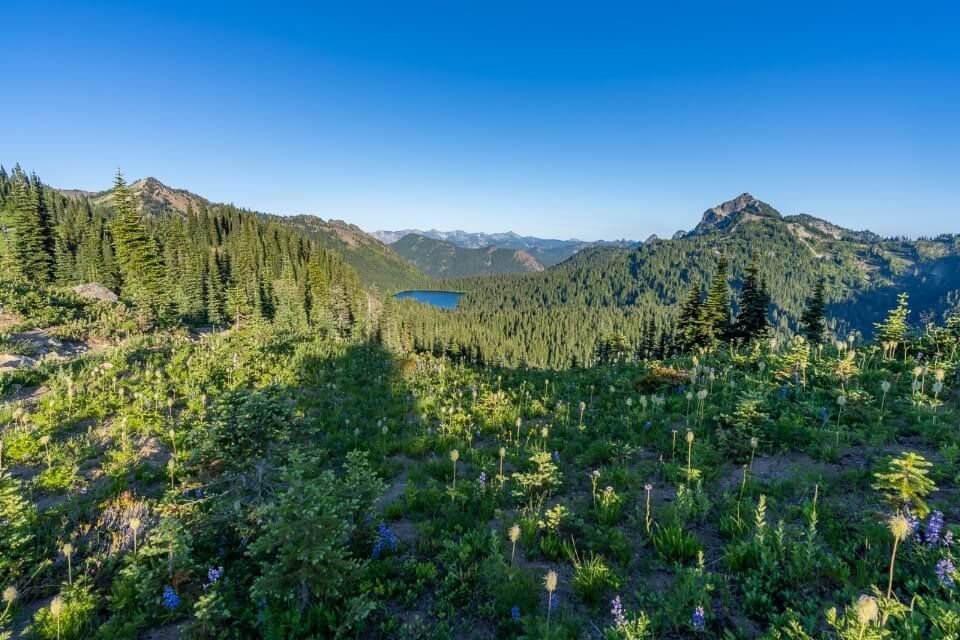 Enjoy Views Over Dewey Lake
After a further 0.5 miles (for a total of 1.5 miles at this point) you will reach the 'summit' of the Naches Peak Loop Trail. If you hike near sunset you will notice much of this area is shrouded in shadow but it is still bright and warm in Summer.
Views stretch for miles into the distance over rolling hills and Dewey Lake, which looks tiny at 600 ft below your current elevation.
The Pacific Crest Trail continues straight ahead along the ridge but you are going to take a right turn, heading directly away from Dewey Lake on Naches Peak Loop Trail.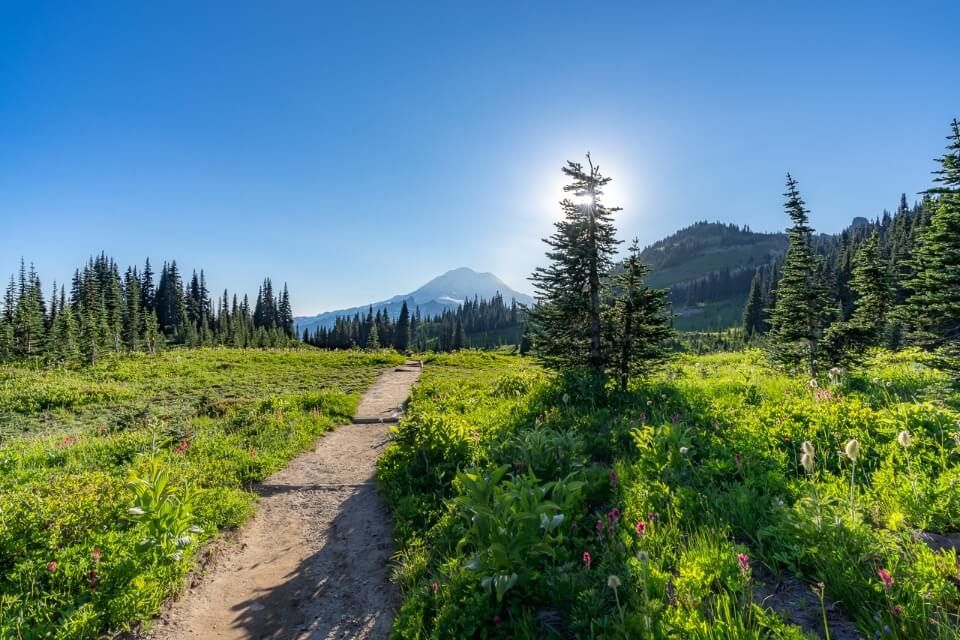 Lush Meadows And Special Mt Rainier Views
The right turn immediately opens up to the most beautiful section of Naches Peak Loop Trail. Wide open lush green meadows with Mt Rainier dominating the distant skyline.
As we mentioned earlier, hiking just before sunset is perfect unless you are into photography. Look at how we used a tree to block the sun enough to get a shot of this gorgeous meadow scene.
We could have waited another hour or so but wanted to be at Tipsoo Lake for sunset. You will enjoy this hike any time of day if you're not fussed about photography
Descend Gradually To Little Tipsoo Lake
It's all gradual downhill for 1.5 miles after taking that right turn onto Naches Peak Loop Trail.
You will walk through the wide open meadow and pass by 2 small bodies of water. The stagnant water was covered in swarms of bugs at the end of July, so insect repellant is a must.
Mt Rainier gets closer with each step you take heading west toward to volcano and setting sun. Look at how hazy the sky was the day we visited in the photo above.
The trail is very easy underfoot and cuts through emerald green vegetation before heading into light forest. The first lake you reach at the bottom is Little Tipsoo Lake, right before the road.
You might see photographers on the far side of Little Tipsoo trying to escape the crowds across the road at the larger Tipsoo Lake.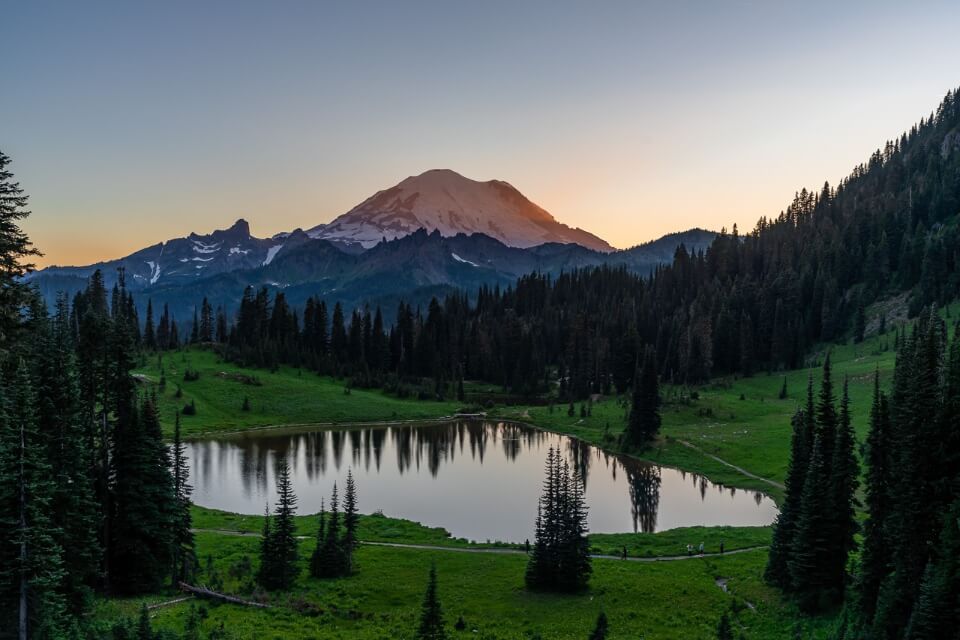 Appreciate One Of The Best Views In Washington
Mt Rainier towering out from behind forest, lake and meadow is a sight to behold.
The trail as you are hiking runs left to right across the back of the lake pictured above. And the steep bank we mentioned is out of picture on the right hand side.
Swarms of tiny flies like we'd never seen before were swirling all around us as we walked around Tipsoo Lake below. So instead we drove the car a few meters back down to this popular elevated vantage point after finishing the Naches Peak Loop trail.
Light oranges and reds were illuminating the haze surrounding Mt Rainier at sunset. When we returned for sunrise, the sky was crystal clear, the bugs were gone and the lake was like glass.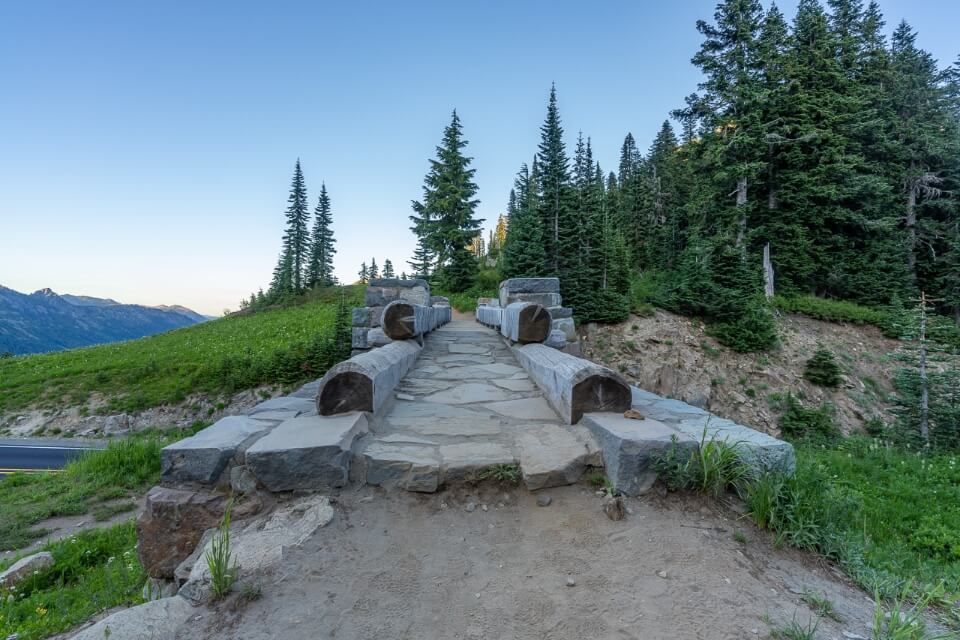 Steep Climb To The Stone Bridge
You have already finished Naches Peak Loop Trail if you began at the comfort station or nearby roadside lot. However, if you started at the trailhead as per this walkthrough as we did, you still have to climb the steep bank.
From the road between Little Tipsoo and Tipsoo Lake, you have around 0.5 miles left to hike. The hillside you walk up to the stone bridge pictured above is the worst part of the entire trail.
Once your quads and calves are on fire and you reach this bridge, cross it and turn left back to the trailhead parking lot.
Pros and Cons
Easy family friendly hike
No long lines to enter the park via ranger station
Fantastic Mt Rainier views and stunning wildflower season
Tipsoo Lake is incredibly picturesque
Very short window for hiking
Nothing else to do in area after hiking Naches Peak Loop
Parking can be a problem on weekends and holidays
Closest amenities (gas, food, hotels etc) are far away
More Day Hikes In Mt Rainier
Start planning your Mt Rainier trip with our in depth list of the 23 best hikes in Mount Rainier and 3 day hiking itinerary example.
More Day Hikes In Washington
---
We hope this day hiking guide to the picturesque Naches Peak Loop Trail helps with planning your visit to Mt Rainier National Park!
Please let us know if you have any questions about the Naches Peak Loop Trail hike, Mt Rainier National Park or your visit to Washington in the comments below.
Happy Hiking,
Mark and Kristen
Was This Post Helpful? Pin It For Your Hike!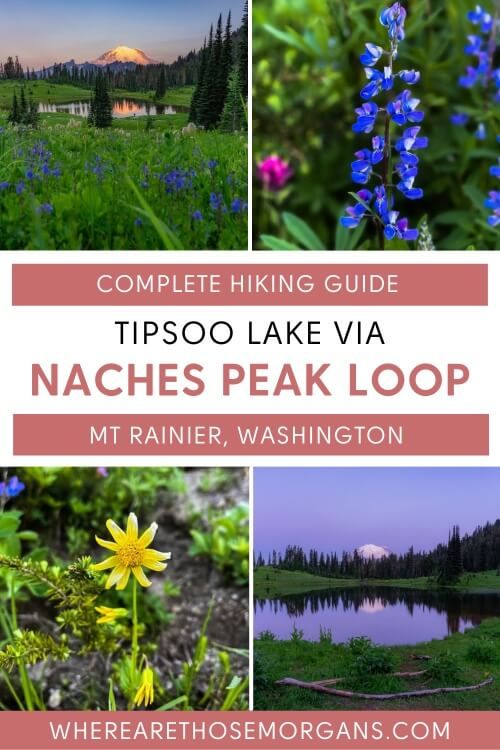 Note: This article contains affiliate links. When you make a purchase using one of these affiliate links, we may earn a small commission at no extra cost to you.
All Rights Reserved © Where Are Those Morgans, LLC. Republishing this article and/or any of its contents (text, photography, maps, graphics, etc.) in whole or in part is strictly prohibited.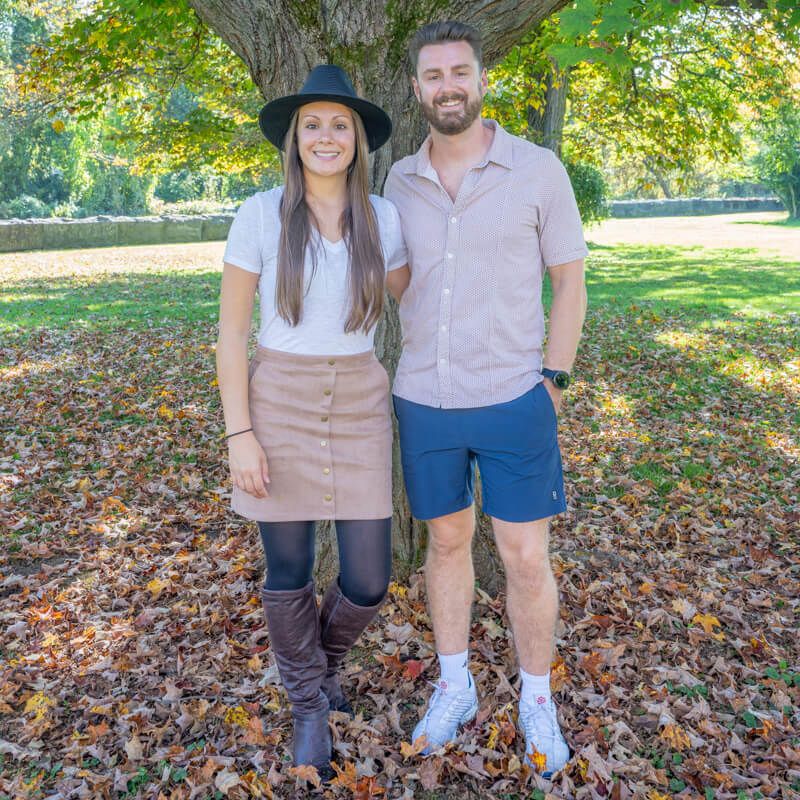 Mark and Kristen Morgan are travel, hiking and photography experts. Over the last 6 years traveling full time, they have explored more than 40 countries and 30 US states.
Their work has been featured in USA Today, Gestalten, Get Your Guide, CityPASS and Condé Nast Traveler along with various other publications.