Bright Angel Trail is widely regarded as one of the best hiking trails at Grand Canyon South Rim. We're going to explain everything you need to know about day hiking the iconic Bright Angel Trail, including the 5 major stops or turnaround points between South Rim and Phantom Ranch.
Personally we think both South Kaibab Trail and Bright Angel Trail are incredibly scenic and it's hard to choose a winner. But Bright Angel is easier to access and it has a shallower gradient, which makes it more popular and busy.
If you only have one day at Grand Canyon South Rim or you just want a taste of what is like to hike into the canyon, Bright Angel is your best bet for this once in a lifetime experience. You can turn around whenever you like, but just remember, however far you go down – you have to come back up on yourself.
Let's descend into the mind-blowing Grand Canyon and explore 5 landmarks you can use to set your day hiking goals!
*Please note this post may contain affiliate links. If you click on one, we may earn a small commission at no extra cost to you. Thank you for supporting the free content we provide! Read more in our disclosure policy.*
5 Turnaround Points Along Bright Angel Trail
Before you hike down Bright Angel Trail, consider exactly where you plan to stop and turn around to hike back up to the Rim.
How much time you have available, the weather and your hiking level will all play a role in determining which stop is safest for you to use as the end of your day hike.
There are a number of points you can use throughout the trail, but we are going to focus on 5 landmarks that are spread evenly throughout the hike.
Here are the distances one way and roundtrip, plus elevation loss (that will turn into gain when you return to the Rim):
One-and-a-half mile resthouse – 1.5 miles one way / 3 miles roundtrip / 1120 ft elevation loss
Three mile resthouse – 3 miles one way / 6 miles roundtrip / 2120 ft elevation loss
Indian Garden campground – 4.5 miles one way / 9 miles roundtrip / 3040 ft elevation loss
Plateau Point – 6.1 miles one way / 12.2 miles roundtrip / 3080 ft elevation loss
Phantom Ranch – 9.8 miles one way / 20.6 miles roundtrip / 4340 ft elevation loss
Bright Angel Trail Hiking FAQ's
Let's take a look at some of the questions we are asked the most about hiking Bright Angel Trail into the Grand Canyon.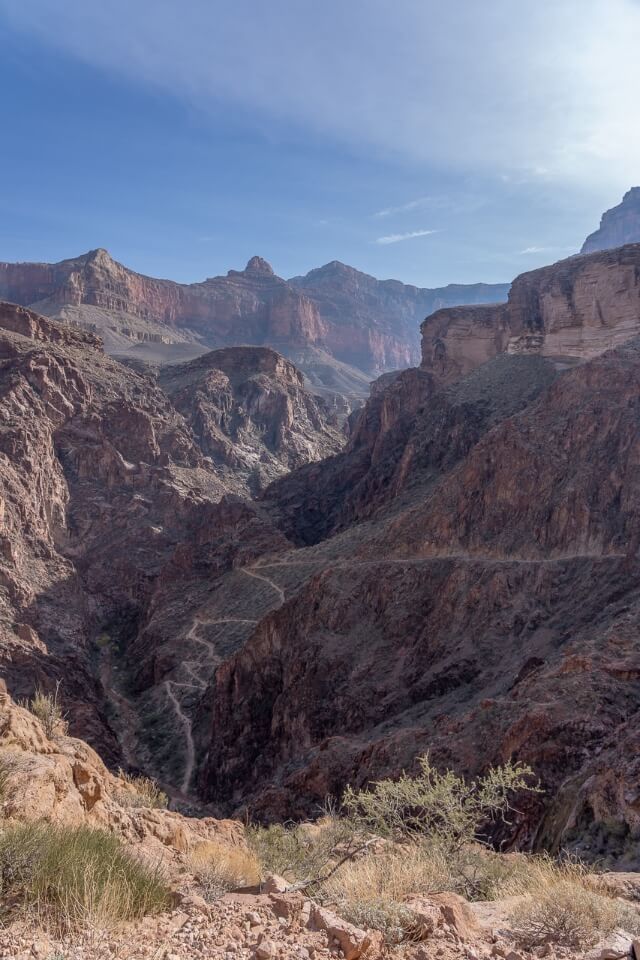 Can You Hike Bright Angel Trail In A Day?
Here's the most important question with an answer we need to make explicitly clear.
Yes, you can hike the entire Bright Angel Trail to Phantom Ranch in one day, but it is only advised for very strong hikers and only when hiking on cool or cold days in late Fall, Winter or early Spring.
Please do not try to day hike Bright Angel Trail all the way down to Phantom Ranch and the Colorado River if you are not in excellent shape. If the weather forecast is for a warm or hot day, do not try to hike to the Colorado River in one day.
NPS rangers have to rescue hikers every year who think it's a good idea to try day hiking the entire Bright Angel Trail in the middle of Summer. It is not!
Most day hikers will choose one of the major Bright Angel Trail landmarks as a turnaround point.
Consider this: Even if you only go to the 1.5 mile resthouse and back, you've hiked 3 miles total with an elevation loss and gain of 1120 ft.
How Hard Is It To Hike The Bright Angel Trail?
Bright Angel is not an extremely difficult trail to hike in the sense that it isn't technical, there are no climbing elements and it is not as steep as South Kaibab Trail.
However, if you decide to go all the way down to the River, it is very long and you are slowly climbing for the entire second half of your hike. Rim to River on Bright Angel is rated as very strenuous.
The bottom line: How hard this hike is depends entirely on your hiking ability and how far you want to descend into the canyon.
Looking for hiking inspiration? Check out our popular guide to the 50 best USA hikes next!
Why all the safety concerns?
Well, it's mainly down to heat exhaustion and lack of preparedness among hikers. Carrying enough water is paramount to your wellbeing, particularly if you plan to hike a long way down into the canyon.
Between May and September the temperature can be extremely high on South Rim. But you have to remember Bright Angel trailhead on South Rim is at 6840 ft elevation.
When you descend into the canyon, the temperature is going to increase exponentially. It will be on average around 20 F (11C) warmer at Phantom Ranch than at South Rim in Summer.
So, if it's hot on the rim, do not hike to the river.
How Long Does It Take To Hike Down Bright Angel Trail?
Let's take a look at the official NPS suggested times for day hiking to each of the major turnaround points on Bright Angel Trail:
1.5 mile resthouse: 2-4 hours
3 mile resthouse: 4-6 hours
Indian Garden campground: 6-9 hours
Plateau Point: 9-12 hours
Phantom Ranch: 2 days
So officially, if you want to hike the entire Bright Angel Trail and back up to South Rim, you should spend the night at Phantom Ranch or Bright Angel campground.
These are guideline timeframes and they are aimed at the average hiker. If you are a very strong and regular hiker, you will be able to day hike this trail.
If you are not a very strong hiker, follow the timeframes above as listed by the National Park Service.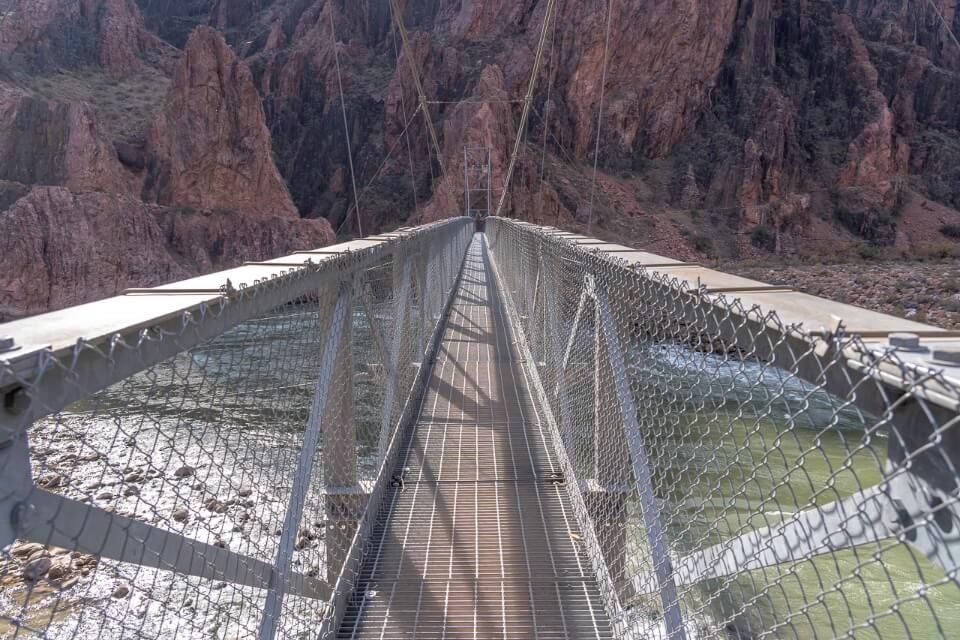 Our Grand Canyon Hiking Experience
In December 2021 we day hiked South Kaibab to Bright Angel via Phantom Ranch.
We chose to do both trails partly for the variation because we prefer not to go back on ourselves, but mostly because it's been on bucket list hike radar since we first saw the Grand Canyon in person.
December was perfect because we wanted to do it at a safe time of year and Winter is a great time to visit Grand Canyon. We gave ourselves 2 full days at Grand Canyon South Rim and we monitored the weather so we could hike on the day with most favorable conditions.
Are we the strongest hikers in the US? No! But we are in good shape, we hike a lot and we prepared thoroughly through training, eating well, carrying the right gear and starting the hike right at sunrise.
If you do plan to day hike to the Colorado River and back out, consider descending via one trail and ascending via the other. That way you get to experience both.
Read our full Rim to River hiking walkthrough from South Kaibab to Bright Angel in one day via Phantom Ranch. It is photo heavy so you can really see the trail.
Need help organizing your visit to Grand Canyon South Rim?

Our popular 30+ page Grand Canyon South Rim Guidebook can help you with planning every aspect of your trip.
Tips For Planning Your Hike
Here are some things you should consider when planning to hike Bright Angel.
It is much safer to hike Bright Angel in late Fall, Winter and early Spring but you do have to take into account the shorter daylight hours.
Eat the right foods and hydrate in the days leading up to your hike. Get a good night's sleep the night before.
Set off early in the morning if you intend to day hike to Phantom Ranch and back to the Rim. Be on the trail at first light.
Carry plenty of water, food and snacks. Increase the amount you take for each stop you plan to hike beyond.
Carry a head torch for the morning and in case the light begins to fade on your way back up.
Wear comfortable but durable footwear, basic running shoes are not going to cut it for a longer hike.
Always carry a means of treating water in your gear. We typically carry a LifeStraw in case of emergency but there are many other ways you can treat water on a hike.
Keep track of your time and give yourself a cut off time for turning around. If you don't get as far as you wanted, do not push it. Play it safe and turn around so you make it back out before total darkness.
Track your progress with an offline map downloaded to one of the best hiking apps on the market.
Important – The most essential thing to remember is that it can take about twice as long to hike back up to the Rim than it does to hike down into the canyon. 2 hours down could be 4 hours going up.
Take a look into these helpful resources before starting your hike into the canyon.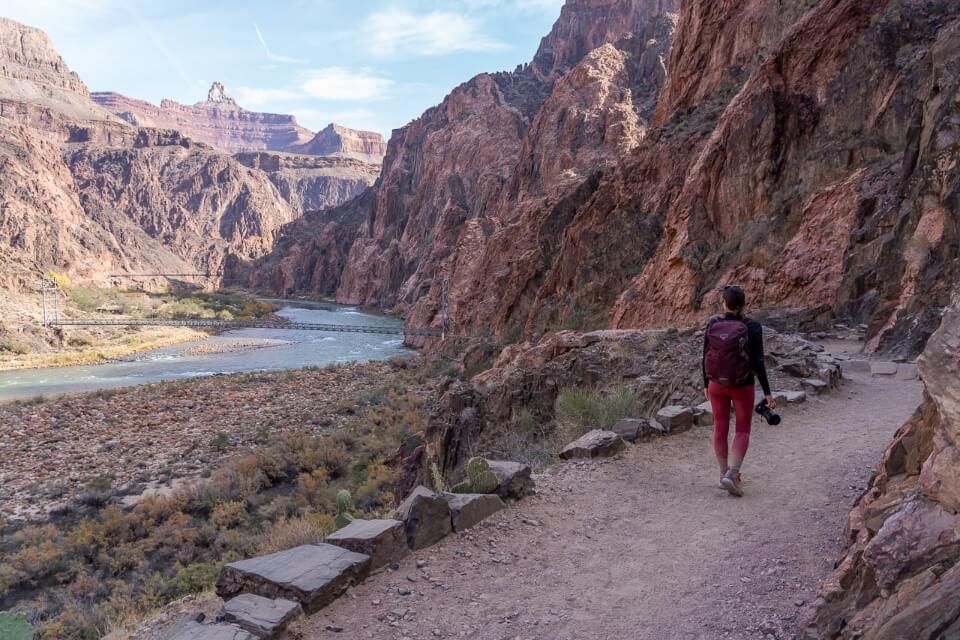 How To Get To Bright Angel Trailhead
OK, last thing before we get into the Bright Angel Trail walkthrough. One of the major benefits to choosing Bright Angel over South Kaibab is how easy it is to access the trailhead.
You have to take a shuttle or park a mile away from the trailhead and walk to reach South Kaibab trailhead. But Bright Angel trailhead is right in the village.
Many of Grand Canyon South Rim's lodges are a stone's throw from the trailhead to Bright Angel. None are closer than Bright Angel Lodge, arguably the most popular place to stay on the Rim.
But if you're staying in a nearby town, or you are just visiting for the day, you can park your car at Bright Angel Lodge parking lot. It is small and spaces will fill early.
If you find the lot full, head back to the main visitor center and park there. Even on the busiest days you will still find spaces. You will then have to take the Blue village shuttle to Bright Angel trailhead.
Hike Overview
Now you know what to expect, the safety concerns associated with hiking down into the canyon and how to reach the trailhead.
Let's dive right into a complete walkthrough of the Bright Angel Trail with each of the major stops along the route.
Stop 1 – Bright Angel Trail To The 1.5 Mile Resthouse (1.5 miles)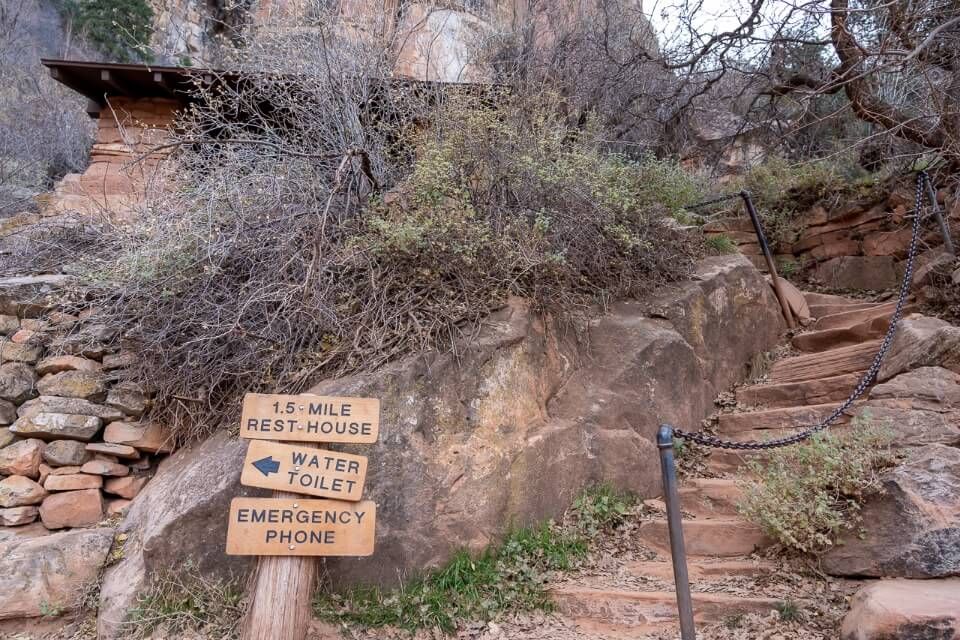 The first section of hiking down Bright Angel is arguably the best for outright views because you are higher up and get similar amazing views into the Grand Canyon as being on South Rim. Right from the trailhead you can see the trail snaking intimidatingly through the canyon below.
You will head West for a time, passing underneath an arch-like tunnel and opening up some of those far reaching panoramic views. Look for the long straight path leading out to Plateau Point, which looks like it drops off the edge of a shelf.
By the time you reach a tight U bend in the trail and head East, you can see a series of switchbacks ahead. Once you make the turn back around to begin those switchbacks, you will pass under a second arch tunnel.
After that it's a long, straight and gradual walk to reach 1.5 mile resthouse. Views into the canyon are amazing but be sure to look back up at the enormous towering canyon walls behind you at this point.
Elevation loss: 1120 ft.
Water: Check for updates but it is turned off every Winter.
Hiking: Turn around here if you just want a taste of hiking into the canyon or if you're not feeling confident to continue.
Stop 2 – Bright Angel Trail To The 3 Mile Resthouse (3 miles)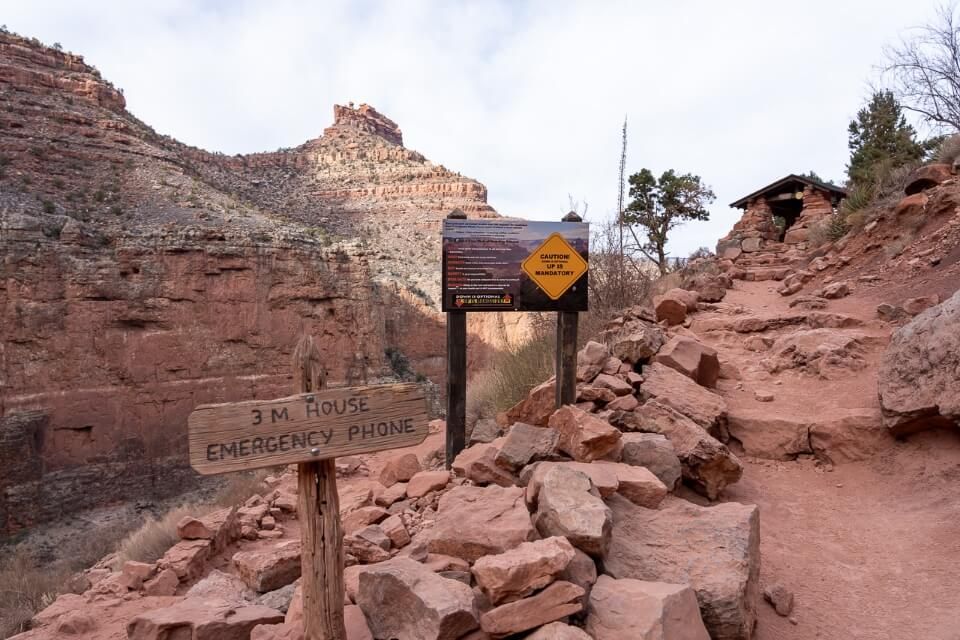 Immediately after the 1.5 mile resthouse you will come to a vault restroom. Your view remains very much the same throughout this part of the descent.
The goal is to reach that huge opening you can see in the canyon ahead of you. South Kaibab Trail has more variation in terms of the path you follow. On Bright Angel you can almost always see Plateau Point.
Now, you won't actually go to Plateau Point if you want to reach the river. It is a spur trail beginning at Indian Garden but you can always use it to gauge distance and elevation during your descent on Bright Angel Trail.
More switchbacks follow, and then some more. You are zig-zagging your way down into the canyon on this day hike toward Bright Angel campground and Phantom Ranch.
Eventually you will reach 3 mile resthouse located right on a series of switchbacks. There is another restroom here, plus water and an emergency phone.
Elevation loss: 2120 ft.
Water: Check for updates but it is turned off every Winter.
Hiking: This is a very popular turnaround point for the moderate hiker who wants to hike some of the canyon but also sightsee and maybe catch a stunning Grand Canyon sunset later in the day.
Stop 3 – Bright Angel Trail To Indian Garden Campground (4.5 miles)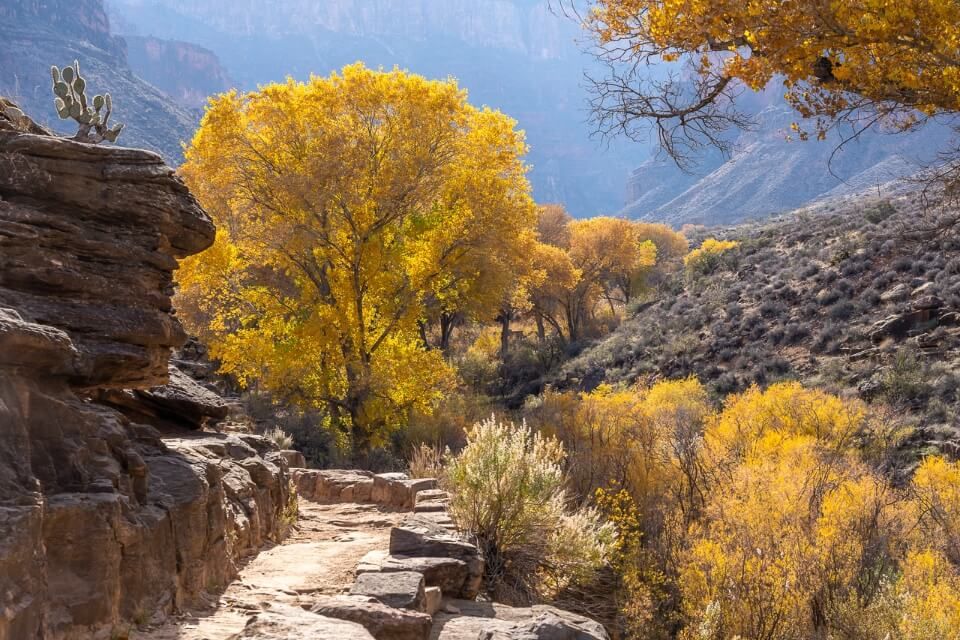 Turn around and look up. It's hard to believe that you've descended over 2000 ft and it's 3 miles to get back up to the Rim. Are you feeling confident to continue?
The good news is that it's easy going for a while. The bad news is that your view isn't going to change or get any better until after Indian Garden. So if you're deciding on whether to continue based on views alone, turn around at 3 mile resthouse.
You've reach a flatter part of the plateau now, sandwiched between towering walls to each flank. The next mile and a half to Indian Garden are the easiest part of day hiking Bright Angel Trail.
You will know Indian Garden isn't far away when all of a sudden you find yourself surrounded by small trees, cacti and other vegetation. The trail is so gradual at this point that it is actually flat at times.
Once you reach Indian Garden, you will notice there's a lot more going on here. There are day use areas, restrooms, water stations, a ranger station and even a campground.
You will be surprised by how green and pretty Indian Garden is based on what you can see when you look into the canyon from the Rim. And it gets even better right after you leave the campground area (pictured above).
Elevation loss: 3040 ft.
Water: Check for updates but it is on year round unless a pipe breaks.
Hiking: Natural place for a strong hiker to turn around if out for a half day hike. Any moderate hikers should go no further than Indian Garden.
Camping: You can camp here with advanced backcountry permit reservations. If you do camp you will have to carry your own camping gear.
Stop 4 – Bright Angel Trail To Plateau Point (6.1 miles)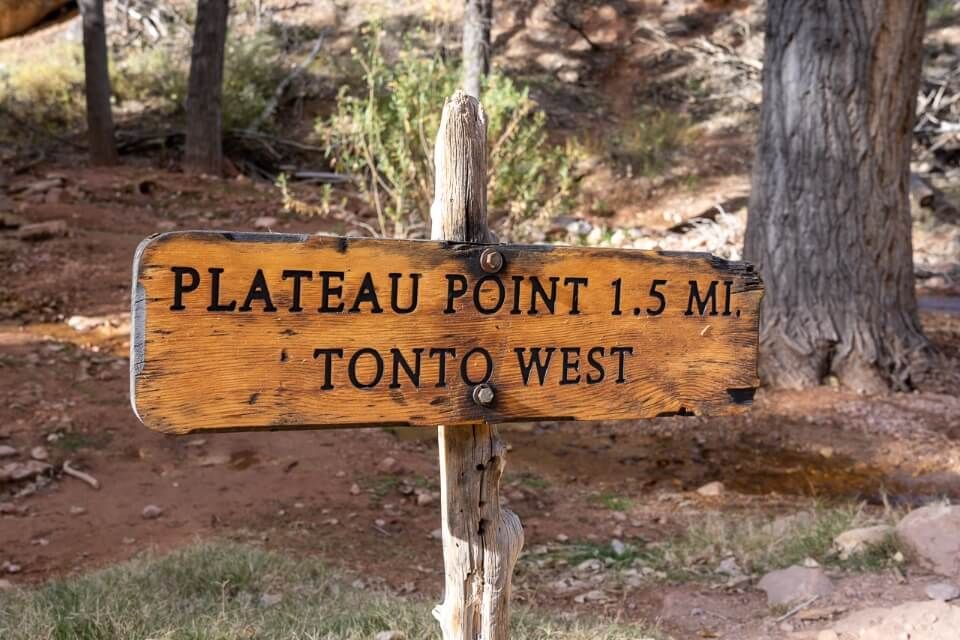 Plateau Point is a bit of an anomaly on this list of stops you can use as a turnaround point during your day hike down Bright Angel Trail. You can see it from almost every part of this hike, so why is it different?
Well, it's actually a spur trail leading away from Bright Angel Trail. You can take it when you reach a fork in the trail as you walk through Indian Garden. Left takes you onto Plateau Point Trail and right is for Bright Angel Trail.
Why would you leave Bright Angel Trail and do Plateau Point instead of trying to reach the river? Honestly, we think this one is more for hikers who have been to Phantom Ranch and the Colorado River before.
Plateau Point looks awesome from above when walking down and it would be great to hike to its climax. But we certainly would not recommend you do this and then try to go to Phantom Ranch.
By hiking to Plateau Point, you are happy with getting to Indian Garden but feel like you have a bit more left in the tank.
Notice the elevation difference is just 40 ft from Indian Garden to Plateau Point? That means you could pretty quickly hike the 3 miles roundtrip to Plateau Point and back to Indian Garden to add some distance to your day hike before heading back up to the Rim.
Elevation loss: 3080 ft.
Water: Check for updates but it is on year round unless a pipe breaks.
Hiking: Not many hikers use this as a turnaround point but it is an obvious landmark to use throughout the day hike.
Stop 5 – Bright Angel Trail To Phantom Ranch (9.8 miles)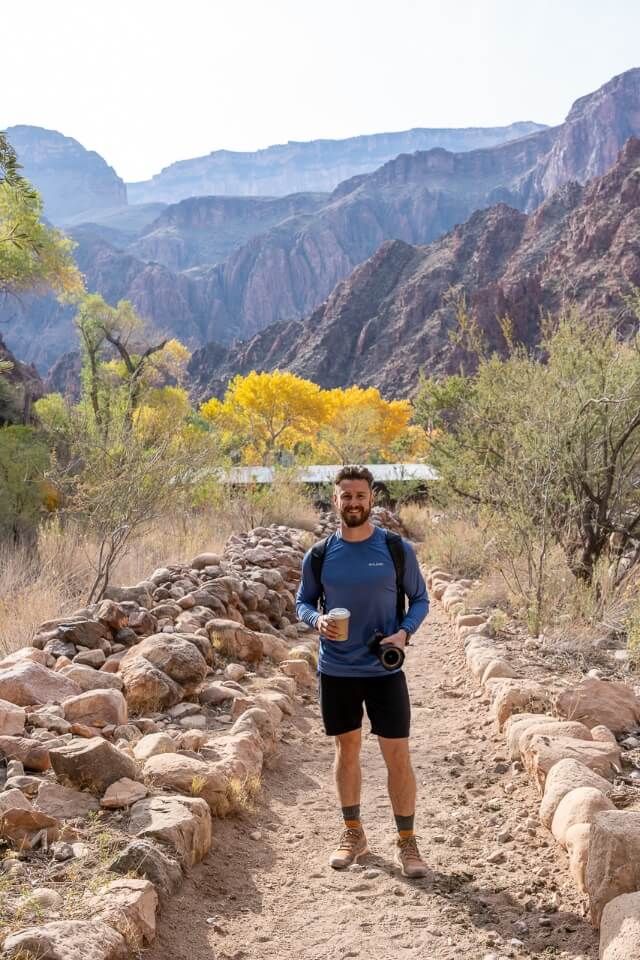 It's experienced and strong hikers only from this point on. Right after leaving Indian Garden you will come to a fork in the trail called Tonto East. This leads to Tonto West at the 6 mile mark on South Kaibab Trail.
You stay on Bright Angel Trail following Garden Creek and almost immediately the path comes alive with colorful leaves and bushes. Walking through the creek was our favorite part of hiking Bright Angel. When comparing Bright Angel to South Kaibab, this section is a big one-up for Bright Angel.
After hours of walking into the same view, you finally change up the scenery after leaving Garden Creek. All of a sudden you turn a corner and see a trail stretching a long way before turning into 10 switchbacks. It is the biggest 'wow-moment' on the Bright Angel Trail hike.
Once you're down, it's a 1 mile straight shot to Pipe Creek resthouse, which has restrooms. You're finally at the Colorado River. There's a beach you can walk down to, or continue to walk alongside the river on a flat path until you reach Bright Angel Bridge a mile away.
Cross the bridge, walk through Bright Angel campground and finally reach Phantom Ranch.
Elevation loss: 4340 ft.
Water: Check for updates but it is on year round unless a pipe breaks.
Hiking: End of the road for a day hike. Time to turn around and go right back up!
Camping: You can camp here but getting a permit is very competitive. You can also stay at Phantom Ranch.
Climb Out Of The Grand Canyon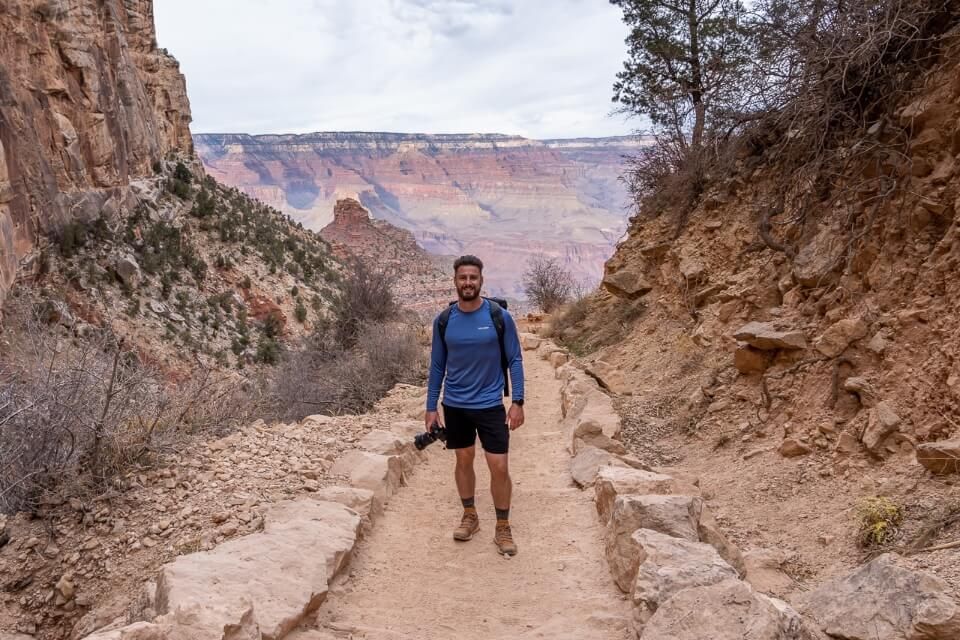 Be mindful of your time at Phantom Ranch. You will be feeling great standing at the bottom of the Grand Canyon but you still have climb back to the Rim. It's a heck of a way, trust us on that one!
If you set off early, you should still have plenty of daylight hours left. Take your time on the ascent, don't try to rush it. The good news is it is very gradual going back up Bright Angel Trail. The bad news is it is 9.8 miles of non-stop elevation gain.
You know the route now, so the fear of the unknown won't be a factor. You can use the same landmarks on the way up to gauge your progress.
If you do day hike the whole trail, we'll be honest and let you know that the going gets tough from 3 mile resthouse all the way to the top. Fatigue sets in and you know you're getting closer so you begin to switch off. Keep your concentration and remember to keep snacking.
This is one of the top bucket list hiking trails in the world. The most important thing to remember, no matter how far you plan to hike, is to enjoy every moment!
Need Help Planning A Trip To Grand Canyon South Rim
Grand Canyon is one of the most visited National Parks in the US and it's a stunning landscape that will genuinely blow you away.
But we also know how important it is to get your trip off to the best possible start by planning in advance.
We have been lucky enough to visit Grand Canyon South Rim twice, at different times of year and with different goals:
First to sightsee, shoot sunrises and sunsets and see the canyon from every single viewpoint on the Rim.
Second to day hike Rim to River, South Kaibab to Phantom Ranch to Bright Angel in one day.
If you are planning a trip to Grand Canyon South Rim and want to know:
Where to stay and eat
How to get there and use the shuttles
The best hikes in the area
Which overlooks to visit
Where to watch sunrise and sunset
Our 30+ page Grand Canyon South Rim Guidebook with 4 example itineraries will tell you all this information plus more so you can plan the perfect trip to Grand Canyon South Rim National Park.
Our Popular Grand Canyon Guides
More Arizona Hiking Guides
Want more Arizona content? Head over to our Arizona Travel Guides to explore the best of Grand Canyon, Sedona and beyond.
---
We hope this day hiking guide to the awesome Bright Angel Trail helps you plan your hike at Grand Canyon National Park!
Please let us know if you have any questions about the Bright Angel Trail or hiking at Grand Canyon National Park in the comments below.
Happy Travels,
Mark and Kristen
Enjoy This Bright Angel Guide? Pin It For Your Visit!