Japanese Gardens are a place for quiet reflection and can be a great way to escape the hustle and bustle of a city. The Japanese Tea Garden in San Francisco is no different as it provides an incredible place of serenity and beauty.
But with so many things to do in San francisco, is the Japanese Tea Garden worth your time and money?
Having visited San Francisco multiple times as well as spending an afternoon in the Japanese Tea Garden, we hope to help you find the answer to this exact question.
Here's how we will help you plan your visit:
What is the SF Japanese Tea Garden and where to find it
Ticket options and how to save money
Things to do at the Tea Garden
Best time to visit with pros and cons
Photos from our time at the Tea Garden
Let's explore the Japanese Tea Garden in San Francisco!
*Please note this post may contain affiliate links. If you click on one, we may earn a small commission at no extra cost to you. Thank you for supporting the free content we provide! Read more in our disclosure policy.*
What Is The San Francisco Japanese Tea Garden?
The Japanese Tea Garden in San Francisco offers both locals and visitors in the city a chance to experience the natural beauty of a traditional Japanese style garden.
Today, this garden made possible by a combination of public and private partnerships between the San Francisco Botanical Garden Society as well as the San Francisco Recreation and Parks.
The San Francisco Japanese Tea Garden is open every day of the week, even on holidays.
In the summer months, the Tea Garden is open from 9:00am – 6:00pm and then on a shorter schedule from 9:00am – 5:00pm in the winter months.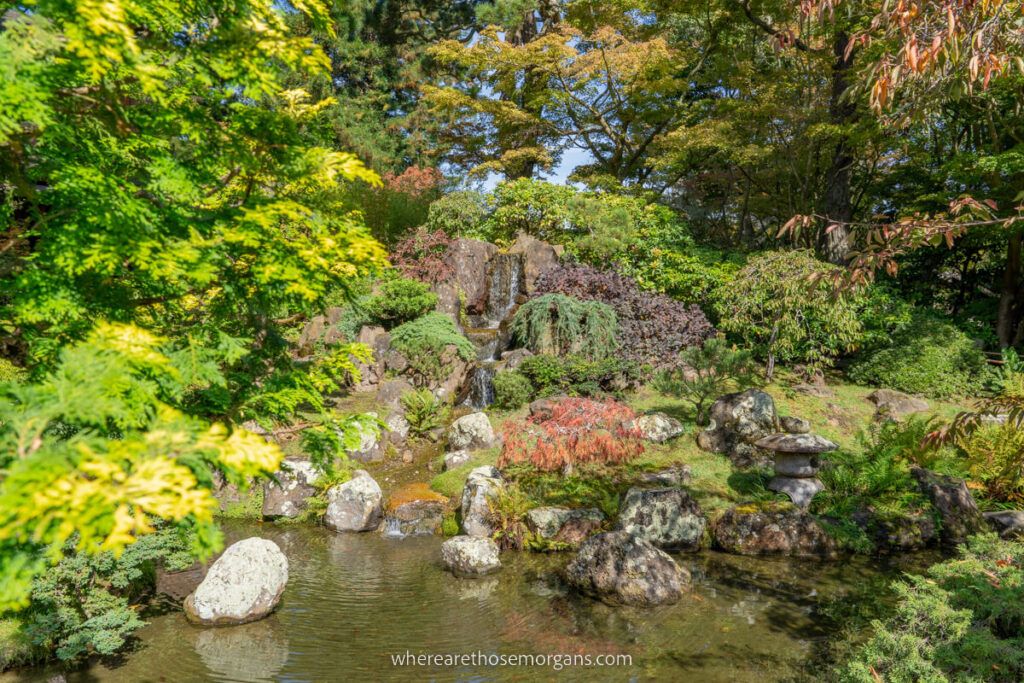 History Of The San Francisco Japanese Tea Garden
If you are a history buff, keep on reading because this garden is the oldest Japanese Tea Garden open to the public in the United States.
Originally built as part of the World's Fair for the California Midwinter International Exposition of 1894, the Tea Garden was created as a Japanese Village exhibit.
When the fair ended, the Japanese architect Makoto Hagiwara became the caretaker of the garden. Hagiwara expanded the grounds to its current size of five acres and poured much of his time and talents into creating the perfect garden.
As World War II broke out, many Japanese Americans in San Francisco were forced to evacuate their homes and move to internment camps.
Unfortunately, after the war was over, the Hagiwara family was not allowed to return to their home at the tea garden, but the families memory lives on through many pieces in the garden.
Today, the SF Japanese Tea Garden is one of the most popular attractions in San Francisco. This garden was easily one of our favorite stops in the Golden city.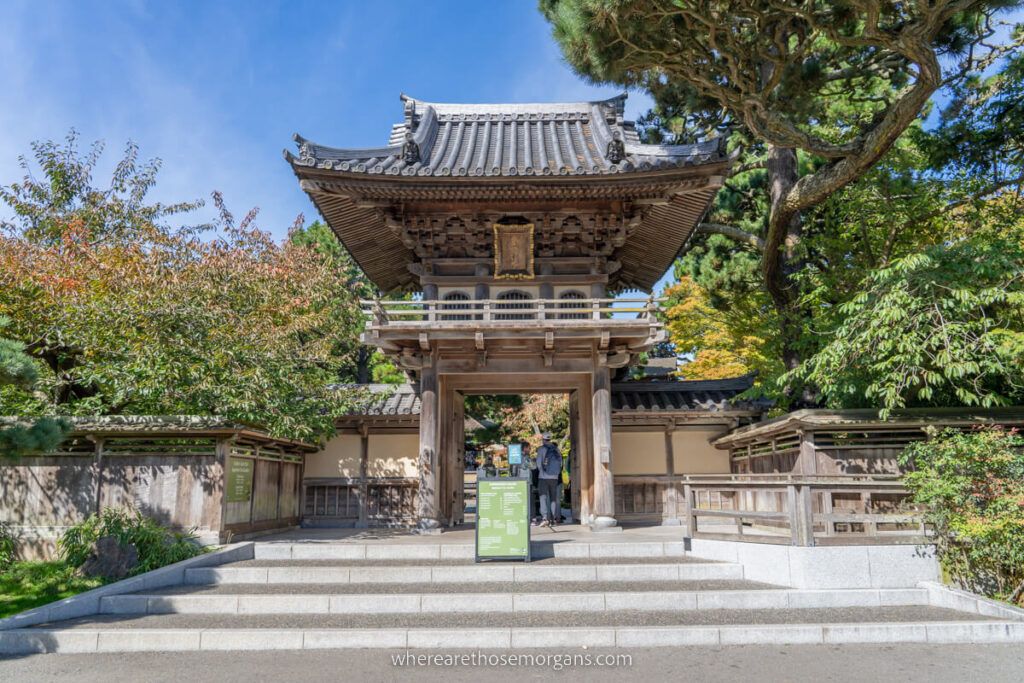 Where Is The Japanese Tea Garden In San Francisco?
The San Francisco Japanese Tea Garden is located in the heart of Golden Gate Park. The Tea Garden is on Hagiwara Tea Garden Drive between Stow Lake and the de Young Museum.
San Francisco Japanese Tea Garden Address: 75 Hagiwara Tea Garden Drive, San Francisco, CA 94118
Other points of interest nearby include the California Academy of Sciences and the San Francisco Botanical Gardens.
How To Get To The San Francisco Japanese Tea Garden
Visitors are encouraged to use public transportation when visiting the Japanese Tea Garden because space near the garden is extremely limited.
This means there are numerous eco-friendly ways to get to the SF Japanese Tea Garden.
You can consider public transportation, the weekend Golden Gate Shuttle, walk, bike or use the Music Concourse parking garage.
Several Muni buses and light rails are available to help you access various sections of Golden Gate Park. Then you will just have to orientate yourself in the right direction depending on your stop.
Public Transport Options
Here are three transportation options:
Muni's 44 Bus Line (O'Shaughnessy) – Stops right outside the entrance to tea garden.
North Judah Streetcar – Get off at 9th Avenue, walk into the park via 9th, then head right on Hagiwara Tea Garden Dr.
5 Fulton Bus – Exit at 8th Ave / Fulton St and walk into Golden Gate Park. Turn right onto JFK Ave and continue past the de Young Museum to the Tea Garden.
Here's how to reach the Japanese tea garden from the two popular tourist areas of San Francisco:
From Fisherman's Wharf – Take the F-trolley to Market Street, then the North Judah streetcar to 9th Ave. Walk into the park via 9th, then head right on Hagiwara Tea Garden Dr.
From Downtown – Head to whichever downtown Muni station you are close to and take the North Judah Streetcar to 9th Ave. Walk into the park via 9th, then head right on Hagiwara Tea Garden Dr.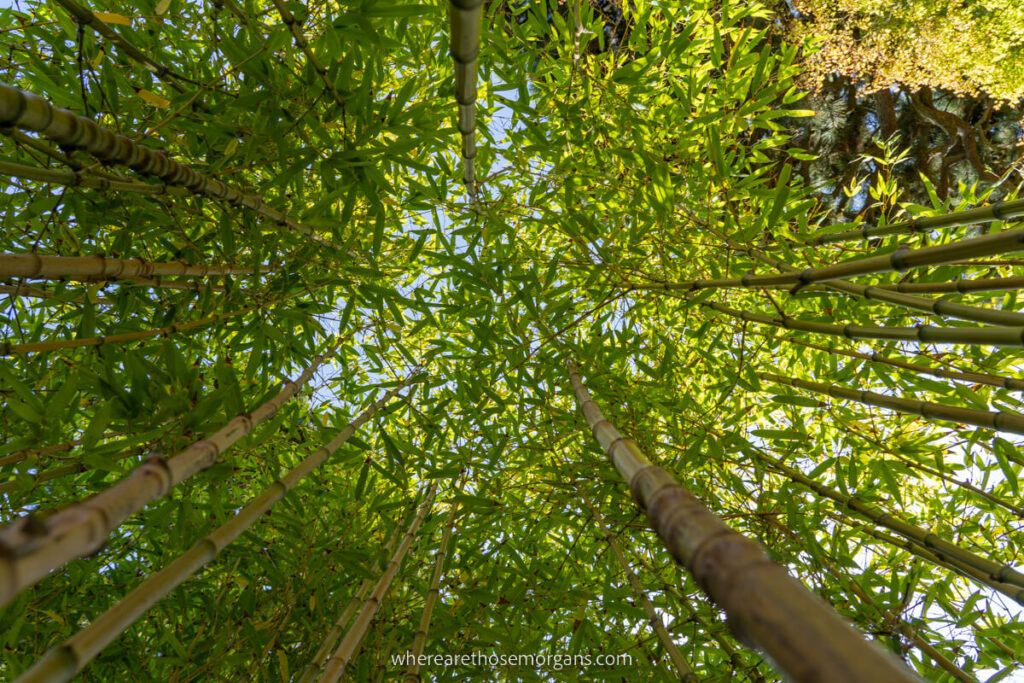 Golden Gate Shuttle
The free Golden Gate Park Shuttle is a great alternative as well because this shuttle operates seven days a week.
Here are the Golden Gate Shuttle operating hours:
Saturdays, Sundays and holidays: 9:00am – 6:00pm (every 15 mins)
Monday to Friday: 12:00pm – 6:00pm (every 25 mins)
Get off at the 'de Young Museum/Japanese Tea Garden/SF Botanical Gardens' stop.
Parking For The SF Japanese Tea Garden
As we mentioned above, parking is extremely limited at the San Francisco Japanese Tea Garden, especially on sunny weekends and during the busy summer months.
You may be lucky to find some of the minimal free street parking within Golden Gate Park and Fulton Street. But if you can't find any available spaces, you can opt for paid parking.
Paid parking for cars and bicycles is available in the Music Concourse Garage underneath the de Young Museum.
Access to this garage is at Fulton St. and 10th Avenue on the North side then at Concourse Drive near Cal Academy from the South. This garage is open seven days a week from 7:00am – 7:00pm year-round.
Rate for the Music Concourse Garage are below:
Monday-Friday: $5.25/hr
Weekends: $6.25/hr
Special Event: $6.25/hr
Evening Rate: No charge (after 5:30 pm, good until closing)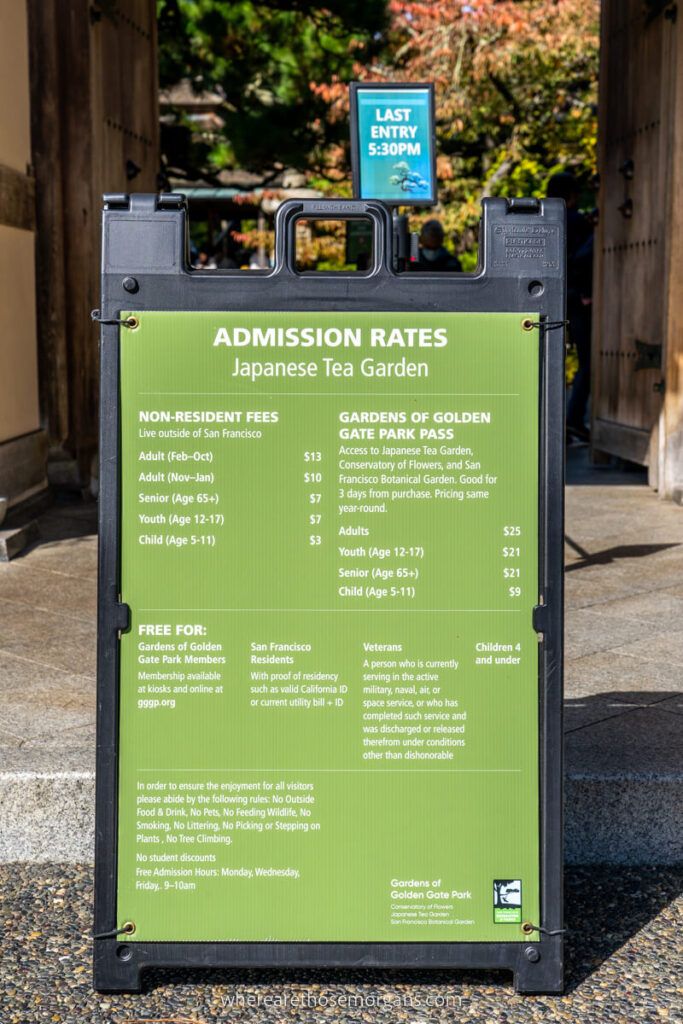 How To Buy SF Japanese Tea Garden Tickets?
You will need a ticket to enter the San Francisco Japanese tea Garden.
Tickets can be purchased either online from the official Tea Garden website or onsite prior to entry.
If you are visiting during the peak season of summer, we would recommend you purchase your tickets online to avoid waiting in long queues.
Tickets purchased online are good for any date and time.
Here are the current SF Japanese Tea Garden ticket prices:
Adults (Nov-Jan): $10
Adults (Feb-Oct): $13
Seniors (ages 65+ w/ID): $7
Youth (ages 12-17): $7
Children (ages 5-11): $3
Children (under 5): Free
Free Ticket Options
For those on a budget, we are happy to tell you there are a few ways you can gain free entry into the gardens.
As of April 2022, the Japanese Tea Garden is now free for all residents of San Francisco with a valid ID.
Non-residents can also visit during the free hours for everyone from 9:00am – 10:00am every Monday, Wednesday and Friday.
All veterans and visitors receiving food assistance (SNAP benefits) will receive free general admission as well.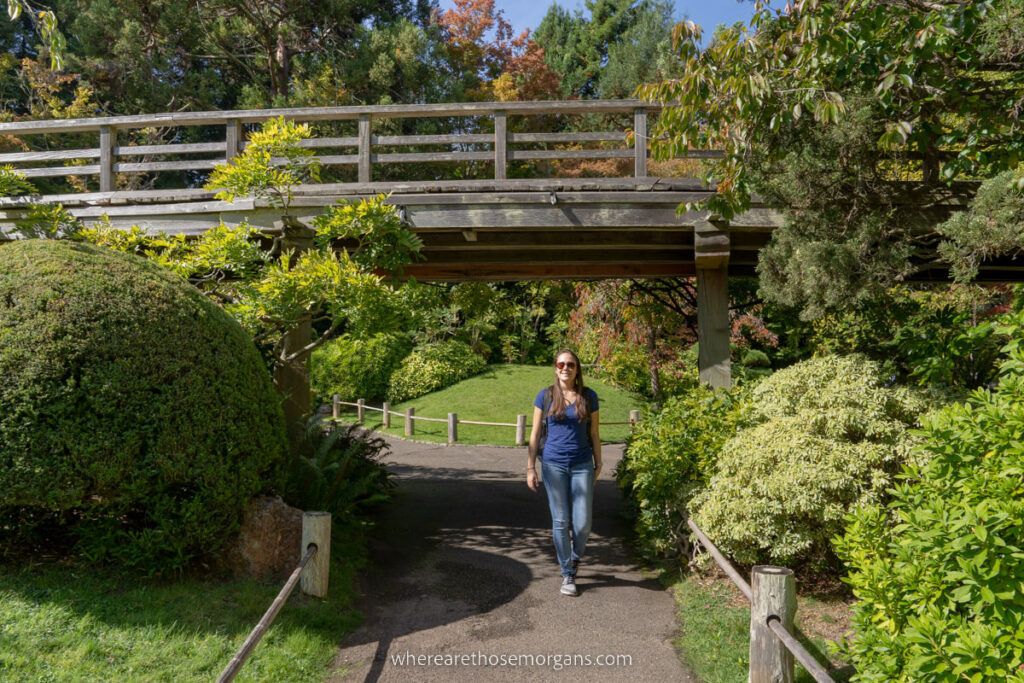 Popular San Francisco Tours
If you are tight on time or want to see more of beautiful Golden Gate Park, a tour would be a good way to spend an afternoon in San Francisco.
Here are two top rated tours for San Francisco featuring Golden Gate Park:
Golden Gate Park Segway Tour – In this 2.5 hour tour, a local guide will lead you to top attractions including the Japanese Tea Gardens, the de Young Museum and the California Academy of Sciences.
GoCar 3-Hour Tour – Explore the parks and beaches of SF with a talking GoCar during this 3 hour tour as you pass by famous attractions such as Golden Gate Park, Fisherman's Wharf and more.
Gardens Of Golden Gate Pass
The Gardens of Golden Gate Park Pass is perfect for those who plan to visit the Conservatory of Flowers, Japanese Tea Garden, and San Francisco Botanical Garden.
Each pass grants you unlimited visits to all 3 gardens for 3 Days with just one ticket.
Gardens Of Golden Gate Passes can be purchased online or at each of the 3 garden locations. Keep in mind tickets purchased online non-refundable and non-transferable.
Things To Do At The San Francisco Japanese Tea Gardens
The best advice we can give you when it comes to the San Francisco Japanese Tea Garden is to give yourself enough time.
There are many things to do at the garden and you will find yourself wanting to slow down so you can take in the gorgeous scenery surrounding you from every angle.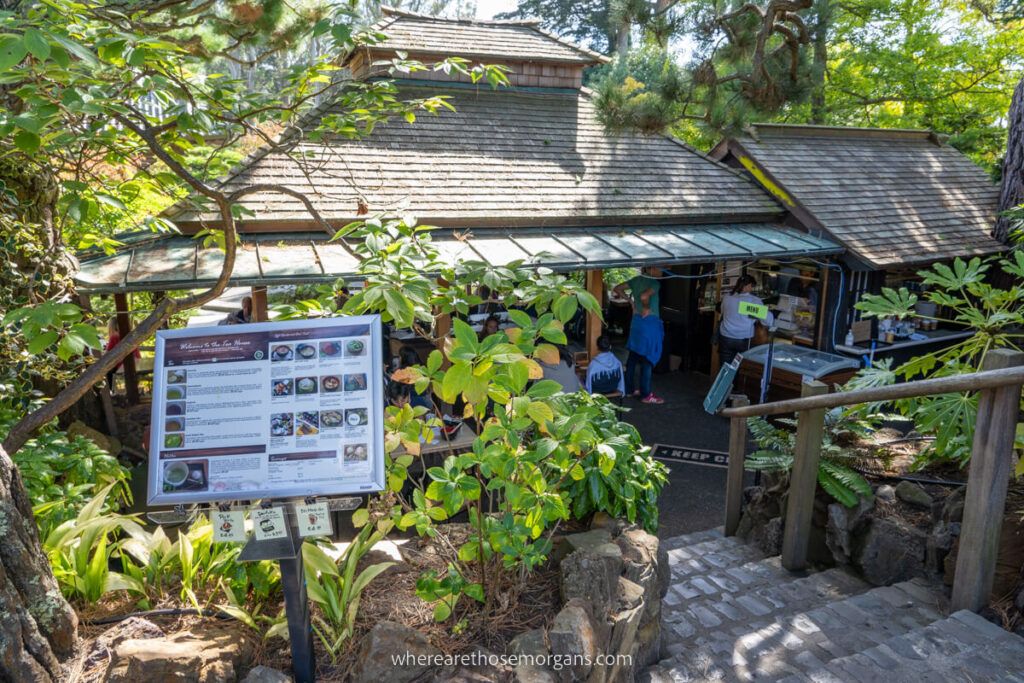 1. Enjoy A Match In The Tea House
A highlight of the garden is the Tea House which you can find smack dab in the center of the action. An incredibly picturesque landscape and a south facing pond surround the Tea House.
This is where many people stop for a break and enjoy a cup of match, light snacks and even a few sweat treats. You can see the tea house menu here.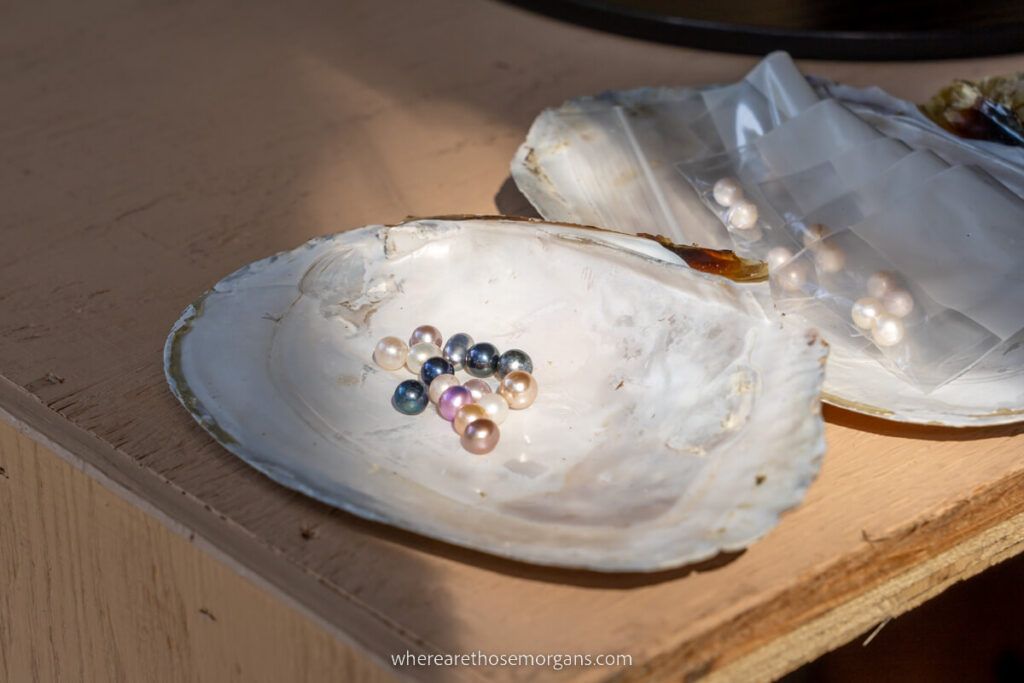 2. Pick Out Your Own Pearl
At the back of a tea house, you will come across a large fish tank filled with many oysters. This is where an employee will tell you a short history about these beautiful Japanese pearls.
For a small fee (about $20), you can pick the oyster of your choice from the tanks and watch as it is pried open in front of your eyes. The last step is choosing a jewelry casing to house the colorful pearl.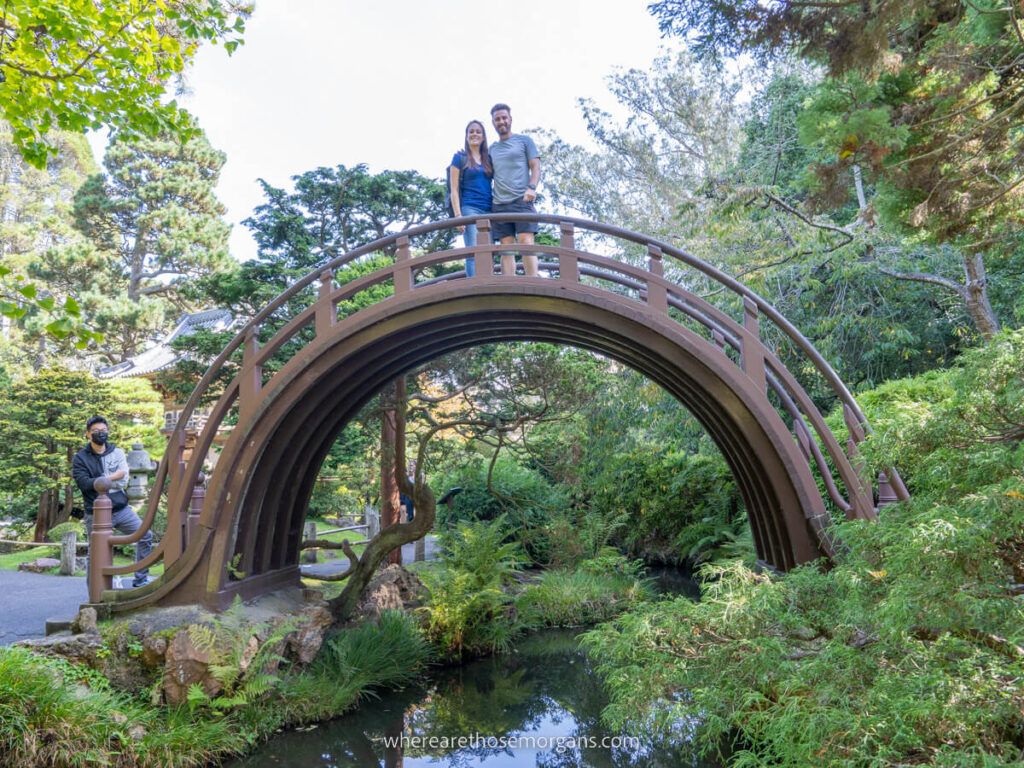 3. Walk Over The Arched Drum Bridge
This drum bridge is one of the coolest bridges we have ever seen. It was actually built in Japan, dismantled and then resembled in San Francisco.
As you stand in front of the drum bridge, notice how is reveals a reflection of a full circle or full moon over water. The design encourages those who enter the Tea Garden to slow down.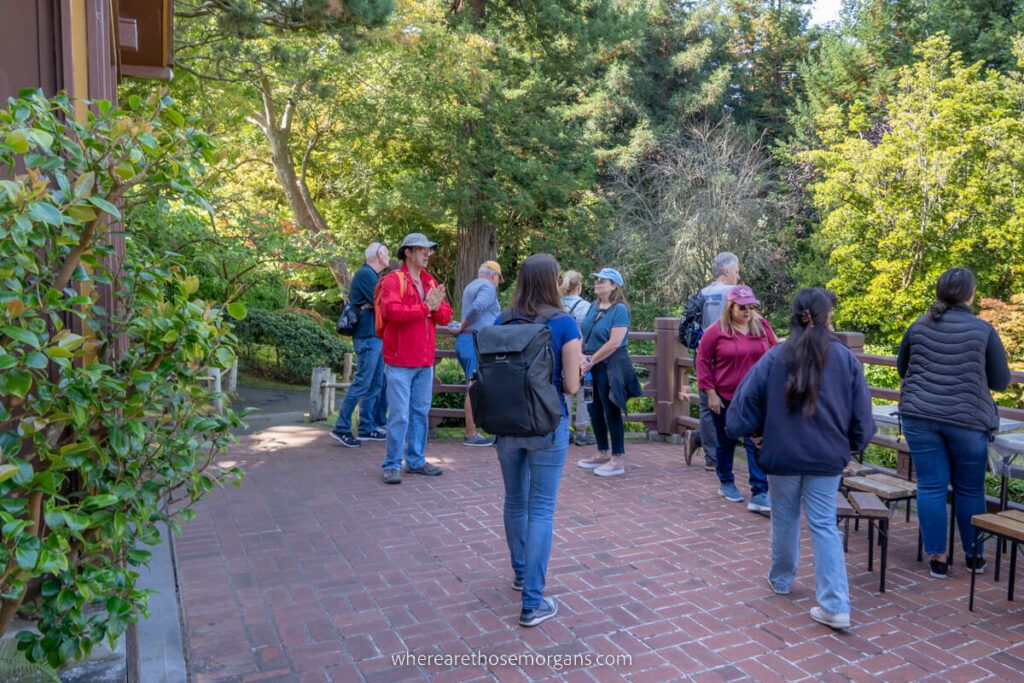 4. Take A Free Walking Tour
San Francisco City Guides offers free walking tours almost every day in the Japanese Tea Garden. As long as you have purchased an entry ticket for the garden, you can attend the walking tour.
Personally, we loved this free tour and learned many fascinating stories about San Francisco as well as the tea garden. We highly recommend this tour which typically begins around 1pm.
This tour starts directly inside the entrance to the gardens and prior registration is not required. Check the official SF City Guide website for official tour times.
5. Visit The Serene Koi Pond
A koi pond is a traditional feature of Japanese gardens because these fish are sacred in the Japanese culture. Koi represent strength, courage, patience and success as they are known to swim against strong currents.
If you are traveling with kids, they will love looking for the bright colored Koi in the pond of the tea garden.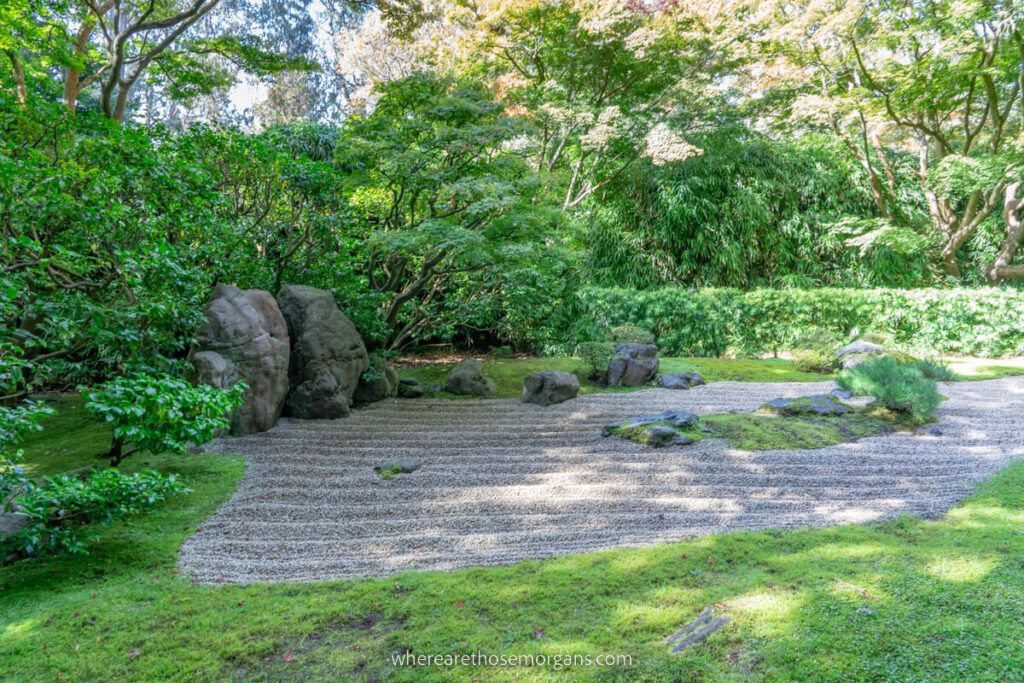 6. Stroll Through The Zen Garden
Zen Gardens have been a large part of the Japanese culture since the 13th century. A Zen Garden typically serves to help encourage and aid with meditation.
In this garden, you will find the small gravel raked into minimalist patterns which helps to create a sense of peace and restore order. We thought the Zen Garden was the most peaceful section throughout the entire Japanese Tea Garden.
7. Identify Native Japanese Trees
The free walking tour will help you learn about Japanese landscaping techniques as well as find important items throughout the garden.
We don't want to give anything away, but you can expect to see flowering cherry trees, magnolias, Japanese maples, pines, cedars, cypress trees and so much more in this gorgeous garden.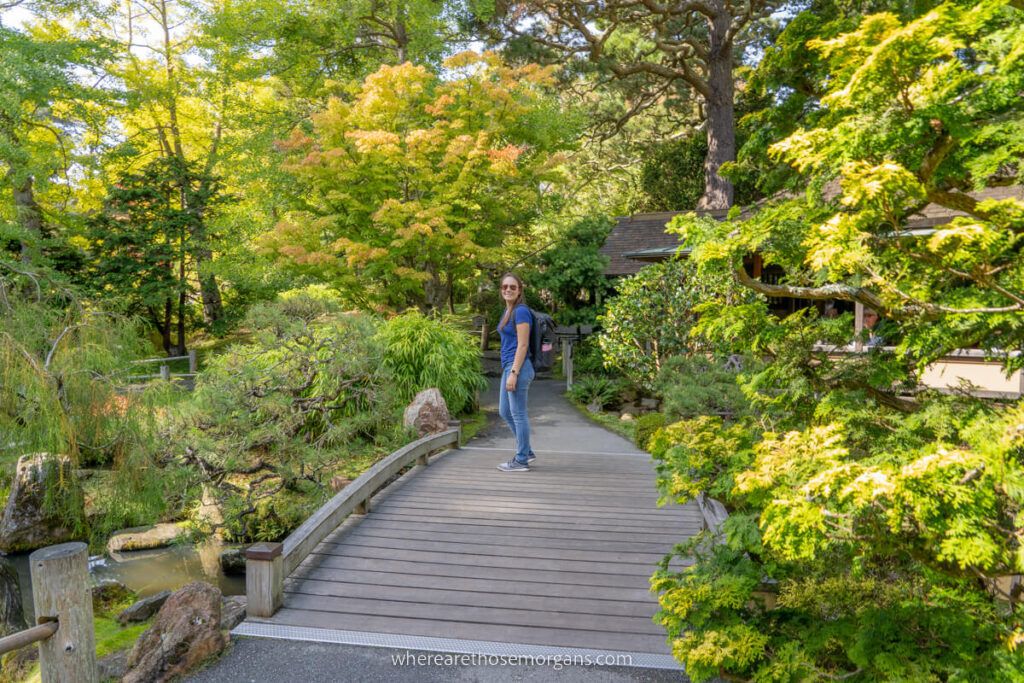 8. Walk A Stepping Stone Path
Stepping stones in a Japanese garden play a very integral part in the experience. Unlike traditional straight and narrow garden paths, walking on stepping stones can take a bit more concentration.
This style of path encourages visitors to slow down and take in more of their surroundings. These individual stones are meant to help you absorb the garden to its fullest.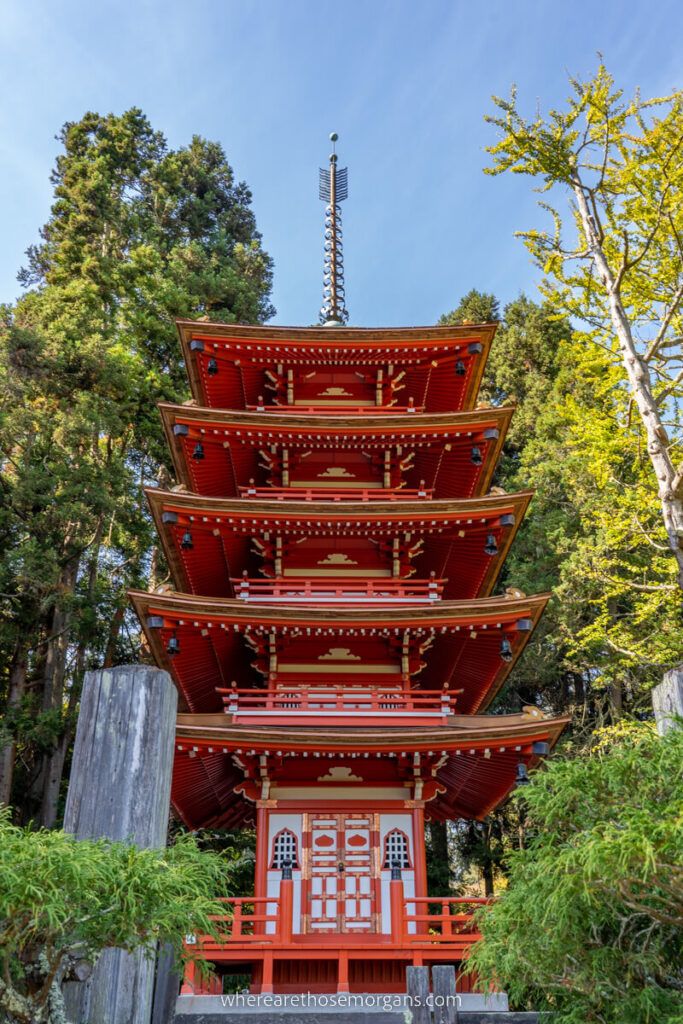 9. Admire The Five Story Red Pagoda
The towering five story red pagoda recently underwent a two year restoration project. In April 2022, the pagoda has officially reopened to its full glory after its first appearance at the World's Fair over 100 years ago.
The San Francisco Recreation and Park Department even coordinated a ceremony to mark this special occasion. Now the pagoda stands as a beacon for local officials, history lovers and Japanese American community members.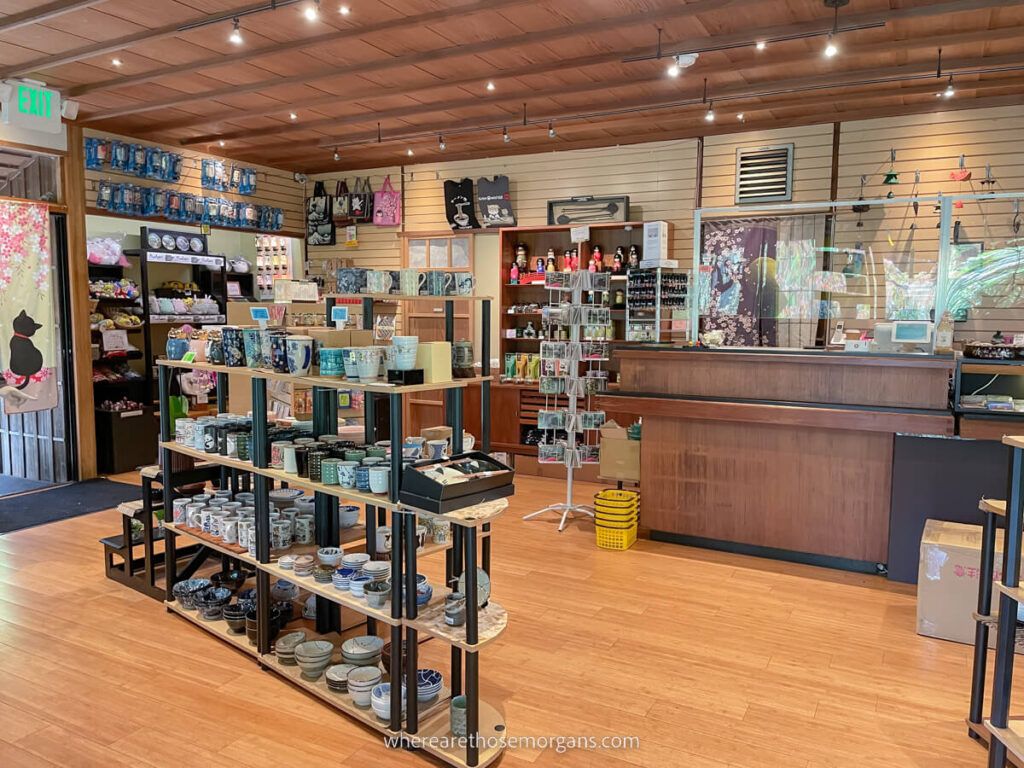 10. Buy A Souvenir In The Gift Shop
This gift shop is located above the Tea House on the Terrace level of the garden. The building is similar to the tea house in that it possess a distinctive Japanese architecture.
Here you can purchase authentic Japanese items such as tea and sake sets, glazed ceramic bowls, maneki neko figurines, a variety of green tea and children's collectables.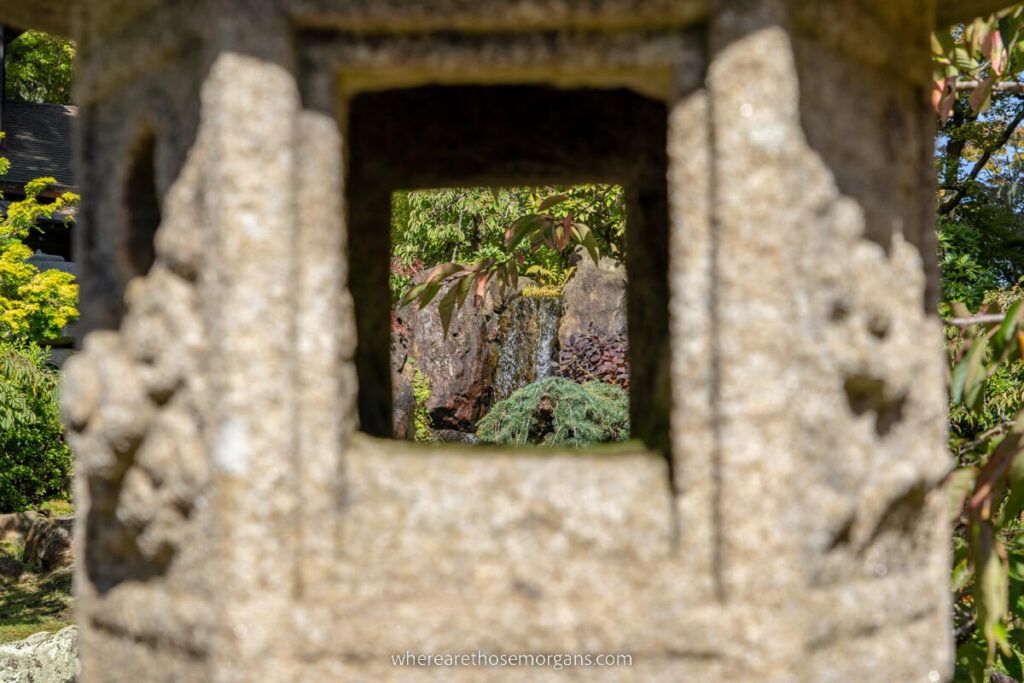 11. Learn About The Fortune Cookie
Without spoiling the story, Mr. Hagiwara is rumored to have brought the fortune cookie from Japan to the United States in the late 1890's.
Back then in Japan, fortune cookies were savory rather than sweet. It is also believed San Francisco confectioner Benkyodo, developed the vanilla recipe for the fortune cookie to appease Western palates.
Take the free walking tour or ask about the fortune cookie in the tea house when you visit.
12. Find A Stone Lantern
In Japan, Stone lanterns were originally used in Buddhist temples. Lit lanterns were considered an offering to Buddha and often represented teachings to help him overcome the darkness of ignorance.
Stone lanterns, or Ishidourou, have become iconic and now serve to add to the balance or harmony in any garden. As you stroll through the Japanese Tea Garden, see how many stone lanterns you can find.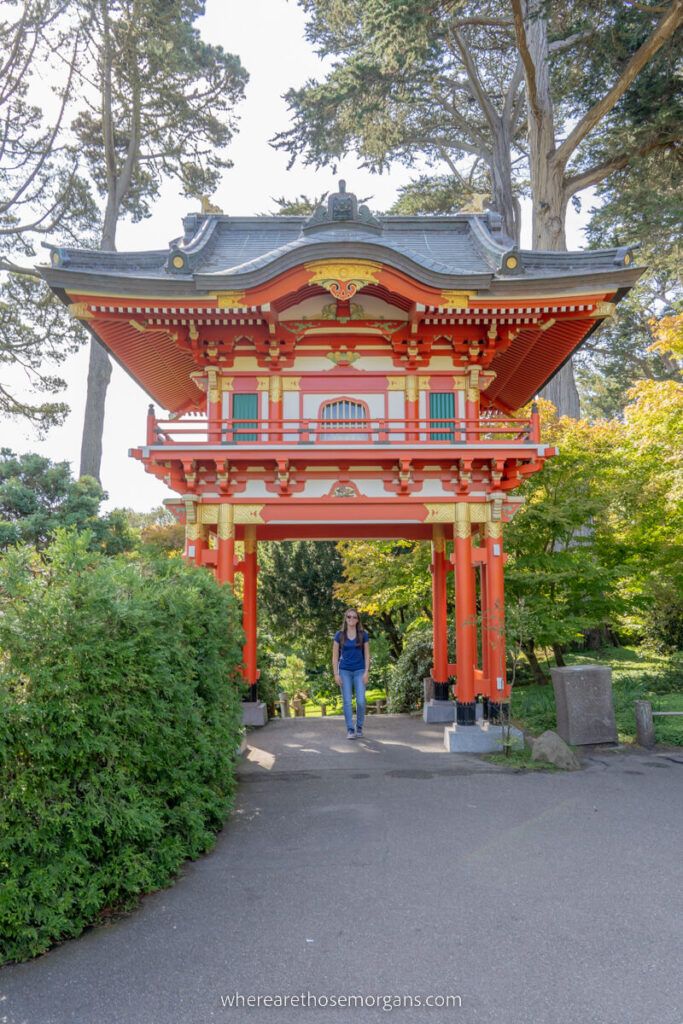 Best Time To Visit The SF Japanese Tea Garden
We visited the SF Japanese Tea Garden in October 2022 right as the trees were transitioning into their vibrant fall colors.
While the temperature was perfect and the crowds were minimal in fall, cherry blossom season in late March or early April would be the best time to visit the San Francisco Japanese Tea Garden.
Around late March, the cherry blossom trees will explode with a billowy pink and white bloom. These blooms last only about two weeks, but symbolize renewal and the ephemeral nature of life in Japanese culture.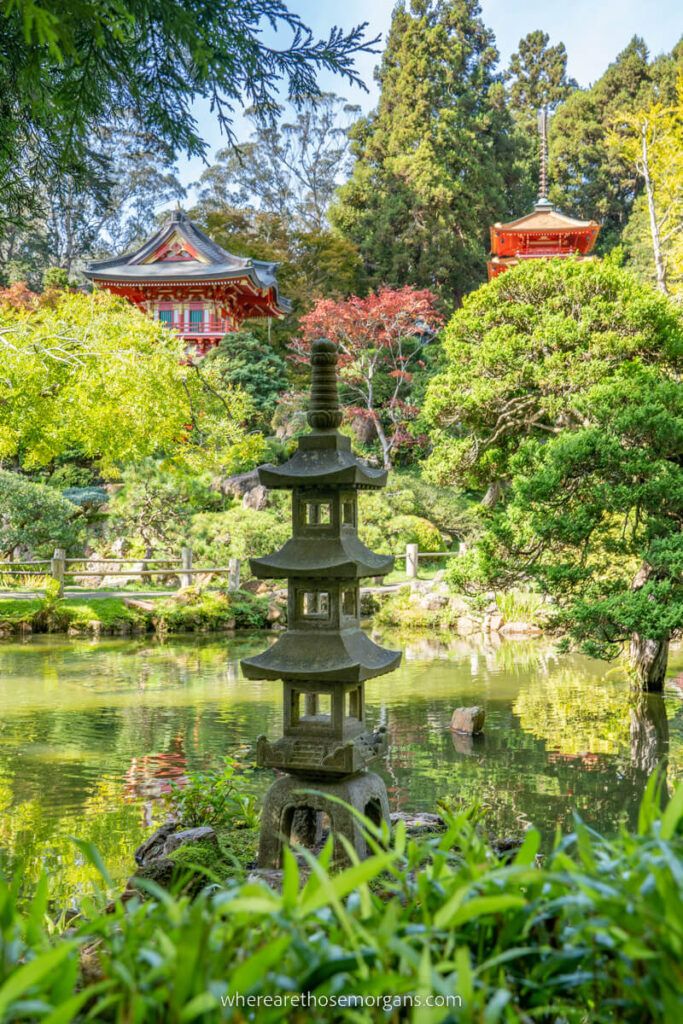 Is The Japanese Tea Garden In San Francisco Worth it?
Yes, the San Francisco Japanese Tea Garden is worth it.
This tea garden is filled with rich history and stunning Japanese architecture. The price is extremely fair even for non SF residents as well.
When we visited, this tea garden was brimming with both locals and tourists which is always a good sign. The staff were super friendly and we highly recommend the free walking tour if you can fit it into your schedule.
Pros To Visiting The SF Japanese Tea Garden
If you aren't sure if the Japanese Tea Garden is worth your time, here are a few pros to consider:
The oldest Japanese Tea Garden in the United States
Chance to take a free walking tour to learn about Japanese landscaping
Garden is free to SF residents with free visiting times for non-residents too
Ability to slow down and experience a gorgeous garden
Cons To Visiting The Japanese Tea Garden
And here are a few cons to consider when visit the Japanese Tea Garden:
The garden may be crowded depending on time of year
The flowers may not be at full bloom if visiting in the off season
If you are not an SF resident, there may be a fee when you visit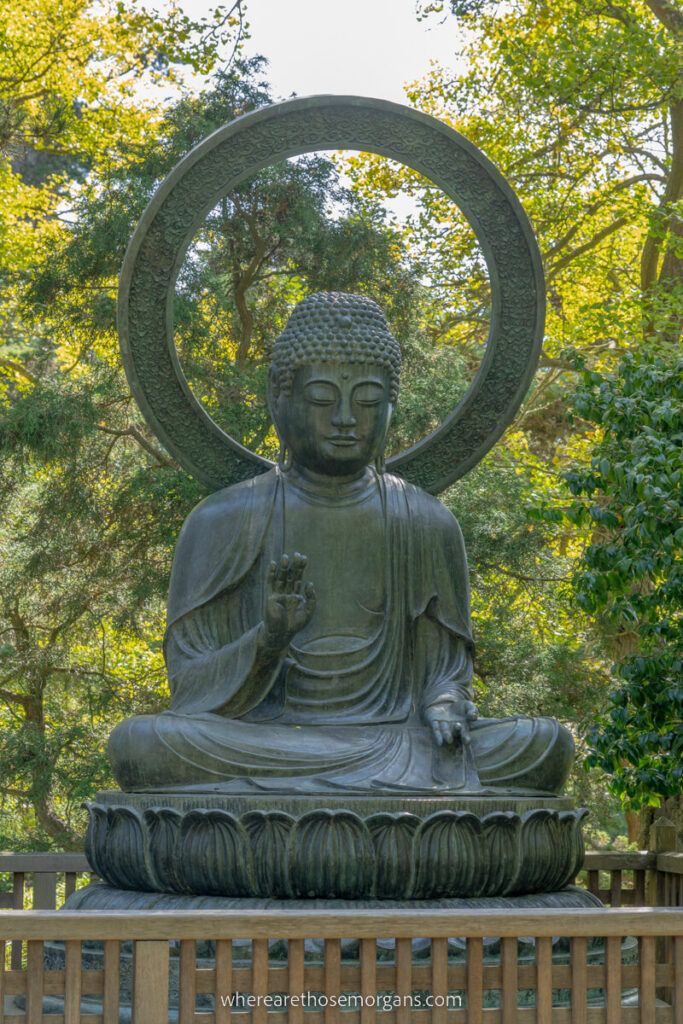 SF Japanese Tea Garden FAQ's
Let's take a look at some of the most frequently asked questions about the San Francisco Japanese tea Garden.
Are Dogs Allowed At The San Francisco Japanese Tea Garden?
Unfortunately, no pets are allowed in the SF Japanese Tea Garden.
Does the SF Japanese Tea Garden Cost Money?
Unless you are a resident of San Francisco, the Japanese Tea Garden will cost money. Tickets range from $3-$10 depending on age and time of year.

However, non-residents can visit the San Francisco Japanese Tea Garden for no cost during the 'free hours for everyone' from 9:00am – 10:00am every Monday, Wednesday and Friday.
How Long Does It Take To Tour The Japanese Tea Garden In San Francisco?
It will take about 2 hours to see the Japanese Tea Garden in San Francisco. Plan one hour for the guided walking tour and then another hour to explore the gardens yourself or visit the tea house.
Can You Take Pictures At The SF Japanese Tea Garden?
Yes, you can take as many photos as you would like at the SF Japanese Tea Garden.
What Can You Not Do In A Japanese Garden?
In a Japanese Garden, you should not pick flowers, climb trees, throw objects into the Koi Pond, disturb the stones in the Zen Garden or step into any fenced area.
Our Popular San Francisco Guides
More California Guides
Want more California content? Head to our California Travel Guides to explore National Parks, popular road trips and things to do in major cities of the sunshine state.
---
We hope this detailed guide to the San Francisco Japanese Tea Garden helps with planning your visit to the Golden City!
Please let us know if you have any questions about the Japanese Tea Garden or San Francisco in the comments below.
Happy Travels,
Mark and Kristen
Enjoy This Guide? Pin It For Your Visit!