Koh Lipe is Thailand's in-vogue slice of tropical paradise, famous for powdery white sand and crystal clear turquoise waters. The question is – how long do you need to spend in paradise and what should you do?
This 4 day Koh Lipe itinerary blends exciting things to do with the calm relaxation you'd expect from a tropical island.
Koh Lipe's charm is centered around laid back vibes and a melting pot of international visitors. The beauty of the island belongs to its beaches, twilight hours and warm waters filled with marine life.
We will walk you through getting to get to Koh Lipe, the best things to do in and around the island, where to eat and where to stay.
Our in depth 4 day Koh Lipe example itinerary will give you the perfect foundation to build your dream trip around.
*Please note this post may contain affiliate links. If you click on one, we may earn a small commission at no extra cost to you. Thank you for supporting the free content we provide! Read more in our disclosure policy.*
Why Visit Koh Lipe, Thailand?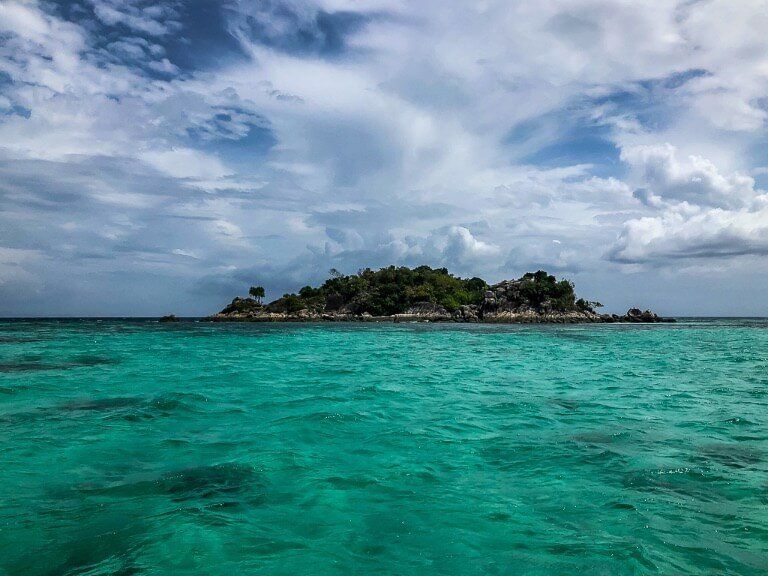 Well, Koh Lipe is a tropical island! However, it's not the easiest place to get to. With that being said, why should you go the extra mile to land yourself on the shores of Thailand's Southernmost island?
Let's take a brief look at some of the reasons that make this tiny island so popular:
Koh Lipe is home to one of those fantasy-like powdery beaches that feels like you're walking on flour

It is the most built up of 51 islands within Tarutao National Park, in which 25% of the world's tropical fish species can be found in its waters

Countless snorkeling and diving areas can be found around the island and within 1 hour boat ride

Gorgeous sunrises and sunsets can be enjoyed from different beaches every single day

Nearby Koh Adang offers a tough (because of the heat) but rewarding hike to an awesome viewpoint looking over Koh Lipe

Snail-like pace of life throughout the day and night creates the perfect chilled atmosphere

Koh Lipe is seriously small, so everything is easily within walking distance
Koh Lipe Itinerary Factfile
Where is Koh Lipe: Satun Province,

Adang-Rawi archipelago (edge of Tarutao National Marine Park), Southern Thailand – close to the border with Malaysia

How to get to Koh Lipe: Ferry / Speedboat (see below)
Immigration: Passport control on the beach as you arrive
Visa: Same as rest of Thailand – 6 months remaining on passport / 30 day visa – may require onward travel
Language:

Thai but English widely spoken across the island

Currency:

Thai Baht (US$ 1 = 31.50 baht as of June 2020)

Cash/ATM:

4 ATM's but all charge foreign cards, exchanging on island will incur big fee, take enough cash from previous place in Thailand
Additional Fees: 200 Baht on arrival for 5 day Tarutao National Park Entrance Fee, compulsory
How big is Koh Lipe:

Koh Lipe is shaped like the letter L on its side and is only 2.5km long by 1.5km wide.

How to get around in Koh Lipe: Walking! You can hire a moped / tricycle but there's really no need.
Koh Lipe High Season: Mid-Nov to Early-May (Peak Jan-Feb)
Koh Lipe Low Season: Early May – Mid Nov
Weather in Koh Lipe: Dry Nov-Apr (hottest Jan-Mar), Rainy May-Oct (wettest Sept)
Best time to visit Koh Lipe: Dec / Mar-Apr

Koh Lipe Nightlife:

Chilled. Be aware that Koh Lipe is NOT a party island – visit Koh Phi Phi and Koh Pha Ngan for parties!

Koh Lipe Restaurants: Plentiful, cheap eats to fine dining
Water: Water is not safe to drink from taps. Use bottled water at all times.
Annual Visitors: Around 1.5 million
How To Get To Koh Lipe
Being a tiny little island 40 miles off the mainland means access can be achieved by one method of transportation alone – boat.
There are slow boats and speedboats relentlessly marauding around the Andaman Sea, ferrying tourists from one island to the next.
How you approach Koh Lipe will depend on 2 factors:
First – the type of trip – ie a slow island hop versus a 1 week blast around Bangkok and Koh Lipe
Second – the time of year you are visiting – ie High or Low season (more services in high season)
Our most important advice is not to worry about getting around, there is always a way to transfer between islands and the mainland. You can pick up tickets for ferry's and speedboats in each town or on each island at travel ticket kiosks.
You can travel to Koh Lipe easily from any part of Southern Thailand in high season. But what if you're all the way up in Bangkok or Chiang Mai?
You can fly to one of many airports closer to Koh Lipe, before transferring to minibus and speedboat.
Here are just a few of the more popular routes you might take:
1. Chiang Mai / Bangkok to Koh Lipe
It's important to note first that Pak Bara (closest airport: Hat Yai) is the only place you can reach Koh Lipe from all year. Many other options are only available in High Season.
To reach Koh Lipe from Chiang Mai and Bangkok, you could take a long bus or a long train, but flights are excellently priced in Thailand so it doesn't make sense to waste time traveling.
You will need to first fly from Bangkok or Chiang Mai into one of the following airports before transferring to bus and speedboat. If you have time, spend a few days at one of these places first!
1A. Krabi / Krabi Airport to Koh Lipe
Begin in Krabi / Fly into Krabi, minibus to Klong Jilad Pier (20 mins), high speed ferry [not direct] to Koh Lipe (4h 15m, departs 9am) OR Pickup from Krabi Airport at 10:15, minibus to Krabi Klong Jilad Pier, speedboat to Koh Lipe (departs at 11:00).
Check prices for Krabi / Krabi Airport to Koh Lipe
1B. Phuket / Phuket Airport to Koh Lipe
Begin in Phuket / Fly into Phuket, ground transport to Rassada Pier (35 mins), speedboat to Koh Lipe (5 hours, departs 08:30).
Check prices for Phuket / Phuket Airport to Koh Lipe
1C. Trang / Trang Airport To Koh Lipe
Begin in Trang / Fly into Trang, ground transport to Hat Yao Pier (50 mins), speedboat to Koh Lipe (2 hours, departs at 1pm).
Check prices for Trang / Trang Airport To Koh Lipe
1D. Hat Yai / Hat Yai Airport to Koh Lipe (Best Option from Bangkok / Chiang Mai)
Begin in Hat Yai / Fly into Hat Yai, ground transport to Pakbara Pier (1h 45m), speedboat to Koh Lipe (2 hours, departs at 11:30 and 14:30 mid-May to mid-Oct / 11:30, 13:30 and 15:30 mid-Oct to Mid-May).
Check prices for Hat Yai / Hat Yai Airport to Koh Lipe
Use Skyscanner to find your cheap flights from Bangkok / Chiang Mai, then check prices and times for speedboats on Bookaway to / from Krabi, Phuket Trang and Hat Yai. Note that some speedboat/ferry routes are available only in high season
2. Koh Phi Phi to Koh Lipe
Depart Koh Phi Phi Ao Tonsai Pier either 09:15 or 11:45, speedboat to Koh Lipe takes 3h 15m.
Check prices for Koh Phi Phi to Koh Lipe.
3. Koh Lanta to Koh Lipe
Depart Koh Lanta Saladan Pier either 10:30 or 13:00, speedboat to Koh Lipe takes 2 hours on the 10:30 or 2h 45m on the 13:00 with stops along the way.
Check prices for Koh Lanta to Koh Lipe.
4. Koh Muk to Koh Lipe
Depart Koh Muk Pier (East) at 14:15, speedboat to Koh Lipe takes 1h 30m. This is the route we took.
Check prices for Koh Muk to Koh Lipe.
5. Langkawi (Malaysia) to Koh Lipe
Depart Kuah Jetty (Southeast Langkawi) at 10:00 / 14:30, speedboat takes 1h 30m, arrive 10:30 / 15:00 (gain +1 hour crossing border) OR depart Telaga Harbor (Northwest Langkawi) at 09:30 / 14:30, ferry takes 2 hours, arrive 10:30 / 15:30 (gain +1 hour crossing border).
Check prices for Langkawi to Koh Lipe.
Koh Lipe Beaches
Pattaya Beach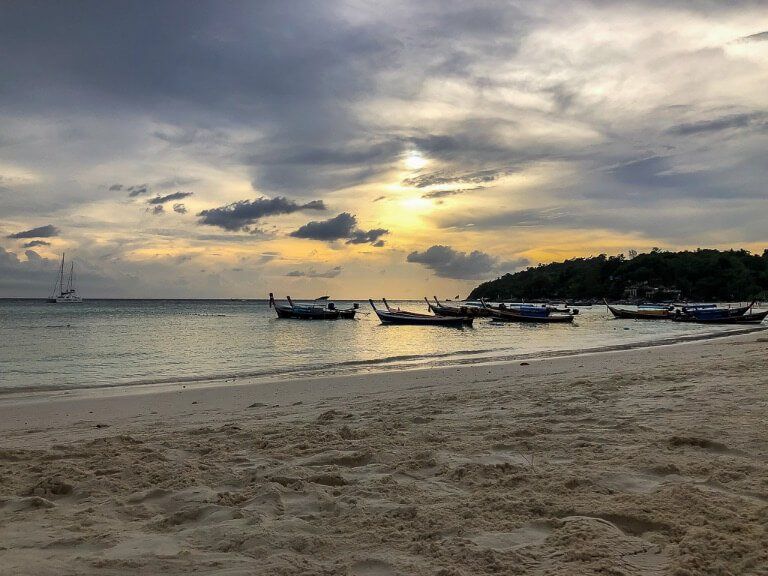 Pattaya is the most commercialized of Koh Lipe's 3 main beaches and this is where you will arrive in high season. Along the beach front you will find plenty of hotels and restaurants, but also an enormous amount of Thai long-tail boats.
Walking street begins right on this beach and has most of the islands amenities. Pattaya Beach is the only beach on Koh Lipe with powder-like sand – which is why it is also the busiest.
Who is Pattaya Beach for?
Those who like to be in the thick of the action, with amenities close at hand. Also, anyone who can't get enough of the feeling like you're walking over a mound of flour!
Sunrise Beach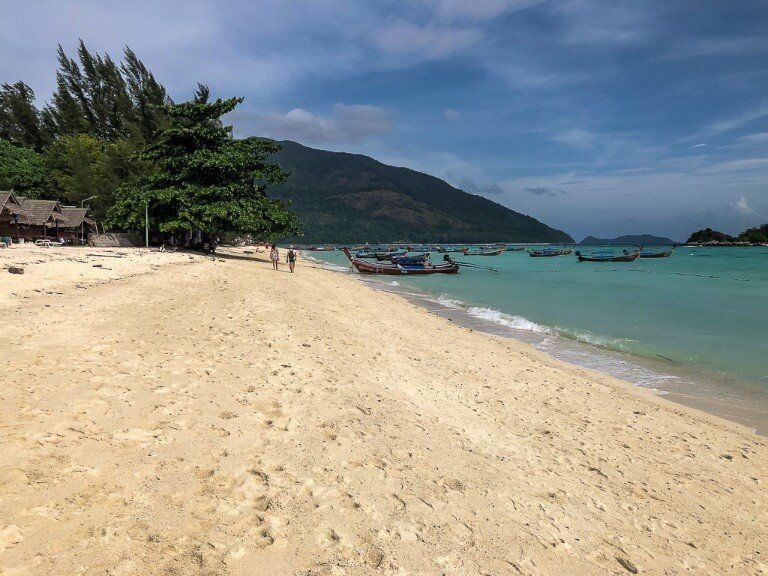 Unsurprisingly, sunrise beach is located on the East side of Koh Lipe. This beach has an unobstructed view as the sun rises emphatically over the Andaman Sea each morning. Sunrise beach offers many of the islands SCUBA/snorkelling companies and is where you hop on a long-tail boat taxi to reach Koh Adang.
There are cool / high end restaurants and hut-like bungalow accommodations along the front. Sunrise offers a less touristy place to set up base, but is still only 5 minutes stroll from walking street.
Who is Sunrise Beach for?
Those who prefer fewer crowds, more tranquility, a cool breeze and higher quality restaurants. The bars have more of a tropical island feel here than Pattaya.
Sunset Beach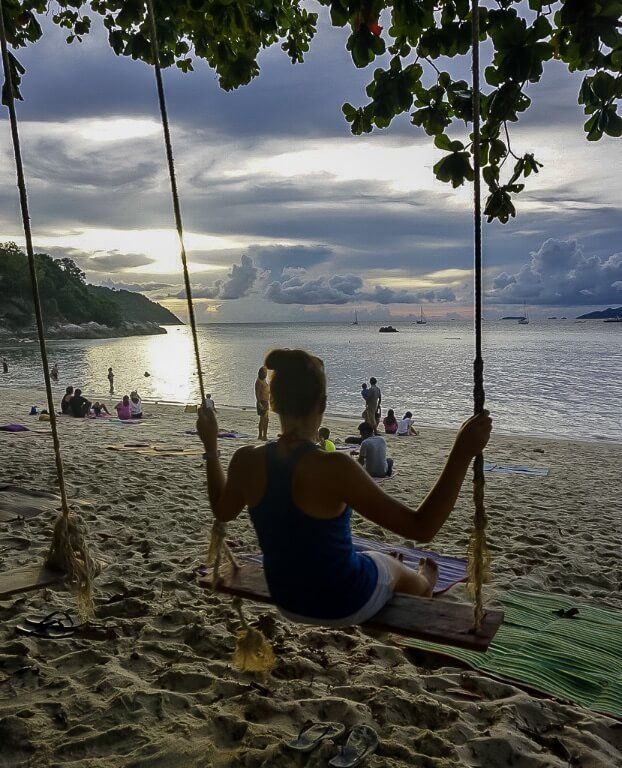 Sunset beach is the quietest, most laid back, even secluded part of Koh Lipe. No prizes for guessing why it is popular! Every evening you'll be able to witness spectacular sunsets over the sea. We'd suggest carrying a head torch at night for walking around this area as it does offer more of a deserted island feel with far fewer tourists.
Who is Sunset Beach for?
Those looking to disconnect for the majority of their visit to the island. It is by far the most peaceful area but you will have (slightly) further to walk back into town and fewer amenities at hand.
Are you traveling further afield around South East Asia? Don't forget to check out our long list of Vietnam travel guides.
The Best Things to do on Koh Lipe
For such a small island, there is no shortage of entertainment to keep you busy throughout your visit. Koh Lipe has undergone rapid development over recent years, in a short period it has grown immeasurably. Some might say too much, but growth does have its benefits, such as healthy competition and therefore lower prices.
Remember, the best part of Koh Lipe is how accessible everything is. When was the last time you visited a place you could get everywhere simply by walking 10-20 minutes?!
Let's dig into some of the top things to do in Koh Lipe:
1. Beach Hop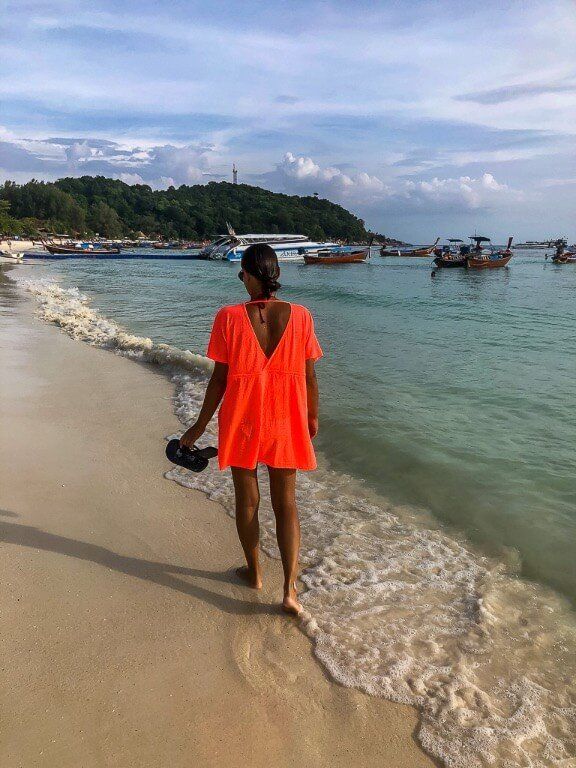 Koh Lipe's beaches are the reason most people visit the island. There aren't many places in the world that have beaches within close proximity, offering something different for each part of the day!
You will find yourself naturally drawn to one of the beaches for the majority of your time on the island. We'd suggest trying each of the 3 beaches to see which vibe you prefer. Just be sure to go to each one at the right time of day.
For the purpose of this Koh Lipe itinerary, we will split your days up efficiently so you can spend time at each beach. But if you quickly establish a favorite, head to that one each day!
This itinerary will keep you busy, but would you prefer to just laze about on the beaches?
One option for you is to start at sunrise beach, before making your way back through town at lunch time, spend the afternoon on Pattaya Beach and finally head over to Sunset beach. Therefore, getting the best out of each beach area.
Personally, we preferred the soft sand and warm, shallow waters at Pattaya. If we weren't snorkelling, we would spend our mornings on Pattaya Beach. However, we gravitated towards Sunrise beach most afternoons for it's chilled atmosphere and on-shore breeze – perfect for unwinding.
2. Watch Amazing Sunrises and Sunsets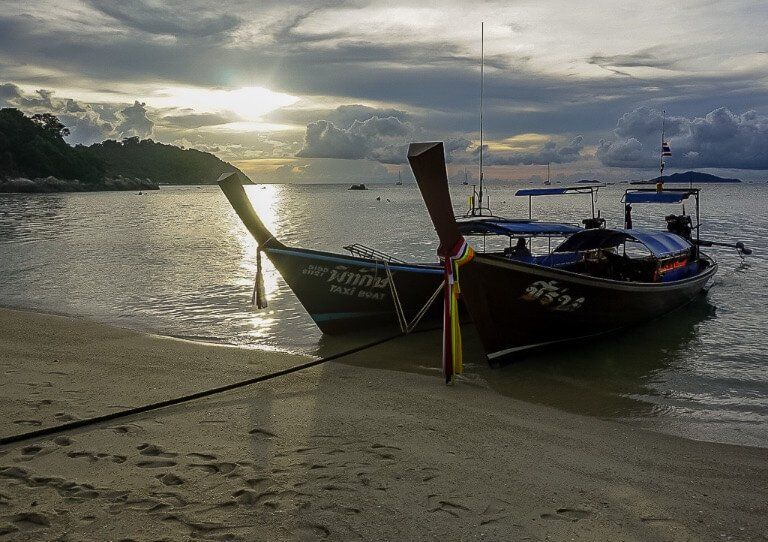 Easily one of the most popular and best things to do in Koh Lipe is to watch the sun setting over the Andaman Sea. It never get's old! Sunset beach offers stunning views of bright colors illuminating wispy clouds as the sun disappears each night.
Although to tell the truth, when we visited Koh Lipe, the sunsets weren't quite as impressive as Koh Lanta. They were something else entirely!
We also recommend waking up extra early – even if just once – to watch the sun rising at Sunrise Beach. One thing we can guarantee is fewer crowds, another is a serene atmosphere.
Check sunrise and sunset times in Koh Lipe so you don't miss the action.
3. Hike to Koh Adang Viewpoint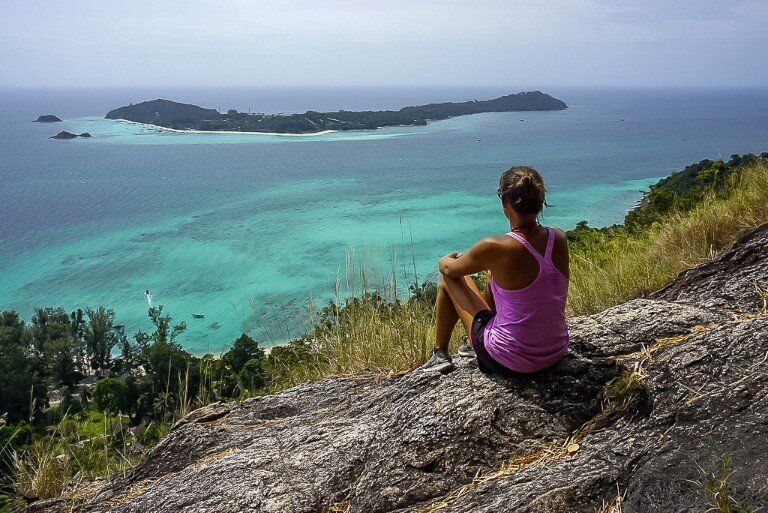 Koh Adang is that much bigger island covered in trees across the channel you keep seeing from Sunrise and Sunset beaches.
On Koh Adang – which has very few accommodation options or people – you can hike up a fairly steep trail to an awesome viewpoint looking over at Koh Lipe. From the lookout, you can clearly see Koh Lipe being entirely surrounded by gorgeous turquoise colored water you associate with paradise islands.
Be aware that the hike is a little strenuous because of the intense heat and humidity. It would be a good idea to head over earlier or later in the day. All you need to do is walk over to Sunrise beach, find the taxi area and pay a few hundred baht to cross the channel.
Important: Remember to arrange a pick up time for the return leg and don't miss it, otherwise you'll be swimming back!
4. Snorkelling & SCUBA Diving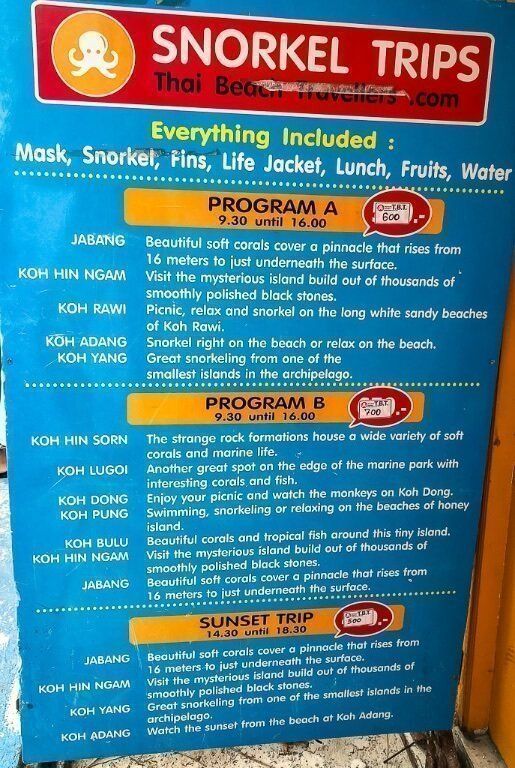 Our advice to anyone visiting Thailand's Islands is to grab a mask and fins as much as possible! You can literally walk into the sea from the beach and snorkel around the island.
But better yet, go on one of the Koh Lipe snorkeling programs. You can choose between Program A and Program B. As you can see from the photo, Program B is longer, takes in more sites and ventures further from Koh Lipe. We ourselves took Program B and recommend you do the same.
If you're fortunate enough to have extra cash in the travel fund, why not try SCUBA diving instead? It's like snorkeling on steroids! If you've never dived before, please do yourself a favor and try it whenever you get the next opportunity! You won't regret it.
Diving can be expensive, but once you've experienced it you will understand why it costs a lot more to do. Remember that 25% of the world's tropical fish can be seen around Koh Lipe.
For snorkelling and diving, head down towards Pattaya Beach on walking street or to Sunrise Beach to find various shops/kiosks running both activities.
5. Trash Hero Beach Clean Up
Trash Hero is a fantastic initiative run every single Monday at 10am starting on Pattaya Beach where anyone on Koh Lipe can help clean up a beach on a nearby island. Sounds cool, right?
It takes up around 4 hours of your day but you get a late lunch provided once you get back to Koh Lipe and is well worth your time.
Our designated beach was almost an hour away by long-tail boat, we had numb backsides but couldn't wait to get stuck in! The island we landed on was completely deserted, just a long stretch of golden sandy beach … covered in rubbish. Literally, spot the grain of sand covered.
There must have been 30-40 volunteers on our day, everyone got right to work and within an hour or so, the beach had been cleansed! It was amazing to see the difference and the astounding amount of trash bags collected.
You know when you see stories on the news about plastic in the oceans? It's true.
6. Take a Yoga Class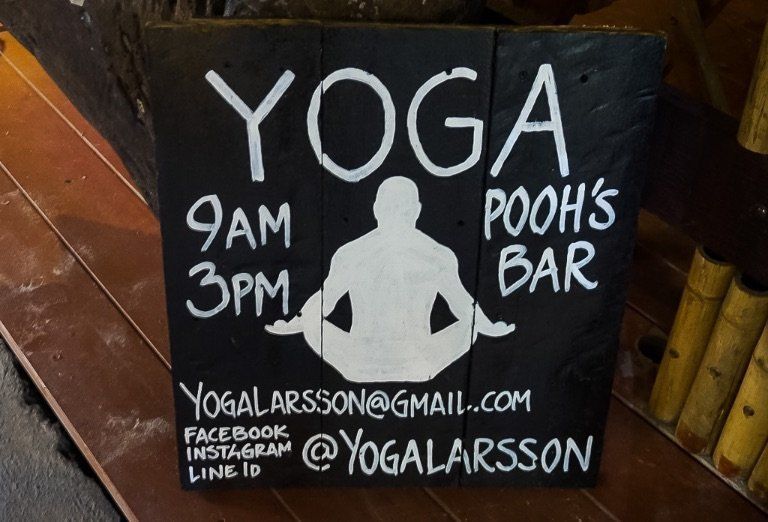 Koh Lipe is a place where the idea is ultimate relaxation. Yoga fits the ultimate relaxation ideology perfectly.
If you don't want to pay for a class, head down to one of the beaches, find a secluded spot and work on your downward dog!
We saw tourists working on their yoga / meditation on Pattaya Beach and Sunset Beach on more than one occasion. See the Koh Lipe itinerary below for our yoga recommendation.
7. Unwind With a Massage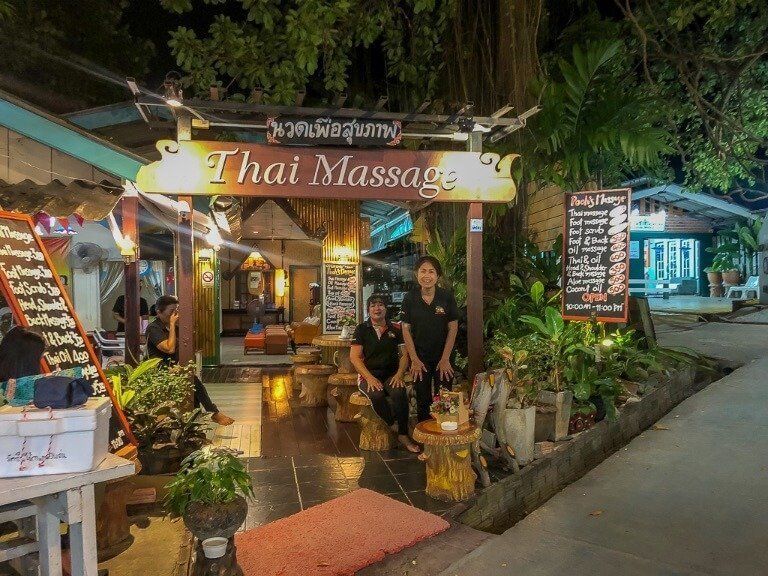 If yoga seems like too much exertion, opt instead for a massage. You can't visit South East Asia and not take advantage of excellent massages at – quite frankly – ludicrous prices. You would get a 30 second fingernail massage at home for the same price as a 1 hour full body massage in Thailand.
Are you a massage on the beach during the day or inside an air conditioned room in the evening type?
Did we go for a massage on Koh Lipe? Hell, yes we did. More than one!
8. Wander Up and Down 'Walking Street' Like a Pinball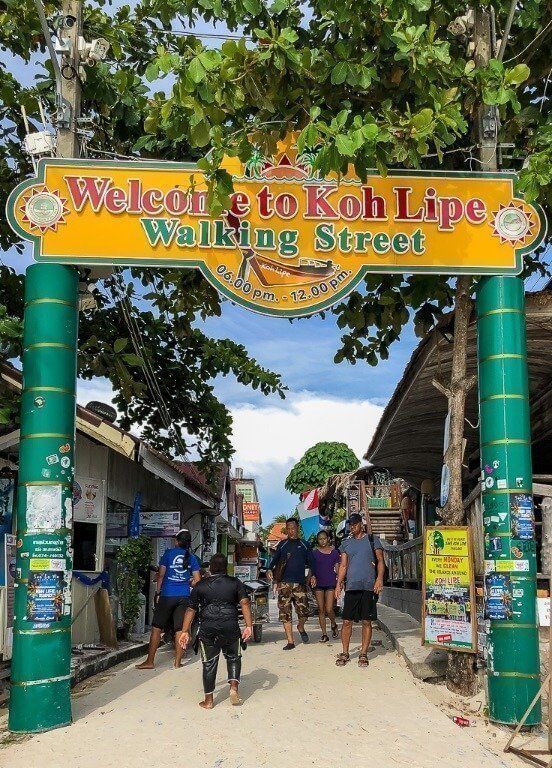 Finding yourself on walking street time and time again is an inevitability on Koh Lipe. Whether you base yourself at Pattaya, Sunrise or Sunset beach, you will visit walking street every day.
It takes roughly 15 minutes to slowly amble up the street from Pattaya Beach to a T junction at the end.
Along the way you will find ATM's, restaurants, massage parlors, snorkeling/divings shops, bars, fast food, souvenir shops, banana pancakes and the most important amenity on the island – snack heaven 7 Eleven!!
Your life saving 7 Elevens can be found half way along walking street and at the end (opposite side to Pattaya Beach).
Most of the restaurants on Koh Lipe are found along Walking street, it's many run offs and the street at the top of the T – including our favorite: Bombay Indian restaurant (turn left at the end of walking street, walk 50m).
9. Chill at a Beach Bar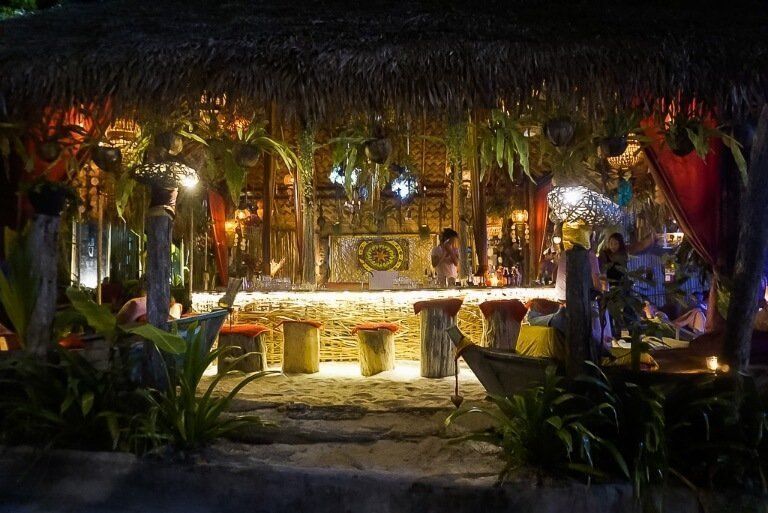 Remember, Koh Lipe is not a party island. All of the bars are awesome for relaxing, day drinking and unwinding.
Along Sunrise beach you can visit On The Rocks at Serendipity (top recommendation), Sea La Vie or the Happy Vibe Bar.
Our favorite place at Sunset beach is The Hill who serve awesome cocktails during twilight and sunset.
At Pattaya you can drop into any of the restaurants along the beach, but none come as highly recommended as On the Rocks or The Hill. They charge more for cocktails, but you get what you pay for, right?!
Maya and Corner bar along walking street are a bit more chilled and you can drink longer into the night. Maya has a DJ and feels like a beach bar away from the beach, while Corner serves quality craft beers and cocktails.
In truth, the majority of visitors to Koh Lipe are couples, so it rarely gets rowdy!
Have you remembered to pack everything for your Koh Lipe vacation? Take a look through our Ultimate Travel Packing Checklist so you don't forget a thing.
Epic 4 Day Koh Lipe Itinerary
Koh Lipe is the perfect place to put your feet up after weeks of chaotic urban travel, in the likes of Bangkok and Kuala Lumpur. Why else have you traveled 40 miles out into the Andaman Sea if not to hit the beach and unwind?!
This 4 day Koh Lipe Itinerary begins with your arrival day in the afternoon of day 1, with 3 more full days making up the 4 days. Your fifth day is your departure and onward travel day.
This itinerary is just an example of how you can spend your time on Koh Lipe, but of course modify it to suit your preferences!
If we're being picky, there is an 'optimal' day to arrive on the island. That day is a Sunday. Why?
Because weekends are traditionally busier with regional tourists and as we mentioned earlier, trash hero only operates on a Monday.
Arriving Sunday afternoon means avoiding the busiest days and chipping in to help the environment.
Therefore, we will begin your 4 day Koh Lipe itinerary on a Sunday!
Koh Lipe Itinerary Day 1 – Orientate & Explore
Your first day on the island is of course orientation and finding your feet. By now you'll be relishing the prospect of getting off the packed-in-like-sardines speedboat!
Here's roughly how arrival into Koh Lipe will look for you:
Speedboat will land on Pattaya Beach high season / Sunrise Beach low season
Disembark – you may have to pay 50 baht if traveling with Tigerline Ferry as you transfer to a long-tail boat near the shore
Pay 200 baht for your Tarutao National Park entrance fee (valid 5 days) even if you don't intend to snorkel or dive.
Next up is immigration (show passports to prove you came from Thailand and your visa is still valid / pay entrance to Thailand and get your 30 day visa stamp if you came from Langkawi, Malaysia).
Once your admin is all set, make tracks for your accommodation (see our recommendations after the Koh Lipe itinerary) to check in and drop backpacks off (read our top rated travel backpack recommendation).
Don't worry about heading straight up Walking Street with your backpack or suitcase in tow, you'll see plenty of people doing just that over the next few days!
With your backpacks on or suitcases rolling, your walk from Pattaya Beach will take:
10 minutes – Hotels around Pattaya Beach
15-25 minutes – Sunrise Beach (depending on which end your accommodation is located)
15-20 minutes – Sunset Beach
If you'd prefer not to walk with a backpack in the blazing heat, you can pay for a speedboat to take you around the island or a moped with sidecar to drive you to your hotel.
First Impressions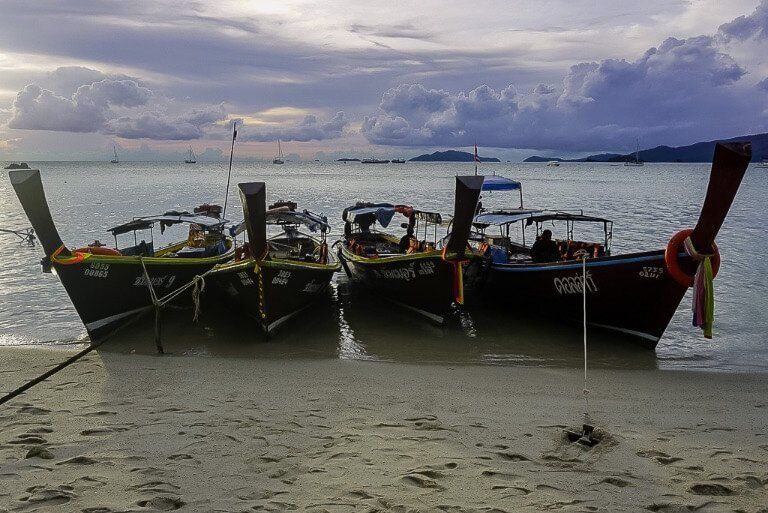 The hard work is over, you've made it to Koh Lipe, you've checked into your accommodation and now you're ready to begin exploring. Head straight back out with what's left of the daylight to discover the tiny island you are now on.
If you have enough time, get a feel for each of the three beaches and the surrounding areas. Begin at your closest beach but be sure to make it to Sunset Beach in time for your first Koh Lipe sunset!
You will notice how distinctive the vibe and people are around each beach area.
When darkness arrives, make your way towards walking street and Bombay Indian restaurant. Yes, we know you are in Thailand but you have plenty of time for Thai food and you won't regret it! Finish up in Corner bar or Maya bar for a cocktail or beer before calling it a night.
Koh Lipe Itinerary Day 2 – Trash Hero & Pattaya Beach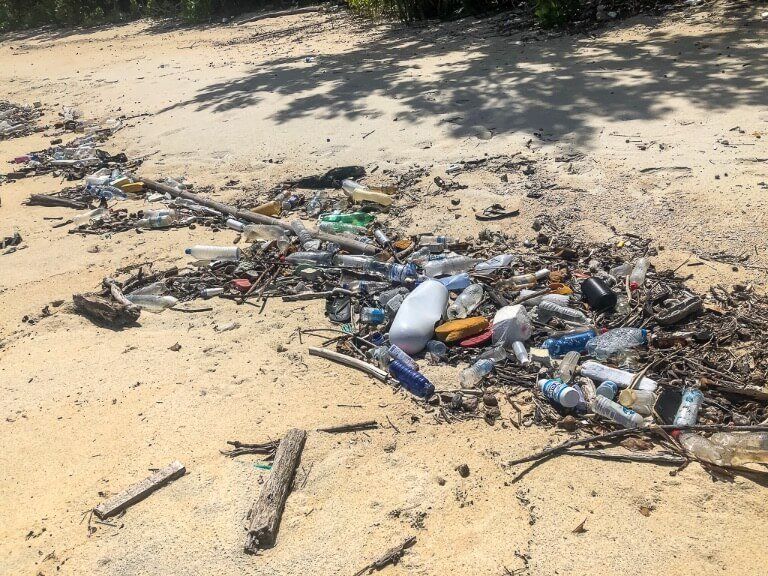 Day 2 in Koh Lipe begins and ends at a slow pace. Take a stroll down walking street – grab breakfast, coffee and if you're feeling like you need a treat, try a banana pancake.
Be at Pattaya Beach by 10am so you can take part in Trash Hero beach cleanup.
You will meet likeminded tourists who want to do their part as you board your narrow long-tail boat to an unknown deserted island. You could be on an island close to Koh Lipe or an hour away as we were, but either way you will need sunscreen and water – please do not forget either.
The sense of satisfaction after tidying a beach of its litter is more pleasing than you might imagine. Once you see these beaches lined with everything from styrofoam to plastic bottles and lighters to nets, you will think twice about your usual garbage disposal methods.
After the cleanup you'll share a celebratory beer with the team, before heading back to Koh Lipe. Once all the trash bags are emptied and onto the back of a garbage truck, you will be invited to a buffet lunch in a beach front restaurant.
Powdery Sand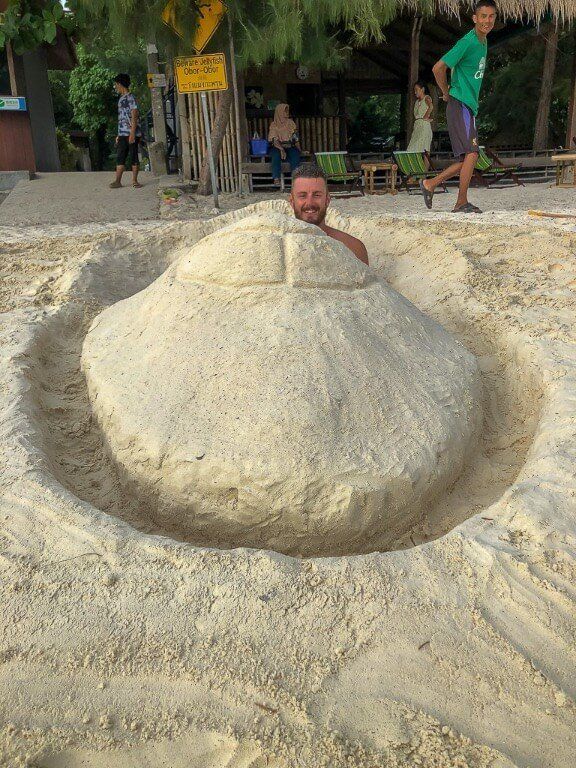 Now you finally have chance to spend some serious time lounging around on the only flour-like sand in Koh Lipe. Now is the time to read a book, listen to music or take a snooze. Alternatively, grab a snorkel and hit the warm shallow waters around Koh Lipe in search of playful colorful fish.
Personally, we're pretty useless at lazying around on the beach, so we bought a spade and built a speedboat into Pattaya Beach instead! It actually got a lot of attention and a group of tourists wanted to take photos in it – we should have charged them!
You could head over to Sunset beach for the big event before returning to Walking Street, or just stick around Pattaya Beach area. This Koh Lipe itinerary ends Day 4 at Sunset Beach so you won't miss out.
One of the more highly rated restaurant on the island is Cafe Tropical, who serve excellent healthy, vegan and vegetarian options. Their prices are great and we purposefully put it on Night 2 – because your remaining dinners won't be cheap, therefore Cafe Tropical counterbalances the budget perfectly.
Koh Lipe Itinerary Day 3 – Sunrise Beach & Koh Adang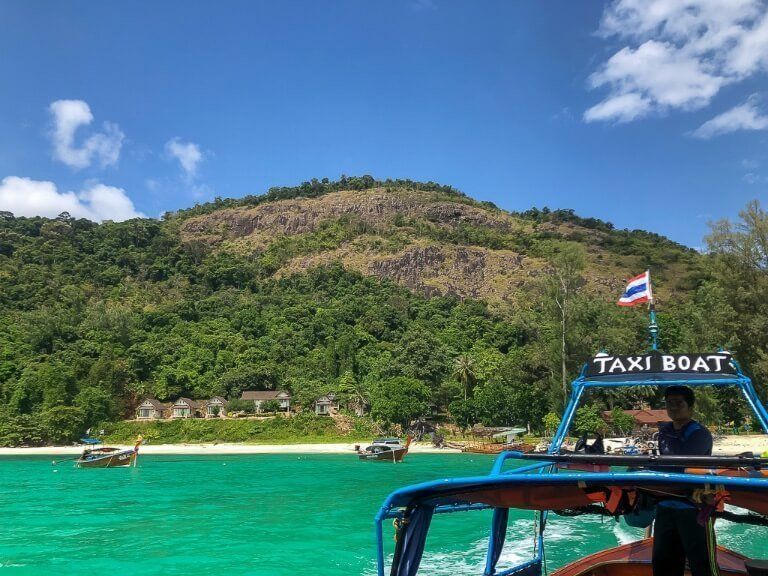 Day 3 is your Sunrise Beach extravaganza. You will begin and the end the day here, with a little independent excursion in the middle.
Grab an early start to watch the sky illuminate with the first rays of the day at the Southern tip of the beach. Koh Lipe is very peaceful at sunrise, notice how much quieter it is compared to sunset?!
If you would like to take part in a yoga class during sunrise, have a look at Keiritas Yoga – the top rated yoga place on Koh Lipe.
Find a spot for breakfast along the beach (there are options for all budgets) before jumping in a long-tail boat taxi to Koh Adang.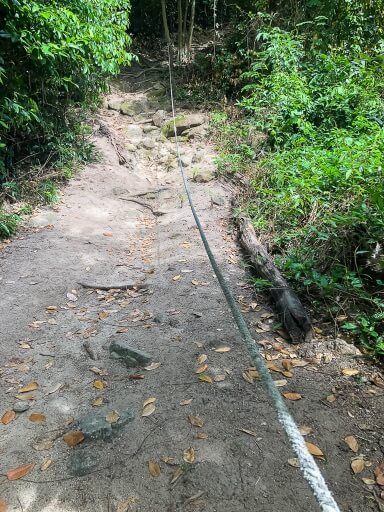 Koh Adang Viewpoint
The channel will be crossed in about 15 minutes and you'll be dropped off a few feet from the sand. Head towards the visitor center (nothing was open when we visited in high season) and look for sign posting to Chado Cliff.
The trail is easy to find as it goes inland and upwards. Be aware that the trail is reasonably steep, with a few places requiring you to hold onto in-built ropes to help with climbing.
By arriving earlier, you will avoid the intense heat around lunchtime and trust us – that is worth getting up early for.
There are 2 viewpoints on the way up, each offering good but not amazing views of Koh Lipe. Many of the signposts are crude or even broken, but it's difficult to get lost on the trail.
Once you reach the top you will walk out onto a flatter area of rocks and finally get your reward: The best view of Koh Lipe.
Take in the view and you might need to use a towel to wipe yourself down for photos.
Head back down – in time for your pick up. If you've given yourself more time than you needed, take a slow walk down the secluded beach and back. The entire time we were on Koh Adang, we saw 4 other people (2 couples).
Take your taxi back to Sunrise and spend another well deserved afternoon resting on the beach, snorkeling, kayaking, sleeping or … in a beachside bar like Sea La Vie.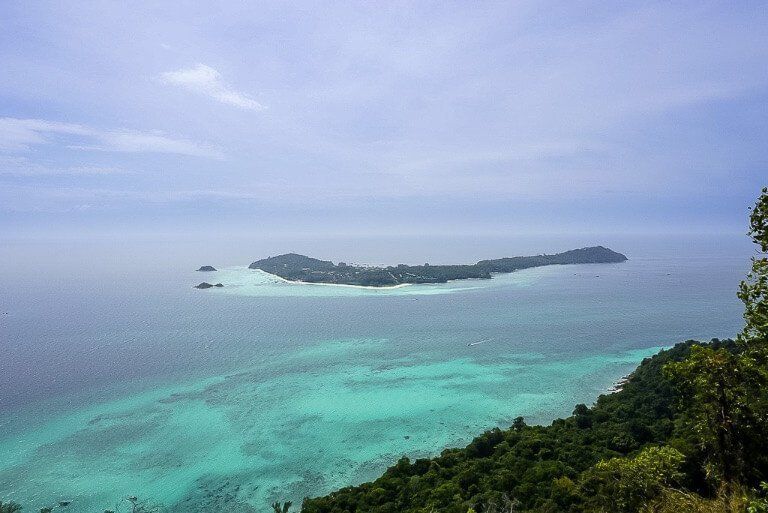 Fine Dining
Day 3 works perfectly if you decided to stay on Sunrise beach, but if not you'll need to head back to your hotel to change into smarter clothes before returning to Sunrise for dinner.
Treat yourself to some of the best food on the island, with arguably the best views on the island at either Ten Moons or On The Rocks by Serendipity. Ten Moons specialize in Mediterranean inspired dishes whereas On The Rocks specialize in Asian flavors.
Personally, we preferred the location and design of On The Rocks as it's built a few meters above the sea. The food, ambience and cocktails were all excellent, but we will try Ten Moons next time we're in Koh Lipe so we can compare.
Koh Lipe Itinerary Day 4 – Snorkelling & Sunset Beach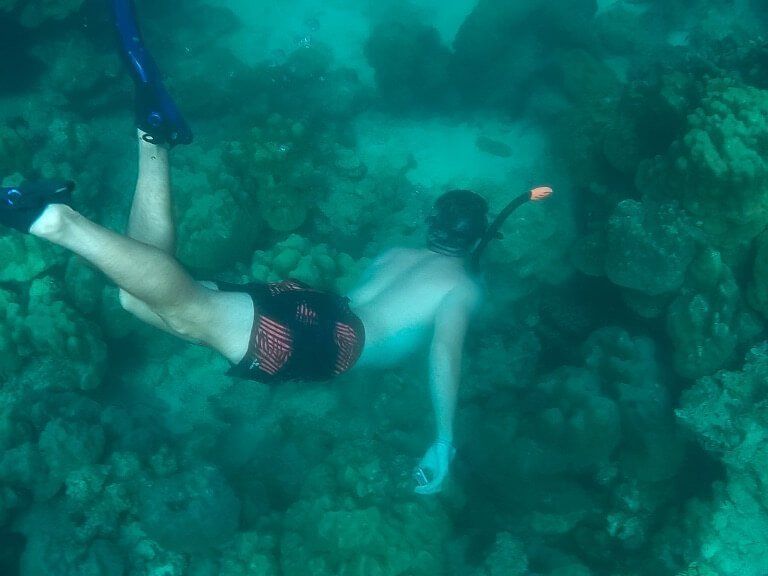 Your last full day in Koh Lipe will be spent mostly on a snorkelling or diving tour before returning to Sunset Beach one last time.
Both snorkelling programs A and B begin around 9am on either Pattaya or Sunrise Beach (depending on who you decide to book with). The cost is 650-700 baht per person but that includes mask, lunch, fruit and water.
You can instead choose to hire a private long-tail boat to do the exact same route the groups will run, but you can time it so your boat arrives before/after the groups. It will cost something like 1500-2000 baht to hire the boat, but you will need to hire mask and fins, plus bring your own food and water.
Note: There is a shorter Program C that runs only in Low Season (mid May – mid Oct).
If you would prefer to dive, you know it will cost a lot more money. But, diving is 100 times better than snorkeling so if you have the cash – do it.
We have to be honest and say – at least when we visited – visibility wasn't amazing and we didn't see an enormous amount. We're confident, however, that diving would be a much better option for spotting sharks without the furore of dozens of long tail boats and snorkelers.
Program B – The Far Islands
We chose program B because it sounded more interesting, more exciting and ventured further afield. Note that program A takes 6 hours, while program B takes 8.
There's a lot of sitting on hard wooden boards throughout the day so be prepared for NUMB. Could be a good idea to take a towel to sit on.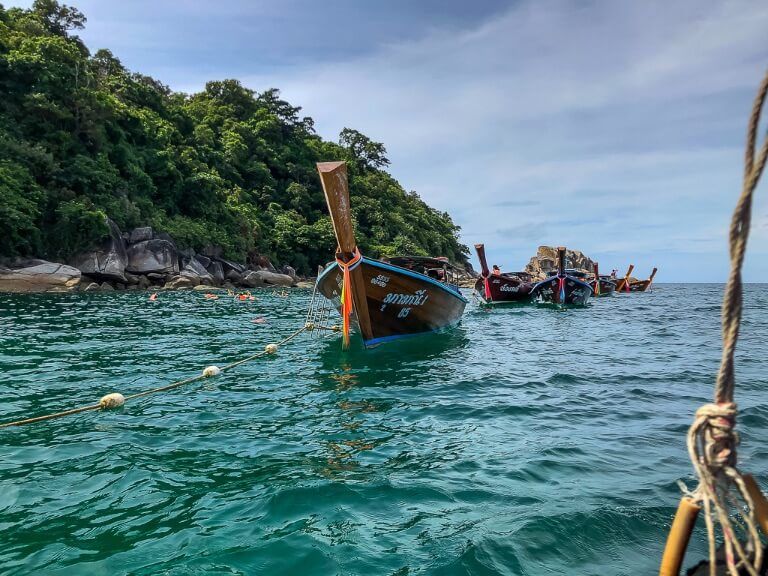 First stop – Hin Son; the reef here is pretty colorful and abundant with fish. Being the first stop off meant all the boats were here so it was crowded.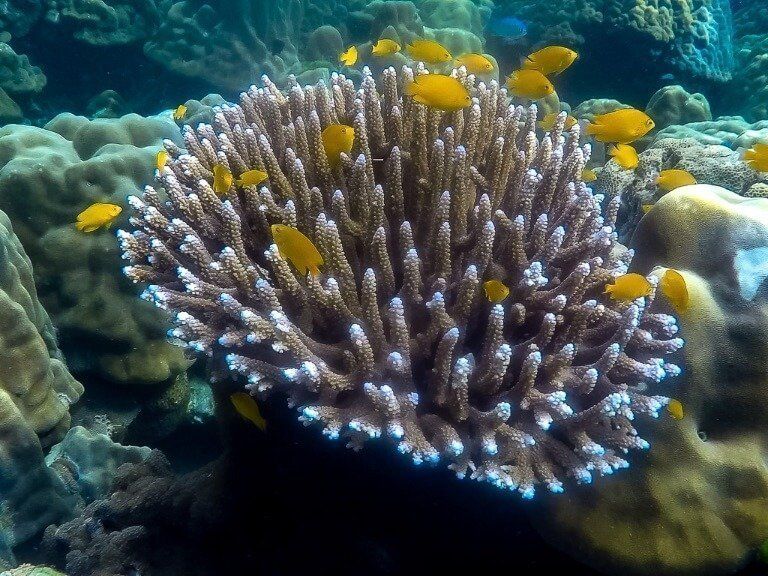 Second stop – Bulo; we saw our largest fish of the day, a long thin grey shark-like fish! Far less crowded, one of the better stops.
Third stop – Koh Dong; lunch can be taken onto the gorgeous beaches of Koh Dong, but beware – there are monkeys on this island and anyone who has been where monkeys run wild knows that spells trouble!
We saw at least 5 people lose their lunches as small groups of monkeys ambushed tourists. Eat lunch on the boat – then walk around the island.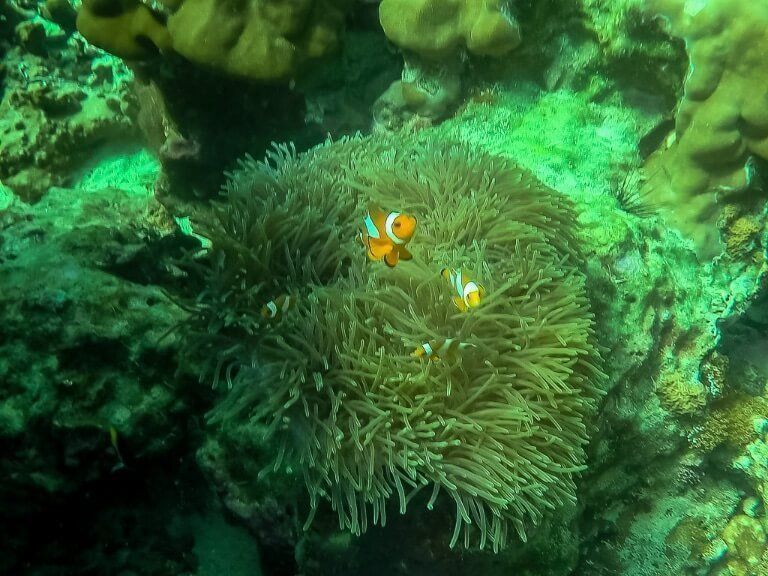 Fourth stop – Koh Lugoi; a lot of boats congregated around this horseshoe shaped beach with shallow waters surrounding.
Most people walked around the island without snorkeling but we found a nice secluded area away from the boats. Our reward? Clown fish.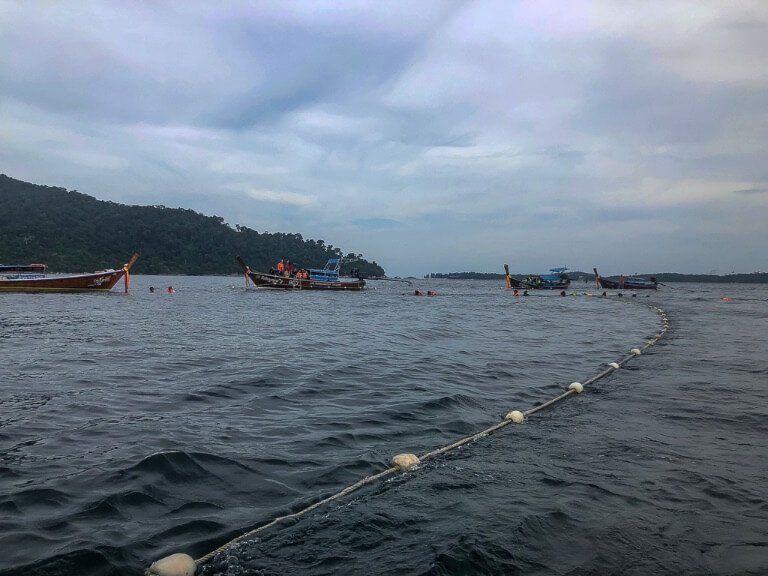 Fifth stop – Koh Pung; this stop is in the middle of a channel with a very fast flowing current. Use the rope to hold onto otherwise you'll be swimming hard against the current.
Strangely, this is where we saw the most fish. Hundreds of fish were swimming against the current but not actually moving anywhere, like a freeze frame, as they fed on plankton.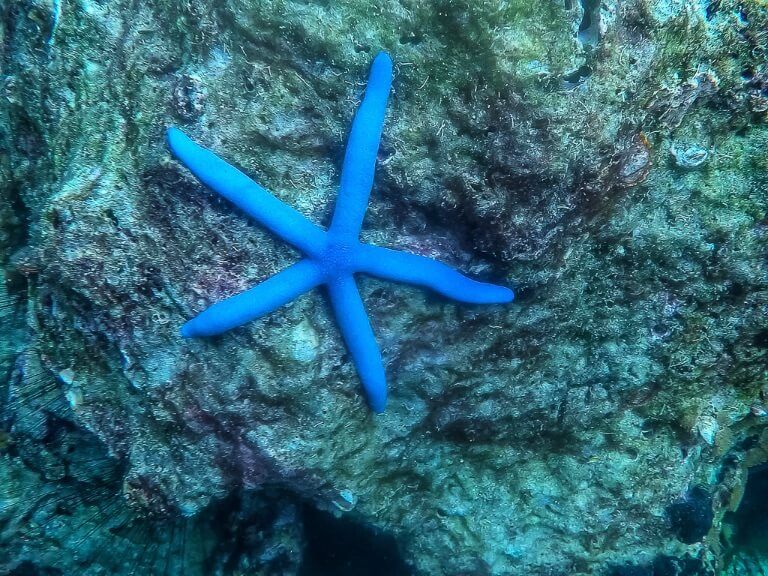 Sixth and final stop – Hin Gnam; half way back to Koh Lipe is a black volcanic stone island that can be snorkelled around.
Most of our boat decided against a final snorkel so it was just a quick stop off, while we enjoyed fresh juicy pineapple and watermelon instead.
Sunset & Cocktails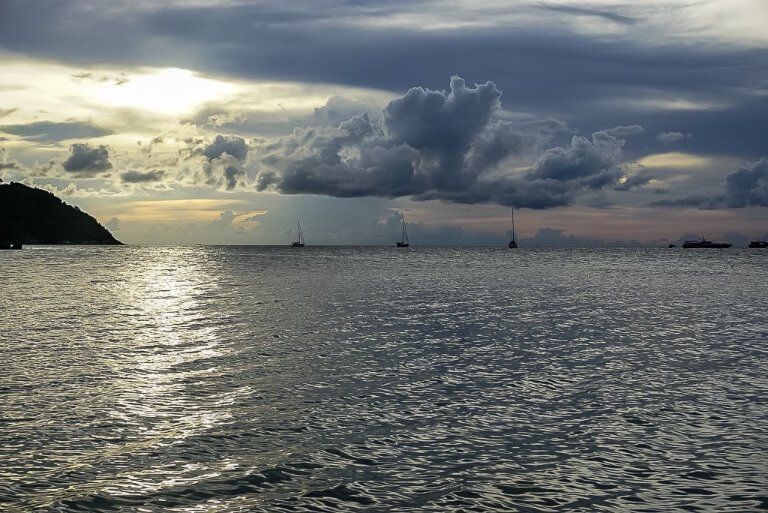 After the snorkelling tour, you might be a little tired but this is your last night so power through and make it to Sunset beach to watch the sun set over the sea one final time.
But this time, do it from classy The Hill restaurant with fantastic food and cocktails. If you can afford it, this is the best place to spend every sunset on Koh Lipe. Enjoy the romantic sunset with a plate full of the best Italian food on the island.
And that's the end of your 4 day Koh Lipe itinerary!
When you wake up on day 5 it's all about checking out, heading down to Pattaya Beach / Sunrise Beach and speedboating on to your next destination.
As you can tell, we go into a lot of depth with our travel guides. We do the same with planning our trips and you can read our 15 step plan a trip process to learn about how we prepare for our upcoming adventures.
Koh Lipe Interactive Map
Click on the interactive map, zoom in/out and navigate around each area to discover the locations of everything in this Koh Lipe itinerary. This will help you orientate on the island, plus work out which beach you would prefer to stay near.
You will find all of the best hotels, restaurants and bars in Koh Lipe, plus Koh Adang.
Where To Stay On Koh Lipe Island
Hotels on Koh Lipe are more expensive than most other Thai islands. Yes, it is frustrating but it's worth the extra money from your budget.
At the time, we were quite surprised at just how much more expensive it was, but we did visit in December and we booked just a few days in advance so availability was low.
If you plan your trip further in advance you stand a better chance of snapping up a bargain on Koh Lipe. You can't just turn up and negotiate a deal like most other places in South East Asia, unless it's low season.
There are cheap hostels to be found on the island, but being a couple orientated destination, most people are looking for a hotel or private accommodation.
Which area to stay depends on your preference, but for us it's all about Sunrise Beach. Pattaya is closer to most amenities but Sunrise is cooler – both vibe and temperature.
The perfect place to start is by reading our ultimate guide about 15 ways you can save money on accommodation every time you travel.
We've rounded up the best places to stay in Koh Lipe for each area for you to check out. Each recommendation is based on top guest rating, location and price.
Pattaya Beach Koh Lipe Hotels
Pattaya Beach area has the majority of hotels on Koh Lipe. Some are directly on the beach (more expensive) and others are slightly further back off Walking Street (cheaper).
Here are the best hotels on and around Pattaya. Check availability and prices by clicking on the hotel name
Budget
Mid-Range
Luxury
---
Sunrise Beach Koh Lipe Hotels
In our opinion, Sunrise beach is the best place to set up base on Koh Lipe. It's mid-range category is strong!
Here are the best hotels on and around Sunrise Beach:
Budget
Mid-Range
Luxury
---
Sunset Beach Koh Lipe Hotels
Sunset beach is the place to stay if you're looking for an isolated, more off-the-grid experience. There are far fewer options close to Sunset beach, which adds to the tranquility.
Here are the best hotels on and around Sunset Beach:
Budget
Mid-Range
Luxury
---
We hope this helped you plan your Koh Lipe Itinerary – Thailand's paradise island!
Please let us know if you have any questions about this Koh Lipe itinerary or your upcoming trip.
Happy Travels,
Mark and Kristen
Was This Post Helpful? Pin It For Your Visit to Koh Lipe!