Tasting your way through celebrity chef eateries on a Las Vegas secret food tour is one of the best experiences you will have on your trip to Sin City. You will know if you want to book a spot by the end of our review about the secret food tour in Las Vegas.
Not only will you sample delicious food, but you will also learn the history and success stories of each establishment. These tours are like a crash course on the best places to eat in Las Vegas and why.
If you are a foodie, a secret food tour was made for you.
In this review, we will explain our own Las Vegas secret food tour experience with an emphasis on not giving away any of the locations, so you don't need to worry about spoilers.
Let's see if you will be joining the secret food tour on your visit to Las Vegas!
Disclaimer: We received Secret Food Tour Las Vegas tickets in order to share our opinion about this product. But this is not a sponsored post and our opinions are honest.
What Is A Secret Food Tour?
A food tour typically involves walking around a city and sampling unique foods from local restaurants, while learning about the backstory of the restaurant, chef and food itself, plus how it has been woven into the local culture.
But a secret food tour takes those same principles and adds an element of surprise.
You will know the type of food you will sample on a traditional food tour, but you won't know the types of food you will be tasting on a secret food tour!
After a couple of fast-paced days in Las Vegas, we were excited to take things down a notch, sample some delicious culinary delights and see a side of Vegas we had yet to experience in two separate visits.
Las Vegas is known throughout the world for casinos, partying and entertainment. But we believe the eclectic food scene is also one of the reasons Sin City got its famous nickname.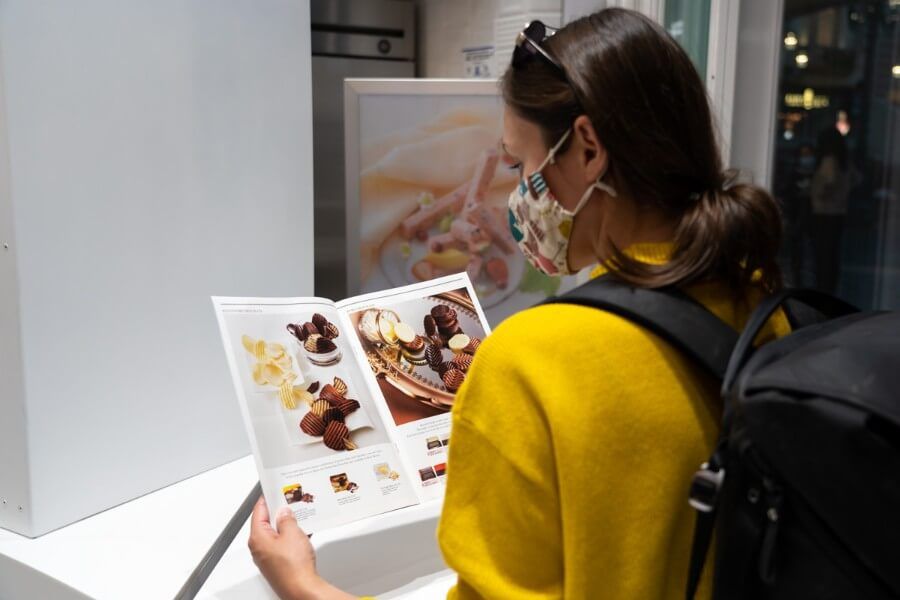 Secret Food Tour Las Vegas Overview
Our relaxing tour with Secret Food Tours was the perfect addition to an otherwise hectic Las Vegas itinerary. It lasted just over 3 hours start to finish from 2pm through 5pm, which was a great way to break up the day.
We visited a total of 5 different celebrity chef restaurants, but as mentioned above we will not name names in this review of the Las Vegas secret food tour in order to keep the element of surprise in tact.
There were 4 people total in our tour group, us and another couple. It was a perfectly intimate group size with plenty of time to ask questions and talk with each other as we tasted each new dish.
And of course with just 4 people, we had heaps of fantastic food to go around, which is the real reason we're all going on a Las Vegas secret food tour!
After eating solidly from 2pm to 5pm, we were completely stuffed and full for the rest of the day. So, you may not need those dinner reservations if you take an afternoon tour like we did!
Keep in mind the Secret Food Tour itinerary and menu may change based on availability and circumstances.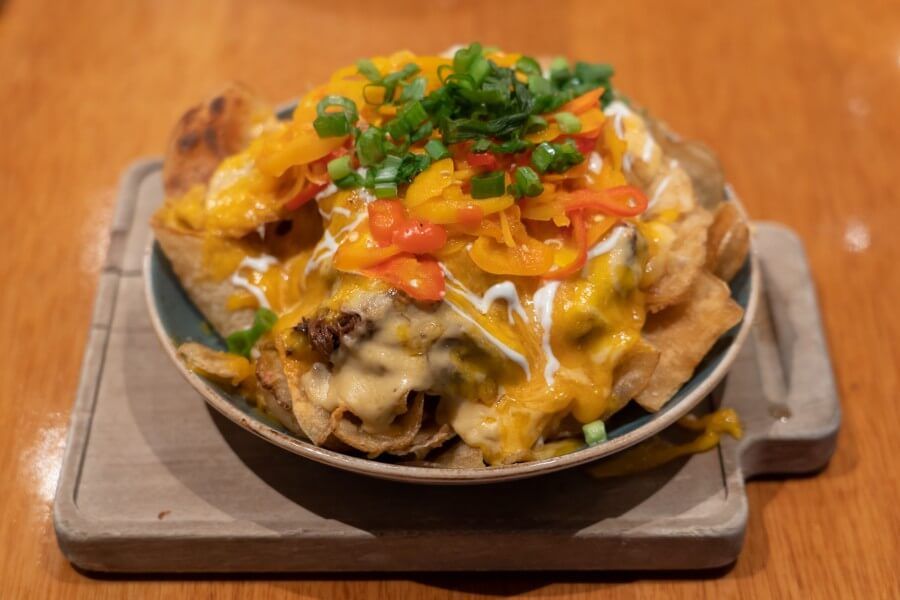 The First Stop On The Las Vegas Secret Food Tour
Our first stop on the secret food tour hit close to home as it was a popular British themed establishment somewhere in Las Vegas, Nevada.
This was our tour meeting point and where we tried our first two appetizers.
Both appetizers came out quickly after we all sat down and introduced one another. The food was sizzling hot and smelled delicious.
Bobby, our wonderful tour guide, gave us a quick introduction about what we were about to try.
The first plate in front of us was full of short rib kettle chip nachos and the second was piled high with hellfire wings.
Wow! Where do we start?
Nachos And Wings
Nachos and wings doesn't sound like celebrity chef food?!
But these short rib kettle chip nachos and wings were absolutely delicious!
Each warm nacho tortilla was topped with both shredded corned beef and juicy short rib. The meat was incredibly tender and it paired perfectly with English cheddar sauce, pickled peppers, sour cream and chives.
We almost forgot there was a whole other plate!
A chile beer glaze lightly covered succulent hellfire wings served with a side of blue cheese. The wings were delightful, sending our taste buds into the stratosphere.
Now, Kristen is a tough critic of wings after growing up in upstate NY and attending University in Buffalo NY, the birthplace of the chicken wing.
But we can tell you these hellfire wings passed the Kristen wing test with flying colors! They were thick and crispy with a nice crunch. The glaze had a mouth warming kick to it.
Finding the restraint not to fill our boots at this first stop was the most challenging part of the whole tour. There's plenty more food to eat yet!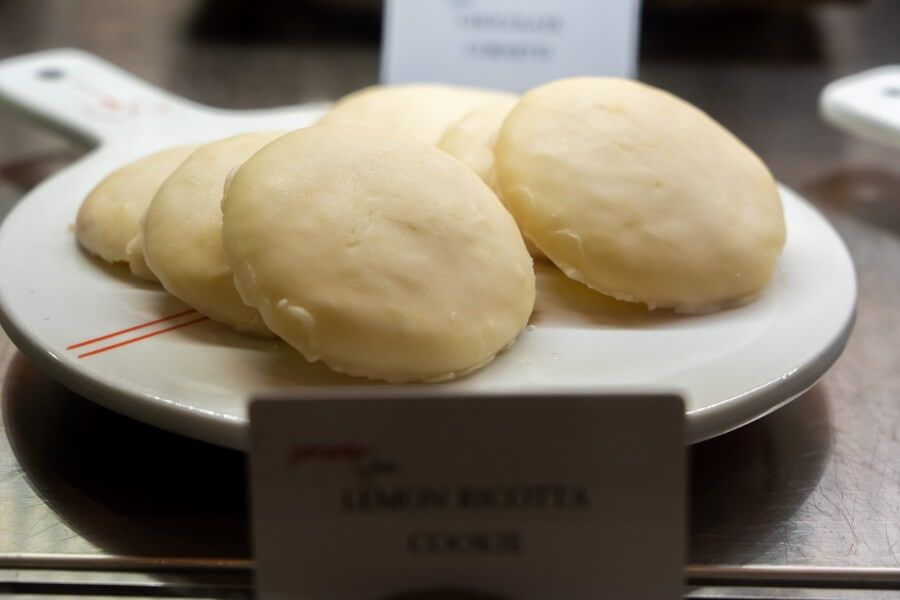 A Quick Treat On Our Second Stop
The second stop on our Las Vegas secret food tour was just what we needed. Without going into much detail, we truly felt as if we were at this famous female celebrity chef's kitchen table for desert.
We were handed homemade lemon ricotta cookies topped with a smooth and silky lemon glaze. Mmm!
Each lemon cookie was fluffy, tart, soft and gone in one bite. After the larger portion we just ate at stop one, this snack style stop was just what the doctor ordered.
The restaurant itself was very welcoming and the staff were just lovely. After hearing about some of the owner's history and her story, we were treated to a bonus of ice cream to sample. Double win!
We will be honest and tell you we went back 2 days after our tour to pick up more of these delectable cookies!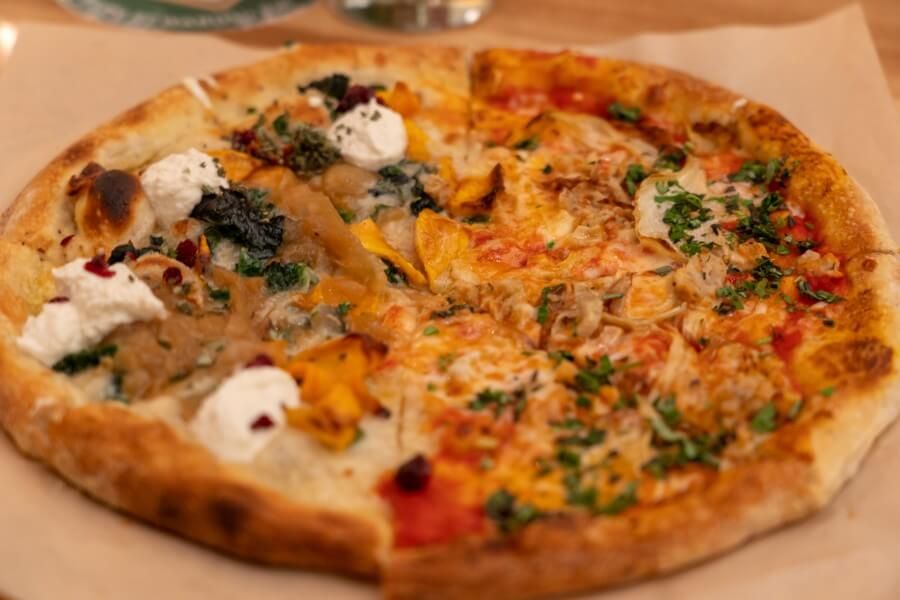 Pizza With A Modern Twist For Stop Three
After living in NYC and eating world famous pizza in New York City, it will come as no surprise that pizza has become one of our favorite foods.
So, you can imagine we were thrilled to find out pizza was our next stop of the Las Vegas secret food tour.
The delicious restaurant we sampled pizza in is owned by celebrity doctor Andrew Weil (inventor of the anti-inflammatory food pyramid) located inside one of the most famous and classiest casinos on the strip.
The theory behind the anti-inflammatory food pyramid is a practical guide to eating. This theory focuses on reducing the risk of disease and improving overall health.
While we waited for our fresh pizza to come out of the oven, we listened to Andrew Weil's story.
It was fascinating to learn about the restaurant serving health conscious items with several vegan options.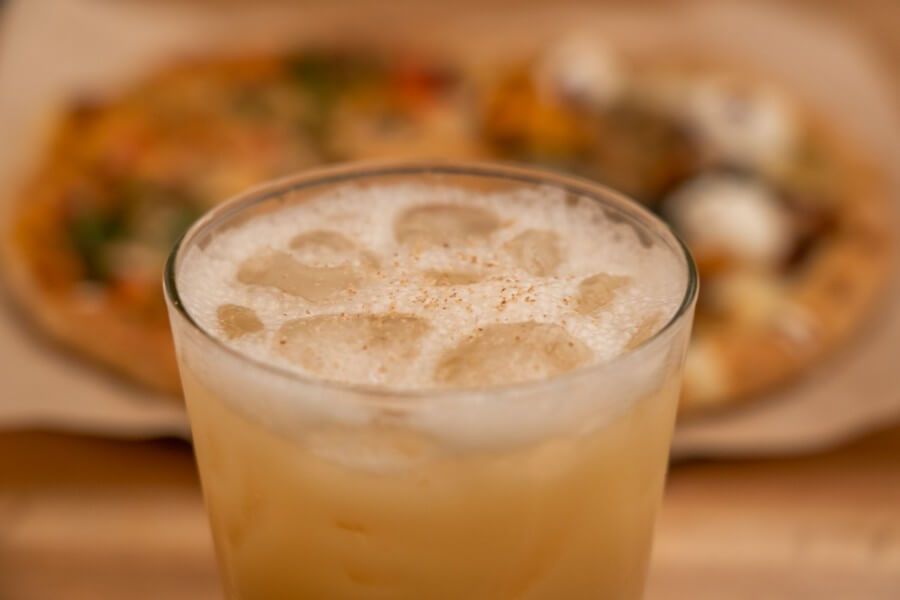 Split Flavors
This secret restaurant has a seasonal menu, which means only food in season is served during that time of the year.
Bobby ordered each couple on the tour a pizza split in two, with half margherita and half butternut squash straight from the seasonal menu.
Each slice of pizza was light, crisp and extremely tasty. The margherita slice had a perfect ratio of tomatoes, mozzarella and basil. The butternut squash slice toppings paired wonderfully.
Kristen preferred the the seasonal butternut squash slice and Mark thought the margherita slice just about edged it in terms of flavor.
The ambiance of this restaurant was calming yet uplifting.
We were so relaxed we decided to order a beach party cocktail which tasted just like it sounded!
A Surprise Awaits
After we finished eating pizza, Bobby explained our next stop was a bit of a walk. To give us an extra boost of energy for the walk, he pulled chilled wine out of his backpack. Yes please!
Have you ever had a food tour guide reveal chilled wine from a backpack?!
Bobby poured us each a glass. We then walked through up the Las Vegas strip with our wine listening to classic stories and asking as many questions as we could conjure.
It is legal for pedestrians to carry open containers of alcohol along the Las Vegas strip, as long as the alcohol is in an appropriate container like a plastic or paper cup.
Viva Las Vegas baby!
Chocolate Delights During Our Fourth Stop
The fourth stop of our secret food tour in Las Vegas might be slightly more challenging to conceal from our photos. But it is one heck of a sweet stop (pun intended)!
There's a secret Japanese chocolate company located somewhere in Las Vegas globally renowned for Nama chocolate.
The chocolate is a form of ganache made with melted cacao and fresh cream. It is then finished with a dusting of fine cocoa powder.
This stop on our secret food tour was different. Instead of eating one or two dishes, we sampled several different types of Nama chocolate.
An employee from this location gave us a crash course on each different flavor profile.
We learned about their best selling chocolate and why it was so popular. The samples were incredibly creamy and melted in our mouths. You will have to let us know your favorite flavor!
After our samples, we had time to wander around the shop and browse the different types of chocolate treats available.
We may or may not have purchased chocolate covered potato chips the day after our tour.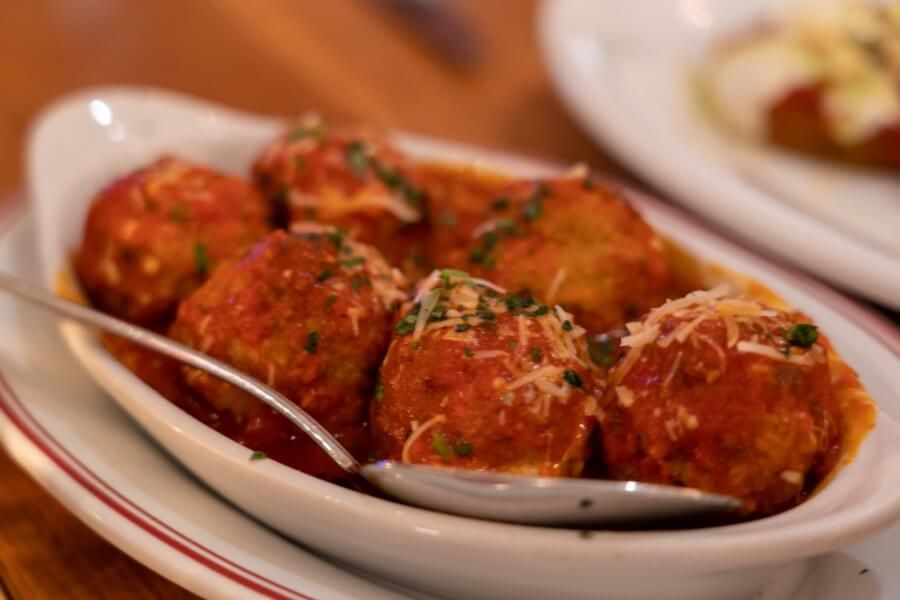 The Boss Takes The Cake On Our Last Stop
The last stop on our Las Vegas secret food tour might just have been the best one. The celebrity owner of this restaurant is a boss. A very well known cake boss.
We were so stuffed at this point, we didn't know if we would be able to try any more food. But then the focaccia bread with balsamic bread was placed on the table and we couldn't resist.
As Bobby discussed the intriguing history of the family run restaurant and its success in its Las Vegas location, eggplant parmesan and something known as grandma's meatballs were also placed on the table.
The eggplant parm was flavorful, savory and succulent. It was cooked to perfection with a light crisp and even though we were full, we couldn't get enough.
Grandma's meatballs were just as good as the eggplant parmesan.
The meat balls from heaven consisted of a combination of beef, pork and veal, topped with thick tomatoey marinara and parmesan cheese.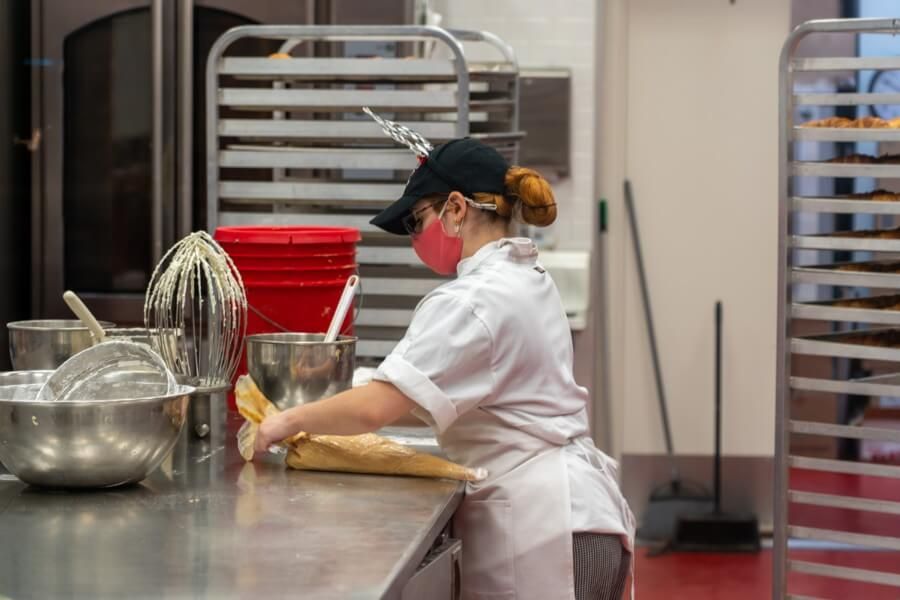 Is The Secret Food Tour Las Vegas Worth It?
The secret food tour in Las Vegas is well worth the cost. You will taste high quality food and have a dedicated extremely knowledgeable tour guide.
Las Vegas is expensive and it's better to accept that your wallet is going to take a hit. This food tour is one of the better value for money things we have done in two separate visits to Las Vegas.
The Secret Food Tour Las Vegas may sound expensive at around $129 per person.
But it is actually great value if you consider the fact you are getting a tour as well as trying several new restaurants during this time.
Plus, you will end up paying similar numbers for lesser activities and attractions on your visit to Las Vegas.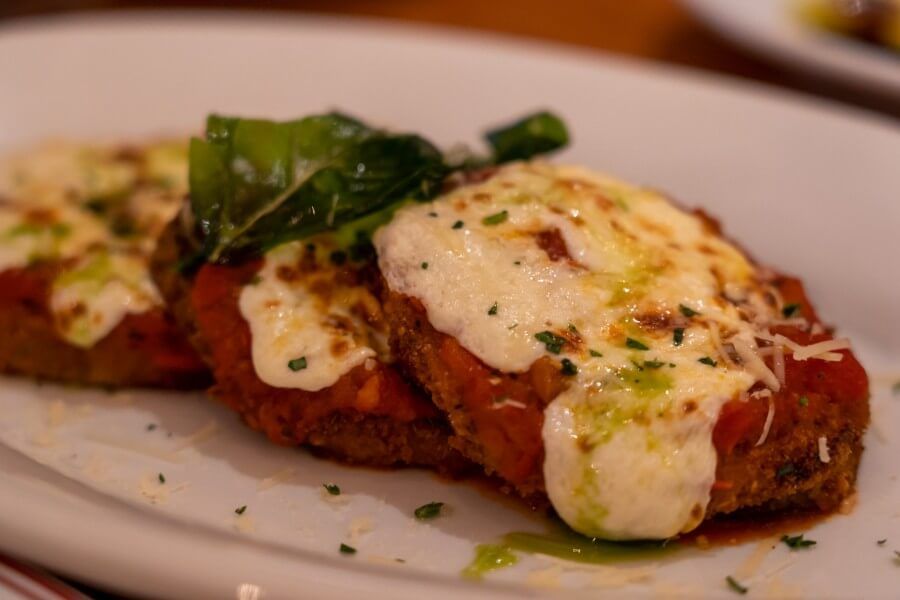 Book The Las Vegas Secret Food Tour
Another bonus, as we mentioned earlier in this review of the secret food tour Las Vegas, is you will no longer need to eat dinner after taking this tour.
We even took some of the wings from our first stop as left overs for later.
So you can subtract the cost of eating out for one evening from the cost of the tour.
We have to give a shout out to our tour guide Bobby. He was incredibly knowledgeable about the city, the food we were trying and the restaurants we found ourselves sitting in.
Bobby kept the tour interesting and was open to any questions we had about the food or Las Vegas in general.
If you decide this tour is for you, please let Bobby know the Morgans say hello. We hope you have a wonderful time in Las Vegas!
>> Read previous reviews and book your Las Vegas Secret Food Tour here.
Our Popular Las Vegas Guides
Things To Do – Do you know exactly what you will do in Vegas? If not sure yet, read our ultimate guide to the 40 most fun things to do in Las Vegas both on and off the famous strip.

Best Hotels – Which of the iconic hotels will you stay at on the strip? Read our comprehensive guide to the 25 best hotels on the Las Vegas strip to see which looks best for you.

Best Shows – Do you know which Vegas shows you want to watch? Here are the 30 top rated Las Vegas shows to help choose the perfect experience for your visit.

November – Planning a visit to Vegas in Autumn? Here are 10 key things you need to know about visiting Las Vegas in November, including weather, crowds and saving money.
Our Las Vegas Day Trip Guides
Day Trips – Planning a day trip on your visit to Vegas? Here are the 10 best Las Vegas day trips with details on how to DIY or take a tour.

Valley of Fire – The 15 most unmissable things to do in Valley of Fire, including everything you need to know about visiting.
Fire Wave – Exactly what you can expect from hiking Fire Wave Trail at sunrise in Valley of Fire State Park (the most popular thing to do).
Red Rock Canyon – Looking for another awesome place to hike near Las Vegas? Here's our guide to the 10 best Red Rock Canyon hikes less than half an hour from the Vegas strip.
Hoover Dam – Are you planning to visit the Hoover Dam on your trip to the US southwest? Read our complete guide to driving from Las Vegas to Hoover Dam and exactly what you can expect.
Seven Magic Mountains – Do you enjoy photography and interesting art exhibits? Read our guide complete guide to visiting Seven Magic Mountains near Las Vegas.
Our Popular US Southwest Guides
Grand Canyon – A must visit landscape, here is our ultimate guide to visiting Grand Canyon South Rim and our popular hiking guide the 17 top hiking trails at Grand Canyon South Rim.

Sedona – One of our favorite places to visit in the US, here are our guides to the 20 most popular things to do in Sedona, the 20 most amazing hiking trails in Sedona and the perfect 1-7 days Sedona itinerary.

Zion – One of the most popular US national parks, here are our guides to the 20 top hiking trails in Zion and the perfect one day in Zion National Park itinerary, plus the perfect 3 days road trip from Zion to Bryce Canyon.
Want more Nevada content? Head over to our Nevada Travel Guides to explore State Parks, beautiful landscapes and the best things to do in Las Vegas.
---
We hope this review of the Secret Food Tour in Las Vegas helps you decide if this tour should be added to your Las Vegas itinerary!
Please let us know if you have any questions about the Secret Food Tour or Las Vegas in the comments below.
Happy Snacking,
Mark and Kristen
Was This Post Helpful? Pin It For Your Visit!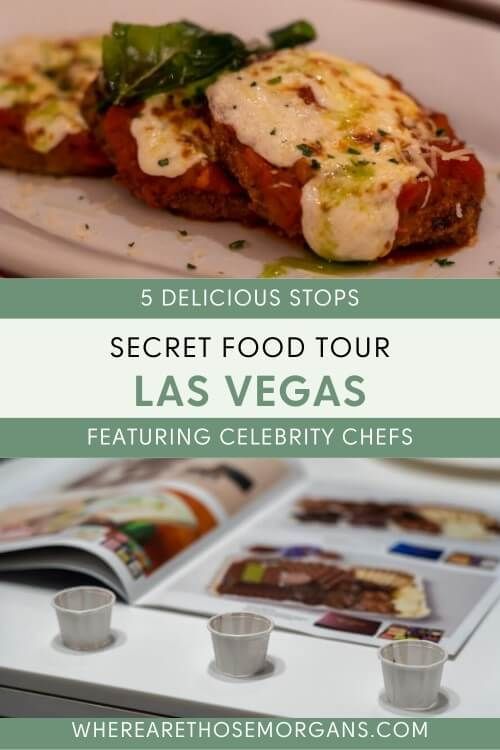 Note: This article contains affiliate links. When you make a purchase using one of these affiliate links, we may earn a small commission at no extra cost to you.
All Rights Reserved © Where Are Those Morgans, LLC. Republishing this article and/or any of its contents (text, photography, maps, graphics, etc.) in whole or in part is strictly prohibited.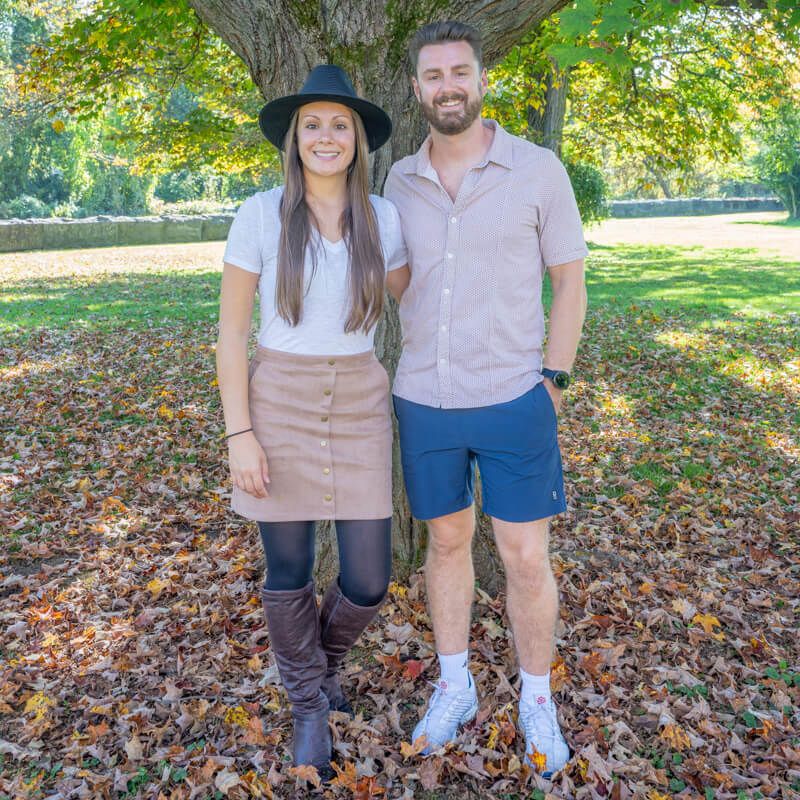 Mark and Kristen Morgan are travel, hiking and photography experts. Over the last 6 years traveling full time, they have explored more than 40 countries and 30 US states.
Their work has been featured in USA Today, Gestalten, Get Your Guide, CityPASS and Condé Nast Traveler along with various other publications.