Seoul is the bustling capital city of South Korea filled with numerous attractions, delicious food and beautiful temples. But what are the best things to do in Seoul if you only have a few days?
In our detailed travel guide, we are going to show you the best of Seoul including popular attractions you should consider adding to your Seoul itinerary.
To help you plan an amazing trip to Seoul, we tell you:
The best way to get to Seoul from Incheon Airport
Money saving tips for Seoul
46 Seoul spots you should not miss
An interactive map to show you where to go in Seoul
Now, let's find the best sights in Seoul!
*Please note this post may contain affiliate links. If you click on one, we may earn a small commission at no extra cost to you. Thank you for supporting the free content we provide! Read more in our disclosure policy.*
Our Seoul Experience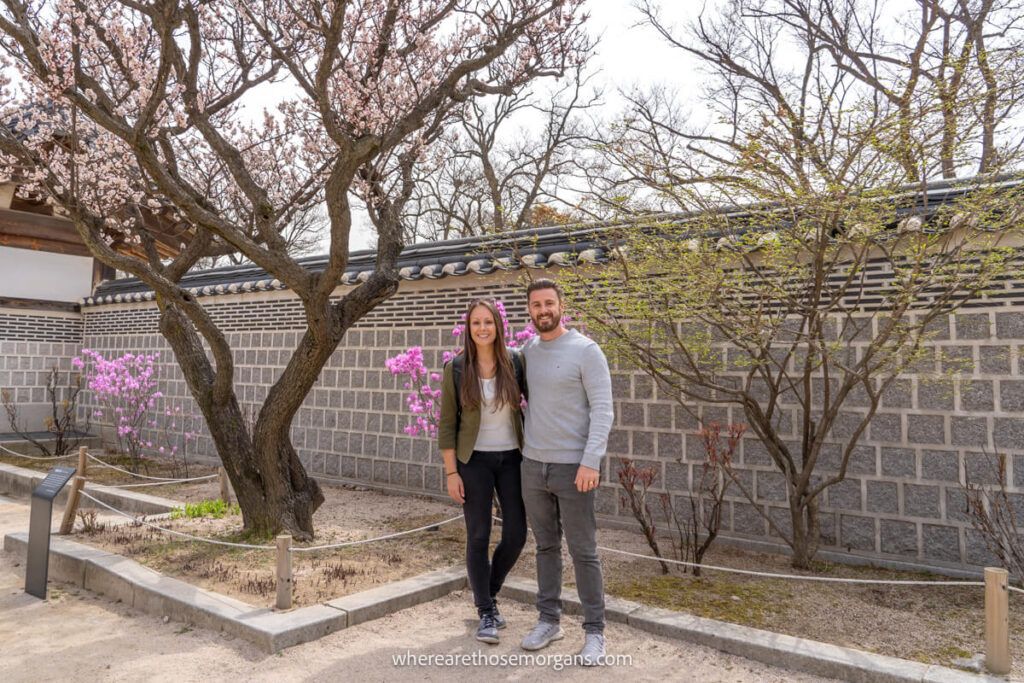 We spent two very intense weeks (14 days) exploring Seoul in March 2023 after the covid lockdowns. Our goal is to bring you the most up to date info on Seoul so you can perfectly plan your trip.
During these two weeks, we had a very jam packed itinerary and we couldn't accomplish everything on this extensive Seoul bucket list.
We think the hardest part about visiting South Korea's capital city is figuring out where to go because the best things in Seoul are not located near each other.
You will have to extensively travel if you want to visit all of Seoul's popular attractions. So the best advice we can give you for visiting is to pick the best attractions in Seoul and then group activities by area.
This way you will be able to visit several attractions or activities in one day to make the most of your trip.
We are going to give you a lot of information in this Seoul guide and we recommend you read everything through once before purchasing attraction tickets or passes.
Click the heart on the bottom of this page or bookmark it so you can easily return as your plan your trip to Seoul.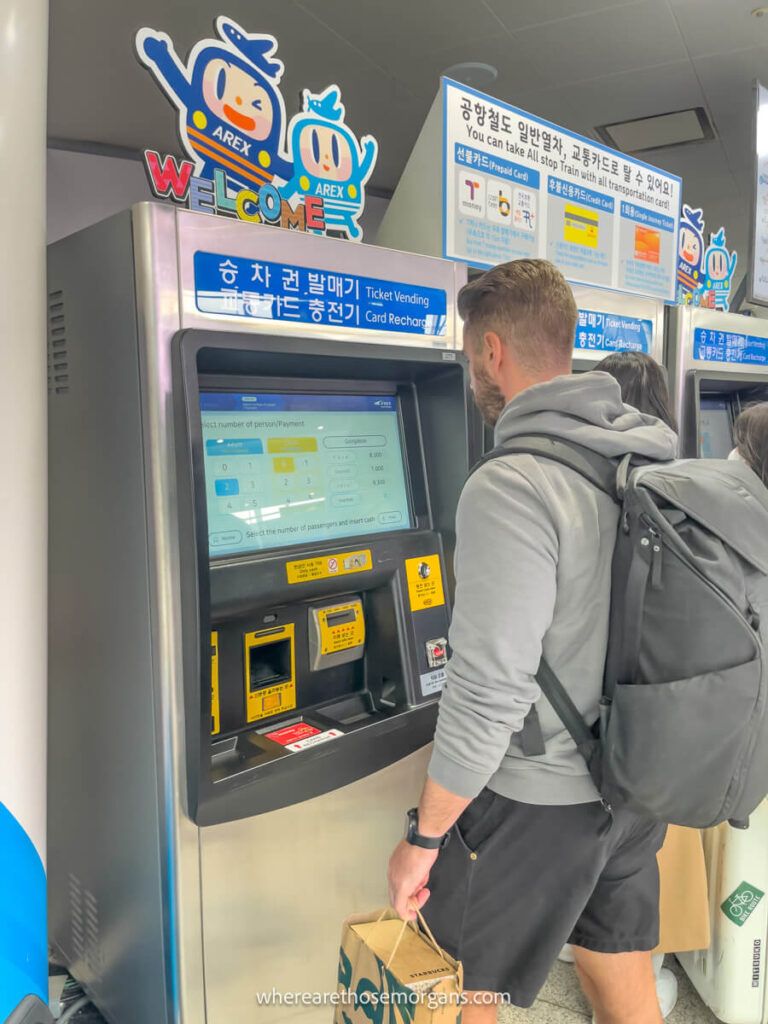 How To Get From Incheon Airport (ICN) To Seoul
There are a few ways you can get from Inceheon Airport to the heart of Seoul including:
The easiest way to get from Incheon to Seoul is the AREX Airport Express train. It takes about 43 minutes because it goes nonstop between the airport and Seoul. This is what we used to get to Seoul.
You can book tickets for the train online or at the airport, but make sure you book the express train. There is another slow train that goes to Seoul and it will make many stops so it will take much longer.
>> Book tickets for AREX Airport Express here.
If you don't feel comfortable with public transportation or you want a little luxury during your trip, you can also book a private transfer to the Seoul neighborhood of your choice.
Best Way To Save Money In Seoul
If you want to visit several attractions in Seoul, you should consider purchasing a pass to help you save money.
We always like to compare attraction passes to buying in bulk because the more attrations you visit, the more money you save.
There are two popular Seoul passes:
Klook Seoul Pass
Go City Seoul
Depending on what you plan to do in Seoul, one pass may work better for you so we will go over each pass in detail.
While not located directly in Seoul, Everland is South Korea's largest theme park which easily makes for one of the best things to do in Seoul if you are visiting with children.
At Everland, visitors will experience 5 unique themed zones:
Global Fair
American Adventure
Magic Land
European Adventure
Zootopia
Another highlight of Everland is the T-Express famously known as Korea's first wooden roller coaster.
This theme park is included on both popular Seoul pass options, but we have not included it on our Seoul guide because it's more of a day trip option.
Klook Pass Seoul
The Kool Pass Seoul is a very popular option that can help you save 52% on attractions.
There are 10 attractions included on the Klook Seoul Pass:
Lotte World
N Seoul tower
Everland
Nami Island + Petite France tour
Hanbok experience with Korean hairstyling
Coex Aquarium
Alive Museum + Dynamic Maze
Ehwa Korean school uniform rental
Lotte World Aquarium
63 Building Observatory + Aqua Planet 63
You will then choose 2, 3 or 4 activities from this list for one amazing price.
We like this pass because it is valid for 30 days. This means you don't have to rush around visiting attractions by a certain time period and you can take your time.
>> Buy the Klook Seoul pass here.
---
Go City Seoul Pass
The Go City Seoul Pass is different compared to the Klook Seoul Pass because you can choose from 29 attractions with many of these Seoul activities featured in this guide.
Go City offers an attraction based all-inclusive pass or a day based explorer pass. Depending on how much you want to see in the Seoul, these passes can save you a good chunk of change.
Popular attractions on the Go City Seoul Pass include:
Everland
Lotte World
N Seoul Tower
Nanta Cooking Show
Han River Cruise
14-day Korean Sim
Incheon Airport express train
Dark Side of Seoul Ghost Tour
Having used these passes ourselves in London, Paris and Rome, we can tell you from experience they will save you money, especially if you plan to see many things during your time in Seoul.
>> Buy a Go City Seoul pass here.
---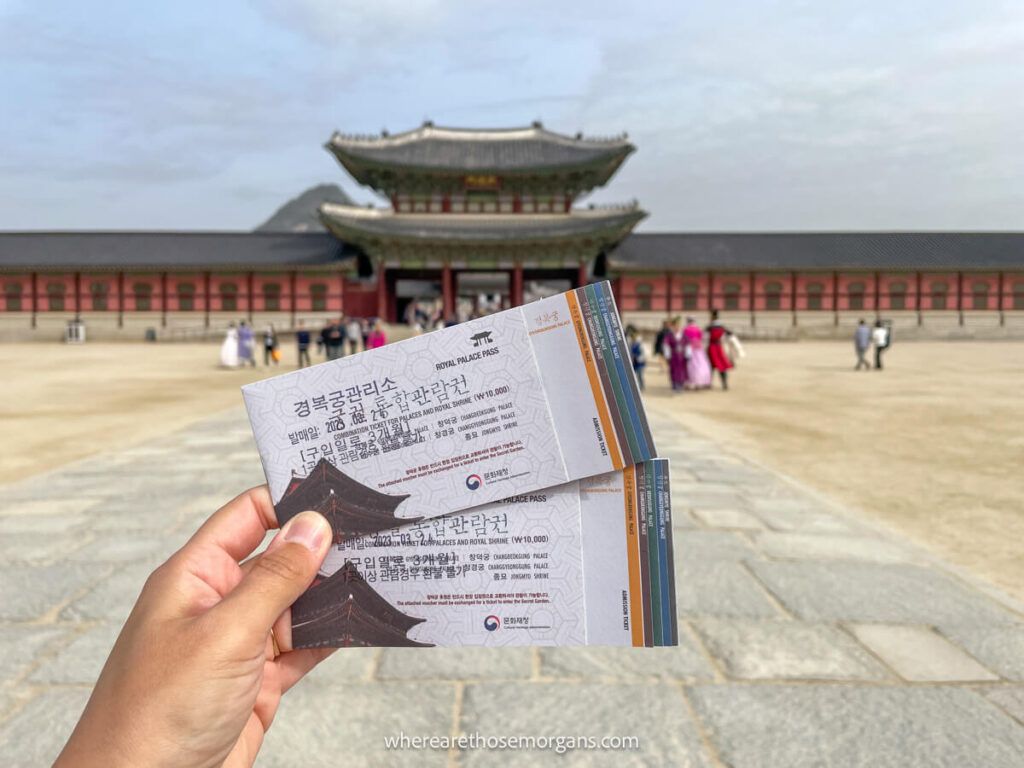 Royal Palace Pass
Another lesser known pass is the Royal Palace Pass. But it is not your traditional pass like the two options we mentioned above because it only works for the palaces in Seoul.
We used the Royal Palace Pass because we wanted to experience all of the beautiful palaces during our time in Seoul.
The Royal Palace Pass costs KRW 10,000 and it is valid for three months from the date of purchase. Here are current prices for the Royal Palace Pass:
Gyeongbokgung (KRW 3,000)
Changdeokgung (KRW 3,000) with Huwon Secret Garden (KRW 5,000)
Changgyeonggung (KRW 1,000)
Deoksugung (KRW 1,000)
Jongmyo Shrine (KRW 1,000)
If you visited all of the sites above individually, it would cost you KRW 14,000. So in a Royal Palace Pass would save you a KRW 4,000.
You can not purchase the Royal Palace Pass online and it can only be purchase on site when you visit your first Seoul palace.
However, if you want to visit more Seoul attractions, we recommend you use a Klook Pass Seoul or a Go City Seoul Pass.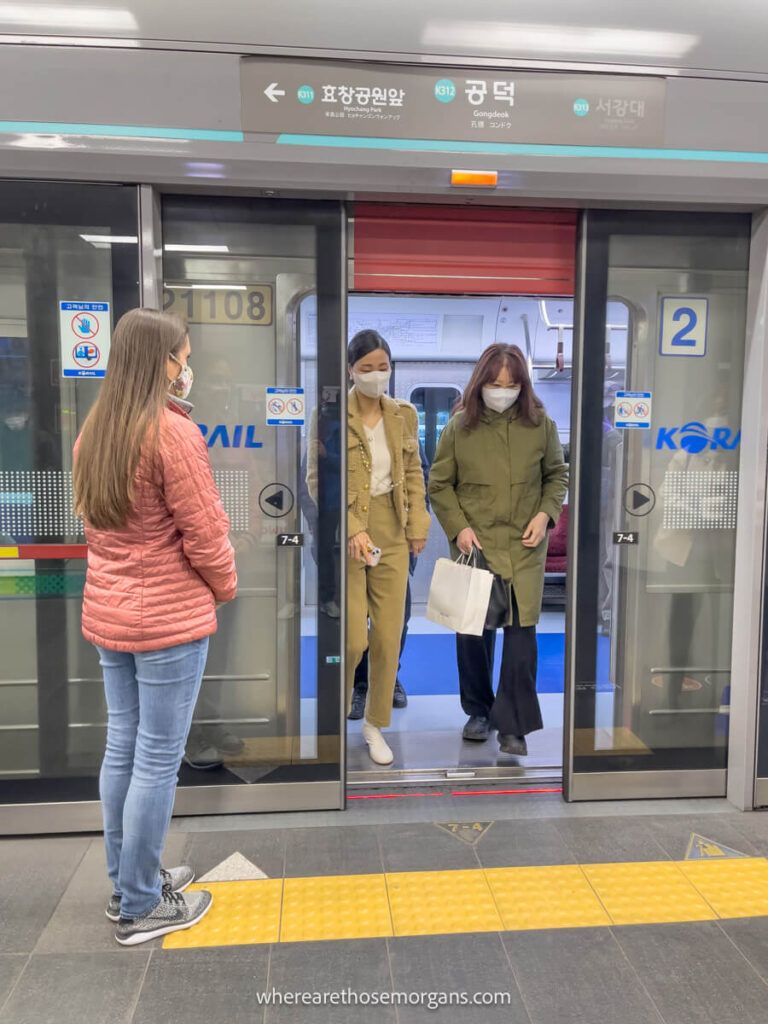 How To Get Around Seoul
The easiest way to get around Seoul is by Subway because the city has an extensive subway system with over 20 lines! This is also the most environmentally friendly and cost effective way to travel.
You can use cash or a T-Money card in Seoul to pay for your subway tickets. We used a T-Money card because this is a preloaded card you can scan every time you get on and off the subway.
Visitors can purchase T-Money card at select convenience stores in Seoul or online prior to visiting. Here is a great article by Klook explaining the Seoul Subway system so you know exactly what to expect.
We have included subway information for many of the places to go in Seoul including the best subway stop and exit for each attraction listed.
46 Best Things To Do In Seoul, South Korea
Seoul is an incredible city filled with numerous activities for families, couples, friend groups and solo travelers. No matter your travel style, you will never be bored.
We love how Seoul offers both stunning palaces showcasing centuries of history directly along side modern day attractions unique to this thriving city.
Without further ado, here are the best places to visit in Seoul, South Korea: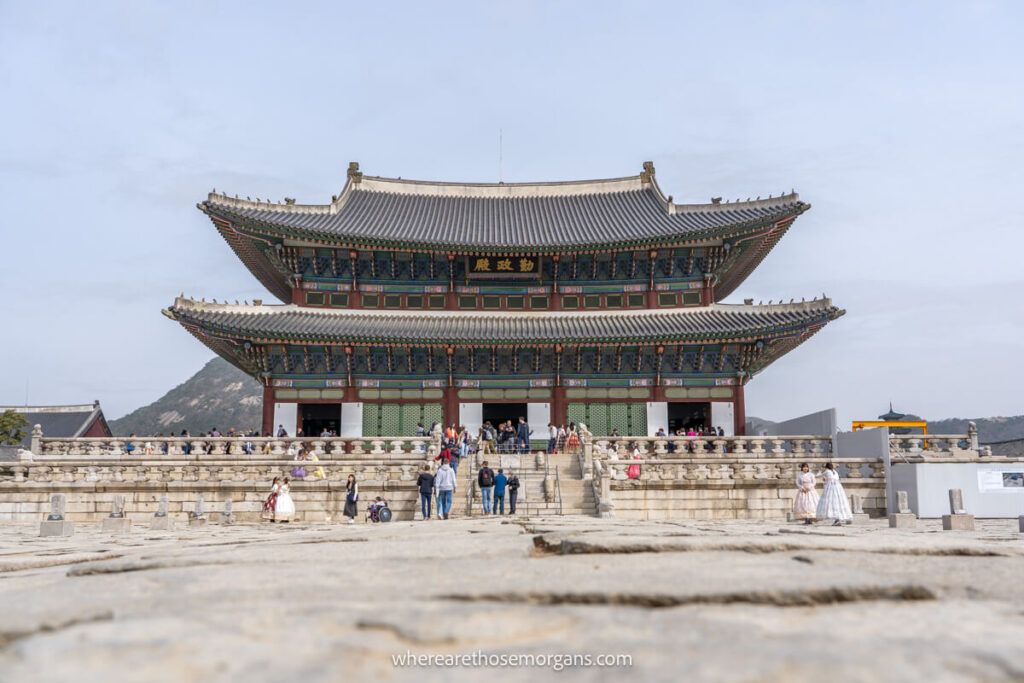 1. Gyeongbokgung Palace
The Gyeongbokgung Palace is the one of the must see places in Seoul. Originally built in 1395, this was the principal royal palace established for the Joseon Dynasty (1932-1910).
This main palace became the center of dynasty politics and economics due to its centralized located between Baegaksan Mount in the north and present day Sejong-deoro to the south.
Free one hour guided tours are offered inside the palace in numerous languages throughout the entire day. You can also book longer walking tours if you want to learn more or need to stick to a time schedule.
Don't miss changing of the guard at 11:00am and 1:00pm outside Gwanghwamun Gate or see the palace guard ceremony inside Gwanghwamun Gate at 10:00am and 2:00pm.
Here are popular Gyeongbokgung Palace tours:
Subway Stop: Gyeongbokgung Palace Station (line 3, exit 5) or Gwanghwamun Station (line 5, exit 2)
Interested in this palace? Don't miss our popular guide on what to see in Gyeongbokgung Palace.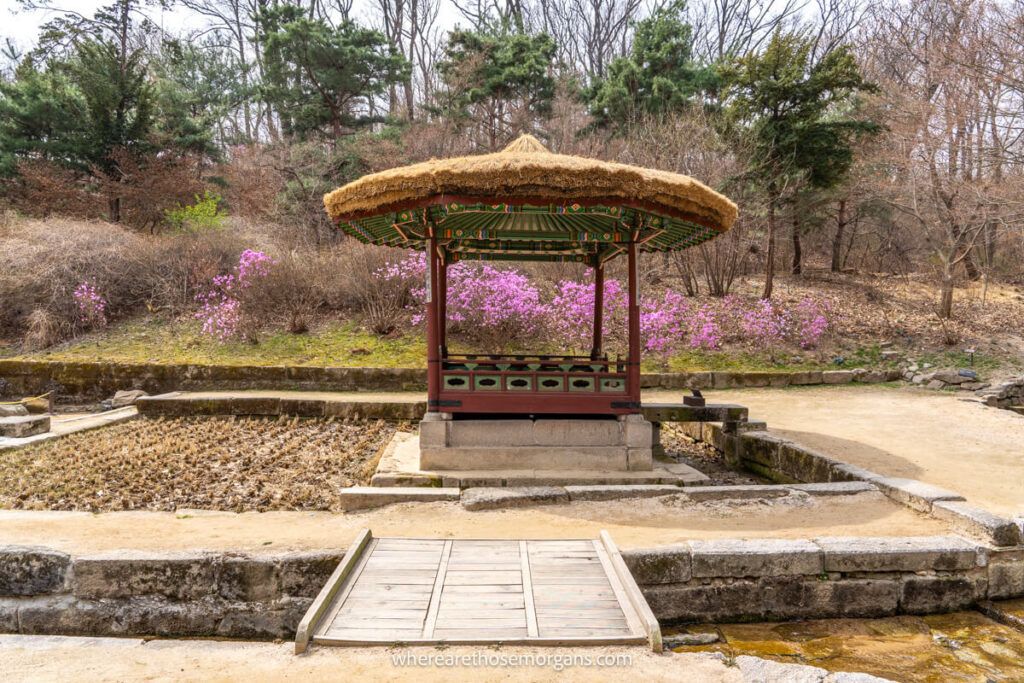 2. Changdeokgung Palace
While Gyeongbokgung Palace is most famous palace in Seoul, the Changdeokgung Palace now a UNESCO World Heritage Site, is often regarded as the most loved palace by the kings of the Joseon period.
Originally built in 1405 as a secondary palace to Gyeongbokgung, Changdeokgung Palace is unlike most other palaces in the city because it was created with pungsu principles to embrace nature.
Unfortunately this palace was destroyed by the Japanese invasion (1592-1598). But it was rebuilt in 1610. Changdeokgung Palace then served as the main palace for about 270 years.
The highlight of Changdeokgung Palace is the Huwon Secret Garden containing over 56,000 species of plants. However, this garden can only be visited as a guided tour which lasts for about 1 hour.
Here are secret garden tour times:
Korean – 10:00, 11:00, 12:00, 13:00, 14:00 15:00, 16:00 (Mar-Oct), 16:30 (Jun-Aug)
English – 10:30, 11:30, 14:30, 15:30 (Feb – Nov)
Chinese – 12:30
Japanese – 13:30
Here are popular Changdeokgung Palace Tours:
Subway Stop: Anguk Station (line 3, exit 3) or Jongno 3-ga Station (line 1/3/5, exit 6)
Planning to visit this palace? Use our first time visitor guide to Changdeokgung Palace.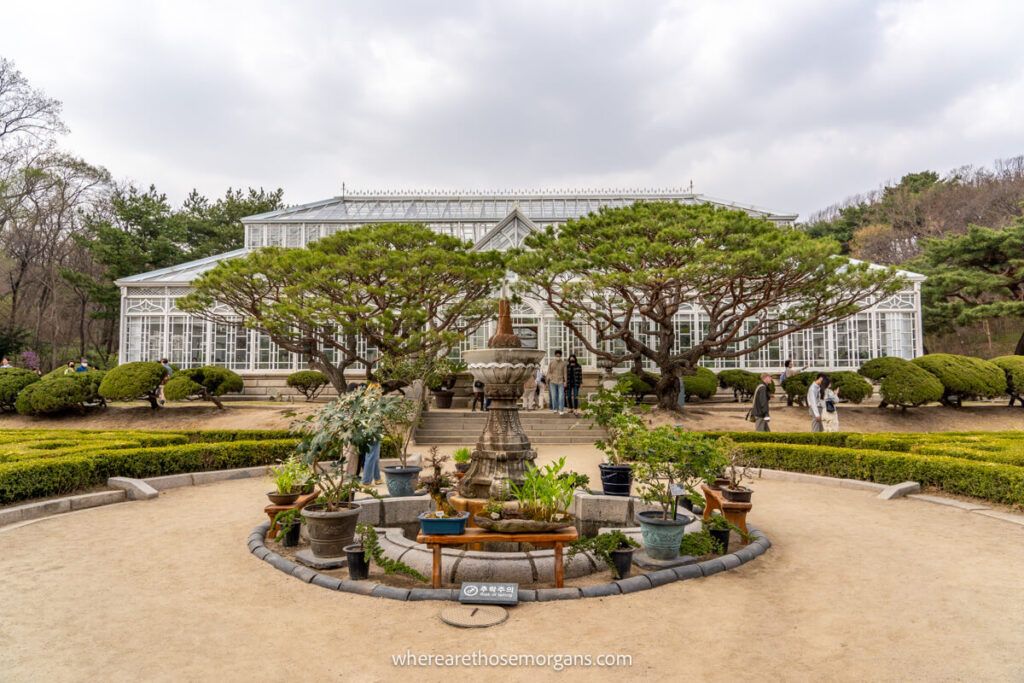 3. Changgyeonggung Palace
Constructed in the mid 1400's, the Changgyeonggung Palace was primarily built to serves as a residence for the royal family. It was the third palace built during the Joseon Dynasty.
But off all the palaces in Seoul, Changgyeonggung Palace has one of the most colorful histories. It was destroyed in many times by the Japanese, but it has also been home to a zoo and botanical garden.
We like this palace because most tours are offered at night. Not only will you be able to see the palace lit up beautifully with lanterns, but you will hear interesting stories about what took place here.
Here are popular Changgyeonggung Palace tours:
Subway Stop: Anguk Station (line 3, exit 3) or Hyehwa Station (line 4, exit 3/4)
Want to see these beautiful grounds? Don't miss our guide on how to see the best of Changgyeonggung Palace.
4. Deoksugung Palace
Across the street from Seoul City Hall, you will find the smallest palace in Seoul, the Deoksugung Palace. Throughout the years, this palace was home to many descendants of the royal family.
But despite it's small size, this palace was home to King Gojong during his later years until his forced abdication in 1907. King Gojong was the last King of the Joseon Dynasty and first Emperor of Korea.
Here are popular Deoksugung Palace tours:
Subway Stop: City Hall Station (line 1/2, exits 1/2/12)
Want to experience this palace? Use our first time visitor guide featuring what to see inside Deoksugung Palace before you visit.
5. Gyeonghuigung Palace
Last but not least, Gyeonghuigung Palace is the least visited palace in Seoul. It was originally know as the western palace due to it's western location in the city.
Over the years, this palace was used as a royal residence for the king and it experienced multiple names changes. Unfortunately, many of the halls burned down in a fire from 1829 or were destroyed during Japanese occupation.
However, many excavations have been done on the site and three of its main building have been fully restored.
It's certainly worth a visit because Gyeonghuigung Palace is a very cool thing to do in Seoul. You will also find the Seoul Museum of History nearby as well as numerous walking paths.
When we visited Gyeonghuigung Palace, there were no guided tours available. If you are interested in taking a tour of this palace complex, this Evening Ghost Walk is very popular.
Subway Stop: Seodaemun Station (exit 4, line 5) or Gwanghwamun Station (exit 7, line 5)
Want to experience this palace? Check out this detailed guide featuring cool things to see at Gyeonghuigung Palace.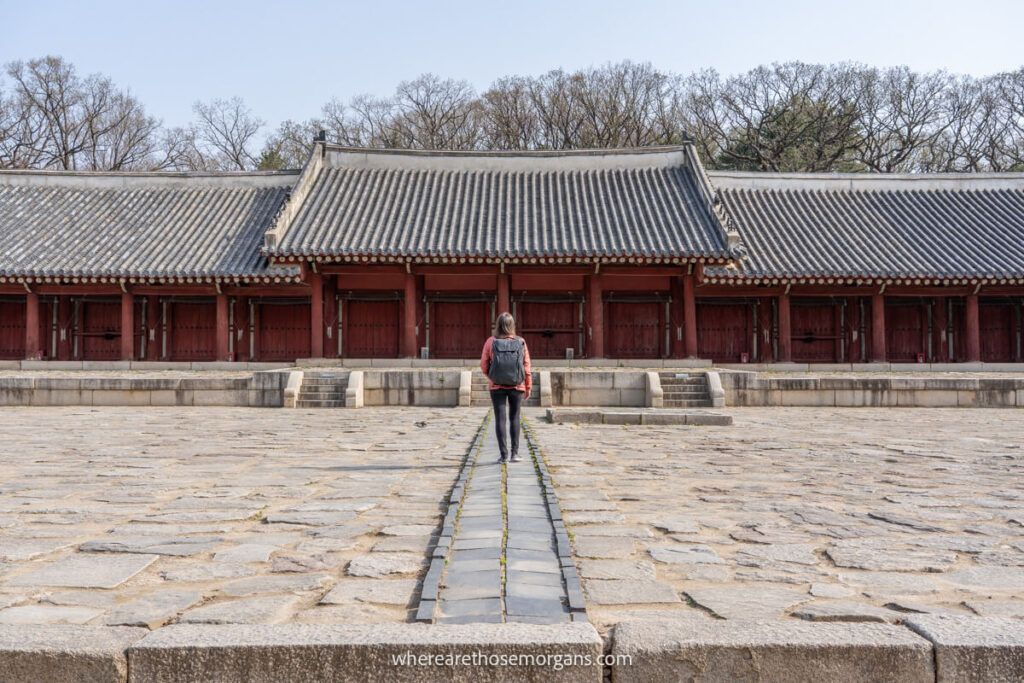 6. Jongmyo Shrine
The Jongmyo Shrine contains the spirit tables of the deceased kings and queens of the Joseon Dynasty. These sacrificial rites symbolize the legitimacy of the royal family and they are based on Confucian principles.
In 1995, Jongmyo Shrine was listed on UNESCO's list of the Intangible Cultural Heritage of Humanity and this gorgeous area is definitely a must do thing in Seoul.
Originally, the shrine only contained one hall, but today you will find another hall known as Yeongnyeongjeon. All of the facilities in this complex are lavishly adorned so we recommend you visit.
Subway Stop: Jungno 3-ga Station (line 1, exit 11), (line 3, exit 8), (line 5, exit 8)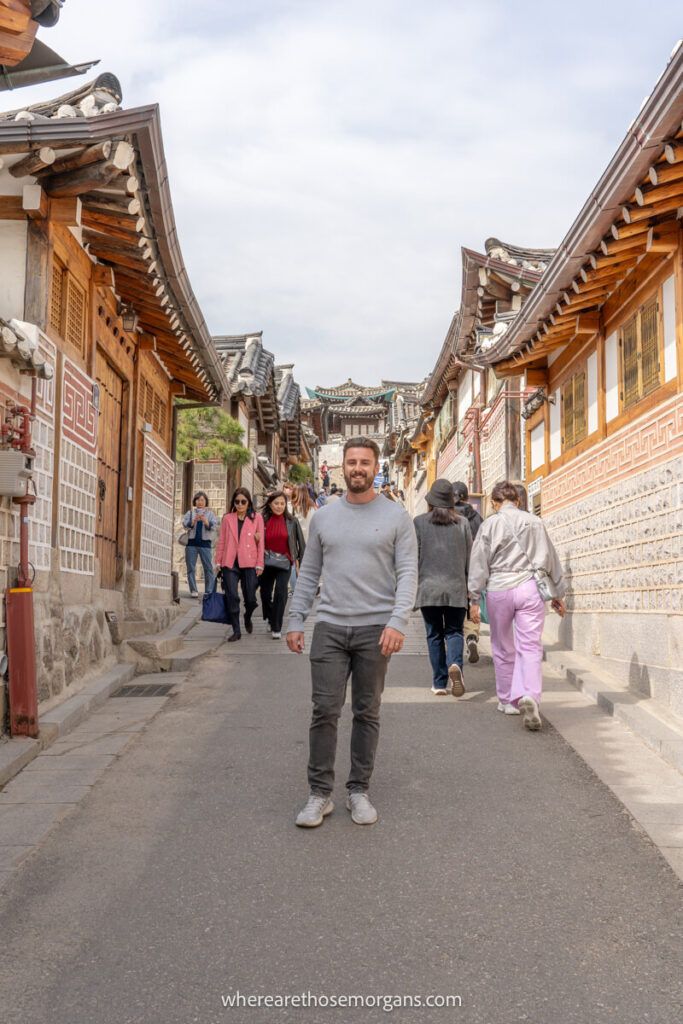 7. Bukchon Hankok Village
One of the must see things in Seoul is Bukchon Hankok Village because this beautiful town features 1,000 traditional homes that date back to the Joseon dynasty.
The beauty of Bukchon Hankok Village makes it one of the most instagrammable places in Seoul so it can become very crowded.
There is one main photo spot we included in our interactive Seoul map, but we recommend you wander around the village to enjoy the stunning scenery and possibly find a quieter section in the village.
A very popular tradition is to dress in a hanbok (or Korean clothing) and walk around the village. This experience by Klook is a great option if you want to take some fun photos to remember.
Subway Stop: Anguk Station (Line 3, exit 2)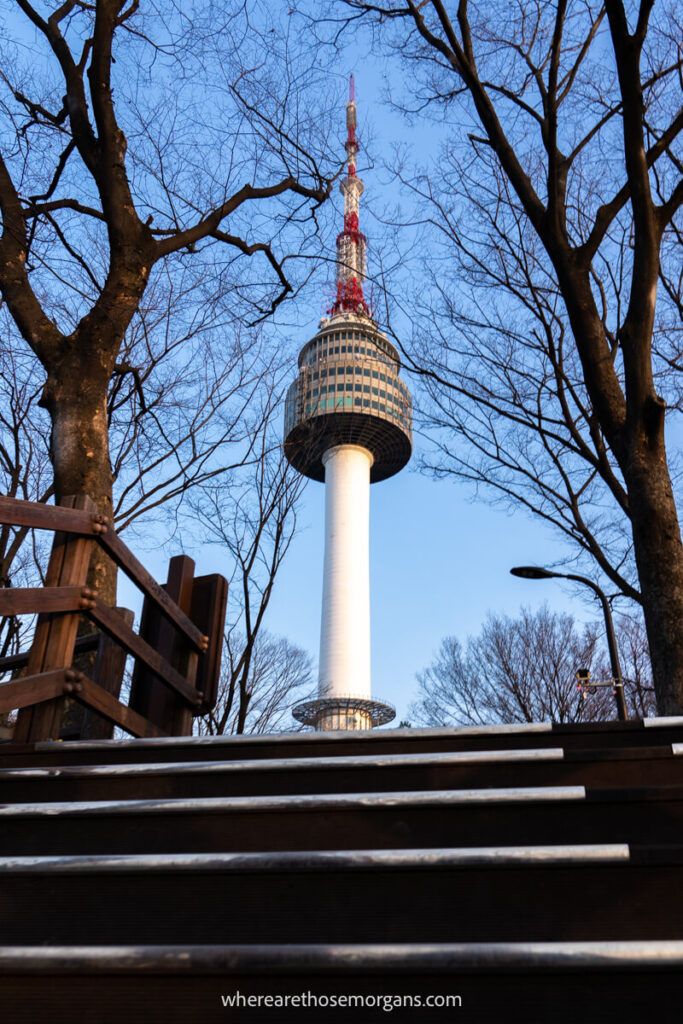 8. Namsan Seoul Tower
The Namsan Seoul Tower is one of the two observation decks in Seoul that instantly grab your attention when looking at the city skyline.
We think the Namsan Seoul Tower is one of the fun things to do in Seoul because you can take a cable car up to Namsan Park, where you will find the entrance to the observation deck.
If you plan to visit this area in Seoul, consider booking a combo ticket with Klook because it is often the cheapest price.
Make sure you give yourself enough time at Namsan Park surrounding the Namsan Seoul Tower because there is a lot to do and the views are incredible.
Subway Stop: Myeongdong Station (line 4, exit 3)
Interested in the the observation deck? Read our popular guide on how to visit N Seoul Tower next.
9. Book A DMZ Tour
One of the top things to do in Seoul is book a DMZ tour. While this tour is technically not in Seoul, most tours originate in Seoul so we have included on this list.
Without giving to much away, the DMZ is one of the most notorious and heavily fortified strips of land in the world running between North and South Korea.
From Seoul, most tours will continue to Imjingak Park where visitors will have the chance to explore the park on their own. But Imjingak Park is the last point you can visit without a tour.
After Imjingak Park, you must have a tour guide to explore other locations along the DMZ such as the 3rd Infiltration Tunnel, the Dora Observatory and the Joint Security Area.
Personally, we believe no visit to Seoul is complete with understanding the important history between North and South Korea because these tensions still exist today.
Tourists can visit both the DMZ and the JSA, but you must be part of a guided tour. Before booking a tour, we recommend you read our DMZ Tour Review to see which tour would be best for you.
But if you already know what you want to do, here are the most popular DMZ Tours: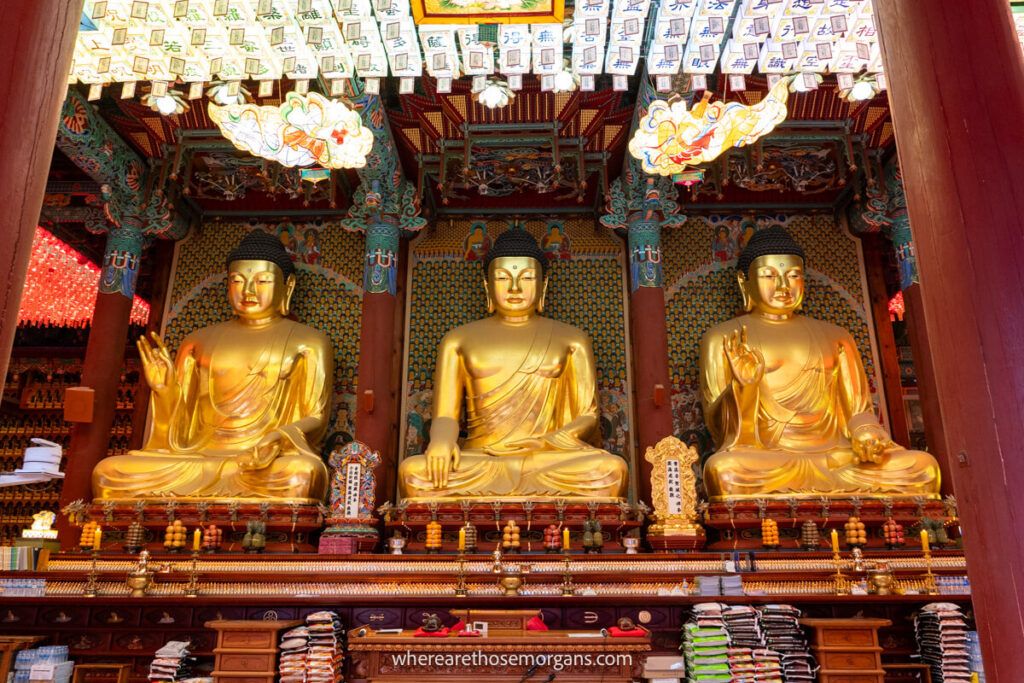 10. Jogyesa Temple
Located near Insa-dong, Jogyesa Temple is one of the most important Buddhist temples in Korea. It is one of the best places to go in Seoul because the temple symbolizes modern day Korean Buddhism.
Constructed in 1395, Jogyesa Temple was originally built in a different location, but it was moved in 1938 and reconstructed in the current location we see today.
Don't miss the Daeungjeon, the main Dharma Hall, because it is home to three very large golden statues of Amitabha Buddha, Shakyamuni Buddha, and Bhaisaiya Buddha measuring 4.8m (16 ft) in height.
When you visit the Jogyesa Temple, you will also find Baeksong (a 500 year old Lacebark pine tree), Brahma Bell Pavilion, Paradise Hall, the One Pillar Gate and a Chinese Scholar Tree.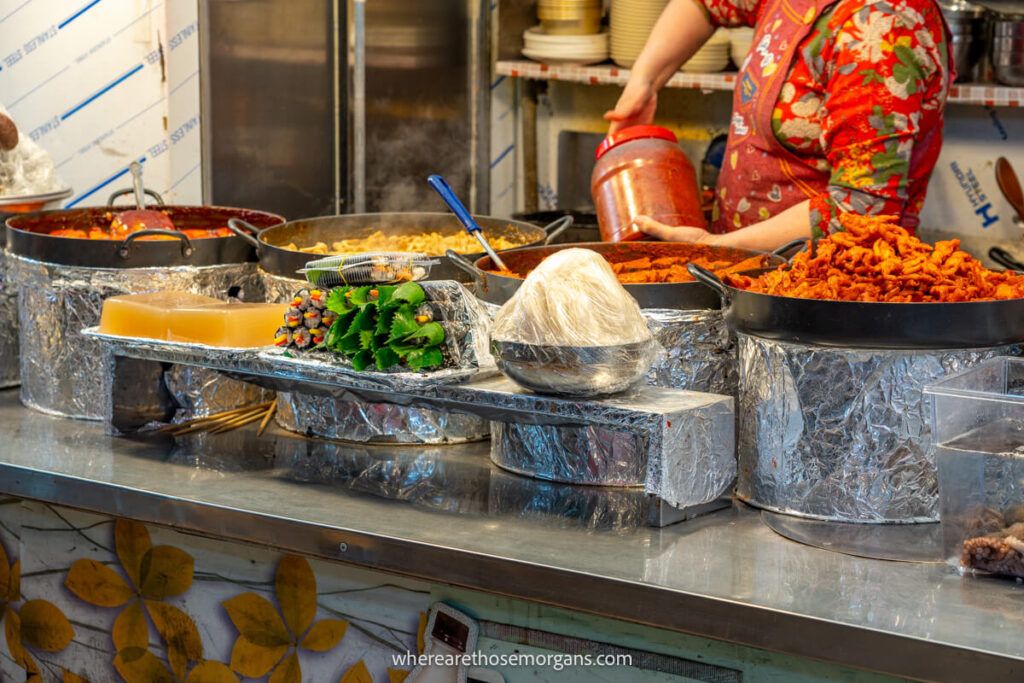 11. Gwangjang Market
If you are a foodie, the Gwangjang Market is a must do activity in Seoul because not only can you try many unique foods, but it was Seouls first permanent market made popular by Running Man.
The food is located on the first level or ground floor of Gwangjang Market and the second floor showcases silk, satin or linen goods.
Popular foods in Gwangjang market include:
Bindaetteok (mung bean pancakes)
Tteokbokki (spicy rice cakes)
Sannakji (live octopus)
Bibimbap (rice and meat)
If finding these foods seem a little bit overwhelming, try this new Gwangjang market food tour to help you find the best Korean street foods.
Subway Stop: Jongno 5-ga Station (line 1, exit 7) or Euljiro 4-ga Station (line 2/5, exit 4)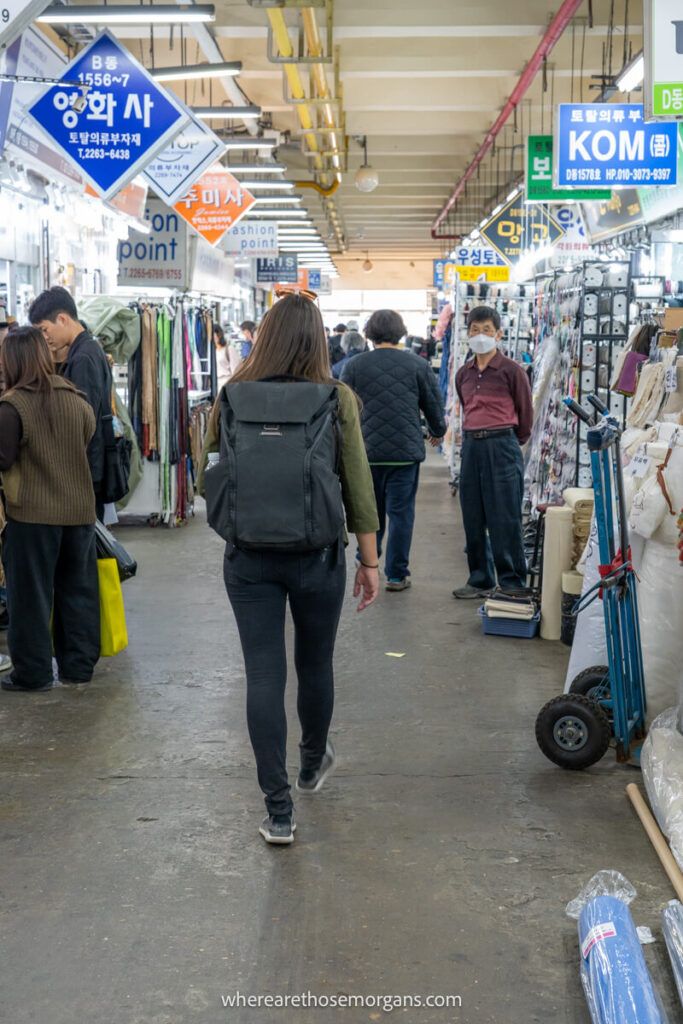 12. Dongdaemun Market
Another popular Seoul activity is the Dongdaemun Market. This is Korea's largest wholesale and retail shopping district with a whopping 26 shopping malls and 30,000 speciality shops.
You can find many types of products in Dongdaemun Market ranging from silks, fabrics, shoes, accessories, leather, electronics, office supplies and so much more.
Subway Stop: Dongdaemun Station (line 4, exit 8) or Dongdaemun History & Culture Park Station (line 4, exits 1/14)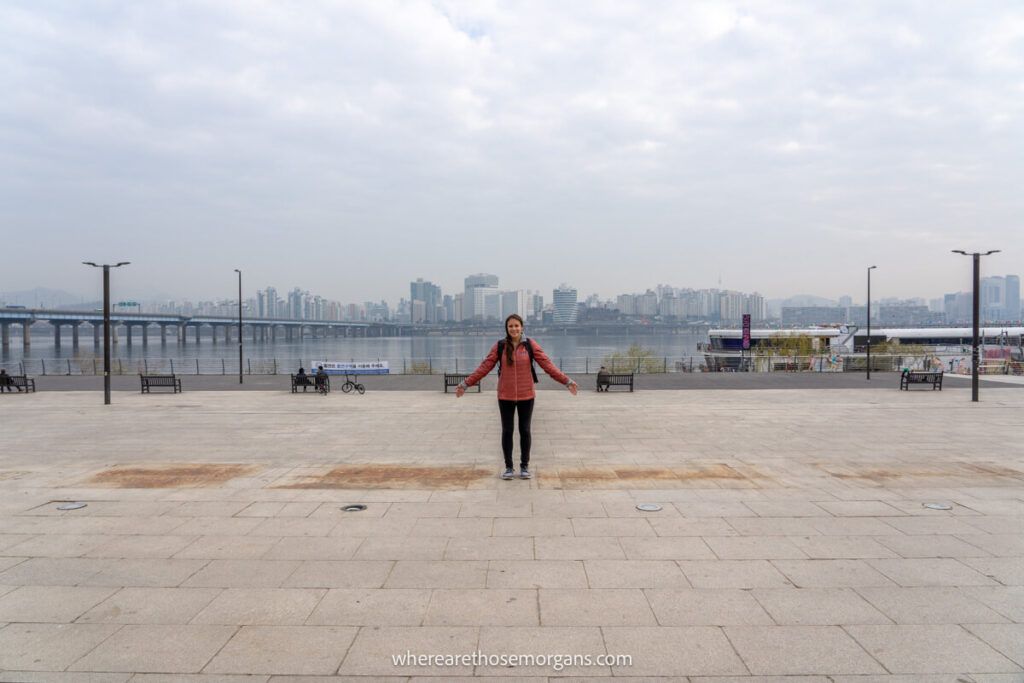 13. Take A Photo With The New Seoul Slogan
The next Seoul activity on our list has a funny story because we made a long trip to take a photo of the I-Seoul-U sign along the river front, but discovered it was not there.
Created in 2015, I-Seoul-U was the old city slogan meant to unify Seoul, but as of early 2023, the slogan has been discounted and removed from several locations around the city.
According to the Korean Herald, a new slogan will eventually replace this old I-Seoul-U slogan. We challenge you to find the new slogan and snap a picture!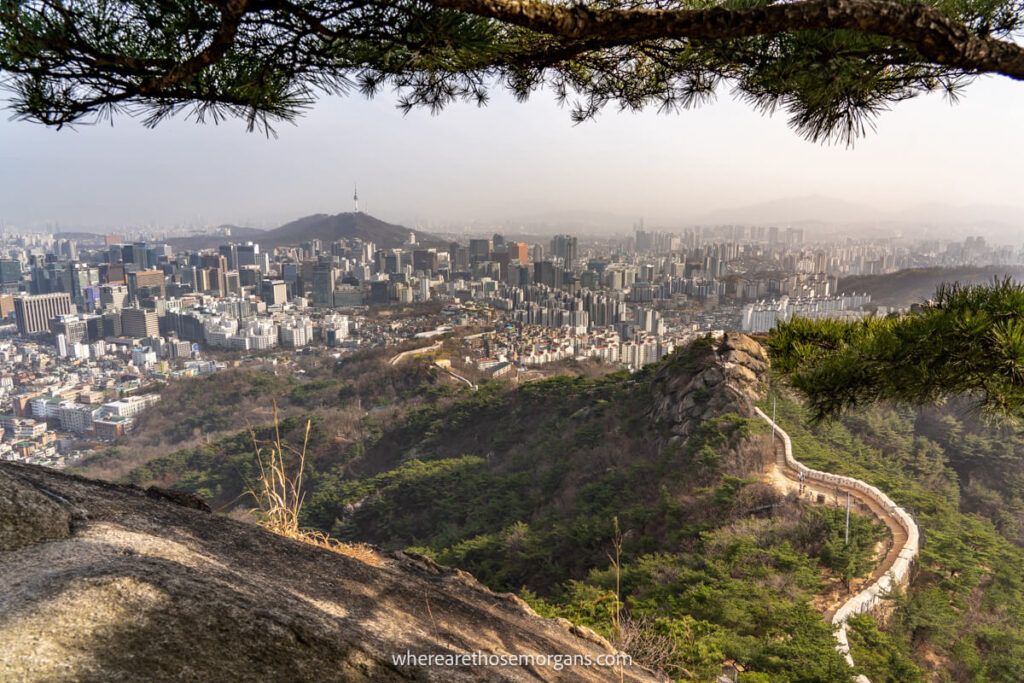 14. Bukhansan National Park
Those looking for adventurous things to do in Seoul should look no further than Bukhansan National Park.
Designated as the 15th national park of Korea in 1983, Bukhansan offers visitors gorgeous stretches of mountain peaks and crystal clear streams stretching between Seoul and Gyeonggi-do.
The park is divided into two main sections with Bukhansan Mountain to the south and Dobongsan Mountain to the north with Uiryeong Pass in the middle.
This is an extremely popular national park with over 20 million residents living within the vicinity. We think the best part about Bukhansan is the accessibility from just about anywhere in Seoul.
If you are looking to hike in Bukhansan National Park, but would feel more comfortable with a guide, check out these popular tours on Viator.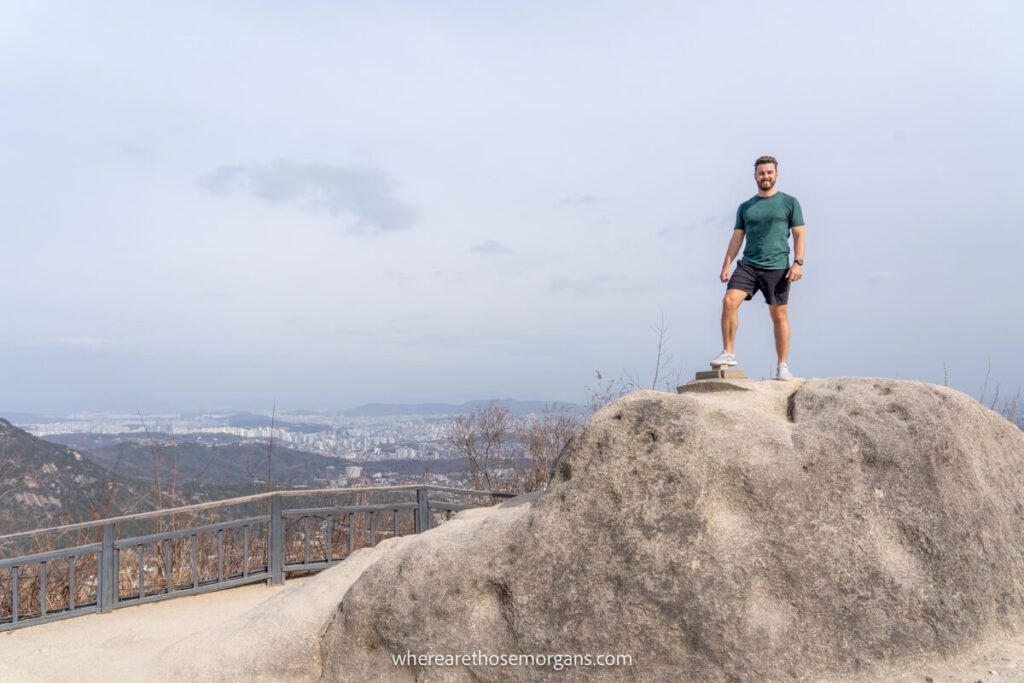 15. Inwangsan Peak
Another outdoorsy thing to do in Seoul is climb Inwangsan Peak. This is Seoul's main hiking trail following the Seoul City Wall and passes through the summit at 338m.
Built in 1396 to defend the capital during the Joseon Dynasty, the Hanyangdoseong or the Seoul City Wall is 18,600m long. This barrier passes through Inwangsan, Bugaksan, Naksan and Namsan peak.
There are numerous ways to access this trail and we highly recommend this hike if it is your first visit to Seoul.
Even with two weeks in Seoul, we were limited with time and we didn't want to lose an entire day hiking in Bukhansan National Park so we opted for Inwangsan Peak.
Need a hiking app? Check out the top rated hiking apps on the market today.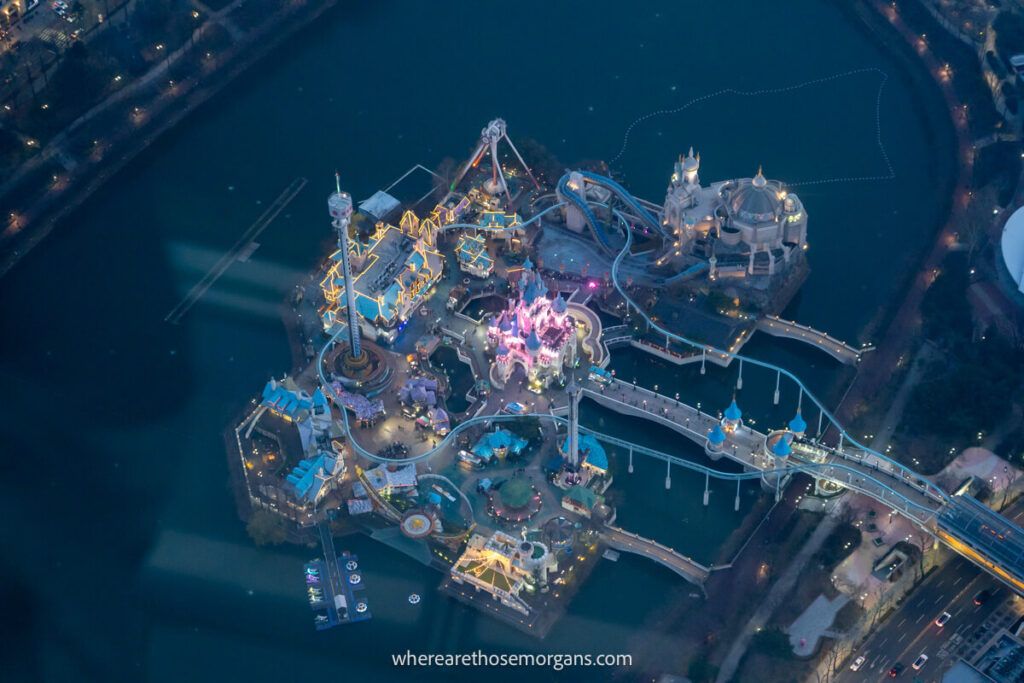 16. Lotte World Amusement Park
Lotte World is an extremely popular entertainment complex smack dab in the middle of Seoul, South Korea.
Here you will find an enormous indoor theme park, a luxury hotel, an observation tower and Magic Island, an outdoor amusement park.
There is no secret that Lotte World is one of the best things to do in Seoul with kids, but there a few different tickets and pass option so make sure to purchase the correct one for your visit.
Here are popular ticket options for Lotte World:
The Lotte World Amusement Park is included on the Klook Seoul Pass or you can also visit the Busan Lotte World to compare parks.
Subway Stop: Jamsil Station (line 2/8, exit 4)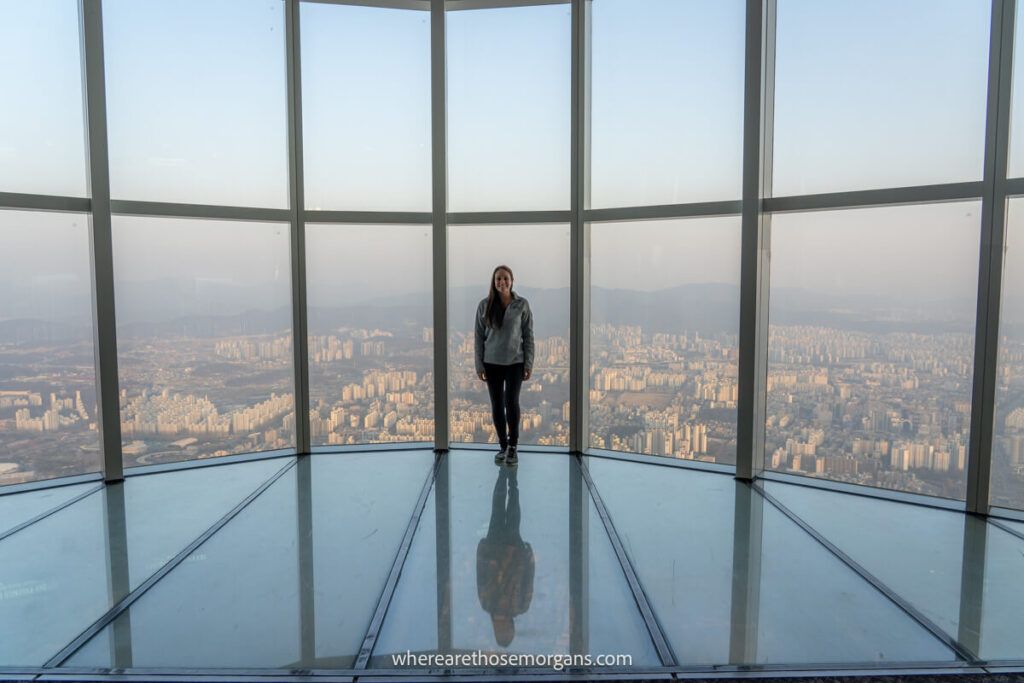 17. Seoul Sky Observatory (Lotte World Tower)
The Seoul Sky Observatory is located in Lotte World Tower. This is the tallest building in South Korea so it's definitely one of the cool things to do in Seoul.
Interestingly, the Lotte World tower also currently holds the record as the world's fifth tallest building standing at 1,821ft (555m) only just passing the One World Trade Center in NYC.
If you have visited the Namsan Seoul Tower, we still recommend you climb the Seoul Sky Observatory because it is very different. Klook offers the best deal on tickets here.
Subway Stop: Jamsil Station (line 2/8, exit 2/11)
Want to know more about this observation deck? Don't miss our popular guide on how to visit the Seoul Sky Observatory.
18. Nanta Show
A unique thing to do in Seoul is attend the Nanta Show. This is currently the longest running show in Korean history which showcases four hilarious chefs as they cook under pressure.
Shows last about 90 minutes and Nanta combines Korean fold songs with modern day music. It is a nonverbal performance so there is no language barrier and anyone can enjoy the performance.
Here are tickets for the popular Nanta Show:
Make sure you compare prices before booking your Nanta Show in Seoul!
Travel Tip: There is a NANTA Theater in Myeongdong and Hongdae so make sure you chose the correct theater when booking tickets.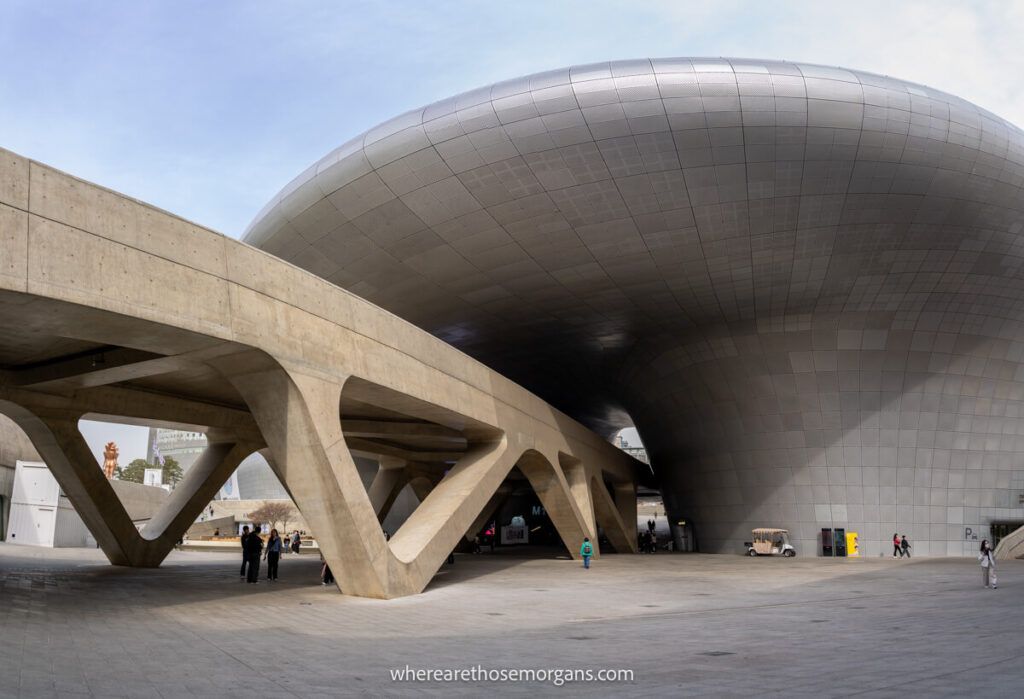 19. Dongdaemun Design Plaza (DDP)
Dongdaemun Design Plaza (DDP) stands for Dream, Design, and Play. This stunning complex holds various exhibitions, fashion shows, conferences, forums and international events.
Designed by Zaha Hadid, the stunning curves and bold shapes of the DDP complex attract photographers and influencers alike so you can expect it to by busy.
We loved the Magis Spun Chairs in the Designers Lounge so see if you can find them!
Subway Stop: Dongdaemun History and Culture Park Station (line 2/4/5, exit 1) or Dongdaemun Station (line 1/4, exit 7)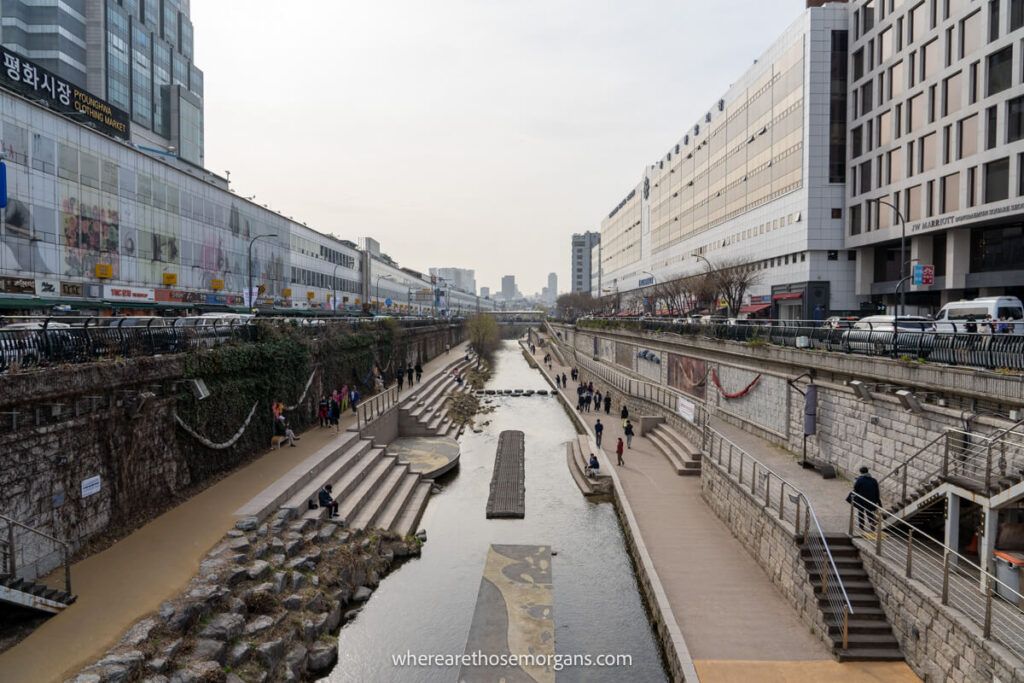 20. Cheonggyecheon Stream
As part of an urban renewal project, the Cheonggyecheon Stream runs straight through downtown Seoul. It mimics a stream that was present during the Joseon Dynasty (1392-1910).
As you walk along the Cheonggyecheon Stream, you will find numerous information plaques which tell some very interesting tales.
The Cheonggyecheon Stream begins in the Cheonggye Plaza and passes under 22 bridges before eventually flowing into the Hangang River.
You can also visit the Cheonggyecheon Museum for a non-touristy thing to do in Seoul if you want to know more about the project and this area of Seoul.
Subway Stop: City Hall Station (line 1, exits 4/5), Euljiro 1-ga Station (line 2, exits 2/3) or Dongdaemun Station (line 4, exits 6/8)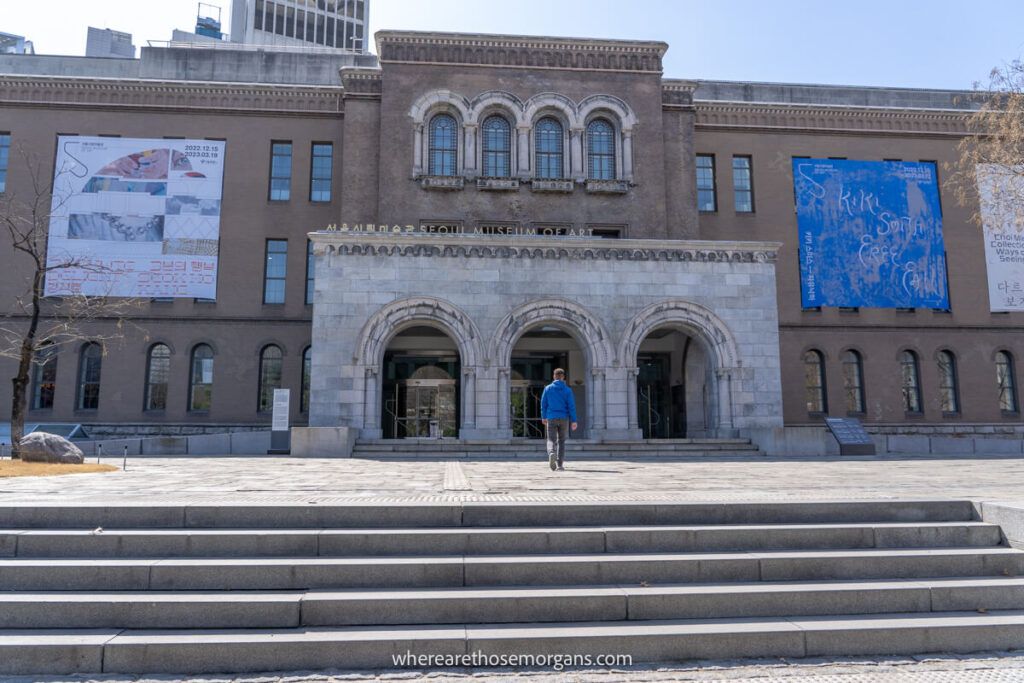 21. SeMA
The Seoul Museum of Art (SeMA) is a modern art museum featuring 6 exhibition halls, a lecture hall, a library and visual reference materials.
Opened in 1988, this three story building holds internationally renowned exhibitions twice a year. We like SeMA because the permanent exhibitions are free to visit, but you will have to pay for special exhibits.
Subway Stop: City Hall Station (line 1/2, exit 10) or Seodaemun Station (line 5, exit 6)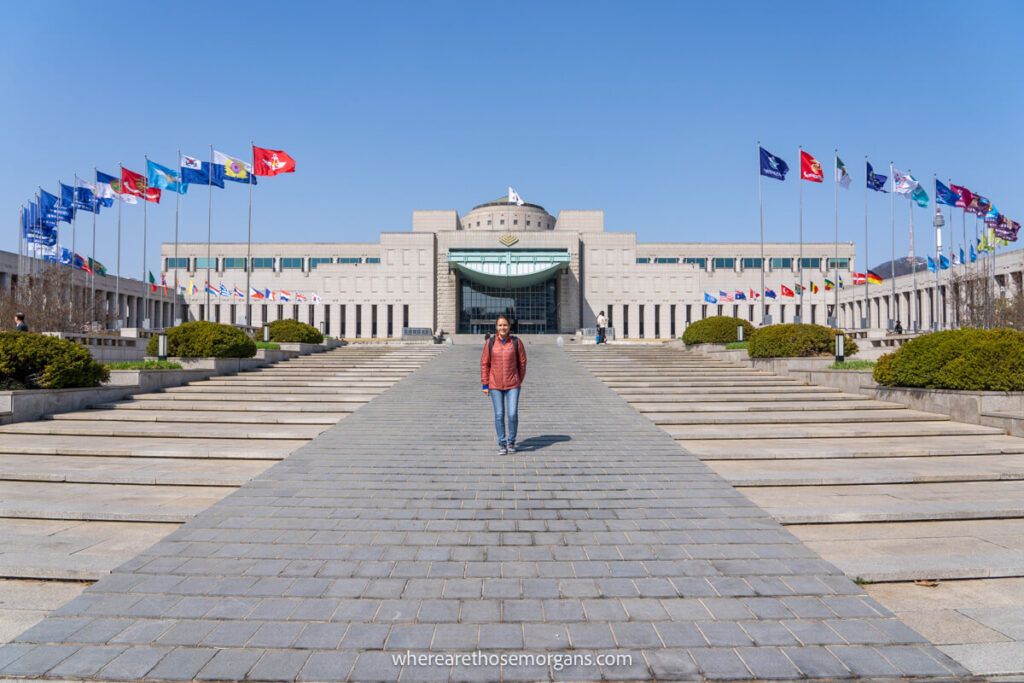 22. The War Memorial Of Korea
One of the top things to do in Seoul is to visit the War Memorial of Korea. Not only is the War Memorial a free Seoul Activity, but it is one of the best memorials we have ever seen.
The main Memorial Hall pays tribute to both Korean and international allies showcasing the names of the soldiers who gave their life to protect Korea.
In addition to the memorial, you can visit the War History Room, the Korean War Room, an open air exhibition area, a children's museum and so much more.
We knew this would be a large complex so we gave ourselves almost an entire day to visit the memorial and we still couldn't see everything.
So our best advice if you are interested in Korean history is to make sure you give yourself enough time to visit the War Memorial of Korea.
Subway Stop: Samgakji Station (line 4, exit 1), (line 6, exit 12) or Namyeong Station (line 1, exit 1)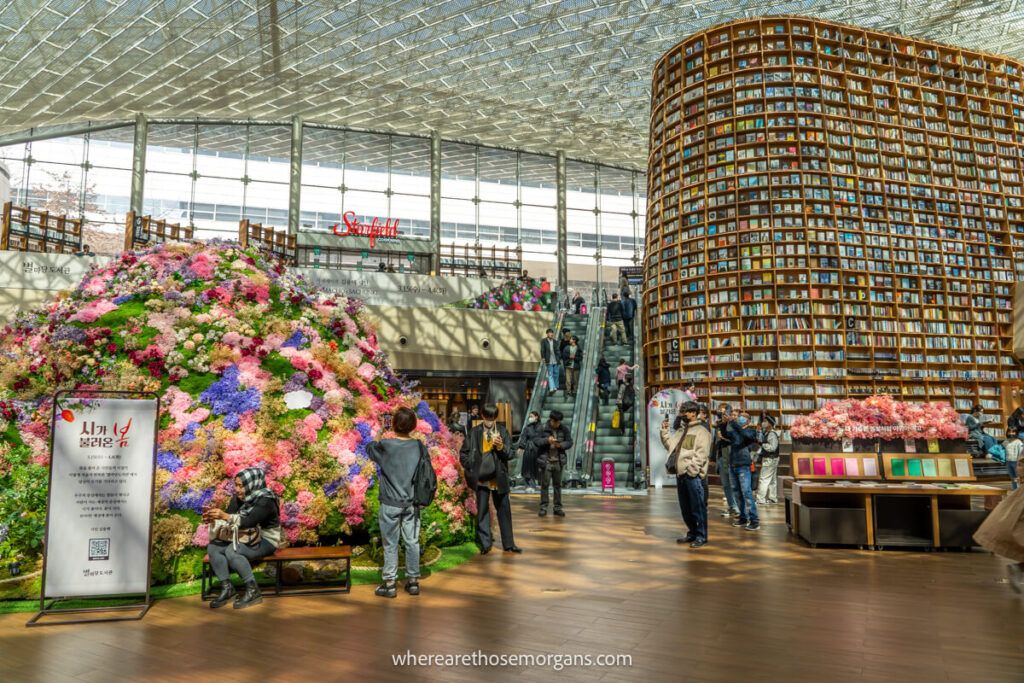 23. Starfield COEX Mall
One of the best things to do in Seoul for young adults is visit the Starfield COEX Mall because it is the largest underground mall in Asia measuring a whopping 85,000 square meters or 914,000 square feet.
Here you will find both domestic and international brands, numerous dining options, the Kimchi Museum, the COEX Aquarium, and a Megabox Cineplex with 17 screens.
A popular place to visit in the mall for tourists is the Starfield Library with two stories of floor to ceiling bookshelves. We also loved the running track spanning throughout the bottom of the mall!
Subway Stop: Samseong Station (Subway Line 2, exit 5/6) or Bongeunsa Station (line 9, exit 7)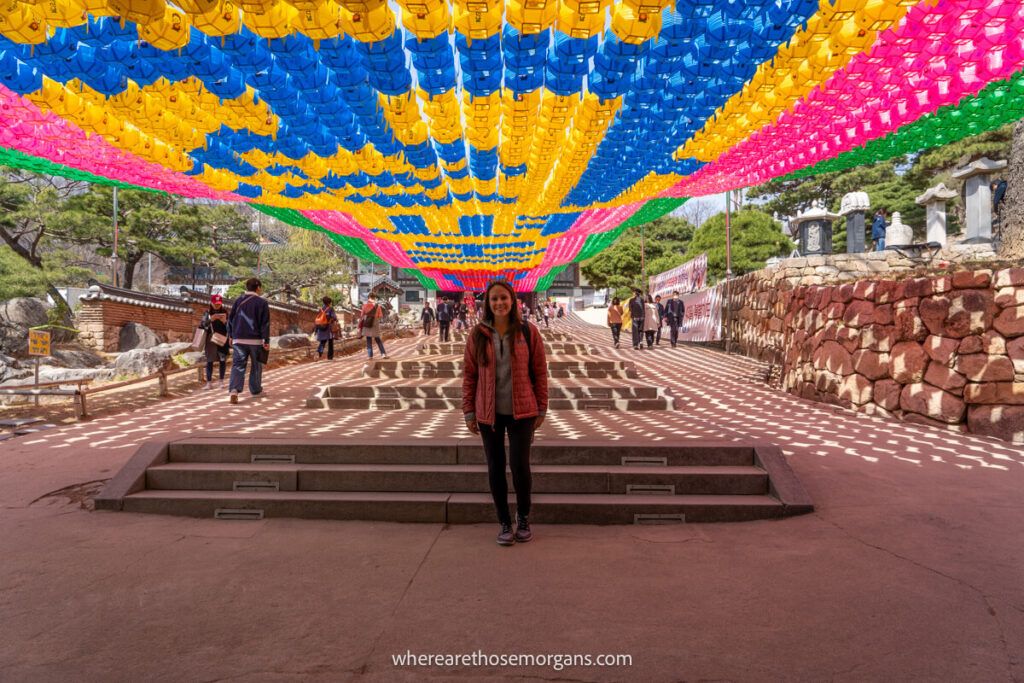 24. Bongeunsa Temple
Located very close to Starfield COEX Mall, Bongeunsa is a Buddhist temple with a long history dating back more than 1,200 years ago.
A highlight of Bongeunsa is the 28m (91 ft) stone statue of Maitreya known as the Future Buddha. This is one of the tallest stone statues in the Korea so it's certainly worth a visit.
Bongeunsa is not only important for modern day Korean Buddhism, but it is home to Templestays which help to spread the culture worldwide.
Subway Stop: Samsung (line 2, exit 6), Chungdam (line 7, exit 2) or Bongeunsa (Line 9, exit 1)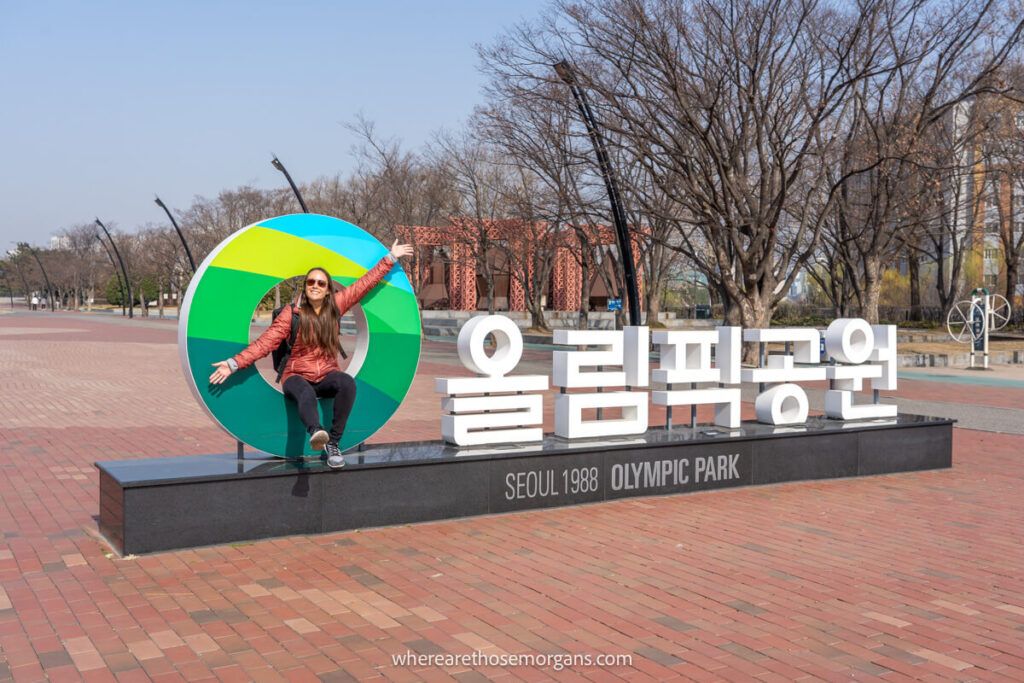 25. Seoul Olympic Park
Built for the 1988 games, the Olympic Park is a must do in Seoul because it now divided into several fun zones including a leisure sports park, environmental eco-park cultural art park and history experience park.
This Olympic Park houses Korea's largest sports arena. It has since become a place where anyone can come to relax and enjoy the serenity of the large peaceful space.
Depending on the time of year, you may be lucky enough to experience wonderful blooms in the various gardens throughout the park.
Popular places in Olympic Park for photos include:
Wild Flower Garden
Rose Plaza
Gourd Tunnel
Pink Muhly Grass
Golden Ginkgo Tree Road
Additional highlights include the Mongchon Fortress walking paths, the World Peace Gate, numerous dialogue sculptures, 88 Lake and an ice skating rink in winter.
Subway Stop: Olympic Park Station (line 5, exit 3) or Mongchontoseong Station (line 8, exit 1)
Travel Tip: If you don't want to walk around the entire park, you can rent a two wheeled or four-wheeled bicycle near the SK Olympic Handball Gymnasium.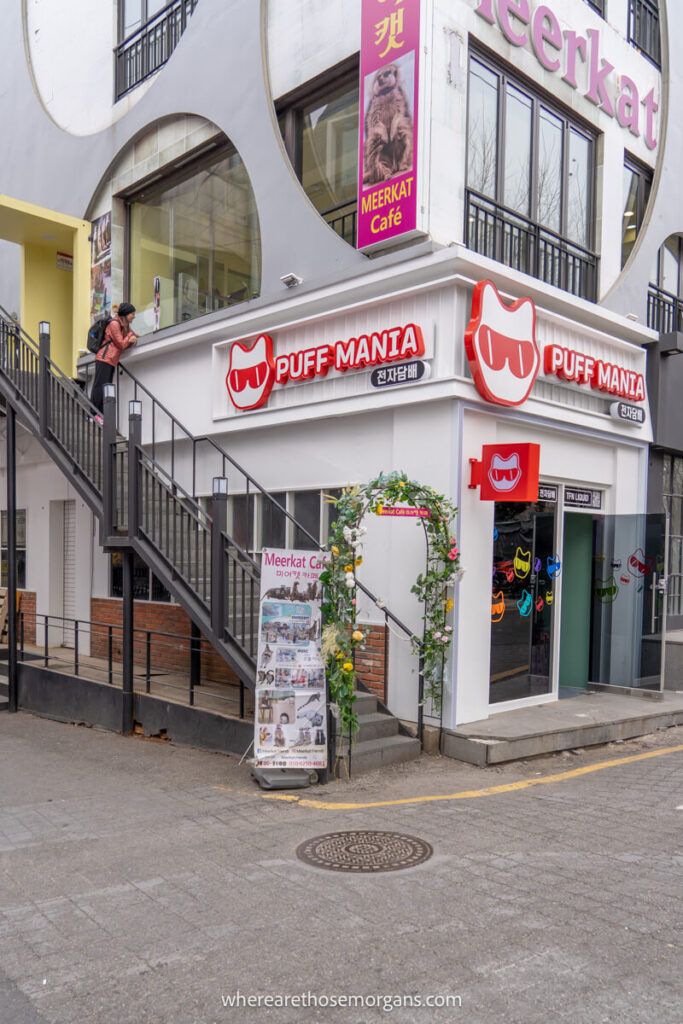 26. Visit A Themed Cafe
Themed cafes are one of the unique things to do in Seoul because you can find a cafe for just about anything. Below we will show you some of the most popular themed cafes in Seoul:
Before visiting any type of animal cafe, we highly recommend you do a little research to ensure you are supporting a cafe with ethical business practices. This is our responsibility as travelers.
Here are important things to consider before visiting an animal cafe:
Reviews – Bad reviews often mean signs of animal neglect (if you see this, it is also important to leave a negative review to warn others)
Exotic animals – Wild undomesticated animals should not be in a cafe
Understand where the animals came from – For example, rescued strays loving their new life in a cafe is okay
The cafe doesn't limit people – This will further induce stress on animals
Animals don't have a private space – Even animals needs a break now and then
That being said, we have visitied amazing animal cafes around the world run by incredible people who are making a huge difference. Just please do your homework prior to visiting!
27. National Folk Museum Of Korea
Located on the grounds of Gyeongbokgung Palace, the National Folk Museum of Korea features over 4,000 artifacts showcasing lifestyles, traditions and history of Korean culture.
The entire complex includes three permanent exhibits along with two special exhibits, an open air exhibition as well as a children's museum.
Admission to the National Folk Museum of Korea is free with a Gyeongbokgung Palace ticket. You can also join a free guided tour at 10:30 and 14:30 in front of Exhibition Hall 1.
Subway Stop: Auguk Station (line 3, exit 1), Gyeongbokgung (line 3, exit 5) or Gwanghwamun Station (line 5, exit 2)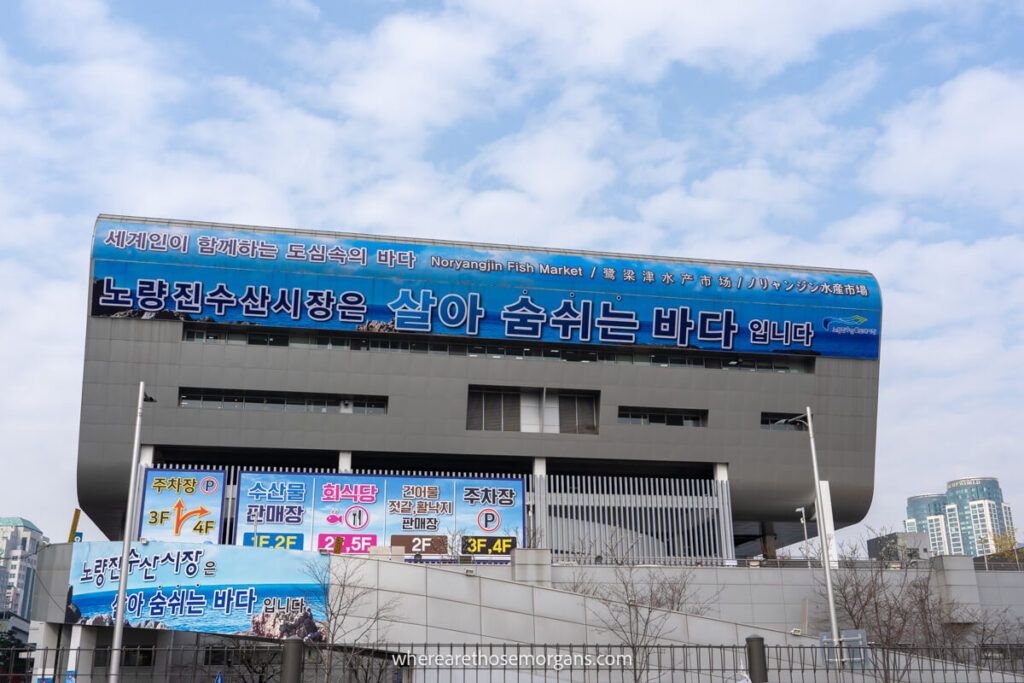 28. Noryangjin Fisheries Wholesale Market
The Noryangjin Fish Market is the largest and oldest seafood market in Korea with a floor space of about 6,000 square meters and 700 vendors.
This market is open 24 hours a day, but if you want to see this vibrant market in it's full glory, come in the morning during the auction.
For foodies, you can purchase live seafood at numerous stalls and then have it prepared at one of the restaurants right upstairs for one of the freshest meals of your life.
Or you can also try this Noryangjin Fish Market Guided Tour to learn about the local food culture and taste fresh seafood.
29. Soak At A Jjimjilbang
Travelers looking for some R&R should look no further than a Jjimjilbang, or a traditional Korean bathhouse. Similar to onsens in Japan, this is where the locals come for a quick soak.
Many bathhouses in Korean contain two main areas:
The baths (same gender only)
The sauna areas (often a communal space)
Jimjilbangs in Seoul usually cost from KRW 8,000 to 15,000 depending on the neighborhood and if you plan to stay the night.
This is a great article by Klook with all the information you need to visit a Korean bathhouse including great recommendations.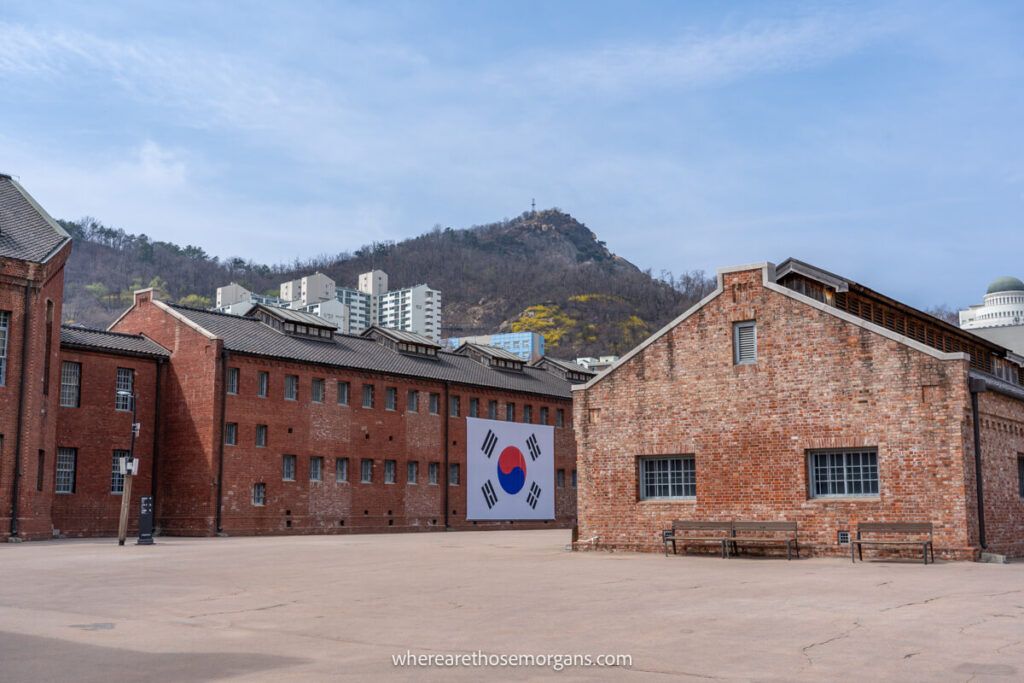 30. Seodaemun Prison
Opened in 1908 as Gyeongseong Prison, the Seodaemun Prison was used to imprison independence activists during the Japanese occupation until the liberation of Korea in 1945.
While the Seodaemun Prison is not one of the top attractions in Seoul, it is definitely worth visiting because it commemorates the ideals of peace and freedom in Korea.
Visitors will walk through numerous exhibition halls, prison buildings, labor buildings and many other sites used during these hard times.
Subway Stop: Dongnimmum Station (line 3, exit 5)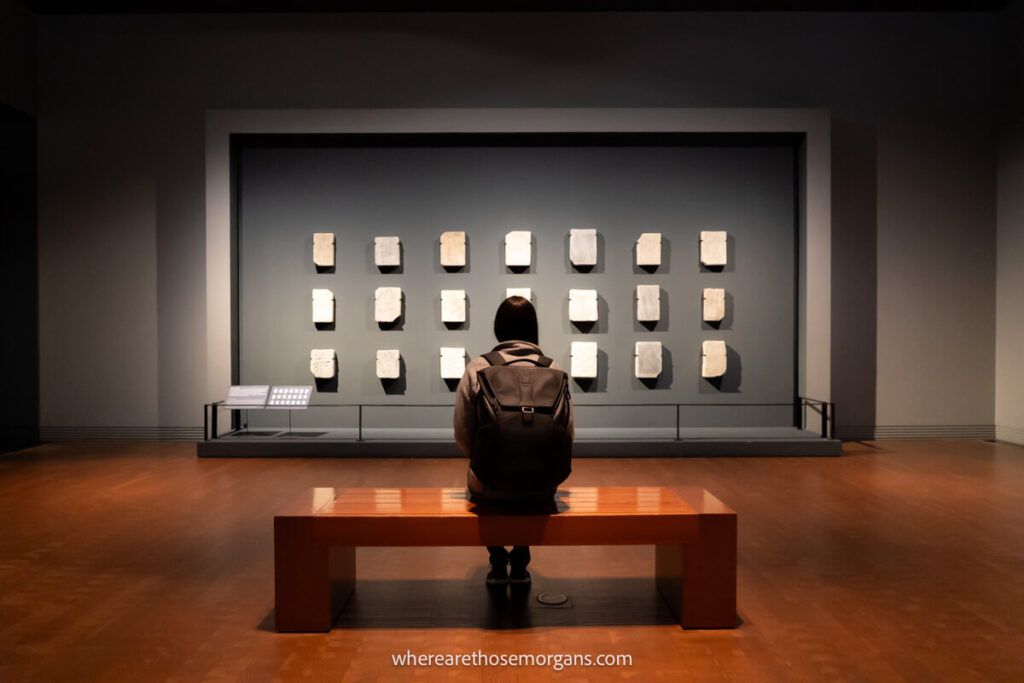 31. National Museum of Korea
Established in 1945, the National Museum of Korea should be at the top of your Seoul bucket list because it is the most extensive museum in Republic of Korea.
This large museum has 6 galleries showcasing:
Prehistoric and ancient history
Medieval and early modern history
Donated works
Calligraphy and painting
Asian art
Sculpture and crafts
The National Museum of Korea is free to visit. We highly recommend you give yourself several hours to explore this very well done museum.
Subway Stop: Ichon Station (line 4, exit 2)
Travel Tip: Guided tours are available almost every day in Korean, English, Chinese, and Japanese beginning on the first floor near the Korean Empire Gallery. French is also available on Saturdays.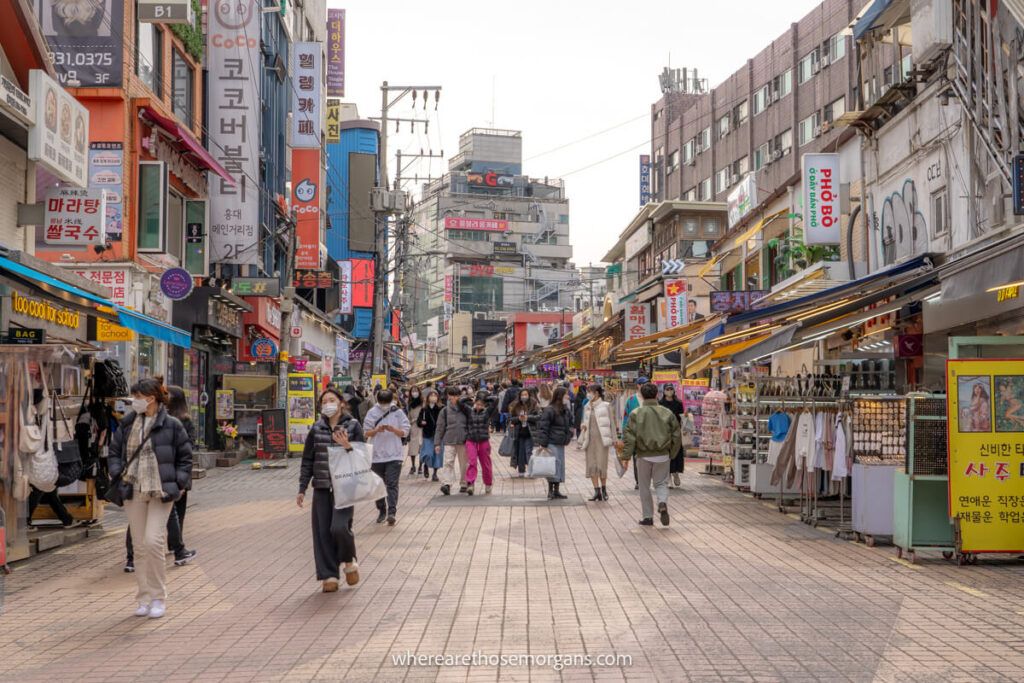 32. Explore The Fun Streets Of Hongdae
Hongdae is located near Hongik University which is very well known for its fine arts program. So it should come as no surprise that the neighborhood of has an extremely creative vibe.
Hongdae is an a lively area with street performers and its intricate alleys are filled with restaurants, shops, clubs and pubs. You can also find amazing street food options in numerous places throughout Hongdae.
If you are visiting Seoul for the first time, check out the Kakao Friends Hongdae flagship store or take a walk down Hongdae Mural Street.
Looking for a hotel in Hongdae? Search for the best hotels in Hongdae on our sister site.
33. Stroll Through Myeongdong's Walking Street
Another great thing to do in Seoul is experience the epicenter of the fashion world along Myeongdong's Walking Street. It can be compared to Orchard Road in Singapore or Bukit Bintang in Kuala Lumpur.
There are hundreds of shops, bars and restaurants hidden within the intricate alleyways. Visitors will find everything from high end boutiques to international brands.
We love this famous shopping and fashion district because many sections are pedestrian friendly. This means you won't have to contend with cars and you can explore with a bit more freedom.
Every night, you can also head to the Myeongdong Night Market that begins around 3pm and lasts until 11pm. But we recommend you arrive on an empty stomach to make the most of your visit!
Looking for a hotel in Myeongdong? Read about the best hotels in Myeongdong on our sister site.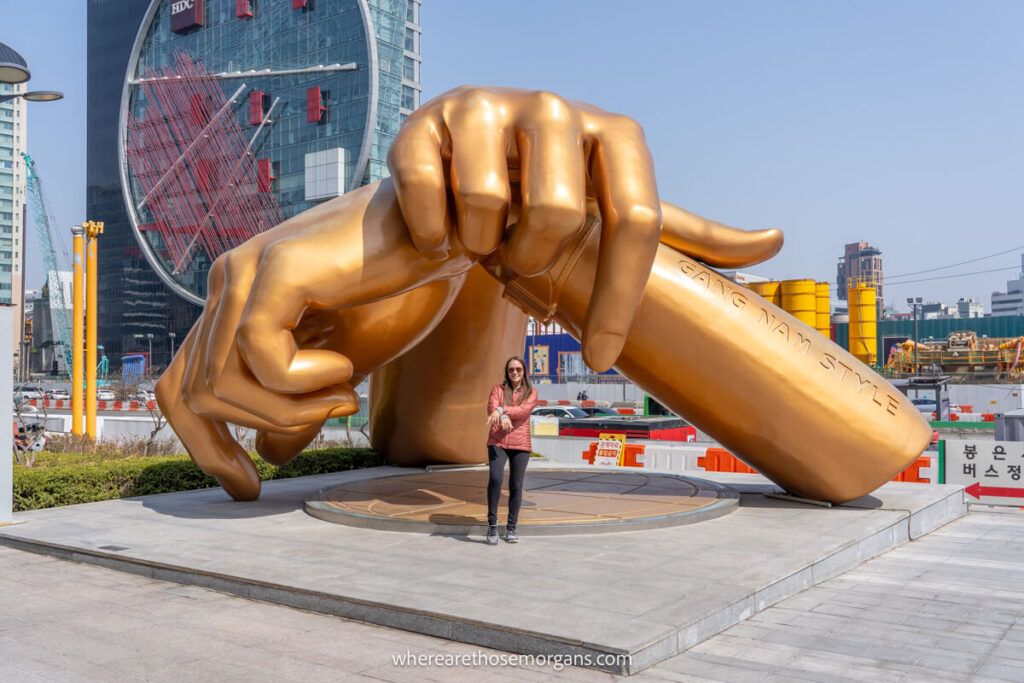 34. Visit Gangnam
Made popular by the song Gangnam Style in 2012, this is the hip and trendy neighborhood in Seoul. It is well-known for it's luxury department stores featuring Chanel, Louis Vuitton, Dior and Gucci.
But there are more things to do in Gangnam than just shopping. Visitors can stroll down K-Pop Avenue to see the colorful teddy bears or stop by the Bongeunsa Temple. Gangnam has something for everyone.
Looking for a hotel in Gangnam? Check out the best hotels in Gangnam on our sister site.
35. Ihwa Mural Village
In 2006, the Naksan Cultural Project helped to rehabilitate a poor neighborhood that was set for demolition by creating the Ihwa Mural Village with local artists.
The result was almost instantaneous as artists transformed the village with sculptures, colorful mural paintings and mosaics on walls as well as staircases to make it a wonderful place to visit in Seoul.
But this painted village did come with a bit of controversy. Due to the increase in foot traffic and noise volume, the local residents often found themselves dealing with inconsiderate tourists.
In 2016, two of the popular murals, the flowers mosaic and the koi fish staircase were painted over by local residents in protest for visitors littering and being rude in the village.
Travel Tip: Please remember to be respectful and keep noise levels down when visiting Ihwa Mural Village as many people live in the surrounding area.
Subway Stop: Hyehwa Station (line 4, exit 2)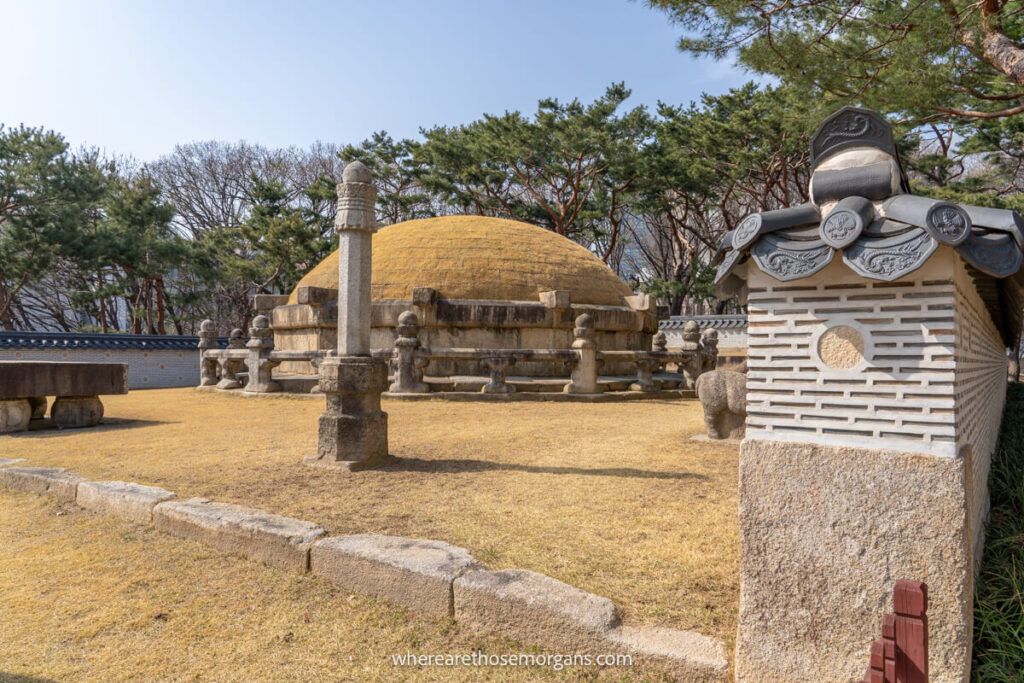 36. Royal Tombs Of The Joseon Dynasty
Now part of a UNESCO World heritage Site, the Royal Tombs of the Joseon Dynasty are a must visit when in Seoul because they contain the kings and queens in areas of outstanding natural beauty.
These royal tombs include a collection of 40 tombs scattered over 18 locations, but you won't need to visit all of these places. The Seolleung and Jeongneung Royal Tombs can be found right in Seoul.
The Seolleung Royal Tomb belongs to King Seongjong, the 9th ruler of Joseon and his third consort, Queen Jeonghyeon. While the Jeongneung Roy Tomb belongs to King Jungjong, the 11th ruler of Joseon.
Subway Stop: Seolleung Station (line 2, exit 10) or Seonjeongneung Station (line 9, exit 3)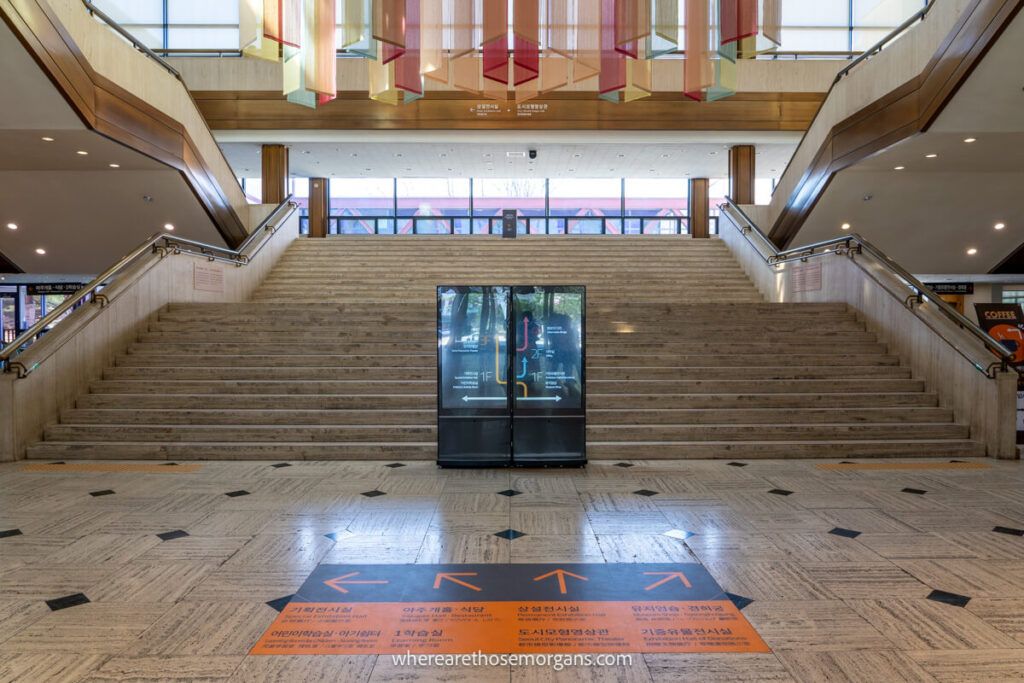 37. Seoul Museum Of History
Another museum to add to your list of things to do in Seoul is the Seoul Museum of History. Opened in 1985, this museum showcases the history and culture of Seoul from the Joseon Dynasty to present day.
The Seoul Museum of History is located right next to Gyeonghuigung Palace so it can be easily visited in tandem with the famous royal palace.
In this museum, visitors will experience 600 years of Seoul in the permanent exhibition hall and these are divided into 5 main zones:
Establishments of the Joseon Capital
Taking Traditions Forward with Aspirations for an Imperial Capital
Shades of Modern Urbanization
Rising from the Ashes to become a Metropolis
Seoul Today and Tomorrow
Travel Tip: The Seoul Museum of History is free to visit.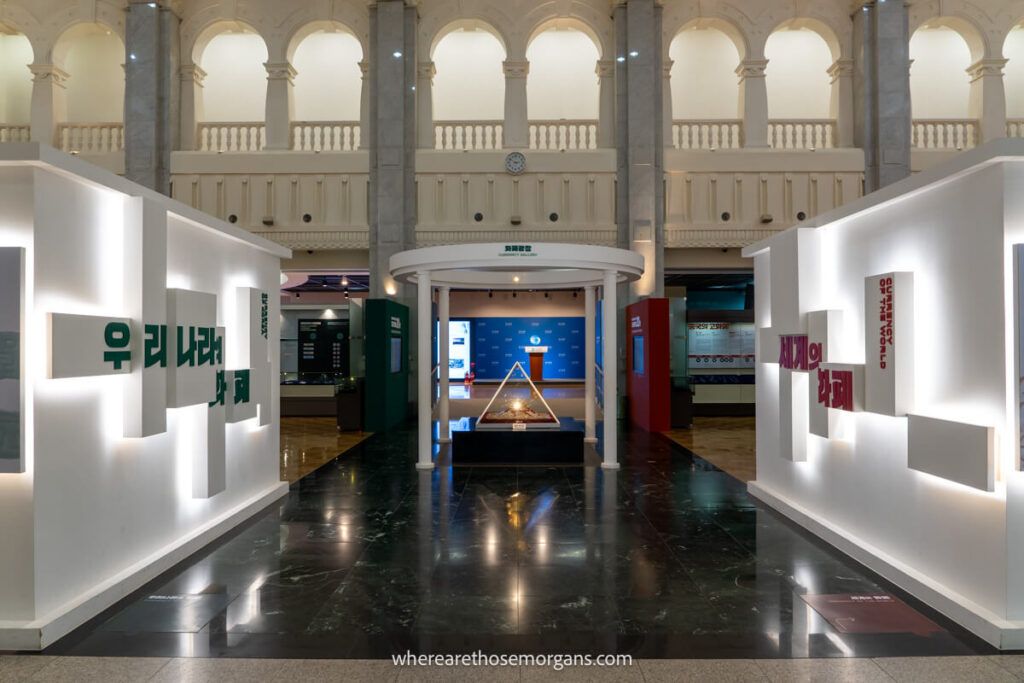 38. Bank of Korea Money Museum
The Bank of Korea Money Museum is one of the cool things to do in Seoul because this free museum showcases interesting displays about currency through the years.
With three floors to visit, there is no shortage of things to see in the Bank of Korea Money Museum. Audio guides are also available in Korean, English, Japanese and Chinese.
We love how this museum not only focused on Korean currency, but on how money has changed over time. As travel bloggers, we thought the currency from around the world exhibit was a must see!
Travel Tip: Find the replica vault and play with the interactive exhibits to experience how heavy money can be. Think you could carry a lot of money out of the vault?!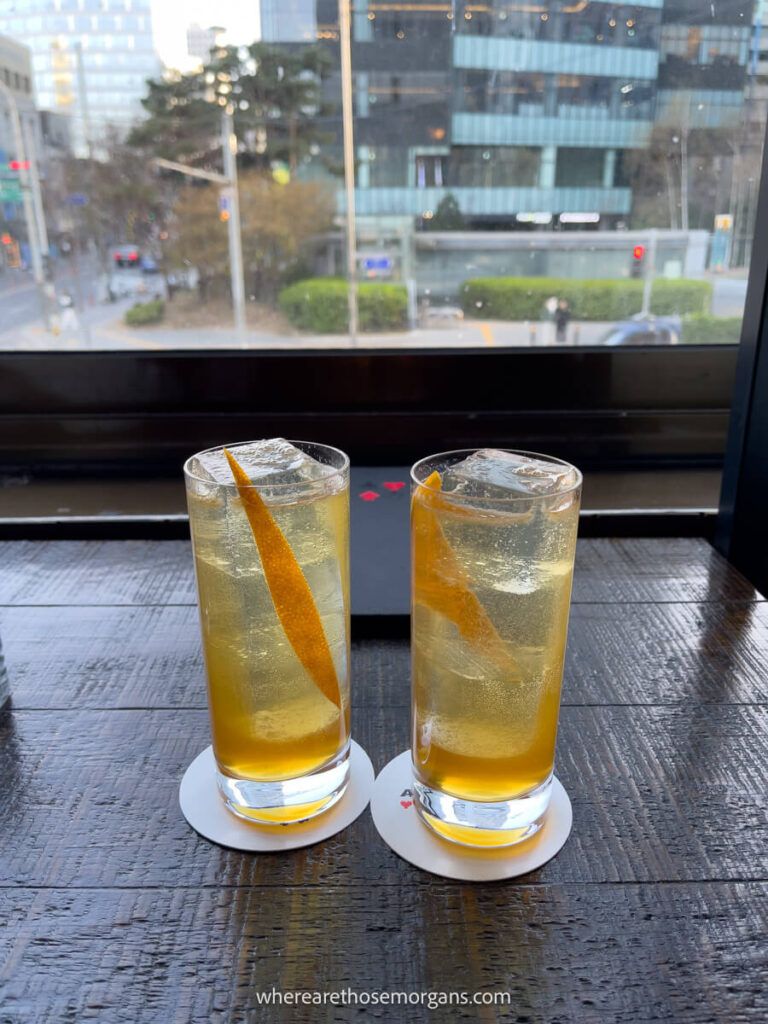 39. Sip On A Drink In A Fancy Cocktail Bar
Seoul's nightlife is one of the best in Asia and it's easy to see why. There are numerous clubs, bars and cocktail bars in every neighborhood just waiting for you to enjoy.
Personally, we think visiting the cities cocktail bars is one of the fun things you can do in Seoul with friends and we couldn't help slipping into a few ourselves in between sightseeing.
Here are some of Seoul's most popular cocktail bars:
You don't have to travel far to find a cocktail bar so if you won't be traveling to any of these locations, ask the locals or check out this popular Seoul Pub Crawl.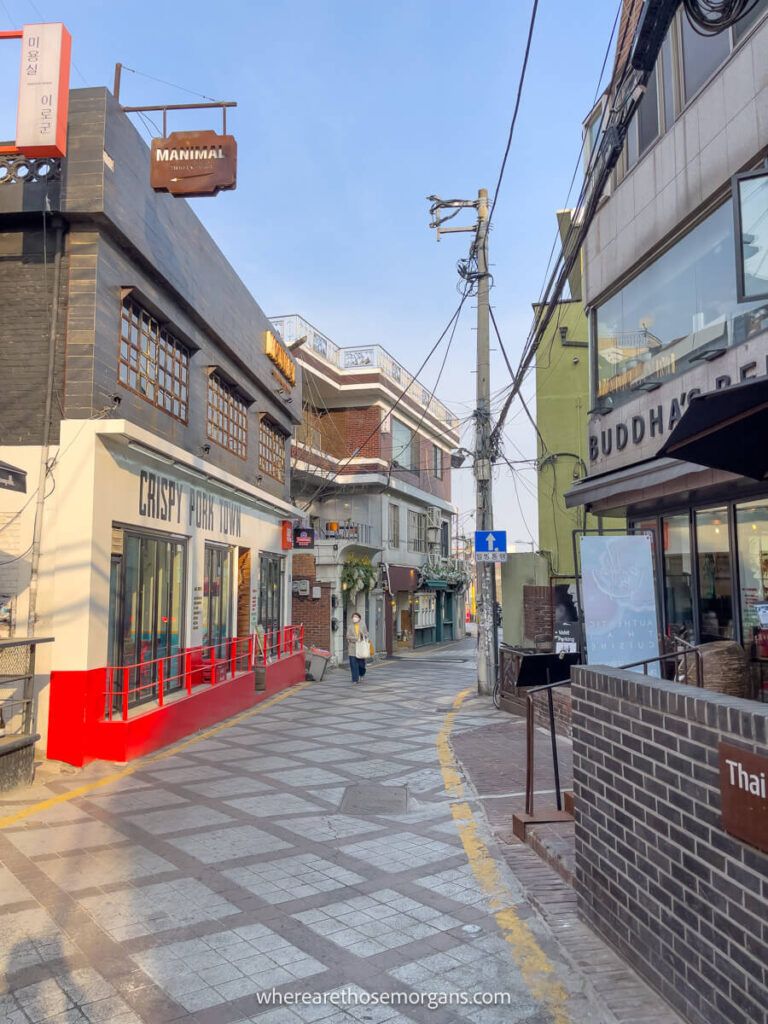 40. Itaewon
Designated in 1997, Itawan was the first official tourist zone in Seoul. This was meant to be a multicultural place where expats and foreigners lived.
Itaewon has since become a popular travel destination for both shopping and activities. The streets are crowded with shops, restaurants, hotels and entertainment facilities.
However, a deadly crowd crush occurred in Itaewon during October 2022 killing more than 150 people. This area has now gone very quiet.
Itaewon is in mourning and when we visited Itaewon in March 2023, there was barely anyone in the streets. A temporary memorial has been set up in front of Seoul City Hall in honor of the victims.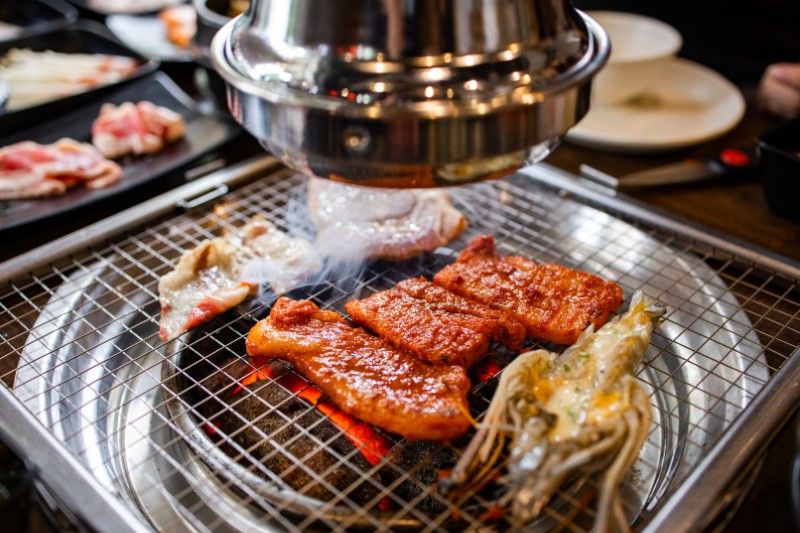 41. Try Korean BBQ
One of the best things to do in Seoul, South Korea is experience a Korean BBQ. This involves marinated meat cooked over a hot bbq which is often placed in the middle of a table.
Typical meat cuts in a Korean BBQ include very tender pork or beef belly, brisket, prime rib and short ribs. These cuts are then marinated in soy sauce, toasted sesame oil or gochujang prior to grilling.
Cooking the meat right at the table is part of the entire experience and it is often enjoyed with many people. So grab your friends, travel partners or family and sit down for a Korean BBQ in Seoul.
Viator offers tours featuring Korean BBQ in Hongdae or a Secret Pub Experience with BBQ if you don't want to do all the planning yourself.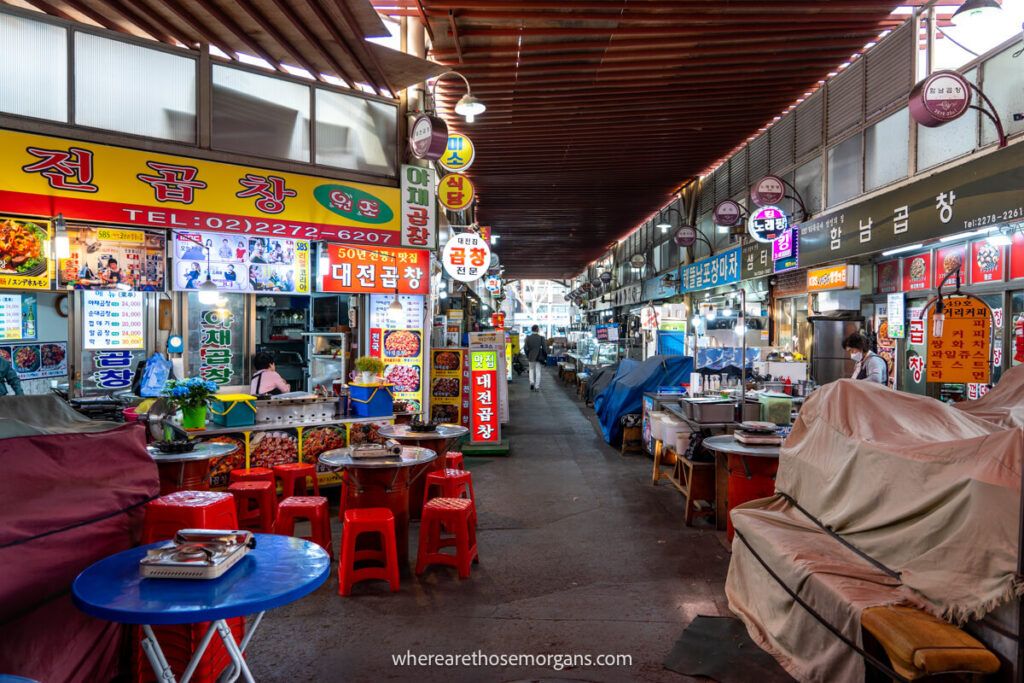 42. Take A Seoul Food Tour Or Cooking Class
Seoul is a foodies paradise between mouth watering street food, Korean BBQ, the Noryangjin fish market, hidden speakeasies and bustling markets. So where do you start?
Great question because this was something we struggled with during our time in Seoul. There is so much to eat and drink in this amazing city, it's difficult to give you just one answer.
Booking a food tour or taking a cooking class is one of the best ways to learn about Seoul culinary traditions from locals. Here are some of Seoul's popular food experiences: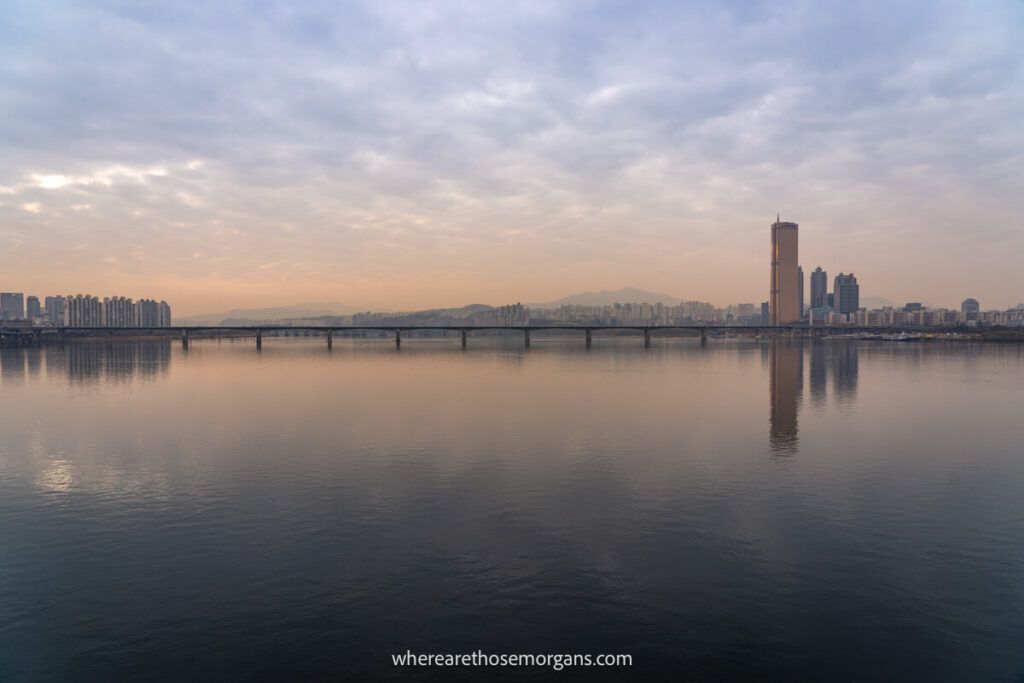 43. Cruise The Han River
A cruise along the Han River (also referred to as Hangang) is one of the best activities in Seoul, especially for first time visitors.
Cruises have been operated E-Land Cruise since 1986. Visitors can choose between a moonlight cruise, starlight cruise, sunset cruise, or the main Han River cruise package.
A night cruise along the Han River is certainly one of the most romantic things you can do in Seoul so surprise your loved one during their trip.
>> Book a Han River Cruise: Get Your Guide | Klook | Viator
44. Alive Museum
Located in Insadong, the Alive Museum is popular for it's fun optical illusions which make for unique social media posts.
With over 100 exhibits, you can explore interactive artwork including puzzles, challenges, trick art and the popular Dynamic Maze.
Klook offers the best price for Alive Museum admission with both museum and Dynamic maze admission options.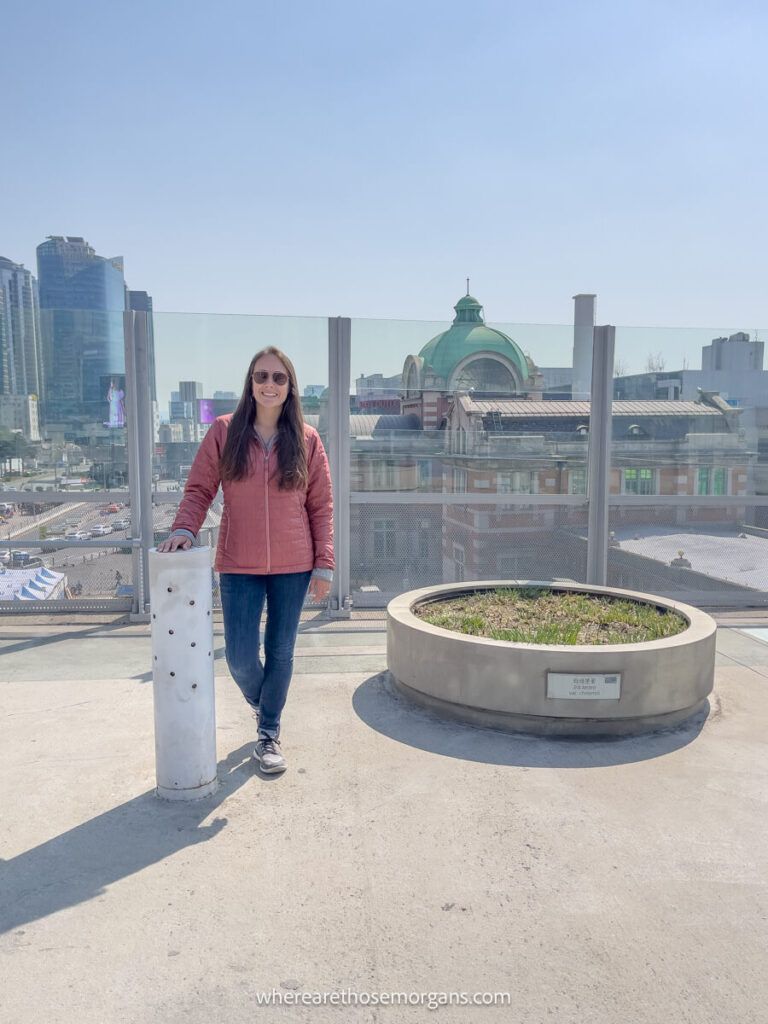 45. Seoullo 7017
Opened to the public in May 1027, the Seoullo 7017 was once an overpass for cars. But now it has been transformed in a gorgeous sky garden elevated high above the busy streets of Seoul.
Seoullo 7017 can be compared to the High Line in New York City, offering a walking path for both tourists and locals to visit attractions in the area.
We like visiting Seoullo 7017 after the sun sets because the sky garden is illuminated with blue lights.
46. Book A Seoul Tour
At the beginning of this Seoul travel guide, we mentioned the importance of grouping the must do Seoul attractions in the same area.
We have now listed 45 Seoul activities that are certainly worth your time when visiting the city. Many of these popular activities are included in day tours which can help you efficiently plan your Seoul itinerary.
Click on the links below to compare prices and explore popular tours in Seoul with our favorite companies:
Travel Tip: We found Klook typically offers the best prices for Seoul tours, but Get Your Guide and Viator sometimes offer unique tours you may not find on Klook.
Seoul Interactive Map
Here is our interactive map featuring all of the best things to do in Seoul we mentioned in this detailed travel guide. You can also access our interactive map for Seoul via this link here.
However, Google maps can be unreliable in this country because Google does not have access to geographical data in Korea. This is due to conflicts between the Korean government and security concerns.
We recommend you download KakaoMap (apple and android) so you can navigate your way through Seoul.
During our visit, we could load our Google Map, but it would never show us our exact location. Use our Seoul map to figure out where you need to go then use the KakaoMap to navigate.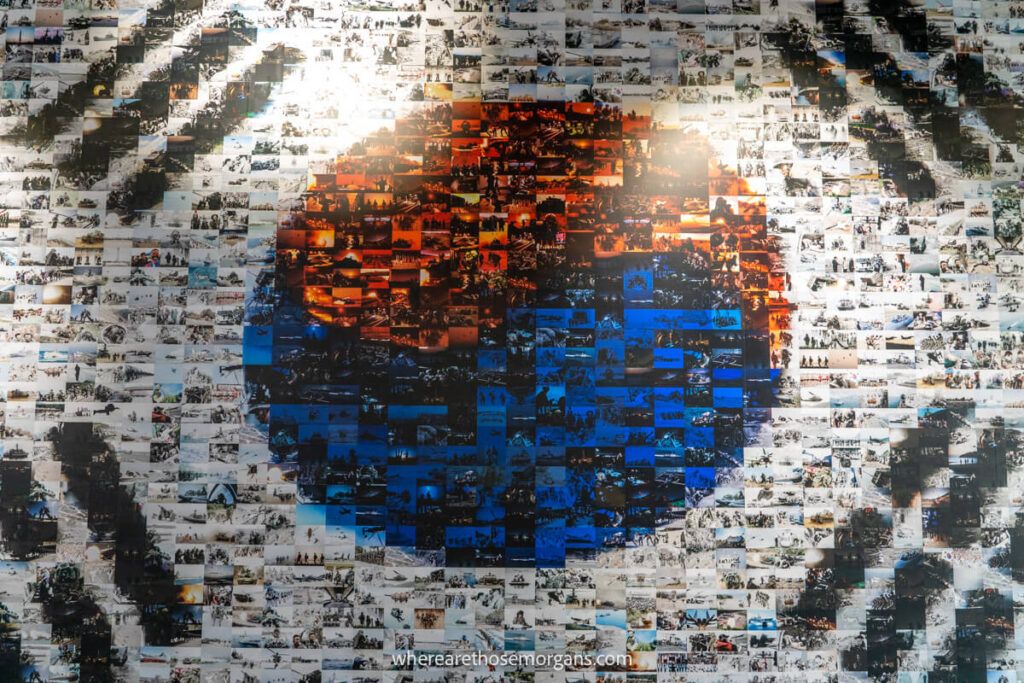 Things To Do In Seoul, South Korea FAQ's
Let's take a look at some of the most frequently asked questions about the best things to do in Seoul, South Korea.
What are the best things to do in Seoul on a first time visit?
First time visitors in Seoul should experience the War Memorial of Korea, the royal palaces of Seoul, tour the DMZ Zone, Lotte World Amusement Park, the Olympic Park, the Royal Tombs and one of the popular observations decks. Visitors should also stroll through Hongdae, Myeongdong, and Gangnam.
How many days do you need to visit Seoul?
3-5 days in Seoul is enough time to see the major highlights of South Korea's capital city. But this is a very large sprawling city which means attractions are not close together. Personally, we recommend anywhere from 6-8 days in Seoul to see the best of the city.
What is the best month to visit Seoul?
You can visit South Korea anytime of the year, but mid-March to April is extremely popular for cherry blossom season and the month of October is popular for peak fall foliage. Spring (March to May) and fall (September to November) are sunny seasons with comfortable temperatures making these the best months to travel through South Korea.
Our Popular Seoul Guides
Want more Seoul content? Head over to our South Korea Travel Guides to explore the very best of Seoul and beyond.
---
We hope this guide listing the must do things in Seoul helps with planning your visit to South Korea's capital city!
Please let us know if you have any questions about these Seoul tourist attractions or visiting Seoul below in the comments below.
Happy Travels,
Mark and Kristen
Enjoy This Seoul Activities Guide? Pin It For Your Visit!