Without a doubt, one of the best things to do in Seoul is to spend time exploring Gyeongbokgung Palace. These beautiful grounds are considered to be the main palace of the Joseon dynasty so you should not miss it.
Gyeongbokgung is one of the most popular attractions in South Korea's capital city. This large palace is not only one of the best ways to learn about the history of Seoul, but it's extremely picturesque.
In our Seoul travel guide, we will show you:
How to save money on your Gyeongbokgung Palace tickets
10 best things to see on the palace grounds
Tips for your visit to make the most of your time
Our personal photos of Gyeongbokgung Palace
Now, let's explore Gyeongbokgung Palace!
*Please note this post may contain affiliate links. If you click on one, we may earn a small commission at no extra cost to you. Thank you for supporting the free content we provide! Read more in our disclosure policy.*
Our Seoul Experience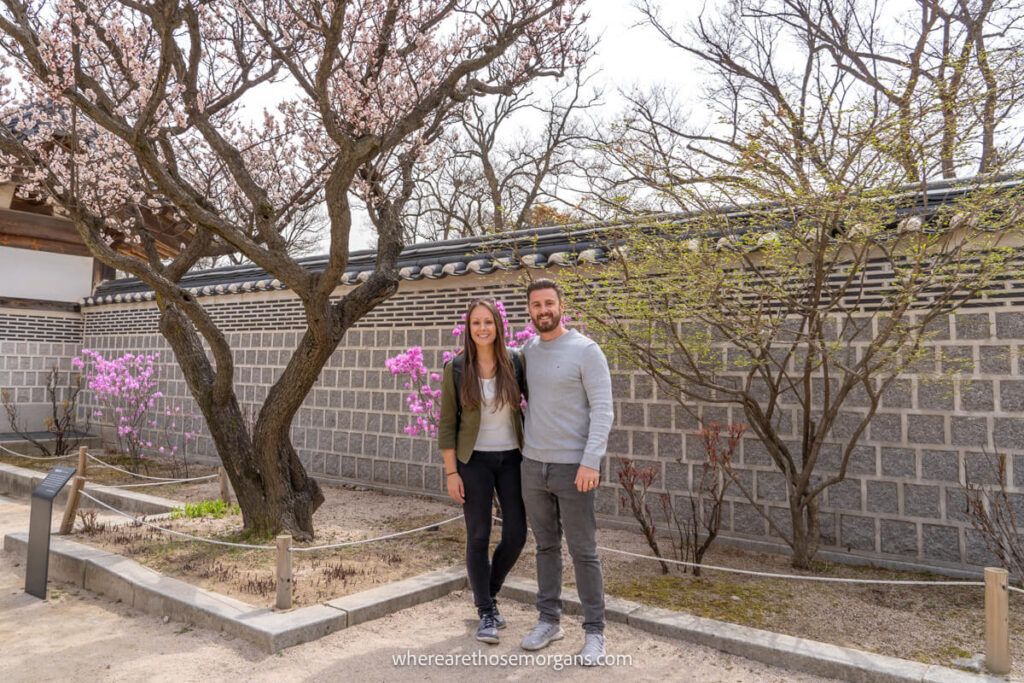 We spent two weeks exploring Seoul in March 2023 after the covid lockdowns. Our goal is to bring you the most up to date info on Seoul so you can plan the best trip possible.
We personally visited Gyeongbokgung Palace during our Seoul trip. This guide features everything we learned and includes tips for your visit.
There are five main palaces in Seoul and they are each different in their own way. If you can fit it into your Seoul itinerary, we highly recommend visiting all the palaces.
But if you are short on time, Gyeongbokgung Palace is the best place to start because this is the largest palace in South Korea's capital city.
What Is Gyeongbokgung Palace?
Originally built in 1395, Gyeongbokgung Palace was the principal royal palace established for the Joseon Dynasty (1932-1910).
Often known as the Northern Palace, it was built between Baegaksan Mountain to the north and present day Sejong-deoro to the south.
Sadly Gyeongbokgung Palace has been destroyed several times since it was originally built by numerous Japanese invasions with the last occupation occurring from 1910-1945.
However, in 1990 a full fledged restoration project helped to create and rebuild the stunning palace we can visit today.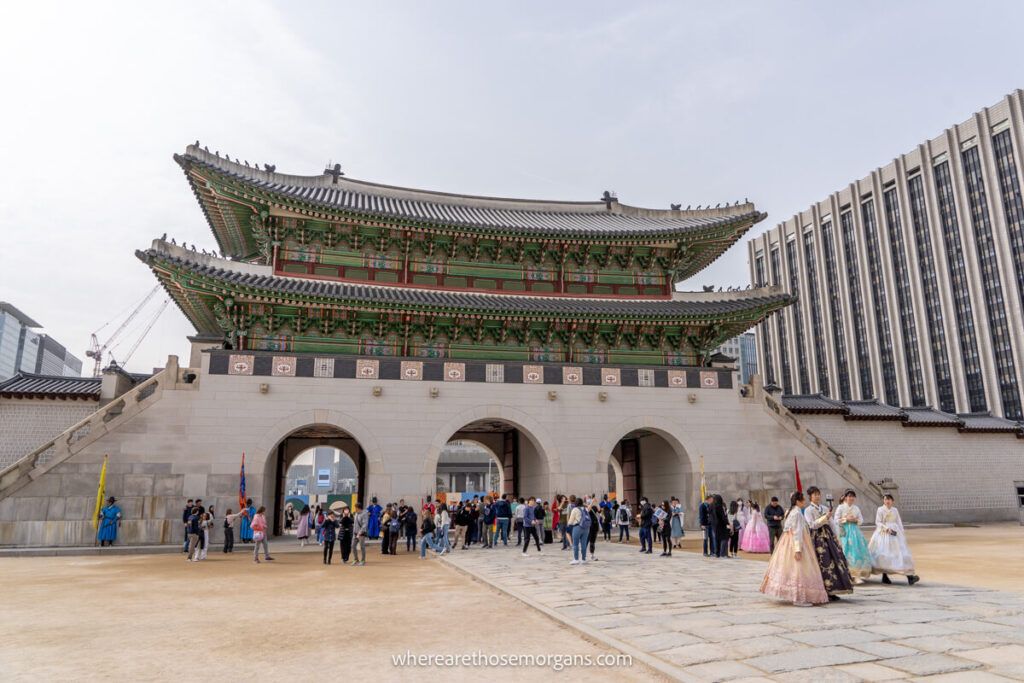 How To Get To Gyeongbokgung Palace
The biggest palace in Seoul is located in the northern part of the city. Here are the best subway stations for visiting Gyeongbokgung Palace:
Gyeongbokgung Palace Station (line 3, exit 5)
Gwanghwamun Station (line 5, exit 2)
Gyeongbokgung Palace in Seoul is open every day of the week except Tuesday and it opens at 9:00am. But depending on the month of the year, the palace closes at different times.
Here are Gyeongbokgung Palace times throughout the year:
Mar to May + Sep to Oct: 9:00 – 18:00
Jun to Aug: 9:00 – 18:30
Nov to Feb: 9:00 – 17:00
Travel Tip: The last admission to the palace is one hour before closing so make sure you give yourself enough time when visiting.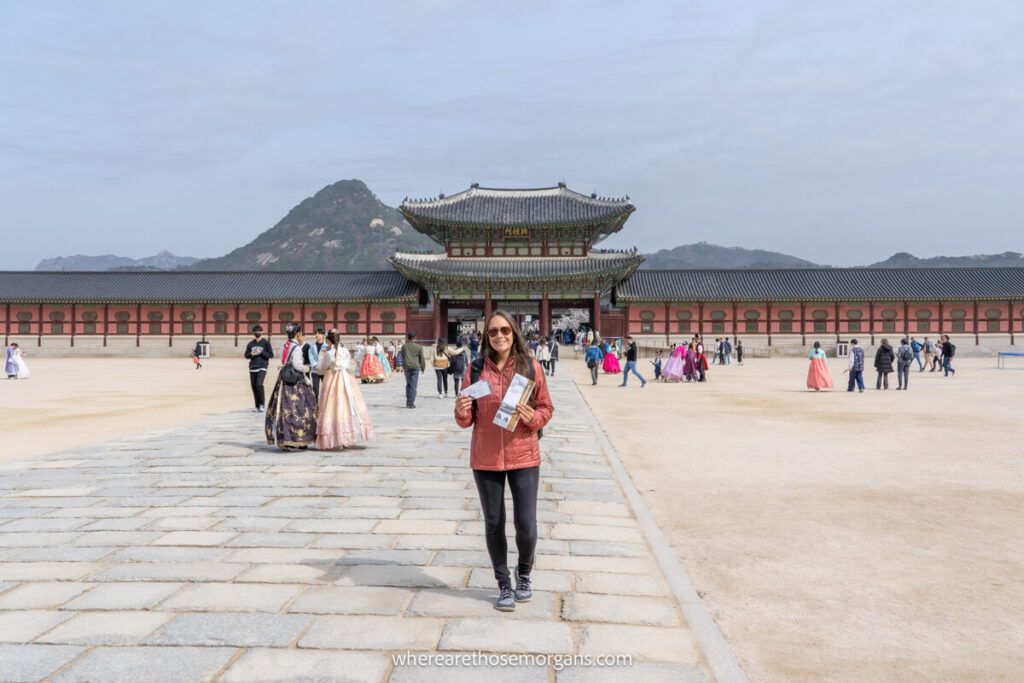 Gyeongbokgung Palace Tickets
Admission tickets for Gyeongbokgung Palace cost KRW 3,000 for adults (US$ 2.30), but only KRW 2,400 (US$ 1.86) with groups of 10 or more. This includes both Korean and non-Korean visitors.
Visitors over the age of 65 and children under 6 will gain free entry into Gyeongbokgung Palace.
Tickets can be purchased onsite in person or online by booking in advance on various websites. However, there are a few different ways you can save money when visiting Gyeongbokgung Palace.
We will discuss each option below: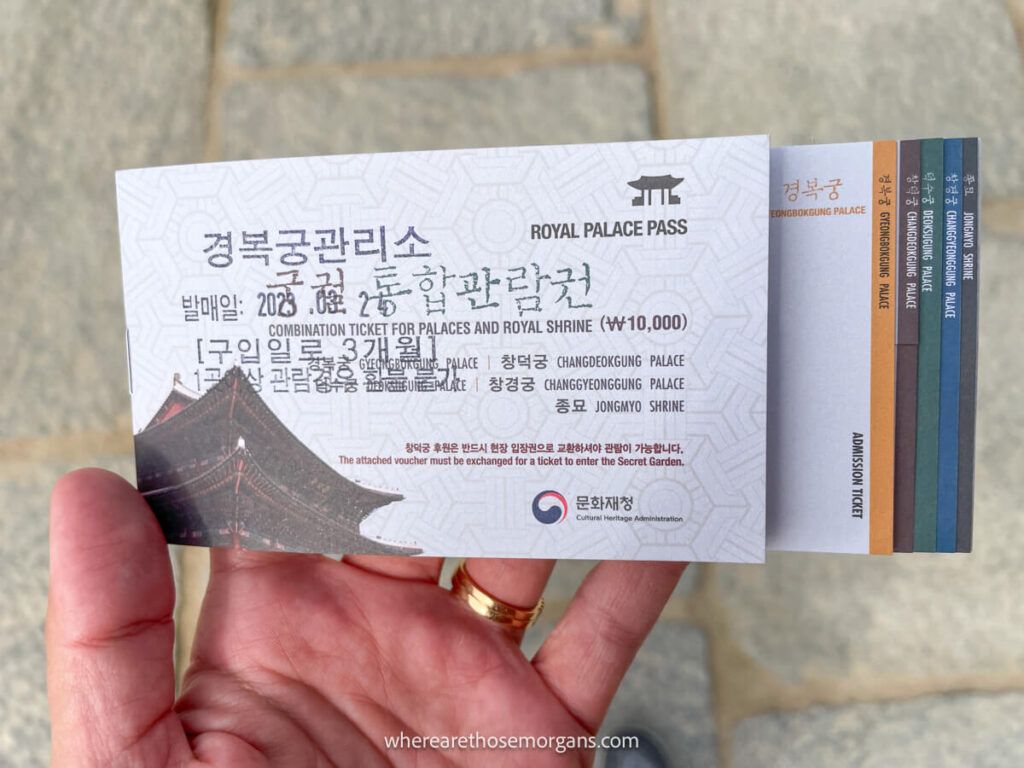 The Royal Palace Pass
We visited Gyeongbokgung Palace with our Royal Palace Pass which we recommend if you plan to visit multiple palaces in Seoul.
The Royal Palace Pass costs KRW 10,000 and it is valid for three months from the date of purchase. This pass can only be purchased onsite at any of the 4 palaces or shrine listed below:
Gyeongbokgung
Changdeokgung
Changgyeonggung
Deoksugung
Jongmyo Shrine
This is a great option for those who want to visit numerous palaces in Seoul, but if you want free admission there is another choice.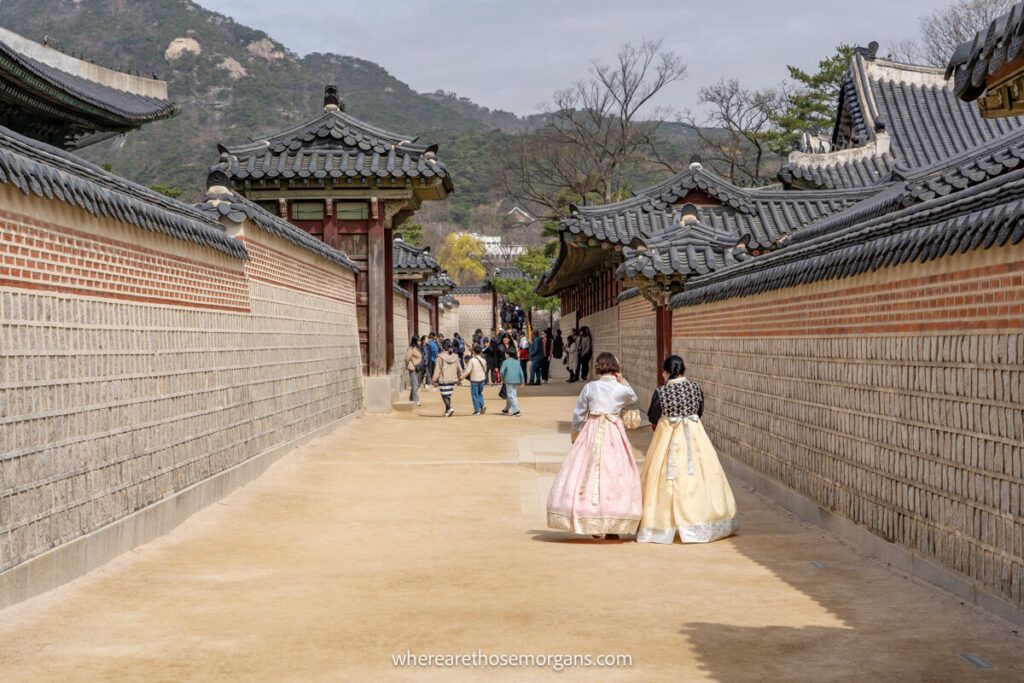 Hanbok Rentals For The Main Palace
Admission to Gyeongbokgung Palace is free for anyone wearing a hanbok which is traditional Korean clothing. When you visit the palace, you can expect to see numerous tourists dressed in hanboks.
It's also common for women to get their hair styled to wear with their hanbok. So if you want a memory to never forget, consider wearing a hanbok to Gyeongbokgung Palace.
This Hanbok rental is a very popular option or you can rent a premium hanbok if you are looking for something truly unique.
Travel Tip: Hanboks are typically rented by the hour or per day.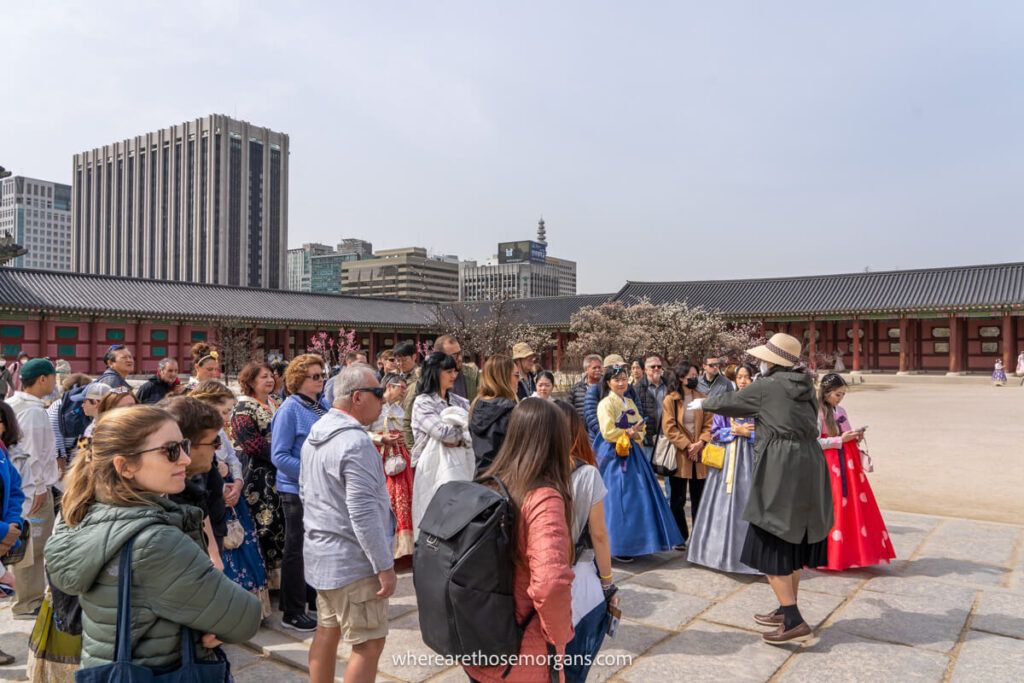 Popular Gyeongbokgung Palace Tours
When you visit Gyeongbokgung Palace, you can join a free one hour guided tour offered in numerous languages. You can check guided tour times here.
But there are also many popular tour options offered by various companies. Many of these tours offer admission to Gyeongbokgung Palace along with some of the best Seoul activities.
Here are popular Gyeongbokgung Palace tours:
10 Best Things To Do In Gyeongbokgung Palace
There are many beautiful buildings you should see when visiting Gyeongbokgung Palace because this is one of Seoul's main attractions.
Here is what to see at Gyeongbokgung Palace: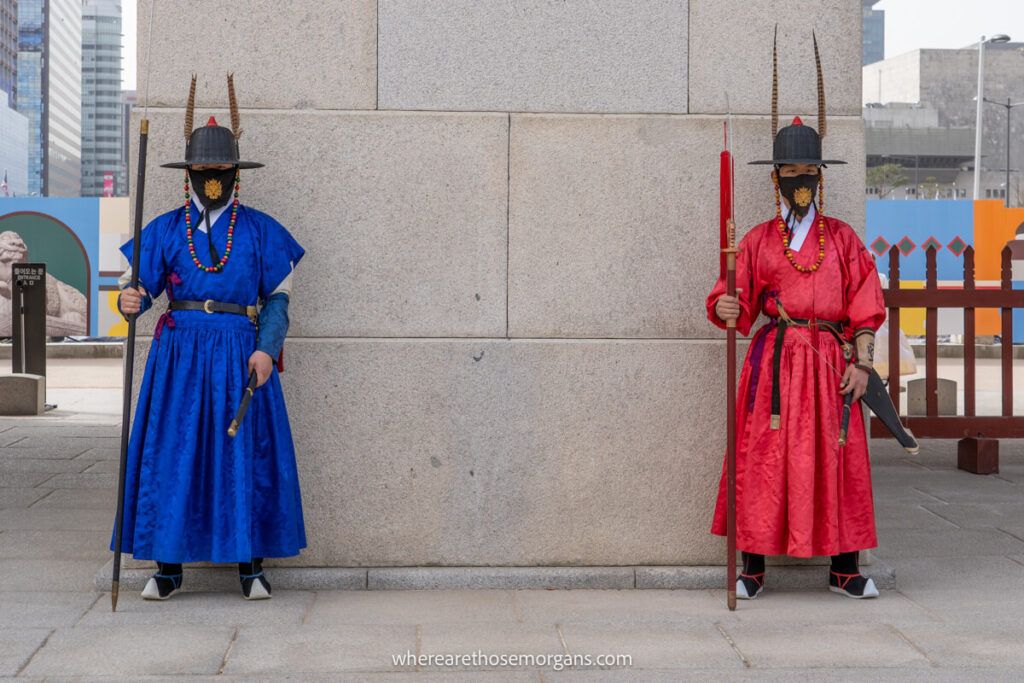 1. Changing Of The Palace Guard
One of the best things to see at Gyeongbokgung Palace is changing of the guards. There are two different ceremonies you can see at the palace.
The first is the guard duty performance which occurs outside of Gwanghwamun Gate. This ceremony takes place at 11:00 and 13:00.
Another is the changing of the palace guard ceremony which happens in the square inside the Gwanghwamun Gate at 10:00 and 14:00.
We recommend you try to see at least one of these guard performances because they are done extremely well and help showcase South Korea's history.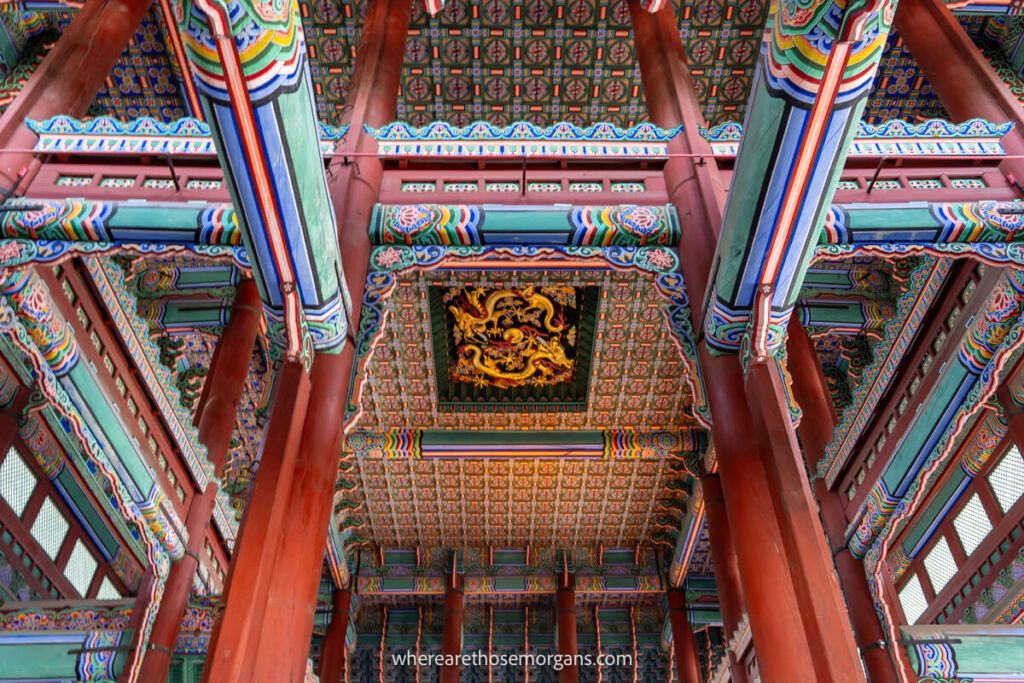 2. Geunjeongjeon Hall
Built for the sovereignty of the Joseon rulers, this main hall was used as a venue for official events such as coronation ceremonies, cabinet meetings and receptions of foreign envoys.
Seven of the twelve Joseon kings were enthroned at Geunjeongjeon Hall. This is also where high ranking officials were assembled to pay respect to the king.
The original Geunjeongjeon Hall was built in 1394, but it was burnt down by the Japanese in 1592. The building you can see today was rebuilt in 1867.
Travel Tip: This is one of the most crowded locations in the palace so if it's busy continue your tour and return when the crowds subside.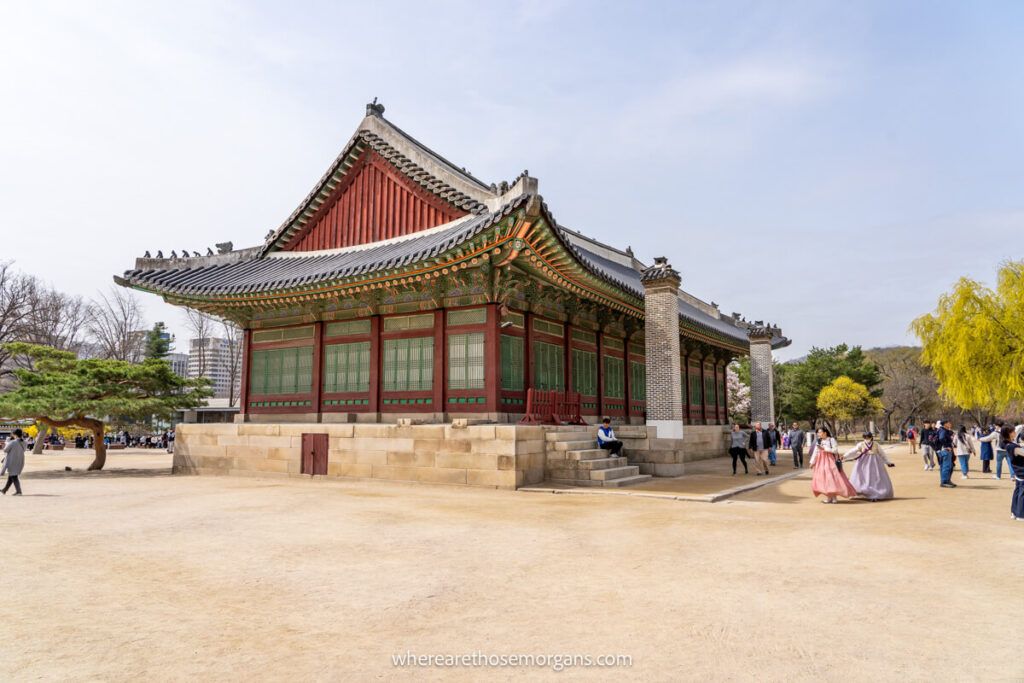 3. Sujeongjeon Hall
The Sujeongjeon Hall is not to be missed because it is the only surviving building of all the government offices on the grounds of Gyeongbokgung Palace.
We learned this area once contained a building known as Jiphyeonjeon. This is where the Korean alphabet and writing system was invented during the reign of King Sejong (1418-1450).
It is the largest among all the private quarters at Gyeongbokgung Palace and the current hall we see today was built in 1867.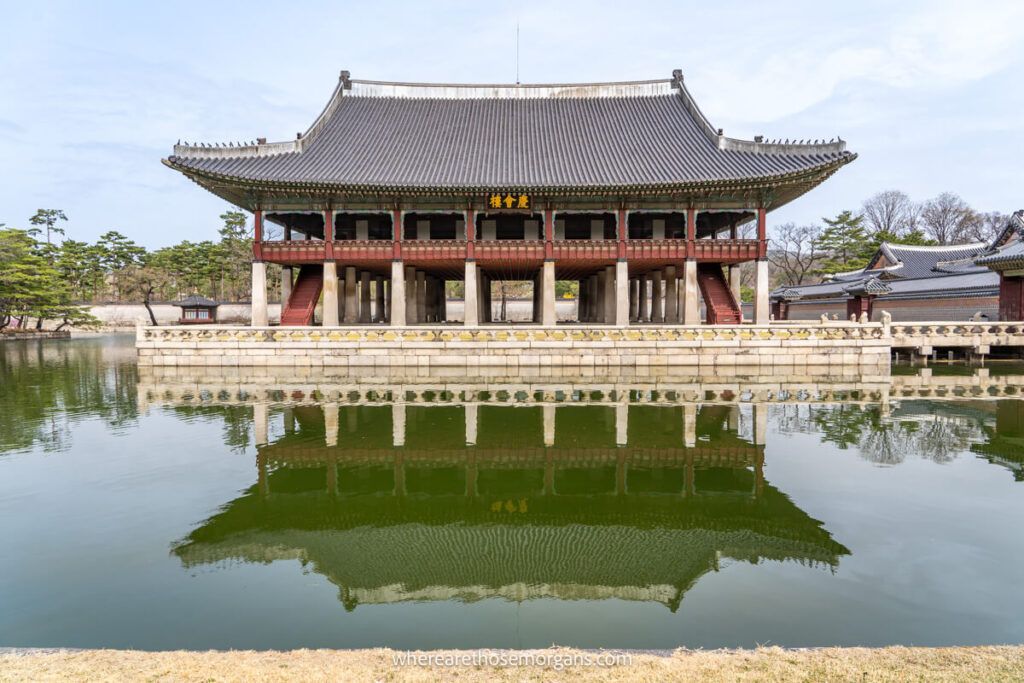 4. Gyeongheoru Pavilion
Gyeongheoru Pavilion is located on a man-made lake in the western part of the palace. The pavilion was used for royal banquets, receptions, final state examinations and religious rituals.
Originally built as a small pavilion, the structure was enlarged in 1412. But much like many of the buildings in the palace, it was destroyed by fire in 1592 from the Japanese invasion and rebuilt in 1867.
Today, Gyeongheoru Pavilion is still in use for special functions. There are 48 stone pillars with intricate sculptures of with dragons which to help support the weight of the second floor.
Travel Tip: Gyeongheoru Pavilion is the largest elevated pavilion in Korea.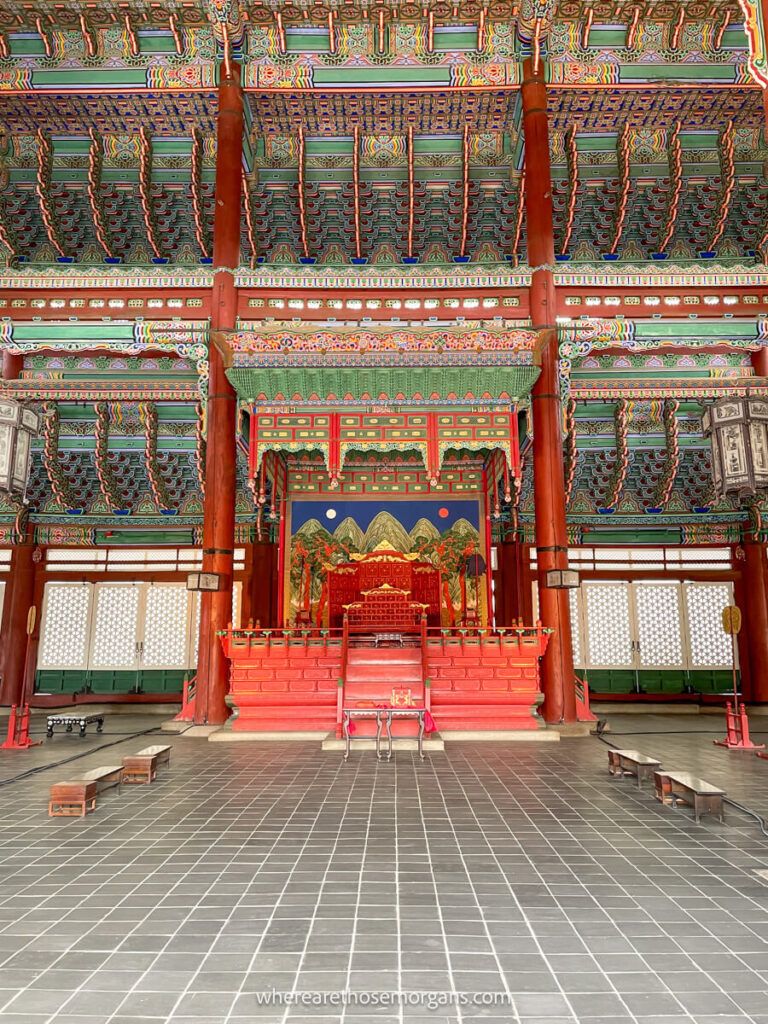 5. Sajeongjeon Hall
One of the most important buildings inside Gyeongbokgung Palace is Sajeongjeon Hall. This is where Joseon's rulers performed their daily duties.
Rebuilt in 1867, this is where the monarchs of the Joseon dynasty met with high ranking officials or attended lectures on state affairs.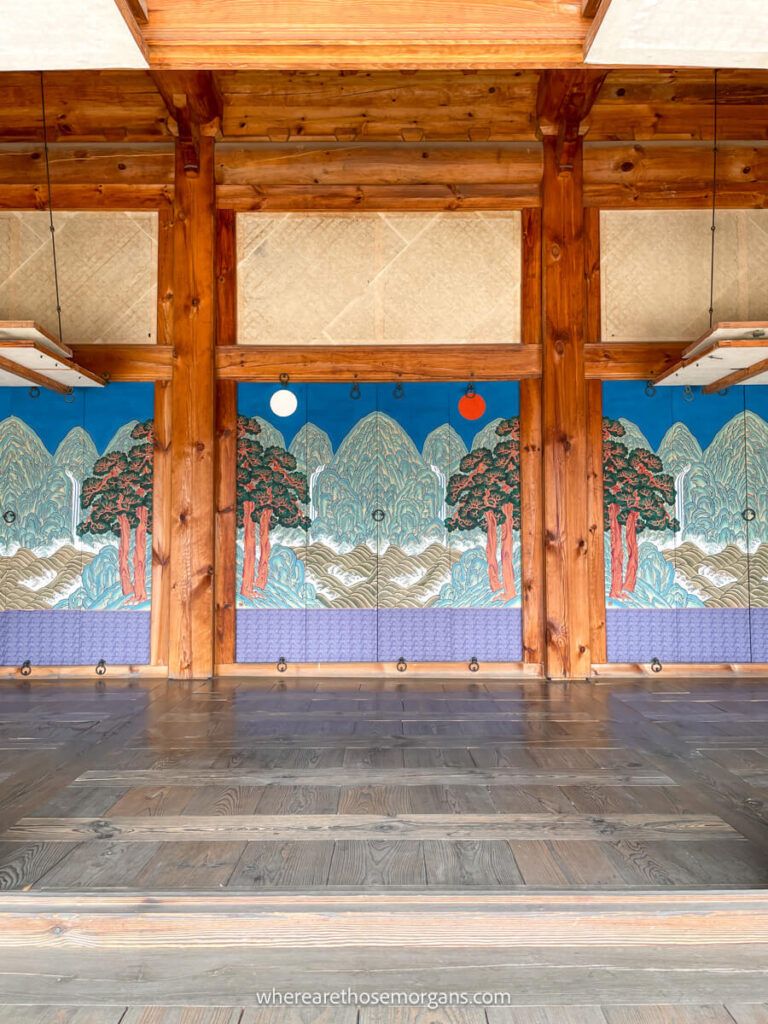 6. Gangnyeongjeon Hall
This hall originally served as the kings main living quarters including a private area where the king slept. It was also used for unofficial meetings, reading and refreshments.
The original Gangnyeongjeon Hall was burnt down in the Japanese invasion in 1592 and then restored in 1865. But the new building was dismantled in 1917 and taken to Changdeokgung Palace after a fire.
The Gangnyeongjeon Hall we can see today was restored in 1995.
7. Gyotaejeon Hall
Gyotaejeon Hall was the official residence of Joseon queen consorts. Their main duties included managing and supervising the royal household affairs.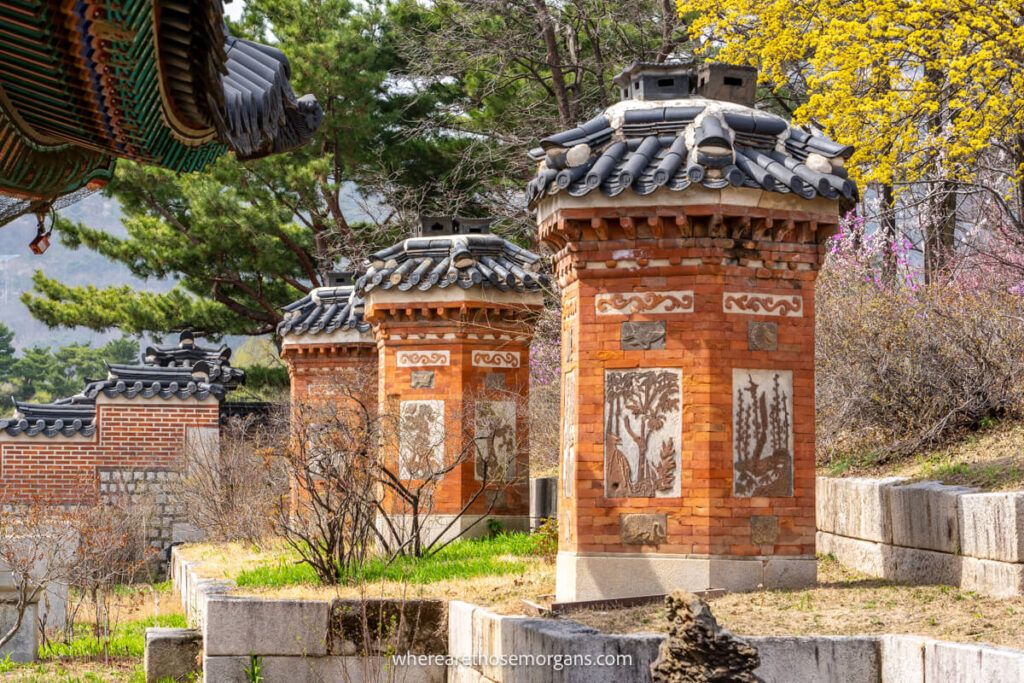 8. Chimneys In The Amisan Garden
Just behind the Gyotaejeon Hall, visitors can find the beautiful Amisan Garden. The highlight in this garden are the four chimneys and the gorgeous fine terraced flower beds.
Take note the four chimneys are hexagonal and decorated with symbolic plants or animals. Amisan Garden is a hidden gem inside Gyeongbokgung Palace so make sure you don't miss it.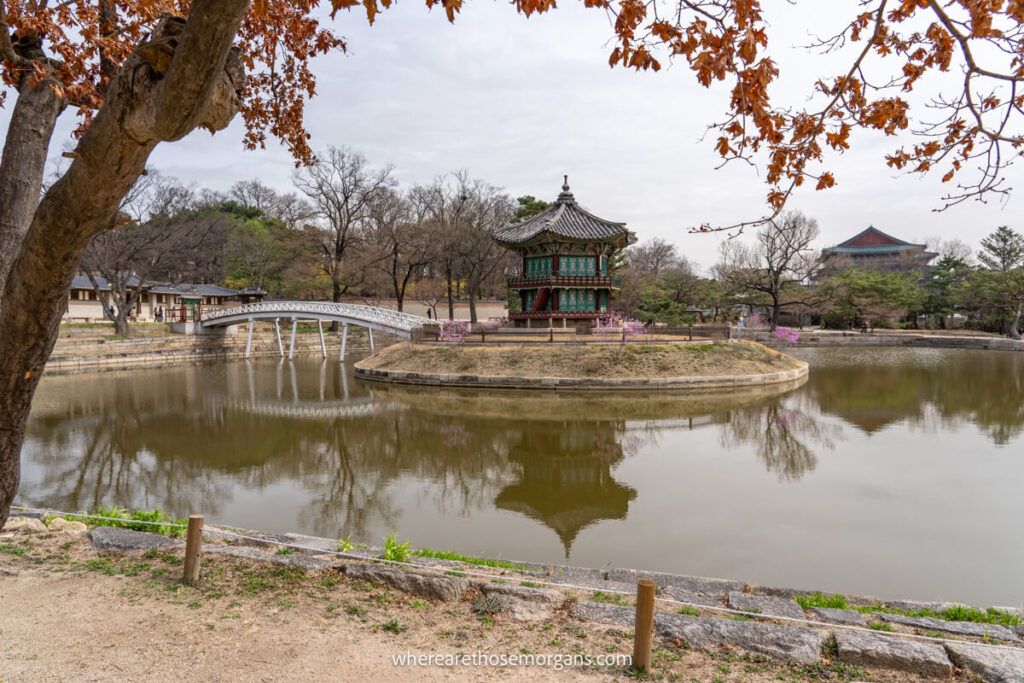 9. Hyangwonjeong Pavilion + Chuihyanggyo Bridge
Created in 1456, the Hyangwonji Pond is found in the rear garden of Gyeongbokgung Palace. Hyangwonjeong Pavilion sits on top of an artificial island in the center of the pond.
Visitors will often see beautiful carp and lotus flowers surrounding the pavilion. You will also find a wooden bridge connecting the island with the pavilion, but visitors are not allowed to cross the bridge.
One of the most popular times to visit the Hyangwonjeong Pavilion is in spring or fall when vibrant foliage is reflected in the water of Hyangwonji Pond.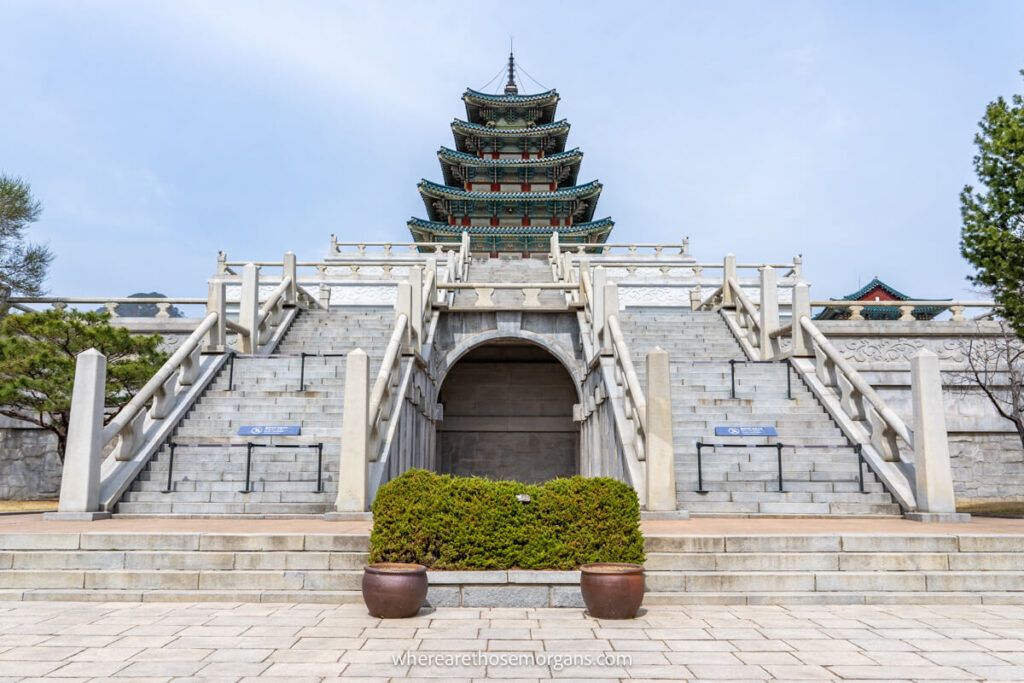 10. National Folk Museum Of Korea
Technically not inside the palace, but located just outside on the eastern side is the National Folk Museum of Korea. This museum showcases lifestyles, traditions and history of Korean culture.
The entire complex features three permanent exhibits along with two special exhibits, an open air exhibition and a children's museum.
Admission to the National Folk Museum of Korea is free with a Gyeongbokgung Palace ticket. You can join a free guided tour at 10:30 and 14:30 in front of Exhibition Hall 1.
Is Gyeongbokgung Palace Worth Visiting?
Yes, the Gyeongbokgung Palace is worth visiting because this was the main palace of the Joseon Dynasty.
Visitors will get to see where the queens and kings once lived and where they performed daily activities as they stroll through the gorgeous palace in a hanbok.
Our Gyeongbokgung Palace Photos
We enjoyed our visit to Gyeongbokgung Palace and took many photos. Here are a few of our favorite Gyeongbokgung photos: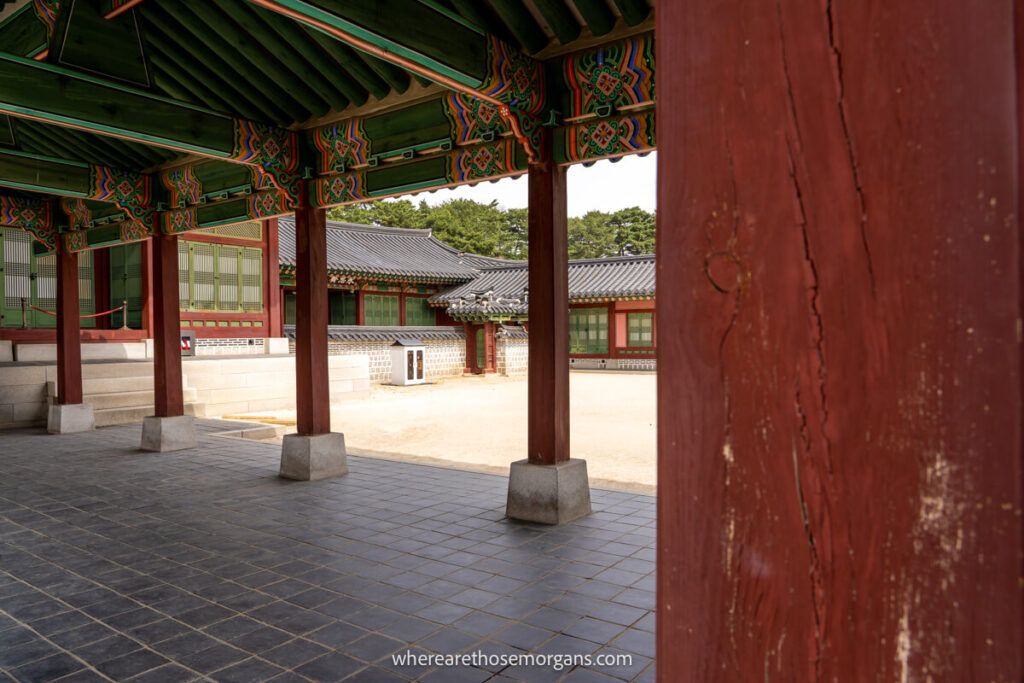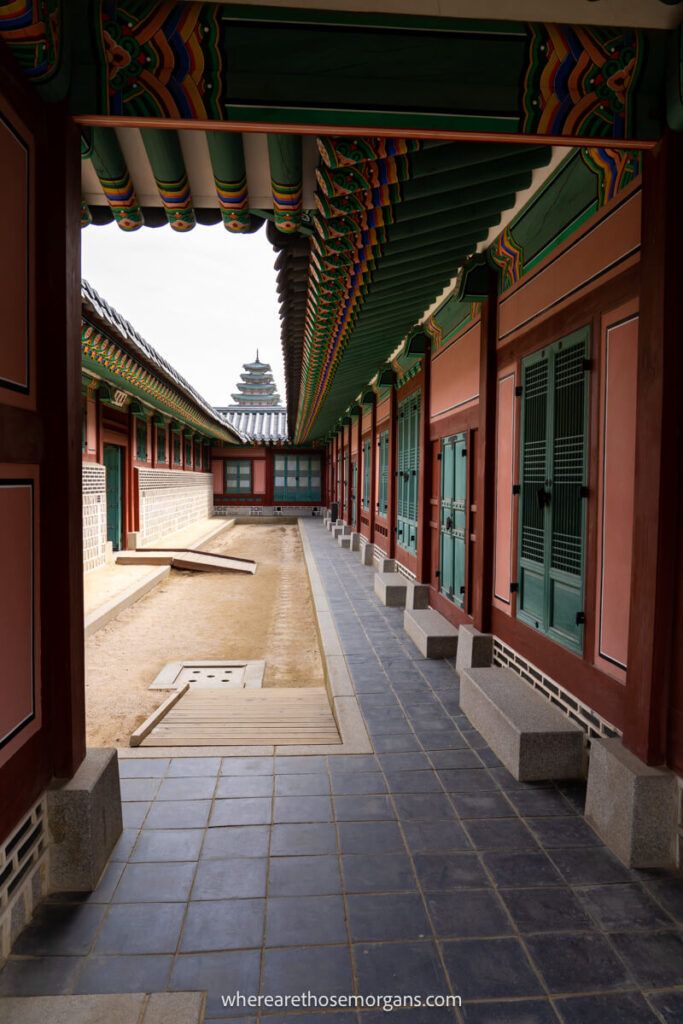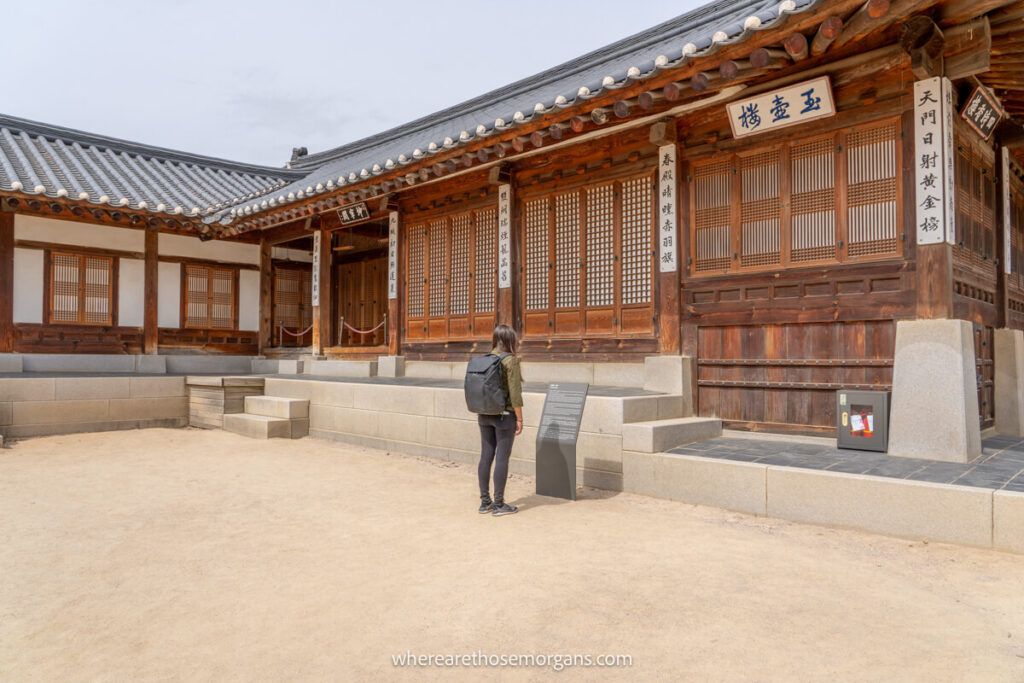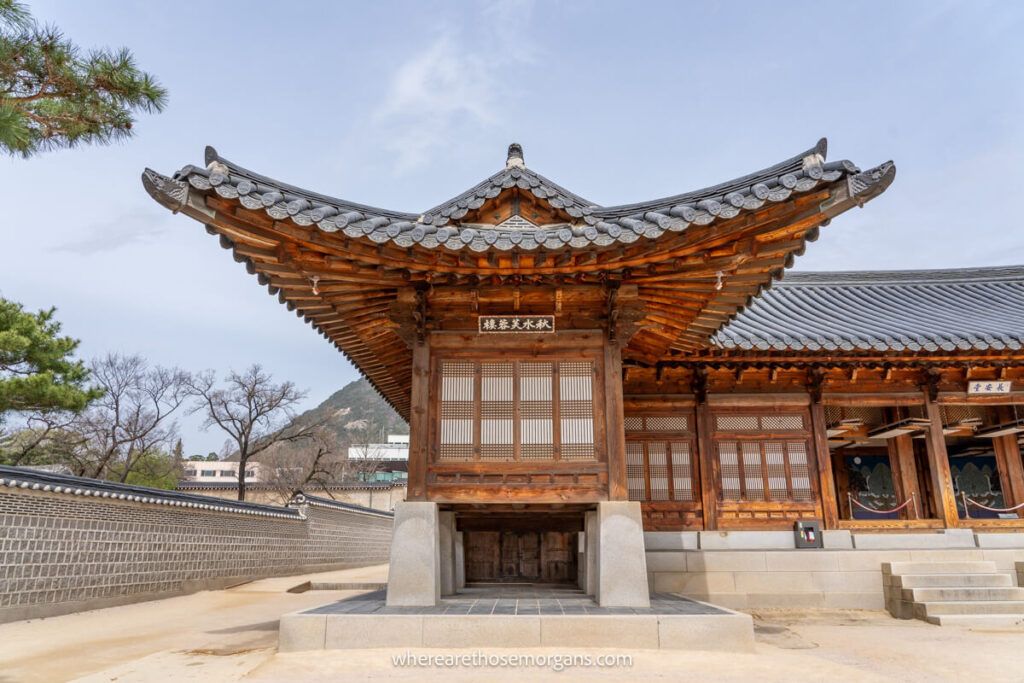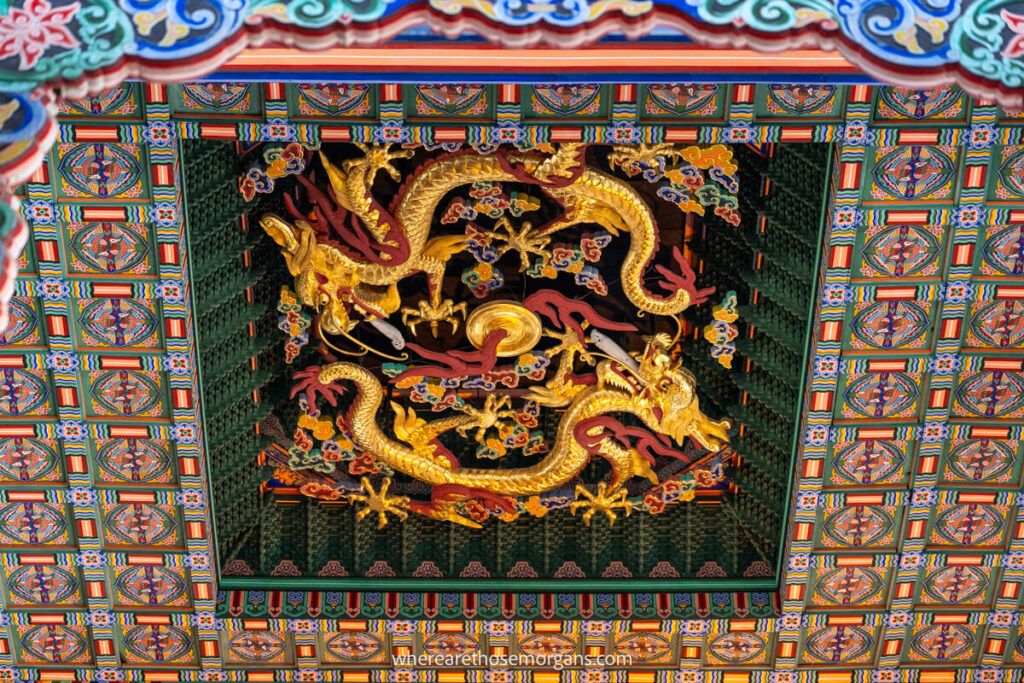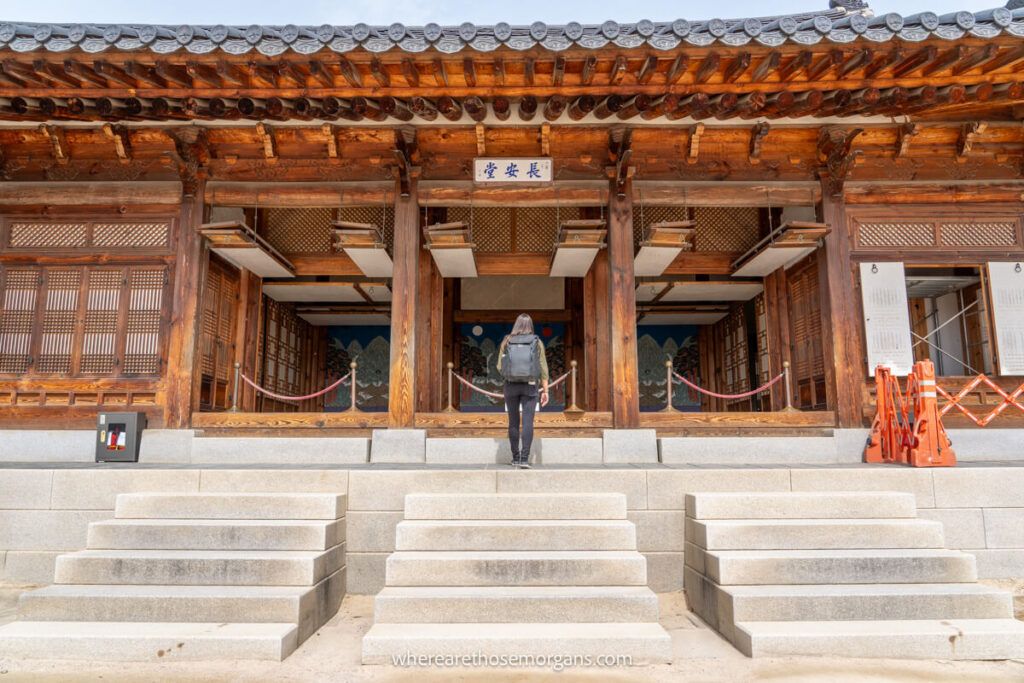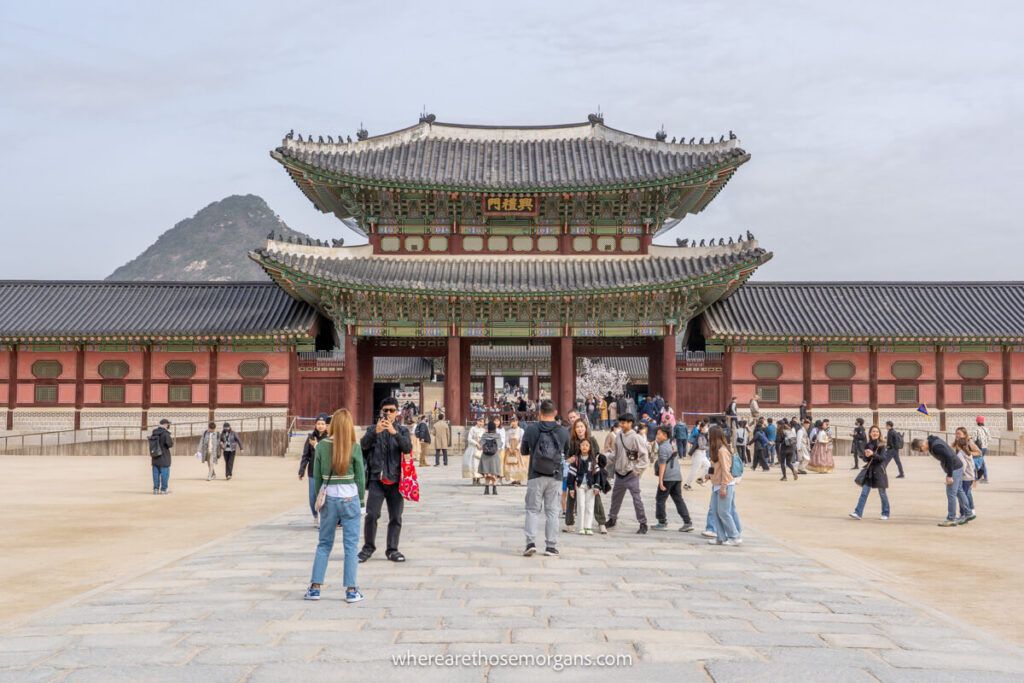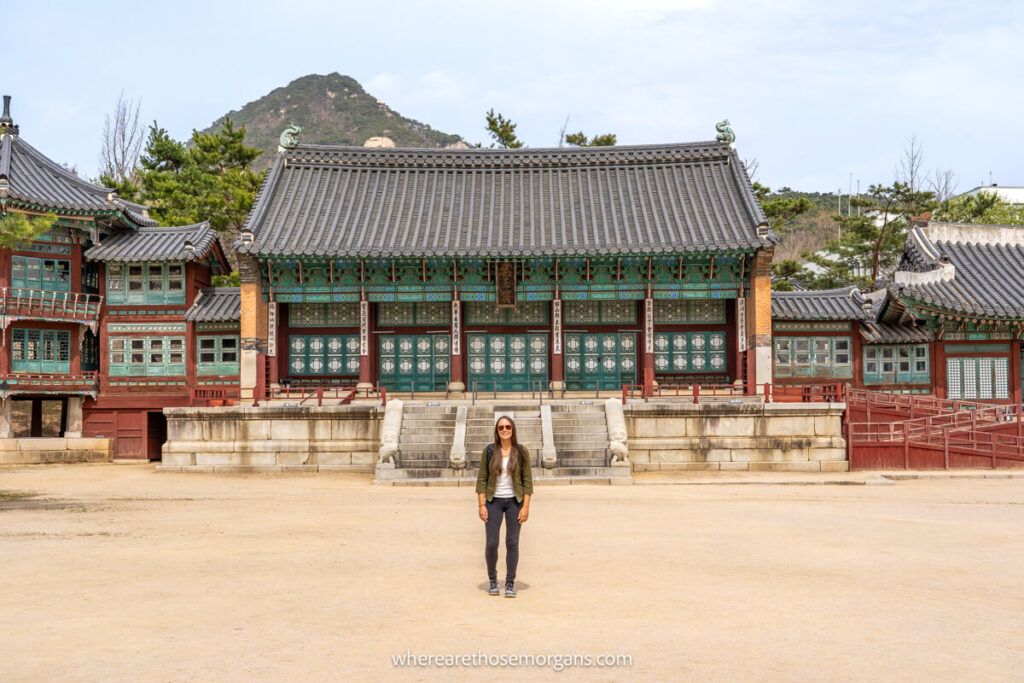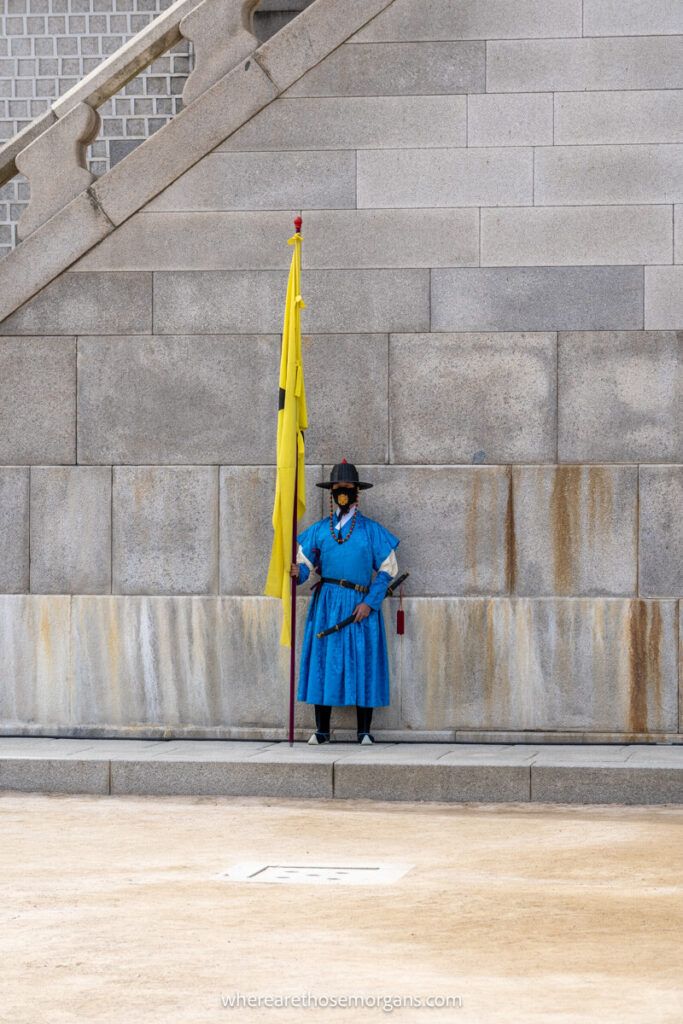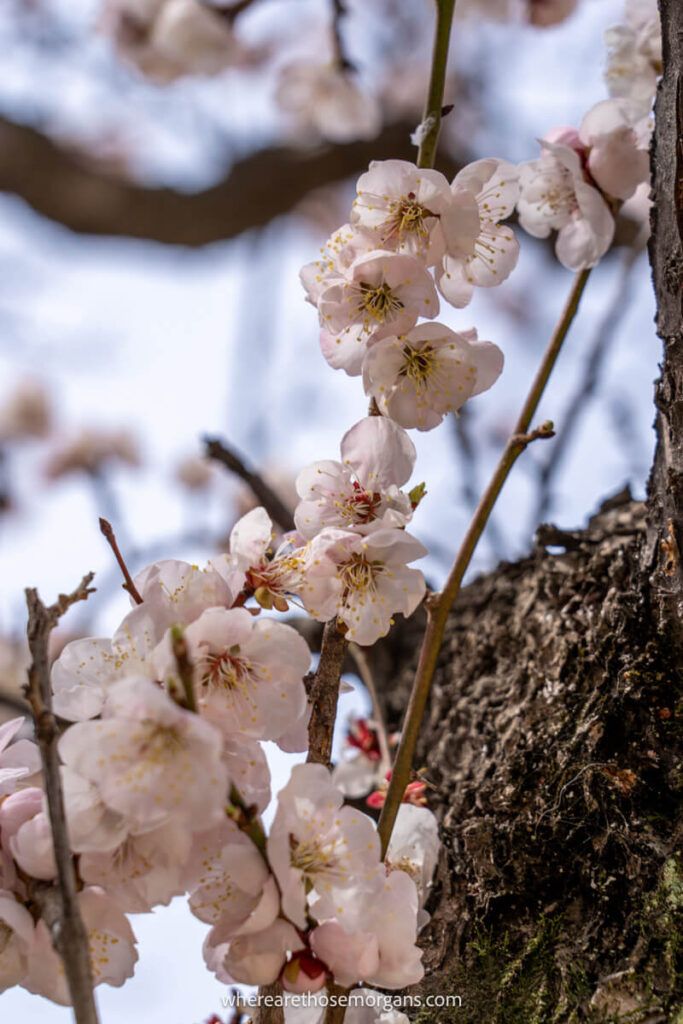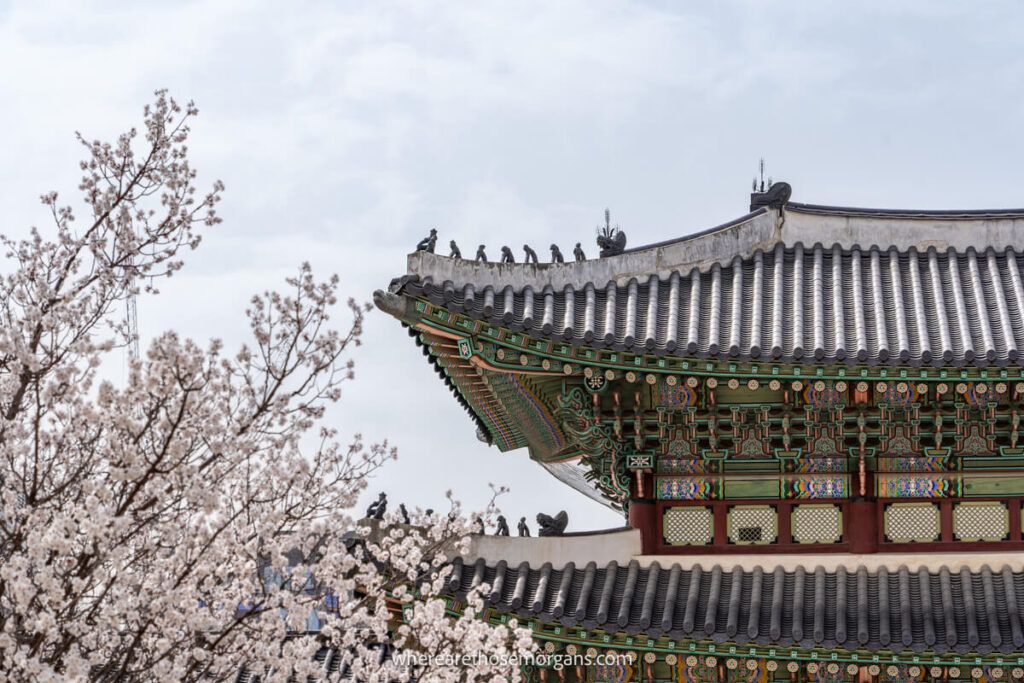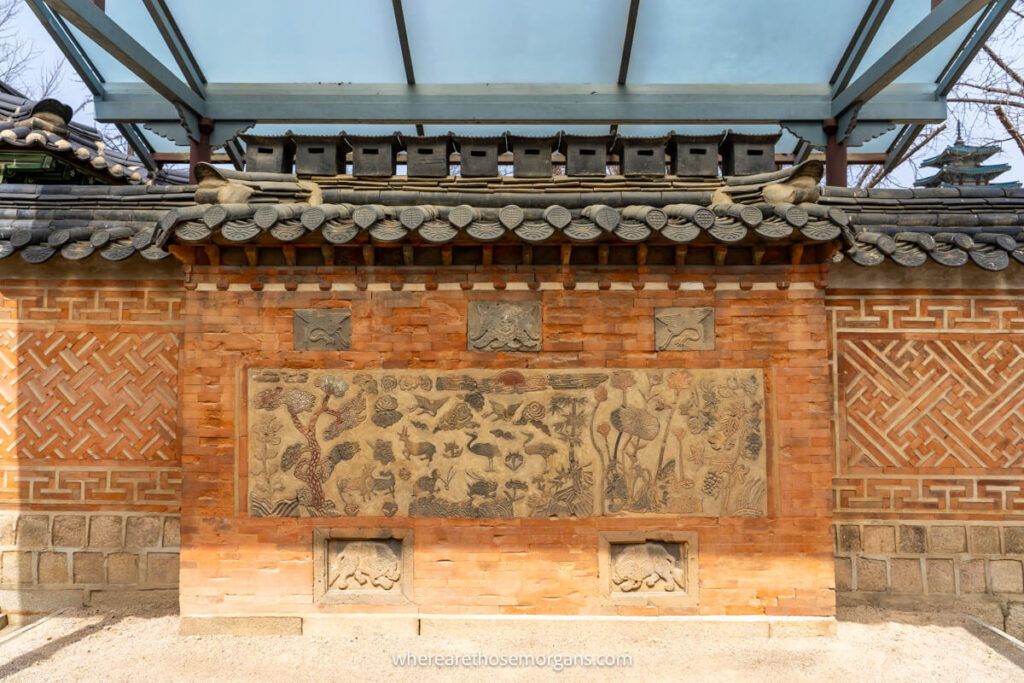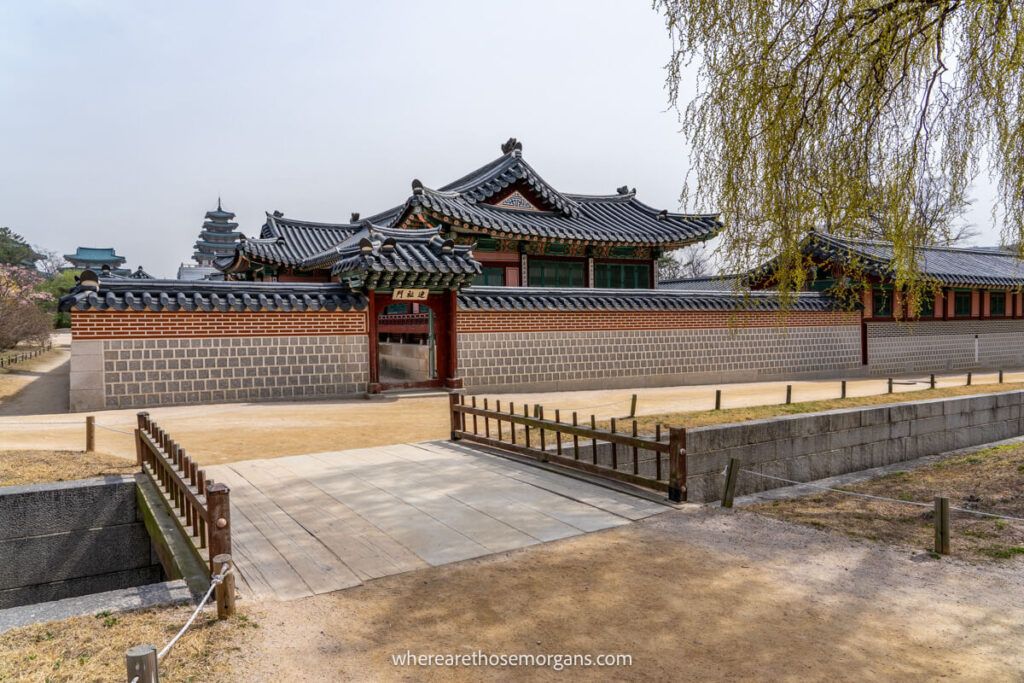 Gyeongbokgung Palace FAQ's
Let's take a look at some of the most frequently asked questions about Seoul's Gyeongbokgung Palace.
How much time should you spend at Gyeongbokgung Palace?
Visitors should plan to spend a few hours inside Gyeongbokgung Palace because it is the largest palace in Seoul and many of the original buildings have been restored. You can take a free one hour guided tour inside the palace or book a longer tour with a company which can last anywhere from 2-4 hours. We recommend setting aside 2-4 hours to visit Gyeongbokgung Palace.
What is the best palace in Seoul?
Many people say Gyeongbokgung is the best palace in Seoul because not only was it the main royal palace of the Joseon Dynasty, but it is the largest and the prettiest of all the palaces in the city.
When is changing of the guard at Gyeongbokgung Palace?
You can see gate guard duty performance outside of Gwanghwamun Gate at 11:00 and 13:00. Or you can see the changing of the palace guard ceremony inside the Gwanghwamun Gate at 10:00 and 14:00.
Our Popular Seoul Guides
More Seoul Palaces
Want more Seoul content? Head over to our South Korea Travel Guides to explore the very best of Seoul and beyond.
---
We hope this guide featuring things to do at Gyeongbokgung Palace helps with planning your visit to Seoul!
Please let us know if you have any questions about visiting Gyeongbokgung Palace in the comments below.
Happy Travels,
Mark and Kristen
Enjoy This Gyeongbokgung Palace Guide? Pin It For Your Visit!