The Seodaemun Prison is a stark reminder of South Korea's turbulent history. But today this prison museum complex serves to commemorate the ideals of peace and freedom.
What was once a dark memory has now been transformed into one of the best things to see in Seoul. With numerous exhibits, audio and video footage, this is one museum you don't want to miss.
In our Seoul travel guide, we will show you:
Where to find the prison and how to purchase tickets
10 things to see at Seodaemun Prison
Tips for your visit to make the most of your time
Our personal photos of Seodaemun Prison
Now, let's visit Seodaemun Prison in Seoul!
Our Seoul Experience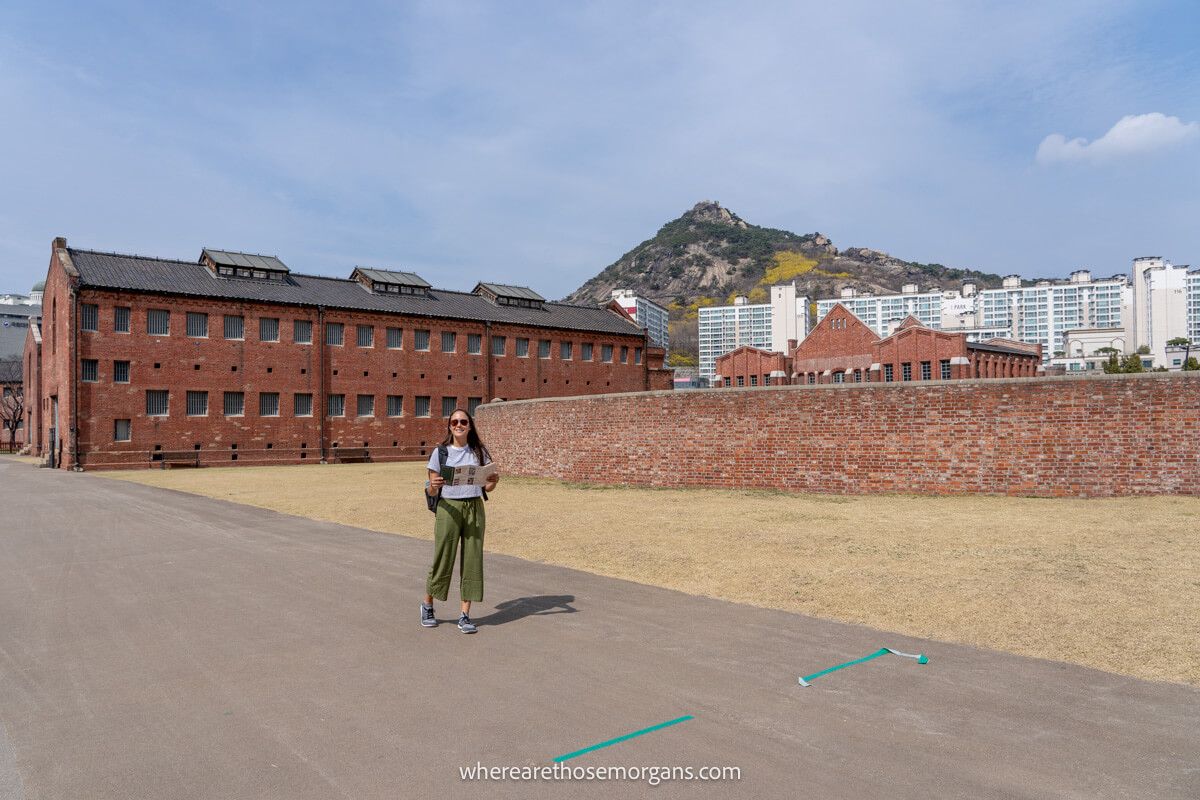 We spent two weeks exploring Seoul in March 2023 after the covid lockdowns. During our time in South Korea's capital city, we personally visited Seodaemun Prison.
This guide features everything we learned including tips for your visit. We thought this prison museum was put together extremely well and offered an interesting glimpse into the past.
While the Seodaemun Prison might not be at the top of everyone's Seoul Bucket list, there is so much to see and learn within this unique museum.
What Is Seodaemun Prison?
Opened in 1908 by Japanese imperialists, Seodaemun Prison was originally known as Gyeongseong Prison. It was built to imprison independence activists until the liberation of Korea in 1956.
This facility was used as a place for both surveillance and punishment for anti-Japanese activists who rose up during the Japanese colonial period.
After Korea's liberation from Japan, this prison also served to jail activists who tried to fight against Korea's military rulers and dictators under the name of the Seoul Detention Center.
In 1987, the Seoul Detention Center was moved to Uiwang, Gyeonggi-do Province and there was a debate on what to do with Seodaemun Prison as it is located in the middle of Seoul.
However, the descendants of the activists opposed the demolition of the buildings. So on November 5th, 1998, Seodaemun Prison History Hall was opened to educate visitors about Korea's turbulent past.
How To Get To Seodaemun Prison
Seodaemun Prison History Hall is located on the western side of Seoul. Here is the best subway station for visiting Seodaemun Prison:
Dongnimmun Station (Line 3, exit 5)
The Seodaemun Prison in Seoul is open every day of the week except Monday. It is open from 9:30am to 18:00 March to October and 9:30am to 17:00 November to February.
Travel Tip: The last admission to the prison is 30 minutes before closing.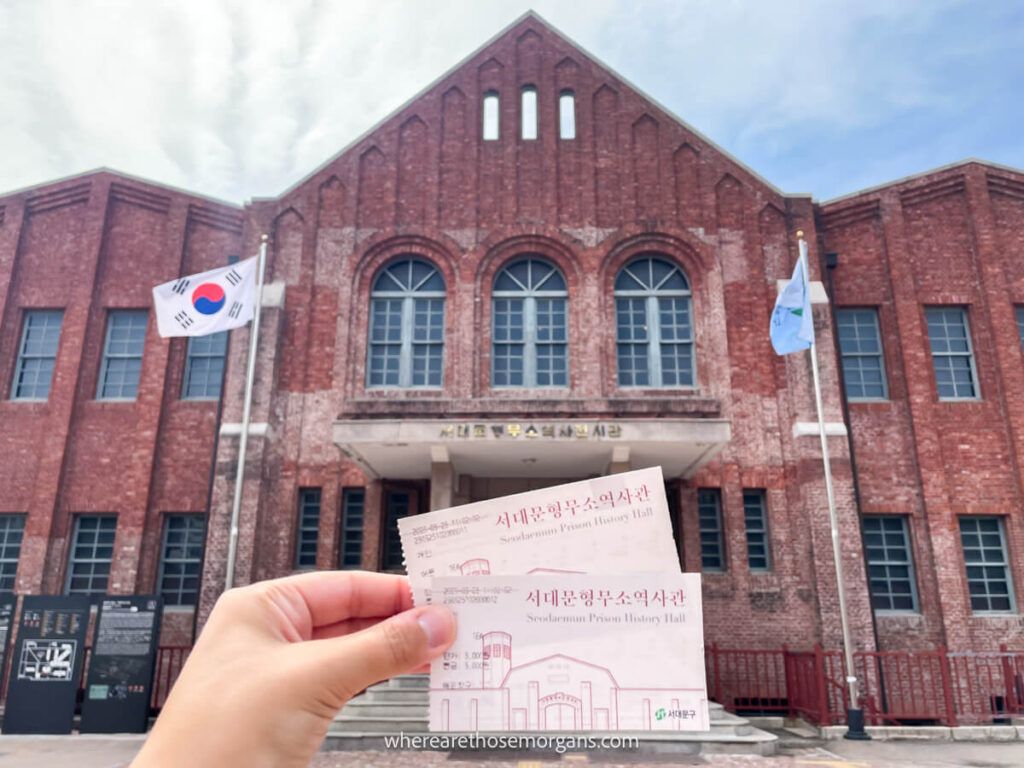 Seodaemun Prison Tickets
Admission tickets for the Seodaemun Prison cost:
KRW 3,000 (US$ 2.26) for adults ages 19-64
KRW 1,500 (US$ 1.13) for teenagers ages 13-18
KRW 1,000 (US$ 0.75) for youths ages 7-12
Group tickets are available for 20 or more visitors.
The best way to purchase tickets for the Seodaemun Prison is onsite, but you can book education programs and exhibition commentary on the official website here.
10 Best Things To Do At Seodaemun Prison
When you visit Seodaemun Prison, you can use an informational brochure to tour the entire complex with a suggested tour route displayed by arrows on the ground and surrounding buildings.
The museum features four main sections:
Exhibition Hall
Prison Exhibition
Outdoor Exhibition
Independent activists
We loved that visitors can freely walk throughout the grounds because you can go at your own pace depending on what interests you.
Here is what to see at Seodaemun Prison: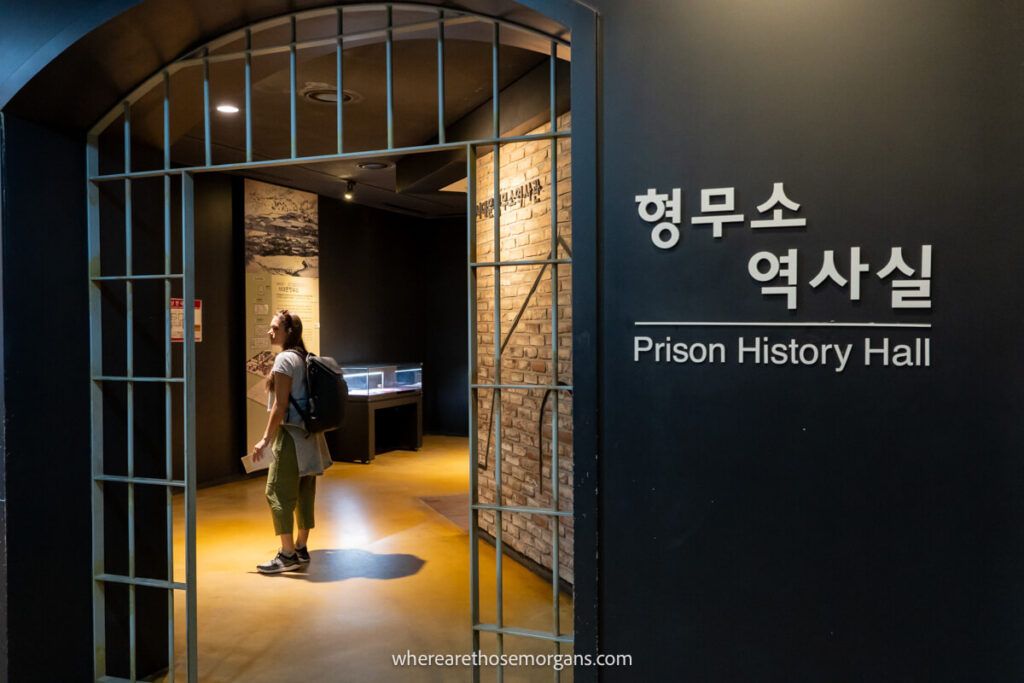 1. Administration And Security Office
The first building you will encounter is the Administration and Security Office. Built in 1923, this is the main building of Seodaemun Prison with two floors, one above ground and one underground.
This first floor was originally used as an office with the second floor used as a meeting room and director's office. The basement is a different story because it's primary purpose was to apprehend suspects.
Today on the first floor, you can visit the Prison History Room. This exhibit showcases information about the judicial system and the expansions of prisons in Korea. We loved the documentary video in this section.
On the second floor, you will find the 3 National Resistance Rooms. These exhibits house relics and prisoner cards from the independant activists as well as models of the execution room and morgue.
The basement is the hardest area in this building to visit. You can see the investigation room and the interrogation rooms. We found it very difficult to read the testimonials of torture.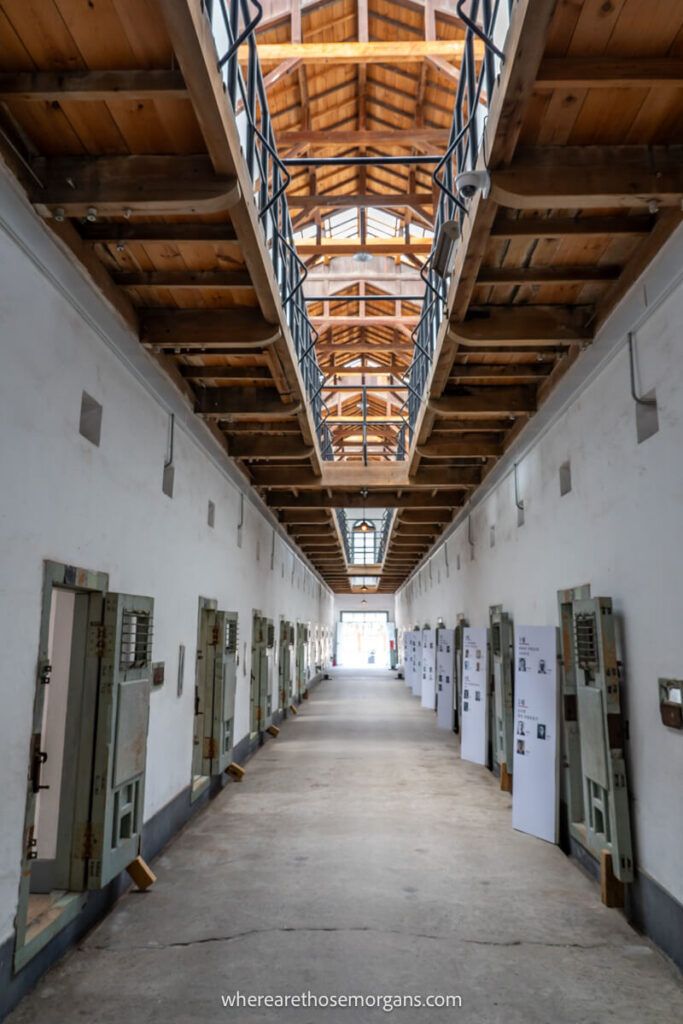 2. Central Prison Buildings
There are a few different prison blocks you can visit inside Seodaemun Prison.
As you walk through the cell blocks, you will learn about the overall prison life including organization structure, monitoring tools and daily routines of inmates.
We liked being able to read the stories about individual prisoners because their unique voices helped you understand the horrible times they endured inside the prison walls.
Travel Tip: The panopticon connected prison buildings 12, 11 and 12 to allow the guards to oversee all 3 buildings at the same time.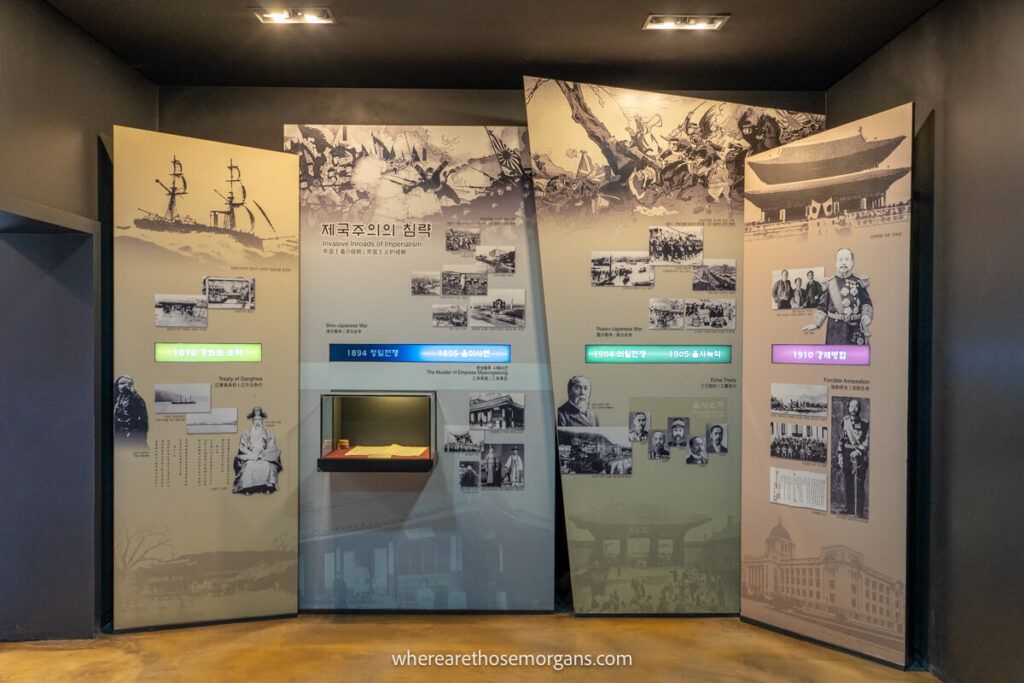 3. Labor Building
Built in 1923, this is one of the factory buildings used for forced labor such as woodworking and manufacturing clothes.
Inside this building, you can watch actual footage of prisoners being made to manufacture goods. Additional exhibits also display records and relics illustrating forced labor at Seodaemun Prison.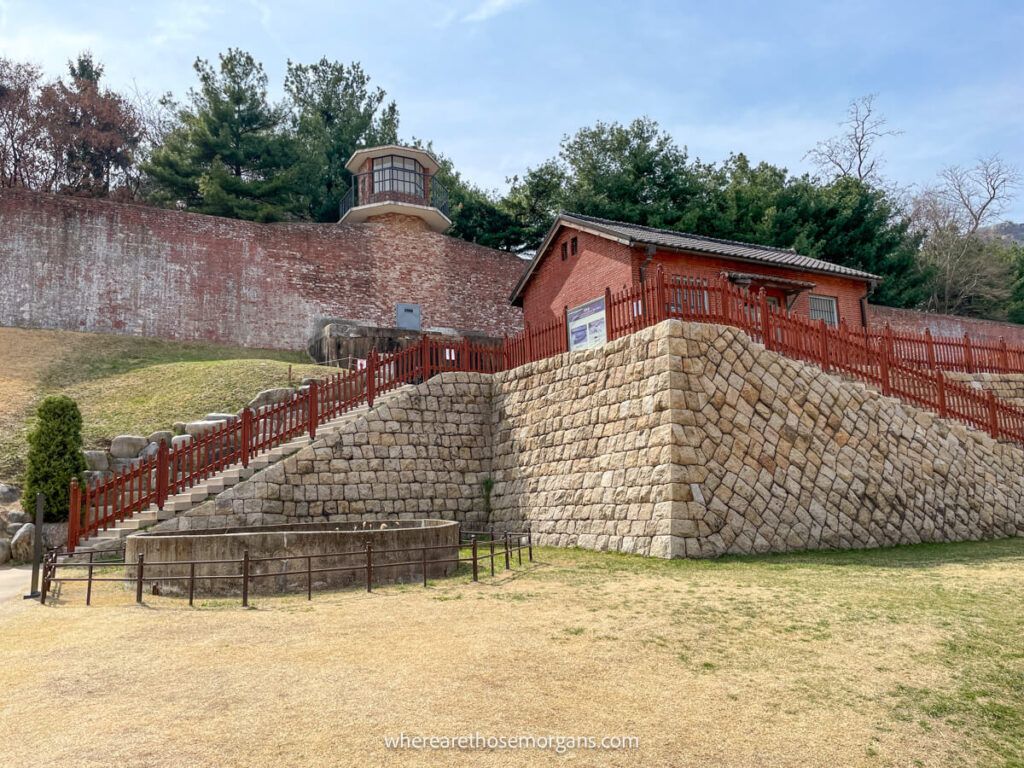 4. Leper's Building
This building was used to isolate prisoners who were suffering from leprosy and it is positioned away from the main prison complex on a hill near one of the watchtowers.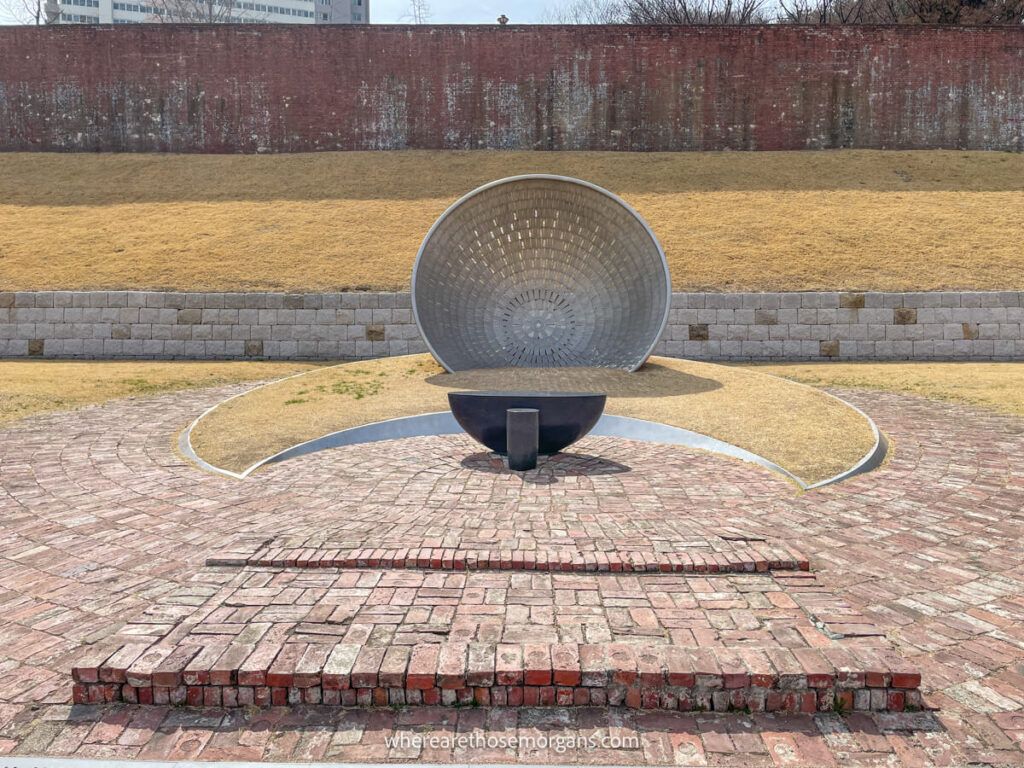 5. Reverence Space
This is a special space inside Seodaemun Prison because it is an art exhibit dedicated to the memory of anti-colonial independence activists who lost their lives.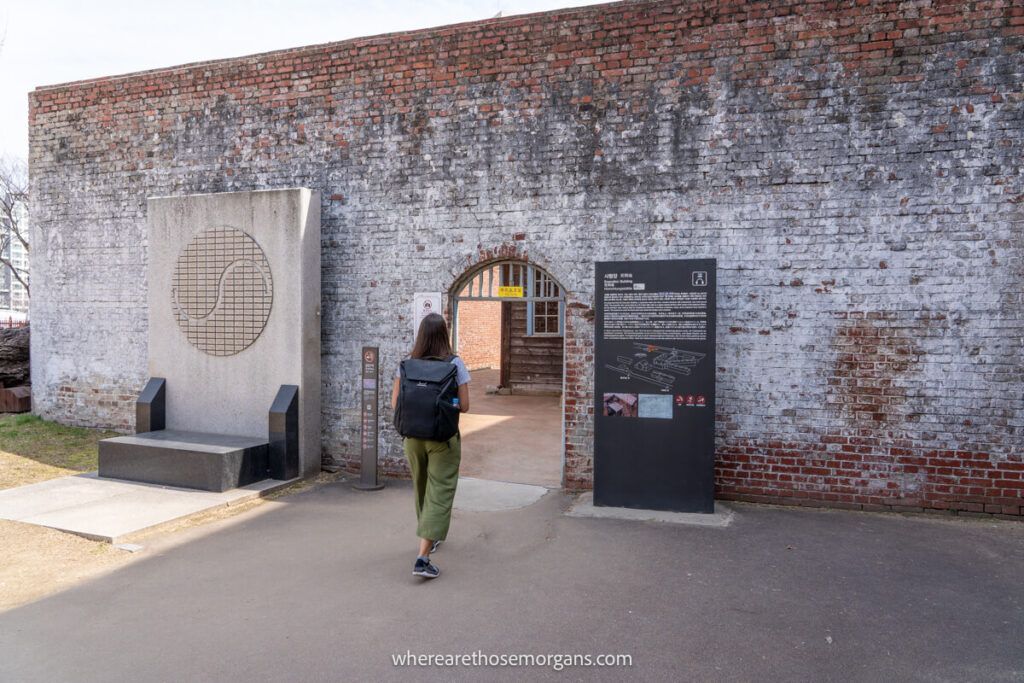 6. Execution Building
One of the most shocking buildings inside Seodaemun Prison is the Execution House. Constructed in 1910, it was used to carry out the death sentence from the Japanese Colonial Period until 1987.
This small Japanese-style wooden building was built with one floor above ground and one floor below ground.
The floorboard on the first floor would open and close when appropriate during a hanging. If you peek inside during your visit, you will notice a small lever on the floor which was used to lower the floorboard.
Bodies would be recovered in the cellar under the floorboards after an execution. At the back of the execution building, you can still see the back entrance from the basement.
7. Corpse Removal Exit
Just behind the execution grounds, you will find the Corpse Removal Exit. This secret door and passage was used to remove a corse after execution.
In 1992, part of this passage collapsed when Independence Park was created, but about 40m of the tunnle has been restored. The original passage was said to be about 200m when it was used.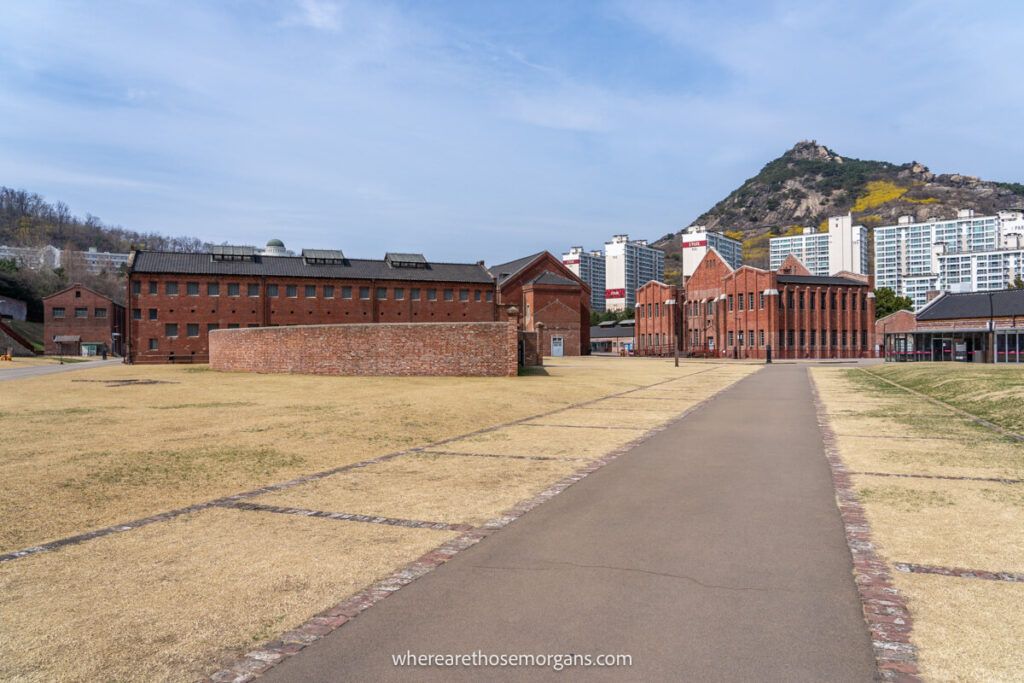 8. Gyeokbyeokjang
Gyeokbyeokjang is located in the middle of Seodaemun Prison and it was used a playground for the inmates so they could get some exercise.
Partitions or bulkheads were erected as a means of control to separate and monitor prisoners to prevent them from talking or escaping.
This stone facility was demolished in 2011, but it was restored to its original appearance about 20m from the first location.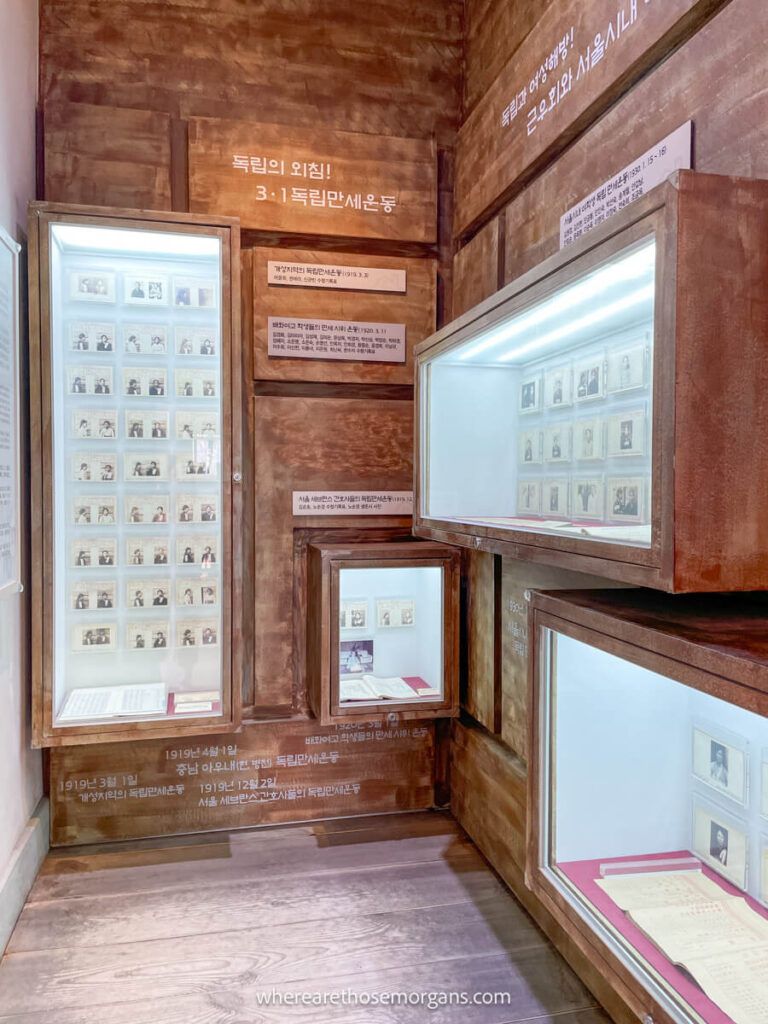 9. Women's Prison Building
The women's prison building was constructed around 1916 as a detention center for female prisoners and it is also known as Yeooksa Temple.
You can go inside this building when you visit Seodaemun Prison. We encourage you to read the harrowing stories about the brave women who found themselves imprisoned here.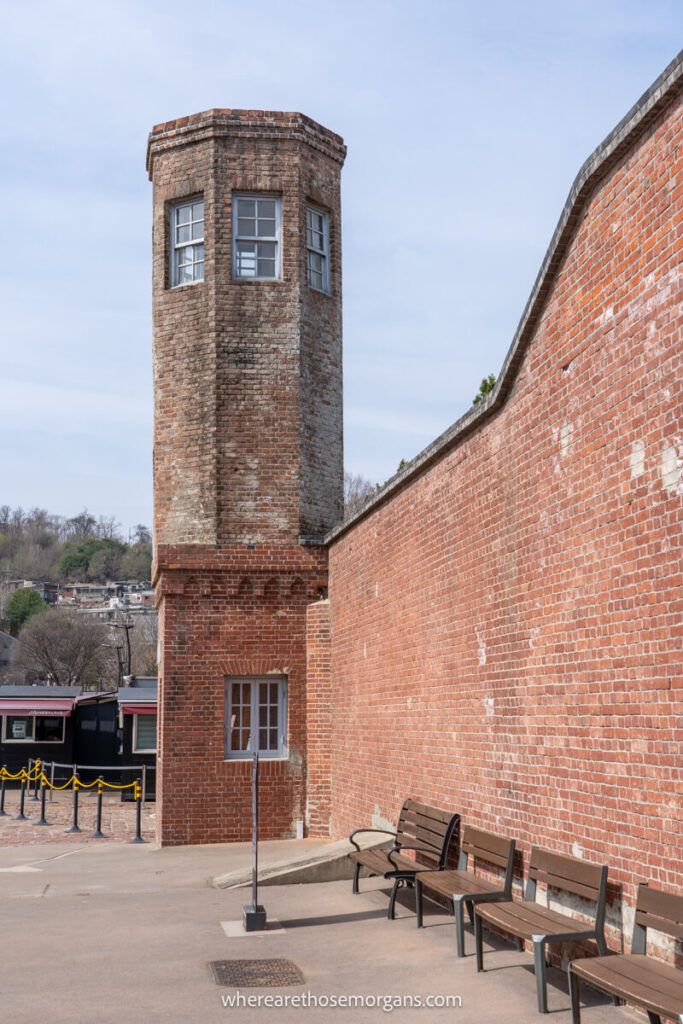 10. Watchtower
Lat but not least, you will notice two watchtowers at Seodaemun Prison. Originally, this complex had six watchtowers, but today only two remain.
These watchtowers were built to help monitor prisoner movements and prevent them from escaping. Each watchtower is 10m high and the best one to visit is right near the main entrance gate.
Is Seodaemun Prison Worth Visiting?
Yes, Seodaemun Prison History Hall is worth visiting because this space now serves as a tribute to independent activists and helps to preserve the history about freedom in Korea.
This museum is a great way to understand the difficulties Koreans faced under the Japanese occupation. It also pays tribute to the brave men and women who lost their lives fighting for peace.
Our Seodaemun Prison Photos
We enjoyed our visit to Seodaemun Prison and took many photos. Here are a few of our favorites: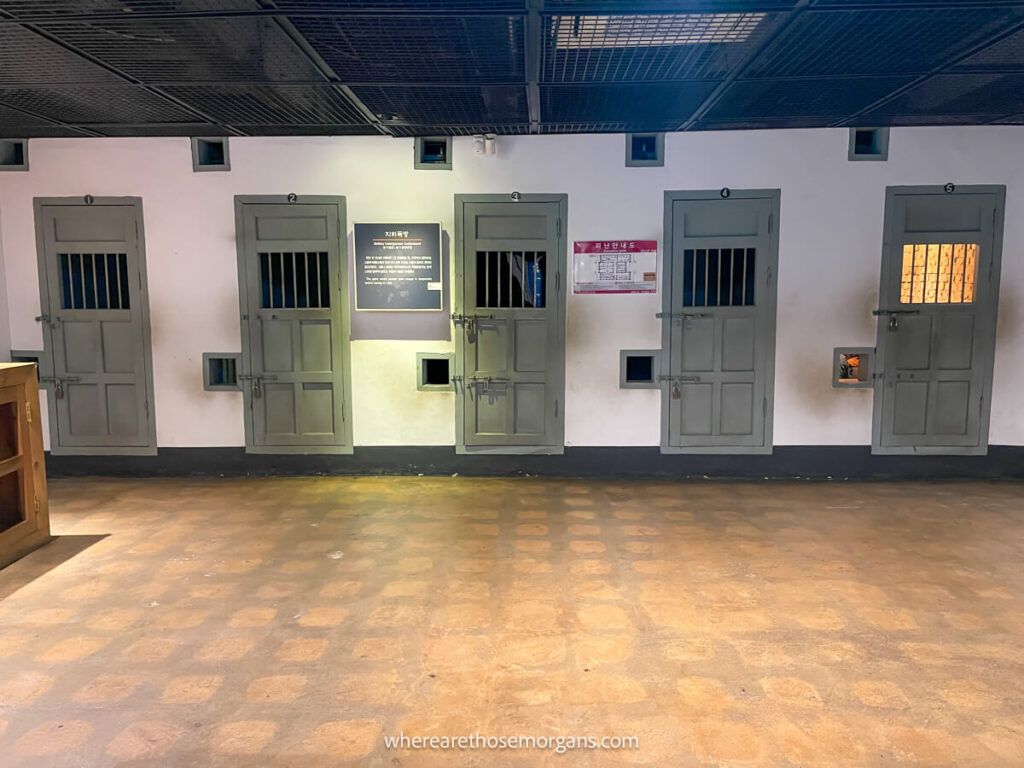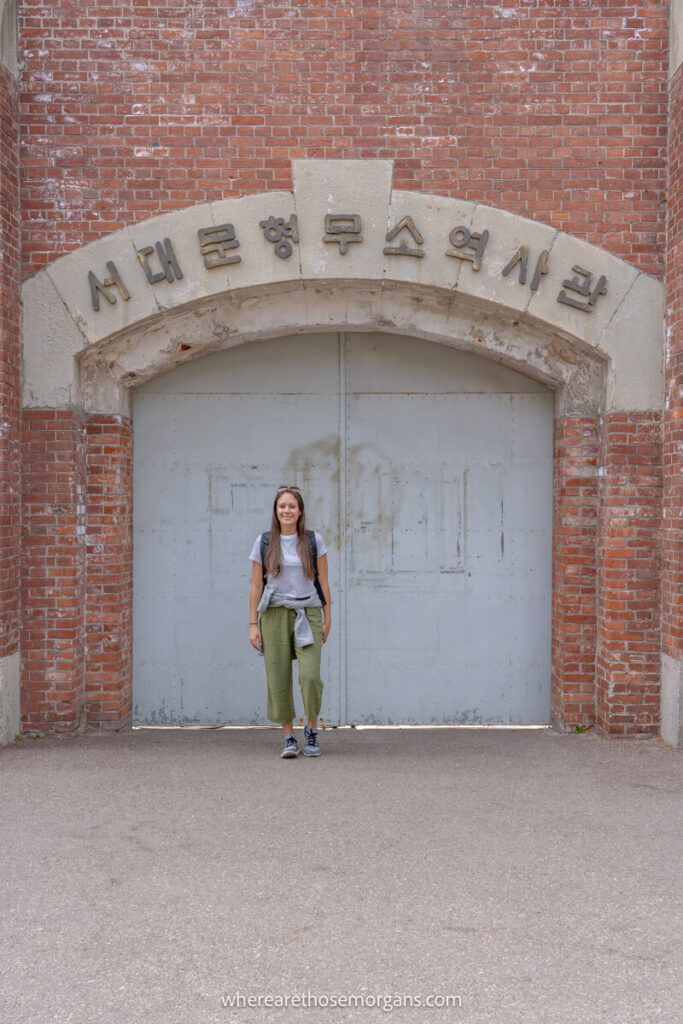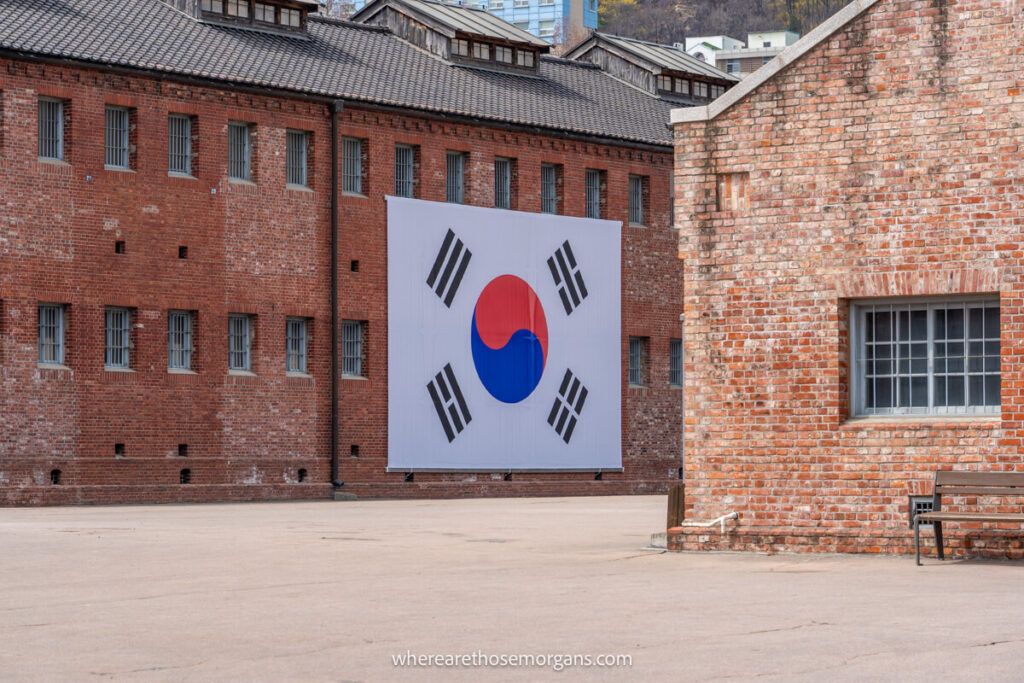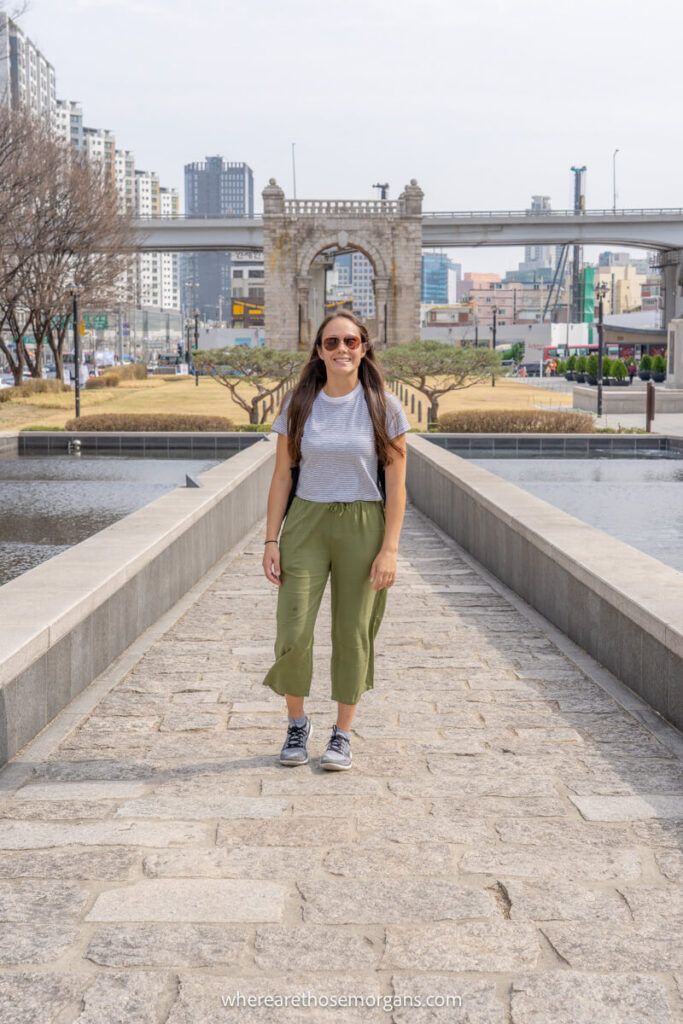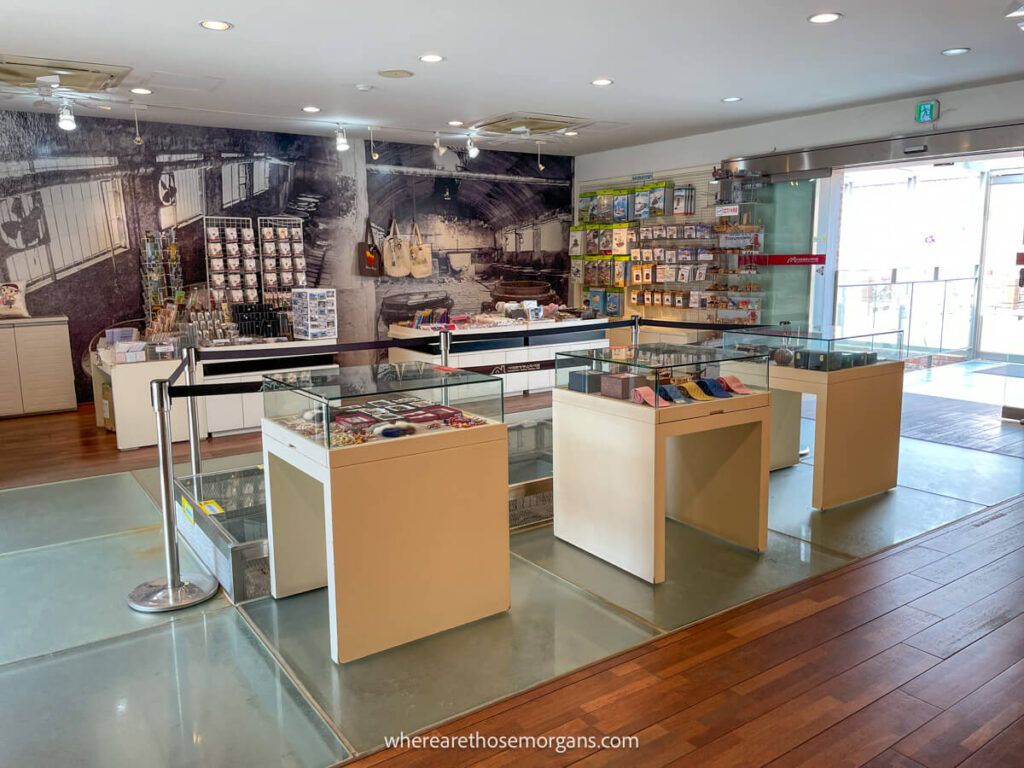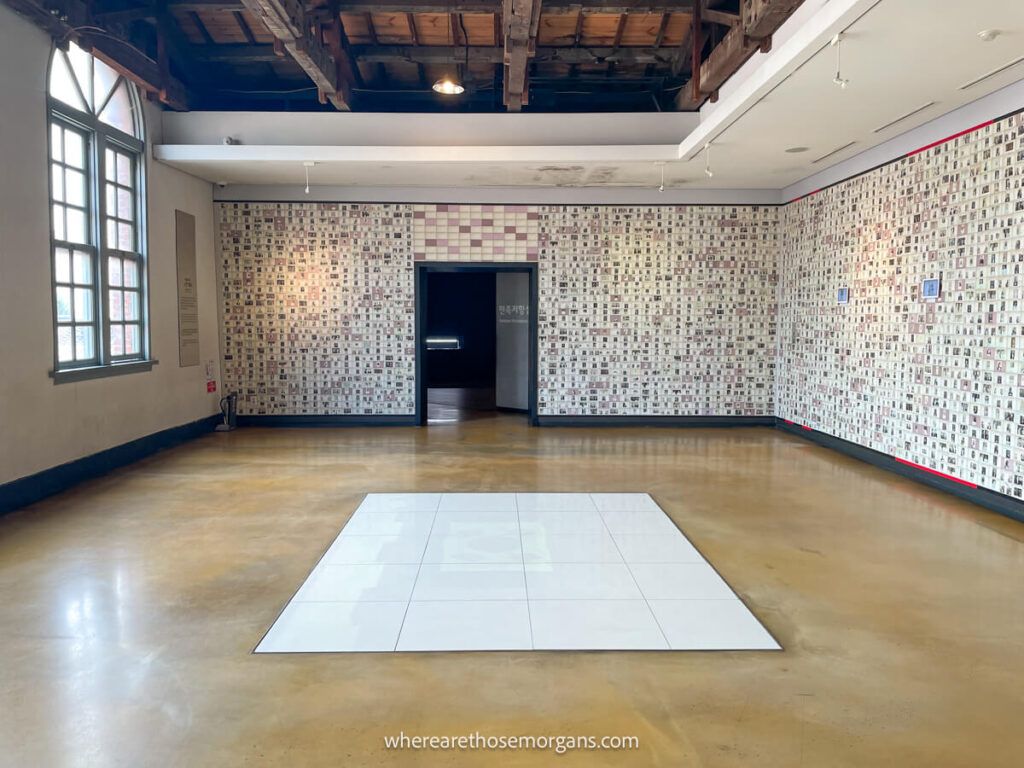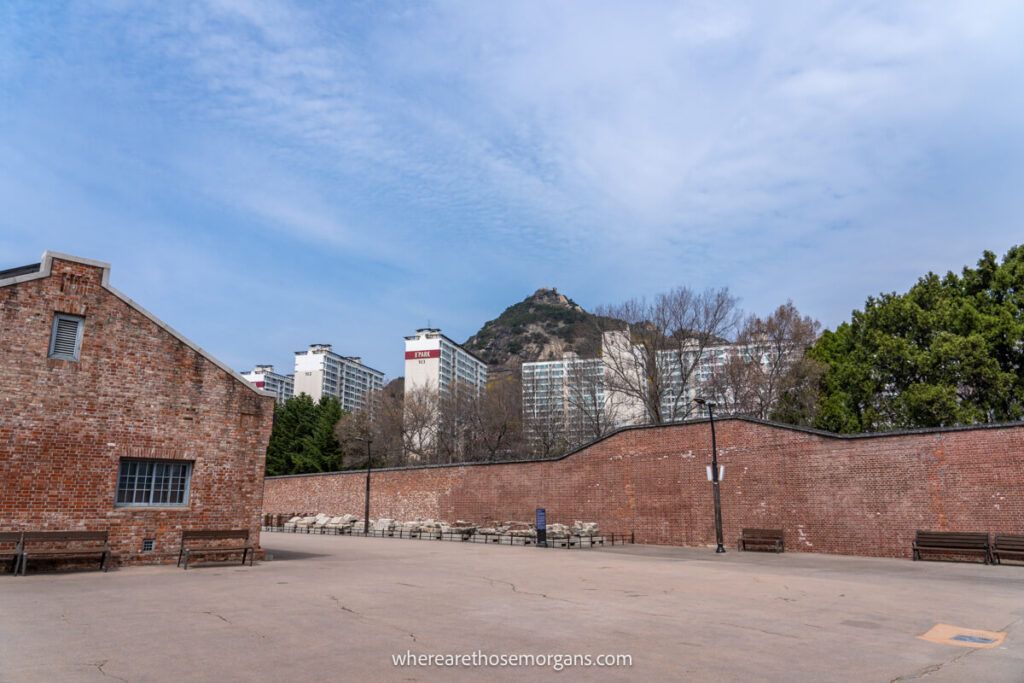 Seodaemun Prison FAQ's
Let's take a look at some of the most frequently asked questions about the Seodaemun Prison in Seoul:
How long does it take to visit Seodaemun Prison?
If you plan to explore all of the buildings and outdoor exhibits, you should plan about 1-2 hours to visit the Seodaemun Prison.
Who built Seodaemun Prison?
The Japanese Government built Seodaemun Prison in the early 1900's to help cement control over South Korea.
What can you see inside Seodaemun Prison?
During self guided tours of Seodaemun Prison, you can see the administration buildings, interrogation rooms and numerous prison buildings as well as outdoor exhibits such as the prisoner playground, execution building and watch towers.
Our Popular Seoul Guides
Want more Seoul content? Head over to our South Korea Travel Guides to explore the very best of Seoul and beyond.
---
We hope this guide featuring things to do at Seodaemun Prison helps with planning your visit to Seoul!
Please let us know if you have any questions about visiting Seodaemun Prison in the comments below.
Happy Travels,
Mark and Kristen
Enjoy This things to do at Seodaemun Prison? Pin It For Your Visit!
Note: This article contains affiliate links. When you make a purchase using one of these affiliate links, we may earn a small commission at no extra cost to you.
All Rights Reserved © Where Are Those Morgans, LLC. Republishing this article and/or any of its contents (text, photography, maps, graphics, etc.) in whole or in part is strictly prohibited.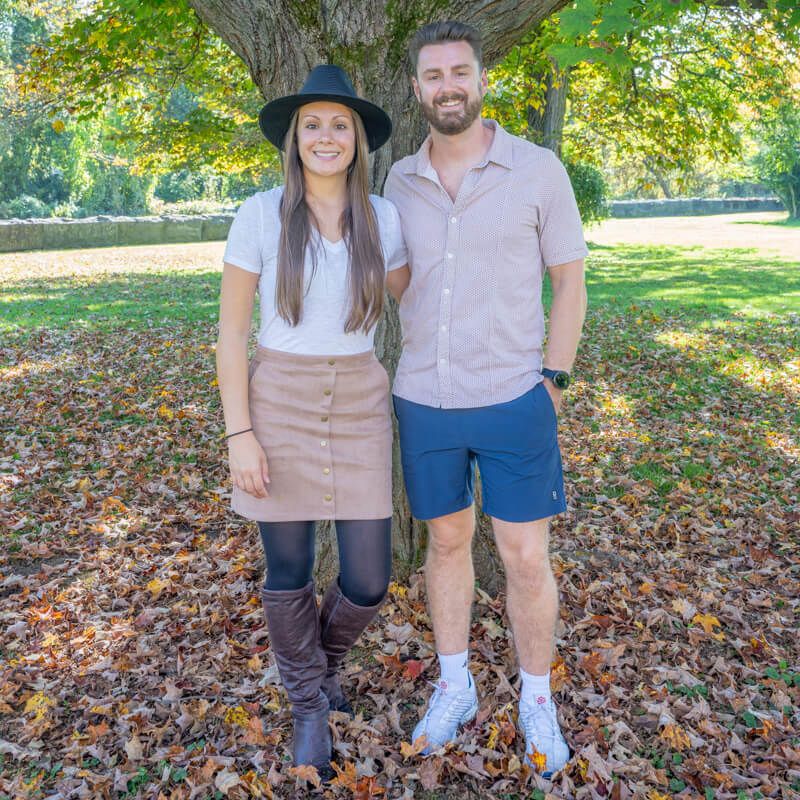 Mark and Kristen Morgan are travel, hiking and photography experts. Over the last 6 years traveling full time, they have explored more than 40 countries and 30 US states.
Their work has been featured in USA Today, Gestalten, Get Your Guide, CityPASS and Condé Nast Traveler along with various other publications.