Deoksugung Palace is located directly across the street from City Hall in downtown Seoul. While this is not one of the most popular palaces in Seoul, it was home to many descendants of the royal family.
This palace has changed various hands over the years, but the complex houses several museums and is extremely accessible so we personally think this palace is still worth a visit.
In our Seoul travel guide, we will show you:
How to save money on your Deoksugung Palace tickets
10 best things to see on the palace grounds
Tips for your visit to make the most of your time
Our personal photos of Deoksugung Palace
Now, let's explore Deoksugung Palace!
*Please note this post may contain affiliate links. If you click on one, we may earn a small commission at no extra cost to you. Thank you for supporting the free content we provide! Read more in our disclosure policy.*
Our Seoul Experience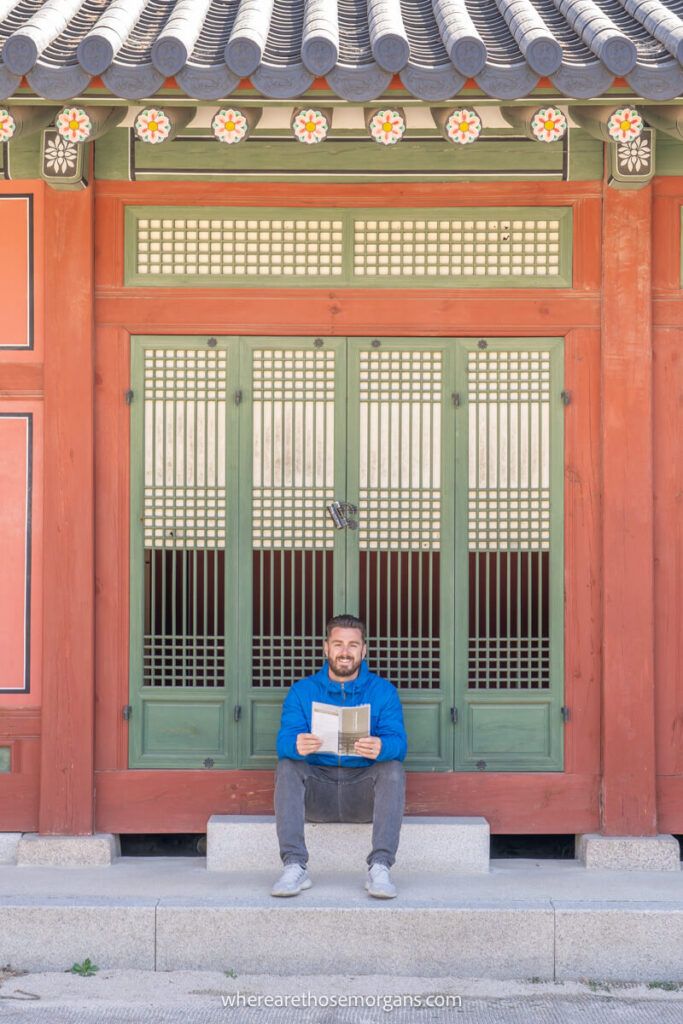 We spent two weeks exploring Seoul in March 2023 after the covid lockdowns. Our goal is to bring you the most up to date info about Seoul so you can plan the perfect trip to South Korea's capital city.
During our Seoul trip, we personally visited Deoksugung Palace. This guide features everything we learned and includes tips for your visit.
There are five royal palaces in Seoul and each one is unique. If you can fit it into your Seoul itinerary, we highly recommend visiting all of Seoul's beautiful palaces.
But if you are short on time, Deoksugung Palace is a great option because it is the smallest palace in Seoul.
Heading to South Korea soon? Check out the best things to do in Seoul for your visit.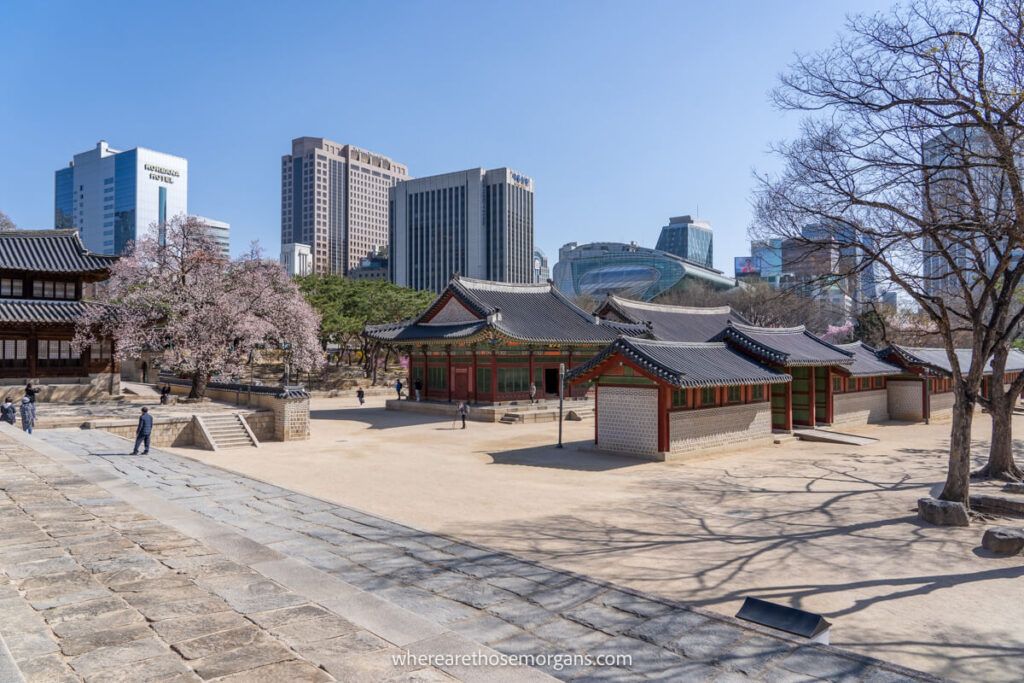 What Is Deoksugung Palace?
Now registered as Historic Site No. 124, Deoksugung Palace was initially used as a residential home for Grand Prince Wolsan (1454-1488) and King Seongjong (1469-1494).
When the Imjin War broke out in 1592, Deoksugung Palace was known as Jeongneungdong Temporary Palace. This space was later used as a safe haven for King Seonjo during these Japanese invasions.
In 1611, Deoksugung became an official Korean palace when Prince Gwanghaegun (1575-1641) ascended to the throne, moved to Changdeokgung and changed the official name to Gyeongungung Palace.
Over the next few decades, this palace altered between a temporary residence and an official palace. In 1907, the name was officially changed to Deoksugung Palace, meaning the "palace of virtuous longevity."
Unfortunately, after the death of Emperor Gojong in 1919, this palace had been significantly downsized with only a few structures remaining.
How To Get To Deoksugung Palace?
The Deoksugung Palace in Seoul is located across the street from Seoul City Hall in heart of the city. Here are the best subway stations for visiting:
City Hall Station (line 1, exit 2 and line 2, exit 12)
Deoksugung Palace in Seoul is open every day of the week except Monday. It is open from 9:00am to 9:00pm with the last admission at 8:00pm.
There are no parking spaces at Deoksugung so the subway is the best transportation option.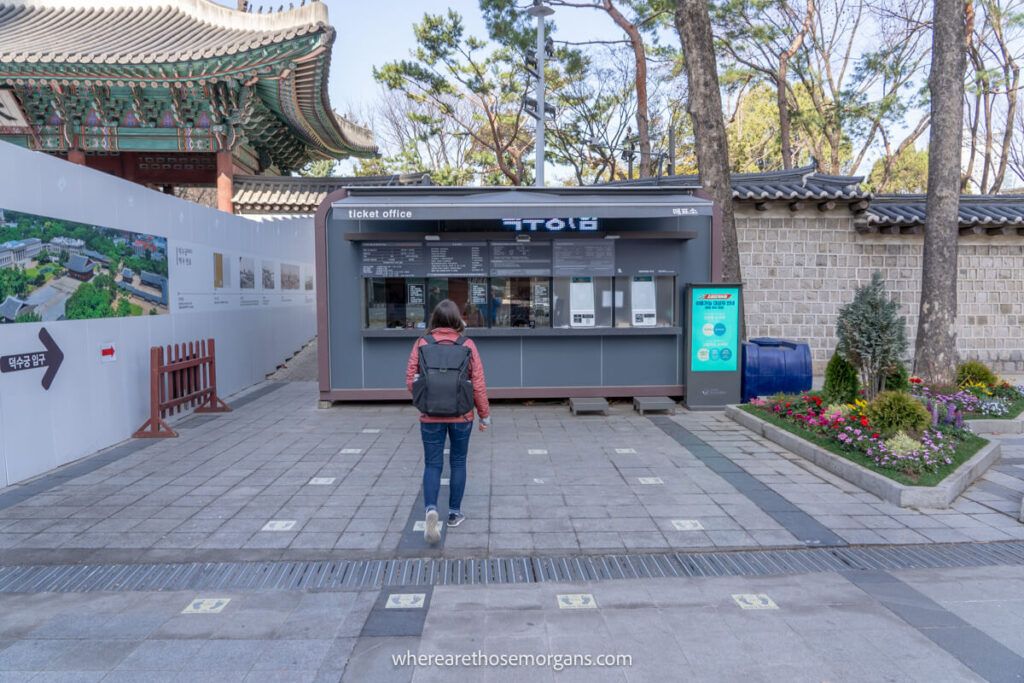 Deoksugung Palace Tickets
Admission tickets for Deoksugung Palace cost KRW 1,000 for adults (US$ 0.76), KRW 800 (US$ 0.61) with groups of 10 or more and KRW 500 (US$ 0.38) for students aged 7-18.
Visitors over the age of 65 and children under the age of 6 will gain free entry into Deoksugung Palace.
Tickets can be purchase onsite in person or online by booking in advance on various websites. However, there are a few different ways you can save money when visiting Deoksugung Palace.
We will discuss each option below:
The Royal Palace Pass
We visited Deoksugung Palace with our Royal Palace Pass which we recommend if you plan to visit multiple palaces in Seoul.
The Royal Palace Pass costs KRW 10,000 and it is valid for three months from the date of purchase. This pass can only be purchased onsite at any of the 4 palaces or shrine listed below:
Gyeongbokgung
Changdeokgung
Changgyeonggung
Deoksugung
Jongmyo Shrine
This pass is a great option for those who want to visit numerous palaces in Seoul, but if you want free admission there is another choice.
Hanbok Rentals For Deoksugung Palace
Admission to Deoksugung Palace is free for anyone wearing a hanbok which is traditional Korean clothing.
Compared to Gyeongbokgung, there were not as many visitors wearing hanboks so if you want a more relaxed experience to take your photos, Deoksugung Palace may be a good fit for you.
Travel Tip: Hanboks are typically rented by the hour or per day.
Popular Deoksugung Palace Tours
When you visit Deoksugung Palace, you can join a free one hour guided tour offered in numerous languages. Here are the current free tour times:
English: 10:45, 13:30
Japanese: 9:30, 16:00
Chinese: 10:00, 14:30
But there are also many popular tour options offered by various companies. Many of these tours include admission to Deoksugung Palace along with some of the best Seoul activities.
Here are popular Deoksugung Palace tours:
10 Best Things To Do In Deoksugung Palace
There are many beautiful buildings you should see when visiting Deoksugung Palace because this is one of Seoul's main attractions.
Here is what to see at Deoksugung Palace: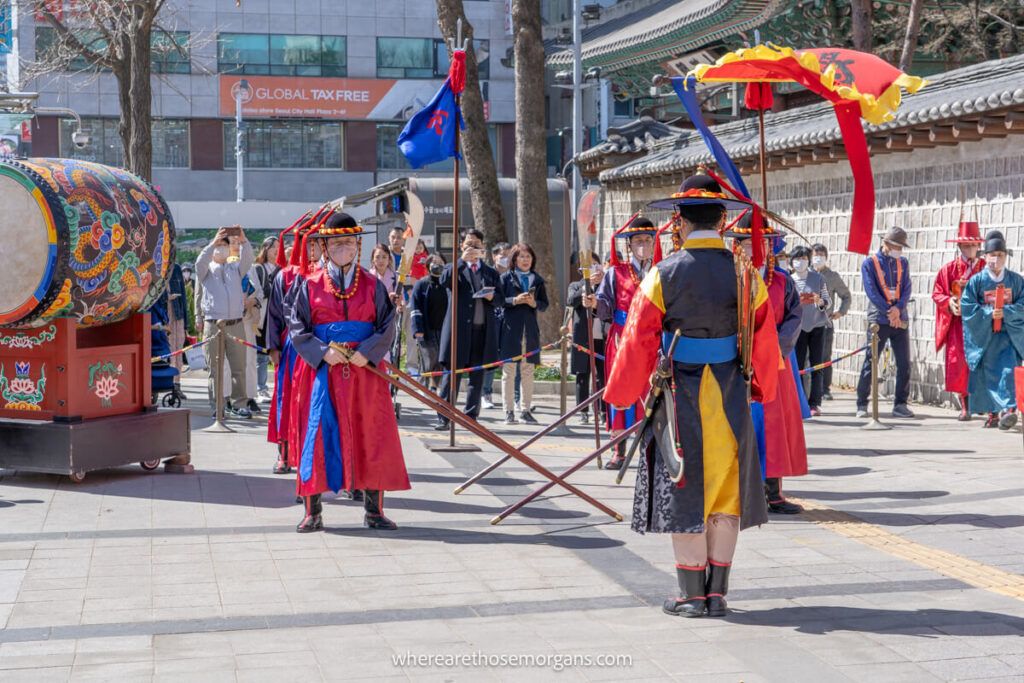 1. Daehanmun Gate
Renamed in 1906, the Daehanmun Gate is the main entrance of Deoksugung Palace. The gate faces east and it is the only one story front gate in all of Seoul's 5 royal palaces.
The beautiful calligraphy on the front of the gate was created by Nam Jong-cheol, a high ranking official during the reign of King Gojong.
If you want to watch the changing of the guard ceremony at Deoksugung Palace, it takes places in front of this main gate at 11:00, 14:00 and 15:30.
2. Geumcheonkyo Bridge Remnants
The Geumcheonkyo Bridge was different from other bridges inside Seoul's royal palaces because this entire complex was originally created to be a private residence so there was no natural stream flowing underneath it.
Once Deoksugung became an official palace, an artificial waterway was dug and Geumcheonkyo Bridge was built over it. The waterway has since been turned into a pond you can visit.
3. Junghwamun Gate
The Junghwamun Gate stands directly in front of Junghwajeon, the main throne hall of Deoksugung Palace. It was rebuilt in 1906 after a fire destroyed many buildings inside the grounds.
We recommend you approach the main throne hall through Junghwamun Gate because it's a great way to appreciate the stunning Korean architecture.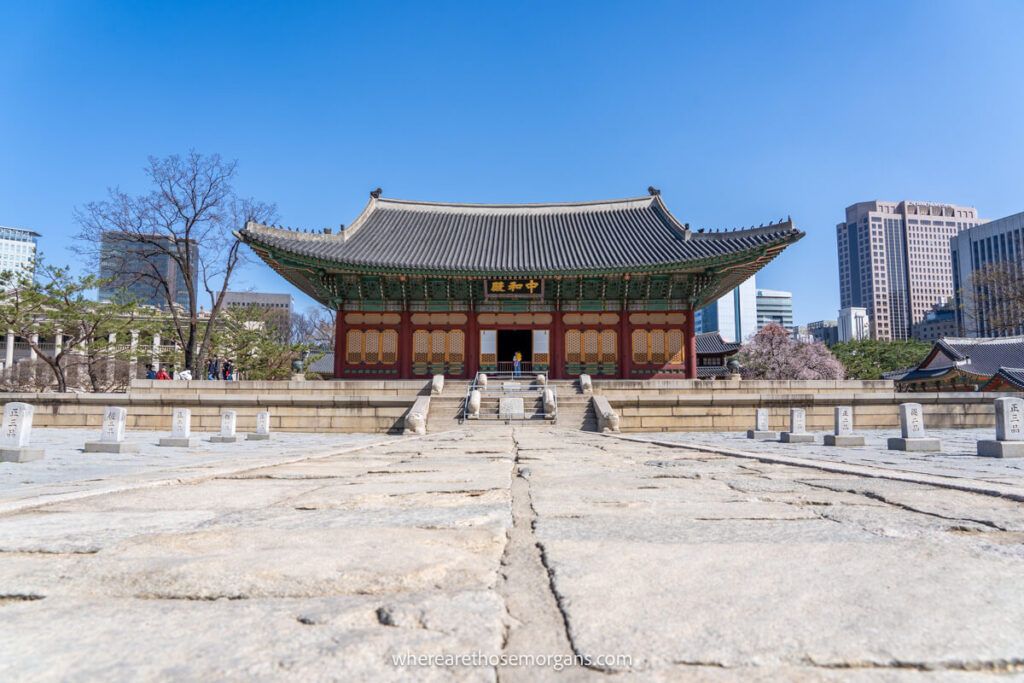 4. Junghwajeon Hall
This is the main throne hall of Deoksugung so you should not miss it. As you approach the building, you will notice four mystical animals carved into the stone steps along with clods, grass and flowers to the side.
Inside the large hall, you will find a throne on a high platform in between two columns. A wooden folding screen showcases designs of the sun, moon and mountain behind the throne.
Make sure you take your time as you look at the complex details throughout the throne room. Our favorite part of Junghwajeon Hall was the beautifully carved intricate ceiling.
5. National Museum Of Modern And Contemporary Art
Deoksugung is unique because it is home to a branch of the National Museum of Modern and Contemporary Art. This is the only palace in Seoul with an art museum.
However, you will have to pay an additional fee to enter the museum and these admission fee vary depending on exhibitions.
Travel Tip: The last Wednesday of every month is Culture Day and visitors will receive a free entry ticket.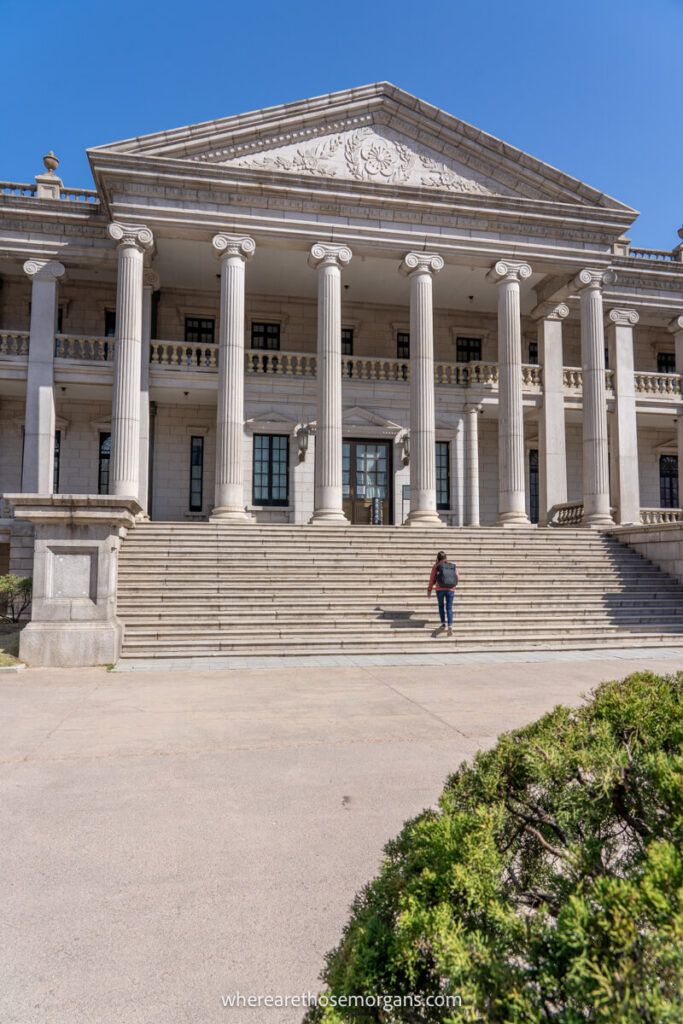 6. Seokjojeon Hall
Originally built in 1910, this hall has been used for numerous purposes including housing the National Museum of Korea. But after restoration in 2014, it was reopened as the Daehan Empire History Museum.
The ground floor of the hall was once used by attendants of the imperial household. Here you will find free exhibits showcasing the modernization of the Daehan Empire and neighborhood of the palace.
The first and second floor of Seokjojeon Hall can be visited via guided tour. These floors reproduce the formal spaces of the Korean imperial family.
Guided tours for the first and second floor of Seokjojeon Hall last about 45 minutes. This free guided tour is available in English at 9:30 and 16:30. You can make reservations on-site.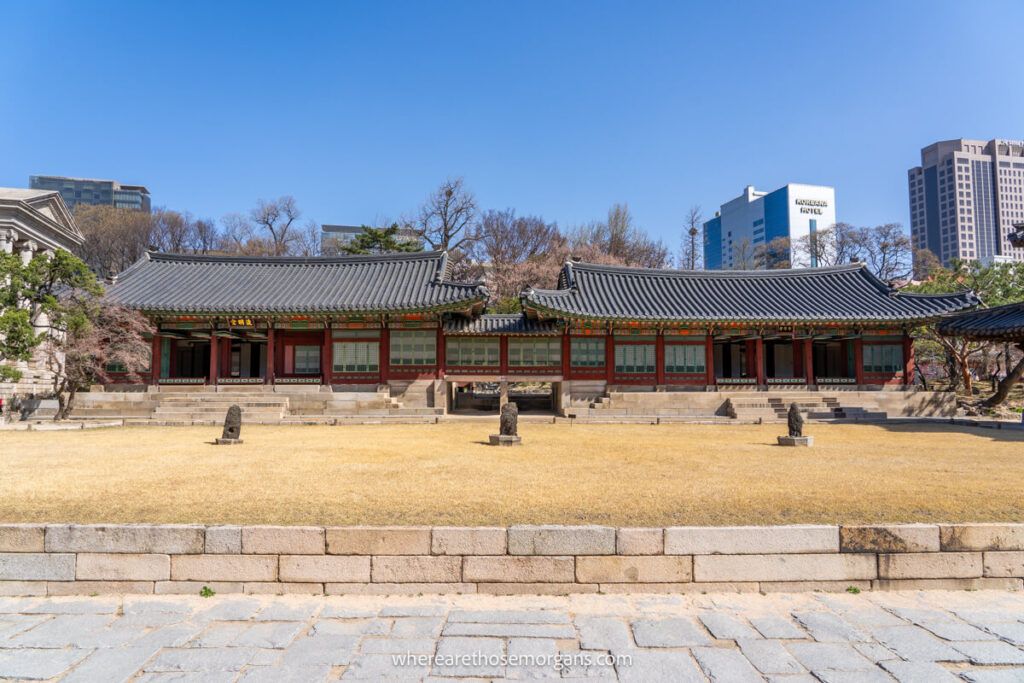 7. Jeukjodang Hall
The Jeukjodang Hall is an important building inside the Deoksugung Palace complex because King Sunjong ascended to the throne here. It was originally located slightly north of the building we see today.
While the original building was burned in 1904, but it was rebuilt in the following year. The open wooden floor is located within the eastern portion of the building, but it is not large enough for a living quarter.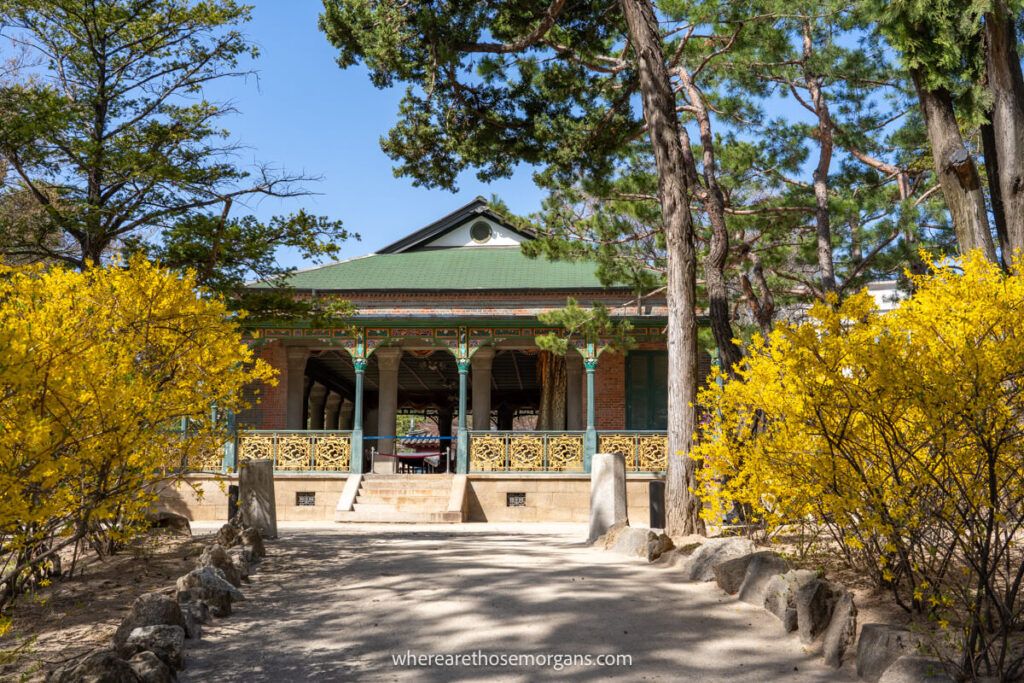 8. Jeonggwanheon Hall
One of the most interesting buildings inside Deoksugung Palace is Jeonggwanheon Hall. Built in 1990, this is the first example of European architecture ever used in a royal palace in Seoul.
Visitors are not allowed to go into Jeonggwanheon Hall, but you can easily observe it from the outside. It's interesting to note both the inner and outer rows of wooden columns are Romanesque in design.
Travel Tip: There is a small garden directly next to this hall and it was filled with stunning cherry blossoms in spring.
9. Jungmyeongjeon Hall
The Jungmyeongjeon Hall was originally built as an imperial library to store valuable books and other important objects, but it unfortunately became the place of a tragic historic event.
In November 1905, the Korean imperial government was persuaded under threat of military force to sign the Japanese Protectorate Treaty by Imperial Japan.
After it was signed, Emperor Gojong immediately tried to fight the injustice of the treaty, but he was forced to abdicate the throne because it took away Korea's diplomatic sovereignty.
During our visit, Jungmyeongjeon Hall was closed for renovation work, but there are four floors you can explore which showcase the history of the what took place here.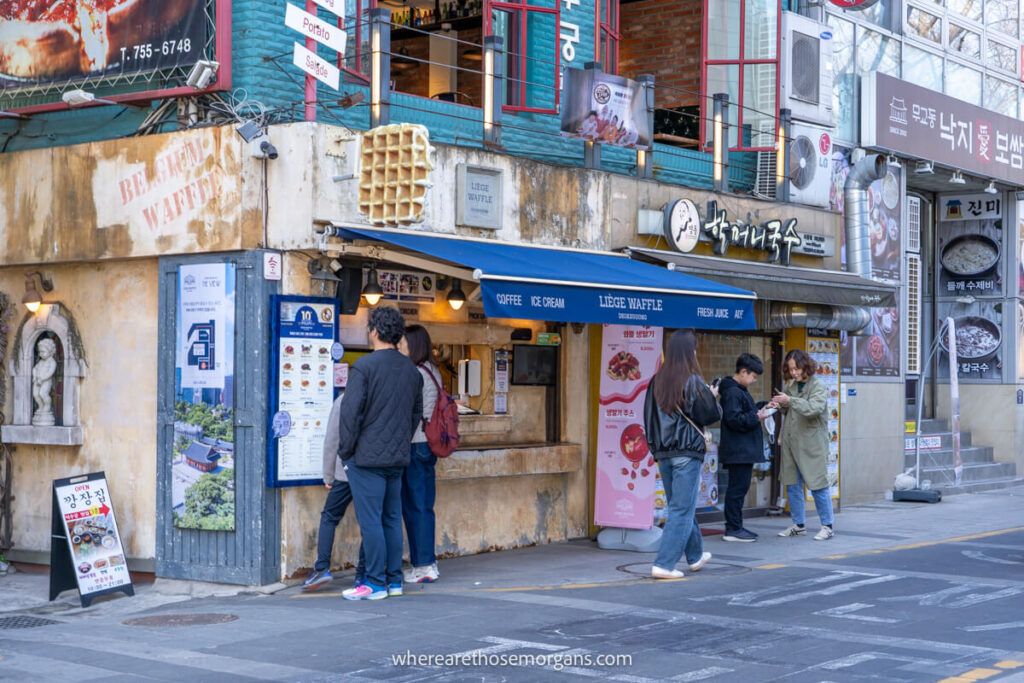 10. Gojonguigil Pathway
The Gojonguigil Pathway is the famous stone walkway on the outside of Deoksugung Palace. This is a beautiful pedestrian friendly one way road in the middle of the city.
The official street is known as Deoksugung Stonewall Walkway. There is a saying that couples who walk down this pathway will eventually break up so you better think carefully before adding this to your Seoul itinerary!
Regardless of the rumors, we walked the stone walkway and found it to be worth our time because it's filled with art benches and ceramic tiles. You can also find the Seoul Museum of Art.
Is Deoksugung palace Worth Visiting?
Yes, the Deoksugung Palace is worth visiting because this is the smallest palace in Seoul so you can easily visit the grounds in a short amount of time.
We like Deoksugung because it is easily accessible and features an art museum. We recommend you explore Seokjojeon Hall and Jungmyeongjeon Hall because they both showcase unique exhibits about Seoul's history.
Our Deoksugung Palace Photos
We enjoyed our visit to Deoksugung Palace and took many photos. Here are a few of our favorites: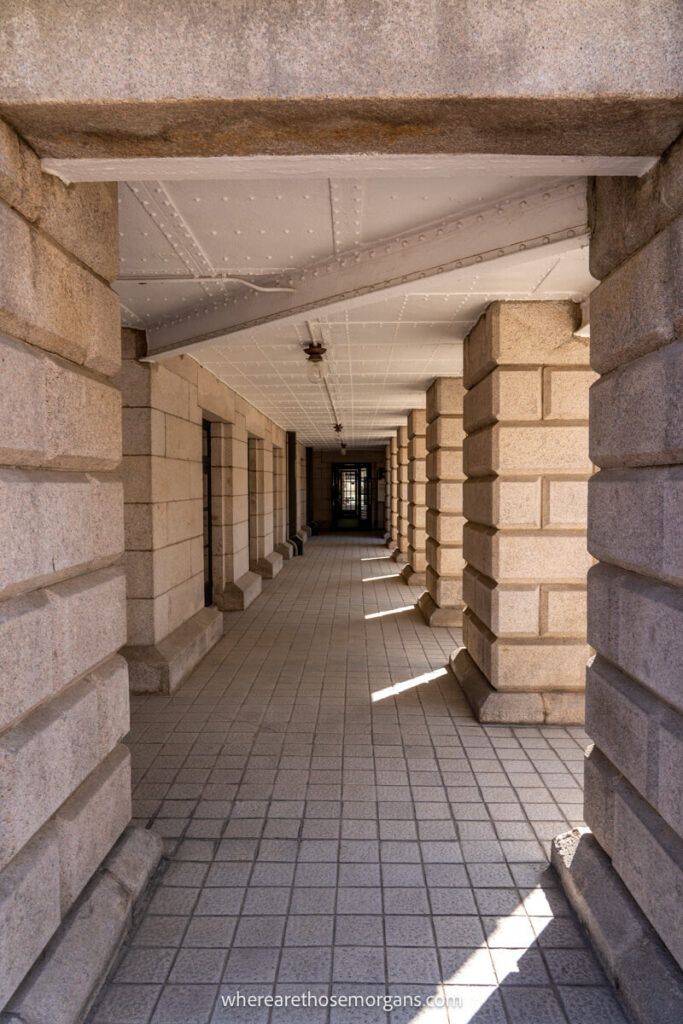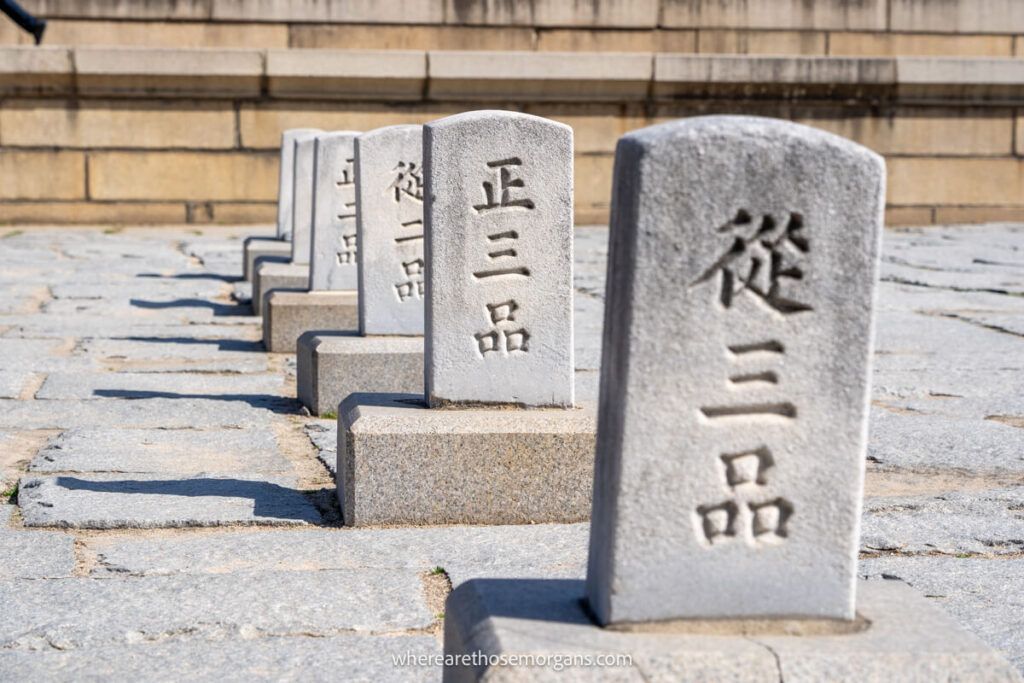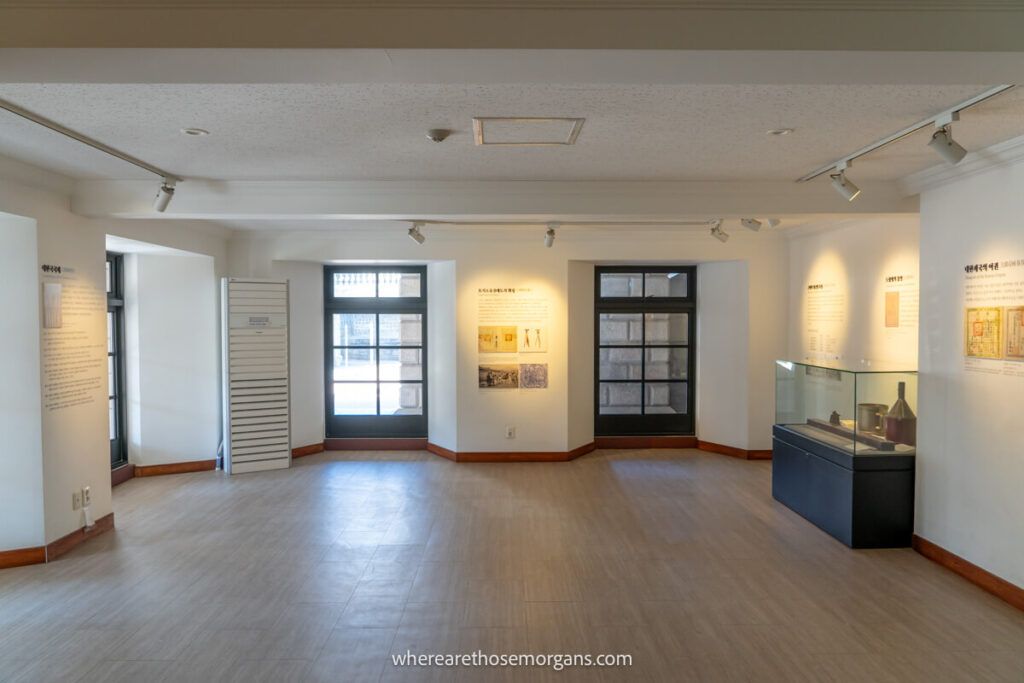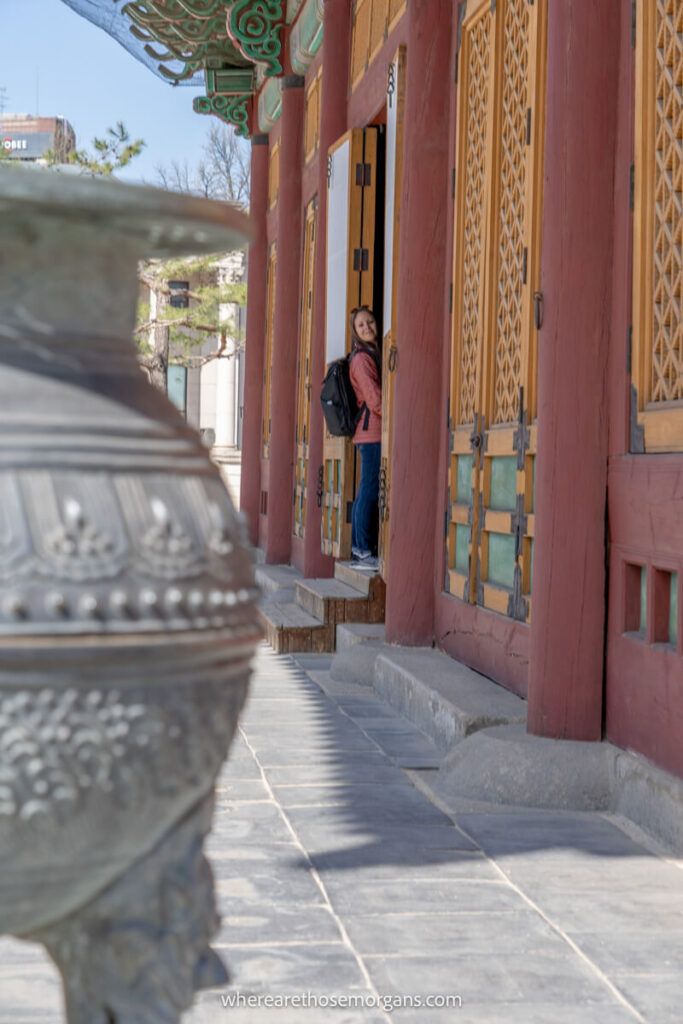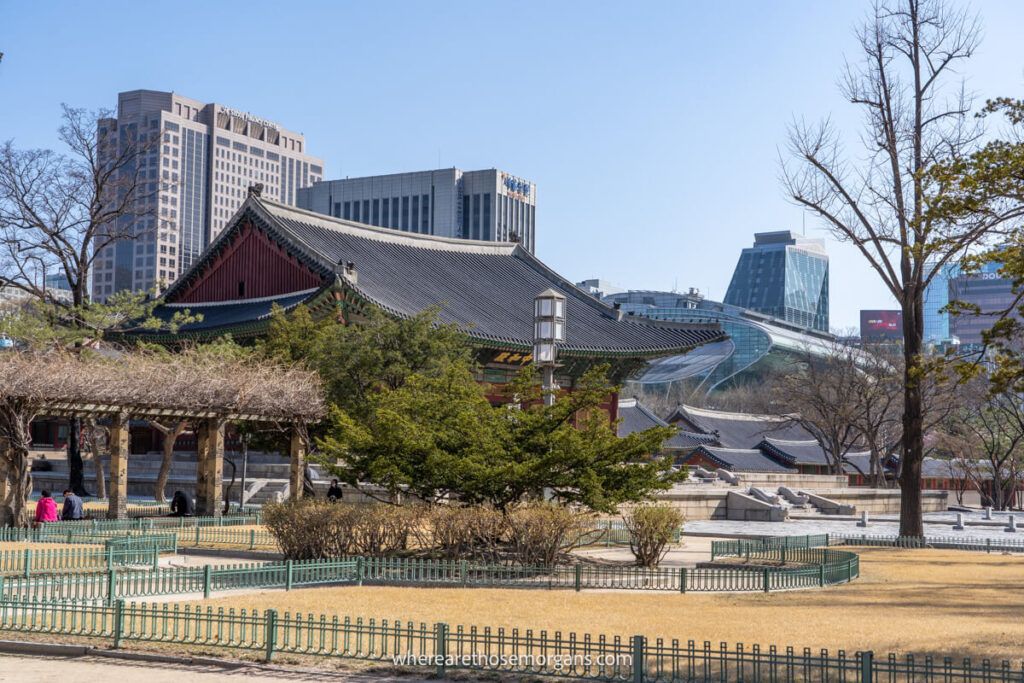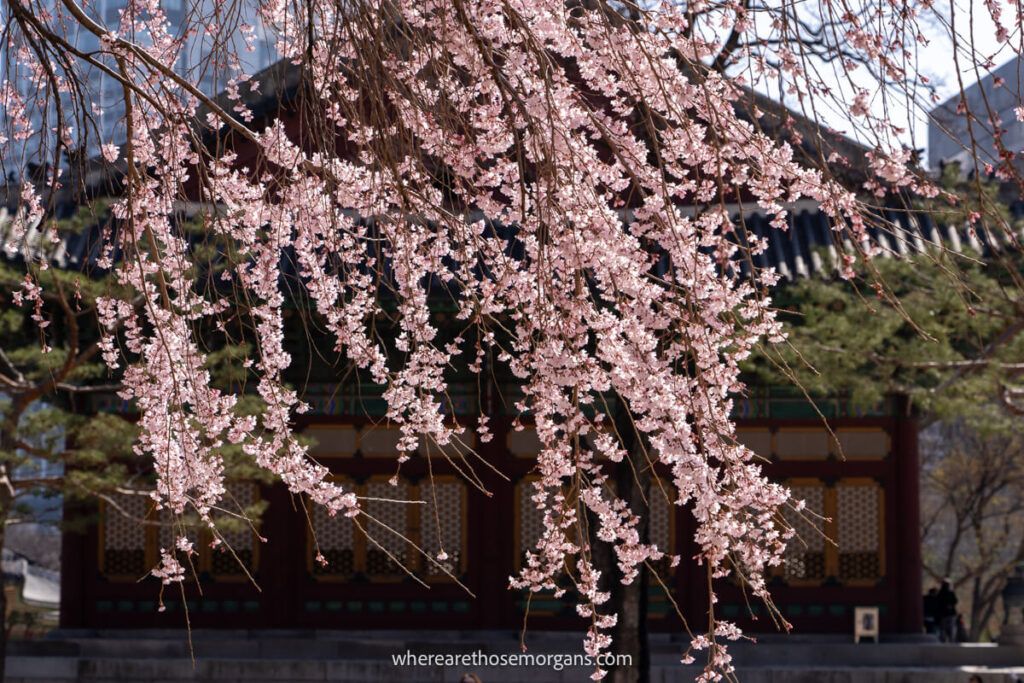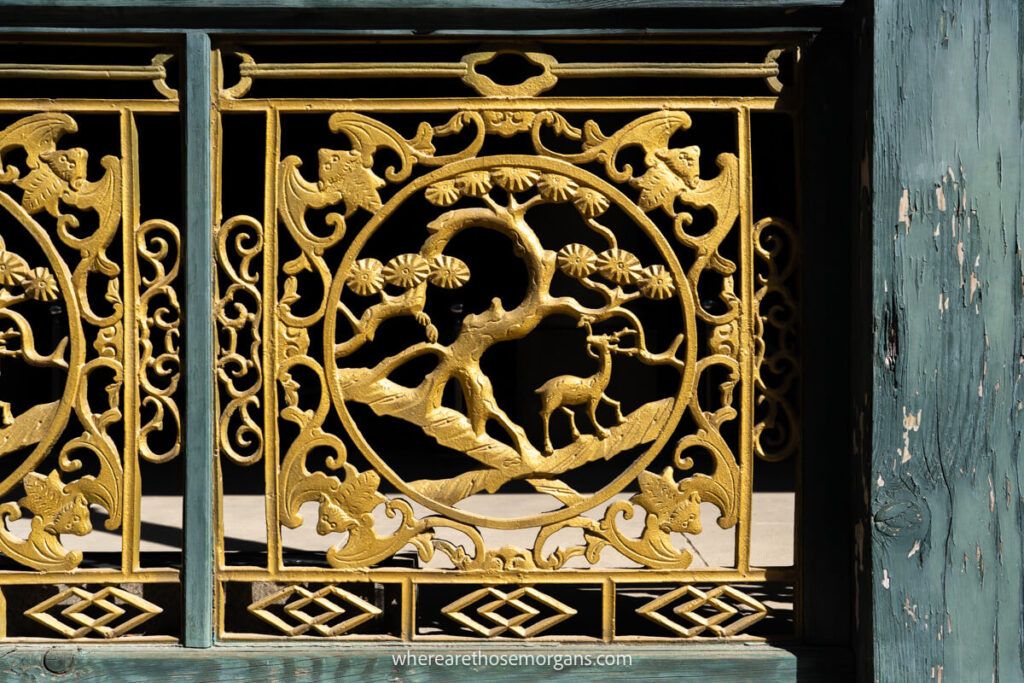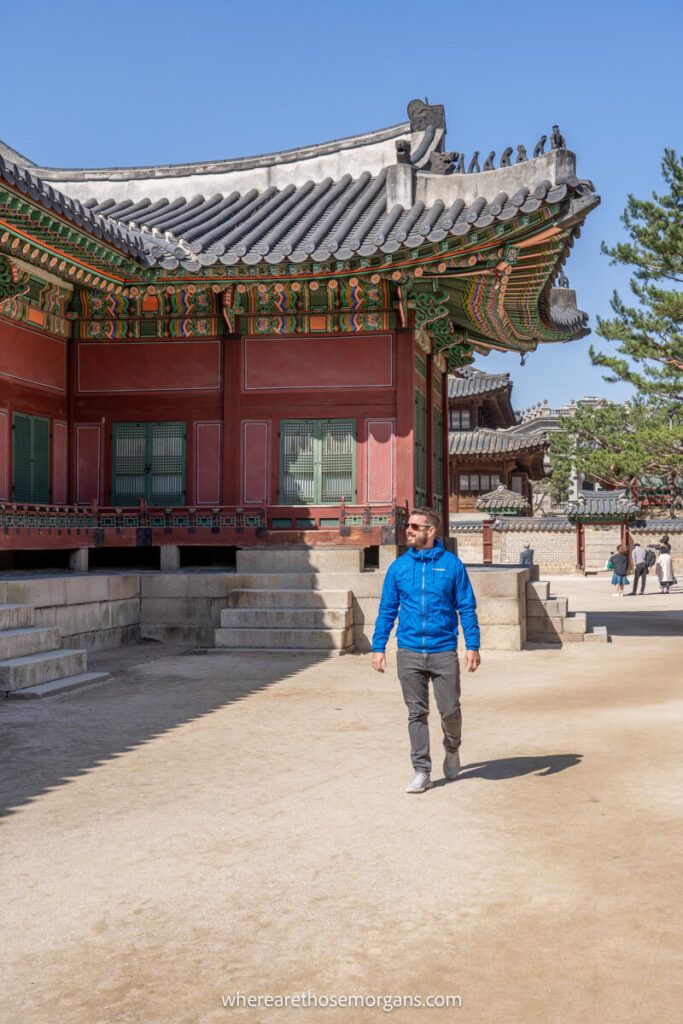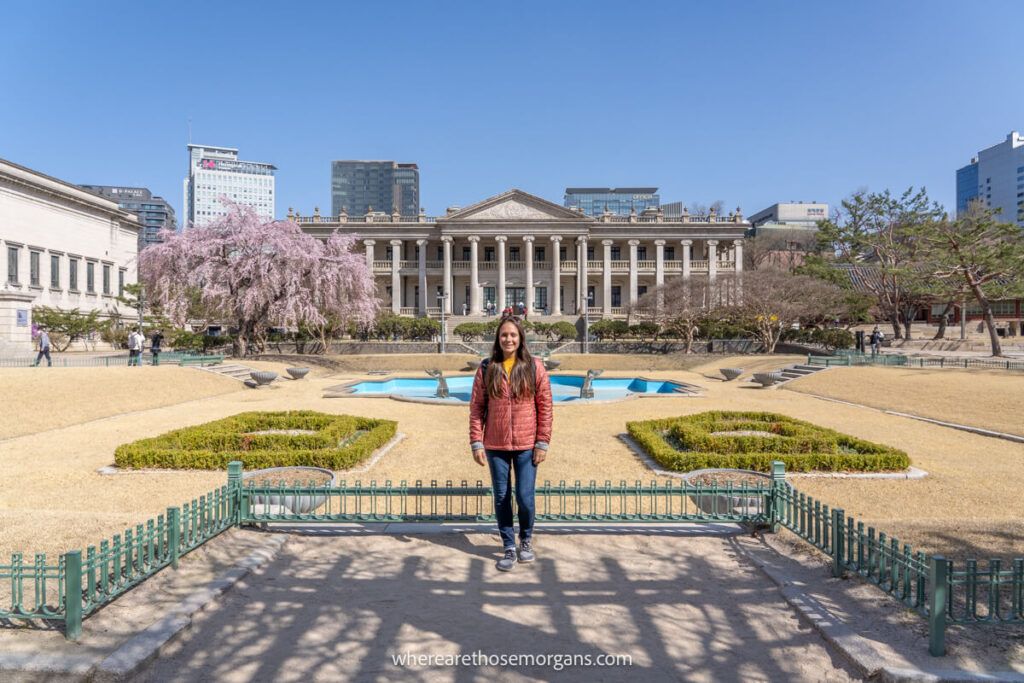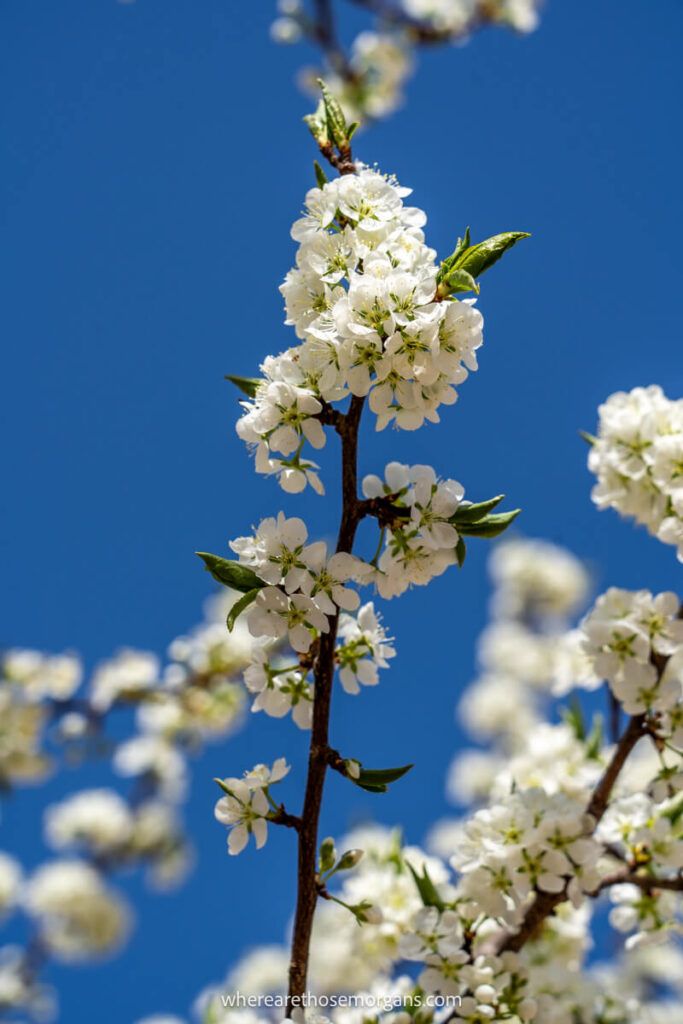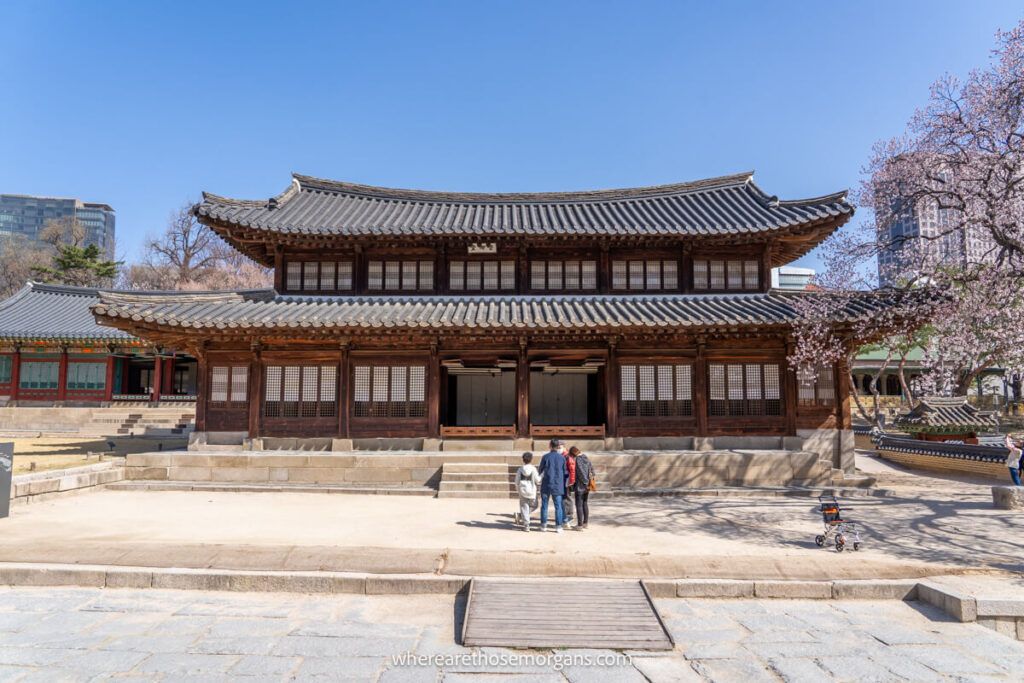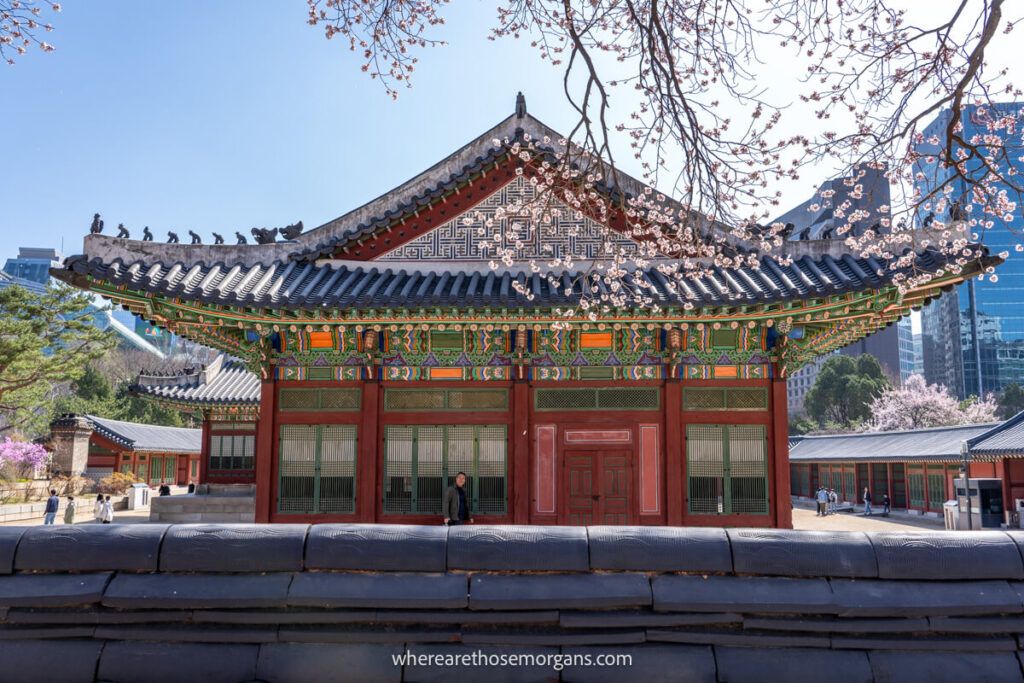 Deoksugung Palace FAQ's
Let's take a look at some of the most frequently asked questions about Seoul's Deoksugung Palace near City Hall.
When can you see changing of the guard at Deoksugung Palace?
The guard ceremony at Deoksugung Palace occurs in front of Daehanmun Gate at 11:00, 14:00 and 15:30 everyday except Monday when the palace is closed.
What is special about Deoksugung Palace?
One of the best things about Deoksugung is the beautiful pedestrian friendly stone road leading to the palace. Deoksugung is located near Seoul's busiest downtown intersections directly across from City Hall. Visitors can also enjoy several museums inside the palace complex.
How long does it take to visit Deoksugung Palace?
You can easily visit Deoksugung Palace in one hour. But if you want to visit the museums or take the free guided tour, you should plan for 2-3 hours.
Our Popular Seoul Guides
More Seoul Palaces
Want more Seoul content? Head over to our South Korea Travel Guides to explore the very best of Seoul and beyond.
---
We hope this guide featuring things to do at Deoksugung Palace helps with planning your visit to Seoul!
Please let us know if you have any questions about visiting Deoksugung Palace in the comments below.
Happy Travels,
Mark and Kristen
Enjoy This Deoksugung Palace Guide? Pin It For Your Visit!