The N Seoul Tower dominates the Seoul city skyline because it sits on top of the highest mountain in the city. So it's easy to understand why the Namsan Seoul Tower is certainly worth adding to your Seoul itinerary.
Here's how we will help you plan your trip to the Namsan Seoul Tower:
What is the N Seoul Tower and how to get there
Namsan Seoul ticket options
10 best things to do at the Seoul Tower Observatory
Best time to visit and tips for a great experience
Final thoughts with pros and cons
Our personal photos from our visit
Now, let's ride to the top of the N Seoul Tower!
*Please note this post may contain affiliate links. If you click on one, we may earn a small commission at no extra cost to you. Thank you for supporting the free content we provide! Read more in our disclosure policy.*
Our Seoul Experience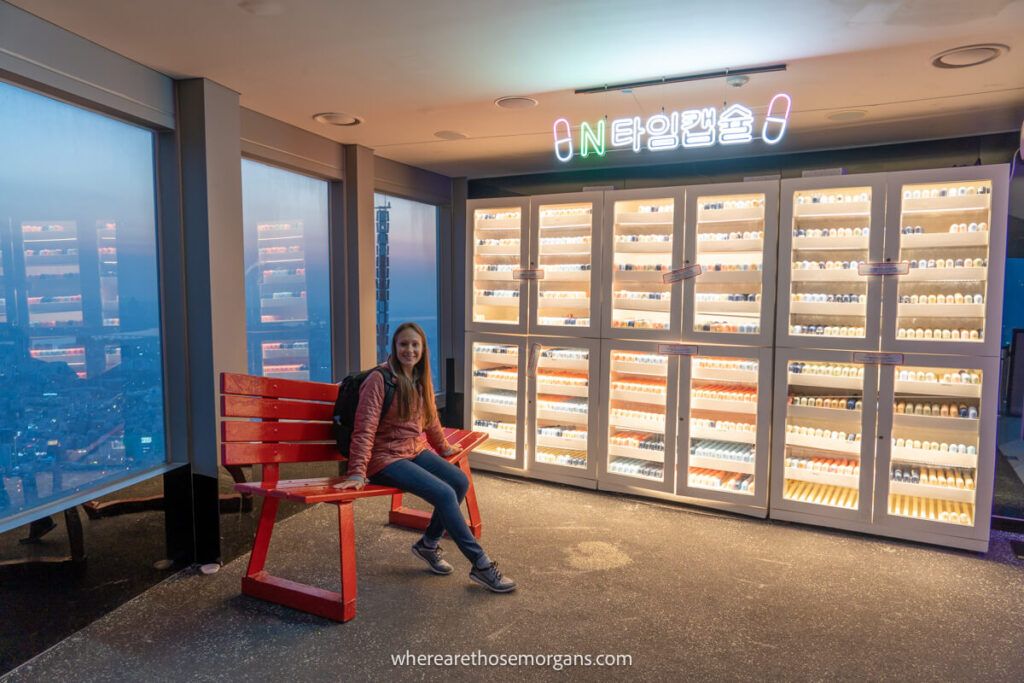 We spent two very intense weeks exploring Seoul, South Korea in March 2023 after the covid pandemic lockdowns.
During our first few days in the city, we visited Seoul Sky in Lotte World Tower and on our last evening, we visited the Namsan Seoul Tower so we could compare Seoul's two popular observation decks.
Our goal with this travel guide is to bring you the most up to date information for your Seoul trip. We will show you exactly what to expect as well as what we liked and didn't like about the N Seoul Tower.
Heading to Seoul? Check out the best things to do in Seoul next.
What Is N Seoul Tower?
The N Seoul Tower is a striking structure that instantly grabs your attention when looking at the city skyline because the tower is situated on top of the highest point in Seoul, Namsan Mountain.
We like the Seoul N Tower because it's different compared to other observations decks around the world due to it's unique history.
The Namsan Tower was built in 1969 as the first radio wave tower in Seoul. But then in 1980, the tower was opened to the public and has now become a popular tourist attraction.
It can be a little confusing because the tower goes by many names. In 2005, a merger with the CJ Corporation changed the original name, CJ Tower to N Seoul Tower.
The "N" in the new nomenclature stands for New and Namsan. But you can also expect to hear Namsan Tower or Seoul Tower when referring to the same structure.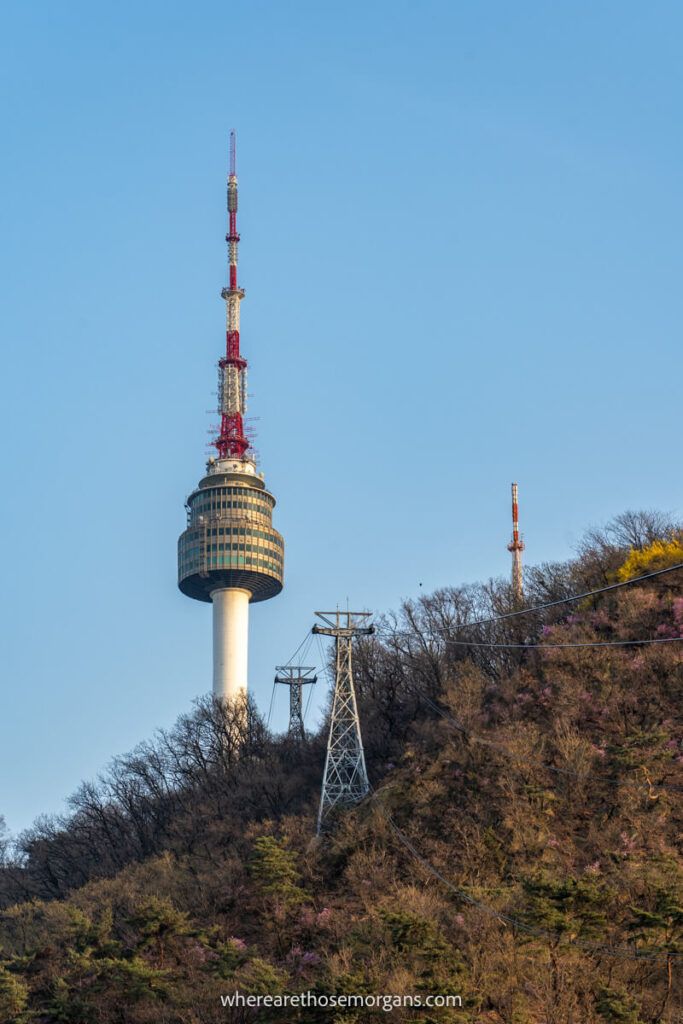 Facts About The Namsan Seoul Tower
As we mentioned earlier, this Seoul building is brimming with history so before we get into how to visit the tower, here are a few interesting facts about the N Seoul Tower:
The N Seoul Tower was the first multipurpose tower in Korea, including both an observation deck and a broadcasting tower.
Reaching an impressive height of 236.7 meters (777 ft), the Namsan Tower is the second highest point of Seoul.
48% of the Seoul audio population watches broadcasting through the Namsan Tower.
According to Visit Korea, the average turnaround time for a visit is approximately 74 minutes.
But we think the most interesting fact about the tower is the true meaning behind the colors of the structure. The N Seoul Tower changes color to alert everyone to the current air quality in the city.
There are 4 colors you can expect to see highlighted across the Namsan Tower, blue, green, yellow and red. Air quality index is often measured in micrograms per cubic meter of air (µg/m3).
Blue = Good (0-15 µg/m3)
Green = Average (16-50 µg/m3)
Yellow = Bad (51-100 µg/m3)
Red = Very Bad (101+ µg/m3)
When we visited in March, the tower was lit up green for the majority of our time in Seoul.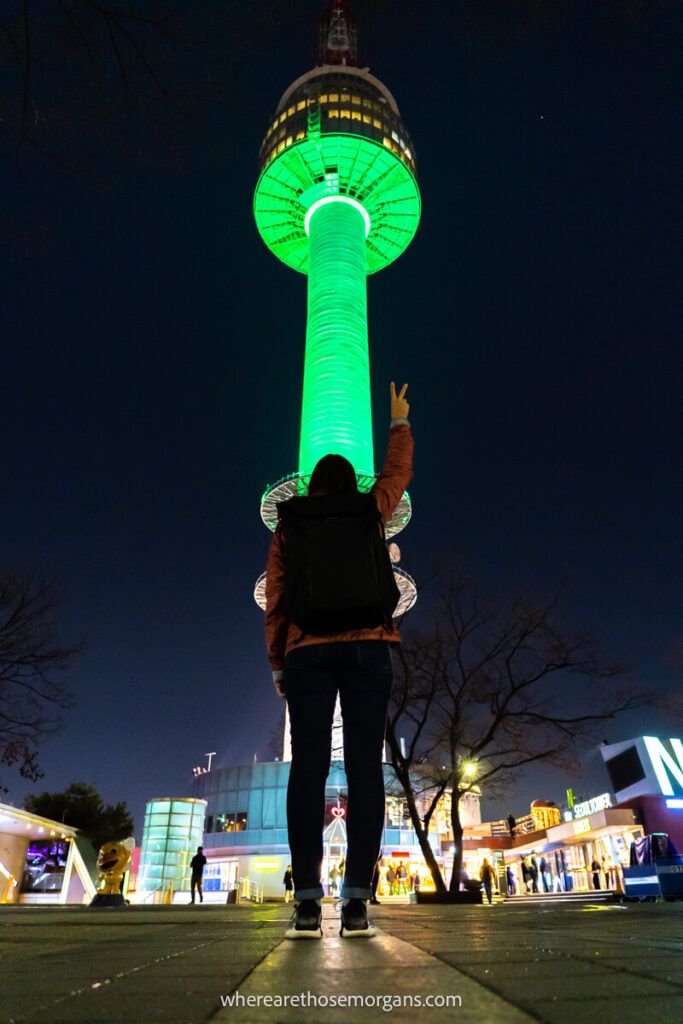 Where Is N Seoul Tower?
The Seoul Tower sits on top of Namsan Mountain. It is nestled within the protected borders of the Namsan Park, one of the largest green spaces in Seoul.
Address: 105 Namsangongwon-gil, Yongsan-gu, Seoul, South Korea
N Seoul Tower Google Maps location.
How To Get To The Namsan Seoul Tower
You can only access the N Seoul Tower from the bottom of Namsan Mountain, so getting to the bottom of the mountain should be your first priority.
Seoul has an extensive subway system and we used it to travel around the capital city when we visited. The subway is not only the cheapest option, but it's the most environmentally friendly too.
Subway
Myeongdong Station (Line 4)
Chungmuro Station (Line 3,4)
Bus
Namsan Shuttle Bus No. 02, 03 or 05
Once you have accessed the bottom of the mountain around the popular Myeongdong neighborhood, you have a few options when it comes to getting to the top.
Want to stay in Myeongdong? Read our first hand experience guide to the 8 best hotels in Myeongdong Seoul on our sister site Best Hotels Anywhere.
Climbing The Mountain To Namsan Tower
Car traffic is restricted within Namsan Park so you won't be able to take taxi directly to the entrance of the tower. There are three popular options for accessing the top of Namsan Mountain:
Namsan Cable Car – This is the easiest and quickest option because the ride takes about 3 minutes to the base of N Seoul Tower.
Bus – You will need to find the Yellow Bus outside Chungmuro Station (Line 3 or 4, Exit 2) or Dongguk University Station (Line 3, Exit 6). The cost is 500 won with metro card or 550 won cash.
Hiking – Look for the main pedestrian walkway across the street from the Namsan Cable Car lower station. You can expect the walk to take about 30 minutes each way.
There is no wrong way to climb Namsan Mountain so choose what is best for your group. We chose the Namsan Cable Car because we were short on time, but we plan to hike up next time we visit.
Here is what you need to know if you want to take the cable car up Namsan Mountain: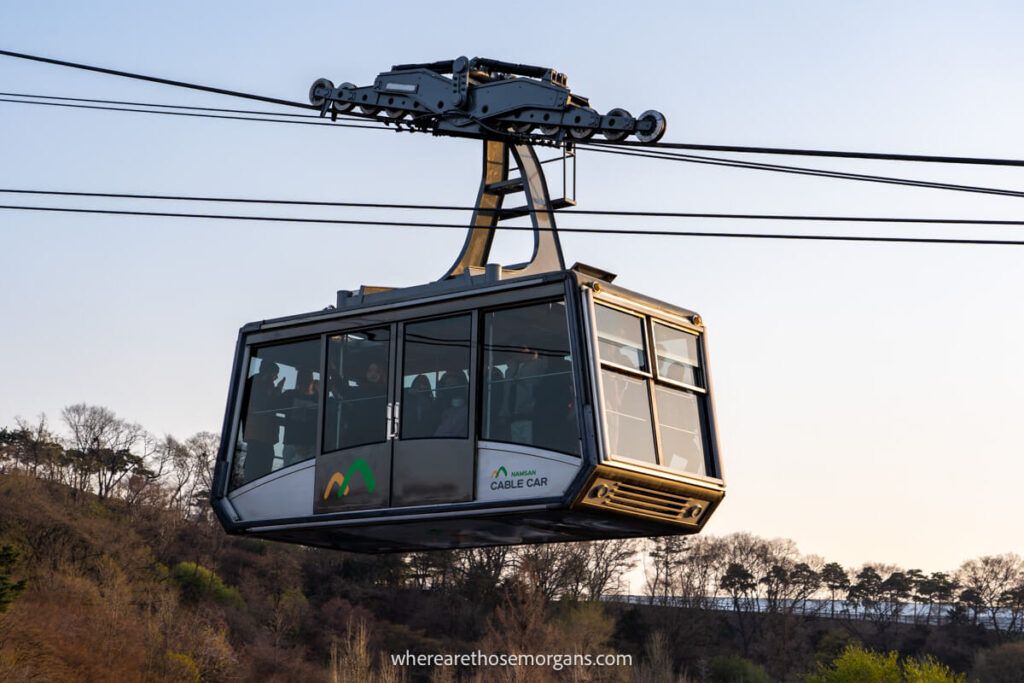 Namsan Cable Car Option
The Namsan Cable Car runs abut 600m from the lower platform in Hoehyeon-dong to the top platform in Yejang-dong. There are always two cars running simultaneously with one up and one down the mountain.
You can expect the cable cars to have an average speed of 3.2m / second so the full journey takes about 3 minutes total and each car has a 48 person capacity.
If this is your first time in Seoul, the Namsan Cable Car can be a fun way to experience the ride up Namsan Mountain, but finding the cable car station can be tricky.
From Myeongdong Station, head for exit 3 and then continue south along Toegye-ro 18-gil St passing the Pacific Hotel on your left.
Cross over Sogong-ro 6-gil St and continue along Toegye-ro 18-gil St. Once you have passed the Embassy of the People's Republic of China, you can access a small staircase to the lower cable car station.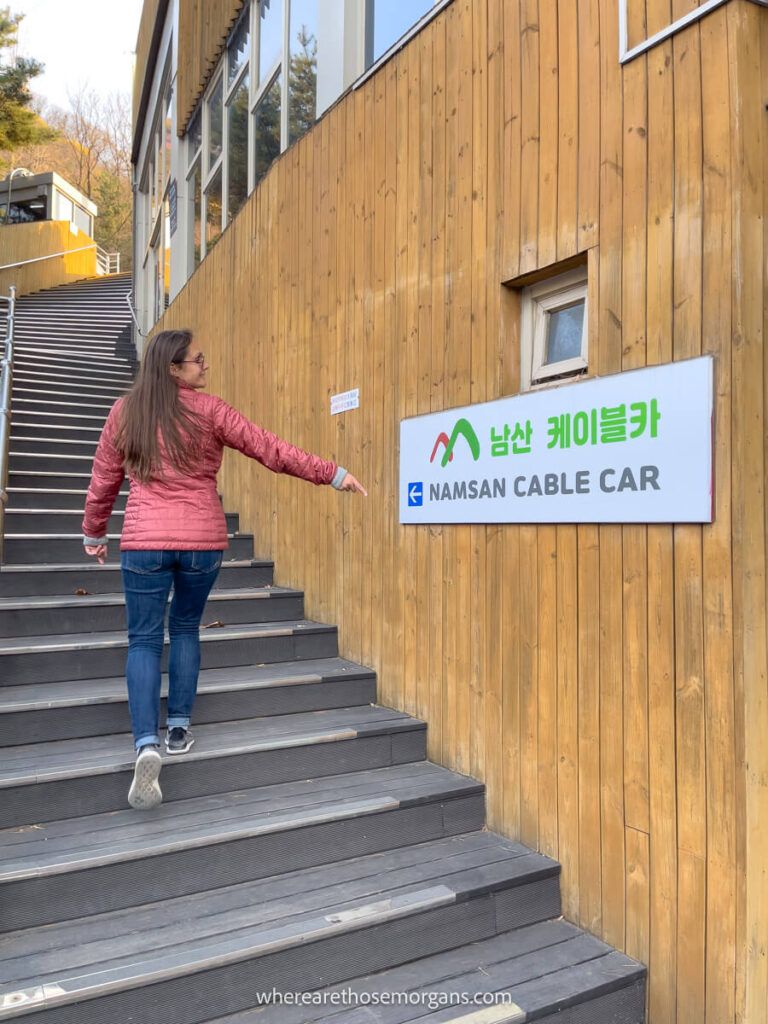 Before getting on the cable car, you will have to purchase tickets. Here are current ticket prices for the Namsan Cable Car:
Adult return ticket: 14,000 won
Adult one way: 11,000 won
Child return ticket: 10,500 won
Child one way: 8,000 won
If you know you want to visit the N Seoul Tower, you can purchase a combo ticket from Klook which includes your cable car ride.
Activities At The Top Of Namsan Mountain
Once you have arrived to the top of the mountain, you will be overwhelmed by stunning views, restaurants, shops and numerous tourists taking selfies.
To keep this post a reasonable size, we will only focus on things to do inside the N Seoul Tower, but here is a quick overview of what you can expect at the top:
Hanbok Culture Experience Center – Located on lobby level (B1) of the Namsan Seoul Tower, this center is focused on the Joseon dynasty and features numerous photo zones. Admission fees include 2,000 won for adults and 1,000 won for children.
Seoul Tower Plaza – A section of the old broadcasting tower which was remodeled and opened to the public in 2015. We liked walking along the terrace for the beautiful panoramic views.
Namsan Octagonal Pavilion – Originally known as Unamjeong Pavilion, this structure was moved and rebuilt on top of the mountain to commemorate Rhee Syngman.
Travel Tip: The Namsan Octagonal Pavilion is where the annual sunrise festival occurs every New Year's Day. This is a great place to see the first sunrise of the new year.
N Seoul Tower Tickets
You will need a ticket to go inside the N Seoul Tower and experience the observation deck. We like that this tower keeps it simple because you have two ticket options, an adult or child ticket.
Here are current ticket prices for the Namsan Seoul Tower:
Adult: ₩21,000 (~US$ 16.00)
Child: ₩16,000 (~US$ 12.00)
Unlike most observation decks, the tickets at N Seoul Tower are purchased for same day only. You do not need a timed entry ticket to enter the observation deck.
Discounted tickets are available for elderly, disabled visitors and people who have national merits.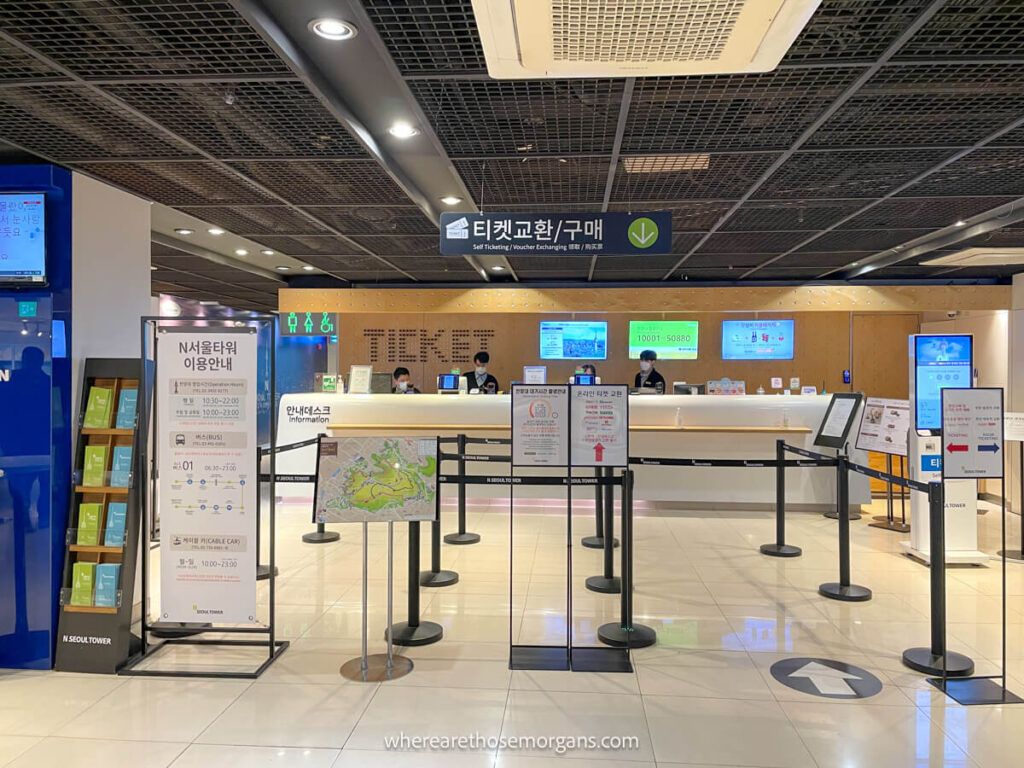 How To Buy Tickets For N Seoul Tower
There are many ways to purchase Namsan Seoul Tower tickets.
You can buy tickets onsite at the Seoul Tower once you climb the top of the Namsan Mountain.
Or you can purchase tickets through Klook here which is often the cheaper option compared to buying direct. This is how we purchased our N Seoul Tower tickets because it was the best price.
If you are planning to visit many attractions in Seoul, you might also consider purchasing a Seoul Go City Pass or a Klook Pass for Seoul.
We love using attraction passes in cities around the world to save money. You can read our New York Pass Comparison for an example on how these passes work.
When Is The N Seoul Tower Open?
N Seoul Tower is open 365 days a year. The Seoul Tower Observatory hours are 10:30am – 11:30pm weekdays and 10:00am – 11:30pm weekends or holidays.
However, restaurants, gift shop and terrace hours may differ from the main tower hours so you may need to plan accordingly.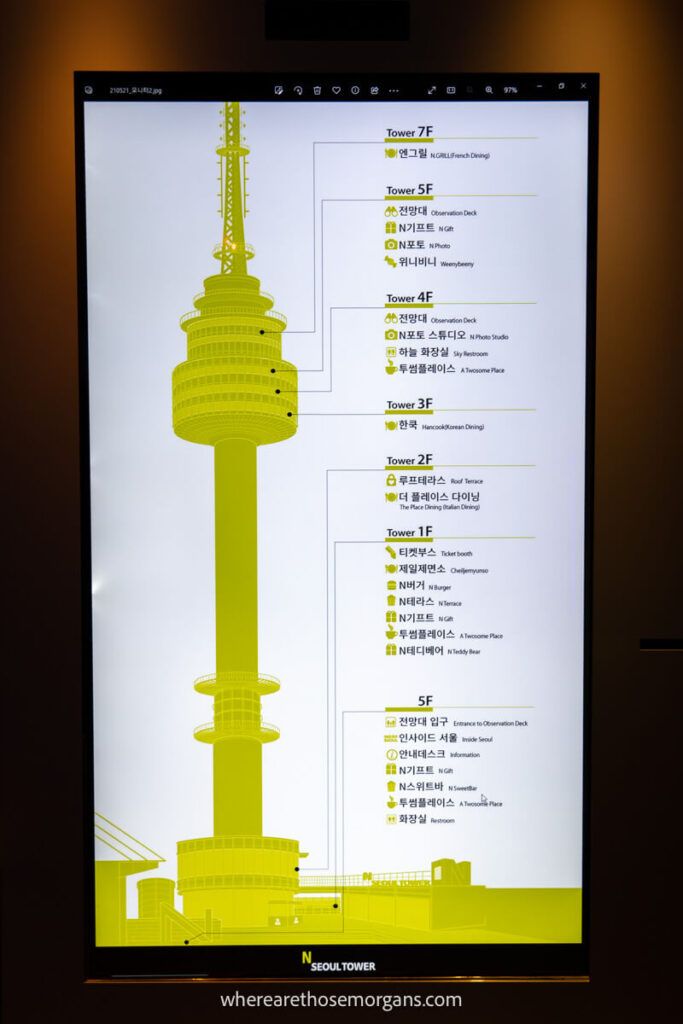 10 Best Things To Do At The Seoul Sky Tower
There are numerous activities and exhibits to keep you entertained at this observation deck including restaurants and many photo spots.
Below we will show you exactly what to expect for your visit along with a complete photo walk through of each floor and exhibit.
You can experience 7 floors of fun activities at the N Seoul Tower in addition to the 3 floors of the Seoul Tower Plaza at the bottom level.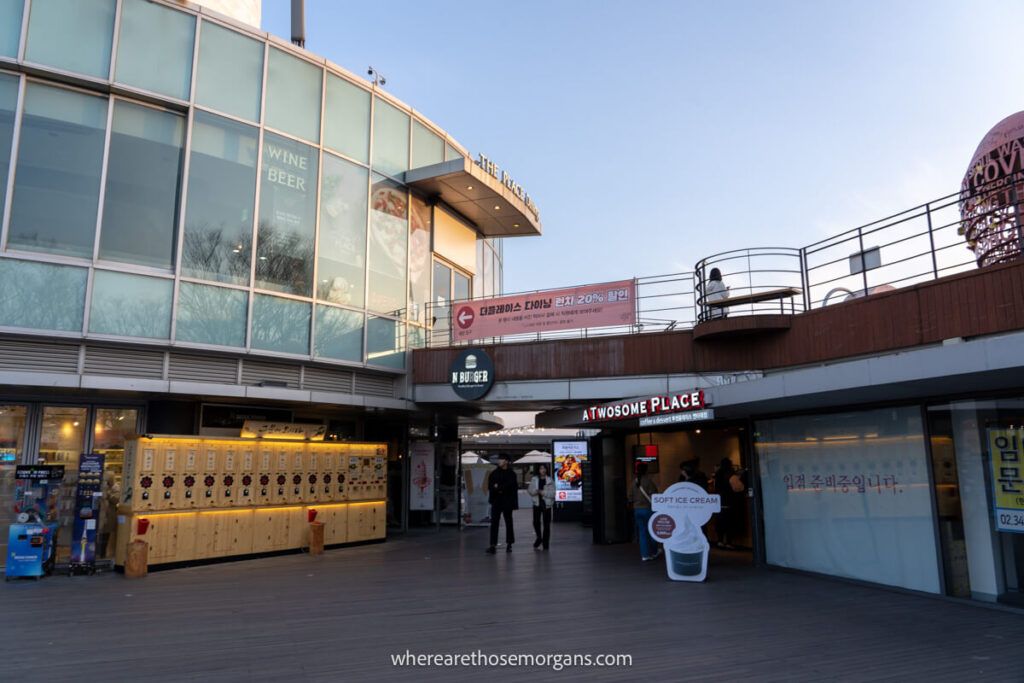 1). Hunt For The Photo Spots In Seoul Tower Plaza
Seoul Tower Plaza makes up the bottom 4 floors of the N Seoul Tower. We recommend visiting the observation deck before walking around the plaza.
Here are the main photos spots you should not miss in Seoul Tower Plaza:
Linlin Land – Visitors can snap photos with adorable figures featuring some of the world's most endangered species.
Larva Zone – Unique vibrant designs along the level 2 and 4 staircase of the Seoul Tower.
Tunnel of Love – A great instagram shot with shimmer lights and gorgeous red stairs.
Bridge of Love – This lighted bridge connects level 3 and 4 of the Seoul Tower.
Sunset Zone – Head to the terrace on level 4 to see the sunset over Seoul.
OLED Tunnel – Don't miss the numerous OLED tunnels on display between the 1st and 4th floors.
You can also find numerous restaurants and stores on 1F, 2F or 4F. Visitors can not access level 3F because it is a restricted area with broadcasting functions. Use this map for your visit.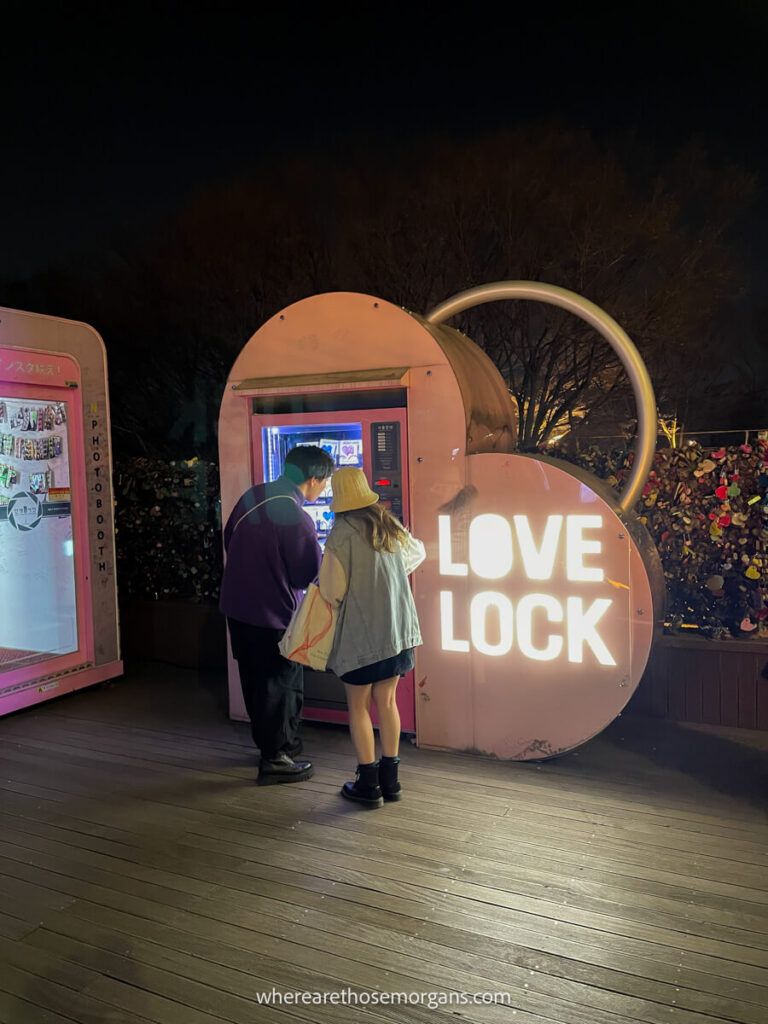 2). The Proposal Staircase
If you need a place to pop the question, look no further than the proposal staircase. This is the best place for lovers because it features a stunning combination of lush nature and towering city views.
Even if you don't have a proposal, we recommend making a stop by the Proposal Staircase to see the Love Lock Bridge. You can even add your own love lock via vending machine nearby.
This section was very busy when we visited Seoul Tower. You may have to be extremely patient to get your moment on the proposal staircase.
Travel Tip: The proposal staircase is connected with the lobby at Level 1.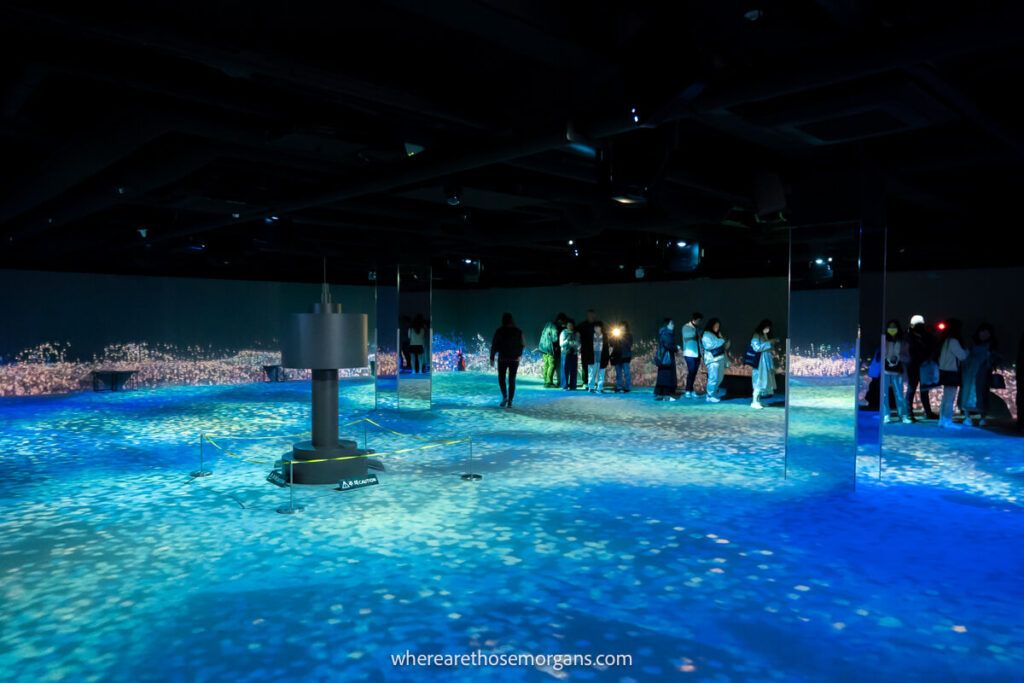 3). Inside Seoul Exhibit
Before heading to the main elevator that whisks you up to the observation deck, you will walk through an immersive media art exhibit called Inside Seoul on level 5F.
This is the newest addition to the N Seoul Tower observatory. Over 40 laser projectors present images of Seoul via dimensional mapping.
You will also find a restroom, an information center, a gift shop and popular South Korean chain coffee bar, a Twosome Place on this same level.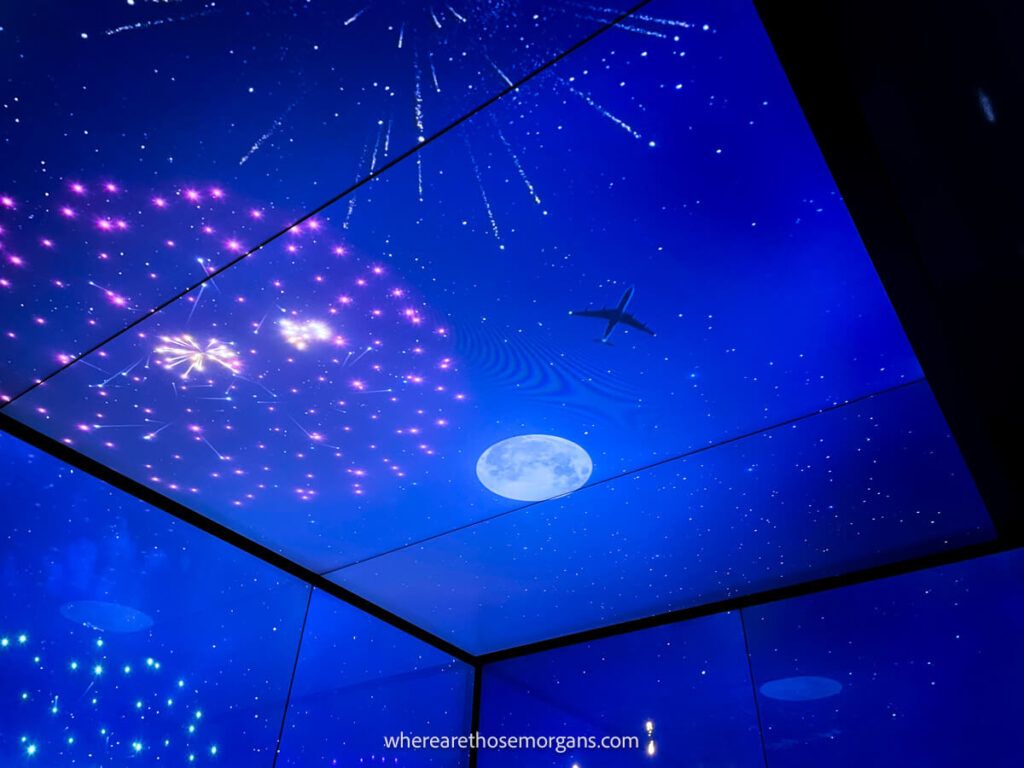 4). Elevator Ride
Hopefully, you won't have to wait long to get inside the elevator at N Seoul Tower. This will bring you to level 5F and the main observation deck.
As the elevator climbs, you will experience an animated movie featuring fireworks over the city skyline of Seoul. Be sure to look for the N Seoul Tower as it plays!
Travel Tip: There was a 30 minute wait for the elevator at N Seoul Tower. If you are planning to visit for sunset, be sure to give yourself some extra time in case you have to wait.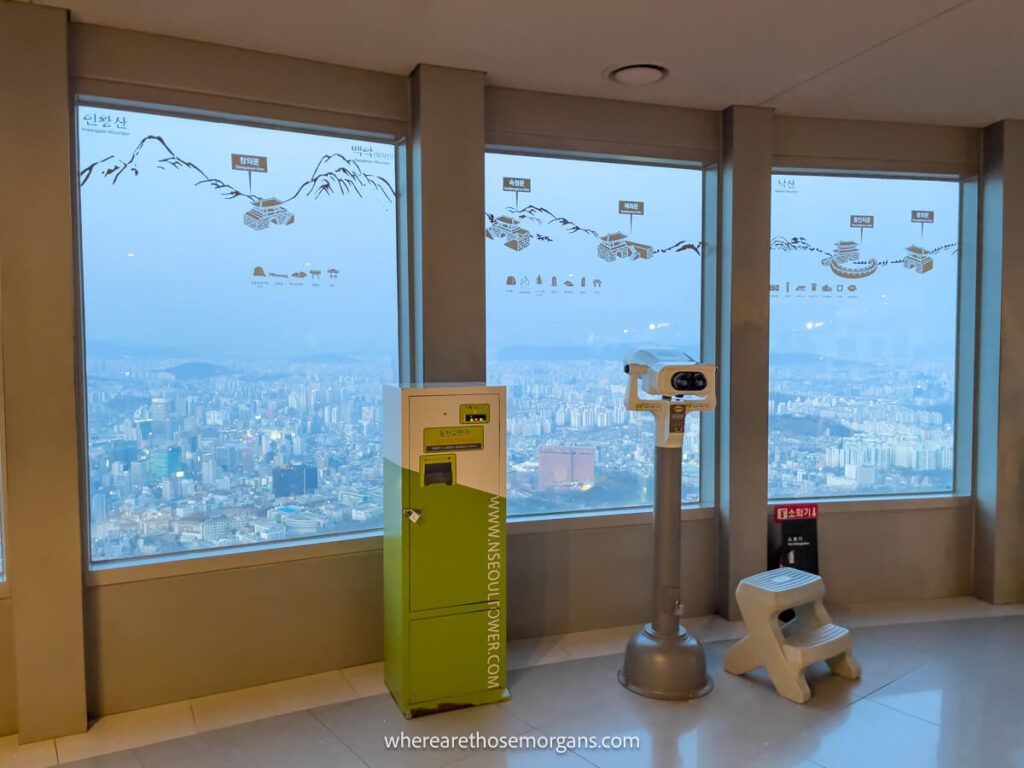 5). Explore Tower 5F: The Main Observatory
As you exit the elevator, you are now on level 5F of the N Seoul Tower. This is the main observation deck featuring large floor to ceiling windows, numerous places to sit, a Weenybeeny and a gift shop.
We like the N Seoul Tower observation deck because the windows showcase distances of nearby cites. There is also plenty of space to move around even if it's crowded.
You can walk the entire circumference of the tower as many times as you want. If it's crowded in one section, just come back later after the crowd has disappeared.
Travel Tip: If you are traveling with kids, let them pick out a few sweets at the WeenyBeeny. It's the only observation deck we have ever visited with an extensive candy selection, they will be spoiled for choice!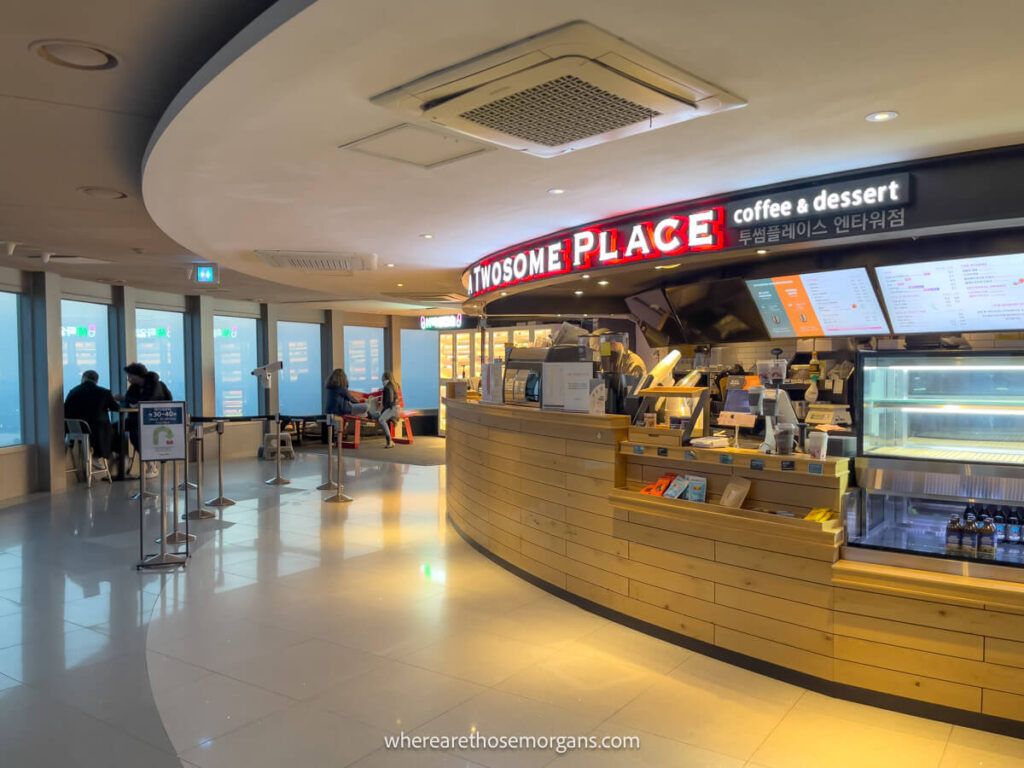 6). Visit Level 4F
Once you have seen the views from Level 5F, make your way to the stairs and climb down to Level 4F.
On this level, you will find more breathtaking observation deck views, a photo studio, the sky restroom and another Twosome Place.
We found this floor to be less crowded than level 5F so it might be a good area to get away from the crowds if you need a break.
This is also the floor that will take you back down to the lower levels when you have experienced everything you want at the N Seoul Tower.
Travel Tip: You can revisit any floor of the observation deck via the staircases if you want more pictures or missed something during your first trip.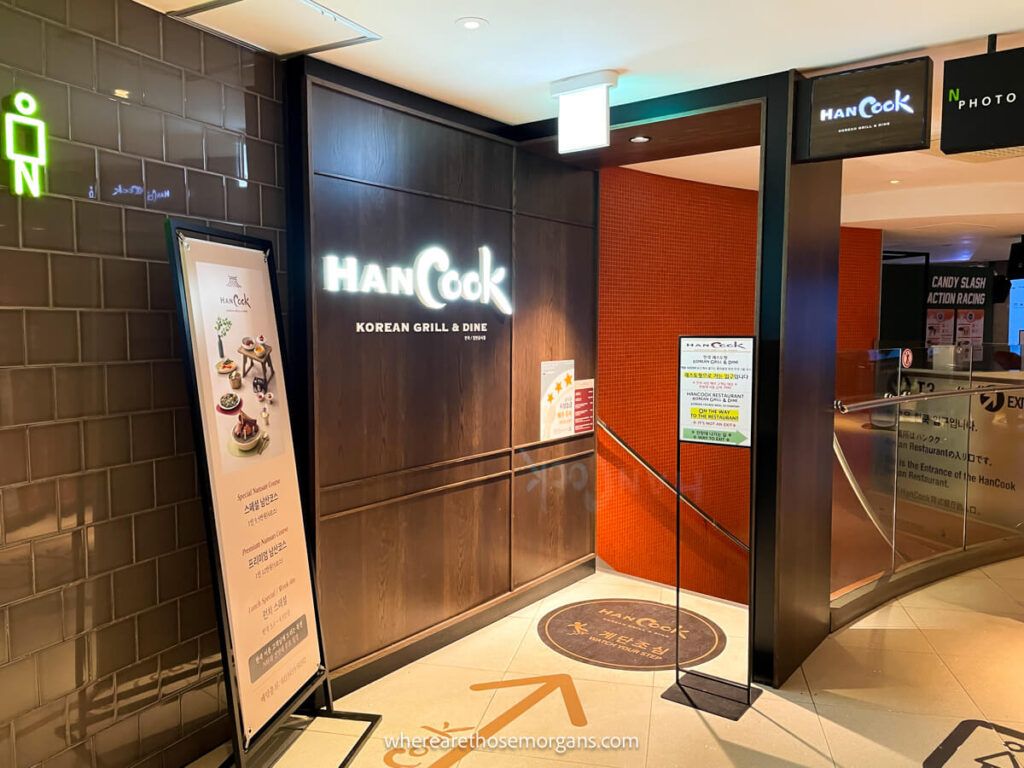 7). Eat At HanCook
If you have worked up an appetite, you can take the stairs down to tower level 3F to try a popular Korean Dining experience, the HanCook.
HanCook is a Korean grill offering lunch and weekday specials with set menus and special pairings.
Visitors wishing to eat at this restaurant must purchase the HanCook package at the N Seoul Tower Ticket booth (tower 1F) or the information desk on level 5F.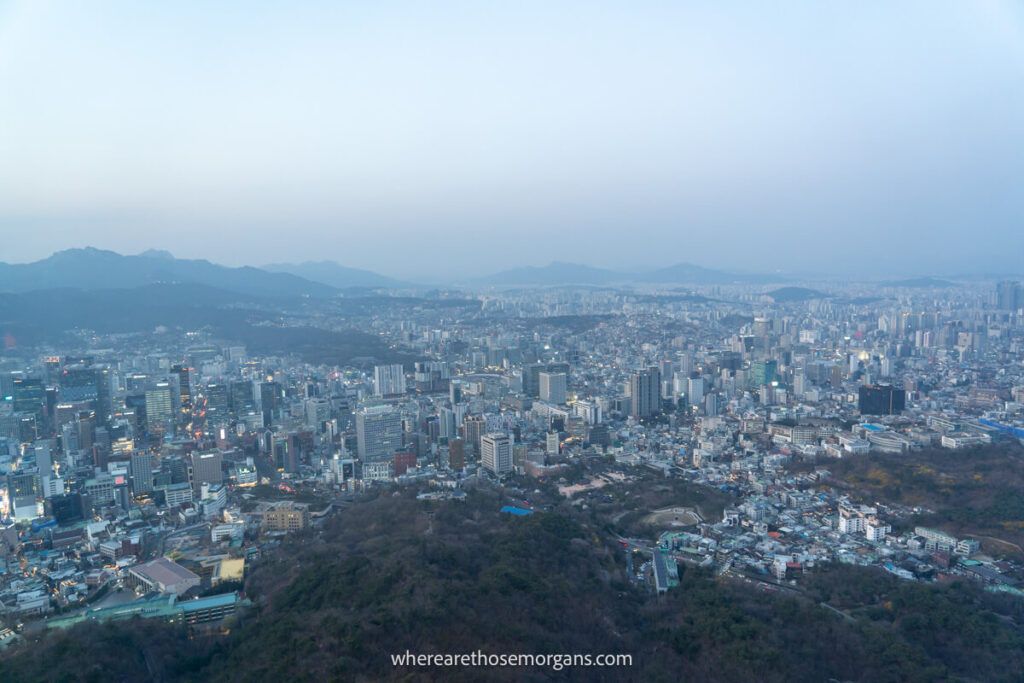 8). Get Fancy At The n. GRILL
The n. Grill is home to a classy French restaurant featuring the highest vantage point of the Seoul Tower. This is the place to see the stunning Seoul skyline filled with towering skyscrapers and twinkling stars.
You will need a reservation to eat at the n. Grill for lunch or dinner. Prior to riding the elevator, you will must confirm your reservation at the information desk on 5F.
To make a reservation at the n. Grill, you can call 02) 3455-9297, 9298.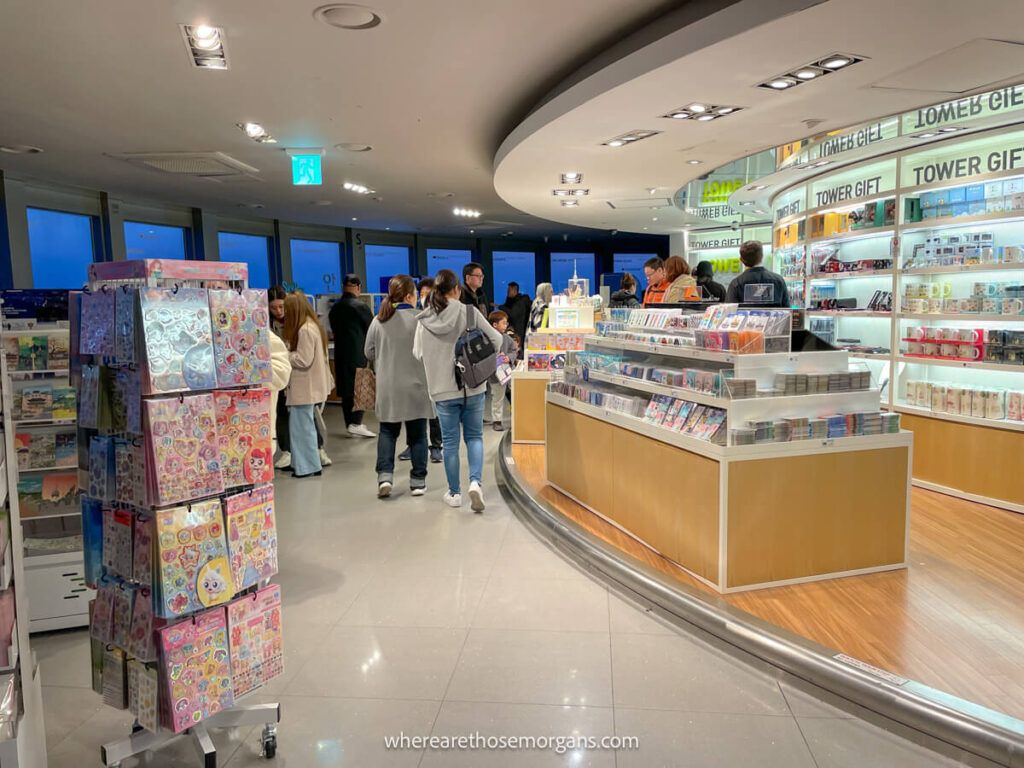 9). Pick Up A Seoul Souvenir
You may want to pick up a small souvenir to remember your amazing Seoul trip.
Gift shops are located on level 5F, Tower 1F, and Tower 5F. These shops include romantic couples items and unique gift options from both Seoul or South Korea.
10). Check Out The N Seoul Tower Food
After visiting the observation deck, you can check out some of the stores and restaurants located along the Tower 1F level. These are cheaper dining options that do not require reservations.
Here are the restaurants located on the bottom of Seoul Namsan Tower:
N Burger – American style burgers
N Sweet – Popcorn and nachos
A Twosome Place – Coffee chain
N Terrace – Premium sky lounge
Cheiljemyunso – Korean noodle restaurant
Travel Tip: There is one more restaurant located on the floor above on Lever Tower 4F. The Palace Dining is a casual Italian spot serving homemade pizza, pasta, ravioli and wine.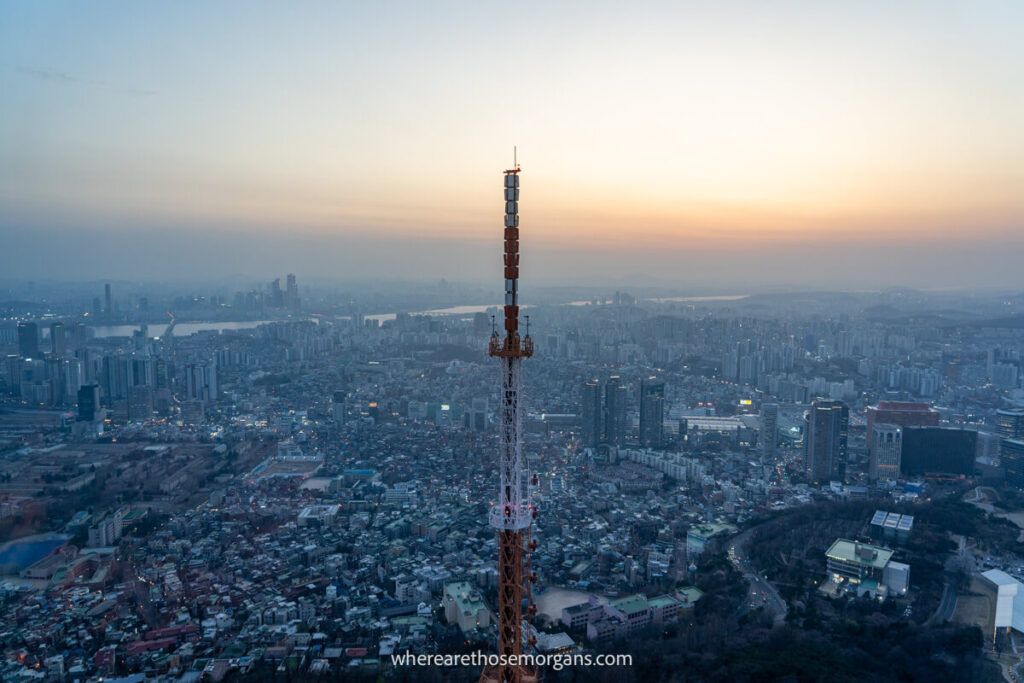 Best Time To Visit N Seoul Tower
The best time to visit the Namsan Seoul Tower observation deck is sunset because you will be rewarded with gorgeous colors highlighting the stunning Seoul skyline as the sun disappears.
Sunset also provides the softest light the day which can help you take better photographs.
We visited N Seoul Tower for sunset and while there was no wait to enter the observation deck, we had to wait about 30 minutes for the elevator so give yourself some extra time.
There is also no limit to how long you can stay at the top of N Seoul Tower and you can take as much time as your Seoul Itinerary allows.
Travel Tip: Keep in mind the Namsan Cable Car runs until 11:00pm so you don't want to miss the last car because you will have to walk down. The yellow bus also runs until 11:00pm.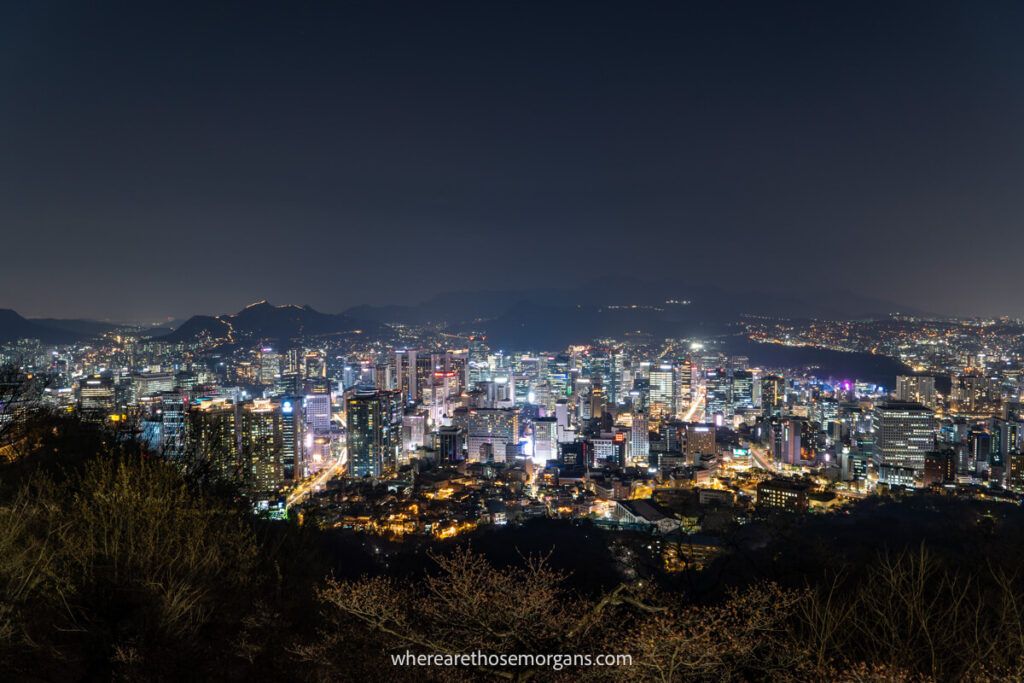 Is N Seoul Tower Worth It?
Yes, the Namsan Seoul Tower is worth visiting because it offers visitors one of the best vantage points in the city as it sits on top of Namsan Mountain.
A visit to N Seoul Tower is also a great history lesson because you will get to experience the first radio tower in Seoul and stunning panoramic views of South Korea's capital city.
We recommend you visit N Seoul Tower if this is your first time in Seoul and don't miss the fun ride up Namsan Mountain in a cable car.
Tips For Visiting Namsan Seoul Tower
Here are a few important travel tips to consider for your visit to the N Tower in Seoul:
Purchase your tickets through Klook – These are the cheapest admission tickets and you will avoid having to wait in line at the top.
Take your time – There is no time limit when visiting the N Seoul Tower so sit back and relax as you enjoy the gorgeous views.
Bring a jacket or coat – The outdoor space at the bottom of the tower can be cold because you are up at a higher elevation so you may want to put on an extra layer to comfortably see the views from this area.
Visit on a weekday – If you want to avoid the crowds, plan your visit during the week. We visited on a Wednesday afternoon and the crowds were tolerable.
Conclusion For The N Seoul Tower Observatory
A visit to the Namsan Seoul Tower is an iconic experience. We love visiting observation decks in cities all around the world because there is nothing like see a new city from above.
However, depending on your time in Seoul or what you like, a visit to the N Seoul Tower might not be for you. Take a look at our pros and cons for the Namsan Seoul Tower to see if you should make the time to visit.
Pros To Visiting N Seoul Tower
This is what we like about the Namsan Seoul Tower and why you should visit:
Unique photo opportunities and cool exhibits
Namsan Cable Car ride is a great experience
Gorgeous panorama views of Seoul from a high vantage point
Overall location of tower within Seoul is convenient
Ability to revisit each floor if you want to see it again
Cons To Visiting N Seoul Tower
This is what we didn't like about Namsan Seoul Tower:
Glass windows are not the best for photos due to light reflections
Inside only viewing platform
Photos spots can get very crowded
Only two actual floors of the observation deck
N Seoul Tower Photos
We enjoyed our visit to the the Namsan Seoul Tower Observation Deck and took many photos.
Below, you can find a handful of our favorite photos to give you some ideas about where to take photos for your visit.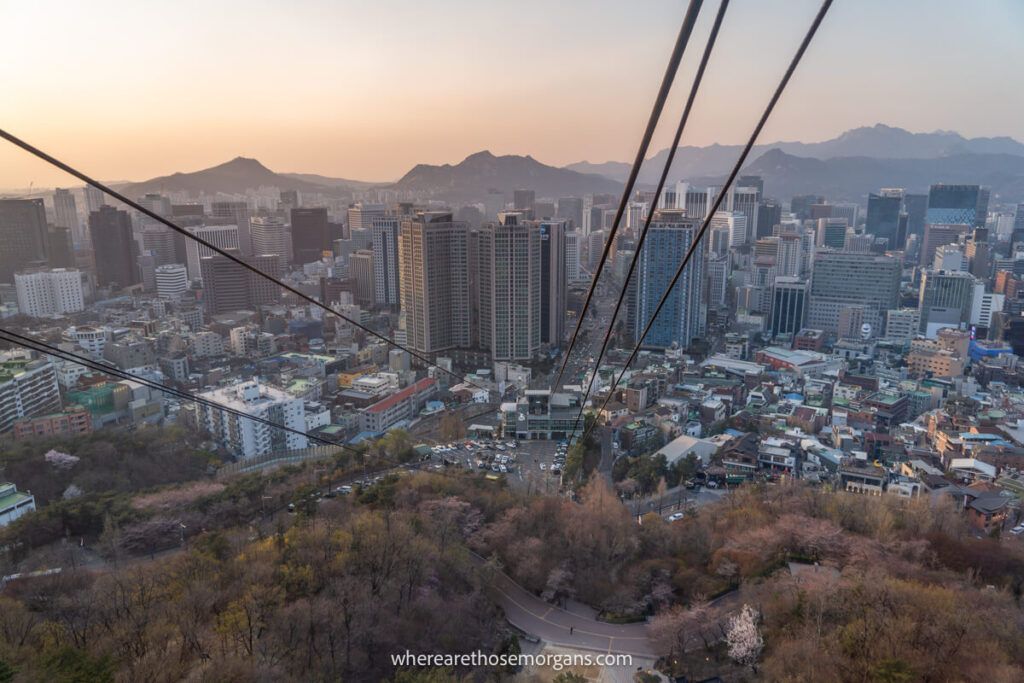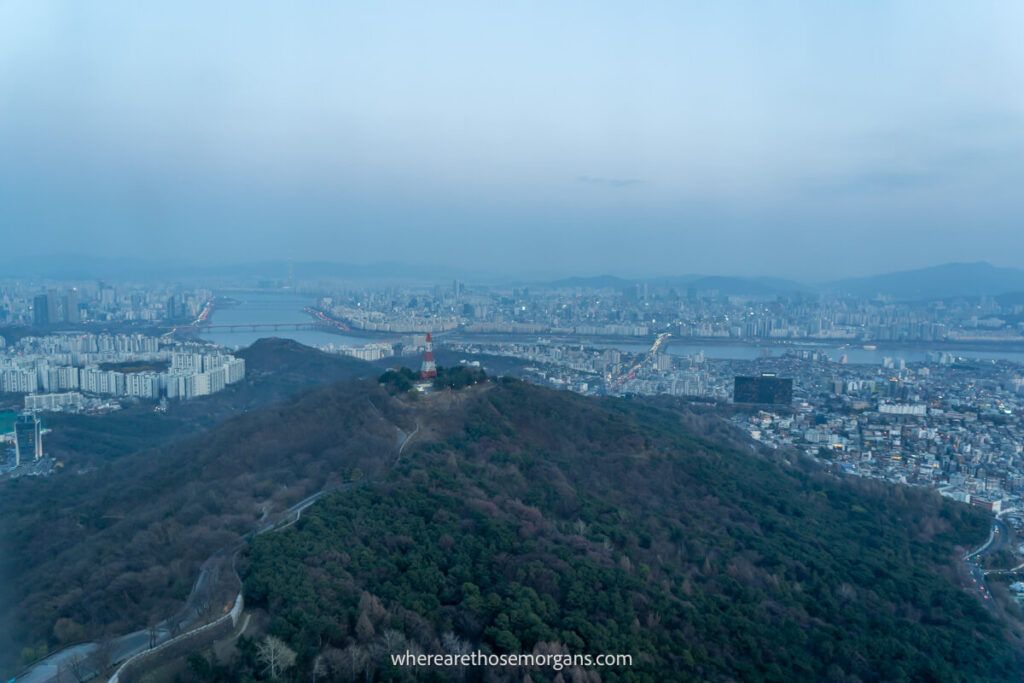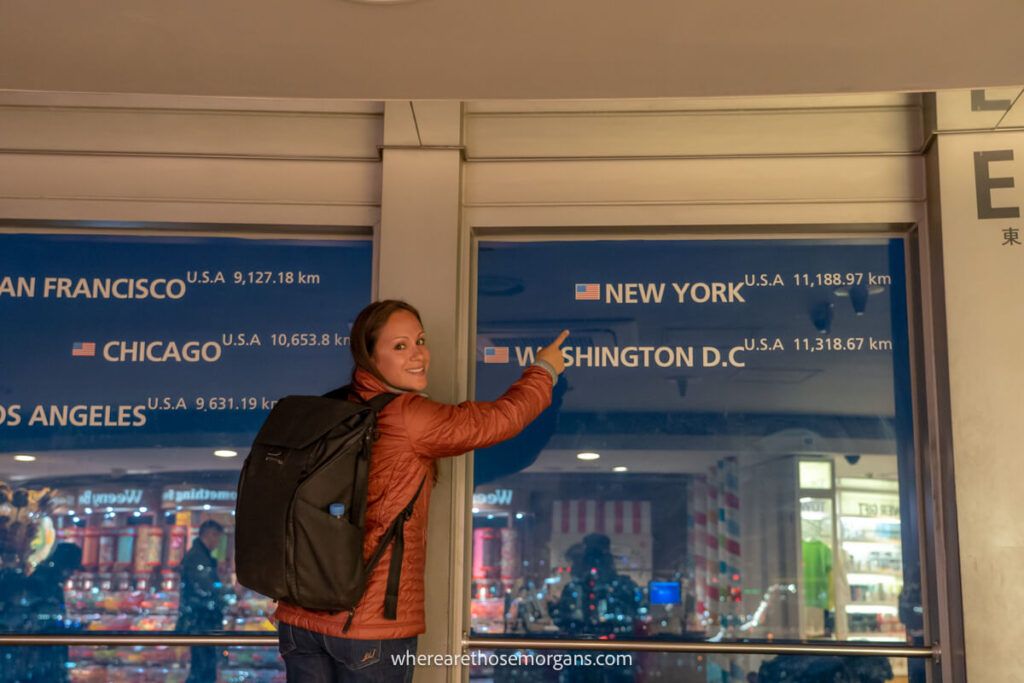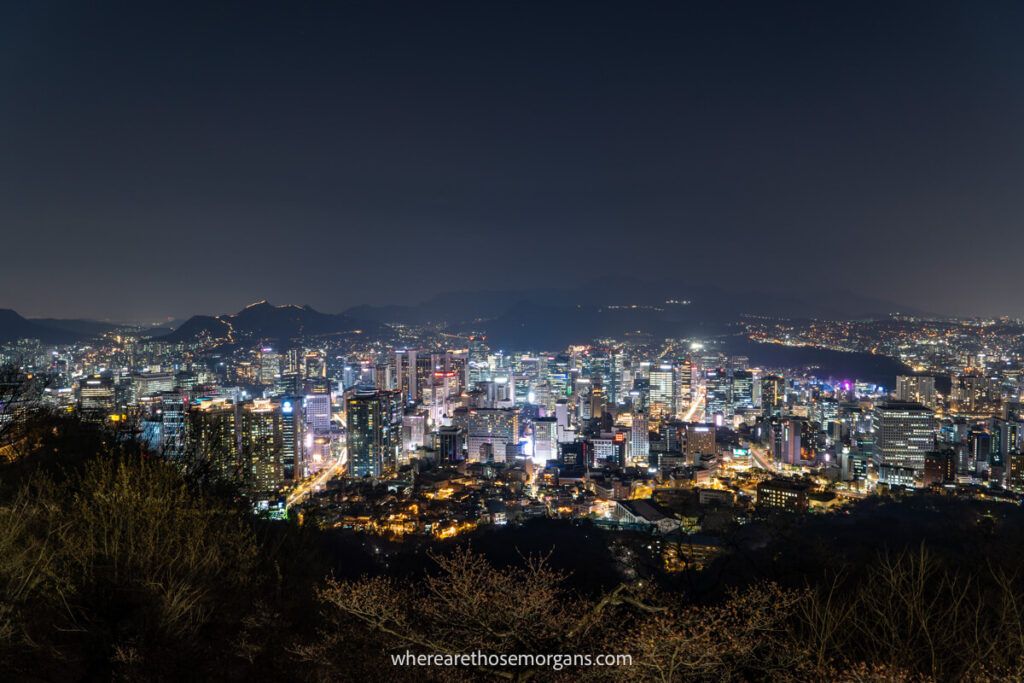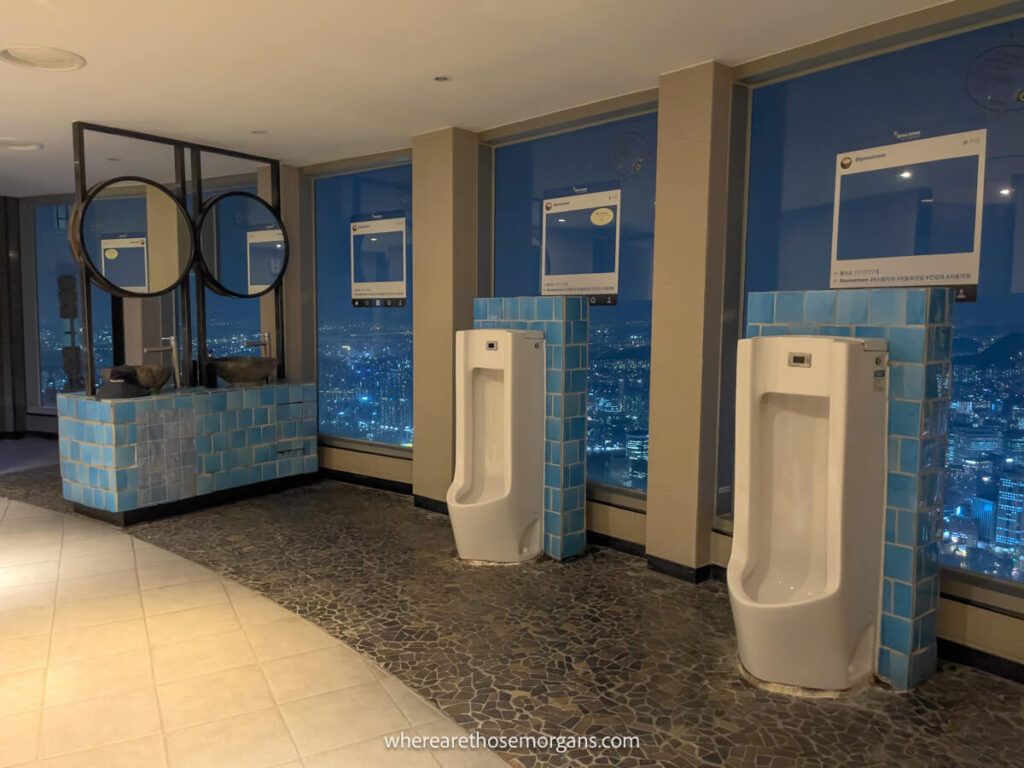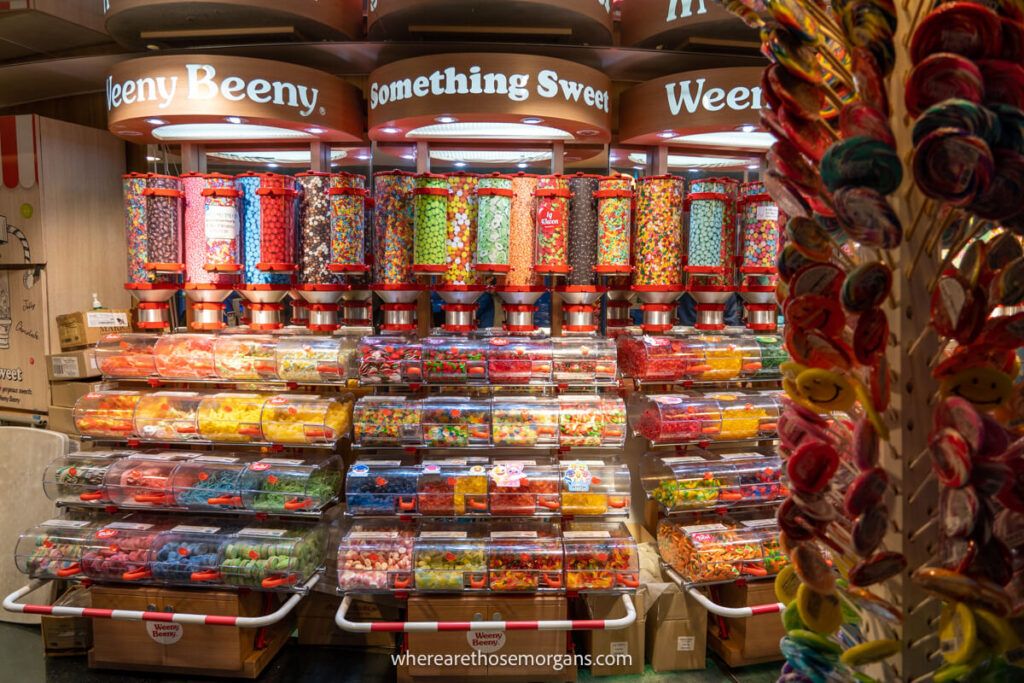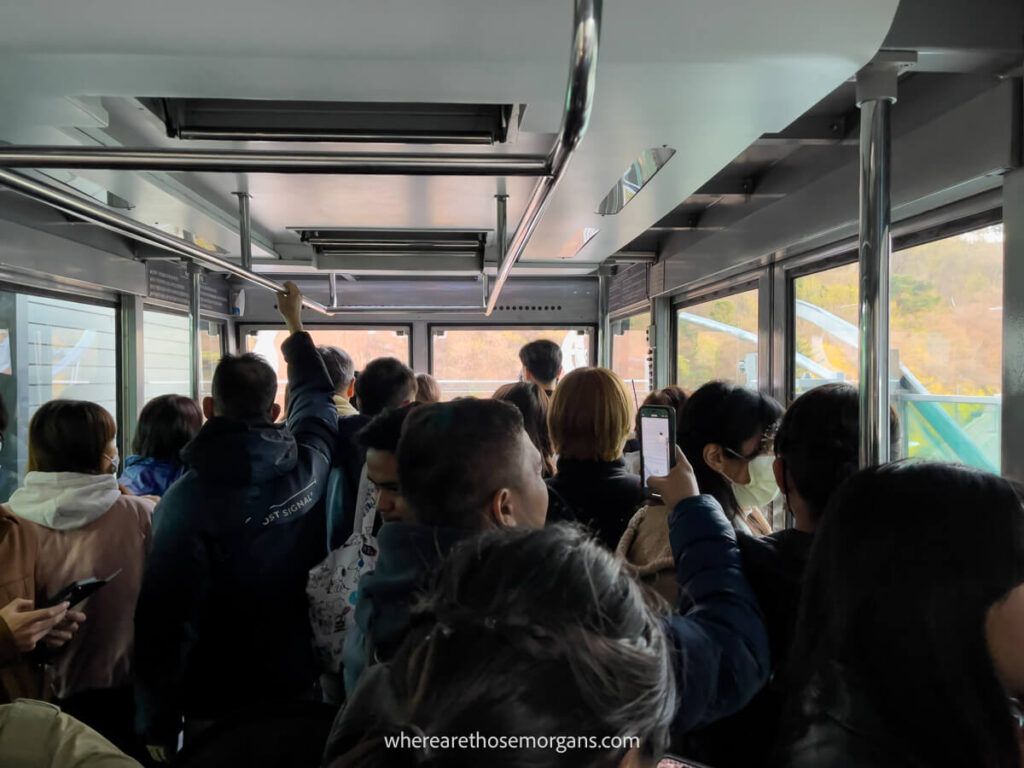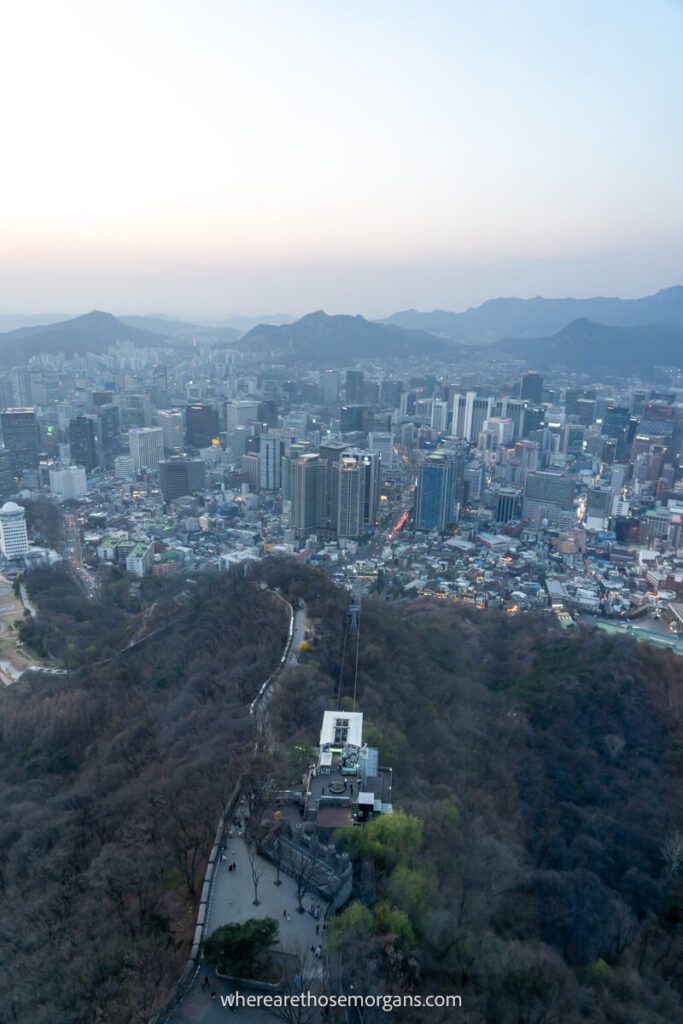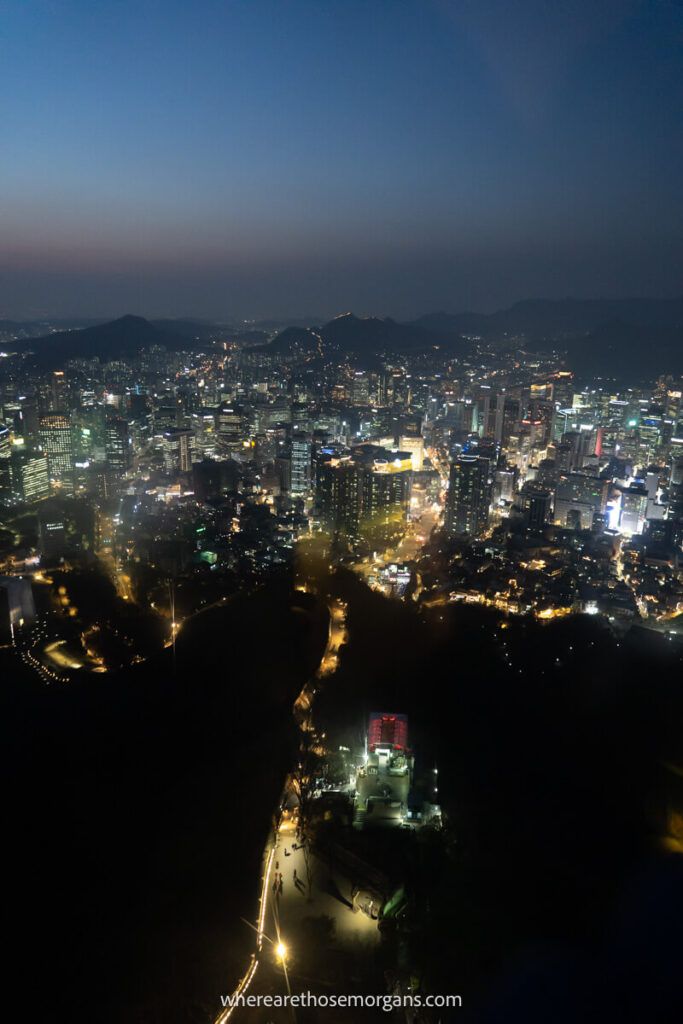 Namsan Seoul Tower FAQ's
Let's take a look at some of the most frequently asked questions regarding the popular N Seoul Tower.
Is the Namsan Cable Car worth it?
Yes, we recommend you take the Namsan Cable Car to the top of Namsan Mountain when visiting the N Seoul Tower. The cable car will whisk you to the top of the mountain in 3 minutes and you will be rewarded with stunning views overlooking of Seoul.
How many floors is the N Seoul Tower?
When visiting Namsan Seoul Tower, visitors can experience 7 different floors featuring observation decks, numerous restaurants, photos spots and gift shops.
How should I book tickets for Namsan Seoul Tower?
We recommend you book tickets for the N Seoul Tower observatory online in advance with Klook for the best price.
Our Popular Seoul Guides
Seoul Royal Palaces
Want more Seoul content? Head over to our South Korea Travel Guides to explore the very best of Seoul and beyond.
---
We hope this guide to the N Seoul Tower Observatory helps with planning your visit to Seouls first broadcasting tower!
Please let us know if you have any questions about the Namsan Seoul Tower or Seoul in the comments below.
Happy Summiting,
Mark and Kristen
Enjoy This Naman Seoul Tower Guide? Pin It For Your Visit!