Changdeokgung Palace is one of the most popular things to do in Seoul because it is home to the Huwon Secret Garden.
We highly recommend you add this palace to your Seoul itinerary because it's a great place to admire the pagoda style architecture and learn about Korean history.
In our Seoul travel guide, we will show you:
The best way to buy Changdeokgung Palace tickets
10 best things to see on the palace grounds
Tips for your visit to make the most of your time
Our personal photos of Changdeokgung Palace
Now, let's explore Changdeokgung Palace!
*Please note this post may contain affiliate links. If you click on one, we may earn a small commission at no extra cost to you. Thank you for supporting the free content we provide! Read more in our disclosure policy.*
Our Seoul Experience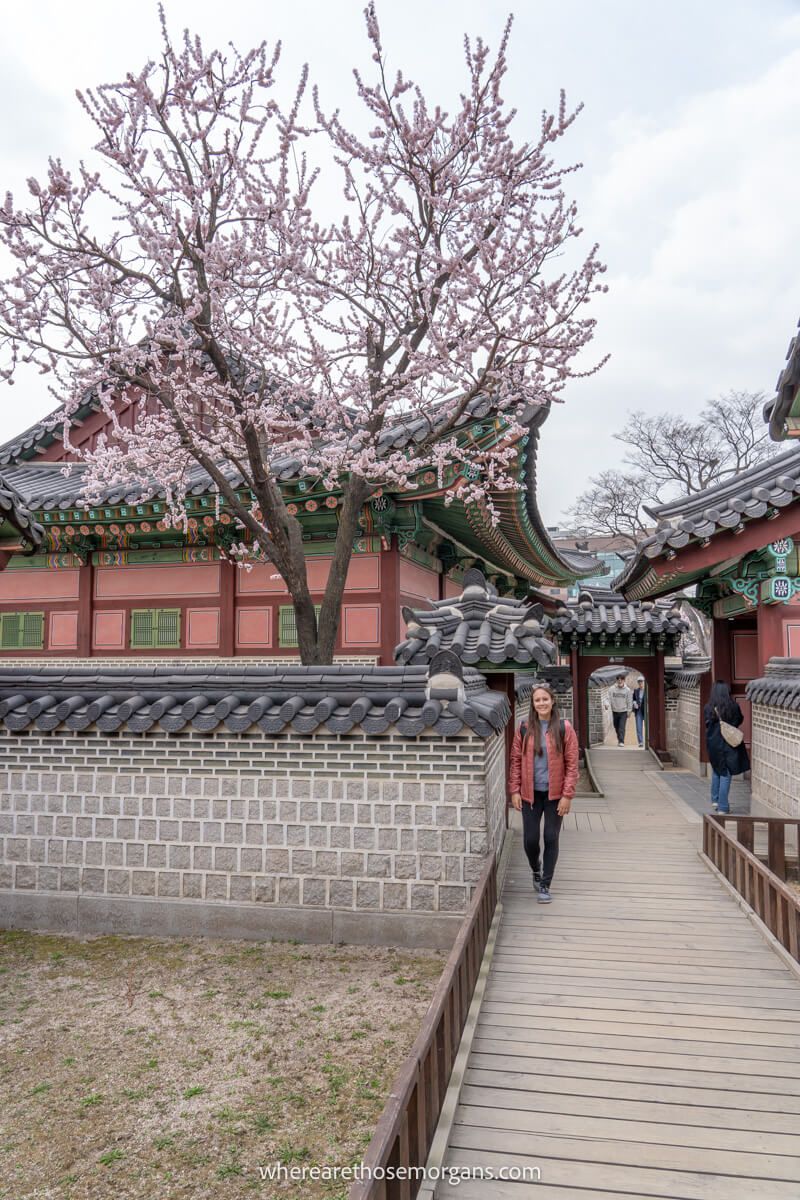 We spent two weeks exploring Seoul in March 2023 after the covid lockdowns. Our goal is to bring you the most up to date info on Seoul so you can plan the best trip possible.
We personally visited Changdeokgung Palace and Huwon Secret Garden during our Seoul trip. This guide features everything we learned and includes tips for your visit.
There are five grand palaces in Seoul and they are different in their own unique way. If you have enough time, we recommend visiting all the palaces if your Seoul itinerary allows.
But if you are short on time, Changdeokgung Palace is the most unique palace in South Korea because it's built in harmony with the surrounding mountains and landscape.
What Is Changdeokgung Palace?
Constructed in 1405, Changdeokgung Palace was created as a secondary palace for the Joseon Dynasty. This is the second oldest palace in Seoul after Gyeongbokgung.
Unfortunately, it was heavily destroyed during the Japanese invasion from 1592-1598, but it was rebuilt in 1610. Changdeokgung Palace then served as the main palace in Seoul for 270 years.
After one visit to Changdeokgung, it is easy to see why this palace was loved more than other palace in Seoul by the kings and queens of the Joseon Dynasty.
The royal family often relaxed in Huwon Secret Garden and visitors can walk the exact same paths. Now a UNESCO Heritage Site, the Changdeokgung Palace Complex is a must do in Seoul.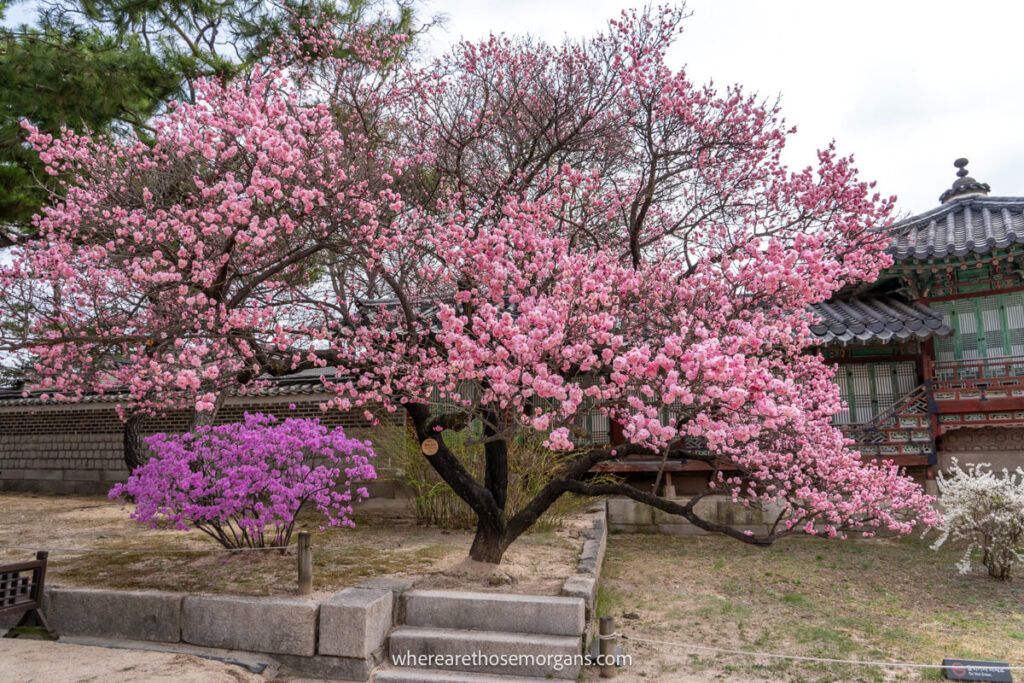 How To Get To Changdeokgung Palace
Known as the eastern palace, Changdeokgung is the located on the eastern side of Seoul. Here are the best subway stations for visiting Changdeokgung Palace:
Anguk Station (line 3, exit 3)
Jongno 3-ga Station (line 1/3/5, exit 6)
Changdeokgung Palace in Seoul is open every day of the week except Monday and it opens at 9:00am. But depending on the month of the year, the palace closes at different times.
Here are Changdeokgung Palace times throughout the year:
Feb to May + Sep to Oct: 9:00 – 18:00
Jun to Aug: 9:00 – 18:30
Nov to Jan: 9:00 – 17:30
Travel Tip: The last admission to the palace is one hour before closing so make sure you give yourself enough time when visiting.
Changdeokgung Palace + Huwon Secret Garden Tickets
Admission tickets for Changdeokgung Palace cost:
KRW 3,000 (US$ 2.30) for adults
KRW 1,500 (US$ 1.15) for youths ages 7-12
KRW 2,400 (US$ 1.86) with groups of 10 or more
If you want to visit the Huwon Secret Garden, you must have a ticket for Changdeokgung Palace. Tickets for the secret garden are KRW 5,000 (US$ 3.84) for adults and KRW 2,500 (US$ 1.92) for youths.
Tickets for Changdeokgung Palace can be purchase onsite in person or online by booking in advance on various websites.
Only guided tours are available for the Secret Garden and tickets are limited to 100 people per session.
As of now, 50 of these tickets can be purchased by online reservation and 50 of these tickets are available on a first-come, first-serve basis.
But we had trouble finding the online reservation portal for the Secret Garden. The website was unreachable and would not load. So try to secure a spot by arriving early.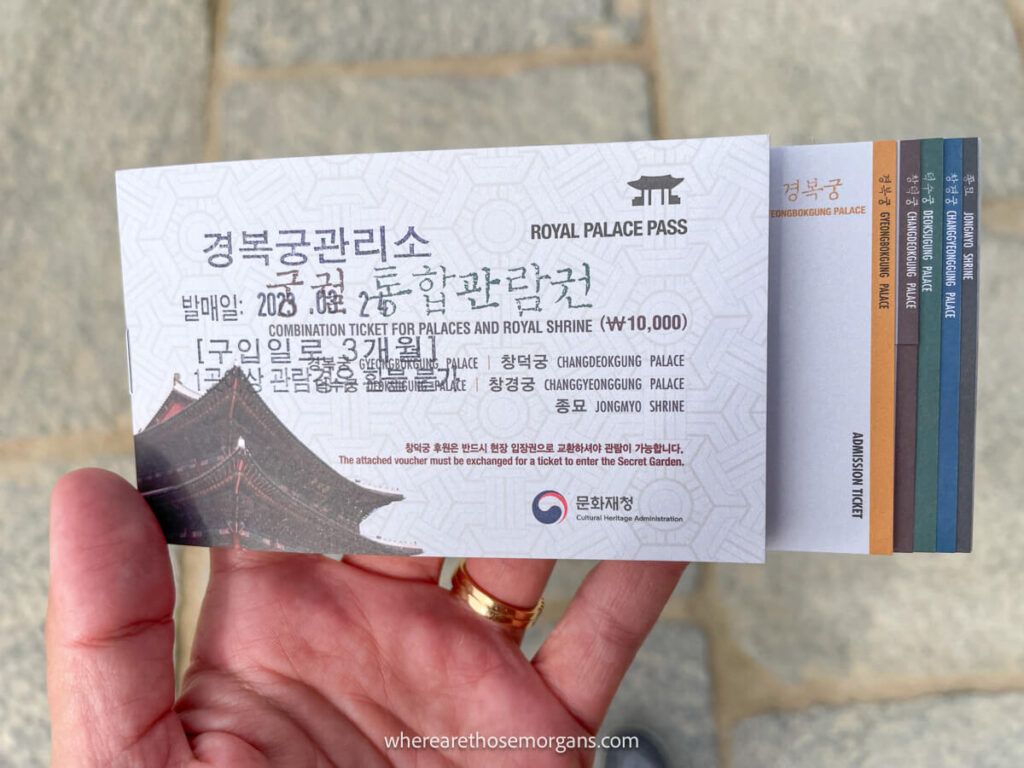 The Royal Palace Pass
We visited Changdeokgung Palace with our Royal Palace Pass which we recommend if you plan to visit multiple palaces in Seoul. This discounted pass also gave us admission into the secret garden.
The Royal Palace Pass costs KRW 10,000 and it is valid for three months from the date of purchase. This pass can only be purchased onsite at any of the 4 palaces or shrine listed below:
Gyeongbokgung
Changdeokgung
Changgyeonggung
Deoksugung
Jongmyo Shrine
This is a great option for those who want to visit numerous palaces in Seoul, but if you want free admission there is another choice.
Travel Tip: If you have the Royal Palace Pass, you are required to exchange your Secret Garden voucher for a valid ticket before entering the garden. Head straight to the Secret Garden office when entering the palace.
Hanbok Rentals For Changdeokgung Palace
Admission to Changdeokgung Palace is free for anyone wearing a hanbok which is traditional Korean clothing. When you visit the palace, you can expect to see numerous tourists dressed in hanboks.
It's also common for women to get their hair styled to wear along with their hanbok. So if you want a memory to never forget, consider wearing a hanbok to Changdeokgung Palace.
This Hanbok rental is a very popular option. The pick up location is located between both Gyeongbokgung and Changdeokgung Palace so you could visit both palaces in the same day.
Travel Tip: If you want to visit the Huwon Secret Garden, you will have purchase a ticket for the Changdeokgung Palace even if you are wearing a hanbok.
Popular Changdeokgung Palace Tours
When you visit Changdeokgung Palace, you can join a free one hour guided tour offered in numerous languages. Here are the time for the free tours:
Korean: 9:30, 11:30, 13:30, 15:30, 16:30 (Mar-Oct)
English: 10:15, 13:15
Chinese: 10:00
Japanese: 11:00
But there are also many popular tours offed by different companies. Many of these tours offer admission to Changdeokgung Palace along with some of the best Seoul activities.
Here are popular Changdeokgung Palace tours:
10 Best Things To Do In Changdeokgung Palace
The highlight of Changdeokgung Palace is without a doubt, Huwon Secret Garden. However, access to this garden is limited and if you don't get a ticket, you won't be able to enter.
We made the Huwon Secret Garden our priority when visiting Changdeokgung Palace because the secret garden makes up more than half of this entire complex.
Even if you don't visit the Secret Garden, there is still so much to see inside Changdeokgung Palace so it's still worth your time.
Here is what to see at Changdeokgung Palace: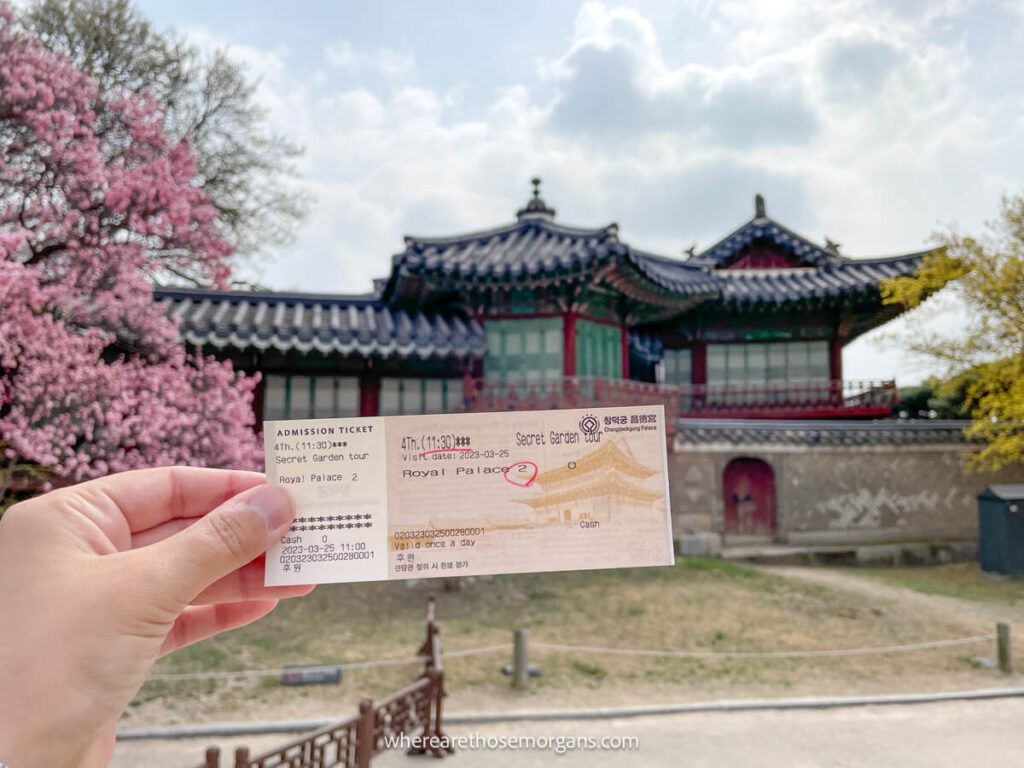 1. Huwon Secret Garden
The Huwon Secret Garden is located in the rear of Changdeokgung Palace. This garden is spread across 78 acres and it takes up about 60% of the entire palace grounds.
It was used by the royal family as a place of rest as it gave them much needed privacy. Highlights of the garden include numerous pavilions, a library, living quarters, a beautiful Chinese juniper tree and more.
We won't get into much detail about the garden because we want to focus on the palace. So if you want to know exactly what to expect, read our detailed guide to the Huwon Secret Garden next.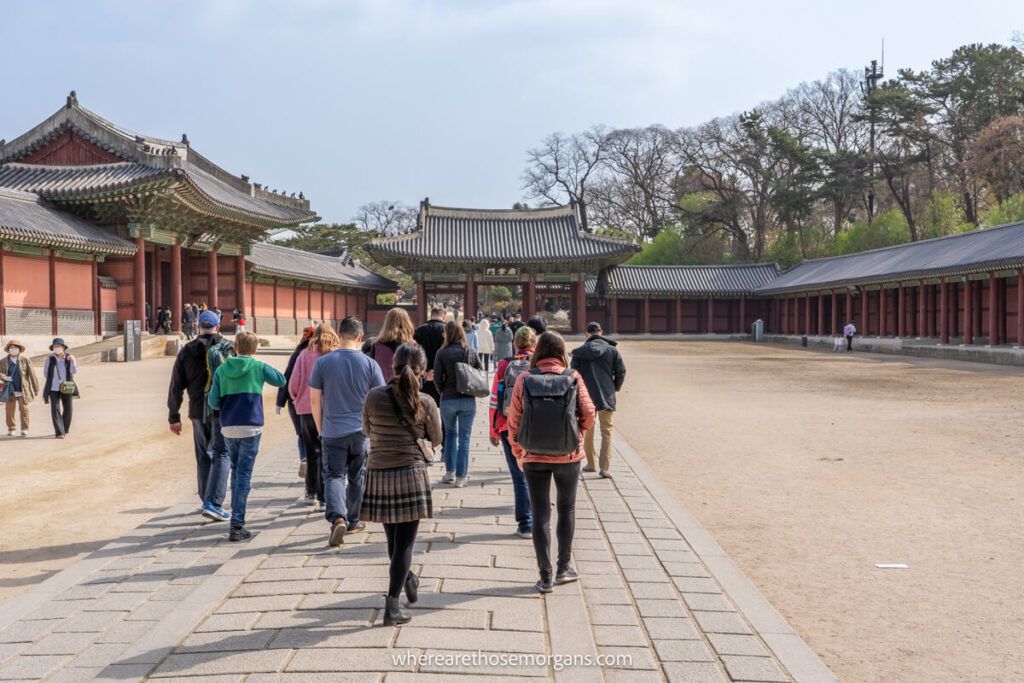 2. Book A Tour Or Take The Free Guided Your
We took the free guided tour inside Changdeokgung Palace. As you walk around the palace, you will notice small informational signs, but overall we were very happy we took the guided tour.
While the signs provide a little bit of information, a tour is the best way to learn about the history of the palace. Without a tour, we feel we would have missed out on key things to know about the palace.
The free tours provided last about 60 minutes and we only stopped a few times. If you want to learn as much as possible, consider booking one of the tours we listed above.
Since we visited all 5 of the royal palaces in Seoul, we opted for the free tours. But if you are only visiting one palace, you may want to book a longer tour.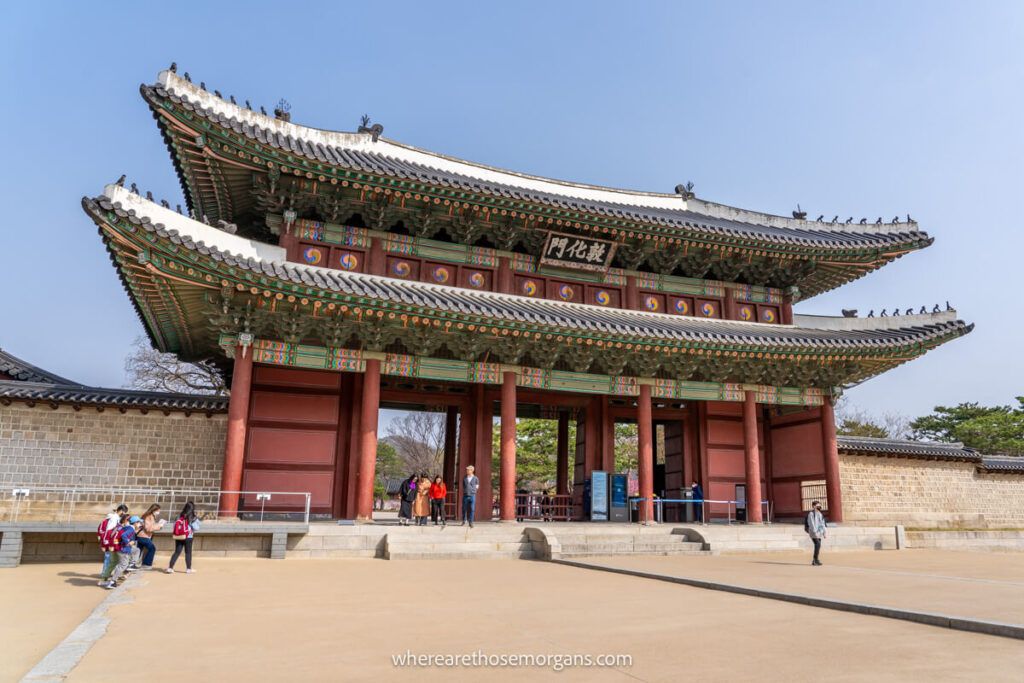 3. Donhwamun Gate
The Donhwamun Gate is the main entrance of Changdeokgung Palace. If you have already visited Gyeongbokgung, you will notice this gate is different with three open arches.
We think this is one of the best gates in Seoul because it is extremely intricate yet very simple. This two story gate was used for surveillance and it has since been enlarged for automobiles.
Donhwamun Gate is a very popular photography spot and you can expect it to be busy. Many visitors take a photo on the wide stone bridge in front of the gate surrounded by beautiful foliage in the background.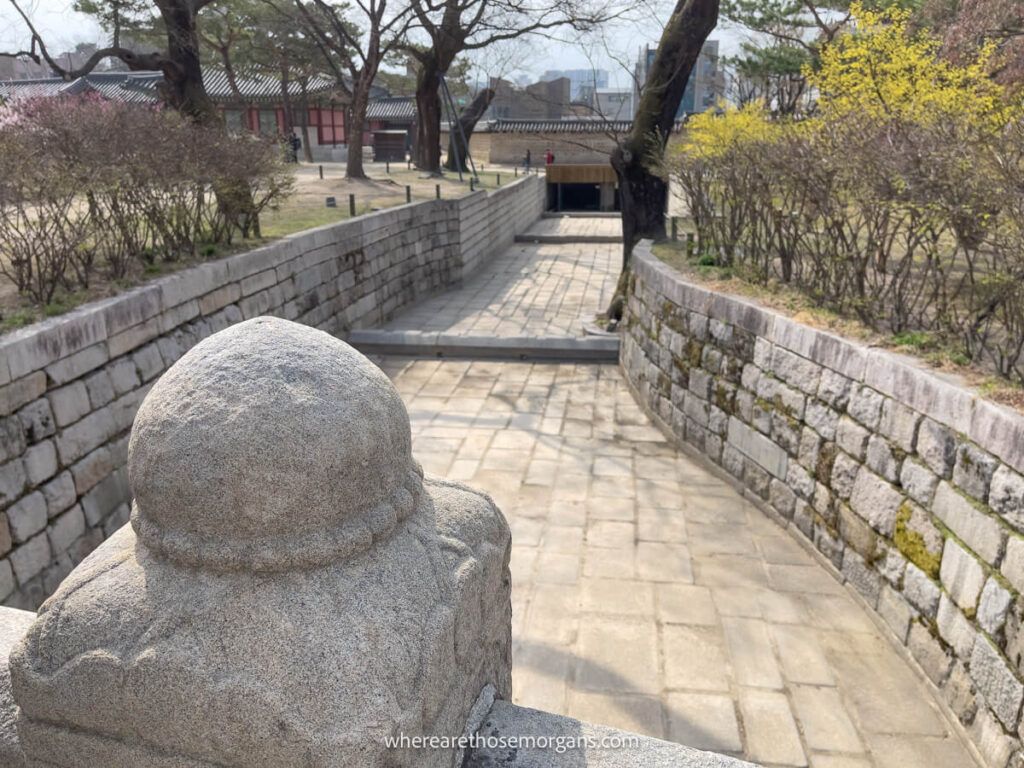 4. Geumcheongyo Bridge
This bridge is a must see in Changgyeonggung Palace because it is one of the oldest stone bridges in Seoul. Constructed in 1411 by King Taejong, Geumcheongyo Bridge is 12.9m long and 12.5m wide.
Although the stream now runs dry, crossing the bridge symbolized importance. The bridge was said to help palace visitors cleanse their worldly burdens before meeting with the king.
5. Injeongjeon Hall
Located in the center of the outer buildings in the complex, Injeongjeon is the main hall of Changdeokgung Palace.
Injeongjeon Hall is also known as the throne hall because this is where major events such as the coronation ceremony or state banquets would be held.
Visitors are not allowed to enter Injeongjeon Hall, but you can peek inside to see gorgeous examples of Korean architecture.
Take note the stone markers along the walkway to this hall are inscribed with ranks of court officials. Each official would stand by their marker and higher ranking officials would be closer to the king during meetings.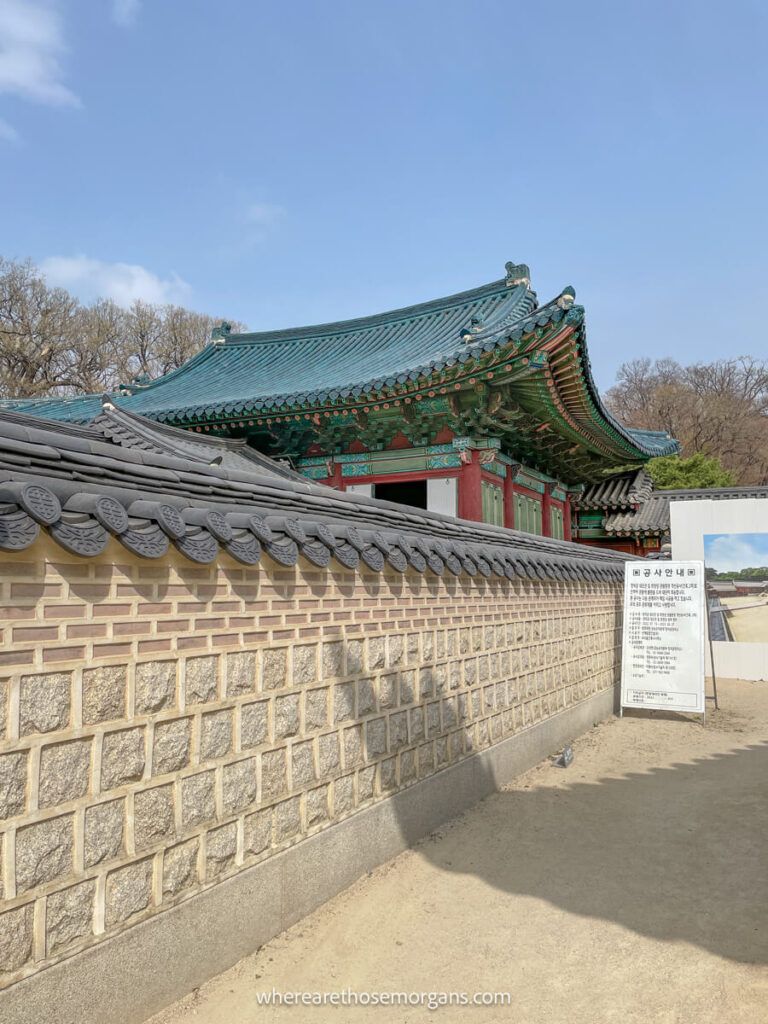 6. Seonjeongjeon Hall
Seonjeongjeon Hall is a one story building where the king would often work. This building is conveniently located because it is neighbored by the sleeping quarters of the king.
In the center of the hall, the king would sit on his throne and his subjects were then permitted to take their seats on both sides. A scribe would also record what was discussed during each meeting.
We learned during our tour, Seonjeongjeon Hall has the only existing blue tiled palace roof. Sections of this hall were closed during our visit, but we could still view the beautiful blue tiles.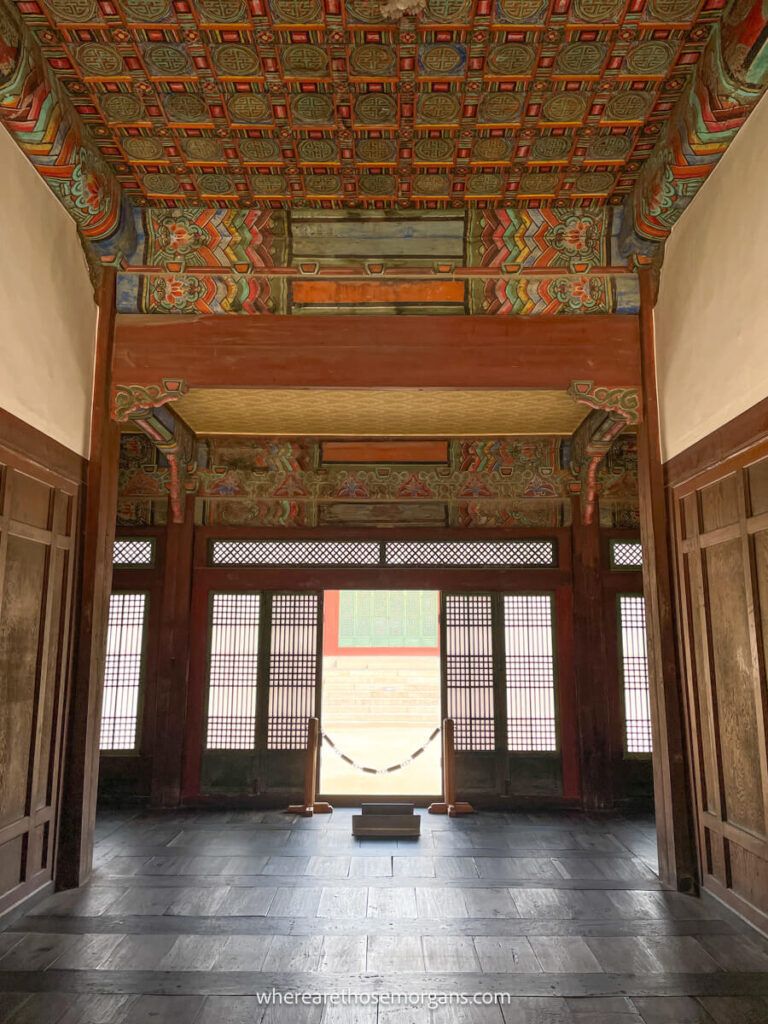 7. Huijeongdang Hall
Directly next to Seonjeongjeon Hall, you will find Huijeongdang Hall. This building was used as a women's residence and then a place of work for the king.
In this building, the king would often meet with officials to discuss political issues. The original building was destroyed by fire in 1917, but it was rebuilt in 1920 with materials from Gyeongbokgung.
8. Daejojeon Hall
Located behind the king's residence, you will find Daejojeon Hall, otherwise known as the queen's residence. It's interesting to know this is the only building to not have a ridge on the roof.
There are massive bronze utensils at the edge of the base to help ward off fire. It was a common belief the god of fire was frightened at seeing his own shape reflected in the water.
This hall was completely closed when we visited for a private event.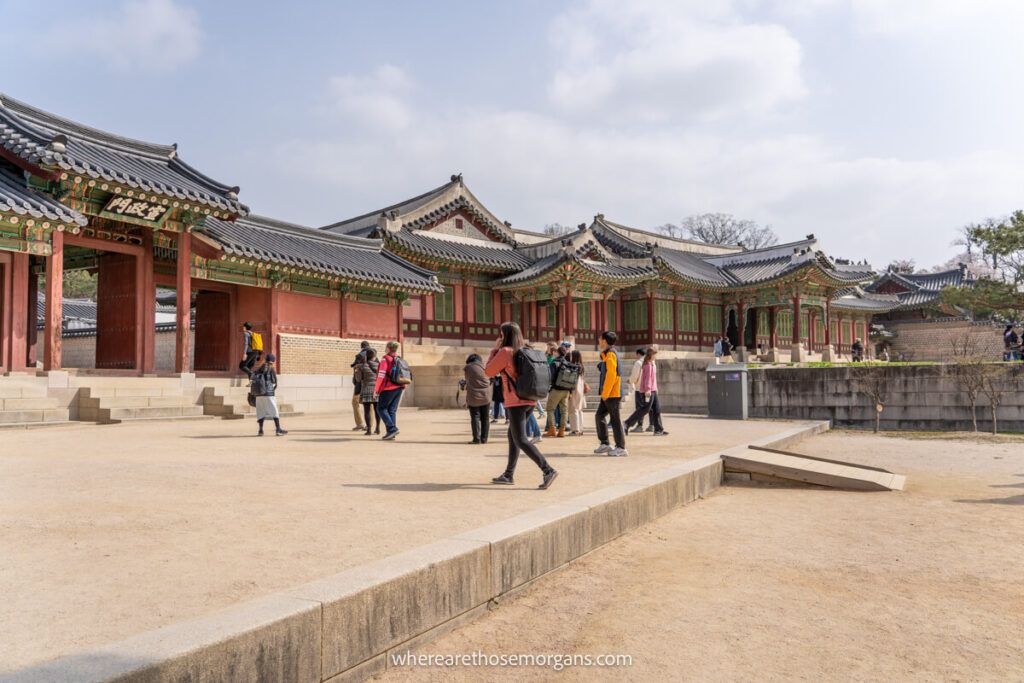 9. Seongjeonggak Hall
This hall is unique because it is where the doctors of the court cared for the royal family. Inside, there are a few writings by King Jeongjo translating to "do one's best to take care of the king and his family."
Seongjeonggak Hall was home to various doctors who were always on duty both day and night. During their time, herbs from all over the country were preserved for their practices.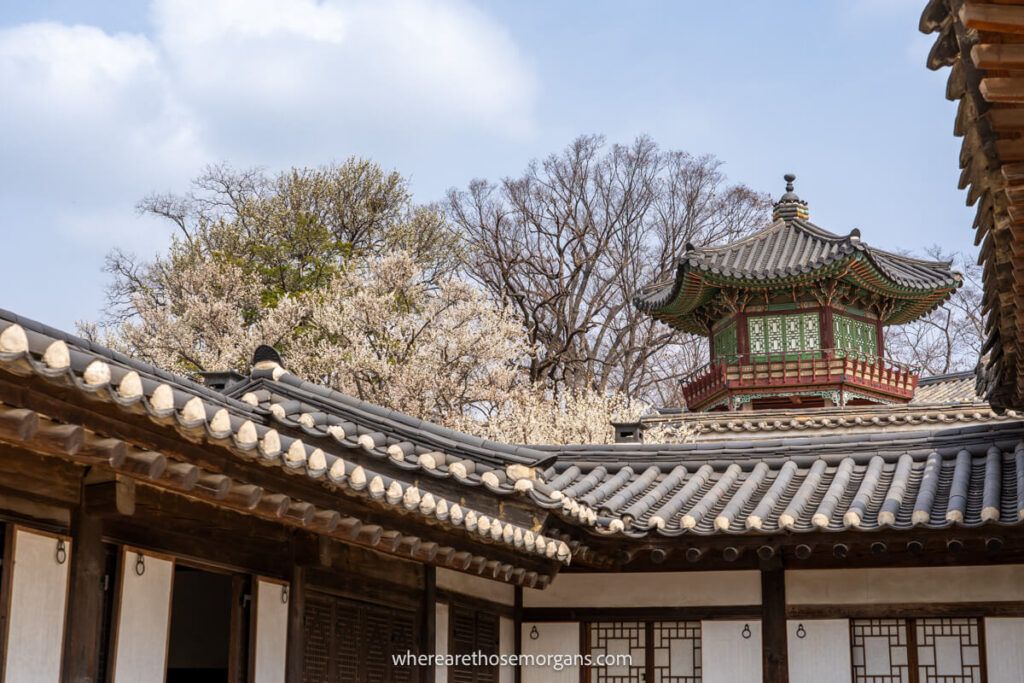 10. Nakseonjae Hall
Built by King Heonjong in 1847, this hall features unique architecture without dancheong or multi-color painting you will see throughout the other sections of Changdeokgung.
Next to Nakseonjae Hall, you can also find Seokbokheon House and Sugangjae Hall. These buildings were used for the king's grandmother, the king's consort and Empress Sunjeonghyo.
Is Changdeokgung Palace Worth Visiting?
Yes, the Changdeokgung Palace is worth visiting because it the most unique palace built in Seoul. It was built in harmony with the surrounding landscape and features a secret garden.
Every hall and structure throughout the entire Changdeokgung Palace complex showcases beautiful Korean architecture.
Visiting Changdeokgung Palace is one of the best way to learn about Korean History. This is one of the best preserved palaces in Seoul and it's definitely worth your time.
Our Changdeokgung Palace Photos
We enjoyed our visit to Changdeokgung Palace and took several photos. Here are a few of our favorites: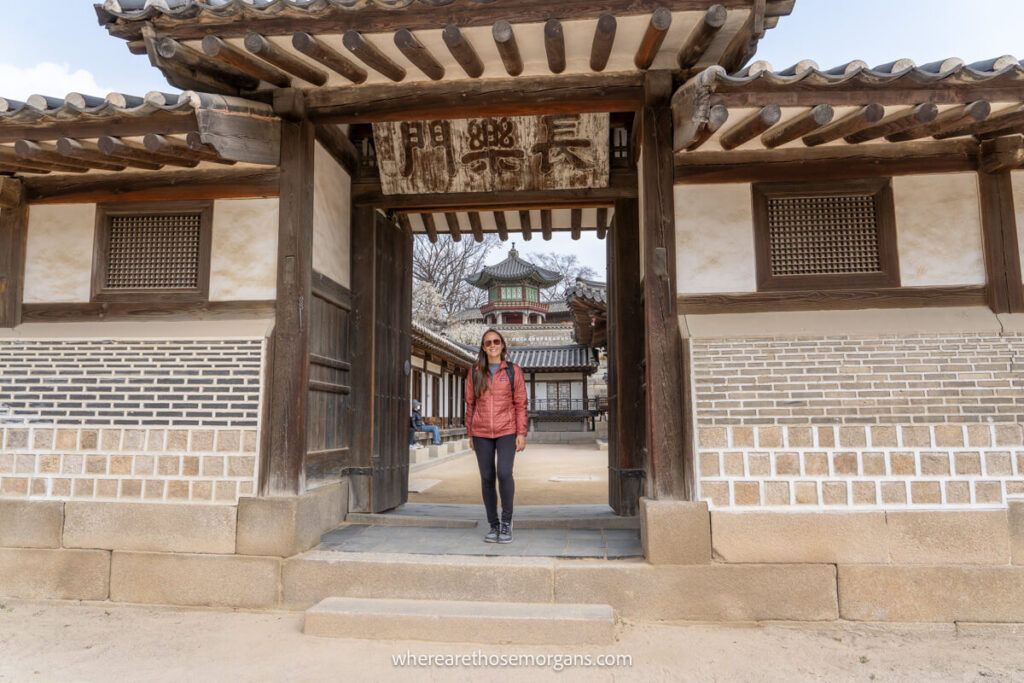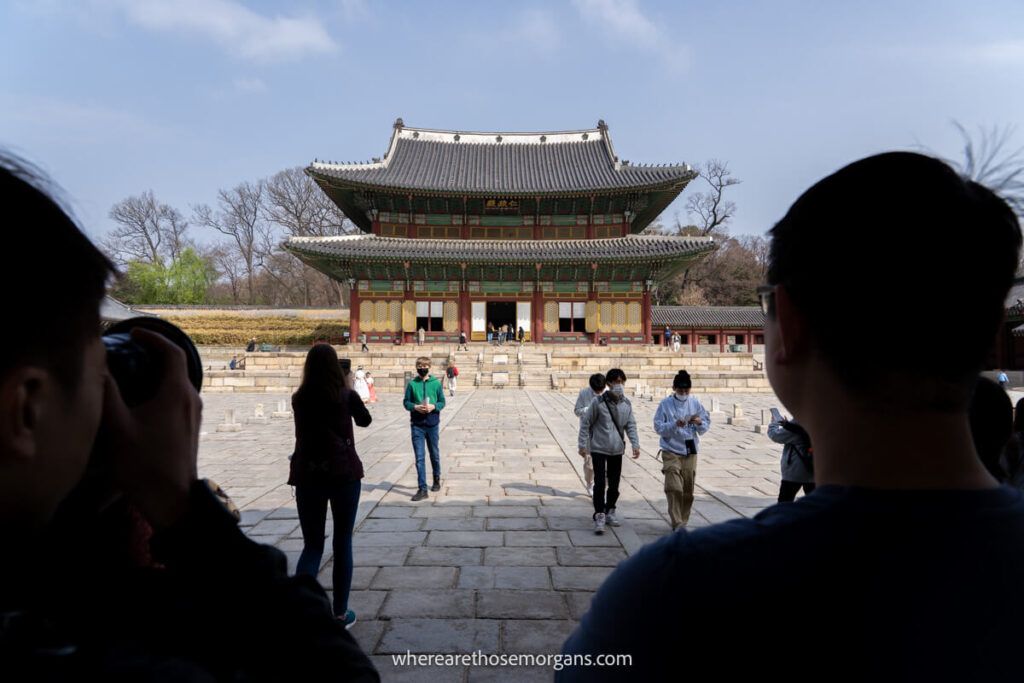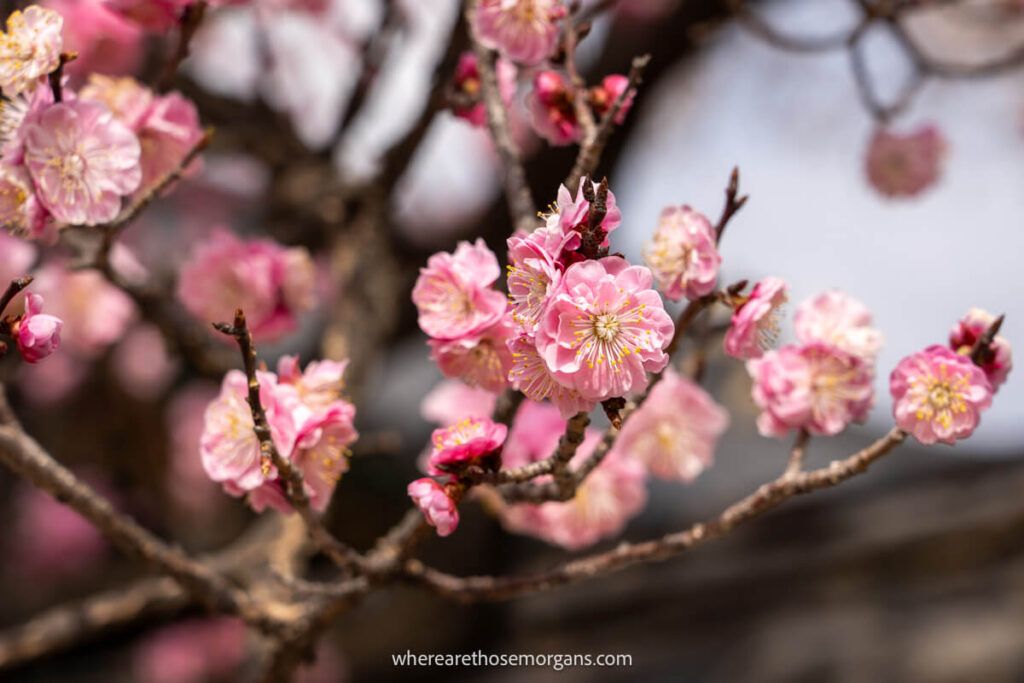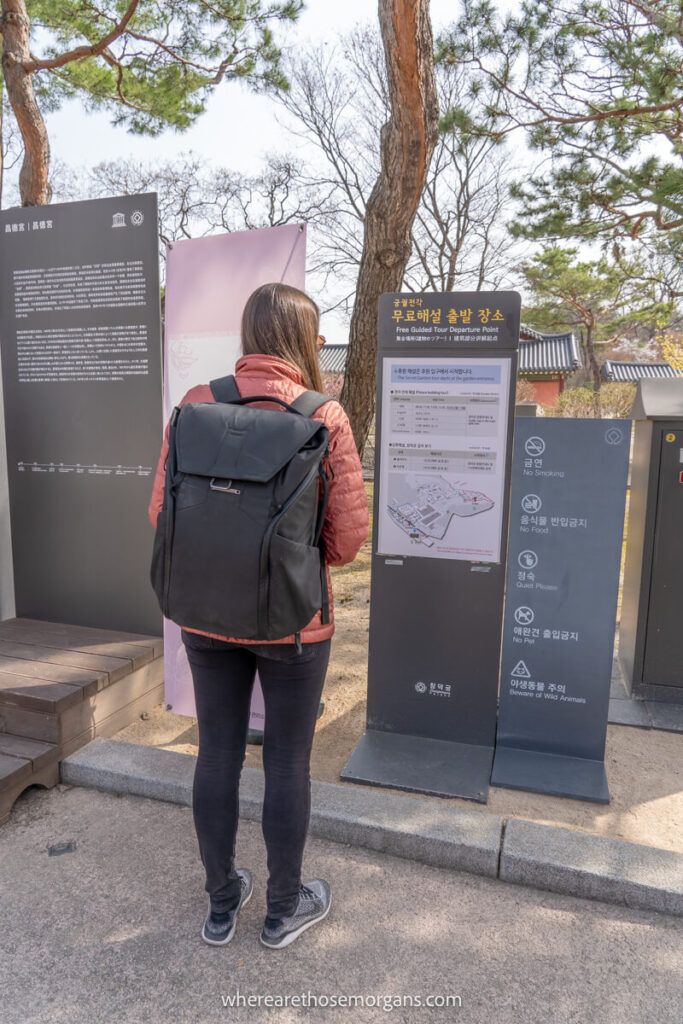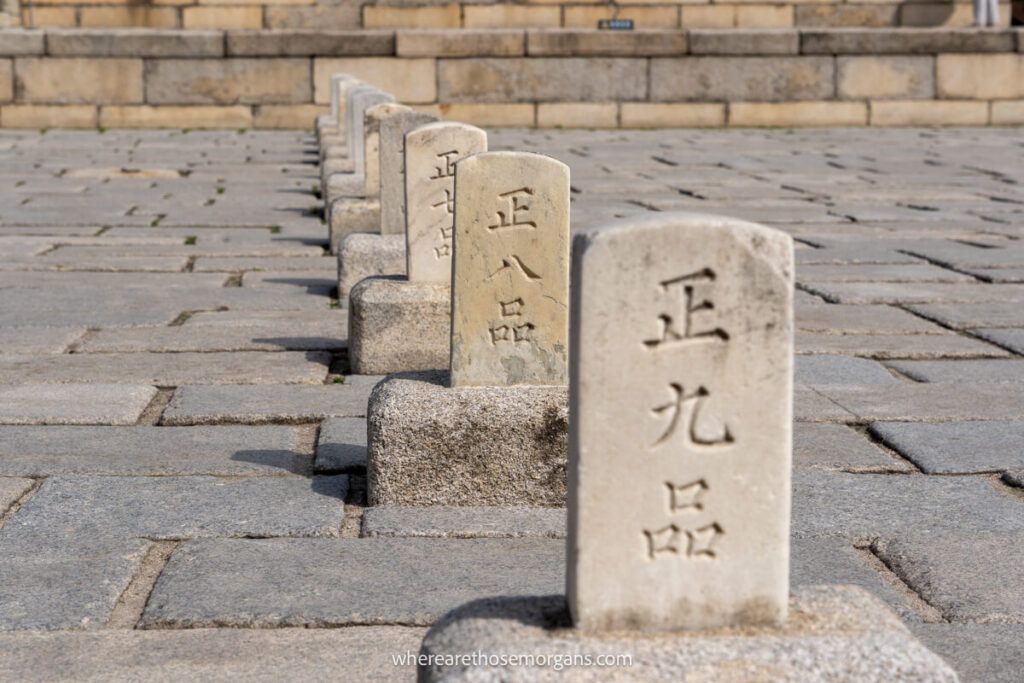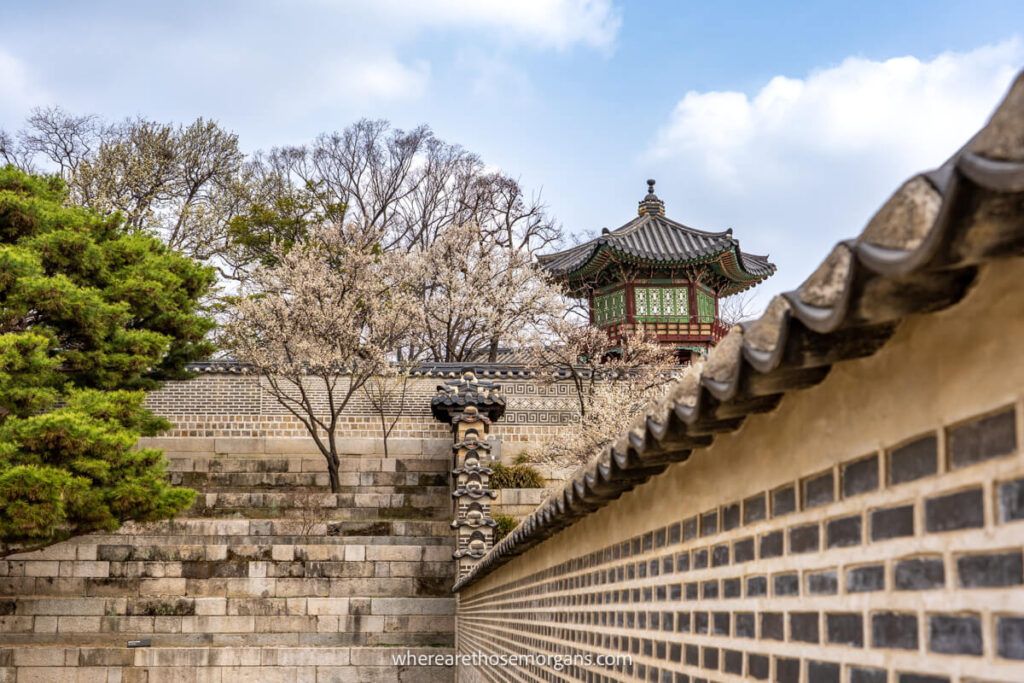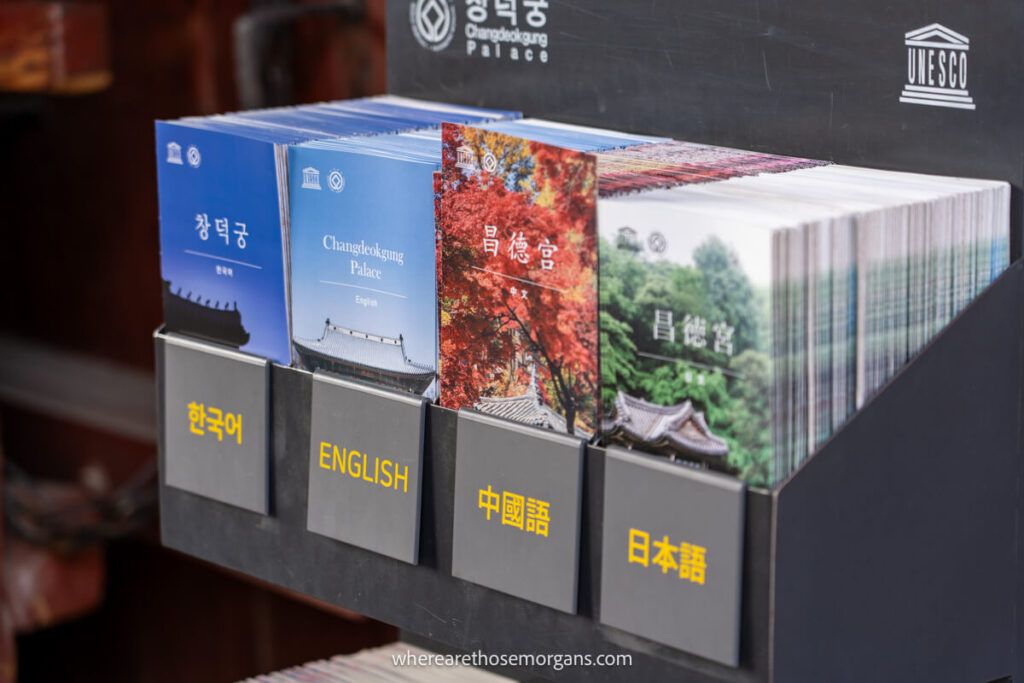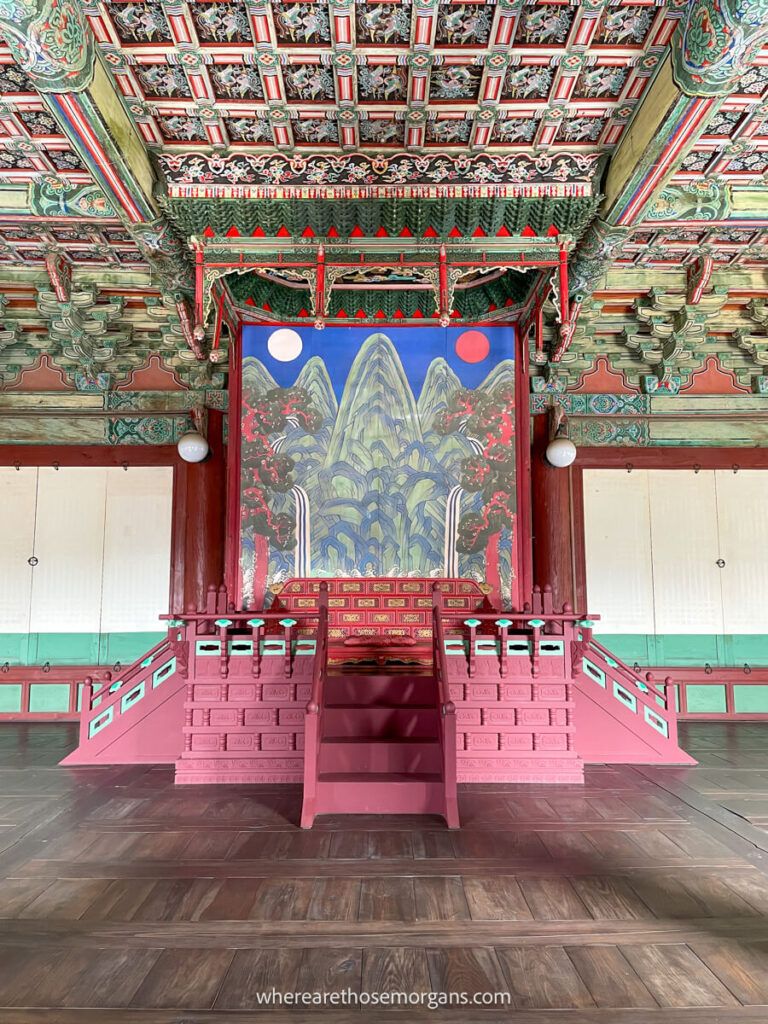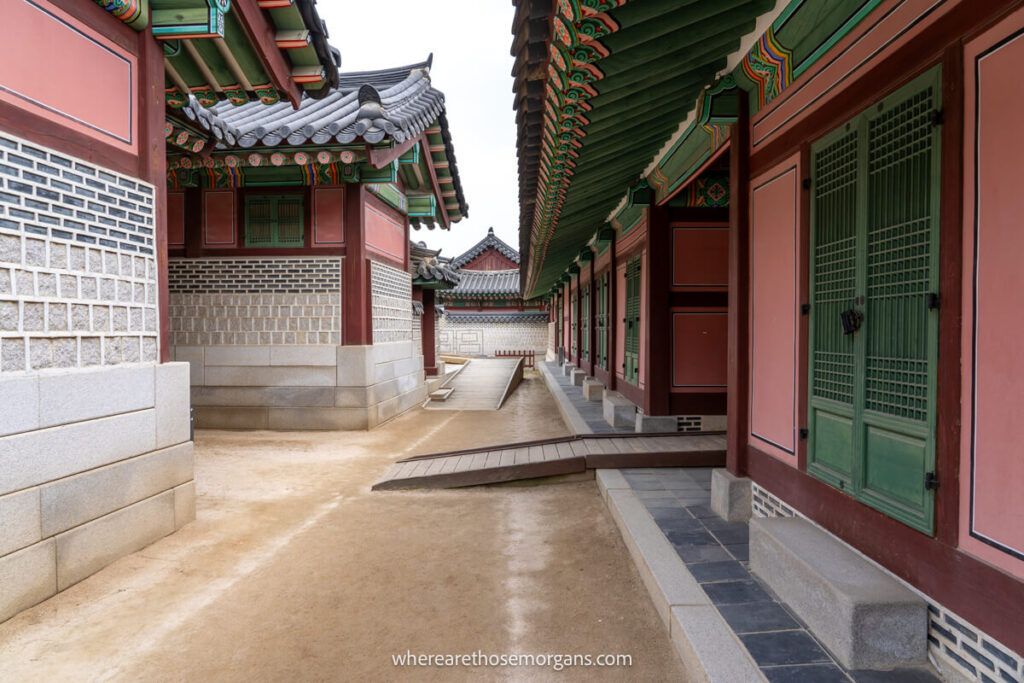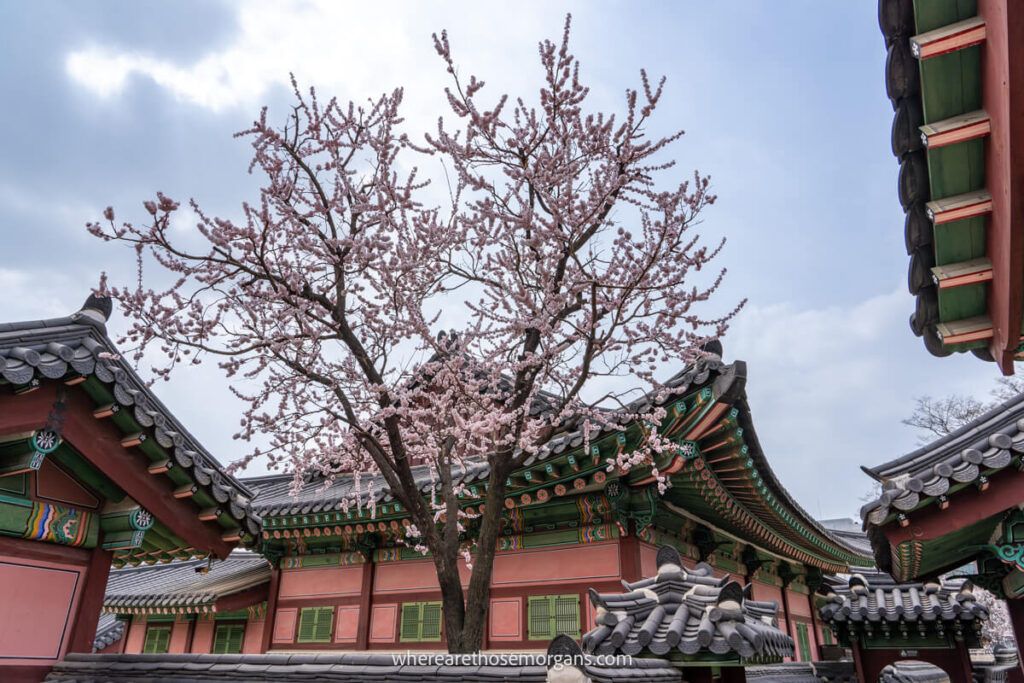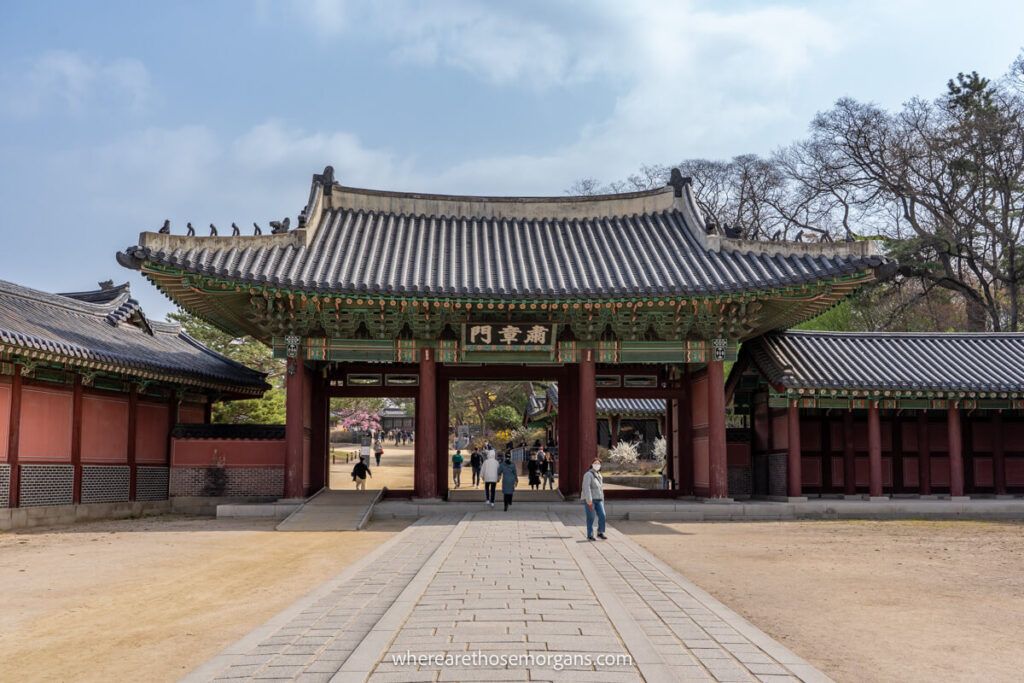 Changdeokgung Palace FAQ's
Let's take a look at some of the most frequently asked questions about Seoul's Changdeokgung Palace.
How long should you spend at Changdeokgung Palace?
You should plan to spend at least an hour inside Changdeokgung Palace. If you take part in the free walking tour or visit the Secret Garden, you should plan on 2-3 hours.
What makes Changdeokgung Palace unique?
Changdeokgung Palace is a special place in Seoul because the complex features official and residential buildings built in harmony with their natural setting.
Who lived in Changdeokgung Palace?
Changdeokgung was used as the main palace for 270 years and it become popular during the reign of King Seongjong. He was the the ninth king of Joseon who ruled from 1469-1494 and began using this palace as his main residence.
Our Popular Seoul Guides
More Seoul Palaces
Want more Seoul content? Head over to our South Korea Travel Guides to explore the very best of Seoul and beyond.
---
We hope this guide featuring things to do at Changdeokgung Palace helps with planning your visit to Seoul!
Please let us know if you have any questions about visiting Changdeokgung Palace in the comments below.
Happy Travels,
Mark and Kristen
Enjoy This Changdeokgung Palace Guide? Pin It For Your Visit!