Gyeonghuigung Palace is the least visited palace in Seoul and it is not well known to most visitors. But throughout it's history, this palace was home to ten kings often serving as a secondary villa.
This is the only free royal palace complex in Seoul so it's a great option for those on a strict budget. Once an extremely large palace, Gyeonghuigung Palace only comprises of a few restored buildings.
In our Seoul travel guide, we will show you:
How to save money on your Gyeonghuigung Palace tickets
6 best things to see on the palace grounds
Tips for your visit to make the most of your time
Our personal photos of Gyeonghuigung Palace
Now, let's explore Gyeonghuigung Palace in Seoul!
Our Seoul Experience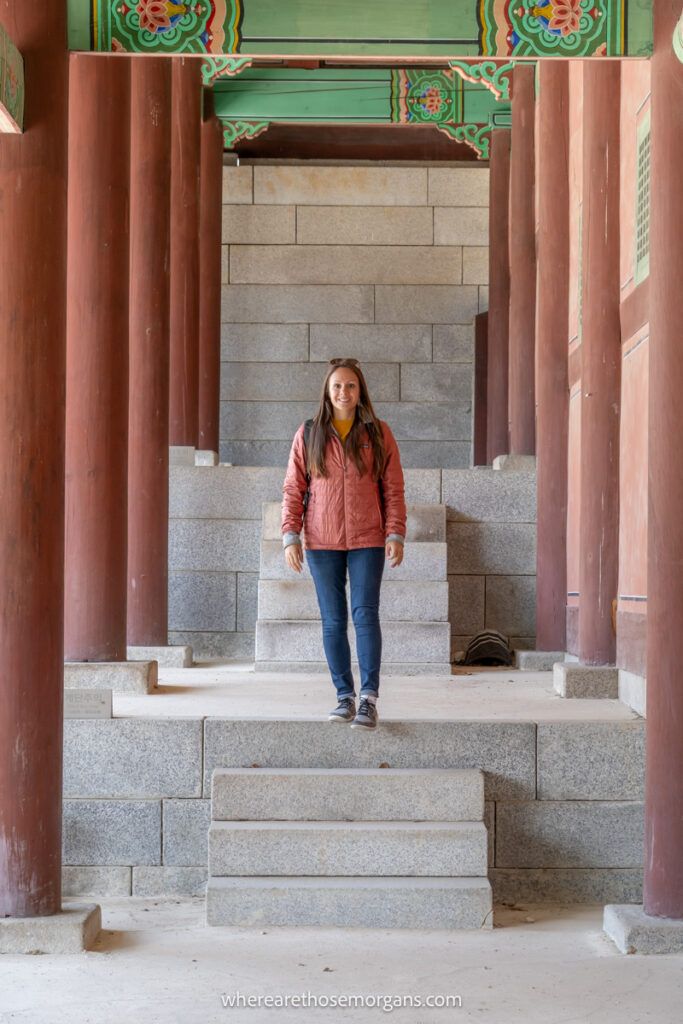 We spent two weeks exploring Seoul in March 2023 after the covid lockdowns. Our goal is to bring you the most up to date information so you can easily plan a trip to South Korea's capital city.
During our time in Seoul, we personally visited Gyeonghuigung Palace. This guide features everything we learned and includes tips for your visit.
The city of Seoul contains 5 royal palaces and each are unique in their own way. If you can fit them into your Seoul itinerary, we highly recommend visiting all the palaces if possible.
But if you are short on time, Gyeonghuigung Palace is located next to the Seoul Museum of History so you can easily see both in one day.
Planning to visit South Korea soon? Don't miss the best things to do in Seoul for your visit.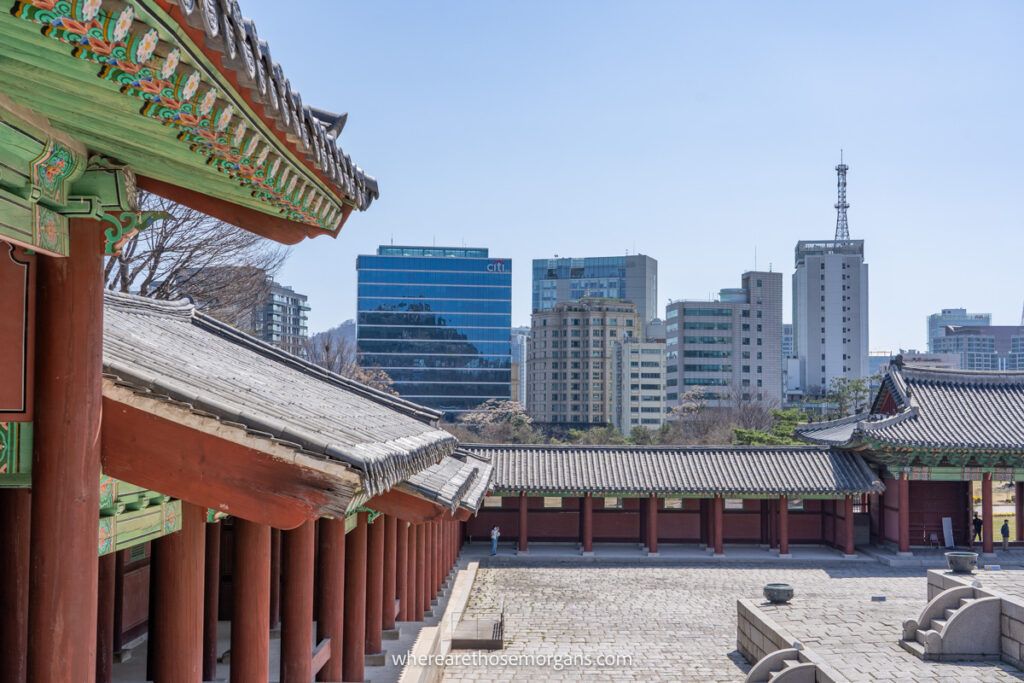 What Is Gyeonghuigung Palace?
Construction of Gyeonghuigung Palace was completed in 1620, during the reign Gwanghaegun, who was the 15th king of Joseon. It was known as the western palace due to its location west of the main palace, Gyeongbokgung.
Gyeonghuigung Palace was unique because it was built into the land that surrounds the entire complex. According to the painting Seogwoldoan, this palace once contained 190 buildings and gates in it's prime.
During the Japanese occupation, many buildings were destroyed to create space for Gyeongseoung Middle School and unfortunately, Gyeonghuigung Palace was reduced to half it's original size.
After liberation in 1946, Seoul High School was built and remained on the site until 1978. It wasn't until 1985, the Seoul government decided to rebuild a few buildings on the palace grounds.
However, many excavations have been done on this site and three of the main palace buildings have been fully restored.
How To Get To Gyeonghuigung Palace?
Gyeonghuigung Palace is located near the Seoul Museum of History and the Gyeonghuigung Annex Building of the Seoul Museum of Art. Here are the best subway stations for visiting Gyeonghuigung Palace:
Seodaemun Station (exit 4, line 5)
Gwanghwamun Station (exit 7, line 5)
Gyeonghuigung Palace in Seoul is open every day of the week except Monday. It is open from 9:00am to 6:00pm.
Gyeonghuigung Palace Tickets And Tours
Admission to Gyeonghuigung Palace is free for all visitors making this the only free royal palace in Seoul. Since admission is free, you do not need to worry about the Royal Palace Pass.
When we visited Gyeonghuigung Palace, there were no guided tours available. If you are interested in taking a tour of this palace complex, this Evening Ghost Walk with Viator is very popular.
6 Best Things To Do In Gyeonghuigung Palace
There are a few reconstructions you should see when visiting Gyeonghuigung Palace because these buildings are stunning representations of the original palace complex.
Here is what to see at Gyeonghuigung Palace: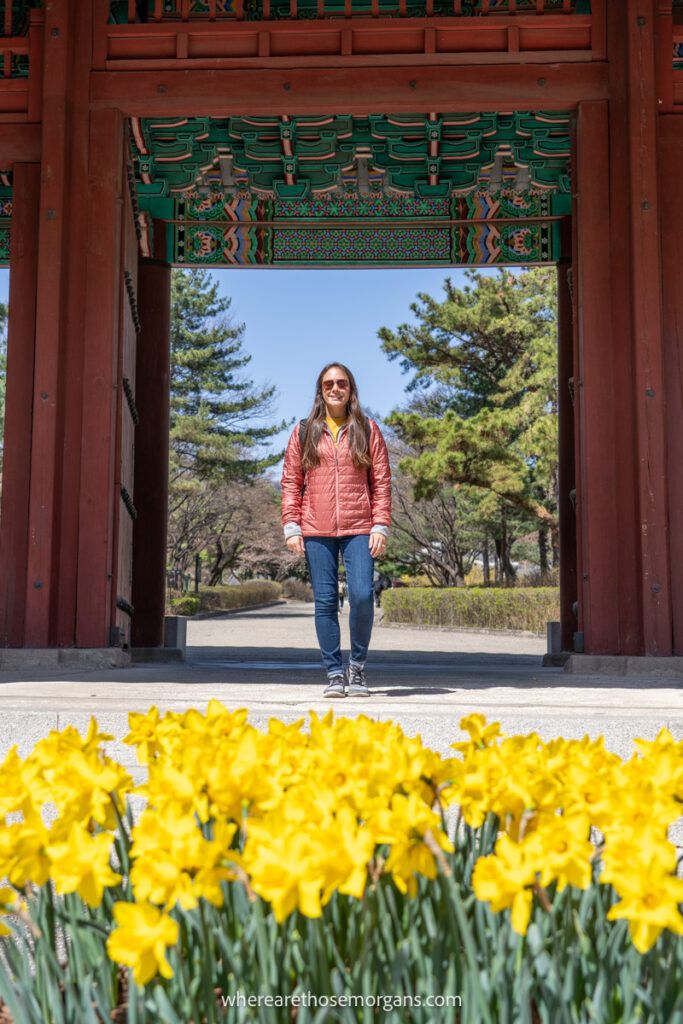 1. Heunghwamun Gate
The main gate of Gyeonghuigung Palace is Heunghwamun Gate and this structure has since been designated as a Cultural Heritage Site.
Originally located next to the current Salvation Army Center and facing the direction of Jongno Avenue, it was later installed as the main gate of Bakmunsa (a shrine to a Japanese general).
But in 1988, Heunghwamun Gate was fully restored and moved back to it's current location.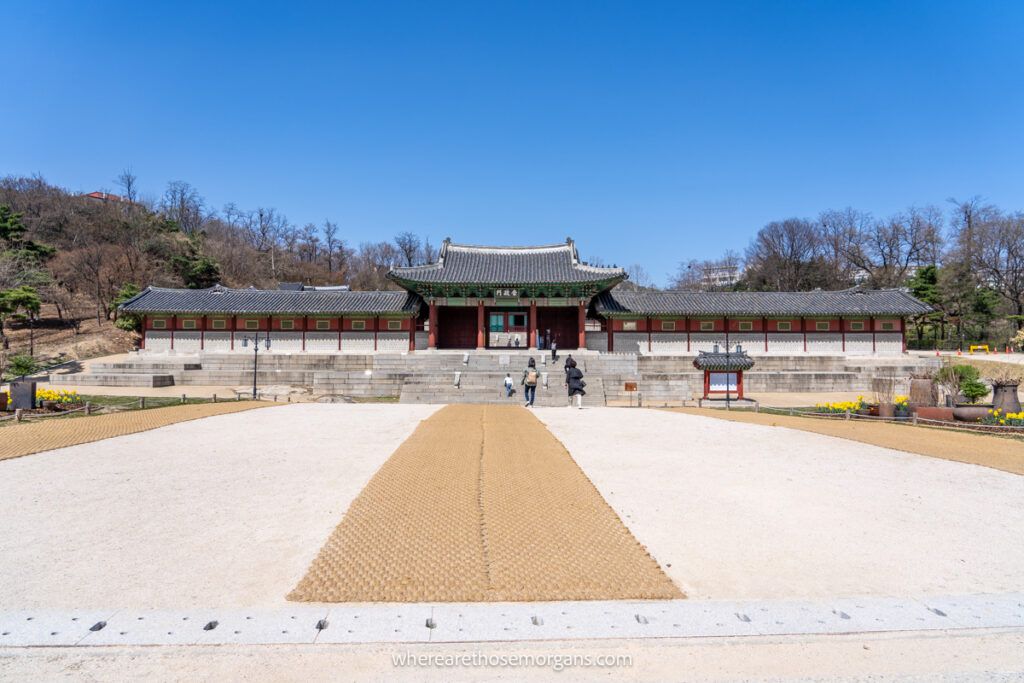 2. Geumcheongyo Bridge
Similar to other palaces in Seoul, Geumcheongyo Bridge is a beautiful stone bridge which leads over a moat into the Gyeonghuigung Palace complex after entering Heunghwamun Gate.
Completely buried by Japanese occupation, a goblin was once prominent on the side of the bridge to help ward off evil spirits. In 2001, the Seoul government restored the bridge we see today.
Unfortunately, it can be confusing because there was also a Geumcheongyo Bridge at Deoksugung Palace.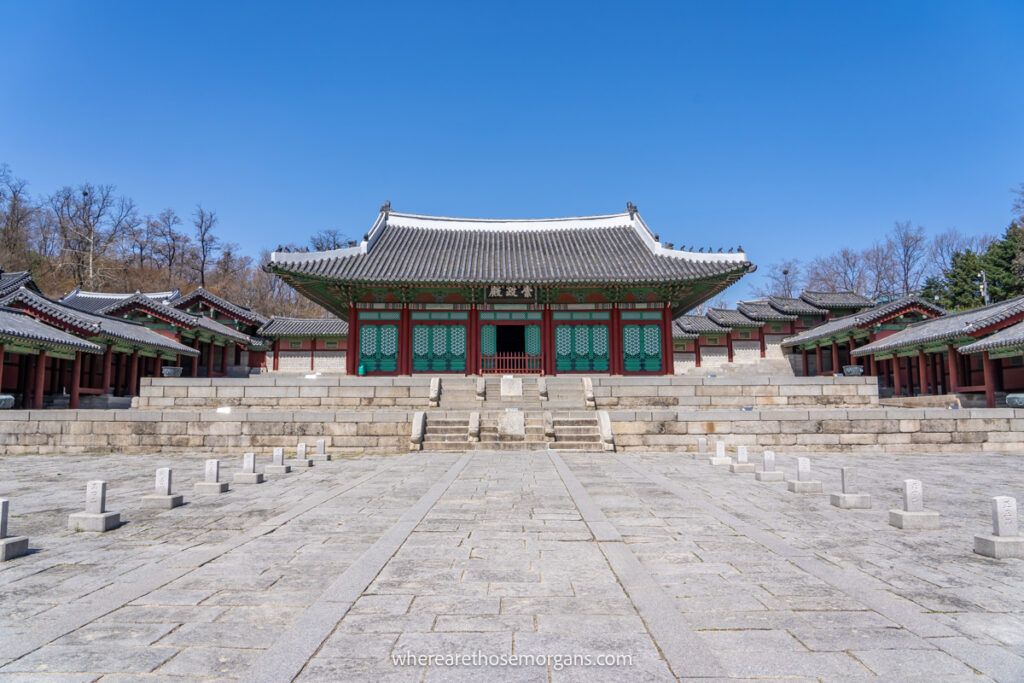 3. Sungjeongjeon Hall
Constructed in 1618, Sungjeongjeon Hall is the main hall of Gyeonghuigung Palace. This was the building where kings met with their subjects for meetings and hosted official events.
The 20th King Gyeongjong, the 22nd King Jeongjo and the 24th King Heonjong all used this beautiful hall for their inauguration ceremonies.
4. Jajeongjeon Hall
This colorful building was used as the king's private living room. In Jajeongjeon Hall, the king would hold meetings and supervise academic competitions.
Unfortunately, the original building was demolished by Imperial Japan, but the building we see today has been restored according to historic sketches.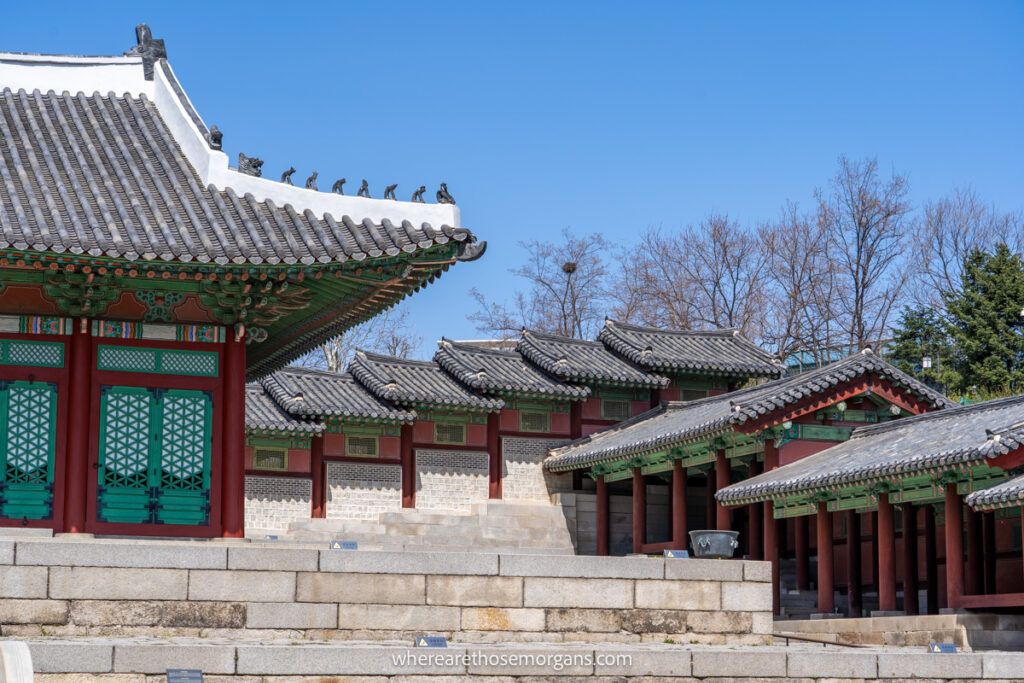 5. Taeryeongjeon Hall
One of the most unique buildings tucked in the back corner of Gyeonghuigung Palace and built in 1744, this structure was used to store King Yeongjo's portrait.
Similar to many other buildings in the complex, this hall was removed during the Japanese invasion, but it was restored in 2000 featuring five sections on the front and two sections on the side.
6. Seoam
Originally referred to as Wangam, this rock can be found behind Taeryeongjeon Hall. Under the large boulder, visitors can sometimes see a stream of water running underneath the rock.
In 1708, King Sukjong changed the name to Seoam Rock which is translated to 'Propitious Rock' during his 34th year in power.
There was once a stone tablet, known as Sabangseok, with Chinese characters personally engraved by King Sukjong, but it has since become missing.
Is Gyeonghuigung Palace Worth Visiting?
Yes, Gyeonghuigung Palace is worth visiting because it is one of the lesser known palaces in Seoul and there are minimal crowds.
We think Gyeonghuigung Palace is unique because there are only a few buildings in the complex that have been rebuilt.
When you visit this palace, it is clear to see how much of the complex has been destroyed by fire or the Japanese occupation so it's a very authentic reminder of the past.
Our Gyeonghuigung Palace Photos
We enjoyed our visit to Gyeonghuigung Palace and took many photos. Here are a few of our favorites: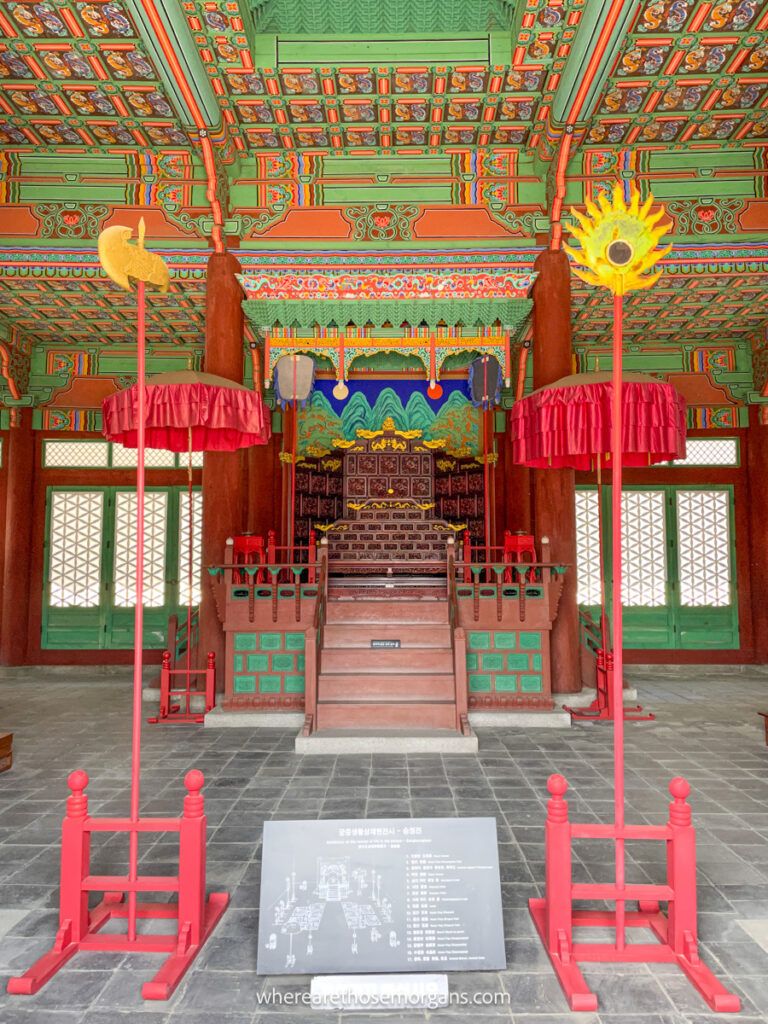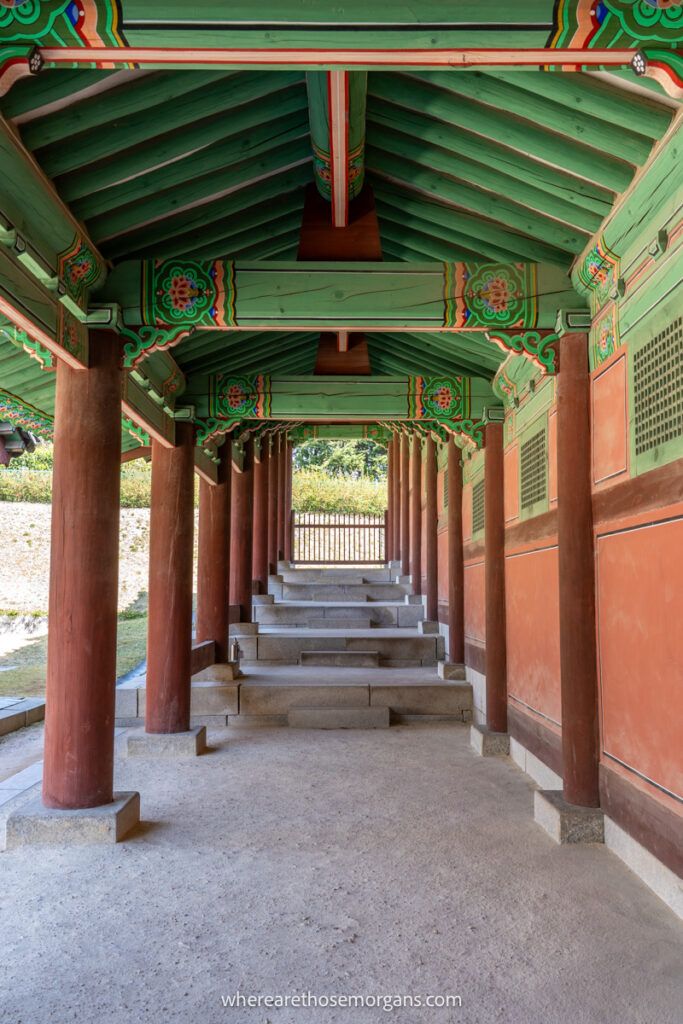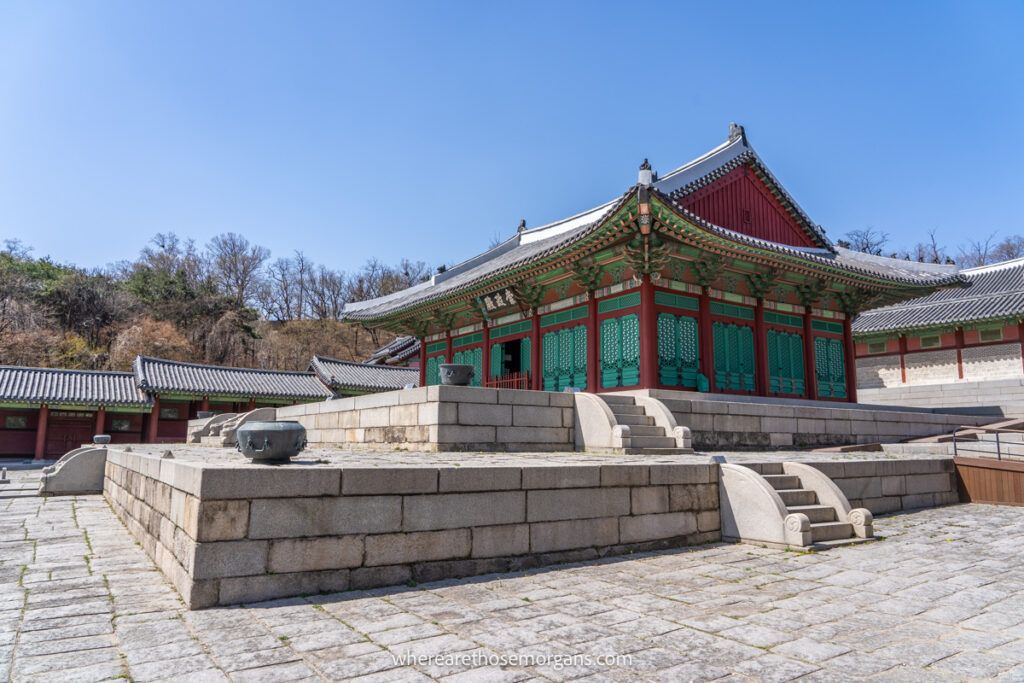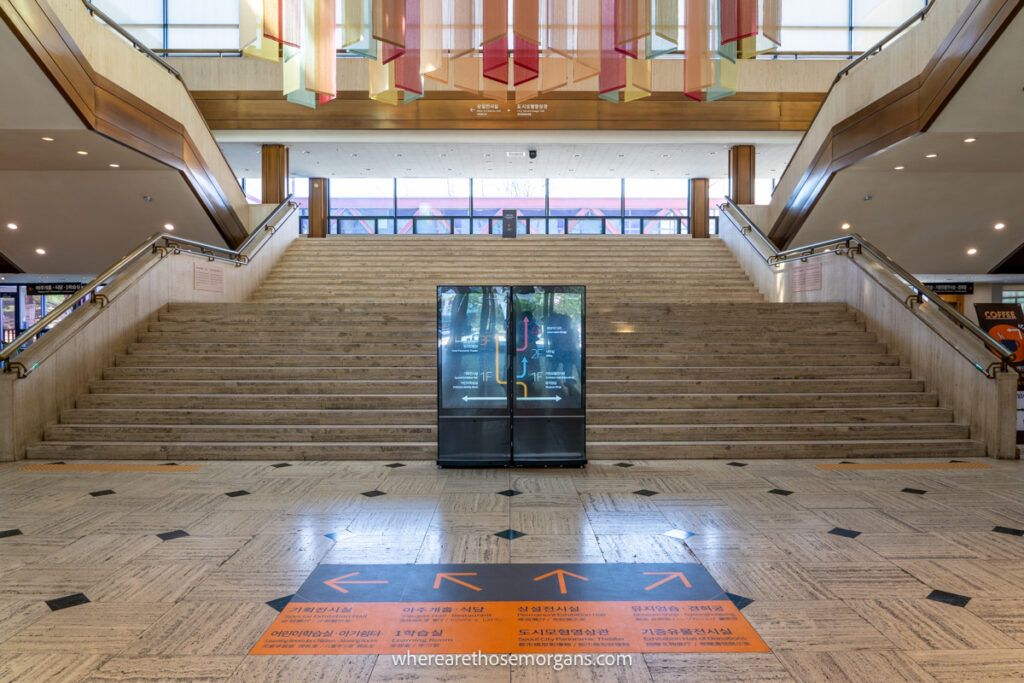 Gyeonghuigung Palace FAQ's
Let's take a look at some of the most frequently asked questions about Seoul's Gyeonghuigung Palace:
What is special about Gyeonghuigung Palace?
As a lesser known palace in Seoul, Gyeonghuigung showcases only a few restored buildings from the original complex, but it is famous for providing a home to ten kings of the Joseon Dynasty. This is also the only royal palace in Seoul with free admission.
How long does it take to visit Gyeonghuigung Palace?
Visitors can easily visit Gyeonghuigung in about one hour because much of the original palace does not exist today. Unfortunately, most of this palace was destroyed during the Japanese invasion to make way for a school and only a small portion exists today.
What should you see at Gyeonghuigung Palace?
Visitors should not miss the Heunghwamun Gate, Geumcheongyo Bridge, Sungjeongjeon Hall, Jajeongjeon Hall and Taeryeongjeon Hall in Gyeonghuigung Palace.
Our Popular Seoul Guides
More Seoul Palaces
Want more Seoul content? Head over to our South Korea Travel Guides to explore the very best of Seoul and beyond.
---
We hope this guide featuring things to do at Gyeonghuigung Palace helps with planning your visit to Seoul!
Please let us know if you have any questions about visiting Gyeonghuigung Palace in the comments below.
Happy Travels,
Mark and Kristen
Enjoy This Gyeonghuigung Palace Guide? Pin It For Your Visit!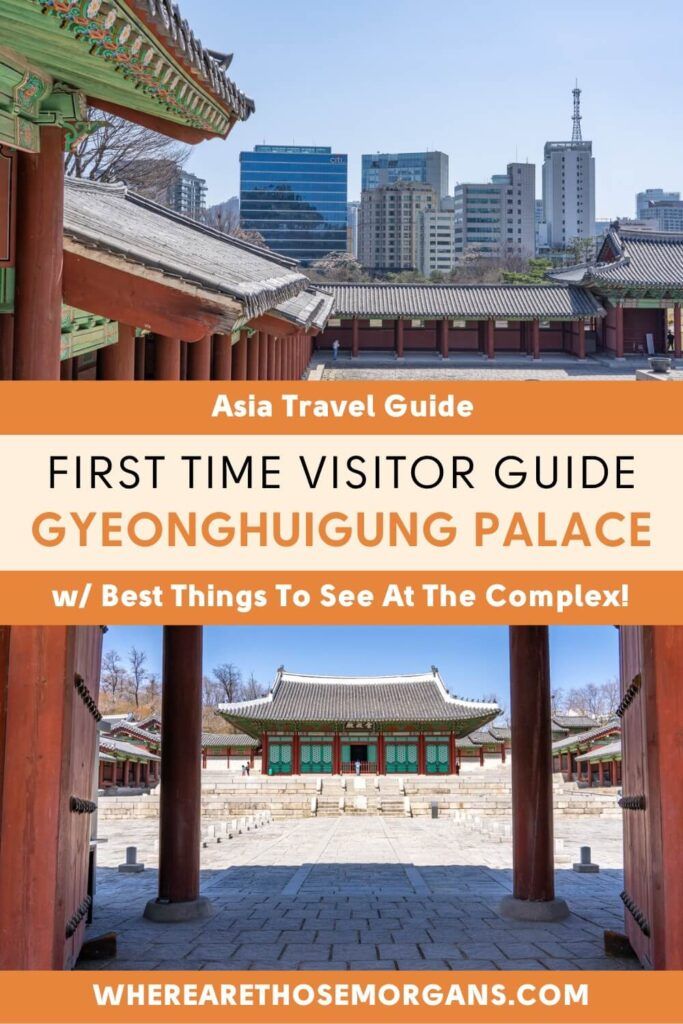 Note: This article contains affiliate links. When you make a purchase using one of these affiliate links, we may earn a small commission at no extra cost to you.
All Rights Reserved © Where Are Those Morgans, LLC. Republishing this article and/or any of its contents (text, photography, maps, graphics, etc.) in whole or in part is strictly prohibited.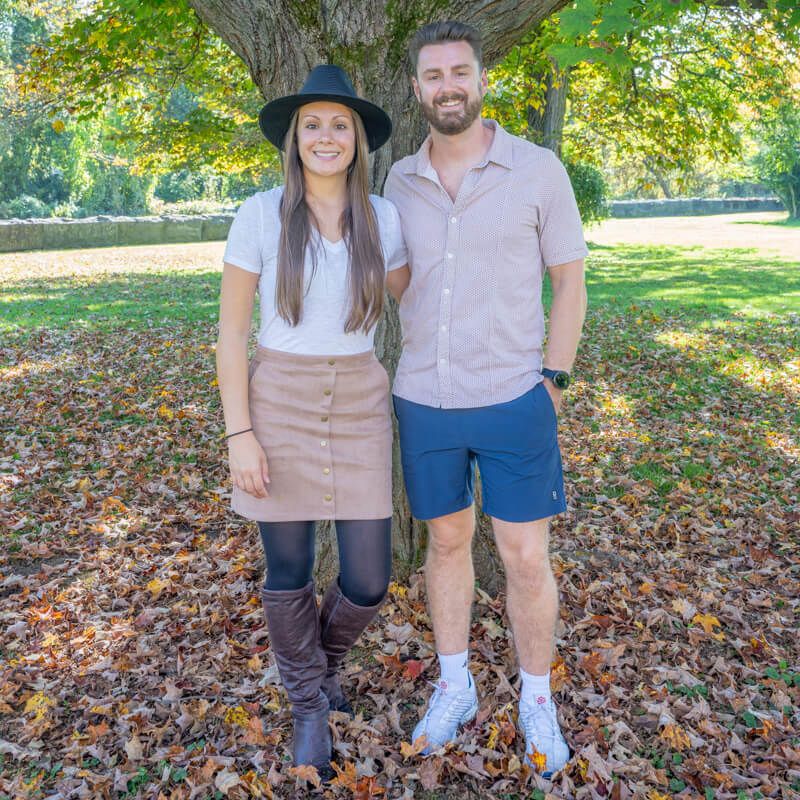 Mark and Kristen Morgan are travel, hiking and photography experts. Over the last 6 years traveling full time, they have explored more than 40 countries and 30 US states.
Their work has been featured in USA Today, Gestalten, Get Your Guide, CityPASS and Condé Nast Traveler along with various other publications.