Imjingak Park is located near one of the most heavily militarized regions in the world. Along the border of the DMZ between North and South Korea, Imjingak Park should not be missed when visiting Seoul.
Visitors can explore museums, war memorials, observatories and even ride a pirate ship. In our detailed Imjingak Park guide, we will show you:
Where to find Imjingak Park and how to get there
15 best things to do at Imjingak Park
Numerous tips for you visit
Our personal photos from Imjingak Park
Now, let's explore Imjingak Peace Park!
Our Imjingak Park Experience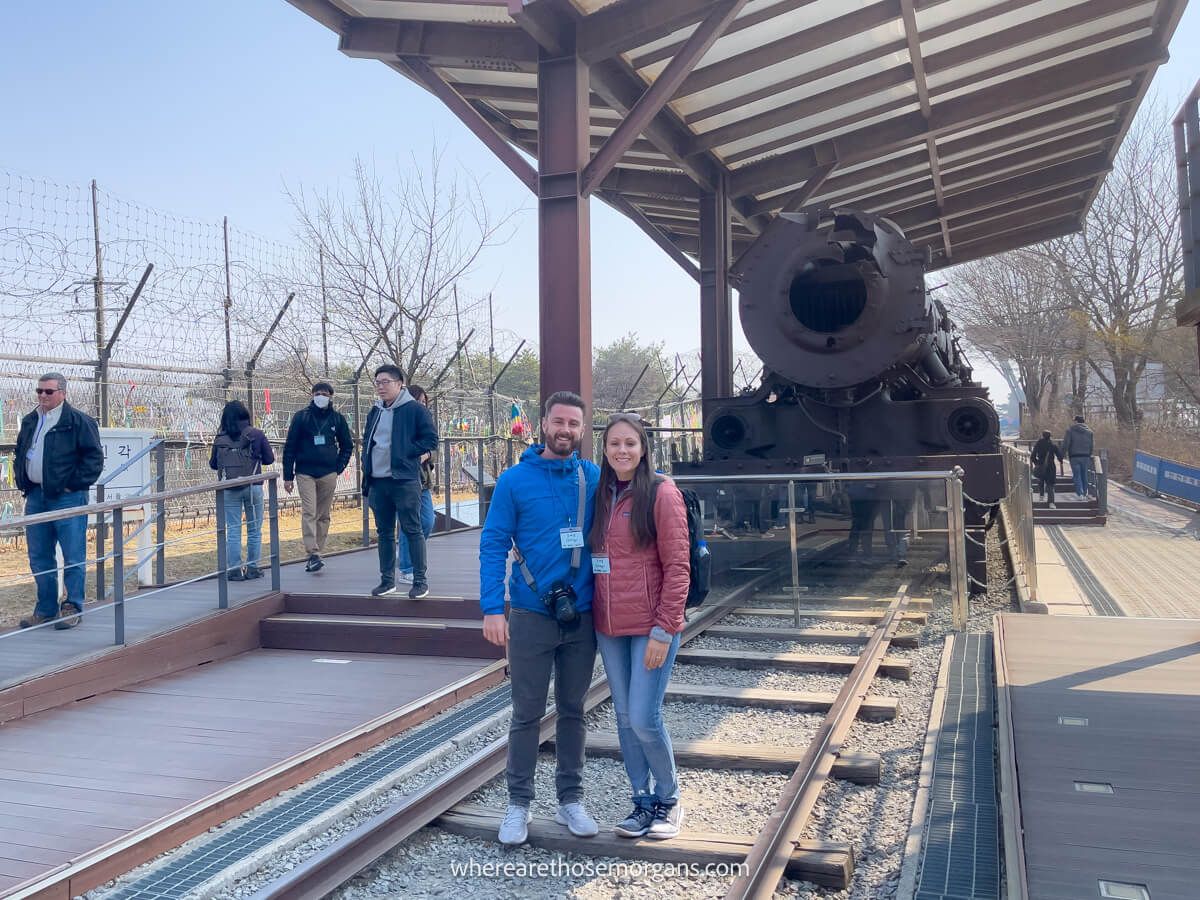 We visited Imjingak Park as part of a DMZ Tour in March 2023 after the covid pandemic lockdowns. This guide will show you everything you can do in this fascinating area.
During this time, the entire park was open for visitors. Imjingak Park is the closest you can get to the DMZ without booking a guided tour.
Want to visit the DMZ? You can not visit the DMZ unless you have booked a guided tour. Don't miss our DMZ tour review if you are interested in exploring the South Korea and North Korea border.
What Is Imjingak Park?
Imjingak Park was built for North Korean refugees after the announcement of the Korean Agreement following the Korean War. But this region now serves as a leading tourist destination in Korea with over 6 million annual visitors.
Located very close to North Korea, this park showcases the difficulties of the Korean War as well as the current division between North and South Korea.
The Imjingak Peace Park incorporates museums, monuments, a Unification Park and a North Korea Center. Built in 1972, Imjingak was built in the hopes North and South Korea lean towards unification.
It's important to note that Imjingak Park has several interchangeable names so you can expect any of the following terms:
Imjingak Resort
Pyeonghwa Nuri Park
Imjingak Nuri Peace Park
This park will most likely be your first stop on a DMZ tour. We will discuss the best ways to visit the park if you don't want to book a tour later in this guide.
Where Is Imjingak Park In South Korea?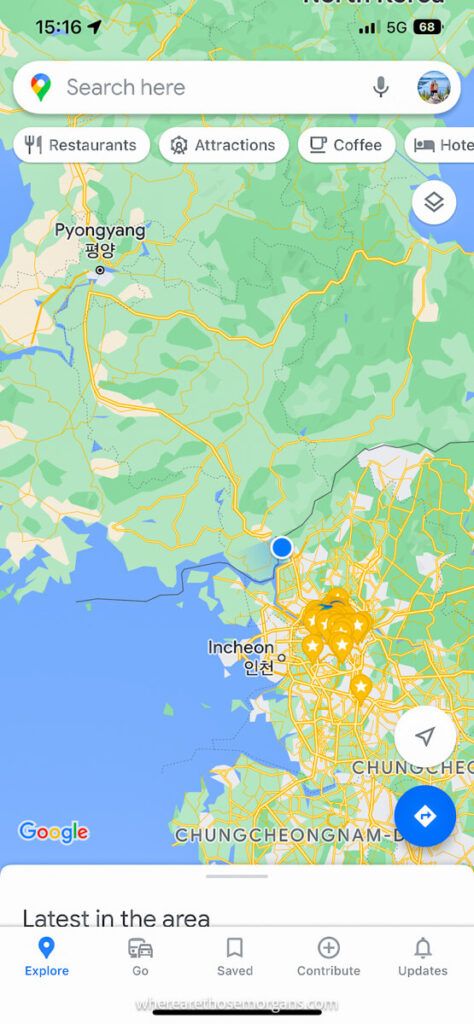 Imjingak Park is located 7km (about 4.5 miles) from the Military Demarcation Line along the banks of the Imjingang River which divides North and South Korea.
Address: 177, Imjingak-ro, Paju-si, Gyeonggi-do South Korea
How To Get To Imjingak Park
You have four options for getting to Imjingak Peace Park:
1. Book a DMZ Tour with a guide. This is how we visited Imjingak Park and most tours will stop at this location before visiting any other part of the DMZ.
2. Take town shuttle bus # 058 (daily service) and get off at Imjingang bus stop. You can also use ordinary bus #93-3 or express bus # 7300, but these options are weekend service only.
3. Take the subway to Imjingang Station (along the Gyeongui-Jungang line).
4. Drive yourself and park in the Imjingak parking lot. Compare prices on Discover Cars or Rental Cars for the best deal if you need to rent a car.
If you drive, there is a large parking lot in front of the Korean Peninsula Ecological Peace Tourism Center and you can park for free.
Heading to Seoul during your trip? Check out the best things to do in Seoul next.
15 Best Things To Do At Imjingak Peace Park
A few of the attractions in the peace park will cost an additional fee so we will let you know what is free and what will cost you extra.
Here are the best things you can do when visiting Imjingak Park: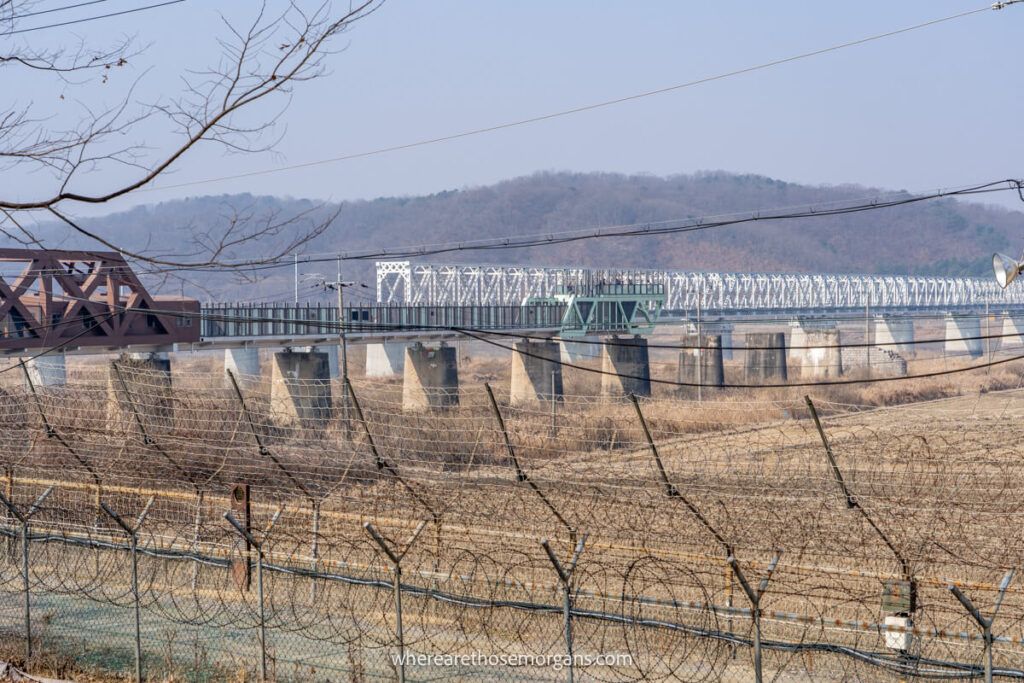 1. See The Freedom Bridge
The Freedom Bridge is one of the most popular attractions at Imjingak Park. Built in 1953, this bridge was temporarily built to exchange 12,773 Prisoners of War (POWs).
After the Korean War, prisoners crossed the Freedom Bridge on foot after coming to the bridge of the Gyeongui train line by motor vehicles.
Many of the guided tours of the DMZ will highlight the Freedom Bridge.
Cost: Free
2. Visit The Peace Bell
Another great spot to visit at Imjingak Park is the Peace Bell. It was created with national reunification in mind and hopes of peace for humankind.
The Peace Bell has 21 steps and weighs 21 tons to symbolize the 21st century.
Cost: Free
3. Don't Miss The Steam Locomotive at Jangdan Station
The steam locomotive at Jangdan Station is located on the old Gyeongui train line which was destroyed by the bombings of the war.
This old locomotive is unique because you can still see the bullet holes and today, it is meant to be a symbol for the current division of Korea.
Many unification events are held here in Imjingak Park and this attraction serves as one of the most popular locations along the DMZ because tourists can visit without going through security checkpoints.
Cost: Free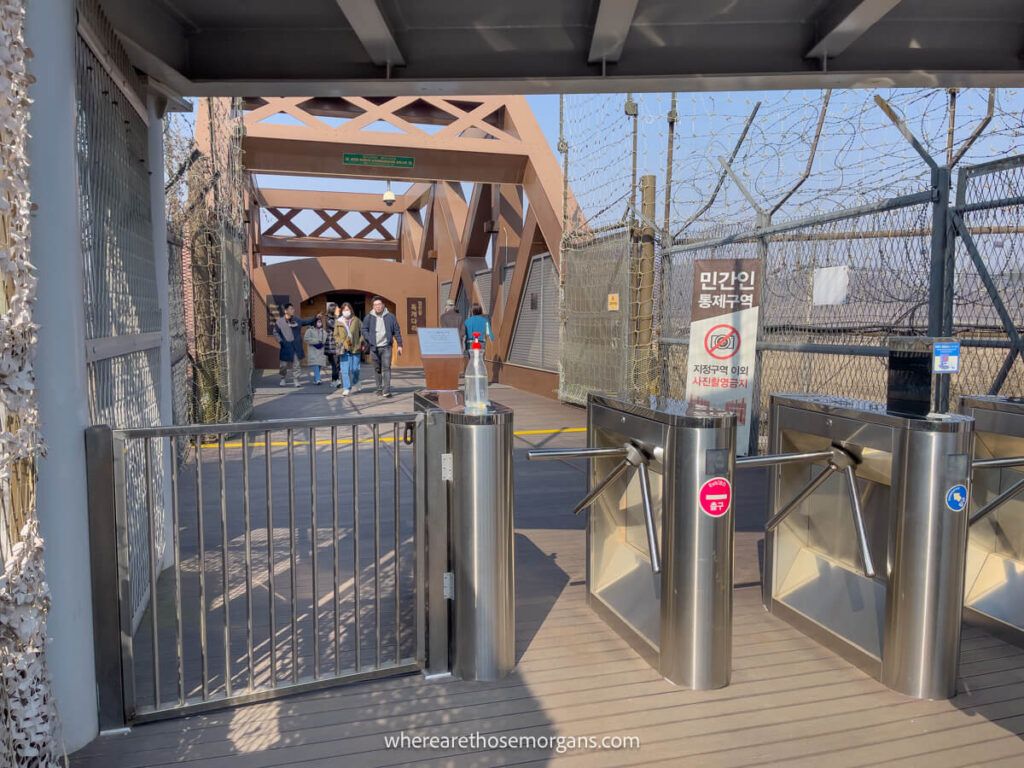 4. Walk Out On Dokgae Bridge
This unique attraction reproduces the original railroad bridge that was also destroyed during the bombings of the Korean War.
The Dokgae Bridge measures 105m by 5m and visitors will experience a clear view of the Imjingang River within the restricted area for civilians.
Cost: Additional entry fee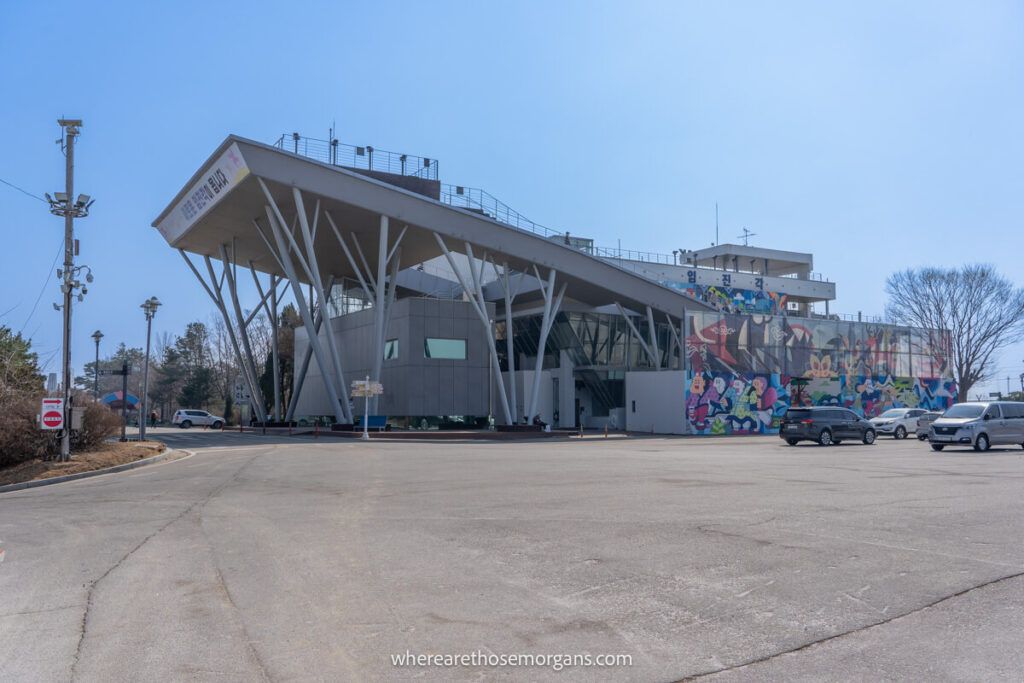 5. Climb The Imjingak Pavilion
Imjingak Pavilion was built for refugees right after the Armistice Agreement between North and South Korea. We recommend you climb to the rooftop observatory to see a birdseye view of the restricted area.
At the top of the observatory, visitors will find multiple tower viewers. Because of the high view, this is a great place to see what else you might want to do in the peace park.
Cost: Free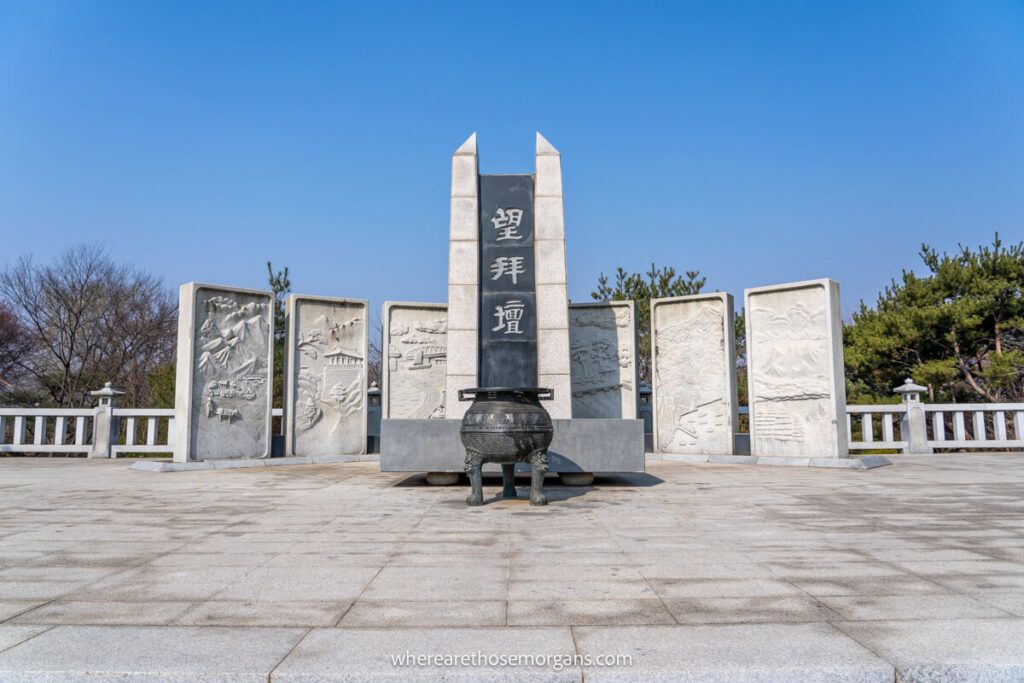 6. Pay Your Respects At The Mangbardan Altar
The Mangbaedan Altar has become a famous place where South Koreans who have been separated from their families in the north canpay tribute to loved ones.
On both Seollal (New Year's Day) and Chuseok (Korean Thanksgiving), families gather here to be as close to their hometowns and families as possible.
Cost: Free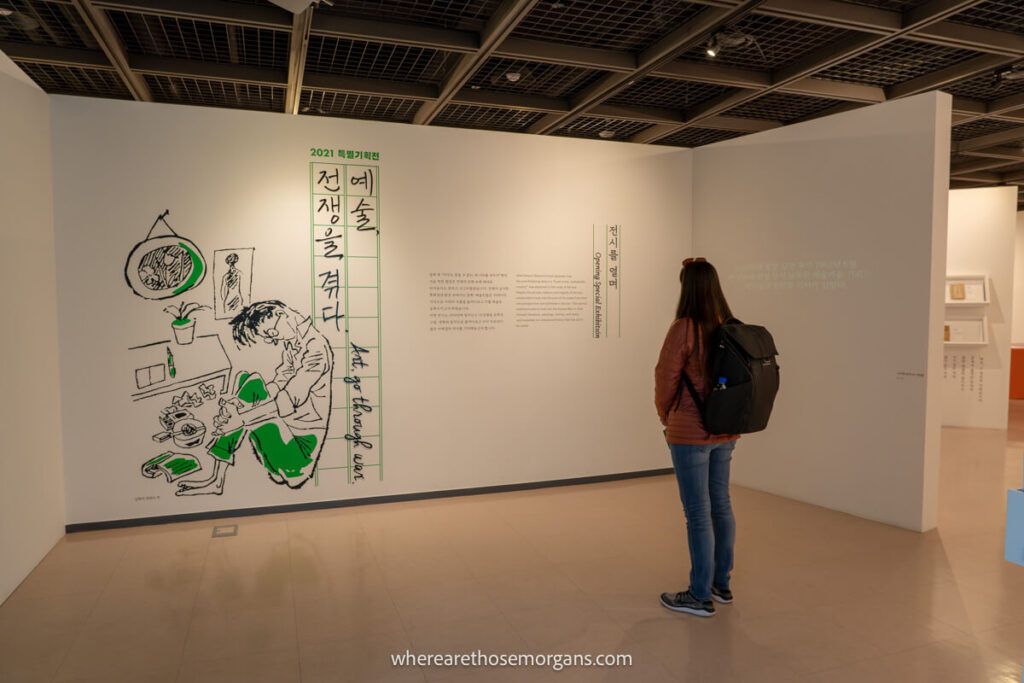 7. Learn At The National Memorial For Abductees During The Korean War
If you can spare the time at Imjingak Park, the National Memorial for Abductees during the Korean War is worth your effort.
However, you may need a few minutes after the museum to compose yourself because what you will learn about is absolutely heartbreaking.
The National Memorial for Abductees reflects on the history of South Korean citizens abducted by North Korea and strives to recognize the victims current struggles.
We won't get into much detail here but on June 25th, 1950 at 4:00 am with no declaration, North Korea crossed the 38th parallel into South Korea marking the first aggression of the Korean War.
During this invasion, North Korea implemented plans to abduct South Koreans. It is estimated about 100,000 South Korean civilians were abducted during the war.
Despite continued efforts by the South Korean government to repatriate the abductees, many of them have not returned from North Korea causing immense pain and suffering for their families back home.
Cost: Free
Travel Tip: Most of the exhibits in the museum are in Korean, but there are English translations scattered through each exhibit. You can also use Google Translate to read the Korean text.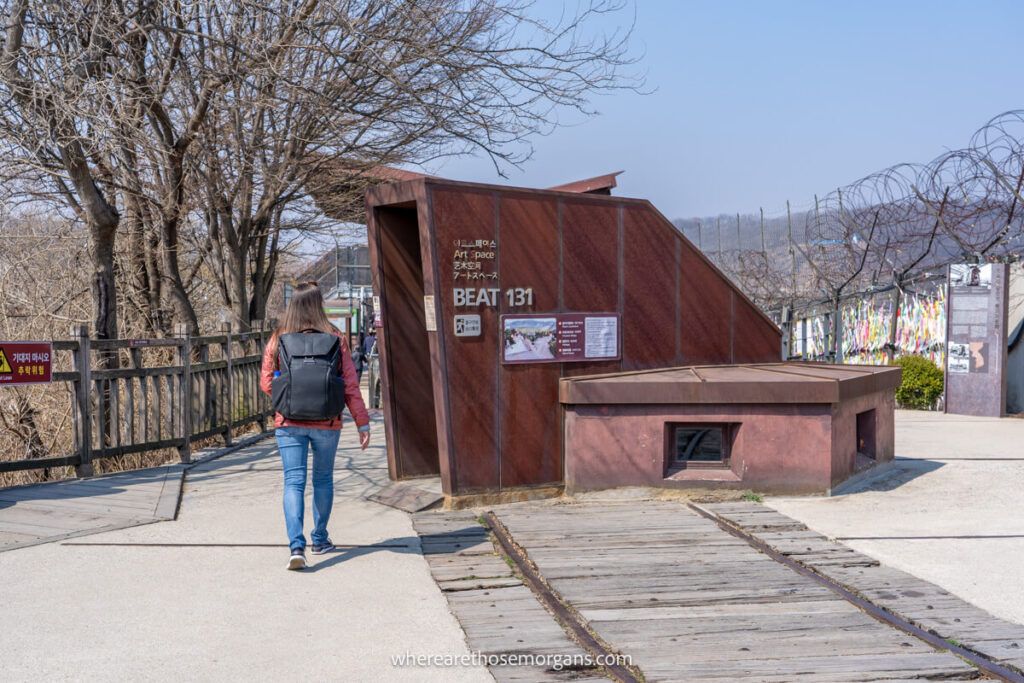 8. Explore An Underground Military Bunker At BEAT 131
Inside visitors will step into an actual military bunker including intelligence room and a video experience exhibition hall. However, the BEAT 131 bunker will cost an additional fee to enter.
This underground bunker showcases military goods and offers a hand-on experience of media as well as additional video footage of the DMZ.
Cost: Additional entry fee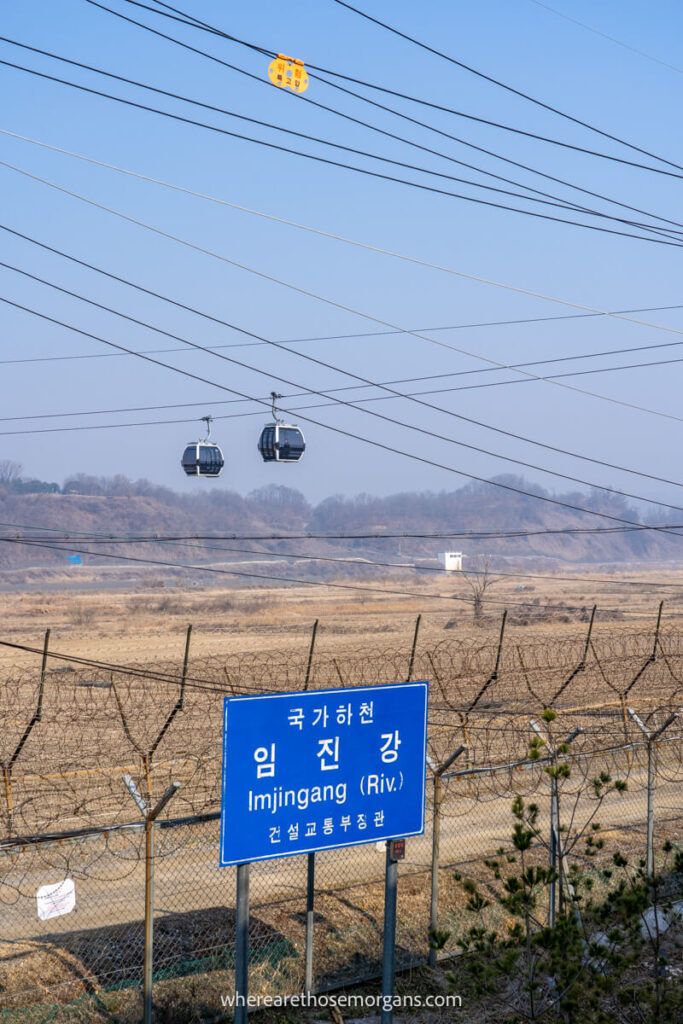 9. Ride The Imjingak Peace Gondola
If you want to experience the world's only gondola that travels through a Civilian Controlled Zone (CCZ), this is your chance to ride a cable car through the DMZ.
The Imjingak Peace Gondola is 1.7 km (1.0 mile) long traveling between a north and south station over the Imjingang River.
To ride the Peace Gondola, you will have to pay an additional fee, but if you have booked a DMZ tour this might be included or you will receive a discounted rate.
Imjingak Station (parking lot of Imjingak Park) includes:
Paju Agricultural Specialities Marker
GS25 Convenience Store
Ticket Office
Cafe 9977
Dunkin' Donuts
PICSOLVE Photo Service
Provence Bakery
The DMZ Station (upper platform of Camp Greaves) includes:
Rooftop Observatory
Cafe Forbidden Place
DMZ Gift Shop
Outdoor Trail (to Imkingang Observatory)
Gallery Greaves
Camp Greaves (sometimes closed)
Once on the North side, you can visit the Peace Lighthouse, the Dobo Bridge, Pyeonghwajeong Pavilion and the No Border Crossing sign.
Cost: Adults 11,000 KRW + 9,000 KRW for the general cabin
If you want to book a DMZ tour with a Gondola ride, you can book it on Get Your Guide or Viator.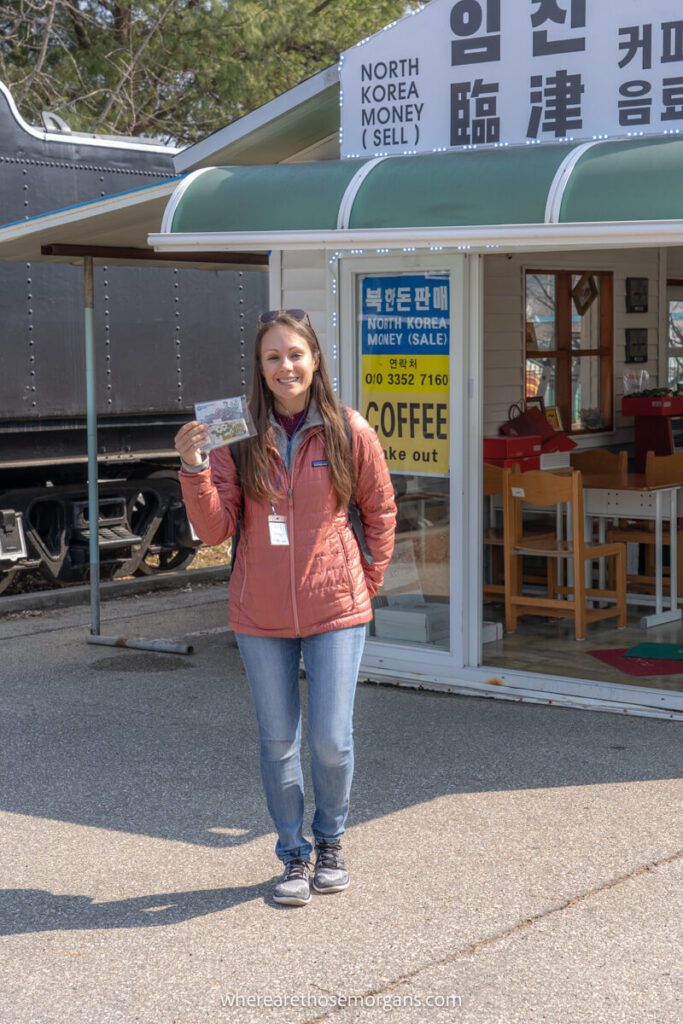 10. Buy North Korean Currency
If you like to collect money, don't miss your chance to buy North Korean currency. You can find the money stand from above located just past Imjingak Pavilion.
When we visited, you could purchase both old and new currency. Honestly, it was a little overpriced but you probably won't get the chance to buy North Korean currency again.
Cost: Varies
11. Admire The Ground For New Millennium
This sculpture won't take much of your time, but it's meant to have a big impact. The Ground For New Millennium is made of both an upper and lower portion which are meant to represent different ideas.
The lower portion of the statue symbolizes the past while the upper portion symbolizes the future. This monument was built in hopes of world peace and democratic reunification.
Cost: Free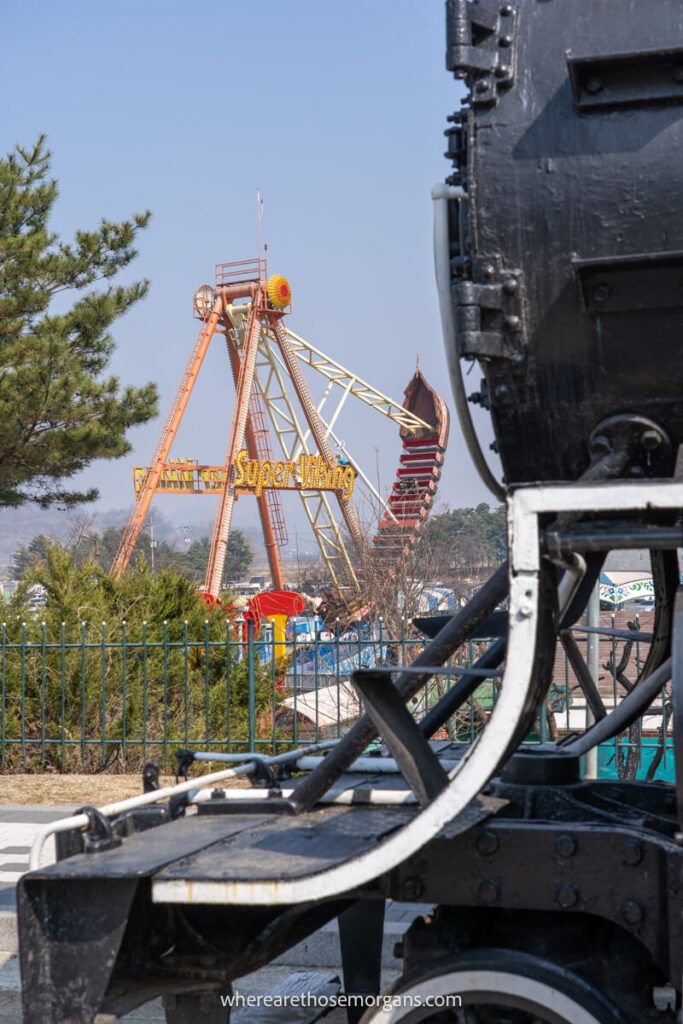 12. Ride The Pirate Ship In Pyeonghwa Land
If you are traveling with kids to Imjingak Park, they will have the chance to visit an amusement park! This one took us by surprise because an amusement park is the last thing you would expect at the DMZ.
At the time we visited, Imjingak Park had a pirate ship, swings, a rideable train and a carousel. The amusement park is located adjacent to the main parking lot.
Cost: Varies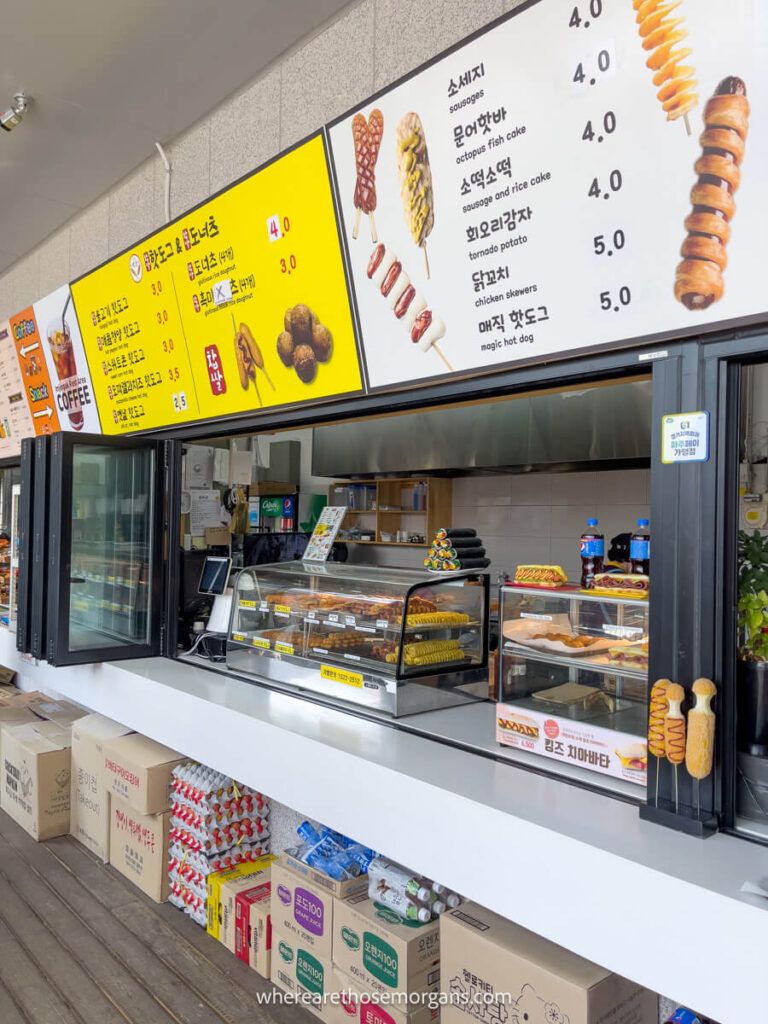 13. Fuel Up With Local Food
All of these activities will certainly help you work up an appetite. You can find local food stalls selling dumplings, noodles and many fried options. This was the cheapest option for dining in the park.
We tried the corn dog and the sausage rice cake to fuel up with a quick snack before our DMZ tour.
But if you want to have a sit down meal, there are a few options on the second floor of the Korean Peninsula Ecological Peace Tourism Center including both local and international options.
Try to find the robot delivering meals to customers!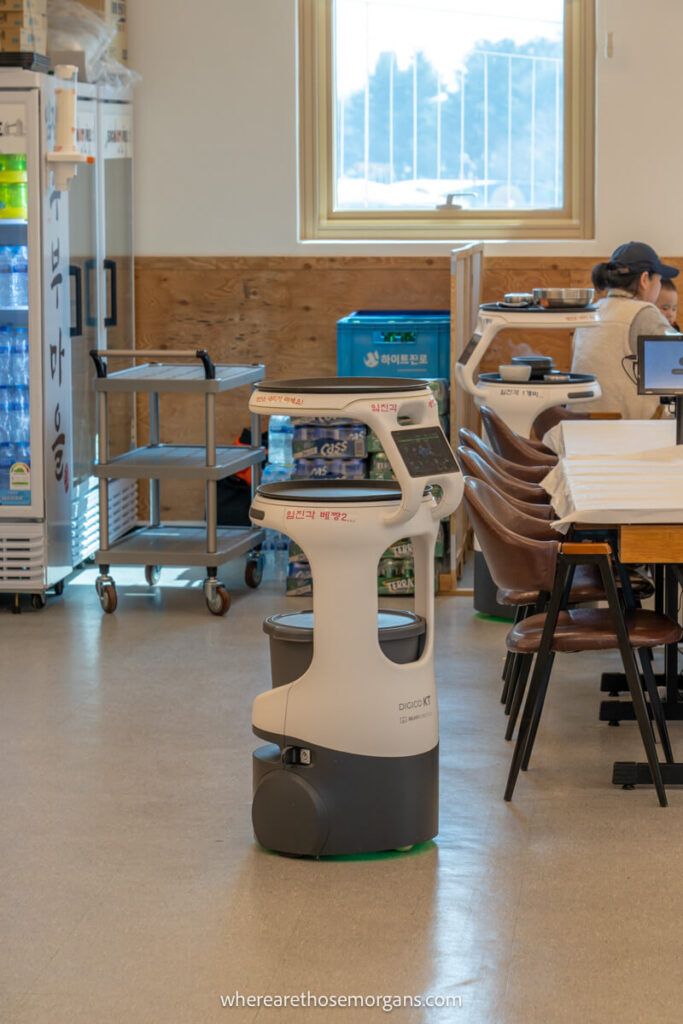 For those who love Dunkin' Donuts, you can find a small Dunks on the second floor of Imjingak Station. We couldn't resist stopping by for a donut…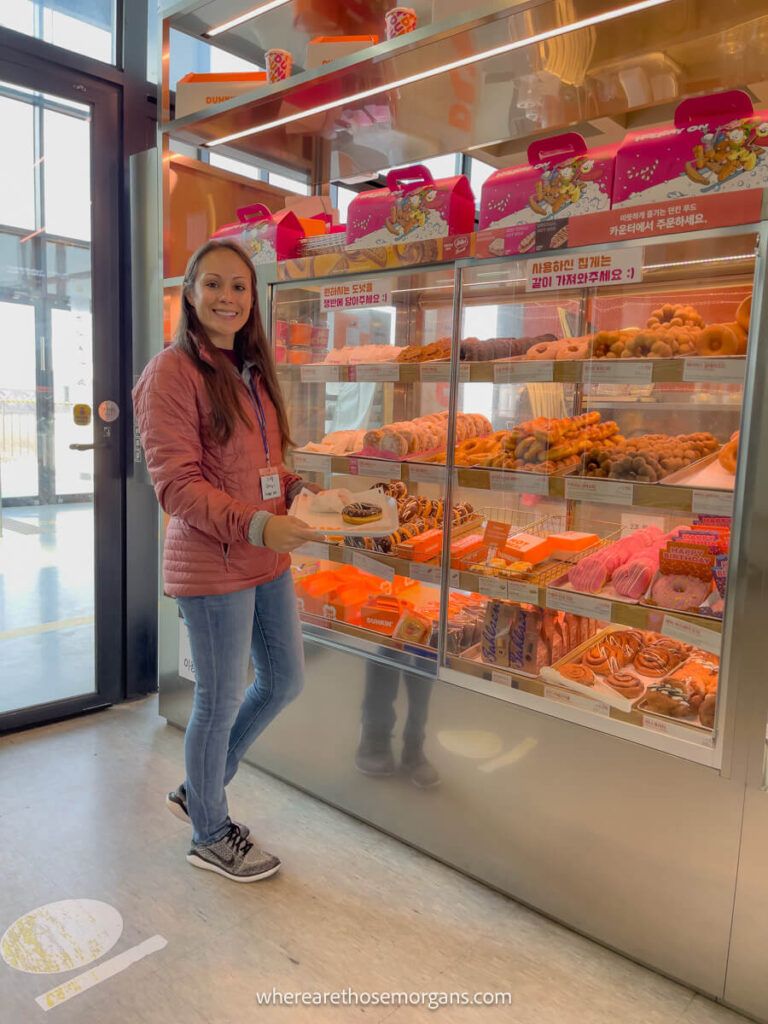 14. Stop By The Korean Peninsula Ecological Peace Tourism Center
The tourism center is where your tour guide will pick up your tickets for touring the DMZ. You can also find food as well as restrooms located inside the building.
If you climb to the second story, you will also find a lunge area with a few picnic benches. Another highlight is the Imjingak Riverside Culture & Eco Trail (9.1km) which begins nearby.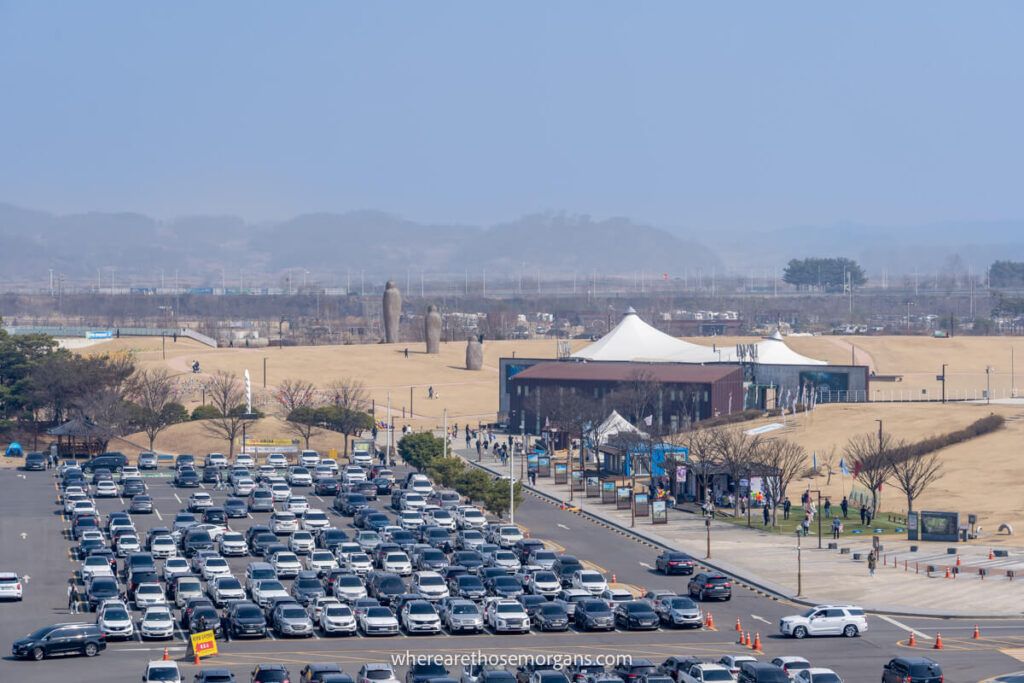 15. Walk Through The Monuments For Unification
On the other side of Imjingak Park, you will find a large green space filled with walking trails. Because we spent so much time inside the museum, we ran out of time to fully explore this section.
In addition to the Monuments of Unification, there are a few more things in the area including:
Candlelight Pavilion
Hill of Music
Hill of Wind
DMZ Ecotourism Support center
Cafe Annyeong
You could easily spend a whole day in Imjingak Park if your South Korea itinerary allowed!
Travel Tip: The 3rd Tunnel, Dora Observatory and the Joint Security Area (JSA) are not located in Imjingak Park. You will need to book a DMZ tour to visit these specific areas.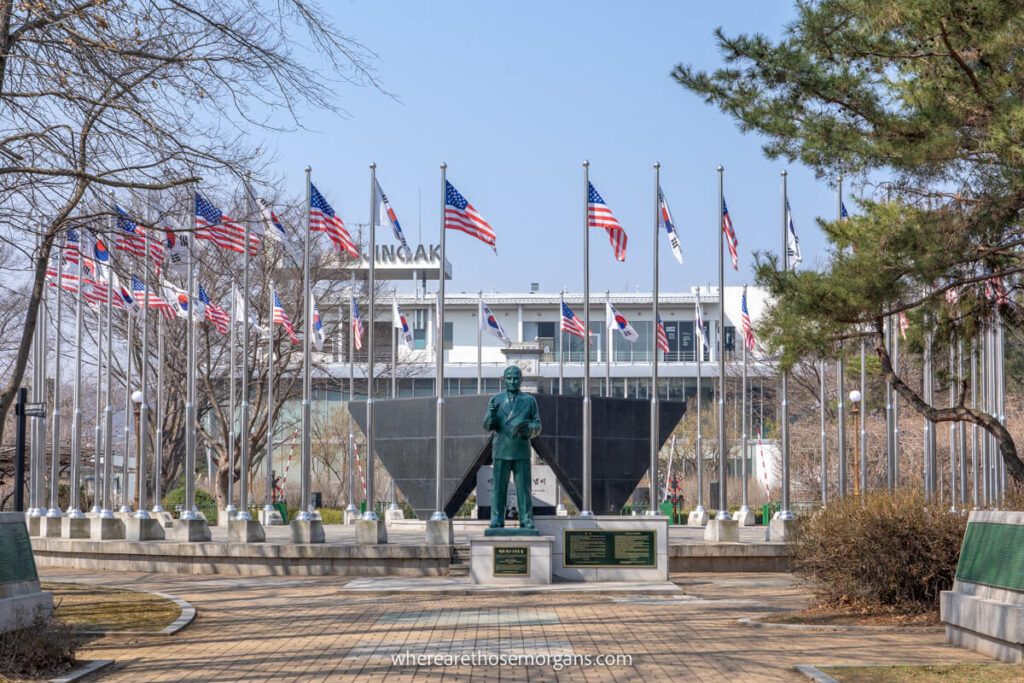 Is Imjingak Park Worth Visiting?
Yes, Imjingak Park is worth visiting because this is the closest point you can get to the DMZ without having to go through extra security precautions and booking a tour.
In all honesty, it can be very sad walking around the park learning about what took place in this area, but it's important for visitors to learn about the history of the Korean War and these bordering countries.
Pros To Visiting Imjingak Park
Visitors can visit on their own or as part of a tour
Many things to do in the park so your time can be spent well
One of the best ways to understand history between North and South Korea
Cons To Visiting Imjingak Park
Can be an extremely harrowing experience
Will take up a significant amount of time
Limited amount of English in certain exhibits
Photos For Imjingak Park
We took many photos at Imjingak Park and these are a few of our favorites.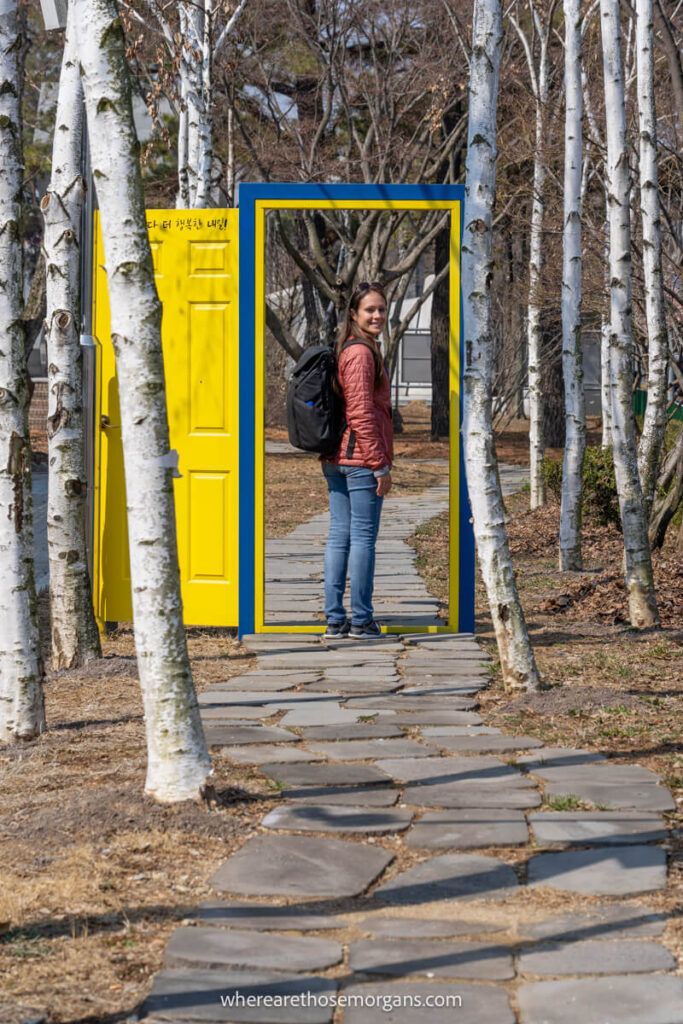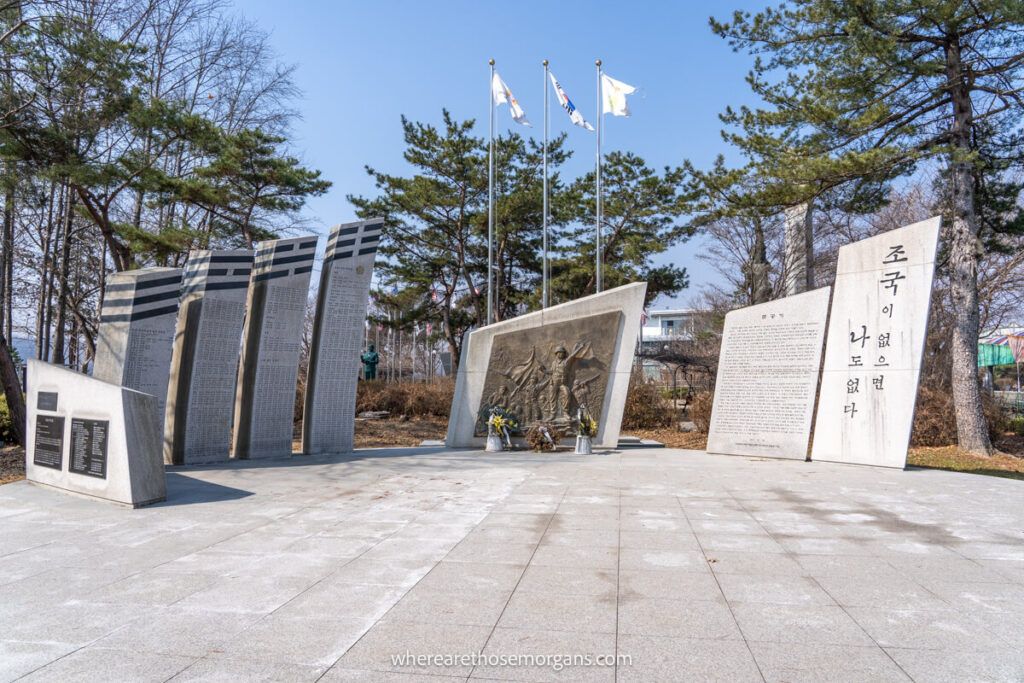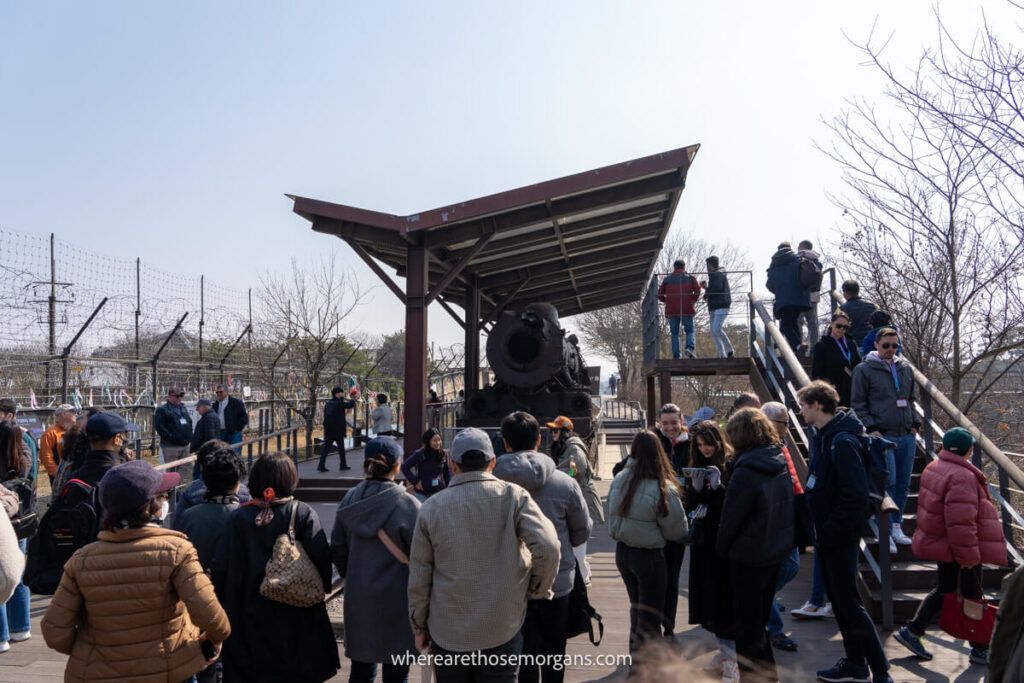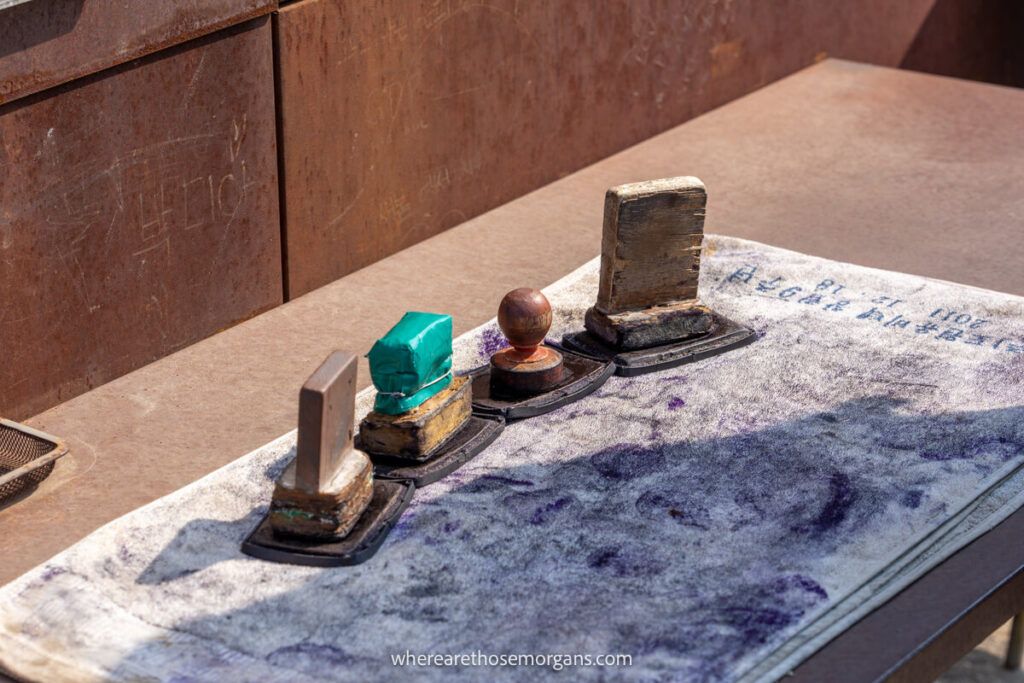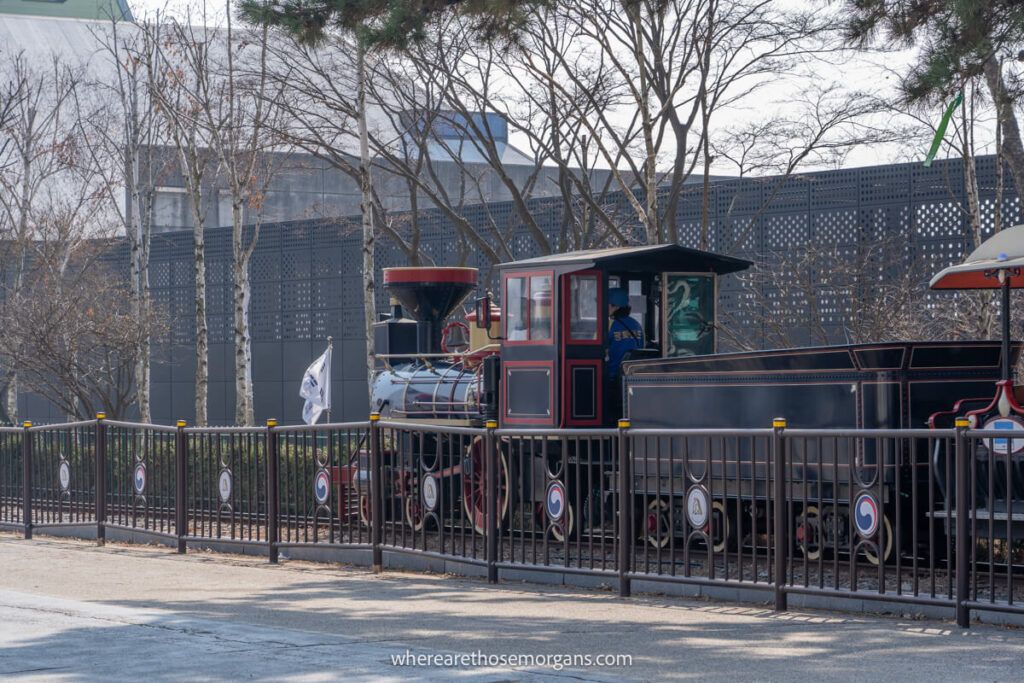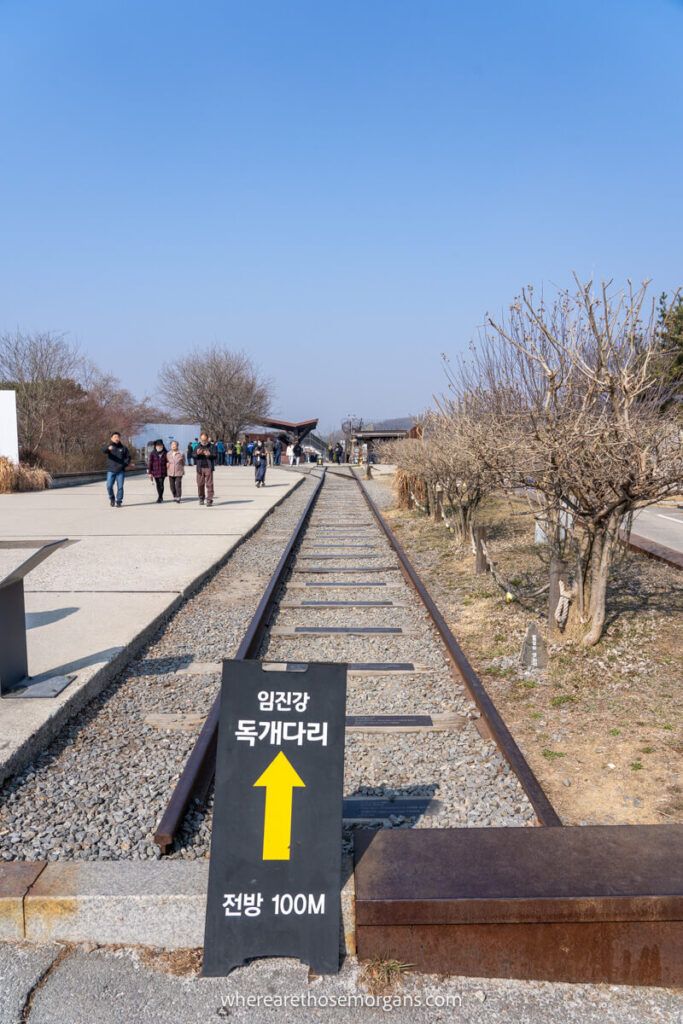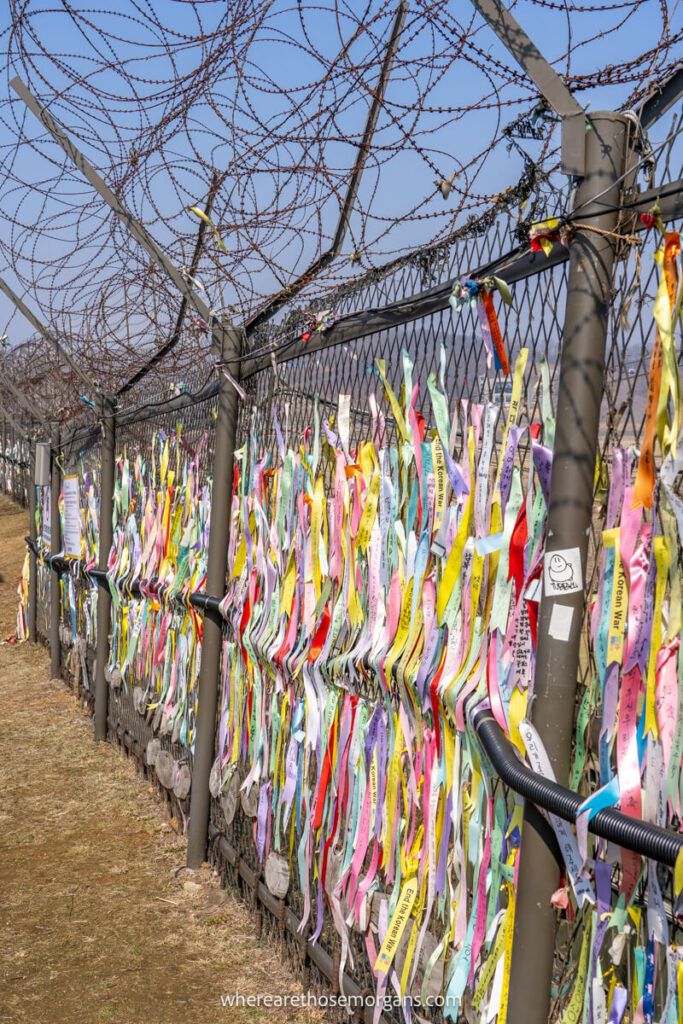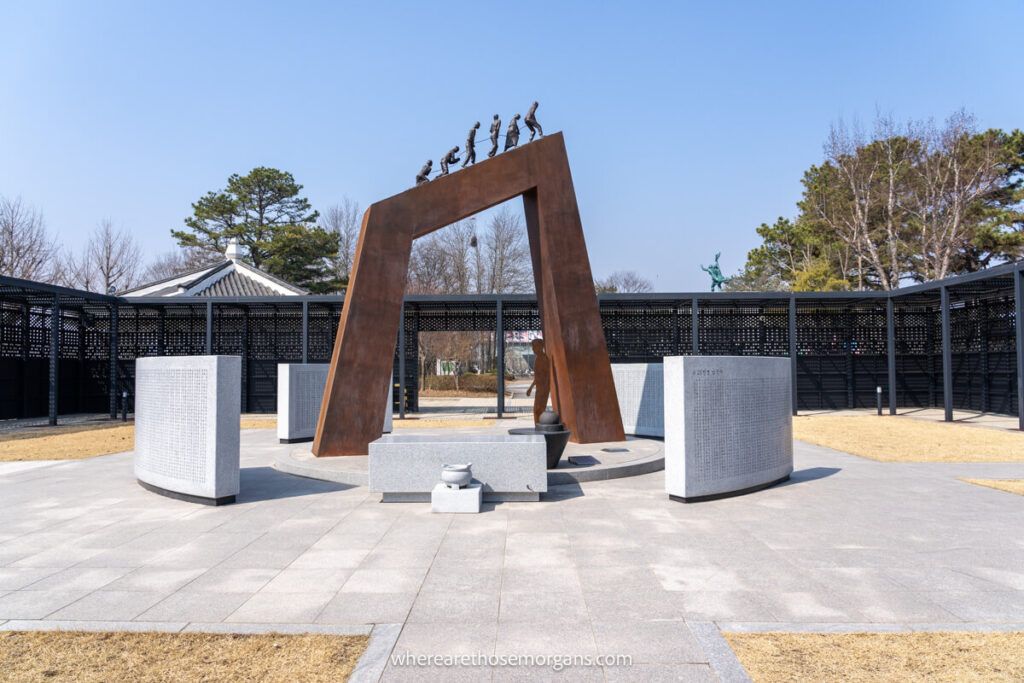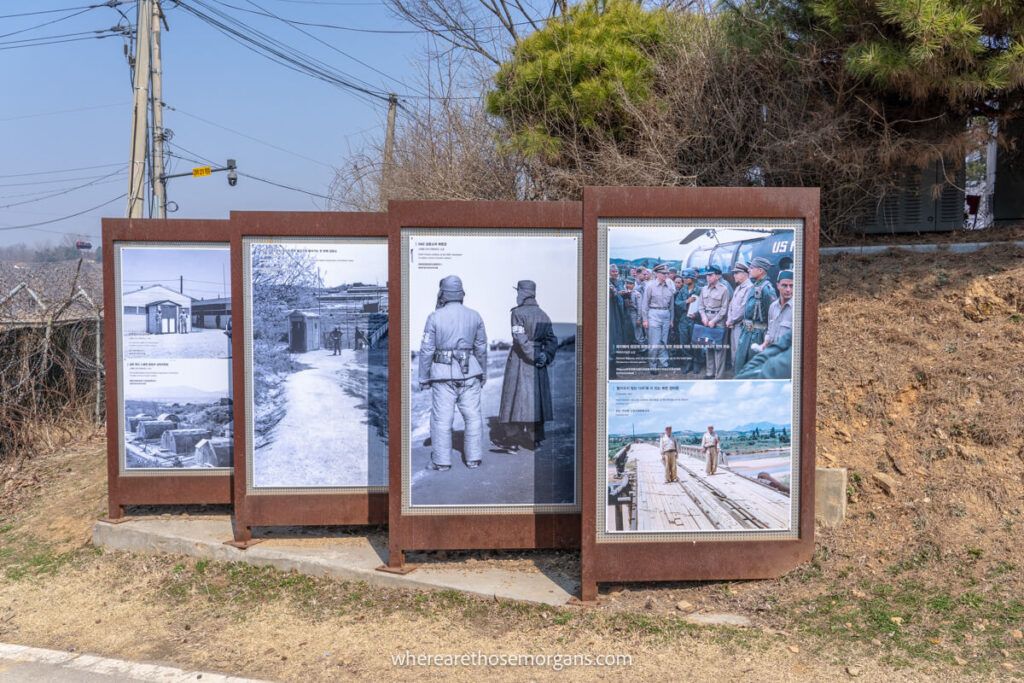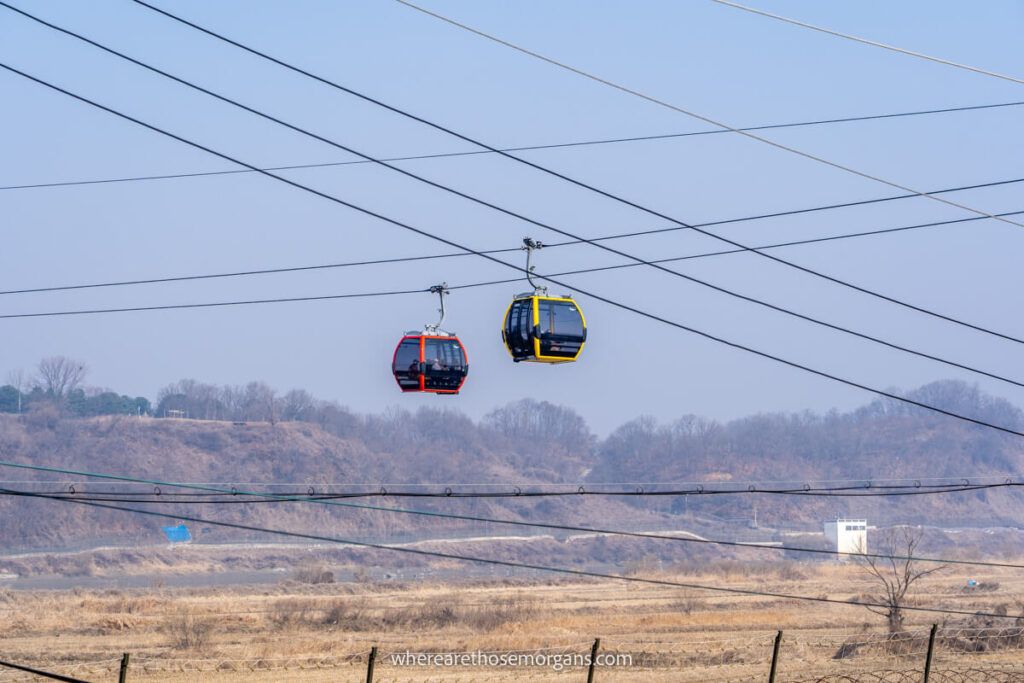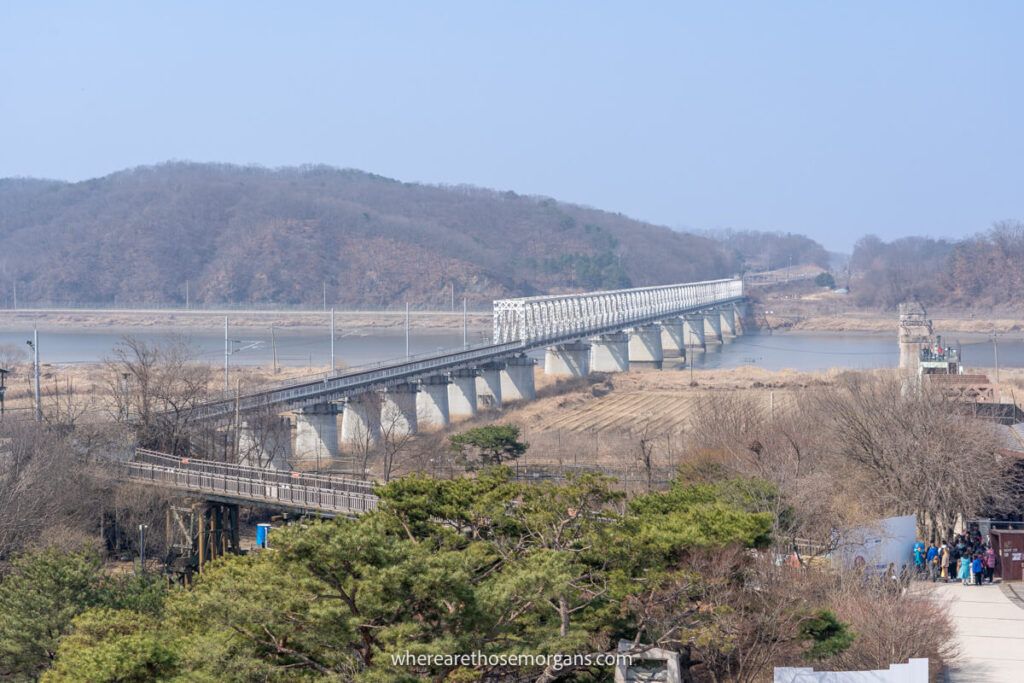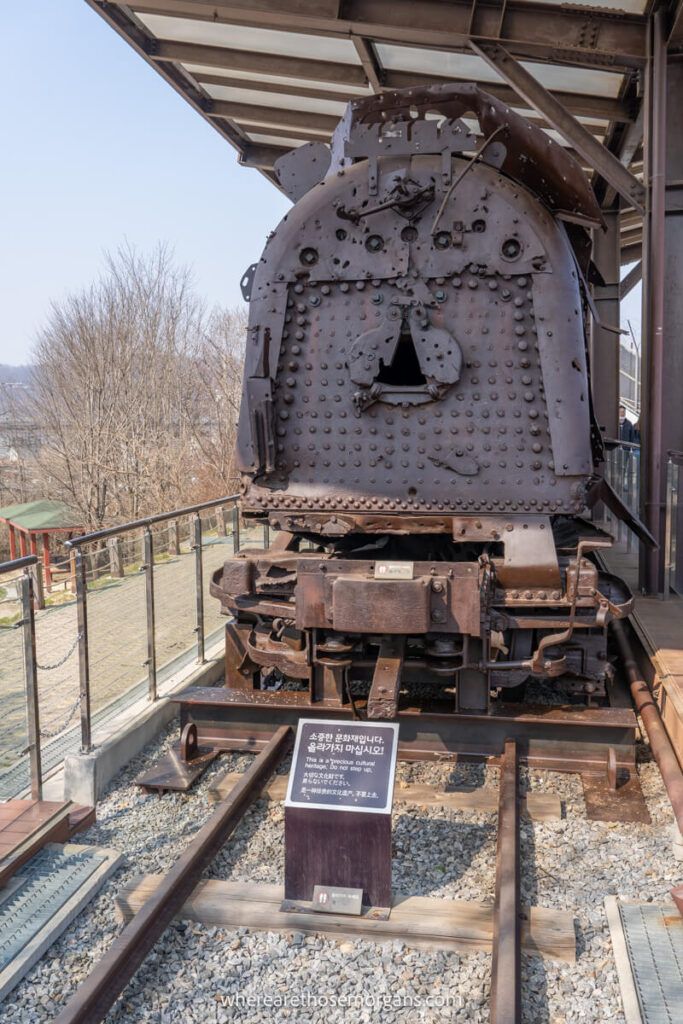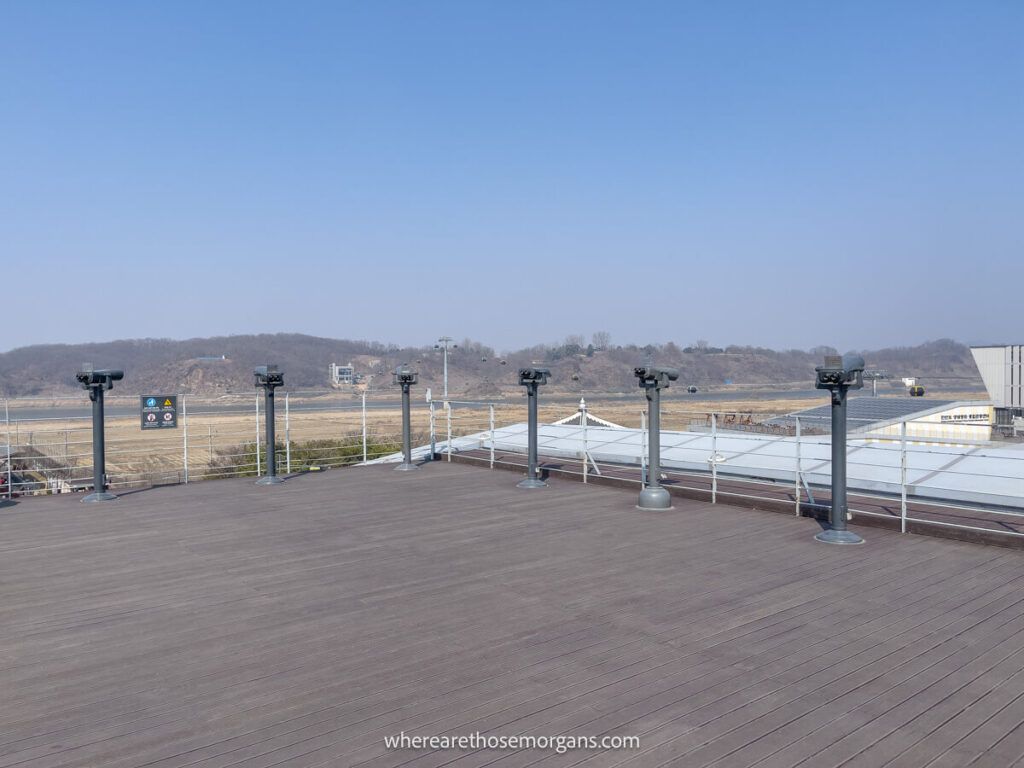 Imjingak Park FAQ's
Let's take a look at some of the most frequently asked questions about Imjingak Park.
Can you visit the Imjingak Peace Park without a tour?
You can visit Imjingak Park on your own, but to visit the DMZ, you will need to book a guided tour.
What is the best thing to do at Imjingak Park?
The best thing to do at Imjingak Park is ride the Gondola, buy your very own North Korean currency and visit the National Memorial for Abductees.
Can you bring dogs to Imjingak Peace Park?
Pets are not permitted at Imjingak Peace Park, but we did see a few dogs in the parking lot.
Our Popular Seoul Guides
Seoul Royal Palaces
Want more Seoul content? Head over to our South Korea Travel Guides to explore the very best of Seoul and beyond.
---
We hope this guide featuring the best things to do at Imjingak Park helps with planning your visit to Seoul, South Korea!
Please let us know if you have any questions about visiting Imjingak Park below in the comments and have a great trip.
Happy Travels,
Mark and Kristen
Enjoy This Imjingak Park Guide? Pin It For Your Visit!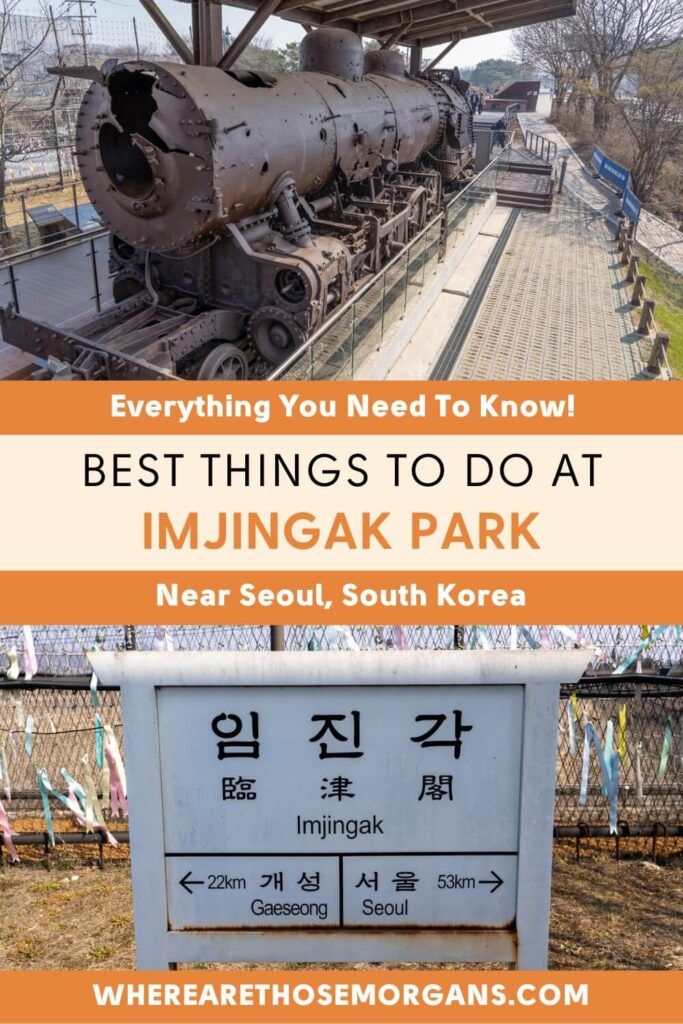 Note: This article contains affiliate links. When you make a purchase using one of these affiliate links, we may earn a small commission at no extra cost to you.
All Rights Reserved © Where Are Those Morgans, LLC. Republishing this article and/or any of its contents (text, photography, maps, graphics, etc.) in whole or in part is strictly prohibited.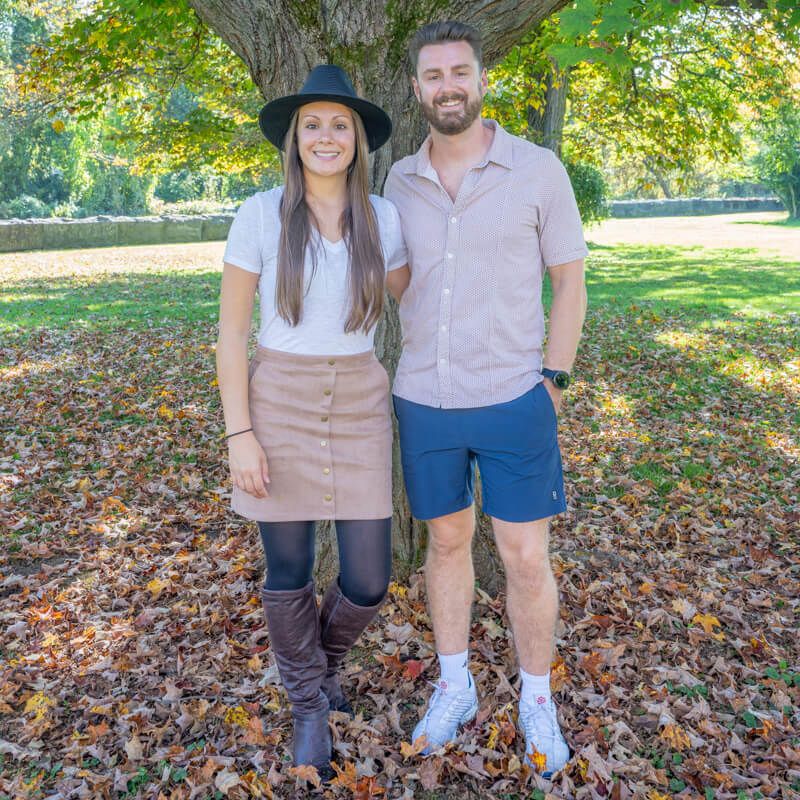 Mark and Kristen Morgan are travel, hiking and photography experts. Over the last 6 years traveling full time, they have explored more than 40 countries and 30 US states.
Their work has been featured in USA Today, Gestalten, Get Your Guide, CityPASS and Condé Nast Traveler along with various other publications.