The Seoul Sky Observatory is located at the top of the Lotte World Tower in Seoul, South Korea. A visit to this city in the sky is one of the best things you can add to your Seoul itinerary.
Here's how we will help you plan your trip to the Lotte Seoul Sky Tower:
What is the Seoul Sky and how to get there
Seoul Sky ticket options
10 best things to do at the Seoul Sky Observatory
Best time to visit and tips for a great experience
Final thoughts with pros and cons
Our personal photos from our visit
Now, let's climb to the top of the Seoul Sky tower!
*Please note this post may contain affiliate links. If you click on one, we may earn a small commission at no extra cost to you. Thank you for supporting the free content we provide! Read more in our disclosure policy.*
Our Seoul Experience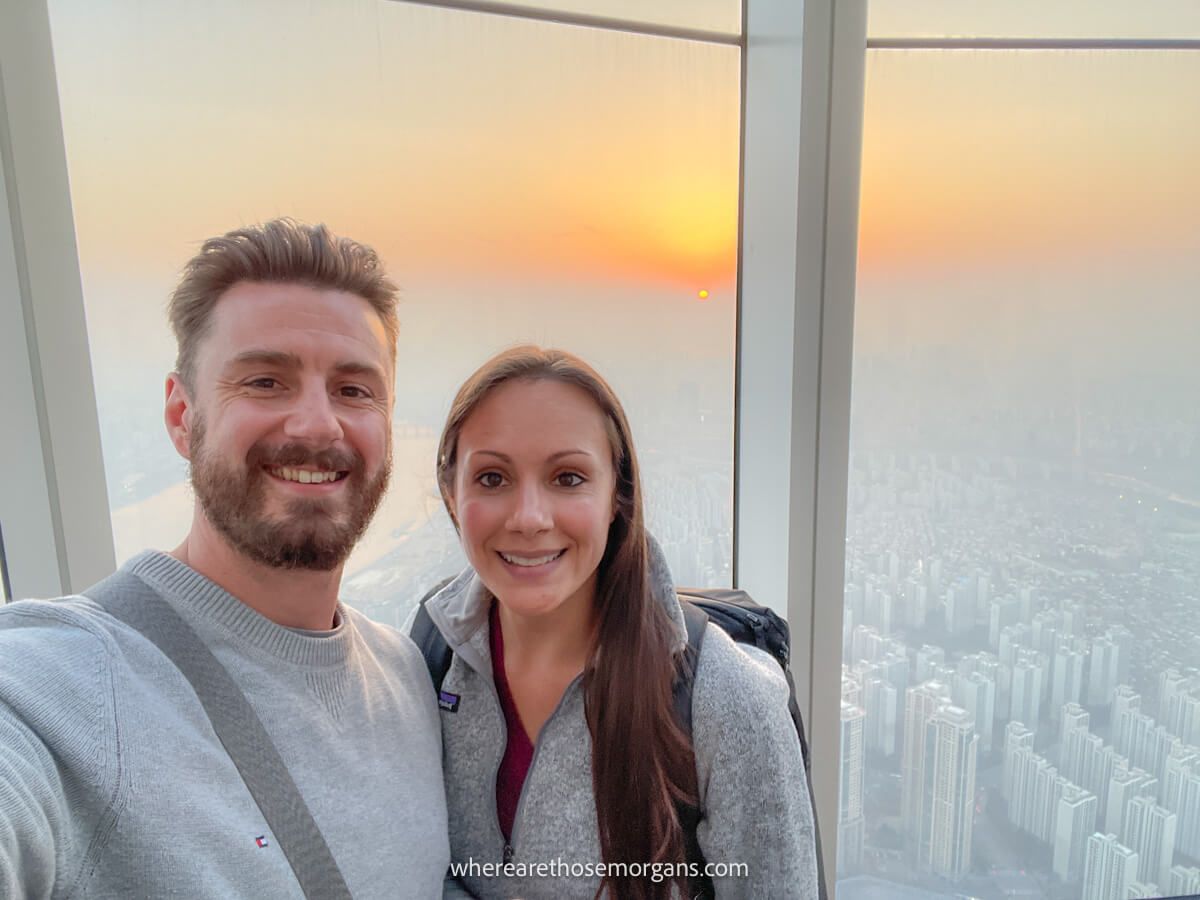 We spent two very intense weeks exploring Seoul, South Korea in March 2023 after the covid pandemic lockdowns.
Seoul Sky was one of the first attractions we visited because this observation deck was at the top of our Seoul bucket list.
But on our last evening in the city, we visited the Namsan Seoul Tower so we could compare Seoul's two popular observation decks.
We will show you exactly what to expect as well as what we liked and didn't like about the Seoul Sky Tower. Our goal with this travel guide is to bring you the most up to date information for your Seoul trip.
Spending a few days in Seoul? Don't miss our popular guide to the best things to see in Seoul.
What Is Seoul Sky?
Sometimes known as the city in the sky, Seoul Sky is an extremely popular observation deck located in Lotte World Tower, the tallest building of South Korea.
The Lotte World tower also currently holds the record as the world's fifth tallest building standing at 1,821ft (555m) just surpassing the One World Trade Center in New York City.
Opened in April 2017, the Seoul Sky Observatory offers visitors unique experiences including a stunning 360-degree view of Seoul, South Korea's Capital City and various Korean themed exhibits.
Visitors can walk through exhibits and take in views spanning the 117th to 123rd floors or pay an additional fee to walk on the thrilling Sky Bridge in this high-rise structure located at the center of Seoul.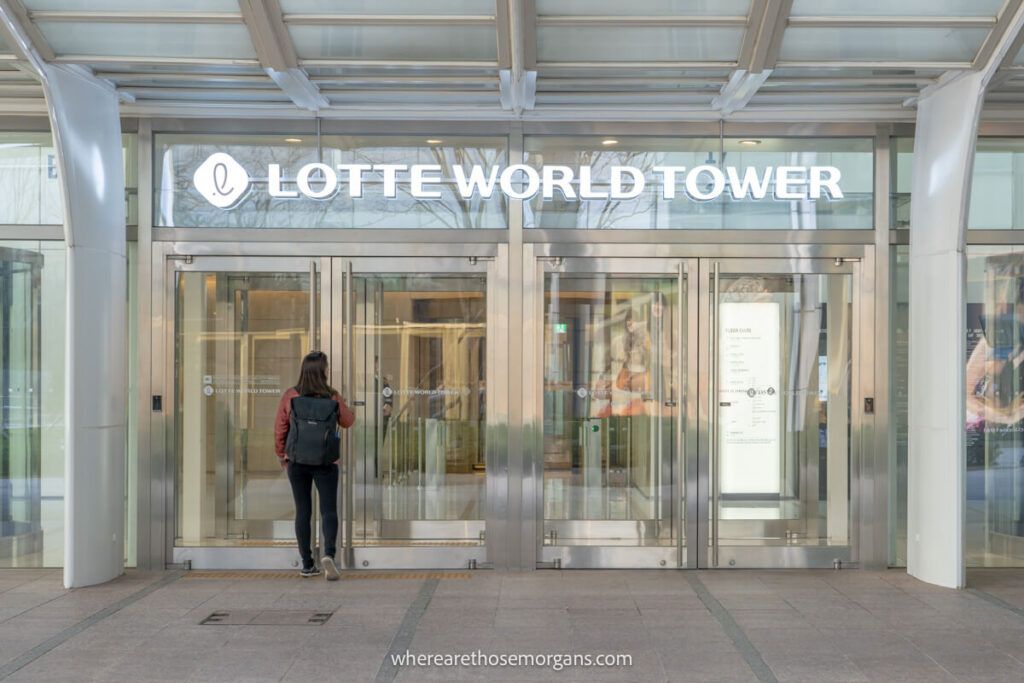 Where Is Seoul Sky?
The Seoul Sky is nestled with the Jamsil neighborhood of Seoul's southeastern Songpa-gu district. Popular attractions nearby include Gangnam and Lotte World Magic Island.
Address: 300 Olympic-ro, Songpa-gu, Seoul, South Korea
Seoul Sky Google Maps location.
How To Get To The Seoul Sky Observatory
Depending on where your Seoul hotel is located, you can get to Lotte World Tower in many ways.
Seoul has an extensive metro system and we used it to travel around the capital city when we visited. The metro is not only the cheapest option, but it's the most environmentally friendly too.
Subway or Metro
Take the Green Line 2 to Jamsil Station and use exits 1 or 2
Take the Pink Line 8 to Jamsil Station and use exits 10 or 11
Bus
Use the Green Bus: 3217, 3313, 3314, 3315, 3317, 3411, 3414, 4319
Use the Red Bus: 1007-1, 1100, 1700, 2000, 6900, 7007, 8001
Use the Blue Bus: 301, 341, 360, 362
Or the Airport Shuttle: 6000, 6006, 6705, 6706A
If you are driving a car, a parking service ticket is provided for a maximum for 4 hours at 4,800 won (1,200 won per hour).
Travel Tip: Ride hailing apps such as Uber or Lyft are not used in Seoul. We recommend you book a taxi or use Kakao T which is available in english if you plan to visit via this option.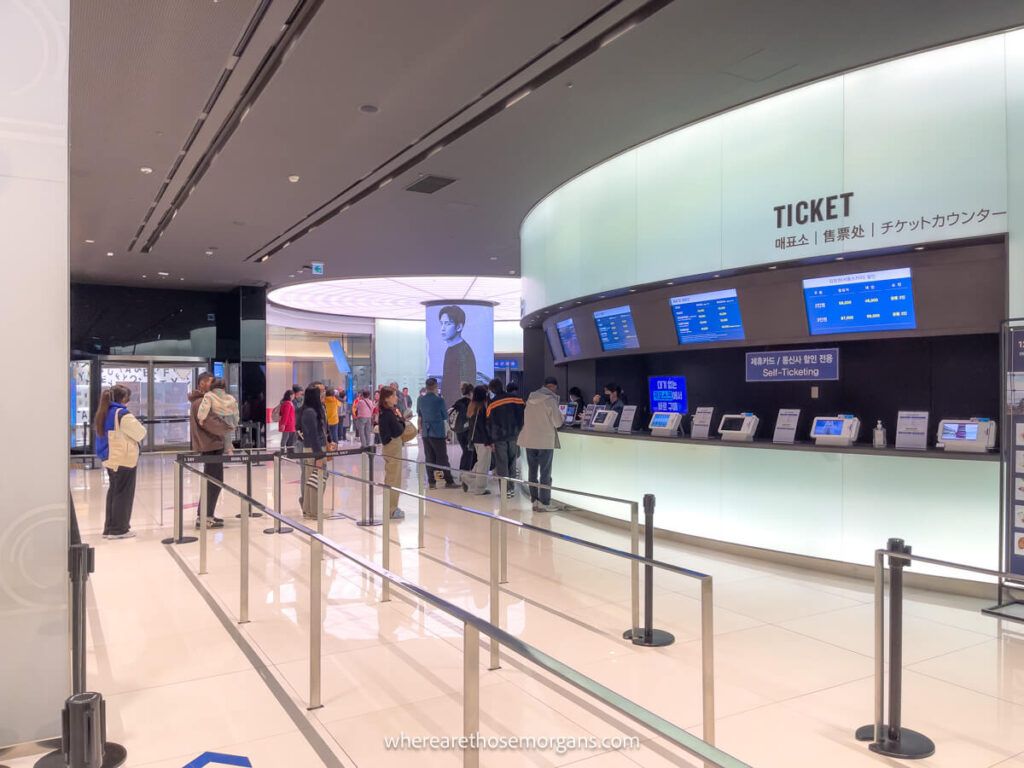 Lotte World Tower Seoul Sky Tickets
You will need a ticket to visit Seoul Sky and there are two main ticket options:
Regular General Admission
Fast Pass
A general admission ticket will require a specific date and timed entry reservation while the fast pass option can be used for immediate entry without having to book a prior reservation.
If you want to purchase a general admission ticket, you can buy an adult (ages 13+) or child (ages 3-13) ticket. The fast pass option is available for all ages.
Here are current ticket prices for the Lotte Seoul Sky Tower:
Adult: ₩29,000 (~$23.00)
Child: ₩25,000 (~$20.00)
Fast Pass: ₩50,000 (~$40.00)
For those visitors who are daredevils, you can book a SkyBridge Tour to enjoy the view of Seoul from 541m in the sky outside of the observation deck. We will cover this experience later in this guide.
How To Buy Tickets For Seoul Sky
There are many ways to purchase Seoul Sky Lotte World Tower tickets.
You can buy directly from the official Seoul Sky website and onsite at the Lotte Tower.
Or you can purchase tickets through Klook here which is often the cheaper option compared to booking direct. This is how we purchased our Seoul Sky Tower tickets because it was the best price.
When Is The Seoul Sky Tower Open?
Seoul Sky Observatory hours are 10:30am – 10:00pm Sunday to Thursday and 10:30am – 11:00pm Friday to Saturday. The operating hours of the internal facilities are the same as the observatory hours.
The onsite ticketing office opens 10 minutes earlier than the observation deck at 10:20am.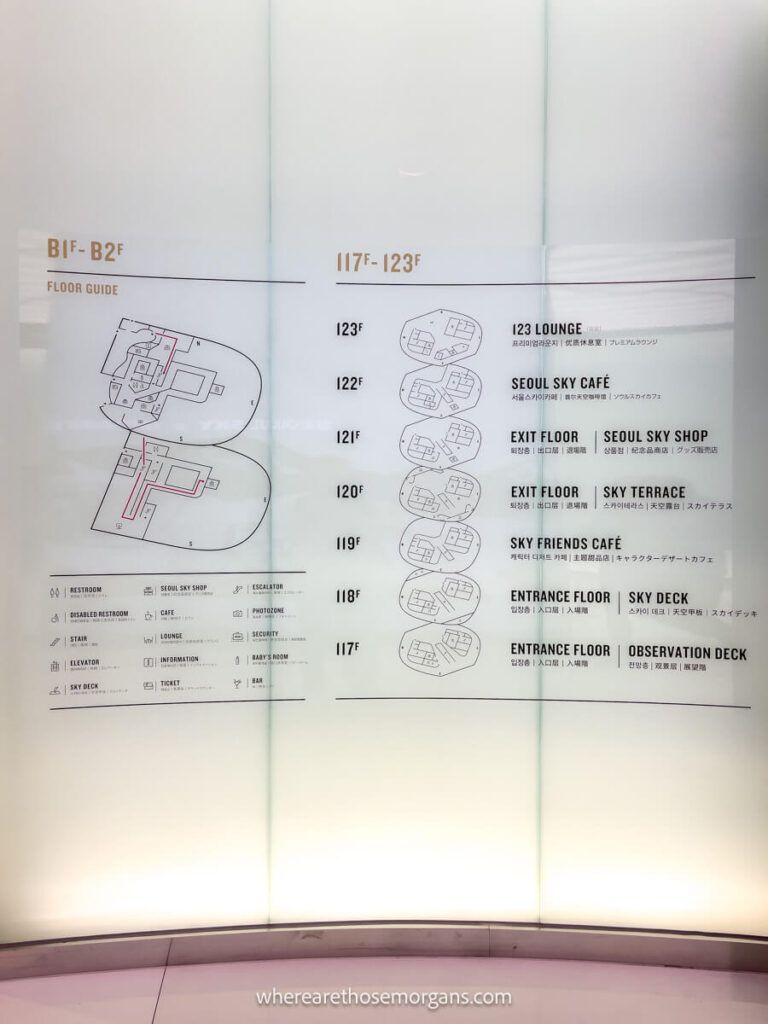 10 Best Things To Do At The Seoul Sky Tower
There are numerous activities and exhibits to keep you entertained at this observation deck.
Below we will show you exactly what to expect for your visit along with a complete photo walk through of each floor and exhibit.
The Seoul Sky Lobby is located on B1 of the Lotte World Tower. This is how you will make your way to the main entrance of the observation deck.
It can be very confusing to get here (we got lost the first time) so make sure you are heading to the B1 level when you want to climb the observation deck.
Look for large signs pointing you towards "Seoul Sky."
You can purchase a ticket at the counter for a timed entry or show your pre-paid ticket to gain entry for your designated time slot (unless you have a Fast Pass).
After riding the elevator to the 117th floor, visitors have free reign of the entire observation deck and can return to any floor they wish by a series of stairs, escalators or smaller handicapped elevators.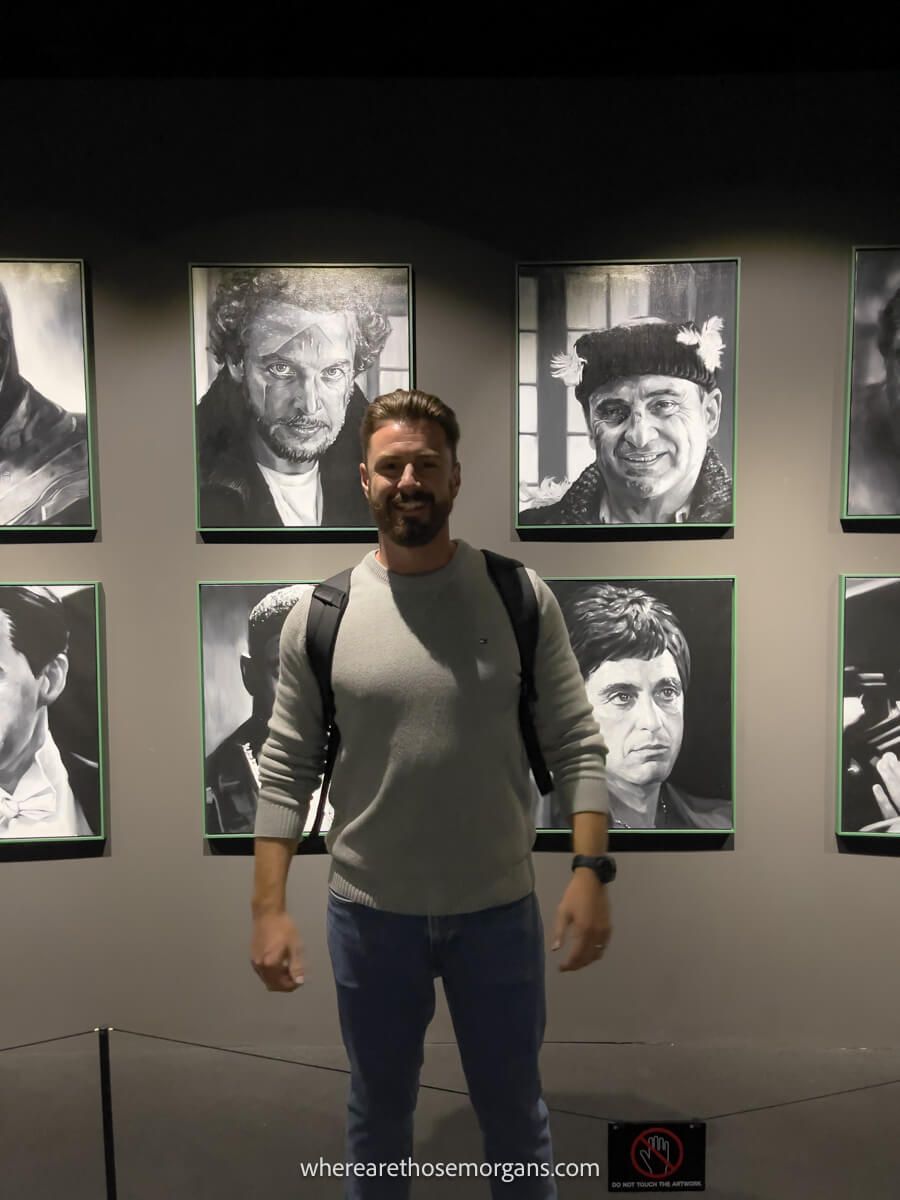 1). Exhibition Zone
After gaining entry to Seoul Sky, you will first walk through a stand by zone also known as the Exhibition Zone Gallery on B1.
This is where you can watch various displays showcasing the pride of Korea including information about the country's rapid growth it has seen in the recent years.
When we visited, the 2023 Seoul Sky Special Exhibition was created by Park Kiwoong. The exhibit was called 48 Villains and featured 7 unique exhibition sections.
There is another exhibition gallery on B2 with additional South Korea multimedia and a unique Korean-style rest area with highlights about the architectural achievements of Seoul Sky.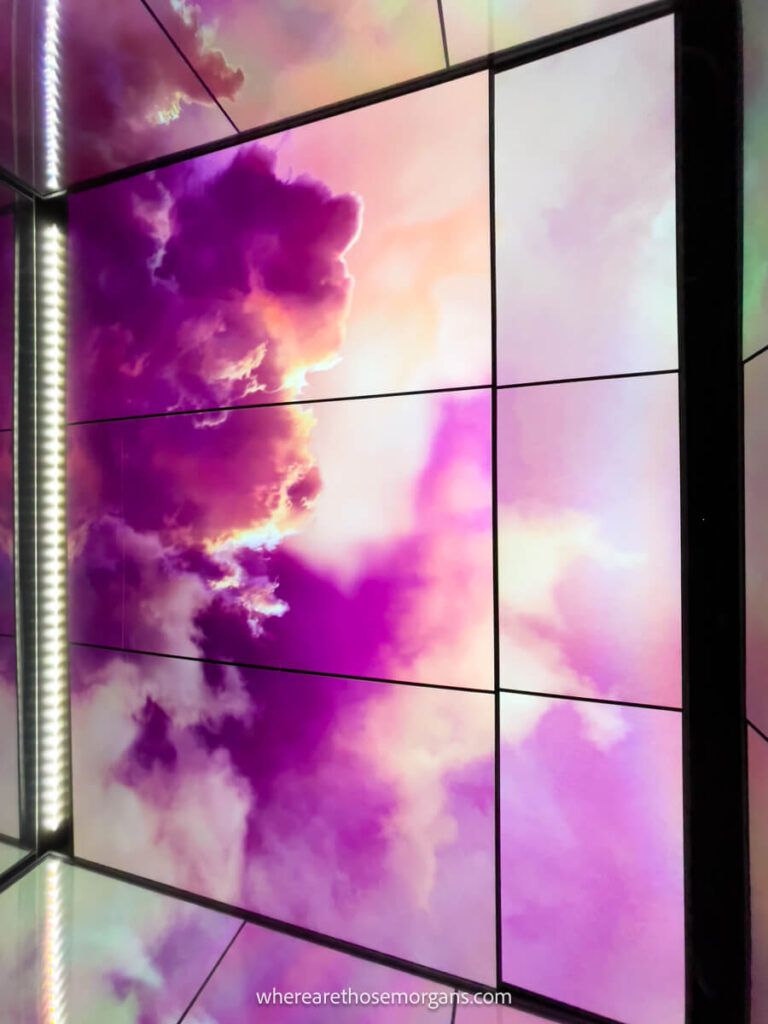 2). Sky Shuttle Elevator
After the Exhibition zone, visitors are headed towards the elevator known as the Sky Shuttle.
The Sky Shuttle is the world's first double-deck elevator featuring monitors on the ceiling and each of the three walls.
As you ride the elevator up to the 117th floor, a Korean themed video plays on the monitors and you are whisked up in a matter of seconds.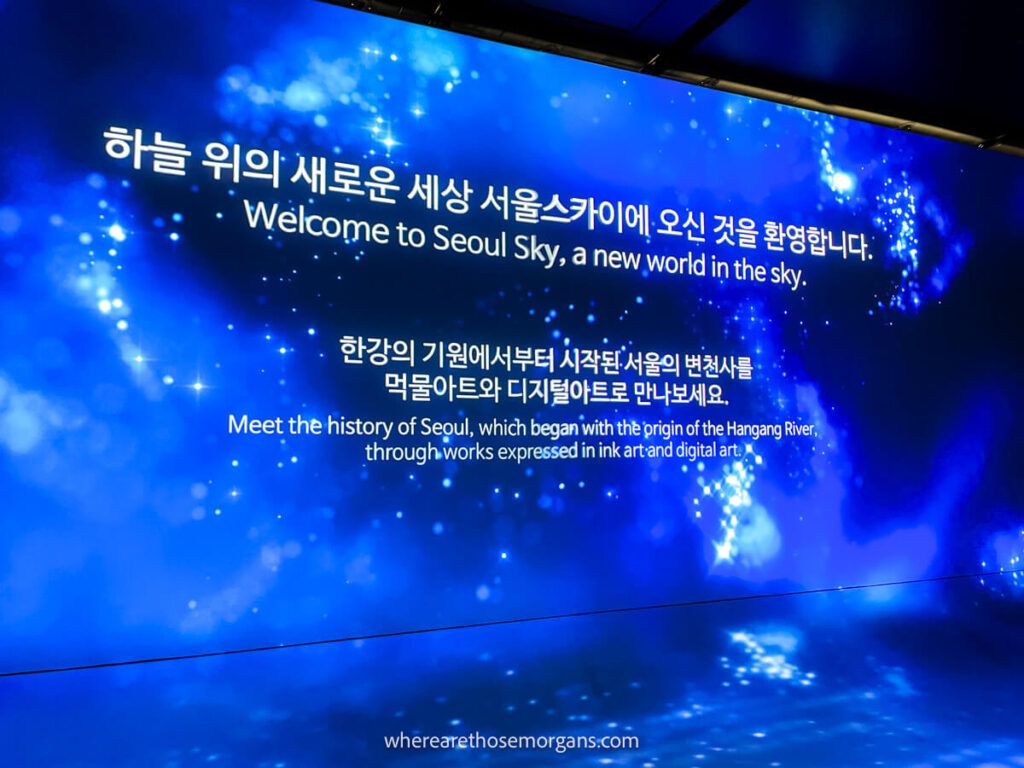 3). Floor 117: Sky Show And Sky Station
As you step out of the Sky Shuttle, you will then have the chance to watch a short video in a small theater featuring Seoul Sky, the new world in the sky.
This movie includes important history clips of Seoul so it's definitely worth a watch, especially if this is your first time visiting.
Once the video finished, the screen recedes and the first crescendo begins as you are treated to sweeping views of this capital city.
Travel Tip: If the weather is bad, you can watch a prerecorded video of what views should look like on a clear day. But we have our fingers crossed for clear skies during your visit!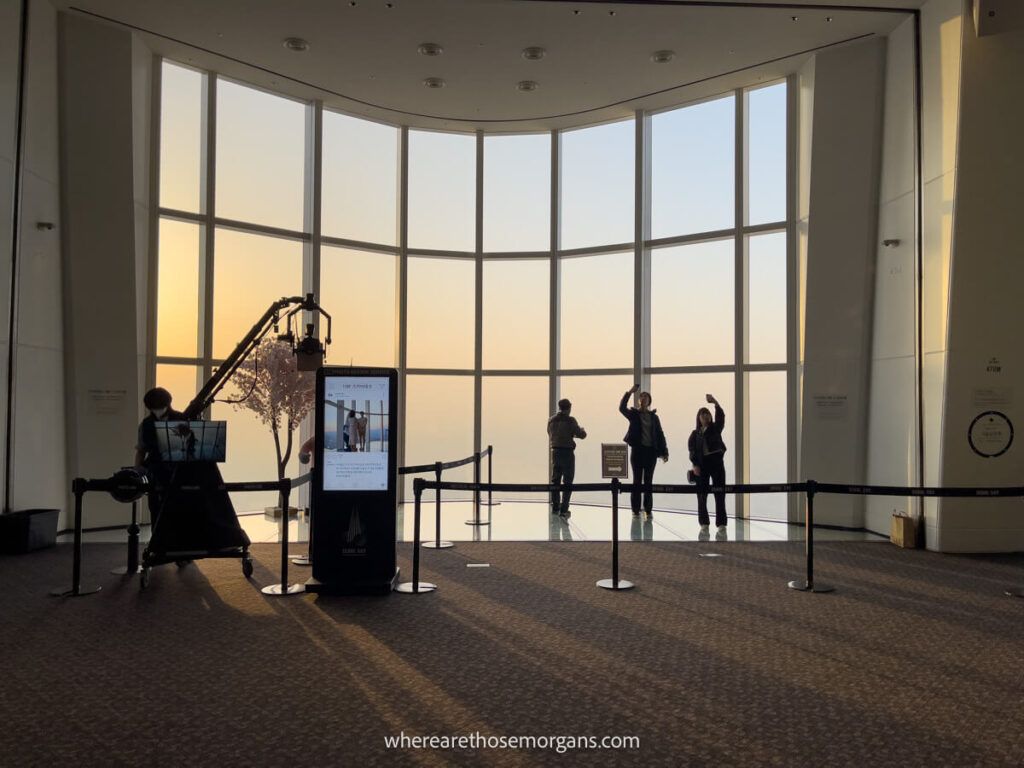 4). Floor 118: Sky Deck
The next floor of Seoul Sky is the main attraction featuring the Sky Deck.
This Sky Deck is exactly what it sounds like because on this floor you can stand on the highest indoor glass floor (478 m) officially recognized by the Korea Record Institute and Guinness Book of Records.
We can admit it took us a second to build up the nerve to make our way out onto the glass panel overlooking the city. It's truly a strange feeling as you feel suspended high in the sky.
Be sure to explore various sections of this floor because you can find both paid and unpaid photos spots. We loved the sign pointing to various cities in the world so try to find your home city!
5). Floor 119: Sky Friends Café
A small escalator brings you up to the next level with a small cafe called the Sky Friends Café.
This small area serves delicious ice cream at the highest point of the observation deck, the Pasteur Milkbar.
Honestly, it's a bit expensive for what you get, but we decided to sample some ice cream while we enjoyed the view.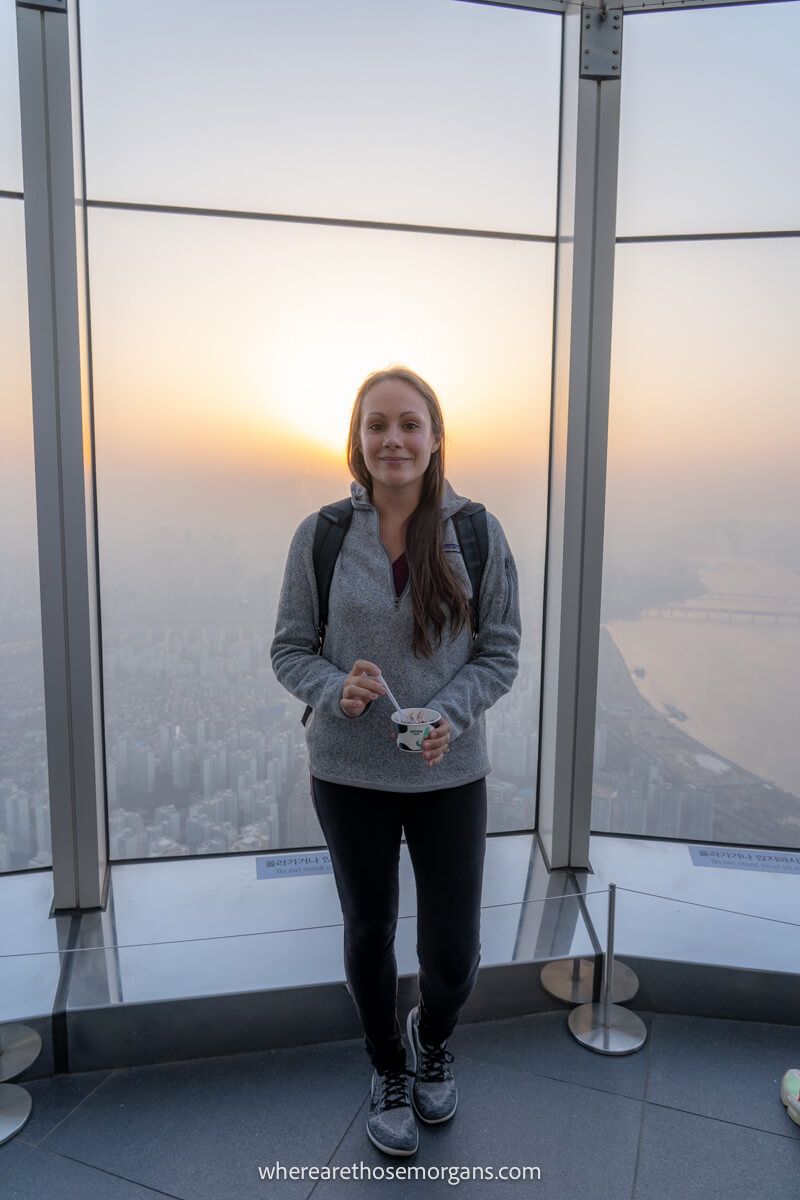 6). Floor 120: Sky Terrace
If you head up another small escalator, you will arrive on floor 120 which is home to the famous Sky Terrace. This terrace is hard to miss because it's front and center as you exit the elevator.
We like the Sky Terrace because it's a stunning outdoor viewing platform. In this section of Seoul Sky, you can see gorgeous views of Seoul from 486m above ground level.
Travel Tip: It can get quite crowded on the Sky Terrace so if it's crowded when you first visit, head somewhere else on the floor and return later to see if the crowds subside.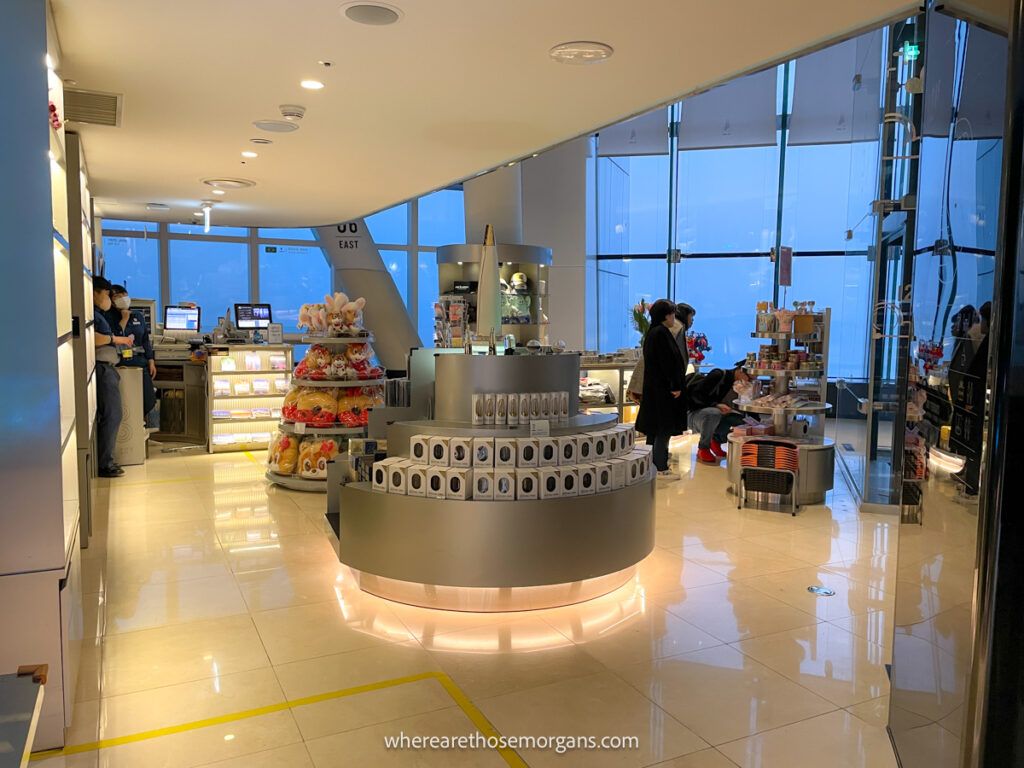 7). Floor 121: Seoul Sky Shop
On the 121st floor, you will find the Seoul Sky Shop. There are numerous souvenirs ranging from keychains and notebooks to photos and keepsakes.
If you don't want to use your time in the observation deck to shop, you will pass through another Seoul Sky Shop on B1 before leaving.
When browsing the gift shop, keep and eye out for the Sky Mapping Show. This is a live media art instillation displayed in the windows of Seoul Sky featuring a stunning fireworks show.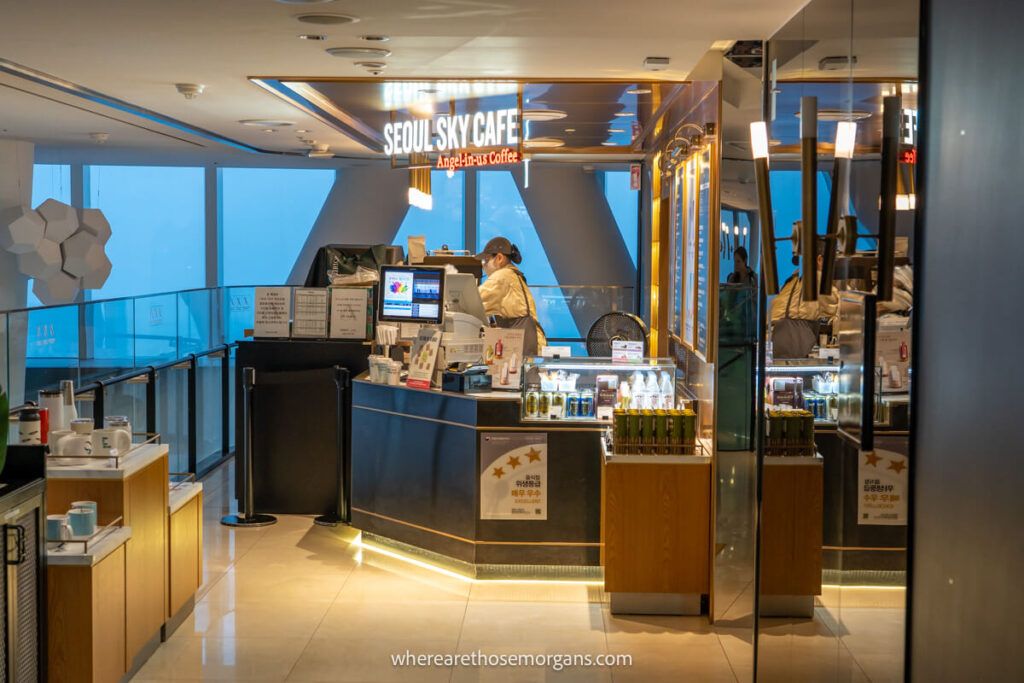 8). Floor 122: Seoul Sky Café
You might have worked up an appetite by now so if you need a snack, a good place to stop for a quick bite is the Seoul Sky Cafe. This is coined the highest café under the sky, Angel-in-us Coffee.
This coffeehouse is a South Korea chain that is owned by the Lotte Group. You can find hot beverages such as coffee and tea as well as deserts.
Travel Tip: If you need water, this is the only location can buy it at Seoul Sky. There were no water bottle refill stations.
9). Floor 123: 123 Lounge
For those looking to indulge with a taste of Seoul above the clouds, you can reserve a spot at the airy 123F Lounge at the top of the Lotte World Tower.
To help paint the picture, the lounge is spacious and cosy with comfortable chairs and dimly lit lamps at each table. But the show stopping feature in this lounge are the floor to ceiling windows.
The Seoul Sky Restaurant would be the perfect place for a romantic dinner or a special family outing. The space is also available for special events such as proposals, weddings and brand launchings.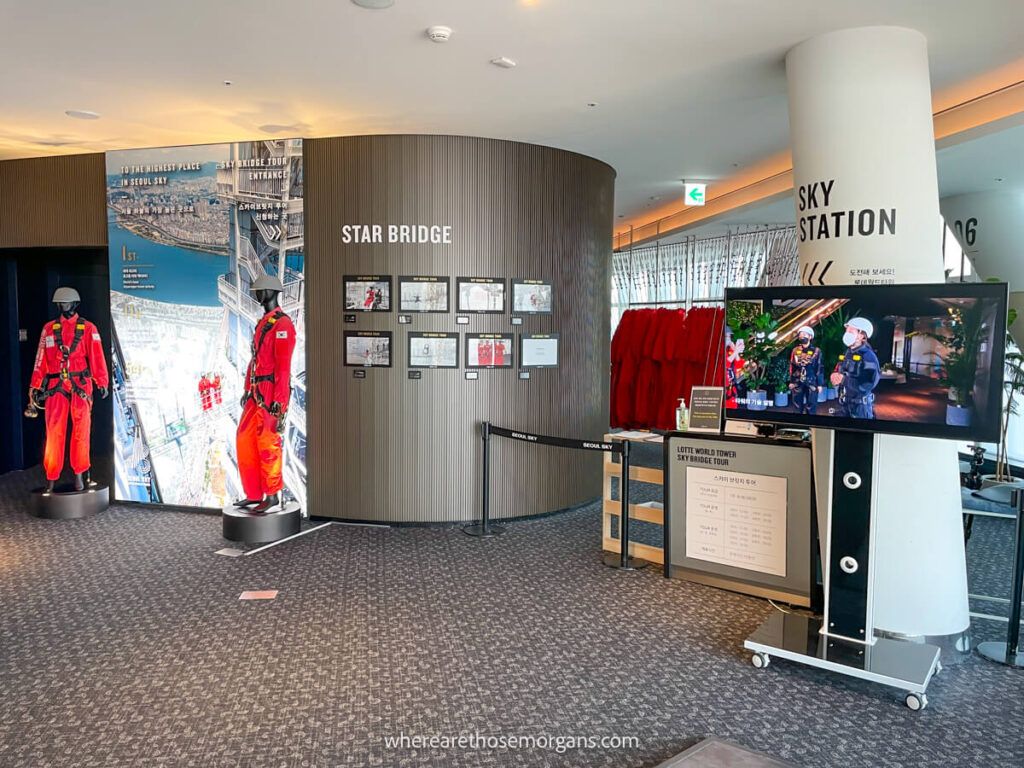 10). Seoul Sky Bridge
The Sky Bridge tour is a new experience for 2023 where visitors can cross an outdoor bridge at a height of 541m above the city while safety tethered to a line along the Seoul Sky Walk.
Tickets for the Sky Bridge can be purchased 1 month prior to the date online. At the in person ticket office, you can only purchase same day tour tickets.
Tickets for the Sky Bridge at Seoul Sky include 96,000 Won at the 117th floor SKY Station or 120,000 Won at the B1 ticket office.
Best Time To Visit Seoul Sky
The best time to visit the Lotte World Tower observation deck is sunset because you will be rewarded with gorgeous colors highlighting the stunning Seoul skyline as the sun disappears.
Sunset also provides the softest light the day which can help you to achieve better photographs.
Unfortunately, sunset is also the most popular time to visit the Seoul Sky Tower. We recommend you book your ticket online well in advance to reserve your time slot.
Keep in mind, there is no time limit Seoul Sky. You can remain at the top of Lotte World Tower until the sun completely sets which is what we did for our visit.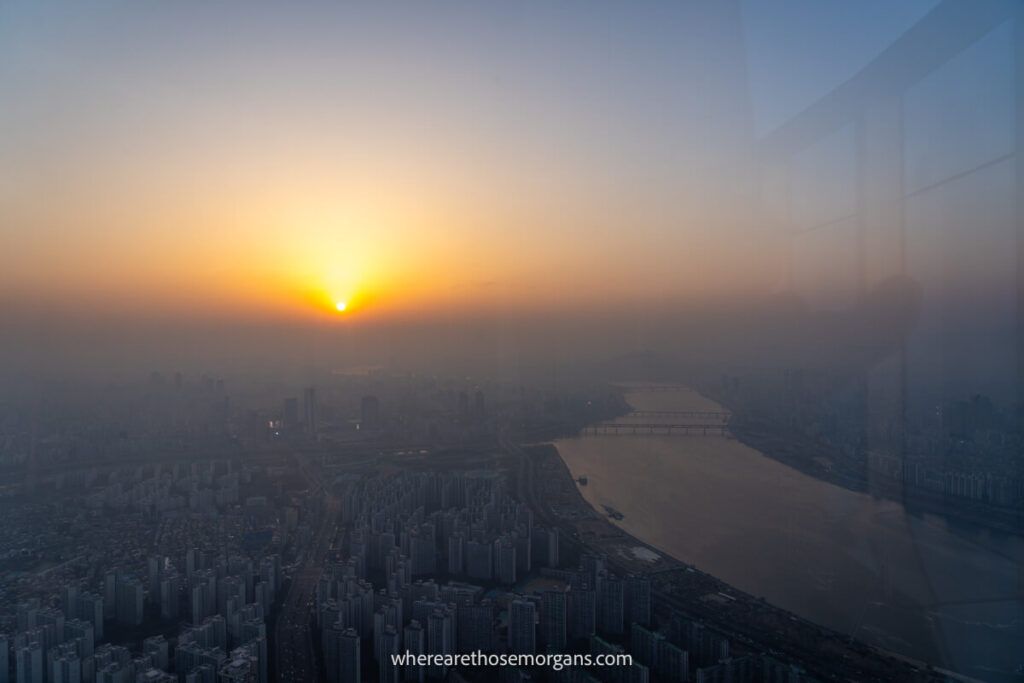 Is Seoul Sky Tower Worth It?
Yes, the Seoul Sky Observation Deck in the Lotte World Tower is worth visiting because it is the highest building in South Korea and the fifth tallest in the world.
A visit to Seoul Sky allows visitors to experience panoramic sweeping views of the city from a vantage point they won't see anywhere else.
We recommend you visit Seoul Sky if this is your first time in Seoul, South Korea.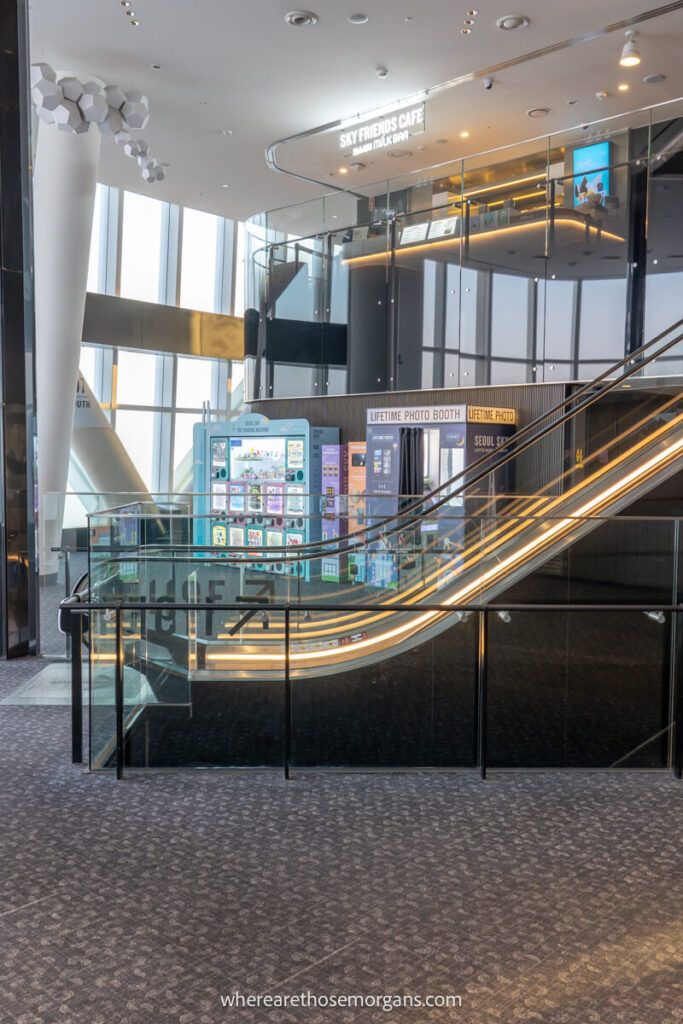 Tips For Visiting Seoul Sky
Here are a few important travel tips to consider for your visit to the Lotte World Tower observation deck:
Purchase your tickets in advance online – To avoid waiting in line and secure your spot, purchase your tickets online ahead of time
Try to spot the Sky Friends – The sky friends (Tower Lota, Pix Lolo, Chi Tete and Yum Tao) live in harmony as a family in the Lotte World Tower
Take your time – There is no time limit when visiting Seoul Sky so you have as much time as your Seoul itinerary allows
Bring a jacket or coat – The outdoor viewing terrace can be pretty chilly so you may want to put on an extra layer to see the views from this area
Visit on a weekday – If you want to avoid the crowds, plan your visit during the week. We visited on a Tuesday afternoon and shared the outdoor terrace with only a few others for sunset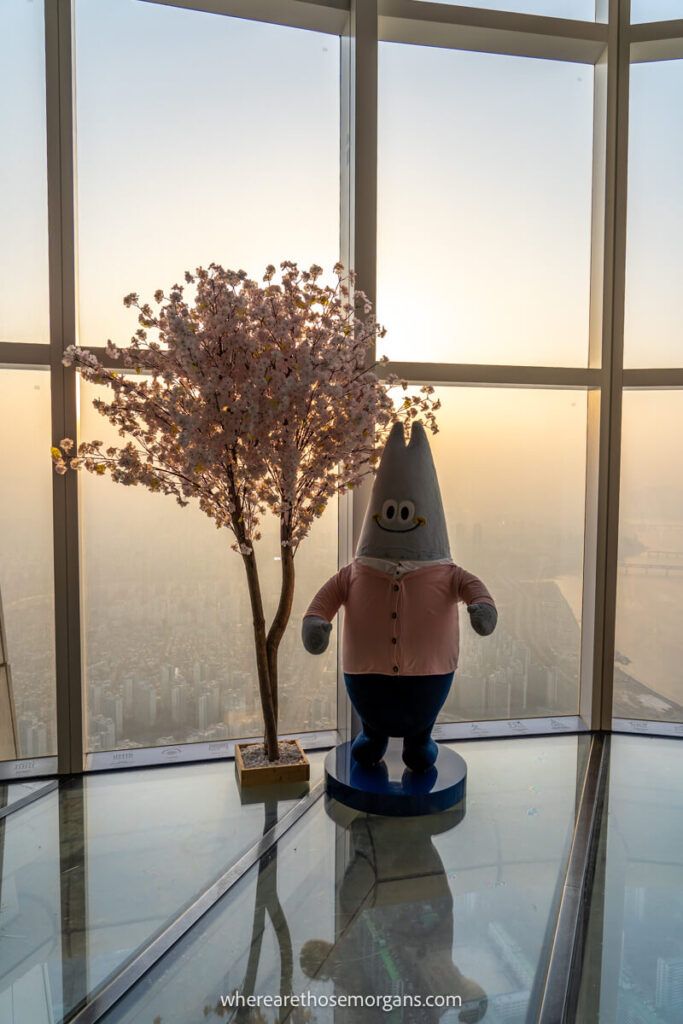 Conclusion For The Seoul Sky Observatory
A visit to the Seoul Sky is an iconic experience. We love visiting observation decks in cities all around the world because there is nothing like see a city from above.
However, depending on your time in Seoul or what you like, a visit to the Seoul Sky might not be for you. Take a look at our pros and cons for the Seoul Sky to see if you should make the time to visit.
Pros To Visiting Seoul Sky
This is what we like about Lotte World Tower and why you should visit:
The tallest observation deck in Seoul including South Korea
Both indoor and outdoor viewing spaces
Stunning 360 degree Seoul street views
Crowds were not as big as we expected
Ability to revisit each floor if you want to see it again
Cons To Visiting Seoul Sky
This is what we didn't like about Lotte World Tower:
Glass windows are not the best for photos due to reflections
Numerous paid photo locations took up a lot of space
Elevator experience was just okay
No water refill stations and you can only buy water on Floor 122
Seoul Sky Lotte World Tower Images
We enjoyed our visit to the the Lotte World Tower Seoul Sky Observation Deck and took many photos.
Below, you can find a handful of our favorite photos to give you some ideas about where to take photos for your visit.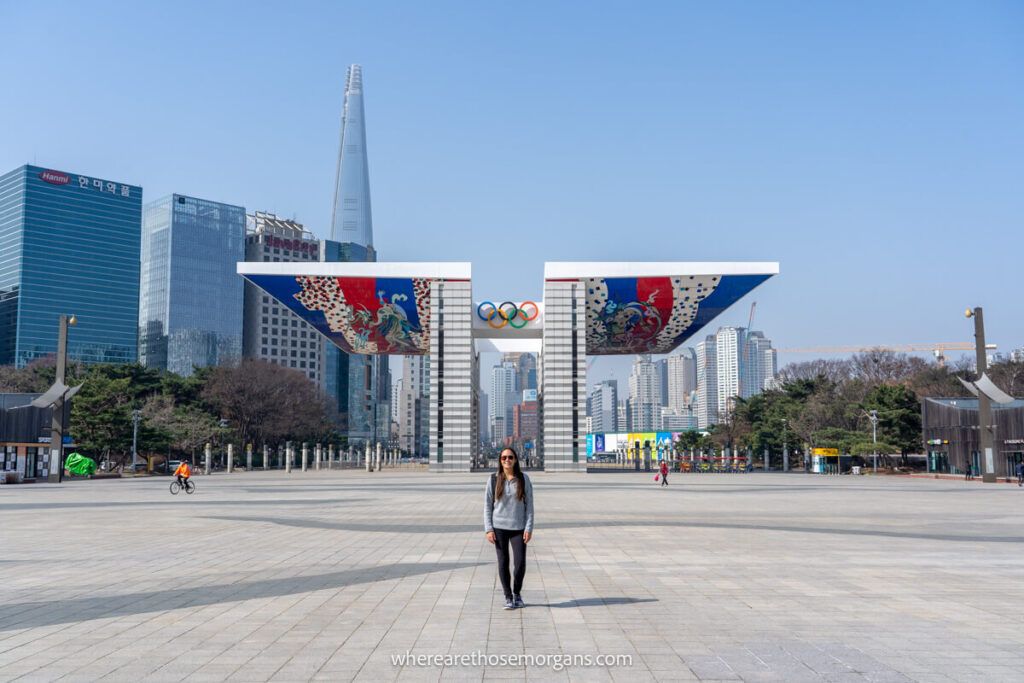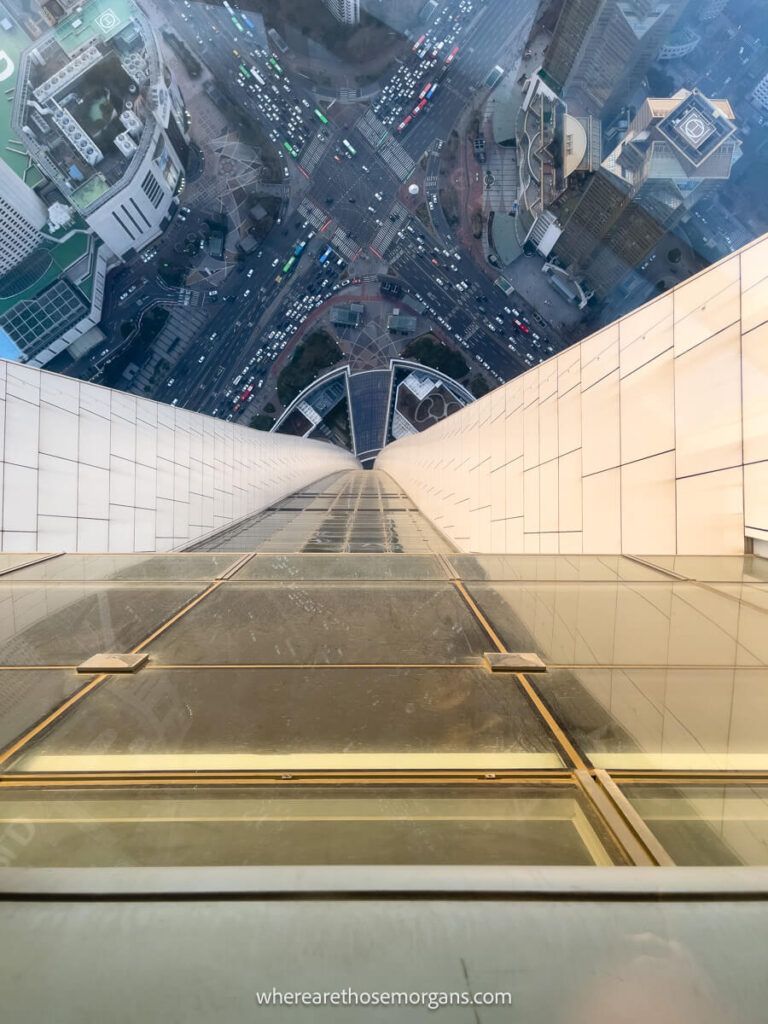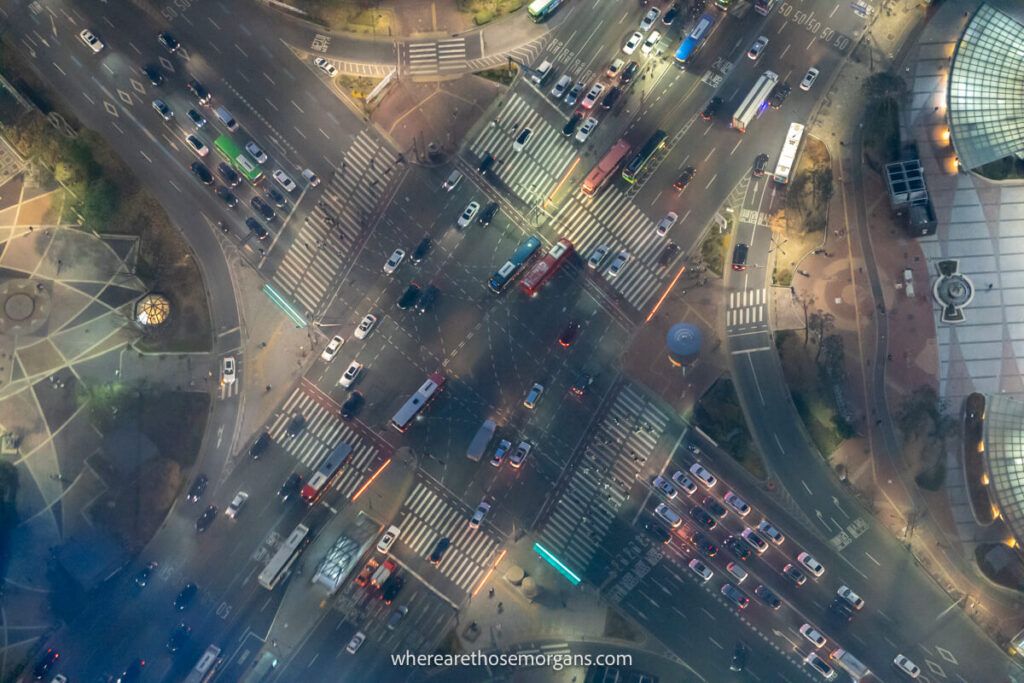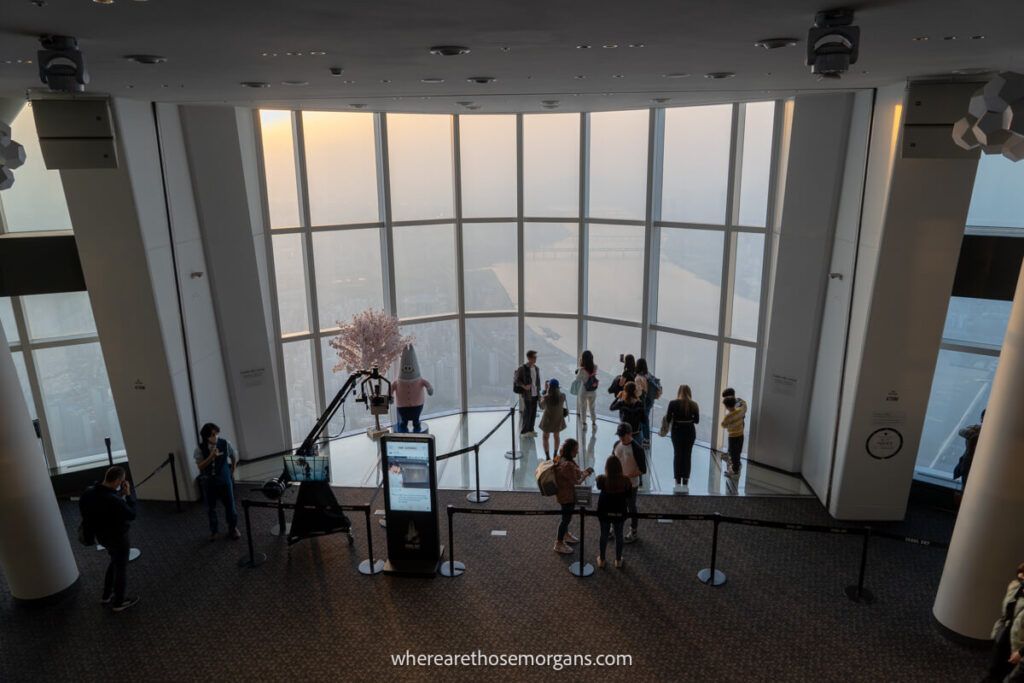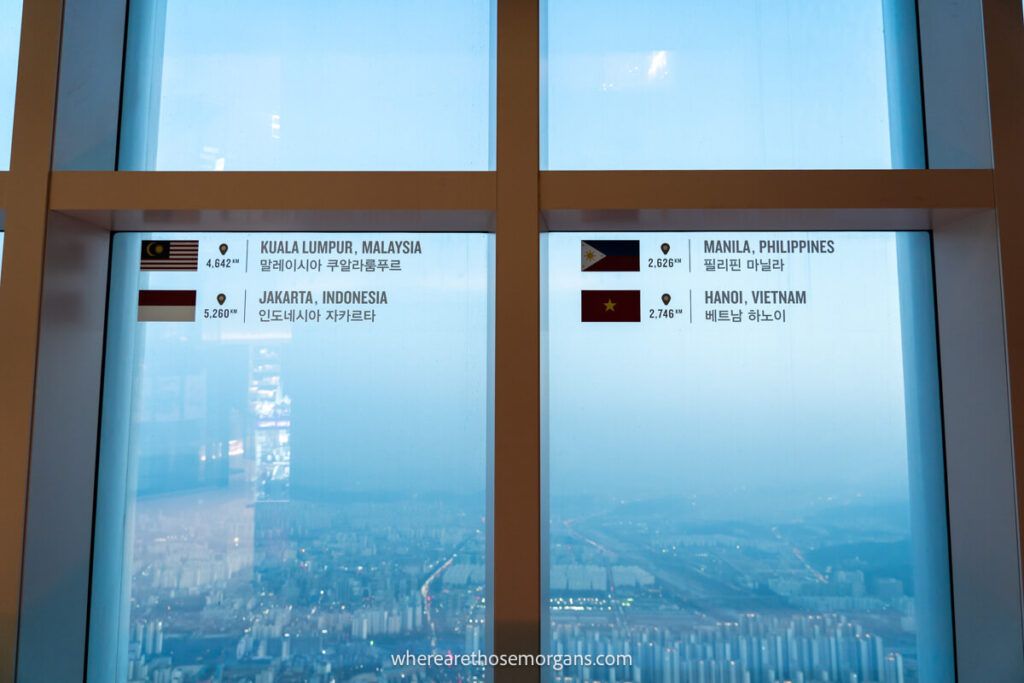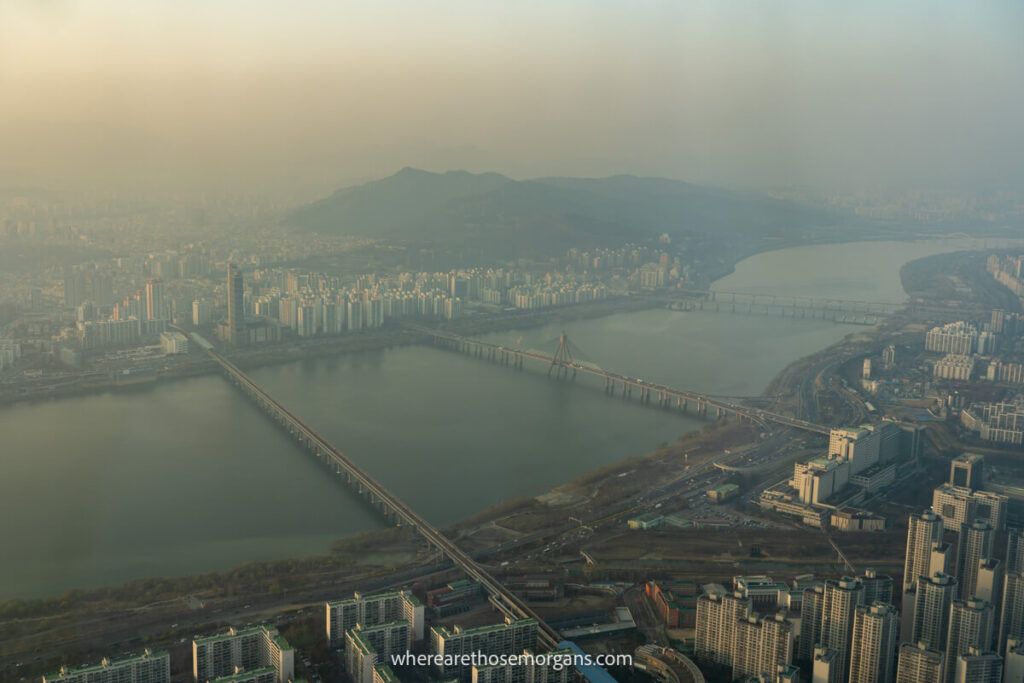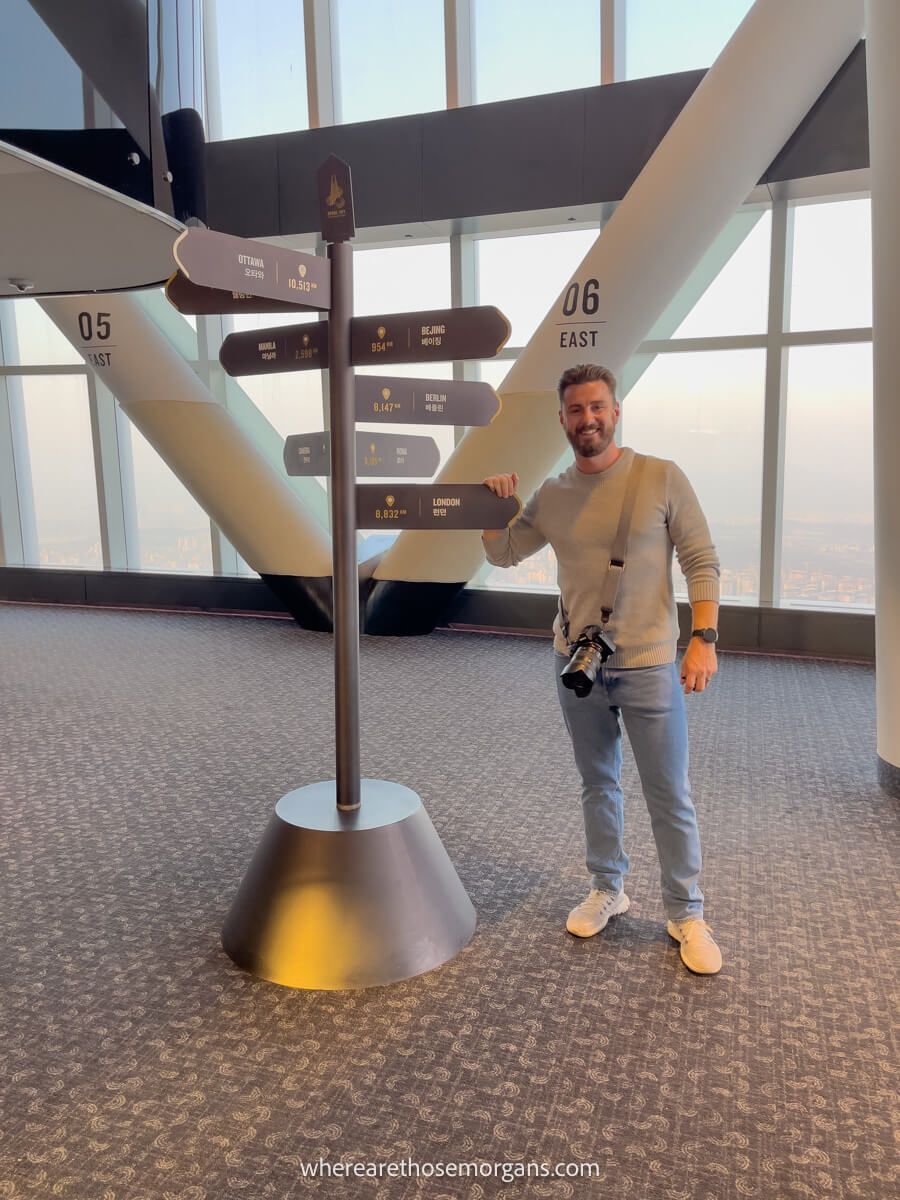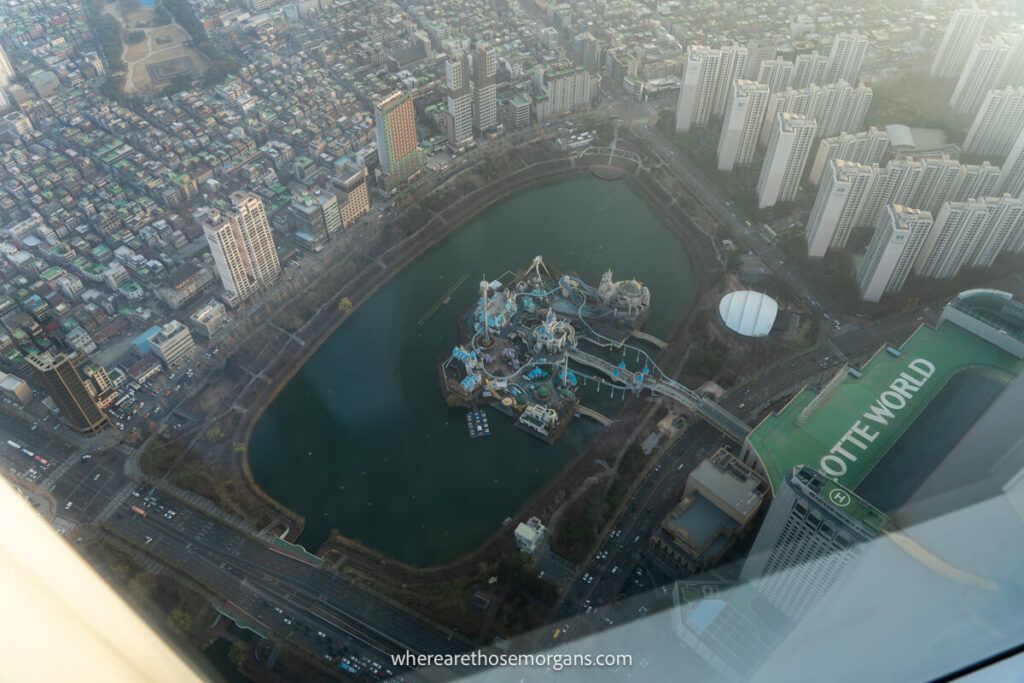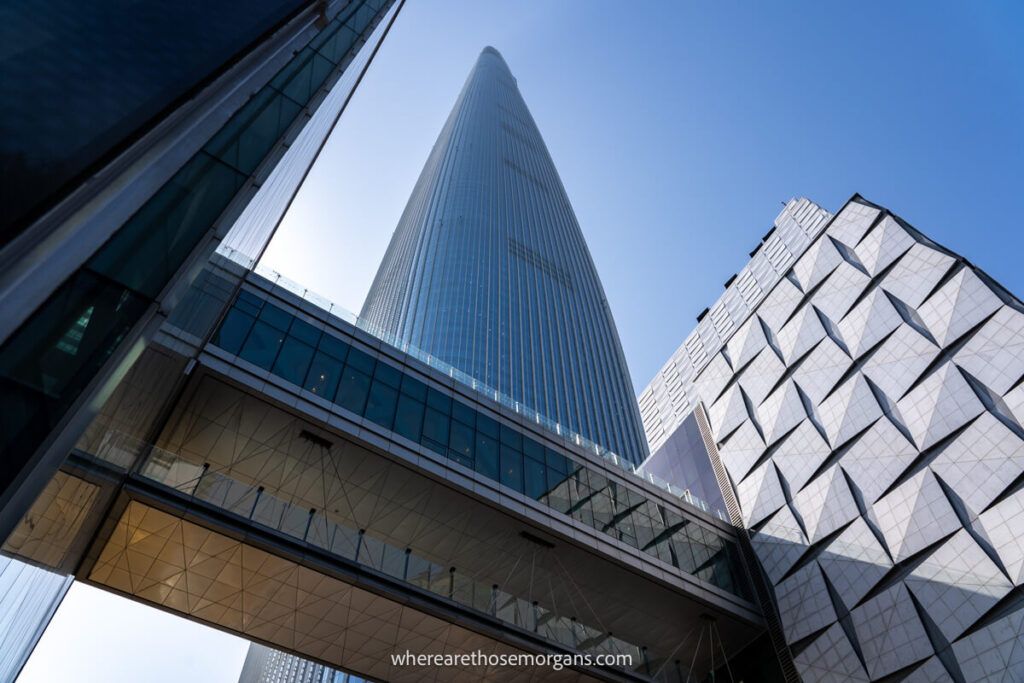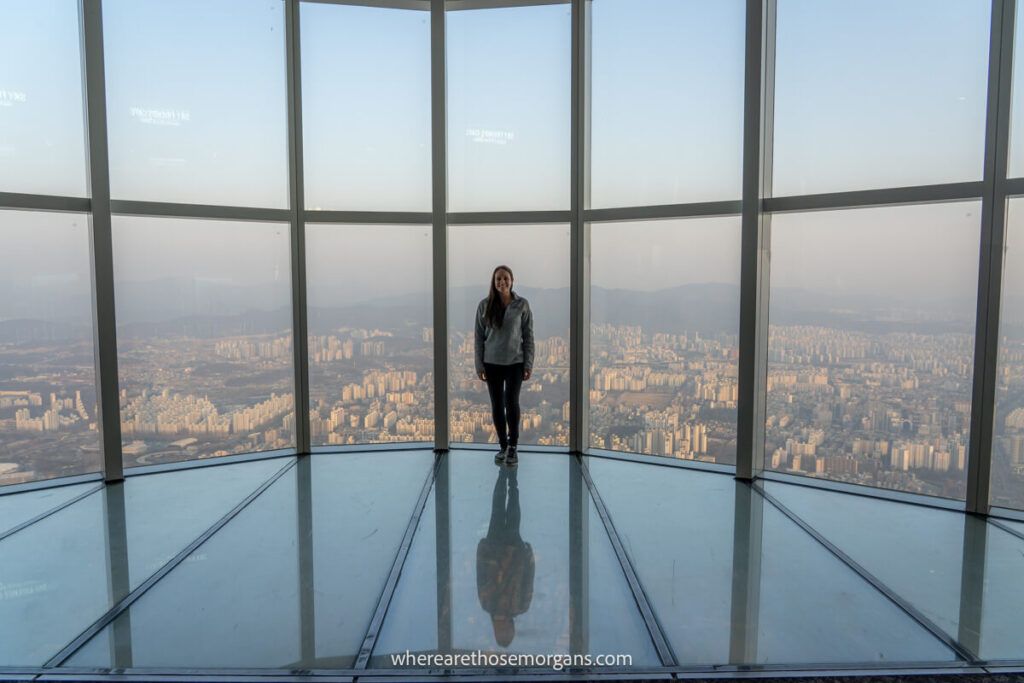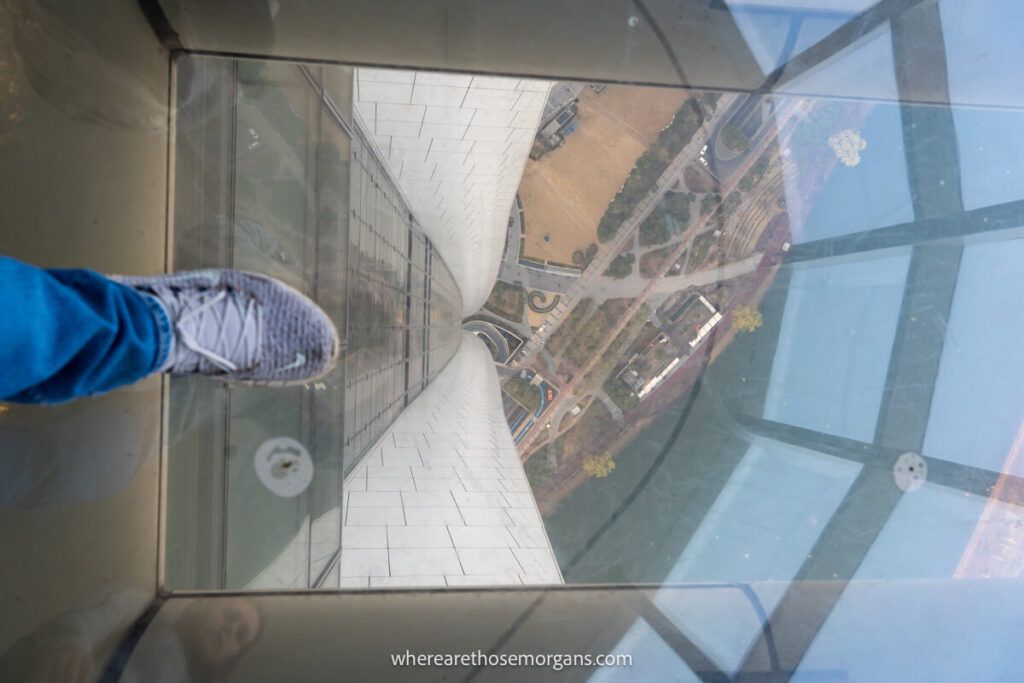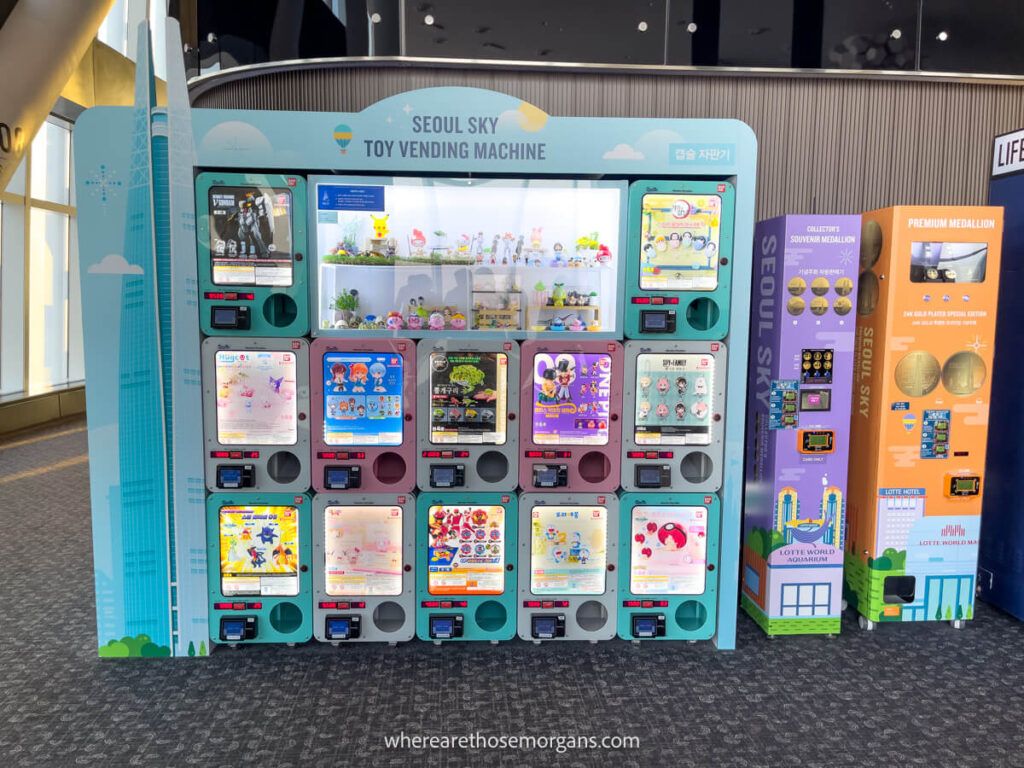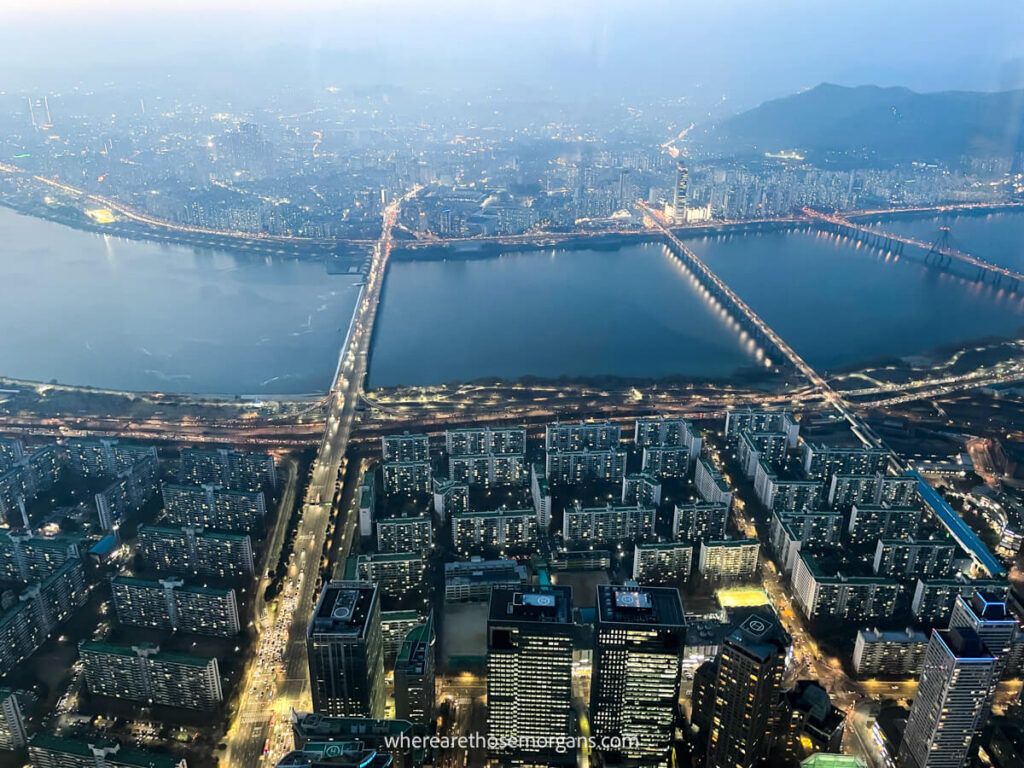 Lotte Tower Seoul Sky FAQ's
Let's take a look at some of the most frequently asked questions regarding Seoul Sky Observatory:
Is Seoul Sky the same as the Lotte World Tower?
Yes, the Seoul Sky Observation Deck is located at the top of the Lotte Word Tower in Seoul, South Korea. There are multiple floors you can visit as part of the observatory.
How many floors is the Seoul Sky Observation Deck?
When visiting Seoul Sky, visitors can experience 7 different areas spanning from the 117th floor to the 123rd floor of the Lotte World Tower. You can also book additional tickets to the Seoul Sky Bridge.
How should I book tickets for Seoul Sky?
We recommend you book tickets for the Seoul Sky observatory online in advance with Klook for the best price.
Our Popular Seoul Guides
Seoul Royal Palaces
Want more Seoul content? Head over to our South Korea Travel Guides to explore the very best of Seoul and beyond.
---
We hope this guide to the Seoul Sky Observatory helps with planning your visit to the Lotte World Tower!
Please let us know if you have any questions about the Seoul Sky Tower or Seoul in the comments below.
Happy Summiting,
Mark and Kristen
Enjoy This Seoul Sky Guide? Pin It For Your Visit!