A tour of the DMZ is one of the best things to do in Seoul, South Korea. In this review, we hope to show you why you should book a tour of the DMZ, JSA or both.
No visit to Seoul is complete without understanding the intense history of the area involving North and South Korea. A guided tour is one of the best ways to learn about this fascinating corner of the world.
In this Seoul DMZ tour review, we will cover everything below:
What makes us DMZ Tour experts
The difference between the DMZ and the JSA
What to expect when visiting the DMZ
Popular DMZ and JSA tour options
A step by step account of our DMZ tour
Now, let's explore the DMZ near Seoul, South Korea!
Disclaimer: We paid for our own DMZ tour and this is not a sponsored post.
Our DMZ Tour Experience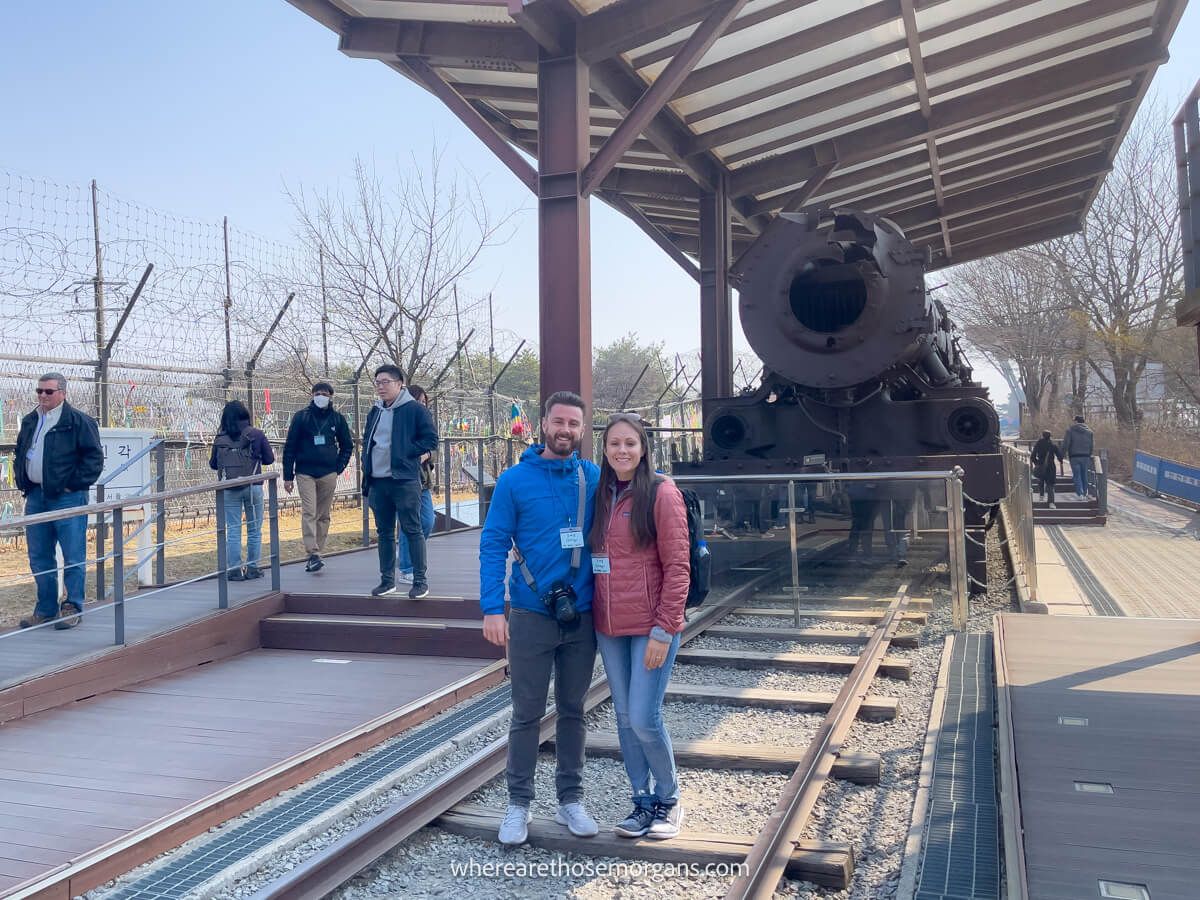 We spent a few weeks exploring Seoul, South Korea in March 2023 after Coronavirus lockdowns. Our goal is to bring you the most up to date information for your trip.
Seoul is a beautiful city filled with incredibly friendly people. We enjoyed Seoul so much, we actually extended our original trip to explore even more of this sprawling metropolis.
One of our top recommendations when visiting Seoul is to book a DMZ Tour because this is a great way to learn about the history of South Korea as well as understand the current climate.
We ran into a few problems during our tour and this detailed DMZ tour review will give you everything you need to know including a step by step account of our experience.
What Is The DMZ Near Seoul, South Korea?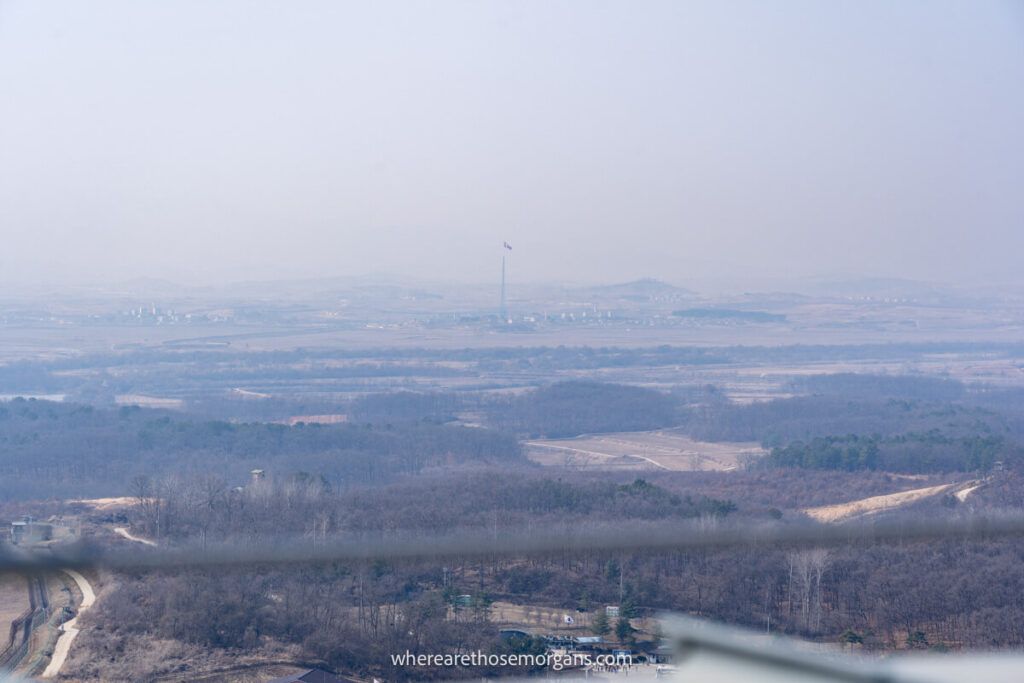 The DMZ or Demilitarized Zone is one of the most notorious and heavily fortified strips of land on the planet running between the countries of North and South Korea.
The Military Demarcation Line (MDL) is the official land border between North and South Korea (sometimes known as the Armistice Line). On either side of the DML, you will find the official DMZ area.
After the Korean war, an Armistice Agreement was signed on July 27th, 1953 formally ending the war. This was one of the longest negotiated armistice in history spanning over 158 meetings and two years.
As part of this agreement, North Korea and South Korea were to remain separate and each country kept similar territories they occupied before the war.
Both the DMZ and DML were created from the 1953 Armistice Agreement. This buffer zone spans 4km wide as well as 250km in length along the 38th parallel between the two Korean countries.
South Korean soldiers patrol the South Korean side while North Korean soldiers patrol the North Korean side. Today, this is one of the most fascinating destinations in the world to visit.
It's also interesting to note, travelers with American and South Korean passports are not allowed entry into North Korea. So for many, a tour of the DMZ is the closest they will ever get to this secluded country.
What Is The JSA Near Seoul, South Korea?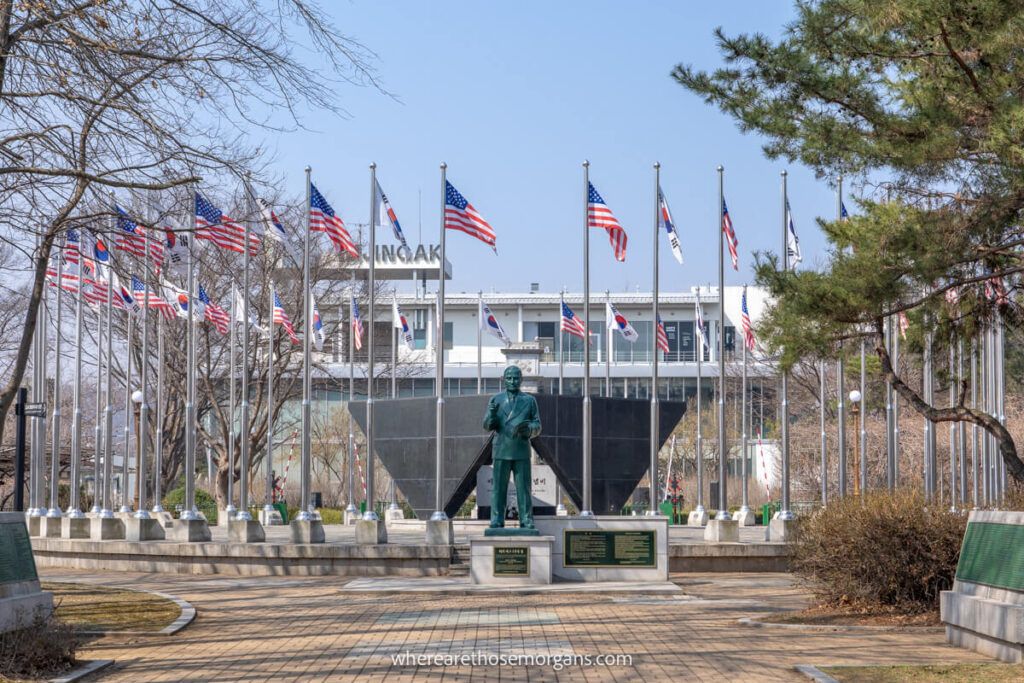 With regard to tours, you can visit both the DMZ and the JSA near Seoul, South Korea.
Inside the Demilitarized Zone, you will find the former village of Panmunjom (or Truce Village) on the western coast of the peninsula along the Military Demarcation Line.
But today, this area is known as the Joint Security Area (JSA) and it is currently the closest point to North Korea in the Civilian Controlled Zone. This is also the only place in the DMZ where both North and South Korean soldiers are face to face.
The JSA is home to several blue barracks which are used for negotiations between the two nations. Supported by the United Nations Command Military Armistice Commission (UNCMAC), this is now considered to be a neutral place.
However, the JSA is heavily regulated by South Korea and the US military. Unfortunately, no visitors under the age of 12 can visit and there is a dress code in place.
If you choose to visit the JSA, you will be given a 20-minute briefing by an American soldier outlining the possible dangers.
You will be required to sign a waiver which absolves South Korea, the US and the UN if any incident arises during your tour.
Travel Tip: It might take at least 72 hours in advance to make a reservation if you plan to visit the JSA so if this is on your Seoul bucket list, you will have to plan ahead.
Can You Visit The DMZ Without A Tour?
No, you can not go to the DMZ in South Korea without a tour. However, you can visit Imjingak Park via train from Seoul, but you can not enter the DMZ without a registered guide from an official tour company.
If you don't want to take a tour of the DMZ, we will show you how you can visit Imjingak Park, but we recommend you book a DMZ tour from Seoul to make the most of your South Korea experience.
What To Expect When Visiting the DMZ And JSA
Because you can't travel to the DMZ without a tour, many of the tours follow similar routes. However, the first decision you should make is whether you want to visit the DMZ, JSA or both.
If you choose the DMZ, you can expect to visit:
Imjingak Park including Freedom Bridge
The 3rd Infiltration Tunnel
Dora Observatory
If you choose to visit the JSA, you can expect to visit:
Camp Bonifas
Freedom House
Military Armistice Commission Conference Room
Depending on how much time you have in Seoul itinerary, you can choose a half day or full day option.
We chose a full day tour to the DMZ with Klook and experienced a wonderful tour. Later in this DMZ tour review, we will show you exactly what to expect on a tour of the DMZ near Seoul, South Korea.
In early 2023, the JSA was still closed for tours from covid, but at the time of writing in May 2023, the JSA has now reopened for tours.
What To Know When Booking A DMZ/JSA Tour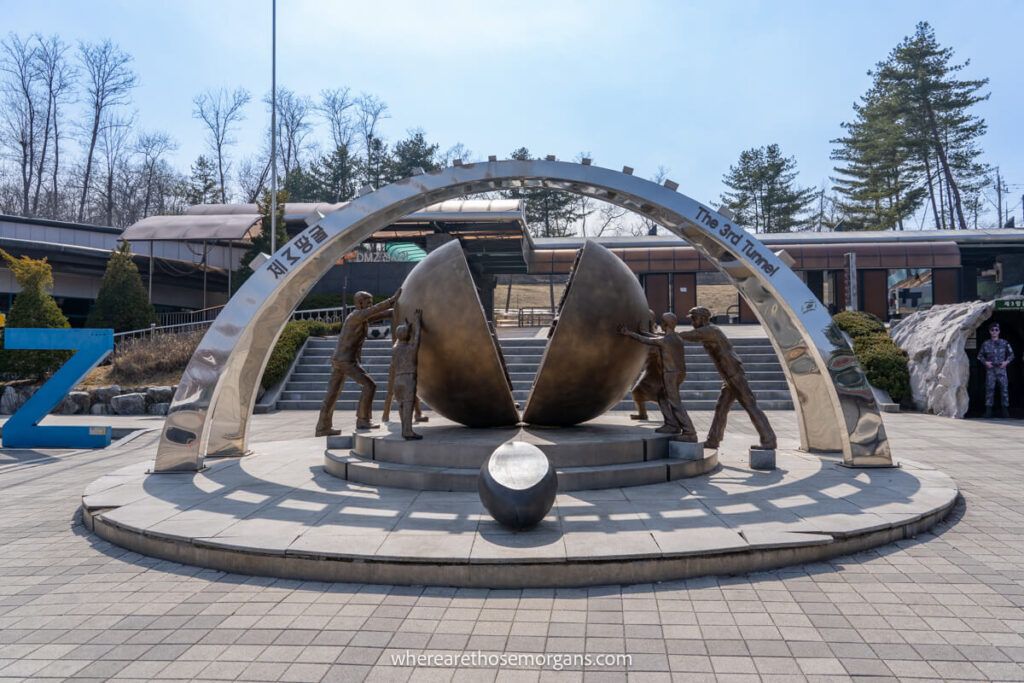 Keep in mind the DMZ and the JSA are active military zones so you can't always expect a perfect tour.
For example, the week before we took our DMZ tour, North Korea was carrying out missile testing so all tours were cancelled for a few days while this took place.
When we visited in March 2023, there was also a surge in tourism and the tickets for DMZ were extremely limited on a first come, first serve basis with timed entry.
We had to move our tour time to ensure we arrived early in the day to secure DMZ tickets.
Travel Tip: Book your DMZ trip at the beginning of your Seoul itinerary so if your tour is altered for any reason, you have a few days of buffer room to reschedule if needed.
Two important things to know when booking your DMZ / JSA tour:
You must bring your passport (or ARC, local Alien Registration Card for South Koreans)
Dress code is important when visiting the JSA which we will cover later in this DMZ review
Most Popular DMZ Tour Options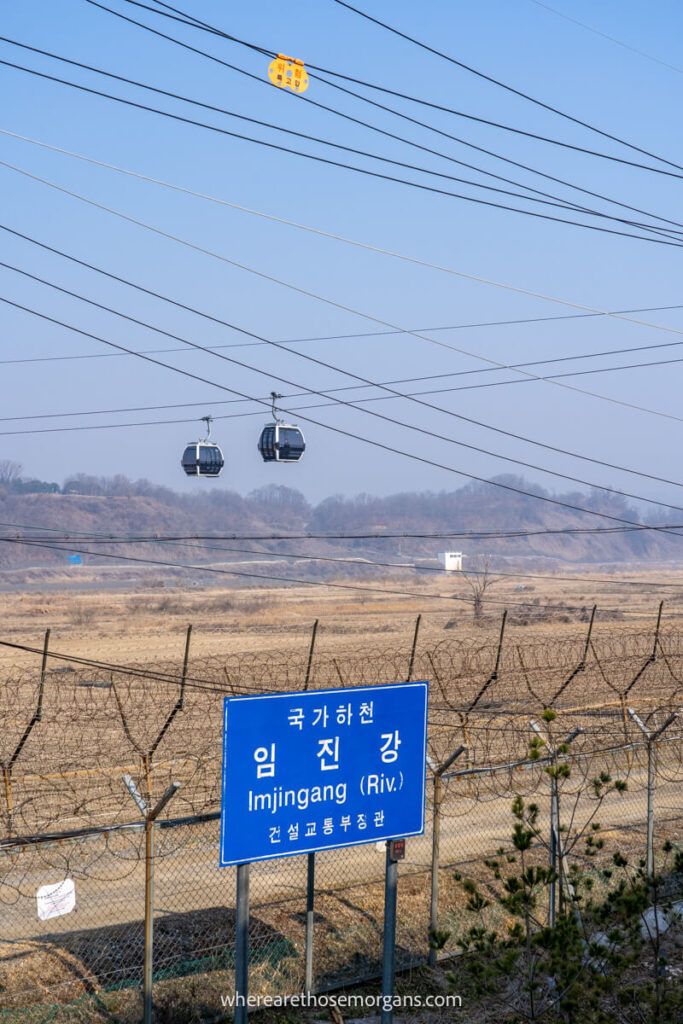 We chose to book our DMZ tour through Klook because they were offering the best deals at the time. Each tour company varies in cost depending on time of year so always check prices before booking.
Klook:
Get Your Guide:
Viator:
JSA Options:
Booking Tip: Make sure you carefully read the description for each option to make sure the tour includes what you want to see.
Step By Step Experience Of Our DMZ Tour
Even if you choose to visit both the JSA and DMZ, you will visit most of the places we did when visiting the DMZ. The main difference is you will have less time at each location.
Here is what we experienced on our full day tour (~8:00-2:00pm) of the DMZ:
1. Booking And Tour Departure Times
The tour we booked with Klook, offered an 8:00 am or 10:00 am departure time. We chose the 10:00 am time slot, but we learned to be flexible.
However, we received a phone call and text from our tour guide the day before asking if we could start earlier in the day at 8:00am.
Unfortunately, when we visited Seoul, the DMZ was still working on a limited number of tickets per day on a first come first serve basis. We could potentially not get a ticket if we arrived later in the day.
So our tour started around 8:00 am and we were picked up by private car in front of our Seoul hotel. The driver was hilarious and he dropped us off at the bus where everyone else was waiting.
2. The Bus Ride
Our DMZ tour group met outside Hongik University station. Once everyone was accounted for our tour guide, Spring, introduced herself and told us about the plan for the day.
Because the DMZ was limiting tickets due to an influx of visitors, she had to secure the tickets and this was her first priority when getting to Imjingak Park.
The bus ride from Seoul to Imjingak Park was about 1 hour and 30 minutes with traffic.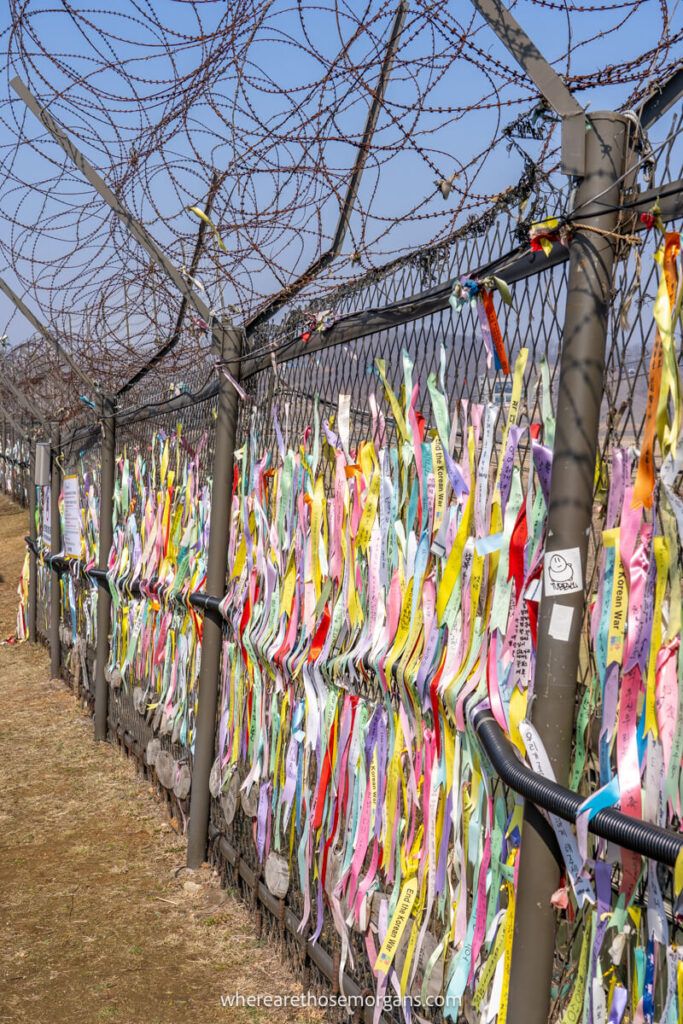 3. Imjingak Park
Once at Imjingak Park, Spring got in line for our DMZ tickets and we had a little bit of time to look around the area. If you are hungry, you can find many food options including a few local stalls, Dunkin Donuts and burgers.
Luckily, Spring secured our tickets and our entry time for the DMZ was 12:00. So we had an additional few hours to explore Imjingak Park which was not part of the original itinerary.
This was actually a blessing in disguise because we now had a few hours to walk around Imjingak Park. Spring led us around to several of the important areas and explained their significance.
We then had some more free time to visit the rest of the park on our own. Personally, we thought Imjingak Park was worth visiting and to see everything, you will need a few hours.
Have extra time at Imjingak Park? Don't miss our popular guide featuring the best things to do at Imjingak Park to make the most of your trip.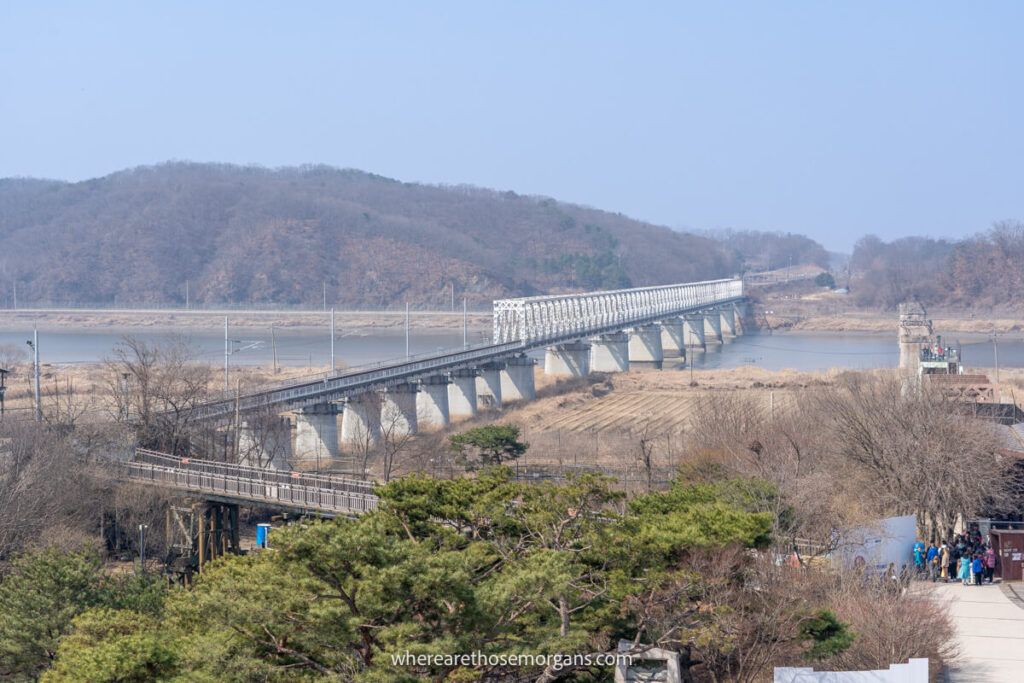 4. Freedom Bridge
The Freedom Bridge is easily one of the most important symbols found near Imjingak Park. However, you won't be able to cross it because you can only see it from a distance.
This bridge was built in 1953 for the temporary purpose of exchanging 12,773 Prisoners of War (POW) from the Korean War between North and South Korea.
During this time, the POWs crossed the Freedom Bridge on foot after arriving to the bridge of the Gyeongui Line via motor vehicles.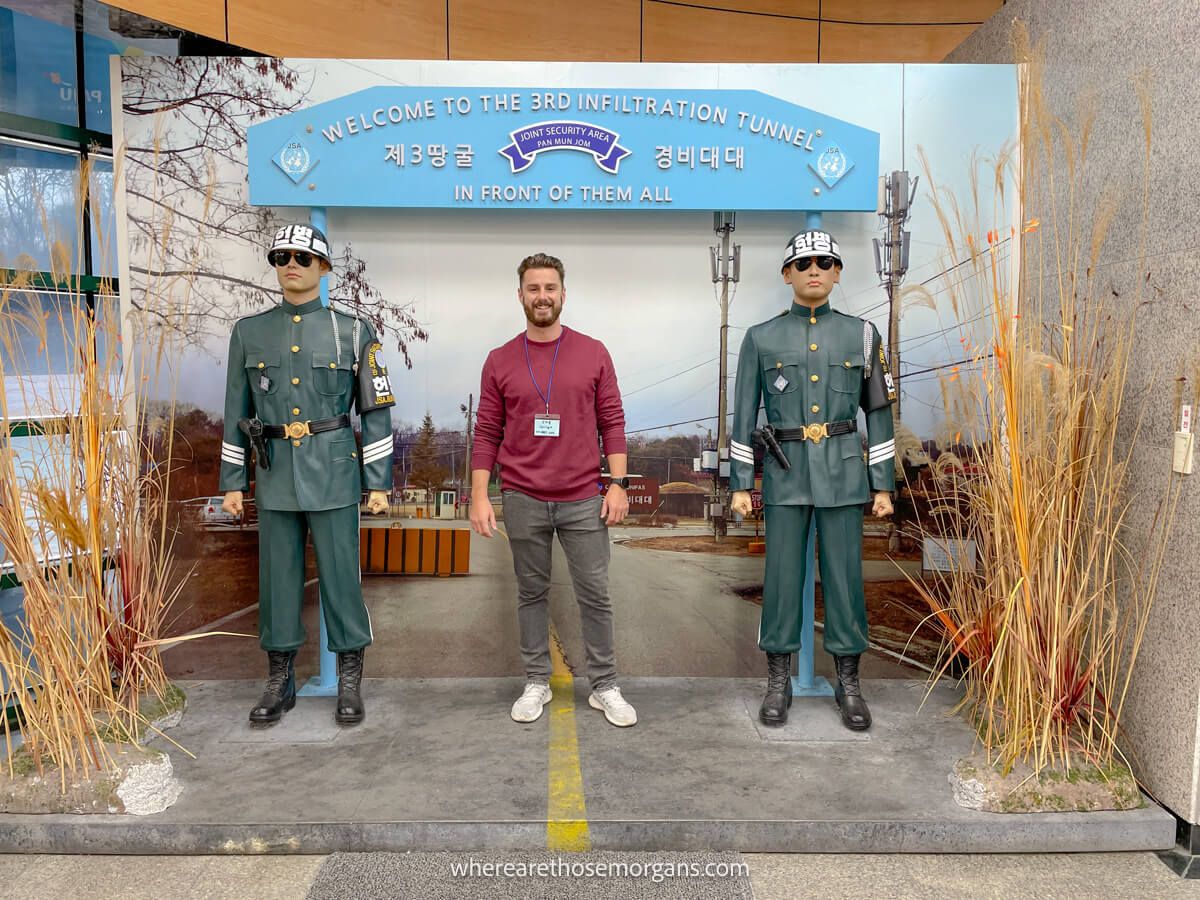 5. The 3rd Infiltration Tunnel
The next stop on our DMZ Korea tour was the 3rd Infiltration Tunnel. We thought this tunnel was the most interesting part of the entire tour and it is located about 50 km (~30 miles) from Seoul.
Sometimes also known as the Third Tunnel of Aggression, this is one of four known tunnels under the border between North and South Korea.
The 3rd Infiltration Tunnel was built by North Korea for a surprise attack on Seoul. This underpass could accommodate about 30,000 men per hour including weaponry.
Discovered by South Korea in 1978, the 3rd Tunnel spans 1,635m in length, 2m in width and 2m in height. During a DMZ tour, you will be able to walk a portion of the 3rd Tunnel.
Travel Tip: There are no photos allowed in the 3rd Tunnel and you will be asked to leave your belongings in a locker including your phone. Please respect the rules and don't take any photos.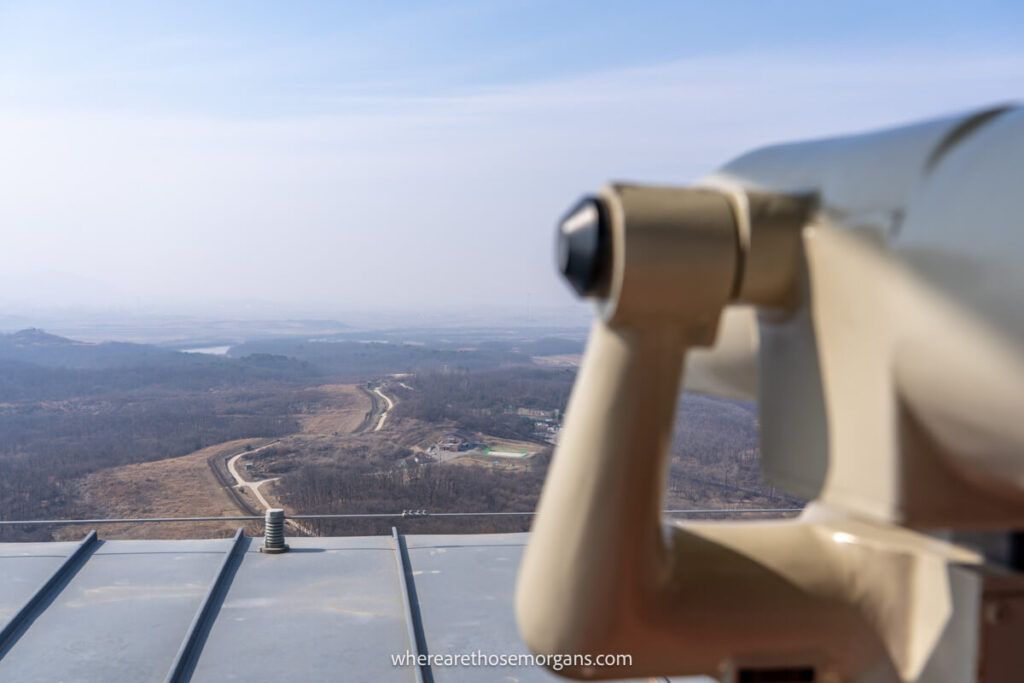 6. Dora Observatory
After the 3rd Infiltration Tunnel, we headed to Dora Observatory. This is where you will get to see panoramic views of the Demilitarized Zone using binoculars from the top of Dora Observatory.
Sitting on top of Dorasan (Mount Dora) in Paju and first opened in 1987, the Dora Observatory allows visitors to see the North Korean propaganda village as well as the city of Kaesong.
We had fun playing with the tower viewers where we could easily see sections of North Korea including the flag flying high in the sky.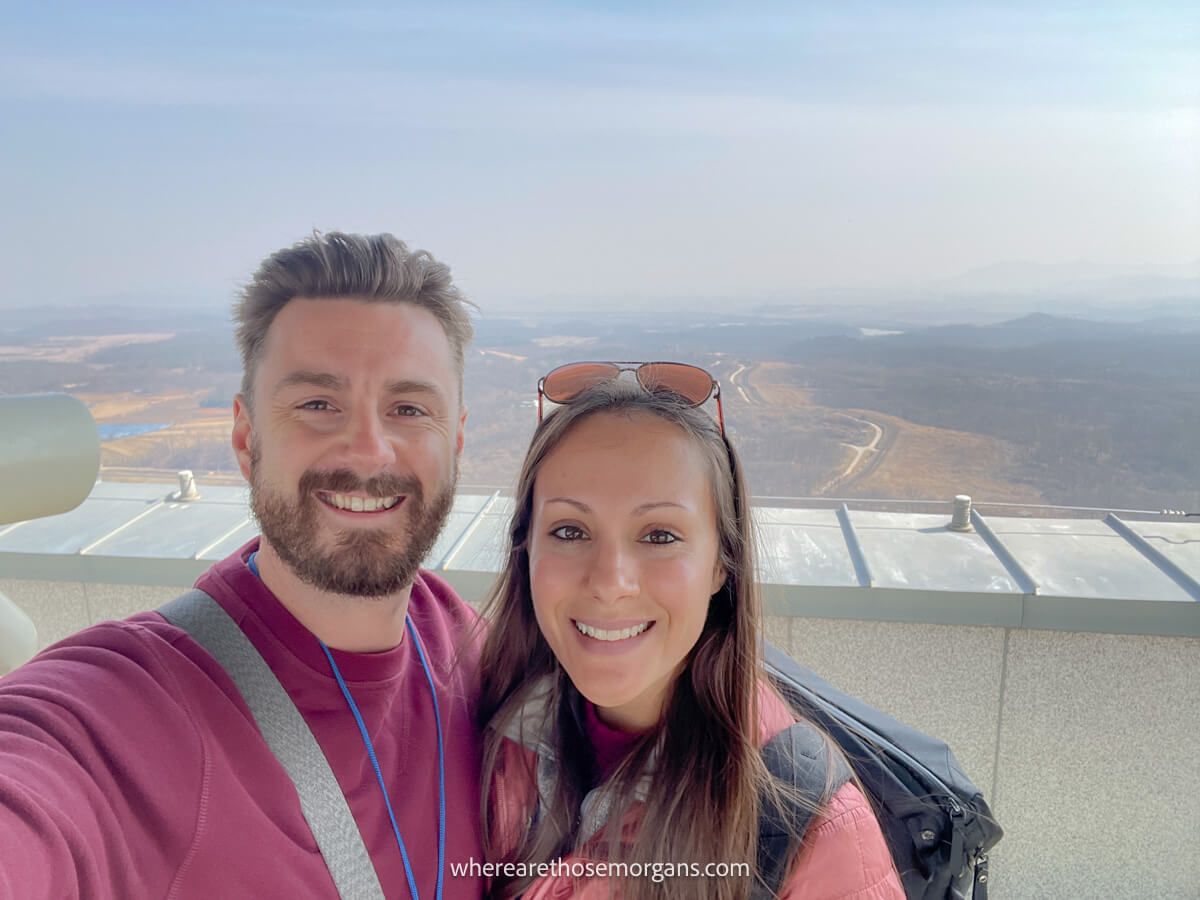 This is also your change to snap a selfie with North Korea in the background!
7. DMZ Souvenir Shop
The last stop on our DMZ tour was a souvenir shop for about 15 minutes. However, this wasn't a forced shopping experience and you could choose to stay on the bus.
This is a great place to buy products such as wine, chocolate and ice cream which are produced only in the DMZ area. If you are looking for a unique gift to take back hom, this might just be it.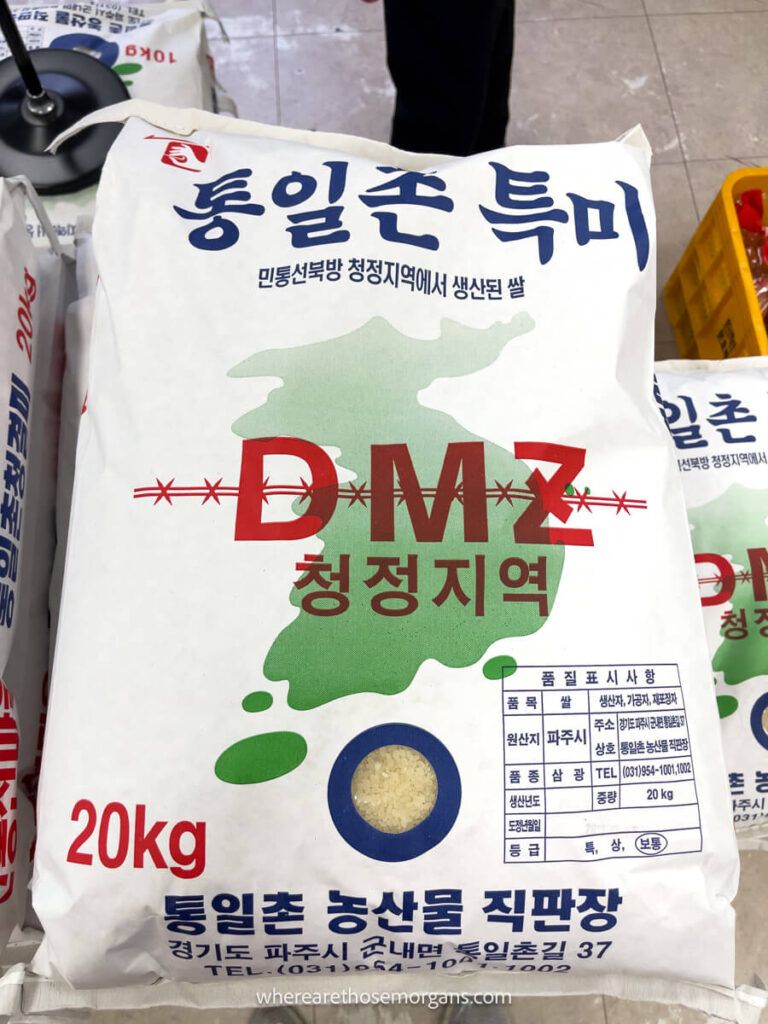 8. Bus Ride Home
At this point, our entire tour group was pretty tired from the long day. We were back on the road about 4:00 pm so it was almost 6:00pm by the time we arrived back in Seoul.
The bus ride home was much more quiet. We hit a little bit more traffic heading back into the city versus when we left earlier in the morning.
Is The Korea DMZ Tour Worth It?
Yes, the DMZ tour near Seoul is absolutely worth it!
This is the only place on earth where you will get to see a glimpse of North Korea through binoculars. But you will also learn about the history of these two bordering nations.
We learned so much about South Korea from our DMZ tour, we couldn't learn elsewhere. Sometimes you need to experience things for yourself and this is why a DMZ tour is worth it.
The DMZ is one of the few places in the world where visitors can experience first hand what a Cold War era looks and feels like. It's a great reminder that we need to continually build peace wherever we go.
A tour to the DMZ easily reminds us that walls which easily separate democracy from communism still exist. This is more important than ever as we look to the future.
Is There A Dress Code To Visit The DMZ?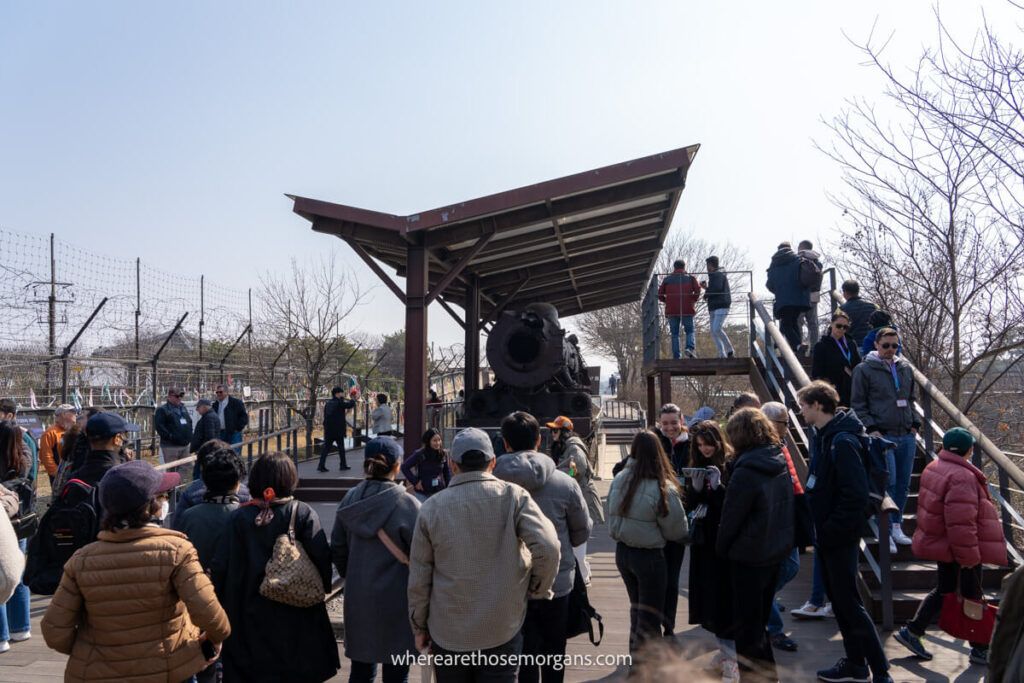 While there is no official dress code to visit the DMZ, there is a dress code at the JSA.
Dress code is enforced at the JSA because North Korea has previously used photos of carelessly dressed tourists as propaganda suggesting how poor the rest of the world to their citizens.
So if you choose to visit the JSA, you are not allowed to wear revealing or suggestive clothing such as:
Ripped or faded jeans
Sleeveless shirts or tank tops including a revealing midriff
Shorts and miniskirts
Clothing with military print
Anything that could suggest your nationality (like a national flag)
Workout gear
Overall, we found it best to dress appropriate yet casual. Keep in mind this is a geopolitical area so taking the time think about your outfit shows respect.
If you are fully covered and casually dressed, you will be fine for your DMZ tour.
Where Did Kim Jong-Un And Trump Meet Along The DMZ?
In 2019, Donald Trump was the first U.S. President to set foot on North Korean soil. The pair met at the section of the Military Demarcation Line (MDL) between Freedom House and Panmungak inside the JSA.
At this significant meeting, the two first met on the South Korean side. Kim Jong Un then officially invited President Trump to cross into North Korea as they shook hands.
After about 50 minutes, the two leaders stepped back into South Korean territory where they were greeted by South Korea's President, Moon Jae-In.
If you visit the JSA, you will be able to see where this historical meeting took place.
Photos For Our DMZ Tour Reivew
We took many photos during our DMZ tour and this review wouldn't be complete without sharing some of our favorites!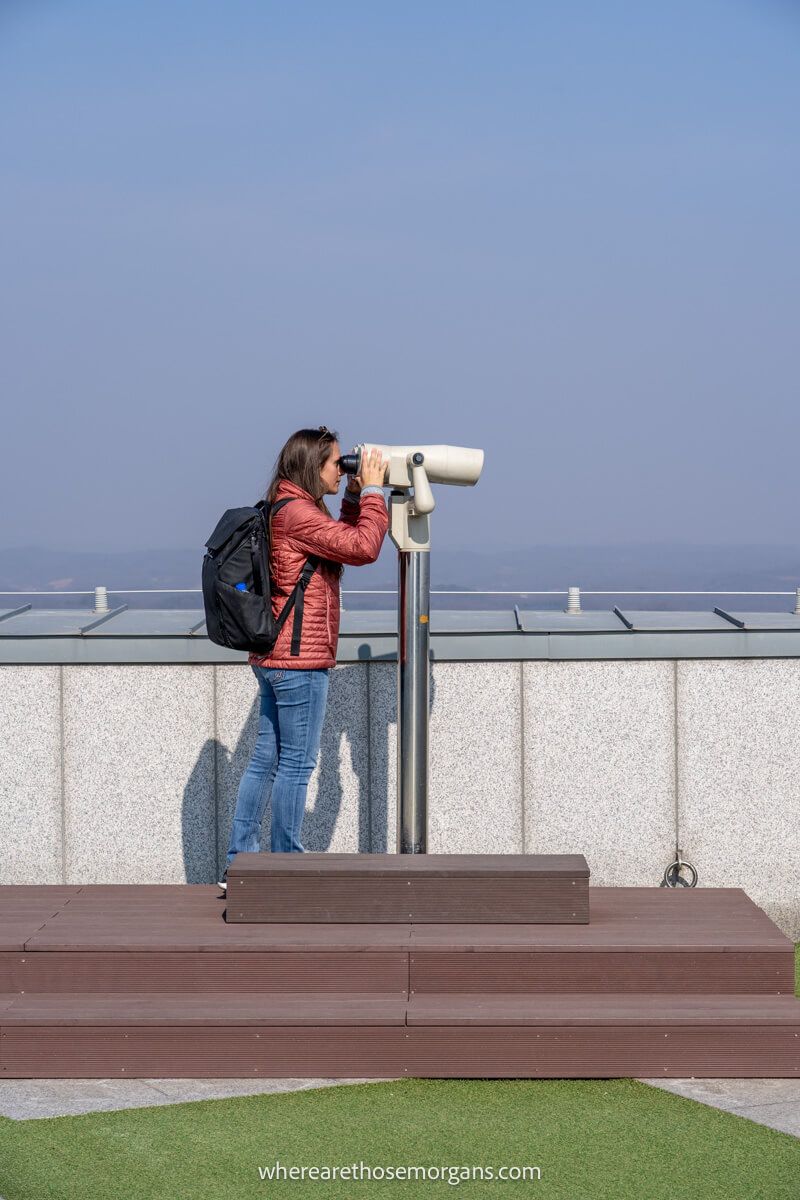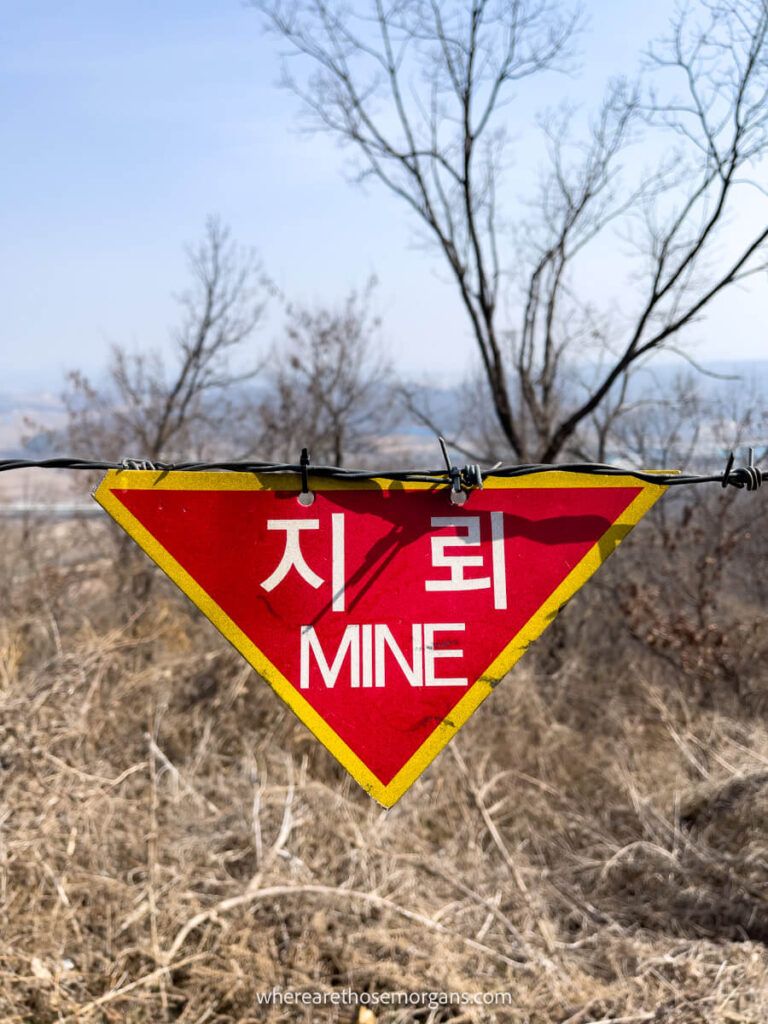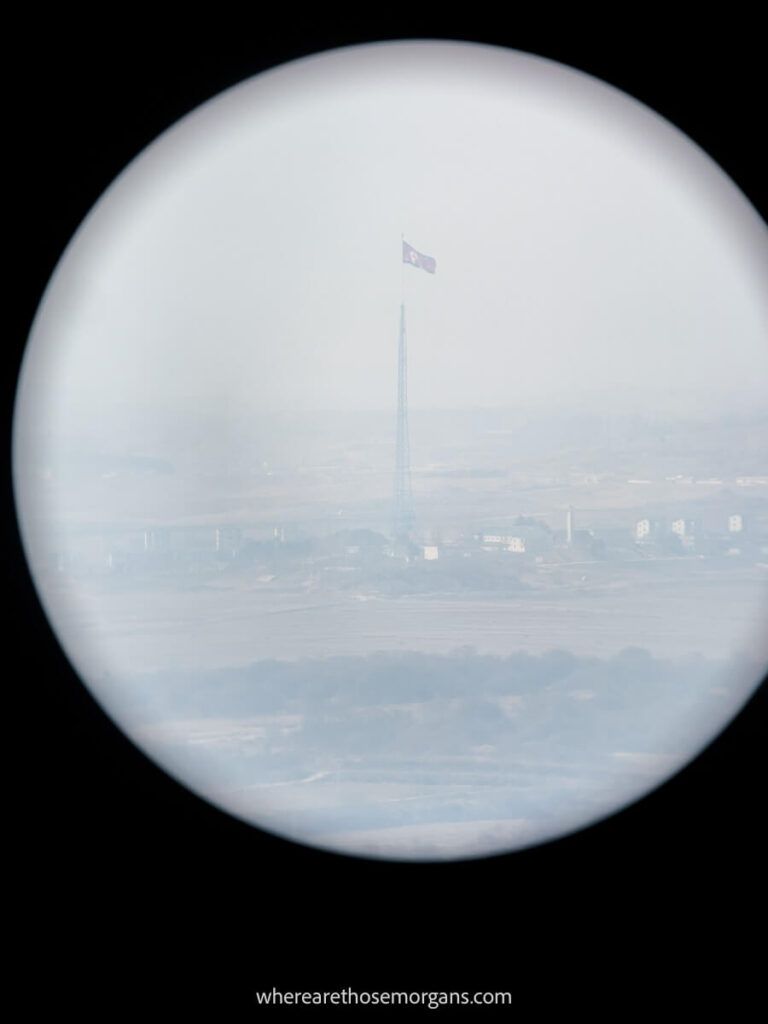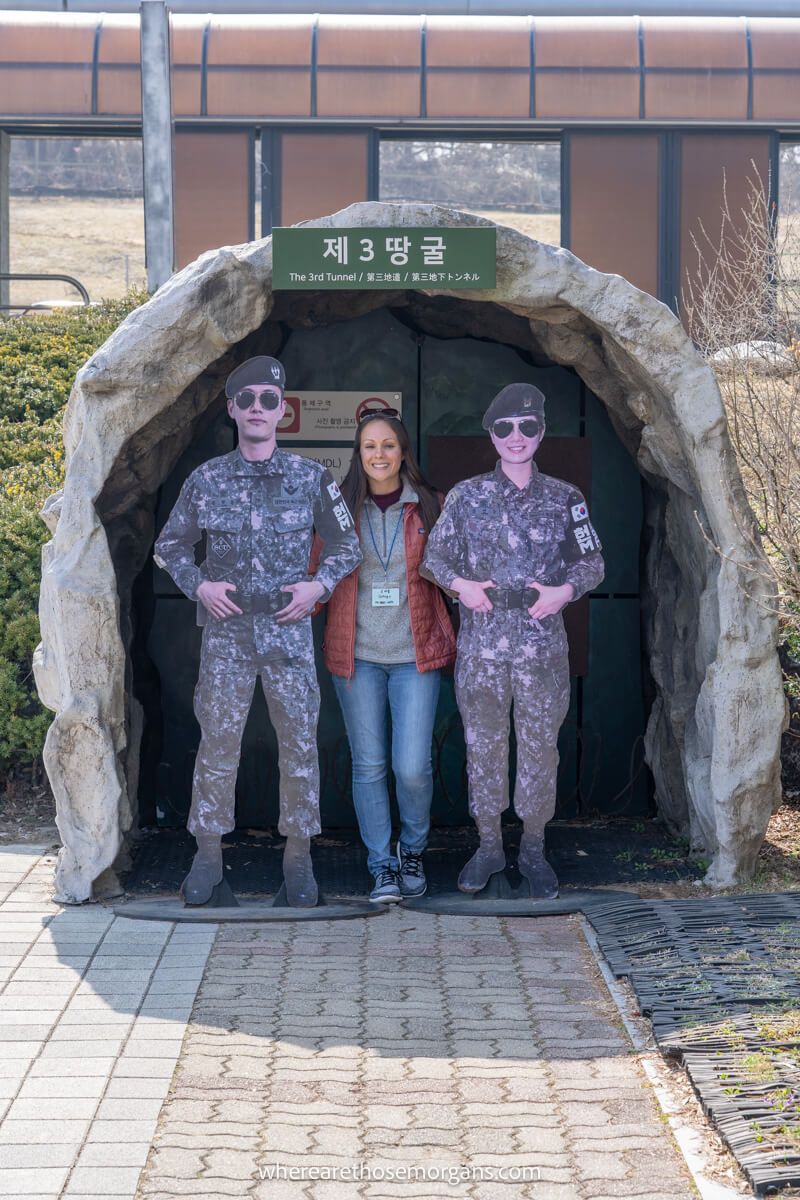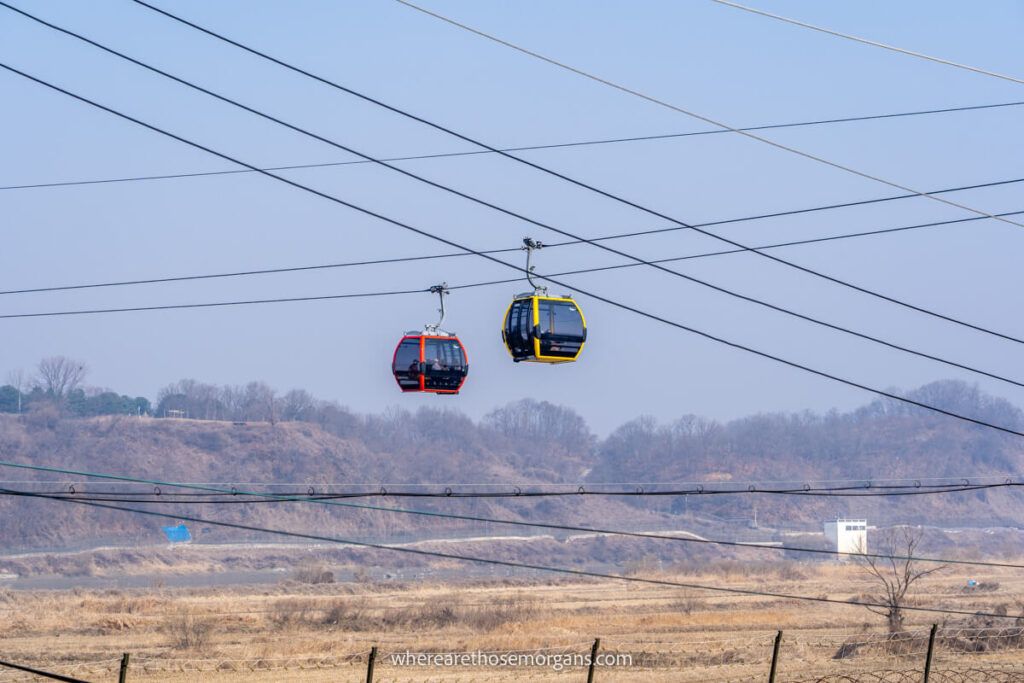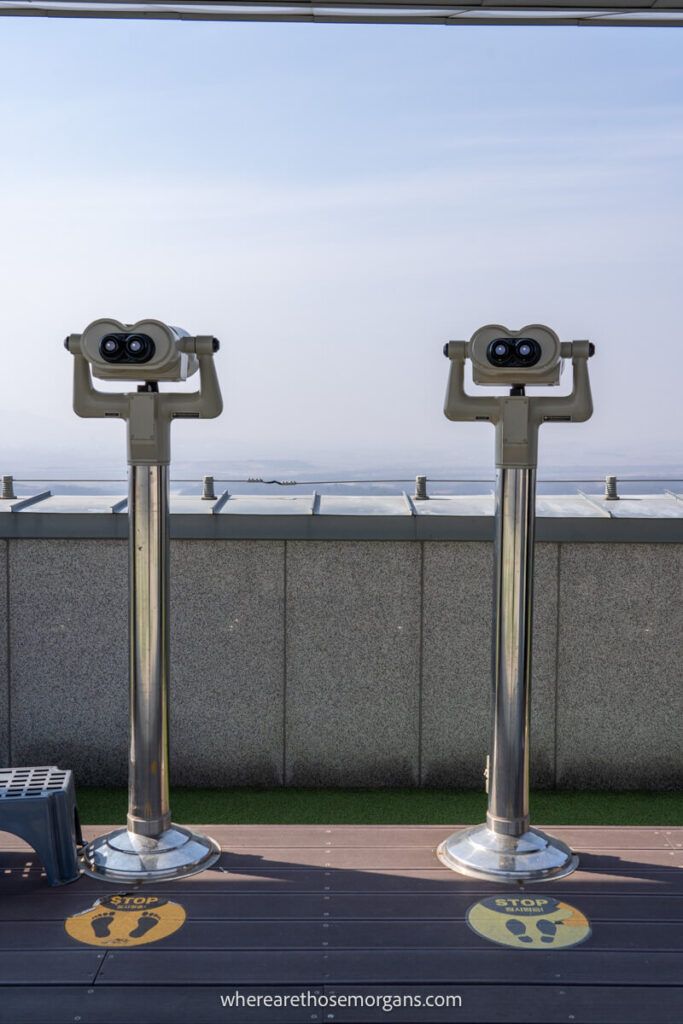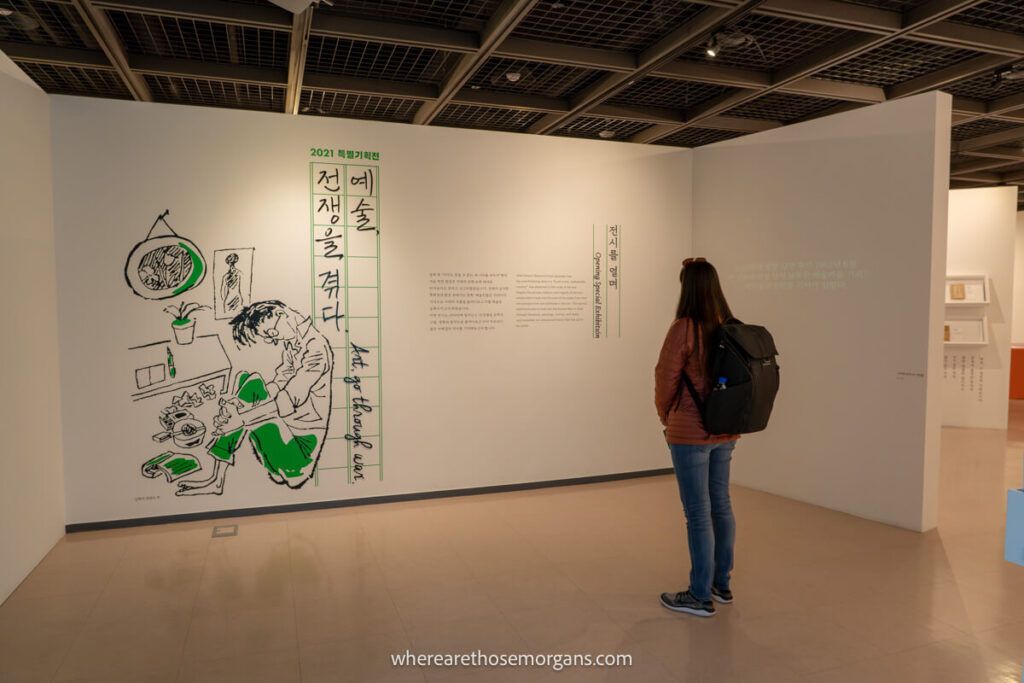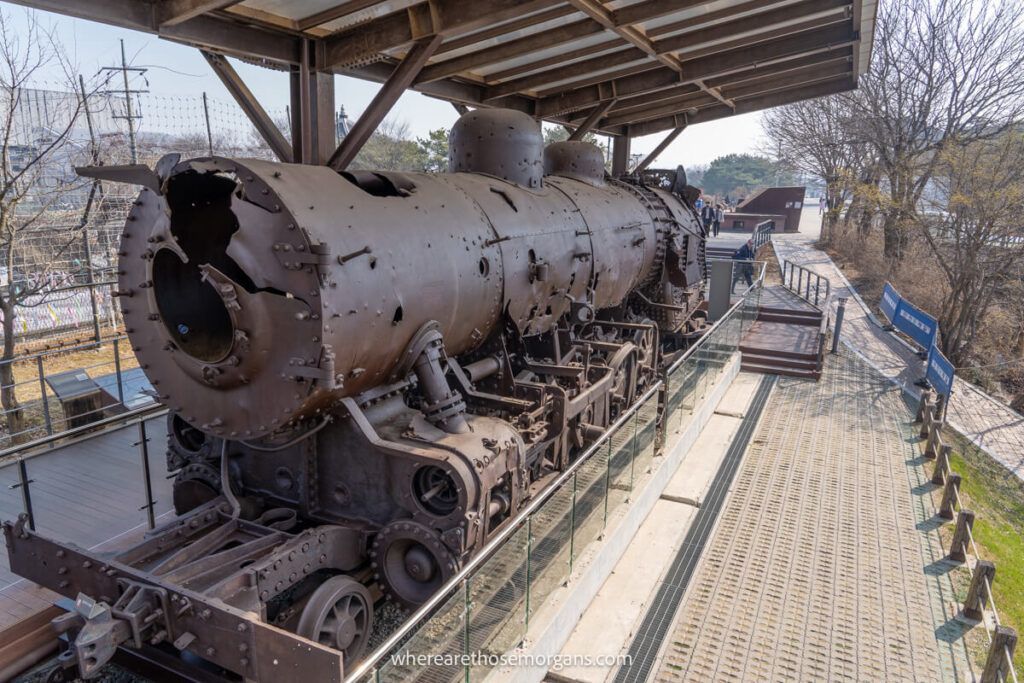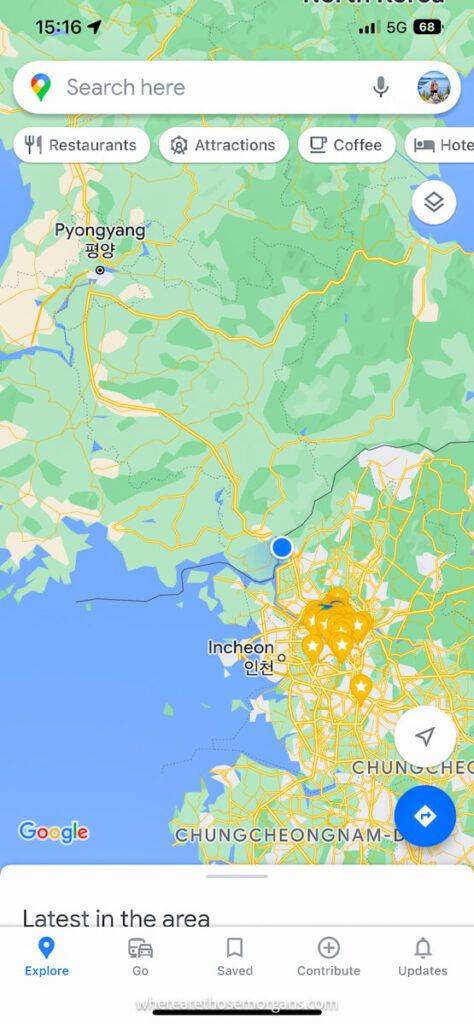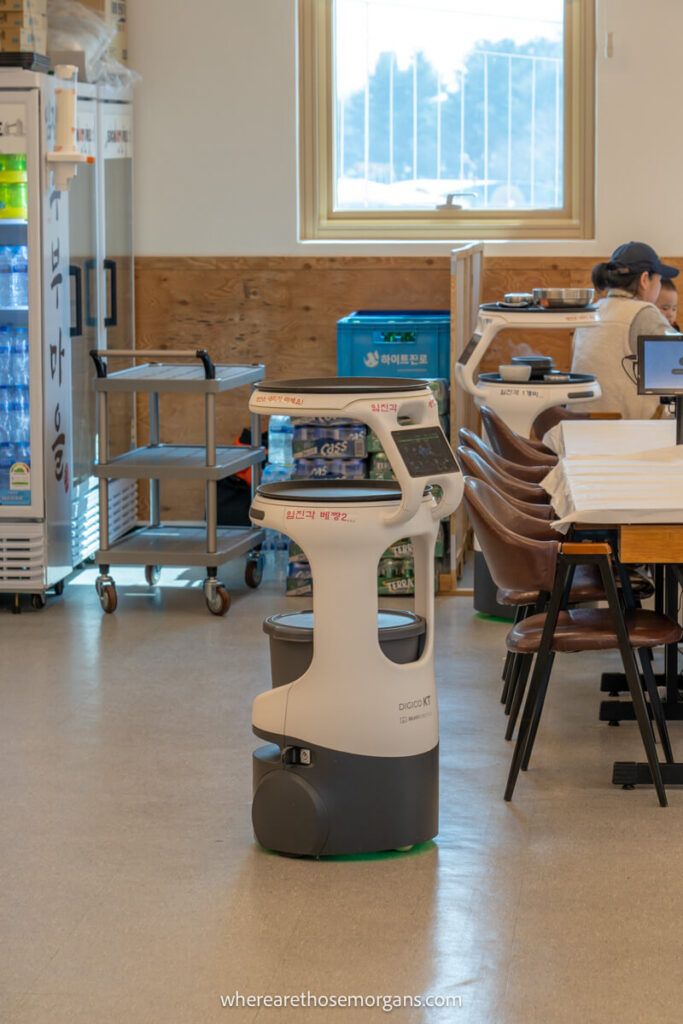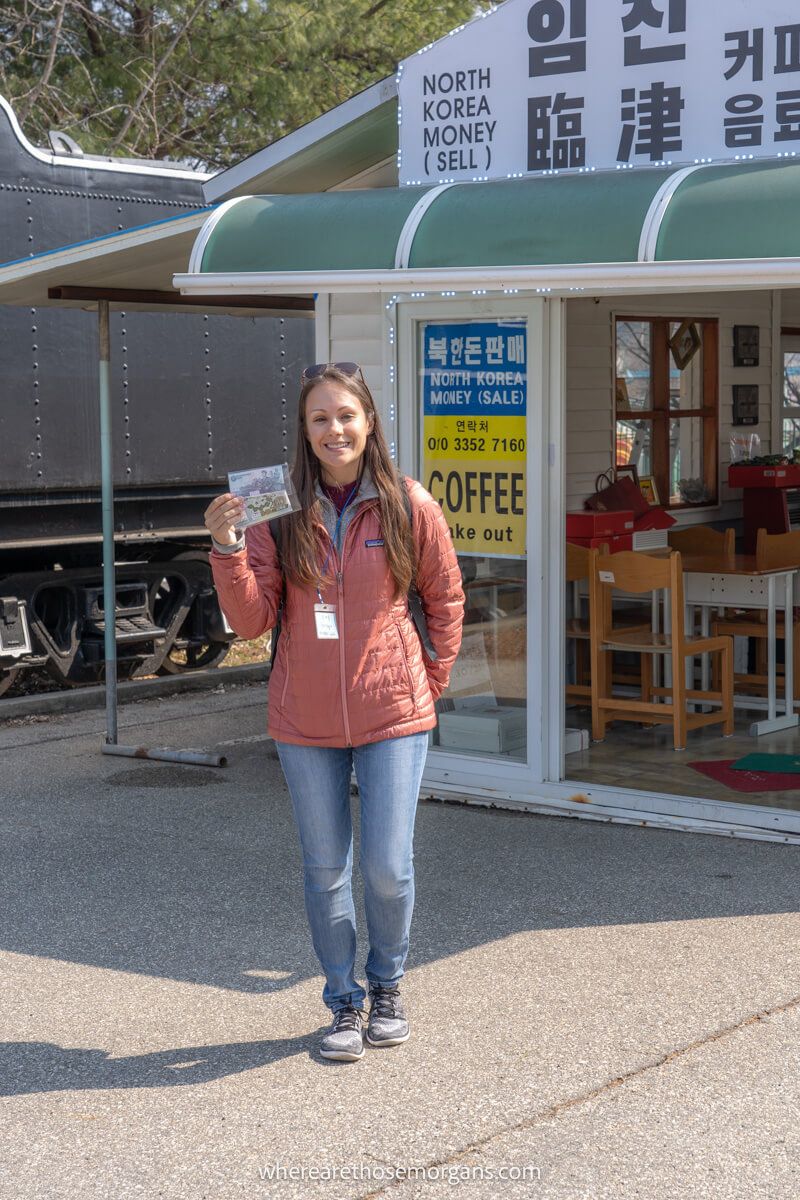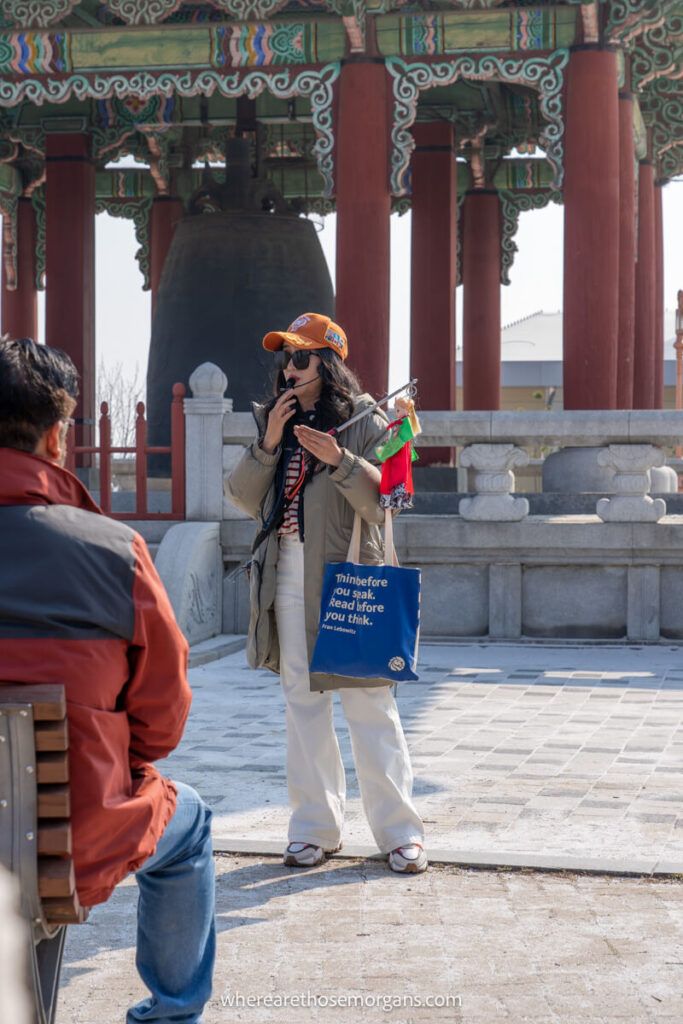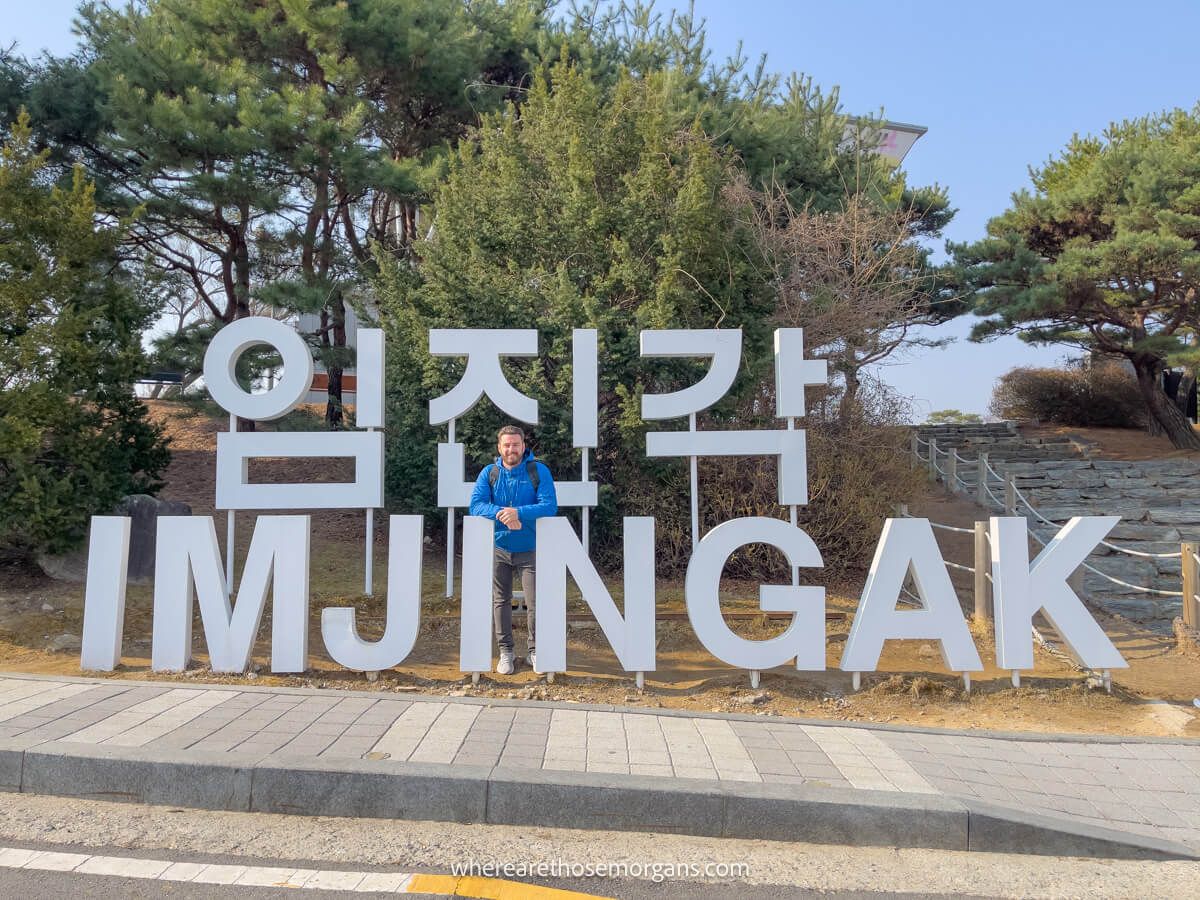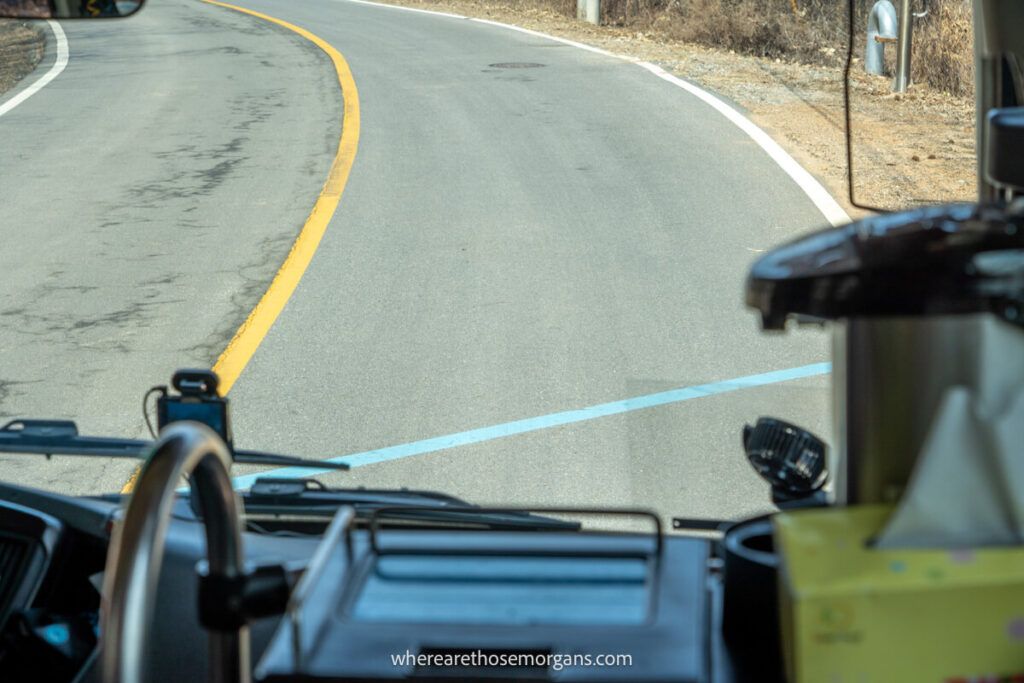 DMZ Tour FAQ's
Let's take a look at some of the most frequently asked questions about tours to the DMZ in Seoul, South Korea:
Is the DMZ safe to visit?
While the DMZ is one of the most heavily guarded borders in the world, there is no threat to visitors or civilians. The DMZ is still considered to be an active war zone, but it has now become a place of peace and is safe to visit making the DMZ one of the best day trips from Seoul.
Should you visit the DMZ if you only have a few days in Seoul?
Yes, you should visit the DMZ because it is one of the most fascinating places we have ever visited. It gives you a great perspective about the current climate of South Korea as well as the opportunity to learn about the history between North and South Korea.
Does Google Maps work in South Korea?
No, Google Maps does not work well in South Korea. The government requires mapping data be stored on local servers as a matter of national security purposes so we recommend using KakaoMap for navigation around South Korea.
Our Popular Seoul Guides
Want more Seoul content? Head over to our South Korea Travel Guides to explore the very best of Seoul and beyond.
Our Popular Review Guides
Want to read more reviews? Head over to our Travel Product and Tour Reviews to explore everything travel, hiking and photography related.
---
We hope this detailed review about our DMZ tour helps you decide if this attraction should be included on your Seoul Itinerary!
Please let us know if you have any questions about the South Korea DMZ tour or traveling through Seoul in the comments below.
Happy Travels,
Mark and Kristen
Enjoy This DMZ Tour Guide? Pin It For Later!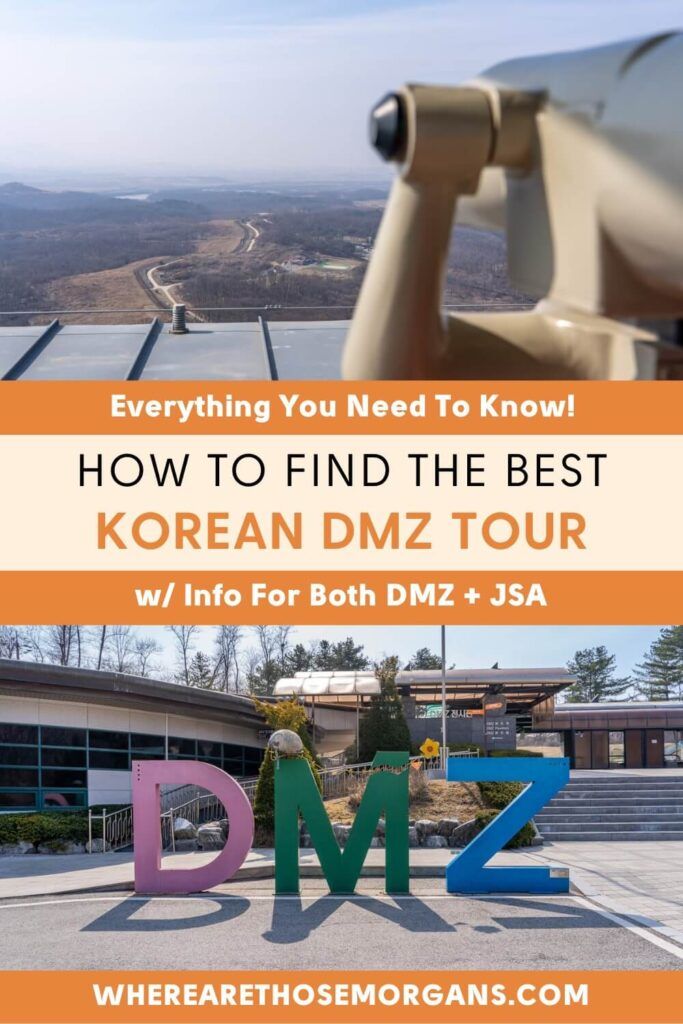 Note: This article contains affiliate links. When you make a purchase using one of these affiliate links, we may earn a small commission at no extra cost to you.
All Rights Reserved © Where Are Those Morgans, LLC. Republishing this article and/or any of its contents (text, photography, maps, graphics, etc.) in whole or in part is strictly prohibited.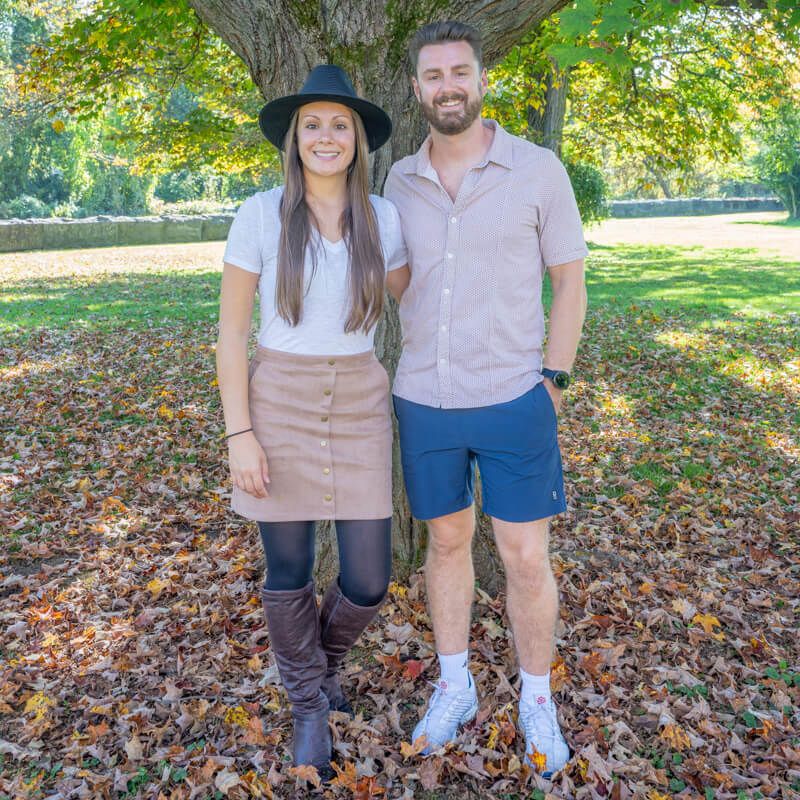 Mark and Kristen Morgan are travel, hiking and photography experts. Over the last 6 years traveling full time, they have explored more than 40 countries and 30 US states.
Their work has been featured in USA Today, Gestalten, Get Your Guide, CityPASS and Condé Nast Traveler along with various other publications.