Moqui Cave is a natural history museum and Southern Utah landmark located around 5 miles north of Kanab, Utah. The museum has a surprisingly entertaining history and is filled with an eclectic mix of art work, artifacts and rare geological commodities.
Moqui Cave first caught our attention as we were exploring the best things to do around Kanab Utah, the day before hiking The Wave. We passed the cave on Highway 89 and it looked interesting, so we turned around, parked up and explored the museum all by ourselves.
You'll see why it is easy to pass, but you'll also see why we were intrigued. The cave exterior features an old brick dwelling with white glass blocks embedded into the opening of a gigantic sandstone cave.
The history of the cave is surprisingly diverse and we will discuss this later in the post. But Moqui Cave is now considered a landmark tourist destination and the perfect fleeting family friendly stop on your trip to Kanab.
Let's explore Moqui Cave in Kanab UT!
What Is Moqui Cave In Kanab Utah?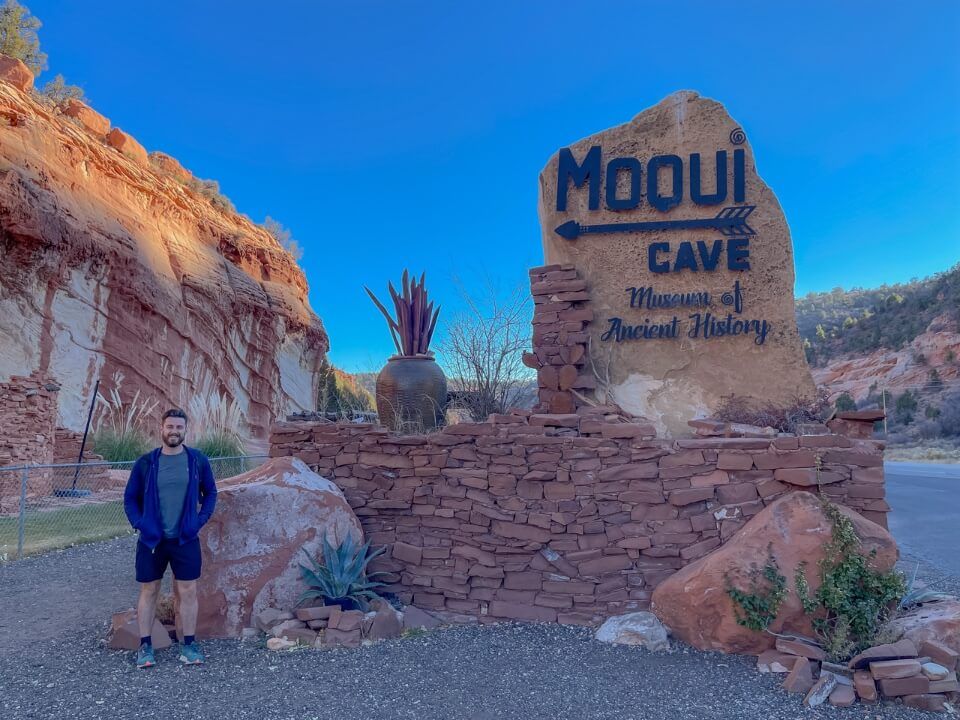 Moqui Cave began its journey simply as a natural sandstone cave, before it was inhabited by Native Americans and eventually transformed into a concert hall and bar, which once welcomed big name Western movie stars.
Now it is a museum containing fluorescent minerals, rocks, fossils and dinosaur tracks.
The cave is small in size but has distinct 'rooms', which house artifacts and art collections of the man who renovated Moqui Cave back in the 1950's – Garth Chamberlain.
It is a great spot for learning about local history around Southwest Utah and for anyone interested in geology.
Moqui Cave vs Moqui Caverns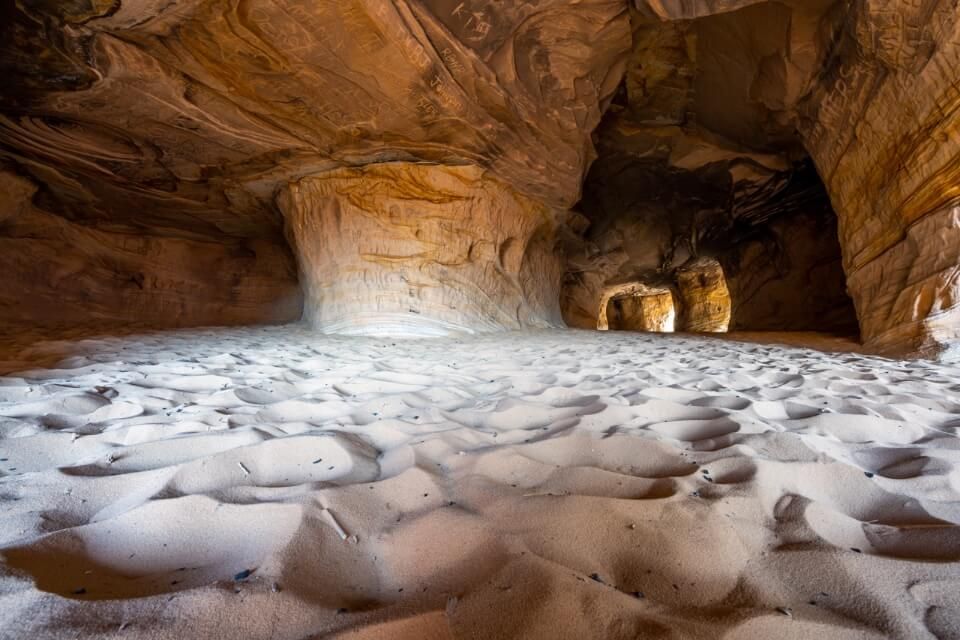 Moqui Cave and nearby Moqui Caverns are often and easily confused. They are two separate entities, but are very close in proximity to one another along highway 89 around 5 miles from Kanab, Utah.
Moqui Caverns are man-made caverns which you can also see carved into a cliffside when driving along highway 89.
These caverns are also known as the Kanab Sand Caves or the Moqui Sand Caves, hence the confusion!
If you're looking for the photogenic and free to explore caverns, they are located between Moqui Cave and Best Friends Animal Sanctuary.
Moqui Caverns are pictured above.
Read our guide on how to hike to the picturesque Kanab sand caves in Moqui Caverns next so you can visit both at the same time.
Is Moqui Cave Free?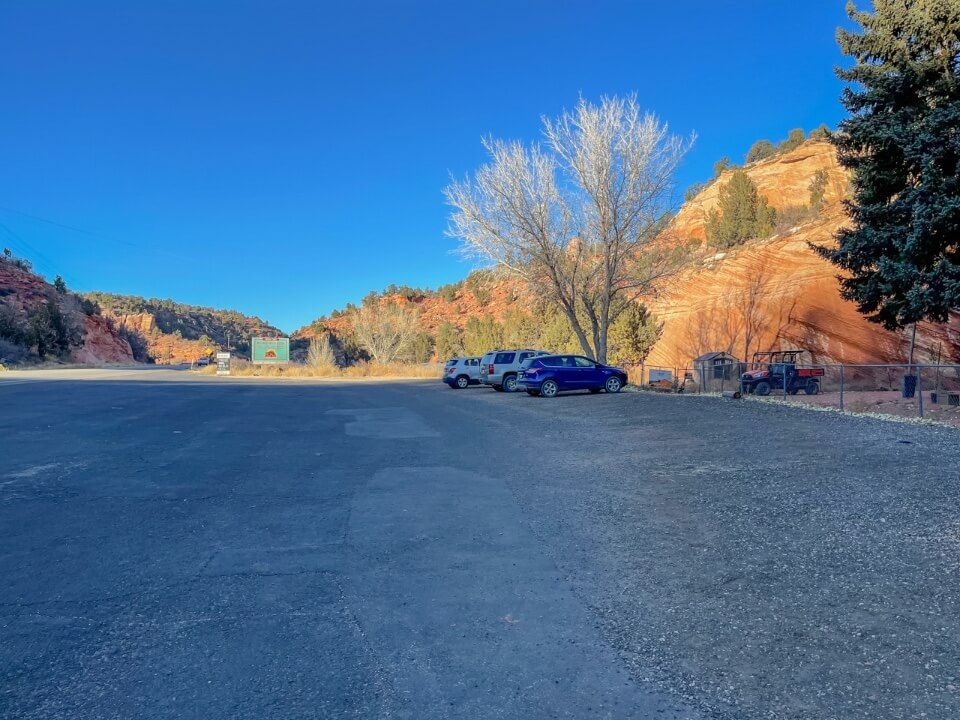 Moqui Cave is not free to enter, but entry only costs $5 for adults. Parking in front of the museum is free and spacious, which means it can easily accommodate a bus or RV.
Dogs are welcome inside Moqui Cave.
Here's a tip if you're visiting Kanab in Summer – Moqui Cave would be a great place to cool off on hotter days as temperatures in the cave never rise above 65 degrees.
The History of Moqui Cave In Kanab Utah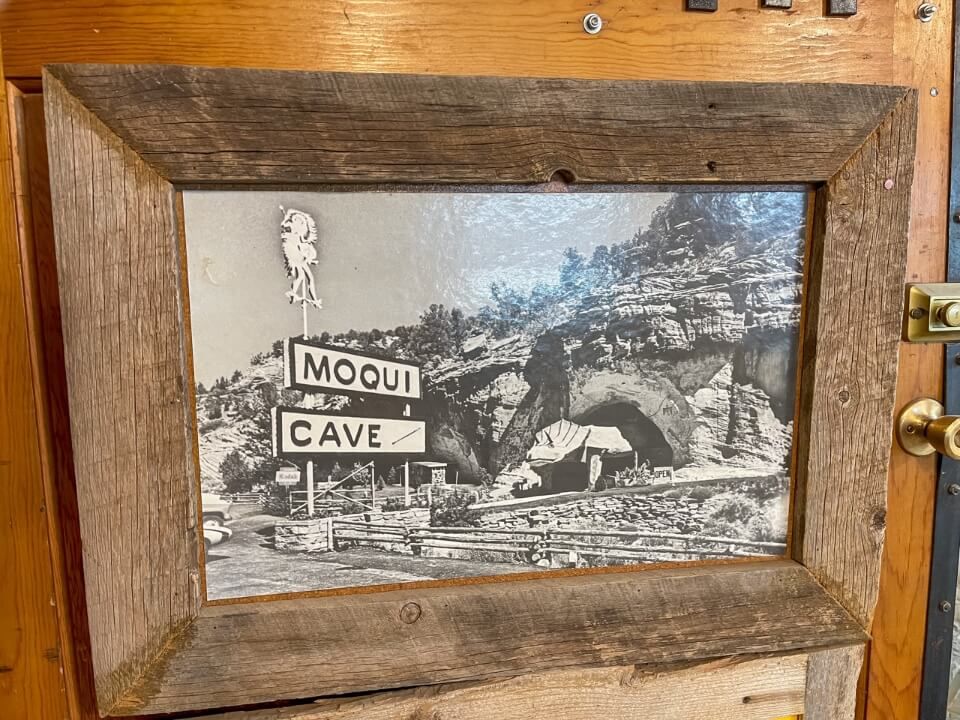 Historically, the Moqui Cave was used by the Anasazi people as a place to shelter and store food. Then in the 19th century, white settlers used it as a speakeasy during the Prohibition period.
But in 1951, the cave was purchased by Garth and Laura Chamberlin.
Garth had a vision to make it a unique tourist spot in Southern Utah.
He revamped the cave to include a stage and a tavern, and Moqui Cave soon became known as Southern Utah's first dance hall.
It became a place where you could grab a meal, have a drink and listen to a live band on Friday or Saturday. For years, Moqui Cave was the place to be seen for socials and dances.
What else needed to happen in order to make it stand out?
Well, Chamberlin had a huge dinosaur head facade built right on top of the entrance to the cave!
Imagine walking through the 'mouth' of a dinosaur into a cave to drink beer and dance to music in a cave in Southern Utah a few decades ago?!
Moqui Cave Today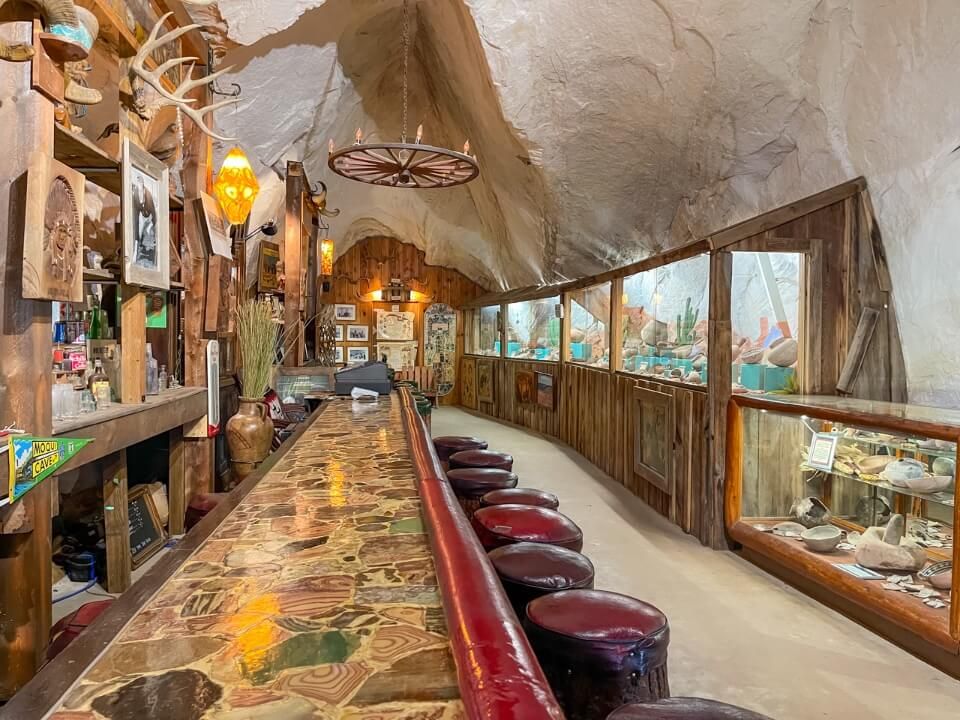 Chamberlin had always been interested in geology, archeology and paleontology. He studied and collected ancient artifacts and geological items for several years.
His dream was to ultimately create a museum with his personal collection.
So when the Chamberlin's eventually shut down the dance hall, they converted the entire four room cave into a museum. This is what you can find inside the cave today.
The exhibits on display are from Garth's personal collections from over the years. Members of Chamberlin's family currently run and operate the cave today.
Moqui Cave Tour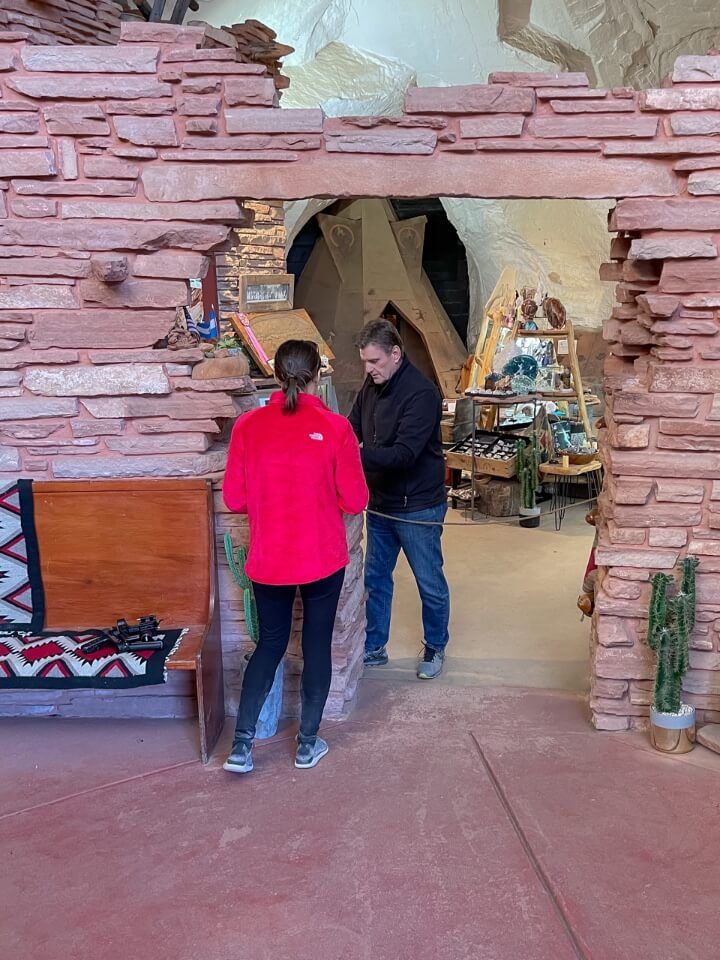 A guided tour of Moqui Cave is included at no extra cost on your visit and we highly recommend you ask as many questions as possible.
Moqui Cave remains family owned to this day and the tour comprehensively explains the fascinating family history, with plenty of pieces of art work crafted by Chamberlin himself to enjoy.
What Is Inside Moqui Cave?
Moqui Cave has four main sections. It features a large main cave connected to three smaller rooms. We will break down each section so you know exactly what to expect.
The Main Room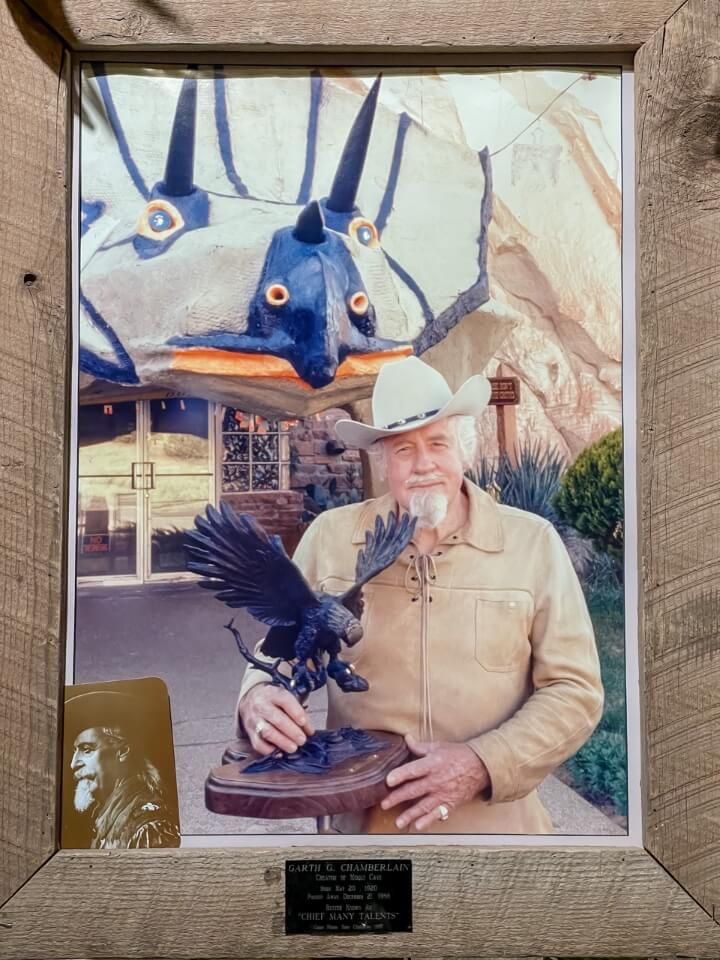 The first section of Moqui Cave is the large room where you initially enter and pay for your entry ticket.
As you walk in, admire the high ceilings and observe how the dwellings from the outside were originally built further into the cave.
This is where your tour will begin and where you will also find several artifacts on shelves.
This collection includes several Native American pieces found throughout Southern Utah. Some of these artifacts date back as far as 1,200 years ago.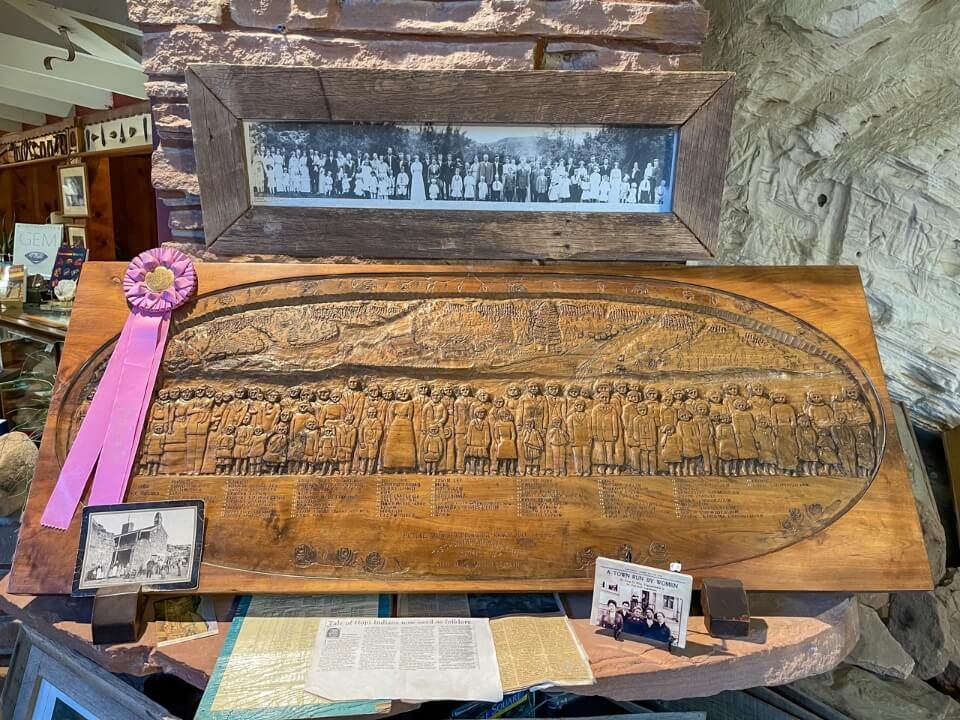 One of our favorite pieces in Moqui Cave museum was a wooden carving created by Chamberlin himself, which depicts his entire family tree.
He simply used a black and white family photo as a reference.
You can also find a large collection of dinosaur tracks, a collection of records and photographs and information on the the early-day life of The Church of Jesus Christ of Latter-Day Saints.
Note: You will likely explore this room in two halves as you visit the other rooms in an anti-clockwise direction.
Moqui Cave Bar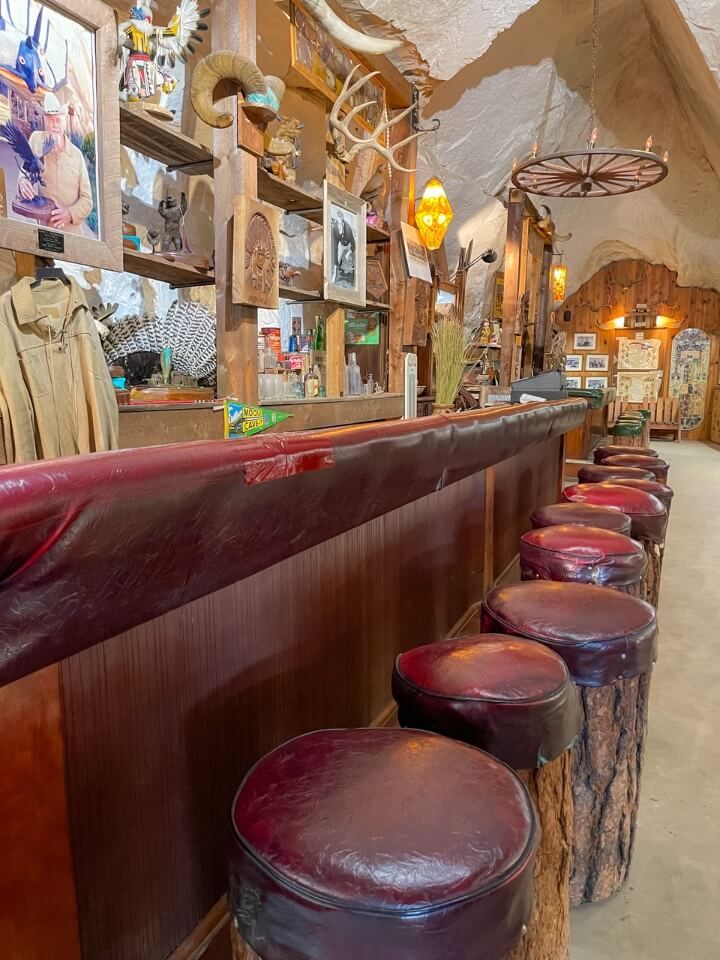 The Moqui Cave tavern features a beautiful wooden bar dating back to 1952, which was handmade by Garth.
There is also an old cash register dating back to over 140 years old, a collection of early pioneer antiques and handmade artwork.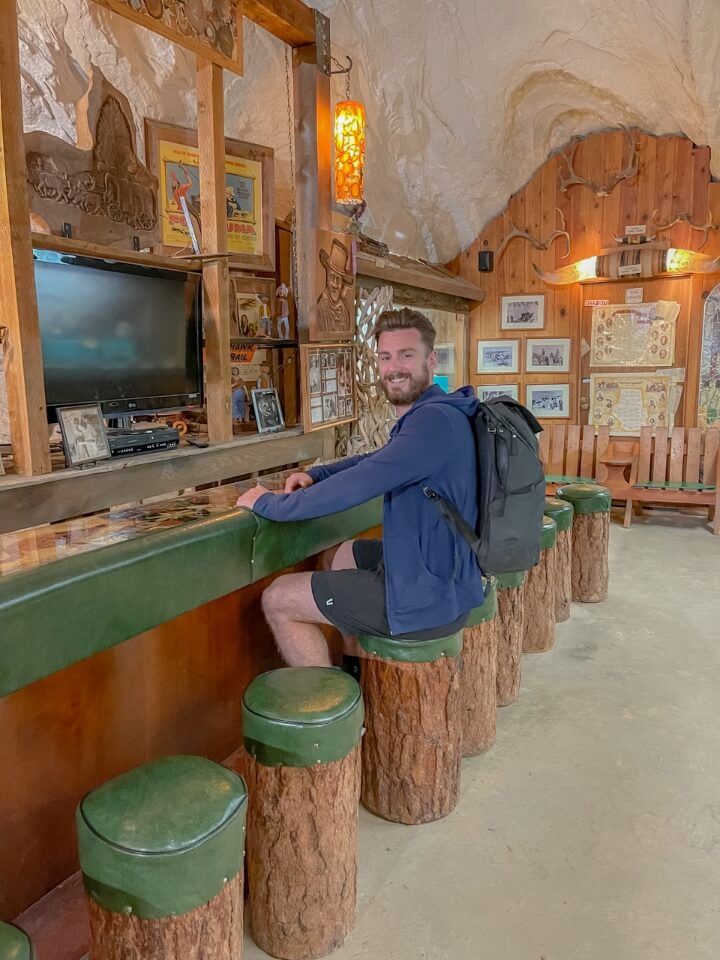 We won't spoil any of the fun stories you will learn about the bar and stage area, so you can learn about them during your visit.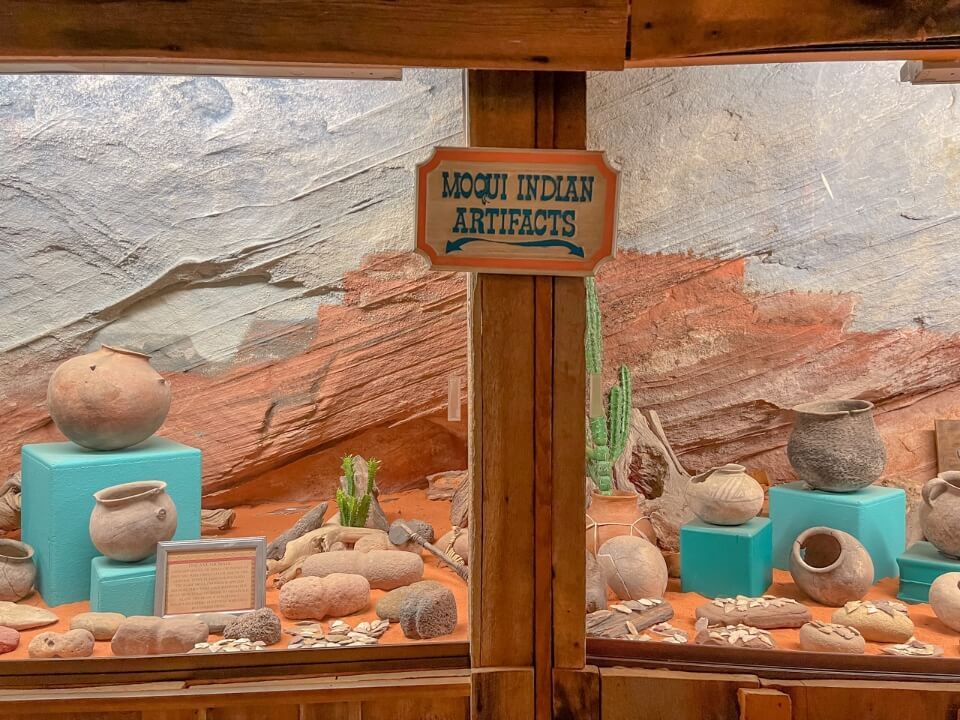 On the other side of the room, you can find large display cases of more Moqui Indian artifacts.
There are over 1,000 arrowheads in this museum, which is very impressive.
The Tepee & Fluorescent Minerals
You will walk through a small tepee to access the next portion of Moqui Cave.
On the other side of the teepee you will find the old dance hall. Take a second to imagine music blasting, acoustics bouncing and people dancing inside the cave.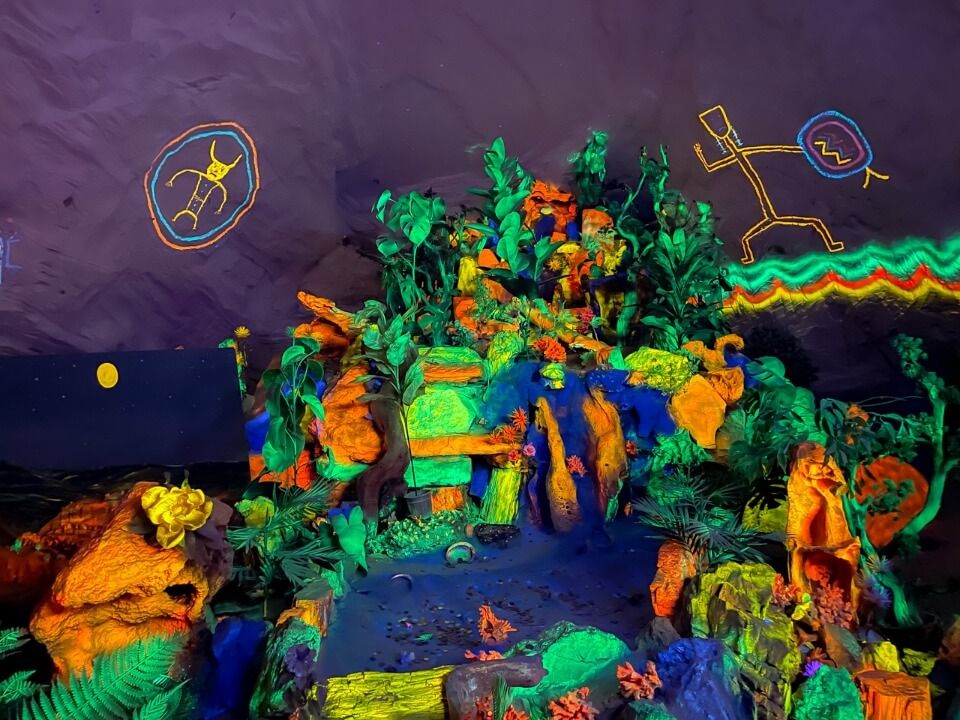 The old stage is still in place and features a fluorescent exhibit of its own.
A side room off the old dance hall features one of the largest fluorescent mineral displays in the United States.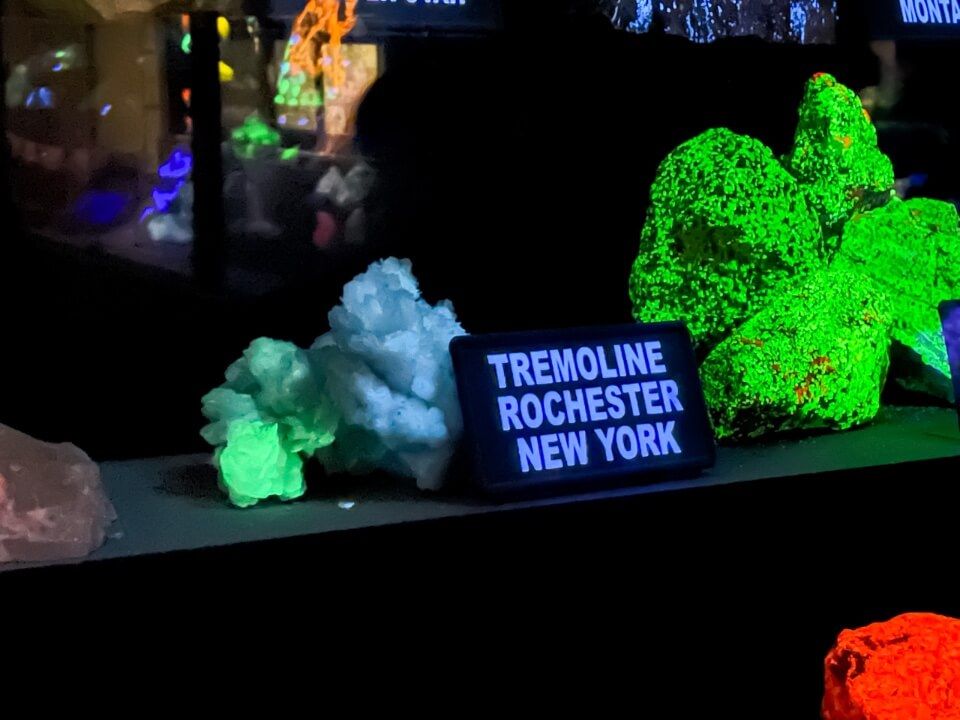 We enjoyed this part of the museum because there were samples from all around the world, including Rochester NY which isn't too far from where Kristen grew up!
The Gift Shop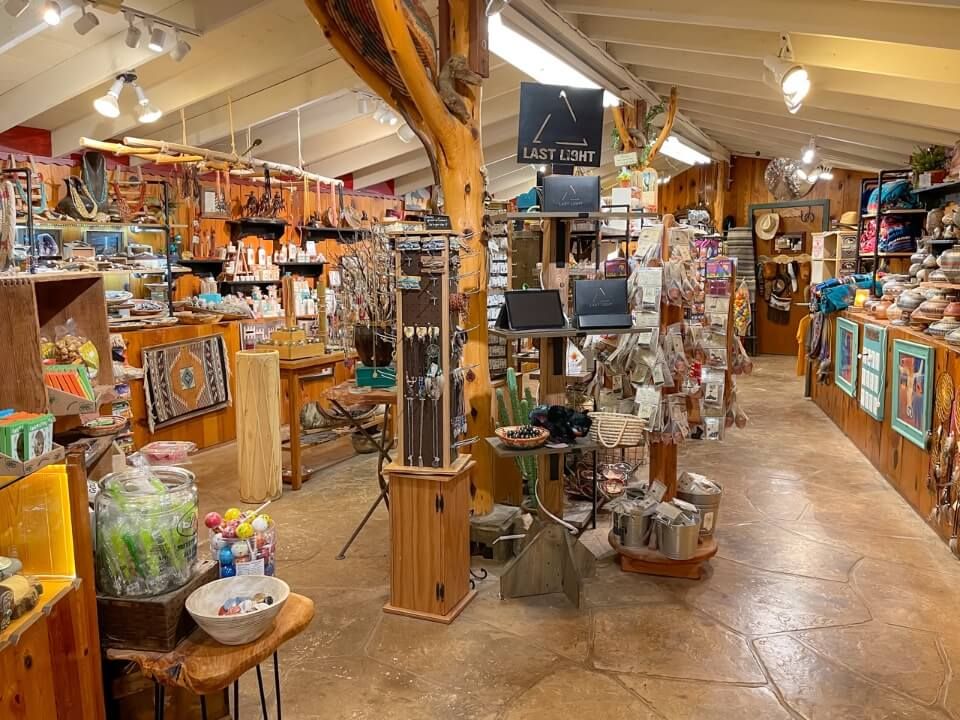 And finally, there is a small gift shop filled with handmade jewelry from 4 different tribes in the area.
The jewelry is beautiful as its made from sterling silver and genuine stones.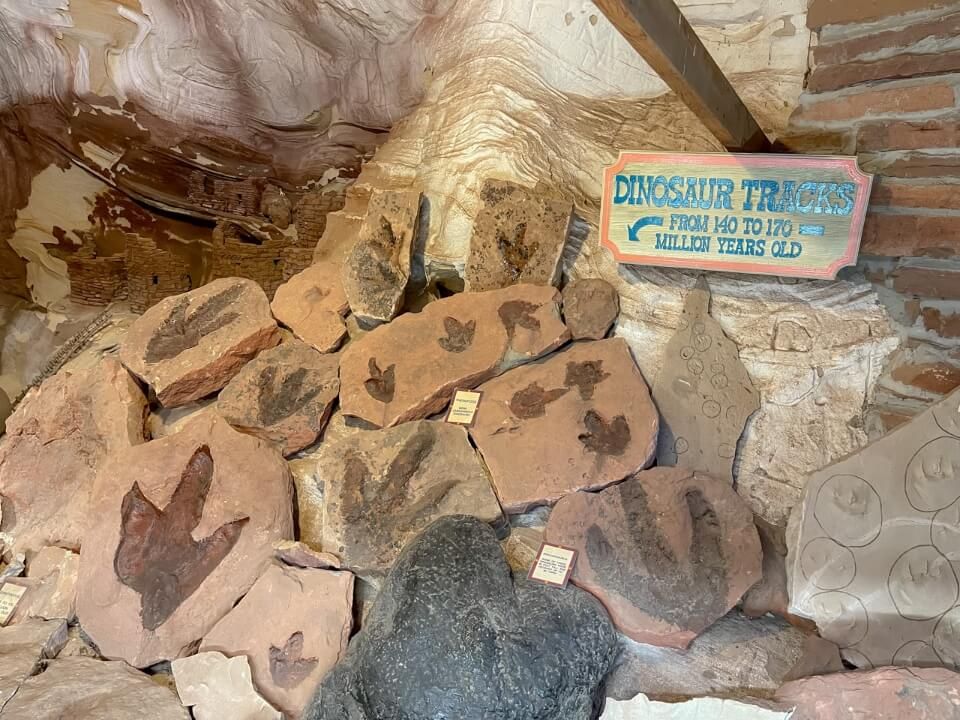 You can also find more dinosaur tracks, fossils and old photographs.
What Can You Expect?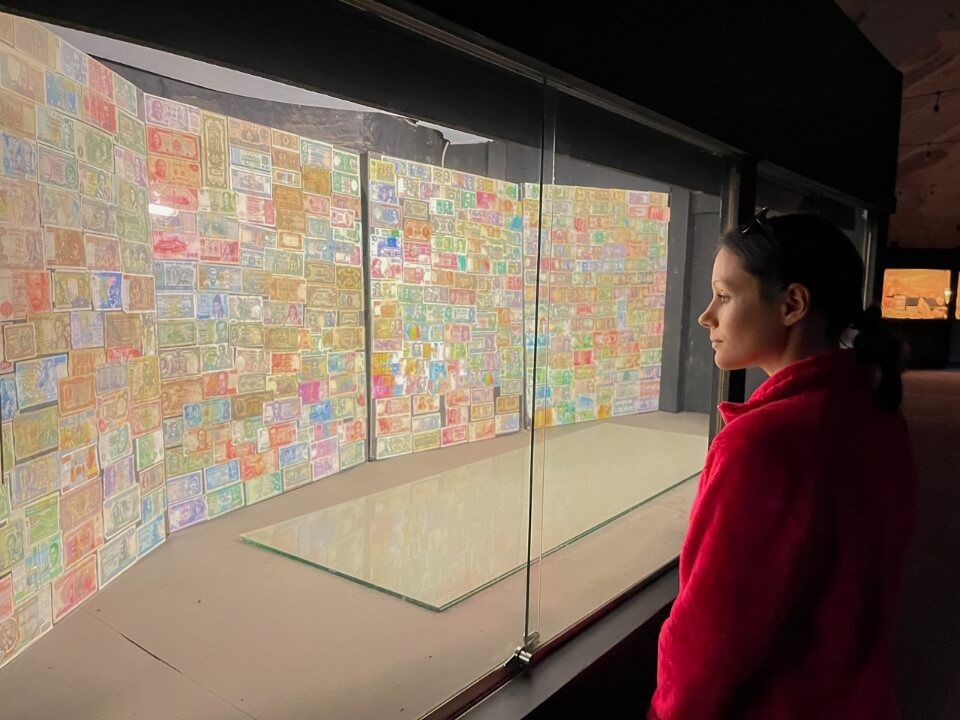 Our tour was quite lengthy because we asked a lot of questions.
We learned as much as we could about the cave and surrounding town of Kanab, and we were very happy with our decision to turn around on the highway.
The original bar in the tavern was our personal favorite part of the tour, simply because of its colorful history.
There are restrooms and a garden located right outside the Moqui Cave. There is also a dino dig where kids can unearth a velociraptor skeleton.
You can read more about the story of Moqui Cave in Kanab UT here.
Where To Stay In Kanab, Utah
The small city of Kanab Utah has a surprising amount of high quality accommodation options at extremely reasonable price points.
We have rounded up the top rated hotels as per previous guests to the area taken directly from booking.com, which we typically use to book our own hotels when traveling.
Top rated hotels in Kanab, Utah
Budget
Mid Range
Luxury
Click on each hotel to see prices for the nights you will be visiting Kanab.
Want to see the top Kanab hotels?

Read our complete guide to the 12 best hotels in Kanab Utah to see a detailed roundup of your top rated cheap, mid range and luxury hotel options.
Is Moqui Cave In Kanab Worth Visiting?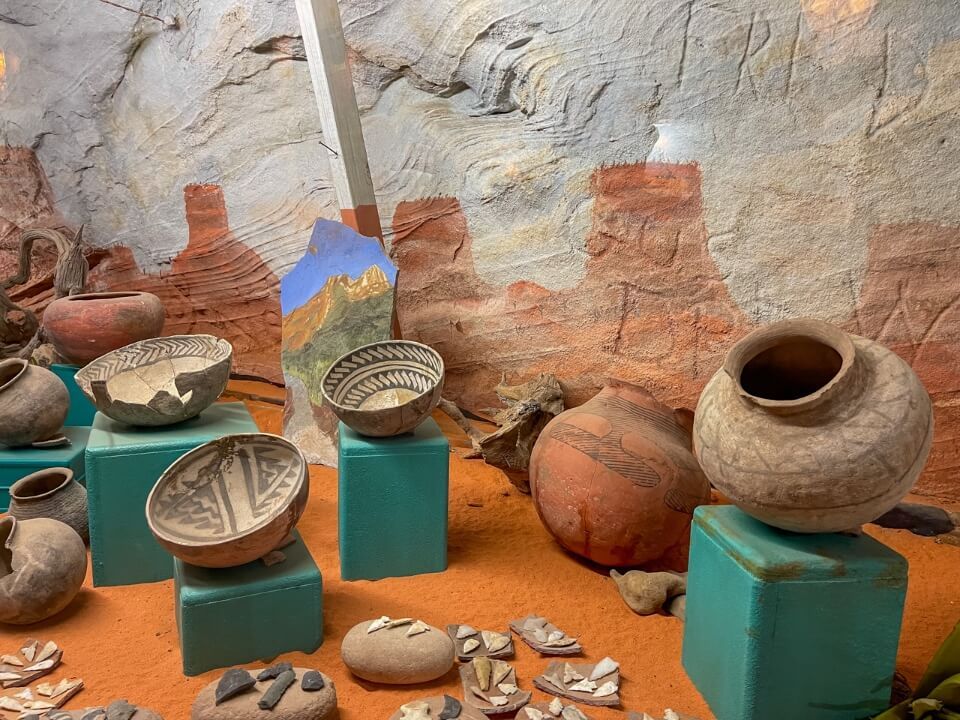 Moqui Cave is definitely worth a quick visit if you extra time to spare on your visit to Kanab. The entry price of $5 is very reasonable for the experience.
Keep in mind you this cost includes a tour on which you can ask as much as you want about the area.
However, if you are very short on time in Kanab, your time might be spent better elsewhere, especially if you want to experience some of Kanab's outdoor adventures.
The museum is very small, local and quirky, so don't go in expecting a NYC mega-museum! But sometimes the smaller ones can be the most memorable.
More Around Kanab
Utah Planning Guides
Want more Utah content? Head over to our Utah Travel Guides to explore the Mighty Five National Parks and beyond.
---
We hope this guide to Moqui Cave helps with planning your visit to Kanab!
Please let us know if you have any questions about the Moqui Cave or surrounding area of Kanab in the comments below.
Happy Travels,
Mark and Kristen
Was This Post Helpful? Pin It For Your Hike!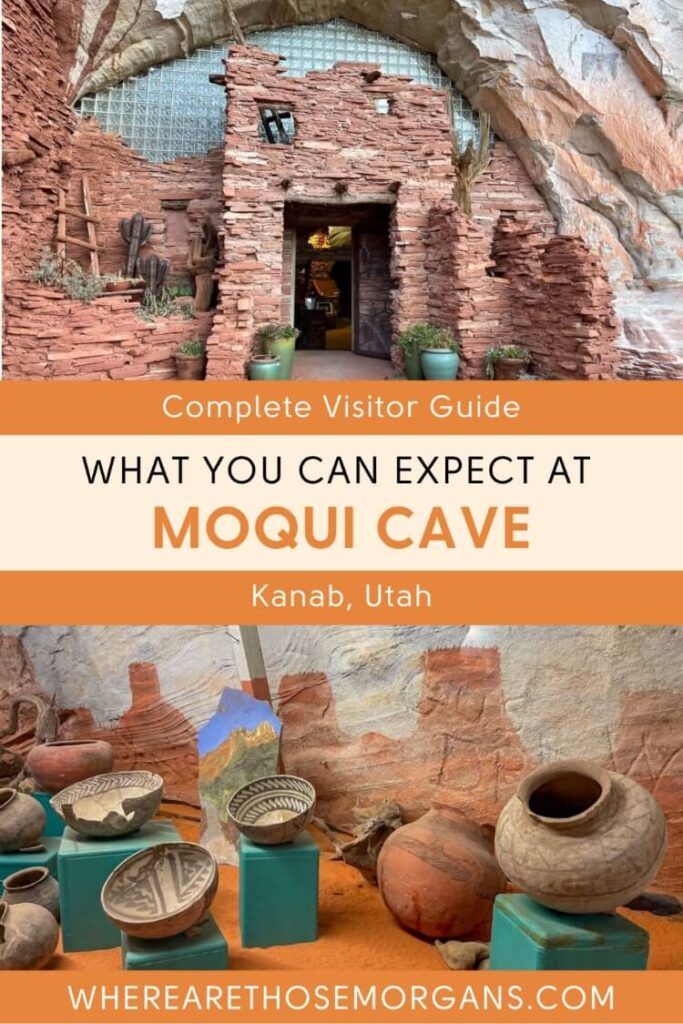 Note: This article contains affiliate links. When you make a purchase using one of these affiliate links, we may earn a small commission at no extra cost to you.
All Rights Reserved © Where Are Those Morgans, LLC. Republishing this article and/or any of its contents (text, photography, maps, graphics, etc.) in whole or in part is strictly prohibited.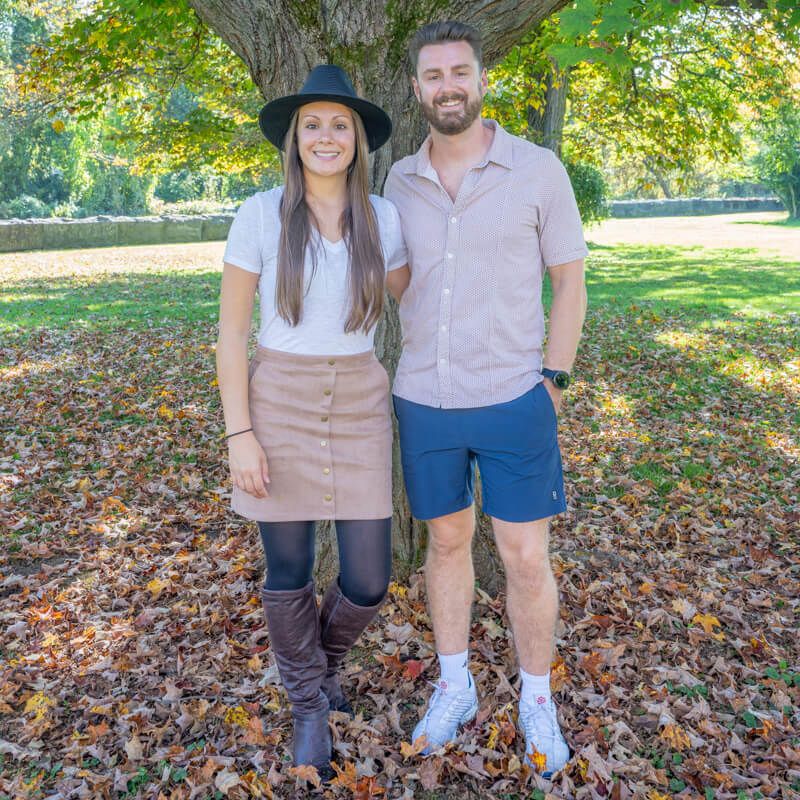 Mark and Kristen Morgan are travel, hiking and photography experts. Over the last 6 years traveling full time, they have explored more than 40 countries and 30 US states.
Their work has been featured in USA Today, Gestalten, Get Your Guide, CityPASS and Condé Nast Traveler along with various other publications.