Dinosaur Tracks Trail is a short hike leading to a summit plateau featuring several 185 million years old dinosaur prints and far reaching views near the city of Kanab in Southern Utah.
After exploring popular instagram spot Belly of the Dragon, visiting the Moqui Cave Museum and photographing Moqui Caverns Sand Caves, we quickly scrambled up to the top of Dinosaur Tracks Trail right in time for sunset.
The hike is surprisingly steep and unmaintained, with loose dirt and small stones resulting in a moderate to strenuous difficulty rating.
But once you reach the summit, soak up the views and grab a photo of your hand next to a Grallator print, you'll be glad you included this quick stop on your list of things to do in Kanab.
Let's hike the Dinosaur Tracks Trail, one of the lesser known and most fun things to do in Kanab Utah!
How Did Dinosaur Tracks Form?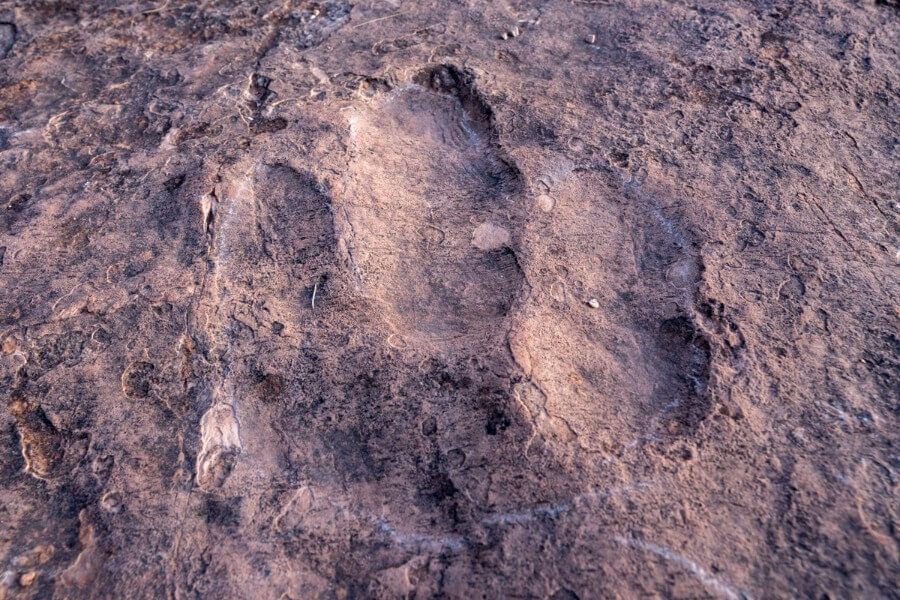 Dinosaur tracks are a type of trace fossil found all over the world when wind and water erosion reveals layers of rock dinosaurs once walked on around 245 to 66 million years ago during the Mesozoic Era.
When a dinosaur left a footprint, it was filled in with small rocks, mud and sand which eventually dried and turned into sediment.
Over time this sediment turned into hardened rock through a process known as compaction and cementation. This is how the dinosaur tracks became fossilized.
Footprints were preserved underneath this hardened rock until erosion eventually brought the dinosaur footprint back into the open surface.
These dinosaur track fossils are studied by paleontologists to understand about a dinosaur's life and environment from millions of years ago.
Where Is The Dinosaur Tracks Trail Near Kanab Utah?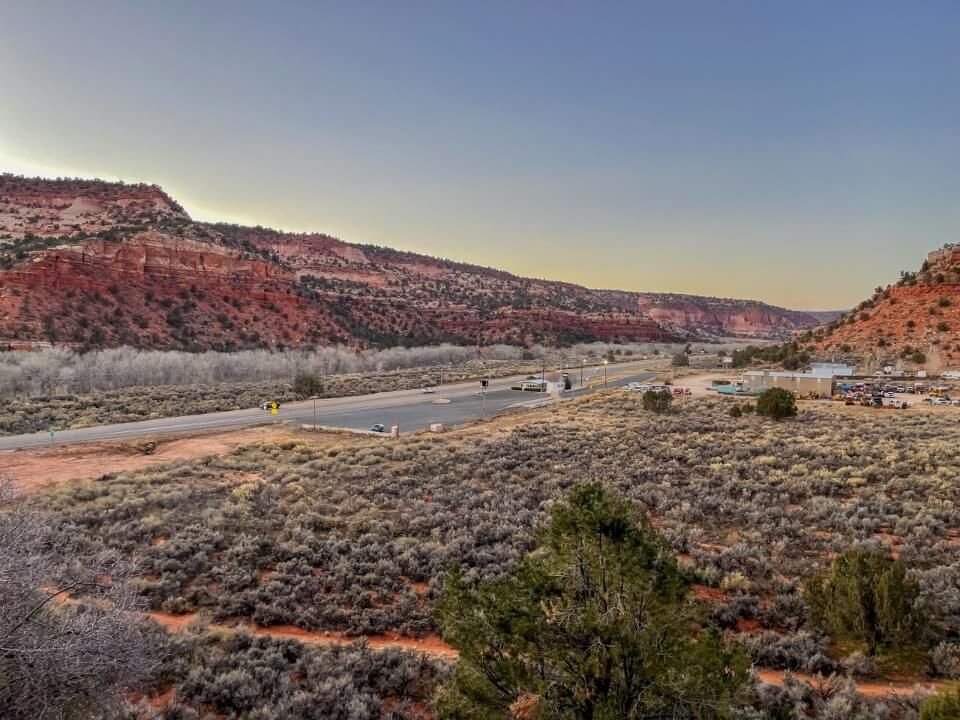 Dinosaur Tracks Trail is located 3 miles North of Kanab on US-89 at the Utah Port of Entry. It is a 4 minute drive from the city of Kanab, which makes it is easy to visit any time of day.
We missed the trailhead for Dinosaur Tracks the first time we drove by. It is not well marked or obvious, but once you know where to go it is very easy to access:
Set your Google Maps app or navigation to "Utah Port of Entry"
Or input address: 2136 US-89, Kanab, UT 84741
You need to look for a single brown colored port-a-potty on the South side of the parking lot in Utah's Port of Entry. This is where the Dinosaur tracks Trail begins.
There will most likely be several semi trucks parked around the building in this parking lot, but there will be plenty of empty spaces next to the port-a-potty.
Dinosaur Tracks Trail Kanab Utah Hiking Statistics
Trail Distance: 0.7 miles
Elevation Gain: 246 feet
Difficulty: Moderate to strenuous
Time Required: 45 minutes to 1 hour
Dogs: Allowed but must be on a leash
Best Season: Spring, Fall
Recent Comments: AllTrails
How Long Is The Hike To Dinosaur Tracks Near Kanab, Utah?
The dinosaur tracks trail hike in Kanab Utah is around 0.7 miles and it is classified as a moderate hike. But due to parts of the ascent and descent being steep with loose dirt underfoot, it may be viewed as strenuous by many hikers.
Despite being very short, this hike will take a little longer than you think.
We would suggest allowing for 1 full hour of your day to hike up, check out the dinosaur prints and descend back down the trail.
Hike Walkthrough
Starting in the parking lot, hop over the short cement wall or walk around the port-a-potty aiming for the cliff to your Southeast.
On the cliff mesa you can see a patch of deeper and more vibrant orange on a shelf around 20-30 feet off the ground. Use it as a reference point to aim for and weave your way through vegetation on any dirt path you can find.
The point of accessing the cliff is very obvious once you find it. If there is no clear path up once you reach the base of the cliff, follow the bottom until you find the path leading upward.
The trail turns right and continues along the vibrant orange colored ledge you used as a reference earlier.
Once you're almost back around to the road side part of the cliff, it turns upward and steep.
You can take any trail up to the top but be aware of how loose the soft packed dirt is and try to figure out a safe way of ascending.
Solid hiking shoes with good grips are recommended on the dinosaur tracks trail to prevent slipping.
How To Find The Dinosaur Tracks in Kanab, Utah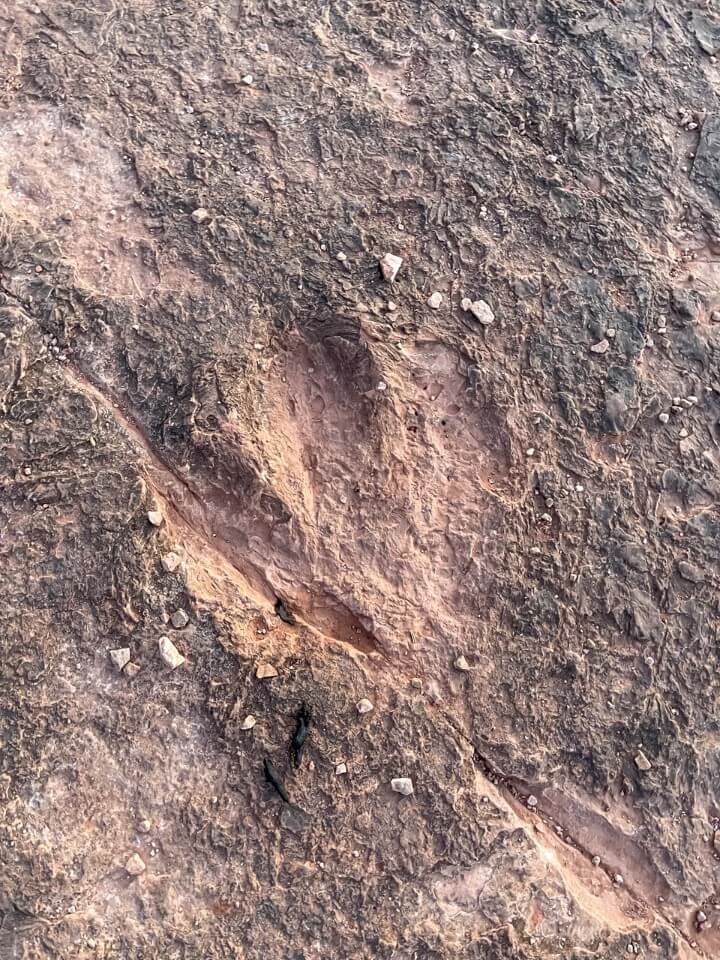 One you get to the summit of the mesa, take a moment to enjoy the views. You will find dinosaur tracks scattered throughout the top of this small plateau.
Views include the top of Hog Canyon as well as highway 89 and the surrounding area. Nothing to write home about but an added bonus when you're here for dinosaur tracks.
Search around the summit rocks for signs of dinosaur prints and tracks. Keep your eyes peeled and take 5 or 10 minutes to see how many you can find.
Some dinosaur tracks are very obvious while other footprints have eroded and faded, which makes them a little more difficult to locate.
Hiking Tips
Even though this is a relatively short trail, here are a few important tips for your visit:
The trailhead parking for this hike is directly off US-89 and it is completely free to park.
There is one porta-potty located at the trailhead (or the Utah Port of Entry parking lot).
This area might be muddy and your climb might be slippery if it has recently rained.
For most of this hike, you will be exposed in the sun with minimal shade so plan accordingly.
Want to hike more in Utah? Here are the 25 best hiking trails in Utah to add to your bucket list, including more of the top hikes near Kanab.
Best Time To Hike The Dinosaur Tracks Trail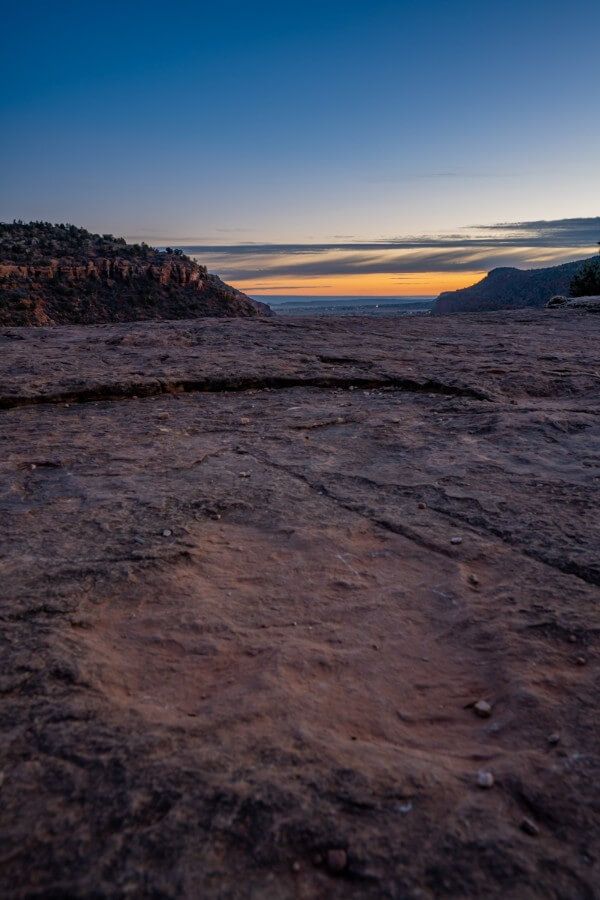 The Dinosaur Tracks Trail near Kanab Utah is accessible anytime of day and year round. However, Spring and Fall offer the most comfortable hiking conditions in this area of the American Southwest.
We hiked the Dinosaur Tracks Trail for sunset by chance but it turned out to be a fantastic elevated vantage point to see colors turning in the sky.
If you hike for sunset, don't forget a head torch and be extra careful on the descent. Sunset also means you can hike in the hot Summer months a little more comfortably.
Where To Stay In Kanab, Utah
Your best accommodation options near the Dinosaur Tracks Trail would be in Kanab, Utah. We really enjoyed the chilled vibe in Kanab and would definitely spend another night or two on our next visit to the Southwest.
Best Hotels in Kanab
Let's take a very quick look at the top rated hotels in Kanab based on previous guests ratings out of 10 as per Booking.com:
Budget
Mid Range
Luxury
Click on each hotel to see prices for the nights you will be visiting Kanab.
Want to see the top Kanab hotels?

Read our complete guide to the 12 best hotels in Kanab Utah to see a detailed roundup of your top rated cheap, mid range and luxury hotel options.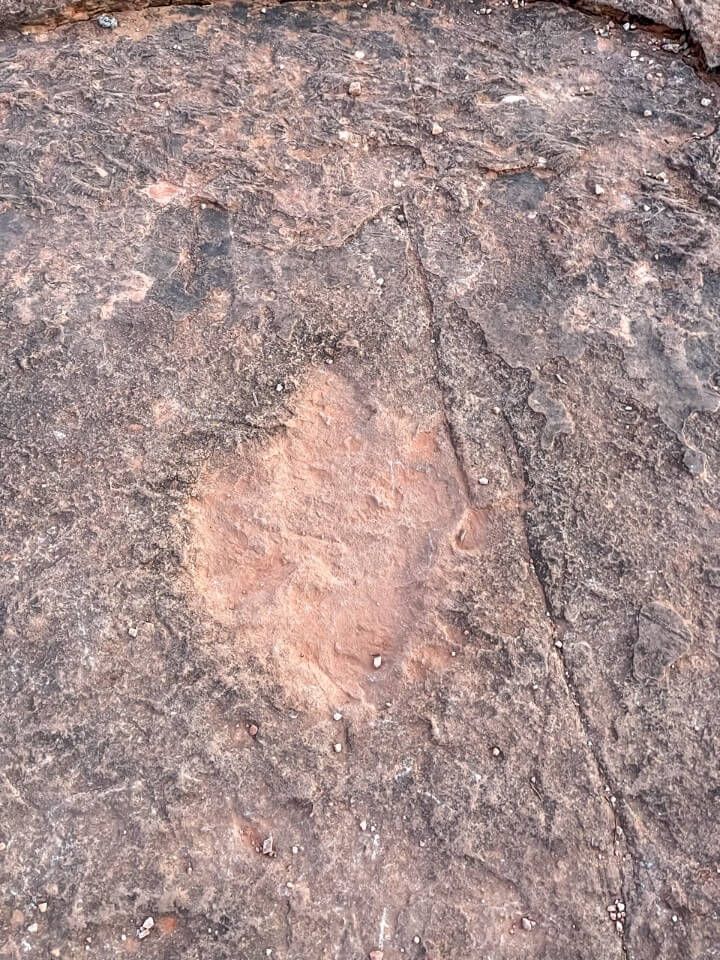 Is The Dinosaur Tracks Trail Worth Visiting in Kanab, Utah?
Kanab is one of the best places to visit on a vacation to Utah and we would say Dinosaur Tracks Trail is worth hiking, but only if you have plenty of time spare in your Kanab itinerary.
We had the Dinosaur Tracks Trail entirely to ourselves from start to finish and it was a nice reprieve after some of the busier areas around Kanab, Utah.
We spent about an hour on this hike because we really took our time looking for dinosaur tracks and enjoying summit views. It was a very peaceful spot.
More Kanab Guides
More Utah And Arizona Guides
Want more Utah content? Head over to our Utah Travel Guides to explore the Mighty Five National Parks and beyond.
---
We hope this guide to hiking the Dinosaur Tracks Trail in Kanab, Utah helps you find the tracks along the trail!
Please let us know if you have any questions about the Dinosaur Tracks or the surrounding area of Kanab in the comments below.
Happy Hiking,
Mark and Kristen
Was This Post Helpful? Pin It For Your Hike!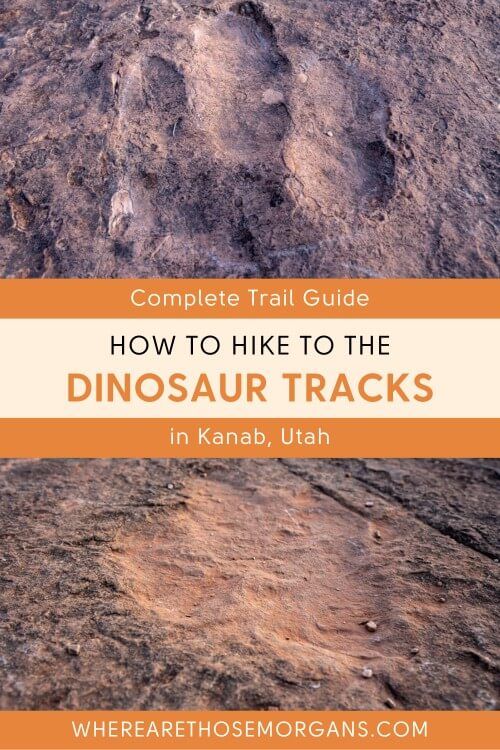 Note: This article contains affiliate links. When you make a purchase using one of these affiliate links, we may earn a small commission at no extra cost to you.
All Rights Reserved © Where Are Those Morgans, LLC. Republishing this article and/or any of its contents (text, photography, maps, graphics, etc.) in whole or in part is strictly prohibited.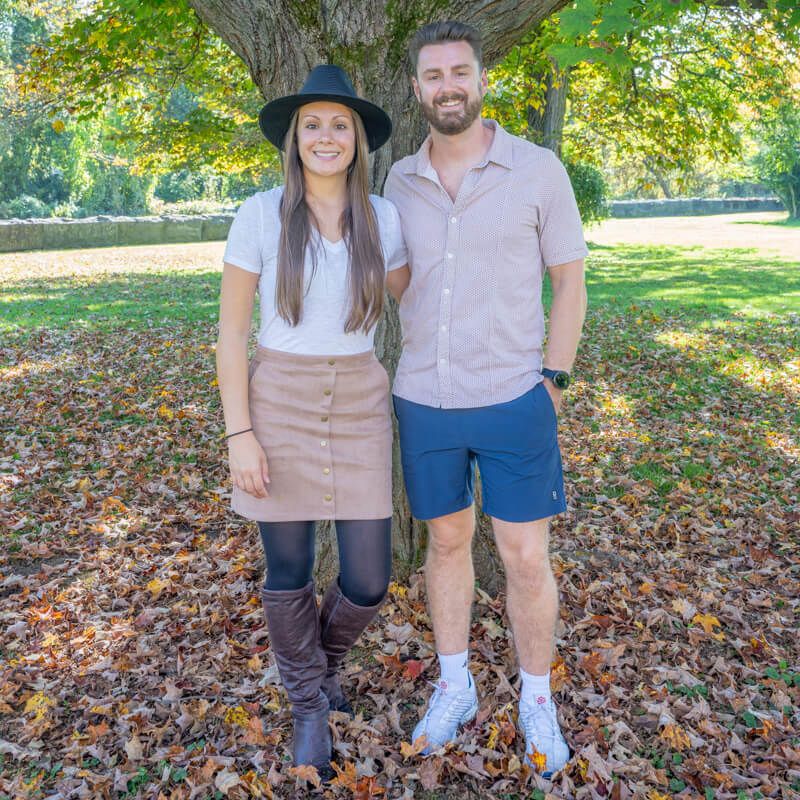 Mark and Kristen Morgan are travel, hiking and photography experts. Over the last 6 years traveling full time, they have explored more than 40 countries and 30 US states.
Their work has been featured in USA Today, Gestalten, Get Your Guide, CityPASS and Condé Nast Traveler along with various other publications.