Are you thinking about visiting the Seven Magic Mountains in Las Vegas? We took the short drive down during our latest trip to Vegas and we're going to explain exactly how you can visit the vibrantly colored boulder tower art installation known as Seven Magic Mountains in Nevada.
Is it worth the drive and time on your Las Vegas itinerary to see the Seven Magic Mountains?
If you're looking for a quick day trip option to get away from the Las Vegas Strip for a few hours or you're interested in photography, Seven Magic Mountains is definitely worth your time.
Here's how we will help you plan your visit to Seven Magic Mountains:
Seven Magic Mountains location and how to get there from Las Vegas
Parking at the art exhibit
Photos of Seven Magic Mountains
Exactly what you can expect when you arrive
Our overall verdict of whether it is worth visiting
Let's start planning your trip to the Seven Magic Mountains in the Mojave Desert near Las Vegas, Nevada!
*Please note this post may contain affiliate links. If you click on one, we may earn a small commission at no extra cost to you! Read more in our disclosure policy.*
What Exactly Is Seven Magic Mountains?
Seven Magic Mountains is a public art exhibit consisting of seven multicolored boulder towers stacked more than thirty feet high, created by Swiss artist Ugo Rondinone and located in the Ivanpah Valley of the Mojave Desert near Las Vegas, Nevada.
The strikingly vibrant art installation looks entirely out of place in the arid desert surrounded by dull mountains and Interstate 15.
But that is precisely the ingenuity of this creative concept. Seven Magic Mountains represents the middle ground between old and new, naturally made and man made.
Each of the individual structures was created by stacking between three and six locally sourced boulders painted in loud, flamboyant and dazzling colors on top of one another.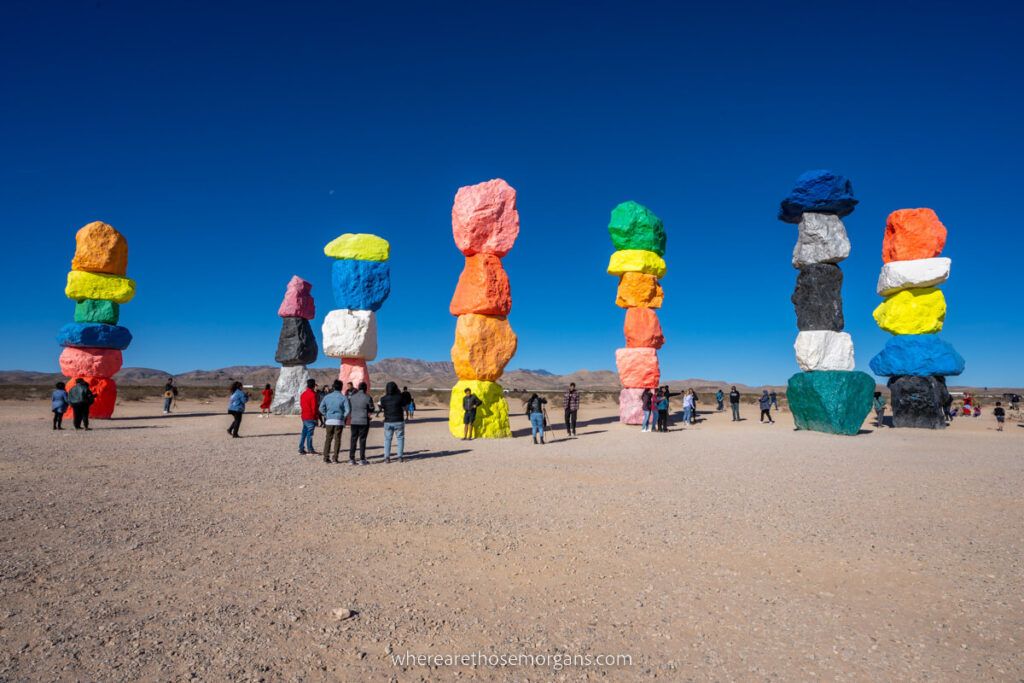 Is Seven Magic Mountains Still Open?
Seven Magic Mountains is open 24 hours a day to the public without restrictions or barriers. At one time there were barriers in place surrounding the art exhibit but they are no longer an issue.
Originally opened to the public in May 2016, the Seven Magic Mountains exhibition was only slated to be a temporary fixture for two years.
However, the popularity of Seven Magic Mountains surpassed expectations and for now there is no concrete date in place for its eventual closure.
Where Is Seven Magic Mountains?
Seven Magic Mountains is located near Jean Dry Lake on Interstate 15 around ten miles from south Las Vegas in Nevada.
The exact location of these brightly painted and vividly colored boulders was chosen to represent the half way point between nature and the artificially constructed city of Las Vegas.
How Far Is Seven Magic Mountains From The Las Vegas Strip?
Seven Magic Mountains is exactly 21 miles from the Bellagio Fountain, which is half way up the Las Vegas Strip.
If you stay on the south end of the strip near Luxor the distance is 20 miles. But if you stay on the north end of the strip near the Venetian the distance is 22 miles.
How To Get To Seven Magic Mountains From Las Vegas
Interstate 15 and Las Vegas Blvd run parallel to one another and either road will take you from the Las Vegas Strip to Seven Magic Mountains.
If you take I-15, you will need to exit onto Las Vegas Blvd either at Speed Vegas or at the Chevron garage near Jean and Goodsprings.
Anyone driving from Los Angeles to Las Vegas will naturally pass by Seven Magic Mountains on the way into Vegas.
Take the slip road at the Chevron garage to stop at the art installation on your way in.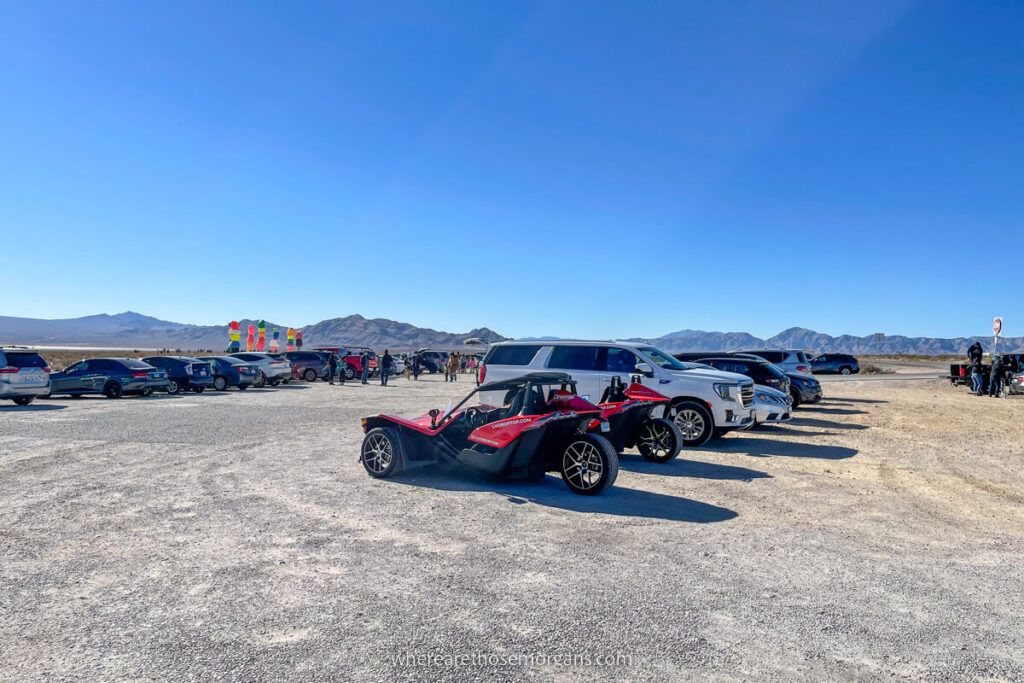 Parking At The Exhibit
Parking for Seven Magic Mountains is located off Las Vegas Blvd. The gravel parking lot has plenty of space to accommodate visitors even during peak hours around lunch time.
We recommend you type "Seven Magic Mountains Parking" into your GPS or Maps app of choice. Or you can click here to load up the exact parking spot on Google Maps now.
Check to see if I-15 or Las Vegas Blvd is the quickest route based on live traffic at the time of your visit.
You can see Seven Magic Mountains from the parking lot and it's just a short walk to the exhibit.
Seven Magic Mountains Entry Cost
There is no entry cost or parking fee associated with visiting Seven Magic Mountains. This is a free to visit art installation open to the public 24 hours a day 365 days a year.
Not having to pay for something is always a nice bonus, but this is especially true in Las Vegas!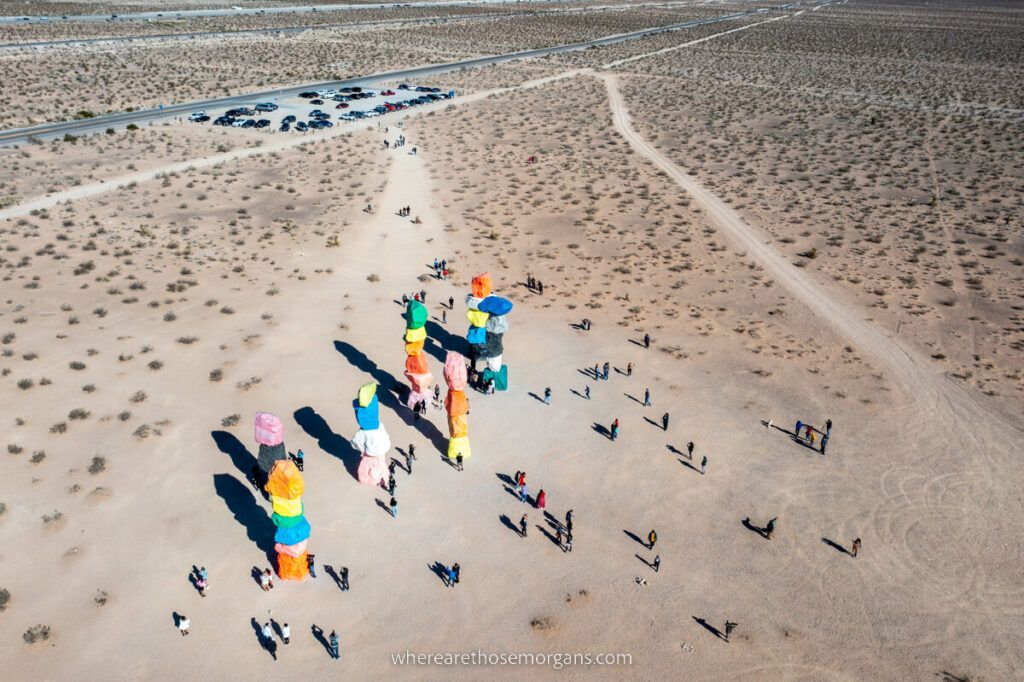 Seven Magic Mountains Photography
Most people are visiting Seven Magic Mountains to take photos. After all, it is an incredibly photogenic art exhibit in the middle of a dry desert.
We took our camera and we flew our drone quickly to snap a few arial photos of Seven Magic Mountains. There were several others flying drones and we waited our turn so the noise wasn't too much for everyone else below.
Are you going to Seven Magic Mountains for a photoshoot or to shoot instagram photos?
You should be aware that it is almost always busy here. If you want to grab some images with nobody else around, you are going to have to come at sunrise.
Photos Of Seven Magic Mountains In Las Vegas
We would have preferred to visit the colorful boulders at sunrise or sunset for soft light and much better photos. However, our itinerary fell another way and unfortunately we couldn't make dawn or dusk.
The vibrant rock towers would be an excellent photo location for pro or serious hobbyist photographers who have the chance to visit during golden hour.
Here are just a few of the photos we took during our visit, starting with close ups and ending with drone photos.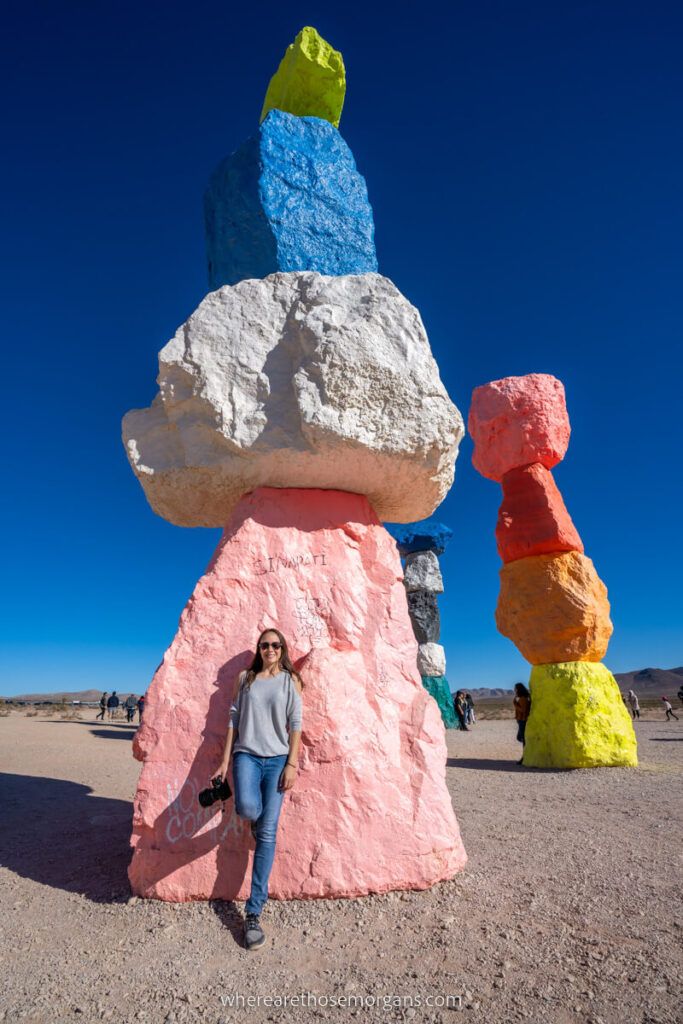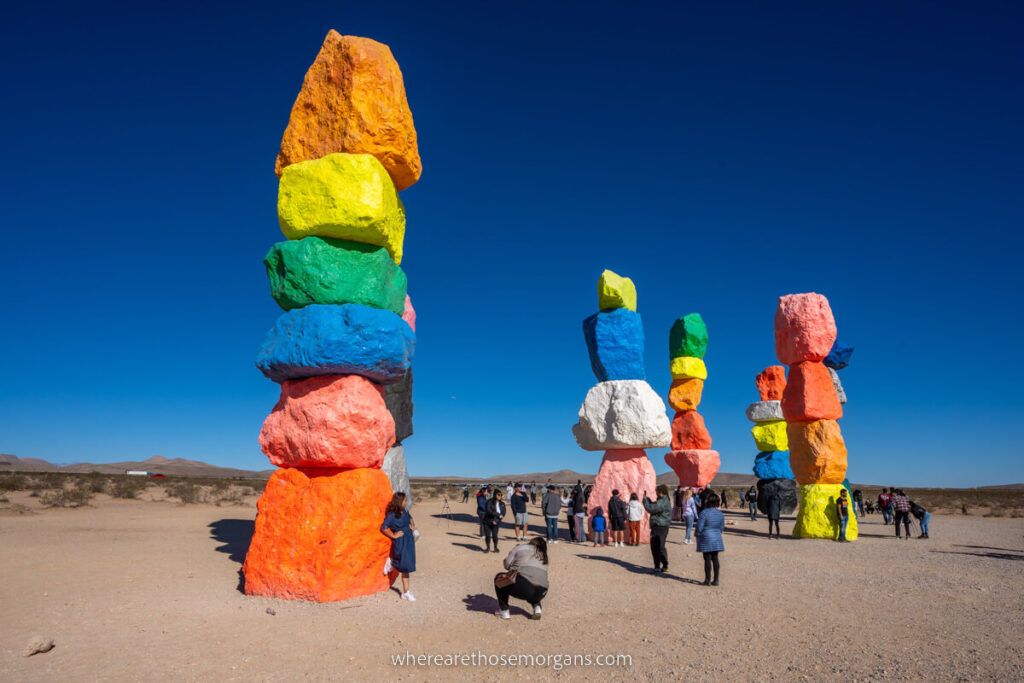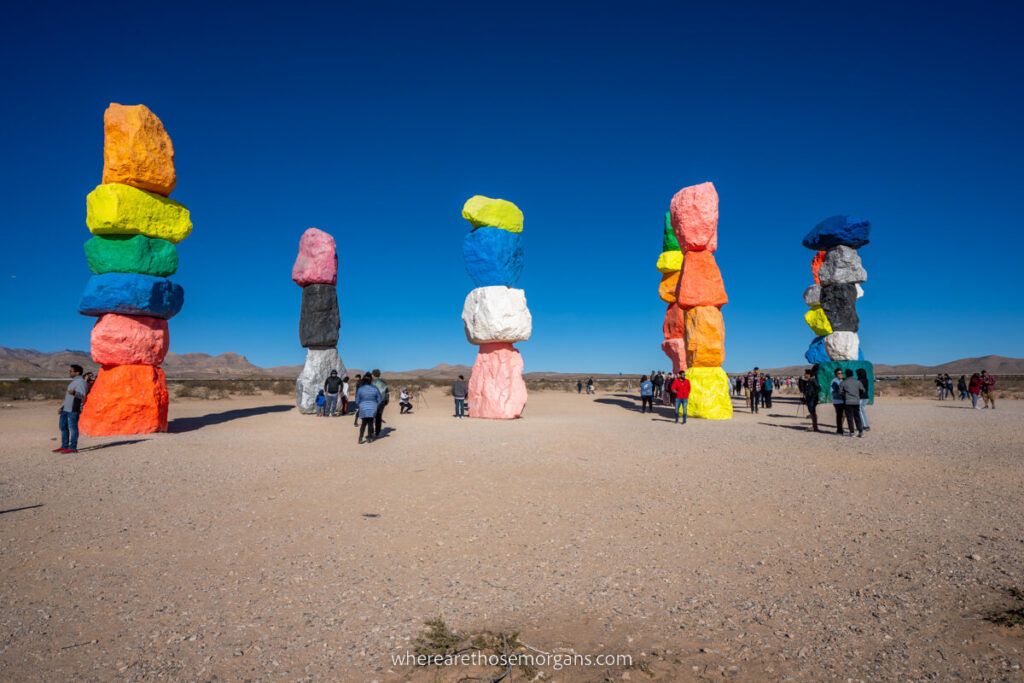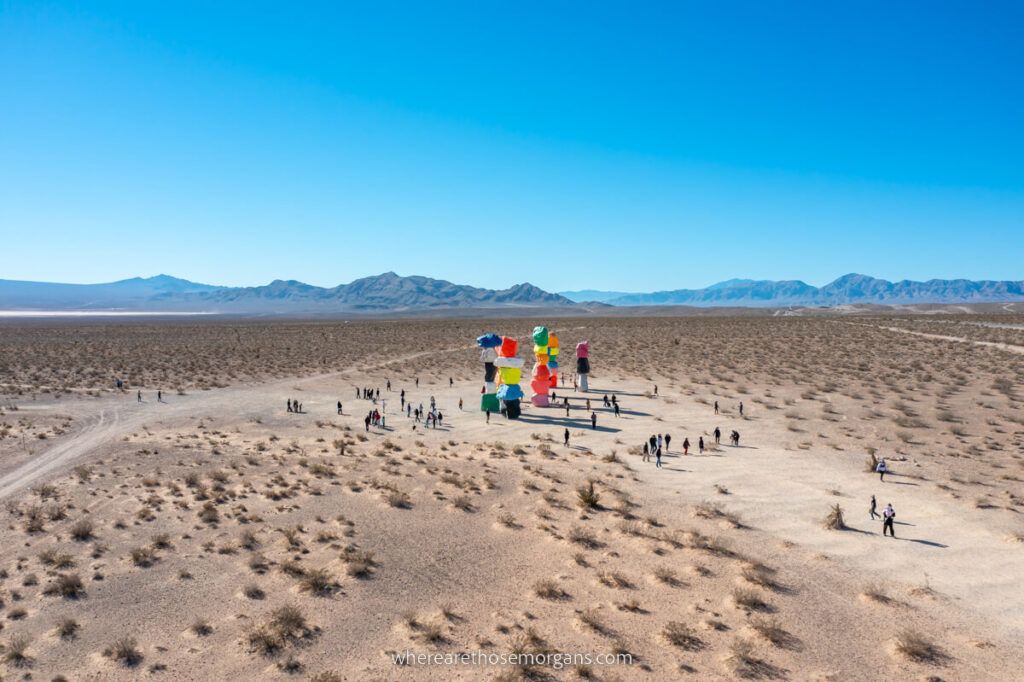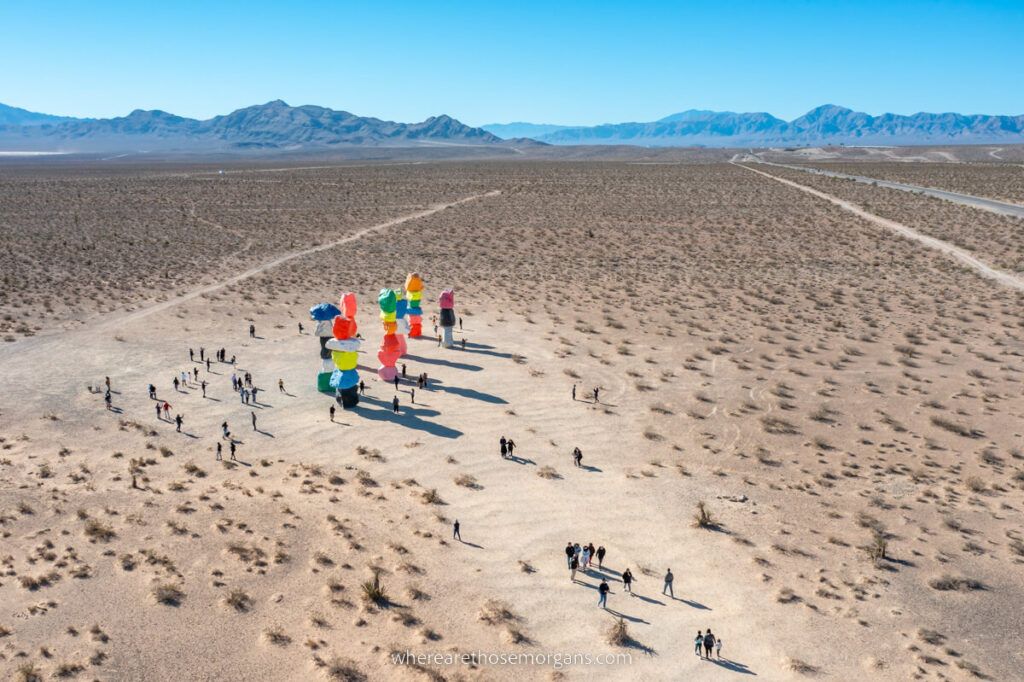 Exactly What You Can Expect
We think Las Vegas is one of the best places to visit in the USA and Seven Magic Mountains is an easy day trip option.
But what exactly can you expect to find when you arrive at the tall boulder stacks?
Crowds
Las Vegas is a year round tourist magnet and this is a popular attraction within easy drive of the Vegas Strip. So, the first thing you can expect is crowds.
If you want to avoid crowds, we recommend visiting between 6-8am or after sunset once the crowds thin.
We have to say that the sheer volume of people on site was by far the worst part of the overall experience during our visit. But that was our own fault for visiting at eleven in the morning.
Accessibility
Walking to the art exhibit is easy, flat and takes no longer than a few minutes.
The dirt path is made up of small stones and can be uneven but it should be no issue for robust strollers or wheelchairs. We even saw someone riding one of those electric self balancing hoverboard scooters.
If you want to find a quieter or unique spot to take photos you will have to walk among untrodden desert vegetation.
The Exhibit
We were pleasantly surprised by the art installation itself.
It isn't gimmicky or pretentious. Instead, it is curiously thought provoking once you can see past the endless photo shoots and consider its deeper meaning.
You can walk around, between and through each of the boulder towers as you please.
Most people will be standing up against a colorful boulder at the base of a tower for perspective photos.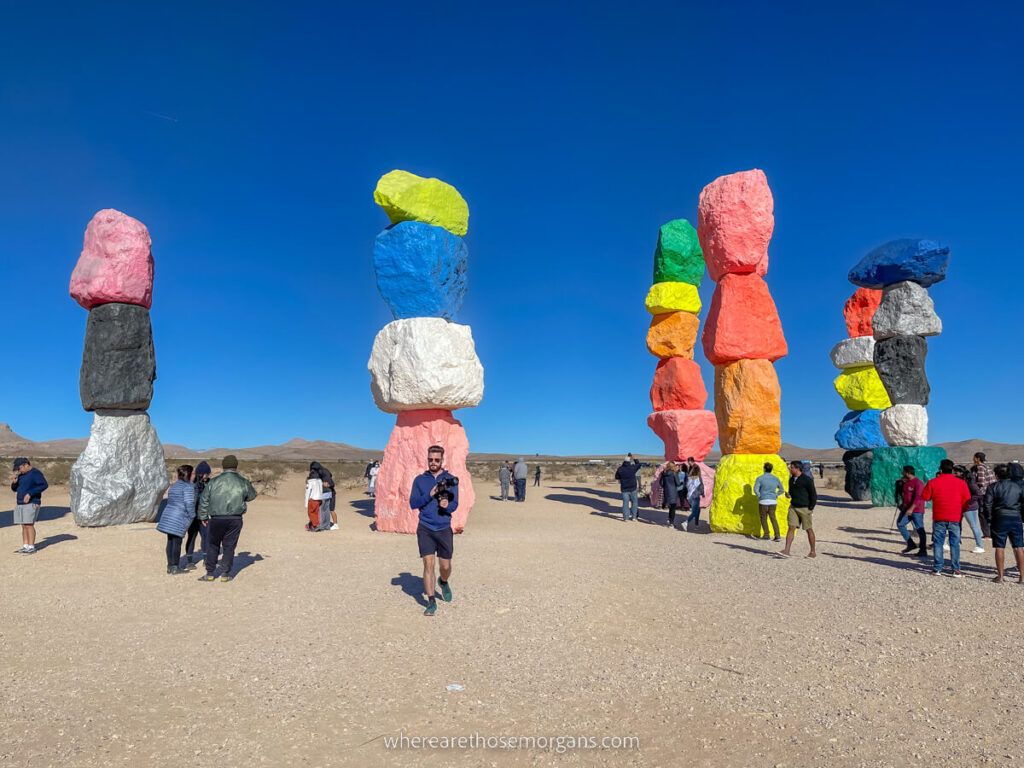 Our Experience
We needed to get away from the Vegas Strip for a few hours during our third visit to Sin City, so we grabbed our camera and drone, hit the desert roads and set our GPS for Seven Magic Mountains.
It was approaching lunch time and despite visiting Las Vegas in November, the temperature was warm enough for jeans and a light sweater. The sky was a deep blue and the sun was blazing.
We tried to wait for a cycle of crowds thinning but it never really came so we didn't stick around too long. In total, we were on site for no longer than 30 minutes.
If we were to go back for a second visit, we would arrive at Seven Magic Mountains around one hour before sunrise so we could shoot night photography and sunrise photography.
Is Seven Magic Mountains Worth Visiting?
Seven Magic Mountains is definitely worth visiting for those on a longer vacation to Las Vegas, Nevada.
If you only have one or two days in Vegas, we would say leave this for next time.
However, if you have three days or more for your Las Vegas itinerary, we would suggest combining this fun art installation with a trip to Hoover Dam.
Our Popular Las Vegas Guides
Things To Do – Do you know exactly what you will do in Vegas? If not sure yet, read our ultimate guide to the 40 top things to do on and off the Las Vegas strip both on and off the famous strip.

Best Hotels – Which of the iconic hotels will you stay at on the strip? Read our comprehensive guide to the 25 best Las Vegas hotels on the strip to see which looks best for you.

Best Shows – Do you know which Vegas shows you want to watch? Here are the 30 best shows in Las Vegas to help choose the perfect experience for your visit.

November – Planning a visit to Vegas in Autumn? Here are 10 key things you need to know about taking a trip to Las Vegas in November.

Food Tour – Want to try something unique in Vegas? Read our review of the Las Vegas Secret Food Tour to see if tasting celebrity chef dishes is a good fit for your travel plans.
Our Las Vegas Day Trip Guides
Day Trips – Planning a day trip on your visit to Vegas? Here are the 10 best day trips from Las Vegas with details on how to DIY or take a tour.
Death Valley – Want to stand at the lowest point in North America? Plan your day trip from Las Vegas to Death Valley with these two action packed itineraries.
Valley of Fire – The most photogenic landscape near Las Vegas, here's our complete guide to the 15 best things to do on a visit to Valley of Fire state park.
Fire Wave – Exactly what you can expect from hiking Fire Wave Trail in Valley of Fire State Park (the most popular thing to do).
Red Rock Canyon – Looking for another awesome place to hike near Las Vegas? Here's our guide to the 10 top hiking trails at Red Rock Canyon less than half an hour from the Vegas strip.
Hoover Dam – Are you planning to visit the Hoover Dam on your trip to the US southwest? Read our complete guide to visiting Hoover Dam from Las Vegas and exactly what you can expect.
Our Popular US Southwest Guides
Grand Canyon – A must visit landscape, here is our ultimate guide to visiting Grand Canyon South Rim and our popular hiking guide the 17 best hikes at Grand Canyon South Rim.

Sedona – One of our favorite places to visit in the US, here are our guides to the 20 best things to do in Sedona, the 20 best hikes in Sedona and the perfect Sedona itinerary.

Zion – One of the most popular US national parks, here are our guides to the 20 best hikes in Zion and the perfect one day Zion itinerary.
Want more Nevada content? Head over to our Nevada Travel Guides to explore State Parks, beautiful landscapes and the best things to do in Las Vegas.
We hope this guide to visiting the Seven Magic Mountains helps with planning your visit to Las Vegas, Nevada!
Please let us know if you have any questions about visiting Seven Magic Mountains or Las Vegas below in the comments.
Happy Travels,
Mark and Kristen