Are you thinking about driving from Las Vegas to visit the Hoover Dam? We took the short drive down to the massive concrete structure during our latest trip to Vegas and we're going to explain exactly how you can visit one of America's seven modern civil engineering wonders at the Hoover Dam near Las Vegas in Nevada.
Is it worth the drive and time on your Las Vegas itinerary to see the Hoover Dam?
Visiting the Hoover Dam is definitely worth it if you have plenty of time on your itinerary for sightseeing around Las Vegas or you are planning to drive to Grand Canyon South Rim.
However, if you're short on time in Vegas or you prefer hiking, there may be better alternatives.
Here's how we will help you plan your visit to the Hoover Dam:
Where is Hoover Dam and how to get there from Las Vegas
Parking options near the dam
Photos from our trip
Exactly what you can expect when you arrive
Our overall verdict of whether it is worth visiting
Let's start planning your drive from Las Vegas to the Hoover Dam in Nevada!
What Exactly Is The Hoover Dam?
The Hoover Dam is a 726 feet high concrete arch gravity dam spanning the Arizona-Nevada state border lines in the Black Canyon of the Colorado River, containing the onrushing waters of the Colorado River and Lake Mead.
Construction began in 1931 during the Depression and took less than 5 years to complete. Four tunnels were carved into the flanking canyon walls to divert the mighty Colorado River so workers could access a dry river bed.
By 1935 the Hoover Dam was complete and two years later the hydroelectric generators were online. The dam controls flooding of the Colorado River, providing energy and water to millions of homes.
Today, the National Historic Landmark is the most visited dam in the world with approximately 1 million tourists walking across the state lines between Nevada and Arizona each year.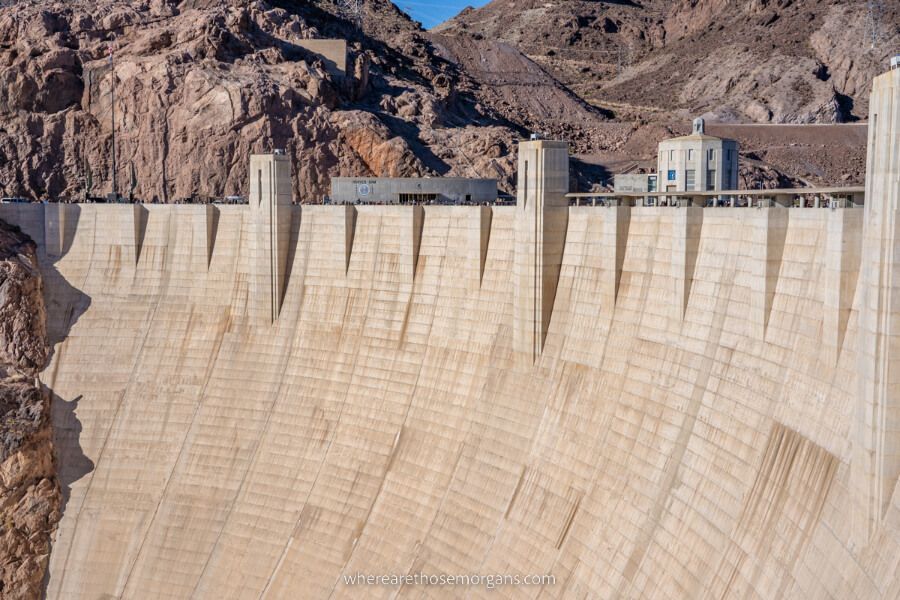 Fun Facts About The Hoover Dam
Let's take a quick look at some fun and fascinating facts about the Hoover Dam.
The Hoover Dam was named after President Herbert Hoover (Hoover archives).
Hoover Dam is as tall as a 60 story building.
The base of the Hoover Dam is as thick as two football fields are long (NPS).
It was the highest dam in the world upon its completion in 1935.
A road could be paved from NYC to San Francisco with the amount of concrete used to build the Hoover Dam.
Water has never gone over the top of the Hoover Dam.
Two spillways positioned 27 feet below the top of the dam have only been used twice, once during a test in 1941 and once during a flood in 1983.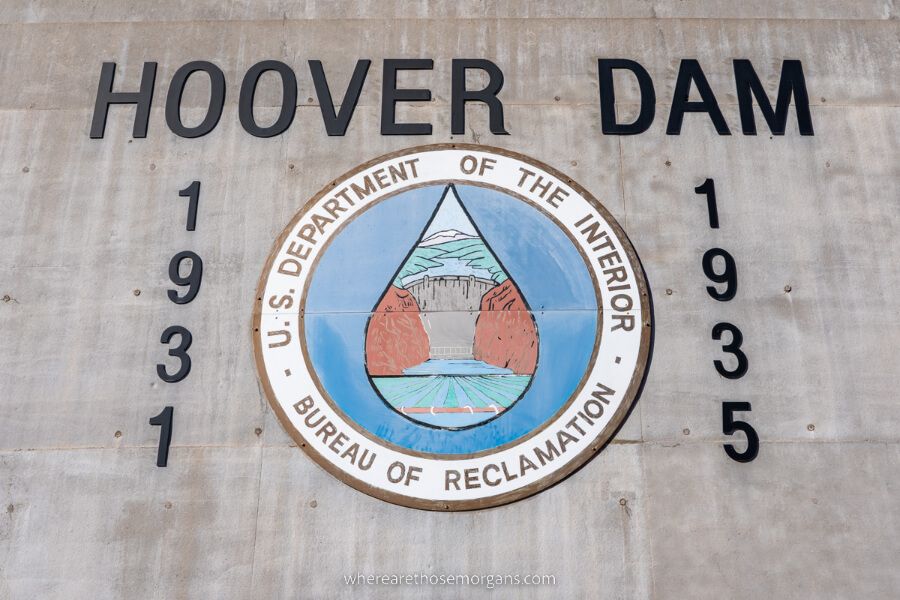 Where Is The Hoover Dam?
The Hoover Dam is located in the Black Canyon of the Colorado River on the state line intersection of Nevada and Arizona, around 35 miles southeast of Las Vegas, Nevada.
Black Canyon is so named because the canyon walls in this area were formed by black volcanic rocks.
The exact location of the Hoover Dam was strategically selected due to its enormous potential for creating hydroelectric power and irrigation, accessibility and geologic material.
The Google Map below shows the distance and route from Las Vegas to the Hoover Dam. You can click or touch the map to move around the area and familiarize yourself with the local geography.
How Far Is Hoover Dam From The Las Vegas Strip?
The Hoover Dam is 35.6 miles drive from the Bellagio Fountain half way up the Las Vegas Strip.
If you stay on the south end of the strip near Luxor the distance is 35.5 miles. But if you stay on the north end of the strip near the Venetian the distance is 36.3 miles.
How To Get To Hoover Dam From Las Vegas
You can reach the Hoover Dam from the Las Vegas Strip via either I-215 and I-11 or via I-515 and I-11. The good news is you have a choice between driving through or around the southeastern part of Las Vegas.
Our advice is to set your GPS or Maps App of choice for "Hoover Dam" right before you set off from Las Vegas. This will give you a live and current traffic evaluation, which will show the quickest route to reach your destination.
We recommend stopping in Boulder City to visit the Railroad Museum and driving up Lakeshore Road on the way back to Vegas.
How Far Is Hoover Dam From Grand Canyon?
Hoover Dam is 247 miles and 3h 47 min drive from Grand Canyon Village in the major touristy area of South Rim.
Driving Las Vegas to Hoover Dam to Grand Canyon South Rim is a very popular day trip or overnight trip experience.
You would take US-93 S, I-40 E and AZ-64 N to reach South Rim.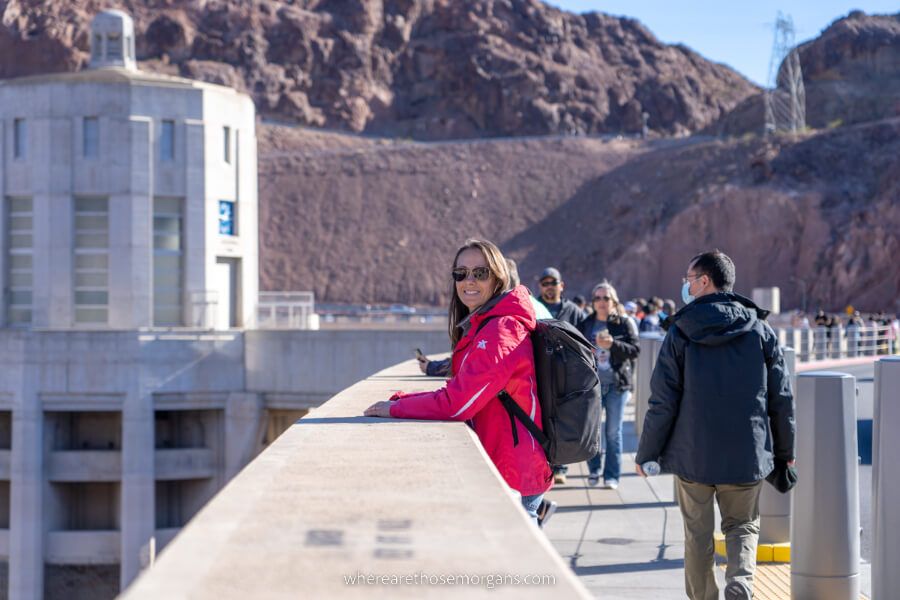 Things To Do On A Day Trip To The Hoover Dam From Las Vegas
There are more things to do at the Hoover Dam than you might imagine. It is not just a walk across and leave type of day trip!
Here are just some of the top things you can do here:
Walk over the dam and read the interesting information boards
Cross the Mike O'Callaghan – Pat Tillman Memorial Bridge
Bring your camera for stunning sunrise or sunset photography
Take a guided kayak or rafting tour at the base of the dam
Explore nearby Lake Mead
Take a guided tour of the dam
Book a tour of the power plant
Hike the Historic Railroad Trail to the Hoover Dam Boneyard
Spot Bighorn Sheep around Lake Mead and the base of the dam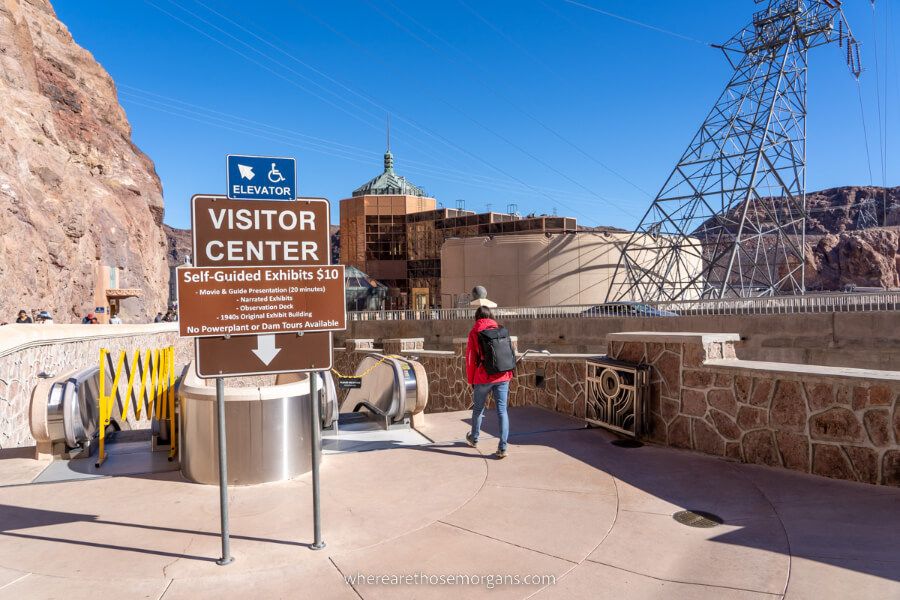 Tours Of The Dam
You can take three different official tours once you arrive at the Hoover Dam.
Here are your three options:
Guided Dam Tour
Guided Power Plant Tour
Self-Guided Visitor Center Tour
Guided tours of the dam can only be purchased on site when you arrive. However, you can pre-book tickets for the power plant and visitor center tours with the below links:
Parking At The Hoover Dam
There are several parking areas you need to be aware of when visiting the Hoover Dam from Las Vegas.
Let's take a look at the most important parking lots for your trip.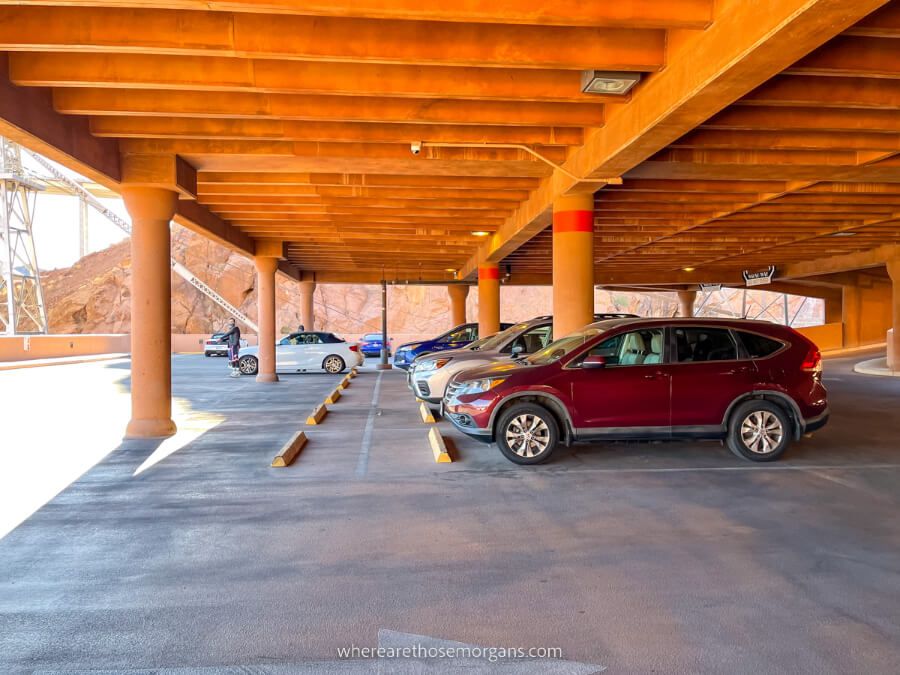 Parking For Dam Access
The first thing you will want to do after arriving is get out of your car and walk across the top of the dam.
You have two options for parking beginning with the main multi-level lot on the Nevada side of the dam, which is where tours can be booked and both the visitor center and cafe are located.
Simply follow the Hoover Dam access road as it hairpin turns and descends towards the dam. On your left side before reaching the dam you will see signs for parking and a left turn into a lot.
If this lot is full, your alternative option is to drive over the dam and find a space in one of multiple roadside parking areas. The further up this road you go, the further you will have to walk down to the dam.
Important: The multi-level parking lot on the Nevada side charges a fee to park. On the Arizona side of the dam you can park for free as long as you go past the first parking lot (which also charges to park) and head up the hill.
Parking For Dam Views
Once you're finished on the dam, you will want to walk across the Mike O'Callaghan – Pat Tillman Memorial Bridge to see the concrete structure from above.
There are two parking areas you can use to access the bridge.
The larger and closer parking lot is called "Boulder Dam Bridge Parking" on Google Maps. It is located right at the beginning of a series of switchbacks leading up to the bridge.
This lot has plenty of parking and vault toilets.
But if it is full, there is an overflow parking lot back on Hoover Dam Access Road which has a short cut through trail leading to the main parking area.
Hoover Dam Entry Cost
It costs nothing to visit Hoover Dam. However, there is a cost to park in the multi-level parking lot on the Nevada side and the parking lot closest to the dam on the Arizona side. There are also charges for any tours you wish to take including the dam, power plant and visitor center.
You can visit Hoover Dam for free if you park up the hill on the Arizona side of the dam and do not take any tours. There are plenty of information boards you can use to learn about the area when walking across the dam and bridge.
Note: You cannot use your America the Beautiful Pass for parking or tours at the Hoover Dam.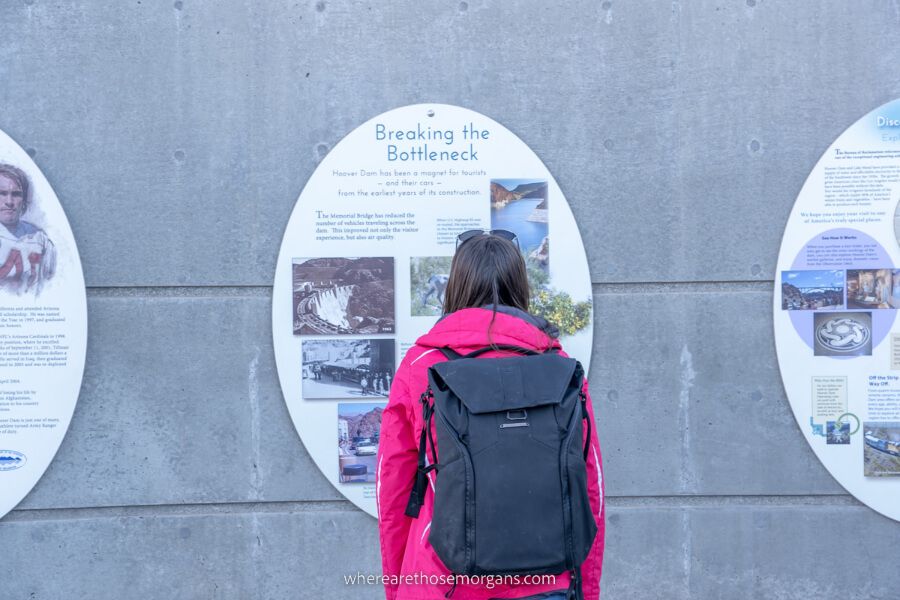 What Time Is The Hoover Dam Open For Visitors?
Hoover Dam is open daily from 5.00am to 9.00pm (PST) year round. The visitor center and tour options are open and available from 9.00am to 5.00pm every day with the exception of Thanksgiving and Christmas.
This means any pro photographers or anyone wishing to avoid crowds can visit for sunrise and stay after sunset for a unique take on the dam.
Note: Check the current notice board of updates for the dam before visiting to see any changes to times as a result of maintenance.
Photos Of Hoover Dam
The Hoover Dam isn't as photogenic as we had imagined simply because of the endless electricity pylons scattered throughout the canyon.
The pylons of course make perfect sense as the amount of electricity being generated here is immense, but it does make for challenging photos.
During the day you will see shadows from the pylons and bridge create huge contrasts and the cloudless sky is bright.
The best place to take photos of the Hoover Dam is on the Arizona side looking back at the structure with its four intake towers.
Visiting at dawn, dusk or night would dramatically improve overall photo quality.
Here are a handful of our photos.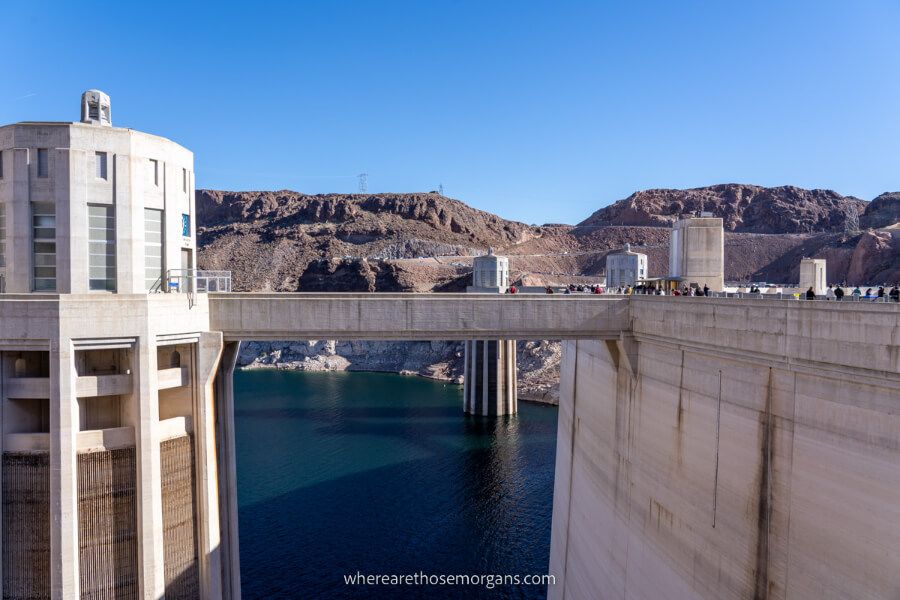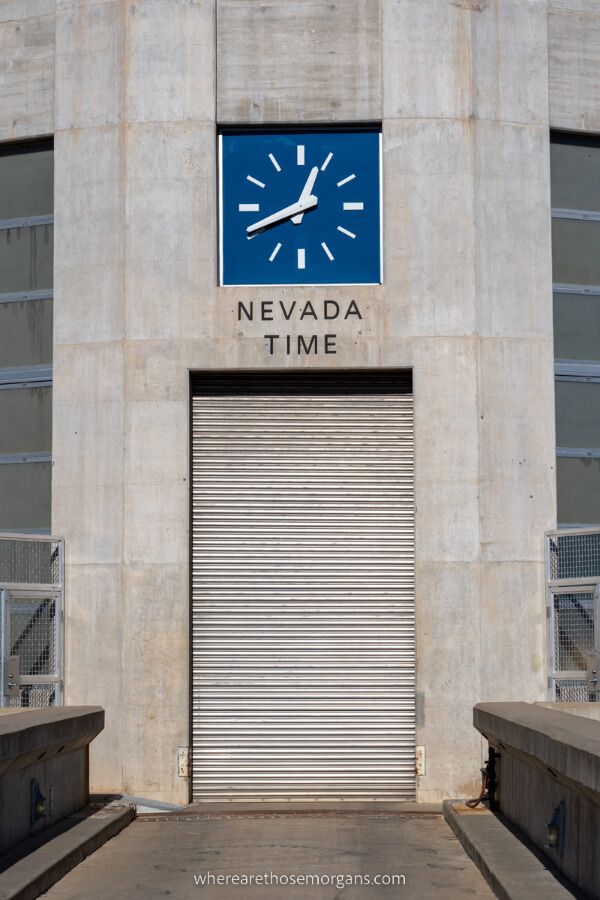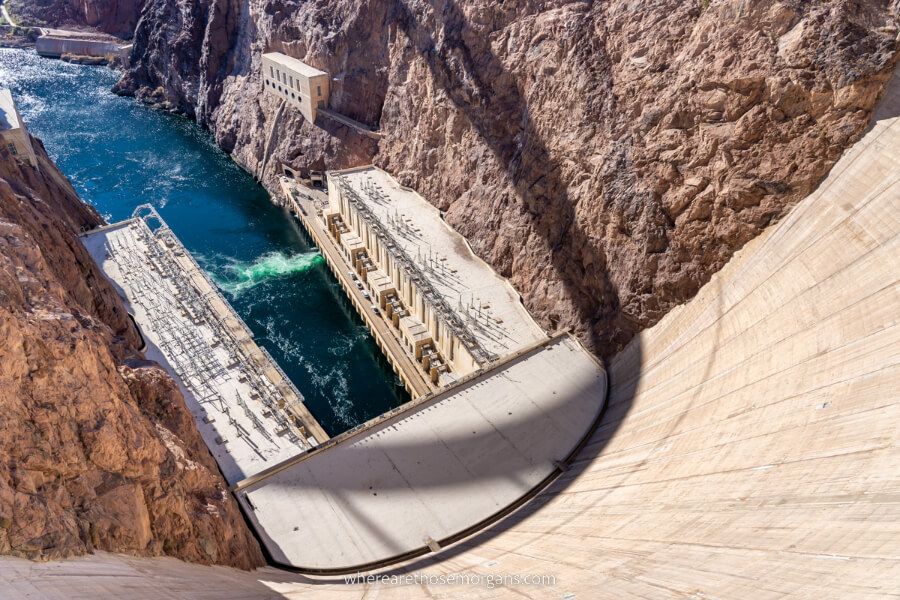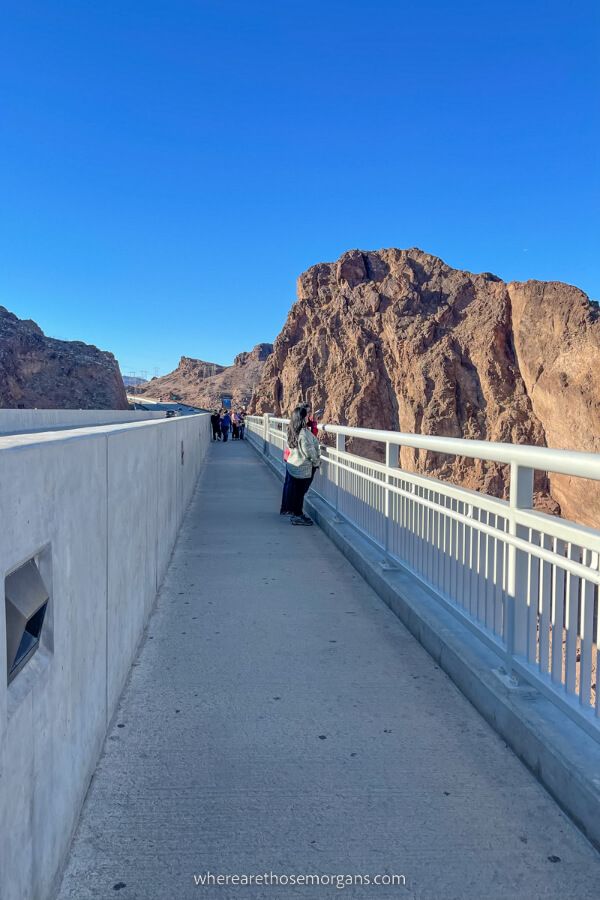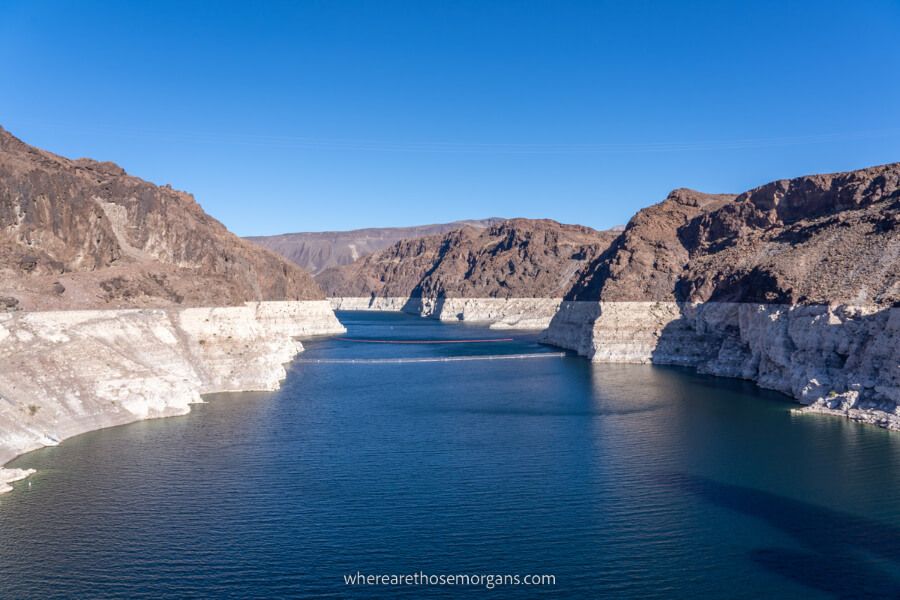 Exactly What You Can Expect If You Drive From Las Vegas To The Hoover Dam
So what exactly can you expect to find when you arrive at the engineering marvel?
Crowds
Las Vegas is one of the most popular places to visit in the USA and the Hoover Dam is a hugely popular day trip option. So the first thing you can expect is big crowds.
If you want to avoid the crowds, we recommend visiting between 6.00am to 8.00am or between 5.00pm to 7.00pm when most people will be back in Vegas.
The top of the dam is just 45 feet wide. That accounts for two lanes of traffic and two pedestrian walkways. You may have to share the narrow walkways with hundreds of others if you visit between 10.00am to 3.00pm.
Accessibility
Both the Hoover Dam and Memorial Bridge are completely accessible for wheelchairs and strollers. Pedestrian walkways are paved and smooth.
All three tours available at the dam are accessible for wheelchairs. However, the Dam tour is not accessible for mobility scooters or strollers.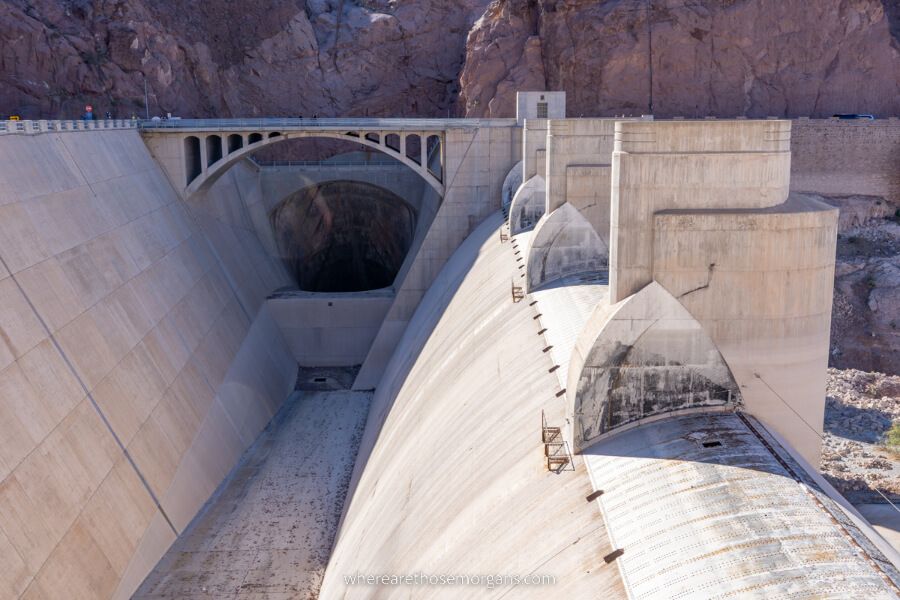 The Dam
Walking across the Hoover Dam is an awesome experience. This is a legendary work of engineering ingenuity and you can only appreciate the magnitude of the project once you are standing on top looking down at both sides.
There are loads of fun information boards to read and you can get different views of the dam, intake towers and diversion tunnels.
Short and narrow paths lead to two intake towers which display the time in both Nevada and Arizona with a one hour time zone difference.
Our only issue with the dam was overcrowding, but it was our own fault for visiting around lunch time.
The Bridge
Walking half way across the Memorial Bridge is a fun and somewhat unexpectedly scary part of the day.
The view of Hoover Dam from Memorial Bridge is superb but during the day you will see an enormous bridge shaped shadow cast across the dam.
What might make your stomach turn is the gigantic drop below with just a neck height barrier in place. Take care with your cameras and phones up here, the wind can pick up at any moment!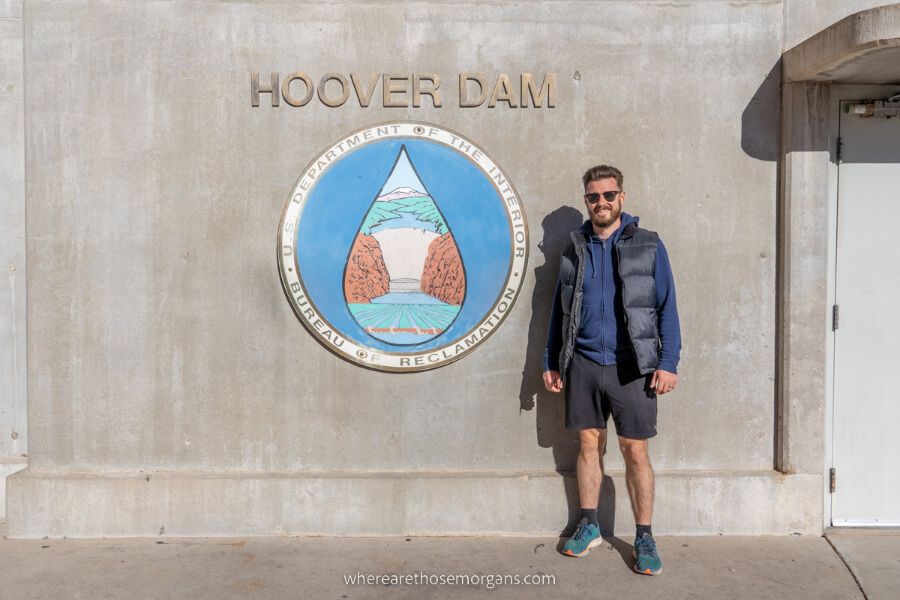 Our Las Vegas To Hoover Dam Experience
We thoroughly enjoyed our trip from Las Vegas to the Hoover Dam and we are glad we made time for it during one of our trips to Sin City.
The drive is easy and short, parking wasn't an issue and we were impressed by the structure itself.
It maybe wasn't as mind blowing as we had hoped, but that might be because our expectations were too high. We also visited at the worst time of day around lunch time which didn't help.
Another downside for our trip was covid restrictions at the time meant no tours were running. We would have definitely done a dam tour or power plant tour.
This also meant all visitors were on the dam or bridge which contributed to the overcrowding.
With all that said, the dam is a mightily impressive structure and the work that went into is nothing short of incredible. However, we wouldn't go back again.
It's a great place to see one time but once is enough.
Is It Worth Driving From Las Vegas To Hoover Dam?
Hoover Dam is definitely worth visiting for those on a longer vacation or who are return visitors to Las Vegas, Nevada. It is also a must stop spot for anyone driving between Las Vegas and Grand Canyon South Rim.
If you only have one or two days in Vegas, we would say leave this for next time. However, if you have three days or more for your Las Vegas itinerary, we would suggest combining the dam with a trip to Seven Magic Mountains.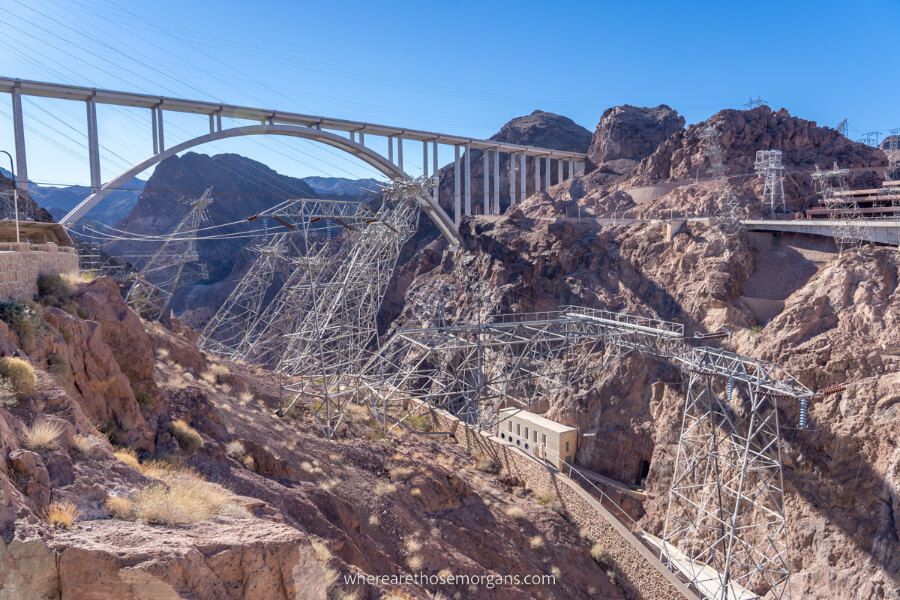 Best Hoover Dam Tours From Las Vegas
What if you don't have a car during your visit to Las Vegas but you still want to see the Hoover Dam?
Well, there are dozens of top rated tour options at your disposal.
Here are just some of the highest tour ratings we can find:
Hoover Dam – 3 Hour Mini Tour from Las Vegas.
Rafting – Unique 1.5 Hour Guided Rafting Tour at the base of the Hoover Dam (does not include transportation from Las Vegas – you meet the tour on site).
Seven Magic Mountains + Hoover Dam – Half Day Small Group Tour from Las Vegas (our top recommendation)
Important: Be aware that several tours operating from Las Vegas to Grand Canyon only go to "West Rim". This is not the iconic and most beautiful part of the Grand Canyon.
You should visit South Rim for the best hikes at Grand Canyon and the best viewpoints at Grand Canyon.
FAQ's
Let's finish with some of the most asked questions about visiting the Hoover Dam from Las Vegas, Nevada.
Can You See The Hoover Dam For Free?
Yes, you can see the Hoover Dam for free by crossing over the dam into Arizona and parking up the hill. There are parking fees for the multi level lot in Nevada and the first parking lot after entering Arizona, both of which would result in your trip to Hoover Dam not being free.
How Much Time Do You Need At Hoover Dam?
Plan to spend at least 2-3 hours at the Hoover Dam. This allows time to explore the dam in person and enjoy views over the dam from the nearby Memorial Bridge. Any guided Hoover Dam tours will add to the amount of time you need to spend on site.
Is It An Easy Drive From Las Vegas To The Hoover Dam?
Yes, it is a very easy drive from the Las Vegas strip to reach the Hoover Dam. Once you are clear of Las Vegas city limits, the drive on I-11 is quiet and doesn't take long.
Our Popular Las Vegas Guides
Things To Do – Do you know exactly what you will do in Vegas? If not sure yet, read our ultimate guide to the 40 best things to do in Las Vegas both on and off the famous strip.

Best Hotels – Which of the iconic hotels will you stay at on the strip? Read our comprehensive guide to the 25 most popular Las Vegas hotels on the strip to see which looks best for you.

Best Shows – Do you know which Vegas shows you want to watch? Here are the 30 most popular Las Vegas shows to help choose the perfect experience for your visit.

November – Planning a visit to Vegas in Autumn? Here are 10 key things you need to know about visiting Las Vegas in November.

Food Tour – Want to try something unique in Vegas? Read our Las Vegas Secret Food Tour Review to see if tasting celebrity chef dishes is a good fit for your travel plans.
Our Las Vegas Day Trip Guides
Day Trips – Planning a day trip on your visit to Vegas? Here are the 10 most popular Las Vegas day trips with details on how to DIY or take a tour.
Death Valley – Plan to visit the hottest place on Earth during your visit to Vegas? Here's exactly how to plan the best day trip to Death Valley from Las Vegas.
Valley Of Fire – Want to visit Valley of Fire near Las Vegas? Here are the top 15 best things to do in Valley of Fire including family friendly hikes and gorgeous photo spots.
Fire Wave – Exactly what you can expect from hiking the amazing Fire Wave Trail at sunrise in Valley of Fire State Park (the most popular thing to do).
Red Rock Canyon – Looking for another awesome place to hike near Las Vegas? Here's our guide to the 10 best hikes at Red Rock Canyon less than half an hour from the Vegas strip.
Seven Magic Mountains – Do you enjoy photography and interesting art exhibits? Read our guide complete guide to visiting the Seven Magic Mountains near Las Vegas.
Our Popular US Southwest Guides
Grand Canyon – A must visit landscape, here is our ultimate guide to visiting Grand Canyon South Rim and our popular hiking guide the 17 best hikes at Grand Canyon South Rim.

Sedona – One of our favorite places to visit in the US, here are our guides to the 20 best things to do in Sedona, the 20 best hikes in Sedona and the perfect Sedona itinerary.

Zion – One of the most popular US national parks, here are our guides to the 20 best hikes in Zion and the perfect one day Zion itinerary.
Want more Nevada content? Head over to our Nevada Travel Guides to explore State Parks, beautiful landscapes and the best things to do in Las Vegas.
---
We hope this guide to visiting the Hoover Dam from Las Vegas helps with planning your visit to Nevada!
If you would like to read a thorough backstory about the history of the Hoover Dam, here's a link to the Bureau of Reclamation site.
Please let us know if you have any questions about visiting Hoover Dam or Las Vegas below in the comments.
Happy Travels,
Mark and Kristen
Note: This article contains affiliate links. When you make a purchase using one of these affiliate links, we may earn a small commission at no extra cost to you.
All Rights Reserved © Where Are Those Morgans, LLC. Republishing this article and/or any of its contents (text, photography, maps, graphics, etc.) in whole or in part is strictly prohibited.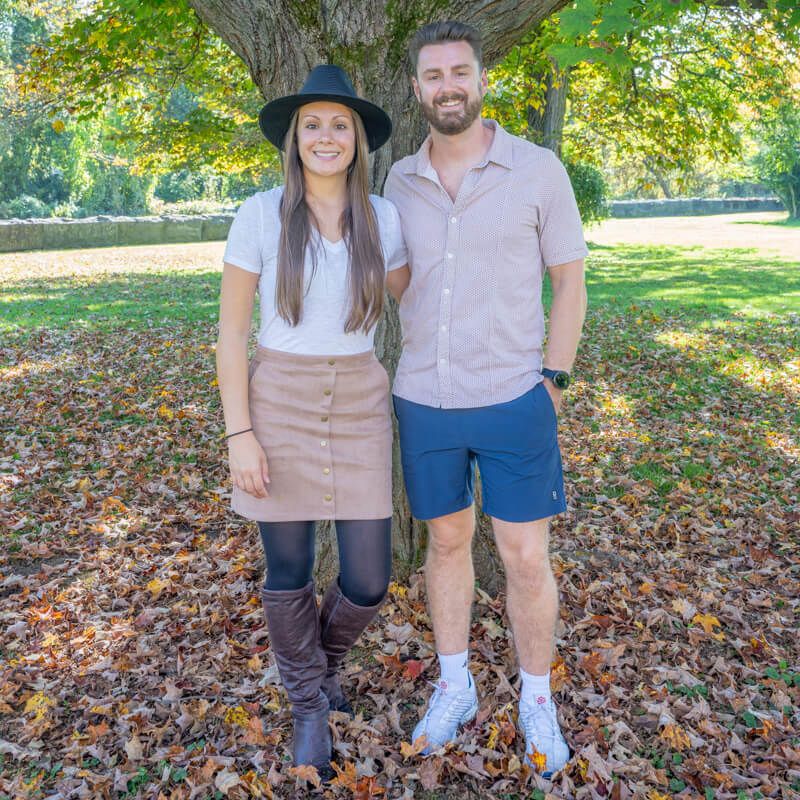 Mark and Kristen Morgan are travel, hiking and photography experts. Over the last 6 years traveling full time, they have explored more than 40 countries and 30 US states.
Their work has been featured in USA Today, Gestalten, Get Your Guide, CityPASS and Condé Nast Traveler along with various other publications.